Its December folks! Anyone who knows me, knows I'm a bit Christmas crazy. I love everything about the Holiday season. I'm going to kick off this years Christmas recipe posts with a lovely little cookie – the Indian Nankatai. This is an eggless recipe and is so easy to put together. What you end up with is a delicate and really delicious little treat. I like making a big batch of Nankatais closer to Christmas. I add these on my Christmas platter of sweets to share with family and friends and I also have some in the cookie jar to serve up with some tea.
Let's talk about the dough for a bit. It is such a ridiculously simple recipe, you will be surprised at how tasty the nankatais turn out. I find that this dough can be a little finicky and it usually works beautifully on a slightly warm day. While that works beautifully for us in Australia and anyone in the Southern Hemisphere, it could be a challenge in the Northern Hemisphere, where its the middle of winter. If its cold where you are, you might find that the dough ends up a little crumbly and you may have a little difficulty shaping it into a cookie. When that happens, I pop the dough in an ovensafe bowl and pop it into a slightly warm oven (about 100 degrees) for a couple of minutes. This helps the ghee warm up and helps bind the dough.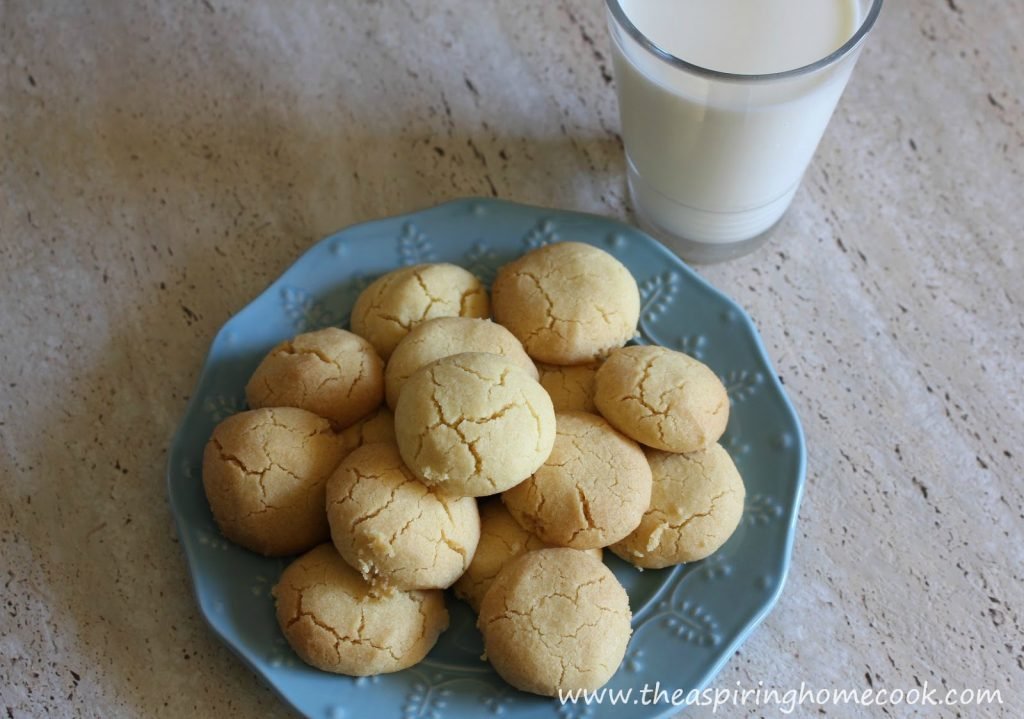 Nankatais
Yields: 1/2 kilo (approx 30 cookies)
1 1/3 cup all purpose flour
1/3 cup besan (chickpea flour)
1 cup sugar (superfine. You can also powder larger grain sugar and then use it in the recipe)
2/3 cup of ghee (clarified butter)
1/4 tsp baking soda
Preheat your oven to 180 deg. Celsius and line a baking tray with some baking / parchment paper.
Mix the ghee and sugar till it is light and creamy. Scrape down the edges and bottom of the mixing bowl halfway through the process.
Add the rest of the ingredients (baking soda, all purpose flour and chickpea flour) to the mixing bowl and continue mixing till it forms a dough.
Shape into little cookies by rolling portions of the dough into a little ball and flatten it slightly. Place the cookies on the lined baking tray.
Bake for 12-15 minutes or till done. Your looking for a light colour on the edges.
Take it out of the oven and leave the cookies to cool on the tray itself.
When completely cool, store in an airtight container.
Enjoy!
You can watch the video recipe here –
Guys, I finally got down to trying this recipe out myself. I have wanted to make Kismur (pronounced Kis – moor) for months. The only thing holding me back was the availability of dried prawns in Sydney. Most (if not all) Indian stores I've been to, don't stock dried prawns and fish. I had once bought a packet from a Chinese store and I wasn't too happy with it. I was researching Sri Lankan cuisine a few days ago and I read that they use dried prawns too. So yesterday I popped into my local Sri Lankan grocery store, and lo and behold, sitting proud on its shelves were so many varieties of dried fish and prawns. I grabbed a bag and knew exactly what I was going to try with it.
Kismur is a Goan prawn and coconut salad of sorts. It's not your typical salad with dressing, but its more like a stir fry that is served at room temperature. And I use the term stir fry very loosely here as the ingredients are all sauteed before tossing together. In Goa, sun dried fish is very commonly found and used. In the summer, when fresh fish is abundant, they are prepped, salted and sun dried and this fish can then be stored for months at room temperature. You can find big mounds of dried fish and prawns at any Goan market. This dried fish is best purchased in the summer when everything is nice and dry. The fish is then stored for use during the monsoon, when fresh fish is not easily available. A lot of Goan homes serve this dried fish (also called salt fish because of the way it is cured) along with a Sorak (plain Goan curry) or a dal or a vegetable curry as a condiment. You can't really eat as much of the salt fish as you would fresh fish but it makes for a very tasty accompaniment to a vegetarian meal. Dried prawns on the other hand, are used to make warm chilly fries / stir fries, salads and this Kismur. Now that I've found good dried prawns, I see a chilly fry coming up in the near future.
But today, I'm going to share with you a quick and simple version of Kismur. It is ridiculously simple to make and if you're anything like me, you will absolutely love it. Please note, that since this is almost like a salad, the quantities listed below are approximates of what I used.
Goan Dried Prawn Kismur
1/3 cup dried prawns
1/2 a large onion, chopped
1/3 cup freshly grated coconut
1 red / green chilly, split in quarters lengthwise
1/8 tsp turmeric powder
1/4 tsp red chilly powder
1 tbsp coconut oil
Salt, to taste
Lemon wedges, to serve
Wash the prawns under cold running water and drain.
Dry roast them on a pan till crispy again, stirring frequently, so that it doesn't burn.
Tip the prawns onto a plate and set aside.
Heat the coconut oil over medium high heat in a pan.
Add the chopped onion and saute for a minute or so till the onions have only slightly warmed through.
Add the roasted prawns and stir.
Now add the chilly, coconut, turmeric powder, chilly powder and salt. Mix well.
Place into a serving bowl and serve with some wedges of lime for those who might want to squeeze some lime over.
Serve at room temperature with some steaming hot rice and curry. (Fish curry recipe to follow. Watch this space.)
Enjoy!!!
It's been a while since I posted an Indian recipe. Especially a savory one. And today, I'm going to do just that. Indian recipes often get a bad rep for being notoriously complicated, or mind numbingly spicy or involving too many ingredients. Today's recipe will prove all of that wrong. Today, I am going to share with you my Mum's recipe for a vegetable Sambhar. My mother has always been a fantastic cook and when she visited us last year, I was lucky enough to learn how she makes it. There's a couple of steps to follow, but they are so easy and quick, you'll be pleasantly surprised at how easy some Indian recipes are.
Here, on The Aspiring Home Cook, I love to make things from scratch. I have tried a made from scratch version of Sambhar too, and it was okay, but didn't turn out like my Mother's did. So for this one, I'm following her recipe and since she's uses a store bought blend called a Sambhar Masala, I did just that. This Sambhar Masala is a delicately balanced blend of spices and gives a beautifully complex depth of flavor to the dish. Now, I always have a box of this masala in the pantry. I've used a couple of brands in the past like Everest and MDH, both of which you should be able to find at your local Indian grocery store, and they are both good. This time around, I've used the Everest Sambhar Masala.
Moving on to the vegetables. I use a mix of all sorts of veggies. This time around, I used some sweet potato, carrots, eggplants (I grew these ones in my own backyard, so I'm thrilled about them), okra / lady fingers and drumsticks. You can also use bottle gourd (white pumpkin), pumpkin and potato if you like. Use what you have on hand. Typically a sambhar always has drumsticks, eggplant and some bottle gourd. For those of you who aren't familiar with drumsticks, its the fruit of the moringa plant and supposed to be very good for you. They come in long canes ranging from 1 to 2 feet in length. They are chopped into smaller pieces, about 2 inches long and you don't eat the outer hard skin. Your after the pulp on the inside and the seeds. It is eaten much like how you would scrape the icing from the inside of an oreo cookie with your teeth.
This sambhar can be served up with some plain, boiled rice and a side of papad (poppadums) and Indian pickles of your choice. This sambhar pairs very well with idlis or dosas. I also enjoy a bowl of this stew with some crusty bread.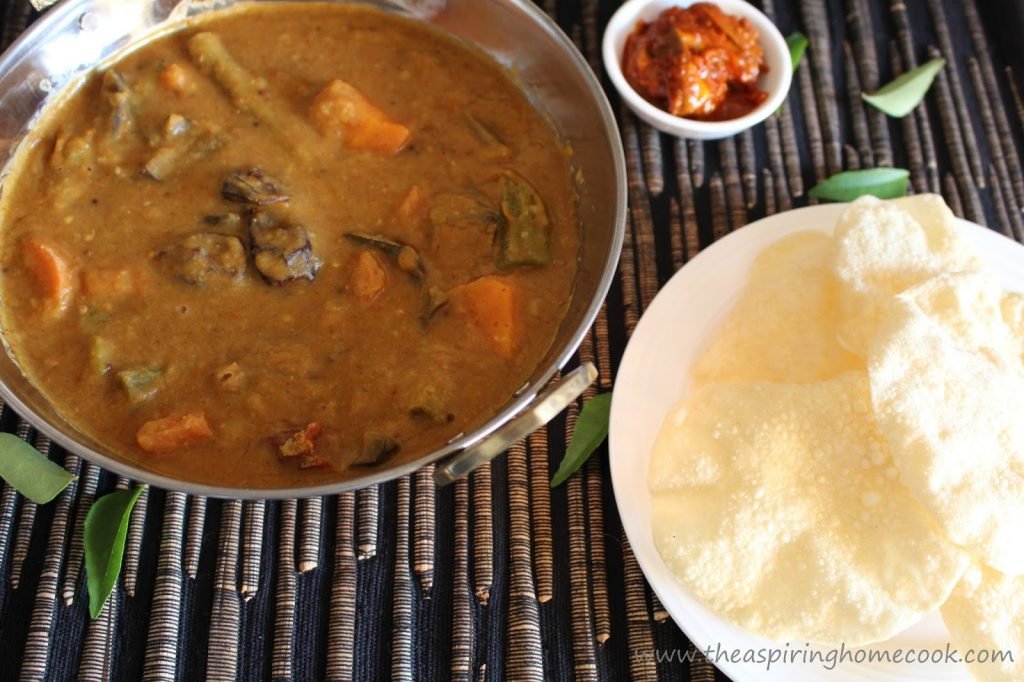 If you want to see this being made, check out the video version of the recipe here –





Vegetable Sambhar


1 cup toor dal (pigeon peas)
1/2 sweet potato
2 carrots
A handful of okra
2-3 small eggplants
A couple of drumsticks (A handful of frozen pieces)
8-10 curry leaves
1/2 tsp black mustard seeds
3 dried Kashmiri chillies
1 tbsp Sambhar masala
1/2 tsp Kashmiri chilly powder, or any mild red chilly powder
1 tbsp olive oil
Salt, to taste
Tamarind, the size of a small walnut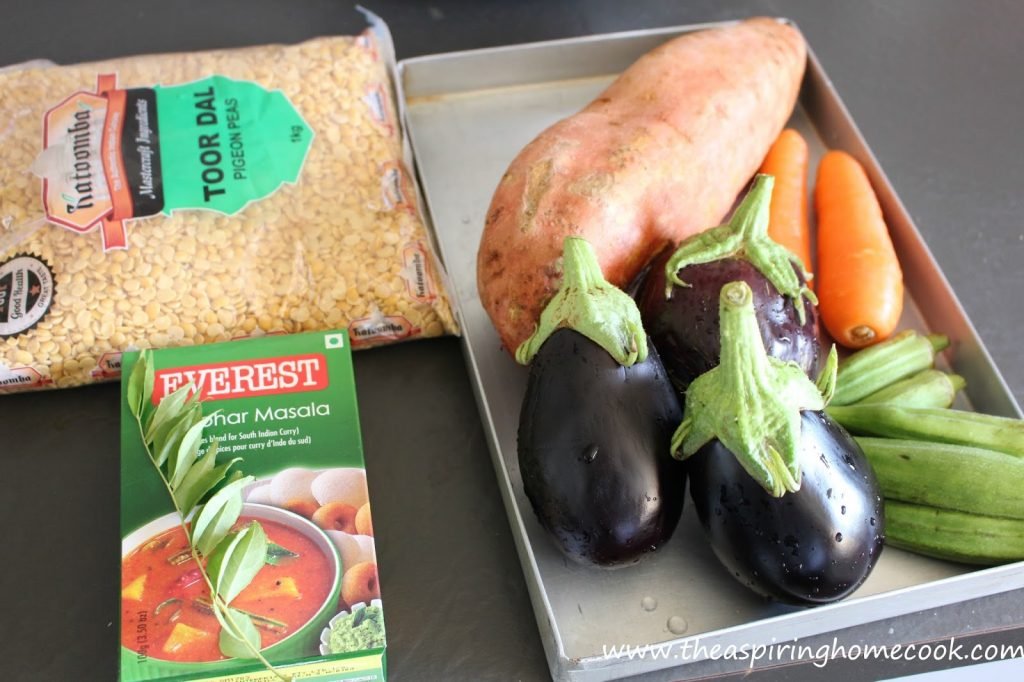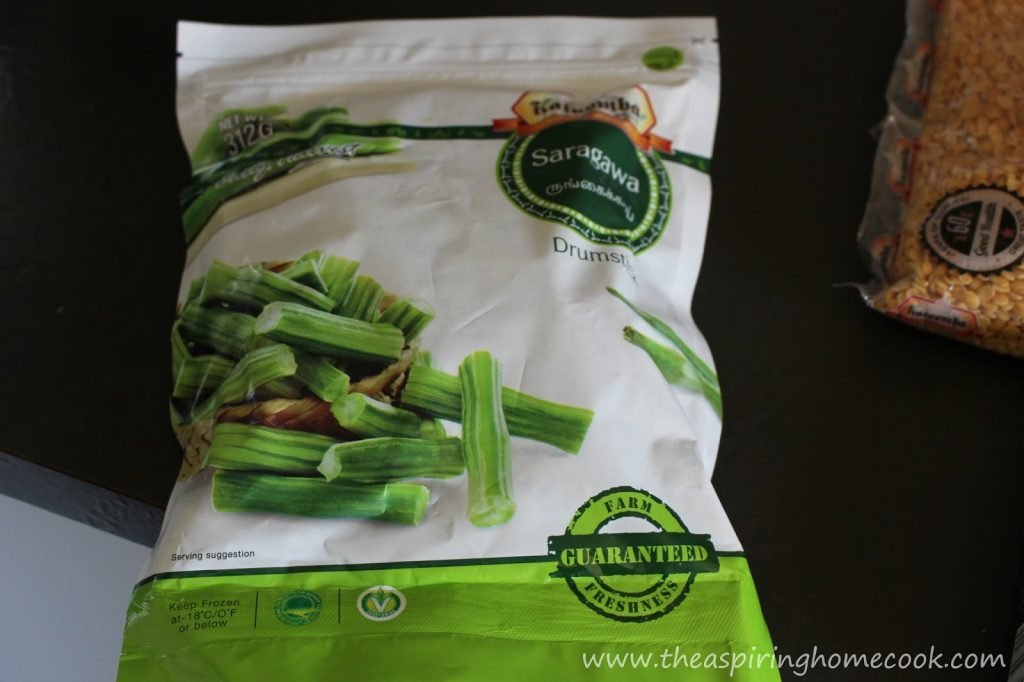 Cooking the lentils –


Wash through the toor dal with cold water and drain. Do this 2-3 times.
Cover the dal with fresh water till the dal is fully submerged and set aside to soak for about 10 minutes.
While the dal is soaking, chop up the vegetables you are using into similar sized cubes.
Drain the dal, and rinse through with fresh water and drain again. Pressure cook the dal with 2 cups of water and 1 tsp of salt. Cook till tender, almost mushy. It takes about 5 minutes in my WMF pressure cooker. Follow your manufacturers instructions to get you the best results. If you don't have a pressure cooker, simply boil it in a pot with plenty of water till it is well cooked.
Once the pressure dies down, open the pressure cooker.
Cooking the vegetables –
While the dal is cooking, place the chopped vegetables in a large pot, top off with water from a recently boiled kettle and 1/2 tsp salt. Boil the veggies till they're almost done. Don't over cook the vegetables, because they will continue to cook in the sambhar. When the veggies are ready, drain them and set them aside. Reserve the water the vegetables were boiled in.
To make the sambhar –


Soak the tamarind in a small bowl with about 1/8 cup of warm water. Set aside till later.


Heat 1 tbsp of olive oil in large pot on medium heat.
When the oil is hot, carefully tip in the mustard seeds. When they start to sputter, add the curry leaves and the Kashmiri chillies.
When they have warmed through and released their flavors and aromas into the oil, lower the heat and add the cooked lentils and the water it was cooked in. Stir through.
Now add the sambhar masala and red chilly powder and stir through.
Add 1/2 – 1 cup of the vegetable stock to loosen the lentil curry as needed. You can add as much or as little of the stock as you need, depending on the consistency you'd like the sambhar to be. Keep in mind, the sambhar tends to thicken a little as it cooks.
Bring this back to a boil and add the cooked vegetables.
Once everything has heated through, check for seasoning and add more salt, if needed.
Now, mash the tamarind with your fingers in the water it was soaking in to extract the pulp. Pass this through a sieve into the pot of sambhar. Add this tamarind extract to taste.
Let it simmer for a couple of minutes.
Serve hot!!!
** This post contains affiliate links.
Guava Cheese or Perad is a quintessential Goan sweet that makes an appearance at Christmas time. Its flavourful and lightly chewy like a Guava gummy candy.
It's beginning to look a lot like Christmas!!!
Christmas decorations have started going up all over the place, Christmas merchandise is in every store. And it's probably just me, but when I see this, my mind starts to wander towards Christmas sweets (mind you that doesn't take much). Yup, before we know it, Christmas will be upon us. I must admit, this is my absolute favorite time of the year. 
Let's talk sweets now, shall we? What's your favorite? Me, I love them all. Old school, traditional Kuswar, new age desserts and sweets, the whole lot. But of all of them I think that my favorite is the Goan Guava Cheese (almost like Guava gummies or candy, but better) known as Perad. I have previously posted a perad recipe using fresh guavas
here
. But here, in Sydney, I haven't been able to get my hands on any fresh guavas, especially this time of the year. So imagine my joy when I came across this on one of my weekly grocery shops at my local Supermarket.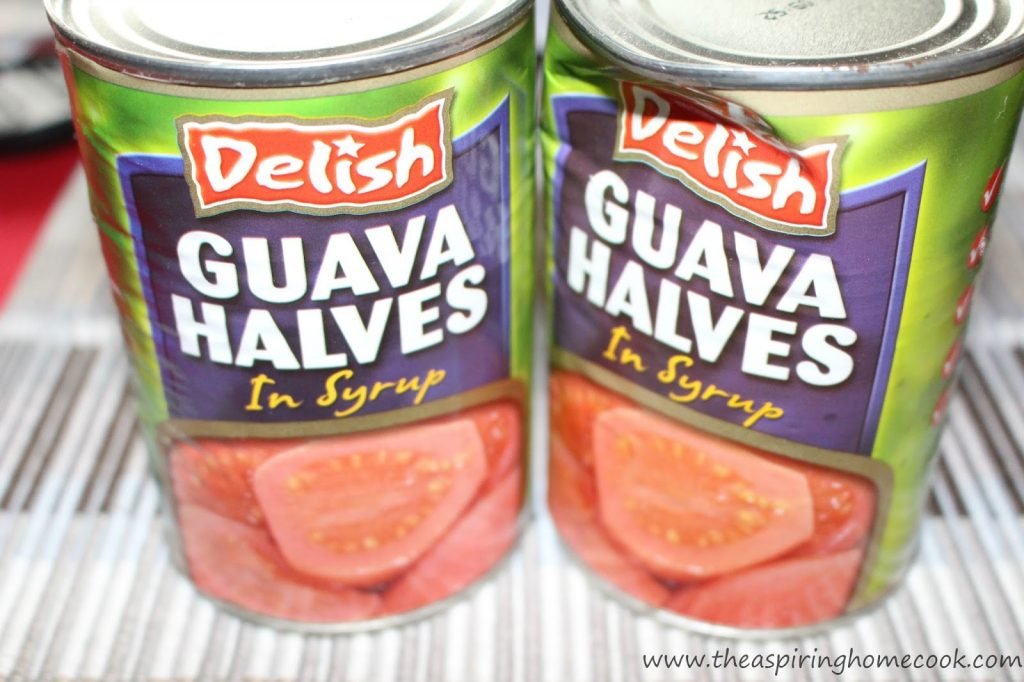 Ofcourse, I grabbed a couple of tins and knew that I had to try making Perad with them. (I have also used the "Koo" brand with the same great results.) I mean, I knew it wouldn't be like using fresh guavas, but how different could it really be? So I tweaked the recipe a tiny bit and crossed my fingers while the perad cooked and set. To my delight, this was the best Perad I had ever made or eaten. So it's safe to say from now on, while I can get my hands on these canned guavas, I'm going to stick to using it for my Perad.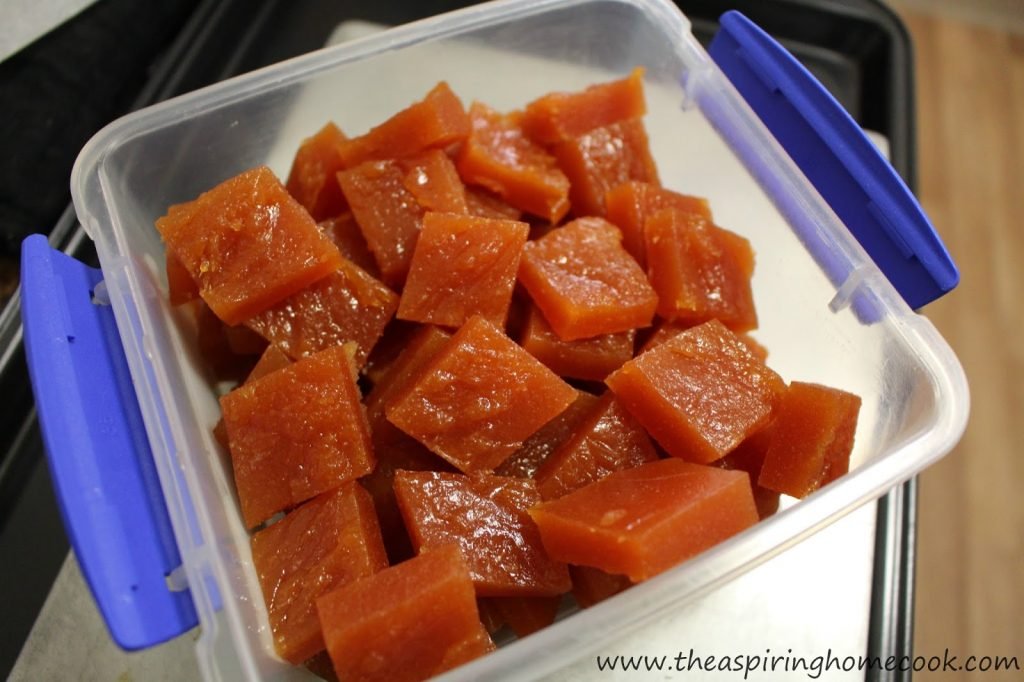 Place some of the ghee on a large metal cookie sheet / baking pan and spread on the bottom and sides and keep this aside.
Drain the guava halves and reserve the syrup.
Scoop out the seeds and set aside.
Puree the halves till smooth and put the puree in a heavy bottomed vessel. Now Goan sweets are notorious for taking ages to cook, but I have found if you use a wider vessel, its cooks a lot faster because of the increased surface area. So I use a stainless steel 
12″ Kitchenaid Skillet
 for all my sweets and it drastically reduces the cooking time.
Now place all the seeds, that were previously scooped out, in a strainer, add a couple of spoons of the reserved syrup from the cans and stir through the strainer to extract all the guava puree from the centres. You may need to do this a couple of times adding a tiny bit of syrup each time to extract all the guava. Add the extract to the pan and now discard the seeds.
I usually end up with about 370g pulp from the halves and about 250g from the centres. In all about 620g of guava pulp. Other recipes call for a lot more sugar, but since these are canned guavas in syrup they are sweeter than the fresh ones, so I've cut down on the amount of added sugar in the recipe.
Add the cloves and the sugar to the pan.
Place the pan on medium heat and stir continuously using a wooden spoon with a long handle. The guava mix tends to sputter and spit while cooking and the long handle will prevent the mix splashing on your arms. Make sure that when you stir, the spoon gets to the edges of the pan to prevent it sticking to the bottom of the pan and burning. If the mix sputters too much, lower the the heat and continue cooking.
When the mix thickens, extract the cloves carefully and discard. Continue cooking till it leaves the sides of the pan. Keep stirring.
Test to see if done. (Use water test – Place some icy cold water in a small bowl and drop a teaspoon of the sweet on it. If it firms up on cooling it is done. If it is still very soft or too sticky, it needs more cooking). 
When done, pour the mix into the greased pan. Using the back of a large spoon that has been greased with some ghee spread the mix to form an even slab and set aside to cool.
When it has cooled down a bit, using a knife that has been greased with some ghee, cut into cubes. You may need to grease the knife a couple of times while cutting to prevent it sticking.
When it has completely cooled, store in an air tight container. If you are making this ahead of time, or if it summer like in our part of the world, refrigerate till you are ready to use.
Enjoy!!!
** This post contains affiliate links.
So it's almost Diwali. Even though we don't celebrate it, we enjoy the food that comes with it. After trying out a few sweet and savory recipes for Diwali over the last five years, I've come to realize that a lot of recipes are fairly quick and easy to make, compared to most of the traditional Goan sweets. That makes me happy because I know I can whip up so many treats in a jiffy. However, there are a few recipes that are time consuming and tedious when made from scratch, like a good peda. A peda, for those of you who aren't familiar with the term, is a hand shaped piece of fudge made and enjoyed all over India. Now, I have made fudge before but had never tried making Pedas at home. That is, until I recently came across a recipe for an Instant version. Yup, you heard me, there is an instant version of the good old peda.
This Instant Kesar Peda requires a few basic ingredients and about half an hour of your time. That's how easy and simple it is to make. A lot of the commercially sold pedas use food coloring and artificial flavoring, but I decided to keep mine simple. I have used actual Saffron strands in this recipe for flavor and a mild coloring too. If you want your pedas to have the 'oh-so-popular' color, use some yellow food color. You can choose to imprint a design on the top of the peda or use a mould to shape it and you have the option to garnish the shaped pedas with some finely slivered nuts as well. So if you still haven't whipped up anything for Diwali, don't let that get you down. You can still make a bunch of homemade sweets and savories for your Diwali platter in no time at all. Besides this peda recipe, I have a few fantastic recipes to help you out. You can find them at the end of the post
here
.
So here's to another Indian delicacy, even though its a cheat version. I can tick this one of the my ever-growing list of recipes I want to try.
Wish you and your family a Happy and Prosperous Diwali!!!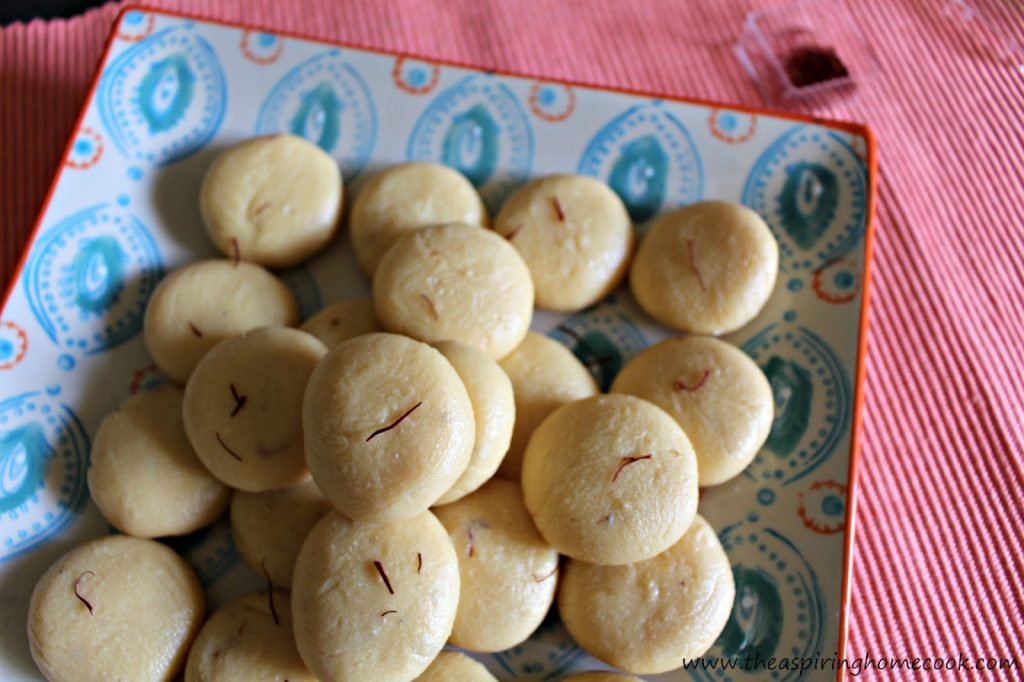 Instant Kesar Pedas
Yields: 25 pieces
1 cup condensed milk
1 cup + 2 tsp milk powder
1/2 tsp
green cardamom
seeds, crushed/powdered
2 tsp
ghee
A generous pinch of
saffron
strands
2 tsp warm milk
Extra ghee, to grease your palms while shaping the pedas
Add the saffron strands to the warm milk and set aside to infuse.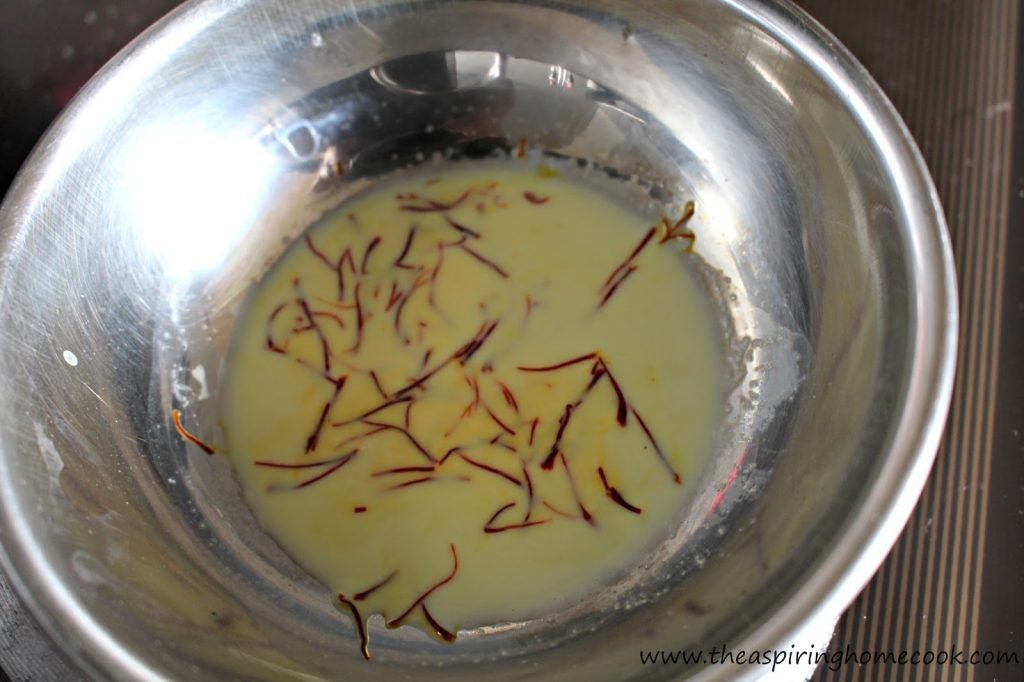 Grease a large plate with a tiny bit of ghee and set aside.
In a wide, preferably heavy bottomed pan, heat the ghee on a medium flame till it melts.
Add the condensed milk and the milk powder to the pan and stir well, making sure you dissolve any lumps that form. Any lumps left will not give you a smooth finish.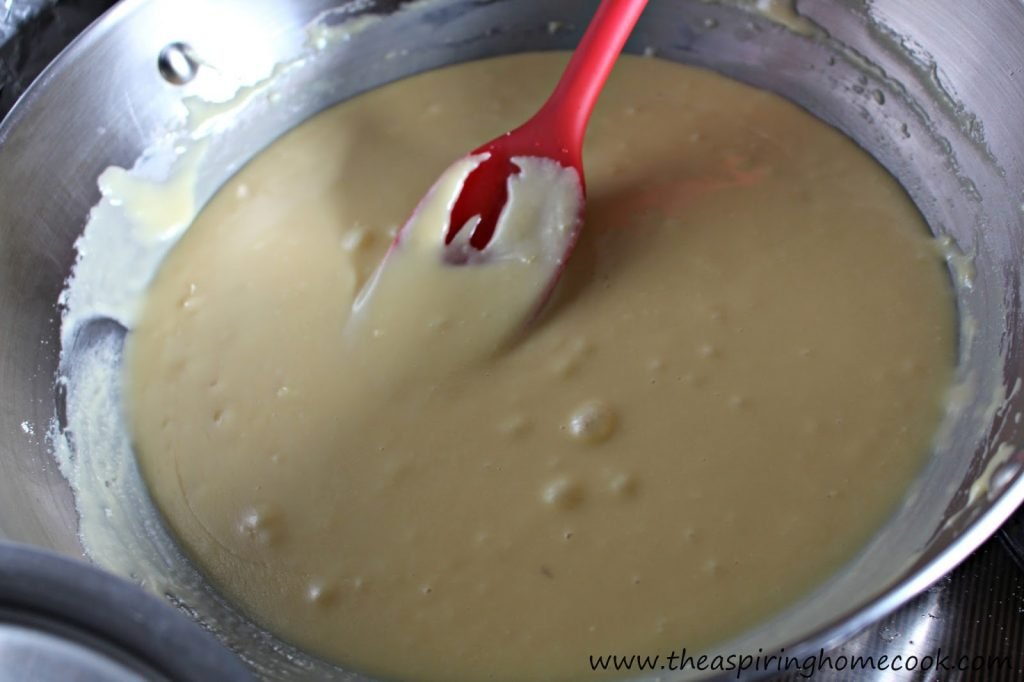 Continue cooking the mix, stirring frequently (with a wooden or a silicon spoon) for about 8-10 minutes. You will find the mix coming together at this stage.
Add the saffron infused milk and strands and the crushed cardamom to the pan and stir well. This will cause the mix to loosen in consistency a little and that's exactly what we want.
Continue cooking for a few more minutes, stirring continuously and the mix will start pulling away from the sides of the pan.
At this stage carefully check to see if the mix is still sticky. I picked a tiny portion with the spoon and touched it lightly to see if it is sticky. My hands can tolerate a fair amount of heat, please exercise caution when doing this. You want to make very little contact with the mix and not dip your finger in it too deep because it is super hot at this stage. If it still feels too sticky, continue cooking for a couple minutes more.
Once it is not sticky, take off the heat.
Immediately turn the mix onto the greased plate and leave it to cool a little.
When it is cool enough to handle, grease your palms with a little ghee, pinch of a small portion of the mix and roll into a ball and flatten slightly. Place on a platter and leave to set. If you choose to garnish the pedas, do it at this stage just after you shape it and then set aside in a single layer to set.
Serve up and enjoy!!!
Pin now and try later –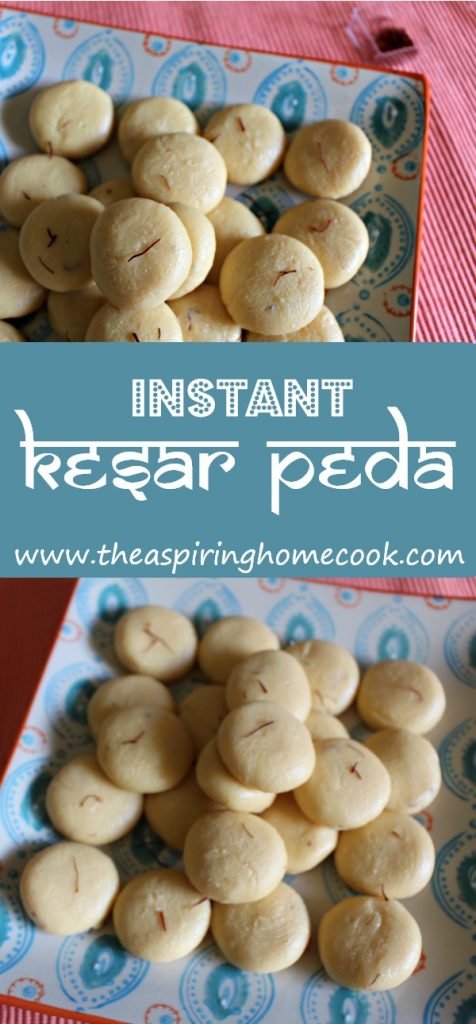 ** This post contains affiliate links.
Today's post takes me back about 16 years. Back to when I first started working (gosh I feel old now). Back then, our meals were taken care off by the work place. And for me that was novelty because growing up we almost never ate out. My mum would cook up every meal and snack for us at home and as kids we were content with that. But eating in the office cafeteria was interesting. Here, I was introduced to such a variety of food from different parts of the country (India). But I wasn't too keen on cooking then. During those days I only enjoyed making our traditional Goan sweets (Kuswar) for Christmas and other Goan sweets that my Nana would whip up for us for afternoon tea or an after school snack.
One of the dishes I encountered in the office cafeteria, that eventually became a favorite, was Methi Malai Matar (meaning Grean Peas in a Creamy fenugreek gravy.) It has strong Indian flavors but is mildly spiced. After moving to Sydney, I began craving some of this stuff. And it was only then I decided I was going to have to learn to make this dish myself, much like I had to learn so many other Indian recipes that I wanted to enjoy. Now the challenge was finding fresh Fenugreek leaves. The only place I've found fresh leaves is at one vendor at the Paddy's Market in Flemington. But that's a long drive from us. So I thought I'd try and find a recipe that used dried leaves (known as Kasoori Methi
) which is easily available at any Indian grocery store. And let me tell you, I found one. I couldn't believe how easy this little curry is to put together. With just a handful of ingredients, in less than half an hour you can be sitting down to a warm bowl of Methi Malai Matar for dinner. This goes really well with roti / chapatis, but you can also enjoy this with some bread or plain rice.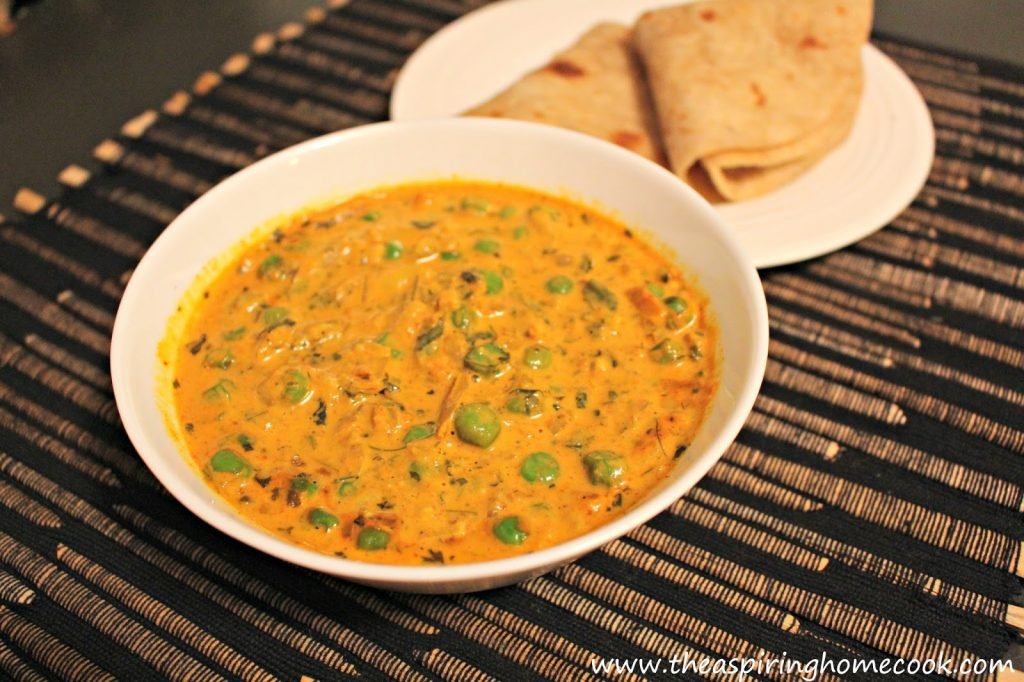 Methi Malai Matar
Recipe from: Sharmi's Passions
1 cup green peas (fresh or frozen will both work, if using frozen let it thaw before using)
3 tbsp Kasoori Methi

1 onion, finely chopped
1 tsp ginger garlic paste
1/2 tsp Cumin seeds
1 green chilly, finely chopped (optional)
1 cup milk
5 cashew nuts
2-3 tbsp cream
1/2 tsp Garam Masala Powder

1 tsp Red Chilly Powder

1/4 tsp Turmeric Powder

1 tbsp oil (I use olive oil for cooking)
Salt, to taste
Soak the cashewnuts in a couple of tablespoons of milk for about 15 minutes.
Grind this to a smooth paste and keep aside.
In a pot / saucepan heat the oil on medium heat.
Add the cumin seeds to the oil.
When the cumin seeds start to sizzle, add the ginger garlic paste and green chillies and saute for a minute.
Now, add the chopped onions and saute till they've slightly browned.
Add the cashew paste and fry it for a couple of minutes, stirring to avoid burning.
Now add the turmeric powder, red chilly powder and the garam masala powder. Add salt to taste and stir well.
Now add the rest of the milk and stir.
Let it come to a boil and then simmer for about 2-3 minutes and the gravy will start thickening.
Add the cream and stir in.
Now add the green peas. Let the peas heat through and let the gravy come to a boil again.
Now add the kasoori methi and stir.
If the gravy is too thick at this stage, add a little water to achieve desired consistency. Just make sure the gravy comes to a boil after the water is added and simmer for a couple of minutes.
If the gravy is not thick enough, let it continue cooking, stirring occasionally, till it thickens to your liking.
Serve hot with rotis / chapatis.
Enjoy!!!
If you're looking for other methi / fenugreek recipes, check these out –
Methi Parathas
Methi Namakpare
Methi Poori
What do you do when some gorgeous Blue Swimmer Crabs call out to you at the Fish Mongers? Well, you take them home of course. And then you get your Mum, who by the way is a fantastic cook and happens to be visiting at the moment, to whip you up a big ol' pot of some amazing Goan Crab Curry. Nothing compares to the joys of enjoying Mum's cooking. Atleast, that's what I did. If you don't have the same luxury, I've got permission from Mum to share her Crab Curry recipe with you so that you can enjoy some of it too.
We use a roasted masala (spice mix) for this curry. So there is an extra step of roasting a few ingredients before grinding, but it doesn't take too long and that added step does a whole lot of good stuff for your curry. It adds amazing depth of flavor and your curry just wouldn't be the same without roasting the masala.
So if you're craving some good Goan food, try this curry. It took us right back to Goa. And until we visit Goa again, we'll just have to make do with little culinary gems like this one.
Goan Crab Curry
Serves 6-8
3 Blue Swimmer Crabs (or any other crabs of your choice)
8 curry leaves (curry patta)
1/2 large onion, finely chopped
2-3 fresh green chillies, slit
5-6 pieces of Kokum*** (See note below)
1 tbsp oil (We use olive oil for all our cooking, you can use whatever mild cooking oil you have)
Salt, to taste
For the Masala (Spice Paste) –
1/2 large onion, roughly chopped
6 large cloves of garlic, roughly chopped
3/4 inch ginger, roughly chopped
1/2 cup grated coconut (fresh or frozen will both work. If using frozen, let it thaw before roasting)
10 Kashmiri Chillies (See note below), discard stalks
1 tbsp Coriander seeds
1/2 tsp Cumin seeds
1 tsp tumeric powder
3 cloves
8-10 peppercorns (this will add heat so use about 6-8 for a milder curry and around 10 if you want it hotter)
2″ cinnamon
1 tbsp oil
1 tomato, roughly chopped
Prep the crabs, sprinkle a little salt (about 1/2 tsp) on it, toss it in a bowl to salt the crabs well and set aside.
Roasting the Masala –
Heat a large pan / tava on medium heat.
Drizzle the oil in the pan and add the onion, garlic and ginger. Saute till it softens a bit.
Add the coconut and stirring frequently, roast it till it gets fragrant and the color starts changing. Lower the heat, if needed, to ensure the coconut and the spices don't burn.
Next add the Kashmiri chillies, coriander and cumin seeds and stir with the rest of the ingredients for about another 30 seconds.
Now add the turmeric powder, cloves, peppercorns and cinnamon to the rest of the spices in the pan and roast for about another 30 seconds to a minute, till it all gets fragrant and heated through.
Take off the heat and transfer to a large plate to cool.
Once it has cooled to room temperature, grind the roasted spice and coconut mix with the chopped tomato and a little water to a fine, smooth paste in the blender.
Keep aside.
For the curry –
Take a large pot, preferably with a slightly wide base that you will be able to fit all the crabs into.
Heat a tbsp of oil and add the finely chopped onion to the pan.
Saute till it has softened and is golden brown.
Add the spice paste and stir through. Let if fry off for about 2 minutes.
Add the Kokum at this stage.
Next add the crabs stir to coat with the spices.
Now add a little water to achieve the desired consistency for your curry.
If you don't have kokum and are using apple cider vinegar, add the vinegar, to taste, at this stage.
Let it come to a boil and simmer for about 15 minutes (Please note, this time will vary depending on the size of the crabs.)
Check for seasoning and add more salt if needed. At this stage if you find the curry too thick you can add a little more water to thin it down a little and continue to cook till it comes back to a boil.
If you find your curry too thin and want it thicker, continue cooking on a medium high heat till you get the desired thickness, stirring every now and then to ensure the curry doesn't stick to the pan and burn.
Serve hot with some boiled rice or bread.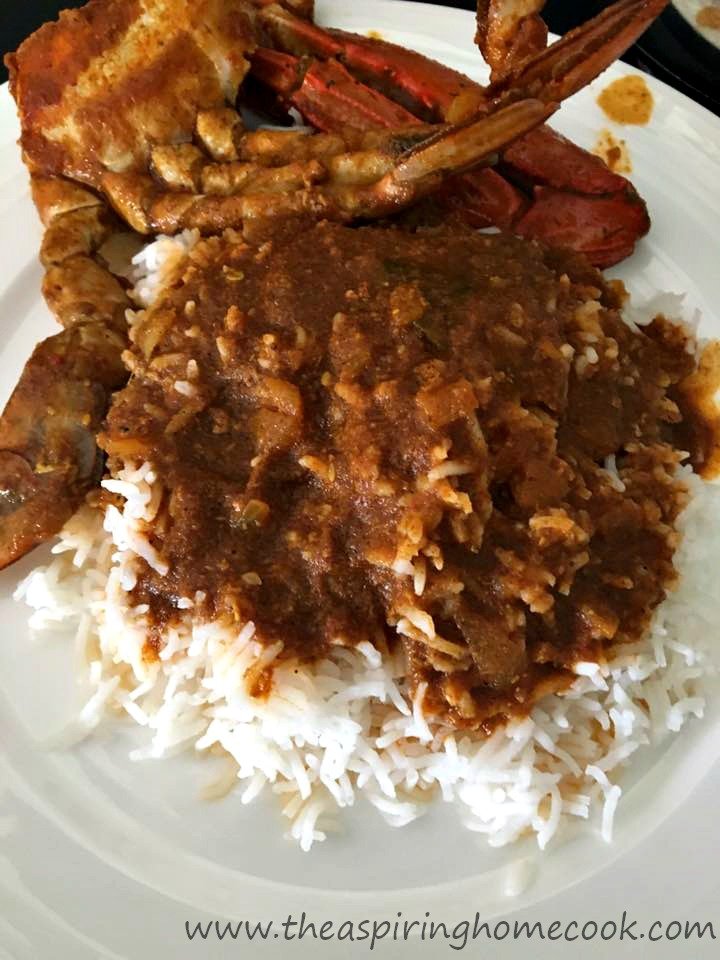 Enjoy!!!
*** NOTES:
– Kokum is an Goan souring agent (dried pieces of the Indian plum) using in cooking. You will find it in any Indian grocery store. If you don't have any on hand, just use some Apple Cider Vinegar, to taste.
– Kashmiri Chillies are dried red chillies. These are mild in flavor. You can substitute any other mild dried chillies or chilly powder.
** This post contains affiliate links.
So last week I shared with you a lesser known, but extremely yummy recipe for a biscuit found in the Pune-Mumbai region – Shrewsbury Biscuits. If you haven't seen that yet, go check it out, I'll still be here when you get back.
Okay, so you're back. Today, is the turn for another lesser known recipe, this time for a cake called Mawa Cake. Again, as far as I know this cake is found in the Pune-Mumbai region. Kayani Bakery in Pune and Merwan's Cake shop in Mumbai are popular for their Mawa cake, though you will find quite a few other shops selling this cake. They are usually sold in packs of 6 – 6 muffin sized pieces. This simple cake is so very special. It is not much to look at, but what it lacks in looks, it makes up for in taste. If you've never heard about this cake before, you should put it on your list of recipes to try out. Mawa is nothing but milk solids and this is widely used in a lot of Indian sweets.
A lot of people cringe at the thought of making their own mawa and just buy it from the local Dairy shop in India. This is because, while it is a simple process of reducing milk, working with about a litre of milk could take you about an hour to process. In the past, I have made Mawa the traditional way a couple of times. But for this cake, I decided to try out a cheat's version of Mawa. This method takes literally 2 minutes at the most, and you would never be able to tell that it is an instant version. I'm so happy that I found this method. I have a whole bunch of recipes for Indian sweets that I've been ignoring, simply because it calls for Mawa. But that has changed, so you can expect to see some more Indian sweets / Mithai recipes, just before the Indian festival season starts.
Back to the cake. If you have your Mawa sorted out, the rest of the recipe is like a simple pound cake one but with a serious flavor profile. The Mawa adds a richness to the cake and it is mildly flavored with cardamom powder, resulting in a very exotic tasting cake. This time around my husband made the cake, which I guess made it even tastier (lol). He chose to bake this in an 8″ round cake tin, but you could bake it in a cupcake tray too. I do hope you try it out.
Mawa Cake
Yields: an 8 inch cake or 15-16 cupcakes
1 portion of homemade mawa (recipe below) or 200g unsweetened mawa
200g all purpose flour
300g sugar
200g butter
4 eggs
1 tsp baking powder
1/2 tsp cardamom powder (Seeds of about 10-12 green cardamom pods, powdered)
Preheat the oven to 160ºC.
Grease and line an 8-Inch Round Cake Pan
with parchment paper / baking paper. Alternatively, if you are baking them in cupcake sizes, line a Cupcake tray
with paper liners.
Separate the egg yolks from the whites. Beat the whites to a stiff froth and keep aside.
In another bowl, cream the butter, sugar and egg yolks till light and creamy.
Add the mawa, cardamom powder, baking powder and flour and mix till well incorporated. (If the mawa in store bought or is a firm block, grate it before adding into the batter)
Fold in the beaten egg whites gently till just evenly incorporated in the batter.
Pour the batter in the prepared cake pan and bake for about 40-50 minutes (if using a cupcake tray, bake for 15-20 minutes) or till a bamboo skewer inserted near the middle of the cake come out clean.
Cool completely, cut and serve. Don't get fooled by the look of the cake. It tastes a whole lot better than it looks. And don't forget, if my husband (who has probably not baked more than a handful of times so far), can whip this up, so can you.
Enjoy!!!
How to make Instant Mawa?


1 tbsp ghee / clarified butter
1/4 cup milk
1 cup full fat milk powder
Warm the ghee and the milk together. You just want this mixture warm, not hot.
Add the milk powder and stir and cook till it comes apart from the pan and starts forming a ball.
Use to make mawa cake.
Notes: If you are baking the cake in a regular cake tin and not a cupcake tray, in some cases, the milk solids may cause the cake to brown quickly. This is normal, but if you think it is browning too fast and may burn, cover the tin loosely with aluminium foil and continue baking till the cake is done.
UPDATED:
to add recipe video.
Fish cutlets are one of my favorite seafood recipes to make and to eat. I love seafood and I also happen to love cutlets. They are so versatile. You can serve them as a snack / appetizer (they go so well with a chilled beer), as a meal with a side of chips and / or a salad or you can use them to make a fantastic burger. I have shared a recipe for fish cutlets previously using fresh fish. You can find that one here. This recipe is fairly similar with the exception of one main difference. This one uses canned tuna.
Now, I love my fish fresh. I believe that fresh is the best way to enjoy fish. But yesterday, I found myself longing to eat some fish cutlets but didn't have any fresh fish. Now that was just not going to do. So I put my thinking hat on and eventually decided to try to make cutlets using canned tuna instead. I had heard that some people make their cutlets with canned fish, but I'd never tried it out for myself. I happened to have a few cans of tuna chunks in the pantry, so I figured I had nothing to lose.
The cans I used were tuna chunks in spring water. You need to make sure you drain the tuna well. I didn't know what to expect and found that I had to use a little extra egg for binding but in the end I was delighted with the results. The cutlets were delicious. It took a fraction of the time to make compared to if you were to use fresh fish because the fish has to be cooked and deboned. So in all, I was extremely pleased with this attempt.
The type of canned tuna will determine how much egg is needed. I would recommend starting out using one egg and if you can shape the cutlets easily without them falling apart, then you are good to go. If not add more egg to the mix.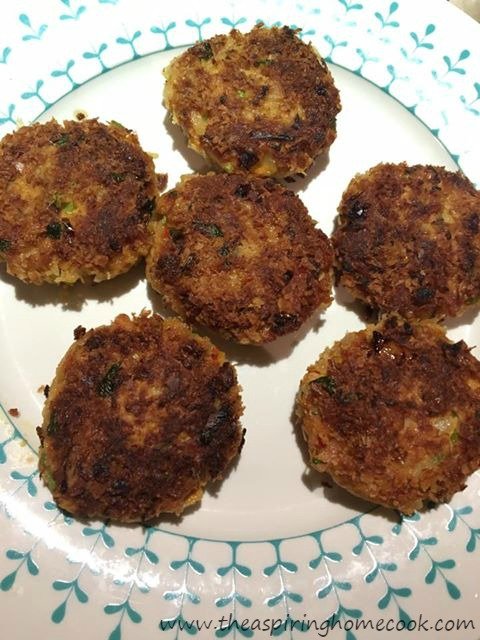 Goan Fish Cutlets
Yields: 12 cutlets


4 cans of tuna (I used 95g cans of chunk tuna in spring water) (Or 1 can x 495g Tuna)
1 onion, finely chopped
2 red birdseye chillies, finely chopped (optional)
1/2 tsp fresh ginger, finely chopped (or you can use paste)
2-3 cloves garlic, finely chopped (or you can use paste)
A small bunch of fresh coriander leaves and stalks, finely chopped
Salt, to taste
1/2 tsp turmeric powder
1 tsp red chilly powder
1/4 tsp black pepper powder
1-2 eggs
2 slices of bread
Bread crumbs, to coat the cutlets
Oil for frying
Drain the tuna thoroughly and flake it in a large mixing bowl.
Soak the bread slices in water for about 5 minutes and squeeze thoroughly. Crumble the bread as fine as you can and add it to the bowl.
Add the rest of the ingredients except the panko bread crumbs and the oil to the bowl.
Place a layer of the breadcrumbs on a dry plate.
Using the fish mix, shape into cutlets and carefully coat on both sides with the bread crumbs.
Heat 1-2 tbsp oil in a pan on medium heat and carefully place the coated cutlets on the pan. Cook for a couple of minutes on medium heat till golden brown on one side.
Then carefully flip over to cook to a golden brown on the other side too. Add another spoon of oil to the pan as needed.
Repeat till the batter is over and all the cutlets are fried.
Serve hot.
If you enjoy a good cutlet, try out some of these recipes –
Fish Cutlets
Beef Cutlets
Eggplant Patties
Thai Inspired Chicken Patties
Quick and Easy Crab Cakes
I love snacking. Probably more than I love my meals. There, I said it! I think this is because I grew up in Mumbai, formerly known as Bombay. Mumbai is famous for its street food, which are mostly snacking options. Some light snacks and others can be more substantial and work well as meals in themselves. Its their easy availability and their reasonable prices that makes them so popular.
Since I am not in Mumbai anymore, you can only imagine how much I miss these delectable treats. So out of necessity and a healthy amount of curiosity, in the past couple of years, I've found myself looking out for Indian snack recipes to try out at home. Once you start looking it up, you will be amazed at how much variety there is out there. India is a big country with rich, cultural diversity and that is reflected in its food as well. This has worked very well for me, because it gives me an opportunity to try out heaps of different recipes, like this one. Mungode is a one such treat that I recently stumbled upon. Yes, it is another deep fried treat, like a lot of other Indian snacks, but its not like you'd indulge in this everyday. It is a simple recipe to follow with minimal prep work involved, just the kind of recipes I like. These little deep fried Moong dal (split and hulled mung bean) fritters are crunchy on the outside, full of flavor and are best served hot with some ketchup or your favorite
Mint chutney
.
Serves 3-4 as a snack
1 cup moong dal (Split and hulled mung beans)
1 large onion, finely chopped
1 tbsp ginger, freshly grated
1-2 green/red birdseye chillies, finely chopped (optional)
1-2 tbsp fresh coriander leaves and stems, finely chopped
Salt, to taste
Oil, for deep frying
Wash the moong dal and drain the water. Do this about 3-4 times.
Soak the dal in fresh, tepid water for about an hour.
Grind it to a coarse paste and empty into a mixing bowl.
Add the onion, ginger, green chillies, coriander and salt to the bowl with the dal and mix well.
Heat oil for deep frying.
Drop in little portions of the batter. I used portions a little less than a teaspoonful. (You don't want large fritters or it might not cook through.) Also, keep the fritters uniform sized so that they cook evenly.
Don't overcrowd the pan and fry the fritters in batches.
Let the fritters fry till golden brown on medium heat. Drain using a slotted spoon.
Drain on some kitchen paper to absorb any excess oil for a couple of minutes. Repeat with any remaining batter.
Serve hot with tomato ketchup or mint chutney and a nice hot cup of tea.
Enjoy!!!