It's been a while since I posted an Indian recipe. Especially a savory one. And today, I'm going to do just that. Indian recipes often get a bad rep for being notoriously complicated, or mind numbingly spicy or involving too many ingredients. Today's recipe will prove all of that wrong. Today, I am going to share with you my Mum's recipe for a vegetable Sambhar. My mother has always been a fantastic cook and when she visited us last year, I was lucky enough to learn how she makes it. There's a couple of steps to follow, but they are so easy and quick, you'll be pleasantly surprised at how easy some Indian recipes are.
Here, on The Aspiring Home Cook, I love to make things from scratch. I have tried a made from scratch version of Sambhar too, and it was okay, but didn't turn out like my Mother's did. So for this one, I'm following her recipe and since she's uses a store bought blend called a Sambhar Masala, I did just that. This Sambhar Masala is a delicately balanced blend of spices and gives a beautifully complex depth of flavor to the dish. Now, I always have a box of this masala in the pantry. I've used a couple of brands in the past like Everest and MDH, both of which you should be able to find at your local Indian grocery store, and they are both good. This time around, I've used the Everest Sambhar Masala.
Moving on to the vegetables. I use a mix of all sorts of veggies. This time around, I used some sweet potato, carrots, eggplants (I grew these ones in my own backyard, so I'm thrilled about them), okra / lady fingers and drumsticks. You can also use bottle gourd (white pumpkin), pumpkin and potato if you like. Use what you have on hand. Typically a sambhar always has drumsticks, eggplant and some bottle gourd. For those of you who aren't familiar with drumsticks, its the fruit of the moringa plant and supposed to be very good for you. They come in long canes ranging from 1 to 2 feet in length. They are chopped into smaller pieces, about 2 inches long and you don't eat the outer hard skin. Your after the pulp on the inside and the seeds. It is eaten much like how you would scrape the icing from the inside of an oreo cookie with your teeth.
This sambhar can be served up with some plain, boiled rice and a side of papad (poppadums) and Indian pickles of your choice. This sambhar pairs very well with idlis or dosas. I also enjoy a bowl of this stew with some crusty bread.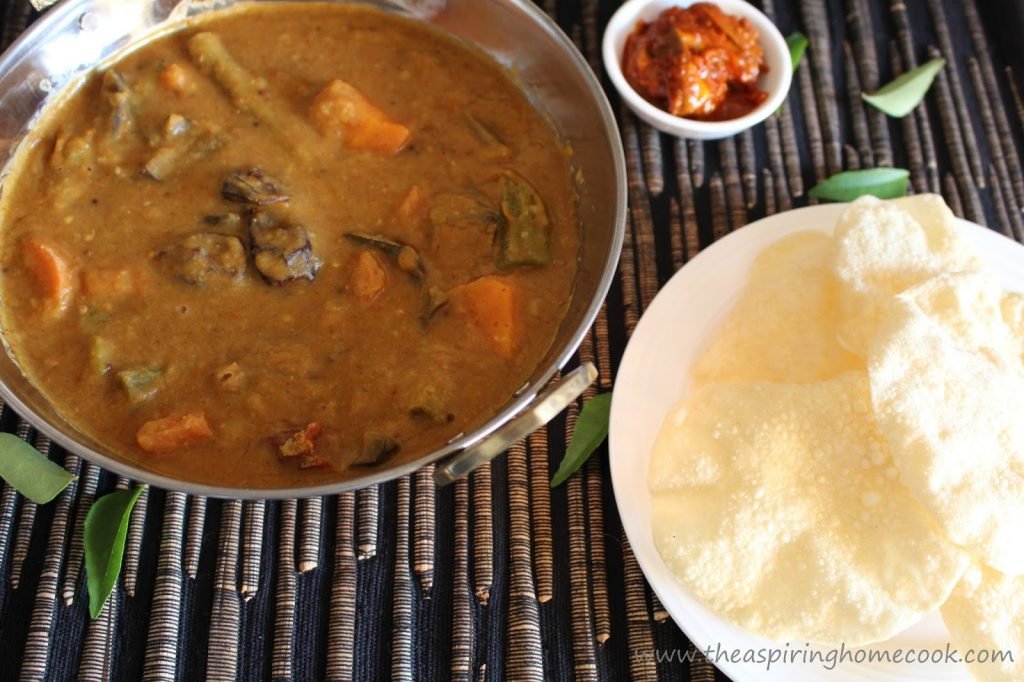 If you want to see this being made, check out the video version of the recipe here –





Vegetable Sambhar


1 cup toor dal (pigeon peas)
1/2 sweet potato
2 carrots
A handful of okra
2-3 small eggplants
A couple of drumsticks (A handful of frozen pieces)
8-10 curry leaves
1/2 tsp black mustard seeds
3 dried Kashmiri chillies
1 tbsp Sambhar masala
1/2 tsp Kashmiri chilly powder, or any mild red chilly powder
1 tbsp olive oil
Salt, to taste
Tamarind, the size of a small walnut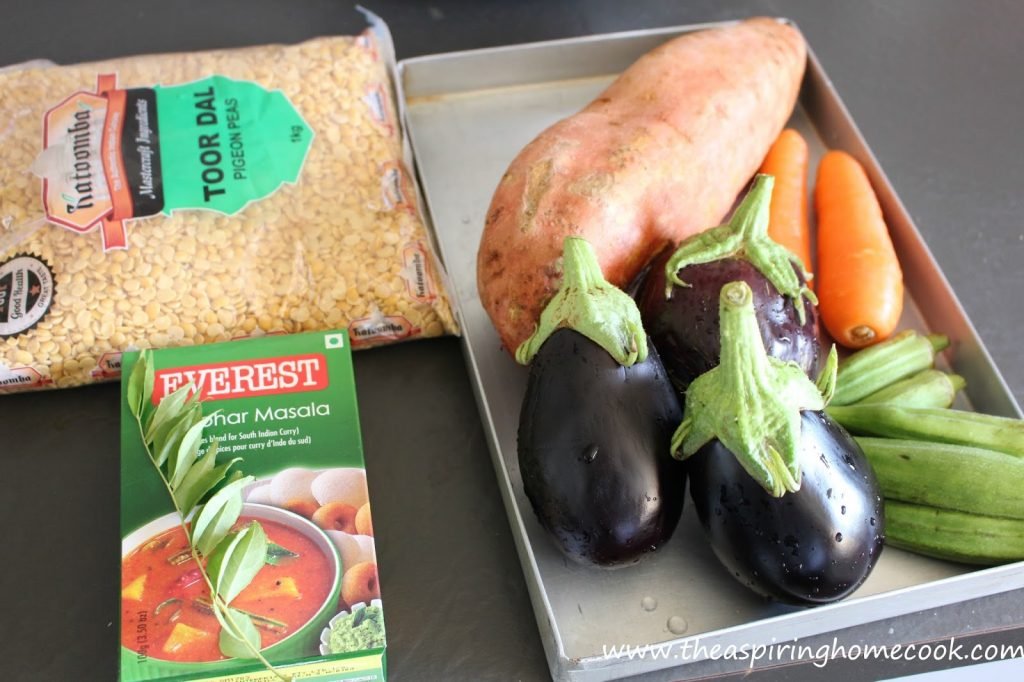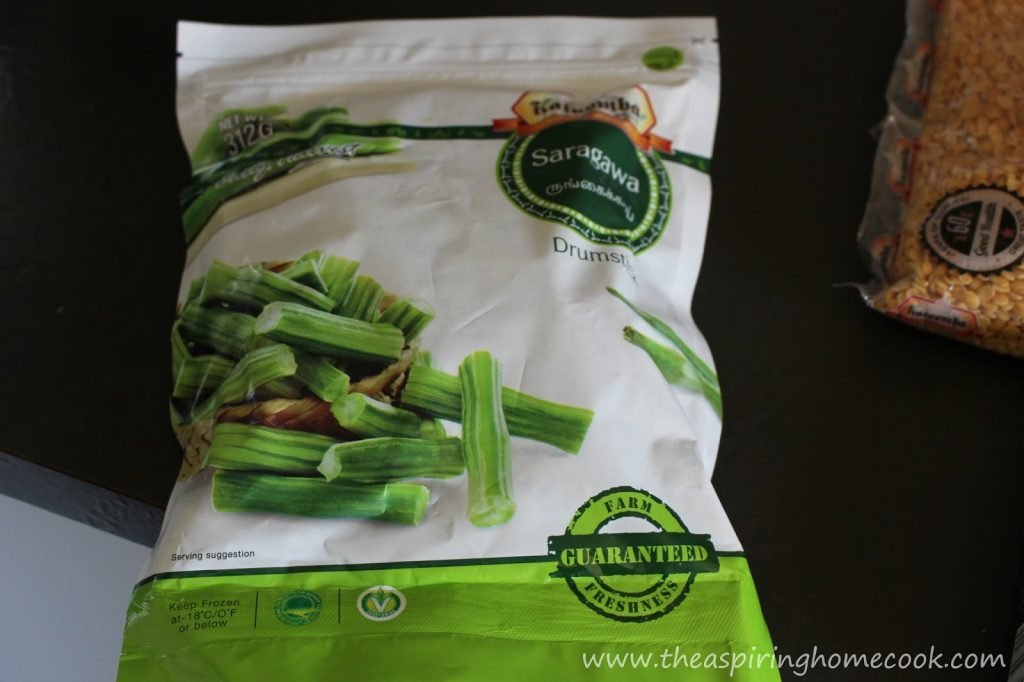 Cooking the lentils –


Wash through the toor dal with cold water and drain. Do this 2-3 times.
Cover the dal with fresh water till the dal is fully submerged and set aside to soak for about 10 minutes.
While the dal is soaking, chop up the vegetables you are using into similar sized cubes.
Drain the dal, and rinse through with fresh water and drain again. Pressure cook the dal with 2 cups of water and 1 tsp of salt. Cook till tender, almost mushy. It takes about 5 minutes in my WMF pressure cooker. Follow your manufacturers instructions to get you the best results. If you don't have a pressure cooker, simply boil it in a pot with plenty of water till it is well cooked.
Once the pressure dies down, open the pressure cooker.
Cooking the vegetables –
While the dal is cooking, place the chopped vegetables in a large pot, top off with water from a recently boiled kettle and 1/2 tsp salt. Boil the veggies till they're almost done. Don't over cook the vegetables, because they will continue to cook in the sambhar. When the veggies are ready, drain them and set them aside. Reserve the water the vegetables were boiled in.
To make the sambhar –


Soak the tamarind in a small bowl with about 1/8 cup of warm water. Set aside till later.


Heat 1 tbsp of olive oil in large pot on medium heat.
When the oil is hot, carefully tip in the mustard seeds. When they start to sputter, add the curry leaves and the Kashmiri chillies.
When they have warmed through and released their flavors and aromas into the oil, lower the heat and add the cooked lentils and the water it was cooked in. Stir through.
Now add the sambhar masala and red chilly powder and stir through.
Add 1/2 – 1 cup of the vegetable stock to loosen the lentil curry as needed. You can add as much or as little of the stock as you need, depending on the consistency you'd like the sambhar to be. Keep in mind, the sambhar tends to thicken a little as it cooks.
Bring this back to a boil and add the cooked vegetables.
Once everything has heated through, check for seasoning and add more salt, if needed.
Now, mash the tamarind with your fingers in the water it was soaking in to extract the pulp. Pass this through a sieve into the pot of sambhar. Add this tamarind extract to taste.
Let it simmer for a couple of minutes.
Serve hot!!!
As a food blogger, someone who loves learning new things and basically a lover of good food, I have an ever-growing list of 'Recipes to try' and 'food I'd love to learn how to make'. And that list grows like it has a life of its own. Just the other day, my husband, in all innocence asked me what I would do when I ran out of recipes to share on the blog. My response – I laughed. He thought I'd lost it. Then I showed him just a glimpse of these lists and he knew it wasn't going to happen any time soon.
Today's recipe is one I've wanted to try even before I'd started any of these lists. You see, Dal Vadas are easily available street food in Bombay. These aren't as popular as Idlis and Medhu Vadas (South Indian Food), but I've always had a soft corner for this treat. These deep fried dumplings are made from split and hulled chickpeas aka Chana Dal, easily found in any Indian grocery store in the aisle with the lentils. They are everything I love in a snack, small portion size, crispy on the outside and chock full of flavor.
The recipe I tried is a little different from the commonly found Dal Vada. It is amped up with some Garam Masala (an Indian spice blend) and fennel seeds, which you typically don't find in the Street Food variety, I must admit it adds a lot of flavor. You could skip the fennel for a more tradition version of the vada. I couldn't believe how easy it was to make. You could serve this with your favorite chutneys like this Green Mint Chutney (
Pudiney ki chutney
) and this Tamarind and Date Chutney (
Imli ki chutney
), or you could just serve it with some Tomato Ketchup. Or be like me, throw caution to the wind and serve it up with all three for a little variety. Whichever way you decide to go, I hope you try it out.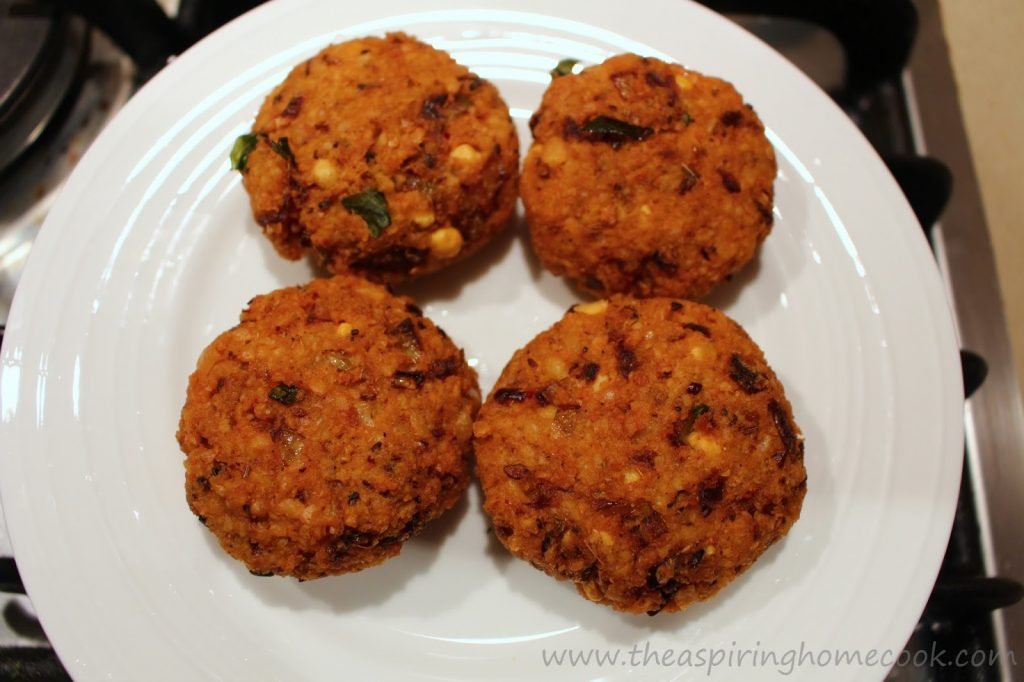 Dal Vada
1 cup chana dal
Salt, to taste
1″ cinnamon
1-2 dried red chillies
3/4 tsp cumin seeds
3/4 tsp fennel seeds
1 medium onion, finely chopped
1-2 sprigs curry leaves, roughly torn / chopped
1/2 tsp ginger paste
1/2 tsp garlic paste
1-2 green chillies, finely chopped
1/2 tsp turmeric powder
Oil, for deep frying
Wash the chana dal a couple of times and drain the water.
Soak the dal in fresh water for an hour and a half. Make sure there is ample water in the bowl. after soaking drain the dal thoroughly using a colander.
Grind the cinnamon, red chillies, cumin and fennel to a coarse powder.
Keep this aside along with 2 tbsp of the chana dal.
Grind the rest of the drained dal and salt by using the 'Pulse' function on your blender to grind it coarsely and transfer to a bowl.
To the bowl, add the curry leaves, onion, coarsely ground spices, green chillies and the reserved dal and mix it all well.
Heat the oil for deep frying.
To shape the vadas, roll a golf ball size of the mix to a ball and flatten them.
Deep fry on medium heat till golden brown on both sides. (Using high heat will just brown the outside and leave the inside uncooked, so be sure to fry it on a medium heat.)
Drain and place on some kitchen paper to absorb any excess oil.
Serve hot with either chutney or ketchup.
Enjoy hot with a steaming cup of tea !!!
Click
here
for some more Bombay Street Food options.
Today we're going to talk pickles. No, not the bread and butter pickles or the dill pickle kind. We're talking Indian pickles. Pickles form a huge part of Indian cuisine. As vast as India is as a country, even more diverse is the food that comes from all different parts. Every region has its own culture, language, cuisine and hence versions of pickles. I have always been a very picky pickle person. (Haha, theres a mouthful of a sentence). Anyway, there are some pickles I just can't deal with (most of these being the spicy store bought ones) but there are others I can't get enough of.
Pickle making has always intimidated me. I always thought of it as a tedious and daunting process. I guess some of this anxiety with pickle making also comes from my Mum. She makes some mean pickles, but inspite of every care, can never get them to last. They'd get spoiled before we could finish them. I always thought that would happen to me too. Don't ask me why, I just thought it would. Until I tried my first homemade pickle – this super yummy Goan Eggplant Pickle. I was surprised at how easy it was to make and we enjoyed it for months after.
I was eager to try out a few more recipes after my success with the eggplant pickle. So a few months ago, when raw mangoes started showing up around Sydney, I just had to try out some mango pickles. Some Indian pickle recipes are long drawn and need to be kept in the sun. I wanted something a little quicker. So, I picked up a few green mangoes at Paddy's Market in Flemington and I narrowed it down to two recipes to try out this time around. One of them was this Instant Mango Pickle. Ofcourse, seeing that it was an instant recipe was a huge bonus. Plus it was so easy to make, I couldn't not try it. Also this is a small batch recipe, which was fantastic, because we're a family of 2 and I had more recipes to try out. I chose to wait for a few months before sharing this recipe, because I wanted to see if it would keep. And I'm happy to report that if you use a clean, dry glass bottle and a clean and dry fork / spoon to serve, this keeps refrigerated for more than 4 months. Moreover, this is a delicious spice blend, unlike those you will find in any store-bought version. I happen to really like this recipe. I'd take that as a win for me and my pickle making.
Spicy Kerala Mango Pickle
Recipe from: Edible Garden
2 cups raw mango, skin on, cut into uniform sized cubes
2 tbsp salt
1/4 cup oil
2 1/2 tsp black mustard seeds
1/2 tsp fenugreek seeds
2 springs curry leaves (leaves only)
2-3 tsp red chilly powder
2 tsp vinegar (optional)
Add salt to the cut mango pieces. Toss well and keep aside for 20-30 minutes.
Combine 2 tsp mustard seeds and the fenugreek seeds and grind them to a coarse powder together.
After the mango pieces have been sitting in the salt for 30 minutes, heat oil in the pan and add 1/2 tsp mustard seeds.
When the mustard seeds pop, turn the flame off. Add the powdered mustard and fenugreek.
Immediately add the curry leaves and the red chilly powder and stir well for about 5 seconds.
Tip in the salted mangoes and add the vinegar, if using.
Stir well. The residual heat of the pan will cook the pickle through as needed.
Let the pickle cool down completely in the pan itself.
Once it has completely cooled, store in a clean, dry glass bottle / jar.
Store refrigerated.
Enjoy!!!
**Serve with your favorite dal and rice.
This recipe has been added to –
Food on Friday @ Carole's Chatter
Back when I was in Bombay, Christmas time was always pretty hectic. Who am I kidding? Hectic doesn't even start to describe it. It used to be insanely manic. See I used to run a home based business and take orders for Christmas sweets. And come December, activity levels in the kitchen would kick into overdrive. Okay so you're probably wondering why I'm headed with this. Well during these insanely busy periods, I was fortunate enough to have my parents cook for us and on one such day my Dad brought over a bunch of yumminess and this Black Chana Fugad was one such dish.
A Black Chana Fugad is simple and humble dish. That being said, I loved it. What is this Black Chana Fugad? Black Channa is just Black (dark) chickpeas. Fugad is a Goan version of a stir fry with grated coconut. Now, I haven't been able to get the recipe that my Dad used, but with a little help from the internet, I found a recipe that actually came quite close. Maybe when I visit my parents next, I will get my Dad's version of the recipe, but for now, I'm happy to use this recipe.
You could use canned black chickpeas if you can find any. I use the dried version.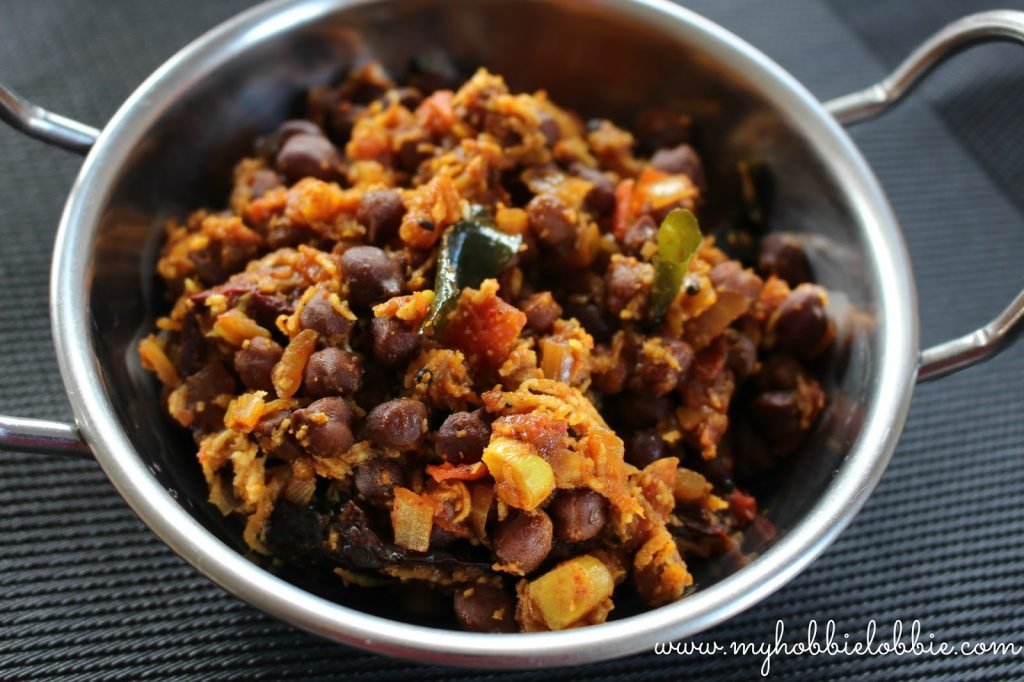 Black Chana Fugad / Black Chana Sukkhe
1 cup (dried) black chickpeas
1 tbsp vegetable oil
1/2 tsp mustard seeds
8 curry leaves
5 cloves of garlic
1 large onion, finely chopped
1 large tomato, finely chopped
1 tbsp Kashmiri Chilly powder (this is a mild red chilly powder, if you don't have access to this use a smaller quantity of red chilly powder, to taste)
1 tbsp coriander powder
1 tsp cumin powder
1/4 tsp black pepper powder
1/4 tsp turmeric powder
1 tsp tamarind extract
1 tsp jaggery / palm sugar
1/4 cup grated coconut
Salt, to taste
Wash the black chickpeas in water and drain a couple of times.
Soak the dried chickpeas in water overnight (or about 8 hours). Make sure the water is about 2 inches over the chickpeas and use a large bowl because the chickpeas will expand in size.
Drain the water and rinse the chickpeas fresh water and drain again.
Place the chickpeas in the pressure cooker with the water level about 1 inch over the chickpeas. Add 1 tsp of salt and 2 whole dried red chillies (preferable Kashmiri chillies) and pressure cook till tender.
**Every pressure cooker is different so I can't give you an accurate amount of time it will need to cook. I use a WMF pressure cooker and when the pressure builds to the gentle cooking pressure point, I turn it down to a simmer and leave it to cook for about 4 minutes. If you do not have a pressure cooker, just cook the chickpeas in ample amount of salted water till tender. Use your manufacturers instructions to gauge how long to pressure cook the chickpeas.
Release the pressure and after the pressure has completely died down, carefully open the cooker.
Drain the chickpeas and reserve about a cup of the stock.
To make the fugad –


Heat the oil in a pan on a medium heat.
Add the mustard seeds and let them sputter.
Now add the curry leaves and crushed garlic cloves. (You just want the cloves bruised and popped open, you do not want to mince it or make a paste.)
Now add the onion and saute till soft and translucent.
Add the chilly, coriander, cumin, black pepper and turmeric powders and stir well.
Now add the chopped tomato and stir well. Cook this till the tomato has softened a little.
Add the drained chickpeas and stir well.
Add the tamarind paste gradually and to taste. (You may or may not need all of it, depending on the tartness of the tomato you have used.)
Add a couple of tablespoons of the stock and let it all cook down for a minute or so.
Check for salt and add more, if needed.
Add the grated coconut and stir well. If you want more gravy you could add a little more stock.
We usually have this dish on the dry side, so we let the stock cook down completely.
Once the coconut has cooked for a couple of minutes, take off the heat and serve hot.
This dish goes beautifully with chapatis or rotis.
Enjoy!
After what seems like forever, I'm back in the blogosphere. And I just have to share this little treat with you. It is a South-Indian delight. We've been missing the readily available street food in Mumbai an awful lot lately, so I've decided that instead of whining about it, I was just going to have to put my big girl pants on and learn how to make it myself.
So off I went, to scour the internet for recipes easy enough for a beginner in South Indian food to get right. You might wonder what I'm on about. You see I love South Indian treats, but a lot of them call for the perfect ratio of ingredients, overnight fermentation and consistency of the batter, to name a few pressure points you might come across in a recipe. I wanted something that wouldn't take as long. After a little looking, I found a recipe for Deep-fried lentil fritters. It requires a little planning in advance, since the lentils have to soak for a while (you could make the Chutney and the prep the other ingredients in the meanwhile), but other than that its fairly simple to prepare. The fritters turned out fantastic. Crunchy on the outside, fluffy on the inside and they packed some lovely flavor. I should tell you at this point, that the first time I made these fritters, the batter was a little thinner than it should have been. The resulting fritters were tasty but absorbed a little oil while they were being fried. I knew at once that I needed to make some changes. When I made these a second time and watched the water content closely. The batter was a lot thicker than the previous time.
And since then I've made these a couple of times and they hit the spot every single time. So until I learn to make a few more Indian street food delights, I will make these bite sized treats everytime the we're hit with the craving for some South Indian food.
I've used a bit of chillies with the seeds since we like our food with a little bite. But you can either cut down on the chillies or leave them out completely. Serve this hot with some
Coconut Chutney
on a wet / cold day or any other day really coupled with a piping hot cuppa tea and you're in for a real treat.
Come back tomorrow and I'll show you how to use these fritters to make another yummy snack.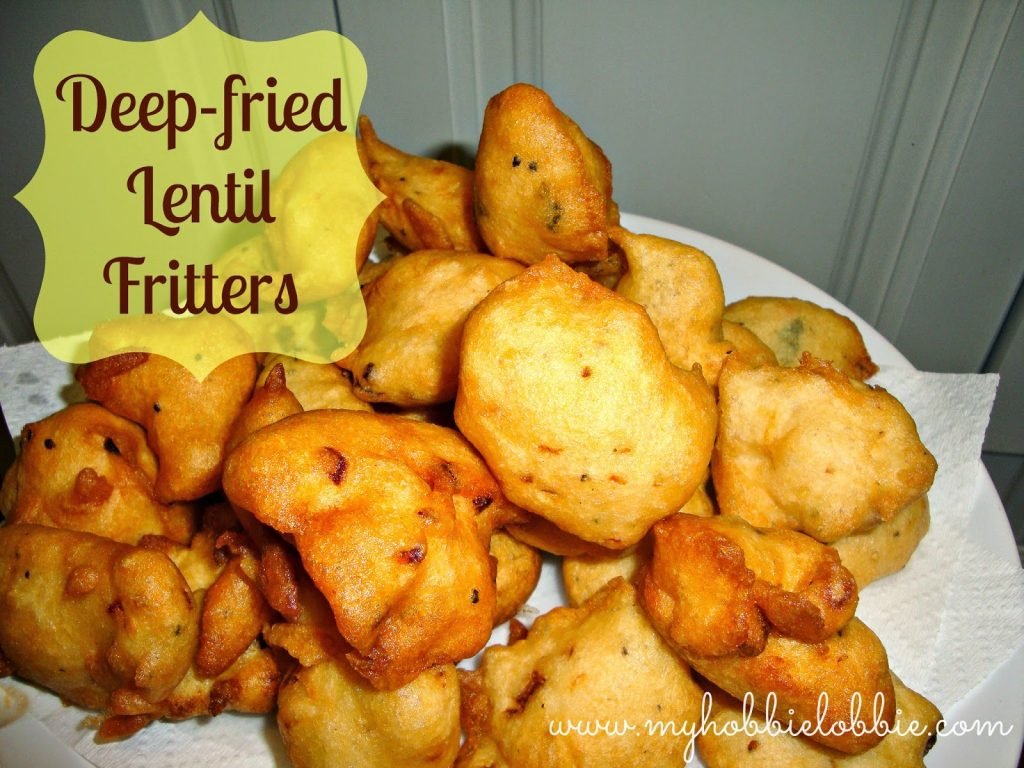 Deep-fried Lentil Fritters
1 cup Urad Dal, black lentils (skinned and split)
1/4 onion, finely chopped
2 green chillies, finely chopped
1/4 tsp. freshly crushed black pepper
1 sprig curry leaves, roughly torn or chopped
2 tbsp rice flour
Salt, to taste
Oil, for deep frying
Wash the dal a couple of times in water and drain.
Soak the dal in water for 20 minutes.
Drain the water. Rinse the dal through with fresh water again and drain.
Grind the dal with a tiny bit of water to a smooth paste. Remember, to not add too much water. You don't want a thin runny batter.
In a bowl, mix the paste, salt and rice flour. Add the onions, chillies, pepper and curry leaves and stir through, to mix the ingredients evenly.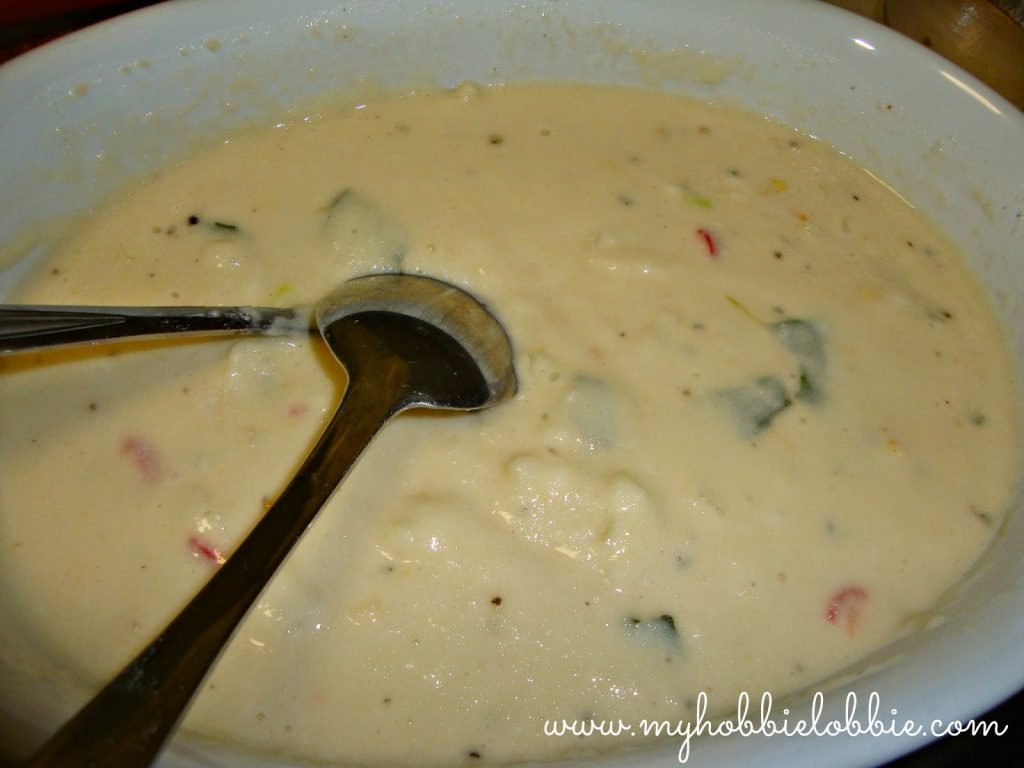 Heat the oil in a wok to deep fry.
When the oil is hot, ladle the batter carefully into the oil one tablespoonful at a time and keep the oil on a medium heat. Fry the fritters till golden brown.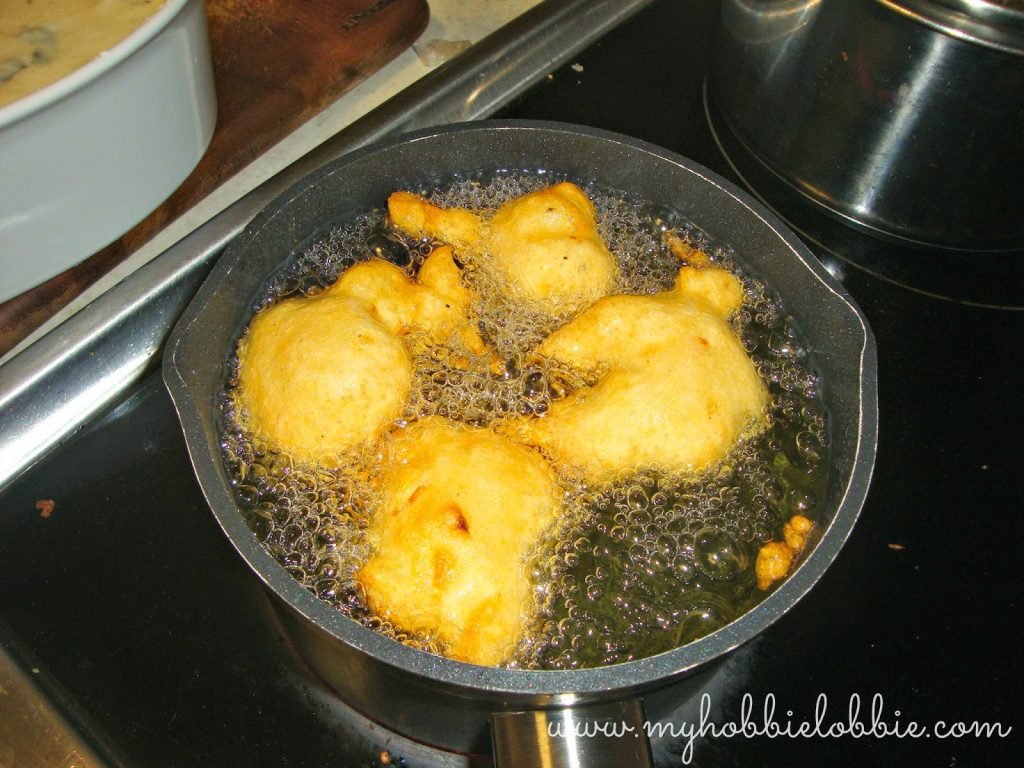 Drain the fritters onto some kitchen paper to absorb any excess oil.
Enjoy hot with some Coconut Chutney and a hot cuppa tea.
I know, it seems like I've abandoned this series on Bombay street food. I haven't, but sometimes theres just so much going on that its not possible to fit everything into a twenty four hour day. In the past few days since I've returned, the day seems to have somehow shrunk and become even shorter. Anyway, the news is that I'm going to try and squeeze in some time for this serious.
South Indian fare is very popular street food in Bombay. Today, I've got a little twist on the the traditional fare, but I promise you it is good, so very good. Typically, South Indian snacks like dosas and idlis take a while to make. The batter is made with a base combination of rice and urad dal (black gram). The ingredients have to be soaked, ground and fermented etc. (not necessarily in that order). In time, I'm itching to try out the traditional method. This take, however, is a quicker, simpler version. Its almost an instant recipe. The idlis turn out really delicious and I made a quick coconut chutney that my mum always made to go along with dosas and idlis. My mum has this amazing lady for a neighbor. She is from South India and ever so often whenever she has time away from school, where she's a full time teacher, assistant head mistress and I don't know what else, she'd treat us to a huge portion of breakfast snacks like this that she'd make for her family. I miss those days. And honestly, she was the first person I thought about while I was eating these. I should try and coax her to give me her recipe for the traditional rava idli.
But back to the instant rava idlis, they make a quick healthy snack with rava (semolina) and it is steamed. What could be healthier? For me, this is like soul food.


Rava Idli
Adapted from: Cooking Up Something Nice
(Makes 8)
1 cup rava or semolina
1 cup curd or plain unflavored yogurt
Salt to taste
1/4 to 1/2 cup water (I used a almost half)
1/2 tsp oil (I forgot to add this but it still turned out great)
A pinch of soda bi-carbonate
Mix all the ingredients in a large bowl and make sure there are no lumps.
Let it stand for 20-30 minutes. During this time you can make the chutney (Recipe below).
Pour the batter into idli moulds and steam for about 10 minutes.
Open the steamer and let it cool for a couple of minutes. Then take the idlis out of the moulds. A small spatula or the blunt end of a knife should be just right incase you need to help the out of the moulds.
Enjoy them hot with some Coconut Chutney.
Coconut Chutney
1/2-3/4 cup of freshly grated coconut
1-2 green chillies
Salt, to taste
1/2″ ginger
A ball of tamarind, the size of a large marble, soaked in a little water
Blitz all the ingredients together in a blender. Taste and adjust seasoning.
And thats it. In half an hour you can treat yourself to something yummy and wholesome.
This recipe is linked to –
Tuesdays at the Table
Delectable Tuesdays
Tuesday Night Supper Club
Whats Cooking Wednesday