You'll notice that a lot of recipes that I share here are vegetarian. I thought I'd talk about that for a moment. While my husband and I aren't full time vegetarians, we eat very little fish and meat. Most of our meals in a regular week happen to be vegetarian and we like it like that.
Today's recipe is another such gem. Its my French Beans Foogath, a Goan Style Green Beans Stir Fry. I love keeping things simple in the kitchen. This works well for me when I'm short on time but still want a home cooked meal. This recipe ticks all those boxes. Just a handful of ingredients, a little cooking and you end up with a delicious vegetable. Now that's my kind of recipe. I hope you enjoy it too.




French Beans Foogath


1/4 kg green beans / french beans (approx)
1/2 tsp mustard seeds
2 chillies, cut into quarters lengthwise
1 onion, peeled and chopped
A little grated coconut
1 tbsp oil
Salt, to taste
Prep the green beans by washing them, trimming the ends and chopping into little pieces.
Heat some oil in a pan.
Add the mustard seeds.
When they start spluttering, add the chillies and stir for a few seconds.
Add the onion and saute till they've softened and they start developing a little color.
Add the green beans and stir well. Stir fry for about a minute.
Add a little salt and stir through for about another minute.
Add a couple of small splashes of water. Let the water come to a boil. Lower the heat, cover the pot and let the vegetable cook.
Check the vegetable in a couple of minutes. Stir and ensure there is sufficient water. Add more water if needed. Check for seasoning and adjust if required and let it continue to cook till done.
When it's almost done, add the coconut and stir through. Let it cook for another minute or so, to let the coconut warm through.
Serve hot.
Enjoy!!!
This post is a shout out to another one of my favorite vegetables – Red amaranth leaves. Have you tried it before? If you haven't, do try and get your hands on some. It is such a fun vegetable with its beautiful, naturally red color. It is super easy to put together and uses just a few, easy to find ingredients and you have yourself a mildly spiced, flavorful stir fried vegetable. My take on it, uses some grated coconut. Don't leave the coconut out. It absolutely makes this dish. The name 'tambdi bhaji' literally translates to Red Vegetable (in Konkani, Tambdi=red and bhaji=vegetable)
The sad part is, as much as I love this vegetable, I haven't been able to find these gorgeous leaves in Sydney. When I was back home in Mumbai a month ago, I knew we were going to make a few trips to the local fresh food market. Now, I haven't spoken about this before, but back when I lived in Mumbai, my first stop to the market was at a little stall run by a local lady (from the Gorai – Manori stretch). There are a couple of such stalls and these ladies bring a gorgeous bounty of produce that they grow on their properties. And this is as close to fresh, chemical free and organic food as you can get (make sure you chat with your vendor to confirm their growing practices). So on one of these trips to the market, my favorite vendor had some gorgeous bunches of red amaranth leaves. Needless to say, I grabbed a couple of massive bunches and ran home to whip it up for lunch.
So without any further rambling, let's move on to the recipe.


Tambdi Bhaji
2 large bunches of red amaranth leaves
2 tbsp oil
1/2 tsp mustard seeds
3 green chillies, slit
1 onion, chopped
2 heaped tbsp grated coconut
Salt, to taste
To prep the vegetable, break off the roots and the woody part of the stems and discard. Wash the leaves under cold, running water and drain. Wash it out a couple of times or till clean. Roughly chop the vegetable and keep aside.
Heat the oil in a large pot on medium heat. Carefully tip in the mustard seeds.
When the seeds splutter, add the chillies and let them fry till fragrant.
Add the onions and saute till they soften and turn slightly pinkish.
Add the chopped vegetable and stir well to coat it in the oil and onion mix. Let the vegetable stir fry for a couple of minutes. You will notice it wilting already.
Add some salt, to taste and stir well to mix.
Add a couple of tablespoons of water and mix through.
Cover the pot and cook on medium heat for about 3-5 minutes or till the vegetable is tender and most of the water has evaporated.
Add the grated coconut and stir through.
Check for seasoning and add more salt, if needed.
Cover the pot and let it cook for about another minute to let the coconut heat through.
Serve hot. Enjoy!
I have always had a love affair with food. Even as a kid, both my brother and I, were never picky about food. I guess we had Mum to thank for that. She was, and to this day is a fantastic cook. Given, now because of her health, she cannot do as much as she used to, back in the day. But when we were growing up, every meal was home cooked. I don't remember eating out till much later, when I was in college. Right from breakfast, through to lunch and dinner, snacks and desserts, she made everything. And a great variety of it too. I'm happy that now, I can proudly say, I try to do the same. I still have a lot to learn and experiment with, but I owe my love for cooking and good food to my Mother.
These Beef cutlets have got to be one of my favorite recipes. When we were kids, my brother and I would wait for Mum to make a batch of these cutlets at home. It wasn't made very often, but when it was, it was a real treat. I have, for the most part, stuck to my Mum's recipe, with just a few tweaks.
These cutlets are very versatile. Make them smaller in size and serve them up with some tomato ketchup or Barbecue Sauce as starters or Finger food, make them larger and use them as patties in Burgers or make a medium size and serve it up with some Mashed potatoes / Roasted potatoes / Fries and a salad .
I have posted a beef cutlet recipe before, but that was a really long time ago. This recipe is the same, with just the addition of some Worcestershire sauce. I thought it would be a good opportunity for me to take some new pictures. After all, its been a long journey from 'My Hobbie Lobbie' to 'The Aspiring Home Cook'. I've also filmed a little video with some handy dandy tips too. I will link the video at the end of this post.
Goan Beef Cutlets
(Makes about 14-15)


500g ground beef (beef mince)
1 large or 2 medium onions, finely chopped
2 birdseye chillies, finely chopped (optional)
3-4 cloves of garlic, finely chopped
1/2″ ginger, finely chopped
1-2 tbsp fresh coriander leaves, finely chopped
1 egg
1/4 tsp black pepper powder
1/4-1/3 tsp turmeric powder
1/2 tsp red chilly powder
2 tsp Worcestershire Sauce
Salt, to taste
2 slices of bread
Bread crumbs, to coat the cutlets
Olive oil, for frying (You can use whatever cooking oil you have on hand)




Soak the slices of bread in water for a few seconds, drain out all the liquid and crumble. Mix together all the ingredients except the bread crumbs and vegetable oil.


Make sure all the ingredients are well mixed and evenly distributed.


Shape into cutlets.


Coat with bread crumbs.


Heat 2 tbsp oil in a pan. Carefully place the cutlets in the pan and let it cook on a medium heat till its done to your liking. Turn over and cook the other side as well.




Repeat till you're done with the meat mix, adding more oil to the pan as and when you need to.


Serve hot.




Enjoy!!!
Here's the video –
This recipe takes me way back to when I'd first enjoyed some Tava vegetables. It was at a party that had a huge buffet offering, both non-vegetarian and vegetarian. While the non-vegetarian spread was really impressive, I was intrigued by a live stall happening over on the veggie side of the table. There was a massive tava (cast iron griddle) and it had a variety of vegetables on it. The aroma was deliciously intoxicating and I knew I had to try some. I helped myself to a small assortment, some salads and took some naan bread to go along with it. Little did I know that this dish would have me hooked for a long time to come. This was about 7 years ago, I think. To this day, the thought of those tava vegetables has me yearning for some.
After a lot of searching, high and low, I found a recipe, that I tweaked to try and replicate the flavors I so vividly remember. Since I cook for just my husband and I, this recipe is scaled down. I also just use my favorite veggies from that day – okra (bhindi) and potatoes (aloo). I found that these are also some of the easy ones to work with. I don't make this recipe very often, because the veggies start off by getting deep fried and are then tossed with a spice mix (tava masala), and the deep frying tips this to the slightly indulgent side.
The spice mix, or my version of the tava masala is hot a very hot mix. The spices used are warm and flavorful. The chaat masala is an integral part of this recipe. If you haven't tried it before, it is a blend of a few spices like cumin, pepper and a few others with some powdered mango. So it has a unique flavor profile, you get a slight hit of salt, tang from the mango and delicious flavor from the blend of other spices. You can easily find this at any Indian grocery store. (This chaat masala also works well with other chaat recipes you find on my blog.)
So try this easy stir fry recipe. This is best enjoyed served hot with some chapatis, rotis, naan or other flatbread of your choice. It would also work well as a side dish to some hearty Dal & Rice.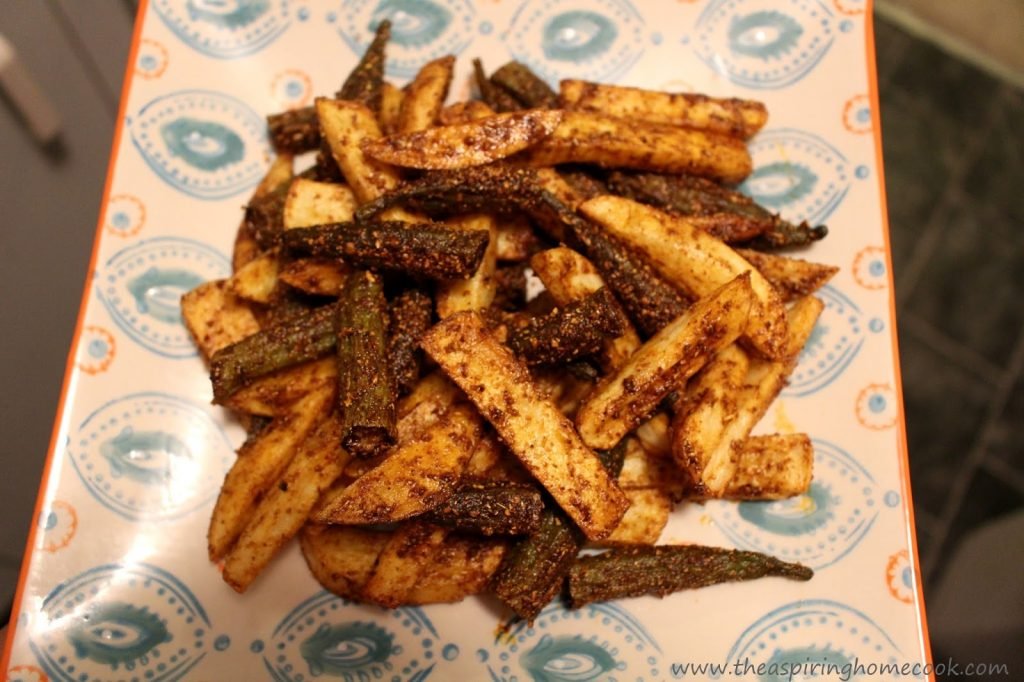 Tava Style Aloo Bhindi


3 medium potatoes
20-25 okra
1/4 tsp turmeric powder
1/2 – 1 tsp Kashmiri chilly powder (or any other mild chilly powder)
1 tsp coriander powder
1/4 tsp cumin powder
1/4 tsp chaat masala
Salt, to taste
1 1/2 – 2 tbsp oil, plus oil for deep frying
Place a pan with the oil for deep frying on medium high heat.
Wash and peel the potatoes and cut into evenly sized fries / chips.
Wash the okra and pat dry. Chop the stalks off the okra and discard. Try and use okra that is similar in size, if not, cut them down to about the same size as the potato pieces.
By now, the oil should be hot. Carefully, and in batches, add the potatoes to the oil. Don't overcrowd the pan or the oil will froth over and spill.
Deep fry the potatoes on medium heat till they've cooked through. Drain using a slotted spoon and set aside on some kitchen paper to get rid of any excess oil.
Deep fry the okra on medium heat till they have start getting a little darker in color and have started crisping up.
Drain using a slotted spoon and set aside on some kitchen paper to get rid of any excess oil, like you did the potatoes.
Take the oil for deep frying off the heat.
Heat 1 tbsp oil in a large pan on medium heat. When the oil is warm, NOT hot, add in the turmeric powder first and then add the rest of the spice powders.
Stir that through for about 20-30 seconds or till the spices get aromatic.
Add the okra to the pan and toss well. Lastly add the potatoes and toss to coat the veggies with the spices evenly.
Check for seasoning and add salt, to taste. Toss well.
Serve hot.
You can watch the video recipe here –
Today, I have sort of a confession to make. Okra or Ladyfingers or Bhindi / Bhende (in Hindi / Konkani) whatever name you know it by, happens to be one of my favorite vegetables. There, I've said it out loud. Sadly, this intriguing vegetable has a bad reputation. It is infamous for being slimy and tasteless. I am going to try and persuade you otherwise. Yes, okra tends to when raw. Because of that a lot of folks simply won't work with it. I've had the opportunity to try this vegetable in many different forms. If you've been here a few times, you know my Mum is a great cook. She would use these is vegetable curries and lentils stews (sambhar), stuff them with rechaad masala and fry them and make a stir fry (bhaji) two different ways. Since then I've tried atleast 3 more ways to cook them, like this
Kurkuri Ajwaini Bhindi
. That's how much I love okra. And I'm here to tell you that if it is cooked well, it isn't slimy at all. And it is tastes amazingly delicious.
In Goan homes, this is a very popular way to cook okra. Just a few simple ingredients go into the pot and result in a beautiful stir fry. Serve this vegetable hot with some chapatis or even as a side dish to some fish curry and rice for a complete Goan meal.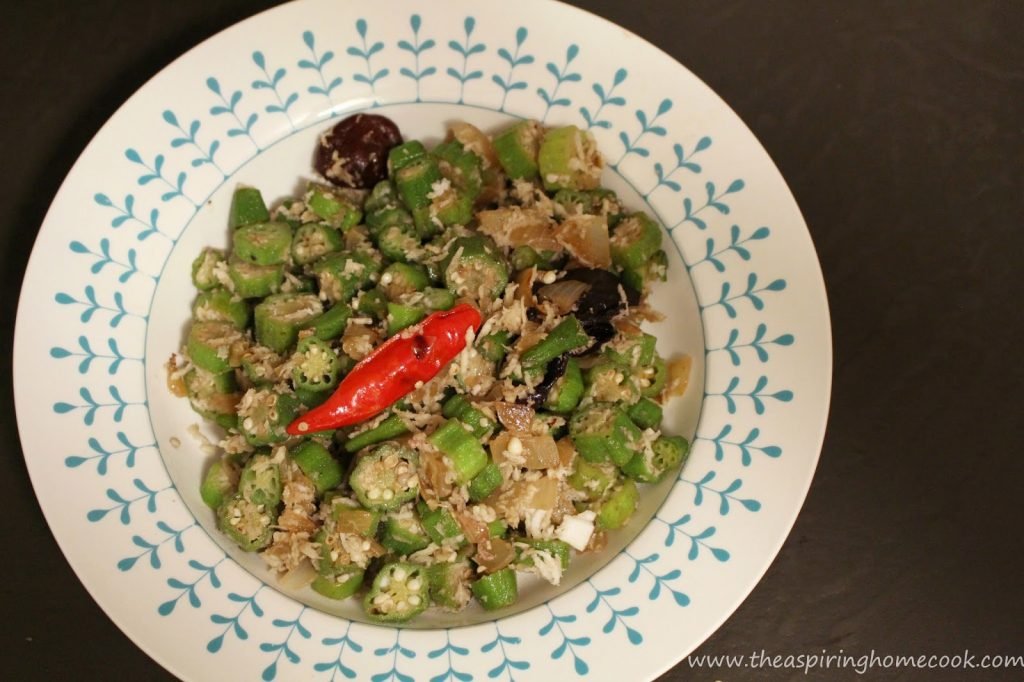 Goan Okra Stir Fry / Bhende Solantule
250gms okra
1 medium onion, diced
2 birdseye chillies, slit
5 pieces of Kokum
1/4 cup grated coconut
Salt, to taste
1 tbsp olive oil
Wash and dry the okra. Cut off and discard the heads. Cut the okra into slices.
Heat the oil in a pan.
Add the chillies to the pan and saute it for a few seconds.
Now add the chopped onions and stir fry till the onion softens and the edges of the pieces of onion start turning brown. Now add the okra and kokum to the pan and saute for a couple of minutes, stirring every now and then to ensure it doesn't stick to the pan or burn.
Add salt to taste and stir and continue to cook uncovered till the edges of the okra slices start turning a light brown.
At this stage add a touch of water (a couple of tablespoons) to help the vegetable cook. Lower the flame, cover the pan and simmer for a few minutes.
Stir the contents of the pan and check for seasoning and and when the okra is tender, add the coconut and stir through. (When you first uncover the pan, if the okra hasn't cooked through and the liquid has been absorbed, add another small splash of water and continue to cook till the okra is tender).
Cook for another minute or till the coconut has warmed through.
Serve hot.
Hello everyone and welcome back. A few days ago, I whipped up another batch of Potato Chops. This is my favorite way to enjoy Savory Mince. For those of you who have never eaten a Potato Chop before, it is a handled, single serve version of Shepherd's Pie. Ofcourse, this recipe is a tad spicier than the original one, because of the use of Goan spices. As always, you can adjust the spice level to your liking.
If you haven't had potato chops before, you really should. These little beauties are served up in lots of Goan homes, not just in Goa, but around the world. They are a must at any party or family gathering, in my house at least. I have posted this recipe before, but that was years ago. The recipe is still the same one. I've just got some new pictures and I've made a little video to show you how I make these potato chops. They are pretty simple to make, but if you're a visual learner like me, the video will help make the process simpler. So go on over and have a look. Let me know if you have any questions at all. The step by step recipe is just below.
Potato Chops


1/2 a recipe of Beef Mince (Beef mince video recipe here – https://youtu.be/RhSfsw2EC1U ) (You can substitute mutton mince, if you don't eat beef)
4-5 medium potatoes, boiled, peeled and mashed
Salt to taste
1/4 tsp cumin powder
A pinch of turmeric powder (optional)
1 tbsp fresh coriander leaves, chopped
1 egg
Bread crumbs / Panko bread crumbs
Vegetable oil, for frying


Make half a portion of beef mince and keep aside. This should come down to room temperature before you proceed with this recipe.


Boil the potatoes only when you are ready to make the chops you need to work when the potatoes are still warm. Cold potatoes make handling difficult.


Peel and mash the potatoes well. Make sure there are no lumps. Add salt to taste, cumin powder, turmeric powder and coriander leaves and using your hands mix well to ensure all the spices and herbs are evenly distributed. Feel free to adjust the quantities of the spices and herbs used to suit your taste.


Take a portion of the mashed potato, the size of a tennis ball, roll into a ball and flatten to form a thick disc on the palm of your hand. Place a spoon of the mince in the center and bring the sides of the potato disc up and over the filling to cover it well. Make sure that no mince is sticking out. If you feel the need to add more potato to it, feel free to do so. The mashed potato merges well. Shape it to form a patty and keep aside. Continue till you've used up all the mashed potato.


Crack an egg in a shallow bowl, wide enough to fit the chops. Beat well to incorporate the white and the yolk.


Pour some bread crumbs onto a plate and keep it ready. I have a little assembly line going for this, starting with the chops at one end, followed by the bowl with the beaten egg, the bread crumbs and a plate lined with some absorbent kitchen paper at the other end.


Heat some oil in a pan.


Briefly dip a chop in the egg and turn over, making sure it coats the chop well.


Dredge it through the bread crumbs making sure the potato chop is well coated. This is what will give it a good crunch.


Carefully place in the pan with the heated oil and shallow fry till it takes on a nice golden brown color. Turn and let the other side fry as well till it gets golden brown.


Carefully take it off the pan and repeat till you've used up the rest of the potato mix.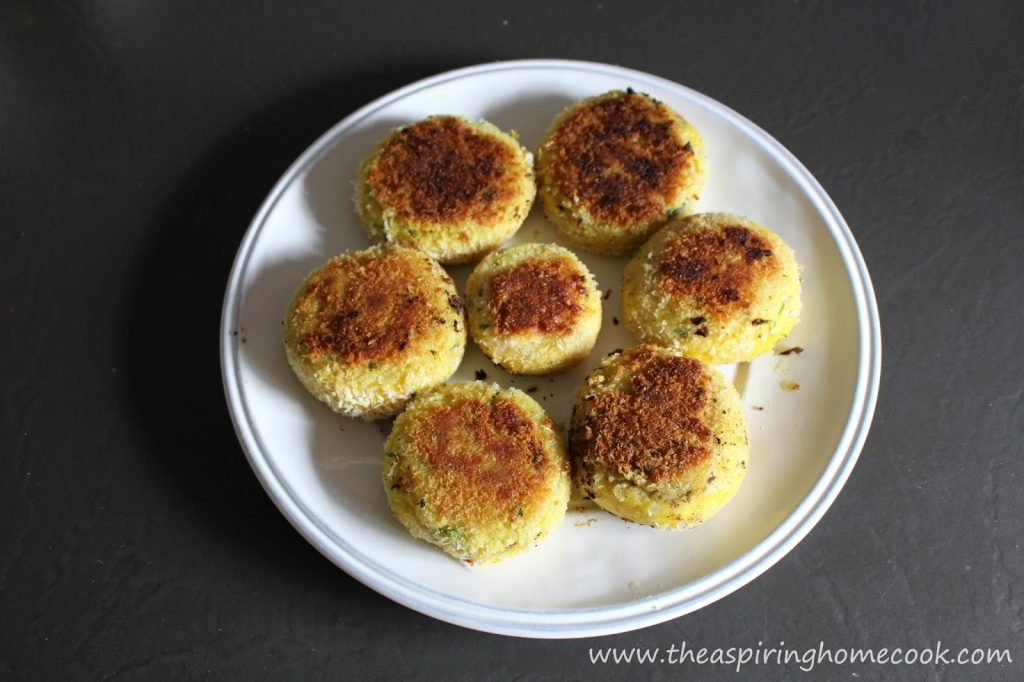 NOTE: You don't need to fry these one at a time, place as many as your pan can accommodate, making sure theres a little space between them to help you turn these over.


Here's what it looks like on the inside –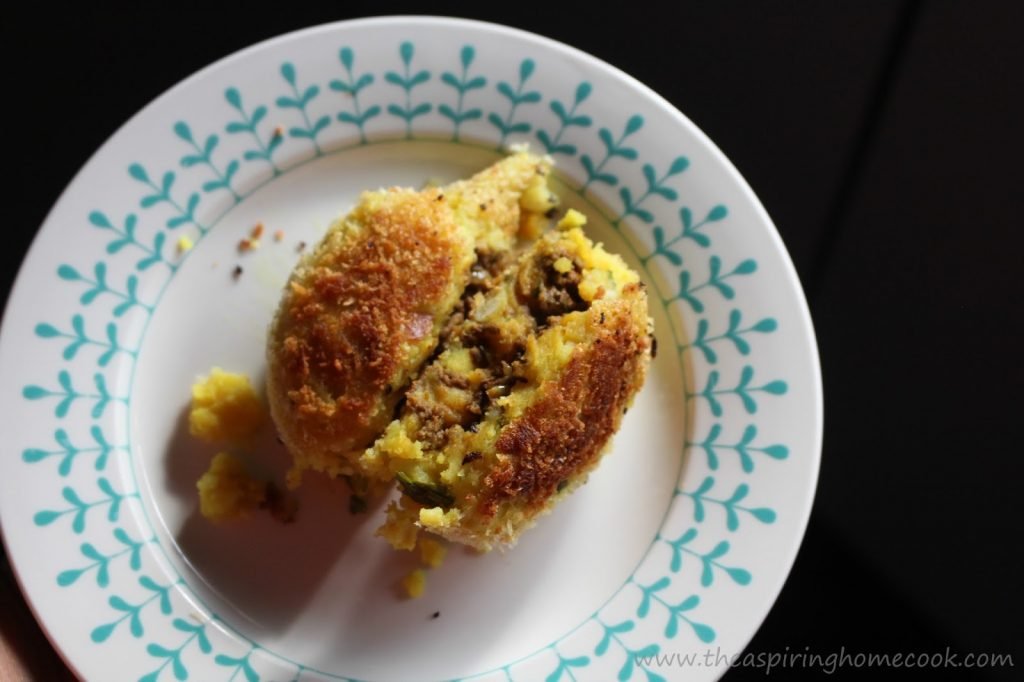 These potato chops are best served hot with some tomato sauce. Any leftovers refrigerate and reheat well.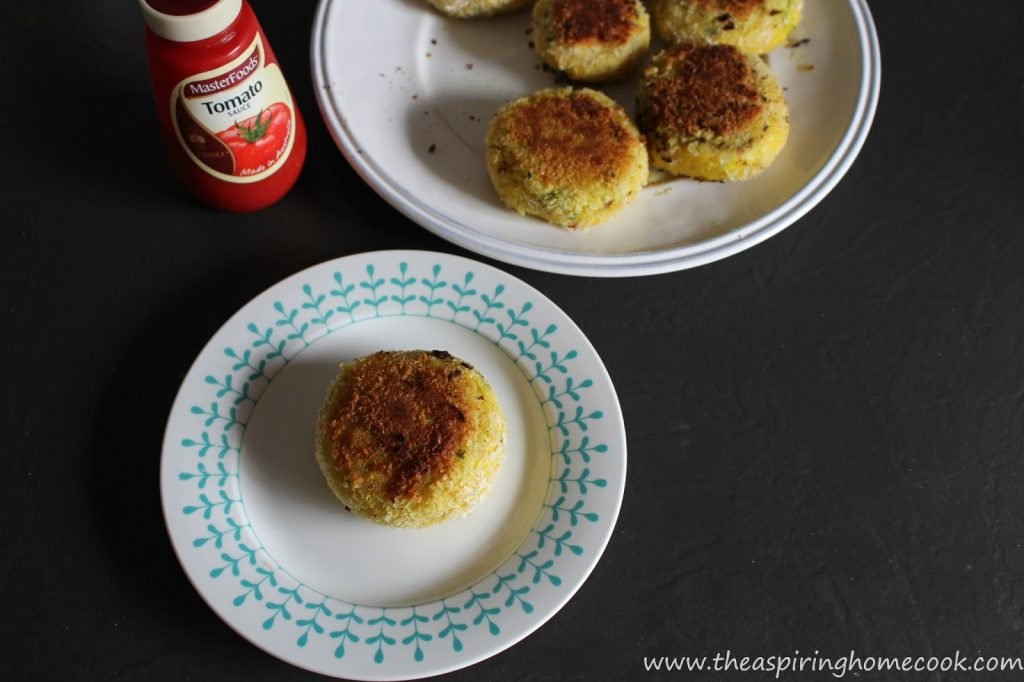 Guys, I finally got down to trying this recipe out myself. I have wanted to make Kismur (pronounced Kis – moor) for months. The only thing holding me back was the availability of dried prawns in Sydney. Most (if not all) Indian stores I've been to, don't stock dried prawns and fish. I had once bought a packet from a Chinese store and I wasn't too happy with it. I was researching Sri Lankan cuisine a few days ago and I read that they use dried prawns too. So yesterday I popped into my local Sri Lankan grocery store, and lo and behold, sitting proud on its shelves were so many varieties of dried fish and prawns. I grabbed a bag and knew exactly what I was going to try with it.
Kismur is a Goan prawn and coconut salad of sorts. It's not your typical salad with dressing, but its more like a stir fry that is served at room temperature. And I use the term stir fry very loosely here as the ingredients are all sauteed before tossing together. In Goa, sun dried fish is very commonly found and used. In the summer, when fresh fish is abundant, they are prepped, salted and sun dried and this fish can then be stored for months at room temperature. You can find big mounds of dried fish and prawns at any Goan market. This dried fish is best purchased in the summer when everything is nice and dry. The fish is then stored for use during the monsoon, when fresh fish is not easily available. A lot of Goan homes serve this dried fish (also called salt fish because of the way it is cured) along with a Sorak (plain Goan curry) or a dal or a vegetable curry as a condiment. You can't really eat as much of the salt fish as you would fresh fish but it makes for a very tasty accompaniment to a vegetarian meal. Dried prawns on the other hand, are used to make warm chilly fries / stir fries, salads and this Kismur. Now that I've found good dried prawns, I see a chilly fry coming up in the near future.
But today, I'm going to share with you a quick and simple version of Kismur. It is ridiculously simple to make and if you're anything like me, you will absolutely love it. Please note, that since this is almost like a salad, the quantities listed below are approximates of what I used.
Goan Dried Prawn Kismur
1/3 cup dried prawns
1/2 a large onion, chopped
1/3 cup freshly grated coconut
1 red / green chilly, split in quarters lengthwise
1/8 tsp turmeric powder
1/4 tsp red chilly powder
1 tbsp coconut oil
Salt, to taste
Lemon wedges, to serve
Wash the prawns under cold running water and drain.
Dry roast them on a pan till crispy again, stirring frequently, so that it doesn't burn.
Tip the prawns onto a plate and set aside.
Heat the coconut oil over medium high heat in a pan.
Add the chopped onion and saute for a minute or so till the onions have only slightly warmed through.
Add the roasted prawns and stir.
Now add the chilly, coconut, turmeric powder, chilly powder and salt. Mix well.
Place into a serving bowl and serve with some wedges of lime for those who might want to squeeze some lime over.
Serve at room temperature with some steaming hot rice and curry. (Fish curry recipe to follow. Watch this space.)
Enjoy!!!
Hello lovelies!
I'm in a particularly good mood today. I know it's a Monday and I'm not usually a Monday person. It probably has something to do with the fantastic beach day we had yesterday. The hubby and I drove down south of Sydney and stopped at Thiroul beach for the day. The weather was just beautiful and water was amazing. Such a stark contrast to the scorchers we've been having the past few days. It was pure bliss. I simply love that part of NSW. Have you been there? I'd love to know what your favorite spots are? For all you beautiful people that are still dealing with winter, here's a little sunshine coming your way 🙂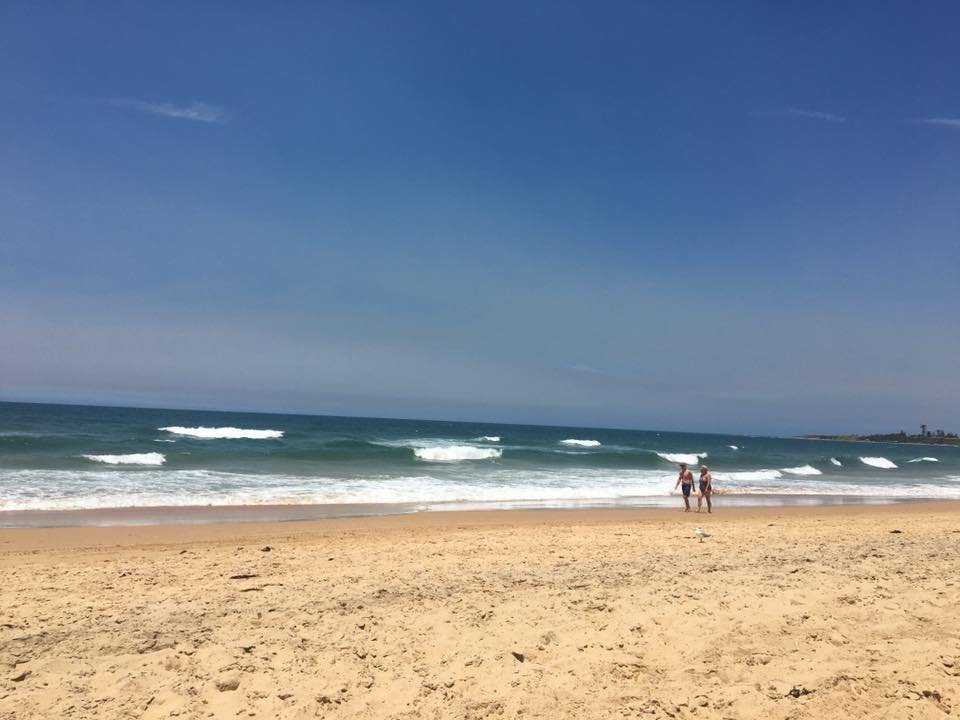 Speaking of sunshine, today's recipe is just like a little sunshine on a plate. It's a sweet potato mash. I love sweet potatoes. I almost always make these Baked Sweet potato fries. But at times I also just boil them with a pinch of salt till tender and snack on them, or roast them, or if I'm feeling a little indulgent, whip up a batch of these Sweet Potato Brownies. But last week, when I wanted to use up a sweet potato, it was just too hot to switch the oven on. So I decided to try making a mash. It was as easy and quick as a regular batch of mashed potatoes, but just a touch sweet and a little savory at the same time. It was glorious. I might just like a Sweet Potato Mash a little more than I like a regular mash.
So, if you haven't yet tried a sweet potato mash, don't wait any longer. Get your hands on a sweet potato and get to work. You won't regret it.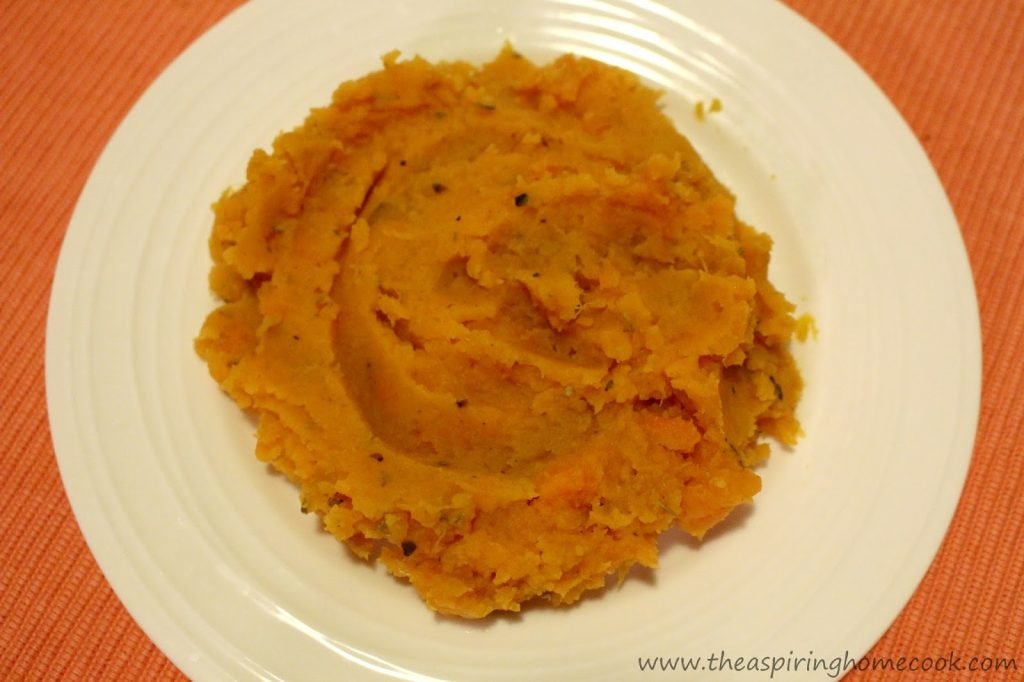 Sweet Potato Mash
Recipe from: Cooking Light
Serves 4
1 1/2 pound sweet potatoes (about 650-700g)
1 1/2 tbsp butter
1 tbsp extra virgin olive oil
A large pinch of dried thyme or 2 tsp chopped fresh thyme, or to taste
1/4 cup milk
Salt, or to taste
Freshly crushed black pepper, to taste
Peel and cube the sweet potato. Place the potato in a large pan with about 1/2-1 tsp of salt and water till it reaches about 2 inches above the level of the potatoes.
Bring to a boil and simmer till tender. This usually takes about 15-20 minutes depending on the size of the pieces.
Take off the heat, drain and place the potatoes back in the pan.
In another little skillet or pot, heat the olive oil and butter over medium heat. Cook till brown and fragrant. Be alert as this can burn quick.
Once it has browned, take off the heat and stir in the thyme.
Add the milk, salt and pepper to the hot sweet potatoes and mash till it reaches the desired consistency.
Now drizzle the browned butter mix over and stir through the mash.
Garnish with some more crushed black pepper or thyme leaves as desired.
Enjoy!!!
I served this up with some Eggplant patties and a Lemon, Sun-dried Tomatoes and Almond Quinoa Salad for dinner.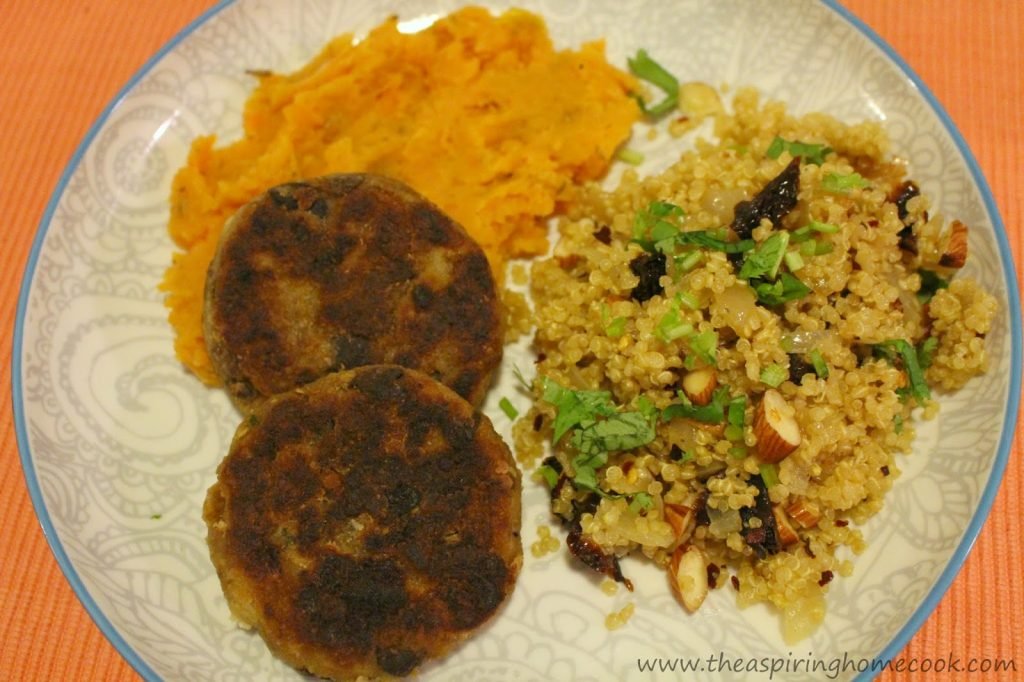 Find the other recipes to make this meal here –
Eggplant Patties
Lemon, Sun-dried Tomato and Almond Quinoa Salad
UPDATED:
to add recipe video.
Fish cutlets are one of my favorite seafood recipes to make and to eat. I love seafood and I also happen to love cutlets. They are so versatile. You can serve them as a snack / appetizer (they go so well with a chilled beer), as a meal with a side of chips and / or a salad or you can use them to make a fantastic burger. I have shared a recipe for fish cutlets previously using fresh fish. You can find that one here. This recipe is fairly similar with the exception of one main difference. This one uses canned tuna.
Now, I love my fish fresh. I believe that fresh is the best way to enjoy fish. But yesterday, I found myself longing to eat some fish cutlets but didn't have any fresh fish. Now that was just not going to do. So I put my thinking hat on and eventually decided to try to make cutlets using canned tuna instead. I had heard that some people make their cutlets with canned fish, but I'd never tried it out for myself. I happened to have a few cans of tuna chunks in the pantry, so I figured I had nothing to lose.
The cans I used were tuna chunks in spring water. You need to make sure you drain the tuna well. I didn't know what to expect and found that I had to use a little extra egg for binding but in the end I was delighted with the results. The cutlets were delicious. It took a fraction of the time to make compared to if you were to use fresh fish because the fish has to be cooked and deboned. So in all, I was extremely pleased with this attempt.
The type of canned tuna will determine how much egg is needed. I would recommend starting out using one egg and if you can shape the cutlets easily without them falling apart, then you are good to go. If not add more egg to the mix.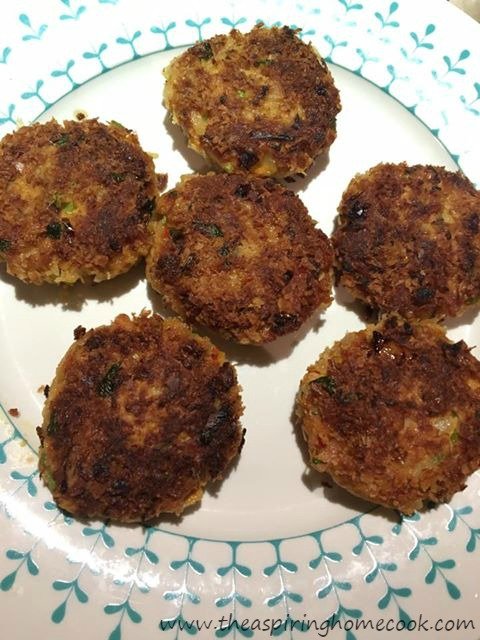 Goan Fish Cutlets
Yields: 12 cutlets


4 cans of tuna (I used 95g cans of chunk tuna in spring water) (Or 1 can x 495g Tuna)
1 onion, finely chopped
2 red birdseye chillies, finely chopped (optional)
1/2 tsp fresh ginger, finely chopped (or you can use paste)
2-3 cloves garlic, finely chopped (or you can use paste)
A small bunch of fresh coriander leaves and stalks, finely chopped
Salt, to taste
1/2 tsp turmeric powder
1 tsp red chilly powder
1/4 tsp black pepper powder
1-2 eggs
2 slices of bread
Bread crumbs, to coat the cutlets
Oil for frying
Drain the tuna thoroughly and flake it in a large mixing bowl.
Soak the bread slices in water for about 5 minutes and squeeze thoroughly. Crumble the bread as fine as you can and add it to the bowl.
Add the rest of the ingredients except the panko bread crumbs and the oil to the bowl.
Place a layer of the breadcrumbs on a dry plate.
Using the fish mix, shape into cutlets and carefully coat on both sides with the bread crumbs.
Heat 1-2 tbsp oil in a pan on medium heat and carefully place the coated cutlets on the pan. Cook for a couple of minutes on medium heat till golden brown on one side.
Then carefully flip over to cook to a golden brown on the other side too. Add another spoon of oil to the pan as needed.
Repeat till the batter is over and all the cutlets are fried.
Serve hot.
If you enjoy a good cutlet, try out some of these recipes –
Fish Cutlets
Beef Cutlets
Eggplant Patties
Thai Inspired Chicken Patties
Quick and Easy Crab Cakes
As a food blogger, someone who loves learning new things and basically a lover of good food, I have an ever-growing list of 'Recipes to try' and 'food I'd love to learn how to make'. And that list grows like it has a life of its own. Just the other day, my husband, in all innocence asked me what I would do when I ran out of recipes to share on the blog. My response – I laughed. He thought I'd lost it. Then I showed him just a glimpse of these lists and he knew it wasn't going to happen any time soon.
Today's recipe is one I've wanted to try even before I'd started any of these lists. You see, Dal Vadas are easily available street food in Bombay. These aren't as popular as Idlis and Medhu Vadas (South Indian Food), but I've always had a soft corner for this treat. These deep fried dumplings are made from split and hulled chickpeas aka Chana Dal, easily found in any Indian grocery store in the aisle with the lentils. They are everything I love in a snack, small portion size, crispy on the outside and chock full of flavor.
The recipe I tried is a little different from the commonly found Dal Vada. It is amped up with some Garam Masala (an Indian spice blend) and fennel seeds, which you typically don't find in the Street Food variety, I must admit it adds a lot of flavor. You could skip the fennel for a more tradition version of the vada. I couldn't believe how easy it was to make. You could serve this with your favorite chutneys like this Green Mint Chutney (
Pudiney ki chutney
) and this Tamarind and Date Chutney (
Imli ki chutney
), or you could just serve it with some Tomato Ketchup. Or be like me, throw caution to the wind and serve it up with all three for a little variety. Whichever way you decide to go, I hope you try it out.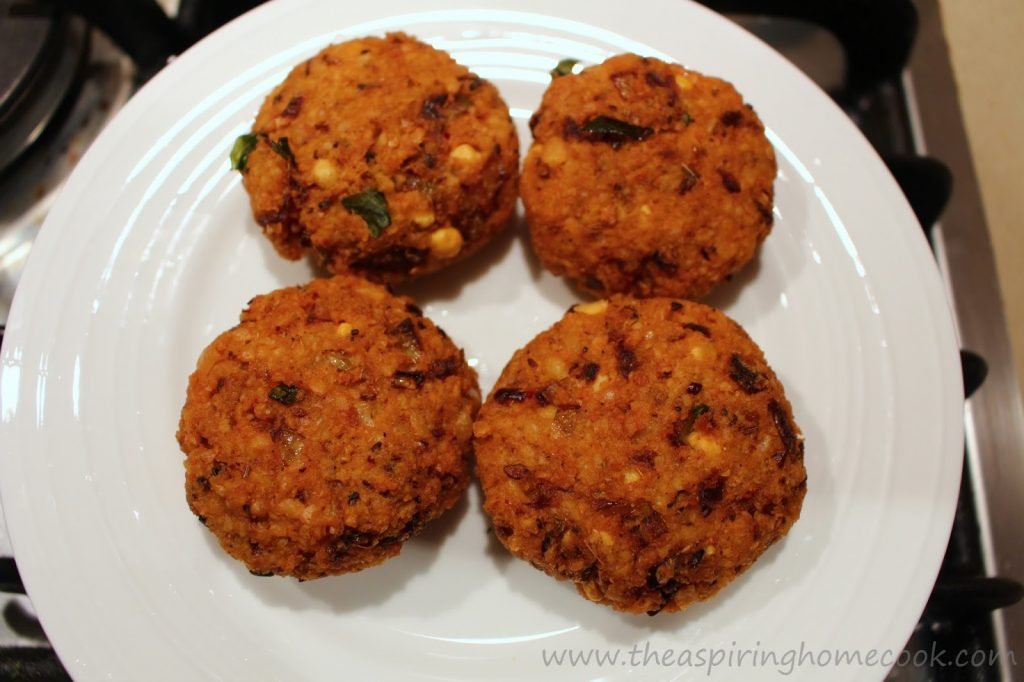 Dal Vada
1 cup chana dal
Salt, to taste
1″ cinnamon
1-2 dried red chillies
3/4 tsp cumin seeds
3/4 tsp fennel seeds
1 medium onion, finely chopped
1-2 sprigs curry leaves, roughly torn / chopped
1/2 tsp ginger paste
1/2 tsp garlic paste
1-2 green chillies, finely chopped
1/2 tsp turmeric powder
Oil, for deep frying
Wash the chana dal a couple of times and drain the water.
Soak the dal in fresh water for an hour and a half. Make sure there is ample water in the bowl. after soaking drain the dal thoroughly using a colander.
Grind the cinnamon, red chillies, cumin and fennel to a coarse powder.
Keep this aside along with 2 tbsp of the chana dal.
Grind the rest of the drained dal and salt by using the 'Pulse' function on your blender to grind it coarsely and transfer to a bowl.
To the bowl, add the curry leaves, onion, coarsely ground spices, green chillies and the reserved dal and mix it all well.
Heat the oil for deep frying.
To shape the vadas, roll a golf ball size of the mix to a ball and flatten them.
Deep fry on medium heat till golden brown on both sides. (Using high heat will just brown the outside and leave the inside uncooked, so be sure to fry it on a medium heat.)
Drain and place on some kitchen paper to absorb any excess oil.
Serve hot with either chutney or ketchup.
Enjoy hot with a steaming cup of tea !!!
Click
here
for some more Bombay Street Food options.