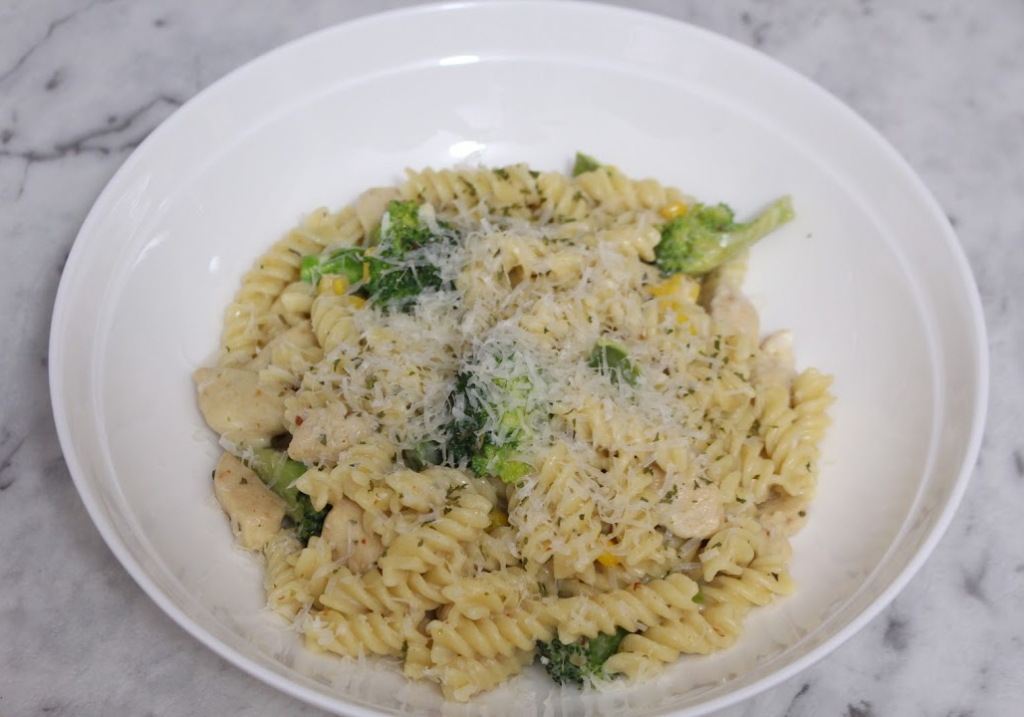 Pasta – one humble ingredient but endless ways to cook it up. It has got to be one of the most versatile ingredients in the kitchen. You can serve it hot or cold, in a soup, salad or as a main. It works so well with so many different veggies, proteins and sauces. I love me some pasta and always have a couple of varieties in my pantry cupboard.
Pasta dishes can range from simple to a little more complicated. I personally, love the idea of a few simple recipes that I can use during the week. This Chicken in white sauce pasta is one such dish. With a little multi-tasking, I can serve this up in well under half and hour. Yup, you heard that right, under 30 minutes. Honestly, what takes the most time, is boiling up the pasta itself. If you don't eat meat, you can still make this recipe, just leave out the chicken and add some mushrooms, peas or even a little spinach. A vegetarian variant turns out equally delicious.
Are you ready to check this recipe out???
Chicken in White Sauce Pasta
(Serves 4)
A single Chicken breast fillet, cut into bite sized pieces
1/4 cup green capsicum, diced
1 cup of broccoli florets
1/2 cup corn kernels
2 cloves of garlic, finely chopped
Salt, to taste
Freshly cracked black pepper, to taste
Chilli flakes, to taste
1/2 – 1 tsp Mixed herbs, or to taste
1 tsp lemon juice
1-2 tbsp olive oil
1-2 tbsp vegetable stock / water
Pasta (enough for 4 servings)
A little parsley, to garnish
A little Parmesan cheese, grated
For the white sauce –
1 tsp olive oil
1 1/2 tbsp butter
1 tbsp all purpose flour
1 1/4 cup milk
1/3 cup cheddar cheese, grated
Salt, to taste
Cook your pasta according to the packet instructions. I bring a large pot of water to a rolling boil. Season generously with salt. Add the pasta and cook till done. Drain and reserve about 1/2 cup of the cooking liquid.
While the pasta is cooking, season the chicken with salt, pepper and lemon juice to taste. Mix well.
Heat 1 tbsp olive oil in a pan. Add the chicken and cook through, stirring occasionally, till the chicken has cooked through. Remove the chicken in a bowl and set aside.
In the same pan, add 1 tbsp of olive oil and quickly add the garlic.
Stir through and immediately add the green capsicum. Still through and let the capsicum cook for about a minute.
Next add the broccoli and saute well. (See note*)
Add the corn and stir through.
Season with salt, pepper, chilli flakes and mixed herbs, to taste.
Add 1-2 tbsp vegetable stock (you can also use water), stir well, cover and let the veggies steam and cook for a minute or two or till they are done to your liking. (If you are adding cooked broccoli to the pan, you can leave this step out. )
Add the cooked chicken to the pan and stir through. Set aside and cook your white sauce.
To cook the White Sauce / Bechamel Sauce –
(For detailed instructions on how to make a great white sauce, check the video above)
Add a tsp of olive oil to the pan on medium heat.
Add the butter and let it melt.
Add the flour and stir briskly, making sure the flour incorporates well with the butter and oil and that no lumps are left.
Cook this roux off for about 30 seconds to a minute or till the raw smell of the flour has gone. (Do not let it develop any color.)
Add half the milk to the pan and stir through well, making sure no lumps remain.
Add the remaining milk and whisk well.
Cook the sauce till it has thickened to your liking, whisking well.
When the sauce is done, lightly season with a little salt.
To assemble the pasta –
Add the white sauce to the chicken and veggies in the pan. Stir well. Add the cheese and mix through.
Check the sauce for seasoning and adjust, if needed.
Add the cooked pasta to the pan and stir through.
Serve your pasta in some serving plates. Finish with a light sprinkling of parsley and a grating of parmesan cheese.
*NOTE: Our broccoli is fairly tender and cooks very quickly. If your broccoli takes longer to cook, blanch or steam it before adding to the pan.
Cashew Chicken on Lettuce
Serves 3
250g boneless, skinless chicken
2 tbsp low sodium soy sauce (Use a little lesser if you're using regular soy sauce)
2 tbsp oyster sauce
1/2 – 1 tsp red chilly paste
1/2 tbsp olive oil (cooking oil of your choice)
1/2 tbsp sesame oil
1 large clove garlic, finely chopped
1/2 tsp ginger, finely chopped (fresh ginger is best but you can also use lightly dried ginger like I did here)
1/2 cup raw cashew seeds
Iceberg lettuce leaves (or any lettuce of your choice)
Sesame seeds, to garnish
Cut the chicken to bite size pieces.
In a bowl, mix the chicken, soy sauce, oyster sauce and chilly paste and toss well. Set this aside for about 10 minutes to marinade.
While that is happening, chop the ginger and garlic. (Fresh ginger is best, but I didn't have any so I used some from Gourmet Garden.)
Chop the lettuce leaves into bite size pieces and place them on serving plates.
Now, heat the olive oil in a pan over medium heat. Add the ginger and garlic and saute for about 30 seconds or till they release a lovely aroma and are gently sizzling.
Turn the heat up to medium high and add the chicken and the marinade liquids. Add the sesame oil to the pan.
Stir fry for about 4-5 minutes or till the chicken has cooked through. (Please note, the cook time will depend on the size of the chicken pieces, so watch the pan and make sure the chicken pieces are cooked on all sides and have cooked through.) Stir the contents of the pan frequently, so ensure they don't burn.
When the chicken is cooked, add the cashew seeds and stir through for about a minute or till they've heated through.
And that's it. Your cashew chicken is ready to serve.
Spoon some of the chicken on the bed of lettuce. Make sure you have a few cashew seeds on each plate.
Sprinkle some sesame seeds on top and serve.
Enjoy!!!
NOTE: This is NOT a sponsored post.
Pin now for later –
** This post contains affiliate links.
So it's almost Diwali. Even though we don't celebrate it, we enjoy the food that comes with it. After trying out a few sweet and savory recipes for Diwali over the last five years, I've come to realize that a lot of recipes are fairly quick and easy to make, compared to most of the traditional Goan sweets. That makes me happy because I know I can whip up so many treats in a jiffy. However, there are a few recipes that are time consuming and tedious when made from scratch, like a good peda. A peda, for those of you who aren't familiar with the term, is a hand shaped piece of fudge made and enjoyed all over India. Now, I have made fudge before but had never tried making Pedas at home.This recipe is an instant version of the good old peda.
This Instant Kesar Peda requires a few basic ingredients and about half an hour of your time. That's how easy and simple it is to make. A lot of the commercially sold pedas use food coloring and artificial flavoring, but I decided to keep mine simple. I have used actual Saffron strands in this recipe for flavor and a mild coloring too. If you want your pedas to have the 'oh-so-popular' color, use some yellow food color. You can choose to imprint a design on the top of the peda or use a mould to shape it and you have the option to garnish the shaped pedas with some finely slivered nuts as well. So if you still haven't whipped up anything for Diwali, don't let that get you down. You can still make a bunch of homemade sweets and savories for your Diwali platter in no time at all. Besides this peda recipe, I have a few fantastic recipes to help you out. You can find them at the end of the post
here
.
So here's to another Indian delicacy, even though its a cheat version. I can tick this one of the my ever-growing list of recipes I want to try.
Wish you and your family a Happy and Prosperous Diwali!!!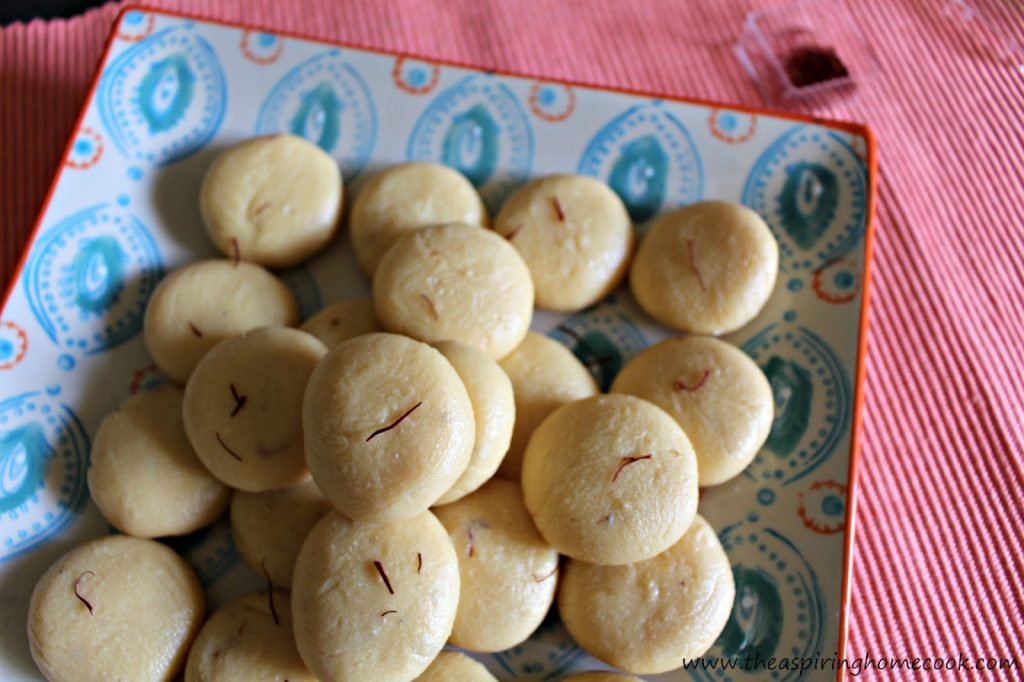 Instant Kesar Pedas
Yields: 25 pieces
1 cup condensed milk
1 cup + 2 tsp milk powder
1/2 tsp
green cardamom
seeds, crushed/powdered
2 tsp
ghee
A generous pinch of saffron
strands
2 tsp warm milk
Extra ghee, to grease your palms while shaping the pedas
Add the saffron strands to the warm milk and set aside to infuse.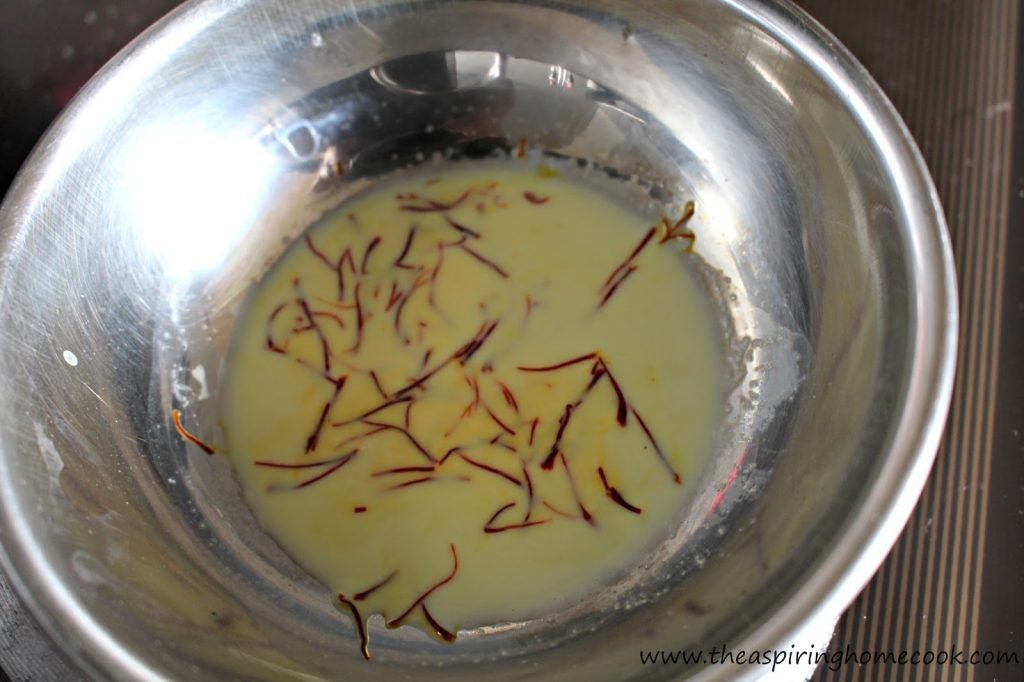 Grease a large plate with a tiny bit of ghee and set aside.
In a wide, preferably heavy bottomed pan, heat the ghee on a medium flame till it melts.
Add the condensed milk and the milk powder to the pan and stir well, making sure you dissolve any lumps that form. Any lumps left will not give you a smooth finish.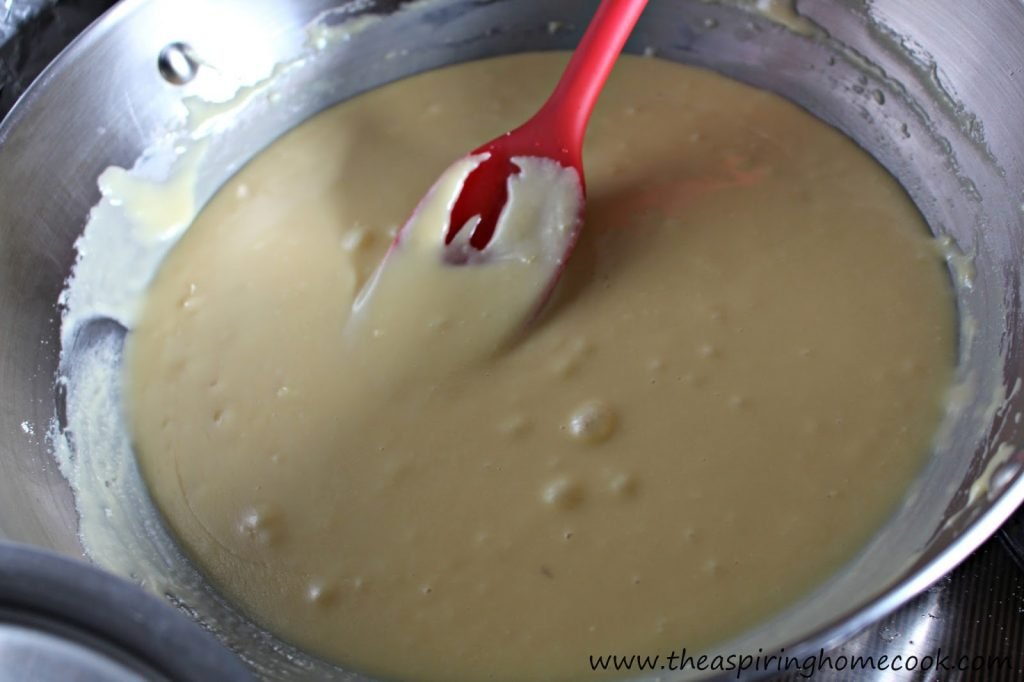 Continue cooking the mix, stirring frequently (with a wooden or a silicon spoon) for about 8-10 minutes. You will find the mix coming together at this stage.
Add the saffron infused milk and strands and the crushed cardamom to the pan and stir well. This will cause the mix to loosen in consistency a little and that's exactly what we want.
 Continue cooking for a few more minutes, stirring continuously and the mix will start pulling away from the sides of the pan.
At this stage carefully check to see if the mix is still sticky. I picked a tiny portion with the spoon and touched it lightly to see if it is sticky. My hands can tolerate a fair amount of heat, please exercise caution when doing this. You want to make very little contact with the mix and not dip your finger in it too deep because it is super hot at this stage. If it still feels too sticky, continue cooking for a couple minutes more.
Once it is not sticky, take off the heat.
Immediately turn the mix onto the greased plate and leave it to cool a little.
When it is cool enough to handle, grease your palms with a little ghee, pinch of a small portion of the mix and roll into a ball and flatten slightly. Place on a platter and leave to set. If you choose to garnish the pedas, do it at this stage just after you shape it and then set aside in a single layer to set.
Serve up and enjoy!!!
Pin now and try later –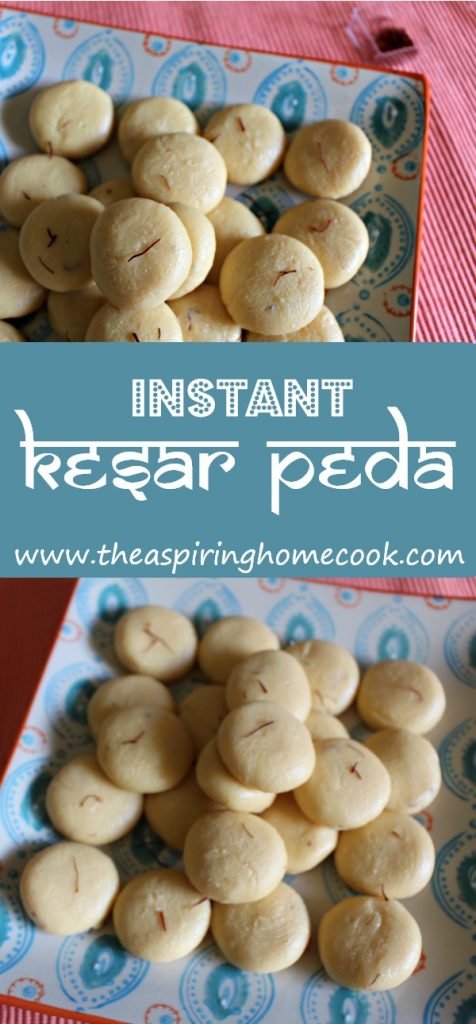 ** This post contains affiliate links.
Around this time of the year, especially if you partake in the Halloween festivities, you will find yourself inundated with candy and other sweet treats and bakes. In a nutshell, a sugar overload. While I love my cakes and sweets / candy as much as the next guy or gal, if you are like me, you will need a little bit of savory to cut through all that sweetness.
Last year, I was really excited about Halloween. We were supposed to have a big Halloween party at my workplace. However, as luck would have it I quit that job in early October to focus on building up a little business. When my colleagues threw me a small farewell party, they decided to roll with the Halloween theme. I couldn't pass up on the opportunity to whip up a few treats. These little cracker bites were one of them. I will share the rest of them with you over the next few days. My job was extremely physically demanding and boasted quite a few really long days. So I had to come up with treats that were quick and easy to put together. I knew the candy part of the party would be taken care of, so I stuck with the savories.
These Monster Eye crackers are perfect for a party or get together. They are a Halloween Play on cheese and crackers. They can be whipped up really quickly with all of 3 ingredients. So, I knew I was going to make them. I was a little skeptical about them considering how simple they are, but let me tell you, they vanished really quickly. I wish I had made more. If you decide on making these, make sure you make a big batch. So to make these, all you need are crackers. I love the Eton crackers found in Aldi stores locally, but if you cannot get your hands on them, Ritz Crackers
will work just as well. You can use any other crackers you'd like. Now that the crackers are sorted, the next ingredient is the cheese. I used Kraft Cheese Slices
, but again, you can use any cheese slices you like. The last ingredient you need are olives. You can use Pitted Kalamata olives
or pitted Green olives, if you prefer.
The process is fairly simply, and works fastest if you create an assemble line. I hope you enjoy these little snacks this Halloween as much as we did.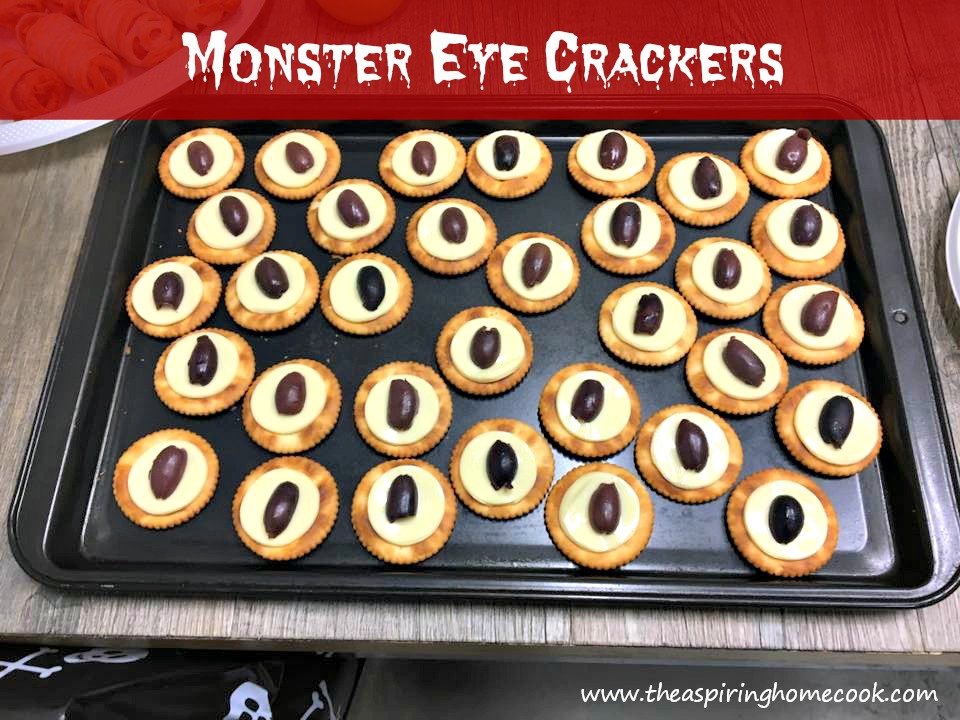 Monster Eye Crackers


Eton crackers (You can also use Ritz Crackers
)
Kraft Cheese Slices
Pitted Kalamata olives
You will also need a circle cookie cutter, just a little smaller than the size of the crackers you choose to use.
Cut the cheese slices into circles using the cookie cutter and keep aside.
Cut the pitted olives in half and keep aside.
On a serving platter, place the crackers in a single layer.
Top the crackers with a circle of cheese and top that with half an olive.
And that's basically it. Serve up.
Enjoy!!!
** This post contains affiliate links.
Today's post takes me back about 16 years. Back to when I first started working (gosh I feel old now). Back then, our meals were taken care off by the work place. And for me that was novelty because growing up we almost never ate out. My mum would cook up every meal and snack for us at home and as kids we were content with that. But eating in the office cafeteria was interesting. Here, I was introduced to such a variety of food from different parts of the country (India). But I wasn't too keen on cooking then. During those days I only enjoyed making our traditional Goan sweets (Kuswar) for Christmas and other Goan sweets that my Nana would whip up for us for afternoon tea or an after school snack.
One of the dishes I encountered in the office cafeteria, that eventually became a favorite, was Methi Malai Matar (meaning Grean Peas in a Creamy fenugreek gravy.) It has strong Indian flavors but is mildly spiced. After moving to Sydney, I began craving some of this stuff. And it was only then I decided I was going to have to learn to make this dish myself, much like I had to learn so many other Indian recipes that I wanted to enjoy. Now the challenge was finding fresh Fenugreek leaves. The only place I've found fresh leaves is at one vendor at the Paddy's Market in Flemington. But that's a long drive from us. So I thought I'd try and find a recipe that used dried leaves (known as Kasoori Methi
) which is easily available at any Indian grocery store. And let me tell you, I found one. I couldn't believe how easy this little curry is to put together. With just a handful of ingredients, in less than half an hour you can be sitting down to a warm bowl of Methi Malai Matar for dinner. This goes really well with roti / chapatis, but you can also enjoy this with some bread or plain rice.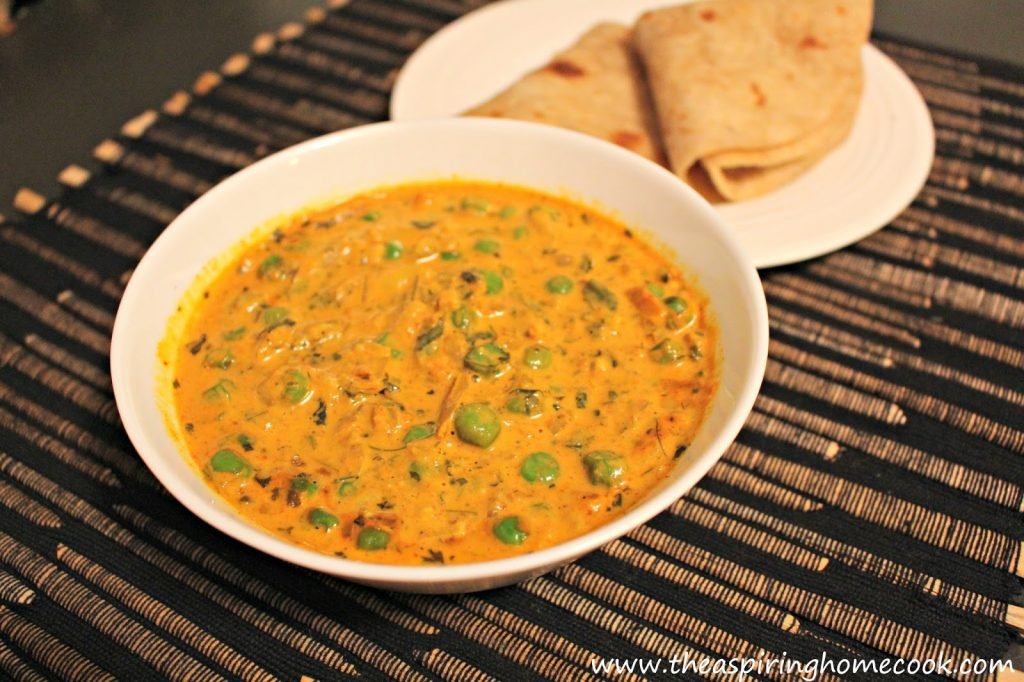 Methi Malai Matar
1 cup green peas (fresh or frozen will both work, if using frozen let it thaw before using)
3 tbsp Kasoori Methi

1 onion, finely chopped
1 tsp ginger garlic paste
1/2 tsp Cumin seeds
1 green chilly, finely chopped (optional)
1 cup milk
8 cashew nuts
2-3 tbsp cream
1/2 tsp Garam Masala Powder
1/2 tsp coriander powder
1 tsp Red Chilly Powder

1/4 tsp Turmeric Powder

1 tbsp oil (I use olive oil for cooking)
Salt, to taste
Soak the cashewnuts in a couple of tablespoons of milk for about 15 minutes.
Grind this to a smooth paste and keep aside.
In a pot / saucepan heat the oil on medium heat.
Add the cumin seeds to the oil.
When the cumin seeds start to sizzle, add the ginger garlic paste and green chillies and saute for a minute.
Now, add the chopped onions and saute till they've slightly browned.
Add the cashew paste and fry it for a couple of minutes, stirring to avoid burning.
Now add the turmeric powder, coriander powder, red chilly powder and the garam masala powder. Add salt to taste and stir well.
Now add the rest of the milk and stir.
Let it come to a boil and then simmer for about 2-3 minutes and the gravy will start thickening.
Add the cream and stir in.
Now add the green peas. Let the peas heat through and let the gravy come to a boil again.
Now add the kasoori methi and stir.
If the gravy is too thick at this stage, add a little water to achieve desired consistency. Just make sure the gravy comes to a boil after the water is added and simmer for a couple of minutes.
If the gravy is not thick enough, let it continue cooking, stirring occasionally, till it thickens to your liking.
Serve hot with rotis / chapatis.
Enjoy!!!
If you're looking for other methi / fenugreek recipes, check these out –
Methi Parathas
Methi Namakpare
Methi Poori
Today I have a very humble treat lined up for you. I happen to be a huge fan of beans. Fresh, dried, kidney beans, snakes beans, butter beans the whole lot, really. Growing up, every summer, the family would go to our ancestral home in Goa. We'd look forward to it. Our home had a massive edible garden. Back when I was too little to remember and even before I was born, the family grew a lot of vegetables and fruit. When my grandmother was little, they also had cattle and goats on the property.But in more recent times they had plenty of fruit trees. We had mangoes (a few varities), cashews, coconuts, chickoos, guavas and jackfruits growing. The only vegetables we had was some tapioca, dumsticks (moringa), tamarind and kokum. I have very fond memories of those summers and hope I can someday go back to something like this again. Though I may seem like I've digressed, I haven't, not much. I had to build a setting of sorts 🙂
Every summer, snake beans were at the peak of their season. We didn't grow this but there was a local farmer in the village who did. And he did a fantastic job of it. I loved and to this day love snake beans. We cook this up in a very simple way, a traditional Goan fugad. A fugad has its roots in Portuguese food. It is a stir fry of vegetables with some spices and seasonings and a sprinkling of fresh grated coconut. Most Goan households still cook their vegetables this way. The snake bean version was my favorite. I volunteered to prep 2 massive bundles every single day. Yes, I managed to convince my mother and aunt that I wanted to eat this every single day while I was there and that I would clean it and get it ready to be cooked myself. Thankfully, they obliged and so someone from that good old farmers household would graciously drop off a couple of bundles at the house on their way to the market. The simplicity of the dish may fool you. But the end result is fantastic. In my humble opinion, it is delicious. The beans turn out tender and sweet I'm sure kids would love it too. I could eat it by itself or with steamed rice or chapatis.
I recently managed to get some gorgeous bundles of snake beans and had to make this fugad again and I thought it was a perfect opportunity to share it with you. So if you can find some good, fresh snake beans or if you grow them yourself, I hope you try this out.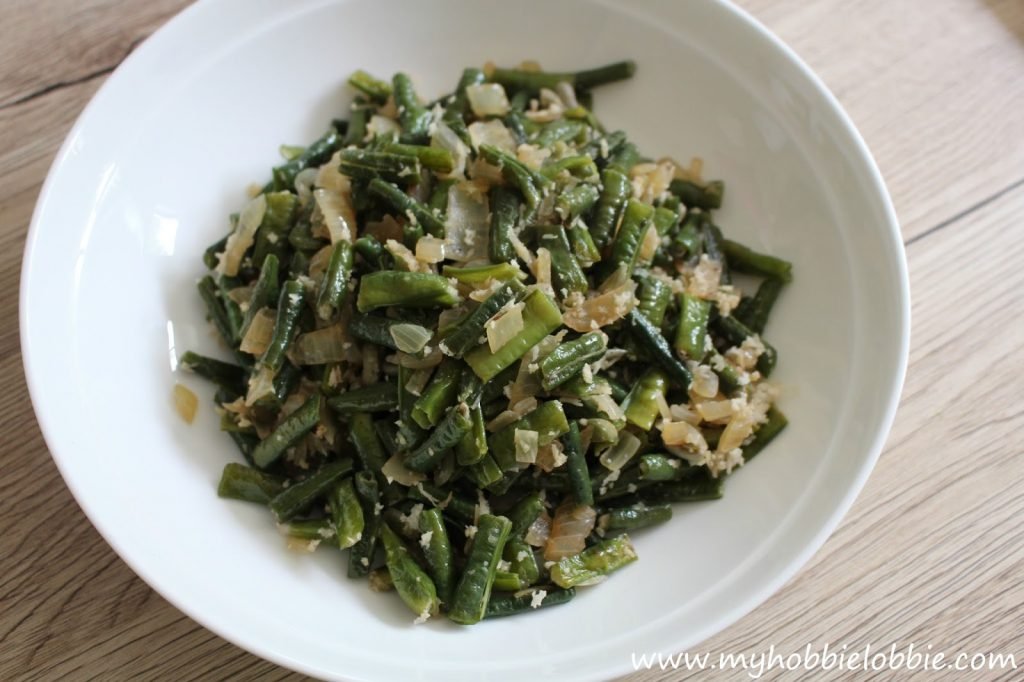 Eeril Fugad / Goan Snake Beans Stir Fry


3 small bundles of snake beans, the fresher the better
1 large onion, diced
2 fresh green / red chillies
Salt, to taste
1/4 cup freshly grated coconut
1 tbsp olive oil
Break off the ends of the snake beans and break off into inch sized pieces. Rinse through and drain and keep aside.
Heat the oil in a pan over medium heat.
Slit the chillies in length, but not all the way through. This way you get all the flavor but not much of the heat.
Let the chillies fry up for a few seconds till they get fragrant.
Add the chopped onions and saute till the onions have softened and get slightly brown on the edges.
Add the snake beans and stir them in for a while. You will see the green color of the beans turn a darker shade.
Add the salt and let the bean stir fry for about 2 minutes.
Add a splash of water, a very small amount to prevent the beans from burning and help them cook through.
Cover the pan and let it cook. Add more water, if needed.
When the beans are almost cooked, add the freshly grated coconut and stir through.
Serve hot as a side dish with some Goan fish curry or prawn curry and rice or with some chapatis.
Some other Fugad recipes –
Cabbage Fugad
Black Channa (Chickpeas) Fugad
Ever so often, life gets busy for everyone. When that happens in our home, I love having quick and easy recipes that I can fall back on even if I haven't had the time to cook dinner. My tolerance for take away and ready meals has steadily fallen in the last few years to the point where its non existent now. I do prefer home cooked food, even if its something as simple as breakfast for dinner.
Actually, I really like breakfast for dinner. This breakfast hash is a nice way to fancy things up. What I love about this hash is its made from scratch. That being said, it comes together so quick and easy and all in one pan. If you're using an oven proof skillet, you can crack the eggs right in and let them cook off in the oven. I didn't want to switch the oven on, so I used a second pan to fry the eggs. You could use poached eggs or scambled eggs too. This hash obviously uses potato. The addition of red peppers and kale makes it so colorful, not to mention, delicious. And kale in a recipe must definitely make it healthier.
So if you're ever in a situation where you need a meal on the table in under 30 minutes or if you feel like a fancier breakfast, or for that matter, breakfast for dinner option, try this hash out. You'll love it. We certainly did. And leftovers keep quite well, refrigerated. Simple heat it up the next day and serve with an egg, if desired.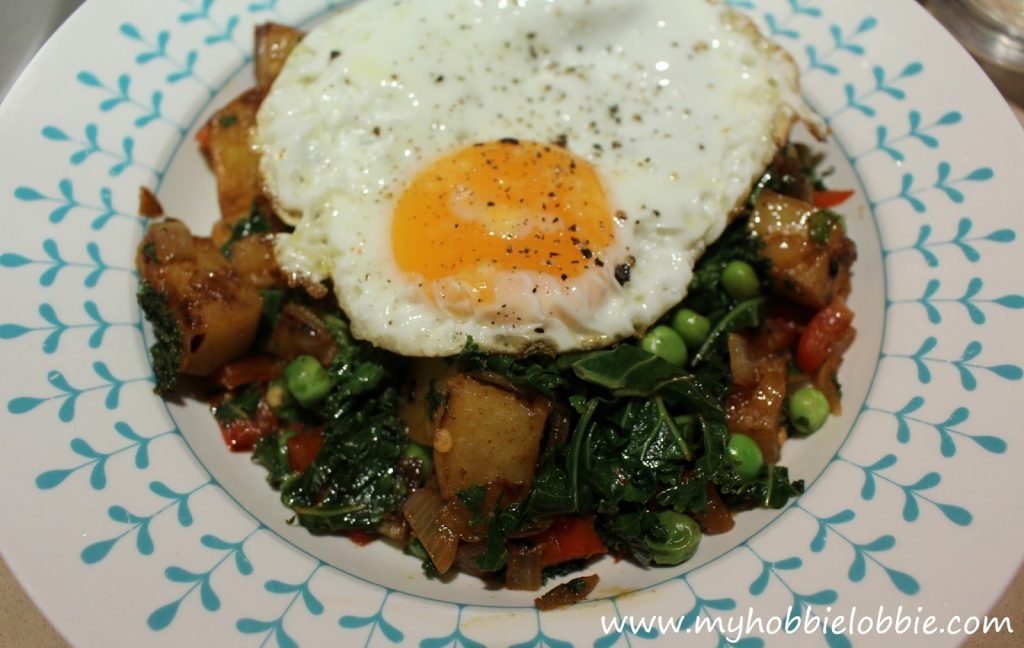 Breakfast Hash with Potatoes, Kale, Peppers and Green Peas


2 potatoes, peeled and diced (the smaller the cubes, the quicker it will cook)
1 medium onion, chopped
1 red pepper, chopped
2 cups kale, roughly chopped
1 cup green peas
1 tbsp olive oil
1/2 tsp smoked paprika
1/2 tsp cumin powder
Salt, to taste
Freshly cracked black pepper, to taste
1 egg per serving (You could use 2 eggs per serve, if desired)
Heat the oil in a pan over medium heat.
Add the potato to the pan and let it cook, stir every now and then to ensure even cooking and avoid any burning.
When its half cooked, add the onion and red pepper.
Saute and let the onion and pepper soften.
Add the paprika, cumin, salt and pepper.
Add the green peas and the chopped kale.
Let it cook for about a minute till the kale and the peas have warmed through.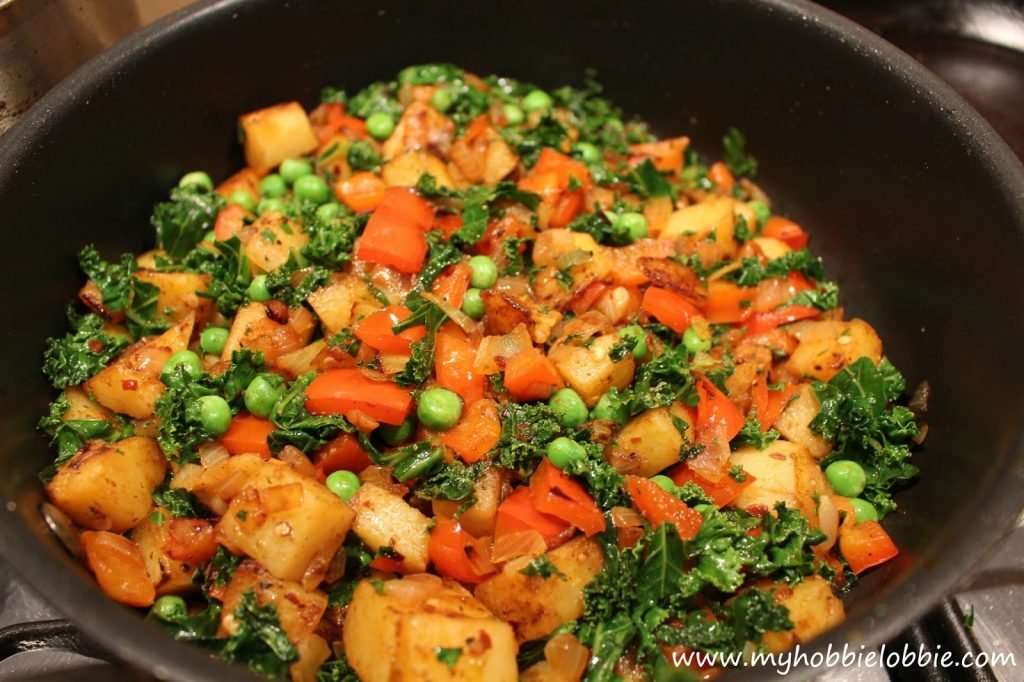 Serve hot, topped with an egg (or two) cooked to your liking.