Winter is one of my favorite seasons. I love the chill in the air and everything that comes with it, especially after a long, hot summer. I love winter clothes, the food and the indoor days. But what I love most of all is rugging up on a chilly day with a piping hot mug of homemade hot chocolate. So today, I'm going to share with you how I make my basic hot chocolate from scratch in under 5 minutes. Yup, its quick, simple and divine.
Homemade Hot Chocolate
Makes 1 mug


3/4 cup (full fat) milk
1/4 cup heavy cream
1/4 cup dark chocolate, chopped
A few marshmallows, for topping (optional)
Combine the milk and cream in a saucepan and heat it over medium heat till it just about starts simmering. Do not let it come to a boil.
Add the chopped chocolate and whisk till dissolved.
Pour into a mug and top with marshmallows (if using) and sprinkle some grated chocolate on top.
Enjoy your very own Homemade Hot Chocolate!!!
Recheado Masala (Rechaad Masala) is a quintessential Goan spice blend. You will find this in every Goan or Goan food lovers home. While its a few basic spices that's simply blended together in a mixer / food processor, the trick is getting the right balance of flavors. Every household has its own version of this masala. And yes, we have one too. The recipe I'm sharing with you today is my Mother's recipe which I've tweaked a tiny bit and I think it's now just the way we like it.
I always have a jar of this masala in the fridge. That's the beauty of it. You can make a batch up when you need it or make it ahead of time and store it in the refrigerator. I store it in a clean, dry, airtight glass jar and it easily keeps for weeks, if not months. It's a great masala to have on hand. Typically this masala is used to pan fry a variety of seafood from fish, to prawns and even crabs. We also make a finger-licking, lip-smacking okhra or bhindi with this masala. I will share those recipes with you really soon.


Goan Recheado Masala
20 Kashmiri red chillies
1 whole pod of garlic, peeled
1 inch ginger, roughly chopped
1/2 tsp turmeric powder
1 tsp cumin seeds
1/4 tsp black peppercorns
3 cloves
2 inches cinnamon
5 cardamom pods
A small ball of tamarind, about the size of a walnut
Vinegar, to grind the masala to a paste
Sugar and Salt, to taste (optional, see note)
Soak the tamarind in a little hot water for a couple of minutes. When it has softened, mash it between your fingers and discard any seeds, pieces of shell or fibre that you may find.)
Place all the spices in your mixer. Add the tamarind pulp and the water it was soaking in. Add a couple of generous tablespoons of vinegar. Blend to a smooth paste, adding more vinegar as required. (Halfway through this process, scrape down the sides of the jar to make sure you get a smooth paste).
When it has blended to a smooth paste, it is ready to use.
Store any excess in a clean, dry, airtight glass jar in the refrigerator and use as needed.
NOTE:
You can add a little salt to taste and 1-2 tsp. of sugar while grinding, if desired. I leave this out, so that I can season the dish as I need to, when using this masala.
Today's post is a walk down memory lane for me. As a kid, this dessert made an appearance at a lot of parties and gatherings and on other special occasions too. My mum makes a version of this. However, back in the day, we always used custard powder to make our custard. And I used to love it. When we moved away from India, initially I found it a little hard to find the custard powder that we used. So I did the only other thing I could think of. I started working on a custard recipe. After a few attempts and tweaks, I came up with a recipe that I was happy with. It's a simple, easy and super delicious one. Well, you don't have to take my word for it. Try it out for yourself and see. And then come back and let me know what you thought of it.
Once you make the custard, there are so many ways you can use it. Make a thinner version and pour it over your favorite dessert. You can serve this custard with some fresh fruit or use it to make a fresh fruit tart (I'll share how I make mine very soon). Or you can do what I did, I made a layered dessert and serve it with some jelly. It was my first attempt at serving it up this way. If you don't want to make individual servings, you can set your custard and jelly separately and let your guests help themselves to it.
Whichever way you decide to serve it up, you are going to love it.
Vanilla Custard
4 egg yolks
3 cups milk
1/4 cup sugar
1 tbsp cornflour
A scant pinch of salt
1 tsp vanilla bean paste
In a heavy bottomed saucepan, whisk the egg yolks, sugar, salt and vanilla till it is light and creamy.
Add the cornflour and whisk it in.
Next add the milk and whisk it in till it is well incorporated and is a uniform mix.
Place on a medium heat and cook, whisking continuously for about 15-18 minutes.
Cool to room temperature and then refrigerate to set.
To make a layered dessert –


You'll need to whip up one portion of Jelly and a fruit salad
For the fruit salad –
1 pack of Raspberry Jelly
Assortment of fresh fruit, chopped into little pieces (Do NOT use pineapple, kiwi or papaya / pawpaw as your jelly will not set.)
Pour the jelly granules in a bowl.
Add 250ml boiling hot water. Stir to dissolve the Jelly granules.
Add 200ml cold water and stir through.
When the jelly has reached room temperature, add some chopped fruit.
Please note, every Jelly brand may have to be prepared differently. So, please follow the instructions on your box of jelly to achieve the best results.
Layer the custard and jelly in your servingware and keep refrigerated till you're ready to serve.
Enjoy chilled!
When I think back at my first experience eating pizza, I'm immediately taken back home to when I was about 10 or 12 years old. My best friends mother had whipped up some little pizzas for us as a snack using store bought pizza bases, a little sauce and some toppings. I can't remember what was on it, but what I do remember was that I liked it very, very much. After that, she very kindly shared that recipe with my mother, who whipped them up for us at home, every once in a while.
Fast forward to about 7-8 years ago, I actually learned to make my pizza bases from scratch. After a whole lot of trial and error, I finally found a combination that worked well for me. And I've stuck to that ever since. And its safe to say, that since then, I have never bought a store bought pizza base. It is quite easy to make, once you know what your doing. Coupled with this, I'm also going to share my no-cook pizza sauce recipe with you. This recipe is probably older than my pizza dough recipe. As far as the toppings go, we've tried a lot of combinations. Once you have the basics in place, you can switch up you toppings to suit your tastes.
I'm going to whip up 2 pizzas today, one is a pepperoni pizza and the other is a mixed vegetable pizza. While, we're tried a few topping options, these two have got to be strong favorites in my house.
So let's get on to the recipe, shall we?
Homemade Pizza


For the pizza dough –
2 cups all purpose flour (maida)
1 tsp instant dried yeast
1 tsp sugar
150ml luke warm water (approx.) (use as needed)
2 spoons olive oil
Salt, to taste
In a little bowl, combine the yeast, sugar and a couple of tablespoons of warm water. Set the bowl aside for about 5-10 minutes for the yeast to activate.
After 5-10 minutes, the yeast will turn frothy and is now activated.
In a large mixing bowl, take 2 cups flour and add the salt (I use about 3/4 tsp salt). Using your fingers, mix the salt through the flour.
Make a well in the middle of the mound of flour and add the yeast mix.
Start combining the flour with the yeast and gradually add warm water, as needed to form a soft dough.
The dough will be tacky at first, but will eventually be much more manageable and smooth.
Stretch the dough while kneading and continue this process for about 5 minutes. (See video above, for method). Halfway through the process, add the oil in 2 stages and continue working the dough.
Shape into a ball, and place in a greased bowl. Drizzle a little olive oil on the dough and lightly coat the top of the dough, so that it doesn't dry out. Cover the bowl with some cling film or a clean, damp towel and leave the bowl in a warm place for the dough to rise. Leave to prove (rise) for about an hour, or till the dough doubles in volume. (It might take a little longer during cooler months.)
For the sauce –
1-1 1/4 cup passata, tomato puree or canned tomatoes (If using canned tomatoes, process them to a puree before using)
2-3 small cloves of garlic, minced
2 tsp olive oil
Salt, to taste
Freshly cracked black pepper, to taste
A little less than 1/2 tsp dried mixed herbs
1/4 tsp dried oregano
1/2 tsp sugar
1/4-1/2 tsp red chilly flakes
Add all the ingredients into a bowl. Stir to mix thoroughly.
The sauce is now ready to use.
To make the pizzas –


Preheat the oven to 250 deg C.
Divide the dough into 2 portions.
Stretch the dough to form the base. (See the video above for method)
Spread the sauce over the base, leaving a little margin from the edges.
Add toppings of your choice and cheese. (I use a combination of mozzarella and colby / cheddar).
Bake for 10-12 minutes or till the dough (pizza base) is cooked through and the cheese has melted.
Enjoy!
NOTES:
1) Remember to use warm water, not hot water. Hot water will kill your yeast and your dough will not rise.
This version of marzipan is made using cashew seeds and is shaped into little colorful bites. It is the crowning glory of every Indian Christmas platter.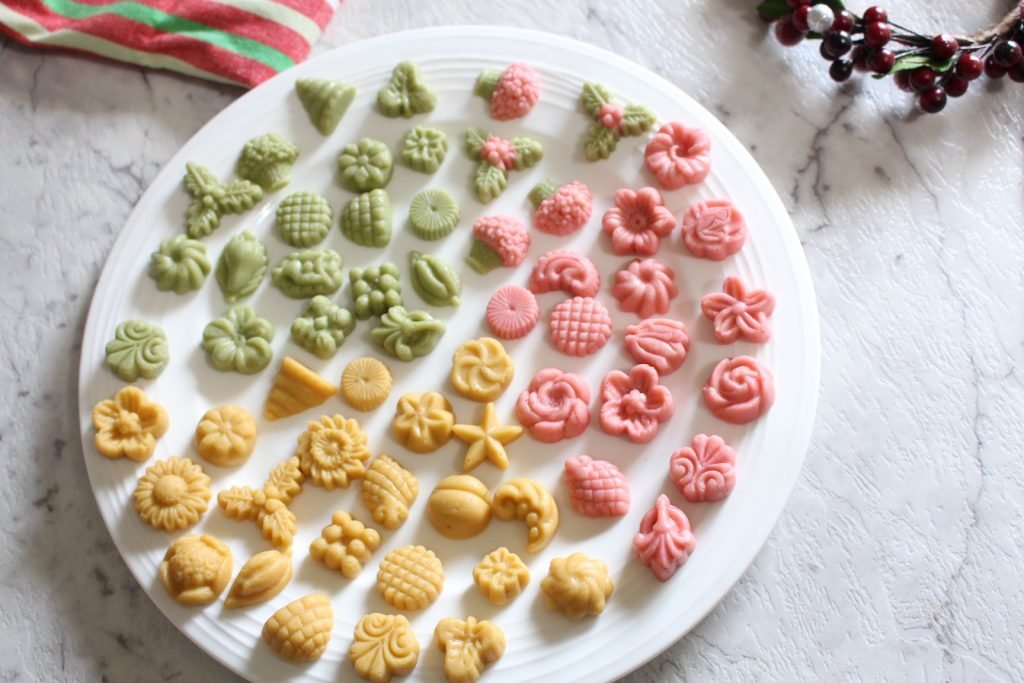 Today, I want to take a minute, right at the onset, to say "Thank you" from the bottom of my heart for all your support on my YouTube Channel. I am overwhelmed that so many of you want to watch my videos and try my recipes. A lot of you lovely folks have asked me to share my Marzipan recipe. 
The recipe that I'm sharing with you today, is my absolute favourite. Typically, Marzipan is made using Almonds. But in Goa(and India, in general), Cashew nuts / Cashew seeds are more easily and abundantly available than Almonds. So the Goans / Indians have simply swapped one for another. And the results are pretty spectacular. I always make my version using cashew seeds. You can use this recipe to form little shapes like you will see me do today, you can cover a cake with it, and I've also made
Marzipan tarts
in the past. The possibilities are endless. 


Marzipan
Yields: 1/4 kilo or 250g Marzipan
125g Cashew Nuts 
200g Sugar
1 egg white
1/2 tsp Almond essence
1/4 cup water
Food colours, as required
Soak the cashew nuts in some (room temperature) water for about 10 minutes. Drain, run some fresh water through the nuts, and drain them again.
Grind the cashew nuts, egg white and water to a fine paste.
Pour the ground paste, the almond essence and sugar into a large heavy pan. Place the pan on low-medium heat and stir to combine.
Cook the paste on a medium low heat, stirring continuously till it thickens and starts coming away from the pan. 
Use the water test to check if it is ready. Place some ice cold water in a small bowl and drop a 1/2 teaspoon of the sweet on it. If it firms up on cooling it is done. If it is still soft or too sticky, it needs more cooking.
As soon as it has cooked, pour the marzipan on a large plate and spread it out a little and leave it to cool down a little. Knead it to a dough while it is still warm.
Portion and colour the marzipan as desired. 
You can now shape it as needed or use it in any recipe that calls for it. 
If you making little shapes with the marzipan, once you de-mould it, place it on a plate and leave it to air dry for a while till it sets and is slightly firm to the touch. You can then place it in an airtight container and store. This should last you a couple of weeks if stored well. 
If the temperature is too high where you are, consider refrigerating it till needed.
Its December folks! Anyone who knows me, knows I'm a bit Christmas crazy. I love everything about the Holiday season. I'm going to kick off this years Christmas recipe posts with a lovely little cookie – the Indian Nankatai. This is an eggless recipe and is so easy to put together. What you end up with is a delicate and really delicious little treat. I like making a big batch of Nankatais closer to Christmas. I add these on my Christmas platter of sweets to share with family and friends and I also have some in the cookie jar to serve up with some tea.
Let's talk about the dough for a bit. It is such a ridiculously simple recipe, you will be surprised at how tasty the nankatais turn out. I find that this dough can be a little finicky and it usually works beautifully on a slightly warm day. While that works beautifully for us in Australia and anyone in the Southern Hemisphere, it could be a challenge in the Northern Hemisphere, where its the middle of winter. If its cold where you are, you might find that the dough ends up a little crumbly and you may have a little difficulty shaping it into a cookie. When that happens, I pop the dough in an ovensafe bowl and pop it into a slightly warm oven (about 100 degrees) for a couple of minutes. This helps the ghee warm up and helps bind the dough.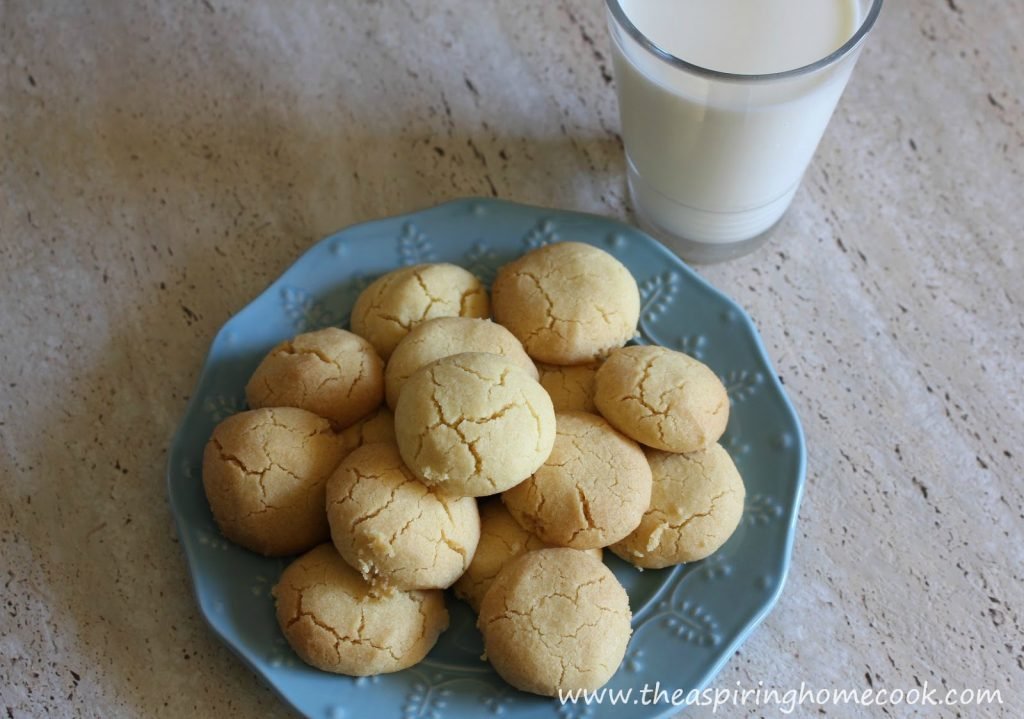 Nankatais
Yields: 1/2 kilo (approx 30 cookies)
1 1/3 cup all purpose flour
1/3 cup besan (chickpea flour)
1 cup sugar (superfine. You can also powder larger grain sugar and then use it in the recipe)
2/3 cup of ghee (clarified butter)
1/4 tsp baking soda
Preheat your oven to 180 deg. Celsius and line a baking tray with some baking / parchment paper.
Mix the ghee and sugar till it is light and creamy. Scrape down the edges and bottom of the mixing bowl halfway through the process.
Add the rest of the ingredients (baking soda, all purpose flour and chickpea flour) to the mixing bowl and continue mixing till it forms a dough.
Shape into little cookies by rolling portions of the dough into a little ball and flatten it slightly. Place the cookies on the lined baking tray.
Bake for 12-15 minutes or till done. Your looking for a light colour on the edges.
Take it out of the oven and leave the cookies to cool on the tray itself.
When completely cool, store in an airtight container.
Enjoy!
You can watch the video recipe here –
With the Holiday season done, I know a lot of us are trying to get back to regular eating habits. We're trying to eat a little healthier after all the Holiday indulgences. We've also had a family wedding in early January, so for us the indulgences have been a little more that usual this time around. Now that I'm back and mostly unpacked and back to business as usual, the focus is on healthier food.
I love trying out new recipes and cuisines. Now I know Mexican food is hardly a new cuisine, but for me, this was a new recipe. My ground beef recipe is a little more involved than this one. I love the simplicity of it. The method was a little different than what I was used to, but by the time this taco meat was ready, it looked and smelt great and tasted fantastic. I can guarantee this tastes so much better than any packaged taco meat that you buy from the store. And you know exactly what has gone into the pot.
You could, as the name suggests, use this in tacos, but since we are trying to eat healthier, we enjoyed this with some iceberg lettuce and a bean salad on the side. Who said healthy eating had to be boring or tasteless. This was healthy and delicious and is going to make quite a few appearances on our dinner table. I do hope you try it out too.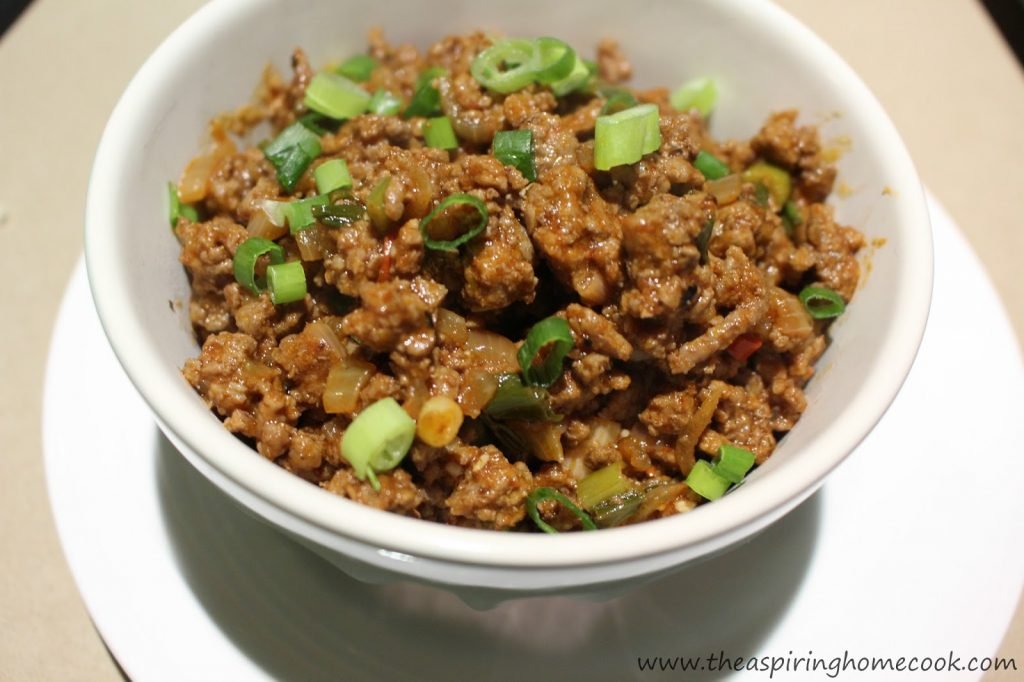 Homemade Seasoned Taco Meat
Recipe from: Premeditated Leftovers


1/2 kg lean ground beef
1 tbsp olive oil
1 cup onion, finely chopped
1/2 cup tomatoes, chopped
2 cloves garlic, finely chopped
1 1/2 tsp cumin powder
1 1/2 tsp chilli powder
1 tsp paprika
1/4 tsp salt
1/4 tsp crushed black pepper
1/2 tsp dried oregano
1 cup water
2 green onions, sliced
Heat the olive oil in a skillet over medium high heat.
Add the ground beef to the pan and cook the meat till it is browned and no longer pink. This should take about 4-5 minutes.
Now add the onions and tomatoes and cook for about 2-3 minutes or till the onions have started to soften.
Add the rest of the ingredients except the water and the green onions. Stir everything together and saute for a couple of minutes. By now all the spices should have started doing their job and should be fragrant.
Now add the water and bring the pot to a simmer.
Cover the pot and let it simmer for about 5 minutes.
Now uncover the pot and cook the meat uncovered till almost all the liquid has evaporated.
Take the pan off the heat and stir in the green onions.
Enjoy!
How many of you enjoy your dry fruits, nuts and seeds? I'm talking raisins, sultanas, dates, apricots, prunes or almonds, cashewnuts, peanuts and also pumpkin seeds (pepitas) and sunflower seeds. Me, I love them all. They are all known to have health benefits if eaten in small quantities as part of a balanced diet. It is a shame that more people don't include these little gems in the diets. My husband loves nuts, but isn't too keen on the dried fruit or seeds by themselves. So I have to think of ways to include them in our diet. Most often, we usually just nibble on a small handful of an assortment of fruits and nuts / seeds, but I was looking for other ways to enjoy them too.
When I came across a post with these bars, I knew I had found something good. It has dates, apricots, pepitas, chia seeds and a touch of cinnamon, all of which are know to be healthy in their own right. They come together to form these little delicious bars which are so tasty. They are sweet from the dates, a little tangy from the apricots and have the crunch of the chia seeds and pepitas though them. As the original recipe included a small amount of white chocolate chips, I threw them in, but they would be fantastic even with dark chocolate or even without chocolate at all.
The verdict, my husband enjoys them, which is a win for dry fruits in his books. They are small portion sizes, but pack a punch. If you like to reach for a snack bar or a granola bar during the day, I suggest trying these out. They are very satisfying and will keep the hunger pangs away till your next meal. They take all of 10 minutes hands on time. So even if you are time poor, you can still make a batch of these on your day off and enjoy them through the week. Kids will enjoy them too. Go ahead, give them a try. If you do, I'd love to hear what you think of them.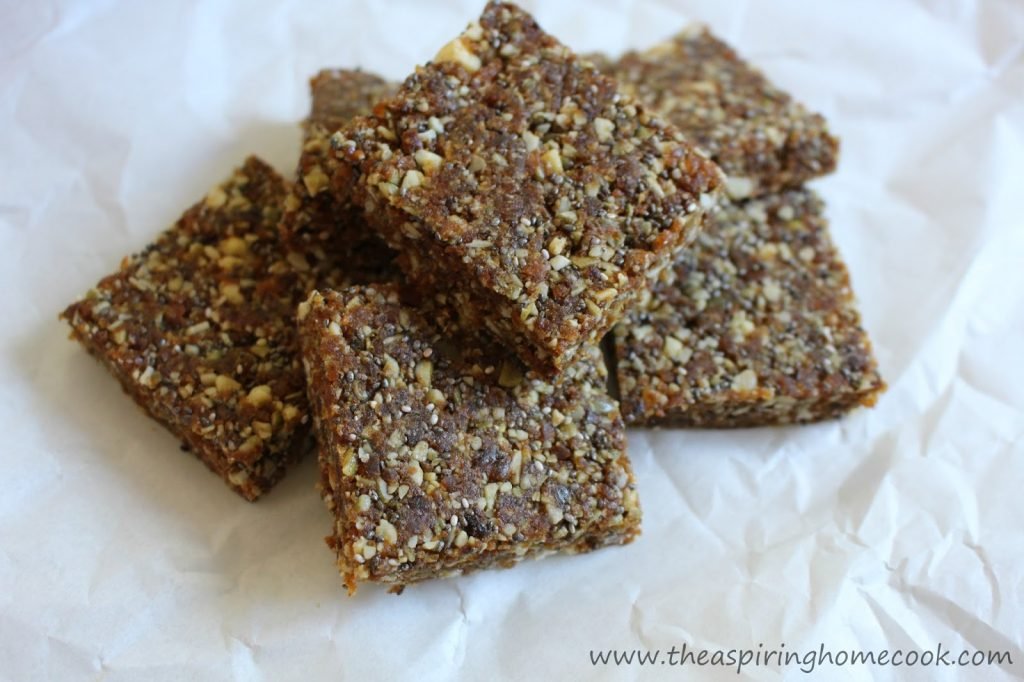 Date, Apricot & Chia Bars
Recipe from: Cupcakes & Kale Chips
Yields: 16 pieces (2 inch squares)
1 cup dates, pitted
1 cup dried apricots
2 tbsp Chia seeds
1/4 tsp ground cinnamon
1 cup raw pumpkin seeds / pepitas
2 tbsp white chocolate chips (optional)
Line an 8×8 inch baking dish or tray with baking paper.
Place the dates, apricots, chia seeds and cinnamon in a food processor and blitz till it has coarsely broken down.
Add the pepitas to the processor and blitz again till the pepitas have broken down to finely chopped.
Now add the chocolate chips, if you're using them and blitz again to break them up to little pieces.
Empty this mix onto the lined baking dish and flatten it down as best as you can, using the back of a spoon.
Next, I used another piece of baking paper on the top and used a large glass jar to flatten it out evenly. You can also use the bottom of a pan or a similar sized baking dish to do this after you place the baking paper on top.
Refrigerate for an hour.
Cut into squares. They are now ready to eat.
To store these bars, place a piece of baking paper between the squares to keep them from sticking to each other. Store in an airtight container in the fridge.
You now have little snack bars that will take you through the week.
Enjoy!!!
If you like this recipe, here's a few more you might enjoy –
Fruit & Nut Balls
Power Packed Snack Bars
Banana Bread Baked Oatmeal
Ever so often, life gets busy for everyone. When that happens in our home, I love having quick and easy recipes that I can fall back on even if I haven't had the time to cook dinner. My tolerance for take away and ready meals has steadily fallen in the last few years to the point where its non existent now. I do prefer home cooked food, even if its something as simple as breakfast for dinner.
Actually, I really like breakfast for dinner. This breakfast hash is a nice way to fancy things up. What I love about this hash is its made from scratch. That being said, it comes together so quick and easy and all in one pan. If you're using an oven proof skillet, you can crack the eggs right in and let them cook off in the oven. I didn't want to switch the oven on, so I used a second pan to fry the eggs. You could use poached eggs or scambled eggs too. This hash obviously uses potato. The addition of red peppers and kale makes it so colorful, not to mention, delicious. And kale in a recipe must definitely make it healthier.
So if you're ever in a situation where you need a meal on the table in under 30 minutes or if you feel like a fancier breakfast, or for that matter, breakfast for dinner option, try this hash out. You'll love it. We certainly did. And leftovers keep quite well, refrigerated. Simple heat it up the next day and serve with an egg, if desired.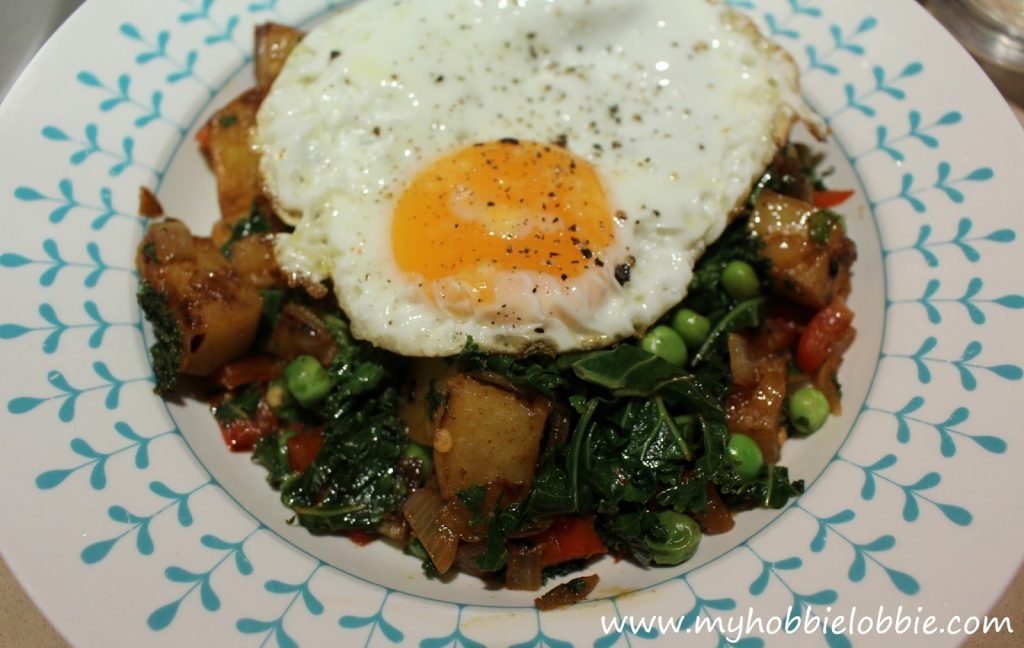 Breakfast Hash with Potatoes, Kale, Peppers and Green Peas


2 potatoes, peeled and diced (the smaller the cubes, the quicker it will cook)
1 medium onion, chopped
1 red pepper, chopped
2 cups kale, roughly chopped
1 cup green peas
1 tbsp olive oil
1/2 tsp smoked paprika
1/2 tsp cumin powder
Salt, to taste
Freshly cracked black pepper, to taste
1 egg per serving (You could use 2 eggs per serve, if desired)
Heat the oil in a pan over medium heat.
Add the potato to the pan and let it cook, stir every now and then to ensure even cooking and avoid any burning.
When its half cooked, add the onion and red pepper.
Saute and let the onion and pepper soften.
Add the paprika, cumin, salt and pepper.
Add the green peas and the chopped kale.
Let it cook for about a minute till the kale and the peas have warmed through.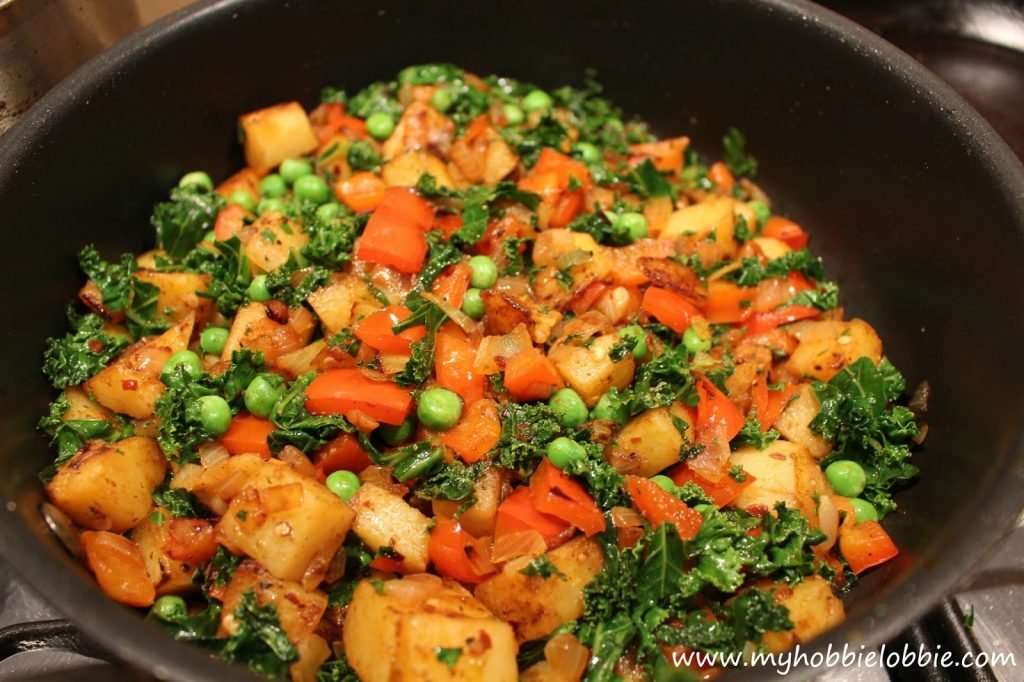 Serve hot, topped with an egg (or two) cooked to your liking.