Its December folks! Anyone who knows me, knows I'm a bit Christmas crazy. I love everything about the Holiday season. I'm going to kick off this years Christmas recipe posts with a lovely little cookie – the Indian Nankatai. This is an eggless recipe and is so easy to put together. What you end up with is a delicate and really delicious little treat. I like making a big batch of Nankatais closer to Christmas. I add these on my Christmas platter of sweets to share with family and friends and I also have some in the cookie jar to serve up with some tea.
Let's talk about the dough for a bit. It is such a ridiculously simple recipe, you will be surprised at how tasty the nankatais turn out. I find that this dough can be a little finicky and it usually works beautifully on a slightly warm day. While that works beautifully for us in Australia and anyone in the Southern Hemisphere, it could be a challenge in the Northern Hemisphere, where its the middle of winter. If its cold where you are, you might find that the dough ends up a little crumbly and you may have a little difficulty shaping it into a cookie. When that happens, I pop the dough in an ovensafe bowl and pop it into a slightly warm oven (about 100 degrees) for a couple of minutes. This helps the ghee warm up and helps bind the dough.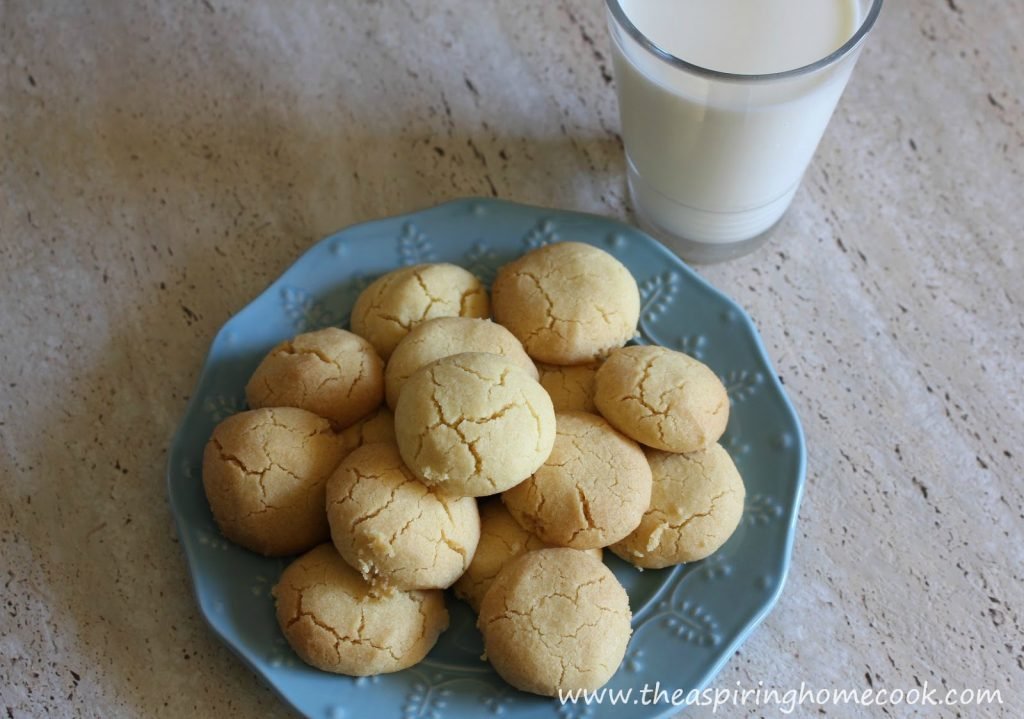 Nankatais
Yields: 1/2 kilo (approx 30 cookies)
1 1/3 cup all purpose flour
1/3 cup besan (chickpea flour)
1 cup sugar (superfine. You can also powder larger grain sugar and then use it in the recipe)
2/3 cup of ghee (clarified butter)
1/4 tsp baking soda
Preheat your oven to 180 deg. Celsius and line a baking tray with some baking / parchment paper.
Mix the ghee and sugar till it is light and creamy. Scrape down the edges and bottom of the mixing bowl halfway through the process.
Add the rest of the ingredients (baking soda, all purpose flour and chickpea flour) to the mixing bowl and continue mixing till it forms a dough.
Shape into little cookies by rolling portions of the dough into a little ball and flatten it slightly. Place the cookies on the lined baking tray.
Bake for 12-15 minutes or till done. Your looking for a light colour on the edges.
Take it out of the oven and leave the cookies to cool on the tray itself.
When completely cool, store in an airtight container.
Enjoy!
You can watch the video recipe here –
Howdy folks! I hope everyone's had a great Halloween. Now that Halloweens over, I figure its safe to start actively working on Christmas. And in an attempt to get a headstart, I've decided to post one of my favorite cake recipes. This one is a basic sponge cake recipe. Now I know, this is not a very Christmassy recipe, but I know a few people who don't like fruit cake and actually request for a sponge cake instead. While this recipe is basic, there's nothing basic about the end result. It uses simple ingredients and results in a really flavorful cake. While you can use this cake as a starting point for a number of cake creations and other desserts, this cake can hold its own as a tea cake too. Infact, my husband enjoys this cake so much, that when he asks me to whip one up, he justs wants it as is, no frosting or anything.
If you're someone who wants to learn how to bake, this is a great place to start. I've actually filmed the recipe too and I've included some of my tips and tricks to help out novice bakers. I will link the video at the end of this post.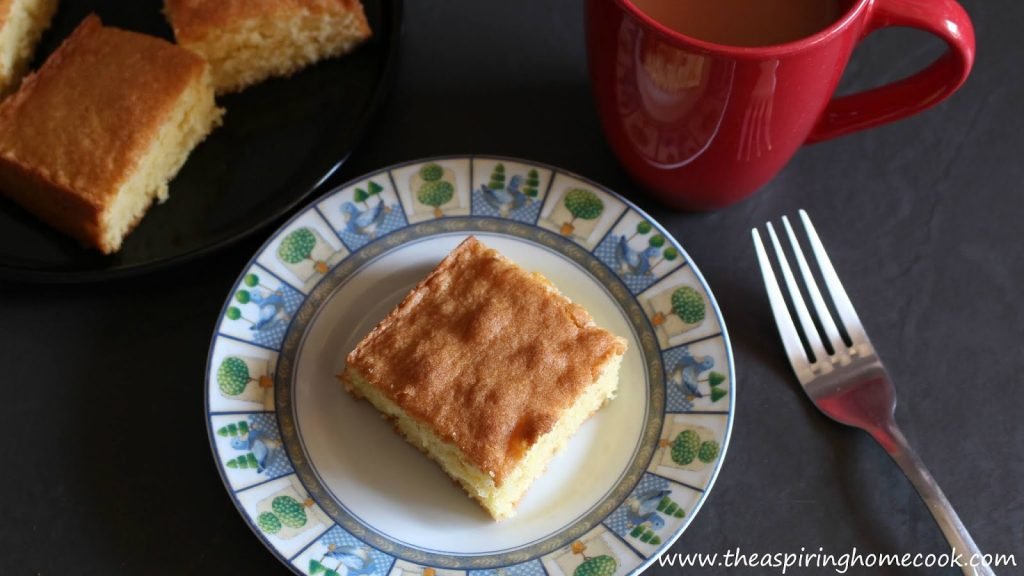 Vanilla Sponge Cake


250g butter, at room temperature
250g sugar (Use either a really fine grain or powder your sugar in a dry grinder before using)
250 all purpose flour
4 eggs
1 tsp vanilla extract / vanilla bean paste
1 tsp baking powder
Preheat your oven to 180ºC and line the base of your cake tin and grease the base and the sides and set aside.
Separate the eggs.
Whisk the egg whites to stiff peak stage and set aside.
In a large mixing bow, beat the butter, sugar, egg yolks and vanilla till light and creamy.
Mix the flour and baking powder.
Sift the flour mix into the butter and sugar mix in 3 stages, folding the flour into the batter only until just incorporated, with each addition.
Add a couple of scoops of the stiff egg whites to the cake batter and gently mix to loosen the batter. Gently fold the rest of the egg whites into the batter till it is well incorporated.
Pour the cake batter into the prepared cake tin and bake for 30 minutes or till a cake pierced through the center of the cake comes out clean.
Let the cake cool down in the cake tin. When it has reached room temperature, carefully take it out of the tin.
You can now use this cake in any recipe that calls for a vanilla sponge cake or serve it as it is.
Enjoy!!!