Soft and light, these delicious bread rolls are made from scratch and make the perfect addition to any dinner menu or party meal.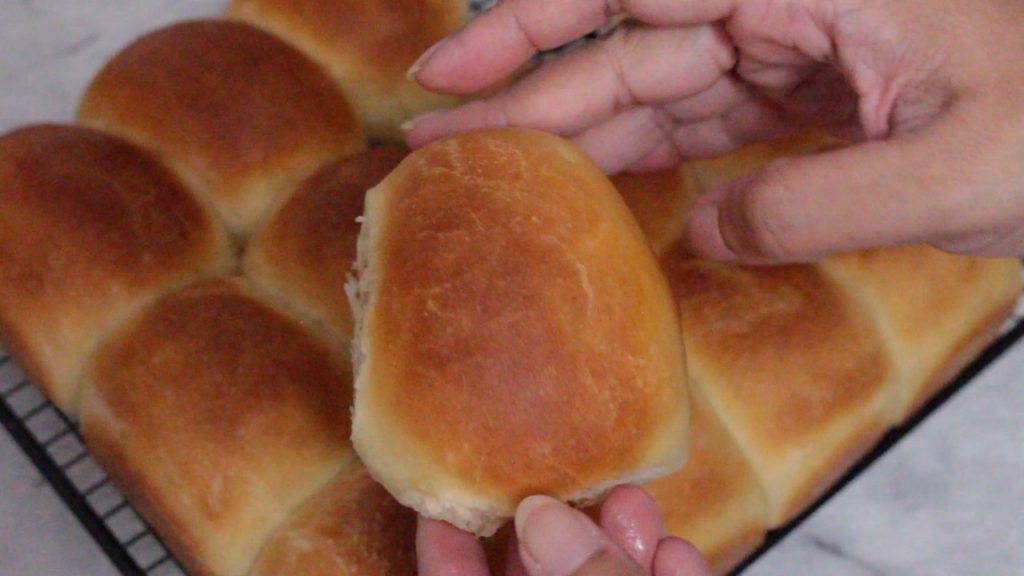 Believe me when I say, there's nothing better than taking a batch of freshly baked bread out of the oven. Except of course, eating it. Have you ever tried baking bread at home, from scratch? I know a lot of people feel intimidated by the thought of yeast. I was a member of that club for a very long time. But I can tell you this much, if you keep a few things in mind, you will be well on your way to mastering the art of bread baking. Moreover, there are so many varieties to try.

The recipe I'm sharing with you today is one that I fall back on frequently to make bread rolls. It's a very basic bread recipe and makes a great starting point, if you haven't baked bread before.


Things to keep in mind –
Yeast – Make sure that your yeast is viable. This is easy to do. Place the quantity specified in the recipe in a bowl with warm water and sugar. When rested for about 5 minutes, the yeast gets bubbly and frothy, signalling that it is still viable. If it doesn't froth up, you may need to replace your yeast.

Using warm water – Make sure that your water is warm, not hot. You should be able to keep your finger submerged in the warm water comfortably. If you cannot, the water is too hot, and it will kill the yeast.

Kneading the dough – Kneading the dough takes a little time. You need to do this patiently. This helps build gluten fibres, which in turn will help your bread rise well.

Resting time – Bread almost always, cannot be rushed, unless you're making a quick bread. The time needed to rest (prove) your dough depends on the ambient temperature. Resting the dough in a warm spot in the kitchen will help it rise. If it is really cold where you are, consider keeping it by a window that gets a lot of sun or in the oven with just the light on.
Keep these vital points in mind when you're making bread and you will see great results. Bread making gets better with practice. If your first batch doesn't turn out spectacular, don't worry, the next batch will be better, since you now know what to expect. So now that we've covered all of that, let's move on to the recipe.
Black Bean and Sweet Corn kernels come together to make amazing flavor-packed tacos, using a taco-seasoning made from scratch.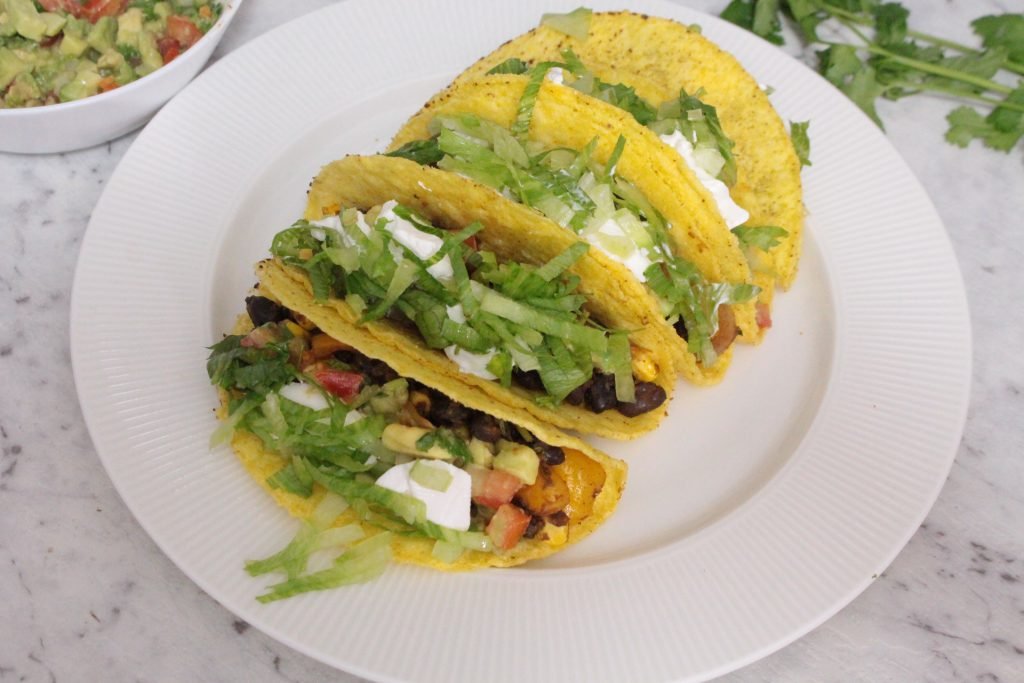 Today I'm sharing with you a recipe that is so simple and easy to put together, and results in such an extremely flavorful dish, you are going to be blown away.
That was a bold statement to start off with, right? Well, that's because it's the truth. Everybody needs a few recipes like this in their arsenal, because let's face it, life can get hectic and recipes like this make it easy to get dinner on the table in a hurry. I know a lot of folks do 'Taco Tuesday'. We personally don't, but that's just because we enjoy Tacos whenever we feel like it.
Tacos are usually associated with meat fillings, usually chicken, beef, pork and sometimes even fish or shrimp. But this doesn't mean you can't enjoy a really good taco if you follow a plant-based diet. And today's recipe is going to show you just that.
We'll be making a quick black bean and corn taco mix and a chunky guacamole to fill our tacos with. For the black bean mix, I use half a cup of dried black beans. These beans are soaked overnight and then pressure cooked the next day. I have a stovetop pressure cooker that gets the job done in under ten minutes. This works out so much better than buying canned beans because there is less waste, it works out to be more economical and I feel the beans are so much tastier. Try it out, if you have a pressure cooker or an instant pot. If not, you can simply use a can of black beans.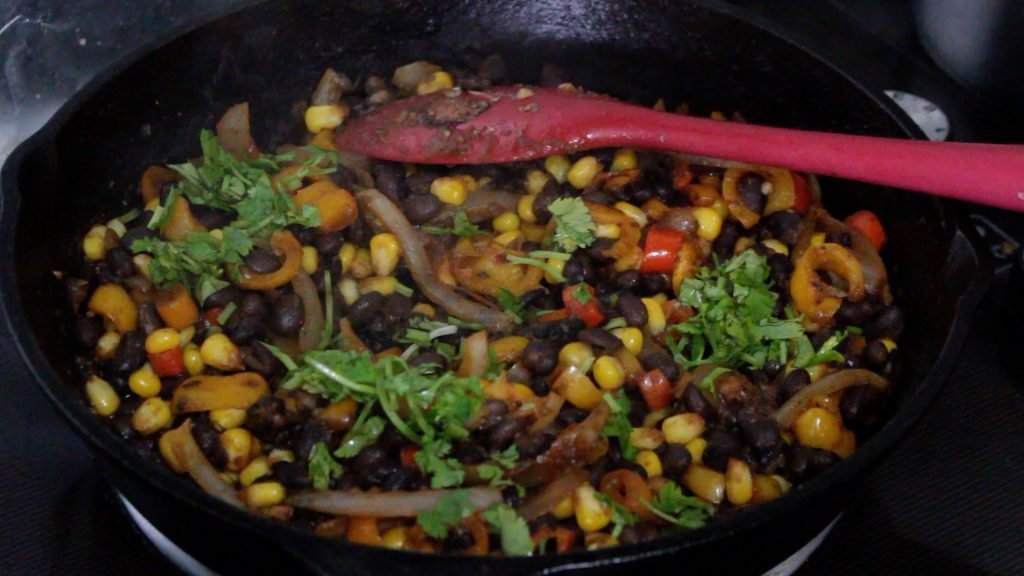 My chunky guacamole is also a very basic and simple recipe. It combines the richness of the avocado with the punchy flavors of a pico de gallo or a salsa. And like me, if you just need to serve 1 or 2 people, save the half of the avocado that has the pit still in it, squeeze some lime juice all over the cut surface, pop it into an avocado saver if you have one, or simply cover it with some cling film and pop it into the fridge for the next meal or the next day. This reduces the browning of the avocado. Do you have any tips for storing half an avocado? Leave me a comment and let me know. I'd love to be able to store it without having to use any single use plastic.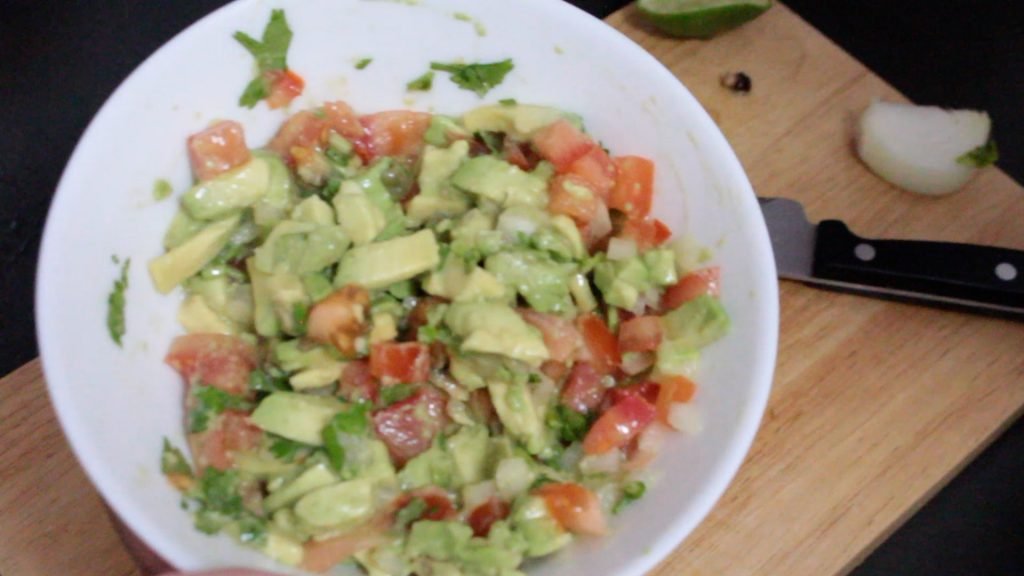 Assembling your tacos is one of the most fun parts of this recipe. You can add whatever your heart desires to your taco. Here's what I use to make up my tacos –
Hard corn taco shells
Black bean and corn mix
Chunky guacamole
Pickled jalapenos
Plant based sour cream
Finely shredded lettuce
If you love a good taco, you simply have to try it out and I hope you love it as much as we do. This recipe makes enough of the bean mix for 12-15 tacos. If you're serving 12-15 tacos in one sitting, double the guacamole recipe.
Spiced cauliflower florets, a coriander chutney and pickled onions, wrapped in tortillas make the perfect Tandoori Spiced Cauliflower Wraps for any meal.
If you love Indian food, you're probably familiar with the ever-so-popular Tandoori Chicken. It's one of those dishes most people order when they're at an Indian restaurant. Since we've been trying to follow a plant-based diet, I've been looking at using those familiar flavors to create a recipe that is not just easy to put together, but is super delicious and can be used for meal prep too. Make way for these Tandoori Spiced Cauliflower Wraps. These flavor-packed nuggets are going to rock your world.
Every element of these wraps is homemade and they're all super simple to make. You can actually make every single element ahead of time and then just reheat when you want to serve it up. To put these wraps together, we're going to look at all the elements you need –
Tandoori Spiced Cauliflower florets
Coriander Chutney
Quick pickled onions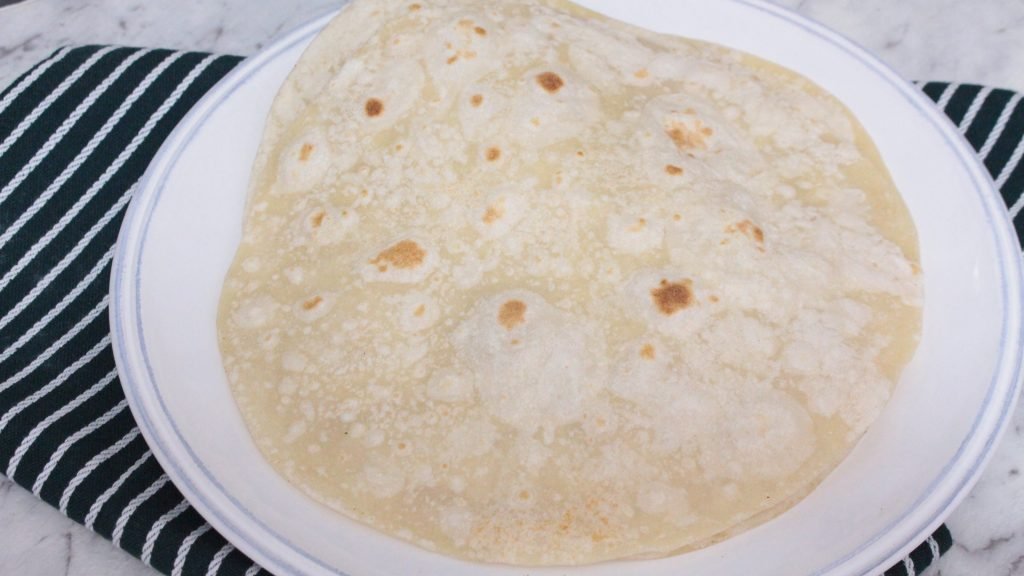 I've shared a detailed post on making some delicious flour tortillas from scratch. If you haven't seen that yet, you can find it here – Homemade Flour Tortillas

The tandoori spiced cauliflower is a great little recipe in itself. You can serve the cauliflower up as an appetizer along with some of the coriander lime chutney.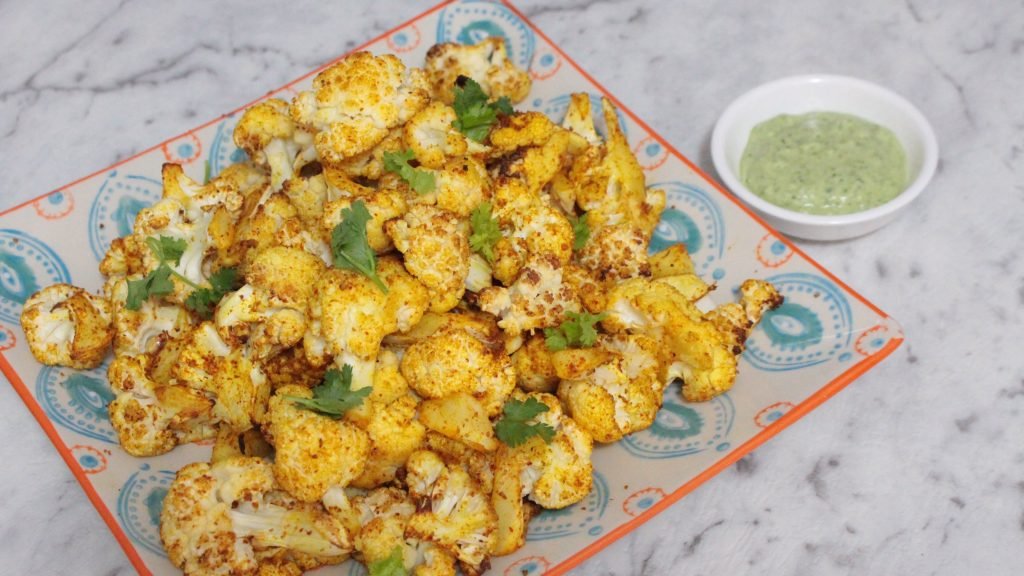 The original chutney is a diary yogurt based recipe. But to keep this recipe plant-based all the way through, I've made a few substitutions to make this chutney completely plant-based too.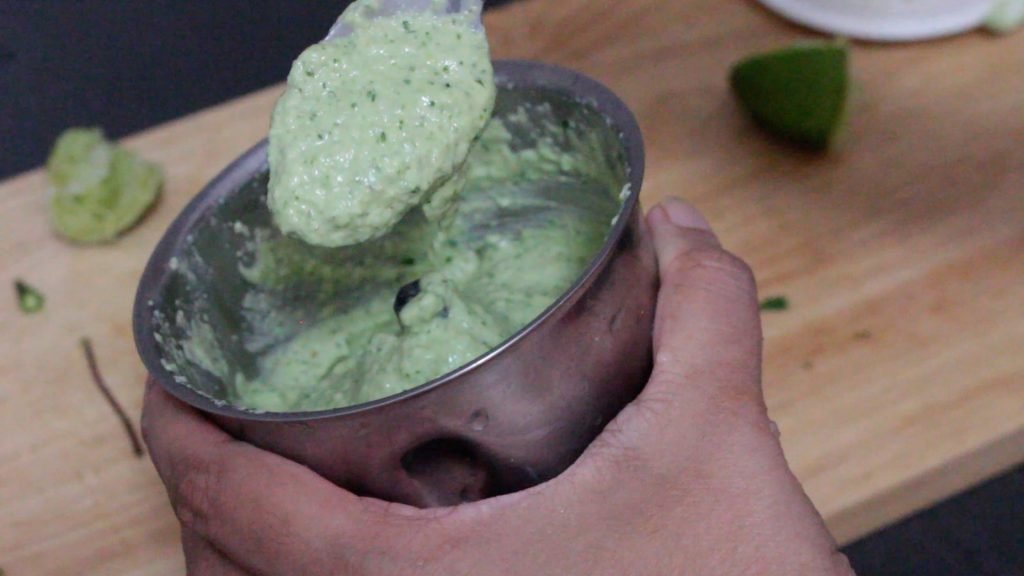 And lastly, the quick pickled red onions are a absolute treat. They add a great kick to the flavors of this wrap. And it comes together in 20-30 minutes, all while you're making the other elements for the wrap. You can make a slightly bigger batch of these pickled onions and store them in a little glass jar in the fridge to use through the week. These pickled onions work so well in salad, buddha bowls and a whole lot of other recipes.
Once you've prepped all the little elements, all that's now left is to assemble your wraps. To assemble our wraps, I've also added some salad greens and thinly sliced capsicum. Altogether, it makes for a very flavorful meal.

I do hope you get the opportunity to try this out. It will soon become a regular in your meal rotation.

Soft and delicious Homemade Flour Tortillas made using just a few simple pantry ingredients. These are easy to make and great for meal prep.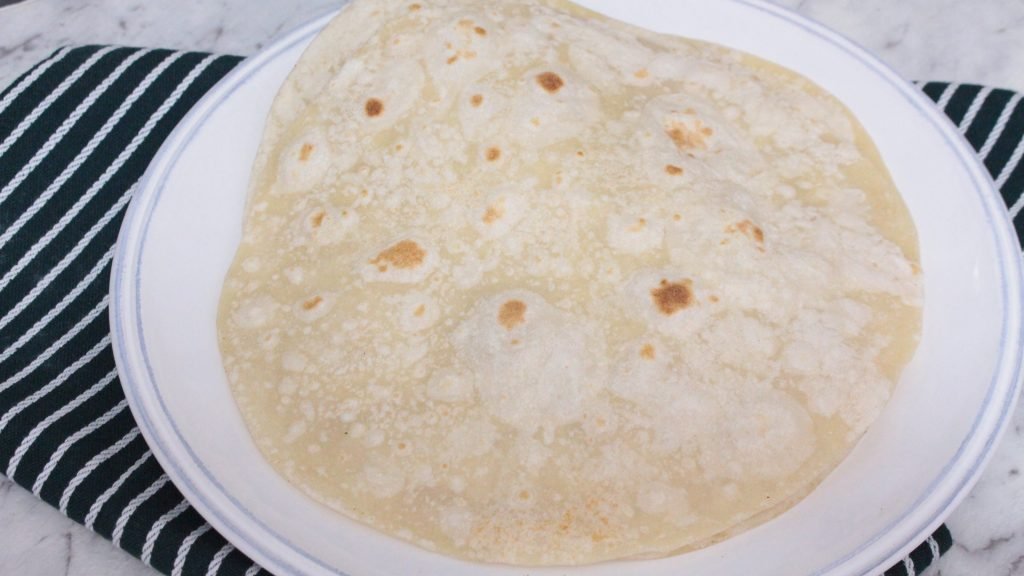 So, I have a confession. Although I love a good wrap, I cannot stand the taste of store-bought tortillas. Maybe, its just me, but I can actually smell and taste the plastic on the store bought ones. Does anyone else feel that way? I've tried a bunch of different brands from both Coles and Woolworths and it's always the same. And for me, personally, it spoils the whole wrap experience. And that's one of the main reasons I haven't shared many recipes for wraps here on the site. But all that's about to change, now that I can make tortillas at home.

These flour tortillas are everything you'd want in a tortilla and then some. They are soft, so tasty and are made using simple ingredients like flour, salt, oil and water. That's it. Knead these basic ingredients to a dough, roll out and cook them up. You can make these ahead of time and re-heat when you're ready to serve. I made these tortillas using all-purpose flour, but you can also make them using whole-wheat flour, if you'd like.

This recipe is a great one for meal prep. You can cook up these tortillas ahead of time. Once they have cooled down, you can pop them in a zip lock back and refrigerate them and then use them through the week. Or you can even use them to make burritos and freeze them for use later. I've used these homemade flour tortillas to make quesadillas too. So this is one really versatile recipe that's great to have on hand.

If this is your first time attempting to make tortillas from scratch, go check out my YouTube video, which takes you through the entire process and I share all my little tips and tricks as well.
This time around, I will be using these tortillas to make some amazing Tandoori Spiced Cauliflower Wraps. Stay tuned for that recipe, coming up next.
This Thai Chilli Basil Fried Rice is packed with vegetables. It uses all plant-based ingredients but still has all the flavors found in Thai cuisine.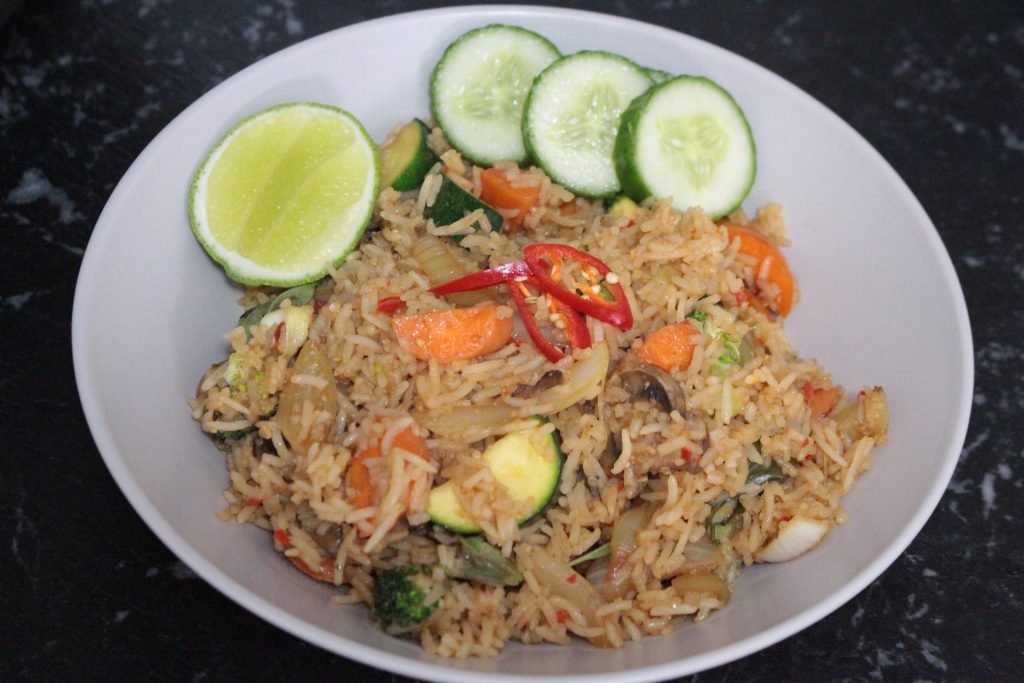 A good fried rice is a must have in every aspiring home cook's arsenal. I enjoy fried rice a lot. Sometimes, I think, maybe a little too much. But in my defense, what's not to love about it? While I love a good Chinese style fried rice, this Thai Chilli Basil Fried Rice has become a new favorite.
Its a simple meal in itself that is super versatile. You can use a lot of different vegetables, whatever you have on hand. It requires just a little advance planning in the form of cooking the rice ahead of time. Combine that with a clever use of some sauces that I always keep on hand and I can sit down to a nice, hot, home cooked meal in a jiffy.

In the past, I've always relied on a Chinese style fried rice. But a couple of years ago, when I tried a Spicy Thai Chilly Basil Fried Rice at a local Thai restaurant, I was smitten. All this flavor and spice – this fried rice blew my socks off. I ordered it every time we went out for Thai food. After a few such instances, I knew that I simply had to learn to make this at home and so with some experimentation, I ended up with a recipe that was really close to my favorite version.
Fast forward to December 2019. Just a few weeks before Christmas, my husband and I decided to switch to a more plant-based diet. And I'm happy to report that we're loving every bit of this new plant based diet. The last couple of months have involved a lot of experimentation and researching substitutes to make my favorite recipes vegan-friendly. And I have finally found the ever elusive 'mushroom oyster sauce' that always seems to be sold out at my local Asian grocery store. Obviously, the next step was to try a vegan version of my Thai Chilli Basil Fried Rice.
It took a little tweaking, but OMG, this fried rice is phenomenal. I think I may like it a little more than the original recipe. So if you like Thai food, whether or not you follow a plant based diet, you must try this recipe out. Its a simple recipe, but is so flavorful and packed with veggies, that I promise you won't even miss the meat.
So let's talk about the recipe. There are a few steps involved but they are all really easy to follow. The fried rice is ready in minutes and its best to have all the components prepped and ready to go.
Step 1 – Making the rice
I used some Basmati rice as that's what I had on hand. Wash the rice out a couple of times and soak it in some water for about 30 minutes. Drain the water, rinse with some fresh water. Bring a large pot of water to a boil, season with salt, add the rice and cook it till is done about 80%. The rice should still have a little bite and shouldn't be too soft. Let it cool completely.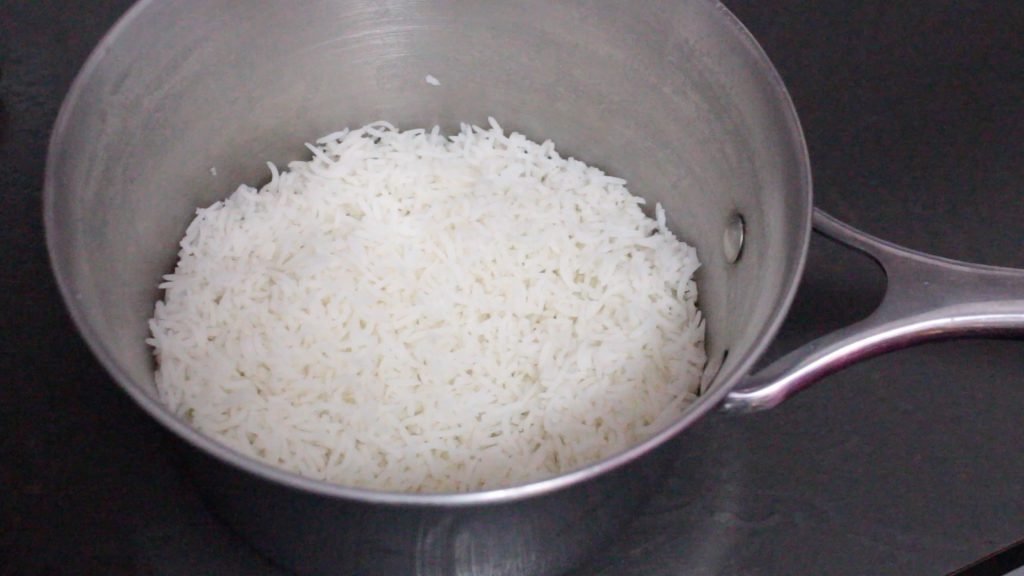 It's best to cook the rice atleast a few hours before you need to make the fried rice. You can even make the rice the previous day. Let it cool completely and refrigerate till you need to use it.
Step 2 – The spice paste
This couldn't be simpler. Its a combination of some Thai birdseye chillies and garlic. We like our food spicy and this recipe is no exception. If you like Thai food but want to cut down on the spice, you can use a combination of birdseye chillies and some cayenne peppers or any other milder chilly. Grind this to a coarse paste.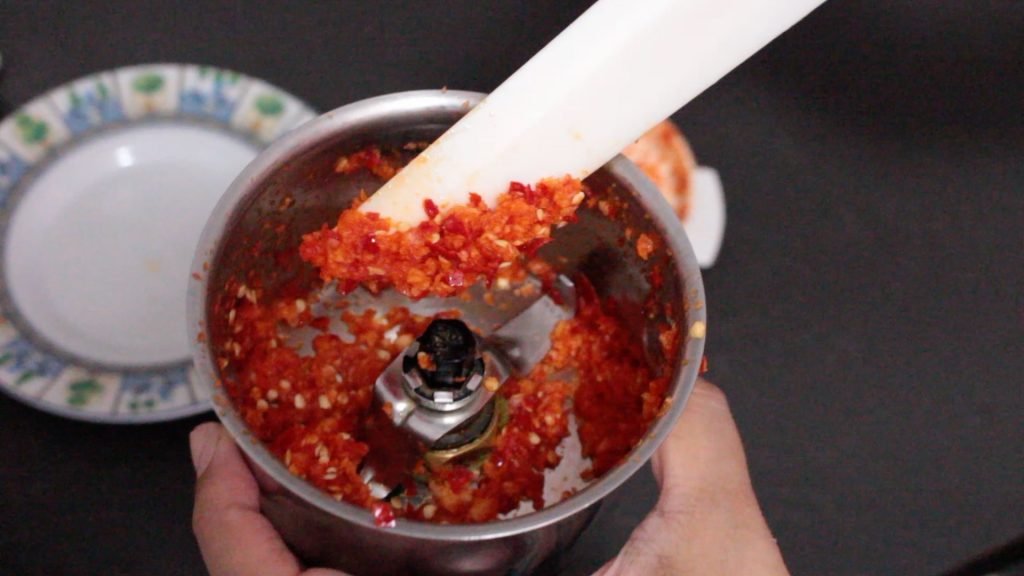 Step 3 – The sauce
This sauce makes this fried rice what it is. I have had to make a few substitutions to make this recipe vegan friendly but I believe this combination of sauces comes really close.
Simply stir together all the ingredients for the sauce – the miso paste, soy sauce, mushroom sauce, white pepper powder and sugar. Set this aside to use once we start cooking.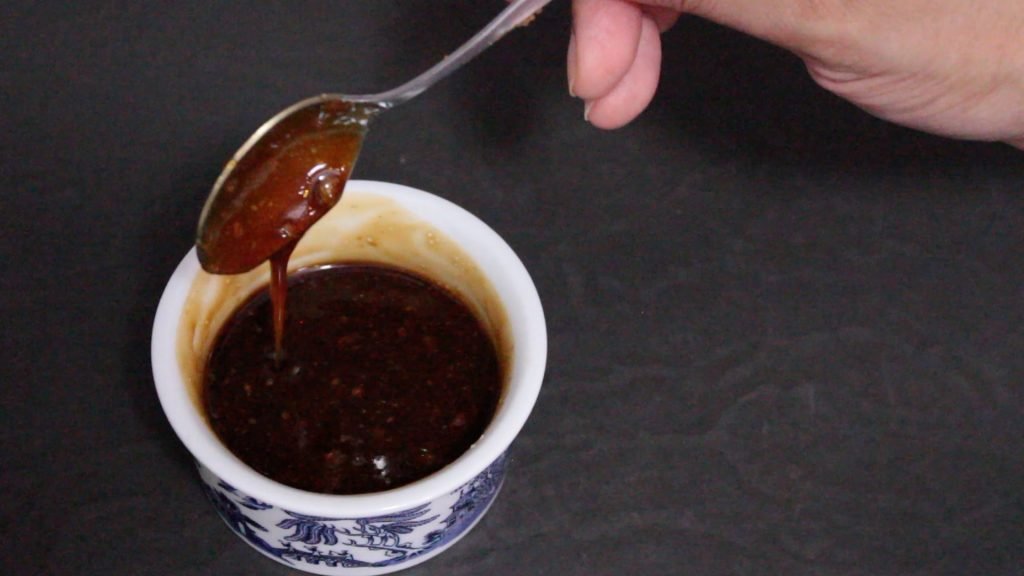 Step 4 – Prepping the veggies
Clean and cut all the vegetables and keep them ready. I use onions, carrots, zucchini, mushrooms and broccoli.

Pick the Thai basil leaves and keep them in a separate bowl.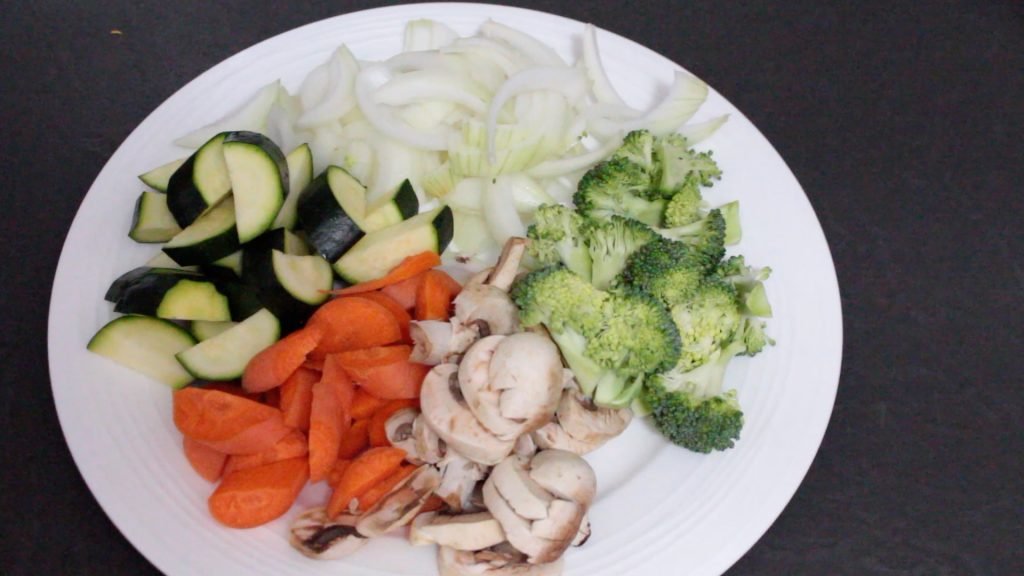 Step 5 – Making the fried rice
This is by far the easiest part of the recipe. Now that all our prep work is done, the rest is just a matter of stir frying our ingredients in stages. Make sure you use a large wok or a large enough pan. At this stage, all the cooking is done on a high heat.
Now that you're familiar with the process, let move on to the recipe.
Matar Paneer is an easy, tomato based Indian cottage cheese curry that is full of flavor and pairs well with roti, naan, steamed rice or jeera rice too.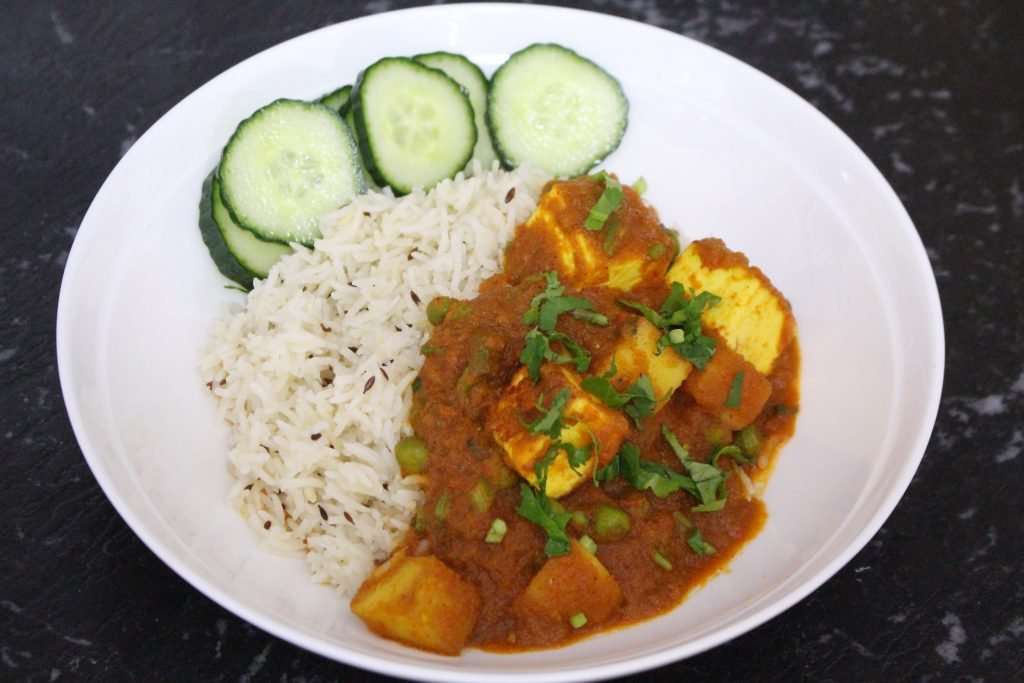 This recipe is one of the first curries I ever learned how to make. Paneer or Indian cottage cheese is not a typical ingredient used in most Goan / Mangalorean households, but it's one that's widely used throughout north India. If you haven't tried it yet, you really should. It's one of the tastiest things I have eaten. Right from the first time my mother made this curry for us, I was hooked. I think this is one of the main reasons I actually wanted to know how it was made.
To really enjoy your paneer, you need to source some good quality paneer. In India, most dairy shops have some great, fresh paneer and it's quite easy to find. Outside India, you will have to try a couple of brands out to find something you really like. I've found that the brands in my local supermarkets just don't cut it. The paneer is rubbery and chewy and is not that flavorful. Now that goes against everything that good paneer is supposed to be. So after a lot of trial, I found some great quality paneer at my local Indian grocery store. This paneer is locally made and ticks all the boxes for me, when it comes to taste and texture.
This curry is a tomato based curry. Ideally, use fresh tomatoes if they are in season. If not, you can always use some passata, canned tomatoes or tomato puree. You can serve this curry up either with some roti or naan and it even goes really well with rice. Plain steamed rice is fine, but I serve it up with a beautiful Jeera Rice that is perfect for curries like this one.

Let's have a look at the recipe, shall we?
A good, rich, dark and sometimes boozy Christmas Fruit Cake is a must-have on every Christmas platter. Studded with dry fruit soaked in rum and spiced with beautiful holiday flavours, this recipe is sure to win you over.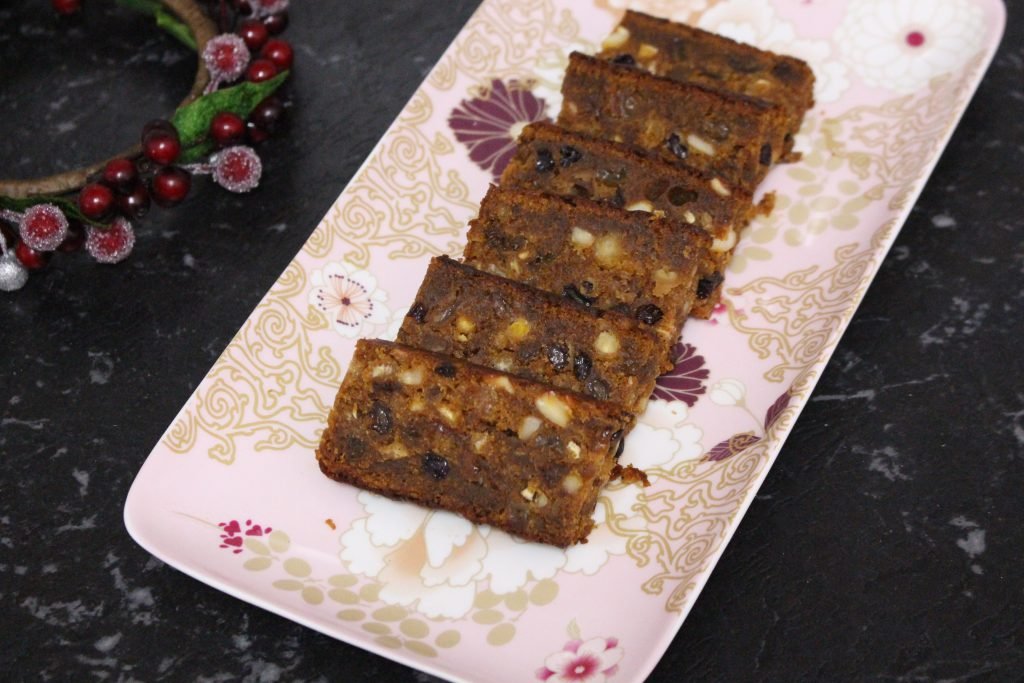 In most Christian homes along the south west coast of India, a good Dark Fruit cake makes an appearance at Christmas and all special occasions like engagement parties, weddings, anniversaries, Communion celebrations and so on. It also holds a very prominent spot on a typical Christmas platter, or what is locally referred to as a Kuswar platter. (Kuswar=Christmas sweets)
Most people I know enjoy a good fruit cake, but very often, find it too tedious to make one at home. They settle for a commercially made cake, which very often has a number of additives including caramel colour to give it a deep, dark colour.

Today, I'm sharing with you, my favourite Fruit Cake recipe. This recipe is a little longer than most other cake recipes. However, I can assure you it is a fairly simple process and the end result is so good, it's well worth all the extra effort. To help make the process easier, I've broken this recipe down into a few parts. Some of them can actually be done days before you'd like to bake this cake. The best part is, this cake tastes best if it's allowed to rest for a couple of days, so it's a perfect one to make ahead.
Step 1 – Soaking the fruit
This recipe calls for 500gms of mixed dry fruit. In my assortment, I've used raisins, sultanas, currants, mixed peel, candied / glacéd cherries and candied ginger. You can use any dry fruits of your choosing, in the proportion you'd like them. It just needs to add up to about 500 grams all together.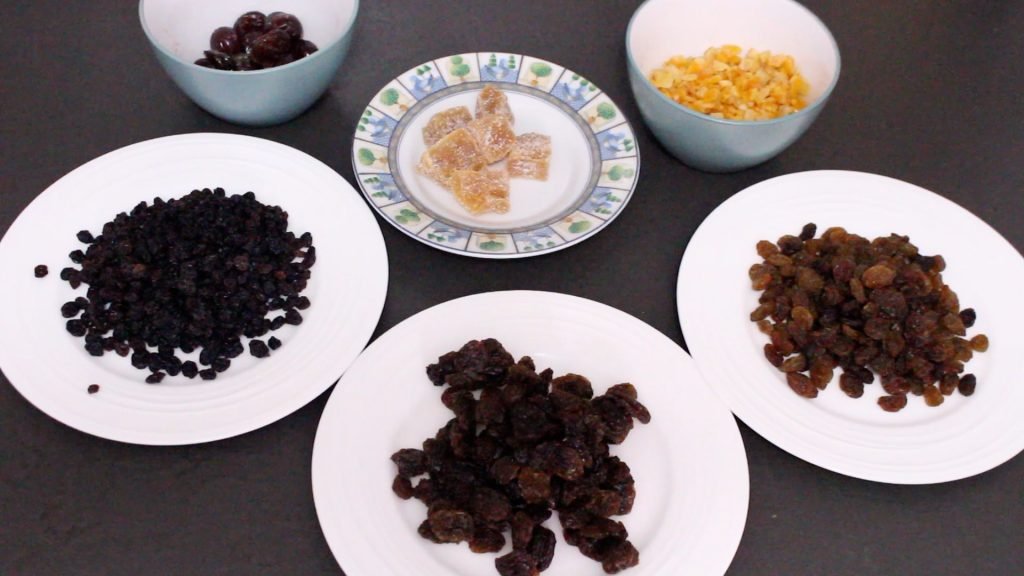 Chop the larger pieces of fruit down to make slicing your finished cake easier. Doing this also makes for a better eating experience, in my opinion. Place all the fruit in an airtight glass jar, top it off with some rum and set it aside in a cool dark place. The fruit needs atleast 24 hours to soak and rehydrate. The longer is steeps in the rum, the better the results. This can be done upto a year in advance.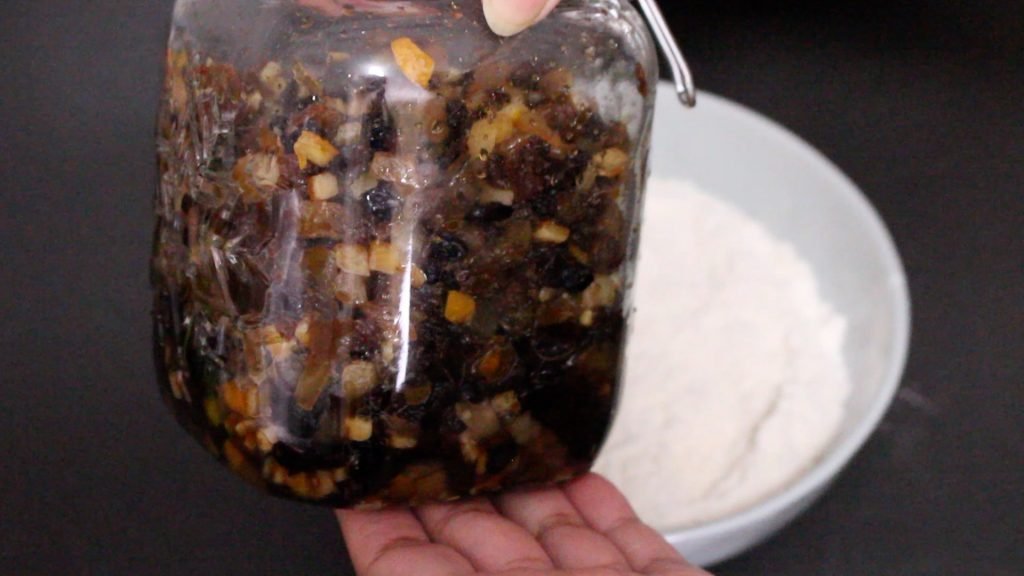 Step 2 – Making the caramel
The 2nd step is making the caramel. There are many ways to make a caramel. For this recipe, you're looking for one that gives you a slightly more fluid consistency. I'm using a 2:1 ratio – 2 parts sugar to one part water and I find that this gives me the perfect results for this recipe. You can make this caramel even a few days before you want to bake your cake. Simply let it cool down completely and store in an airtight glass jar. If you're making this the caramel, the day that you're baking the fruit cake, make sure the caramel has cooled down completely before you add it to the batter.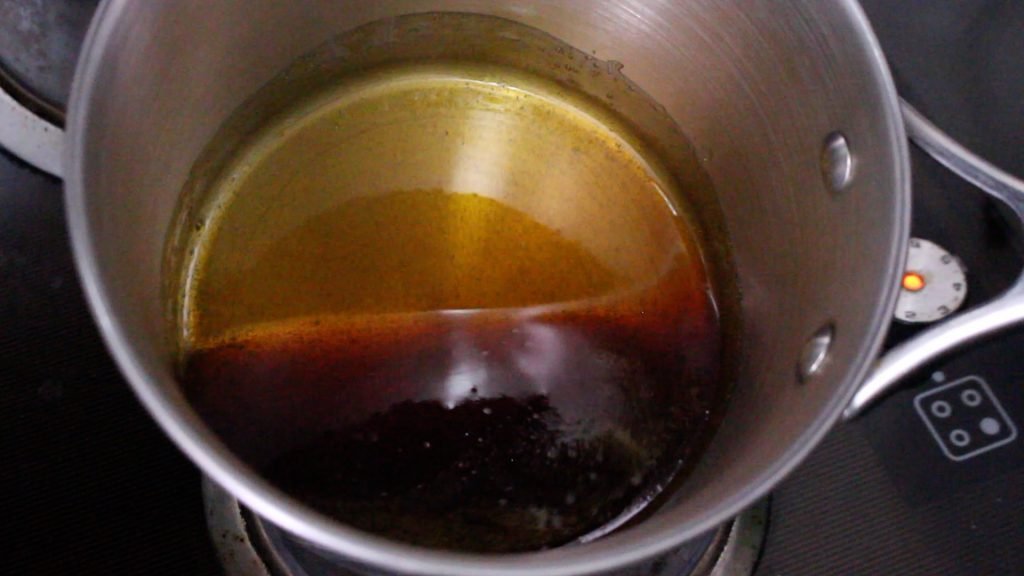 Step 3 – Making the cake
Making the batter is a very simple process. It's just like making any other cake. You need to ensure all your ingredients are at room temperature. In this recipe, I'm using dark brown sugar to help lend a darker colour to the cake. If you can't find dark brown sugar, regular white sugar will work too. Just make sure you use a fine grain sugar or simply powder your regular white sugar before adding it to the batter.
Sometimes, you find that the fruit in a fruit cake like this one isn't evenly distributed. Mix the fruit into the flour – baking powder mix to ensure that the fruit doesn't sink to the bottom of the cake.
Also, in this recipe, I'm using treacle to darken my cake and give it an added boost of flavour. If you can't find treacle, use some molasses instead. I'm not using any artificial colours. A lot of the commercially available dark fruit cakes use caramel colour. If you'd like to, you can add some to the batter.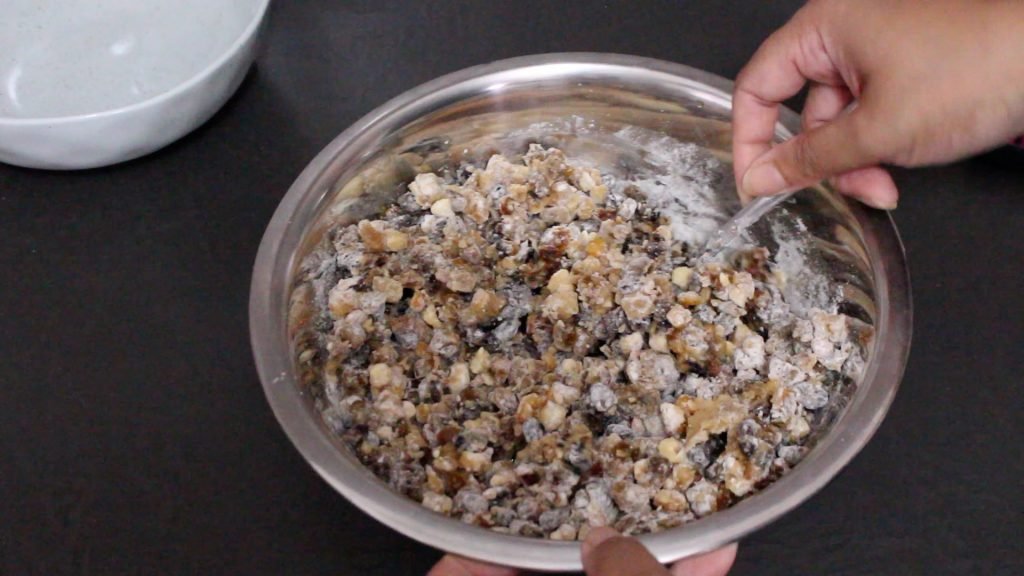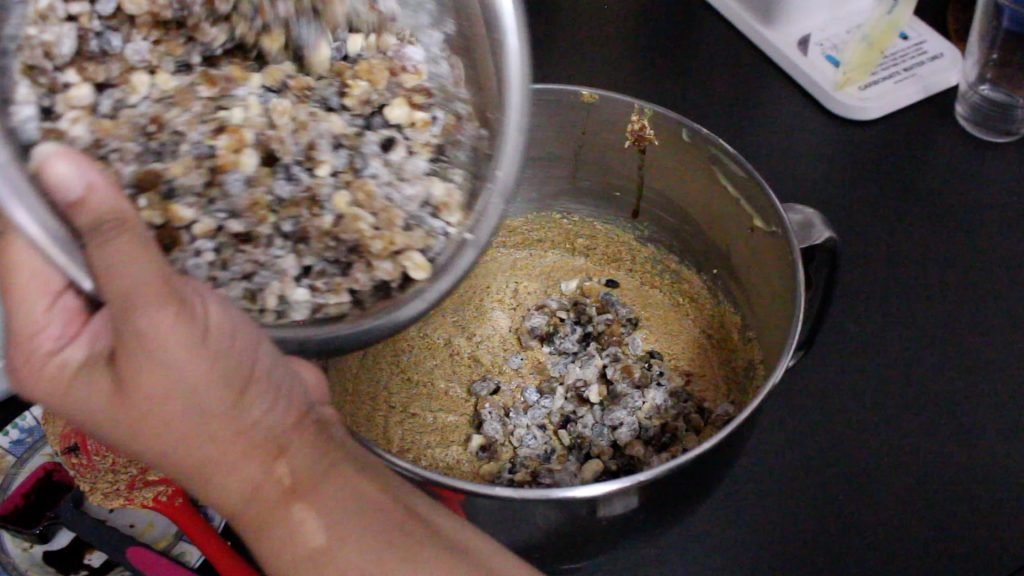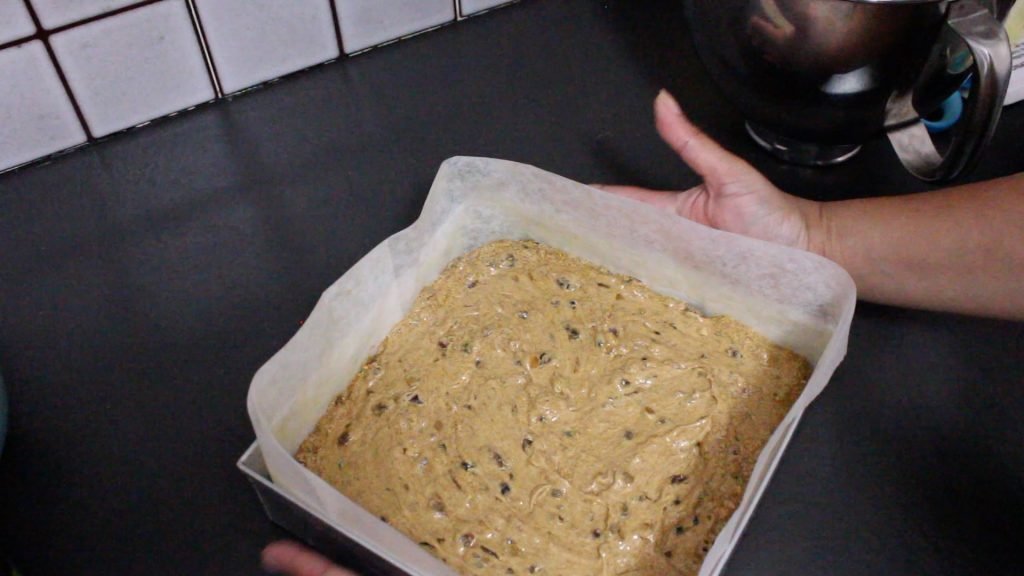 I'm going to feed this cake only once with some dark rum, just as it comes out of the oven. This will help the cake soak up all the rum.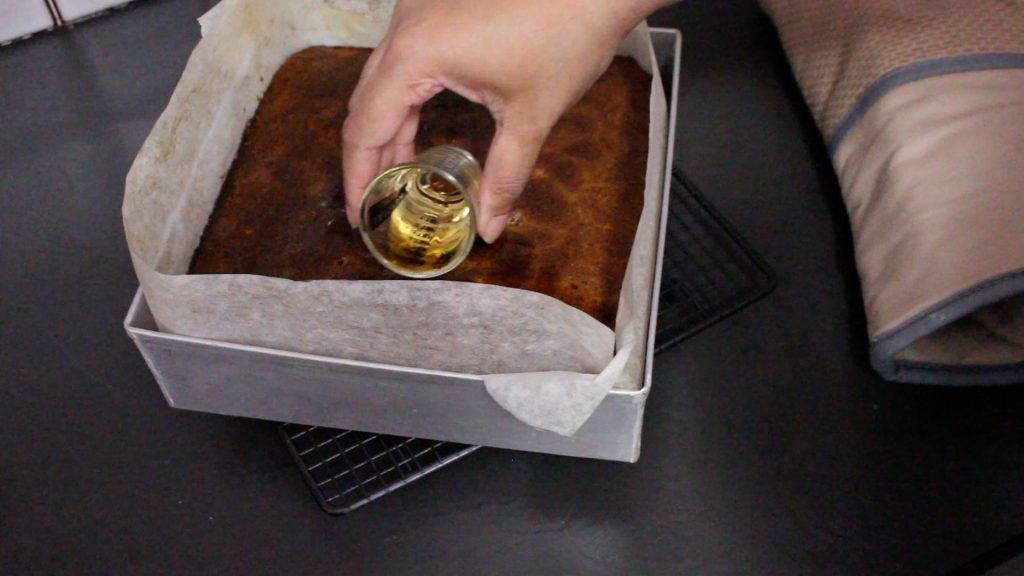 While you can cut into the cake as soon as it cools dow, for best results, I recommend atleast letting it stand overnight before you cut into it.
Once all the Hard Yakka's out of the way, sit back and enjoy your stunning Fruit Cake.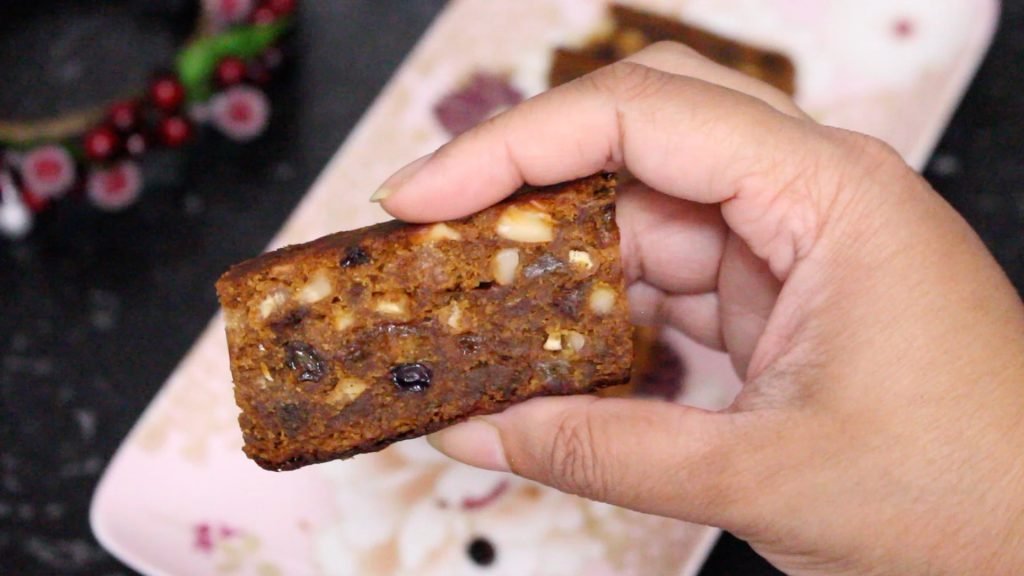 With Christmas fast approaching, today I thought I'd share with you a recipe for Rose Cookies. Rose Cookies, Kokkisan or Achu Murukku – these are a few names these little treats go by in different parts of the South of India. If you've not had these before, imagine amazingly crisp, deep-fried, sweet cookies. They are so more-ish. Which is why it's a good thing this batch yields quite a few cookies.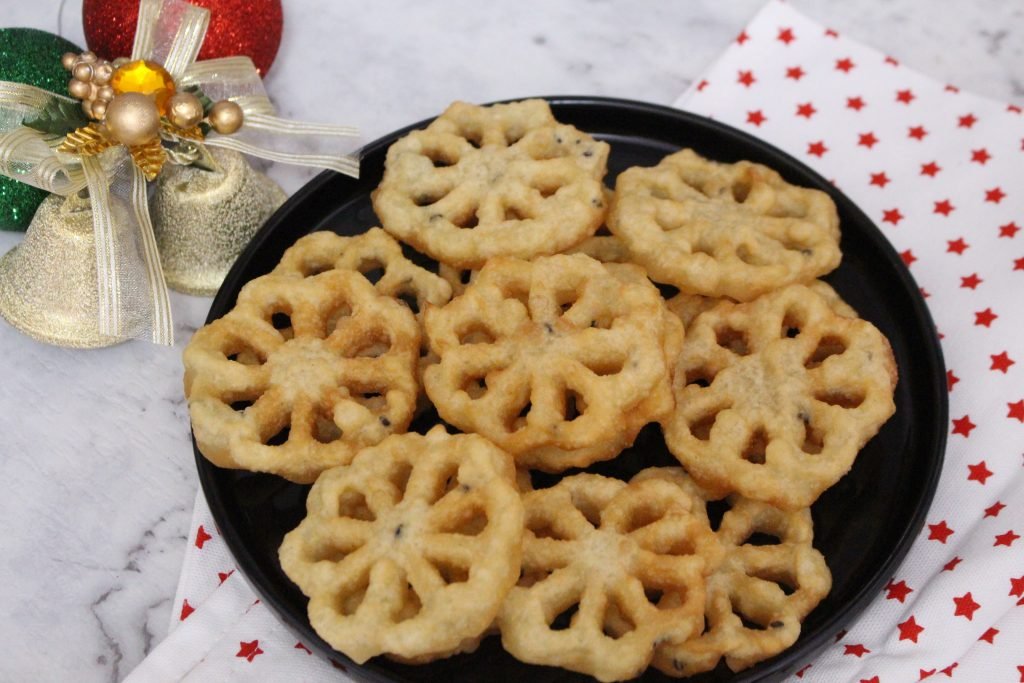 Let's move on to the cookies themselves, shall we? While they're not difficult to make, the batter can be very temperamental and finicky. This is one Kuswar treat I personally find the most trying. The most important part of this recipe is the batter. It takes a little patience and tweaking to get it to just the right consistency. But boy, once you do, churning these cookies out is a breeze.
The batter –
Are you ready to give these a try. Let me walk you though the process. Putting the batter together initially is a very simple process and it just a matter of whisking all of the ingredients together. The one thing you need to watch out for, is the amount of liquid that goes into it. You're looking for a batter that isn't too thick or too thin. It's a Goldilocks kinda situation; you have to get it just right. A huge saving grace is that the batter is forgiving and can be easily fixed.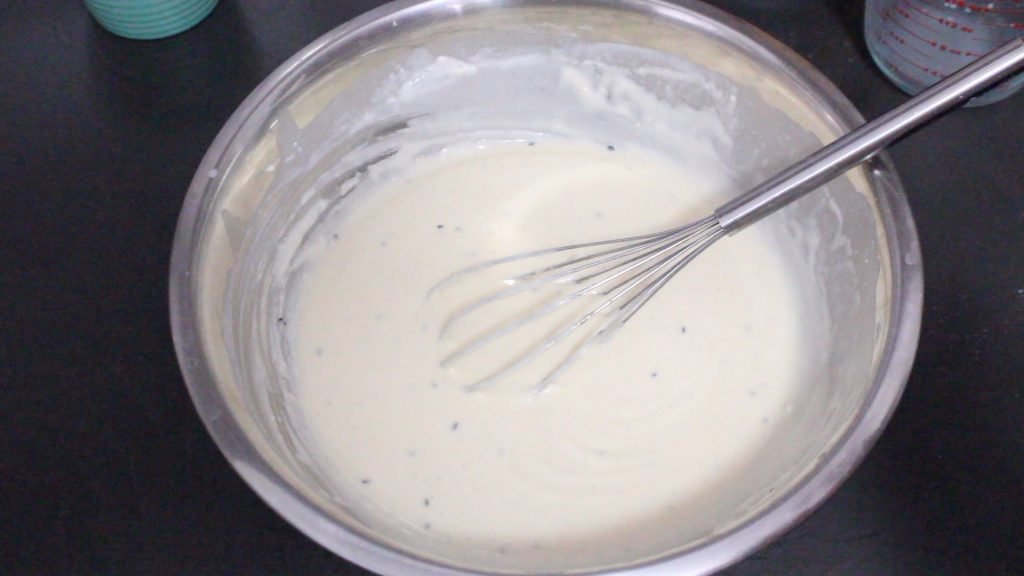 If its too thick, it wont cling to the cookie iron at all. When this happens, gradually add small amounts of coconut milk (if you're out of coconut milk, you can use water) and whisk it in. On the other hand, if its too thin, it'll stick to the iron and won't release into the oil, even after you try to separate it using a fork or a skewer. To fix this, simply add a little all purpose flour to the batter, a little at a time and whisk it through and try frying it again.
The frying process –
Now that you have you're batter sorted out, you need to keep a few things in mind while frying these cookies. Once the oil heats up, maintain it by using a medium to medium low heat. If the oil is too hot, the cookies will brown too quickly. The cookie iron needs to be heated well for it to release the cookies into the oil. The first few cookies are like a tester batch. You may have to sacrifice a couple of them while you figure out the right consistency.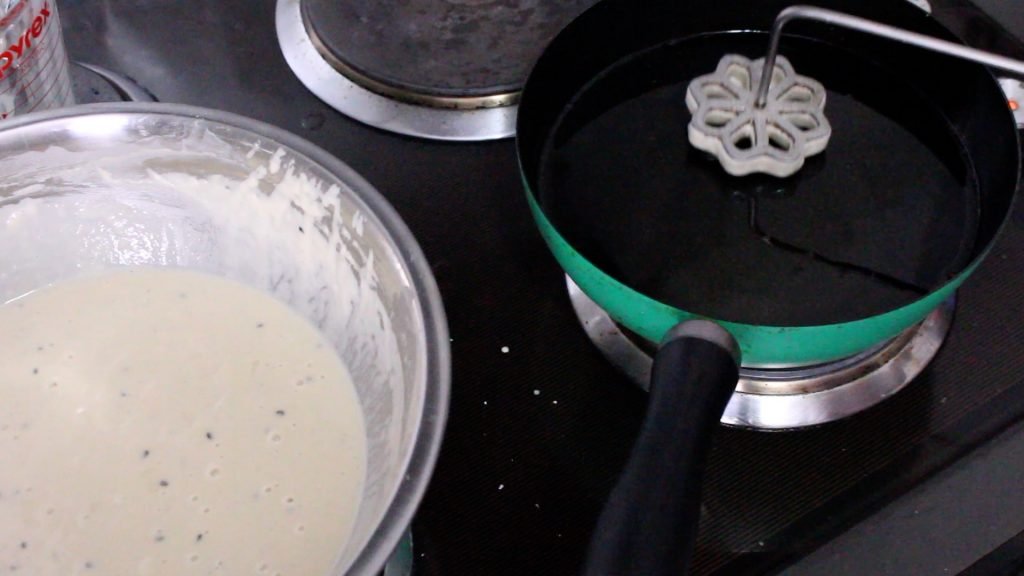 Take the cookies out of the oil when they're a little lighter than you'd like it. They tend to darken as they cool.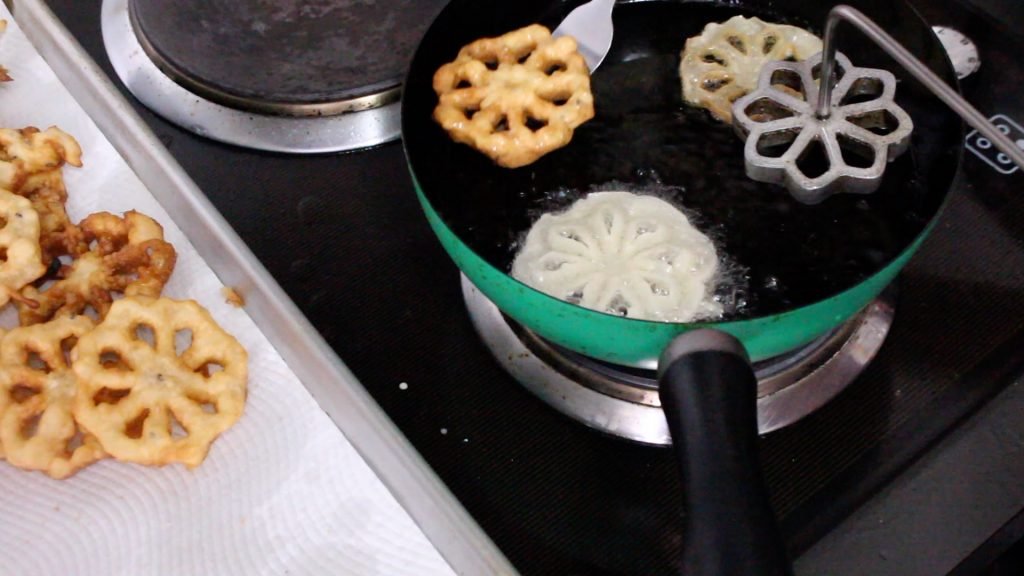 With these pointers in mind, you are now equipped to make a beautiful batch of these Rose Cookies.

If you're looking for more Kuswar recipes to make this Christmas, here are a few of my favorite recipes you might enjoy too –
1) Kulkuls
2) Date Rolls
3) Baath / Badca
4) Coconut Toffee
5) Milk Cream
6) Coconut Ladoos
7) Guava Cheese / Perad
8) Nankatais (Eggless)
9) Marzipan (Eggless)
10) No-cook Almond Marzipan
11) Marzipan – My favorite recipe
12) Chocolate Hazelnut Fudge
13) Chana Doce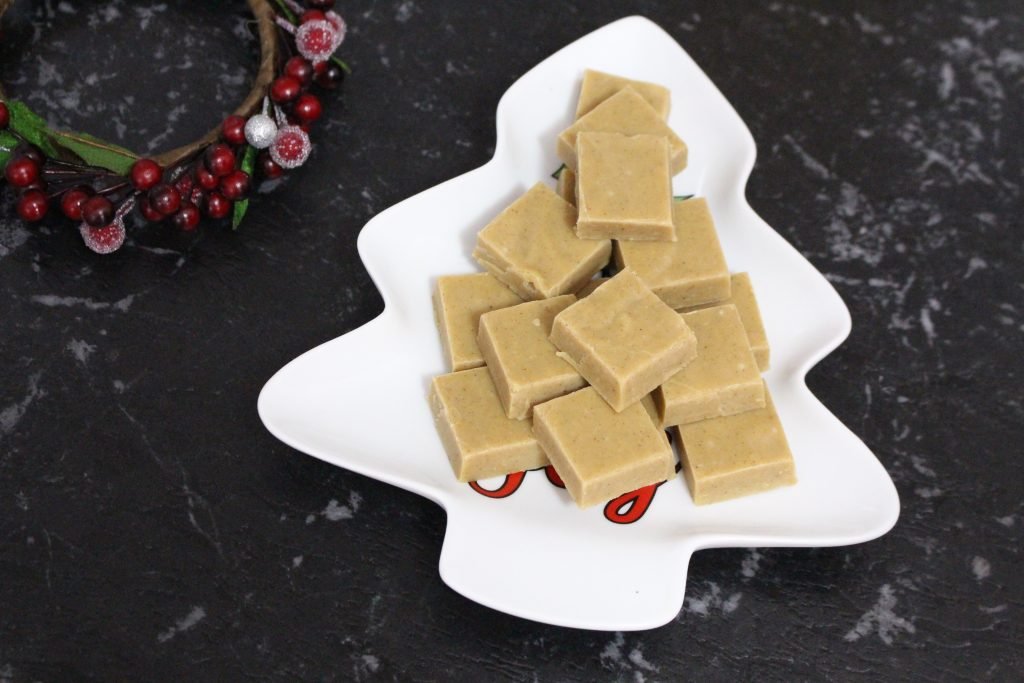 Today's Gingerbread Fudge is a great recipe to have on hand for Christmas. It is quick and easy, and results in a creamy fudge that is beautifully spiced with all the Christmas flavours. So if a combination of white chocolate and the flavours of a traditional gingerbread is your thing, stick around for the recipe.

With Christmas fast approaching, a lot of folks have started with all kinds of prep work. From deep cleaning and decorating their homes, shopping for the Holiday season and planning their social calendars, most houses see frenzied levels of activity at this time of the year. It's because of this, one needs to have a few easy and delicious recipes to fall back on.

This gingerbread fudge recipe ticks all those boxes. With prep and cook time of mere minutes, the hardest part of this recipe is leaving the fudge alone, to cool and set. Sounds perfect, right? Well, it is. And you're left with a nice batch of fudge that just melts in your mouth.

And if you're in the Southern Hemisphere like I am, we're headed straight for summer. And it gets really hot here in Sydney. So while everyone in the North is baking up a storm, these kind of recipes work out perfectly for us. This way we get to enjoy those beautiful flavours of Christmas without having to turn the oven on.

This fudge can be made a few days ahead. Store it in the fridge in an airtight container lined with baking / parchment paper. I suggest placing a piece of baking / parchment paper between layers as well, to prevent the pieces of fudge from potentially sticking to each other.

Now, if dark chocolate is more your thing, check out my Dark Chocolate and Hazelnut Fudge recipe. It is absolutely divine.

The ingredients –

This list is an easy one to get a hold off. You will need condensed milk, white chocolate, vanilla, molasses, ground spices (ginger, cinnamon, cloves and nutmeg) and don't forget the butter.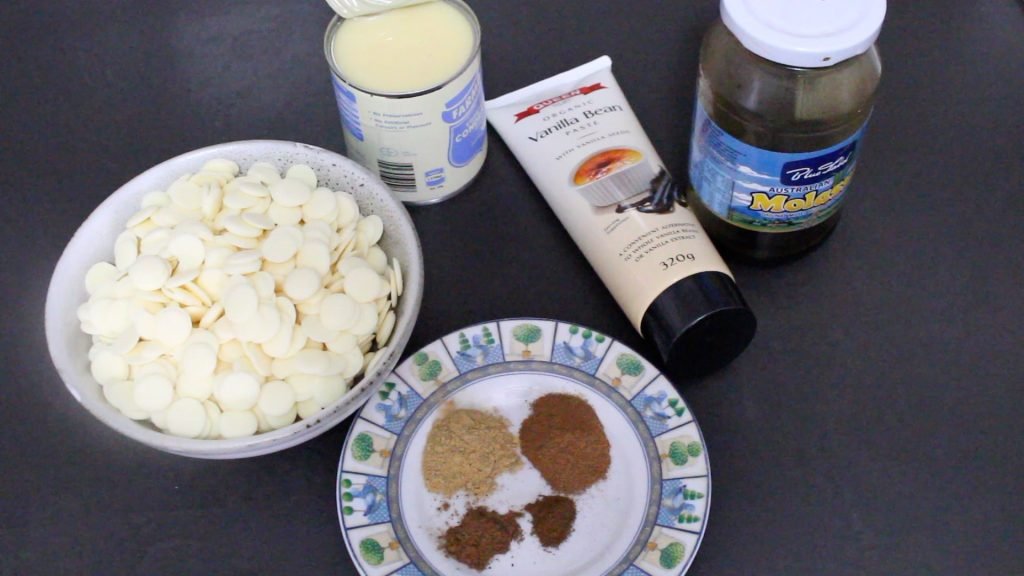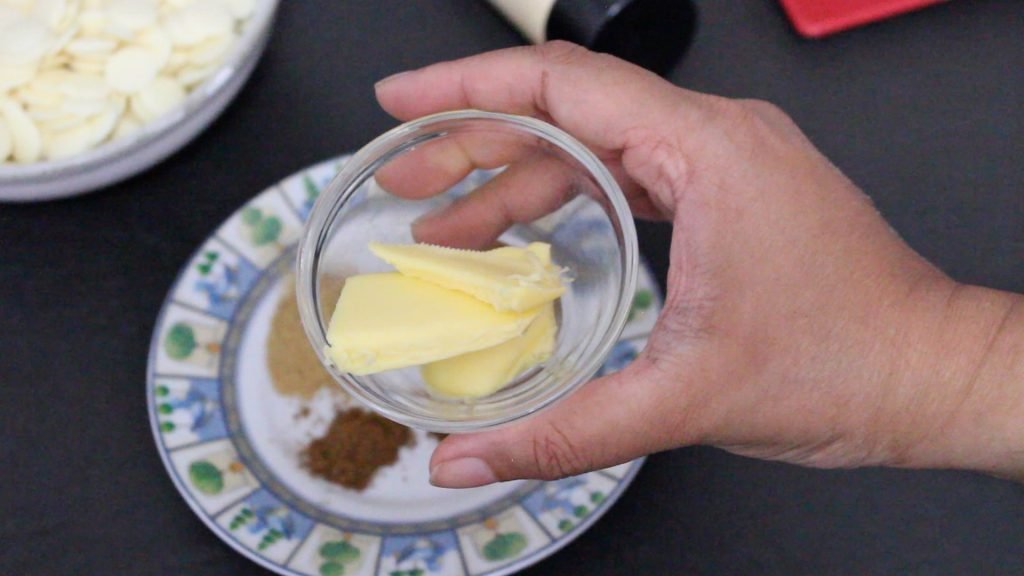 Let's get cooking –
Line a 9×9 inch cake pan with some foil, leaving a little overhang to help take the fudge out once it has set. Set this aside to use later.

Place the condensed milk and butter in a heavy bottomed pan on a medium low heat.
Add the molasses and vanilla. Mix through and add the white chocolate. Stir well to help the chocolate pieces melt.

Next, add the spice powders and stir well to incorporate.

Once all the chocolate has melted and the spice powders have been incorporated thoroughly, pour out onto the lined cake pan. Tap the pan gently a couple of times to get rid of any air bubbles.

Leave it on the kitchen counter and let it come to room temperature.

Refrigerate for 4-6 hours or overnight to set completely.

Cut into squares and serve.
When you think of Chickpeas, a lot of people think of savory recipes. Have you tried making sweets with a chickpea base? If you haven't, you really ought to. This Chana Doce is a Goan sweet served at Christmas time, weddings and special occasions. It is made with chana dal and coconut and mildly flavored with cardamom. There are heaps of Indian sweets that use some form of chickpeas as a base, like these Besan Laddoos or even these sweet flatbreads called Puran Poli. These two are just the tip of the ice berg and I hope to try and bring you some more Chickpea deliciousness in the future.

Today, I'm sharing with you a Goan sweet recipe. This Chana Doce is a Goan delicacy and makes an appearance at Christmas time, weddings and special occasions. The recipe calls for chana dal, which is hulled and split chickpeas. Everytime we visit Goa, we always bring some back home with us. A good Goan bakery is paradise if you have a sweet tooth. Our typical haul would include this Chana Doce and a Coconut variant, the ever popular Bebinca, Dodol, Baath, Bolinhas and Pinag. I think that about covers it. Our favorite place to buy these treats is a quaint little bakery in Mapusa called Simona's. They also have outlets in Porvorim and Sinquerim. What's your go-to place to buy your favourite Goan treats?

It's hard for us to get back to Goa as often as we did when we were in Mumbai, so I've decided to try and make these delicacies at home. And after some experimenting, I've finally got a recipe for Chana Doce that I'm happy with. This is a softer version of the sweet and just melts in your mouth. The commercially available one is a little harder and has a slightly longer shelf life, but its slightly more difficult to make. We actually quite like this softer version and hope you do too.