Black Bean and Sweet Corn kernels come together to make amazing flavor-packed tacos, using a taco-seasoning made from scratch.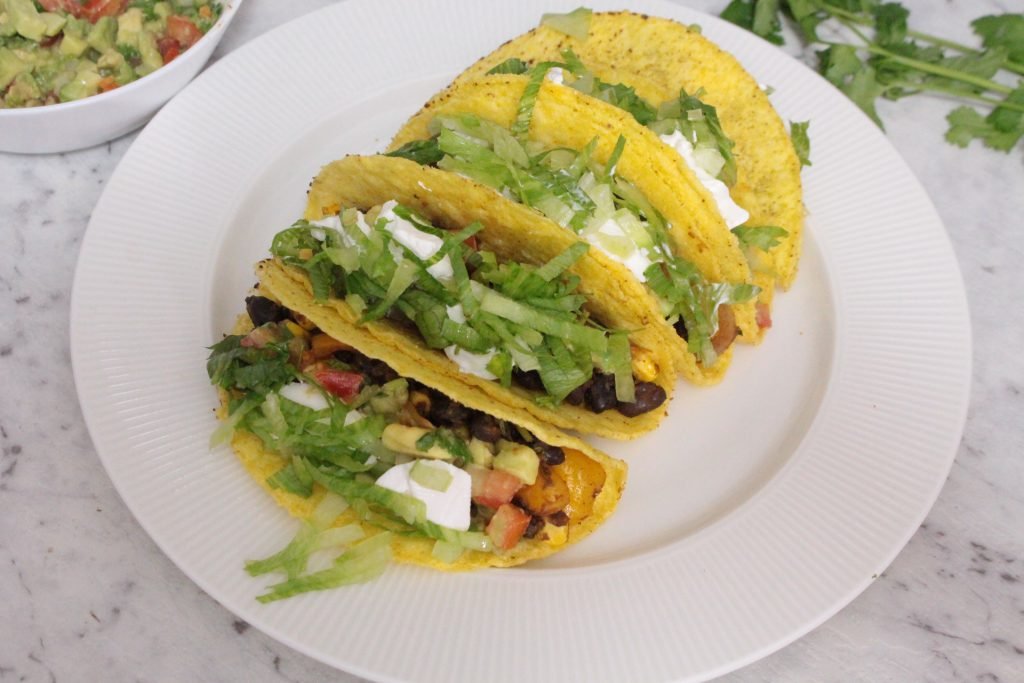 Today I'm sharing with you a recipe that is so simple and easy to put together, and results in such an extremely flavorful dish, you are going to be blown away.
That was a bold statement to start off with, right? Well, that's because it's the truth. Everybody needs a few recipes like this in their arsenal, because let's face it, life can get hectic and recipes like this make it easy to get dinner on the table in a hurry. I know a lot of folks do 'Taco Tuesday'. We personally don't, but that's just because we enjoy Tacos whenever we feel like it.
Tacos are usually associated with meat fillings, usually chicken, beef, pork and sometimes even fish or shrimp. But this doesn't mean you can't enjoy a really good taco if you follow a plant-based diet. And today's recipe is going to show you just that.
We'll be making a quick black bean and corn taco mix and a chunky guacamole to fill our tacos with. For the black bean mix, I use half a cup of dried black beans. These beans are soaked overnight and then pressure cooked the next day. I have a stovetop pressure cooker that gets the job done in under ten minutes. This works out so much better than buying canned beans because there is less waste, it works out to be more economical and I feel the beans are so much tastier. Try it out, if you have a pressure cooker or an instant pot. If not, you can simply use a can of black beans.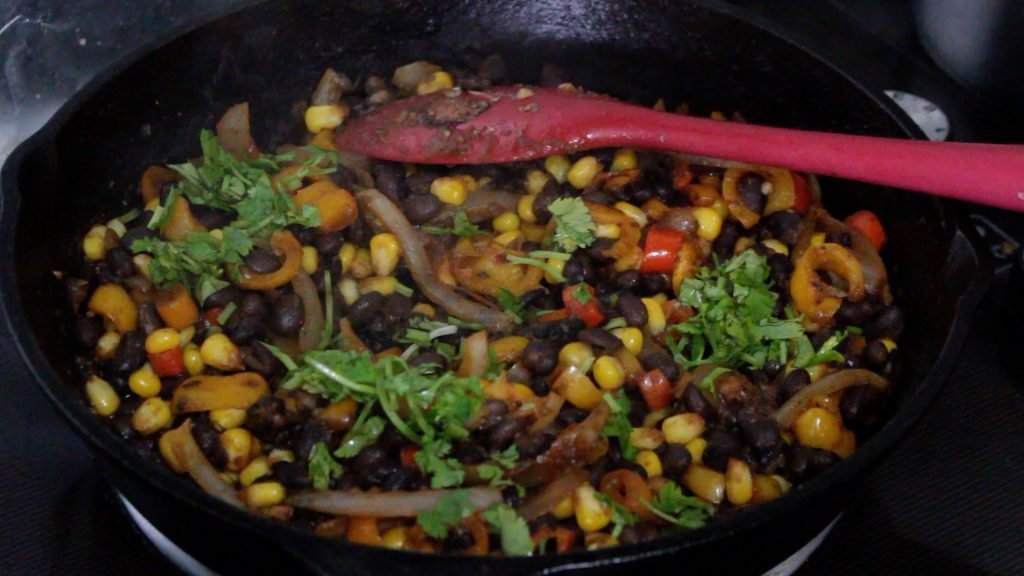 My chunky guacamole is also a very basic and simple recipe. It combines the richness of the avocado with the punchy flavors of a pico de gallo or a salsa. And like me, if you just need to serve 1 or 2 people, save the half of the avocado that has the pit still in it, squeeze some lime juice all over the cut surface, pop it into an avocado saver if you have one, or simply cover it with some cling film and pop it into the fridge for the next meal or the next day. This reduces the browning of the avocado. Do you have any tips for storing half an avocado? Leave me a comment and let me know. I'd love to be able to store it without having to use any single use plastic.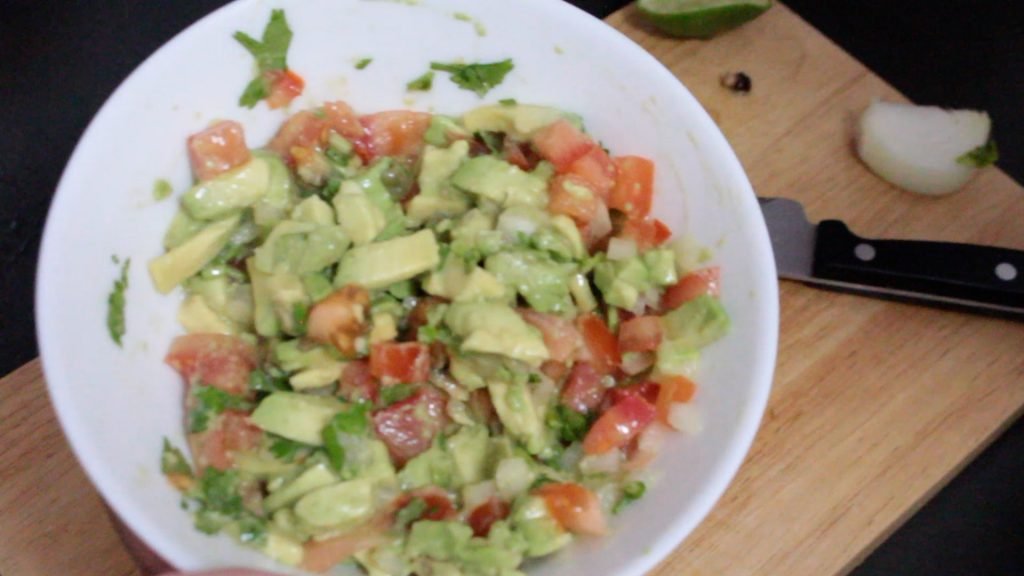 Assembling your tacos is one of the most fun parts of this recipe. You can add whatever your heart desires to your taco. Here's what I use to make up my tacos –
Hard corn taco shells
Black bean and corn mix
Chunky guacamole
Pickled jalapenos
Plant based sour cream
Finely shredded lettuce
If you love a good taco, you simply have to try it out and I hope you love it as much as we do. This recipe makes enough of the bean mix for 12-15 tacos. If you're serving 12-15 tacos in one sitting, double the guacamole recipe.
Black Bean and Corn Tacos
Course: Main
Cuisine: Mexican
Difficulty: Easy
Black Bean and Sweet Corn kernels come together to make amazing flavor-packed tacos, using a taco-seasoning made from scratch.
Ingredients
For the Black Bean and Corn Taco Mix –

1/2 cup dried black beans OR 1 can black beans

1/2 cup sweet corn kernels

1/2 onion, sliced

1/2 capsicum, sliced (See note)

1 large clove of garlic, finely chopped

1 tbsp oil

1/4 tsp smoked paprika

1/2 tsp ground cumin

A pinch of extra hot cayenne pepper powder (optional)

1/4 tsp dried oregano

2 tbsp Chipotle Sauce

1-2 tbsp fresh coriander leaves and stalks

For the guacamole –

1/2 large avocado

2 tbsp of chopped onion

1/2 large tomato, diced

1 tbsp coriander leaves and stalks, chopped

Salt, to taste

Lime juice, to taste

For the Tacos –

Hard corn taco shells

Pickled jalapenos

Sour cream

Shredded lettuce
Directions
To make the black bean and corn mix –
Wash and soak the black beans for 6-8 hours or overnight. Drain the water, rinse through and cook till beans are done. (I cooked the beans in a stovetop pressure cooker and they get ready in under 10 minutes.)
Heat oil in a pan and saute the onions till they've slightly softened.
Next, add the capsicum and let them saute for about a minute.
Add in the garlic and stir fry well till the garlic is nice and fragrant. Be careful and make sure the garlic doesn't burn.
When the garlic turns fragrant add the paprika, cumin and cayenne pepper powders and the dried oregano. Stir well.
Add in the chipotle sauce and stir thoroughly.
Add the black beans (that have been previously cooked) and the corn (I use frozen corn) to the pan and stir well.
Let this cook off for a couple of minutes or until the beans and corn has heated through.
Check for seasoning and adjust as needed.
Once most of the liquid from the pan has been absorbed, take the pan off the heat.
Top it off with the chopped coriander.
To make the guacamole –
Add all the ingredients to a bowl and mix well.
To make the tacos –
Heat the taco shells according to the packet instructions.
Layer the black bean and corn mix, the guacamole, pickled jalapenos, sour cream and shredded lettuce and serve up.

Enjoy!
Recipe Video
Notes
The 2 servings mentioned at the start of the recipe is for 2 servings of 4 tacos each (Roughly about 8 tacos). This recipe makes enough of the black bean mix for 12-15 tacos. If you are serving 12-15 tacos in one sitting, you may want to double the guacamole recipe.
The black bean and corn mix works really well in burritos and quesadillas too.
You can use 1/2 a capsicum of your choice or you can use smaller sweet peppers instead. In all you'll need about 1/2 a large capsicums worth of peppers. You can adjust this amount to suit your liking.
This recipe takes me way back to when I'd first enjoyed some Tava vegetables. It was at a party that had a huge buffet offering, both non-vegetarian and vegetarian. While the non-vegetarian spread was really impressive, I was intrigued by a live stall happening over on the veggie side of the table. There was a massive tava (cast iron griddle) and it had a variety of vegetables on it. The aroma was deliciously intoxicating and I knew I had to try some. I helped myself to a small assortment, some salads and took some naan bread to go along with it. Little did I know that this dish would have me hooked for a long time to come. This was about 7 years ago, I think. To this day, the thought of those tava vegetables has me yearning for some.
After a lot of searching, high and low, I found a recipe, that I tweaked to try and replicate the flavors I so vividly remember. Since I cook for just my husband and I, this recipe is scaled down. I also just use my favorite veggies from that day – okra (bhindi) and potatoes (aloo). I found that these are also some of the easy ones to work with. I don't make this recipe very often, because the veggies start off by getting deep fried and are then tossed with a spice mix (tava masala), and the deep frying tips this to the slightly indulgent side.
The spice mix, or my version of the tava masala is hot a very hot mix. The spices used are warm and flavorful. The chaat masala is an integral part of this recipe. If you haven't tried it before, it is a blend of a few spices like cumin, pepper and a few others with some powdered mango. So it has a unique flavor profile, you get a slight hit of salt, tang from the mango and delicious flavor from the blend of other spices. You can easily find this at any Indian grocery store. (This chaat masala also works well with other chaat recipes you find on my blog.)
So try this easy stir fry recipe. This is best enjoyed served hot with some chapatis, rotis, naan or other flatbread of your choice. It would also work well as a side dish to some hearty Dal & Rice.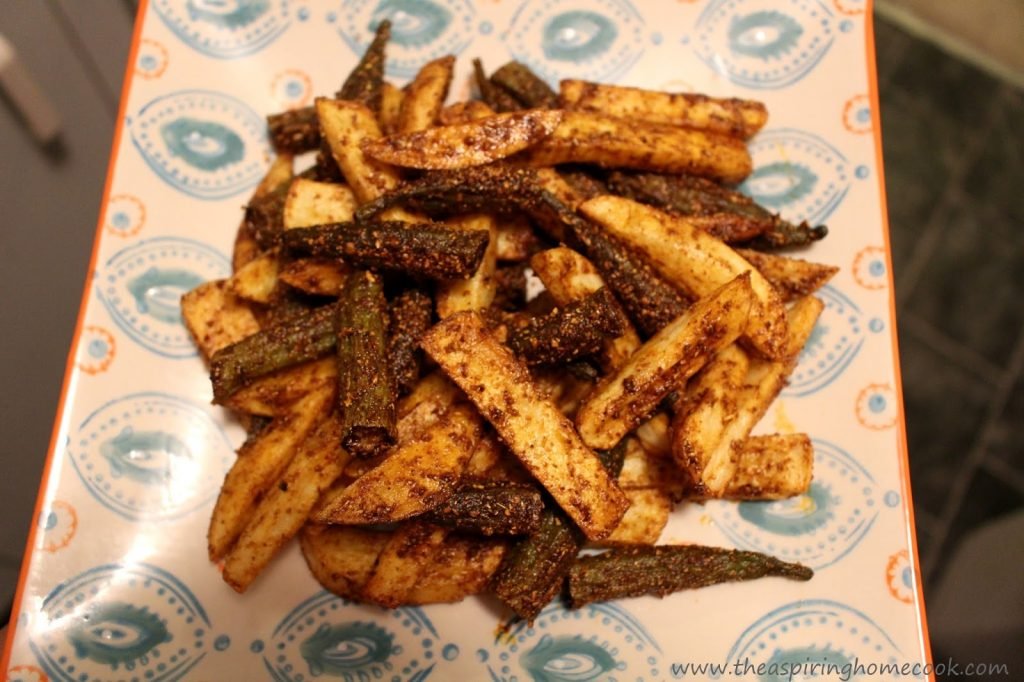 Tava Style Aloo Bhindi


3 medium potatoes
20-25 okra
1/4 tsp turmeric powder
1/2 – 1 tsp Kashmiri chilly powder (or any other mild chilly powder)
1 tsp coriander powder
1/4 tsp cumin powder
1/4 tsp chaat masala
Salt, to taste
1 1/2 – 2 tbsp oil, plus oil for deep frying
Place a pan with the oil for deep frying on medium high heat.
Wash and peel the potatoes and cut into evenly sized fries / chips.
Wash the okra and pat dry. Chop the stalks off the okra and discard. Try and use okra that is similar in size, if not, cut them down to about the same size as the potato pieces.
By now, the oil should be hot. Carefully, and in batches, add the potatoes to the oil. Don't overcrowd the pan or the oil will froth over and spill.
Deep fry the potatoes on medium heat till they've cooked through. Drain using a slotted spoon and set aside on some kitchen paper to get rid of any excess oil.
Deep fry the okra on medium heat till they have start getting a little darker in color and have started crisping up.
Drain using a slotted spoon and set aside on some kitchen paper to get rid of any excess oil, like you did the potatoes.
Take the oil for deep frying off the heat.
Heat 1 tbsp oil in a large pan on medium heat. When the oil is warm, NOT hot, add in the turmeric powder first and then add the rest of the spice powders.
Stir that through for about 20-30 seconds or till the spices get aromatic.
Add the okra to the pan and toss well. Lastly add the potatoes and toss to coat the veggies with the spices evenly.
Check for seasoning and add salt, to taste. Toss well.
Serve hot.
You can watch the video recipe here –
Veggies – Love Em or Hate Em?
In my house, we love veggies. Whether it is steamed, in a curry, stir fried or straight up in a salad, we love it all. We are trying to include more veggies in diet as much as we can, because it is healthier for you. And when you eat what's in season, it tends to be a lot easier on the pocket too. I try to eat local produce as much as I can and always go for what's in season.
When I came across a recipe for a vegetarian Shepherd's Pie, I knew I had to try it. It calls for a bunch of veggies, which most of us usually have on hand, and lentils. We eat a lot of lentils, pulses, legumes, so I knew this would be an interesting way to switch things up. There are a few processes involved in the recipe, but they are all really simple and I loved that there were leftovers.
This Veggie Shepherd's Pie is chock full of veggies and lentils and is the perfect meal for a cold, wet day. And my secret ingredient is a little Vegemite. This adds amazing depth of flavour and that umami quality that most recipes reach for. The veggies and lentils are full of flavor and are topped with mashed potatoes.And who doesn't love mashed potatoes?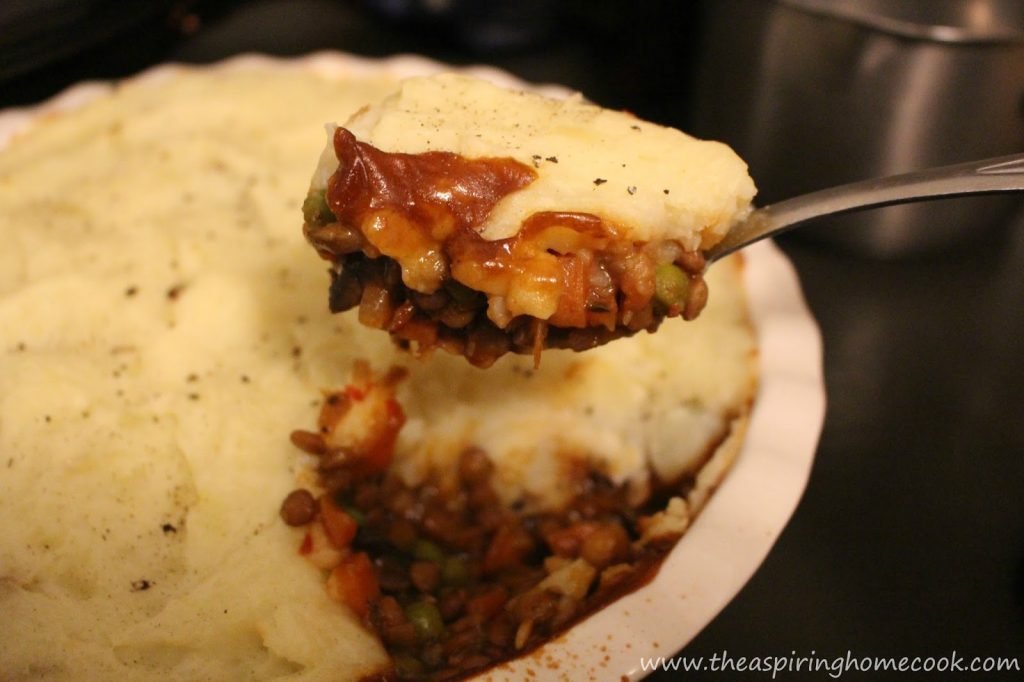 Vegetarian Shepherd's Pie
1 cup cooked lentils
1 tbsp olive oil
2 cloves garlic, finely chopped
1 large onion, chopped
3 carrots
2 stalks celery
Handful of button mushrooms, sliced
Salt, to taste
1 tsp dried thyme
1 tsp dried mixed herbs
1/2 tsp smoked paprika
Freshly cracked black pepper, to taste
1 tbsp tomato paste
1 tsp vegemite
1 tbsp flour
1 cup vegetable broth
1 cup frozen peas
6-8 potatoes, depending on size (You need enough to make about 4 cups worth of mashed potatoes)
A small splash of milk, if needed
A knob of butter (optional)
Heat olive oil in a large skillet over medium heat.
Add the onions and garlic and saute till the onions have softened.
While the onions are cooking, dice the carrots and celery to 'more or less' resemble the size of the peas and lentils.
Once the onions have softened, add the diced carrots and celery to the pan and cook till the celery has started to soften.
Now add the sliced mushrooms, salt, thyme, mixed herbs, smoked paprika and pepper to the pan. Stir well to let the spices incorporate. Continue cooking till the mushrooms have fully softened.
Add the vegemite, tomato paste and the flour to the pot. Stir and continue to cook the veggies till they're coated and the pasty mix starts to coat the bottom of the pan. This should take about 2 minutes.
Add the vegetable broth to the pan. Stir to dissolve the flour and tomato paste that has coated the bottom of the pan.
Bring the broth to a simmer. It will have started thickening. Add in the cooked lentils and peas and let them all heat through.
Taste for seasoning and add more salt and pepper if needed, stir through and take the pot of the heat.
Preheat your oven to 200ºC.
Wash and peel the potatoes and cut them into cubes to cut down on cooking time.
Boil them in salted water till tender. Drain and mash the potatoes with the milk and butter (if you are using) till no lumps are left. Taste and add more salt, if needed.
Add the vegetables to a large casserole dish (I used my 9 inch ceramic pie dish). Top with the mashed potatoes. It is easier to handle the mashed potato when it is still warm. I used the back of a spoon to flatten the mashed potatoes. You can choose to use a fork or a spoon to create a decorative pattern if you'd like.
Bake for around 15 minutes till everything has heated through. If you want the mashed potatoes to brown some more, place it closer to the top heating element of your oven, or turn your broiler on (if your oven has that function) and bake for a few more minutes. Watch closely and when it has browned to your liking, take it out of the oven.
Sprinkle some more freshly cracked black pepper over the top and serve hot.
Enjoy your veggies!!!
Pin this now for later –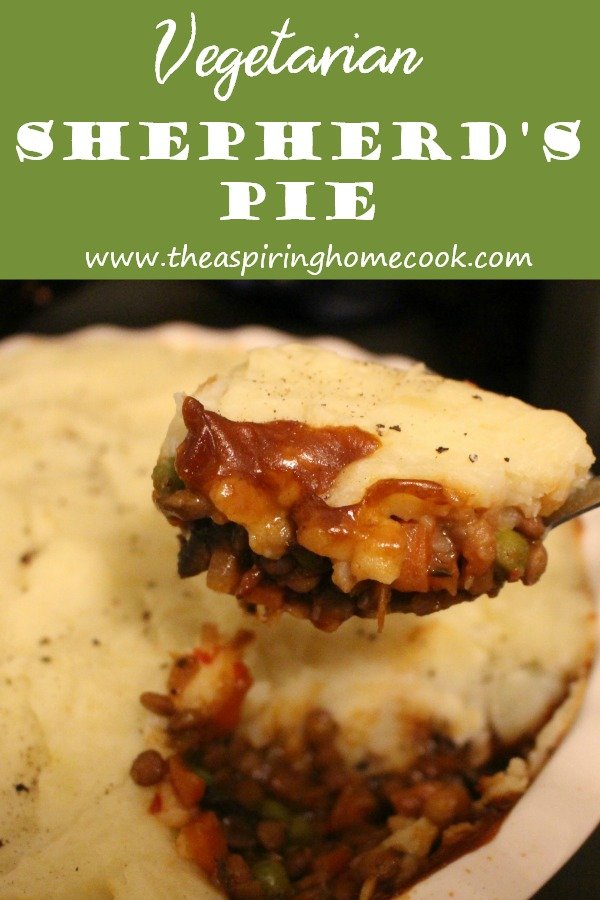 It's been a while since I posted an Indian recipe. Especially a savory one. And today, I'm going to do just that. Indian recipes often get a bad rep for being notoriously complicated, or mind numbingly spicy or involving too many ingredients. Today's recipe will prove all of that wrong. Today, I am going to share with you my Mum's recipe for a vegetable Sambhar. My mother has always been a fantastic cook and when she visited us last year, I was lucky enough to learn how she makes it. There's a couple of steps to follow, but they are so easy and quick, you'll be pleasantly surprised at how easy some Indian recipes are.
Here, on The Aspiring Home Cook, I love to make things from scratch. I have tried a made from scratch version of Sambhar too, and it was okay, but didn't turn out like my Mother's did. So for this one, I'm following her recipe and since she's uses a store bought blend called a Sambhar Masala, I did just that. This Sambhar Masala is a delicately balanced blend of spices and gives a beautifully complex depth of flavor to the dish. Now, I always have a box of this masala in the pantry. I've used a couple of brands in the past like Everest and MDH, both of which you should be able to find at your local Indian grocery store, and they are both good. This time around, I've used the Everest Sambhar Masala.
Moving on to the vegetables. I use a mix of all sorts of veggies. This time around, I used some sweet potato, carrots, eggplants (I grew these ones in my own backyard, so I'm thrilled about them), okra / lady fingers and drumsticks. You can also use bottle gourd (white pumpkin), pumpkin and potato if you like. Use what you have on hand. Typically a sambhar always has drumsticks, eggplant and some bottle gourd. For those of you who aren't familiar with drumsticks, its the fruit of the moringa plant and supposed to be very good for you. They come in long canes ranging from 1 to 2 feet in length. They are chopped into smaller pieces, about 2 inches long and you don't eat the outer hard skin. Your after the pulp on the inside and the seeds. It is eaten much like how you would scrape the icing from the inside of an oreo cookie with your teeth.
This sambhar can be served up with some plain, boiled rice and a side of papad (poppadums) and Indian pickles of your choice. This sambhar pairs very well with idlis or dosas. I also enjoy a bowl of this stew with some crusty bread.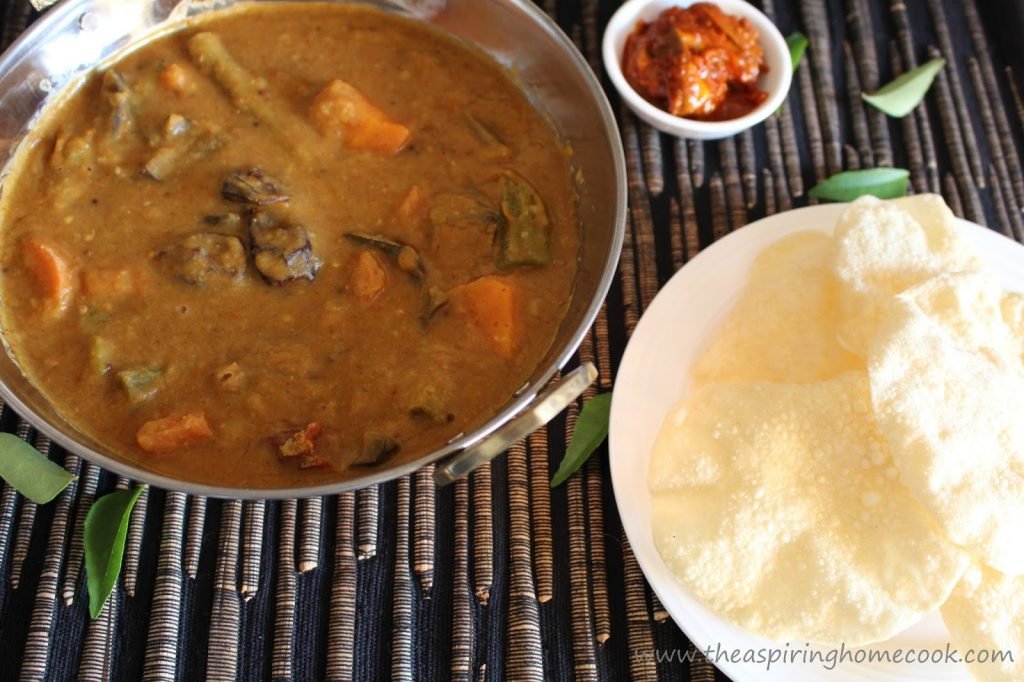 If you want to see this being made, check out the video version of the recipe here –





Vegetable Sambhar


1 cup toor dal (pigeon peas)
1/2 sweet potato
2 carrots
A handful of okra
2-3 small eggplants
A couple of drumsticks (A handful of frozen pieces)
8-10 curry leaves
1/2 tsp black mustard seeds
3 dried Kashmiri chillies
1 tbsp Sambhar masala
1/2 tsp Kashmiri chilly powder, or any mild red chilly powder
1 tbsp olive oil
Salt, to taste
Tamarind, the size of a small walnut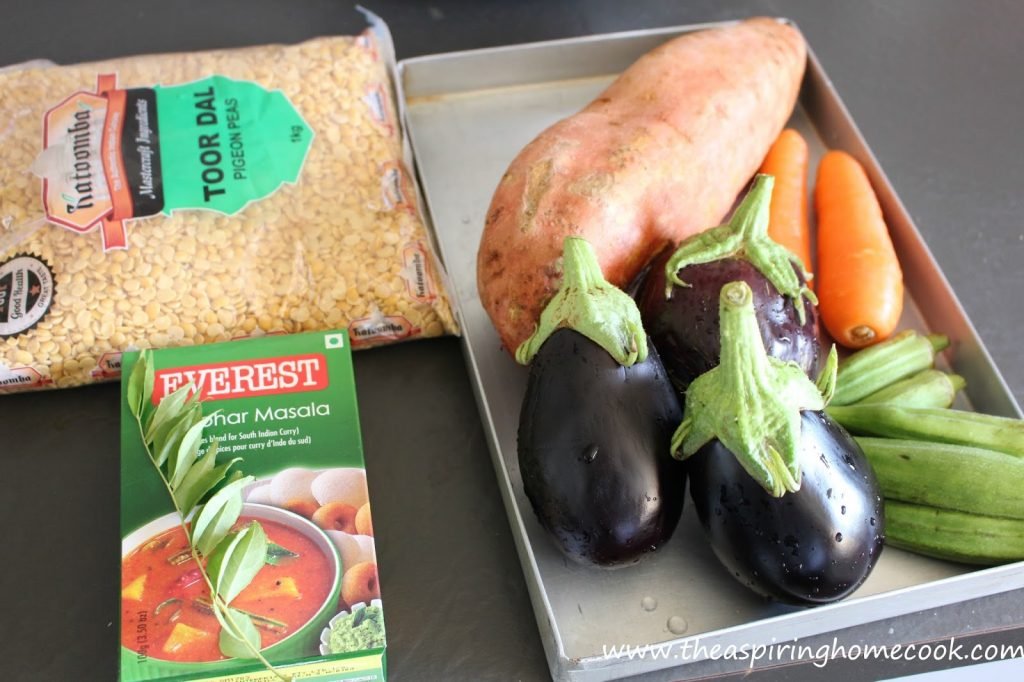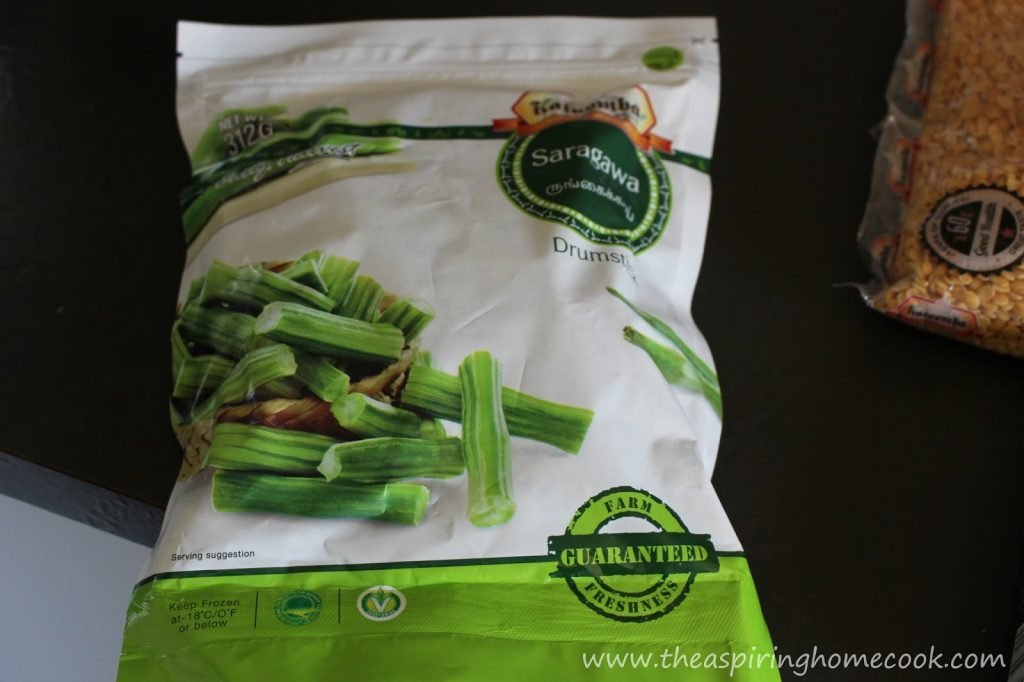 Cooking the lentils –


Wash through the toor dal with cold water and drain. Do this 2-3 times.
Cover the dal with fresh water till the dal is fully submerged and set aside to soak for about 10 minutes.
While the dal is soaking, chop up the vegetables you are using into similar sized cubes.
Drain the dal, and rinse through with fresh water and drain again. Pressure cook the dal with 2 cups of water and 1 tsp of salt. Cook till tender, almost mushy. It takes about 5 minutes in my WMF pressure cooker. Follow your manufacturers instructions to get you the best results. If you don't have a pressure cooker, simply boil it in a pot with plenty of water till it is well cooked.
Once the pressure dies down, open the pressure cooker.
Cooking the vegetables –
While the dal is cooking, place the chopped vegetables in a large pot, top off with water from a recently boiled kettle and 1/2 tsp salt. Boil the veggies till they're almost done. Don't over cook the vegetables, because they will continue to cook in the sambhar. When the veggies are ready, drain them and set them aside. Reserve the water the vegetables were boiled in.
To make the sambhar –


Soak the tamarind in a small bowl with about 1/8 cup of warm water. Set aside till later.


Heat 1 tbsp of olive oil in large pot on medium heat.
When the oil is hot, carefully tip in the mustard seeds. When they start to sputter, add the curry leaves and the Kashmiri chillies.
When they have warmed through and released their flavors and aromas into the oil, lower the heat and add the cooked lentils and the water it was cooked in. Stir through.
Now add the sambhar masala and red chilly powder and stir through.
Add 1/2 – 1 cup of the vegetable stock to loosen the lentil curry as needed. You can add as much or as little of the stock as you need, depending on the consistency you'd like the sambhar to be. Keep in mind, the sambhar tends to thicken a little as it cooks.
Bring this back to a boil and add the cooked vegetables.
Once everything has heated through, check for seasoning and add more salt, if needed.
Now, mash the tamarind with your fingers in the water it was soaking in to extract the pulp. Pass this through a sieve into the pot of sambhar. Add this tamarind extract to taste.
Let it simmer for a couple of minutes.
Serve hot!!!
Ever since we were little, my mother made sure we ate a lot of vegetables. When I think of it, my brother and I were never picky or fussy about eating our vegetables. My mother and my Nana (maternal grandmother) who lived with us, taught us the value of food and ingrained in us how we were lucky to have meals that were lovingly prepared, when there were so many all around the world that had to go without any. And that lesson has staying with us till date. For this we are ever so grateful.
Very often, I find myself with not much in the fridge, especially towards the end of the week, just before grocery shopping. On one such occasion, I had a few veggies, none of them enough to make a dish in itself, so I thought I'd just combine the lot of them. I also had some leftover falafel from a previous trip to Costco so I added them to the mix. What I ended up was this glorious winter veggie bowl.
Putting together a veggie spread like this is so simple and requires very little hands on time. And the best part is you can swap these veggies for any that you have in the fridge. I added a simple salad and dressing over it and topped it with some roasted peanuts. I can't tell you how satisfying it is to dig into a bowl like this – veggies in all their glory. I could live on food like this. You won't even miss the meat and all these beautiful colors are really good for you too. That's a win win. The recipe below is not quite a recipe, just guidelines if you want to whip up something like this. Please feel free to change as you wish.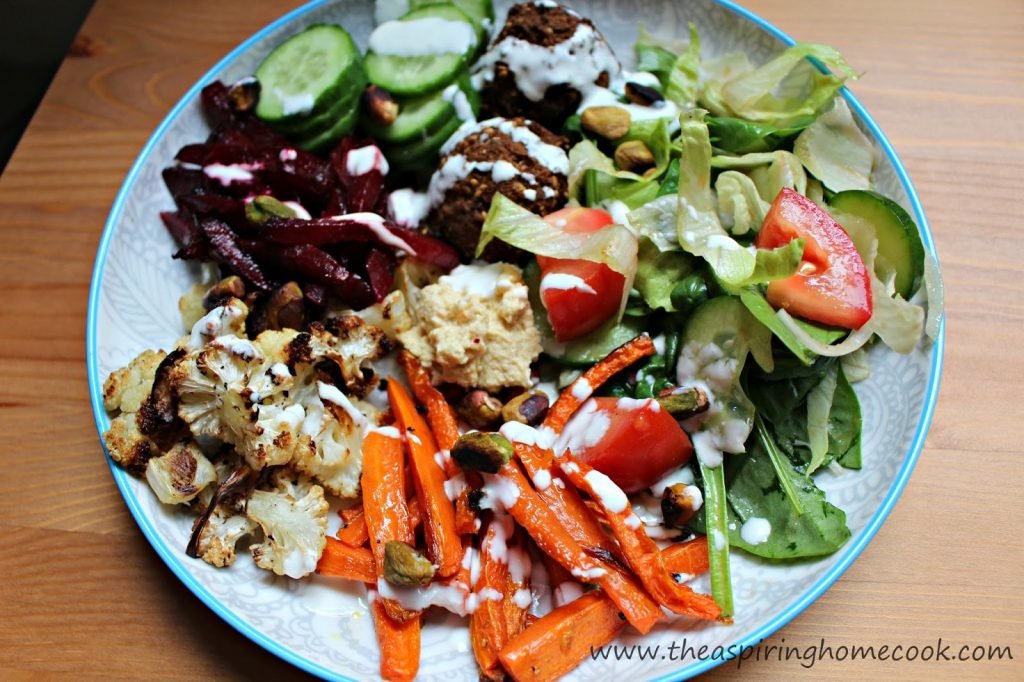 Roasted Winter Vegetable Bowl
Serves 2
1 beetroot, boiled, peeled and cut into pieces
2 carrots, cut into 2″ long pieces
Cauliflower florets (dont waste the stalks, cut the stalk into cubes and use with the florets)
4 pcs. falafel (prepare according to package instructions)
Hummus
Olives, pitted and sliced
Green Salad (recipe follows)
Garlic Yogurt dressing (recipe follows)
A small handful of pistachios
Salt, to taste
Freshly crushed black pepper, to taste
Extra Virgin Olive oil, to drizzle over
When prepping the veggies, try and cut them the same size so that they cook evenly.
I roasted each vegetable in a separate baking dish, but if you prefer, you can use the same dish.
Preheat the oven to 200ºC.
Cut the carrots, sprinkle with salt, pepper and a drizzle of olive oil. Toss well to coat and place in a baking dish in a single layer and bake for 15-20 minutes or till cooked to your liking. Flip the carrots halfway through the cook time.
Sprinkle the cauliflower florets with salt, pepper and a drizzle of olive oil. Toss well to coat and place in another baking dish in a single layer and bake for 15-20 minutes or till cooked to your liking. Flip the carrots halfway through the cook time.
Heat a pan and roast the pistachios on medium flame till they've lightly browned.
For the salad –
1 cucumber, sliced
1 tomato, cubed
1/3 small red / white onion, finely sliced
Salad greens of your choice (lettuce, arugula, rocket, baby spinach)
Salt, to taste
Freshly cracked black pepper, to taste
Lime juice, to taste
Toss all the ingredients.
For the Garlic Yogurt dressing –
1 cup Greek yogurt
Salt, to taste
1-2 tsp sugar, or to taste
1 clove of garlic, finely chopped (Use freshly chopped garlic. Do not use garlic paste because that is too pungent for a salad)
Stir all the ingredients through and set aside.
To assemble the bowls –
Place the cut beetroot, roasted carrots, cauliflower, falafel, hummus, olives and the salad in a bowl.
Drizzle the dressing over it. Serve a little extra on the side for the falafel.
Top with the roasted pistachios.
Enjoy!