A creamy, mildly spiced, coconut-based Zucchini Curry served with rice and crumb-fried Oyster mushrooms. This makes the perfect Goan-inspired vegan meal.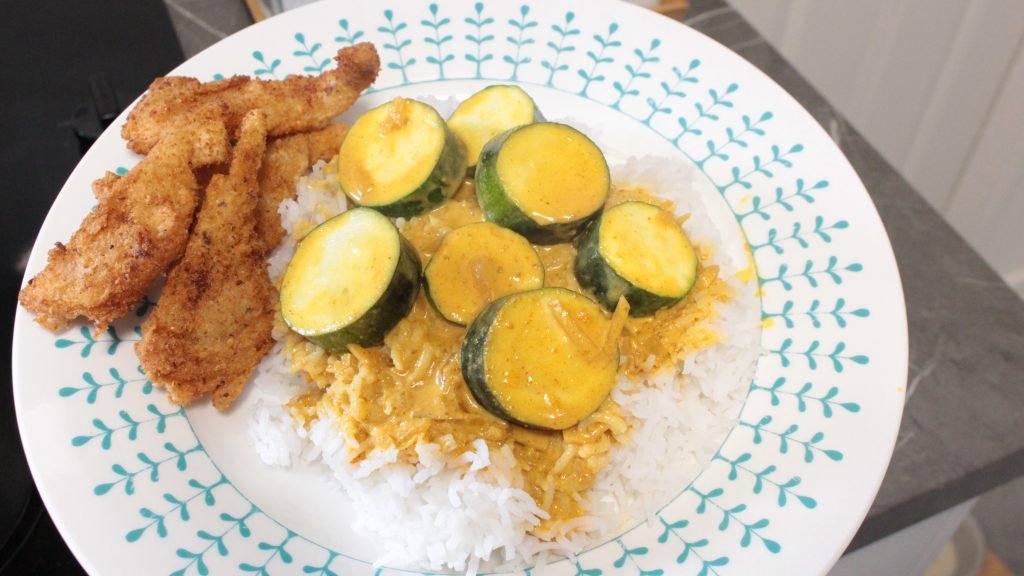 Today's post is a tribute to the humble Goan 'Xit-Kodi' (rice and curry). Typically this would mean either a Fish or Prawn curry served with some crumb-fried prawns or fish. My vegan take on this is a slightly different, mildly spiced curry with some Zucchini. If you had access to some white-pumpkin (also known as doodhi, long-melon or New Guinea Bean), that would work really well with this curry too. Zucchini doesn't need much cooking, which is why I add it almost at the very end of the cooking process and thats what makes this curry a quick and easy recipe. However, if you're using doodi or long melon, I would recommend adding it after the spice mix and letting it simmer till the vegetable has cooked.
This meal is a simple and quick one to put together. Today, I'm going to make it even simpler by using spice powders for the curry instead of a ground masala.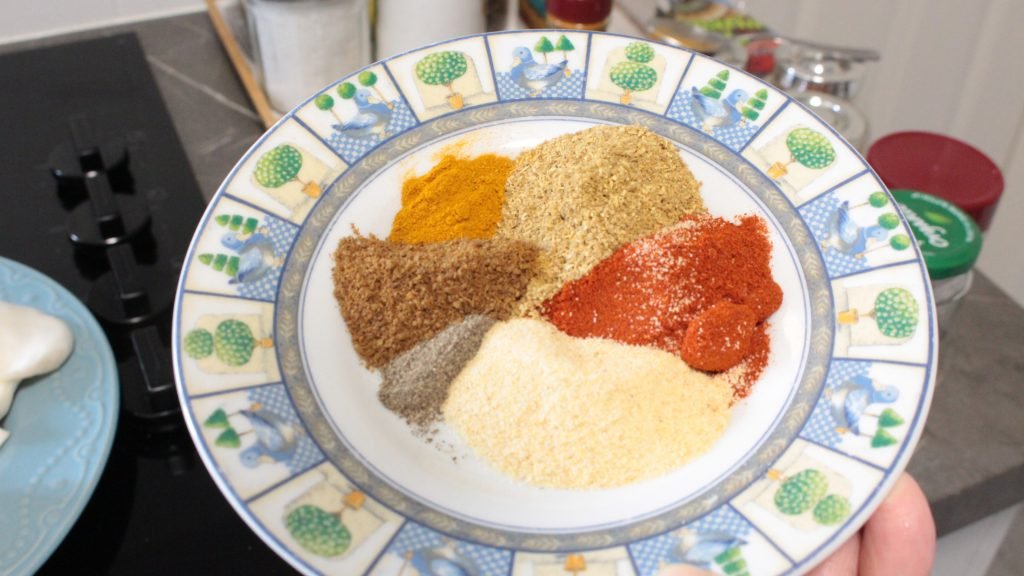 Onto the crumb-fried oyster mushrooms. In my opinion, the crumb fried oysters complete the meal. Don't leave it out. It adds crunch and variety to the meal, not to mention, it is absolutely delicious. It is really easy to make and you can work on it while the curry is simmering away, which means you can get the meal on the table much sooner. My husband and I really enjoy these mushrooms with the little dipping sauce (I'll add that recipe below) even by itself.
So if you're entertaining or looking for vegan party food ideas, this is a must-try. Just remember to make a big batch, because these will disappear. The size of these little bites is totally upto you. I like to size these to be bite-sized which makes them perfect finger-food. I leave the little mushrooms whole and tear the bigger ones into two or three pieces depending on size. This also helps them all cook through uniformly.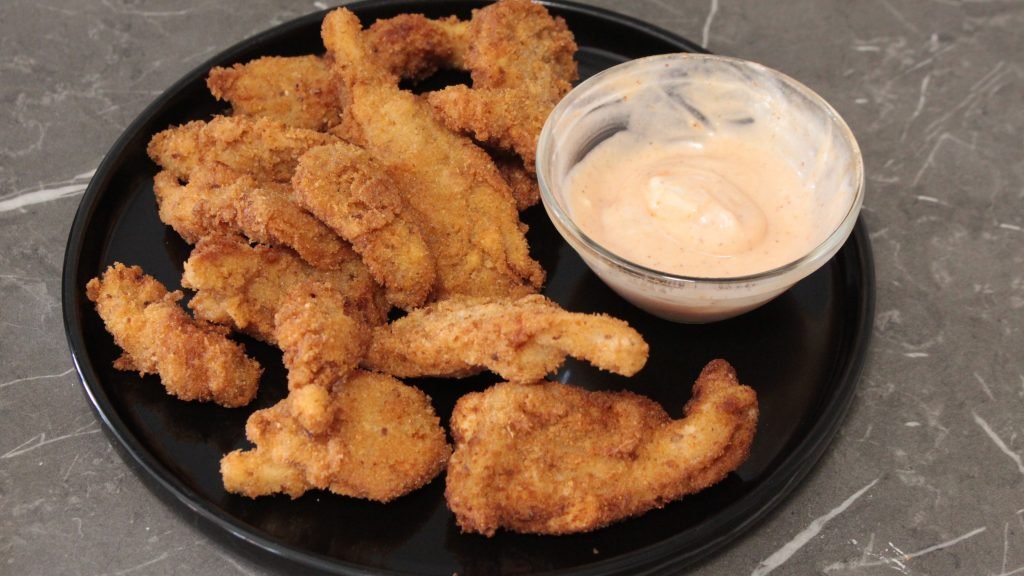 There are a few elements to this meal and if you multi-task efficiently, you can have it all prepped in no time at all. There is no right or wrong way to do this. Here's what works for me –
Start by washing and soaking your rice
Cut the onion, chilli, zucchini and tear the mushrooms
Prep the spice powder blend
Soak the tamarind
Prep the batter for the mushrooms
Pre-heat oil for deep frying
Start on your curry
When the curry is simmering, cook the rice and fry the mushrooms

Hope this helps.
Zucchini Curry with Rice and Crumb-fried Oyster Mushrooms
Course: Mains, Sides
Cuisine: Goan
Difficulty: Easy
A creamy, mildly spiced, coconut-based Zucchini Curry served with rice and crumb-fried Oyster mushrooms. This makes the perfect Goan-inspired vegan meal.
Ingredients
For the Zucchini Curry –

1/2 onion, finely chopped

1 birdseye chilli, slit vertically

2 zucchini, cut into thick slices

1 heaped teaspoon Kashmiri chilly powder

1 teaspoon garlic powder

1 1/2 teaspoon coriander powder

1/8 teaspoon black pepper powder

3/4 teaspoon cumin powder

1/4 teaspoon turmeric powder

A walnut sized ball of tamarind

A piece of dried mango (optional – see note)

2-3 pieces of dried kokum (optional – see note)

1 teaspoon coconut oil

1 can coconut milk

Salt, to taste

For the Crumb-fried Oyster Mushrooms

A small punnet of oyster mushrooms (about 150 gms)

1/2 cup all-purpose flour

1 tablespoon cornflour

Salt, to taste

Black pepper powder, to taste

A pinch of extra-hot cayenne pepper

Bread crumbs, to coat the mushrooms

Oil, for deep frying

For the Dipping Sauce –

1-2 tablespoons of vegan mayonnaise

1 teaspoon of tomato ketchup, or to taste

A few drops of Tabasco sauce, to taste
Directions
For the Zucchini curry –
Start by soaking the tamarind in 1/4 cup of warm water and set this aside.
In a vessel, heat the coconut oil on medium heat. Add the red chilly and let it warm through. Next add the chopped onion. Saute till the onions have softened and start browning on the edges.
Add the spice powders and fry off for a minute or two. At this stage add the dried mango and kokum, if you're using any. (Please see note below for substitutions.)
Add 1 tablespoon of water to prevent the spices from burning. Let this cook off till most of the water is absorbed. You may need another tablespoon of water at this stage. Please see recipe video below. Let this cook off till most of the water is absorbed.
Now add a can of coconut milk and stir through. Let it come to a boil. Once it starts boiling, reduce the heat to low and let the curry simmer for about 10-15 minutes. Keep an eye on it and add water to adjust the consistency as required.
When there's a couple of minutes left in the cooking process, add salt and tamarind paste to taste and the zucchini slices.
Cook for another 2 minutes. Check for seasoning and adjust as needed.
Take the curry off the heat and serve piping hot with some rice.
For the crumb-fried oyster mushrooms –
Heat the oil for deep frying.
Prep the mushrooms into similar sizes. I leave the small ones whole and tear the bigger ones into 2-3 pieces depending on the size.
Add the all-purpose flour, cornflour, salt, pepper and cayenne pepper to a bowl and mix through. Using a little water, whisk to form a lump-free batter. Add the water gradually till you get a consistency that is thinner than pancake batter. (Make sure to not leave it either too thick or too thin. It should be thick enough to coat the mushrooms. Please see video for example.)
Place the breadcrumbs on a plate.
Once the oil has heated, dip the mushrooms into the batter and let any excess batter drip off. Place this into the breadcrumbs and make sure the mushrooms are well coated with the breadcrumbs. Carefully place in the oil and let it fry on medium heat till golden brown and crisp.
Drain on some kitchen paper while you cook off the rest of the mushrooms and serve hot.
For the Dipping Sauce –
Place the mayonnaise, ketchup and Tabasco sauce in a little bowl and stir well. Check for seasoning and adjust the quantities as required to suit your taste.
Serve alongside the crumb-fried mushrooms
Recipe Video
Notes
I've used some dried raw mango pieces and dried kokum along with tamarind. If you don't have the dried mango and kokum, adjust the amount of tamarind pulp till you get the desired tartness in your curry.
Zucchini doesn't need much cooking, which is why I add it almost at the very end of the cooking process and thats what makes this curry a quick and easy recipe. However, if you're using doodi or long melon, I would recommend adding it after the spice mix and letting it simmer till the vegetable has cooked.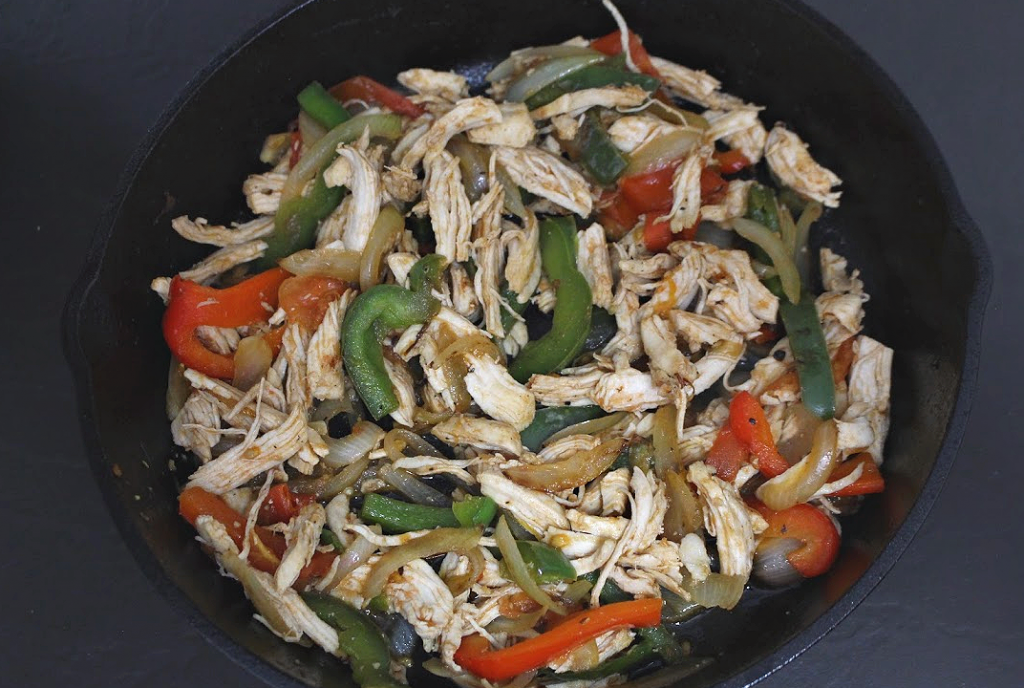 Earlier in the year, I put up a post on my YouTube community tab and asked you what kind of recipes you'd like to see on the channel. One recurring request that came out of that exercise, was chilly fry recipes. So today, I'm going to share with you one of the many ways I make a chilly fry. This is one of the quickest and simplest recipes for a Chicken Chilly Fry.
I've cooked up the chicken specifically for this recipe, however, if you have some leftover roast chicken, you could just as easily use that as well. The recipe can be made kid friendly by simply leaving out the chillies. However, if you're looking for a little spice in the dish, a couple of chillies, slit lengthwise, hit just the right spot.
Chicken Chilly Fry
1 chicken breast, cut into a couple of smaller pieces
For the marinade –
Salt, to taste
Freshly cracked black pepper, to taste
1-2 tsp sour lime / lemon juice
1/2 tsp garlic paste
1/4 tsp ginger paste
For the chilly fry –
1 onion, sliced
Some green and red peppers, sliced
1 tomato, sliced thickly
2 chillies, slit lengthwise (optional)
2 tbsp oil
Salt, to taste
Freshly cracked black pepper, to taste
Marinade the chicken by mixing all the marinade ingredients and slathering over the chicken pieces. Cover and marinade for atleast 15 minutes. (When I remember to, I marinade the chicken overnight, in the fridge. Just make sure you take it out of the fridge a little while before cooking, so that it comes to room temperature.)
Cover the pieces with sufficient water and bring to a gentle boil and simmer till the chicken is completely cooked. Take the chicken pieces out of the stock and reserve the stock. When the pieces are cool enough to handle, shred them and set aside.
Heat some oil in a pan.
If you're using chillies, add them to the pan and fry them off to infuse some flavor into the oil.
Add the sliced onion and saute for a minute. Next add the peppers and let them cook till they get a little char on them.
Add the tomatoes, let them cook a little. Make sure them come in contact with the pan a little, so they can develop a nice little char on them too.
Season with salt and pepper, to taste.
Next, add the shredded chicken and stir to mix everything well.
If the mix appears a little dry, add a couple of spoons of the stock to the pan and stir well. (Add the stock as needed. I used about 4-6 tbsps. in all)
Once most of that liquid has been absorbed, your chilly fry is ready.
Serve hot.
So continuing from my last Halloween post, here's another quick and easy savory treat I put together for the same party. If you haven't yet read that one, go check out the Monster Eye Crackers I posted about
here
.
If you've been around these parts before you know the most important part of food for me is taste. It helps if it is quick and easy to make and bonus points if it is cute and quirky too. This little treat ticks all those boxes. I found this one in quite a few places on the internet and decided that I had to try them out. They are perfect to make for a Halloween themed party. I will admit that the cheese stringers were a little fiddle to begin with, but eventually things started moving along much faster. And, considering there was zero cooking involved, I still give this little snack a thumbs up. Kids will love the novelty of these 'Witches Broomsticks'. I made these to serve at an office party and the adults couldn't keep their hands of them either.
These snacks also use only 3 ingredients – pretzel sticks, cheese stringers and fresh chives. There is not much of a process involved either, so let's get straight to the instructions.
I hope you make these savory treats this Halloween and enjoy them as much as we did.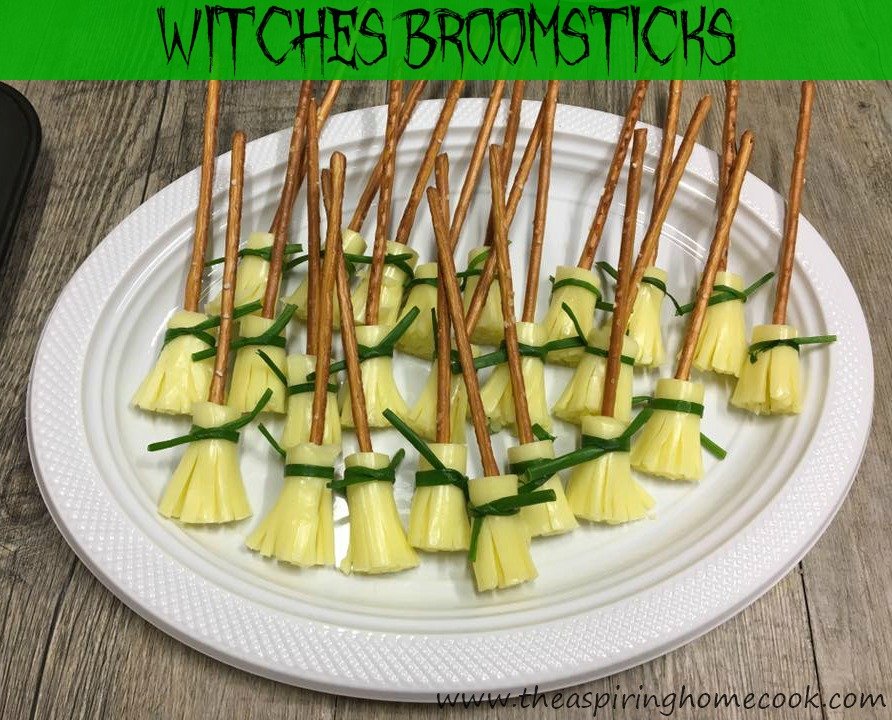 Witches Broomsticks


Pretzel sticks
Cheese stringers
Fresh Chives
Start with the cheese. Cut the cheese stringer sticks into about 1 inch pieces or one thirds.
For each of these pieces, cut up or pull apart two thirds of the length of it to make the bristly edge of the broomsticks.
Now simply pierce the uncut end with a pretzel stick.
Finish them off but tying with a piece of fresh chives.
Serve up.
What treats are you planning for this Halloween???
Its hard to believe that its only the first month of Spring right now. We've had a few scorchers already and its starting to feel like Summer is long to be a long and hot one. While I enjoy the extra daylight and the bounty of fruit, veg and flowers and beautiful beach days that summer brings, I cannot cope with HOT days. Last weekend was one such scorcher, thanks to the second heatwave of the season. I don't know about you, but on such days, I cannot even think of putting the stove or the oven on, much less standing near it. I think I see a lot of salads and sandwiches for lunch this Summer.
I tried out this amazing Avocado Pasta Salad over the weekend and it was a big hit. There is a little stove time involved to boil the pasta and to fry the bacon, but the end result is so good, I'd say it was well worth it. I can't wait for the next potluck or picnic, because I know that this salad will make an appearance.
The dressing is an avocado based one and is super easy to make. If you have an immersion blender, you life will be even easier. If not, just use your regular blender and you'll be sorted. Basically all the ingredients for the dressing get blitzed together and ta-da …. you have yourself a salad dressing. I love recipes that are as easy as this. The ingredient list for the salad is just an approximation of what I used. Feel free to adjust as needed.
Avocado Pasta Salad
Serves 4 (as Main Course)
2 cups uncooked Macaroni
1/4 onion, finely chopped (use a sweeter onion if you can't stand the heat from a raw onion. You can also use a couple of spring onions, finely sliced)
1 cup cherry tomatoes, halved
1/2 cup broccoli florets
1/2 cup boiled / roast chicken, shredded
1/2 cup corn kernels
1 avocado, diced
4 rashers of bacon, fried till crisp and chopped / crumbled
1/4-1/3 capsicum (I used green because thats all I had. You can use red or yellow too, or even a combination of them.)
2 tbsp chopped fresh coriander
For the dressing – 
1 ripe avocado
Juice of 1/2 a lime
1/4 cup chopped fresh coriander (use the leaves and the stalks)
1/2 tsp garlic powder
1/2 cup Greek yogurt
Salt, to taste
Freshly cracked black pepper, to taste
Boil the pasta till al dente, following the package instructions. Run under cold water to stop the cooking process and to cool the pasta down. Drain and set aside.
Blanch the broccoli florets in boiling, salted water till it is a vibrant green, about 30 seconds to a minute, depending on how crunchy you like your broccoli. Immediately drain and immerse the broccoli in ice cold water for a few seconds to stop the cooking process. Drain and keep aside.
In the same pot of boiling water, boil your sweet corn kernels till done. Drain and set aside.
Get your salad ingredients ready.
For the dressing, simply blitz all the ingredients together.
Toss the salad in the dressing and refrigerate for about 1 hour before serving.
Enjoy!!!
Pin now and try later!!!
I have to admit, I joined the Avocado Toast movement much later than I should have. No, no, I didn't wait till yesterday. I've had a few orders of these at cafes around the city. And finally, I got around to trying them out at home.
I don't know if I've mentioned it here before, but I'm totally smitten with avocado. I can eat them plain, maybe topped with a tiny sprinkling of salt and a squeeze of lime. I love the way an avocado lends itself to so many recipes and uses. It is creamy, picks up flavors so well and can cool down an otherwise spiced up meal. I have tried a
chunky guacamole
before and I can just eat that stuff by the spoonful. Throw in a few tortilla chips and I can have a party for one (**wink, wink). I can't wait to try out many more recipes using avocado. What is your favorite way to enjoy an avocado? Leave me a comment and let me know. I'd love to try it out too.
Now, onto the Avocado toast I made for breakfast over the weekend. Since this was a first attempt for me, I decided to keep it simple. I've seen some pretty extravagant avocado toast options around and maybe someday I will try them out too. But there's nothing wrong with simple. And simple and yummy makes it even better. So if you love ordering avocado toast at a cafe, I urge you to get into the kitchen and try whipping some up yourself. You will save yourself a heap of cash (which means more avocado for you.) The Lord knows these little green gems cost an arm. Speaking of which, if you find yourself around a Harris Farm Markets outlet, check out their Imperfect Picks range. They have mini avocados for $7.99 a kilo, when I saw them last. A lot of fruit and veg is discarded because of ridiculous aesthetic standards maintained by large supermarket chains and anything that doesn't meet those specifications usually ends up in a landfill. These minis are so tasty but would typically be discarded because of their size. And how wrong is that. I love the Imperfect Picks range and urge you to support them too if you have the option.
Back to the avocado toast. I made two options for hubby and me. One savory and one sweet. It made for a very satisfying breakfast and couldn't have been simpler to put together. Our savory one had a fried egg on top and our sweet one had some banana and maple syrup. There are no strict quantities for this recipe, so feel free to have some fun with it.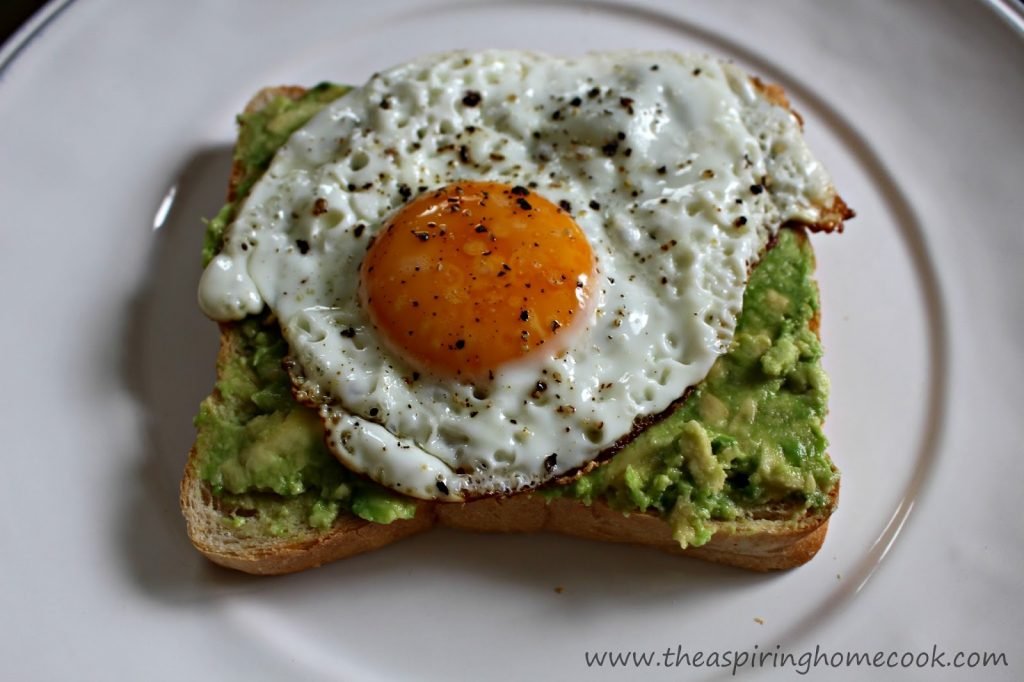 Avocado Toast with Egg
1 slice of bread, toasted to your liking
1/2 small avocado or 1/4 large
1 egg, fried to your liking (you could also use a poached or a boiled egg, if you prefer)
Salt, to taste
Freshly cracked black pepper, to taste
Cut the avocado in half and discard the seed.
Scoop out the flesh and roughly mash it up with a fork.
Spread the avocado over the toast.
Top that with an egg. I used a fried egg, sunny side up.
Sprinkle a little salt and pepper on top.
Enjoy!!!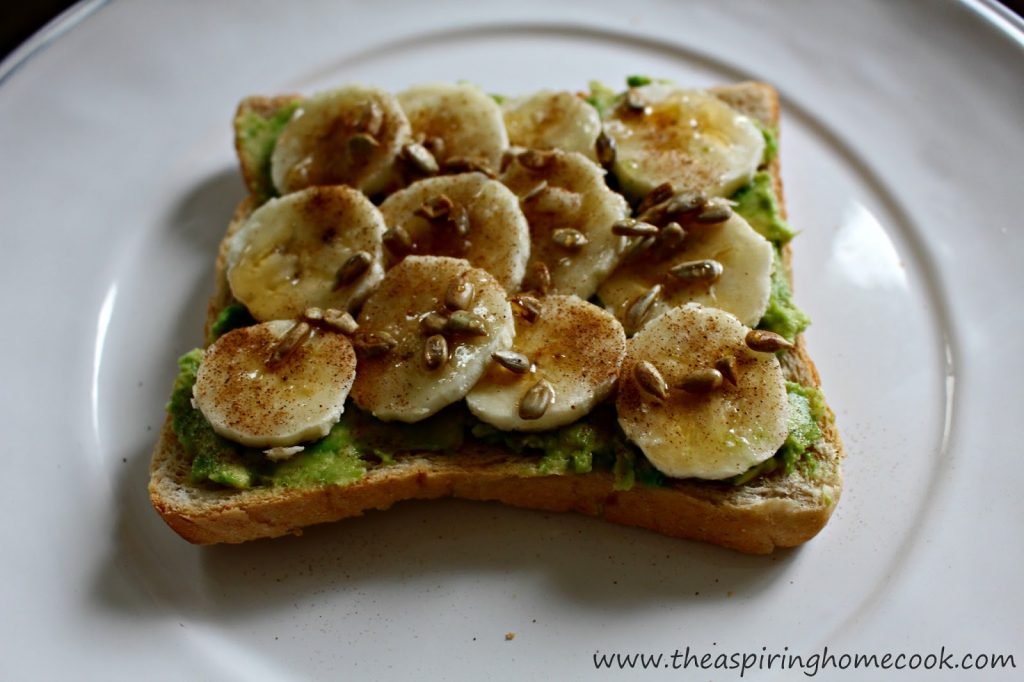 Avocado Toast with Banana, Maple Syrup and Sunflower Seeds
1 slice of bread, toasted to your liking
1/2 small avocado or 1/4 large
1/2 banana, sliced
1 tbsp sunflower seeds
Maple syrup, to drizzle over, to taste
Cinnamon powder
Cut the avocado in half and discard the seed.
Scoop out the flesh and roughly mash it up with a fork.
Spread the avocado over the toast.
Top that with the banana slices, a sprinkle of cinnamon powder, the sunflower seeds and lastly, a drizzle of maple syrup.
Enjoy!!!
Note: I haven't been compensated by Harris Farm Markets for this post. The opinions stated here are my own and I've shared it with you because I strongly believe we can cut down waste as a society by just being more aware.
** This post contains affiliate links.
So last week I shared with you a lesser known, but extremely yummy recipe for a biscuit found in the Pune-Mumbai region – Shrewsbury Biscuits. If you haven't seen that yet, go check it out, I'll still be here when you get back.
Okay, so you're back. Today, is the turn for another lesser known recipe, this time for a cake called Mawa Cake. Again, as far as I know this cake is found in the Pune-Mumbai region. Kayani Bakery in Pune and Merwan's Cake shop in Mumbai are popular for their Mawa cake, though you will find quite a few other shops selling this cake. They are usually sold in packs of 6 – 6 muffin sized pieces. This simple cake is so very special. It is not much to look at, but what it lacks in looks, it makes up for in taste. If you've never heard about this cake before, you should put it on your list of recipes to try out. Mawa is nothing but milk solids and this is widely used in a lot of Indian sweets.
A lot of people cringe at the thought of making their own mawa and just buy it from the local Dairy shop in India. This is because, while it is a simple process of reducing milk, working with about a litre of milk could take you about an hour to process. In the past, I have made Mawa the traditional way a couple of times. But for this cake, I decided to try out a cheat's version of Mawa. This method takes literally 2 minutes at the most, and you would never be able to tell that it is an instant version. I'm so happy that I found this method. I have a whole bunch of recipes for Indian sweets that I've been ignoring, simply because it calls for Mawa. But that has changed, so you can expect to see some more Indian sweets / Mithai recipes, just before the Indian festival season starts.
Back to the cake. If you have your Mawa sorted out, the rest of the recipe is like a simple pound cake one but with a serious flavor profile. The Mawa adds a richness to the cake and it is mildly flavored with cardamom powder, resulting in a very exotic tasting cake. This time around my husband made the cake, which I guess made it even tastier (lol). He chose to bake this in an 8″ round cake tin, but you could bake it in a cupcake tray too. I do hope you try it out.
Mawa Cake
Yields: an 8 inch cake or 15-16 cupcakes
1 portion of homemade mawa (recipe below) or 200g unsweetened mawa
200g all purpose flour
300g sugar
200g butter
4 eggs
1 tsp baking powder
1/2 tsp cardamom powder (Seeds of about 10-12 green cardamom pods, powdered)
Preheat the oven to 160ºC.
Grease and line an 8-Inch Round Cake Pan
with parchment paper / baking paper. Alternatively, if you are baking them in cupcake sizes, line a Cupcake tray
with paper liners.
Separate the egg yolks from the whites. Beat the whites to a stiff froth and keep aside.
In another bowl, cream the butter, sugar and egg yolks till light and creamy.
Add the mawa, cardamom powder, baking powder and flour and mix till well incorporated. (If the mawa in store bought or is a firm block, grate it before adding into the batter)
Fold in the beaten egg whites gently till just evenly incorporated in the batter.
Pour the batter in the prepared cake pan and bake for about 40-50 minutes (if using a cupcake tray, bake for 15-20 minutes) or till a bamboo skewer inserted near the middle of the cake come out clean.
Cool completely, cut and serve. Don't get fooled by the look of the cake. It tastes a whole lot better than it looks. And don't forget, if my husband (who has probably not baked more than a handful of times so far), can whip this up, so can you.
Enjoy!!!
How to make Instant Mawa?


1 tbsp ghee / clarified butter
1/4 cup milk
1 cup full fat milk powder
Warm the ghee and the milk together. You just want this mixture warm, not hot.
Add the milk powder and stir and cook till it comes apart from the pan and starts forming a ball.
Use to make mawa cake.
Notes: If you are baking the cake in a regular cake tin and not a cupcake tray, in some cases, the milk solids may cause the cake to brown quickly. This is normal, but if you think it is browning too fast and may burn, cover the tin loosely with aluminium foil and continue baking till the cake is done.
UPDATED:
to add recipe video.
Fish cutlets are one of my favorite seafood recipes to make and to eat. I love seafood and I also happen to love cutlets. They are so versatile. You can serve them as a snack / appetizer (they go so well with a chilled beer), as a meal with a side of chips and / or a salad or you can use them to make a fantastic burger. I have shared a recipe for fish cutlets previously using fresh fish. You can find that one here. This recipe is fairly similar with the exception of one main difference. This one uses canned tuna.
Now, I love my fish fresh. I believe that fresh is the best way to enjoy fish. But yesterday, I found myself longing to eat some fish cutlets but didn't have any fresh fish. Now that was just not going to do. So I put my thinking hat on and eventually decided to try to make cutlets using canned tuna instead. I had heard that some people make their cutlets with canned fish, but I'd never tried it out for myself. I happened to have a few cans of tuna chunks in the pantry, so I figured I had nothing to lose.
The cans I used were tuna chunks in spring water. You need to make sure you drain the tuna well. I didn't know what to expect and found that I had to use a little extra egg for binding but in the end I was delighted with the results. The cutlets were delicious. It took a fraction of the time to make compared to if you were to use fresh fish because the fish has to be cooked and deboned. So in all, I was extremely pleased with this attempt.
The type of canned tuna will determine how much egg is needed. I would recommend starting out using one egg and if you can shape the cutlets easily without them falling apart, then you are good to go. If not add more egg to the mix.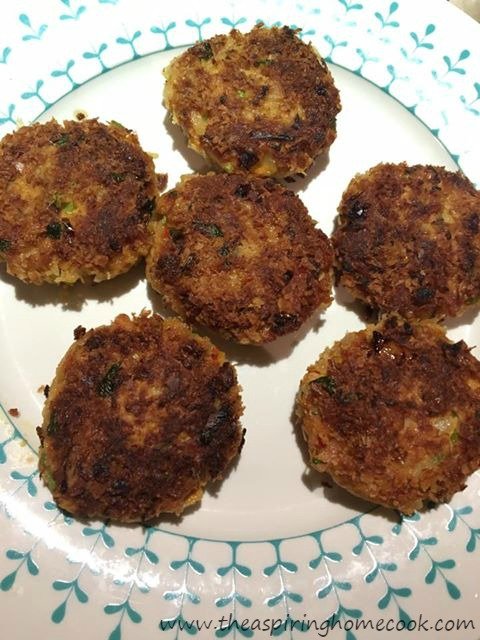 Goan Fish Cutlets
Yields: 12 cutlets


4 cans of tuna (I used 95g cans of chunk tuna in spring water) (Or 1 can x 495g Tuna)
1 onion, finely chopped
2 red birdseye chillies, finely chopped (optional)
1/2 tsp fresh ginger, finely chopped (or you can use paste)
2-3 cloves garlic, finely chopped (or you can use paste)
A small bunch of fresh coriander leaves and stalks, finely chopped
Salt, to taste
1/2 tsp turmeric powder
1 tsp red chilly powder
1/4 tsp black pepper powder
1-2 eggs
2 slices of bread
Bread crumbs, to coat the cutlets
Oil for frying
Drain the tuna thoroughly and flake it in a large mixing bowl.
Soak the bread slices in water for about 5 minutes and squeeze thoroughly. Crumble the bread as fine as you can and add it to the bowl.
Add the rest of the ingredients except the panko bread crumbs and the oil to the bowl.
Place a layer of the breadcrumbs on a dry plate.
Using the fish mix, shape into cutlets and carefully coat on both sides with the bread crumbs.
Heat 1-2 tbsp oil in a pan on medium heat and carefully place the coated cutlets on the pan. Cook for a couple of minutes on medium heat till golden brown on one side.
Then carefully flip over to cook to a golden brown on the other side too. Add another spoon of oil to the pan as needed.
Repeat till the batter is over and all the cutlets are fried.
Serve hot.
If you enjoy a good cutlet, try out some of these recipes –
Fish Cutlets
Beef Cutlets
Today I have a very humble treat lined up for you. I happen to be a huge fan of beans. Fresh, dried, kidney beans, snakes beans, butter beans the whole lot, really. Growing up, every summer, the family would go to our ancestral home in Goa. We'd look forward to it. Our home had a massive edible garden. Back when I was too little to remember and even before I was born, the family grew a lot of vegetables and fruit. When my grandmother was little, they also had cattle and goats on the property.But in more recent times they had plenty of fruit trees. We had mangoes (a few varities), cashews, coconuts, chickoos, guavas and jackfruits growing. The only vegetables we had was some tapioca, dumsticks (moringa), tamarind and kokum. I have very fond memories of those summers and hope I can someday go back to something like this again. Though I may seem like I've digressed, I haven't, not much. I had to build a setting of sorts 🙂
Every summer, snake beans were at the peak of their season. We didn't grow this but there was a local farmer in the village who did. And he did a fantastic job of it. I loved and to this day love snake beans. We cook this up in a very simple way, a traditional Goan fugad. A fugad has its roots in Portuguese food. It is a stir fry of vegetables with some spices and seasonings and a sprinkling of fresh grated coconut. Most Goan households still cook their vegetables this way. The snake bean version was my favorite. I volunteered to prep 2 massive bundles every single day. Yes, I managed to convince my mother and aunt that I wanted to eat this every single day while I was there and that I would clean it and get it ready to be cooked myself. Thankfully, they obliged and so someone from that good old farmers household would graciously drop off a couple of bundles at the house on their way to the market. The simplicity of the dish may fool you. But the end result is fantastic. In my humble opinion, it is delicious. The beans turn out tender and sweet I'm sure kids would love it too. I could eat it by itself or with steamed rice or chapatis.
I recently managed to get some gorgeous bundles of snake beans and had to make this fugad again and I thought it was a perfect opportunity to share it with you. So if you can find some good, fresh snake beans or if you grow them yourself, I hope you try this out.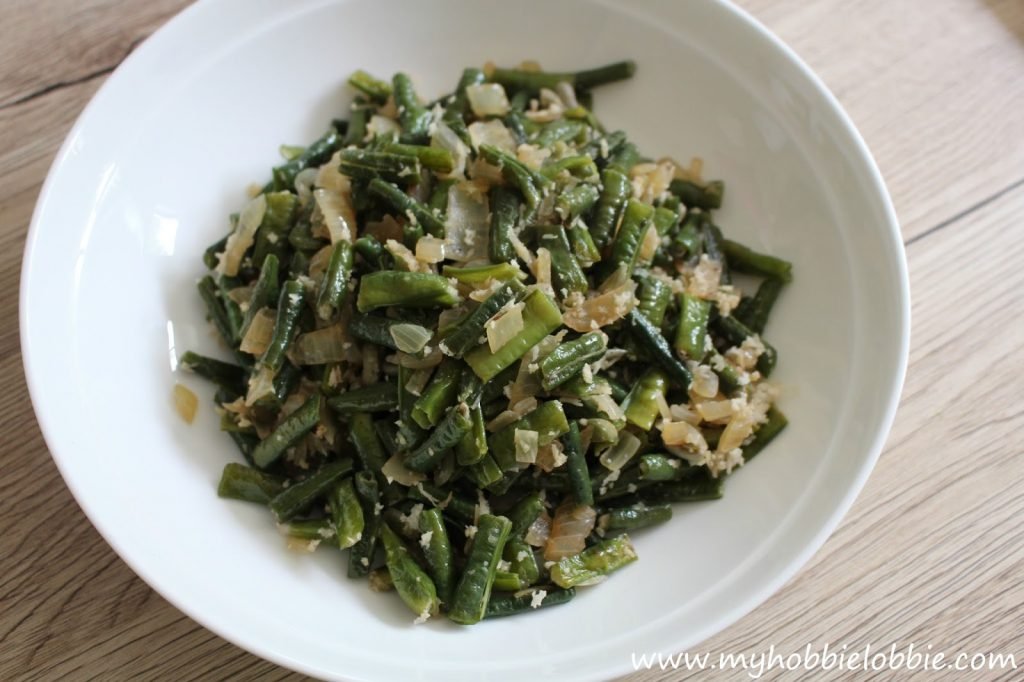 Eeril Fugad / Goan Snake Beans Stir Fry


3 small bundles of snake beans, the fresher the better
1 large onion, diced
2 fresh green / red chillies
Salt, to taste
1/4 cup freshly grated coconut
1 tbsp olive oil
Break off the ends of the snake beans and break off into inch sized pieces. Rinse through and drain and keep aside.
Heat the oil in a pan over medium heat.
Slit the chillies in length, but not all the way through. This way you get all the flavor but not much of the heat.
Let the chillies fry up for a few seconds till they get fragrant.
Add the chopped onions and saute till the onions have softened and get slightly brown on the edges.
Add the snake beans and stir them in for a while. You will see the green color of the beans turn a darker shade.
Add the salt and let the bean stir fry for about 2 minutes.
Add a splash of water, a very small amount to prevent the beans from burning and help them cook through.
Cover the pan and let it cook. Add more water, if needed.
When the beans are almost cooked, add the freshly grated coconut and stir through.
Serve hot as a side dish with some Goan fish curry or prawn curry and rice or with some chapatis.
Some other Fugad recipes –
Cabbage Fugad
Black Channa (Chickpeas) Fugad
I'm finally back to blogging! If you've been wondering where I've been over the last few weeks, I've been right here but I've had my laptop die on me. It was a real task recovering the data on it and getting back to doing this. But thanks to my wonderful husband, I've recovered most of it. And now finally have access to it. Still don't have my trusty laptop, but the family computer works fine for now.
So to ease back into the flow of things, this will be a quick post. The recipe also is a quick one, super simple to make. Infact, you can barely even call it a recipe, but the results are so very good, I will go ahead and post it here to share with you. If you haven't tried out sweet potato fries yet, trust me, you really should. Even my beloved husband, who doesn't care much for the sweet potato (he calls it a sweet mush / baby food), loved it and actually requests for these fries every once in a while.
There are a couple of things to keep in mind here. You could peel the potatoes, but I leave the skin on. Just give it a good wash and scrub and you are good to go. Also, size of the fries will make a difference. The thicker you cut it, the longer it will take to cook. The thicker sized fries will still be soft and fluffy. If you are like me and love a little crunch in your life, cut the fries thin. It cooks quicker and caramelises a little and is super delicious, not to mention perfectly crunchy.
This fries are a much more healthy version that the regular potato fries and are great either as a snack or as a side to a big roast dinner or holiday meal too.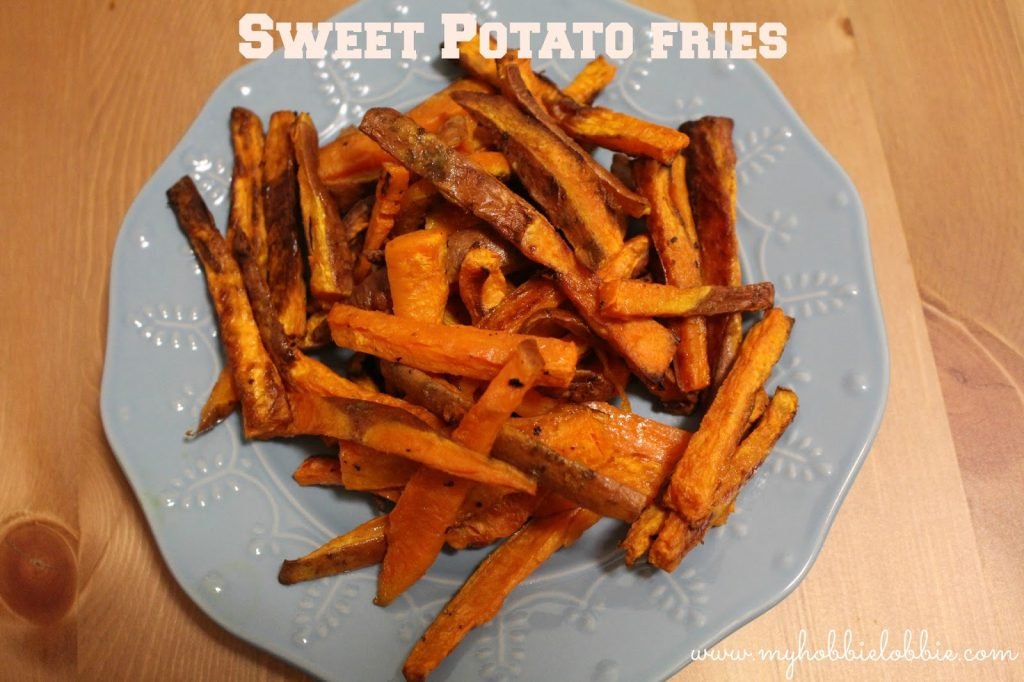 Sweet Potato Fries


1 large sweet potato, washed
Salt, to taste
Freshly crushed black pepper, to taste
A drizzle of olive oil (about 1 tbsp)
Preheat the oven to 200°C.
Cut the sweet potato into fries.
Drizzle a little olive oil on a baking tray.
Place the sweet potato, salt and pepper on the tray and toss to make sure everything is well coated. You can add a little more olive oil if needed.
Arrange the potato pieces in a single layer.
Bake for 15-20 minutes, turning the pieces once at the halfway mark.
Keep an eye on your oven from time to time. It may not need as long in your oven. Also this time will depend on the size of the pieces. So keep an eye on it the first time you make this.
When it is done to your liking, take it out of the oven.
Serve hot and enjoy!
2 posts in 2 days …. your probably wondering if thats even possible. I know I am. But I am going to find the time to catch up with my posts from now on. So, thank you for sticking around and being so patient. You will find more regular posts here from now on, compared to the last couple of months. I have been cooking and baking a whole lot, I just haven't had the time to share it with you. But fingers crossed, thats going to change.
Okay, so yesterday, I shared with you a treat that I've only recently learned to make, the humble cruchy vadas or
deep friend lentil fritters
. We enjoyed these so much, I decided to try and use these in another popular Indian treat, the Dahi wada. (Dahi-meaning yogurt and wada – fritters). Essentially, Dahi wadas are little fritters dunked in some seasoned yogurt with a little flavoring to take it to that next level of yum.
I know that the dahi wada purists will frown on my method, but it works for me and it is really delicious. Delicious enough to have converted an aunt of mine who was visiting. She never has dahi wadas when it is up for grabs at parties, buffets or at Indian restaurants because of a couple of unpleasant experiences she's had previously. She claimed that these looked fantastic and she couldn't go past it without trying some and turns out she loved it. I even gave her some to take home and enjoy later.
What I did was, made up one batch of the the
lentil fritters
. We had half of it with some chutney and I used the other half to make these dahi wadas.
This is not an exact recipe, but some guidelines. You need to tweak it to suit your liking. Its a little sweet, a little savory and a little tangy all at the same time.
In this instance, I used some store bought freeze dried coriander since I could not get my hands on any fresh coriander. But use fresh if you can. I'm happy to have found this little treasure pot. I keep one at hand for times when I can't find the fresh stuff.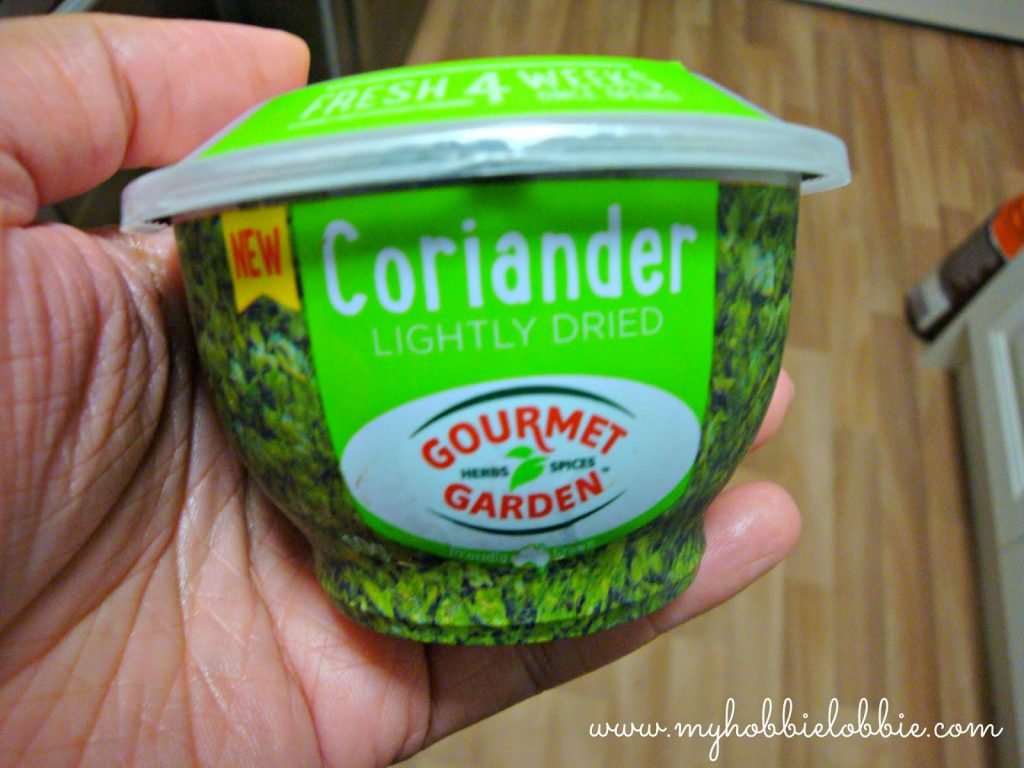 Another time saver is this bottled Date and Tamarind Chutney, found at any Indian store in Sydney. Again, I'd prefer to use a home made variant, which is tastier and has better consistency, but if you're in a pinch, this will work fine. If you'd like to make your own little jar at home, you can find the recipe here – Tamarind and Date Chutney.
Now on to the Dahi wada. Here's what the end result will look like – delish!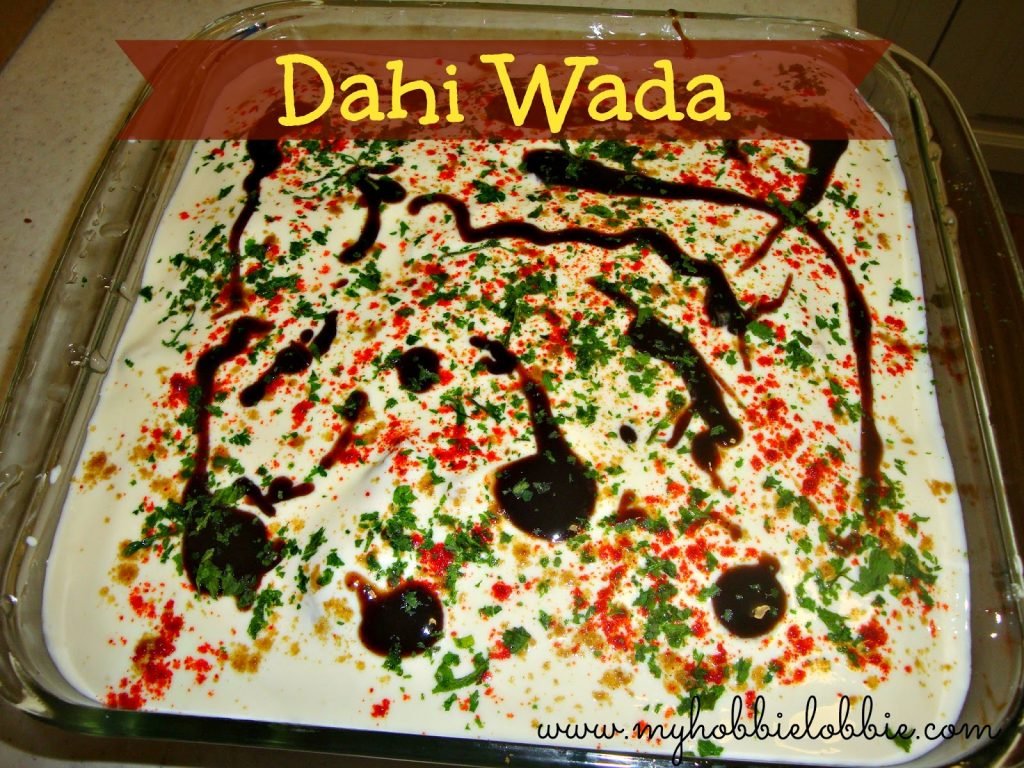 Dahi Wada
Deep-fried lentil fritters
A bowl of hot water
1 tub of Greek yogurt
Salt, to taste
Sugar, to taste
Red Chilly powder, to taste
Cumin powder, to taste
Tamarind Date Chutney, to drizzle over, to taste
Fresh coriander chopped/ freeze dried coriander, to garnish
Mint Chutney (Not used here, but can be used, if desired, to taste)
Take hot water in a large bowl.
Dunk the warm wadas in the water and keep it submerged in the water for a little while (1/2 a minute or so) till it has absorbed a fair bit of water.
Place the soaked wada between the palms of both hands and press firmly to drain all the water out. (We do this to get rid of any excess oil as well as to make the wada more absorbent – that way it takes in more flavor of the yogurt.) Continue with the rest of the fritters. Place in the serving dish or platter in a single layer.
In a large bow, beat the yogurt. Add salt to taste and some sugar. It should lightly sweeten the yogurt but not make it too sweet. Add a splash of water and whisk the yogurt. You need to add the water gradually till you get a thick pouring consistency. (Somewhat like a pouring custard consistency.) In all, you need enough yogurt to cover the fritters completely and generously.
Pour this yogurt over the fritters till you have covered them well.
Sprinkle some red chilly powder, cumin powder and drizzle some Tamarind Date Chutney and Mint Chutney (not used here but can be added if desired) over.
Garnish with a sprinkling of chopped coriander.
Refrigerate for a little while, atleast half an hour to let the flavors build and then serve chilled.
This makes a nice refreshing snack for a warm summers day, or if you are like me, its perfect any day of the year.
Enjoy!
NOTE: This is NOT a sponsored post. I haven't been approached or compensated by Gourmet Garden or Pattu or any stores that stock them. These are just products that I happen to be using at the moment and work well for me.