I've been making marzipan at home for a little over 12 years now. I must admit that in the past, I have only made marzipan using cashew nuts. This is mainly because they were more widely available in Mumbai and were more affordable than almonds. Last Christmas, when I shared my favorite marzipan recipe
here
and on
YouTube
, the video got a lot of love. I also got a lot of questions about making marzipan using almonds. There were also requests for an eggless version of marzipan. Now I have previously shared a different recipe for an
eggless (cashew nuts) version
. But I decided that this year, in time for Easter, I would try out an eggless almond marzipan recipe and share it with you. After a little experimenting, and more marzipan than I know what to do with, I have, what I consider a really good recipe to share with you.
How do they both compare? Well I found that the cashewnut marzipan is lighter while the almond one is a little on the denser side. That being said, the almond version is super delicious. I think even more than the cashewnut one. Then, there's also the fact that the almond one is a no-cook recipe. So, to sum up, I will still make my cashewnut version as it is a little easier to work with, but the almond one will be absolutely perfect to use in so many different ways. I'd love for you to try it out and tell me what you think of it.


No-cook Almond Marzipan
(Yields 250-260gms approx.)
1 cup raw, natural almonds
1/2 cup icing sugar
1/2 tsp rose water (you can add a little more if needed)
1/2 tsp almond extract (you can add a little more if needed)
Place the almonds in a heatproof bowl.
Pour water from a recently boiled kettle over the almonds to cover the nuts. Leave the almonds to soak for a couple of minutes.
Drain the almonds and peel them. Place them on some kitchen paper or a clean kitchen towel to dry up. Let the almonds cool down completely.
In a high powered blender / food processor, blitz the almonds to a fine powder.
Place the almond powder in a large bowl. Add in the icing sugar. Mix it thoroughly till combined.
Add the rose water and almond extract and knead to form a dough / log.
Your marzipan is now ready to be used.
If you don't need to use it immediately, you can wrap it in cling film and refrigerate till needed. It keeps for a couple of months. (Personally, I would just make this when needed, probably a couple of days ahead.)
NOTE: This marzipan is not a very sweet version. When the marzipan is formed, taste some of it. If you want it sweeter, simply add some more icing sugar and knead it in.
Its December folks! Anyone who knows me, knows I'm a bit Christmas crazy. I love everything about the Holiday season. I'm going to kick off this years Christmas recipe posts with a lovely little cookie – the Indian Nankatai. This is an eggless recipe and is so easy to put together. What you end up with is a delicate and really delicious little treat. I like making a big batch of Nankatais closer to Christmas. I add these on my Christmas platter of sweets to share with family and friends and I also have some in the cookie jar to serve up with some tea.
Let's talk about the dough for a bit. It is such a ridiculously simple recipe, you will be surprised at how tasty the nankatais turn out. I find that this dough can be a little finicky and it usually works beautifully on a slightly warm day. While that works beautifully for us in Australia and anyone in the Southern Hemisphere, it could be a challenge in the Northern Hemisphere, where its the middle of winter. If its cold where you are, you might find that the dough ends up a little crumbly and you may have a little difficulty shaping it into a cookie. When that happens, I pop the dough in an ovensafe bowl and pop it into a slightly warm oven (about 100 degrees) for a couple of minutes. This helps the ghee warm up and helps bind the dough.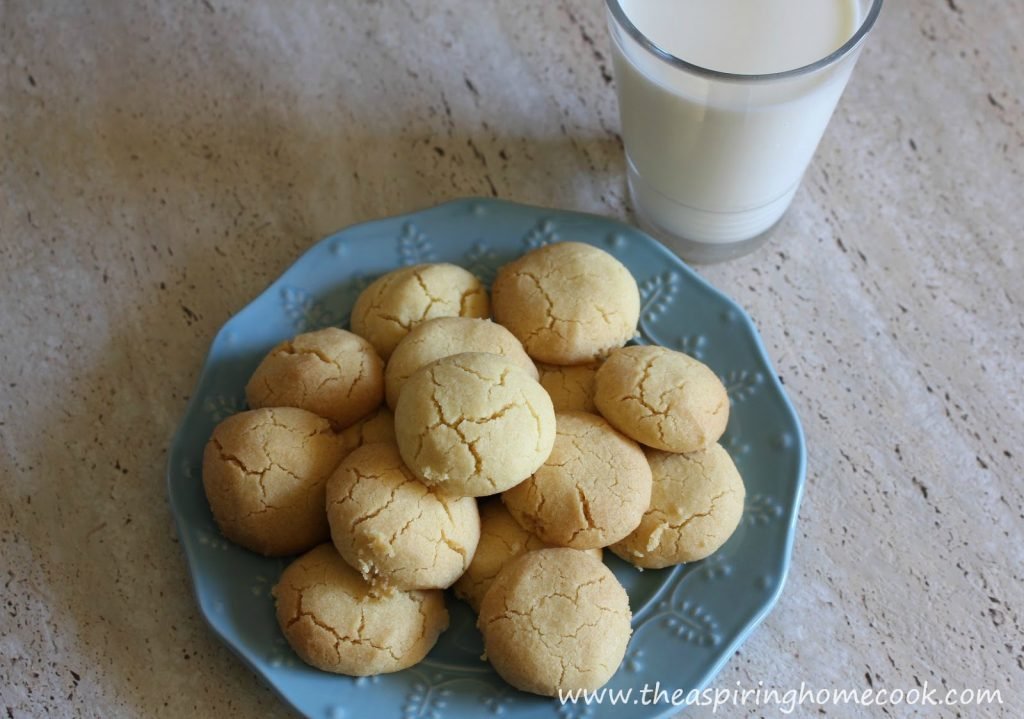 Nankatais
Yields: 1/2 kilo (approx 30 cookies)
1 1/3 cup all purpose flour
1/3 cup besan (chickpea flour)
1 cup sugar (superfine. You can also powder larger grain sugar and then use it in the recipe)
2/3 cup of ghee (clarified butter)
1/4 tsp baking soda
Preheat your oven to 180 deg. Celsius and line a baking tray with some baking / parchment paper.
Mix the ghee and sugar till it is light and creamy. Scrape down the edges and bottom of the mixing bowl halfway through the process.
Add the rest of the ingredients (baking soda, all purpose flour and chickpea flour) to the mixing bowl and continue mixing till it forms a dough.
Shape into little cookies by rolling portions of the dough into a little ball and flatten it slightly. Place the cookies on the lined baking tray.
Bake for 12-15 minutes or till done. Your looking for a light colour on the edges.
Take it out of the oven and leave the cookies to cool on the tray itself.
When completely cool, store in an airtight container.
Enjoy!
You can watch the video recipe here –
I have finally gotten around to writing this post. For some reason these pictures have been lurking somewhere in the deep, dark recesses of my computer and kinda got forgotten there. Today, when I was looking for something else, I came across them and realized I hadn't yet shared it with you. So it just had to be done.
We've been trying to be more conscious of what we eat now. No fad diets or deprivation, but we're trying to focus on making better choices. Let me be very clear here, there will still be baked goodies. And lots of regular ones too. All I'm saying is that I'm going to be more open to the slightly healthier variants too. For example, these brownies. I came across this recipe when I was looking for ways to use up a massive box of sweet potatoes I picked up at the growers market at Flemington. The only sweetener in it is maple syrup. The rest of the sweetness comes from the sweet potato and the dates. And that make me happy. I can enjoy a piece because I know whats in it. There are also no eggs in the recipe, so that will make my vegetarian friends from India (the ones that don't eat eggs) very happy. This recipe also uses raw cacao powder instead of cocoa powder or chocolate. Though I'm pretty sure you'd be able to substitute them if you so wished. I hear raw cacao is purer and healthier. A quick blitz of ingredients in the food processor, a quick stir in of the dry ingredients and you're ready to bake. That's how easy it is to make these brownies.
Now, the verdict – These are nothing like the typical chocolate brownies you buy at the store or even make at home. They are equally delicious and have a nice gooey texture. They have a slightly different flavor from the sweet potatoes and kinda reminded me of a typical Goan sweet "Dodol" with minimal effort. So if you're up for trying out something a little different, give these sweet potato brownies a go. You won't be disappointed.
Sweet Potato Brownies
Recipe from: Deliciously Ella
2 medium to large sweet potatoes (approx 600g)
2/3 cup ground almonds (I used almond meal)
1/2 cup rice flour (You could also use buckwheat flour)
14 dates
4 tbsp raw cacao
3 tbsp pure maple syrup
A pinch of salt


Preheat the oven to 180ºC.
You need to use cooked sweet potato for the recipe. You could either roast, boil or stem them till they are nice and soft. I wrapped them in foil and baked them while I had the oven on the previous night.
Peel the sweet potato and cut them into chunks and add them to a food processor along with the pitted dates. Process this you are left with a nice creamy mixture.
Place all the dry ingredients in a bowl and stir together.

Add the sweet potato and date paste and mix this thoroughly combined.
I have a little confession. A few years ago, I used to not like Oreo biscuits very much. There!!! I said it. But wait, I must also say this. A few months ago, I sorta flipped a switch. I happened to try one again, and I must say, I didn't mind it at all. Don't ask me what happened or how it did, but I can now say I actually like Oreo biscuits. So it was time that I reworked what was originally a recipe that used Oreos, which, when I first made, I actually substituted with another biscuit. But recently, I made them again using the real thing.
Sometime in August, we were celebrating a couple of birthdays at work and I decided I was going to bring a batch of these to the celebration. I was a little skeptical of how they would be received, but I shouldn't have been. They disappeared. Not everyone had an opportunity to grab one, but some clever ones managed to get seconds, maybe thirds 😉 Those that had a chance to try them out, absolutely loved them. So turns out I didn't have to worry about these at all. I've had a few people ask me for the recipe more than once. So I'm actually doing another post for it.
This is one of the easier treats I've made and if you have to take something sweet to a potluck, may I recommend making these. They will be an instant hit. Be warned, they are really moreish. You wont be able to stop at one.
Oreo Truffles
(Makes 1 dozen)
200g Oreo cookies (each packet is 137g, I just used 2 packets)
60g cream cheese
200g chocolate (I used 100g milk chocolate and 100g dark chocolate but you could use all milk or all dark or any ratio you prefer)
1/4 cup Candy melts (I used Yellow melts)
Blitz the cookies in a food processor till it reaches a fine crumb state. (If you don't have a food processor, place the cookies in a ziplock bag and pound on them using a rolling pin.)
Stir in the cream cheese and mix thoroughly.
Roll them into balls. Refrigerate them for an hour so that the firm up.
Chop the chocolate into small pieces. Melt the chocolate in a microwave safe bowl for 30 seconds and stir. Then as needed microwave in 30 second increments stirring inbetween till the chocolate melts. The stirring helps the chocolate melt.
Line a cookie sheet tray with parchment paper.
Dip the cookie balls in the melted chocolate. Using a fork, let the excess chocolate drip off and leave them to set on the parchment lined tray. You can serve them up as they are or decorate them with sprinkles or chocolate then do that at this stage and leave it to set.
If you want to use sprinkles to decorate them, sprinkle them on the truffles just after you dip them in chocolate.
If you want to drizzle some chocolate or candy melts over, microwave them in a microwave safe bowl according to the package instructions. Pour it into an icing bag or a small ziplock bag, snip off the tip of the bag and drizzle the chocolate over the truffles. Leave to set.
Enjoy!!!
Hello all! Welcome to the June edition of the
SRC
. Is it really June already? Wow! This year seems to be flying by at record speed. But it is always exciting, prepping and posting for reveal day. This month I was assigned Laura's blog "
Mother Would Know
". This month things were a tad different for me. I knew which recipe I was going to make in less than five minutes after I received my assignment. I think for me that's a new record. How did that come about? I saw a recipe that I'd wanted to try for a very long time about 4-5 years ago. It was almost an obsession. But due to non availability of the core ingredient, I had to focus on other recipes instead. A lot has changed since then. We moved to a different country on another continent and are thrilled to call it home. This lovely land comes with so much diversity, it threw open a whole plethora of ingredients to play with.
It all started when during one episode of Masterchef Australia, I saw a participant make an avocado chocolate mousse. Since then I've always wanted to try it out. So when I saw Laura's recipe for Avocado Chocolate Mousse, I knew I had found the one. Previously I had no access to avocados. Now I do, so that was one hurdle less for me. I pretty much had the rest of the ingredients in at hand so it was an easy choice for me. I am also very eager to try a few other recipes from Laura's blog, like these Individual Strawberry Shortcake Biscuits, these delicious Cronuts, these indulgent Nutella Espresso Cookies, an intriguing Apricot Hamantaschen and her Granita.
For now, lets talk about this Avocado Chocolate Mousse shall we. My husband is a big fan of chocolate mousse – a great big one! This version is quick and easy to make and has a fantastic texture just like the original version and can be served up almost immediately. This recipe is fantastic if you want to whip up a delectable dessert for last minute company. Or if you don't care for the egg in a mousse. Yes, you heard me. This is an eggless chocolate mousse. I added a little brandy at the very end and mixed it through for an adult version of the dessert. But you can leave it out if you are going to be serving it to children. Or go wild and think of the number of variations you could come up with by substituting the brandy with your favorite liqueur.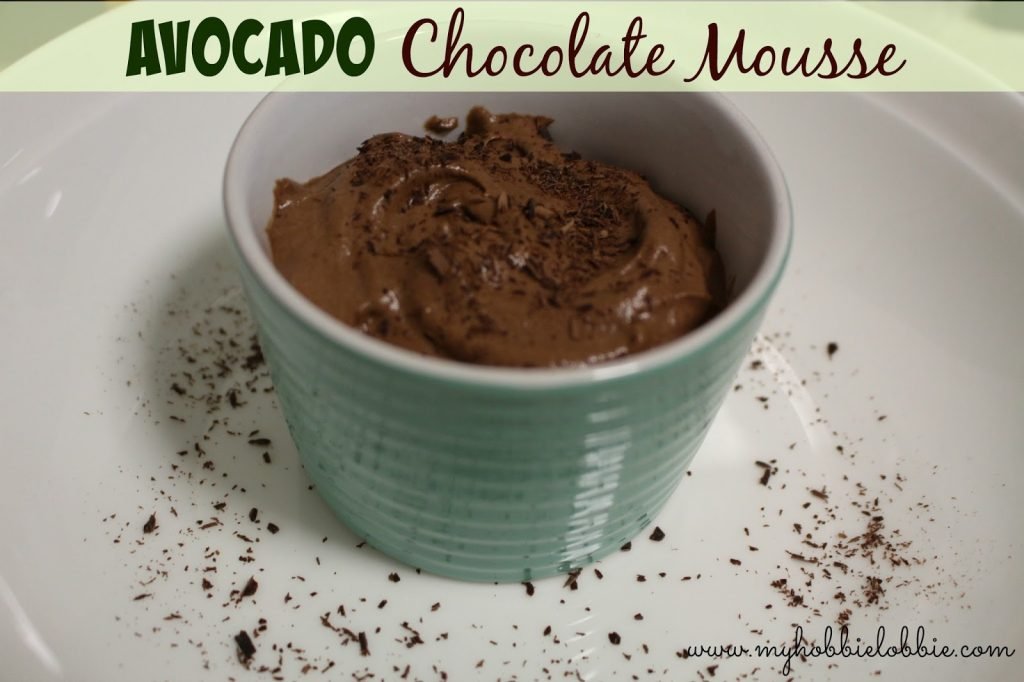 Avocado Chocolate Mousse
Serves 4
1 ripe avocado
1/3 cup unsweetened cocoa powder
1/2 cup dark brown sugar (the original recipe calls for light but I didn't have any)
2 tbsp semi sweet chocolate, melted
2/3 cup milk
1 tsp vanilla extract
2 pinches of salt
1/2 cup heavy / whipping cream
1 tbsp brandy
Place the chocolate in a heatproof bowl over a bigger bowl of simmering water. The small bowl should sit snugly over the bigger bowl of water but not make contact with the water. (This is what they call the double boiler method.)
Whip the cream in a separate bowl till stiff peaks form.
In another bowl mix the avocado, cocoa powder, sugar, melted chocolate, milk, vanilla and salt. Use an immersion blender and blitz till you are left with a smooth, luscious pudding-like consistency.
Gently fold the cream through the chocolate mix till incorporated well. Do not overwork the mix or you will loose all the lightness in the cream.
At this stage, I added the brandy and gently folded through.
Cover and refrigerate. You could also portion out the mousse into individual portions and cover the bowls and refrigerate.
Since most of the ingredients used are at a cooler temperature anyway, you should be able to serve this mousse very soon.
Top with berries of your choice, if desired.
If you have more zucchini than you know what to do with, yesterdays savoury
Cheesy Garlic Zucchini Bread
and this vegan chocolate  cranberry zucchini bread should give you a couple of options. It is amazing how versatile zucchini is. It lends itself to both sweet and savoury recipes really well.
I was happy to find a vegan bake recipe, because I have quite a few readers / followers that would love an eggless bake like this. That coupled with the fact that it is so easy to make, makes this a must try recipe. I was glad I tried this recipe and it is a keeper for sure. The bread is nice and moist, light and chocolatey.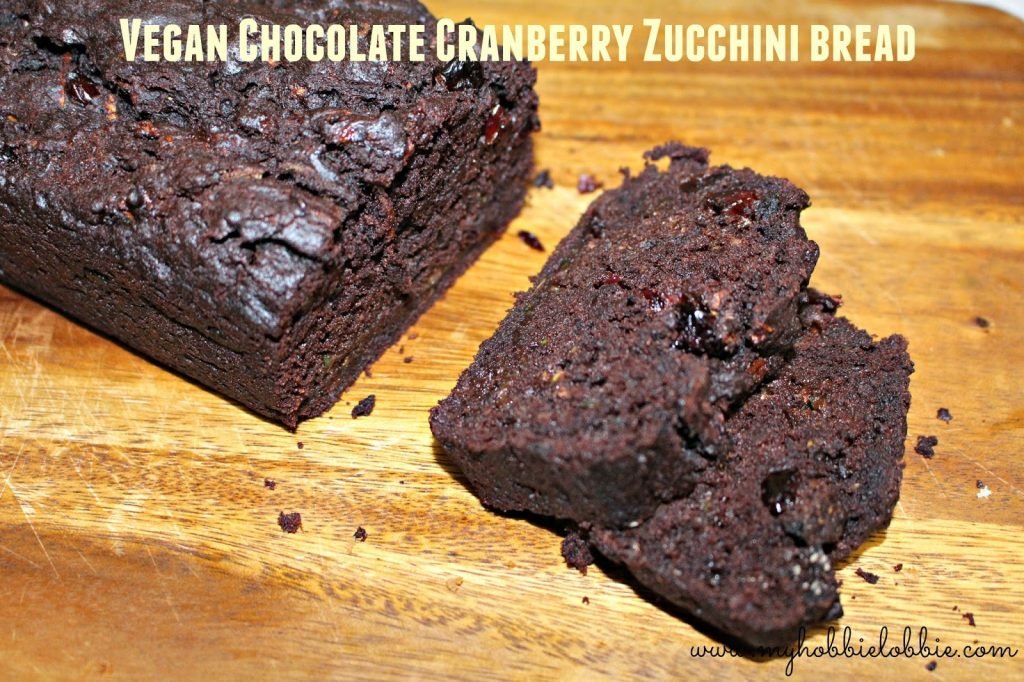 Vegan Chocolate Cranberry Zucchini Bread
Recipe from: Popsugar
1 1/2 cups zucchini, grated
1 cup whole wheat flour
1/2 cup unsweetened cocoa powder
1 tsp baking soda
1/4 tsp baking powder
1/4 tsp salt
1/2 tsp cinnamon powder
1/4 tsp allspice powder
1 large ripe banana
1/2 cup white sugar
1/2 cup canola oil
1 tsp vanilla extract
1/2 cup dried cranberries
Preheat the oven to 180ºC and lightly grease a lined loaf tin.
In a large bowl, mix the flour, cocoa powder, baking soda, baking powder, salt and spices and set aside.
In another bowl, mash the banana and mix in the sugar, oil and vanilla. Fold in the grated zucchini.
Stir in the dry ingredients while being careful not to over mix.
Fold in the cranberries.
Pour the batter into the prepared loaf tin and bake for 40-50 minutes or until a toothpick inserted comes out clean.
This is my last
SRC
post from my current home in India. Hopefully, it won't be my last. We're moving from Mumbai to Sydney in a few days time and I'm looking forward to blogging from my new home there. These last couple of weeks have been absolutely frenzied in terms of activity levels. We've just gotten rid of almost all of our stuff that we're not taking along with us, including both of my dearly beloved ovens.
For this months SRC assignment I was assigned the blog Jenna's Cooking Journey. Jenna's blog is full of yummy goodness and she has such a variety of baked goodies, that I was sad I wouldn't be able to try out one of her baked recipes which I had originally picked for this month's reveal, but hadn't got down to making it yet. And now that I didn't have an oven at my disposal, I went back to her blog to see what I could whip up. And you know what, I found a gem of a recipe there for no-bake cookies. The ingredients listed sounded delicious. I had everything I needed in the pantry waiting to be used before we took off, so that was another plus point. I knew I was going to try these cookies out. I'm so glad I did. These were not only easy to make and were so quick to put together, but they tasted divine. Thanks Jenna for sharing such a wonderful recipe. This one is a definite keeper for me. I know I'll be making these cookies more often. I stuck to the recipe as is and I'm glad I did. But in the future I know I'll be trying out other variants of these cookies to, it does seem like a recipe that is quite versatile. One thing I'll do a little different next time, is I'll cut the sugar quantity a little. Mind you, these cookies are NOT overly sweet, but my husband and I both agreed that we'd love it even more if it was a tiny bit less sweet. Do give it a try and see how addictive these little yummy mounds are. They remind me of a yummy bar of Snickers, with a big difference, I know exactly what's going into these. I halved the recipe and got a dozen cookies and those are the quantities I've listed below.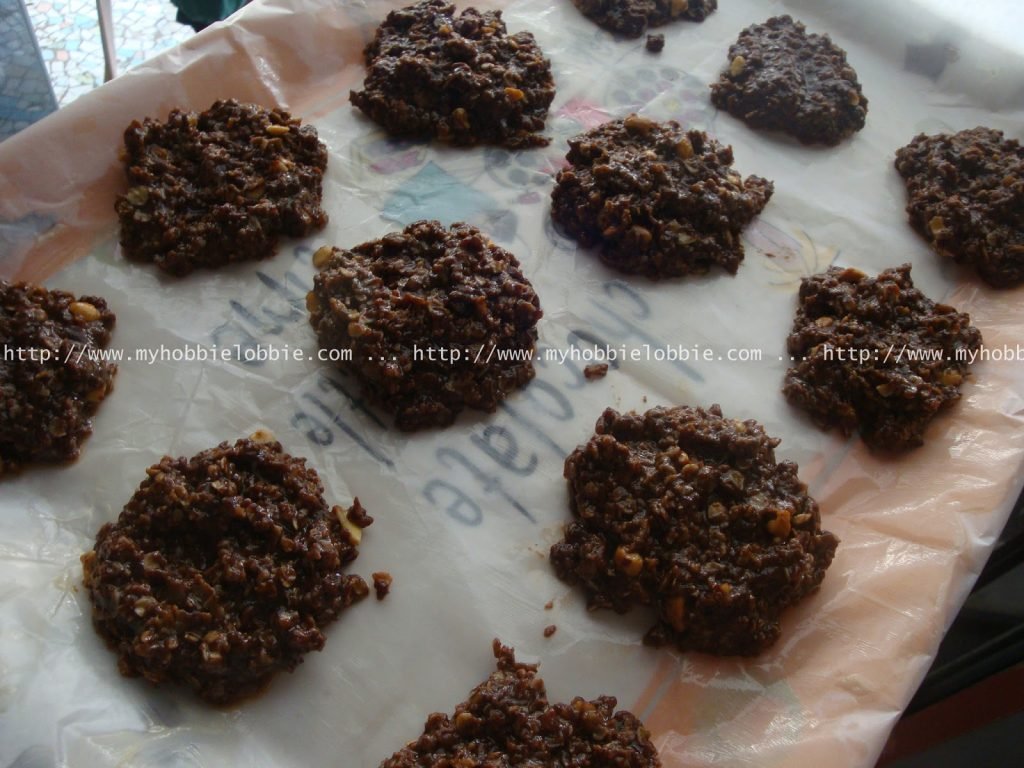 Chocolate Oatmeal No-bake Cookies
(Yields 1 dozen cookies)
1/4 cup butter
1 cup sugar
1/4 cup milk
2 tbsp. cocoa
1/4 cup peanut butter (I used the chunky variety)
1 1/2 cup quick cooking oats
1 tsp Vanilla extract
Place the butter, sugar, milk and cocoa in a saucepan on the heat. Bring it to a rolling boil and boil for one minute thereafter.
Stir in the rest of the ingredients till everything is well combined and drop spoonfulls of the mixture on some baking / parchment paper.
Let it cool to set.
Enjoy!!!
document.write('
This month my
SRC
partner was Aly of
Cooking in Stilletos
. Now isn't that an interesting name. Keeping with the theme is the tagline – Making the leap from Louboutin to Le Creuset. Aly comes across as a fun girl and with a blog name like that, this was no surprise! She's in Philadelphia and owes her earliest culinary experiences and memories to her grandfather who she lovingly refers to as Bampa. When you go on over, and you really should, be ready to treat yourself to a variety of yummy treats – both sweet and savory. Like me, Aly seems to be a Nigella Lawson fan. You will find quite a few of her recipes on Aly's blog.
Now I just couldn't let a coincidence like that go to waste. So when I was going through her blog and came across her post on Nigella Lawson's Chocolate Peanut Granola, I knew I had found my recipe for this month. My husband and I love granola, but in Mumbai, its becoming increasingly hard to purchase good granola. Some of the brands we used to enjoy a few years ago have simply deteriorated in quality to such an extent that I have stopped buying it altogether. That's where this recipe comes in. It just called out my name 🙂
This granola was so quick to put together. While it is in the oven, just as an added bonus, your house will smell divine. The list of ingredients is impressive and while I wouldn't have changed a thing, I had to substitute the nuts and fruit in the list for ones that I have on hand. I'm trying to use up ingredients in my pantry and trying to not purchase stuff that I can do without. Why? Well that's a good question and stay tuned to know why. I have news to share with you and I'll do it soon, but I don't want that to hijack this post. This granola sure deserves a post of its own. I love that way it tastes with the cocoa and the cinnamon and you'll get a little chewiness, a little crunch, just perfect for a granola. I have found myself a great recipe for homemade granola. Thanks Aly!
Here's a snapshot of the tray before it went into the oven –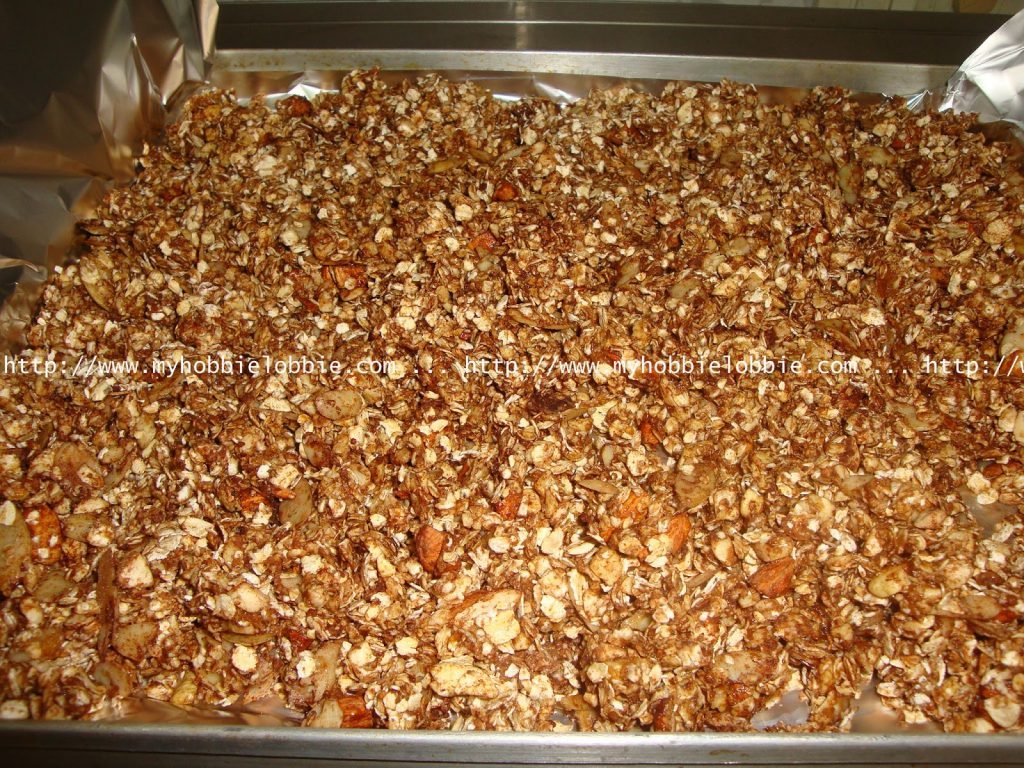 And here's what it looks like after it comes out. Remember to add the cranberries and raisins once it has cooled down. Glorious breakfast goodness, isn't it. Without any further delay, lets get to the recipe. I halved the recipe and you will find the quantities I used here along with the substitutions I made. For a look at the original recipe, click here.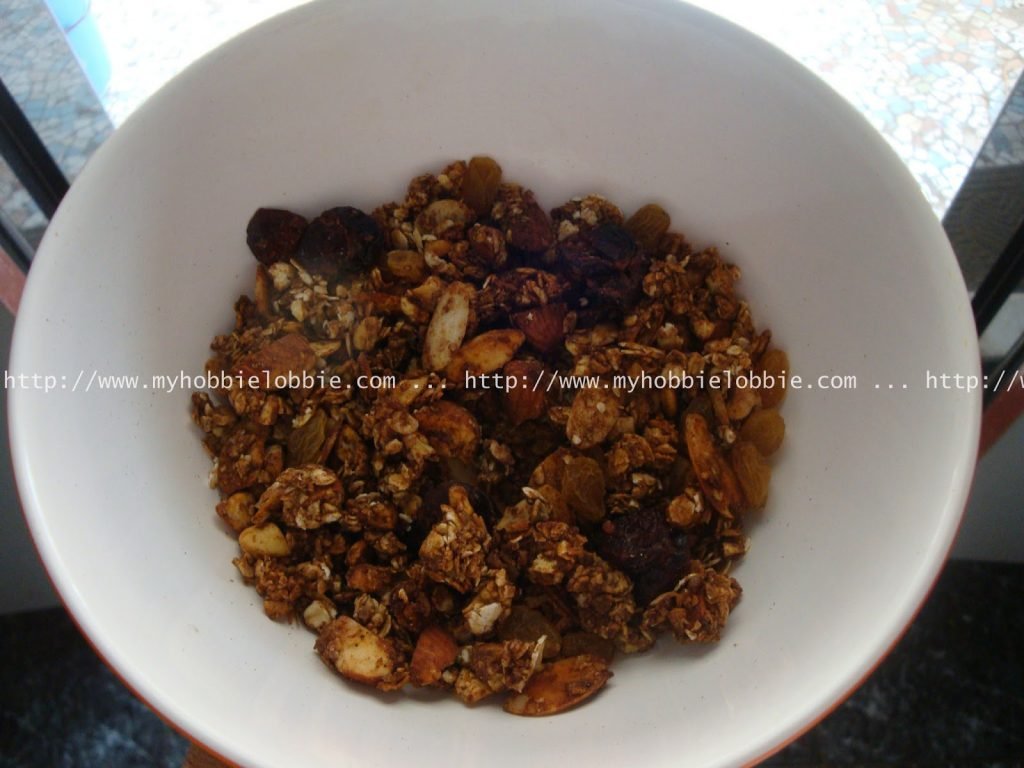 Nutty Chocolate Granola


1/4 cup good quality cocoa
2 1/2 cups oats
1/2 cup roughly chopped almonds
1/2 cup slivered almonds
3/4 cup chopped cashew nuts
1/3 cup applesauce
1 tsp cinnamon powder
1/4 tsp ground ginger
1/3 cup honey
1/4 cup light brown sugar
1/2 tsp salt
1 tbsp. vegetable oil
1/4 cup raisins
1/4 cup dried cranberries
Preheat the oven to 160ºC.
Mix all the ingredients, except the raisins and cranberries in a large bowl.
Spread the mix onto a foil lined baking sheet.
Bake for 45 minutes, stirring the mixture every 15-20 minutes or so.
Allow it to cool. Add the raisins and the dried cranberries and mix to distribute well.
Store in an airtight container.
document.write('
I was just thinking back about my previous posts and experiments in the kitchen and what struck me was that a great many of them actually happened because of lack of availability of store bought options in India. Needless to say, I don't need an excuse to make things from scratch at home, I actually prefer it that way so that I know exactly what I'm eating. Having said that, sometimes its nice to have the store bought variants to compare with. This time around though, it wasn't going to happen since we don't get girl scout cookies here. I've been drooling over posts of these treats popping up all over the place now and then and finally decided to try them out myself. This recipe for thin mints is perfect to start of with, since it uses store bought Ritz crackers and so is fairly simple and quick to put together. Now, finding Ritz crackers itself it an impossible task here, but we do get a local variant called Monaco crackers and that's what I used today.
Nothing could be simpler than making these treats. But the end result is so satisfying. You get the subtle mintiness from the dark chocolate and the crunch from the crackers and all in all, I think its a fantastic combination. I know I'll be making these often.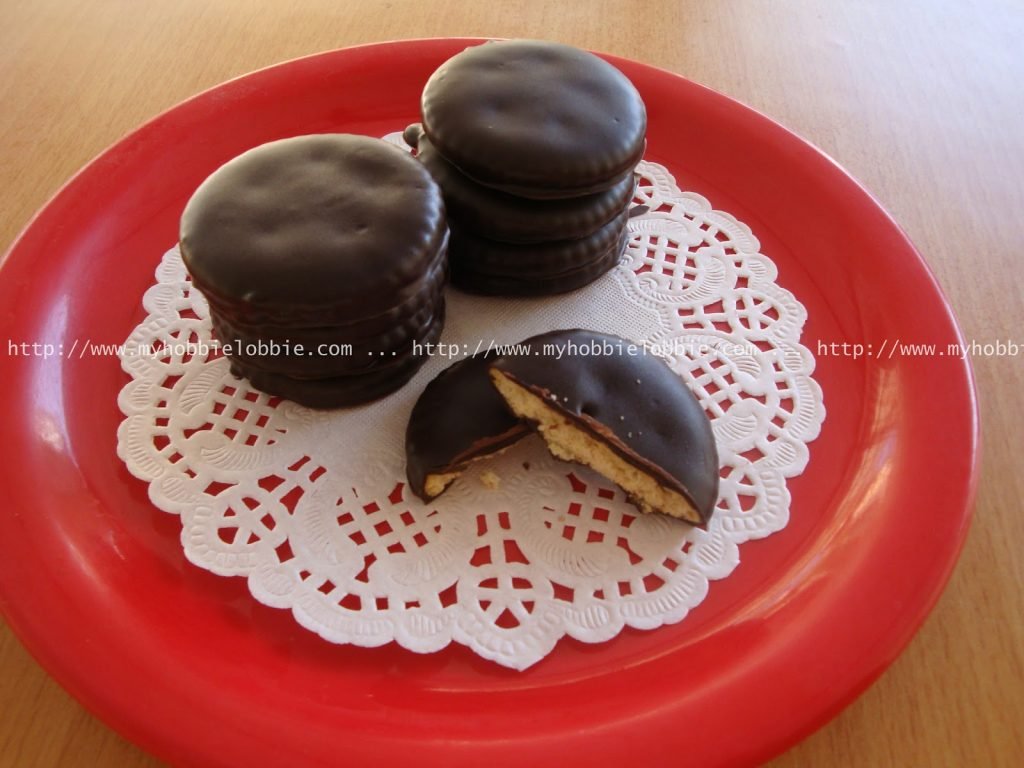 Thin Mints
Recipe from: Averie Cooks
Makes a dozen
120-150g good quality dark chocolate
A few drops of peppermint extract (Its fairly strong, so start with a couple of drops and add gradually till you get the strength of flavor you're looking for)
12 crackers (Ritz / Monaco)
Melt the dark chocolate in a double boiler.
Add the peppermint extract and stir well. Taste and adjust flavoring if needed.
(Note: If you accidentally add too much extract, you can still salvage the chocolate, simply add more melted chocolate to the bowl and mix. This should dilute the flavor.)
Dip the crackers in the chocolate and lift up using a fork. Let the excess chocolate drip off.
Place on a sheet of parchment paper and refrigerate for about 20 minutes to set. Alternatively, you could also leave these to set at room temperature.
Enjoy your very own almost homemade Thin Mints.
Don't forget to stop by and check out what the others have brought to the table for Week 6 of our 12 Weeks of Christmas Treats series, hosted by Brenda of Meal Planning Magic.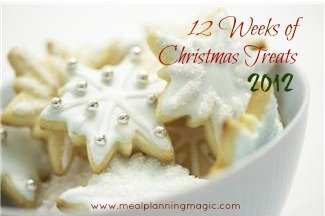 Is anyone up for quick, easy, one pot meals? I though so! Like so many of you, I too am constantly on the look out for one pot meal wonders. For me, its a tad easier when I have the option of using meat or seafood to flavor it up. This tava pulao took me by complete surprise. Tava means griddle and pulao means a savory rice preparation, so the name doesn't really talk about how wonderful this vegetarian one pot meal is. Tava pulao is also considered street food and can be found at street food carts in most parts of the city. I've seen a couple of such carts, and although I'm not a snob where street food is concerned (I love chaat), I just haven't been able to get myself to eat a portion. However, I did manage to sample this a few times at the office cafeteria. Those of you who've been subject to cafeteria food atleast in Mumbai, know exactly what I'm talking about. While being edible, their version of this pulao wasn't spectacular or even flavorful. You need a curry to go through it.
While I was on the hunt for some vegetarian recipes that I could add to my arsenal, I came across a recipe for Tava Pulao. I hadn't thought about this in a while and when I saw it, I decided that this was as good a time as any to try it out. So this was our Sunday lunch a while ago. Looking at the ease of putting this together, initially, I was a little skeptical about how it would turn out. But we enjoyed this so much, that I've made it on two other occasions since then. It has a lovely assortment of vegetables and is beautifully spiced. You can use whatever assortment of vegetables you have at hand. As far as the spices go, the original recipe calls for Pav Bhaji Masala. I didn't have any, so I just left it out and it turned out fine. I was questioning the practicality of having to buy an ingredient to use in just one dish and that kept me from buying it for a while. But I now want to try making my own Pav Bhaji (which is another favorite in our house), so I picked up a box of the masala yesterday. I'm eager to see how it impacts the flavor of this dish. So stay tuned to see how my Pav Bhaji making endeavor fares, but in the meanwhile, here is the recipe for the Tava Pulao.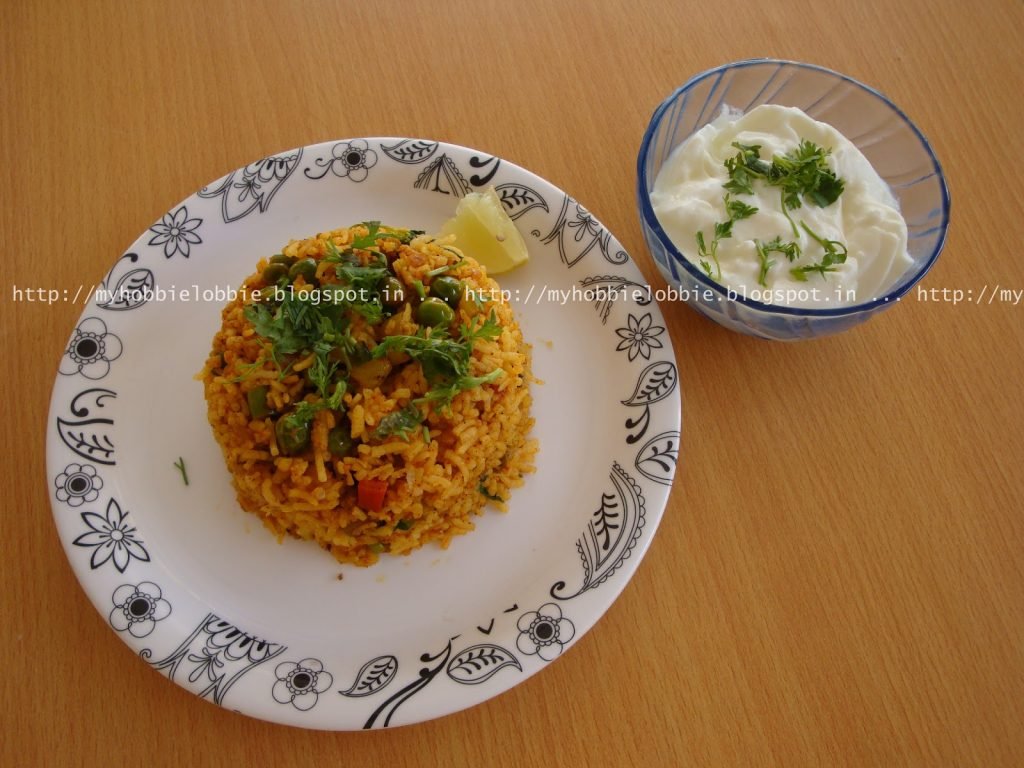 Tava Pulao
Adapted from: Sizzling Tastebuds
Serves 2
1/2 cup long grained rice
2 tbsp vegetable oil
1/2 tsp cumin seeds
1 large onion, finely chopped
1 cup mixed vegetables (I used green peas, diced carrot and chopped up french bean)
Salt, to taste
1 tsp coriander powder
1/2 tsp red chilli powder
1/2 tsp turmeric powder
1/2 tsp amchur powder (dried mango powder)
1 tsp garam masala powder
Lemon juice, a few drops over the rice
1 tbsp fresh coriander leaves, chopped
Wash and soak rice for about 10-15 minutes, then boil the rice till done. Don't overcook it, you don't want it to turn mushy. Using a fork, fluff up the grains of rice and let it cool down a little.
In a large pan (originally a tava is used, but I didn't have a large enough one, so I just used a pan instead), heat some oil and tip in the cumin seeds. Let them sputter while making sure they don't burn.
Add the onions and stir fry till slightly browned.
Add the chopped vegetables and saute for about 5 minutes. They should be cooked about 3/4 the way now.
Add the powdered spices and mix well, taking care that you don't mash the vegetables while stirring.
Add the cooked rice to the veggies and toss well to mix.
Add a dash of lemon juice and coriander leaves to finish off.
Serve this with some raita. I served it with a plain yogurt sprinkled with some chopped coriander leaves, but you could also serve a mixed vegetable raita instead.
This recipe is linked to –
Hearth & Soul
Trick or Treat Tuesday
Totally Tasty Tuesdays
Tempt My Tummy Tuesday