Winter is one of my favorite seasons. I love the chill in the air and everything that comes with it, especially after a long, hot summer. I love winter clothes, the food and the indoor days. But what I love most of all is rugging up on a chilly day with a piping hot mug of homemade hot chocolate. So today, I'm going to share with you how I make my basic hot chocolate from scratch in under 5 minutes. Yup, its quick, simple and divine.
Homemade Hot Chocolate
Makes 1 mug


3/4 cup (full fat) milk
1/4 cup heavy cream
1/4 cup dark chocolate, chopped
A few marshmallows, for topping (optional)
Combine the milk and cream in a saucepan and heat it over medium heat till it just about starts simmering. Do not let it come to a boil.
Add the chopped chocolate and whisk till dissolved.
Pour into a mug and top with marshmallows (if using) and sprinkle some grated chocolate on top.
Enjoy your very own Homemade Hot Chocolate!!!
Turmeric latte … Yay or nay?
This is a post I have been meaning to share for some time now. I know a while ago, turmeric lattes were all the rage everywhere. I was happy to see it gain popularity. We have been enjoying this golden cuppa for decades now.
I remember piping hot mugs of turmeric latte when I was a child. My mum would make this for us, usually before bedtime during the monsoons or winter, or when we had a cough or cold. Our version of the turmeric latte has some ingredients that are wonderful to soothe a sore throat. Turmeric, ginger and honey are all known for its health benefits. I was convinced that the only way I could get rid of a cough or a bad throat was with a mug of this golden goodness before bedtime.
If you need to chase those winter blues away or if you just need to cut down on your coffee intake, substitute your cup of coffee with this turmeric latte. Even though we used to have a mug of it just before bedtime, I now find myself reaching for this even in the morning or later in the day, when I'm craving a hot cuppa.
The way we make it, you don't need any fancy gadgets or equipment. Yes, you do need a couple of warming spices (namely, turmeric powder and ginger powder), but a little goes a long way, you won't need to purchase them often. We tend to have both powders in the pantry, so its really easy to fix up a batch of turmeric latte. This recipe is more just a guide. Tweak it to your liking for that perfect cup. This is how I like it.
Turmeric Latte


1 cup milk
1 tsp organic honey
1/4 tsp turmeric powder
1/8 tsp ginger powder
Place the milk, turmeric powder and ginger powder to a saucepan / pot. Whisk all the ingredients well.
Heat it over a medium high heat, till it is hot enough for you.
Place 1 tsp honey in your mug. Top with the turmeric milk. Stir well till the honey is dissolved.
Enjoy!!!
Veggies – Love Em or Hate Em?
In my house, we love veggies. Whether it is steamed, in a curry, stir fried or straight up in a salad, we love it all. We are trying to include more veggies in diet as much as we can, because it is healthier for you. And when you eat what's in season, it tends to be a lot easier on the pocket too. I try to eat local produce as much as I can and always go for what's in season.
When I came across a recipe for a vegetarian Shepherd's Pie, I knew I had to try it. It calls for a bunch of veggies, which most of us usually have on hand, and lentils. We eat a lot of lentils, pulses, legumes, so I knew this would be an interesting way to switch things up. There are a few processes involved in the recipe, but they are all really simple and I loved that there were leftovers.
This Veggie Shepherd's Pie is chock full of veggies and lentils and is the perfect meal for a cold, wet day. The veggies and lentils are full of flavor and are topped with mashed potatoes.And who doesn't love mashed potatoes?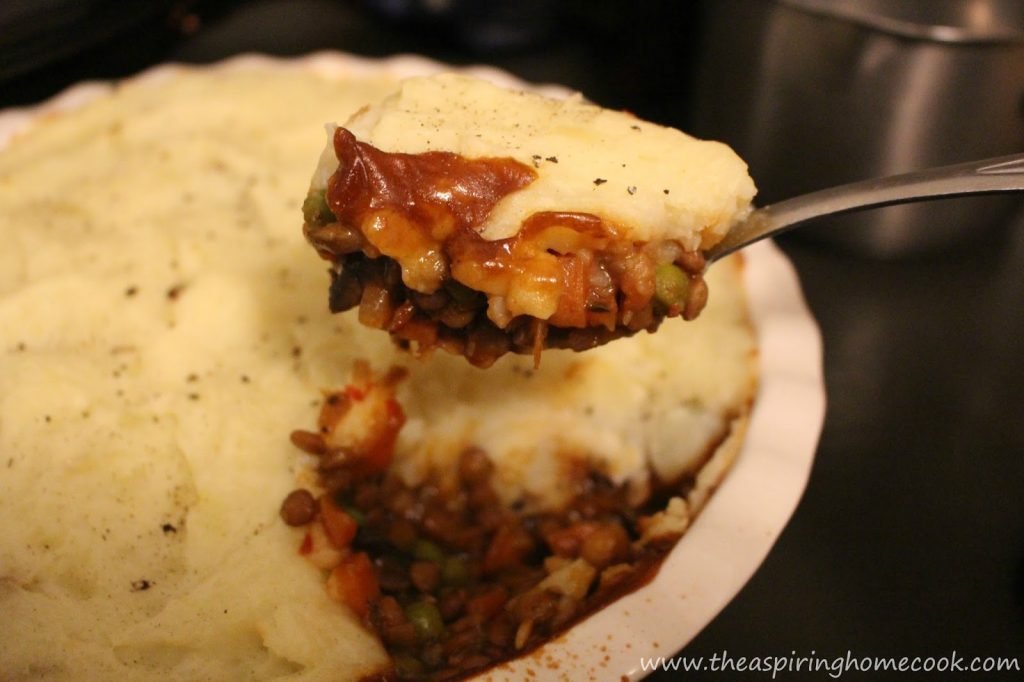 Vegetarian Shepherd's Pie
Recipe from: Budget Bytes
1 cup cooked lentils
1 tbsp olive oil
2 cloves garlic, finely chopped
1 large onion, chopped
3 carrots
2 stalks celery
Handful of button mushrooms, sliced
Salt, to taste
1 tsp dried thyme
1/2 tsp smoked paprika
Freshly cracked black pepper, to taste
1 tbsp tomato paste
1 tbsp flour
1 cup vegetable broth
1 cup frozen peas
6-8 potatoes, depending on size (You need enough to make about 4 cups worth of mashed potatoes)
A knob of butter (optional)
Heat olive oil in a large skillet over medium heat.
Add the onions and garlic and saute till the onions have softened.
While the onions are cooking, dice the carrots and celery to 'more or less' resemble the size of the peas and lentils.
Once the onions have softened, add the diced carrots and celery to the pan and cook till the celery has started to soften.
Now add the sliced mushrooms, salt, thyme, smoked paprika and pepper to the pan. Stir well to let the spices incorporate. Continue cooking till the mushrooms have fully softened.
Add the tomato paste and the flour to the pot. Stir and continue to cook the veggies till they're coated and the pasty mix starts to coat the bottom of the pan. This should take about 2 minutes.
Add the vegetable broth to the pan. Stir to dissolve the flour and tomato paste that has coated the bottom of the pan.
Bring the broth to a simmer. It will have started thickening. Add in the cooked lentils and peas and let them all heat through.
Taste for seasoning and add more salt and pepper if needed, stir through and take the pot of the heat.
Preheat your oven to 200ºC.
Wash and peel the potatoes and cut them into cubes to cut down on cooking time.
Boil them in salted water till tender. Drain and mash the potatoes with the butter (if you are using) till no lumps are left. Taste and add more salt, if needed.
Add the vegetables to a large casserole dish (I used my 9 inch ceramic pie dish). Top with the mashed potatoes. It is easier to handle the mashed potato when it is still warm. I used the back of a spoon to flatten the mashed potatoes. You can choose to use a fork or a spoon to create a decorative pattern if you'd like.
Bake for around 15 minutes till everything has heated through. If you want the mashed potatoes to brown some more, place it closer to the top heating element of your oven, or turn your broiler on (if your oven has that function) and bake for a few more minutes. Watch closely and when it has browned to your liking, take it out of the oven.
Sprinkle some more freshly cracked black pepper over the top and serve hot.
Enjoy your veggies!!!
Pin this now for later –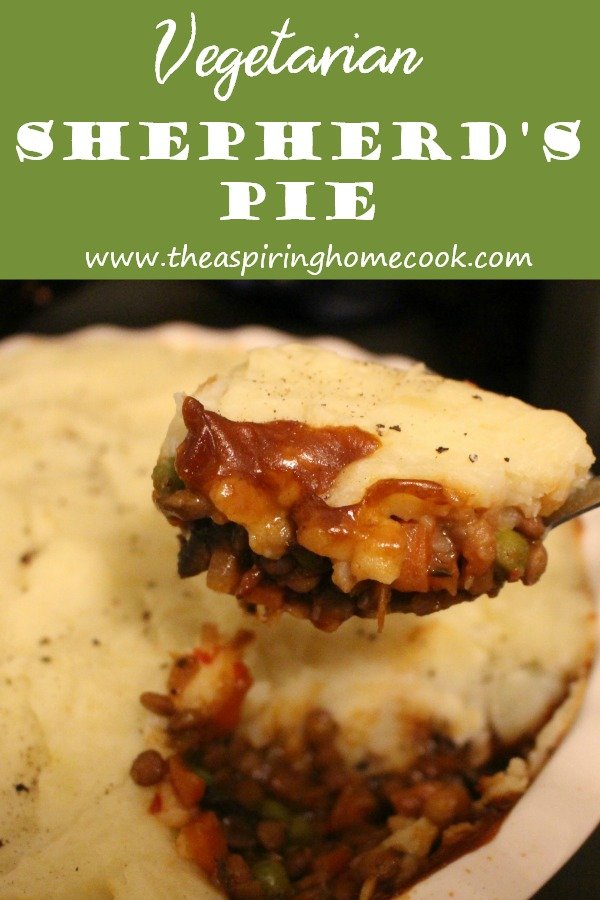 It's been a while since I posted an Indian recipe. Especially a savory one. And today, I'm going to do just that. Indian recipes often get a bad rep for being notoriously complicated, or mind numbingly spicy or involving too many ingredients. Today's recipe will prove all of that wrong. Today, I am going to share with you my Mum's recipe for a vegetable Sambhar. My mother has always been a fantastic cook and when she visited us last year, I was lucky enough to learn how she makes it. There's a couple of steps to follow, but they are so easy and quick, you'll be pleasantly surprised at how easy some Indian recipes are.
Here, on The Aspiring Home Cook, I love to make things from scratch. I have tried a made from scratch version of Sambhar too, and it was okay, but didn't turn out like my Mother's did. So for this one, I'm following her recipe and since she's uses a store bought blend called a Sambhar Masala, I did just that. This Sambhar Masala is a delicately balanced blend of spices and gives a beautifully complex depth of flavor to the dish. Now, I always have a box of this masala in the pantry. I've used a couple of brands in the past like Everest and MDH, both of which you should be able to find at your local Indian grocery store, and they are both good. This time around, I've used the Everest Sambhar Masala.
Moving on to the vegetables. I use a mix of all sorts of veggies. This time around, I used some sweet potato, carrots, eggplants (I grew these ones in my own backyard, so I'm thrilled about them), okra / lady fingers and drumsticks. You can also use bottle gourd (white pumpkin), pumpkin and potato if you like. Use what you have on hand. Typically a sambhar always has drumsticks, eggplant and some bottle gourd. For those of you who aren't familiar with drumsticks, its the fruit of the moringa plant and supposed to be very good for you. They come in long canes ranging from 1 to 2 feet in length. They are chopped into smaller pieces, about 2 inches long and you don't eat the outer hard skin. Your after the pulp on the inside and the seeds. It is eaten much like how you would scrape the icing from the inside of an oreo cookie with your teeth.
This sambhar can be served up with some plain, boiled rice and a side of papad (poppadums) and Indian pickles of your choice. This sambhar pairs very well with idlis or dosas. I also enjoy a bowl of this stew with some crusty bread.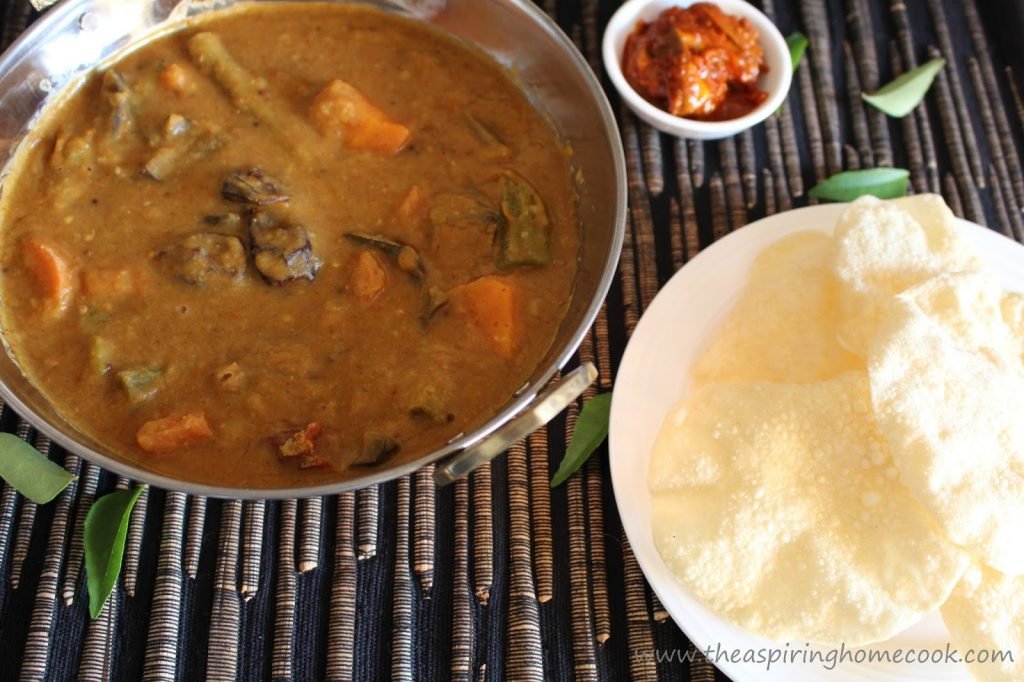 If you want to see this being made, check out the video version of the recipe here –





Vegetable Sambhar


1 cup toor dal (pigeon peas)
1/2 sweet potato
2 carrots
A handful of okra
2-3 small eggplants
A couple of drumsticks (A handful of frozen pieces)
8-10 curry leaves
1/2 tsp black mustard seeds
3 dried Kashmiri chillies
1 tbsp Sambhar masala
1/2 tsp Kashmiri chilly powder, or any mild red chilly powder
1 tbsp olive oil
Salt, to taste
Tamarind, the size of a small walnut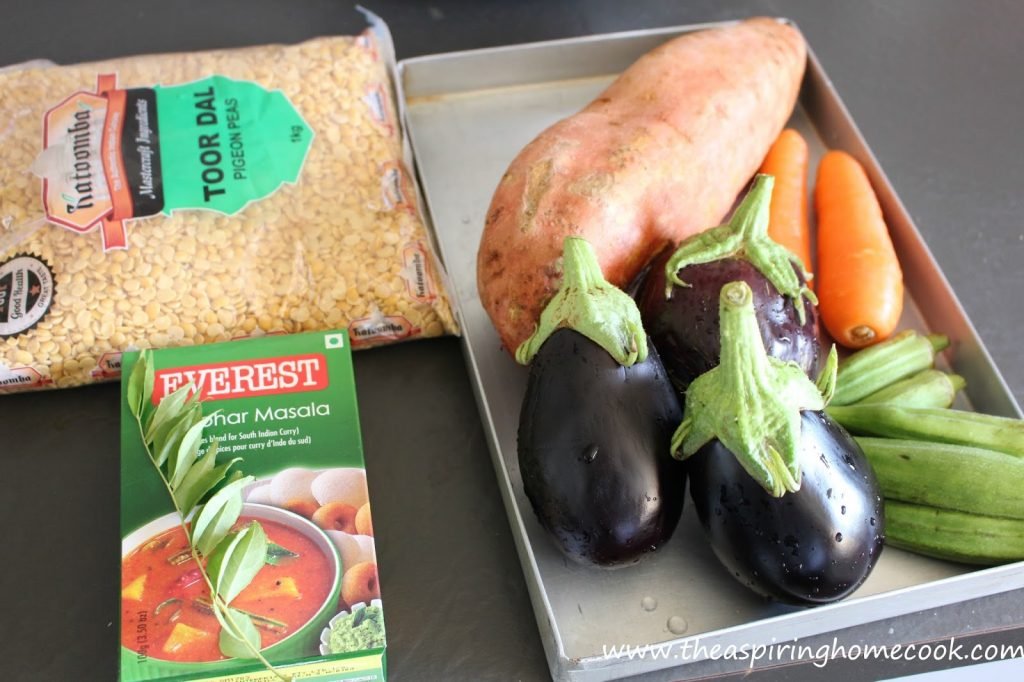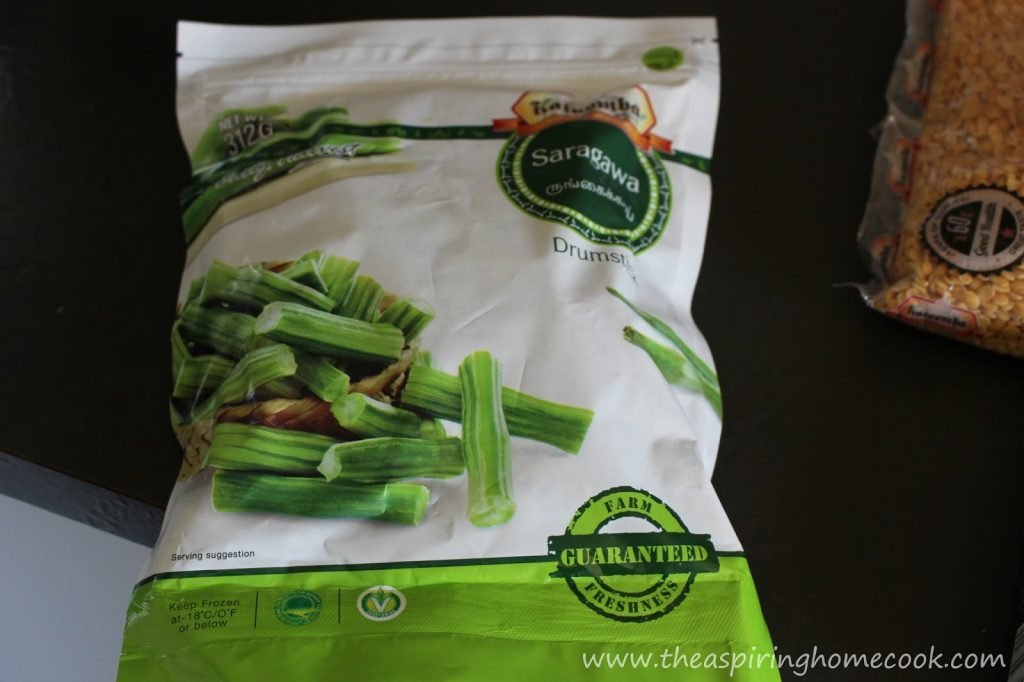 Cooking the lentils –


Wash through the toor dal with cold water and drain. Do this 2-3 times.
Cover the dal with fresh water till the dal is fully submerged and set aside to soak for about 10 minutes.
While the dal is soaking, chop up the vegetables you are using into similar sized cubes.
Drain the dal, and rinse through with fresh water and drain again. Pressure cook the dal with 2 cups of water and 1 tsp of salt. Cook till tender, almost mushy. It takes about 5 minutes in my WMF pressure cooker. Follow your manufacturers instructions to get you the best results. If you don't have a pressure cooker, simply boil it in a pot with plenty of water till it is well cooked.
Once the pressure dies down, open the pressure cooker.
Cooking the vegetables –
While the dal is cooking, place the chopped vegetables in a large pot, top off with water from a recently boiled kettle and 1/2 tsp salt. Boil the veggies till they're almost done. Don't over cook the vegetables, because they will continue to cook in the sambhar. When the veggies are ready, drain them and set them aside. Reserve the water the vegetables were boiled in.
To make the sambhar –


Soak the tamarind in a small bowl with about 1/8 cup of warm water. Set aside till later.


Heat 1 tbsp of olive oil in large pot on medium heat.
When the oil is hot, carefully tip in the mustard seeds. When they start to sputter, add the curry leaves and the Kashmiri chillies.
When they have warmed through and released their flavors and aromas into the oil, lower the heat and add the cooked lentils and the water it was cooked in. Stir through.
Now add the sambhar masala and red chilly powder and stir through.
Add 1/2 – 1 cup of the vegetable stock to loosen the lentil curry as needed. You can add as much or as little of the stock as you need, depending on the consistency you'd like the sambhar to be. Keep in mind, the sambhar tends to thicken a little as it cooks.
Bring this back to a boil and add the cooked vegetables.
Once everything has heated through, check for seasoning and add more salt, if needed.
Now, mash the tamarind with your fingers in the water it was soaking in to extract the pulp. Pass this through a sieve into the pot of sambhar. Add this tamarind extract to taste.
Let it simmer for a couple of minutes.
Serve hot!!!
Hello! It's me. I'm so glad you are still here. I've been missing on the blog recently as we've just moved house. But I'm happy to report that after a couple of insane weeks of packing, cleaning and unpacking, we are mostly settled in and I'm back to my regular routine. While this was happening, winter seems to have well and truly set it. You won't find me complaining, because I LOVE winter. Its the season for soups, stews, warm puddings and lots of baking – all my favorite kind of things.
Speaking of warm puddings, I have a list of them I want to make this winter and hope the next few weeks will give me an opportunity to share them with you here. I have always wanted to try making some rice pudding (known as kheer in India) at home. Each time I walk by the frozen dessert section at Coles, I'm tempted to pick up a pot of rice pudding. But I don't, because surely it couldn't be too hard to make some at home. The problem is, I just never got around to doing it. Until now.
Usually rice pudding is made using uncooked rice. I recently found myself with some leftover plain Basmati rice from lunch and I didn't want it to go to waste. Waste not, want not, right? So I decided that I was going to try and use it to make some rice pudding instead. After a little searching, I found just the recipe I was looking for. A no-nonsense approach to a rice pudding that used leftover rice. You've probably ended up with some extra rice from an Indian takeout lunch / dinner on occasion. Don't throw that stuff out. Transform it into this glorious, rich and creamy rice pudding in no time with a few pantry staples.
BTW has anyone seen the latest mini series on ABC called War on Waste. Such an eye opener. It is shocking how much food is wasted regularly in households, among other wastage. This is a great way of reducing household food wastage. I love finding ways to reduce wastage. Do you have any recipes that use leftovers and cut down on food wastage? Tag them on Instagram using #MyWarOnWaste and lets help inspire people to reduce waste.
So go ahead and try it out. You can serve it as a beautiful tea time treat or as dessert. Any leftovers can be refrigerated. You can enjoy your rice pudding both warm or cold. Personally, I prefer mine warm, which works really well on colder days. I'm really glad I tried making this pudding at home. Who knew that something this tasty and satisfying could be this simple to make.
My rice pudding has a yellowish tint because I added a few strands of saffron to the pot while cooking it. You can leave it out and it will look like regular rice pudding.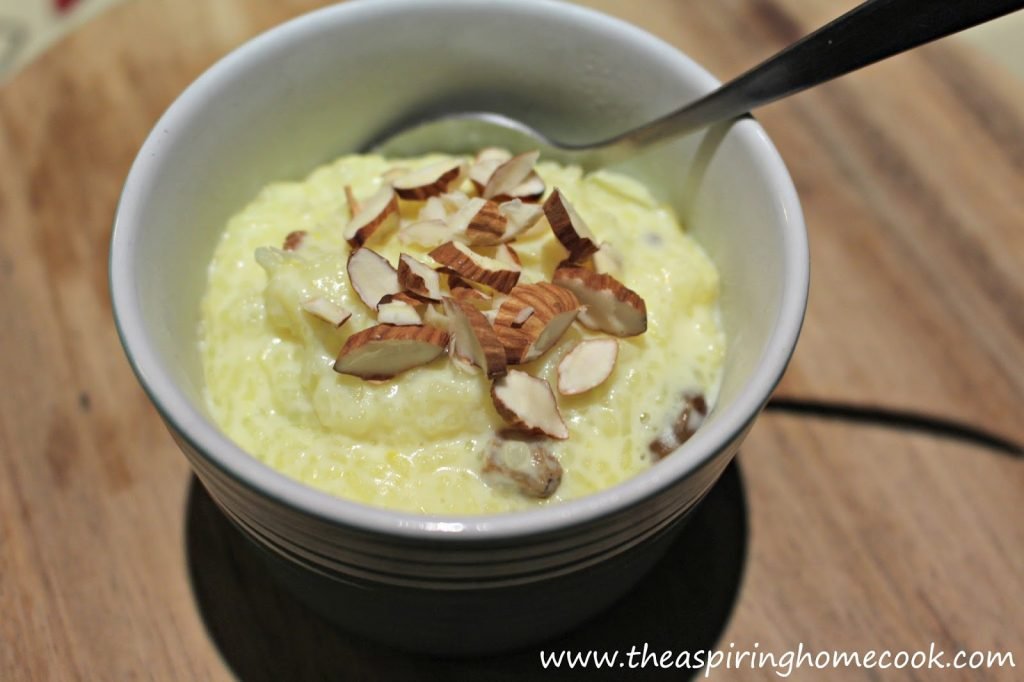 Rice Pudding
Adapted from: Fatima Cooks


1 cup cooked rice (I used leftover Basmati rice)
2 cups milk
1/4 cup sugar, or to taste
1/4 tsp cardamom powder
A few strands (4-6) saffron (optional)
A few raisins
A few almonds, roughly sliced / chopped
Place the rice, milk, sugar, cardamom powder and saffron strands in a pot.
Cook on medium heat, stirring continuously but gently. Scrape down the sides and the bottom of the pan regularly. Cook till the milk has reduced and has become a thick, cream like consistency. It is okay if some of the rice grains break down. It helps thickening the pudding. But don't mash the rice completely. You want a little texture in there.
How thick you want the pudding to be, is upto you. Just before it is done, add the raisins. Turn it off the heat when it has thickened to your liking. I find that heating the raisins through the pudding plumps them up a bit and makes them extra yummy, rather than just placing the raisins on top.
Serve in bowls and top with some sliced / chopped almonds.
Enjoy!!!
If you want more ideas like this to help reduce food wastage and save money, follow me on Pinterest here.
Hello everyone and welcome to our August installment of the
Secret Recipe Club
. This month I was assigned Traci's blog,
Burnt Apple
. What a fun adventure looking through her blog was. She has so many recipes I want to try; and so many ingredients I've never worked with before. A lot of her recipes are healthier versions because Traci strongly believes in using whole foods and natural sweeteners, from what I've seen. That being said, it doesn't mean she doesn't have some fun recipes in there – check out these
Bacon Cheddar Fries
,
Baked Churros
,
Crispy Cinnamon Raisin French Toast
and this
Baked Blueberry French Toast
. I'm hoping to try these out sometime soon. But after a month of packing, moving, unpacking and settling in, while working full time. I needed something comforting and super simple. Something warm would be a bonus, because we are smack bang in the middle of winter. So, I decided to try out her
Healthy Hot Cocoa Mix
for reveal day. But that's not all. I have a bonus recipe, yup I made a second treat from Traci's blog that I will share later in the week.
So back to this mix. You wouldn't believe how easy this was. 3 ingredients in a bowl, mix everything together and store. Then you simply store as needed. Traci used a healthier sweetener for her mix, but I used her basic version, using what I had on hand, which is why I'm calling it simply a Homemade Hot Chocolate Mix. I'm thinking this would make a fantastic present for Christmas, all dressed up – atleast for those of you who have a wintery Christmas. As for me and my husband, we are going to enjoy this right now. **slurrp**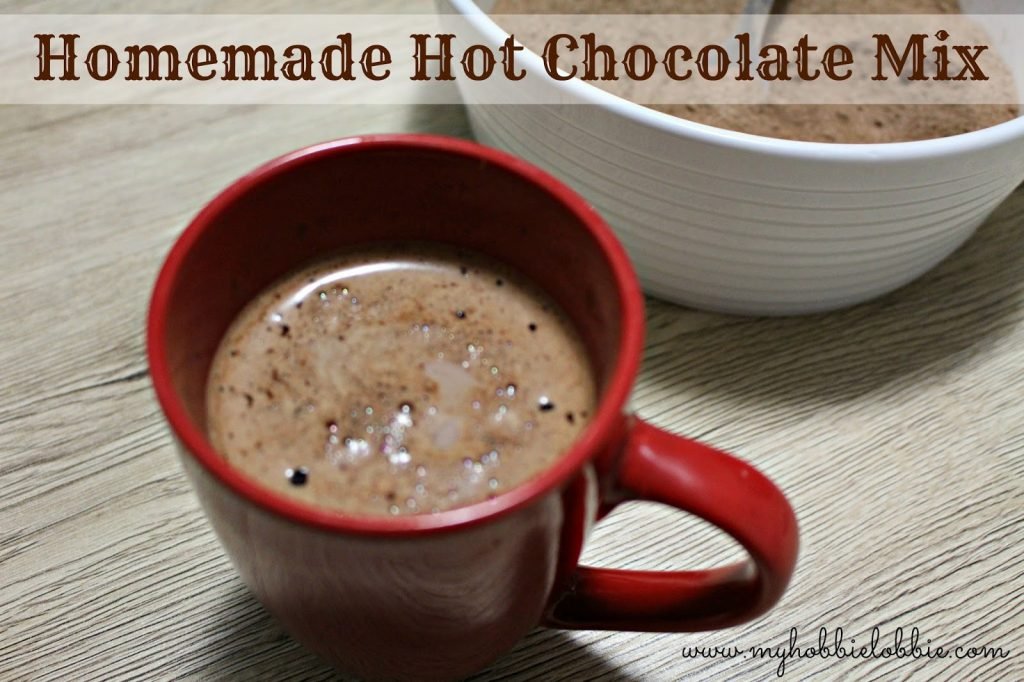 Homemade Hot Chocolate Mix


3/4 cup cocoa
1 cup sugar (I will cut this down to 3/4 cup next time) (Adjust to your liking)
1 tbsp cornstarch
Combine all the ingredients in a bowl thoroughly.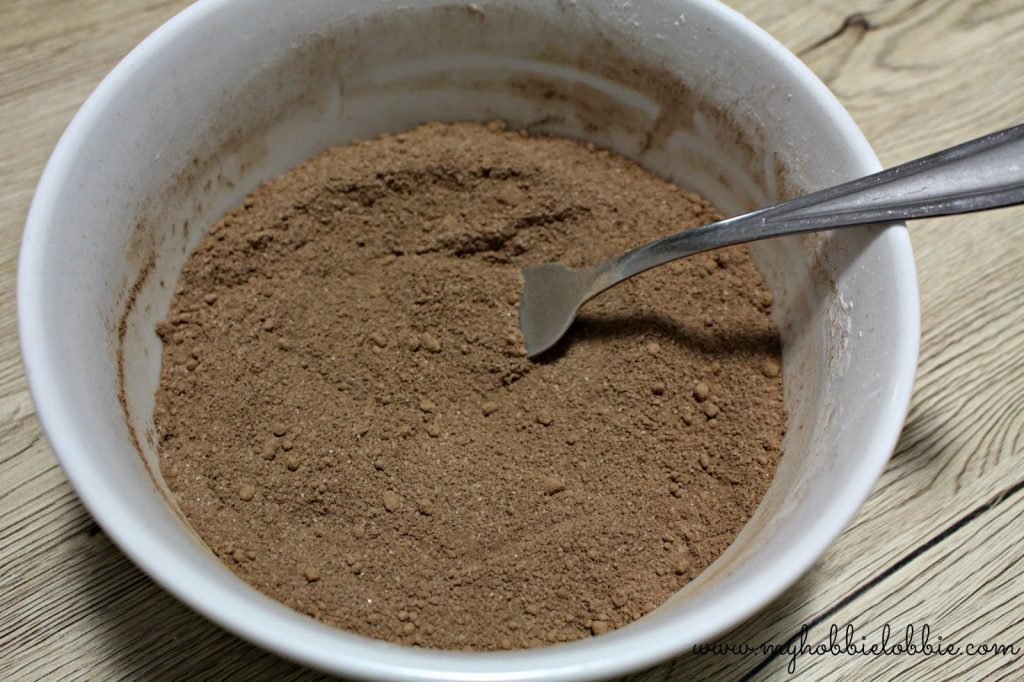 Store in an airtight container.
To use, simply place 2 tbsp of the mix in a mug and top off with milk.
Either heat in the microwave for 60 seconds and then in 30 second increments till it is hot enough for you. Or simply heat in a saucepan on the stovetop on a low heat, till it is hot enough for you.
… and ofcourse, every hot chocolate is better with some marshmallows 🙂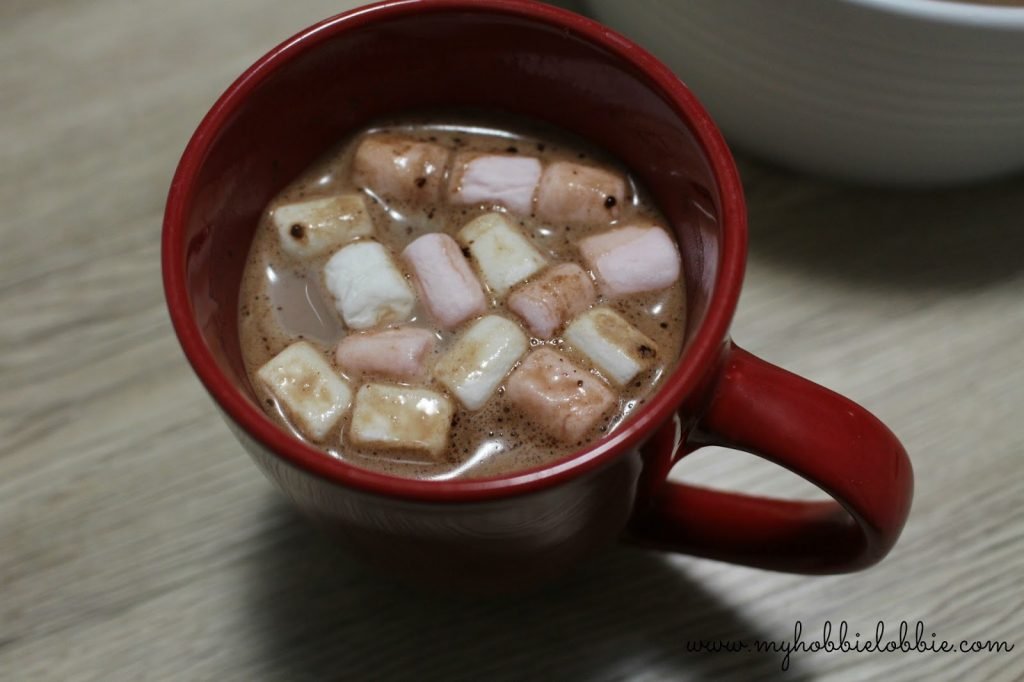 Don't forget to check out what other bloggers in Group A have whipped up for this reveal!
Okay, so it's time for the July edition of
SRC
. The last month has just whizzed by. Its been a huge whirlwind of activity. We've had to hunt and finalize another place to move into as our current lease is almost done. That, along with a full time job that sometimes feels more than a full time job has taken over the last month. I haven't had time to do much else. But I did do this assignment for today's reveal. And it was so very good.
For this month's SRC assignment I had Karen's blog, Lavender and Lovage. If you haven't visited Karen's blog yet, you should, you really should. Karen is a freelance writer and recipe developer who toggles between Yorkshire and France. These influences on her food is evident. Her blog is gorgeous and she has one of the most delicious recipe lists I've come across. I literally wanted to make every second recipe I saw, if not every single one. I was torn between these perfect Scotch Eggs, these super comforting Beer Battered Fish and Chips and this gorgeous Dark Sticky Double Gingerbread. I still intend trying all of these but I needed something that was not too fussy, but was still delicious and comforting. So when I saw Karen's recipe for the Carrot, Cumin and Tomato Soup, I knew I had found a winner. I had the carrots and tomatoes on hand. All I had to do was pick up a little cream and croutons of some sort. I got some bagel crisps and they were beyond perfect. This soup is so easy to make and with just a few basic ingredients, its hard to believe how delicious and hearty it turned out. Thanks Karen, this is a soup I know I will make often.
I stuck with the original recipe, except I halved it, since I was cooking for just the two of us .The only tiny change I made was I used fresh coriander leaves as a garnish instead of the parsley used in the original recipe.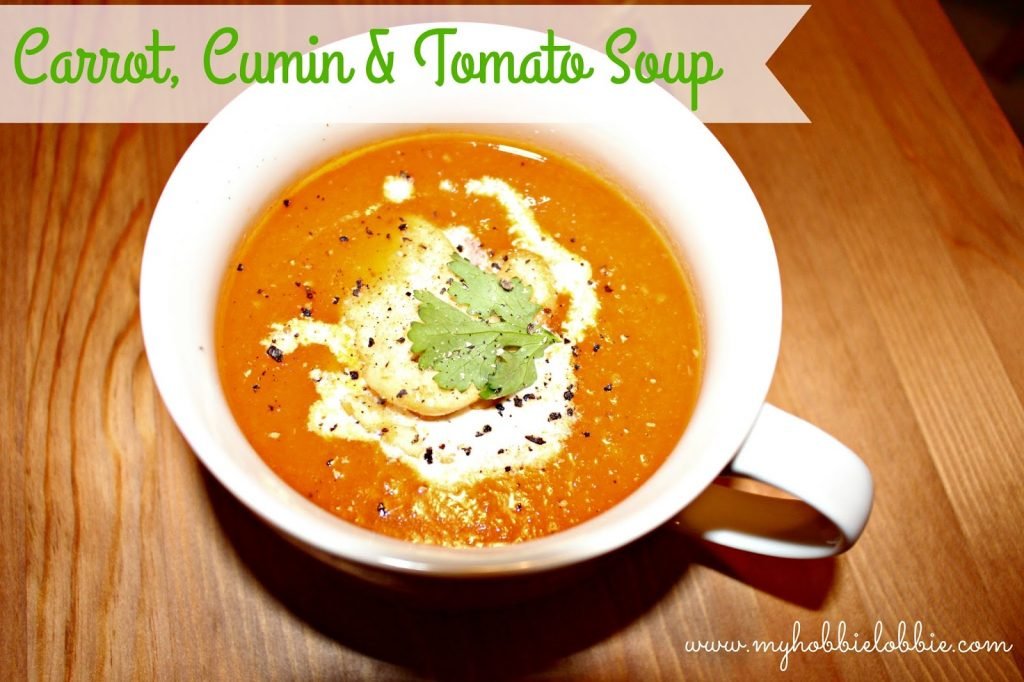 Carrot, Cumin & Tomato Soup
Serves 3-4
1 tbsp olive oil
1 onion, chopped
2 cloves of garlic, peeled and finely chopped
3 carrots, diced
4 tomatoes, sliced
1 tsp cumin powder
1/2 litre of vegetable / chicken stock
Salt, to taste
Freshly cracked black pepper, to taste
A couple of tbsps. cream, to top of the soup bowl (optional)
Fresh coriander leaves, for garnish
Bagel crisps, or any other croutons of your choice
Heat the olive oil in a pan and add the garlic and onion and stir fry till the onions have softened and slightly browned.
Add the cumin powder, tomatoes and carrot and saute for a minute.
Cover the pot and let it all cook for about 5 minutes till the tomatoes get a little mushy and the cumin is nice and fragrant.
Add the hot stock and stir well.
Season with salt and pepper.
Cover the pot and let it simmer for about 30 minutes or till the carrots are cooked through and are nice and tender.
Let it cool a little and then carefully blitz the soup using an immersion blender or a regular blender.
Serve up with some croutons and garnish with a drizzle of about a tablespoon of cream and fresh coriander leaves.
Enjoy!!!
Don't forget to check out what the other blogger's in Group A whipped up for today's reveal.
The last couple of months have somehow seemed to sneak past. It is hard to believe that it is May 2016 already. The good part about coming into a new month is the
SRC
reveal day. This month, I was assigned Sally's blog,
Bewitching Kitchen
. I was so excited when I got this assignment. I've always been a huge fan of Sally's blog. Sally is a fascinating person. By day, she is a Biochemist. She also is an exercise fanatic. Originally born in Brazil, she has spent time living in Paris and now is in the USA. You can see delicious influences from all these places in her cooking and on her blog. If you love bread like I do, you are in for a treat. Go and have a look at Sally's blog. She has a plethora of bread recipes. While you are there, don't forget to check out the antics of 3 of the most adorable little doggies you have ever seen. I had an amazing time getting to know Sally a little better. And there are so many recipes I can't wait to try, like this
Baked Coconut
, these
Coconut Brigadeiros
, a delicious
Cappuccino Panna Cotta
and a savoury Brazilian delicacy called
Coxinha De Galinha
, just to name a few. The Bewitching Kitchen is one blog where you want to try out pretty much every recipe you see. I finally settled on a savoury one this month.
The weather has started cooling down here and when that happens, I find myself longing for soup. In the past, I have to admit, I've almost always ripped open a packet of instant soup and made do with that. In the last couple of years though, I have tried out a couple of homemade soups and I've enjoyed them so much, I have decided to make a few more this year and to get that started I picked Sally's Zucchini Spinach Soup for this month's reveal. Oh what a recipe this is – delicious, warm and hearty. It is hard to believe that a recipe this simple can be so comforting. I'm enjoying the discovery that making soups at home, from scratch is not as complicated as I thought it would be. Thanks Sally, for a beautiful soup, which will make an appearance on our dinner table on many more occasions.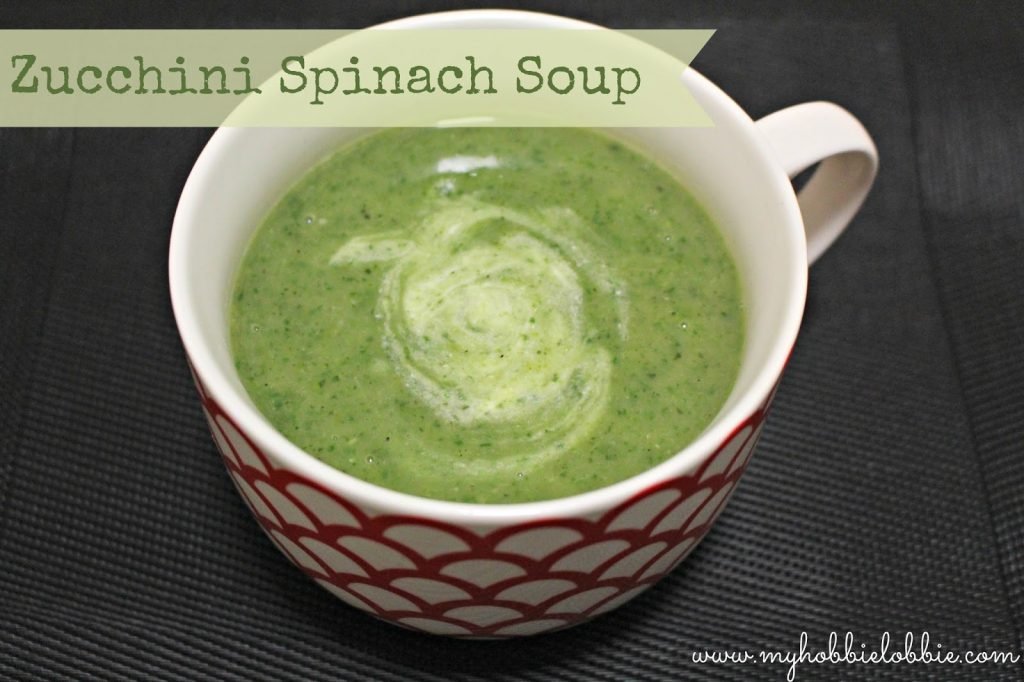 Zucchini Spinach Soup


1 tbsp olive oil
1 leek (white part finely sliced)
3 medium sized zucchini, slice thickly
1 can butter beans
4 cups water
2 cups baby spinach
Salt, to taste
Black pepper powder to taste
A dollop of yogurt
A squeeze of lemon juice
In a pot, heat the olive oil and add the sliced leek. '
Saute till the leek turns golden.
Add the zucchini slices.
Season with salt and pepper and saute till the slices get some colour on them, stirring every now and then.


Add the beans and let it cook for a couple of minutes.
Add the water (you could also use vegetable stock if you like).
Cover the pot and let it come to a boil over high heat.
Lower the heat and let it simmer for about 15 minutes or till the zucchini slices are tender.
Add the baby spinach leaves and stir. When the leaves wilt, you can take the soup off the stovetop.
I used an immersion blender to blitz this into a nice luscious soup. You could also use a blender if you don't have an immersion blender. Irrespective of what gadget you use, please, please, please be cautious while blending the soup, because it is scalding hot.
Serve up hot with a squirt of lemon juice and a little dollop of yogurt.
Enjoy!!!
You're probably wondering why I'm posting a soup recipe in the middle of summer. Well, it's like this – we've had about two and a half days of rains now. So everything around is grey, wet and bleak. Don't get me wrong. I love this kind of weather. All you have to do is snuggle up with a nice hot cuppa and a good read or watch the rain – perfect. Also, it means we get to have soup. I love soup but have not made it from scratch often enough. All I can say is, I am done with the instant and frozen, store-bought varieties. I have had very good results the couple of times I've made soup from scratch and come this winter, I hope to make plenty more.
So back to the butternut pumpkin. This is the second time I'm making a butternut pumpkin soup. The last time it turned out really bland and I wasn't overly impressed, which is why it hasn't made an appearance on the blog. This time around, I decided I wanted some bold, punchy flavours so I looked around and took a few ideas from around the web. It turned out this recipe was easy, simple to make and has big, bold flavours. I remember thinking the last time, that a little ginger would make this soup so much better and I was right. This soup just warms the cockles of your heart.
I took the idea of topping it up with blue cheese from a recipe I found online. Please do yourself a favour and add the blue cheese. The blue cheese elevates this soup from being a nice soup to being a fantastic one.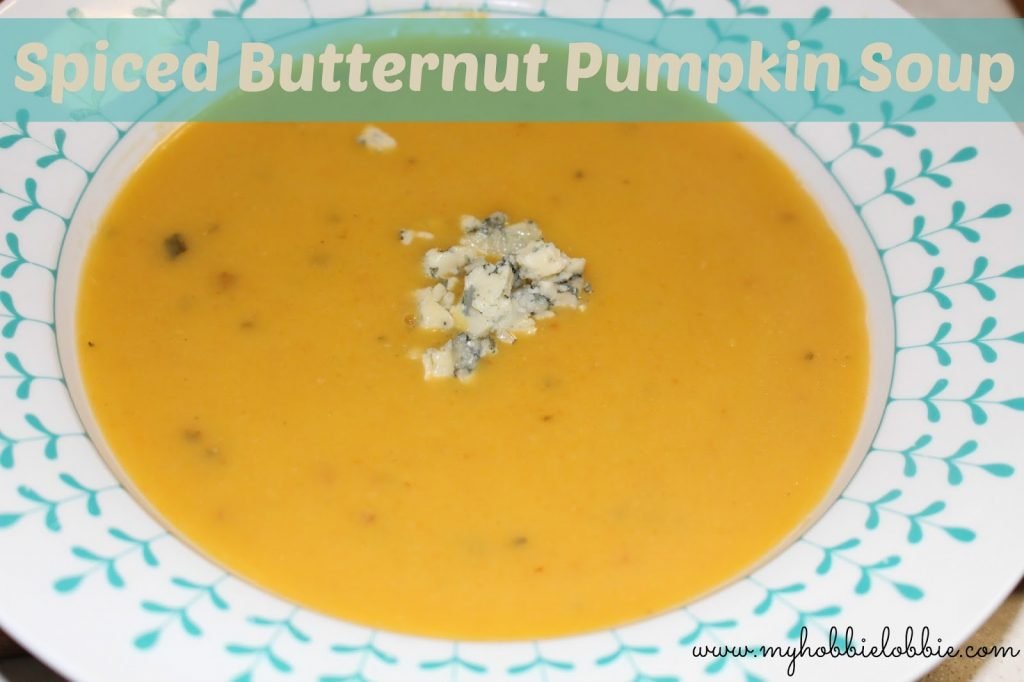 Spiced Butternut Pumpkin Soup


700g butternut pumpkin, peeled and chopped
1 onion, chopped
2 carrots, chopped
1 stick celery, chopped
2 large cloves of garlic, finely chopped
1/2 tsp grated ginger
Salt, to taste
Freshly ground black pepper, to taste
1/2 – 1 tsp red chilly flakes, or to taste (optional)
1/2 tsp chives
2 tbsp olive oil
1 litre boiling water
1/3 cup cream cheese
1/4 cup freshly grated parmesan cheese
Blue cheese, to crumble over
In a large pot, over medium heat, pour the olive oil.
Add the garlic and when it is fragrant, add the onion and and saute over medium heat, till softened and translucent. Add the ginger and continue sauteing.
Once the ginger has released its aromas, add the celery, carrot and pumpkin.
Sprinkle the salt, pepper and red chilly flakes and stir well.
Let the veggies, saute for about five minutes, stirring to make sure it doesn't burn.
Add one litre of recently boiled water. (You could add cold water too, but that will increase cooking time. Using hot water results in the soup simmering almost immediately.)
Cover and simmer till the veggies are cooked and tender.
When the vegetables are fork tender, take off the heat.
Using an immersion blender, blitz till you are left with a smooth puree. Add the cream cheese and blitz again.
Add the parmesan cheese and chives and stir through.
Serve hot with a little blue cheese crumbled over.
Enjoy!
Let me start by saying this has got to be "the best way to eat cauliflower" and this is my favourite soup recipe so far, ever. That is high praise for a recipe that's as humble as this Wisconsin Cauliflower Soup.
I'd been seeing a lot of cauliflower puree's popping up all over the place and I was quite eager to try making some myself. That's what originally prompted me to buy a head of cauliflower. We happened to be at the Flemington markets that weekend and I came across the most gorgeous heads of cauliflower being sold by the the grower himself, a lovely gentleman. I got a pretty great deal on a beautiful head and I was extremely pleased. I was pleased because cauliflower happens to be on the slightly pricey side in Sydney. I paid a fraction of what the prices usually are.
Now let's talk about the soup. Surprisingly easy to make, I was a little apprehensive about how it would turn out. But I shouldn't have been. Once this soup was blitzed and finished off, we sat down to a nice bowl of it. Both, my husband and I were amazed at the flavour of this soup. The mustard does wonders for the flavour and you can't go wrong with a little cheese thrown in. I'm pretty sure that this will be one of our absolute favourite ways to enjoy cauliflower apart from these baked cauliflower poppers. I am so happy to have found another spectacular recipe and can't wait to share it with you. So if you aren't too crazy about cauliflower, or have a picky eater at home, try this recipe out and I'm pretty sure they will be converted.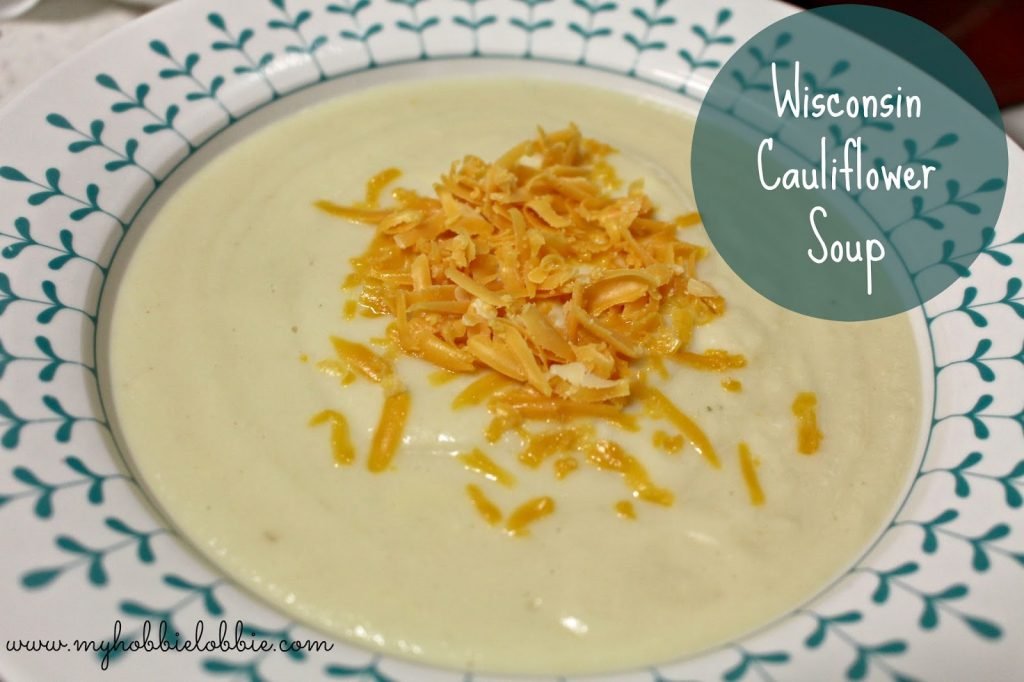 Wisconsin Cauliflower Soup
Recipe from: Butter with a Side of Bread
2 tbsp butter
1 onion, chopped
1/4 cup all-purpose flour
1/2 tsp salt
2 cups milk
1 1/2 cups water
400 ml chicken stock
1 head cauliflower, cut into chunks / florets (2 1/2 pounds)
1 tsp Dijon mustard
1 cup cheddar cheese, grated
1 cup Red Leicester cheese (original recipe uses sharp cheddar and Pepper Jack), grated
In a large saucepan, over medium heat, melt the butter.
Add the onion and cook till golden. This should take around ten minutes.
Whisk in the flour and salt. Cook this off for a couple of minutes, making sure that the flour does not stick to the bottom of the pan.
Gradually stir in the milk, water and the chicken stock.
Add the cauliflower pieces and bring to a boil over high heat.
Cover and simmer over low heat for about 15 minutes or till the cauliflower is tender.
Now, if you have an immersion blender, consider yourself lucky and use it to blend the soup. If you're like me and don't own one, don't worry. Use your regular blender and blitz the soup in batches, while keeping the middle portion of the cover open to let the steam escape. I use a tea towel to cover this opening to prevent splatter.
Blitz the soup till smooth and return the soup back to a saucepan.
Return to medium heat till it has heated through, stirring occasionally.
Take the saucepan off the heat and stir in the mustard and the cheddar cheese and 1/2 cup of the red Leicester cheese, till smooth.
Serve the soup topped with some of the remaining Red Leicester cheese.
** A little freshly cracked black pepper on the top is also really nice.
**For a vegetarian version, use vegetable stock instead of the chicken stock.