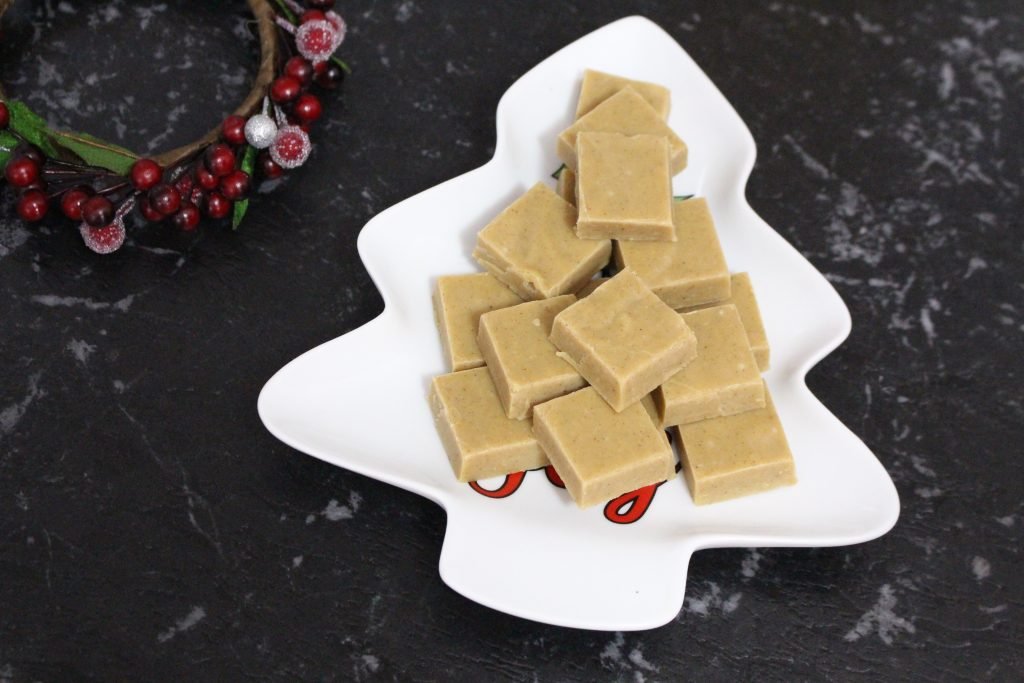 Today's Gingerbread Fudge is a great recipe to have on hand for Christmas. It is quick and easy, and results in a creamy fudge that is beautifully spiced with all the Christmas flavours. So if a combination of white chocolate and the flavours of a traditional gingerbread is your thing, stick around for the recipe.

With Christmas fast approaching, a lot of folks have started with all kinds of prep work. From deep cleaning and decorating their homes, shopping for the Holiday season and planning their social calendars, most houses see frenzied levels of activity at this time of the year. It's because of this, one needs to have a few easy and delicious recipes to fall back on.

This gingerbread fudge recipe ticks all those boxes. With prep and cook time of mere minutes, the hardest part of this recipe is leaving the fudge alone, to cool and set. Sounds perfect, right? Well, it is. And you're left with a nice batch of fudge that just melts in your mouth.

And if you're in the Southern Hemisphere like I am, we're headed straight for summer. And it gets really hot here in Sydney. So while everyone in the North is baking up a storm, these kind of recipes work out perfectly for us. This way we get to enjoy those beautiful flavours of Christmas without having to turn the oven on.

This fudge can be made a few days ahead. Store it in the fridge in an airtight container lined with baking / parchment paper. I suggest placing a piece of baking / parchment paper between layers as well, to prevent the pieces of fudge from potentially sticking to each other.

Now, if dark chocolate is more your thing, check out my Dark Chocolate and Hazelnut Fudge recipe. It is absolutely divine.

The ingredients –

This list is an easy one to get a hold off. You will need condensed milk, white chocolate, vanilla, molasses, ground spices (ginger, cinnamon, cloves and nutmeg) and don't forget the butter.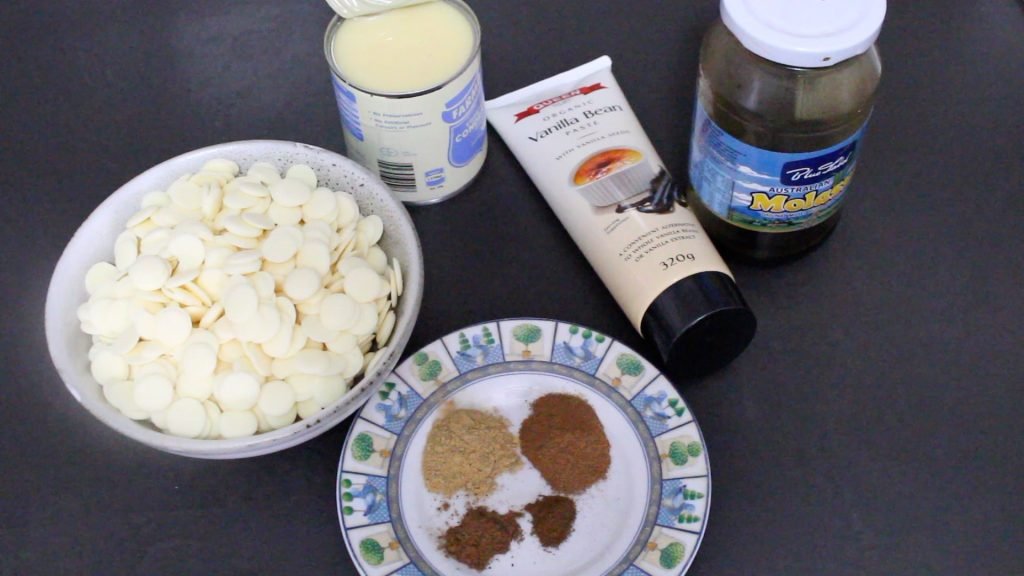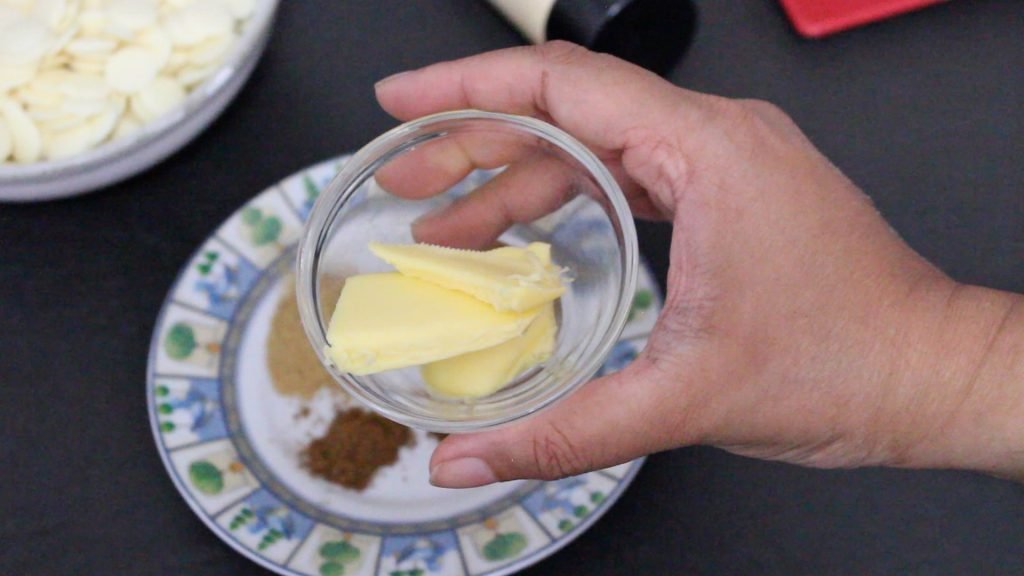 Let's get cooking –
Line a 9×9 inch cake pan with some foil, leaving a little overhang to help take the fudge out once it has set. Set this aside to use later.

Place the condensed milk and butter in a heavy bottomed pan on a medium low heat.
Add the molasses and vanilla. Mix through and add the white chocolate. Stir well to help the chocolate pieces melt.

Next, add the spice powders and stir well to incorporate.

Once all the chocolate has melted and the spice powders have been incorporated thoroughly, pour out onto the lined cake pan. Tap the pan gently a couple of times to get rid of any air bubbles.

Leave it on the kitchen counter and let it come to room temperature.

Refrigerate for 4-6 hours or overnight to set completely.

Cut into squares and serve.
Pasta is a very popular meal option at home, like I'm sure it is in a lot of homes. I love how versatile the recipes can be and how quickly pasta meals come together. This recipe is no exception. I use a mix of vegetables, usually whatever I can find in the fridge. I use Passata to make my sauce and that gets it ready in a jiffy. This recipe is ready in under 30 minutes and that includes all the prep work too. It has so much flavor, its hard to believe how simple the recipe actually is. I hope you enjoy it as much as we do.




Veggie Pasta in a Tomato Sauce
4 large cloves of garlic, finely chopped
1/4 onion, chopped
1/3 – 1/2 cup capsicum, chopped (I used a mix of red and green peppers)
1/2 zucchini, thickly sliced
A handful of broccoli florets
1/3 cup corn kernels
10 olives, sliced
1 cup passata / tomato puree / canned tomatoes
1/2 cup vegetable stock
2 tbsp olive oil
Salt, to taste
Freshly cracked black pepper, to taste
Red chilly flakes, to taste
1 tsp mixed herbs (dried)
1/2 tsp oregano (dried)
1/2 tsp sugar
Pasta
Parmesan cheese, to grate over the pasta
Start by cooking the pasta according to the package instructions.
Bring a large pot of water to a rolling boil, season the water generously (I use 1.5 tsp salt) and add the pasta to the pot. Stir immediately, to prevent the pasta from sticking to each other and to the bottom of the pot.
When the pasta is cooking, heat another pan.
Add olive oil to the warm pan and add the garlic. Saute till the garlic turns fragrant.
Add the onions and cook over a medium heat till they soften a bit.
Add the peppers and continue to cook for 1-2 minutes or till they start to soften.
Add the broccoli florets and saute for another minute or so.
Now, add the zucchini and corn and stir through. Cook for another minute or two.
Season with some salt and pepper, to taste.
Add the red chilly flakes and the herbs. Stir through.
Add the passata and the stock.
Let it come to a boil and leave to simmer for 5-7 minutes or till the veggies cook through and the sauce develops good flavor.
Add the olives and the sugar and stir through. Take off the heat and set aside.
By now the pasta should be cooked. Reserve 1/4 – 1/2 cup of the pasta water and drain t
he pasta.
Add the pasta to the sauce and toss to coat the pasta with the sauce.
Place the pan on medium low heat. Add a couple of tbsp. of the reserved pasta water. Stir through and let the extra liquid cook off for another minute or so, or till your pasta reaches the desired consistency.
Grate some parmesan cheese over the pasta and serve.
Enjoy!
Nothing says 'Spring is here' more than some Lamb kebabs. Spring Lamb is in stores now and while some of the premium cuts can be very pricey, today's recipe uses ground lamb (lamb mince). This is not just easy on the hip pocket, but cooks up really fast too.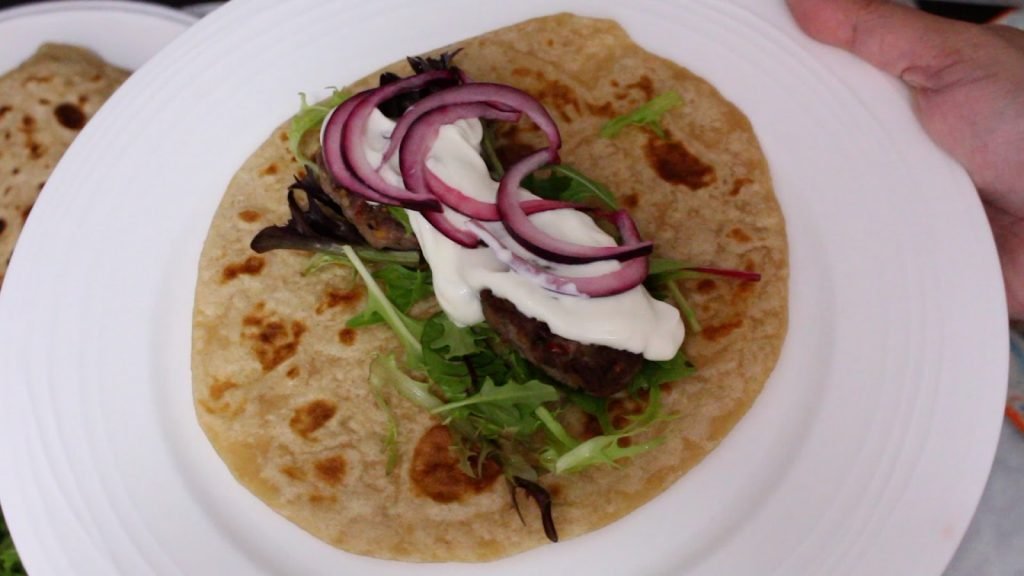 You can serve these kebabs as a starter, or with a salad as a main too. Today I'm serving it up as a wrap with some homemade, quick pickled onions and a yogurt dip. Start off by making the pickled onions and the dip, so that they have a little time to let the flavors develop.
Quick Pickled Onions
1/2 onion, sliced
Salt, to taste
1-2 tbsp Lemon juice
Separate the half rings of the onion slices.
Sprinkle salt and lemon juice over the onion and mix well to let the seasonings get to all the onion slices.
Cover and refrigerate for 30 minutes to an hour.
Yogurt Dip / Spread
1/2 cup Greek yogurt
Salt, to taste
1/2 tsp sugar, or to taste
1/2 clove of garlic, finely chopped
A few mint leaves, finely chopped
Mix all the ingredients together. Cover and refrigerate for 30 minutes to an hour.
Lamb Kebabs
500g lamb mince
Salt, to taste
Freshly cracked black pepper, to taste
2 chillies, finely chopped
3 large cloves of garlic, finely chopped
1-2 tbsp fresh mint, finely chopped
Oil, for frying
Mix all the ingredients and shape into kebabs.
Heat some oil in a pan.
Fry kebabs for a couple of minutes on each side, or till you get a beautiful golden brown color on each side and till its cooked through to your liking.
Serve hot.
** To make the wrap, I use some homemade, whole wheat chapatis, layer some salad greens on top, add a couple of the kebabs, smear some yogurt dip over and top with some pickled onions. Wrap up and enjoy.
Earlier in the year, I put up a post on my YouTube community tab and asked you what kind of recipes you'd like to see on the channel. One recurring request that came out of that exercise, was chilly fry recipes. So today, I'm going to share with you one of the many ways I make a chilly fry. This is one of the quickest and simplest recipes for a Chicken Chilly Fry.
I've cooked up the chicken specifically for this recipe, however, if you have some leftover roast chicken, you could just as easily use that as well. The recipe can be made kid friendly by simply leaving out the chillies. However, if you're looking for a little spice in the dish, a couple of chillies, slit lengthwise, hit just the right spot.
Chicken Chilly Fry
1 chicken breast, cut into a couple of smaller pieces
For the marinade –
Salt, to taste
Freshly cracked black pepper, to taste
1-2 tsp sour lime / lemon juice
1/2 tsp garlic paste
1/4 tsp ginger paste
For the chilly fry –
1 onion, sliced
Some green and red peppers, sliced
1 tomato, sliced thickly
2 chillies, slit lengthwise (optional)
2 tbsp oil
Salt, to taste
Freshly cracked black pepper, to taste
Marinade the chicken by mixing all the marinade ingredients and slathering over the chicken pieces. Cover and marinade for atleast 15 minutes. (When I remember to, I marinade the chicken overnight, in the fridge. Just make sure you take it out of the fridge a little while before cooking, so that it comes to room temperature.)
Cover the pieces with sufficient water and bring to a gentle boil and simmer till the chicken is completely cooked. Take the chicken pieces out of the stock and reserve the stock. When the pieces are cool enough to handle, shred them and set aside.
Heat some oil in a pan.
If you're using chillies, add them to the pan and fry them off to infuse some flavor into the oil.
Add the sliced onion and saute for a minute. Next add the peppers and let them cook till they get a little char on them.
Add the tomatoes, let them cook a little. Make sure them come in contact with the pan a little, so they can develop a nice little char on them too.
Season with salt and pepper, to taste.
Next, add the shredded chicken and stir to mix everything well.
If the mix appears a little dry, add a couple of spoons of the stock to the pan and stir well. (Add the stock as needed. I used about 4-6 tbsps. in all)
Once most of that liquid has been absorbed, your chilly fry is ready.
Serve hot.
I feel like somewhat of a broken record saying this, but nevertheless, I will. Breakfast is the most important meal of the day. And I strongly believe in that.
In the past, I've been a bit here and there with breakfast. Growing up, we were almost always given a chapati or a paratha for breakfast. As a kid, it wasn't my most favorite thing in the world, but I always ate what was put in front of me. After moving out of my parents house, breakfast took a back seat. We were always in a rush to get out of the house to go to work and the first thing that got neglected was breakfast. A wholesome meal was often replaced with a slice of toast and coffee. But eventually, we got so fed up of that slice of toast, I started looking for ways to spice up brekkie, so to say. I did a lot of experimenting and also went back to some old favorites like this Upma that my mother made for us every now and then.
Moving forward to current day, I'm happy to report that in our house, breakfast is now a more wholesome meal. So, if you'd like to get back to wholesome breakfasts, the way it is meant to be, you've come to the right place. Today, I'm going to share with you our family recipe for Upma. Upma, for those who are unfamiliar with the term, is a Masala Semolina dish. Only recently, I learnt that there's actually a different name for it in Goa. Goans refer to this as Tikhat Shiro (translates to Spicy Semolina). It is quick, easy, wholesome and delicious. So I'll stop yapping here and take you straight to the recipe.
Upma
Yields: 2 adult portions
1/2 cup coarse semolina / rava
1 tbsp oil
1/4 tsp mustard seeds
1/4 tsp cumin seeds
5-6 curry leaves
2 chillies, cut into large pieces
1 small onion, finely chopped
1/2 inch ginger, cut into 2 pieces
1/8 tsp turmeric powder
1 small tomato (or 1/3 – 1/2 large), chopped
1/4 cup green peas
Salt, to taste
1 1/2 cup of water from a recently boiled kettle (hot water)
Dry roast the semolina on medium heat, till you get a nutty aroma and it only just starts changing color. Take it off the pan and place in a bowl and set aside.
Heat the oil in the pan.
Add the mustard seeds and let them splutter.
Add the cumin seeds and soon after add the curry leaves and chilly pieces to the pan. Saute for a few seconds.
Next, add the chopped onion and saute. When the onion has softened, add the ginger and stir well to fry off.
Once the onion has started to develop a little color on the edges, add the turmeric powder and stir well.
Add in the roasted semolina. Stir well to incorporate and saute for 20-30 seconds.
Now add in the hot water. Carefully stir the mix.
Add salt to taste, chopped tomatoes and green peas. Stir well to combine.
Stirring continuously, cook the semolina till all the moisture has been absorbed and you are left with nice fluffy grains. This usually takes me around 2 minutes.
Take the pan off the heat, cover and let it rest for a couple of minutes.
Serve hot.
Enjoy!
Breakfast is the most important meal of the day. We've all heard that. However, very often, its one of the most rushed through or even ignored meal of the day. A lot of times, this happens because of our crazy busy schedules or we fall into a rut and breakfast gets boring. I mean, as much as I like toast, I really can't eat it every single day. Moreover, I don't think toast by itself is doing me any good.
In our house, we tend to eat oats for breakfast very often. Sometimes, this can prove difficult, because we're running late or its summertime and I can't bear the thought of turning the gas on to make us porridge. Not to mention, eating hot porridge on a hot day, only makes things hotter. So once I tried refrigerated overnight oats, I was really happy. If you've never tried overnight oats, you really should. Oats are healthy and when combined with some chia seeds, fresh fruit and nuts, it is a really healthy breakfast. The best part is, this is a make ahead recipe and requires no cooking. Which can be a blessing during hot summers. This is a versatile recipe and you can add your favorite fruit and nuts to top it off. So I hope you try this out as a breakfast option and let me know what you think.
Vanilla Overnight Oats
(Makes 1 portion)
1/3 cup rolled oats
1 tsp chia seeds
1/4 – 1/2 vanilla extract
Maple syrup, to taste
2/3 cup almond milk (you can use soy milk or any other milk of your choice)
Fresh fruit and nuts of your choice (I used some strawberries, grapes and slivered almonds)
In a mason jar, add all the ingredients except the fresh fruit and nuts that you're using to top off the oatmeal with.
Cover the jar and refrigerate overnight. (You can make a larger batch and use it through the week)
In the morning, add the fresh fruit and nuts of your choice. Serve up.
Enjoy!
I feel so immensely happy as I type this post and I owe it all to our SRC Reunion event. Those of you who've been around here for a while, will know that I was part of this super fun group called the
Secret Recipe Club
. This was a lot of fun, sort of like Secret Santa for food bloggers. You were assigned a partner and you had to pick and cook a recipe from their blog and all the members would post about it on a pre-determined day called Reveal Day. I was part of the SRC right from June 2011 to November 2016, a little over 5 years. So when we wrapped that up, I knew I would missed this bunch of bloggers.
Early last month, Sarah of Fantastical Sharing of Recipes, who happens to be our SRC boss lady 😉 called out to all the club members and announced an SRC reunion event. Of course, I signed up for it and for this event, I was assigned Micha's blog, Cooking Mimi. Micha's blog is packed with great recipes. I had an absolute blast going through her blog and picking a recipe for today. After a lot of looking around I narrowed my choices down to this Hawaiian Pork, Potstickers (she even makes her own potsticker wrappers), Quick and Crispy Pork Cutlets and her Sweet Chili Pork. Have you spotted the trend here? I somehow happened to be zeroing in on Pork recipes. So this much was clear, I knew I was making Pork. When I saw her recipe for Sweet Chili Pork my mind was made up. This is what I was going to make.
Before we move on to the recipe, let's talk about this Sweet Chili Pork, shall we? This dish has it all with juicy little pieces of pork tossed in a sweet sauce with mild heat from the Sweet Chili sauce and the crunch of the onion and capsicum just rounds it off beautifully. I could not believe how easy this recipe was. I wanted to try it just to see if a recipe this minimal would hit the spot. And hit the spot it did. I am so glad I tried this out. My husband is not a fussy eater but he is my biggest critic and helps me work on recipes and tweak them. He was floored by this recipe. And I agree with him 100%. This recipe is very similar to the kind of takeaway meals we got back in Bombay, albeit not with pork, but with chicken. Thank you Micha, for an absolute stunner.
I only made a couple of minor additions to the original recipe. I added some finely chopped ginger and garlic and some pieces of capsicum (green peppers) to the recipe. We served this up with some fried rice, but this would work very well with some noodles too.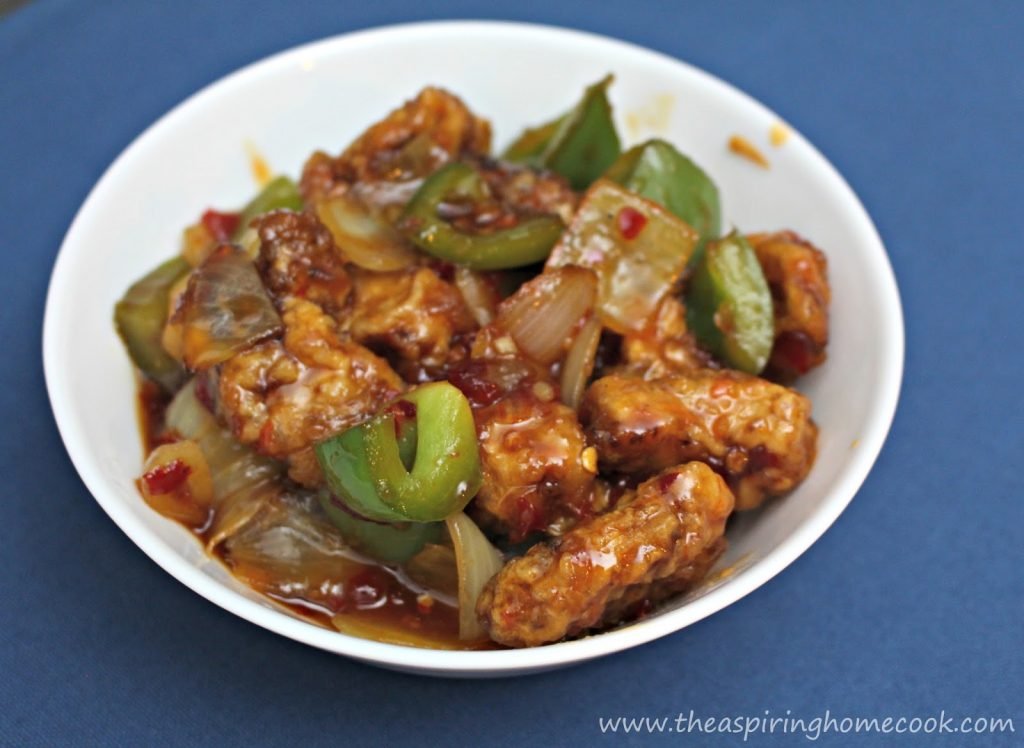 Sweet Chili Pork


1/4 kg boneless pork
1 egg
1/3 cup flour
1/4 cup cornstarch
1/2 cup + 1 tbsp vegetable oil
1 large onion, cut into cubes
1 /2 green capsicum, cut into cubes (similar in size to the onion cubes)
3 cloves garlic, finely chopped
1/2″ ginger, finely chopped
1/2 cup sweet chilli sauce
Salt, to taste
1 tbsp lime juice
Heat 1/2 cup of oil in a skillet over moderate heat.
Crack the egg into a small bowl, whisk it and set it aside.
In another bowl, mix the flour and cornstarch.
Cut the pork into bite sized pieces. Toss the pieces in a little salt and lime juice. Toss the pork pieces in the flour mix. Then dip them in the egg and in the flour mix again .
Fry the pieces of pork in batches for about 3-4 minutes a side or until golden brown and crispy. Drain and set aside.
Heat 1 tbsp of oil in another pan.
When the oil is hot, add the onion and capsicum and stir fry till the pieces have just started to soften. I like mine a little crunchy. Cook it to your desired level of doneness.
Add the finely chopped ginger and garlic and stir it around.
Add the sweet chilly sauce and the fried pork pieces. Stir to coat everything in the sweet chili sauce. At this point, if you want a little more sauce in the dish, add some more. Toss well.
Serve hot.
Enjoy!!!
Here's a peek at all my previous SRC posts.
Don't forget to see what the others have whipped up for our 2018 reunion –
I have kept my Easter prep for too late this year. I'm usually a lot more prepared than this. However, a minor accident had reduced my mobility this past week. I am on the mend but still not back to 100%. So I wanted to keep my treats quick and easy.
With that in mind I whipped up some Chocolate Nests. I love this recipe. It takes 3 ingredients and half and hour to make a batch. This is a very versatile recipe so you can make as big or small a batch, as you'd like. It is also a flexible recipe, so you can use the chocolate of your choice and mini eggs of your choosing too. So, if like me, you've left Easter prep for the last minute, try out this recipe. It is very popular with the little kids … and the big ones too.
Wish you and your loved ones a Happy and Holy Easter!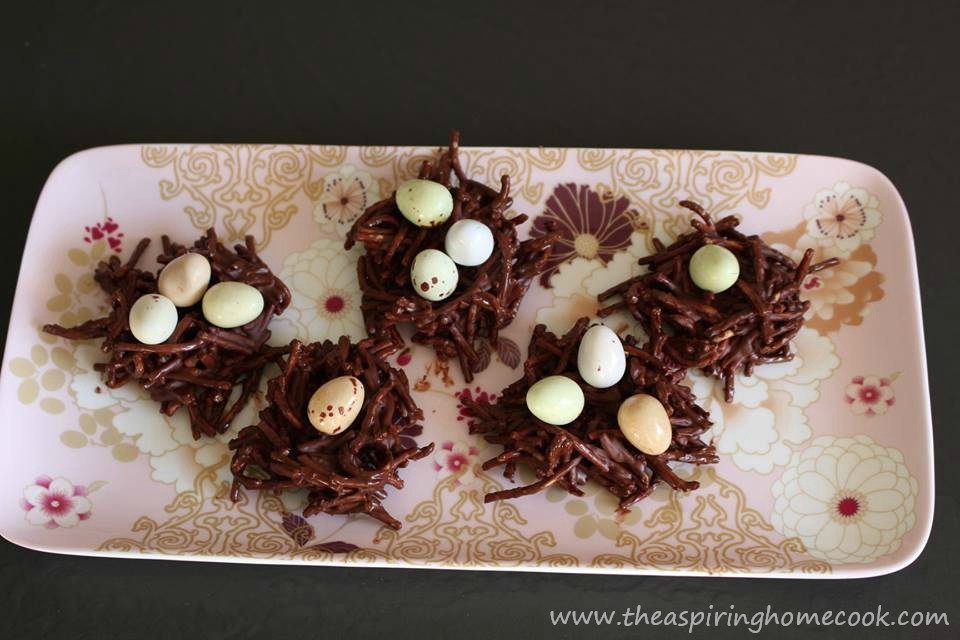 Chocolate Nests
Makes 8 Nests
100 grams Chocolate (I used Dark chocolate)
100 grams ready to serve Noodles
Mini Speckled Eggs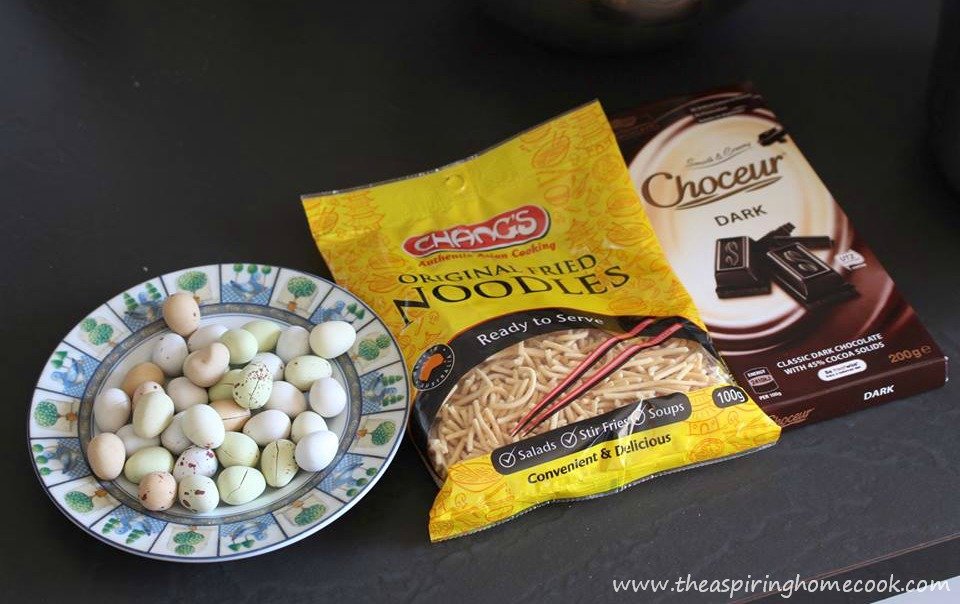 Chop up the chocolate roughly and melt using a double boiler. If you haven't worked with a double boiler, watch the video linked below to see how you can use a simple saucepan and bowl to make one. (You can also melt the chocolate in a micowave using a microwave safe bowl and in 30 second increments.)
Toss the noodles into the chocolate and mix gently to coat the noodles in the chocolate completely.
Using a spoon and either a spatula or a butter knife, scoop out portions of the noodles onto a tray lined with baking paper. Shape to form rough circular shapes and make a little dip in the center of each nest.
Place the mini eggs in the dents created.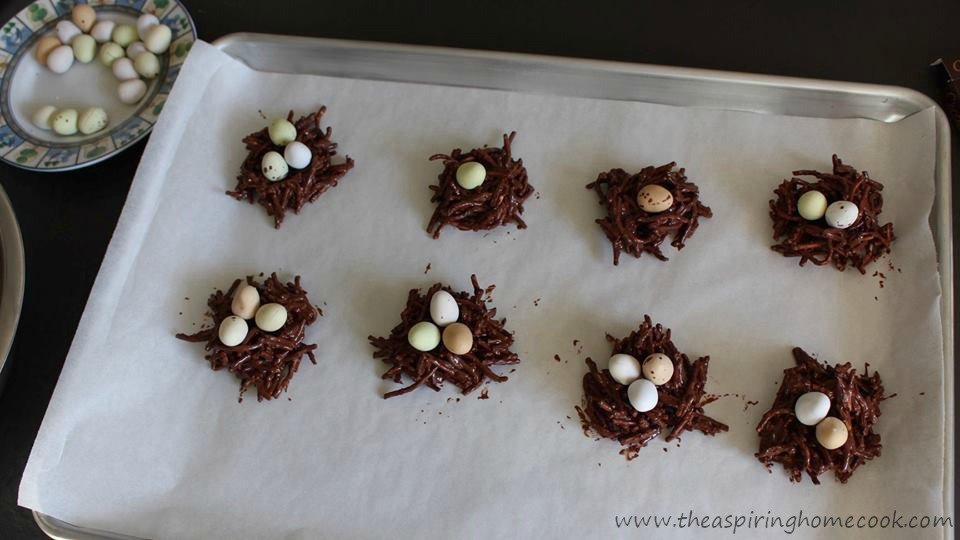 Refrigerate for 20 minutes.
Serve.
You can watch the video recipe here –
This recipe takes me way back to when I'd first enjoyed some Tava vegetables. It was at a party that had a huge buffet offering, both non-vegetarian and vegetarian. While the non-vegetarian spread was really impressive, I was intrigued by a live stall happening over on the veggie side of the table. There was a massive tava (cast iron griddle) and it had a variety of vegetables on it. The aroma was deliciously intoxicating and I knew I had to try some. I helped myself to a small assortment, some salads and took some naan bread to go along with it. Little did I know that this dish would have me hooked for a long time to come. This was about 7 years ago, I think. To this day, the thought of those tava vegetables has me yearning for some.
After a lot of searching, high and low, I found a recipe, that I tweaked to try and replicate the flavors I so vividly remember. Since I cook for just my husband and I, this recipe is scaled down. I also just use my favorite veggies from that day – okra (bhindi) and potatoes (aloo). I found that these are also some of the easy ones to work with. I don't make this recipe very often, because the veggies start off by getting deep fried and are then tossed with a spice mix (tava masala), and the deep frying tips this to the slightly indulgent side.
The spice mix, or my version of the tava masala is hot a very hot mix. The spices used are warm and flavorful. The chaat masala is an integral part of this recipe. If you haven't tried it before, it is a blend of a few spices like cumin, pepper and a few others with some powdered mango. So it has a unique flavor profile, you get a slight hit of salt, tang from the mango and delicious flavor from the blend of other spices. You can easily find this at any Indian grocery store. (This chaat masala also works well with other chaat recipes you find on my blog.)
So try this easy stir fry recipe. This is best enjoyed served hot with some chapatis, rotis, naan or other flatbread of your choice. It would also work well as a side dish to some hearty Dal & Rice.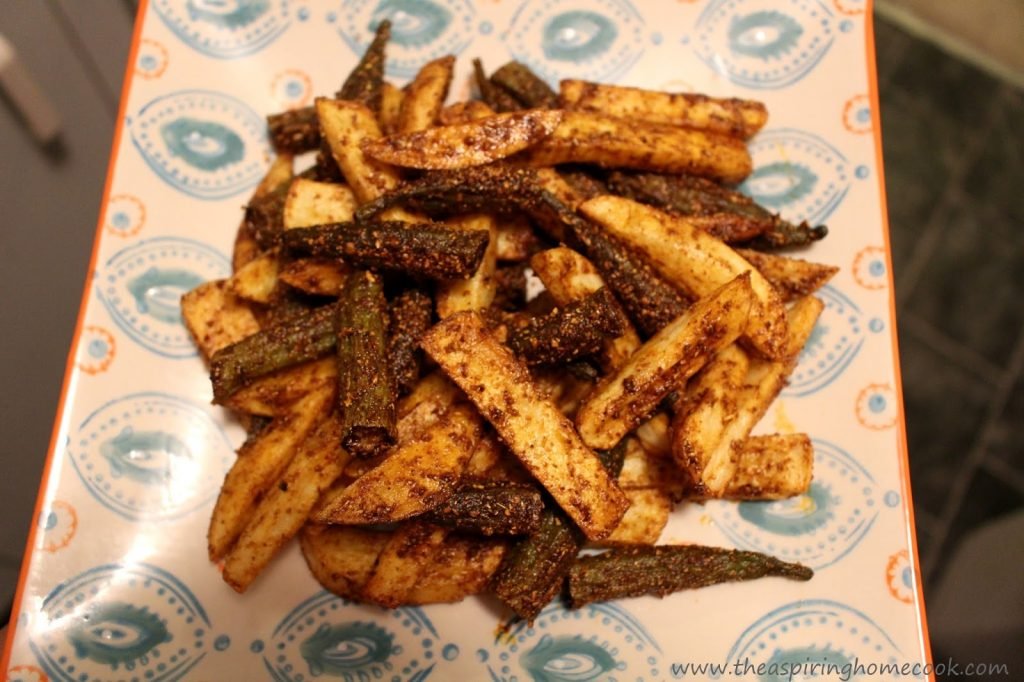 Tava Style Aloo Bhindi


3 medium potatoes
20-25 okra
1/4 tsp turmeric powder
1/2 – 1 tsp Kashmiri chilly powder (or any other mild chilly powder)
1 tsp coriander powder
1/4 tsp cumin powder
1/4 tsp chaat masala
Salt, to taste
1 1/2 – 2 tbsp oil, plus oil for deep frying
Place a pan with the oil for deep frying on medium high heat.
Wash and peel the potatoes and cut into evenly sized fries / chips.
Wash the okra and pat dry. Chop the stalks off the okra and discard. Try and use okra that is similar in size, if not, cut them down to about the same size as the potato pieces.
By now, the oil should be hot. Carefully, and in batches, add the potatoes to the oil. Don't overcrowd the pan or the oil will froth over and spill.
Deep fry the potatoes on medium heat till they've cooked through. Drain using a slotted spoon and set aside on some kitchen paper to get rid of any excess oil.
Deep fry the okra on medium heat till they have start getting a little darker in color and have started crisping up.
Drain using a slotted spoon and set aside on some kitchen paper to get rid of any excess oil, like you did the potatoes.
Take the oil for deep frying off the heat.
Heat 1 tbsp oil in a large pan on medium heat. When the oil is warm, NOT hot, add in the turmeric powder first and then add the rest of the spice powders.
Stir that through for about 20-30 seconds or till the spices get aromatic.
Add the okra to the pan and toss well. Lastly add the potatoes and toss to coat the veggies with the spices evenly.
Check for seasoning and add salt, to taste. Toss well.
Serve hot.
You can watch the video recipe here –
Cashew Chicken on Lettuce
Recipe from: As Easy As Apple Pie
Serves 3
250g boneless, skinless chicken
2 tbsp low sodium soy sauce (Use a little lesser if you're using regular soy sauce)
2 tbsp oyster sauce
1/2 – 1 tsp red chilly paste
1/2 tbsp olive oil (cooking oil of your choice)
1/2 tbsp sesame oil
1 large clove garlic, finely chopped
1/2 tsp ginger, finely chopped (fresh ginger is best but you can also use lightly dried ginger like I did here)
1/2 cup raw cashew seeds
Iceberg lettuce leaves (or any lettuce of your choice)
Sesame seeds, to garnish
Cut the chicken to bite size pieces.
In a bowl, mix the chicken, soy sauce, oyster sauce and chilly paste and toss well. Set this aside for about 10 minutes to marinade.
While that is happening, chop the ginger and garlic. (Fresh ginger is best, but I didn't have any so I used some from Gourmet Garden.)
Chop the lettuce leaves into bite size pieces and place them on serving plates.
Now, heat the olive oil in a pan over medium heat. Add the ginger and garlic and saute for about 30 seconds or till they release a lovely aroma and are gently sizzling.
Turn the heat up to medium high and add the chicken and the marinade liquids. Add the sesame oil to the pan.
Stir fry for about 4-5 minutes or till the chicken has cooked through. (Please note, the cook time will depend on the size of the chicken pieces, so watch the pan and make sure the chicken pieces are cooked on all sides and have cooked through.) Stir the contents of the pan frequently, so ensure they don't burn.
When the chicken is cooked, add the cashew seeds and stir through for about a minute or till they've heated through.
And that's it. Your cashew chicken is ready to serve.
Spoon some of the chicken on the bed of lettuce. Make sure you have a few cashew seeds on each plate.
Sprinkle some sesame seeds on top and serve.
Enjoy!!!
NOTE: This is NOT a sponsored post.
Pin now for later –