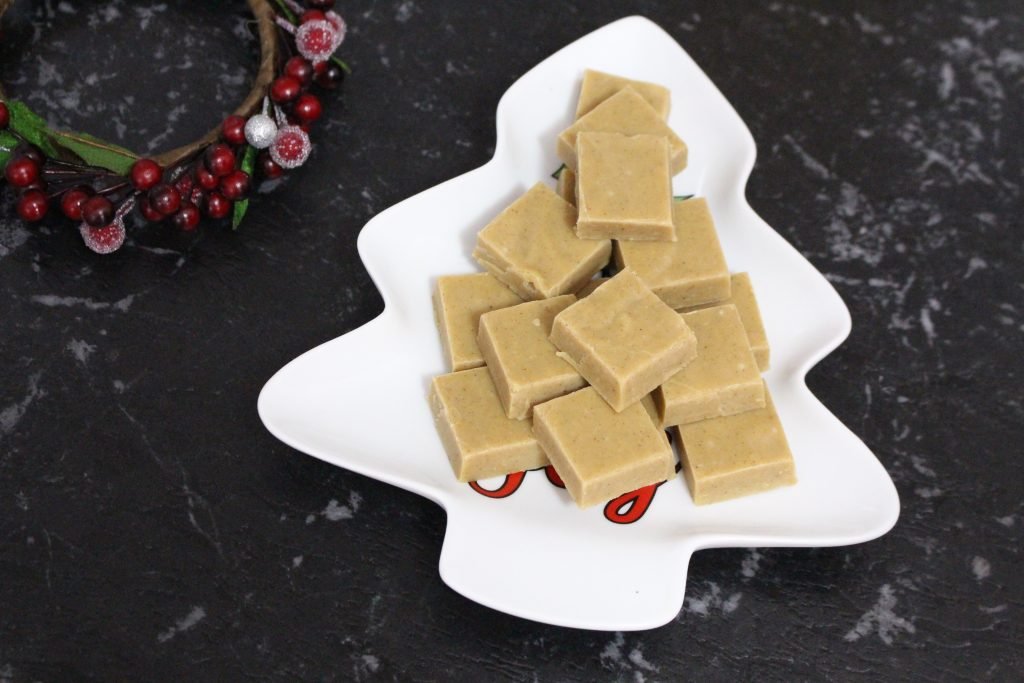 Today's Gingerbread Fudge is a great recipe to have on hand for Christmas. It is quick and easy, and results in a creamy fudge that is beautifully spiced with all the Christmas flavours. So if a combination of white chocolate and the flavours of a traditional gingerbread is your thing, stick around for the recipe.

With Christmas fast approaching, a lot of folks have started with all kinds of prep work. From deep cleaning and decorating their homes, shopping for the Holiday season and planning their social calendars, most houses see frenzied levels of activity at this time of the year. It's because of this, one needs to have a few easy and delicious recipes to fall back on.

This gingerbread fudge recipe ticks all those boxes. With prep and cook time of mere minutes, the hardest part of this recipe is leaving the fudge alone, to cool and set. Sounds perfect, right? Well, it is. And you're left with a nice batch of fudge that just melts in your mouth.

And if you're in the Southern Hemisphere like I am, we're headed straight for summer. And it gets really hot here in Sydney. So while everyone in the North is baking up a storm, these kind of recipes work out perfectly for us. This way we get to enjoy those beautiful flavours of Christmas without having to turn the oven on.

This fudge can be made a few days ahead. Store it in the fridge in an airtight container lined with baking / parchment paper. I suggest placing a piece of baking / parchment paper between layers as well, to prevent the pieces of fudge from potentially sticking to each other.

Now, if dark chocolate is more your thing, check out my Dark Chocolate and Hazelnut Fudge recipe. It is absolutely divine.

The ingredients –

This list is an easy one to get a hold off. You will need condensed milk, white chocolate, vanilla, molasses, ground spices (ginger, cinnamon, cloves and nutmeg) and don't forget the butter.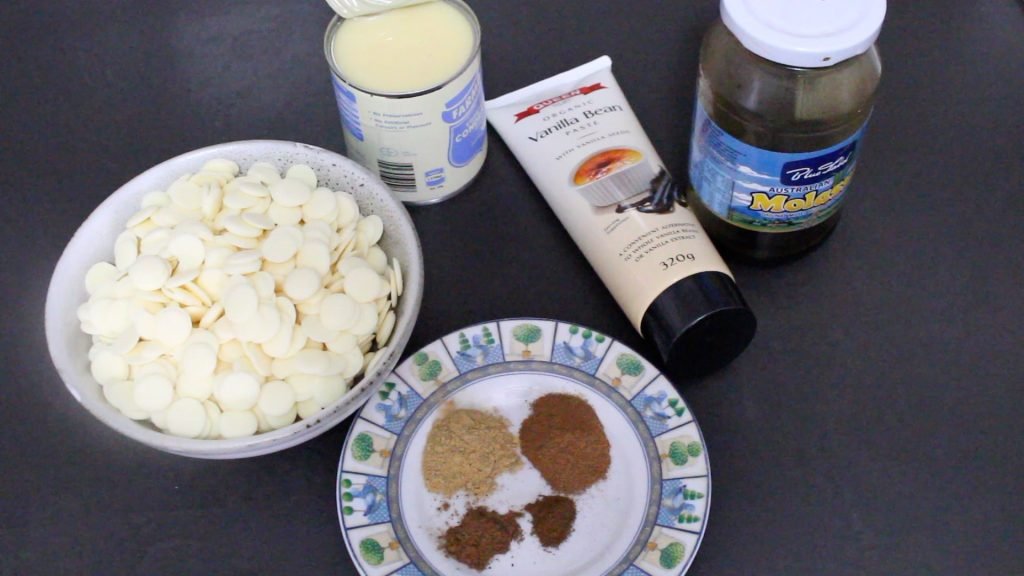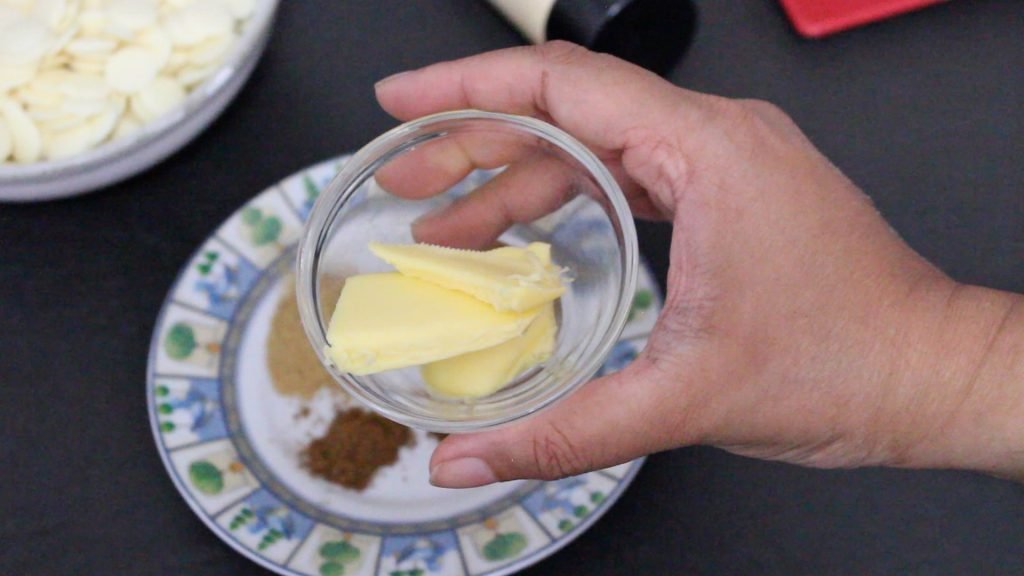 Let's get cooking –
Line a 9×9 inch cake pan with some foil, leaving a little overhang to help take the fudge out once it has set. Set this aside to use later.

Place the condensed milk and butter in a heavy bottomed pan on a medium low heat.
Add the molasses and vanilla. Mix through and add the white chocolate. Stir well to help the chocolate pieces melt.

Next, add the spice powders and stir well to incorporate.

Once all the chocolate has melted and the spice powders have been incorporated thoroughly, pour out onto the lined cake pan. Tap the pan gently a couple of times to get rid of any air bubbles.

Leave it on the kitchen counter and let it come to room temperature.

Refrigerate for 4-6 hours or overnight to set completely.

Cut into squares and serve.
** This post contains affiliate links.
So it's almost Diwali. Even though we don't celebrate it, we enjoy the food that comes with it. After trying out a few sweet and savory recipes for Diwali over the last five years, I've come to realize that a lot of recipes are fairly quick and easy to make, compared to most of the traditional Goan sweets. That makes me happy because I know I can whip up so many treats in a jiffy. However, there are a few recipes that are time consuming and tedious when made from scratch, like a good peda. A peda, for those of you who aren't familiar with the term, is a hand shaped piece of fudge made and enjoyed all over India. Now, I have made fudge before but had never tried making Pedas at home. That is, until I recently came across a recipe for an Instant version. Yup, you heard me, there is an instant version of the good old peda.
This Instant Kesar Peda requires a few basic ingredients and about half an hour of your time. That's how easy and simple it is to make. A lot of the commercially sold pedas use food coloring and artificial flavoring, but I decided to keep mine simple. I have used actual Saffron strands in this recipe for flavor and a mild coloring too. If you want your pedas to have the 'oh-so-popular' color, use some yellow food color. You can choose to imprint a design on the top of the peda or use a mould to shape it and you have the option to garnish the shaped pedas with some finely slivered nuts as well. So if you still haven't whipped up anything for Diwali, don't let that get you down. You can still make a bunch of homemade sweets and savories for your Diwali platter in no time at all. Besides this peda recipe, I have a few fantastic recipes to help you out. You can find them at the end of the post
here
.
So here's to another Indian delicacy, even though its a cheat version. I can tick this one of the my ever-growing list of recipes I want to try.
Wish you and your family a Happy and Prosperous Diwali!!!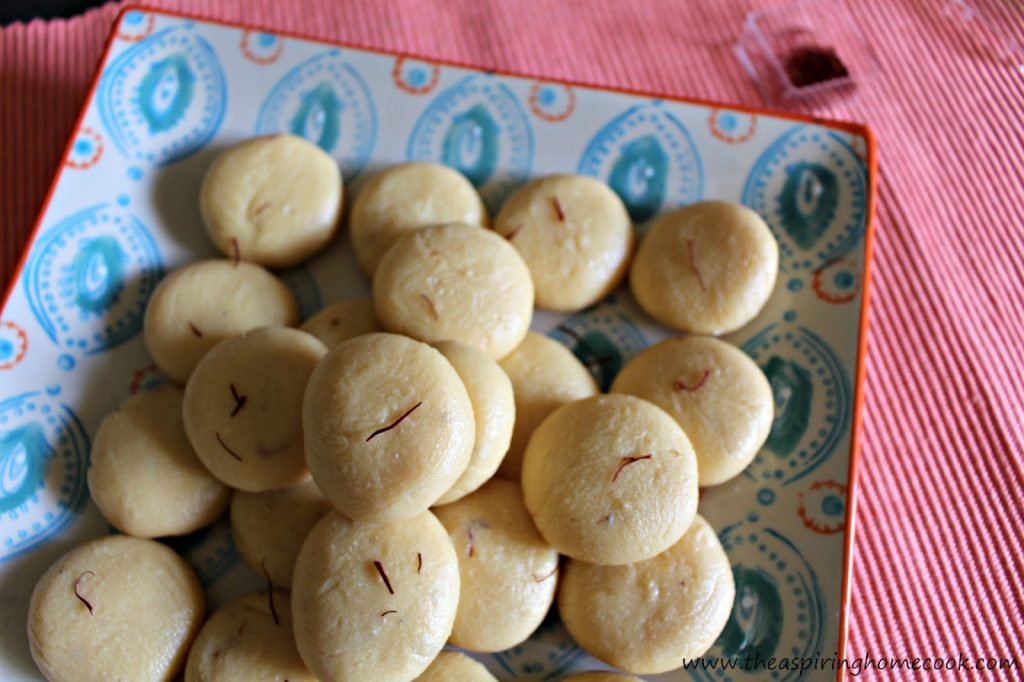 Instant Kesar Pedas
Yields: 25 pieces
1 cup condensed milk
1 cup + 2 tsp milk powder
1/2 tsp
green cardamom
seeds, crushed/powdered
2 tsp
ghee
A generous pinch of
saffron
strands
2 tsp warm milk
Extra ghee, to grease your palms while shaping the pedas
Add the saffron strands to the warm milk and set aside to infuse.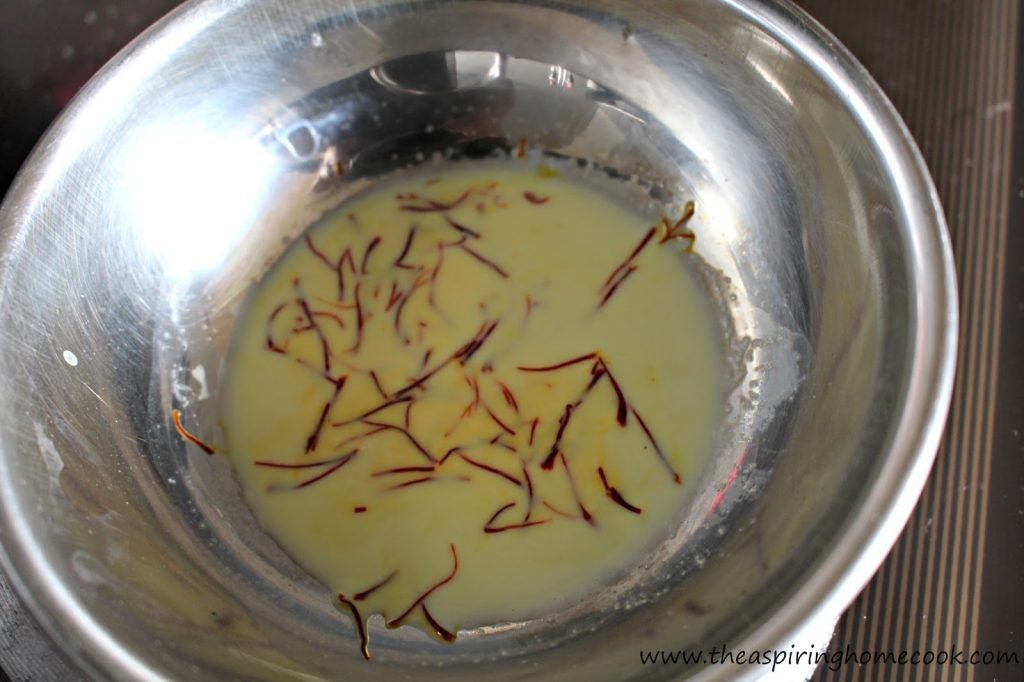 Grease a large plate with a tiny bit of ghee and set aside.
In a wide, preferably heavy bottomed pan, heat the ghee on a medium flame till it melts.
Add the condensed milk and the milk powder to the pan and stir well, making sure you dissolve any lumps that form. Any lumps left will not give you a smooth finish.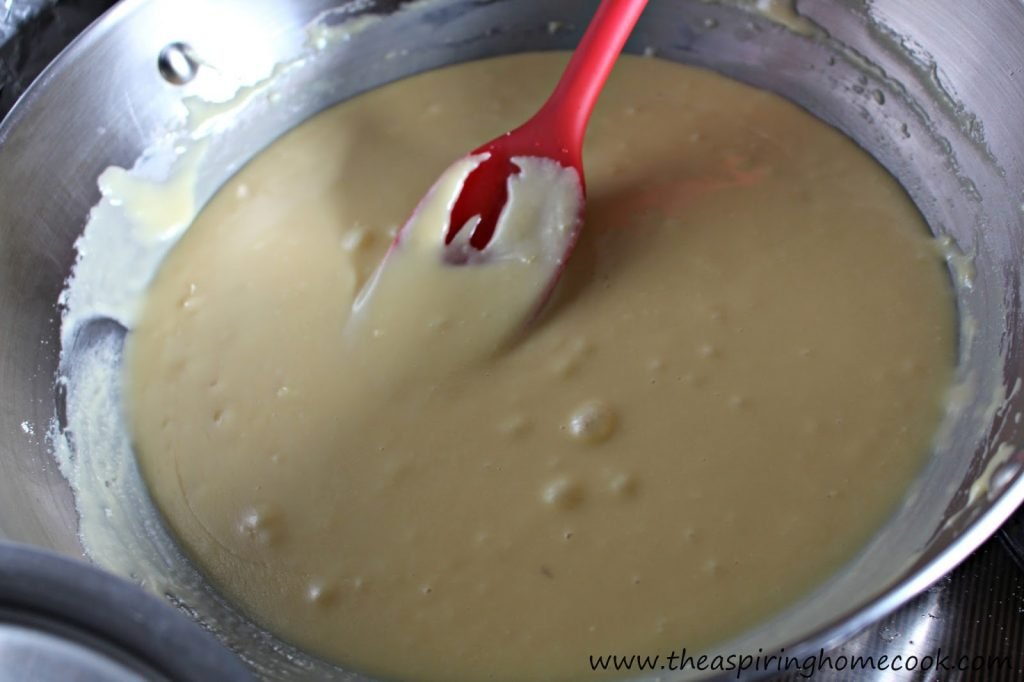 Continue cooking the mix, stirring frequently (with a wooden or a silicon spoon) for about 8-10 minutes. You will find the mix coming together at this stage.
Add the saffron infused milk and strands and the crushed cardamom to the pan and stir well. This will cause the mix to loosen in consistency a little and that's exactly what we want.
Continue cooking for a few more minutes, stirring continuously and the mix will start pulling away from the sides of the pan.
At this stage carefully check to see if the mix is still sticky. I picked a tiny portion with the spoon and touched it lightly to see if it is sticky. My hands can tolerate a fair amount of heat, please exercise caution when doing this. You want to make very little contact with the mix and not dip your finger in it too deep because it is super hot at this stage. If it still feels too sticky, continue cooking for a couple minutes more.
Once it is not sticky, take off the heat.
Immediately turn the mix onto the greased plate and leave it to cool a little.
When it is cool enough to handle, grease your palms with a little ghee, pinch of a small portion of the mix and roll into a ball and flatten slightly. Place on a platter and leave to set. If you choose to garnish the pedas, do it at this stage just after you shape it and then set aside in a single layer to set.
Serve up and enjoy!!!
Pin now and try later –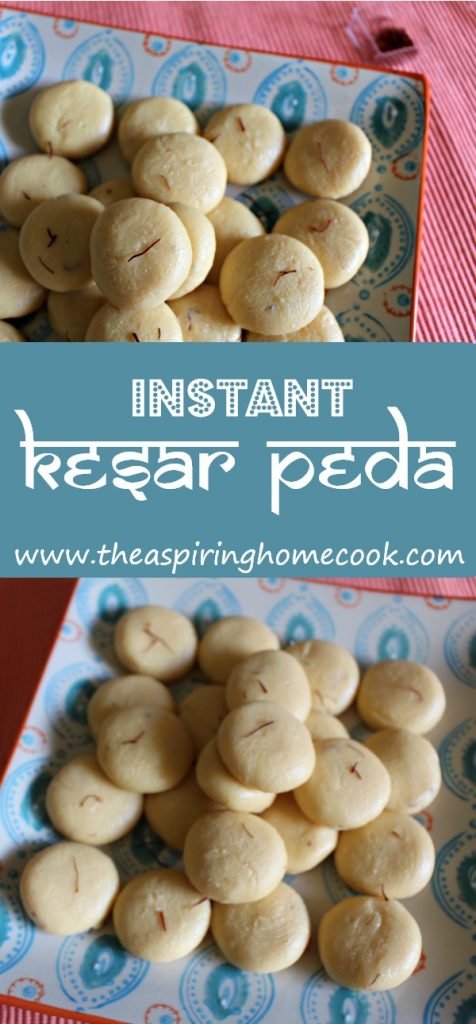 Can you believe there are just over 10 weeks to go for Christmas! Huh??? What??? Where did the whole year go? Was I even there when it happened? It's amazing how the whole year whizzes past and before you know it everyone is a little merrier, a little more anxious with anticipation, and in a frenzy to get things organized for the holiday. I've already started thinking about what treats I'm going to put on my goodie tray this year. I want to step it up a notch. Last year Christmas just sneaked up on us and I couldn't make some of the stuff I wanted to. This year I resolve to be more prepared.
Having said that, it's always nice to have a few treats that are absolutely heavenly and that can be whipped up in minutes! That's right, you heard me! Just minutes! So for this week's round up of "12 Weeks of Christmas Cookies" hosted by the lovely April of Abby Sweets, I decided to make some Chocolate Pistachio Fudge. The whole prep and cooking time worked out to about 15-20 minutes + freezing time. But I kid you not; this is THE most delicious fudge I've eaten. I love the way the little green speckles of pistachio ornament the luscious brown of the dark chocolate. Let me warn you, grab a piece while you can coz these will disappear.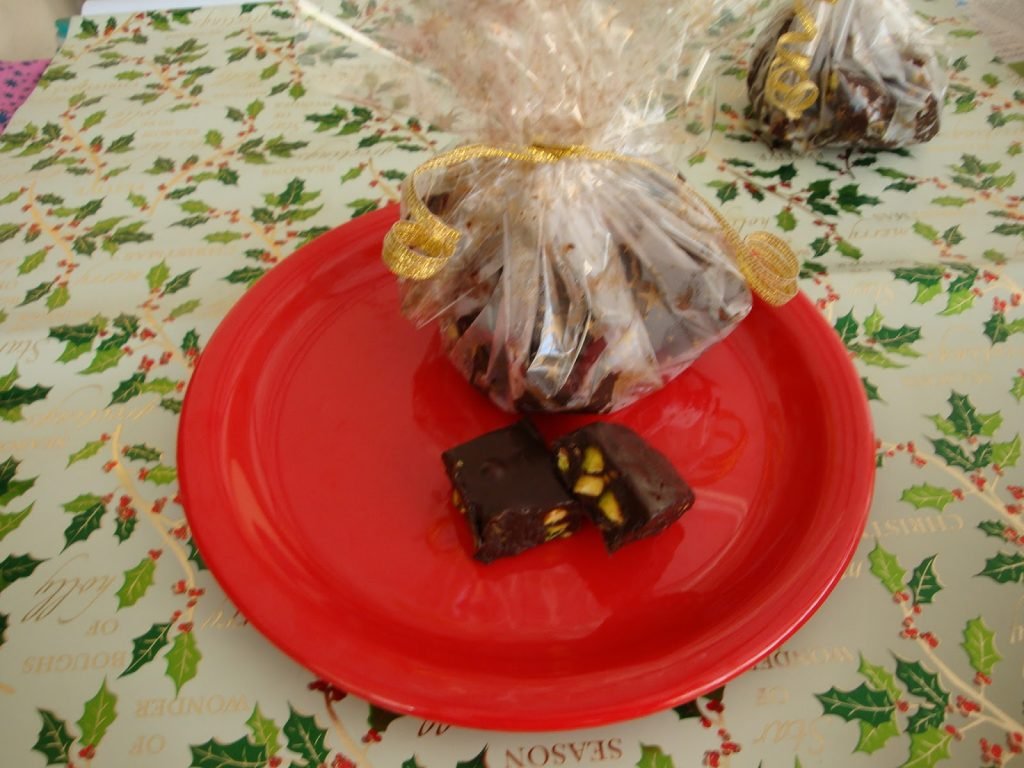 Chocolate Pistachio Fudge
Recipe by: Nigella Lawson
350 gms. Dark Chocolate
1 can condensed milk (We get 400gms. cans here)
30 gms. butter plus a pinch of salt (I just used some regular salted butter and omitted the salt)
150 gms. pistachios, chopped
Put the chocolate, condensed milk and butter in a heavy bottomed pan. Stir and let it melt.
Add the chopped nuts to the melted chocolate mixture and stir to evenly distribute the nuts.
Pour this into a 23cm square foil tray. (I just used a cookie sheet lined with foil.)
Cool and refrigerate till set.
Cut into squares. (This fudge is really rich so I prefer keeping the squares on the smaller side.)
Once cut, you can stack these in the fridge or in the freezer if you intend keeping them a little longer. (Whenever I've made this recipe, mine have never made it to the freezer, so good luck with that 😉 )
You can also wrap these up in pretty cellophane paper or bags and tie them up with some decorative ribbon and hand them out to guests at your party, or friends and family that visit during the season.