UPDATED:
to add recipe video.
Fish cutlets are one of my favorite seafood recipes to make and to eat. I love seafood and I also happen to love cutlets. They are so versatile. You can serve them as a snack / appetizer (they go so well with a chilled beer), as a meal with a side of chips and / or a salad or you can use them to make a fantastic burger. I have shared a recipe for fish cutlets previously using fresh fish. You can find that one here. This recipe is fairly similar with the exception of one main difference. This one uses canned tuna.
Now, I love my fish fresh. I believe that fresh is the best way to enjoy fish. But yesterday, I found myself longing to eat some fish cutlets but didn't have any fresh fish. Now that was just not going to do. So I put my thinking hat on and eventually decided to try to make cutlets using canned tuna instead. I had heard that some people make their cutlets with canned fish, but I'd never tried it out for myself. I happened to have a few cans of tuna chunks in the pantry, so I figured I had nothing to lose.
The cans I used were tuna chunks in spring water. You need to make sure you drain the tuna well. I didn't know what to expect and found that I had to use a little extra egg for binding but in the end I was delighted with the results. The cutlets were delicious. It took a fraction of the time to make compared to if you were to use fresh fish because the fish has to be cooked and deboned. So in all, I was extremely pleased with this attempt.
The type of canned tuna will determine how much egg is needed. I would recommend starting out using one egg and if you can shape the cutlets easily without them falling apart, then you are good to go. If not add more egg to the mix.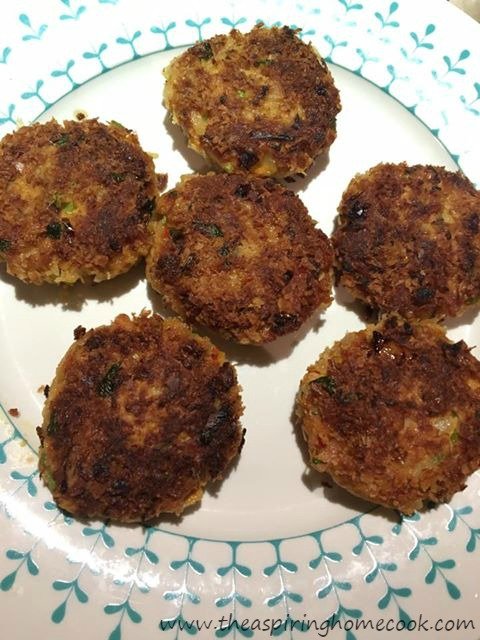 Goan Fish Cutlets
Yields: 12 cutlets


4 cans of tuna (I used 95g cans of chunk tuna in spring water) (Or 1 can x 495g Tuna)
1 onion, finely chopped
2 red birdseye chillies, finely chopped (optional)
1/2 tsp fresh ginger, finely chopped (or you can use paste)
2-3 cloves garlic, finely chopped (or you can use paste)
A small bunch of fresh coriander leaves and stalks, finely chopped
Salt, to taste
1/2 tsp turmeric powder
1 tsp red chilly powder
1/4 tsp black pepper powder
1-2 eggs
2 slices of bread
Bread crumbs, to coat the cutlets
Oil for frying
Drain the tuna thoroughly and flake it in a large mixing bowl.
Soak the bread slices in water for about 5 minutes and squeeze thoroughly. Crumble the bread as fine as you can and add it to the bowl.
Add the rest of the ingredients except the panko bread crumbs and the oil to the bowl.
Place a layer of the breadcrumbs on a dry plate.
Using the fish mix, shape into cutlets and carefully coat on both sides with the bread crumbs.
Heat 1-2 tbsp oil in a pan on medium heat and carefully place the coated cutlets on the pan. Cook for a couple of minutes on medium heat till golden brown on one side.
Then carefully flip over to cook to a golden brown on the other side too. Add another spoon of oil to the pan as needed.
Repeat till the batter is over and all the cutlets are fried.
Serve hot.
If you enjoy a good cutlet, try out some of these recipes –
Fish Cutlets
Beef Cutlets
Eggplant Patties
Thai Inspired Chicken Patties
Quick and Easy Crab Cakes
I've always been in awe of Costco outlets. Back in India, we had nothing even close to those kind of outlets. When we moved to Australia, I was eager to get into one. I had also heard that shopping at Costco meant buying huge quantities and it was a while before I had the space for larger quantities. But a few months ago, when we moved, we finally had the space needed and we made our first trip to Costco.
For someone like me, who loves grocery shopping (There, I said it. Please don't hate me), Costco was a grocery shopper's heaven. From the time I set foot in it, I loved it. Fortunately for me, my husband enjoys our trips there too. On our last trip, I found some crab meat there and picked some up.
I've been longing to try some recipes for crab cakes, crab dip and crab rangoon, to name a few crab dishes. And while we always have fresh crabs available, I have been on the look out for some crab meat. It quickens the process and makes it easier. So buying crab meat was a no-brainer for me.
Recently, after a busy day of flower making, I found myself looking for a quick and easy dinner option and decided to make some crab cakes. I found a recipe I thought would be really nice and decided to try it out.
In a few minutes, I was frying up some gorgeous crab cakes. I served these crab cakes up with some sweet chilly sauce, some salad greens and bread. I loved how these crab cakes turned out. They were full of flavor and I had a delicious meal on the table in about 30 minutes. That's a winner of a dish for me. You wanna hear a little secret? They would make fantastic burgers.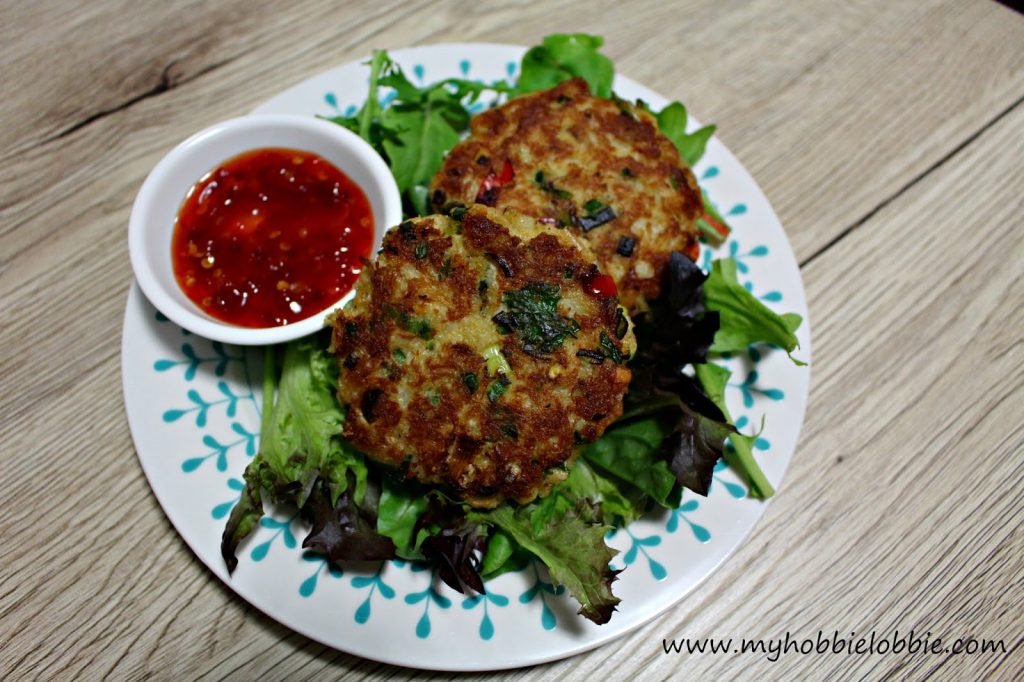 Quick & Easy Crab Cakes
Yields: 10-12 patties (depending on size)
Adapted from: Jo Cooks
12 oz crab meat
3 green onions, finely sliced
1 red birds eye chilli, finely chopped
1 egg
2 tsp lemon juice
3 tbsp mayonnaise
1 tsp Sriracha sauce
2 tbsp fresh coriander leaves and stems, finely chopped
1/2 cup Panko breadcrumbs
Salt, to taste
Freshly crushed black pepper, to taste
A couple of spoons of olive oil, to pan fry the patties.
Salad leaves, to serve with
Sweet chilli sauce, to serve alongside
In a large mixing bowl, place all the ingredients, except the olive oil, salad leaves and sweet chilli sauce.
Mix it all together till everything is evenly distributed. Mix thoroughly but gently.
Heat a spoon of olive oil in a pan on medium heat.
Form the mix into crab cakes and place on the pan. You may need to do this in batches.
Let the crab cakes fry till golden brown, about 3-4 minutes.
Carefully flip the crab cakes and fry on the other side till golden brown as well.
Serve them up with some salad leaves, sweet chilly sauce and some bread, if desired.
Oh yes! You read that right. I have finally jumped on the bandwagon and tried out a veggie burger. This is a first for me. Don't get me wrong! We love our veggies and have a fair amount of meatless meals. But I've always been a firm believer that burger had to include meat in some form – cheeseburgers, chicken / turkey burgers and even fish burgers.
I still can't figure out how it happened. I think it was the subtle suggestion of seeing veggie burgers pop up in so many places, that one day I decided I had to try them out. I would love to include some more meatless meals in my weekly rotation and was curious to see if this would fit the bill, not as a weekly option, but definitely a regular one.
I was really simple to put together. Since I made my beans from scratch (from dried beans, that is), it did take planning a little ahead of time. But the rest was an absolute breeze. The verdict – We loved it! I don't know why I was so sceptical to begin with. The burger patties cooked up fast and had a light crunchy crust while being tender and nice and flavourful on the inside. These burgers were pretty hearty and I didn't miss the meat at all. I know this will be the first of a few more veggie burgers to come.
Black Bean Burgers
Adapted from: The Pioneer Woman


1- 1 1/2 cup dried black beans (or a couple of cans of beans drained)
1 cup bread crumbs (plain or seasoned)
1 small onion, chopped finely
1 green / red birdseye chilli, finely chopped (optional)
1 egg
1/2 -1 tsp chilli powder (to taste)
Salt, to taste
Freshly cracked black pepper, to taste
Hot sauce (I happened to have a bottle of Choloula)
Cheese slices of your choice (I used crumbled feta)
Olive oil, for frying
4 burger buns
Sliced onion
Sliced tomato
Iceberg lettuce
Any other burger fixin' of your choice
(The original recipe calls for mayonnaise, but the feta was perfect. You could use mayo if you'd like.)
If you are using dried beans, wash and drain the water. Soak in fresh water overnight. Cook till done. I pressure cook mine. Place the beans with salt and the recommended amount of water (your pressure cooker manual should give you an idea.) It takes 5 minutes after the pressure has built up in my WMF pressure cooker.
Let the pressure die down before opening the cooker. I leave it for about 10 minutes.
Drain the beans and place them in a shallow bowl.
Mash the beans roughly. You want some of it fully mashed but also some bigger bits and pieces. So a rough mash is perfect.
Add the breadcrumbs, onion, chilli, egg, chilli powder, salt, pepper and hot sauce to the mashed beans. Mix everything well. Let it rest for about 10 minutes.
Shape into patties the size of your burger bun. These patties don't shrink like the meat ones. They hold their shape and size.
Heat some olive oil in a pan over medium heat.
Place the patties in the pan and let it cook till it has browned and crisped up on one side. This takes 4-5 minutes. Flip and cook for another 4-5 minutes till it browns a little and crisps up on the second side as well.
If you are using cheese slices, place the slices on the patties after you've flipped them so that they can get all melty and gooey while the patty cooks on the second side.
Slit the burger buns and lightly toast them on the pan, cut side down.
I crumbled my feta cheese into a bowl and used a spoon to mash it up and make it more spreadable.
Assemble your burger with the fixings of your choice. For me it was iceberg lettuce, sliced onion and sliced tomato.
Enjoy!!!
I'm glad to have you join me today. This is the last
SRC
reveal for 2015 and how this year has flown by. It's hard to believe that December is here. Its my favorite time of the year. Christmas decorations are starting to appear all over the place. Christmas carols have started playing. Bloggers have started holiday baking and cooking. Everything starts feeling festive. Shoppers are going nuts in most stores. There just is such a buzz this time of the year you cannot replicate at any other time. Have you started your Christmas planning, decorating and shopping yet? I'd love to hear about it.
For this month's SRC reveal, I was assigned Andrea's lovely blog Adventures In All Things Food. I thoroughly enjoyed reading through it. Andrea and her family have moved from the city to her husband's family farm and blogs not just about recipes and the food she cooks, but about life on the farm as well. I loved reading about it. I don't think I ever mentioned this before, but my husband has always dreamt of working the land. So these posts felt really special. I was spoiled for choice this month. She has so many delicious recipes, both sweet and savory. I had a hard time narrowing it down. I can't wait to try out her Gyoza, Tiramisu Cheesecake, Roasted Vegetable Tart, Pea and Leek Risotto and her Cherry Pie Shortbread Thumbprint Cookies, to name a few 🙂
For the reveal I decided to try out her Thai Inspired Chicken Patties. There is so much to love in this recipe. For starters you use ground meat. You sneak some veggies into the patties and you could tell the kids that these are Christmas confetti patties, with the green from the zucchini and reddish orange of the carrots speckling the patties. They are full of flavour and yes, please remember to serve it up with some sweet chilli sauce. That is a combination you will love. These patties will be a part of my weeknight dinner rotation. I stuck to the recipe but used just 1lb ground chicken instead of 1 1/2lb. since thats all I had. And used lemon juice instead of lime zest.
Thanks Andrea, for a lovely recipe.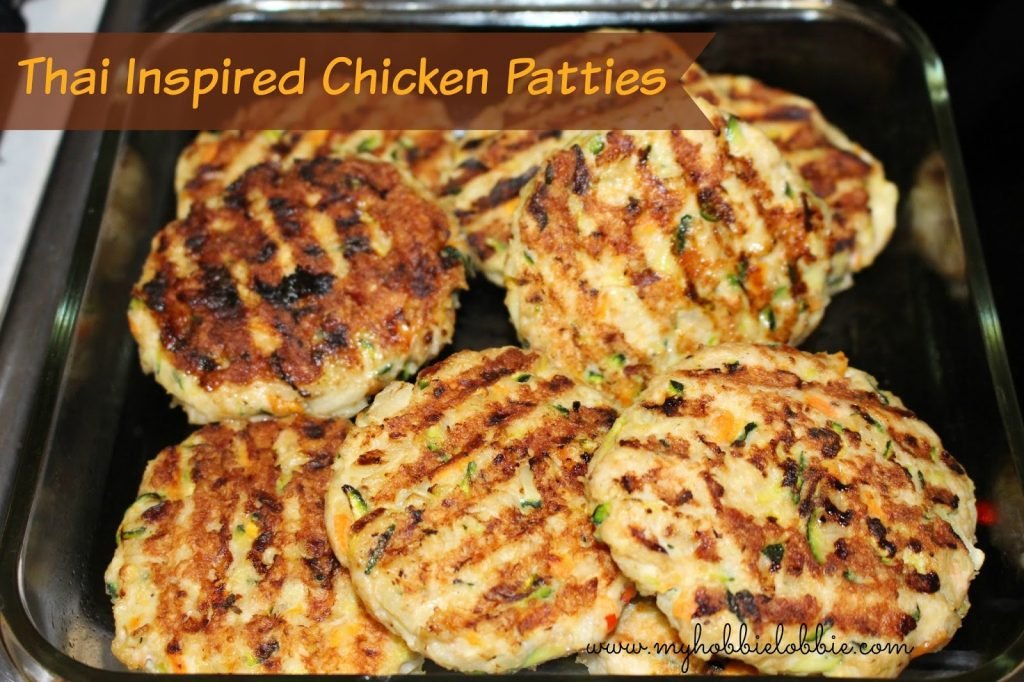 Thai Inspired Chicken Patties


1lb. Ground chicken meat
1/2 large white onion, finely chopped
2 garlic cloves, finely chopped
1 cup zucchini, grated
1 carrot, grated
1 tbsp fresh ginger, grated
1 tbsp lemon juice
1 red/green chilli (I used birdseye because we like our food hot)
2 tbsp fish sauce
1 tsp soy sauce
1 egg, lightly beaten
1/2 cup bread crumbs
Sweet Chilli sauce, for dipping
Salt, to taste
Sprinkle some salt on the grated zucchini and keep aside for about 5 minutes. Drain all the liquid and place in a large bowl.
Mix with all the other ingredients except the sweet chilli sauce.
Heat a griddle pan or the grill.
Lightly spray with some oil.
Form the mix into patties about 1/2 inch thick and sear both sides about a couple of minutes.
Place on a baking sheet and finish off in a 350º oven for about 5 minutes or till they cook through.
Serve with the sweet chilli sauce and a large salad.
<!– end InLinkz script —>
Yes, you heard that right. Every element of these burgers was homemade, made from scratch, right from the burger buns, to the meat patties and even the mayonnaise. I know a lot of you must be wondering whether I'm crazy. But try it out, seriously, its not that difficult. It just needs a little bit of planning
Now don't get me wrong, we love the ready made stuff too. But the satisfaction of making your very own version, tops most of those ready ones. Also, not surprisingly, these turned out really tasty. Heck, they were tastier than a lot of the burgers that we've eaten from many different places. I think the only burgers that can top these are the ones that we had at BLT's and Al's Diner in Hong Kong. I used to think that the best burgers in Mumbai could be found at Hearsh's or Candies in Bandra, but I now beg to differ. Though the burgers from both these places are good, I'd rather have the home made ones whenever possible. To sum things up, this was a wonderful treat. With a little planning you'll enjoy the flavors and you'll save a few bucks while you're at it.
Over the past few months, whenever I pass by most eateries, fast food places or restaurants and am considering stopping there, I realize that a lot of my favorite stuff can be made at home, which turns out tastier and more economical. So really, I think I've ruined eating out for myself. (Well, except when we are at Candies. That place, I think, has some really wonderful food.) Do you find this happening to you? It'd be nice to know I wasn't alone and possibly crazy, thinking like this. 🙂
Anyway, back to the burgers. Just yesterday I posted the recipe for these delicious Burger Buns.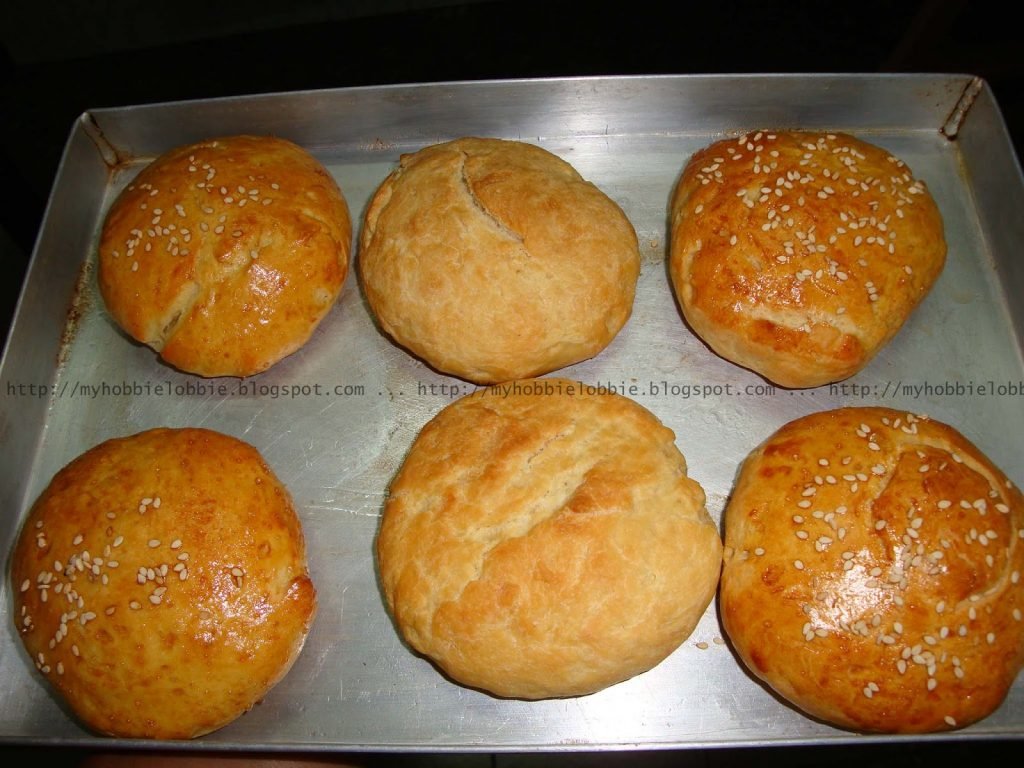 In the past I've also posted an easy recipe for Homemade Mayonnaise. This can be made earlier, if you like, and refrigerated till you're ready to assemble the burgers.
For the Burger Patties –
Yields 6


1/2 kg beef mince (ground beef)
1 large onion, chopped fine
2 green chillies, chopped fine
4-6 cloves garlic, chopped fine
1″ ginger, chopped fine
Salt, to taste
Freshly cracked black peppercorns, to taste
Oil for frying
Mix all the ingredients together till they're well distributed.
Shape into patties.
Heat 1 tbsp oil in a pan. Carefully place the patties on the pan and cook through as desired. We like out beef well done. So we let it sear on high heat for a few seconds to lock in the juices and then cook on a medium flame till done.
To assemble the burgers –


Slice the burger buns in half.
Spread some mayonnaise on the bottom half.
Place the beef patty on in.
Top with a slice of onion, a slice of tomato and season with a sprinkle of salt and pepper. Add a leaf of lettuce. Cover the the top half of the bun. Obviously, you can pick and choose the stuff that goes into your burger but this is what I used. Other interesting options are pickles, sauteed onions, maybe some crispy bacon etc.


Enjoy!!!
P.S. Don't be fooled by the size, this fills you up fast. The burgers that we buy here are seldom filling so we made a third burger which my husband and I figured we'd split in half. It was a task for both of us. I guess thats what you get with wholesome food. You know exactly whats in it, it tastes great and satisfies those crazy hunger pangs. We had these bad boys with some homemade fries.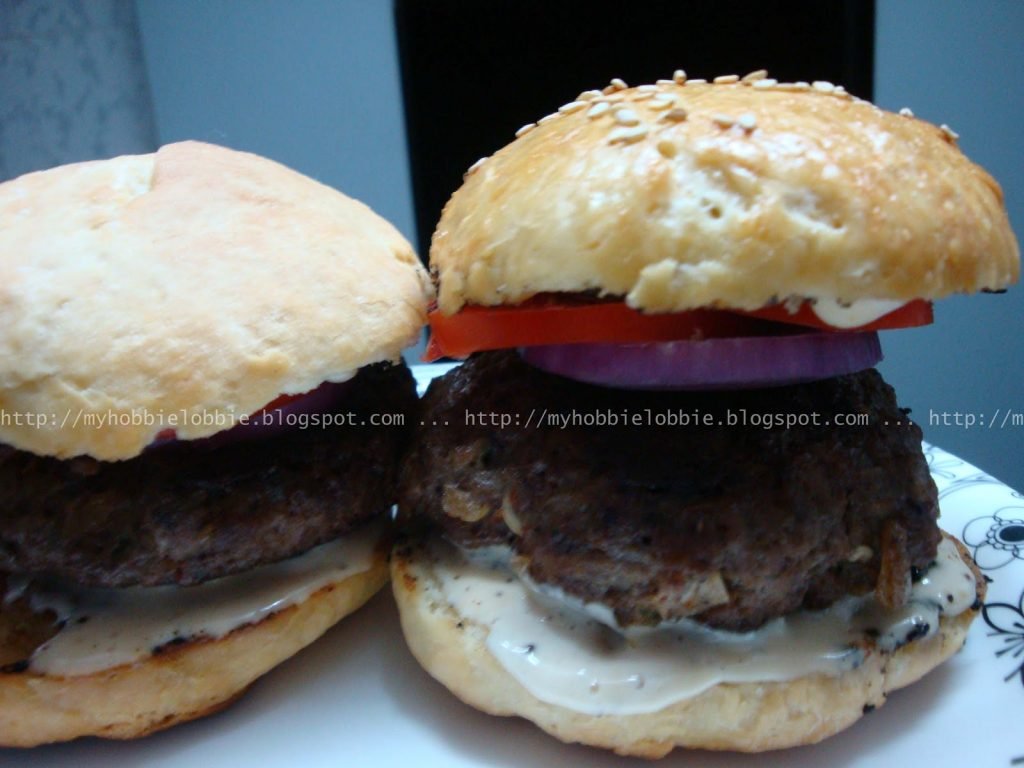 Homemade Fries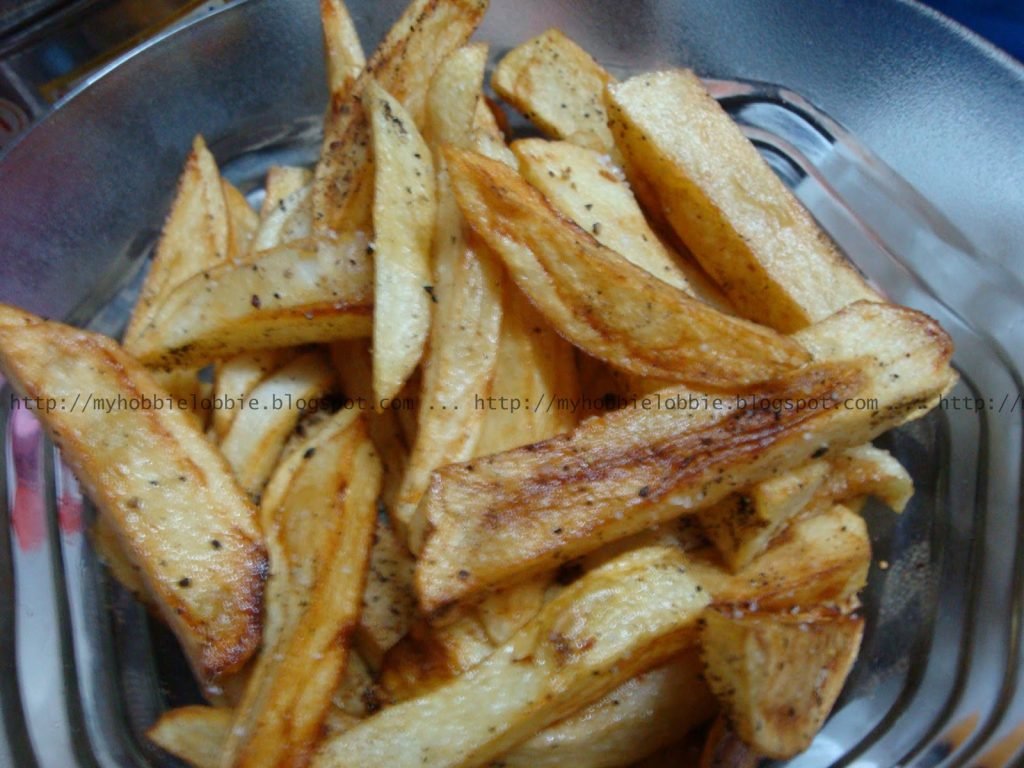 2 potatoes, peeled and cut and kept in salted water.
Pat dry and deep fry till done.
Drain on absorbent kitchen paper. Season with salt and freshly cracked black pepper.
Serve with some ketchup if you'd like. We prefer ours without it.
This recipe is linked to –
What's Cooking Thursdays
Full Plate Thursday
Thrilling Thursday
Its a Keeper Thursday
Made From Scratch