** This post contains affiliate links.
Looking at my collection of recipes on this blog, it might be hard to tell that I actually love pasta. Nothing specific, just about all shapes and sizes and all kinds of sauces too. There is just one condition, they need to have flavor. Unfortunately, I've had pasta at too many restaurants, including a couple of Italian restaurants around Sydney and it has been disappointing, to say the least. So I usually end up eating the pasta I make at home. And I can't to that too frequently, because my husband is not the biggest fan of pasta. What then is this pasta-loving soul supposed to do?
Here's what I do. Ofcourse, I make pasta atleast once a fortnight, but I try and switch up the sauces each time I make it. So with lesser retpetition, I seem to get away with a big bowl of pasta for dinner. Happy hubby and happy me!!!
Because of this, I'm always on the look out for new ways to serve pasta. And when I saw this pasta, I knew I was onto something. I have two versions of this pasta. Today, I will share with you the basic version, which I happen to really like. Sometime soon, I will share a more dressed up version, something my husband and I came up with while eating a bowl of this gorgeous green. The sauce comes together in sheer minutes and the only cooking it needs, is blanching the spinach. So you can easily serve this up on a busy weeknight in under half and hour. That is one of the many things I love about this recipe. If you have 'littles' in the house who might be a little skeptical about eating green pasta, call it something fun like 'an alien dinner / alien pasta' or 'the Hulk's pasta' or something fun like that, and watch it get gobbled down. An extra sprinkle of cheese on the top doesn't hurt either.
So, now that we know how quick, easy and fun this pasta is, let's get on to the actual recipe.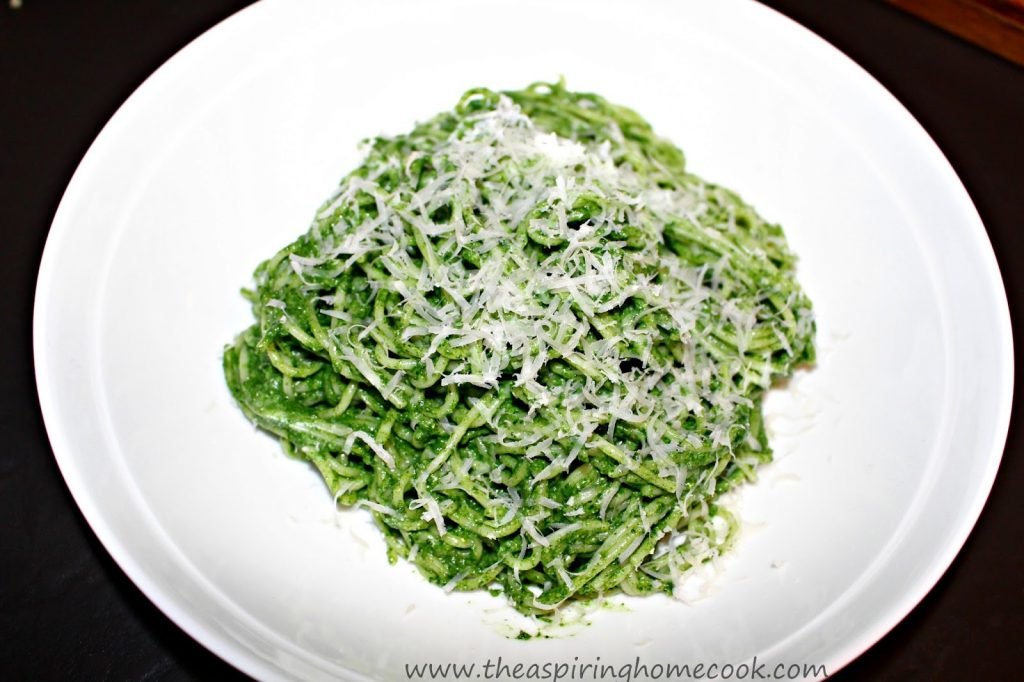 Pasta with Spinach Pesto
Serves 4 -5
8 nests of Vermicelli, or any pasta of your choice
200g fresh spinach
1/2 clove of garlic, chopped
1 heaped tbsp
pine nuts
3 tbsp freshly grated parmesan cheese
3 tbsp extra virgin olive oil
200g ricotta cheese
Salt, to taste
Freshly cracked black pepper, to taste
Bring a large pot of water to the boil.
While the water comes to a boil, keep a large bowl of ice cold water ready.
Place the spinach in the boiling water for a minute or two, till it turns a shade of darker green and is wilted and slightly softened. Immediately, take the spinach out of the water (a large pair of
tongs
works well) and immerse in the ice cold water. This will stop the cooking process immediately and help the spinach retain a vibrant shade of green. You may need to do this in batches. Repeat the process till all the spinach has been blanched.
Use the same pot of water to boil the pasta. You may need to top up the water in the pot. Add a generous teaspoon of salt and when the water has reached a rolling boil, add the pasta to the pot and cook it till al dente.
While the pasta is cooking, drain the spinach from the ice cold water and squeeze out and discard as much liquid as possible. Roughly chop the spinach and set aside.
I place the spinach in a bowl, along with the pine nuts, garlic, parmesan cheese, salt, pepper and the extra virgin olive oil and puree using an
immersion blender
. If you don't have one, a food processor or a regular blender would work well too.
Then add the ricotta cheese to the puree in the bowl and blend till smooth. Check for seasoning and add the salt and pepper, if needed
Drain the pasta when it is done and add the pesto to it. Stir gently or toss with a large pair of
tongs
to coat the pasta evenly.
Portion out on plates and generously grate some parmesan cheese over the pasta. I find that a
Microplane zester
does the job well.
Enjoy!!!
UPDATED:
to add recipe video.
Fish cutlets are one of my favorite seafood recipes to make and to eat. I love seafood and I also happen to love cutlets. They are so versatile. You can serve them as a snack / appetizer (they go so well with a chilled beer), as a meal with a side of chips and / or a salad or you can use them to make a fantastic burger. I have shared a recipe for fish cutlets previously using fresh fish. You can find that one here. This recipe is fairly similar with the exception of one main difference. This one uses canned tuna.
Now, I love my fish fresh. I believe that fresh is the best way to enjoy fish. But yesterday, I found myself longing to eat some fish cutlets but didn't have any fresh fish. Now that was just not going to do. So I put my thinking hat on and eventually decided to try to make cutlets using canned tuna instead. I had heard that some people make their cutlets with canned fish, but I'd never tried it out for myself. I happened to have a few cans of tuna chunks in the pantry, so I figured I had nothing to lose.
The cans I used were tuna chunks in spring water. You need to make sure you drain the tuna well. I didn't know what to expect and found that I had to use a little extra egg for binding but in the end I was delighted with the results. The cutlets were delicious. It took a fraction of the time to make compared to if you were to use fresh fish because the fish has to be cooked and deboned. So in all, I was extremely pleased with this attempt.
The type of canned tuna will determine how much egg is needed. I would recommend starting out using one egg and if you can shape the cutlets easily without them falling apart, then you are good to go. If not add more egg to the mix.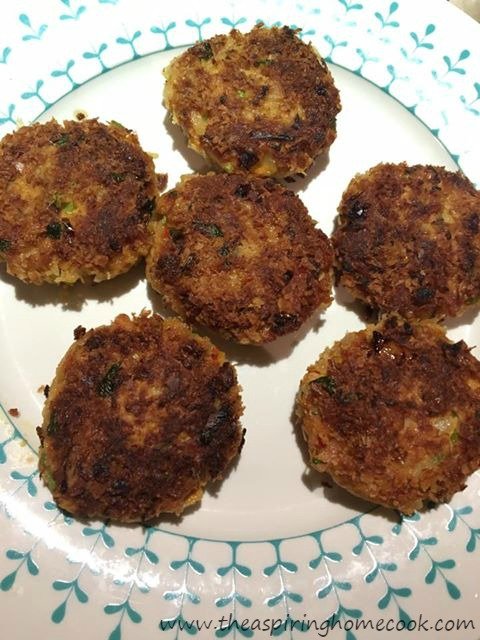 Goan Fish Cutlets
Yields: 12 cutlets


4 cans of tuna (I used 95g cans of chunk tuna in spring water) (Or 1 can x 495g Tuna)
1 onion, finely chopped
2 red birdseye chillies, finely chopped (optional)
1/2 tsp fresh ginger, finely chopped (or you can use paste)
2-3 cloves garlic, finely chopped (or you can use paste)
A small bunch of fresh coriander leaves and stalks, finely chopped
Salt, to taste
1/2 tsp turmeric powder
1 tsp red chilly powder
1/4 tsp black pepper powder
1-2 eggs
2 slices of bread
Bread crumbs, to coat the cutlets
Oil for frying
Drain the tuna thoroughly and flake it in a large mixing bowl.
Soak the bread slices in water for about 5 minutes and squeeze thoroughly. Crumble the bread as fine as you can and add it to the bowl.
Add the rest of the ingredients except the panko bread crumbs and the oil to the bowl.
Place a layer of the breadcrumbs on a dry plate.
Using the fish mix, shape into cutlets and carefully coat on both sides with the bread crumbs.
Heat 1-2 tbsp oil in a pan on medium heat and carefully place the coated cutlets on the pan. Cook for a couple of minutes on medium heat till golden brown on one side.
Then carefully flip over to cook to a golden brown on the other side too. Add another spoon of oil to the pan as needed.
Repeat till the batter is over and all the cutlets are fried.
Serve hot.
If you enjoy a good cutlet, try out some of these recipes –
Fish Cutlets
Beef Cutlets
Eggplant Patties
Thai Inspired Chicken Patties
Quick and Easy Crab Cakes
Ever so often, life gets busy for everyone. When that happens in our home, I love having quick and easy recipes that I can fall back on even if I haven't had the time to cook dinner. My tolerance for take away and ready meals has steadily fallen in the last few years to the point where its non existent now. I do prefer home cooked food, even if its something as simple as breakfast for dinner.
Actually, I really like breakfast for dinner. This breakfast hash is a nice way to fancy things up. What I love about this hash is its made from scratch. That being said, it comes together so quick and easy and all in one pan. If you're using an oven proof skillet, you can crack the eggs right in and let them cook off in the oven. I didn't want to switch the oven on, so I used a second pan to fry the eggs. You could use poached eggs or scambled eggs too. This hash obviously uses potato. The addition of red peppers and kale makes it so colorful, not to mention, delicious. And kale in a recipe must definitely make it healthier.
So if you're ever in a situation where you need a meal on the table in under 30 minutes or if you feel like a fancier breakfast, or for that matter, breakfast for dinner option, try this hash out. You'll love it. We certainly did. And leftovers keep quite well, refrigerated. Simple heat it up the next day and serve with an egg, if desired.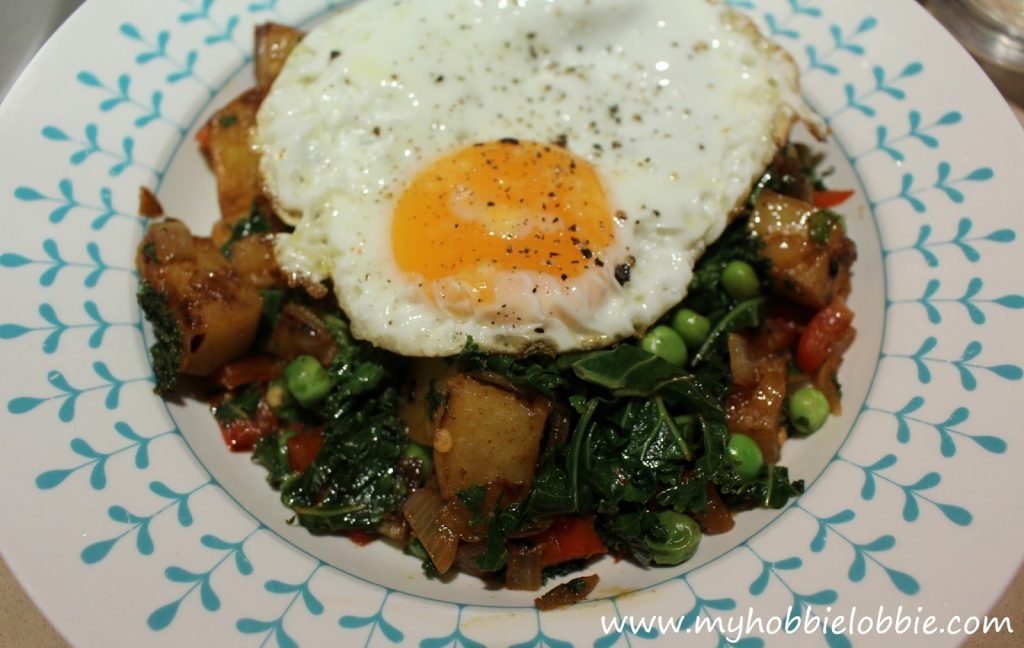 Breakfast Hash with Potatoes, Kale, Peppers and Green Peas


2 potatoes, peeled and diced (the smaller the cubes, the quicker it will cook)
1 medium onion, chopped
1 red pepper, chopped
2 cups kale, roughly chopped
1 cup green peas
1 tbsp olive oil
1/2 tsp smoked paprika
1/2 tsp cumin powder
Salt, to taste
Freshly cracked black pepper, to taste
1 egg per serving (You could use 2 eggs per serve, if desired)
Heat the oil in a pan over medium heat.
Add the potato to the pan and let it cook, stir every now and then to ensure even cooking and avoid any burning.
When its half cooked, add the onion and red pepper.
Saute and let the onion and pepper soften.
Add the paprika, cumin, salt and pepper.
Add the green peas and the chopped kale.
Let it cook for about a minute till the kale and the peas have warmed through.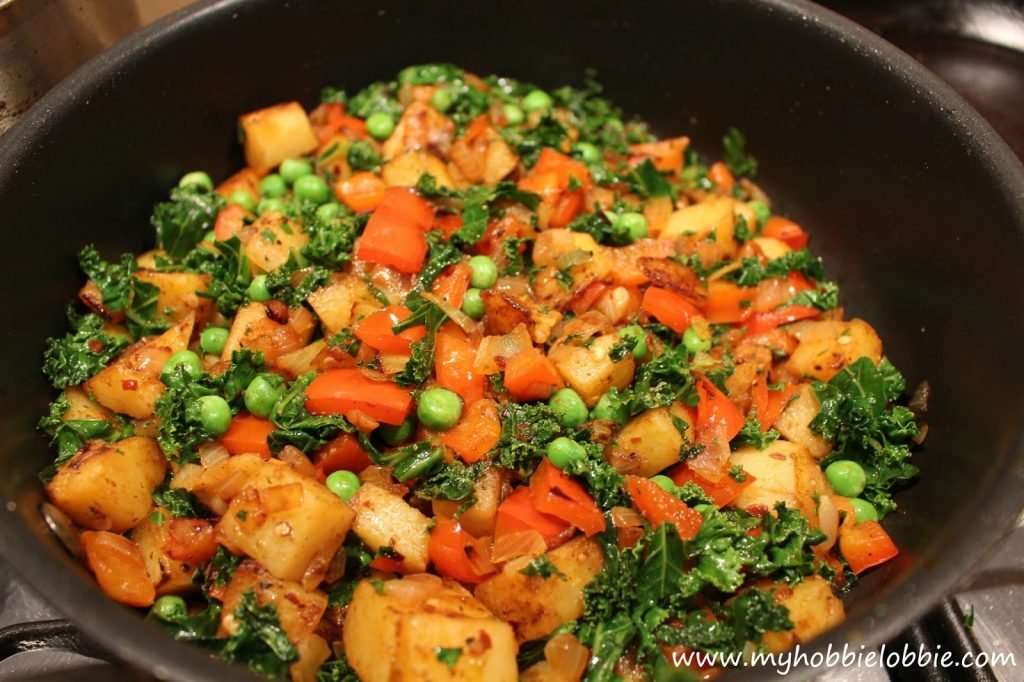 Serve hot, topped with an egg (or two) cooked to your liking.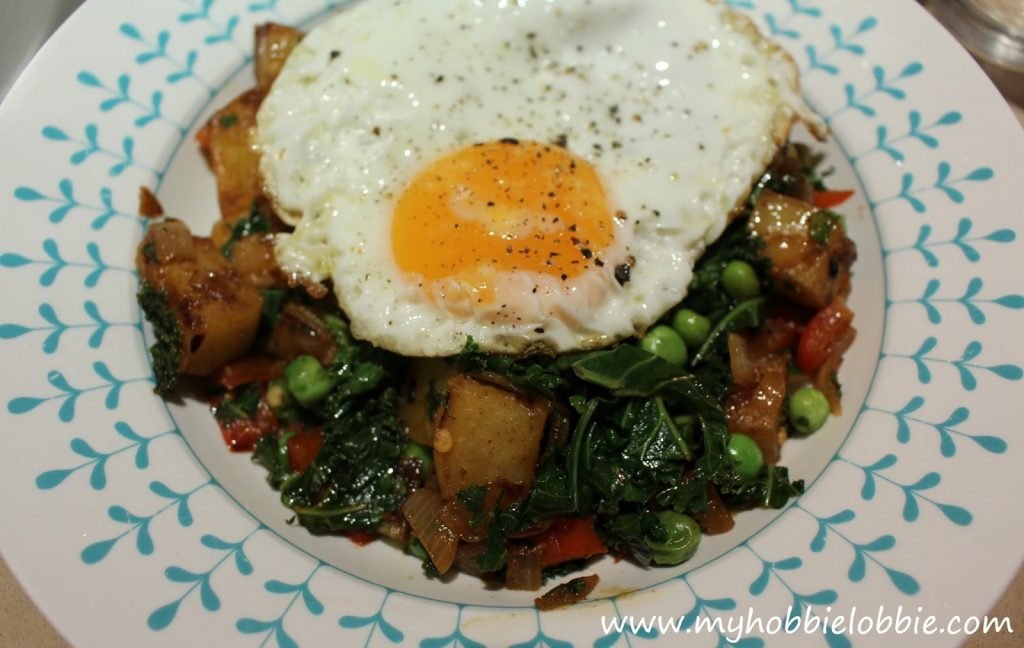 One whiff of this prawn pulao takes me back years, or is it a couple of decades back to when I was growing up (yikes, I feel old now). My mum used to make this pulao for us. I grew up in a house of prawn lovers. Yes, you heard that right. Mum has a few go to recipes for prawns – this
Prawn Chilly fry with Coriander speckled rice
(my absolute favorite), a Goan prawn curry (I still cannot get mine to taste like hers so I will get her to make me some for the blog) and this prawn pulao.
This prawn pulao is pretty amazing. It is a meal in itself served with a nice, light, fresh salad alongside. It comes together fast and easy and if you love prawns like us, you'll be glad to have this recipe to fall back on. Throw in a few drinks and you could make this to serve a crowd too. The recipe below makes 2 generous portions if served as a meal. If you intend making a larger quantity, you just need to keep in mind the rice to water ratio. As long as you use 1 portion of rice to 2 portions of water, you'll be fine. All the other ingredients can be multiplied and adjusted to suit your taste. As long as the rice and water ratio is right, you will be left with a perfect rice dish. It wont be mushy, the grains will be whole, the rice will be fluffy and all will be well.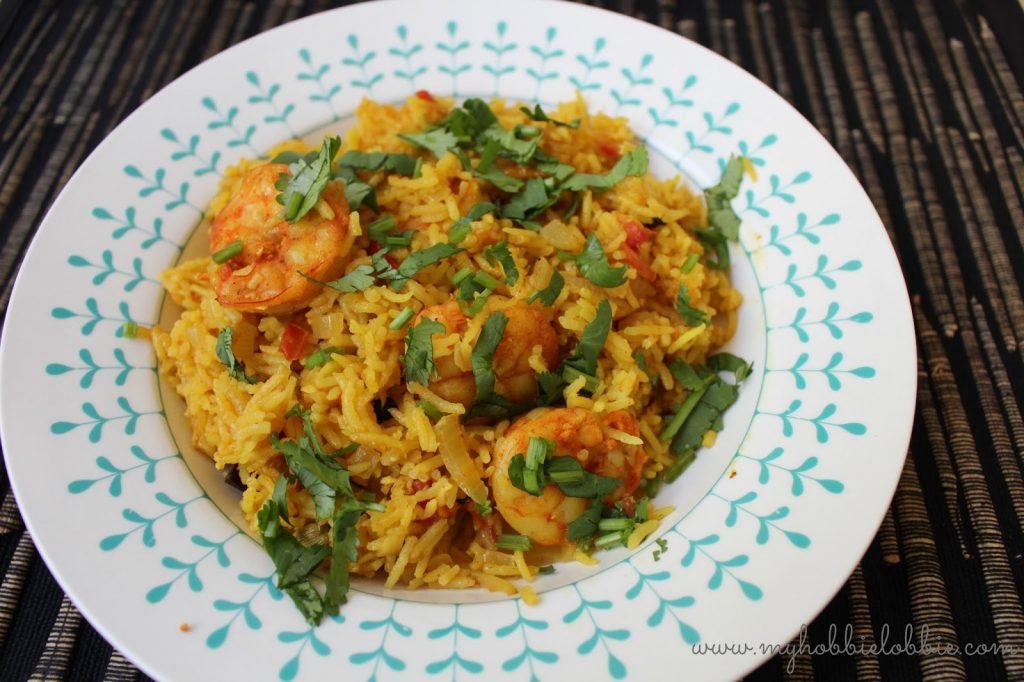 Prawn Pulao
Serves 2
For the prawns:
10-12 medium to large prawns, shelled and deveined (5-6 per person) (I used the local Aussie Banana Prawns, but you could use King Prawns or any other type you can get your hands on)
Salt, to taste
Lime / lemon juice to taste
A pinch of turmeric powder
1/4 tsp red chilly powder
1 tbsp olive oil
For the rice:
2/3 cups Basmati rice
5 cloves
2 bay leaves
2 cardamom pods
5 pepper corns
2 pieces of cinnamon, about an inch each
1 medium onion, diced
1 medium tomato, diced
1 tsp ginger garlic paste
1 green / red chilly, finely sliced (optional)
1/4 tsp turmeric powder
1 tbsp olive oil
Salt, to taste
1 1/3 cup water
1-1 1/2 tbsp fresh coriander leaves and stems, finely chopped, to garnish
Marinade the prawns with some salt, a little lime juice, turmeric and chilly powder and keep it aside for 15-30 minutes.
Wash the rice and drain the water. You will need to do this about 2-3 times, till the water runs clear.
Place a tablespoon of oil in a frying and and when it is hot, carefully place the prawns in the pan without over crowding the pan. Fry the prawns till they turn opaque with a little char and flip them over and let them char on the other side too. This takes just a couple of minutes, don't leave them unattended. You just want some color on the outside. They don't need to cook all the way because they will continue to cook with the rice. Take the prawns out of the pan and keep aside.
Heat a tablespoon of olive oil in the pot that you want to cook the rice in. Add the cloves, bay leaves, cardamom pods, pepper corns and cinnamon. In a few seconds, the spices will smell fragrant. Add the onions to the pot.
Saute the onions till they have softened.
Add the ginger garlic paste and let it cook of for a minute.
Add the turmeric powder and the sliced chilly and stir it up.
Add the tomato and stir well.
Drain the rice and run some fresh cold water through and drain it again.
Add the rice and the fried prawns to the pot and stir gently till the rice and prawns are coated with the spices. Season with some salt and add the water.
Stir a little and check the seasoning. I taste a little of the stock and see if more salt is needed.
When the water comes to a boil, cover the pot and lower the heat to a simmer. Let it cook till all the water is absorbed. As soon as all the water is absorbed, take the pot of the heat and leave aside covered for a couple of minutes. Loosen the rice gently with a fork.
Serve hot and sprinkle the chopped coriander over the rice just before serving.
Enjoy!!!
Today I'm going to share with you a much loved recipe. This one packs a lot of flavour and comes together easily. Most of the work involved actually is prepping the veggies. And yes, this fried rice has more than its fair share of veggies, which makes it quite nutritious. If you've never made fried rice at home before, I urge you to try it out. You'll ditch the take-out version for the home made one instantly.
What I also like about this fried rice is you can pretty much use whatever you have on hand. You can switch up the veggies. I almost always use onion, spring onion, capsicum and carrot. I also add zucchini, snow peas, cabbage and baby corn if I have any of them on hand. The same is the case with the protein. Almost always I use a little bacon for flavour and some egg. Then I either use prawns, shredded chicken and sometimes even ham depending on what I have available at the time. So like you see, this fried rice is one of those meals you can put together almost any day of the week, even when your grocery run is due the next day. Apart from cooking the rice, it comes together in one pan – I now use my wok and love it.
This is the quickest way I find to get this on the plate. Soak my rice and when the rice is soaking and cooking, I prep my protien and veggies. When everything is ready, the final dish takes about 10 minutes tops to put together. Its one of my favourite quick and easy weeknight meal options. I tend to add a lot of vegetables and I like it that way, you could drop the quantity of vegetables to suit your liking. This is just a guide to making this fried rice and the quantities are suggestions. Go with what you think you'll enjoy and adjust to your liking.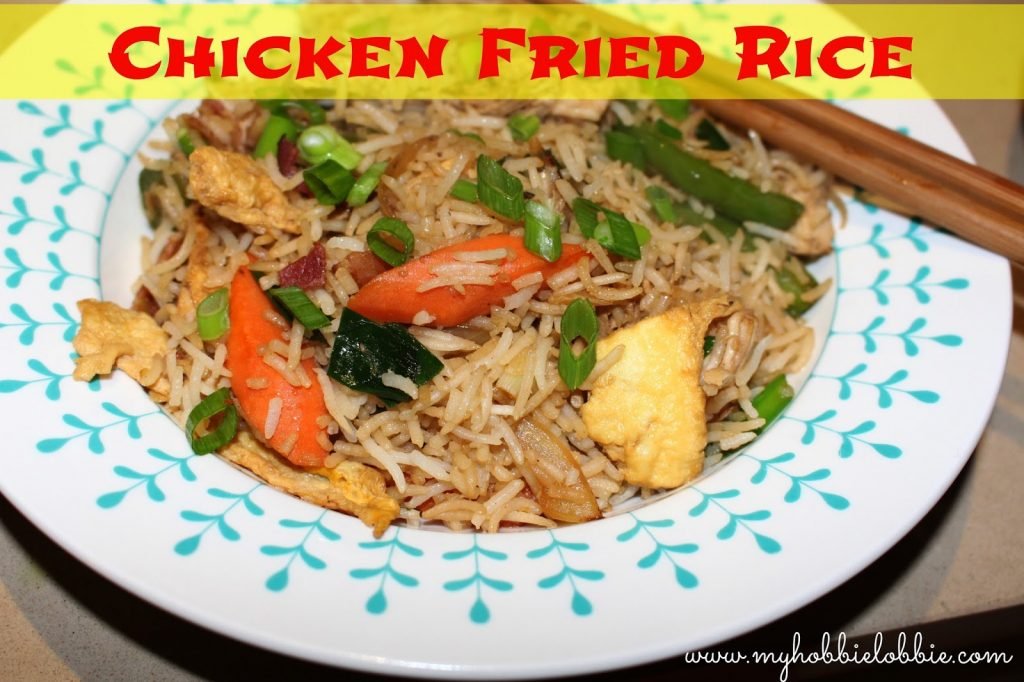 Chicken Fried Rice
Serves 3 (as mains)


1 cup basmati rice
2 cloves garlic, finely chopped
1 birdseye chilly (optional – we enjoy hot food but you can leave it out if you dont)
3 spring onions
1 red pepper
2 carrots
6-8 green beans
A handful of finely sliced cabbage (about a cups worth)
2 eggs
3 rashers of bacon (I used streaky bacon)
A cup of shredded chicken (you could used poached, roast, or rotisserie chicken)
A couple of tablespoons of oil (vegetable, olive or sunflower or any other cooking oil of your choice)
1 tsp sesame oil
Salt, to taste
Freshly cracked black pepper, to taste
Approx. 1 tbsp soy sauce (I use salt reduced soy)
1 tsp rice wine vinegar
Rinse the rice a couple of times and drain. Soak in fresh water at room temperature for about 20-30 minutes.
Bring a pot of water to the boil (just like you would for pasta). Add a spoon of salt to the water and carefully add the rice. Cook the rice till almost done (al dente). Don't cook the rice through as it will turn mushy once you add it to the wok.
Drain the cook rice and using a fork lightly loosen the grains and leave to cool.
In the meanwhile, clean and chop all your vegetables. I like to chop mine in like sized pieces. You could julienne everything or slice it on the diagonal into little chunks. (I will try and get a picture of the chopped up veggies when I make this next, I was in a hurry this time and forgot.)
Dice the bacon rashers and keep aside.
Keep all your ingredients handy. The trick to cooking a delicious fried rice is to cook it on a high heat and cook it quickly.
Heat your wok or pan. Add a little cooking oil to the pan. Crack 2 eggs in a bowl, add a little salt and lightly whisk. Now either make a plain omlette and cut into chunks or a plain scramble. Take the egg off the pan and keep aside.
Next step is to fry off the bacon. Add a little oil if needed and tip the cut bacon into the work and let it cook a little and add some flavor to the pan. Dont cook till crisp. You just want the ends to start changing to a light brown. Now add the garlic and chilly and saute till it gets fragrant.
Add the sesame oil and then tip in the diced pepper and the rest of the veggies and stir fry on high heat till they cook off a little. You still want them to have a little bite.
Add the chopped spring onions.
Add a light sprinkle of salt and some freshly cracked black pepper.
Add the soy sauce and rice wine vinegar and stir to let it coat the veggies. Please adjust the sauce to suit your liking.
Tip in the chicken and egg and stir well to incorporate.
At this stage add the rice to the wok and gently mix everything but mix thoroughly. I use a spatula and a pair of chopsticks to do this.
Once the rice has warmed through, serve hot and top with finely sliced spring onion greens to garnish and if you're feeling particularly adventurous, some finely sliced fresh chilly.
Enjoy piping hot.
**Leftovers warm up really well the next day too.
I sometimes find myself trying to plan my meals for the week and nothing I can think of sounds appealing. Has that happened to anyone before? This was one such week. I had a few things in the fridge but I wanted to whip up something new with them, not the same old stuff I've tried before. So I went off to scout on Pinterest (which, by the way is one of my most favourite sites in the whole world … lol) and the internet at large. After tossing up a few ideas, I found exactly what I was looking for. Turns out I wanted some good comfort food but didn't feel like spending all the time the traditional versions require.
This is a 2-part meal idea. Part one is all about the lemon orzo with asparagus. All I will say about part 2 is YUM. That's the next post. You should definitely come back for that one. Its a new favourite for me. This lemon orzo is a combination of some of my favourite things – pasta, asparagus and lemon. I love the vibrant colours and beautiful flavours. This is something you can serve up with a nice Sunday / holiday roast or as a side dish for your next lunch / dinner party. I can also see this working really well at your next backyard barbie (BBQ). Try it out and you'll be glad to have something so simple but so delicious to add to your recipe box.
I have tried to shop for Orzo before, but have never been able to find any. I did the next best thing and bought Risoni instead. From what I understand they are very similar except for a slight difference in the size. One is made to resemble an unprocessed grain or barley and the other rice. You could use either. I should have just titled this Lemon Risoni I guess, but I'll leave it as is, for now. I substituted the parsley with some fresh cilantro as thats all I had. Also, the next time I make these, I might either cut down or leave out the lemon zest. I love lemon zest in certain things but this time we personally found it too strong a flavour.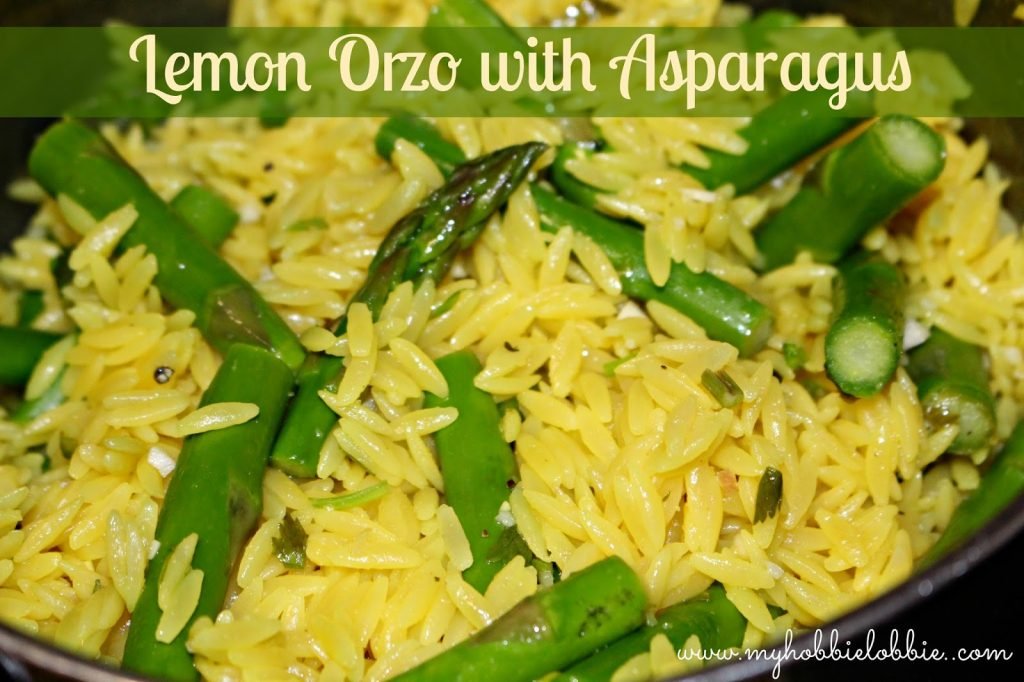 Lemon Orzo with Asparagus
Adapted from: Jo Cooks
Yields: 4 portions
1 bunch asparagus (about 1/2 lb or thereabouts)
1 cup chicken stock (use vegetable stock for a vegetarian version)
1- 1 and 1/2 cup water
1 tsp salt
A pinch of turmeric powder
1 cup dry uncooked pasta (orzo or risoni)
1/4 cup fresh cilantro, chopped
For the dressing –
Zest and juice of 1 lemon
3 cloves garlic, minced / grated
Salt, to taste
Freshly cracked black pepper, to taste
2 tbsp extra virgin olive oil
To cook the asparagus –
Trim the asparagus and lay the spears in a shallow dish (a baking tray works best), pour enough boiling water over it to cover it.
Season with a little salt, to taste.
Cover with some cling film or another tight fitting lid and leave aside to till the water is just warm to the touch. (You can cook your pasta and prepare your dressing in the meanwhile.)
Drain out the water and cut the spears into about 2 inch long pieces.
For the dressing –
In a bowl, place the zest and juice, garlic, salt and pepper.
Add the oil and whisk till it emulsifies a little into a nice dressing. Set aside.


For the pasta –
In a large pot, bring the stock and water to a boil.
Add the salt and turmeric and bring back to a boil.
Add the pasta to the pot and cook till the pasta is done. (I like to leave it a little al dente.)
Drain the pasta.
Place the hot pasta in a large bowl with the asparagus and cilantro.
Whisk the dressing a little, if needed and add to the bowl.
Mix well.
Top with a little butter. (This is optional.)
Enjoy!!!
I'm glad to have you join me today. This is the last
SRC
reveal for 2015 and how this year has flown by. It's hard to believe that December is here. Its my favorite time of the year. Christmas decorations are starting to appear all over the place. Christmas carols have started playing. Bloggers have started holiday baking and cooking. Everything starts feeling festive. Shoppers are going nuts in most stores. There just is such a buzz this time of the year you cannot replicate at any other time. Have you started your Christmas planning, decorating and shopping yet? I'd love to hear about it.
For this month's SRC reveal, I was assigned Andrea's lovely blog Adventures In All Things Food. I thoroughly enjoyed reading through it. Andrea and her family have moved from the city to her husband's family farm and blogs not just about recipes and the food she cooks, but about life on the farm as well. I loved reading about it. I don't think I ever mentioned this before, but my husband has always dreamt of working the land. So these posts felt really special. I was spoiled for choice this month. She has so many delicious recipes, both sweet and savory. I had a hard time narrowing it down. I can't wait to try out her Gyoza, Tiramisu Cheesecake, Roasted Vegetable Tart, Pea and Leek Risotto and her Cherry Pie Shortbread Thumbprint Cookies, to name a few 🙂
For the reveal I decided to try out her Thai Inspired Chicken Patties. There is so much to love in this recipe. For starters you use ground meat. You sneak some veggies into the patties and you could tell the kids that these are Christmas confetti patties, with the green from the zucchini and reddish orange of the carrots speckling the patties. They are full of flavour and yes, please remember to serve it up with some sweet chilli sauce. That is a combination you will love. These patties will be a part of my weeknight dinner rotation. I stuck to the recipe but used just 1lb ground chicken instead of 1 1/2lb. since thats all I had. And used lemon juice instead of lime zest.
Thanks Andrea, for a lovely recipe.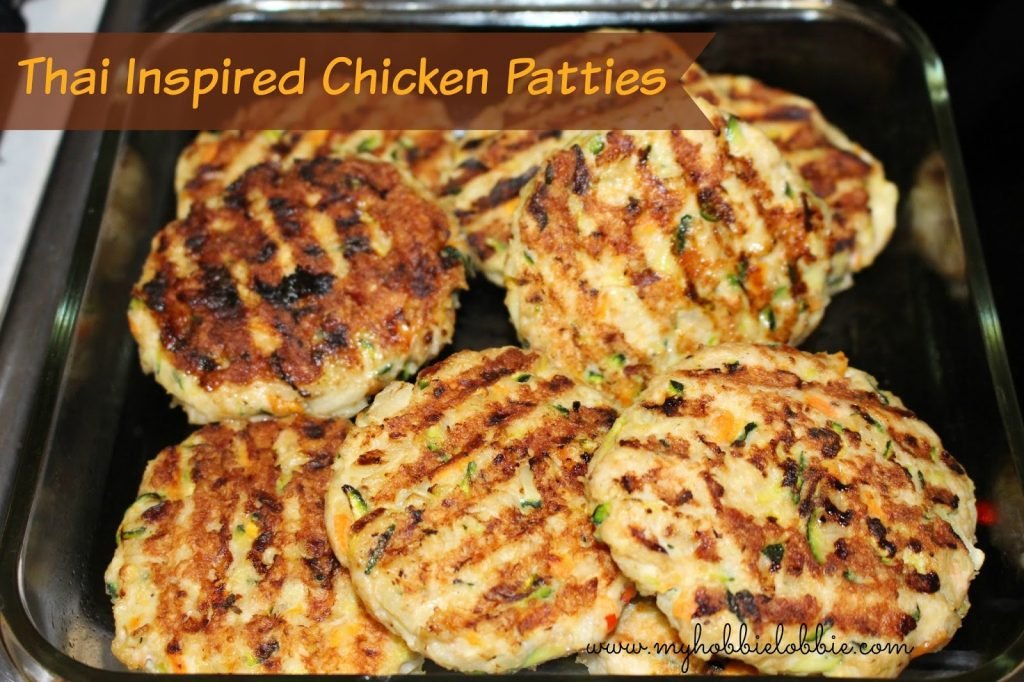 Thai Inspired Chicken Patties


1lb. Ground chicken meat
1/2 large white onion, finely chopped
2 garlic cloves, finely chopped
1 cup zucchini, grated
1 carrot, grated
1 tbsp fresh ginger, grated
1 tbsp lemon juice
1 red/green chilli (I used birdseye because we like our food hot)
2 tbsp fish sauce
1 tsp soy sauce
1 egg, lightly beaten
1/2 cup bread crumbs
Sweet Chilli sauce, for dipping
Salt, to taste
Sprinkle some salt on the grated zucchini and keep aside for about 5 minutes. Drain all the liquid and place in a large bowl.
Mix with all the other ingredients except the sweet chilli sauce.
Heat a griddle pan or the grill.
Lightly spray with some oil.
Form the mix into patties about 1/2 inch thick and sear both sides about a couple of minutes.
Place on a baking sheet and finish off in a 350º oven for about 5 minutes or till they cook through.
Serve with the sweet chilli sauce and a large salad.
<!– end InLinkz script —>
Ok, so those of you who blog will be able to relate to what I have to say. I sure hope I am not the only one 😉 While I would love to be able to be more of a 'from the plate to the blog' on the same day kind of person, more often than not, life gets in the way, and some times it takes more than a couple of weeks for me to post about a certain recipe. As a matter of fact, I still have a couple of recipes from a couple of years ago that I still haven't gotten around to sharing with you yet. Oh dear, did I just say that out loud!
Anyway, today, I wanted something quick and yummy for lunch. When I was at the shops this morning, this little beauty caught my eye –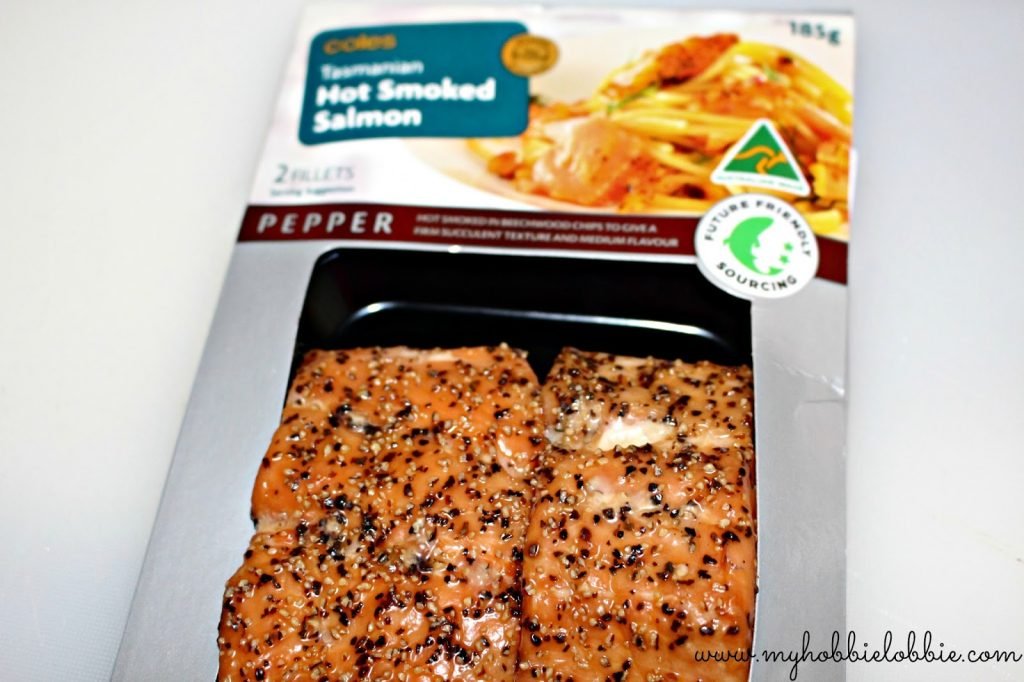 I love the idea of smoked salmon, but I'm not too crazy about the raw-ish feel of the salmon. When I saw this hot smoked salmon, I was sold. I knew this salmon would be more cooked with a lovely smokey flavour. I'd never used it before but I was quite eager to try it out. The fact that I got it at a 40% discount was just a nice bonus. Now when I bought the salmon, I had no idea what I was going to do with it, but I knew I would find some inspiration online, as always. Usually, I don't pay much attention to the recipe on the box / packet of the ingredients I buy. But when we were unpacking our groceries, my husband noticed this recipe and I have to admit, it sounded interesting and I was very eager to try it out. I had all the ingredients on hand, so there was all the motivation I needed.
I am so very happy that I did. Not only was this pasta quick and easy to put together, it was delicious. It was so delicious, I knew I wanted to share this recipe with you as quickly as I could. I'm going to go out on a limb and say that this is one of the best pasta dishes I have made yet. And I really do hope you have an opportunity to try this out. I am going to pay more attention to these recipes on boxes and packets from now on.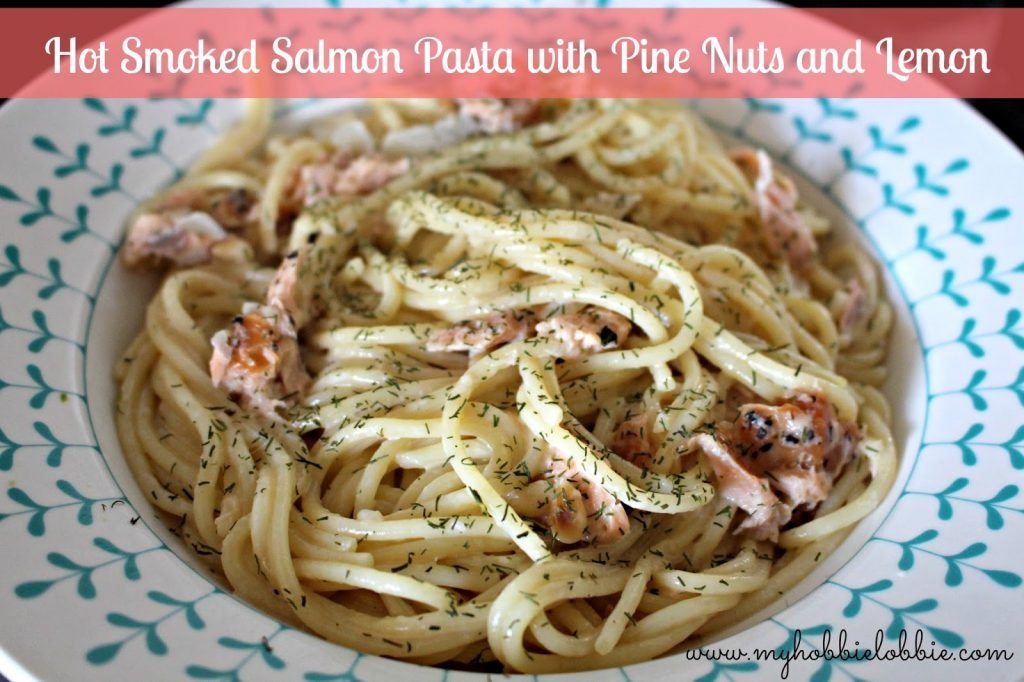 Hot Smoked Salmon Pasta with Pine Nuts and Lemon
Serves 4
250g spaghetti
1 packet Hot Smoked Salmon Pasta, flaked
1/4 cup pine nuts, toasted
2 tbsp olive oil
1 onion, finely chopped
3 cloves garlic, finely chopped
1/3 cup dry white wine
1/2 cup thickened cream
Zest and juice of 1 lemon
Dill (Fresh if possible – I didn't have any so I used the dried bottled variant)
Salt, to taste
Freshly ground black pepper, to taste
Bring a large pot of water to a rolling boil.
Add a heaped spoon of salt and then add the pasta. Cook till al denté (it should still have a little bite).
While the pasta is cooking, heat the olive oil in a saucepan. Add the garlic and onion and sauté over medium heat, till they have softened and are nice and fragrant.
Add the wine, lemon juice and half the lemon zest. Increase the heat a little and cook till the liquids have reduced by half.
Add the cream and cook for a minute.
Take off the heat.
Drain the pasta and reserve half a cup of the cooking water.
Add the water to the sauce.
Put back on a medium-low heat and let it warm through (The original recipe doesn't call for this step, but I felt the sauce was a little on the thinner side so I let it heat through a little and it was perfect)
Add the salmon, the pine nuts, the remaining zest and season with salt and pepper. Let it just about warm through.
Mix the pasta and the sauce together.
Serve and garnish with some fresh chopped dill. I just sprinkled some bottled dry dill since I didn't have any fresh dill on hand.
Sit back and be amazed 🙂
…. I'm back home after a 3-week long trip to India and it feels great to be back. I can't wait to try out some yummy Indian treats at home and share it with you. It may take a little while for that to happen. In the meanwhile, as I unpack, get through piles of laundry and dig my way out from under a mountain of emails and such, here's a quick, no-fuss recipe thats perfect for a weeknight or whenever you dont have much time.
You know I'm all for cooking and baking from scratch as far as possible. But, I like having a few cheats on hand for the days when I can't spend too much time in the kitchen or am too tired to. So a while ago, on two separate trips to my local Aldi store, I picked up these bad boys –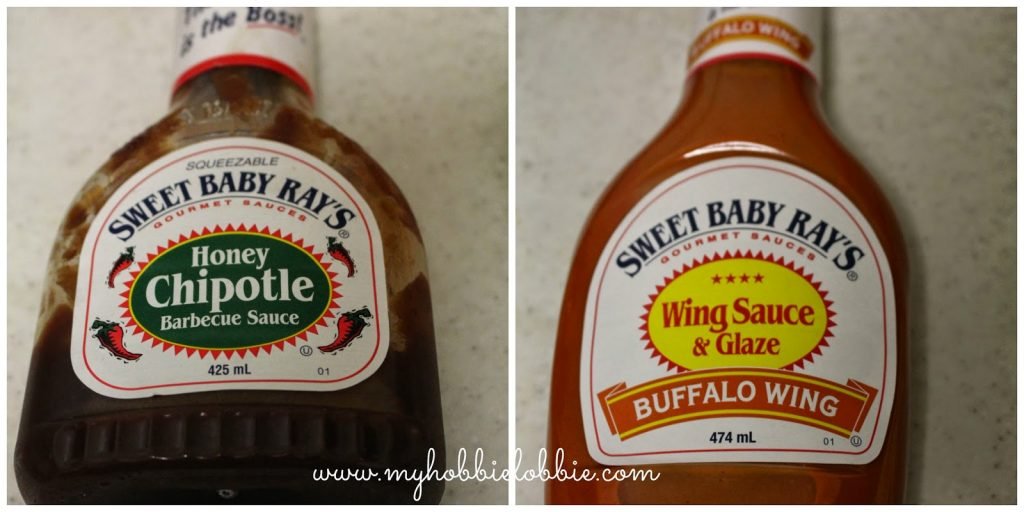 I'd picked up the Barbecue sauce a while back and loved it, so when I saw the Buffalo Wing sauce, I just had to try it out.
This chicken is super easy to put together, literally 3 easy steps – I use my trusty basic chicken marinade and let the drumsticks soak in all the flavour. Fry them in a pan with a little oil and toss with the sauce. Serve up with some salad and enjoy 🙂 I used 8 drumsticks, but you could easily reduce or increase quantities. This time around I used drumsticks with the skin on. You could use skinless drumsticks if you prefer.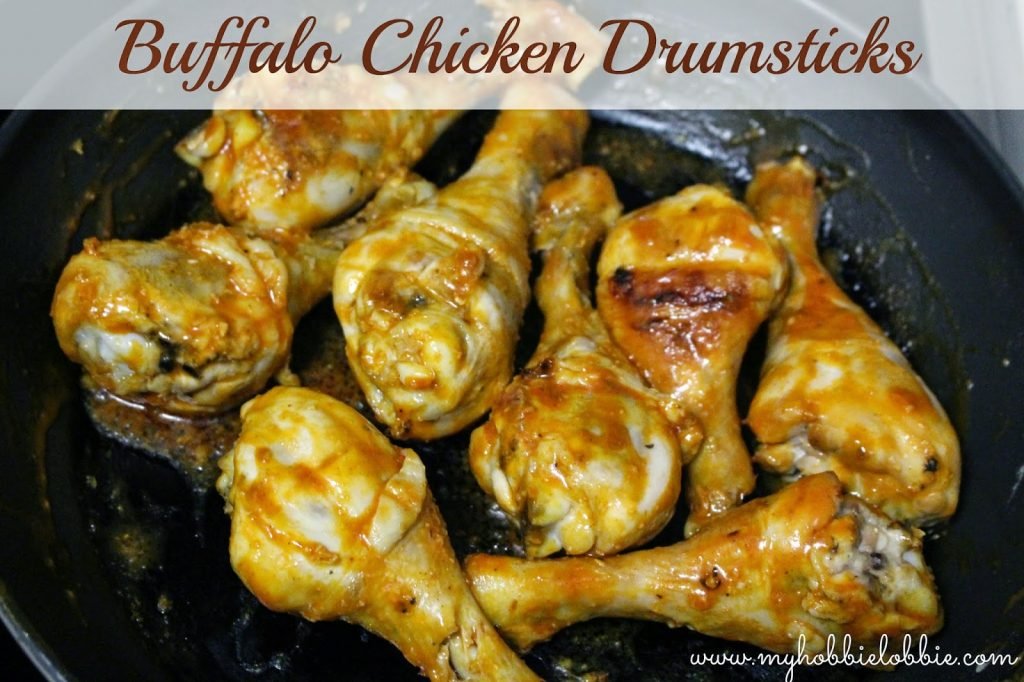 Buffalo Chicken Drumsticks
8 chicken drumsticks
Salt, to taste
Black pepper, freshly crushed to taste
Lime / lemon juice, to taste
1 tsp ginger paste
1 tsp garlic paste
1 tbsp oil
Buffalo / Barbecue sauce, to taste
Mix the salt, pepper, lime juice, ginger and garlic paste.
Add the chicken to this and toss well.
Leave to marinade for about half an hour.
Heat oil in a pan.
Fry the chicken pieces till done.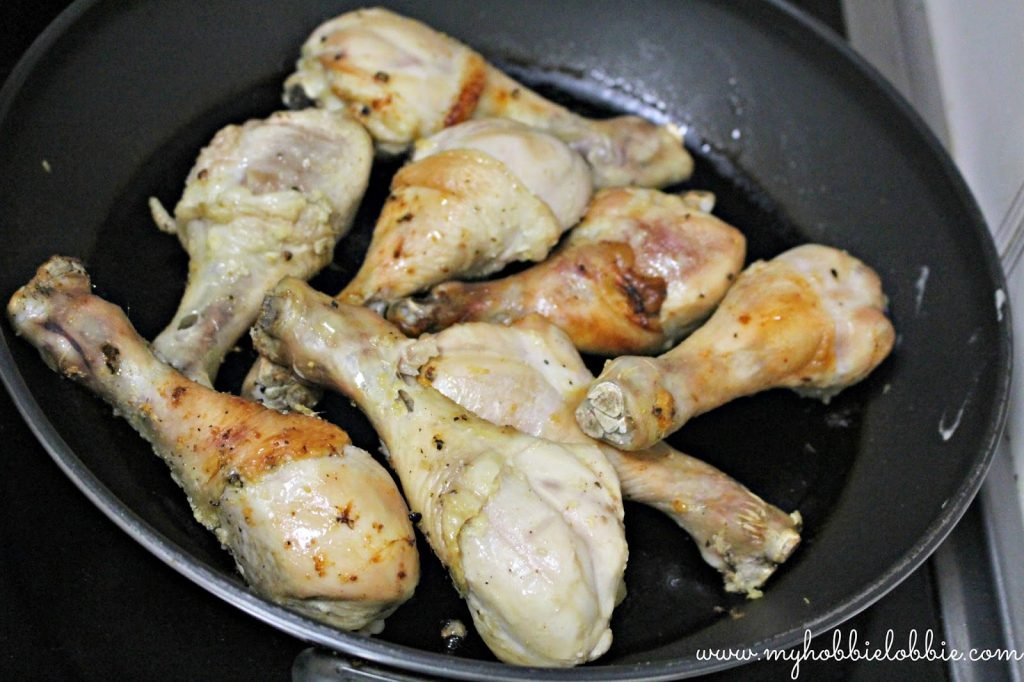 Add the buffalo / barbecue sauce and toss well. I leave it on the heat for about another minute to heat through.
Serve up.
**NOTE** – The picture above shows just the Buffalo Chicken version, but I have tried this with the barbecue sauce and it turns out fantastic.
Chicken is a protein that we eat most frequently at home. Whether it is a curry or fried, roasted or in a salad, we love it. What I also love about it is that is easy to prepare and cooks fast. One of many new edible ingredients that I've had access to in the last year is a Cajun spice mix. A lot of the spices I use are Hoyt's including this one.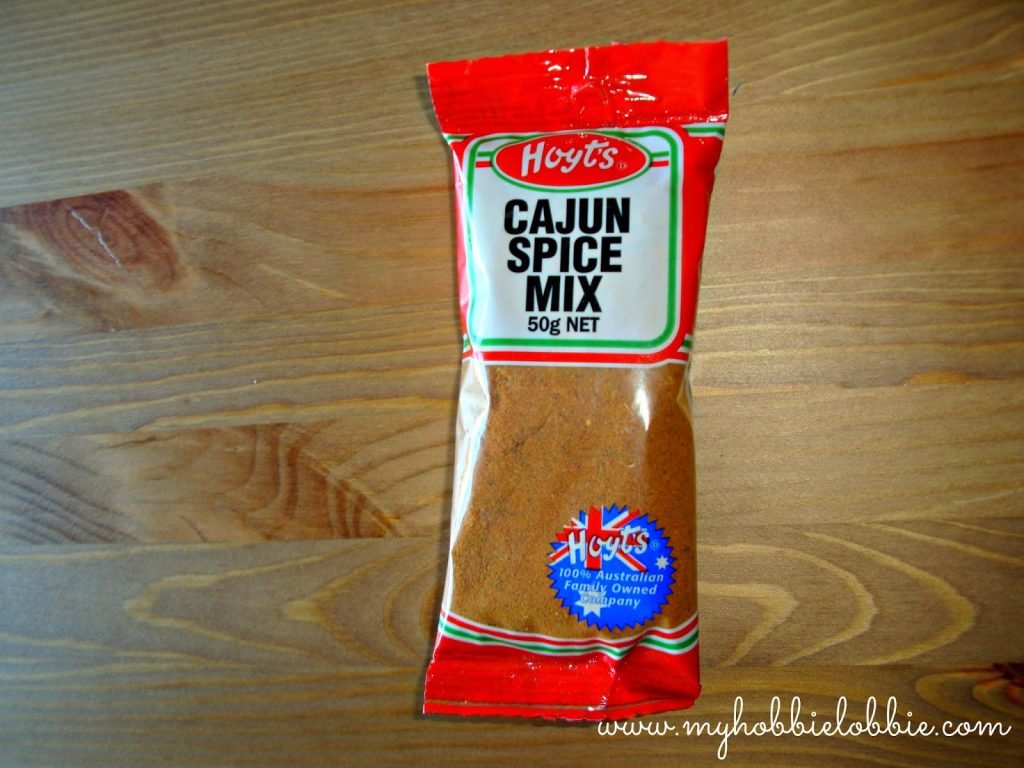 This is the first brand of Cajun Spice that I tried and enjoyed it a lot, so I've just stuck with it. And moreover, it is a 100% Aussie family owned company; I try to buy local whenever possible. I know there are loads of folks who make this blend at home and sometime in the future, I fully intend trying my hand at making it myself. For now, I'll stick with what I have easy access to.
Making Cajun chicken my way, couldn't be easier. I use smaller pieces of boneless chicken. Sometimes I use thigh fillets, other times I use breast fillets. I almost always buy the whole bird and then portion it out and cut it up at home (that is husband's department though). You could use whatever cut you like. Its nice to leave the chicken to marinade for about half an hour, but at times, when I've been pressed for time, I've made it after just 10 minutes and it still turns out pretty good. This is not a recipe as such, more of a guide to some yummy chicken.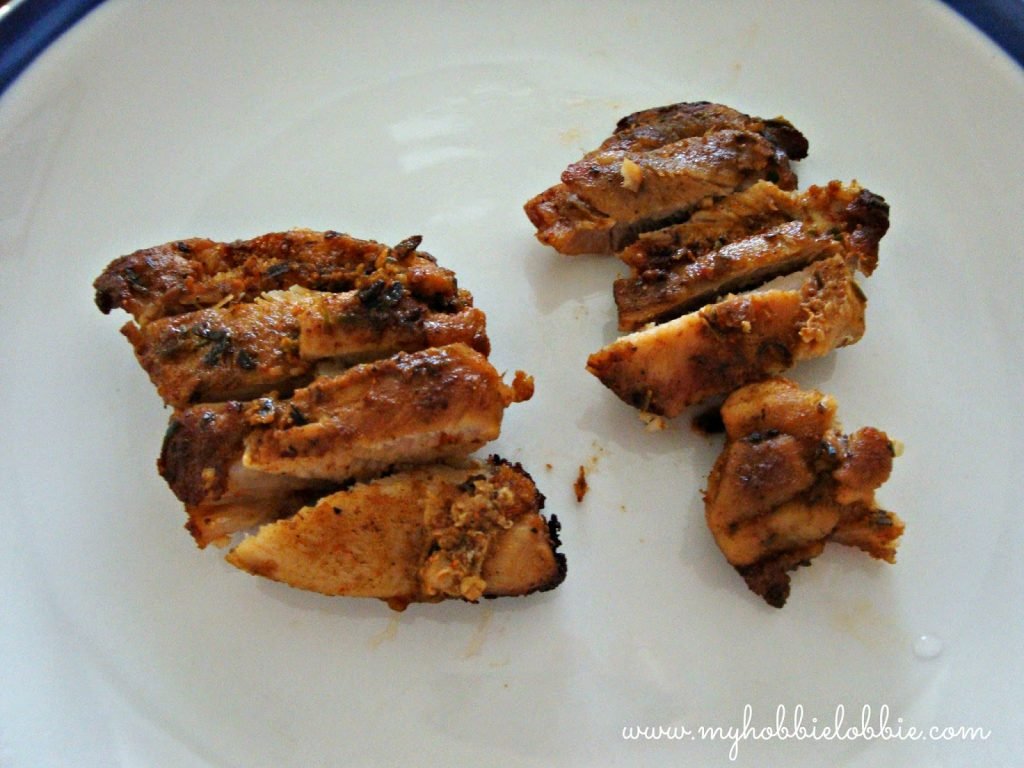 Boneless chicken pieces
Salt, to taste
Lime juice, to taste
Cajun spice blend, to taste
1 tbsp Vegetable oil
Take off the skin and trim the fat, if any, from the pieces of chicken.
Sprinkle the salt and cajun spice mix over the pieces of chicken.
Squeeze the sour lime juice over the chicken. I think the lime juice is what brings out the wonderful flavors of the spice blend. Its definitely not the same without the tang from the citrus juice. If you don't have lime juice at hand, you could use lemon juice too, you'll just need to use a little more.
Toss the pieces well to ensure they are well coated. Rubbing the spices into the pieces of the chicken works really well. Leave the chicken pieces in the spice rub for about half an hour.
Heat the oil in a pan. Carefully place the pieces of chicken in the pan and fry on both sides over medium heat till done. Depending on the number of chicken pieces you are frying, you may need to cook it in batches. Do not overcrowd the pan. You may need to use a touch more oil for each batch. (Tip: I start on a slightly higher heat to seal in the juices and then lower the heat to cook it through.) If you have a grill, I'm pretty sure this would taste fantastic grilled too.
You could serve these chicken pieces as they are with a salad for a fantastic quick weeknight meal. Or you could do what I do – cut up the pieces and use them in wraps and take them to work for a great packed lunch option. Here's how a put the wraps together.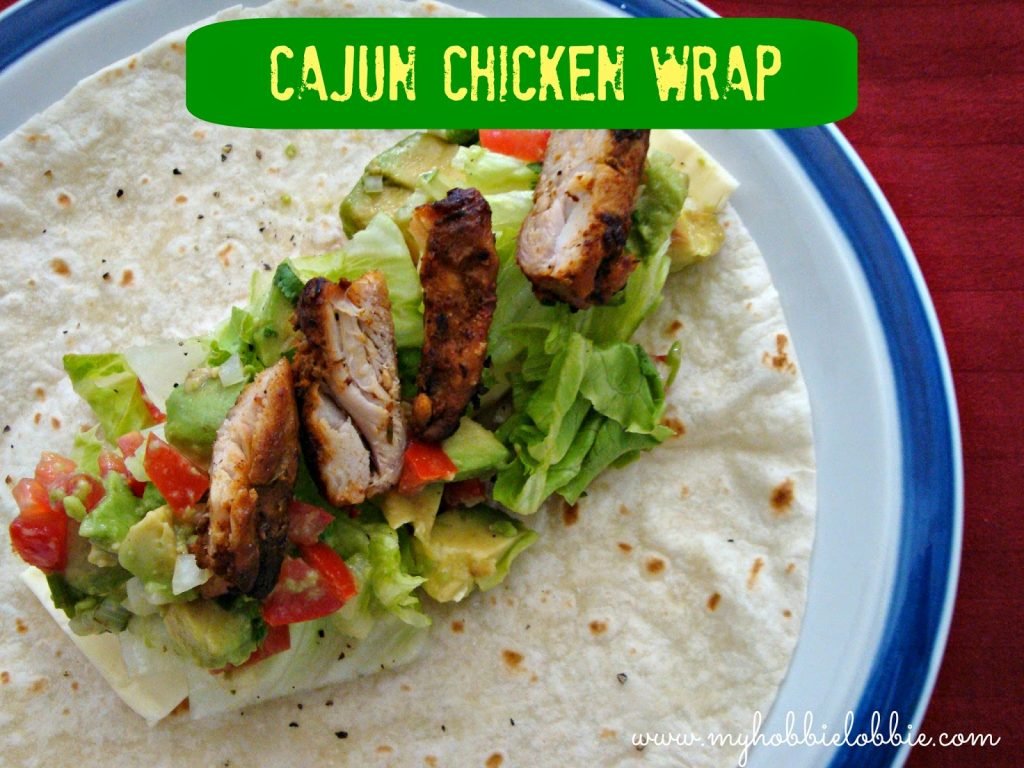 For the Wrap –
Flour tortillas (I used store bought)
Iceberg lettuce, chopped
Cheese slices, optional
Cajun chicken pieces
Lay the cheese in the middle of the tortilla and place some lettuce on top.
Top that with the the chunky guacamole and lay the chicken pieces over it.
Carefully, roll the tortilla to make the wrap.
Tip: If I'm eating the wrap straightaway, I warm the tortilla before making the wrap.
Enjoy!!!
** This is not a sponsored post. I'm just sharing with you a product I really enjoy.