I'm back …. after what seems like forever. There have been a few changes around here. First of all, a name change. We are now called "The Aspiring Home Cook" which I think suits me and the site just right. The housekeeping will take a little longer. I am currently working on updating names and links on Facebook and Pinterest. So if you have any of the links saved locally, you will need to replace "myhobbielobbie" with "theaspiringhomecook". All the pictures before today will still have watermarks with the old name and I hope to replace them eventually. So there will be a few more changes around here.
So there you have it. You now know why I've been missing in action around these parts. Up until now, I thought I'd wait to sort everything out before I got back to posting here again. But I couldn't stay away any longer. I needed to try out new recipes and have someone to tell about them. So I'm back. All this techie business has lead me into a kind of cooking / baking rut lately and I've been longing to dig into some interesting food again.
So after a little bit of looking around, I think I've found some of my mojo again. I found this really good recipe for a curried beef mince, Goan style. This recipe is very different in technique from my usual recipe. I was a little skeptical when I started reading through it because of the major differences. But its the differences that convinced me to try it out. I was glad I did. There are a couple more steps involved in this recipe but it results in a very flavorful beef kheema. The red masala comes through making the resulting dish a warming shade of red, perfect for these cooler autumn days. I hope you try this recipe out when you have a hankering for some good homemade Goan / Indian food.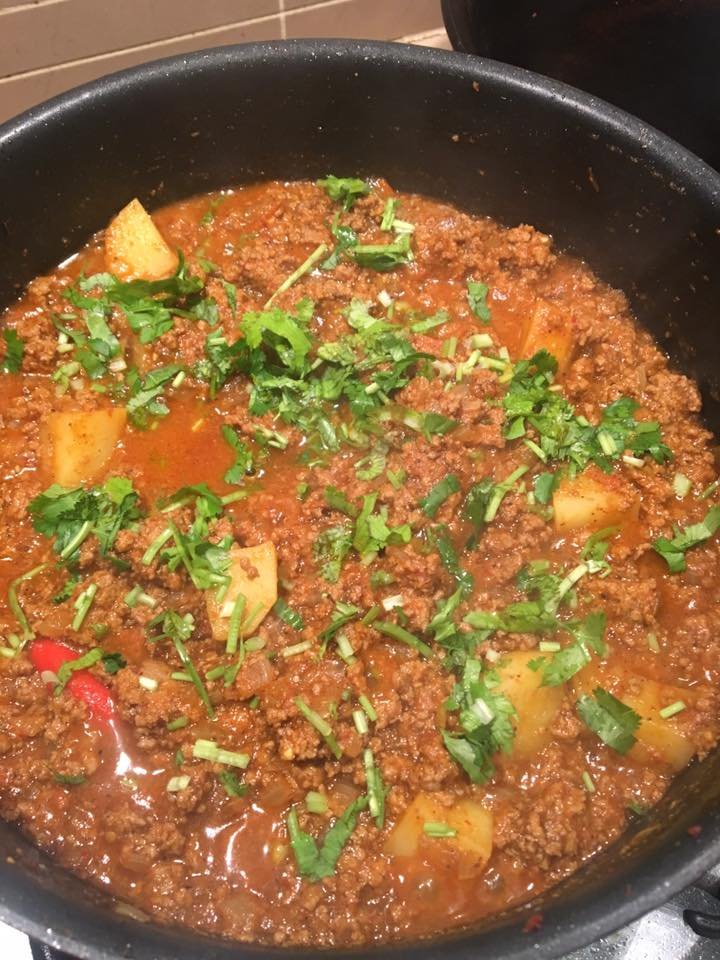 Goan Red (Beef) Kheema
Recipe from: Delicious Memories with Alves Fernandes
500g Beef mince
1 1/2 tsp ginger garlic paste
Juice of 1 lime
2 medium potatoes, cut into cubes
1 tbsp cooking oil (sunflower, vegetable, groundnut, olive – whatever you use for your day to day cooking)
2 onions, finely chopped
2 medium sized tomatoes, chopped
1 fresh green / red chillies, slit
1-2 tbsp fresh coriander, chopped
2 tbsp vinegar
Salt, to taste
A pinch of sugar
Grind to a paste –
5 dry red Kashmiri chillies (or any mild variety)
2-3 large cloves of garlic
1″ ginger
1 1/2″ cinnamon
2 cardamom pods
32 black peppercorns (I know it seems like a lot, but its not)
15 cloves
1 tsp cumin seeds
1 teaspoon white poppy seeds (khuskhus)
1 tsp turmeric powder
3 tbsp vinegar
Water, as needed
Marinade the raw beef mince with salt, ginger garlic paste, juice of 1/2 a lime and mix thoroughly. Keep aside.
Grind all the ingredients listed under 'grind to a paste' to a fine paste and keep aside.
Bring the marinaded mince and 1 cup of water to a boil. Simmer till the mince is cooked about 3/4 of the way.
Heat the oil in another large pan.
Saute the onion. till they have turned translucent.
Add the tomatoes and cook till it has softened.
Add the ground spices and let it fry for 2-3 minutes stirring occasionally.
Add the potatoes and stir well to coat them in the spices.
Add the boiled mince to the pot and stir through. Let it cook for about a minute, then add the remaining stock that the mince boiled in.
Add about a cup of water to the blender in which the spices were ground and swirl around to get any remaining masala (spice paste) and continue cooking.
After about 5 minutes, add the slit red / green chilly and the remaining lime juice (juice of 1/2 a lime).
Let it cook till the potatoes are tender. Just before the potatoes are cooked, add salt (to taste) and a pinch of sugar.
Cook till the potatoes are cooked and the gravy is the consistency you like. I like mine to be more on the thicker side.
Check for salt and sourness and add more as needed.
Turn off the heat.
Sprinkle chopped coriander over the top and serve hot.
Serve with some boiled rice, pulao, chapatis or even your favorite bread.