Growing up in Bombay and spending most of my summer breaks in Goa, I have had more than my fair share of curries. My Mum and my Aunt were great cooks and both could whip up a mean curry with great ease. So whether it was a meat (Chicken, mutton, beef or pork), seafood (fish, prawn or crab), lentil or vegetable curry, they were all really good. The best part is, they could do a lot of this without looking at a recipe. Now I haven't reached the 'no recipe' stage for some of the more intricate curries, but I do know a thing or two about them.
So, a while ago, when I saw this episode of Poh & Co, where Poh (one of my favorite TV chefs) whipped up a Nonya (a type of Malaysian) Chicken Curry, both, my husband and I knew we had to try the recipe out. The recipe does call for a few specialty ingredients, but the first time I made this curry, I didn't have them and so I left them out. Even then the curry was a great one. But I knew I wanted to try the recipe with all of the ingredients. So I picked up the Pandan leaves and the Shrimp Belachan at a local Asian grocery store and made the curry again. This time with all the ingredients. The result was a mind-blowing curry. Now I don't often refer to a curry as mind-blowing. A cake, maybe, but never a curry. But this curry is all that, and then some. It is one of my favorite chicken curries. And today I'm going to show you how I make mine. I have altered the method a tiny bit, to make the recipe more convenient and I hope you try this out the next time you want to make a chicken curry.
If you've never made a curry before, don't let the idea scare you. It is easier than you think. I've put together a video to walk you through the process.
Let's move on the the detailed recipe for this Nonya Chicken Curry.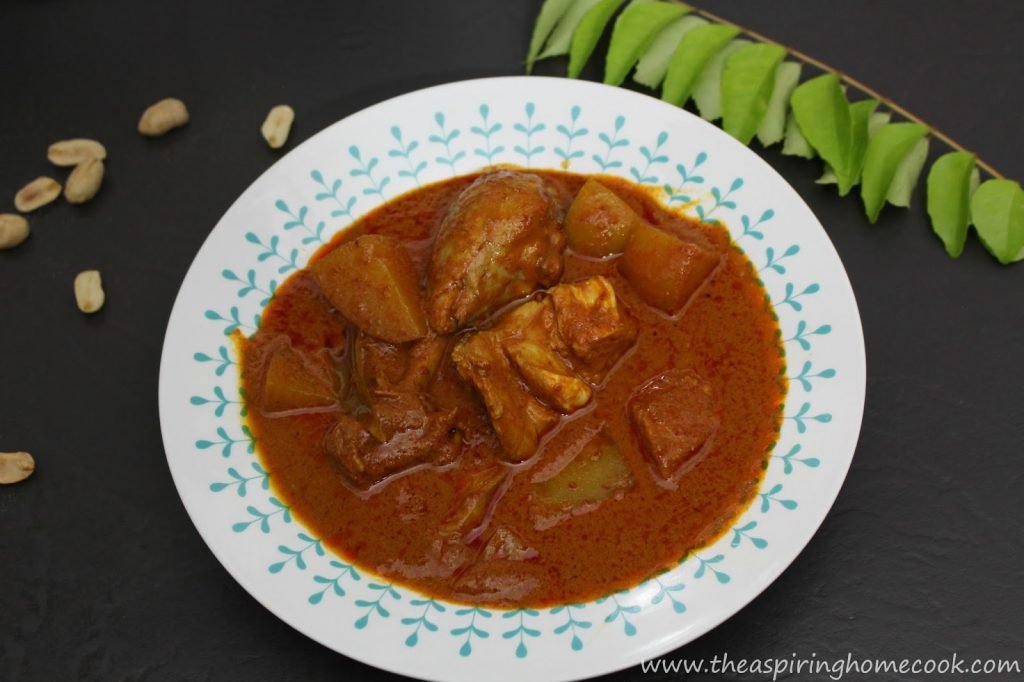 Nonya Chicken Curry
Recipe from: Poh Ling Yeow
3 tbsp Coriander seeds
1 tsp Cumin seeds
1 tsp Fennel seeds
15 dried red chillies
2 onions, roughly chopped
4 cloves garlic
20g toasted Belachan
1/2 tsp turmeric powder
8-10 curry leaves
2 tbsp oil (I use olive oil for all my cooking. You can use whatever oil you normally cook with.)
1 star anise
3 cloves
1 inch cinnamon
1 1/2 kilo chicken pieces
2 potatoes, cut into large cubes
2 birdseye chillies, slit lengthways
1 can coconut cream (400 ml can)
2 pandan leaves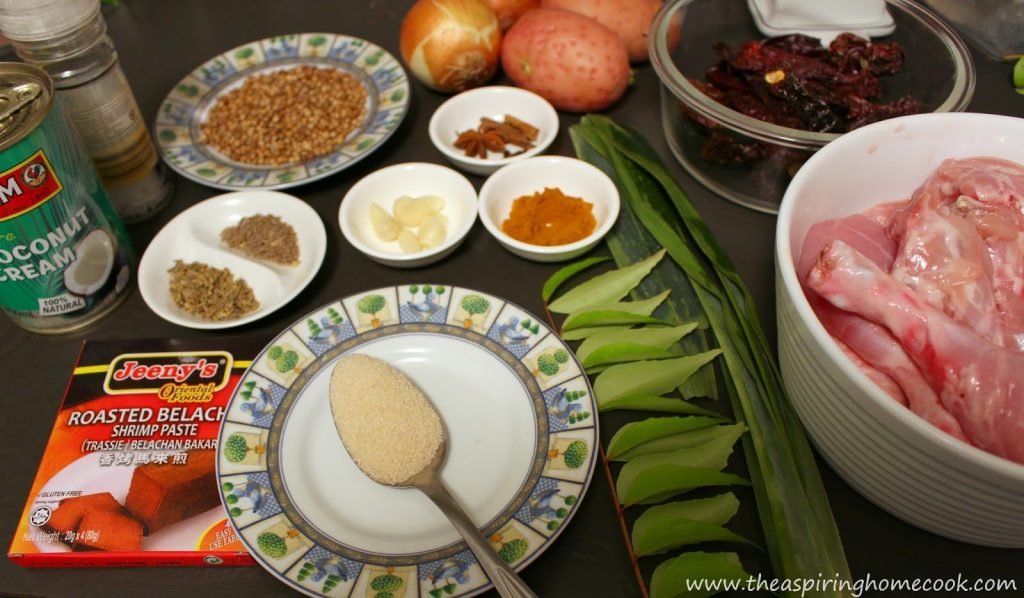 Take the skin off the chicken, cut into pieces, trim the fat off and set aside.
Deseed the dried chillies and soak them in hot water till they've rehydrated and softened.
In a dry pan, on medium heat, roast the coriander, cumin and fennel seeds till fragrant. Take them off the pan and set aside to cool.
Using a blender or food processor (you can also use a mortar and pestle if you dont have one), grind the roasted coriander-fennel-cumin seeds mix, drained red chillies, onion, garlic, belachan and turmeric to a fine paste, adding a little water as needed.
Heat oil in a large pot / pan over medium heat. Add the star anise, cinnamon and cloves and let them fry till fragrant about 20-30 seconds.
Add the spice paste (rempah) to the pan and saute for 6-8 minutes till the sauce is very fragrant.
Tear the pandan leaves into 3 strips lengthways and knot them together. Add the pandan and curry leaves to the spice mix.
Add the chicken to the pan and stir to coat with the spice paste. Saute for 1-2 minutes or till the chicken pieces start to look opaque.
Add the coconut cream and stir well.
Add the potatoes, salt and sugar. Add a little water to thin down the sauce a little to reach the desired consistency. Let it come to a boil.
Add the slit birdseye chillies, lower the heat, cover the pot and simmer till tender. Check after 5-7 minutes, add more water if needed, stir to make sure the curry doesn't stick to the bottom of the pan. Cover the pot and continue cooking till the chicken and potatoes are cooked.
Serve hot with rice. I tried to serve it up like a Nasi Lemak, but with plain rice instead of coconut rice. I added some fried baby anchovies, peanuts, boiled egg and some cucumber slices.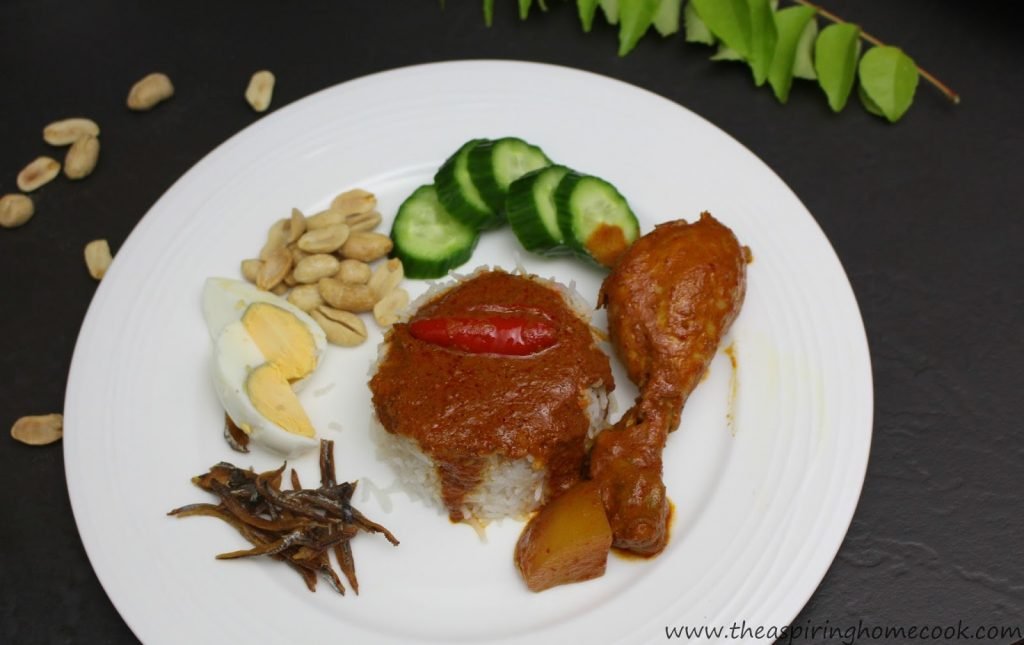 This curry also goes really well with roti or even bread. If you can get on hands on some Roti Canai, even better.
Enjoy!!!
** This post contains affiliate links.
Today's post takes me back about 16 years. Back to when I first started working (gosh I feel old now). Back then, our meals were taken care off by the work place. And for me that was novelty because growing up we almost never ate out. My mum would cook up every meal and snack for us at home and as kids we were content with that. But eating in the office cafeteria was interesting. Here, I was introduced to such a variety of food from different parts of the country (India). But I wasn't too keen on cooking then. During those days I only enjoyed making our traditional Goan sweets (Kuswar) for Christmas and other Goan sweets that my Nana would whip up for us for afternoon tea or an after school snack.
One of the dishes I encountered in the office cafeteria, that eventually became a favorite, was Methi Malai Matar (meaning Grean Peas in a Creamy fenugreek gravy.) It has strong Indian flavors but is mildly spiced. After moving to Sydney, I began craving some of this stuff. And it was only then I decided I was going to have to learn to make this dish myself, much like I had to learn so many other Indian recipes that I wanted to enjoy. Now the challenge was finding fresh Fenugreek leaves. The only place I've found fresh leaves is at one vendor at the Paddy's Market in Flemington. But that's a long drive from us. So I thought I'd try and find a recipe that used dried leaves (known as Kasoori Methi
) which is easily available at any Indian grocery store. And let me tell you, I found one. I couldn't believe how easy this little curry is to put together. With just a handful of ingredients, in less than half an hour you can be sitting down to a warm bowl of Methi Malai Matar for dinner. This goes really well with roti / chapatis, but you can also enjoy this with some bread or plain rice.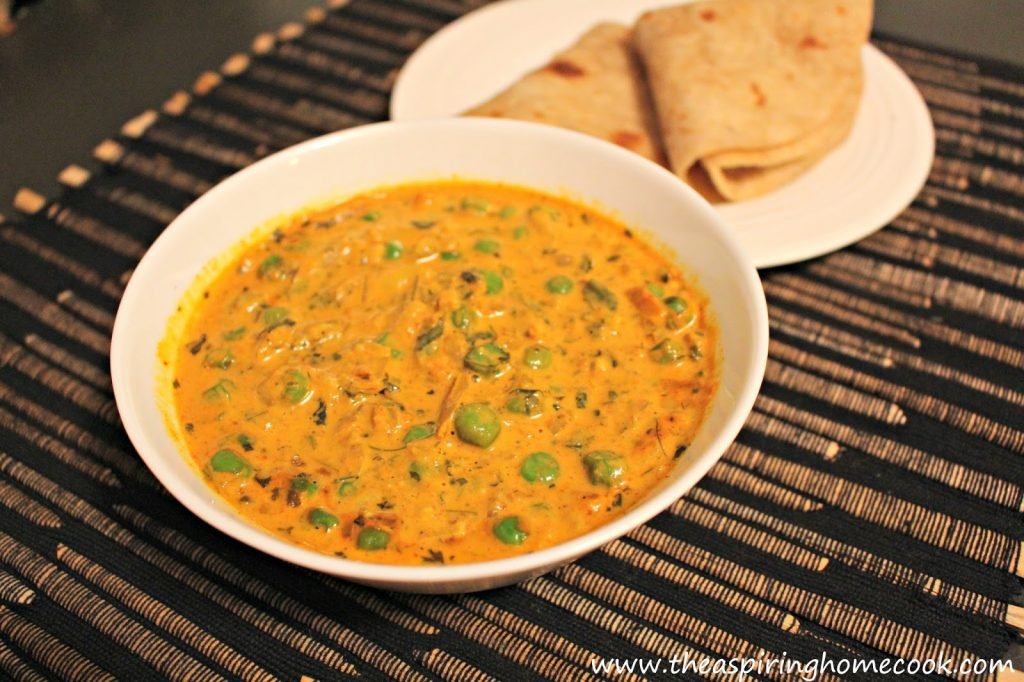 Methi Malai Matar
1 cup green peas (fresh or frozen will both work, if using frozen let it thaw before using)
3 tbsp Kasoori Methi

1 onion, finely chopped
1 tsp ginger garlic paste
1/2 tsp Cumin seeds
1 green chilly, finely chopped (optional)
1 cup milk
8 cashew nuts
2-3 tbsp cream
1/2 tsp Garam Masala Powder
1/2 tsp coriander powder
1 tsp Red Chilly Powder

1/4 tsp Turmeric Powder

1 tbsp oil (I use olive oil for cooking)
Salt, to taste
Soak the cashewnuts in a couple of tablespoons of milk for about 15 minutes.
Grind this to a smooth paste and keep aside.
In a pot / saucepan heat the oil on medium heat.
Add the cumin seeds to the oil.
When the cumin seeds start to sizzle, add the ginger garlic paste and green chillies and saute for a minute.
Now, add the chopped onions and saute till they've slightly browned.
Add the cashew paste and fry it for a couple of minutes, stirring to avoid burning.
Now add the turmeric powder, coriander powder, red chilly powder and the garam masala powder. Add salt to taste and stir well.
Now add the rest of the milk and stir.
Let it come to a boil and then simmer for about 2-3 minutes and the gravy will start thickening.
Add the cream and stir in.
Now add the green peas. Let the peas heat through and let the gravy come to a boil again.
Now add the kasoori methi and stir.
If the gravy is too thick at this stage, add a little water to achieve desired consistency. Just make sure the gravy comes to a boil after the water is added and simmer for a couple of minutes.
If the gravy is not thick enough, let it continue cooking, stirring occasionally, till it thickens to your liking.
Serve hot with rotis / chapatis.
Enjoy!!!
If you're looking for other methi / fenugreek recipes, check these out –
Methi Parathas
Methi Namakpare
Methi Poori
After what seems like ages, I'm finally back. And it's good to be back. I was away for a month and spent Christmas with our family in Mumbai, followed by a mandatory trip to Goa and a short stopover at Panchgani. Those of you that follow me on Instagram would have seen some of my pictures there. Those of you that don't, I would love it if you could join me. I'm on IG as @vaztrisha – Do stop by and say 'Hi'.
I can't wait to share more about the trip with you. However, that wonderful trip ended with an anti-climatic couple of days of jet lag followed by 2 weeks of a cold, stubborn cough and a couple of days of a fever. Am I glad that's over. I hate being unwell mostly, because that means I cannot be up and about cooking and enjoying the simple pleasures of life. But I'm well and truly glad to be back.
One of the first few things I cooked up after getting back on my feet is my beloved Mama's Meatball Curry. I've always loved this curry right from the time I was a little girl. This time when I went to Mumbai, I knew I had to learn this recipe from her. See this is the thing with her recipes, she can whip them up with her eyes closed, but ask her to tell you how she makes it and she may leave out a thing or two, not intentionally of course. So this time around, I got into the kitchen and watched her make it. Yes, I watched her, like a hawk 😉 And I'm happy to report that I got the recipe down and made the curry today and I was really pleased with how it turned out. Ofcourse, nothing can beat the food my Mother makes (even though I follow her recipes to the T, her food always turns out better), but this came pretty close, I tell ya.
This recipe is a little more intricate than most of the recipes I share here, but it is really easy. There are two parts to it – one is making the meatballs and the second is making the curry itself. This curry is full of flavor and goes really well with either plain steamed rice or this fragrant Peas Pulao. If you're not in the mood for rice, it goes well with some Goan bread (Poee) or dinner rolls too.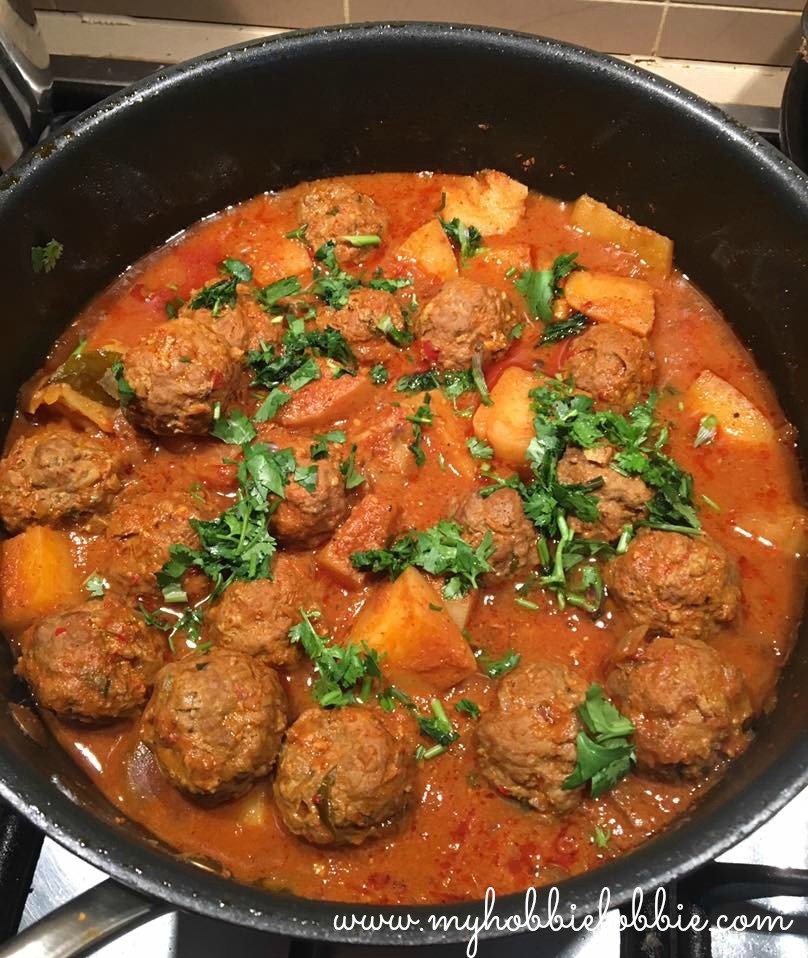 Goan Meatball Curry


For the Meatballs –
1/2 kg beef mince (ground beef)
1 medium onion, finely chopped
1-2 green or red chillies, finely chopped
2 tbsp fresh coriander leaves and stalks, finely chopped
Salt, to taste
1/4 tsp turmeric powder
1/2-1 tsp red chilly powder
1 egg
1 tbsp worcestershire sauce (optional, though it does add good flavor)
Mix all the ingredients together.
Form the meatballs and set aside.
For the curry –
1 small onion, finely chopped
6 curry leaves
2 tbsp oil
Salt, to taste
Tamarind, to taste (Soak tamarind in warm water to form a pulp)
Fresh coriander leaves and stalks, finely chopped
1 large potato, peeled and cut into large cubes
Grind to a fine, smooth paste (masala) using a little water –
8 Kashmiri chillies (dry red chillies, mildly spiced, but used for its vibrant color)
4 Bedki chillies (dry red chillies, spicy)
3 large cloves garlic
1 tsp cumin seeds
6 cloves
10 black pepper corns
2″ cinnamon
1/3 tsp turmeric powder
1 tomato
Heat the oil in a pan and carefully drop the curry leaves in.
Add the onion and saute on a medium high heat till the onions are translucent.
Add the masala and continue sauteeing for a few minutes till the raw smell of the masala goes and the oil starts to seperate.
Add salt, to taste.
Add water to get it to the desired consistency, depending on how thick or thin you'd like the gravy. Keep in mind that the gravy does thicken a little as it cooks. Err on the side of less, you can always add more water as you need.
Gently place the meatballs in the gravy.
Place the potato cubes in the gravy without smashing the meatballs.
Once the gravy comes to a boil, turn the heat to a simmer, cover the pot and let the curry cook.
After about 15 minutes, check to see if done.
Check and add more salt, if needed.
Add tamarind pulp to taste.
Once ready, garnish with some fresh coriander and serve hot.
Enjoy!!!
**Note: You will be able to find Kashmiri chillies in most Indian shops in Sydney and a few of them carry the Bedki / bedgi variety. If you can't get your hands on them, substitute with any dry red chillies you have on hand. You may then need to adjust the number of dry red chillies used, to regulate the spice level to your liking.