This Thai Chilli Basil Fried Rice is packed with vegetables. It uses all plant-based ingredients but still has all the flavors found in Thai cuisine.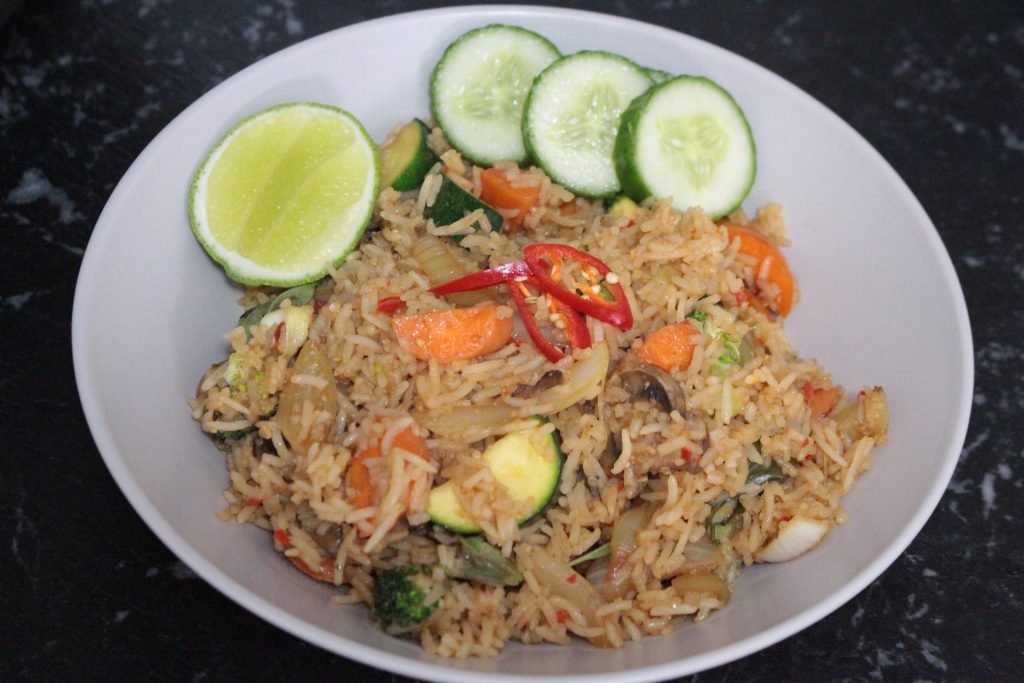 A good fried rice is a must have in every aspiring home cook's arsenal. I enjoy fried rice a lot. Sometimes, I think, maybe a little too much. But in my defense, what's not to love about it? While I love a good Chinese style fried rice, this Thai Chilli Basil Fried Rice has become a new favorite.
Its a simple meal in itself that is super versatile. You can use a lot of different vegetables, whatever you have on hand. It requires just a little advance planning in the form of cooking the rice ahead of time. Combine that with a clever use of some sauces that I always keep on hand and I can sit down to a nice, hot, home cooked meal in a jiffy.

In the past, I've always relied on a Chinese style fried rice. But a couple of years ago, when I tried a Spicy Thai Chilly Basil Fried Rice at a local Thai restaurant, I was smitten. All this flavor and spice – this fried rice blew my socks off. I ordered it every time we went out for Thai food. After a few such instances, I knew that I simply had to learn to make this at home and so with some experimentation, I ended up with a recipe that was really close to my favorite version.
Fast forward to December 2019. Just a few weeks before Christmas, my husband and I decided to switch to a more plant-based diet. And I'm happy to report that we're loving every bit of this new plant based diet. The last couple of months have involved a lot of experimentation and researching substitutes to make my favorite recipes vegan-friendly. And I have finally found the ever elusive 'mushroom oyster sauce' that always seems to be sold out at my local Asian grocery store. Obviously, the next step was to try a vegan version of my Thai Chilli Basil Fried Rice.
It took a little tweaking, but OMG, this fried rice is phenomenal. I think I may like it a little more than the original recipe. So if you like Thai food, whether or not you follow a plant based diet, you must try this recipe out. Its a simple recipe, but is so flavorful and packed with veggies, that I promise you won't even miss the meat.
So let's talk about the recipe. There are a few steps involved but they are all really easy to follow. The fried rice is ready in minutes and its best to have all the components prepped and ready to go.
Step 1 – Making the rice
I used some Basmati rice as that's what I had on hand. Wash the rice out a couple of times and soak it in some water for about 30 minutes. Drain the water, rinse with some fresh water. Bring a large pot of water to a boil, season with salt, add the rice and cook it till is done about 80%. The rice should still have a little bite and shouldn't be too soft. Let it cool completely.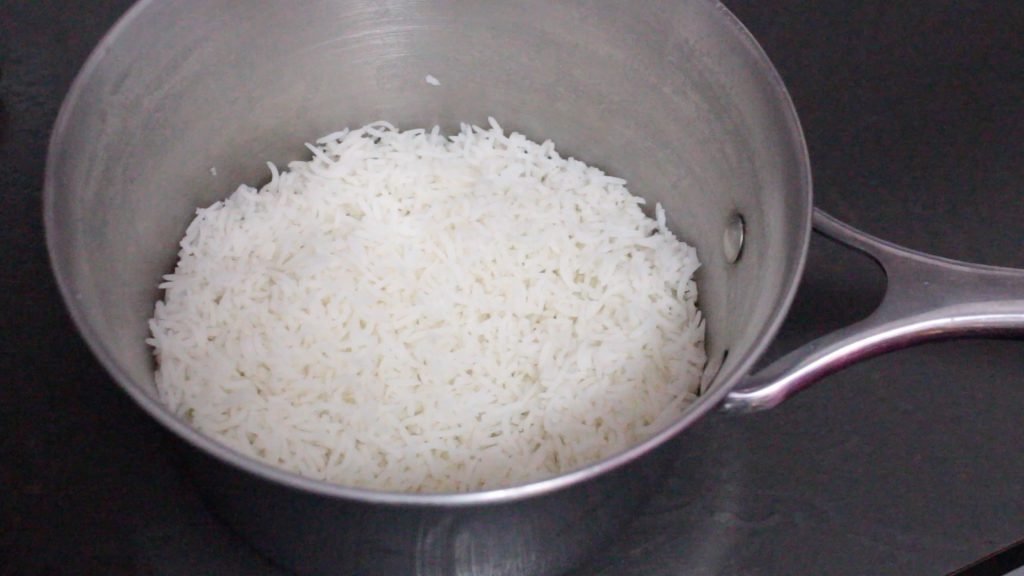 It's best to cook the rice atleast a few hours before you need to make the fried rice. You can even make the rice the previous day. Let it cool completely and refrigerate till you need to use it.
Step 2 – The spice paste
This couldn't be simpler. Its a combination of some Thai birdseye chillies and garlic. We like our food spicy and this recipe is no exception. If you like Thai food but want to cut down on the spice, you can use a combination of birdseye chillies and some cayenne peppers or any other milder chilly. Grind this to a coarse paste.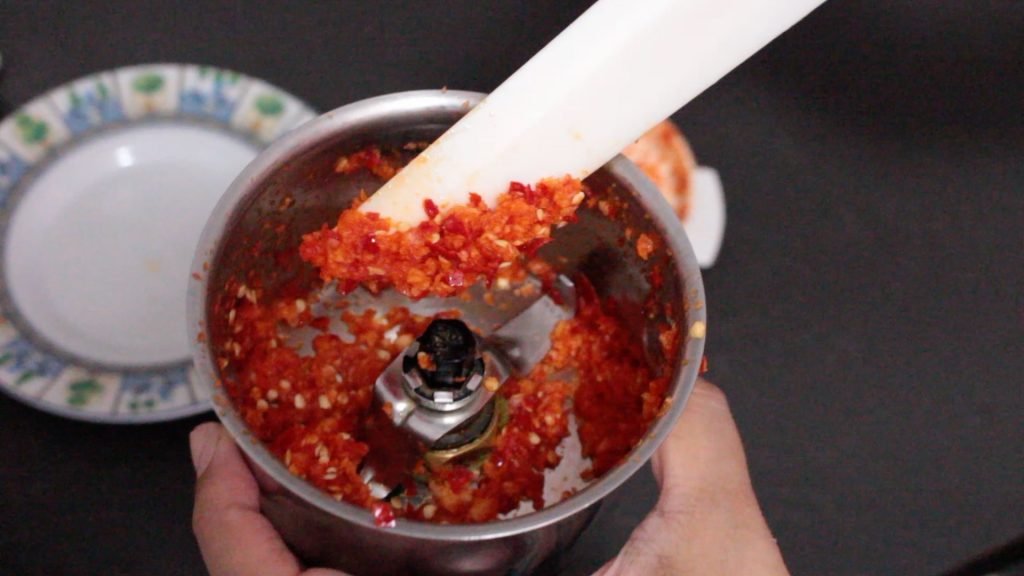 Step 3 – The sauce
This sauce makes this fried rice what it is. I have had to make a few substitutions to make this recipe vegan friendly but I believe this combination of sauces comes really close.
Simply stir together all the ingredients for the sauce – the miso paste, soy sauce, mushroom sauce, white pepper powder and sugar. Set this aside to use once we start cooking.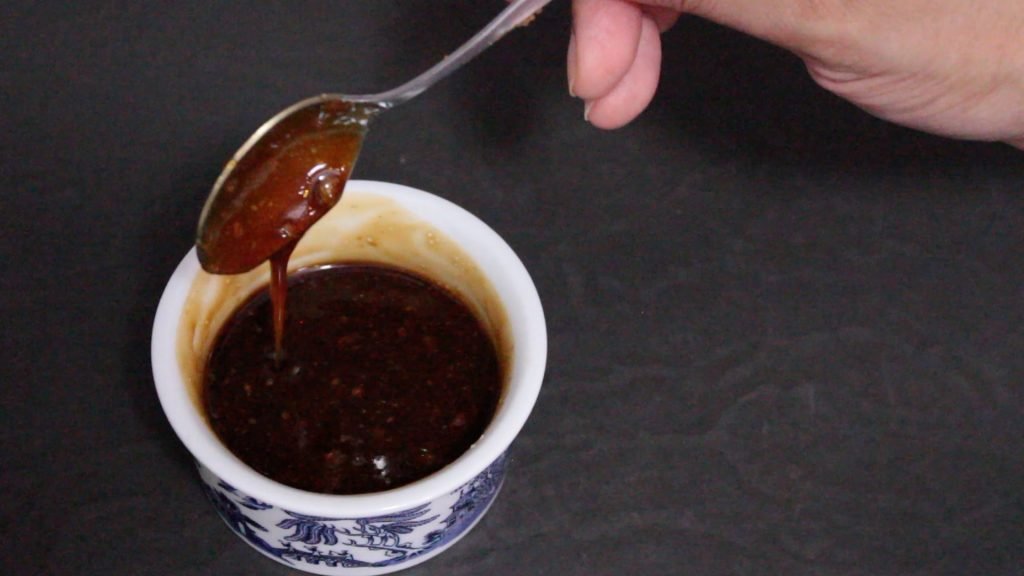 Step 4 – Prepping the veggies
Clean and cut all the vegetables and keep them ready. I use onions, carrots, zucchini, mushrooms and broccoli.

Pick the Thai basil leaves and keep them in a separate bowl.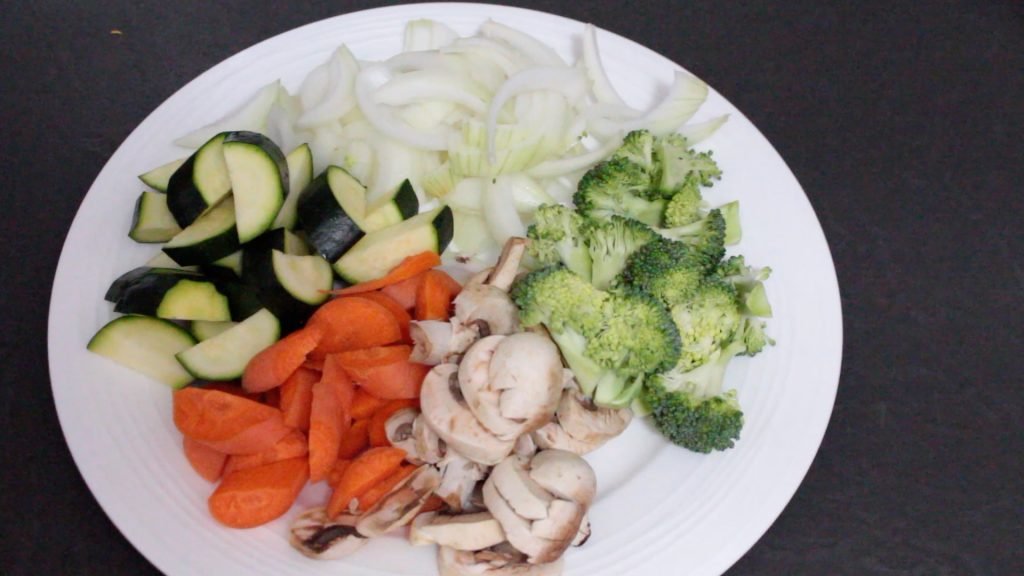 Step 5 – Making the fried rice
This is by far the easiest part of the recipe. Now that all our prep work is done, the rest is just a matter of stir frying our ingredients in stages. Make sure you use a large wok or a large enough pan. At this stage, all the cooking is done on a high heat.
Now that you're familiar with the process, let move on to the recipe.
You'll notice that a lot of recipes that I share here are vegetarian. I thought I'd talk about that for a moment. While my husband and I aren't full time vegetarians, we eat very little fish and meat. Most of our meals in a regular week happen to be vegetarian and we like it like that.
Today's recipe is another such gem. Its my French Beans Foogath, a Goan Style Green Beans Stir Fry. I love keeping things simple in the kitchen. This works well for me when I'm short on time but still want a home cooked meal. This recipe ticks all those boxes. Just a handful of ingredients, a little cooking and you end up with a delicious vegetable. Now that's my kind of recipe. I hope you enjoy it too.




French Beans Foogath


1/4 kg green beans / french beans (approx)
1/2 tsp mustard seeds
2 chillies, cut into quarters lengthwise
1 onion, peeled and chopped
A little grated coconut
1 tbsp oil
Salt, to taste
Prep the green beans by washing them, trimming the ends and chopping into little pieces.
Heat some oil in a pan.
Add the mustard seeds.
When they start spluttering, add the chillies and stir for a few seconds.
Add the onion and saute till they've softened and they start developing a little color.
Add the green beans and stir well. Stir fry for about a minute.
Add a little salt and stir through for about another minute.
Add a couple of small splashes of water. Let the water come to a boil. Lower the heat, cover the pot and let the vegetable cook.
Check the vegetable in a couple of minutes. Stir and ensure there is sufficient water. Add more water if needed. Check for seasoning and adjust if required and let it continue to cook till done.
When it's almost done, add the coconut and stir through. Let it cook for another minute or so, to let the coconut warm through.
Serve hot.
Enjoy!!!
I feel like somewhat of a broken record saying this, but nevertheless, I will. Breakfast is the most important meal of the day. And I strongly believe in that.
In the past, I've been a bit here and there with breakfast. Growing up, we were almost always given a chapati or a paratha for breakfast. As a kid, it wasn't my most favorite thing in the world, but I always ate what was put in front of me. After moving out of my parents house, breakfast took a back seat. We were always in a rush to get out of the house to go to work and the first thing that got neglected was breakfast. A wholesome meal was often replaced with a slice of toast and coffee. But eventually, we got so fed up of that slice of toast, I started looking for ways to spice up brekkie, so to say. I did a lot of experimenting and also went back to some old favorites like this Upma that my mother made for us every now and then.
Moving forward to current day, I'm happy to report that in our house, breakfast is now a more wholesome meal. So, if you'd like to get back to wholesome breakfasts, the way it is meant to be, you've come to the right place. Today, I'm going to share with you our family recipe for Upma. Upma, for those who are unfamiliar with the term, is a Masala Semolina dish. Only recently, I learnt that there's actually a different name for it in Goa. Goans refer to this as Tikhat Shiro (translates to Spicy Semolina). It is quick, easy, wholesome and delicious. So I'll stop yapping here and take you straight to the recipe.
Upma
Yields: 2 adult portions
1/2 cup coarse semolina / rava
1 tbsp oil
1/4 tsp mustard seeds
1/4 tsp cumin seeds
5-6 curry leaves
2 chillies, cut into large pieces
1 small onion, finely chopped
1/2 inch ginger, cut into 2 pieces
1/8 tsp turmeric powder
1 small tomato (or 1/3 – 1/2 large), chopped
1/4 cup green peas
Salt, to taste
1 1/2 cup of water from a recently boiled kettle (hot water)
Dry roast the semolina on medium heat, till you get a nutty aroma and it only just starts changing color. Take it off the pan and place in a bowl and set aside.
Heat the oil in the pan.
Add the mustard seeds and let them splutter.
Add the cumin seeds and soon after add the curry leaves and chilly pieces to the pan. Saute for a few seconds.
Next, add the chopped onion and saute. When the onion has softened, add the ginger and stir well to fry off.
Once the onion has started to develop a little color on the edges, add the turmeric powder and stir well.
Add in the roasted semolina. Stir well to incorporate and saute for 20-30 seconds.
Now add in the hot water. Carefully stir the mix.
Add salt to taste, chopped tomatoes and green peas. Stir well to combine.
Stirring continuously, cook the semolina till all the moisture has been absorbed and you are left with nice fluffy grains. This usually takes me around 2 minutes.
Take the pan off the heat, cover and let it rest for a couple of minutes.
Serve hot.
Enjoy!
This post is a shout out to another one of my favorite vegetables – Red amaranth leaves. Have you tried it before? If you haven't, do try and get your hands on some. It is such a fun vegetable with its beautiful, naturally red color. It is super easy to put together and uses just a few, easy to find ingredients and you have yourself a mildly spiced, flavorful stir fried vegetable. My take on it, uses some grated coconut. Don't leave the coconut out. It absolutely makes this dish. The name 'tambdi bhaji' literally translates to Red Vegetable (in Konkani, Tambdi=red and bhaji=vegetable)
The sad part is, as much as I love this vegetable, I haven't been able to find these gorgeous leaves in Sydney. When I was back home in Mumbai a month ago, I knew we were going to make a few trips to the local fresh food market. Now, I haven't spoken about this before, but back when I lived in Mumbai, my first stop to the market was at a little stall run by a local lady (from the Gorai – Manori stretch). There are a couple of such stalls and these ladies bring a gorgeous bounty of produce that they grow on their properties. And this is as close to fresh, chemical free and organic food as you can get (make sure you chat with your vendor to confirm their growing practices). So on one of these trips to the market, my favorite vendor had some gorgeous bunches of red amaranth leaves. Needless to say, I grabbed a couple of massive bunches and ran home to whip it up for lunch.
So without any further rambling, let's move on to the recipe.


Tambdi Bhaji
2 large bunches of red amaranth leaves
2 tbsp oil
1/2 tsp mustard seeds
3 green chillies, slit
1 onion, chopped
2 heaped tbsp grated coconut
Salt, to taste
To prep the vegetable, break off the roots and the woody part of the stems and discard. Wash the leaves under cold, running water and drain. Wash it out a couple of times or till clean. Roughly chop the vegetable and keep aside.
Heat the oil in a large pot on medium heat. Carefully tip in the mustard seeds.
When the seeds splutter, add the chillies and let them fry till fragrant.
Add the onions and saute till they soften and turn slightly pinkish.
Add the chopped vegetable and stir well to coat it in the oil and onion mix. Let the vegetable stir fry for a couple of minutes. You will notice it wilting already.
Add some salt, to taste and stir well to mix.
Add a couple of tablespoons of water and mix through.
Cover the pot and cook on medium heat for about 3-5 minutes or till the vegetable is tender and most of the water has evaporated.
Add the grated coconut and stir through.
Check for seasoning and add more salt, if needed.
Cover the pot and let it cook for about another minute to let the coconut heat through.
Serve hot. Enjoy!
Breakfast is the most important meal of the day. We've all heard that. However, very often, its one of the most rushed through or even ignored meal of the day. A lot of times, this happens because of our crazy busy schedules or we fall into a rut and breakfast gets boring. I mean, as much as I like toast, I really can't eat it every single day. Moreover, I don't think toast by itself is doing me any good.
In our house, we tend to eat oats for breakfast very often. Sometimes, this can prove difficult, because we're running late or its summertime and I can't bear the thought of turning the gas on to make us porridge. Not to mention, eating hot porridge on a hot day, only makes things hotter. So once I tried refrigerated overnight oats, I was really happy. If you've never tried overnight oats, you really should. Oats are healthy and when combined with some chia seeds, fresh fruit and nuts, it is a really healthy breakfast. The best part is, this is a make ahead recipe and requires no cooking. Which can be a blessing during hot summers. This is a versatile recipe and you can add your favorite fruit and nuts to top it off. So I hope you try this out as a breakfast option and let me know what you think.
Vanilla Overnight Oats
(Makes 1 portion)
1/3 cup rolled oats
1 tsp chia seeds
1/4 – 1/2 vanilla extract
Maple syrup, to taste
2/3 cup almond milk (you can use soy milk or any other milk of your choice)
Fresh fruit and nuts of your choice (I used some strawberries, grapes and slivered almonds)
In a mason jar, add all the ingredients except the fresh fruit and nuts that you're using to top off the oatmeal with.
Cover the jar and refrigerate overnight. (You can make a larger batch and use it through the week)
In the morning, add the fresh fruit and nuts of your choice. Serve up.
Enjoy!
I've been making marzipan at home for a little over 12 years now. I must admit that in the past, I have only made marzipan using cashew nuts. This is mainly because they were more widely available in Mumbai and were more affordable than almonds. Last Christmas, when I shared my favorite marzipan recipe
here
and on
YouTube
, the video got a lot of love. I also got a lot of questions about making marzipan using almonds. There were also requests for an eggless version of marzipan. Now I have previously shared a different recipe for an
eggless (cashew nuts) version
. But I decided that this year, in time for Easter, I would try out an eggless almond marzipan recipe and share it with you. After a little experimenting, and more marzipan than I know what to do with, I have, what I consider a really good recipe to share with you.
How do they both compare? Well I found that the cashewnut marzipan is lighter while the almond one is a little on the denser side. That being said, the almond version is super delicious. I think even more than the cashewnut one. Then, there's also the fact that the almond one is a no-cook recipe. So, to sum up, I will still make my cashewnut version as it is a little easier to work with, but the almond one will be absolutely perfect to use in so many different ways. I'd love for you to try it out and tell me what you think of it.


No-cook Almond Marzipan
(Yields 250-260gms approx.)
1 cup raw, natural almonds
1/2 cup icing sugar
1/2 tsp rose water (you can add a little more if needed)
1/2 tsp almond extract (you can add a little more if needed)
Place the almonds in a heatproof bowl.
Pour water from a recently boiled kettle over the almonds to cover the nuts. Leave the almonds to soak for a couple of minutes.
Drain the almonds and peel them. Place them on some kitchen paper or a clean kitchen towel to dry up. Let the almonds cool down completely.
In a high powered blender / food processor, blitz the almonds to a fine powder.
Place the almond powder in a large bowl. Add in the icing sugar. Mix it thoroughly till combined.
Add the rose water and almond extract and knead to form a dough / log.
Your marzipan is now ready to be used.
If you don't need to use it immediately, you can wrap it in cling film and refrigerate till needed. It keeps for a couple of months. (Personally, I would just make this when needed, probably a couple of days ahead.)
NOTE: This marzipan is not a very sweet version. When the marzipan is formed, taste some of it. If you want it sweeter, simply add some more icing sugar and knead it in.
Chickpeas! If you've been around this space a bit, you'll know that I love my beans and lentils. Chickpeas happen to be right on top of that list. The best part is, they are so easy to work with. And No! I'm definitely not talking about using the canned stuff. While you can use canned chickpeas in most recipes that call for chickpeas, and I have too (when I didn't have access to my pressure cooker), there is nothing like cooking your chickpeas or any other beans for that matter, from scratch. I haven't bought the canned stuff for years now. I buy dry beans and lentils by the kilo.
To cook the beans, simply wash and soak them for 6-8 hours, drain and refresh the water. I use a pressure cooker to cook my beans in my stovetop pressure cooker with water, salt and a couple of whole Kashmiri chillies. It takes me just 5 minutes of cooking time after the pressure has built up to cook my beans through. However, each pressure cooker is different. Please refer to the user guide for your cooker, to see how long you need to cook the beans. If you done have a pressure cooker, cook it in a pot with sufficient water till tender.
Once, you've boiled your chickpeas, you can use them in so many different ways. I have shared a recipe for
Chole
on the website previously. That is still a great recipe but I have since tweaked it a little and I'm going to share that new version of the recipe today. I will call it Chana Masala to avoid any confusion. You can also use the boiled chickpeas in a
simple chickpea salad
, make some
Hummus
or use the kala chana (a darker version of the chickpeas) to make this amazing stir fry called
Black Chana Fugad
. They are all delicious.
Chana Masala
1 cup dry chickpeas (Wash, soak for 6-8 hours and cook till tender. Reserve the boiling liquid.)
1 bay leaf
2 inches of cinnamon
5-6 cloves
8-10 peppercorns
2 green cardamom pods
1 black cardamom pods
1 tsp cumin seeds
1 onion, finely chopped
2 green/red chillies, split lengthways
1/2 tsp ginger paste
1 tsp garlic paste
1/2 tsp turmeric powder
1 1/2 tsp Kashmiri chilly powder
1 1/2 tsp garam masala powder
1 cup tomato puree / passata
1 tbsp oil
Salt, to taste
1/2 tsp sugar
Fresh coriander leaves and stalks, finely chopped, to garnish
Heat the oil in a large vessel.
Add the bayleaf, cinnamon, cloves, peppercorns and cardamom pods.
When the spices turn aromatic, add the cumin seeds and stir.
Immediately add the chillies and onion. Saute till the onions have softened and have starting getting a little brown around the edges.
Add the ginger and garlic paste and stir through. Saute for another minute.
Add the turmeric powder, chilly powder and garam masala powder and stir well.
Add a couple of tablespoons of the stock from cooking the chickpeas to deglaze the pan and prevent the spices from burning. Stir through thoroughly.
Now add the tomato puree and cook for 3-4 minutes stirring every once in a while.
Add some more stock to bring the curry to the desired consistency. Please note, the curry will thicken a little as it cooks.
Bring it to a boil. Cover the pot and simmer for 5 minutes.
After 5 minutes, stir and check for seasoning. Add more stock if needed. Add more salt, if needed. Add 1/2 tsp of sugar. (Depending on the tomatoes you're using, you may need to add a little more sugar. Add to taste.) Stir through. Cover and simmer for another 5-7 minutes.
At this stage your curry should be cooked. Lastly add in the boiled chickpeas. Cook for another couple of minutes till the chickpeas have heated through.
Garnish with chopped, fresh coriander and serve hot.
Enjoy!!!
This recipe takes me way back to when I'd first enjoyed some Tava vegetables. It was at a party that had a huge buffet offering, both non-vegetarian and vegetarian. While the non-vegetarian spread was really impressive, I was intrigued by a live stall happening over on the veggie side of the table. There was a massive tava (cast iron griddle) and it had a variety of vegetables on it. The aroma was deliciously intoxicating and I knew I had to try some. I helped myself to a small assortment, some salads and took some naan bread to go along with it. Little did I know that this dish would have me hooked for a long time to come. This was about 7 years ago, I think. To this day, the thought of those tava vegetables has me yearning for some.
After a lot of searching, high and low, I found a recipe, that I tweaked to try and replicate the flavors I so vividly remember. Since I cook for just my husband and I, this recipe is scaled down. I also just use my favorite veggies from that day – okra (bhindi) and potatoes (aloo). I found that these are also some of the easy ones to work with. I don't make this recipe very often, because the veggies start off by getting deep fried and are then tossed with a spice mix (tava masala), and the deep frying tips this to the slightly indulgent side.
The spice mix, or my version of the tava masala is hot a very hot mix. The spices used are warm and flavorful. The chaat masala is an integral part of this recipe. If you haven't tried it before, it is a blend of a few spices like cumin, pepper and a few others with some powdered mango. So it has a unique flavor profile, you get a slight hit of salt, tang from the mango and delicious flavor from the blend of other spices. You can easily find this at any Indian grocery store. (This chaat masala also works well with other chaat recipes you find on my blog.)
So try this easy stir fry recipe. This is best enjoyed served hot with some chapatis, rotis, naan or other flatbread of your choice. It would also work well as a side dish to some hearty Dal & Rice.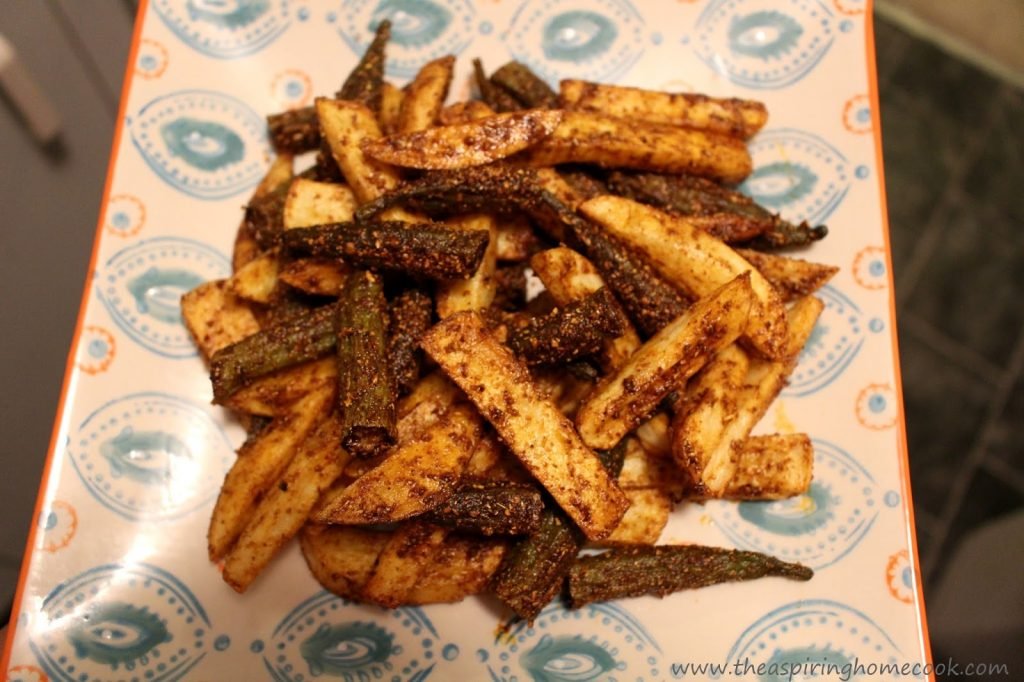 Tava Style Aloo Bhindi


3 medium potatoes
20-25 okra
1/4 tsp turmeric powder
1/2 – 1 tsp Kashmiri chilly powder (or any other mild chilly powder)
1 tsp coriander powder
1/4 tsp cumin powder
1/4 tsp chaat masala
Salt, to taste
1 1/2 – 2 tbsp oil, plus oil for deep frying
Place a pan with the oil for deep frying on medium high heat.
Wash and peel the potatoes and cut into evenly sized fries / chips.
Wash the okra and pat dry. Chop the stalks off the okra and discard. Try and use okra that is similar in size, if not, cut them down to about the same size as the potato pieces.
By now, the oil should be hot. Carefully, and in batches, add the potatoes to the oil. Don't overcrowd the pan or the oil will froth over and spill.
Deep fry the potatoes on medium heat till they've cooked through. Drain using a slotted spoon and set aside on some kitchen paper to get rid of any excess oil.
Deep fry the okra on medium heat till they have start getting a little darker in color and have started crisping up.
Drain using a slotted spoon and set aside on some kitchen paper to get rid of any excess oil, like you did the potatoes.
Take the oil for deep frying off the heat.
Heat 1 tbsp oil in a large pan on medium heat. When the oil is warm, NOT hot, add in the turmeric powder first and then add the rest of the spice powders.
Stir that through for about 20-30 seconds or till the spices get aromatic.
Add the okra to the pan and toss well. Lastly add the potatoes and toss to coat the veggies with the spices evenly.
Check for seasoning and add salt, to taste. Toss well.
Serve hot.
You can watch the video recipe here –
Today, I have sort of a confession to make. Okra or Ladyfingers or Bhindi / Bhende (in Hindi / Konkani) whatever name you know it by, happens to be one of my favorite vegetables. There, I've said it out loud. Sadly, this intriguing vegetable has a bad reputation. It is infamous for being slimy and tasteless. I am going to try and persuade you otherwise. Yes, okra tends to when raw. Because of that a lot of folks simply won't work with it. I've had the opportunity to try this vegetable in many different forms. If you've been here a few times, you know my Mum is a great cook. She would use these is vegetable curries and lentils stews (sambhar), stuff them with rechaad masala and fry them and make a stir fry (bhaji) two different ways. Since then I've tried atleast 3 more ways to cook them, like this
Kurkuri Ajwaini Bhindi
. That's how much I love okra. And I'm here to tell you that if it is cooked well, it isn't slimy at all. And it is tastes amazingly delicious.
In Goan homes, this is a very popular way to cook okra. Just a few simple ingredients go into the pot and result in a beautiful stir fry. Serve this vegetable hot with some chapatis or even as a side dish to some fish curry and rice for a complete Goan meal.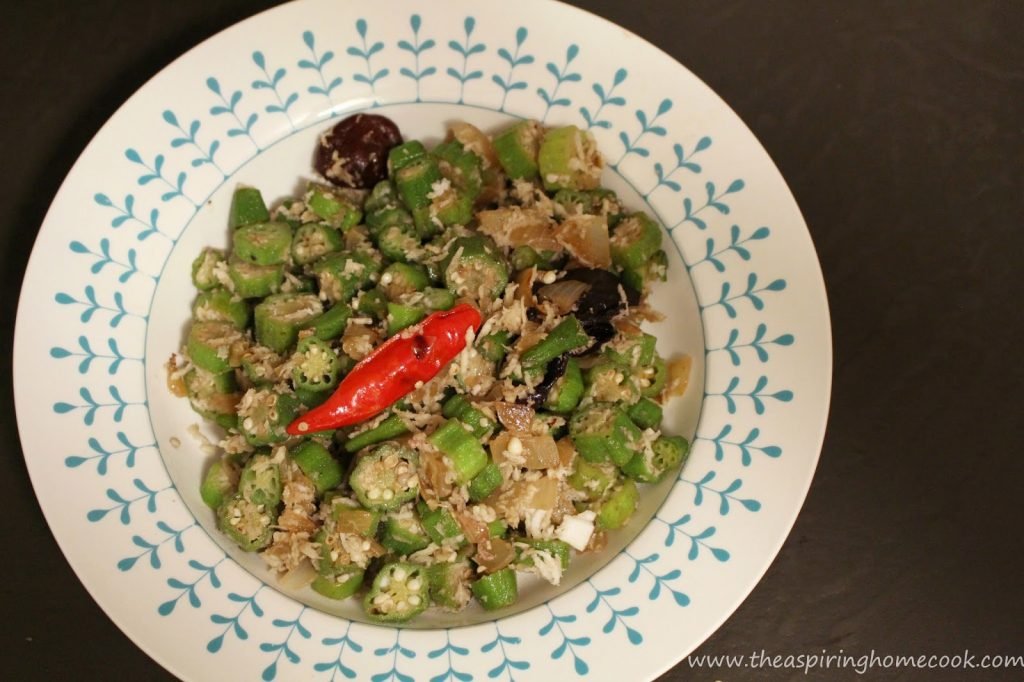 Goan Okra Stir Fry / Bhende Solantule
250gms okra
1 medium onion, diced
2 birdseye chillies, slit
5 pieces of Kokum
1/4 cup grated coconut
Salt, to taste
1 tbsp olive oil
Wash and dry the okra. Cut off and discard the heads. Cut the okra into slices.
Heat the oil in a pan.
Add the chillies to the pan and saute it for a few seconds.
Now add the chopped onions and stir fry till the onion softens and the edges of the pieces of onion start turning brown. Now add the okra and kokum to the pan and saute for a couple of minutes, stirring every now and then to ensure it doesn't stick to the pan or burn.
Add salt to taste and stir and continue to cook uncovered till the edges of the okra slices start turning a light brown.
At this stage add a touch of water (a couple of tablespoons) to help the vegetable cook. Lower the flame, cover the pan and simmer for a few minutes.
Stir the contents of the pan and check for seasoning and and when the okra is tender, add the coconut and stir through. (When you first uncover the pan, if the okra hasn't cooked through and the liquid has been absorbed, add another small splash of water and continue to cook till the okra is tender).
Cook for another minute or till the coconut has warmed through.
Serve hot.
It's been a while since I posted an Indian recipe. Especially a savory one. And today, I'm going to do just that. Indian recipes often get a bad rep for being notoriously complicated, or mind numbingly spicy or involving too many ingredients. Today's recipe will prove all of that wrong. Today, I am going to share with you my Mum's recipe for a vegetable Sambhar. My mother has always been a fantastic cook and when she visited us last year, I was lucky enough to learn how she makes it. There's a couple of steps to follow, but they are so easy and quick, you'll be pleasantly surprised at how easy some Indian recipes are.
Here, on The Aspiring Home Cook, I love to make things from scratch. I have tried a made from scratch version of Sambhar too, and it was okay, but didn't turn out like my Mother's did. So for this one, I'm following her recipe and since she's uses a store bought blend called a Sambhar Masala, I did just that. This Sambhar Masala is a delicately balanced blend of spices and gives a beautifully complex depth of flavor to the dish. Now, I always have a box of this masala in the pantry. I've used a couple of brands in the past like Everest and MDH, both of which you should be able to find at your local Indian grocery store, and they are both good. This time around, I've used the Everest Sambhar Masala.
Moving on to the vegetables. I use a mix of all sorts of veggies. This time around, I used some sweet potato, carrots, eggplants (I grew these ones in my own backyard, so I'm thrilled about them), okra / lady fingers and drumsticks. You can also use bottle gourd (white pumpkin), pumpkin and potato if you like. Use what you have on hand. Typically a sambhar always has drumsticks, eggplant and some bottle gourd. For those of you who aren't familiar with drumsticks, its the fruit of the moringa plant and supposed to be very good for you. They come in long canes ranging from 1 to 2 feet in length. They are chopped into smaller pieces, about 2 inches long and you don't eat the outer hard skin. Your after the pulp on the inside and the seeds. It is eaten much like how you would scrape the icing from the inside of an oreo cookie with your teeth.
This sambhar can be served up with some plain, boiled rice and a side of papad (poppadums) and Indian pickles of your choice. This sambhar pairs very well with idlis or dosas. I also enjoy a bowl of this stew with some crusty bread.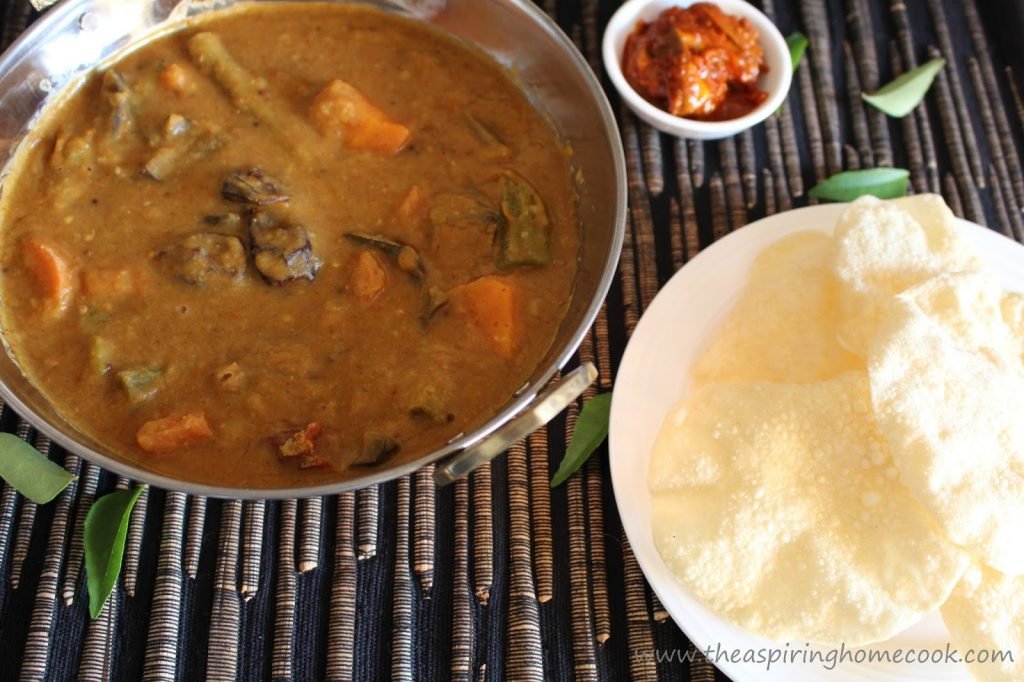 If you want to see this being made, check out the video version of the recipe here –





Vegetable Sambhar


1 cup toor dal (pigeon peas)
1/2 sweet potato
2 carrots
A handful of okra
2-3 small eggplants
A couple of drumsticks (A handful of frozen pieces)
8-10 curry leaves
1/2 tsp black mustard seeds
3 dried Kashmiri chillies
1 tbsp Sambhar masala
1/2 tsp Kashmiri chilly powder, or any mild red chilly powder
1 tbsp olive oil
Salt, to taste
Tamarind, the size of a small walnut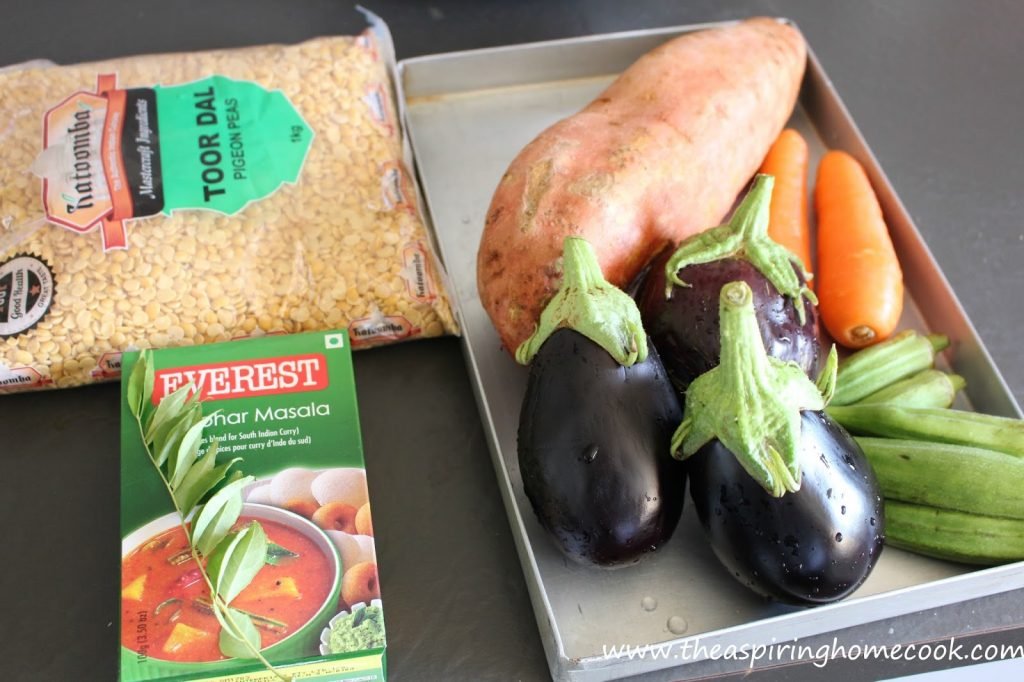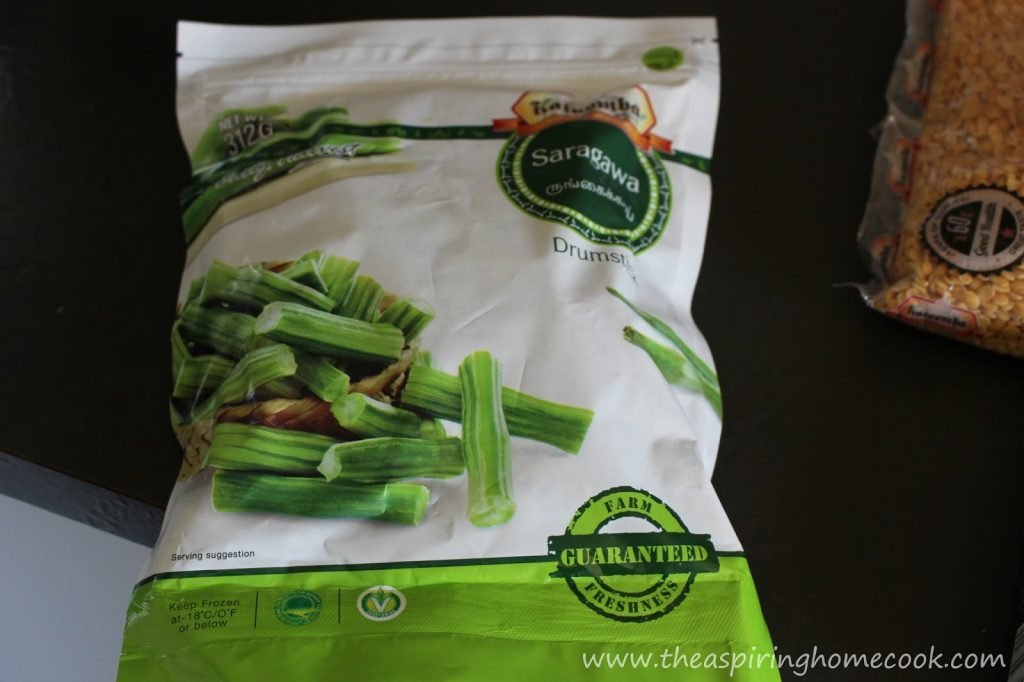 Cooking the lentils –


Wash through the toor dal with cold water and drain. Do this 2-3 times.
Cover the dal with fresh water till the dal is fully submerged and set aside to soak for about 10 minutes.
While the dal is soaking, chop up the vegetables you are using into similar sized cubes.
Drain the dal, and rinse through with fresh water and drain again. Pressure cook the dal with 2 cups of water and 1 tsp of salt. Cook till tender, almost mushy. It takes about 5 minutes in my WMF pressure cooker. Follow your manufacturers instructions to get you the best results. If you don't have a pressure cooker, simply boil it in a pot with plenty of water till it is well cooked.
Once the pressure dies down, open the pressure cooker.
Cooking the vegetables –
While the dal is cooking, place the chopped vegetables in a large pot, top off with water from a recently boiled kettle and 1/2 tsp salt. Boil the veggies till they're almost done. Don't over cook the vegetables, because they will continue to cook in the sambhar. When the veggies are ready, drain them and set them aside. Reserve the water the vegetables were boiled in.
To make the sambhar –


Soak the tamarind in a small bowl with about 1/8 cup of warm water. Set aside till later.


Heat 1 tbsp of olive oil in large pot on medium heat.
When the oil is hot, carefully tip in the mustard seeds. When they start to sputter, add the curry leaves and the Kashmiri chillies.
When they have warmed through and released their flavors and aromas into the oil, lower the heat and add the cooked lentils and the water it was cooked in. Stir through.
Now add the sambhar masala and red chilly powder and stir through.
Add 1/2 – 1 cup of the vegetable stock to loosen the lentil curry as needed. You can add as much or as little of the stock as you need, depending on the consistency you'd like the sambhar to be. Keep in mind, the sambhar tends to thicken a little as it cooks.
Bring this back to a boil and add the cooked vegetables.
Once everything has heated through, check for seasoning and add more salt, if needed.
Now, mash the tamarind with your fingers in the water it was soaking in to extract the pulp. Pass this through a sieve into the pot of sambhar. Add this tamarind extract to taste.
Let it simmer for a couple of minutes.
Serve hot!!!