Its December folks! Anyone who knows me, knows I'm a bit Christmas crazy. I love everything about the Holiday season. I'm going to kick off this years Christmas recipe posts with a lovely little cookie – the Indian Nankatai. This is an eggless recipe and is so easy to put together. What you end up with is a delicate and really delicious little treat. I like making a big batch of Nankatais closer to Christmas. I add these on my Christmas platter of sweets to share with family and friends and I also have some in the cookie jar to serve up with some tea.
Let's talk about the dough for a bit. It is such a ridiculously simple recipe, you will be surprised at how tasty the nankatais turn out. I find that this dough can be a little finicky and it usually works beautifully on a slightly warm day. While that works beautifully for us in Australia and anyone in the Southern Hemisphere, it could be a challenge in the Northern Hemisphere, where its the middle of winter. If its cold where you are, you might find that the dough ends up a little crumbly and you may have a little difficulty shaping it into a cookie. When that happens, I pop the dough in an ovensafe bowl and pop it into a slightly warm oven (about 100 degrees) for a couple of minutes. This helps the ghee warm up and helps bind the dough.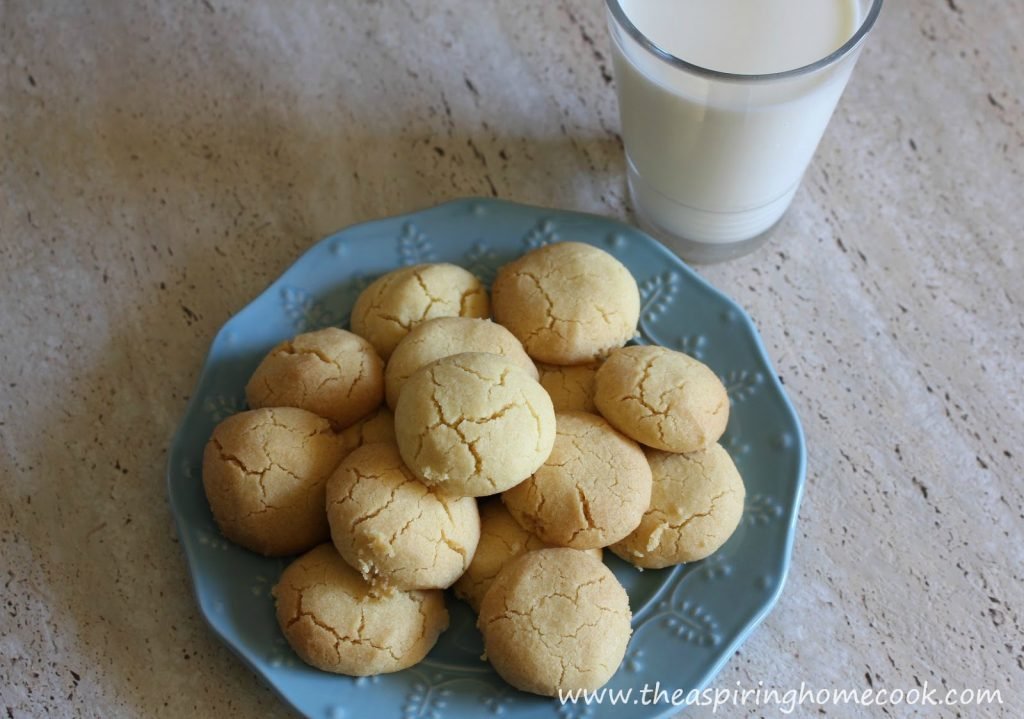 Nankatais
Yields: 1/2 kilo (approx 30 cookies)
1 1/3 cup all purpose flour
1/3 cup besan (chickpea flour)
1 cup sugar (superfine. You can also powder larger grain sugar and then use it in the recipe)
2/3 cup of ghee (clarified butter)
1/4 tsp baking soda
Preheat your oven to 180 deg. Celsius and line a baking tray with some baking / parchment paper.
Mix the ghee and sugar till it is light and creamy. Scrape down the edges and bottom of the mixing bowl halfway through the process.
Add the rest of the ingredients (baking soda, all purpose flour and chickpea flour) to the mixing bowl and continue mixing till it forms a dough.
Shape into little cookies by rolling portions of the dough into a little ball and flatten it slightly. Place the cookies on the lined baking tray.
Bake for 12-15 minutes or till done. Your looking for a light colour on the edges.
Take it out of the oven and leave the cookies to cool on the tray itself.
When completely cool, store in an airtight container.
Enjoy!
You can watch the video recipe here –
It has been ages since I baked a batch of cookies. There was a time when I baked almost every week. But that hasn't happened for a while. I must say that this batch has reminded me of all the reasons why I love baking. You haven't really eaten a good cookie until you've eaten one that's homebaked. The store-bought ones pale in comparison. I do believe that since I haven't had a home baked cookie in a while, the difference was very noticeable and it is safe to say that I will be doing a lot more baking. It's a good thing autumn seems to be just around a corner. Putting the oven on will be some much more pleasant on cooler days.
On to these cookies. The batter is really easy to put together. And the macadamia nuts in the cookies are amazing. I used a batch that I'd bought on our last trip to the Sunshine Coast. If you're ever there, you must visit the Nut Factory. There's not much to look at, but they offer a range of macadamia nut snacks, ranging from the natural and the plain roasted to a beautiful dark chocolate covered Macadamia Nut for the chocolate lover in you and a Crunchy Hickory Macadamia for when you're in the mood for something savory (This was one of my favorites and it goes really well with a cold beer.) The best part of the visit is you can sample some of the treats on offer. But I digress. So let's get back to these cookies. I was specifically looking for a cookie recipe to showcase the gorgeous Macadamia Nuts and this recipe does just that.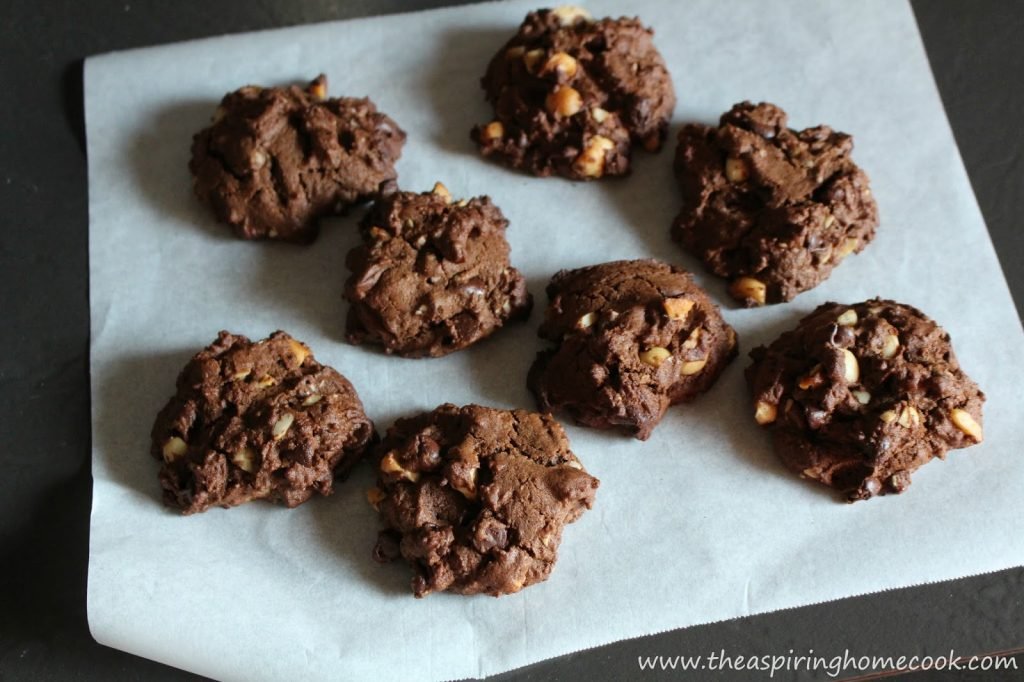 Double Chocolate Macadamia Cookies
Adapted from: Crazy for Crust
Makes 20 cookies


1/3 cup cocoa powder
1/2 tsp baking soda
1/4 tsp salt
1 1/4 cup all purpose flour
1/2 cup butter, softened
2/3 cup brown sugar
1 tsp vanilla bean paste
1 large egg
1 cup chocolate chips
1 cup chopped macadamia nuts
Preheat the oven to 180ºC. Line a cookie sheet with parchment paper and set aside.
In a medium bowl whisk the cocoa powder, baking soda, salt and flour till they are all combined.
Cream the butter and sugar together.
Mix in the egg and vanilla till well incorporated.
Add the flour cocoa mix and mix until just incorporated.
Add the chocolate chips and the chopped macadamia nuts and fold into the cookie dough.
Scoop batter into equal sized portions onto the prepared baking tray and space them a couple of inches apart.
Bake for 9-12 minutes or until the cookies have just lost the glossy sheen.
Cool completely and then store in an air tight container.
Enjoy!!!
You can watch the video recipe here –
Shrewbury biscuits are the best biscuits ever. EVER. They are buttery, sweet and melt in your mouth. Once you've had a taste of these, you won't be able to stop at one.
It has been ages since I enjoyed one of these biscuits. If you haven't heard of these, I don't really blame you. I haven't seen these at all in Australia. In India, if you are from Pune or the surrounding areas, Kayani's Bakery was where you'd get your fix of these. And if you were really lucky, a random store in Mumbai would stock them.
But today, I come bearing good news, no, Great News. You can now make Shrewsbury biscuits at home with 4 basic pantry staples – butter, sugar, flour and vanilla extract. Yup, that's how simple it is. Now the trick to getting these biscuits right, is to bake them on a low temperature for a slightly longer period. But keep an eye on them. You want to take them out just when they start getting a little color on them maybe even a tiny bit earlier than I did this batch.
The store bought Shrewsbury biscuits have a distinct look. They are stamped. These may not look like the store bought one, but they taste just like them, if not better. And I'm not just saying that, the store bought ones contain margarine and who knows what kind of stuff is in it. These are made using butter. And it is a well known fact that everything is better with butter. 🙂 These biscuits are smaller than the store bought ones but they look daintier this way. Serve them up with a hot cup of tea when you're expecting company over and get ready to be the most popular biscuit maker around.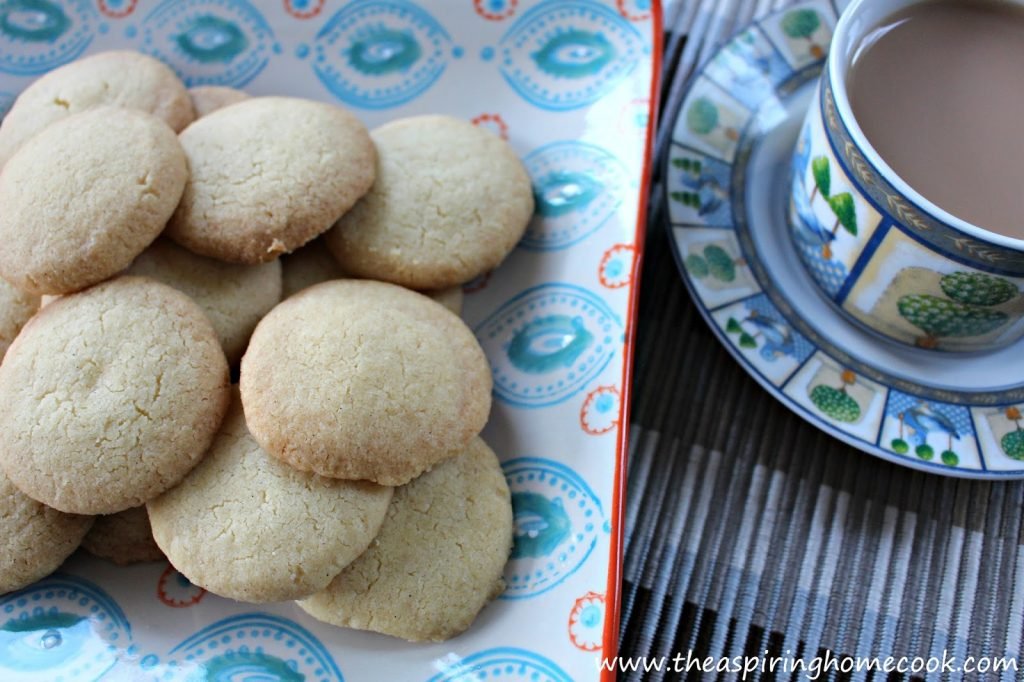 Shrewsbury Biscuits
Yields: 24 small biscuits
200g all purpose flour
100g superfine sugar (or powdered granulated sugar)
150g butter, at room temperature (If you're using unsalted butter, add a pinch of salt to the dough)
1/2 – 1 tsp vanilla extract
Preheat the oven to 150ºC.
Line a baking tray with some baking paper and lightly grease it and set aside.
In a large bowl, whisk the butter and sugar till light and creamy.
Add the vanilla extract and mix well.
Add the flour and stir through. Gently knead till it just about forms a soft dough.
Divide the dough into 24 portions.
Roll them out into balls and flatten to a disc and place on the prepared baking tray.
Bake for 30-40 minutes or till they are just starting to develop some color.
Cool completely and store in an air tight container.
Tomorrow we celebrate one of the most solemn national public holidays, Anzac Day. A day of remembrance dedicated to all those who fought (and those who fell) and their families. It seemed fitting to make some Anzac biscuits for the occasion. These biscuits date back to the days of the War. They were made by wives and mothers and sent to the soldiers. They had a long shelf life so that they could withstand the long naval journey. I have bought them from the supermarket on a few occasions, but this is the first time I've made them myself. Being a long weekend, even if you haven't made these cookies yet, I urge you to try them out tomorrow.
They are quick to whip up and would make a nice little project where the kids can help out too. From start to finish these take about half an hour to make. But let me take a moment to tell you how good these biscuits are. Needless to say, these are so much better than the store bought ones. The flavour is unbelievable. And what I love is that these biscuits are both, crunchy and a little chewy at the same time – that is my favourite kind. I used a recipe, I got in a local pamphlet that had been dropped in my mailbox. It is a recipe I am very happy to keep using.
So without any further rambling from me, I present to you, the delicious Anzac bisuit.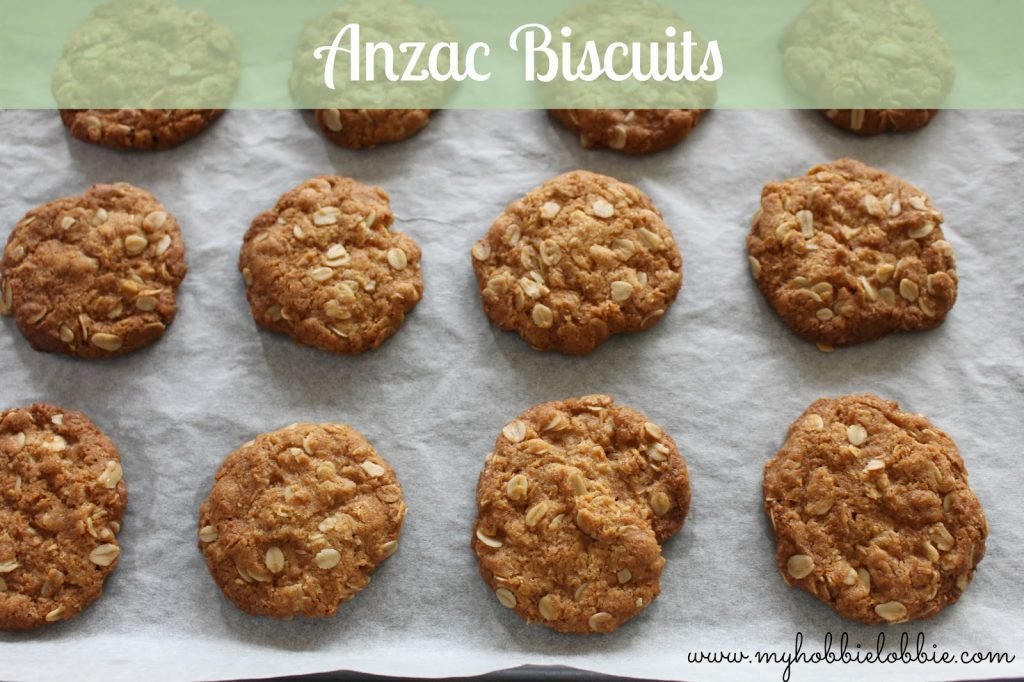 Anzac Biscuits
(Yields: 30 biscuits)
1 cup rolled oats
1 cup sugar
3/4 cup dessicated coconut
1 cup all purpose flour
125g butter
2 tbsp golden syrup
1/2 tsp baking soda
3 tbsp boiling water
Preheat the oven to 180ºC. (Fan forced oven to 160ºC)
Line a couple of baking trays with some baking paper.
Melt the butter and golden syrup in a saucepan.
In a bowl, combine the oats, sugar, coconut and flour and stir well.
In a little bowl, combine the baking soda and boiling water and stir well.
Add the baking soda solution to the melted butter.
Stir through and add this mix to the bowl of dry ingredients.
Mix everything through thoroughly.
Shape into little balls the size of walnuts and flatten slightly and place well spaced on the lined baking tray.
Bake for 10-12 minutes or until golden brown.
Cool on the tray itself. The biscuits come out still soft and will harden as they cool.
When they've completely cooled, store in an airtight container.
You can watch a handy video on how to make these cookies here –
A couple of weeks ago, before we left on our holiday, I found myself longing for some home baked treats. There was just one tiny problem – I wanted it right then. Now, anyone who has baked know that yummy, home-baked goodness usually takes a little time and a few ingredients. Given the urgency of the craving, I suddenly thought of something a dear friend of mine (my soul sista, actually) told me about a few months ago. She'd told me about these quick and easy peanut butter cookies that she's whipped up one afternoon for an after-school snack. I knew that's what I was going to try out.
After a little looking, I settled on this recipe that requires just 3 ingredients. Making the cookie dough was super easy and after a few minutes in the oven, I had a pile of little cookies. I split the dough and to half of it I added a fourth ingredient – some chocolate chips. You don't have to do this, but who can resist a little chocolate. With this cookie you get a little sweet and a little salty. If you are going to use some crunchy peanut butter like I did, you'll have a few small pieces of nuts in there too. I love having a quick and easy recipe like this one in my arsenal. I would, however, cut down the sugar in this recipe the next time I make them. I did find them a little too sweet for my taste. I'd probably drop it to 3/4 of a cup the next time and take it from there. The recipe below has the original quantities.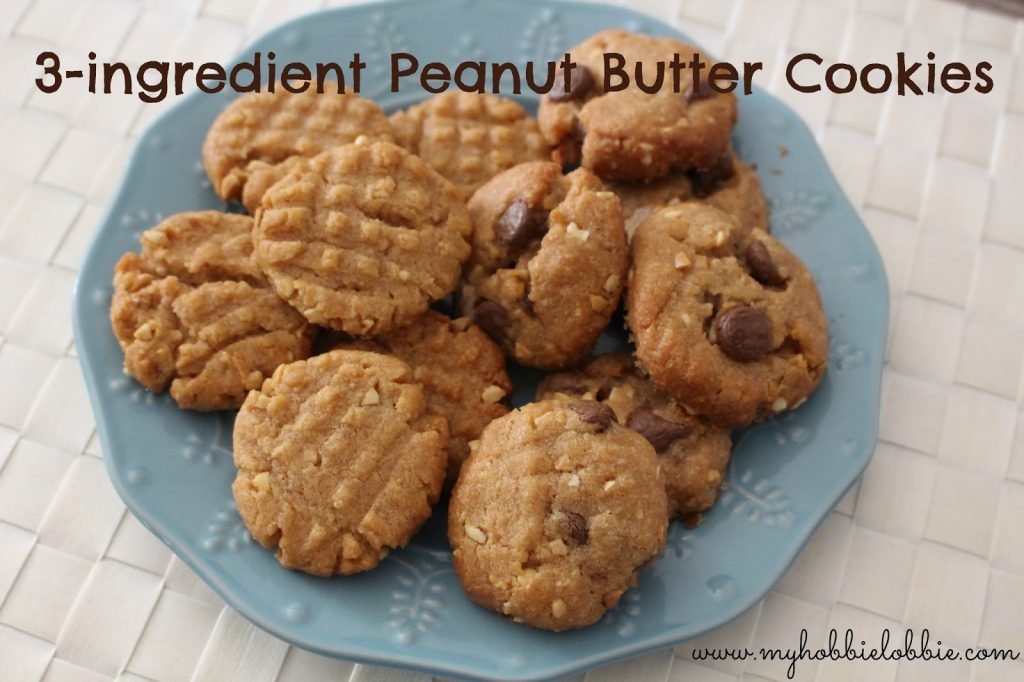 3-ingredient Peanut Butter Cookies
Yields:18-20 depending on size
1 cup peanut butter (smooth or chunky)
1 cup sugar
1 egg
Preheat oven to 170ºC.
Mix the peanut butter, sugar and egg till smooth.
At this stage, if you'd like to add chocolate chips to some, or all of the dough, you can do so.
Portion out and roll into balls. I just use my hands for this.
Press down lightly with a fork. The tines of the fork give you a criss cross pattern. You could either press down just once to give you some lines across the cookie or turn the cookie a little and press the fork down again to get a chequered pattern.
Place on a cookie sheet. Bake for 10-12 minutes.
Don't let it overbake or brown it off too much.
Enjoy!!!
I was just thinking back about my previous posts and experiments in the kitchen and what struck me was that a great many of them actually happened because of lack of availability of store bought options in India. Needless to say, I don't need an excuse to make things from scratch at home, I actually prefer it that way so that I know exactly what I'm eating. Having said that, sometimes its nice to have the store bought variants to compare with. This time around though, it wasn't going to happen since we don't get girl scout cookies here. I've been drooling over posts of these treats popping up all over the place now and then and finally decided to try them out myself. This recipe for thin mints is perfect to start of with, since it uses store bought Ritz crackers and so is fairly simple and quick to put together. Now, finding Ritz crackers itself it an impossible task here, but we do get a local variant called Monaco crackers and that's what I used today.
Nothing could be simpler than making these treats. But the end result is so satisfying. You get the subtle mintiness from the dark chocolate and the crunch from  the crackers and all in all, I think its a fantastic combination. I know I'll be making these often.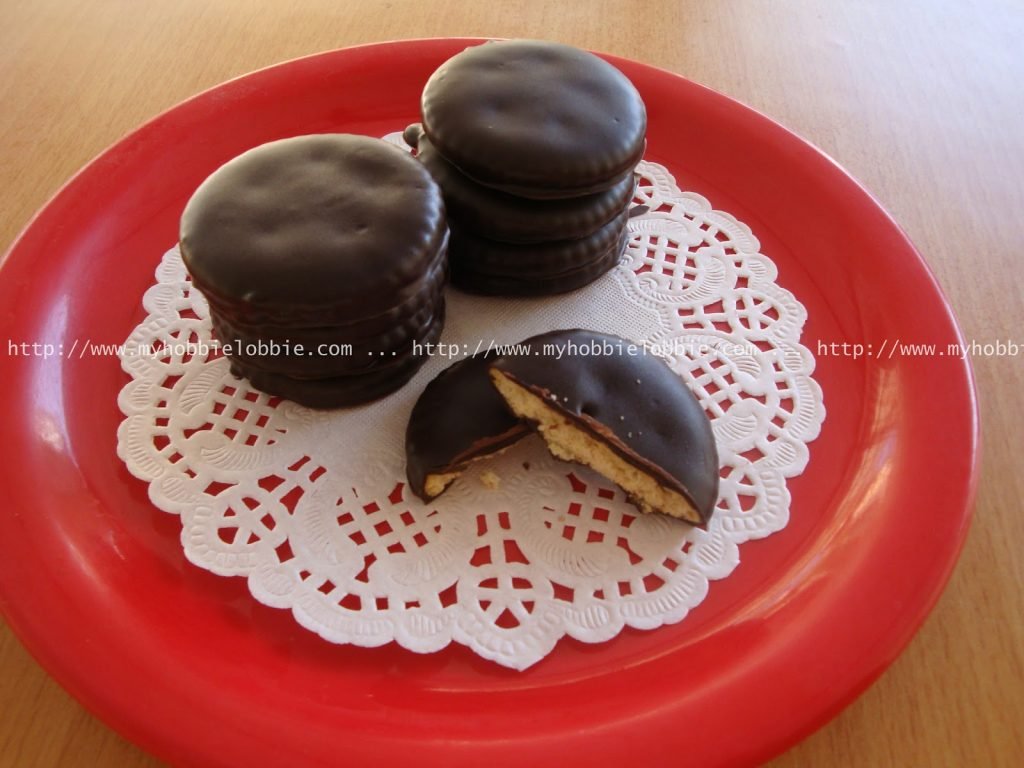 Thin Mints
Makes a dozen
120-150g good quality dark chocolate
A few drops of peppermint extract (Its fairly strong, so start with a couple of drops and add gradually till you get the strength of flavor you're looking for)
12 crackers (Ritz / Monaco)
Melt the dark chocolate in a double boiler.
Add the peppermint extract and stir well. Taste and adjust flavoring if needed.
(Note: If you accidentally add too much extract, you can still salvage the chocolate, simply add more melted chocolate to the bowl and mix. This should dilute the flavor.)
Dip the crackers in the chocolate and lift up using a fork. Let the excess chocolate drip off.
Place on a sheet of parchment paper and refrigerate for about 20 minutes to set. Alternatively, you could also leave these to set at room temperature.
Enjoy your very own almost homemade Thin Mints.
Don't forget to stop by and check out what the others have brought to the table for Week 6 of our 12 Weeks of Christmas Treats series, hosted by Brenda of Meal Planning Magic.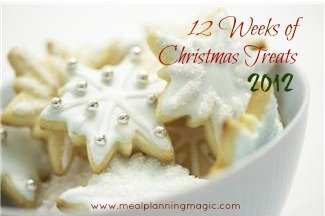 I was looking at putting together something savory for a tea time treat and I thought of this Indian version of the cracker that one of my Mother's neighbors had made many years ago while we watched on. I don't really remember the recipe she used. All I remember her saying is to make sure that the oil used in the dough needed to be warm. So with that in mind I just put a few things together and tried it out and it wasn't too bad. Turns out we really enjoyed these crackers. The traditional version is called Mathri and is deep fried, though I'm sure they'd bake well too.
Crushed Black Pepper Crackers
2 cups all-purpose flour
1/2 cup vegetable oil, warm
Salt, to taste
Freshly crushed black pepper, to taste (leave it coarse)
1/4 – 1/2 tsp carom seeds
Approx. 1/2 cup warm water
Oil, for deep frying
Mix the flour, salt, pepper and carom seeds in a bowl.
Add the warm oil and mix well to incorporate into the flour evenly.
Add warm water gradually to knead into a dough. You may not need all the water. The dough shouldn't be too soft or too hard either.
Roll out into thick-ish discs and use a round cookie cutter and cut out into smaller circles. Prick each circle a couple of times with a fork to ensure that it doesn't puff up while frying.
Repeat till all the dough is used up.
Heat oil in wok for deep frying. Carefully fry a few crackers at a time on medium low flame till they turn golden brown.
Let them cool off completely before storing in an air-tight container.
Enjoy them with your afternoon cup of tea.
This recipe is linked to –
Today's treat is something a lot of you will definitely be familiar with. It is my husband's favorite snack. It is a delicate, buttery treat that can be put together really quick and can be tweaked to suit your tastes. What's amazing is that these crackers are made out of scraps of shortcrust pastry. Yup, you heard me. Everytime I make some shortcrust pastry for a pie, I double the quantity and use the spare pastry to make these crackers. I usually make them plain, just the way they are, but this time I decided to dress them up a little. I made a bunch of them some plain, some with a sprinkling of chopped rosemary, some with a sprinkling of red chilly powder, some with carom seeds and others with sesame seeds sprinkled on them. The possibilities are endless. You can top these little treats with almost anything. So feel free to experiment. It was fun trying out each of these varieties.
You can check out the recipe I use for shortcrust pastry here. I sure hope you try making these crackers sometime. Let me know what you topped your crackers with. I'd love to hear from you.
Here's what my platter of crackers looked like –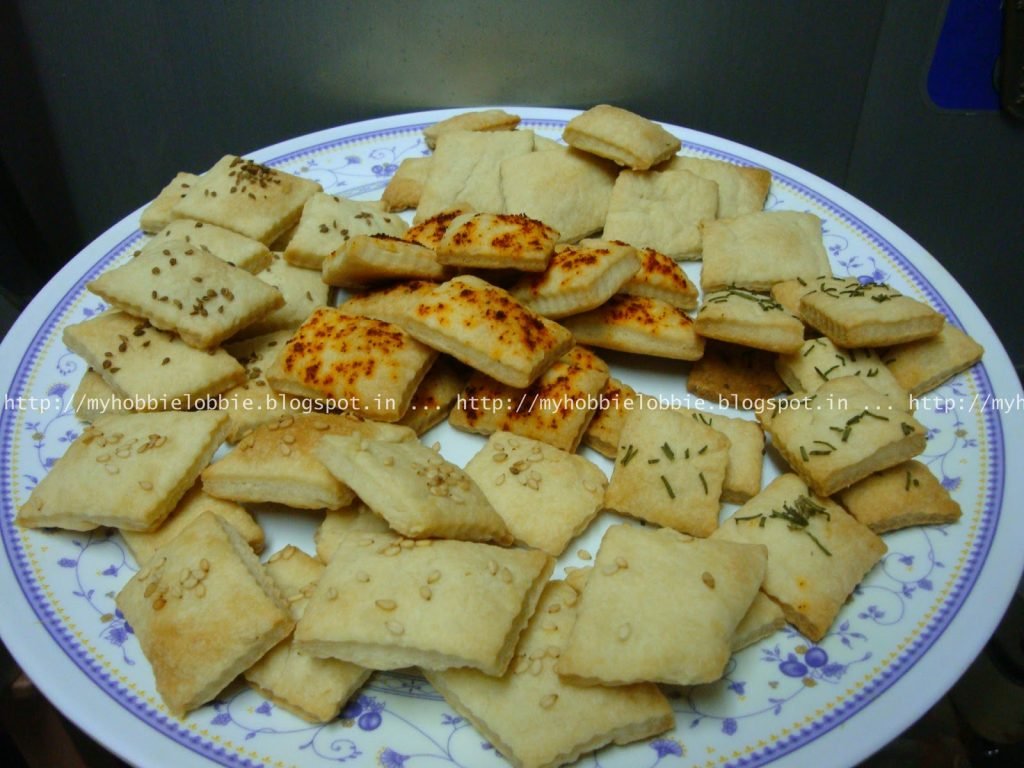 Savory Crackers


Shortcrust Pastry
Toppings of your choice (I used sesame seeds, carom seeds, red chilly powder and chopped fresh rosemary)


Roll out the shortcrust pastry and cut into diamond shapes or any other shape you fancy.
Sprinkle the herbs or seeds of your choice and lightly press them down into the dough using your hand.
Place on an ungreased baking sheet at bake at 170ºC for about 10 minutes or till lightly browned on the edges, making sure not to let them brown too far.
Cool and store in an airtight container.
This recipe is linked to –
A Little Birdie Told Me
My Meatless Mondays
Bake with Bizzy
Mangia Mondays
Mouthwatering Mondays
Full Plate Thursdays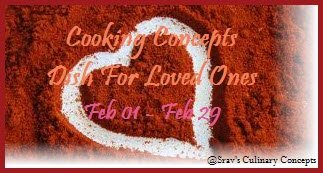 This week I bring to you a treat like none I've ever tasted before. I've heard of love at first sight, but for me this was love at first bite, literally. The only thing I remember thinking as I savored every bite of this was "OH MY GOODNESS!!! OH MY GOODNESS!!! And you know what, it wasn't me. I wasn't going crazy. My husband also thought this was one of the best treats we'd eaten ever. That is the highest honor and treat can every get in my home. And mind you, these little devious treats are addictive. For the fist time in a very long time, I found myself thinking of these bars every now and then and it took massive restraint to keep from wolfing these down.
I can't really decide whether this is a cracker or a candy, but what I know is that this recipe is going to be treasured. I was really excited while making these bars because I got to use my new toy – the candy thermometer. Yes, I arrived at the decision that I had gone without one for too long. There were just so many wonderful delights out in blog land that called for a candy thermometer and I was done passing them by. So stay tuned and see what else I use this little magic wand of the sugar world for.
The Chocolate Toffee Cracker Bars are really quick and easy to put together. The most difficult part of this recipe was waiting for it to cool. By now you know, if there's one thing I always struggle with, its the waiting 😉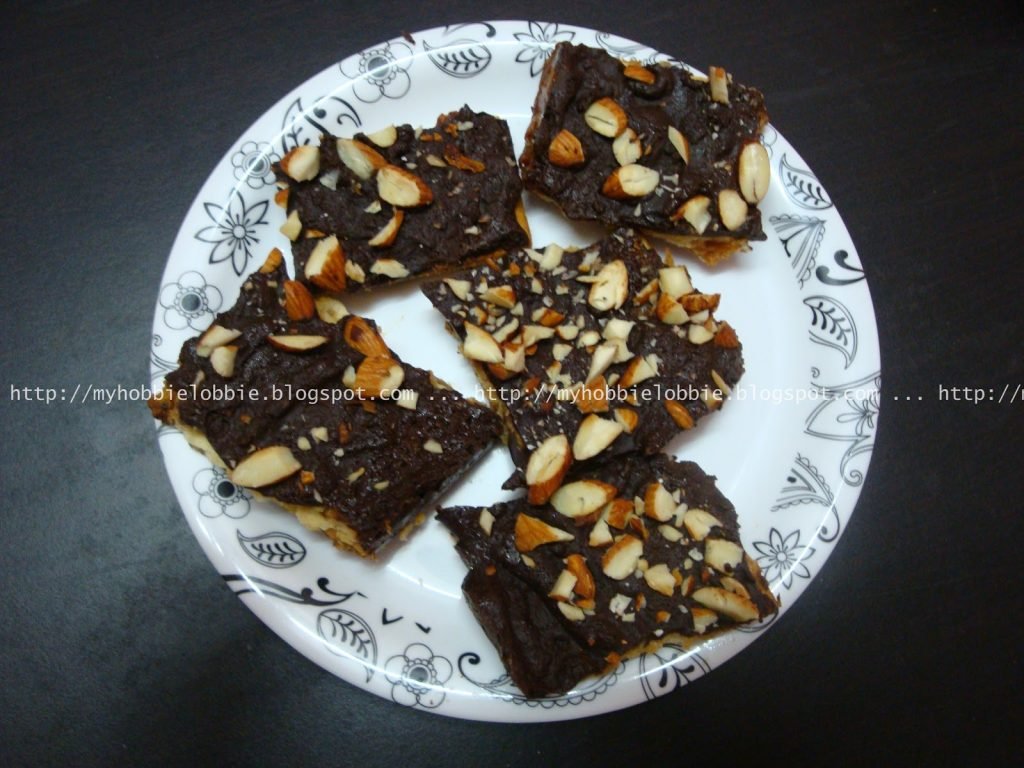 Chocolate Toffee Cracker Bars
Adapted from: Baking with Lisa
Makes 35 bars
1 1/4 cups butter
35 Saltine crackers
1 cup dark brown sugar, firmly packed
1 can condensed milk (14 oz.)
350g semisweet chocolate chips (I used a bar, chopped into small pieces)
1 cup toasted almonds, roughly chopped
Preheat the oven to 200ºC.
Line a 10″x15″ Jelly Roll pan with aluminium foil, shiny side up.
Melt 1/4 cup butter and brush the foil thoroughly with this melted butter. I didn't need all of it though.
Line the pan with the crackers.
Combine the remaining butter and the sugar in a saucepan and bring it to a boil over medium heat. Boil the mixture till it registers 248ºF on the candy thermometer.
Remove from the heat immediately and carefully whisk in condensed milk. Once the condensed milk has been incorporated well, pour it over the crackers, making sure they are all covered.
Bake for 10 minutes. The top should be all brown and bubbly.
Scatter the chocolate all over the top and pop it bake into the oven for 5 minutes.
Using an offset spatula or the back of a spoon spread the melted chocolate to make sure it covers the surface completely.
Sprinkle the coarsely chopped nuts all over and gently press down into the chocolate to make sure they stick.
Cool down and then refrigerate till the chocolate sets.
Invert the pan on a clean surface, peel back the foil and cut into bars. Keep refrigerated.
Cutting options –
1) Cut along the cracker edges for generous cracker sized bars.
2) Cut into quarters for little bites
3) Cut in half for fingers
Here's what the others have brought to the table this week –
There other day when I was browsing the web for some inspiration, I came across a recipe for cookies that were savory and sweet all at the same time. I remember these cookies from when I was much younger, I don't know why these aren't available any more. I used to love these, but somehow, strangely, even back in the day when they were available, it wasn't easy to find them. So imagine my joy when I found a recipe for these cookies. It had my name written all over it. I made these cookies that very day and was really happy with the way they turned out. Now I have access to these cookies any time I'd like. I'm so excited with this find. The salty and sweet combination is fantastic, it's not overpowering in any way. In the end, it still is a delicate cookie. I hope you try this. Its different compared to all the other stuff out there. If you do, let me know if you like them or not, I'd love to hear from you.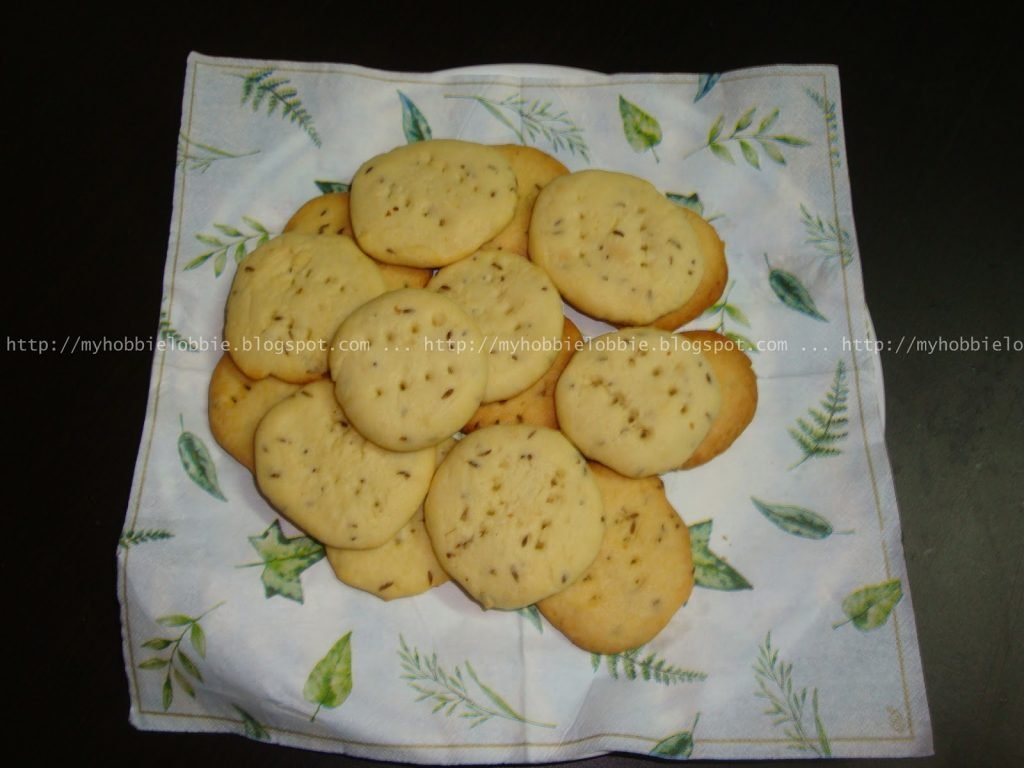 Sweet N Salty Cumin Cookies
120g butter (salted)
2 tbsp sugar
1/4 tsp. table salt
2 tsp cumin seeds
1 egg, beaten
200g all purpose flower
1/2 tsp baking powder
Sieve the flour and baking powder and keep aside.
Cream the butter, salt and sugar till fluffy.
Add the cumin seeds and half the beaten egg and beat well.
Add the flour and baking powder and gently mix everything together to get a smooth dough.
Let the dough rest in the refrigerator for about 20 minutes.
Preheat the oven to 180ºC. Line a baking tray with some baking / parchment paper.
The original recipes suggests that you roll out the dough out till its 1/4″ thick, prick it randomly with a fork and cut into desired shapes. I simply rolled the dough into a log and cut slices and then pricked it a couple of times with a fork.
Place on the parchment lined baking tray. Bake for 12-15 minutes or until golden brown.
I noticed that if you take the cookies out of the oven too early they are less crunchy but if they are lightly browned, the crunch is so much better.
Cool completely and store in an airtight container.
(Something I forgot to do was to use the remaining beaten egg to brush the tops of the cookies with and sprinkle a few cumin seeds over, just before baking. The cookies still turned out great.)