Its December folks! Anyone who knows me, knows I'm a bit Christmas crazy. I love everything about the Holiday season. I'm going to kick off this years Christmas recipe posts with a lovely little cookie – the Indian Nankatai. This is an eggless recipe and is so easy to put together. What you end up with is a delicate and really delicious little treat. I like making a big batch of Nankatais closer to Christmas. I add these on my Christmas platter of sweets to share with family and friends and I also have some in the cookie jar to serve up with some tea.
Let's talk about the dough for a bit. It is such a ridiculously simple recipe, you will be surprised at how tasty the nankatais turn out. I find that this dough can be a little finicky and it usually works beautifully on a slightly warm day. While that works beautifully for us in Australia and anyone in the Southern Hemisphere, it could be a challenge in the Northern Hemisphere, where its the middle of winter. If its cold where you are, you might find that the dough ends up a little crumbly and you may have a little difficulty shaping it into a cookie. When that happens, I pop the dough in an ovensafe bowl and pop it into a slightly warm oven (about 100 degrees) for a couple of minutes. This helps the ghee warm up and helps bind the dough.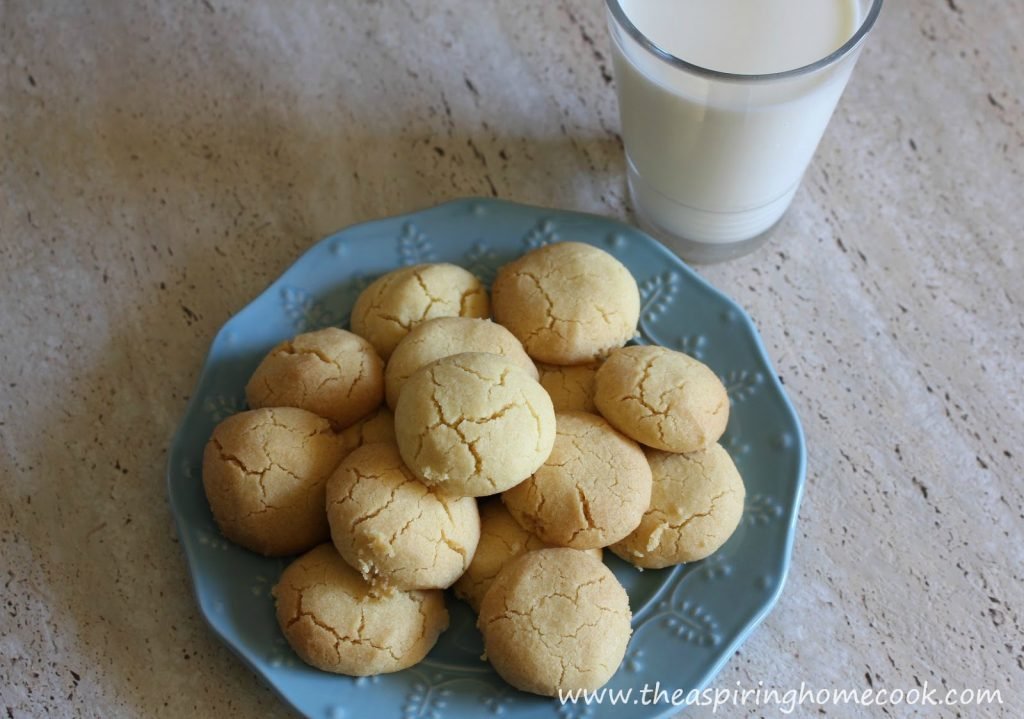 Nankatais
Yields: 1/2 kilo (approx 30 cookies)
1 1/3 cup all purpose flour
1/3 cup besan (chickpea flour)
1 cup sugar (superfine. You can also powder larger grain sugar and then use it in the recipe)
2/3 cup of ghee (clarified butter)
1/4 tsp baking soda
Preheat your oven to 180 deg. Celsius and line a baking tray with some baking / parchment paper.
Mix the ghee and sugar till it is light and creamy. Scrape down the edges and bottom of the mixing bowl halfway through the process.
Add the rest of the ingredients (baking soda, all purpose flour and chickpea flour) to the mixing bowl and continue mixing till it forms a dough.
Shape into little cookies by rolling portions of the dough into a little ball and flatten it slightly. Place the cookies on the lined baking tray.
Bake for 12-15 minutes or till done. Your looking for a light colour on the edges.
Take it out of the oven and leave the cookies to cool on the tray itself.
When completely cool, store in an airtight container.
Enjoy!
You can watch the video recipe here –
It has been ages since I baked a batch of cookies. There was a time when I baked almost every week. But that hasn't happened for a while. I must say that this batch has reminded me of all the reasons why I love baking. You haven't really eaten a good cookie until you've eaten one that's homebaked. The store-bought ones pale in comparison. I do believe that since I haven't had a home baked cookie in a while, the difference was very noticeable and it is safe to say that I will be doing a lot more baking. It's a good thing autumn seems to be just around a corner. Putting the oven on will be some much more pleasant on cooler days.
On to these cookies. The batter is really easy to put together. And the macadamia nuts in the cookies are amazing. I used a batch that I'd bought on our last trip to the Sunshine Coast. If you're ever there, you must visit the Nut Factory. There's not much to look at, but they offer a range of macadamia nut snacks, ranging from the natural and the plain roasted to a beautiful dark chocolate covered Macadamia Nut for the chocolate lover in you and a Crunchy Hickory Macadamia for when you're in the mood for something savory (This was one of my favorites and it goes really well with a cold beer.) The best part of the visit is you can sample some of the treats on offer. But I digress. So let's get back to these cookies. I was specifically looking for a cookie recipe to showcase the gorgeous Macadamia Nuts and this recipe does just that.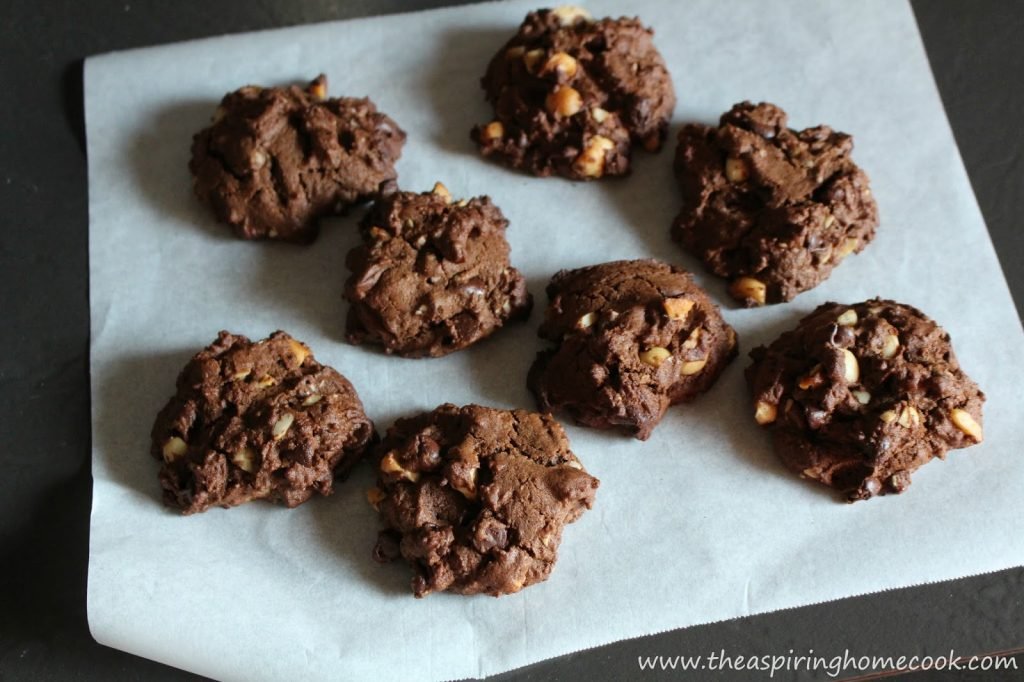 Double Chocolate Macadamia Cookies
Adapted from: Crazy for Crust
Makes 20 cookies


1/3 cup cocoa powder
1/2 tsp baking soda
1/4 tsp salt
1 1/4 cup all purpose flour
1/2 cup butter, softened
2/3 cup brown sugar
1 tsp vanilla bean paste
1 large egg
1 cup chocolate chips
1 cup chopped macadamia nuts
Preheat the oven to 180ºC. Line a cookie sheet with parchment paper and set aside.
In a medium bowl whisk the cocoa powder, baking soda, salt and flour till they are all combined.
Cream the butter and sugar together.
Mix in the egg and vanilla till well incorporated.
Add the flour cocoa mix and mix until just incorporated.
Add the chocolate chips and the chopped macadamia nuts and fold into the cookie dough.
Scoop batter into equal sized portions onto the prepared baking tray and space them a couple of inches apart.
Bake for 9-12 minutes or until the cookies have just lost the glossy sheen.
Cool completely and then store in an air tight container.
Enjoy!!!
You can watch the video recipe here –
Shrewbury biscuits are the best biscuits ever. EVER. They are buttery, sweet and melt in your mouth. Once you've had a taste of these, you won't be able to stop at one.
It has been ages since I enjoyed one of these biscuits. If you haven't heard of these, I don't really blame you. I haven't seen these at all in Australia. In India, if you are from Pune or the surrounding areas, Kayani's Bakery was where you'd get your fix of these. And if you were really lucky, a random store in Mumbai would stock them.
But today, I come bearing good news, no, Great News. You can now make Shrewsbury biscuits at home with 4 basic pantry staples – butter, sugar, flour and vanilla extract. Yup, that's how simple it is. Now the trick to getting these biscuits right, is to bake them on a low temperature for a slightly longer period. But keep an eye on them. You want to take them out just when they start getting a little color on them maybe even a tiny bit earlier than I did this batch.
The store bought Shrewsbury biscuits have a distinct look. They are stamped. These may not look like the store bought one, but they taste just like them, if not better. And I'm not just saying that, the store bought ones contain margarine and who knows what kind of stuff is in it. These are made using butter. And it is a well known fact that everything is better with butter. 🙂 These biscuits are smaller than the store bought ones but they look daintier this way. Serve them up with a hot cup of tea when you're expecting company over and get ready to be the most popular biscuit maker around.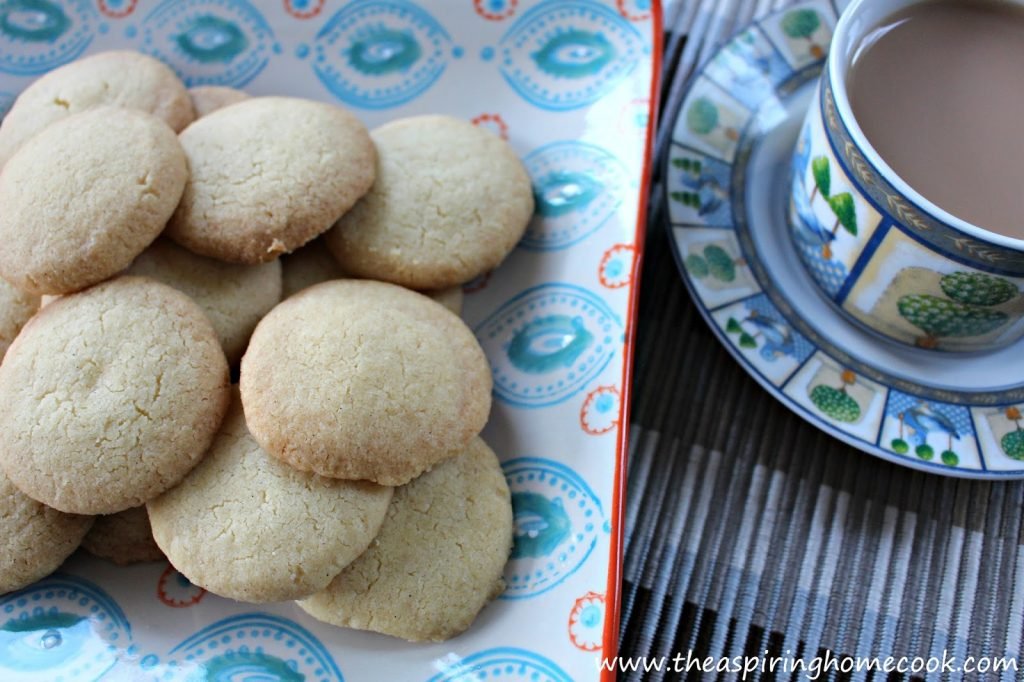 Shrewsbury Biscuits
Yields: 24 small biscuits
200g all purpose flour
100g superfine sugar (or powdered granulated sugar)
150g butter, at room temperature (If you're using unsalted butter, add a pinch of salt to the dough)
1/2 – 1 tsp vanilla extract
Preheat the oven to 150ºC.
Line a baking tray with some baking paper and lightly grease it and set aside.
In a large bowl, whisk the butter and sugar till light and creamy.
Add the vanilla extract and mix well.
Add the flour and stir through. Gently knead till it just about forms a soft dough.
Divide the dough into 24 portions.
Roll them out into balls and flatten to a disc and place on the prepared baking tray.
Bake for 30-40 minutes or till they are just starting to develop some color.
Cool completely and store in an air tight container.
Finally, finally I got around to making these beauties. I've wanted to make these for a few years now. Yes, you heard me, a few years. See, here's something I have to admit. I have a 'must try' list of recipes that gets longer with time and I can barely decide which one to make first. So finally, while juggling with all of what life has to throw at me, I got around to make these cookies.
See, here's the thing. I've sorta lost my baking mojo recently. But, I'm glad to say that has changed with these cookies. I just woke up one day and decided that I was going to make them. They were really easy to make. I stuck to the recipe, or atleast that was the intention, but as luck would have it I didn't have the light brown sugar that this recipe calls for. I thought I did, but what I had was 2 packets of dark brown sugar. I was dead set on making these cookies and I wasn't going to let the brownness of the sugar get in the way 🙂 That is why these cookies don't look like the typical Snickerdoodles, but I'm sure that had no impact on the taste. These cookies were really good. I'm so happy that I finally got around to trying them out. They outer crust was perfect and cinnamony (pretty sure I just made that word up) while the inside was light and pillowy soft. Go ahead and try it out. It is a recipe that's perfect for the holidays.
I had almost forgotten how good it is to bake at home. Nothing compares to home baked goodies. Having found my absconding baking mojo, I hope to bake a few more yummies soon.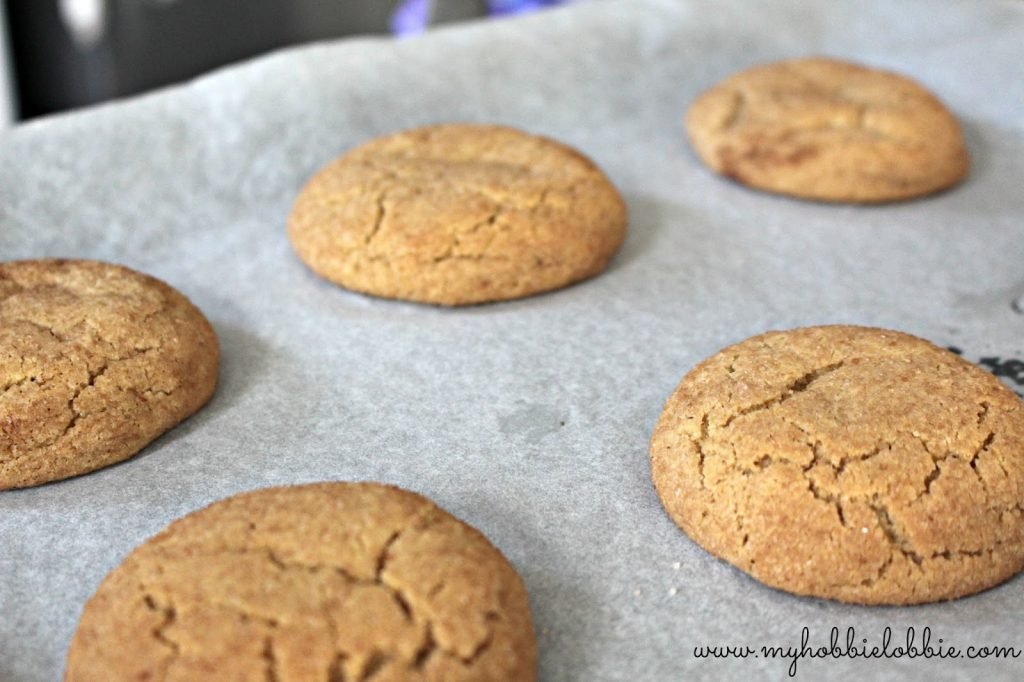 Snickerdoodles
Yields 20
1 cup butter, at room temperature
3/4 cup granulated sugar
1/2 cup dark brown sugar (the original recipe calls for light brown sugar)
1 egg
1 egg yolk
1 tbsp vanilla extract
1 tsp baking soda
1 tsp cream of tartar
1/2 tsp salt (I just added a pinch since I used salted butter)
1 tsp cinnamon powder
2 3/4 cup flour
Cinnamon Sugar –
1/4 cup granulated sugar
1 tbsp cinnamon powder
Preheat the oven to 180ºC.
Line a cookie sheet with some parchment paper and set aside. You could use a silicone mat if you have one.
Beat the butter and sugars till light and fluffy.
Add the egg, egg yolk and vanilla and beat again. Scrape down the sides while you're mixing the dough.
Add in the baking soda, cream of tartar, salt and 1 tsp cinnamon powder and mix well.
Add the flour and mix it slowly only till just combined.
In another small bowl mix the sugar and cinnamon powder to make the cinnamon sugar and stir till well combined.
Using a cookie scoop or a spoon, measure about 2 tbsp of the cookie dough and roll into a ball.
Roll the ball in the cinnamon sugar mix and place on the prepared cookie tray. Place the balls about 2 inches apart on the tray.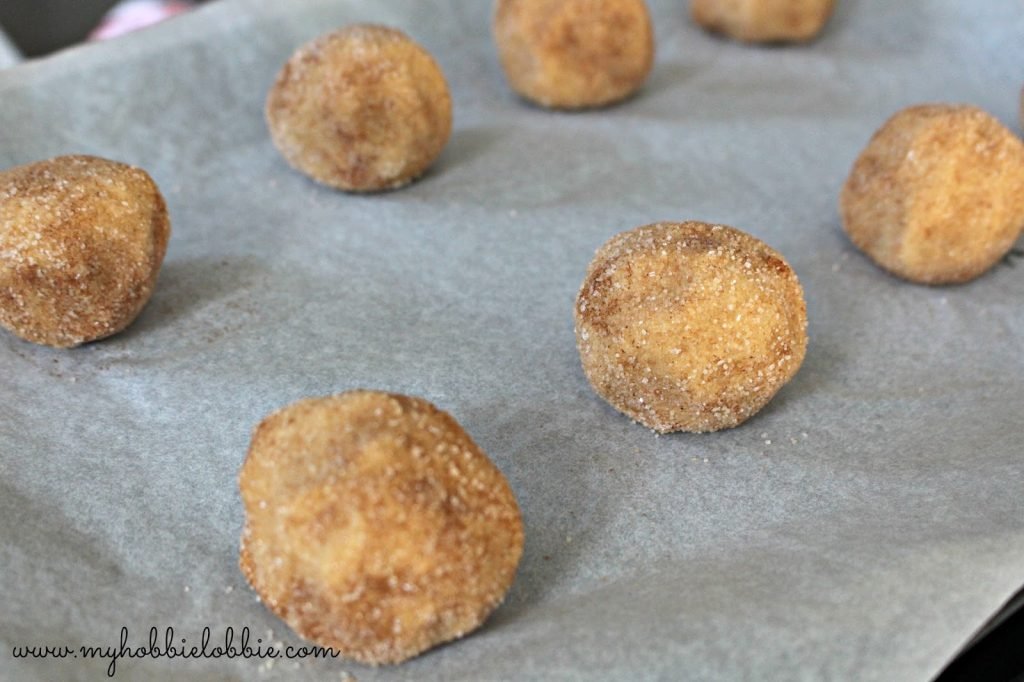 Bake for 10 minutes or till the edges are slightly golden. The centers may seem undercooked but they will set as the cookies cool.
If you like your cookies crisper then bake for an additional 2 minutes.
I baked them for 10 minutes and the cookies were perfect.
Tomorrow we celebrate one of the most solemn national public holidays, Anzac Day. A day of remembrance dedicated to all those who fought (and those who fell) and their families. It seemed fitting to make some Anzac biscuits for the occasion. These biscuits date back to the days of the War. They were made by wives and mothers and sent to the soldiers. They had a long shelf life so that they could withstand the long naval journey. I have bought them from the supermarket on a few occasions, but this is the first time I've made them myself. Being a long weekend, even if you haven't made these cookies yet, I urge you to try them out tomorrow.
They are quick to whip up and would make a nice little project where the kids can help out too. From start to finish these take about half an hour to make. But let me take a moment to tell you how good these biscuits are. Needless to say, these are so much better than the store bought ones. The flavour is unbelievable. And what I love is that these biscuits are both, crunchy and a little chewy at the same time – that is my favourite kind. I used a recipe, I got in a local pamphlet that had been dropped in my mailbox. It is a recipe I am very happy to keep using.
So without any further rambling from me, I present to you, the delicious Anzac bisuit.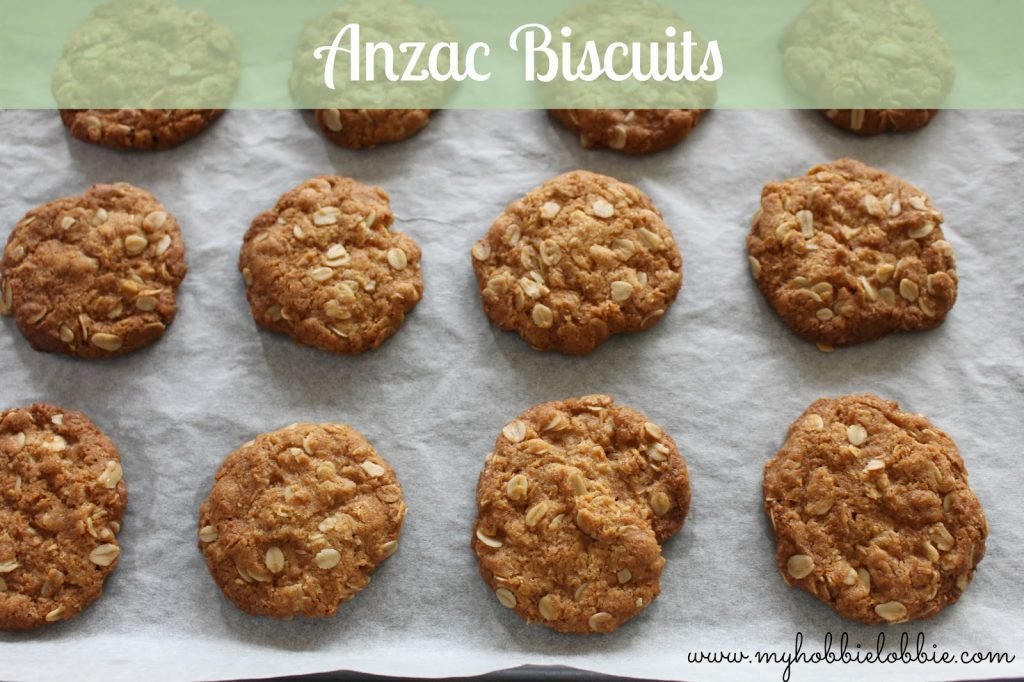 Anzac Biscuits
(Yields: 30 biscuits)
1 cup rolled oats
1 cup sugar
3/4 cup dessicated coconut
1 cup all purpose flour
125g butter
2 tbsp golden syrup
1/2 tsp baking soda
3 tbsp boiling water
Preheat the oven to 180ºC. (Fan forced oven to 160ºC)
Line a couple of baking trays with some baking paper.
Melt the butter and golden syrup in a saucepan.
In a bowl, combine the oats, sugar, coconut and flour and stir well.
In a little bowl, combine the baking soda and boiling water and stir well.
Add the baking soda solution to the melted butter.
Stir through and add this mix to the bowl of dry ingredients.
Mix everything through thoroughly.
Shape into little balls the size of walnuts and flatten slightly and place well spaced on the lined baking tray.
Bake for 10-12 minutes or until golden brown.
Cool on the tray itself. The biscuits come out still soft and will harden as they cool.
When they've completely cooled, store in an airtight container.
You can watch a handy video on how to make these cookies here –
A couple of weeks ago, before we left on our holiday, I found myself longing for some home baked treats. There was just one tiny problem – I wanted it right then. Now, anyone who has baked know that yummy, home-baked goodness usually takes a little time and a few ingredients. Given the urgency of the craving, I suddenly thought of something a dear friend of mine (my soul sista, actually) told me about a few months ago. She'd told me about these quick and easy peanut butter cookies that she's whipped up one afternoon for an after-school snack. I knew that's what I was going to try out.
After a little looking, I settled on a recipe that asked for just 3 ingredients. I was SOLD. Yummy cookies with just 3 ingredients – I couldn't wait to try them out. Making the cookie dough was super easy and after a few minutes in the oven, I had a pile of little cookies. I split the dough and to half of it I added a fourth ingredient – some chocolate chips. You don't have to do this, but who can resist a little chocolate. With this cookie you get a little sweet and a little salty. If you are going to use some crunchy peanut butter like I did, you'll have a few small pieces of nuts in there too. I love having a quick and easy recipe like this one in my arsenal. I would, however, cut down the sugar in this recipe the next time I make them. I did find them a little too sweet for my taste. I'd probably drop it to 3/4 of a cup the next time and take it from there. The recipe below has the original quantities.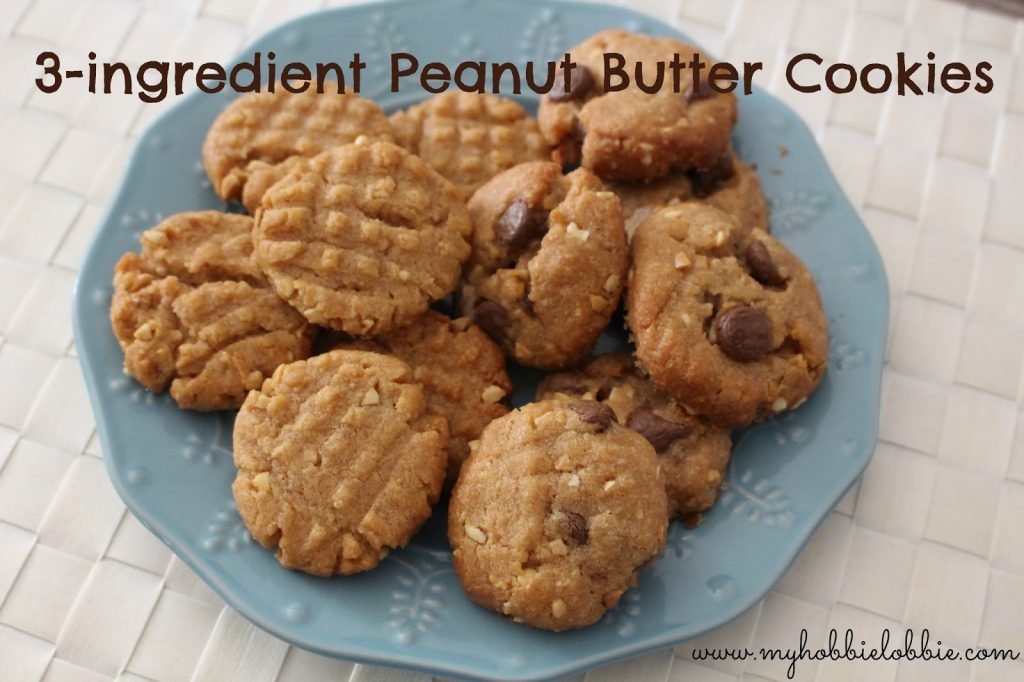 3-ingredient Peanut Butter Cookies
Recipe from: KitchMe
Yields:18-20 depending on size
1 cup peanut butter (smooth or chunky)
1 cup sugar
1 egg
Preheat oven to 170ºC.
Mix the peanut butter, sugar and egg till smooth.
At this stage, if you'd like to add chocolate chips to some, or all of the dough, you can do so.
Portion out and roll into balls. I just use my hands for this.
Press down lightly with a fork. The tines of the fork give you a criss cross pattern. You could either press down just once to give you some lines across the cookie or turn the cookie a little and press the fork down again to get a chequered pattern.
Place on a cookie sheet. Bake for 10-12 minutes.
Don't let it overbake or brown it off too much.
Enjoy!!!
Welcome to a special edition of the Secret Recipe Club. As some of you know, I've been a part of this super fun club for a couple of years now and needless to say I love every minute of it. This month you would have noticed, this is my second post for the club. This post is a little different. Our brave leader, Sarah of Fastantical Sharing of Recipes came up with the brilliant suggestion that in time for Christmas, we should get together across our 4 groups and do a Cookie post. I can't wait to see what everyone comes up with.
For this special reveal of the SRC, I was assigned Lauren's blog 'Sew You Think You Can Cook' – what a clever name; I do love a good pun. Get this Lauren is an aerospace engineer and hopes to become a caterer one day. Not only does she cook, but she also crafts – quilting, cross stitch and scrapbooking, to name a few. I like that because I love to dabble in a few crafts myself. Like me she loves Holiday decorations. I think we'd get along very well. I enjoy cross stitch but have never tried my hand at quilting. But after checking out a few tutorials on Lauren's blog, I am so tempted. I think I will soon try my hand at it. 🙂
For now however, I will have to be satisfied just baking one of her cookie recipes. And when I saw her recipe for Ginger Molasses Cookies, I knew I was going to make it. I love a good Gingersnap cookie, have loved them since I was a child, and the mild spices seem perfect for Christmas.
Just a couple of changes to the recipe. The original one uses unsalted butter and 1/2 tsp salt. I just used salted butter, since thats all I had, and I left out the salt. Also, I used treacle instead of molasses. I couldn't find molasses in any of the local store here; shocking (I think) at this time of the year.
The cookies were lovely. Crunchy on the outside and slightly chewy on the inside, with just the right amount of sweetness. The only change I will make the next time I make these cookies, will be to cut down on the ground cloves. It was a little strong for me. But overall, this recipe is a keeper. Thank you Lauren, for sharing this recipe.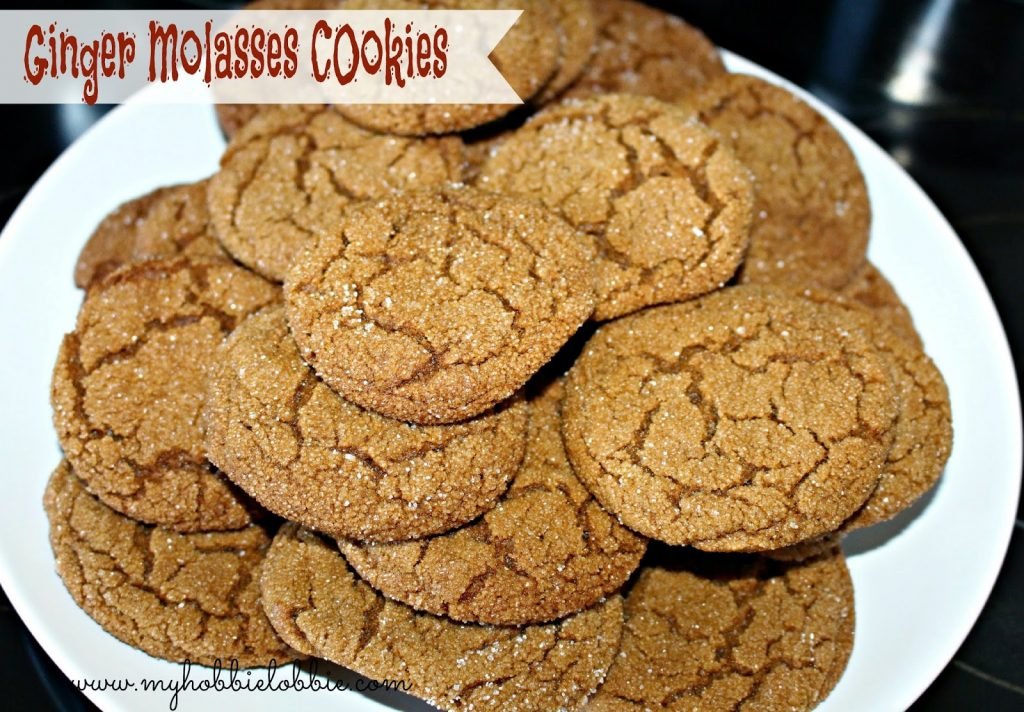 Ginger Molasses Cookies


115g butter
1/2 cup sugar, plus more for rolling the cookies in
1 cup brown sugar
1/3 cup molasses
2 egg whites
2 1/2 cups flour
1 1/2 tsp baking soda
3/4 tsp cinnamon
1 tsp ground ginger
Preheat your oven to 180°C.
Beat the butter and sugars till combined.
Add the molasses and mix.
And the egg whites and mix till combined.
In another bowl, mix the dry ingredients, namely the flour, baking soda and spices.
Add the dry ingredients to the butter-sugar mix in two parts, mixing well between each addition.
Roll the dough into 1″ balls.
Roll the balls in some granulated white sugar.
Place on a parchment lined baking sheet.
Bake for about 10-12 minutes.
Leave the cookies to cool off on the tray.
Enjoy!
NOTE:
If you find the dough too sticky to handle, refrigerate the dough for about 5 minutes and then try.
This month for my
SRC
reveal, I was assigned one of my long time favorite blogs,
Baking and Boys
by Katrina. Ever since I started blogging back in September 2010, when I joined some awesome bloggers for the 12 Weeks of Christmas Cookies Challenge, I have been a big fan and follower of Katrina's blog. She always, ALWAYS, posts some absolutely delicious treats. Everytime, I visit her blog, I find myself wishing I lived next door to her, that way I might've been able to sample some of them (much easier than making them myself 😉 ). She has so many options for Chocolate Chip Cookies, I almost made a batch. But realized that I had just picked up a bag of chocolate chip cookies on impulse just before the assignments got out.
These days, Katrina has made a few dietary changes and I found so many treats on her blog that are healthier than the regular ones but equally delicious. I decided I had to try out one of those. I've been looking out for recipes for little snack like options to take to work. Something no-fuss, tasty and that will keep me going for a while. I found just the thing – her Cranberry Almond Date Balls. These were so simple to put together and super delicious. My husband could not believe that they didn't have a grain of sugar in it. I was really happy that I decided to try these out and I look forward to taking them in to work over the coming week. Thanks Katrina 🙂
I pretty much stuck to Katrina's recipe and added all the optional add-ins. The only difference being, I used almond meal instead of whole almonds since I had it at hand. Also, instead of mixing the coconut with the rest of the ingredients, I just rolled the little fruit and nut balls in it. I love the fact that these have no sugar in it and everything in it is wholesome. In my books, that makes it a healthy snack. With the cranberry peeking out from under that snowy looking coconut, these remind me of Christmas 🙂 I think it would look pretty on a platter of Christmas treats. These are slightly on the larger side and are snack sized, but when I make them next, I intend making them a little smaller.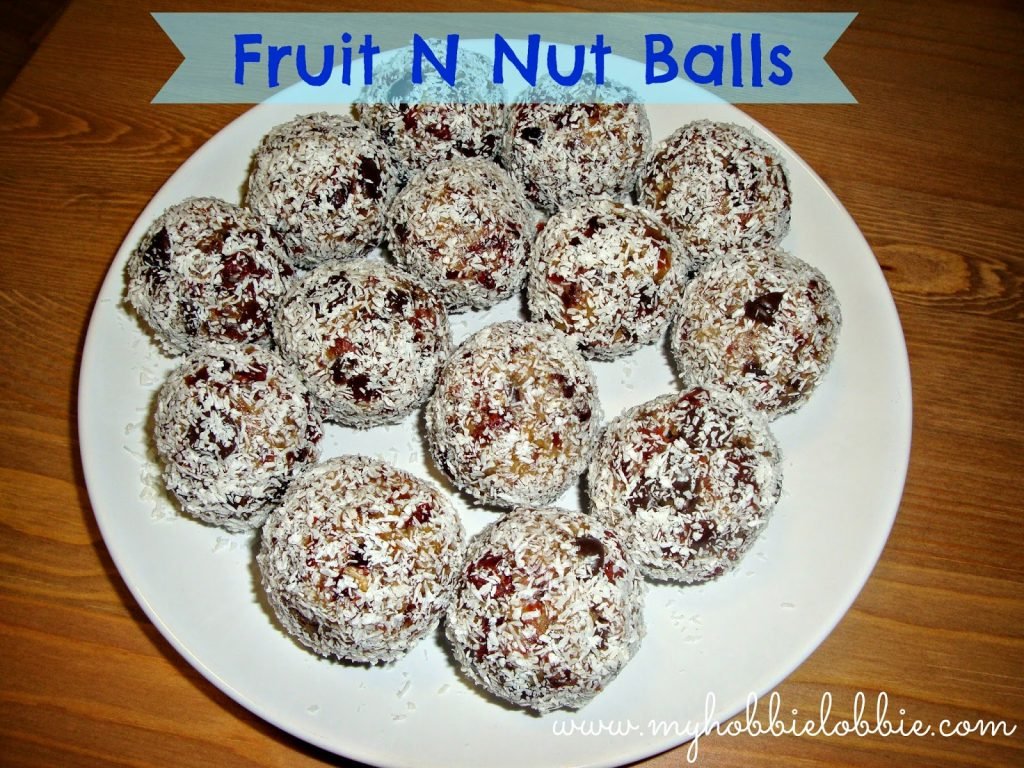 Fruit N Nut Balls


1 cup almond meal
1 cup dried cranberries
1 cup pitted dates
2 tbsp honey
1/2 tsp vanilla extract
A pinch of salt
2 tbsp dark chocolate chips
1-2 tbsp desiccated coconut (unsweetened)
Chop up the dates roughly.
Put the dates, cranberries and almond meal into a food processor and blitz till it chops everything up nice and fine and mixes it through.
Add the honey, vanilla and salt and pulse it to bring everything together. At this stage it will start to clump a little.
Add the chocolate chips and pulse it a couple of times to mix it through.
Divide the dough into walnut sized portions and roll to form balls.
Place the coconut in a small bowl or plate and roll the balls in the desiccated coconut.
Leave it to set for a little while. Store in an airtight container.
This is my last
SRC
post from my current home in India. Hopefully, it won't be my last. We're moving from Mumbai to Sydney in a few days time and I'm looking forward to blogging from my new home there. These last couple of weeks have been absolutely frenzied in terms of activity levels. We've just gotten rid of almost all of our stuff that we're not taking along with us, including both of my dearly beloved ovens.
For this months SRC assignment I was assigned the blog Jenna's Cooking Journey. Jenna's blog is full of yummy goodness and she has such a variety of baked goodies, that I was sad I wouldn't be able to try out one of her baked recipes which I had originally picked for this month's reveal, but hadn't got down to making it yet. And now that I didn't have an oven at my disposal, I went back to her blog to see what I could whip up. And you know what, I found a gem of a recipe there for no-bake cookies. The ingredients listed sounded delicious. I had everything I needed in the pantry waiting to be used before we took off, so that was another plus point. I knew I was going to try these cookies out. I'm so glad I did. These were not only easy to make and were so quick to put together, but they tasted divine. Thanks Jenna for sharing such a wonderful recipe. This one is a definite keeper for me. I know I'll be making these cookies more often. I stuck to the recipe as is and I'm glad I did. But in the future I know I'll be trying out other variants of these cookies to, it does seem like a recipe that is quite versatile. One thing I'll do a little different next time, is I'll cut the sugar quantity a little. Mind you, these cookies are NOT overly sweet, but my husband and I both agreed that we'd love it even more if it was a tiny bit less sweet. Do give it a try and see how addictive these little yummy mounds are. They remind me of a yummy bar of Snickers, with a big difference, I know exactly what's going into these. I halved the recipe and got a dozen cookies and those are the quantities I've listed below.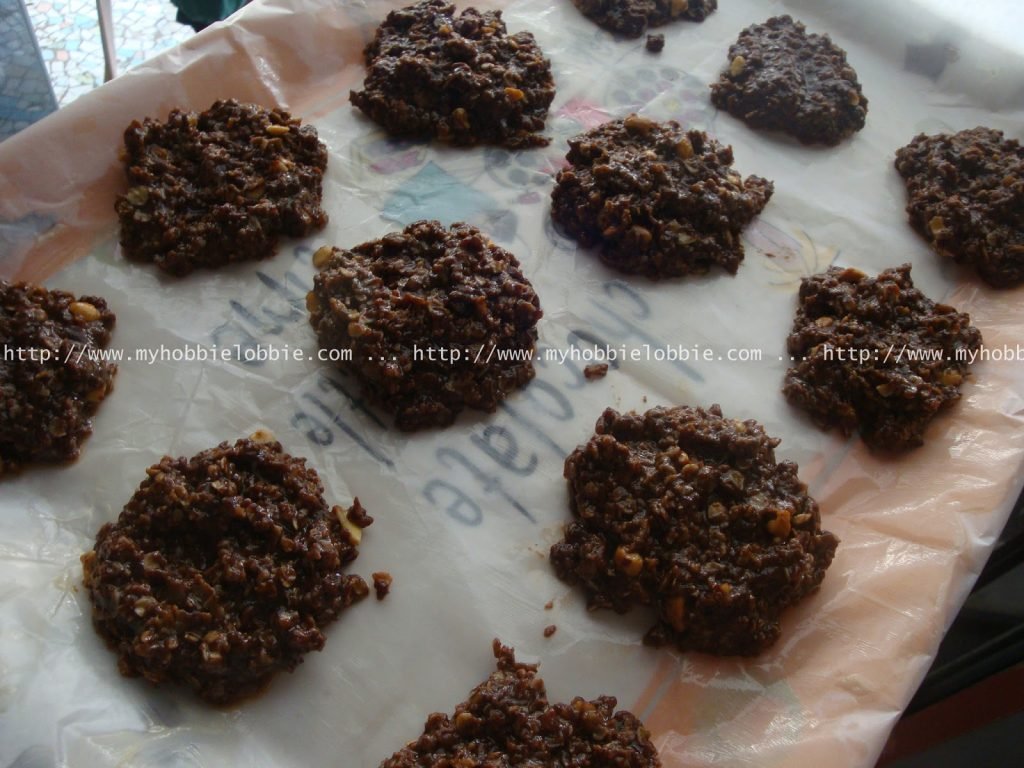 Chocolate Oatmeal No-bake Cookies
(Yields 1 dozen cookies)
1/4 cup butter
1 cup sugar
1/4 cup milk
2 tbsp. cocoa
1/4 cup peanut butter (I used the chunky variety)
1 1/2 cup quick cooking oats
1 tsp Vanilla extract
Place the butter, sugar, milk and cocoa in a saucepan on the heat. Bring it to a rolling boil and boil for one minute thereafter.
Stir in the rest of the ingredients till everything is well combined and drop spoonfulls of the mixture on some baking / parchment paper.
Let it cool to set.
Enjoy!!!
document.write('
I was just thinking back about my previous posts and experiments in the kitchen and what struck me was that a great many of them actually happened because of lack of availability of store bought options in India. Needless to say, I don't need an excuse to make things from scratch at home, I actually prefer it that way so that I know exactly what I'm eating. Having said that, sometimes its nice to have the store bought variants to compare with. This time around though, it wasn't going to happen since we don't get girl scout cookies here. I've been drooling over posts of these treats popping up all over the place now and then and finally decided to try them out myself. This recipe for thin mints is perfect to start of with, since it uses store bought Ritz crackers and so is fairly simple and quick to put together. Now, finding Ritz crackers itself it an impossible task here, but we do get a local variant called Monaco crackers and that's what I used today.
Nothing could be simpler than making these treats. But the end result is so satisfying. You get the subtle mintiness from the dark chocolate and the crunch from the crackers and all in all, I think its a fantastic combination. I know I'll be making these often.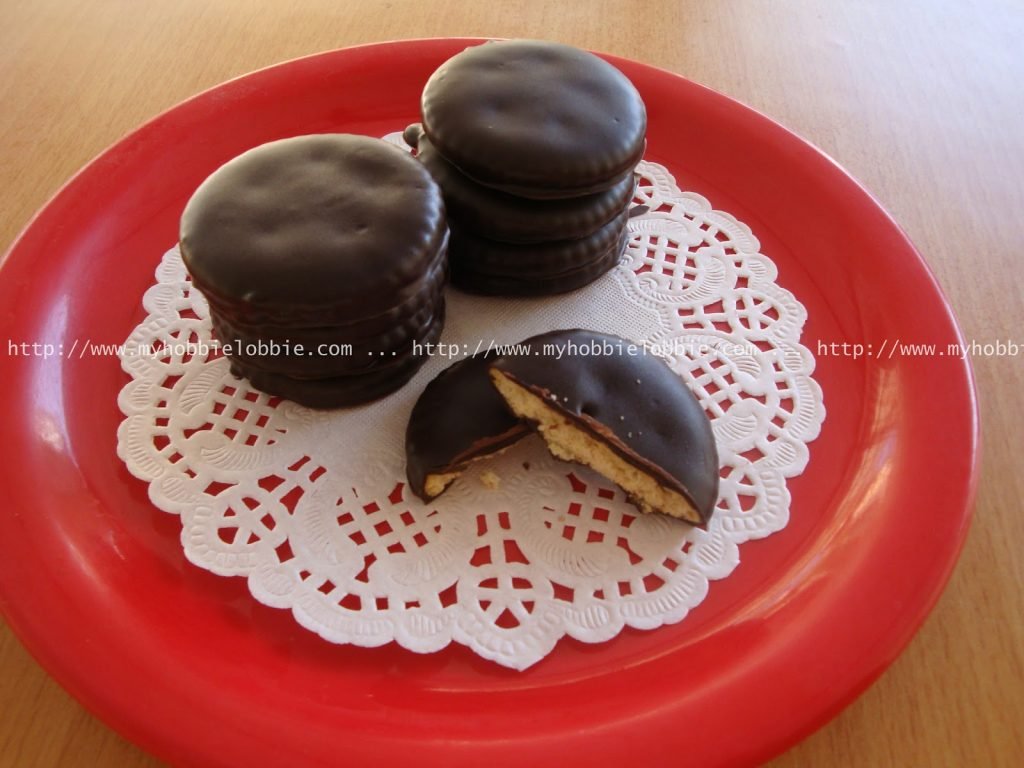 Thin Mints
Recipe from: Averie Cooks
Makes a dozen
120-150g good quality dark chocolate
A few drops of peppermint extract (Its fairly strong, so start with a couple of drops and add gradually till you get the strength of flavor you're looking for)
12 crackers (Ritz / Monaco)
Melt the dark chocolate in a double boiler.
Add the peppermint extract and stir well. Taste and adjust flavoring if needed.
(Note: If you accidentally add too much extract, you can still salvage the chocolate, simply add more melted chocolate to the bowl and mix. This should dilute the flavor.)
Dip the crackers in the chocolate and lift up using a fork. Let the excess chocolate drip off.
Place on a sheet of parchment paper and refrigerate for about 20 minutes to set. Alternatively, you could also leave these to set at room temperature.
Enjoy your very own almost homemade Thin Mints.
Don't forget to stop by and check out what the others have brought to the table for Week 6 of our 12 Weeks of Christmas Treats series, hosted by Brenda of Meal Planning Magic.