With Christmas fast approaching, today I thought I'd share with you a recipe for Rose Cookies. Rose Cookies, Kokkisan or Achu Murukku – these are a few names these little treats go by in different parts of the South of India. If you've not had these before, imagine amazingly crisp, deep-fried, sweet cookies. They are so more-ish. Which is why it's a good thing this batch yields quite a few cookies.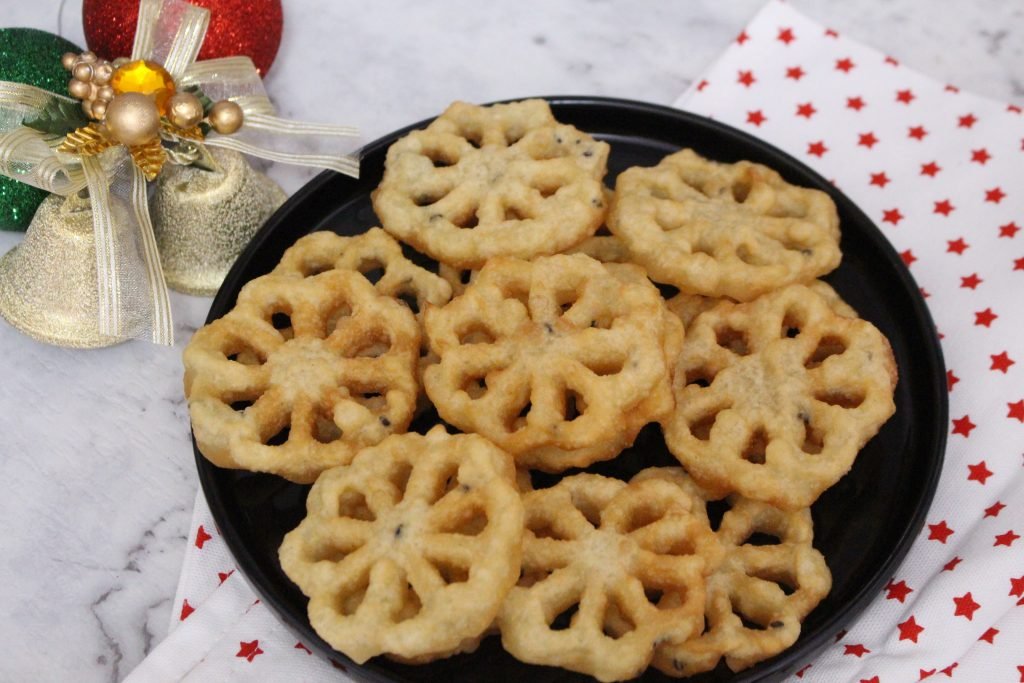 Let's move on to the cookies themselves, shall we? While they're not difficult to make, the batter can be very temperamental and finicky. This is one Kuswar treat I personally find the most trying. The most important part of this recipe is the batter. It takes a little patience and tweaking to get it to just the right consistency. But boy, once you do, churning these cookies out is a breeze.
The batter –
Are you ready to give these a try. Let me walk you though the process. Putting the batter together initially is a very simple process and it just a matter of whisking all of the ingredients together. The one thing you need to watch out for, is the amount of liquid that goes into it. You're looking for a batter that isn't too thick or too thin. It's a Goldilocks kinda situation; you have to get it just right. A huge saving grace is that the batter is forgiving and can be easily fixed.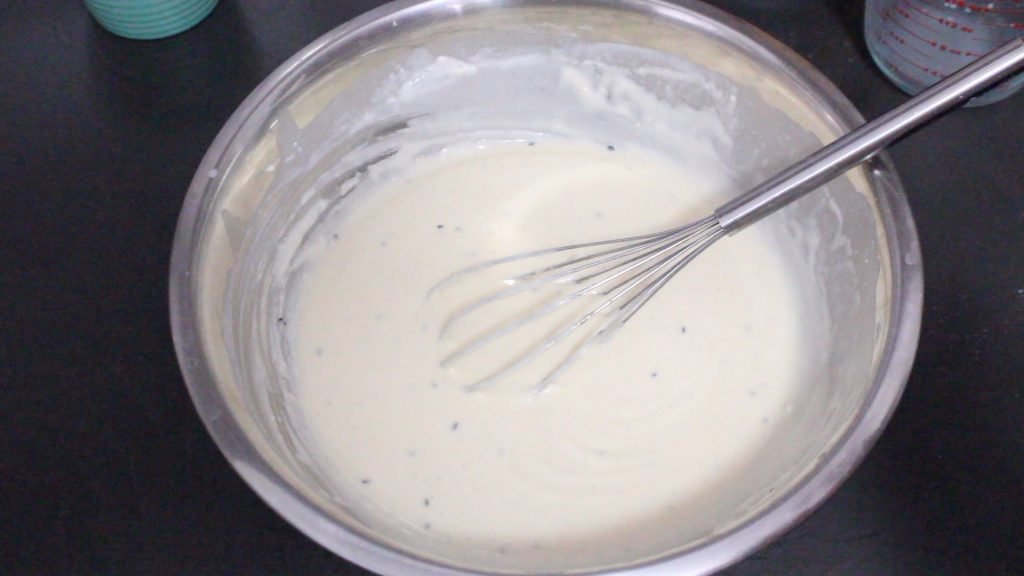 If its too thick, it wont cling to the cookie iron at all. When this happens, gradually add small amounts of coconut milk (if you're out of coconut milk, you can use water) and whisk it in. On the other hand, if its too thin, it'll stick to the iron and won't release into the oil, even after you try to separate it using a fork or a skewer. To fix this, simply add a little all purpose flour to the batter, a little at a time and whisk it through and try frying it again.
The frying process –
Now that you have you're batter sorted out, you need to keep a few things in mind while frying these cookies. Once the oil heats up, maintain it by using a medium to medium low heat. If the oil is too hot, the cookies will brown too quickly. The cookie iron needs to be heated well for it to release the cookies into the oil. The first few cookies are like a tester batch. You may have to sacrifice a couple of them while you figure out the right consistency.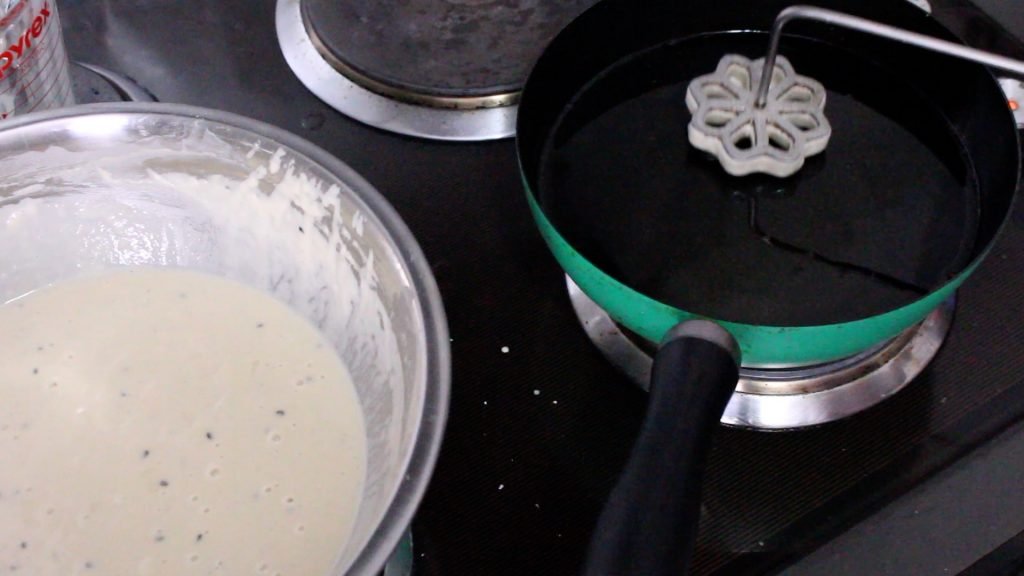 Take the cookies out of the oil when they're a little lighter than you'd like it. They tend to darken as they cool.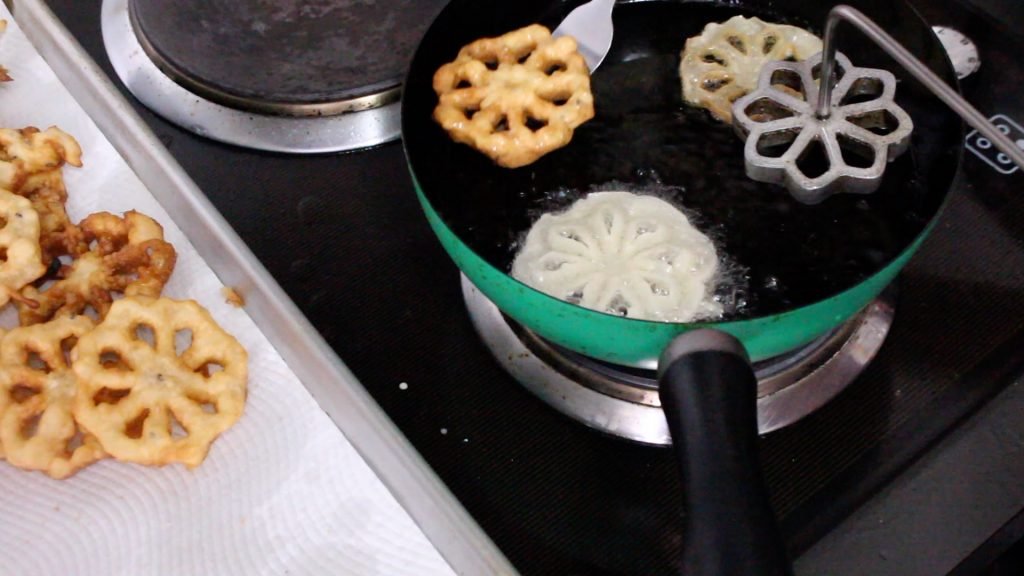 With these pointers in mind, you are now equipped to make a beautiful batch of these Rose Cookies.

If you're looking for more Kuswar recipes to make this Christmas, here are a few of my favorite recipes you might enjoy too –
1) Kulkuls
2) Date Rolls
3) Baath / Badca
4) Coconut Toffee
5) Milk Cream
6) Coconut Ladoos
7) Guava Cheese / Perad
8) Nankatais (Eggless)
9) Marzipan (Eggless)
10) No-cook Almond Marzipan
11) Marzipan – My favorite recipe
12) Chocolate Hazelnut Fudge
13) Chana Doce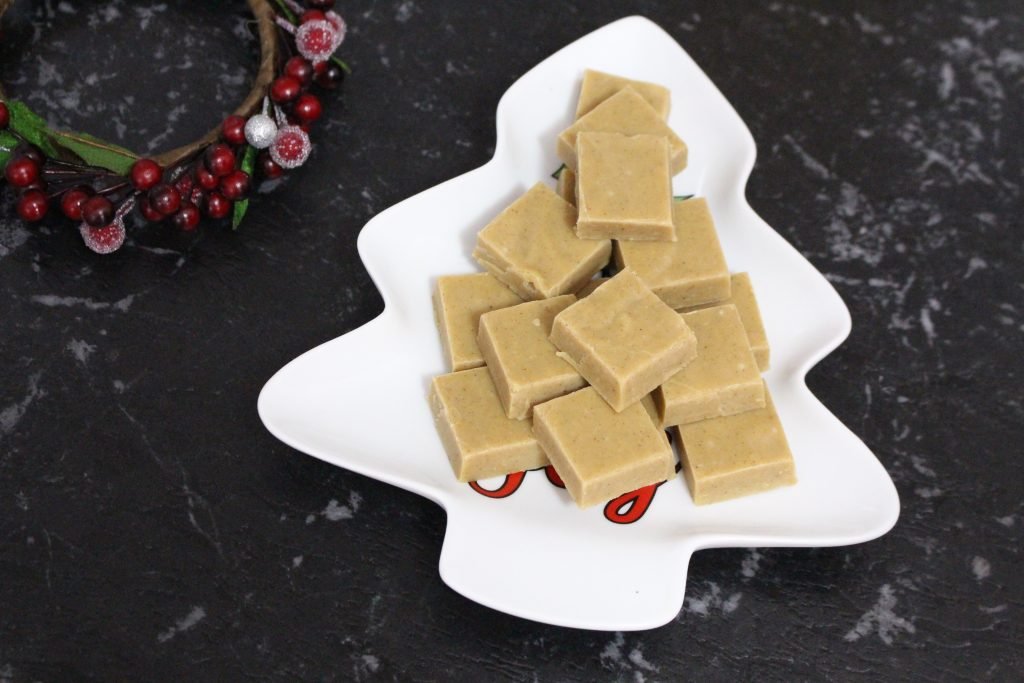 Today's Gingerbread Fudge is a great recipe to have on hand for Christmas. It is quick and easy, and results in a creamy fudge that is beautifully spiced with all the Christmas flavours. So if a combination of white chocolate and the flavours of a traditional gingerbread is your thing, stick around for the recipe.

With Christmas fast approaching, a lot of folks have started with all kinds of prep work. From deep cleaning and decorating their homes, shopping for the Holiday season and planning their social calendars, most houses see frenzied levels of activity at this time of the year. It's because of this, one needs to have a few easy and delicious recipes to fall back on.

This gingerbread fudge recipe ticks all those boxes. With prep and cook time of mere minutes, the hardest part of this recipe is leaving the fudge alone, to cool and set. Sounds perfect, right? Well, it is. And you're left with a nice batch of fudge that just melts in your mouth.

And if you're in the Southern Hemisphere like I am, we're headed straight for summer. And it gets really hot here in Sydney. So while everyone in the North is baking up a storm, these kind of recipes work out perfectly for us. This way we get to enjoy those beautiful flavours of Christmas without having to turn the oven on.

This fudge can be made a few days ahead. Store it in the fridge in an airtight container lined with baking / parchment paper. I suggest placing a piece of baking / parchment paper between layers as well, to prevent the pieces of fudge from potentially sticking to each other.

Now, if dark chocolate is more your thing, check out my Dark Chocolate and Hazelnut Fudge recipe. It is absolutely divine.

The ingredients –

This list is an easy one to get a hold off. You will need condensed milk, white chocolate, vanilla, molasses, ground spices (ginger, cinnamon, cloves and nutmeg) and don't forget the butter.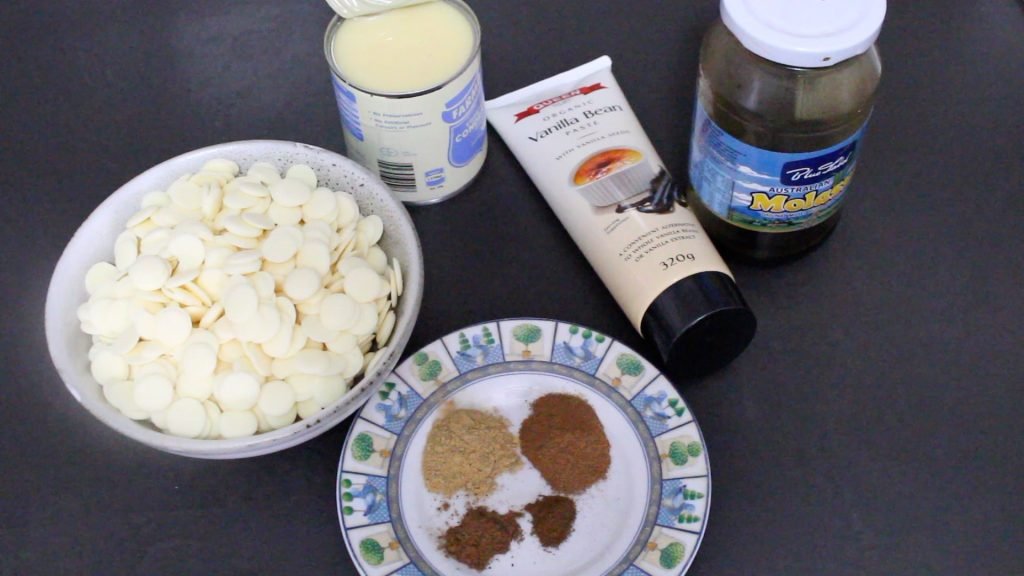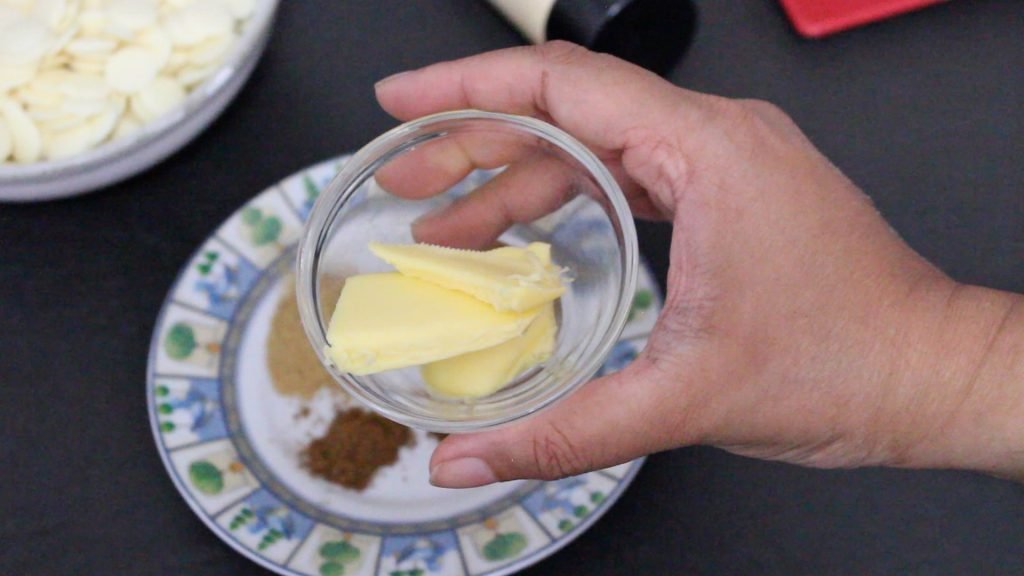 Let's get cooking –
Line a 9×9 inch cake pan with some foil, leaving a little overhang to help take the fudge out once it has set. Set this aside to use later.

Place the condensed milk and butter in a heavy bottomed pan on a medium low heat.
Add the molasses and vanilla. Mix through and add the white chocolate. Stir well to help the chocolate pieces melt.

Next, add the spice powders and stir well to incorporate.

Once all the chocolate has melted and the spice powders have been incorporated thoroughly, pour out onto the lined cake pan. Tap the pan gently a couple of times to get rid of any air bubbles.

Leave it on the kitchen counter and let it come to room temperature.

Refrigerate for 4-6 hours or overnight to set completely.

Cut into squares and serve.
Its December folks! Anyone who knows me, knows I'm a bit Christmas crazy. I love everything about the Holiday season. I'm going to kick off this years Christmas recipe posts with a lovely little cookie – the Indian Nankatai. This is an eggless recipe and is so easy to put together. What you end up with is a delicate and really delicious little treat. I like making a big batch of Nankatais closer to Christmas. I add these on my Christmas platter of sweets to share with family and friends and I also have some in the cookie jar to serve up with some tea.
Let's talk about the dough for a bit. It is such a ridiculously simple recipe, you will be surprised at how tasty the nankatais turn out. I find that this dough can be a little finicky and it usually works beautifully on a slightly warm day. While that works beautifully for us in Australia and anyone in the Southern Hemisphere, it could be a challenge in the Northern Hemisphere, where its the middle of winter. If its cold where you are, you might find that the dough ends up a little crumbly and you may have a little difficulty shaping it into a cookie. When that happens, I pop the dough in an ovensafe bowl and pop it into a slightly warm oven (about 100 degrees) for a couple of minutes. This helps the ghee warm up and helps bind the dough.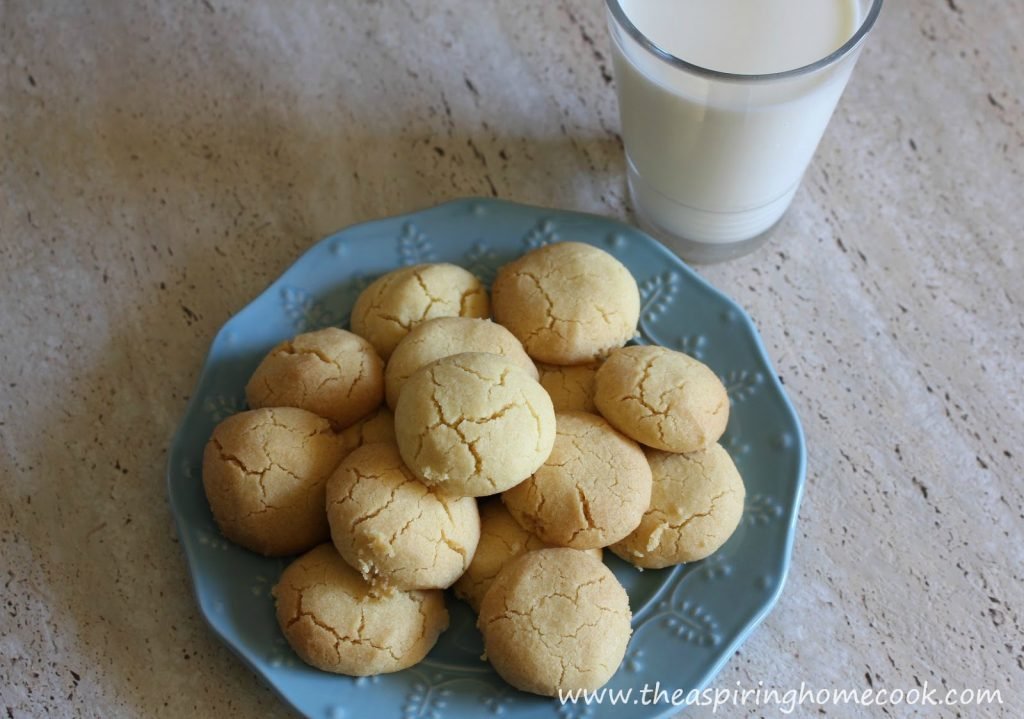 Nankatais
Yields: 1/2 kilo (approx 30 cookies)
1 1/3 cup all purpose flour
1/3 cup besan (chickpea flour)
1 cup sugar (superfine. You can also powder larger grain sugar and then use it in the recipe)
2/3 cup of ghee (clarified butter)
1/4 tsp baking soda
Preheat your oven to 180 deg. Celsius and line a baking tray with some baking / parchment paper.
Mix the ghee and sugar till it is light and creamy. Scrape down the edges and bottom of the mixing bowl halfway through the process.
Add the rest of the ingredients (baking soda, all purpose flour and chickpea flour) to the mixing bowl and continue mixing till it forms a dough.
Shape into little cookies by rolling portions of the dough into a little ball and flatten it slightly. Place the cookies on the lined baking tray.
Bake for 12-15 minutes or till done. Your looking for a light colour on the edges.
Take it out of the oven and leave the cookies to cool on the tray itself.
When completely cool, store in an airtight container.
Enjoy!
You can watch the video recipe here –
Updated with a new picture and the video recipe.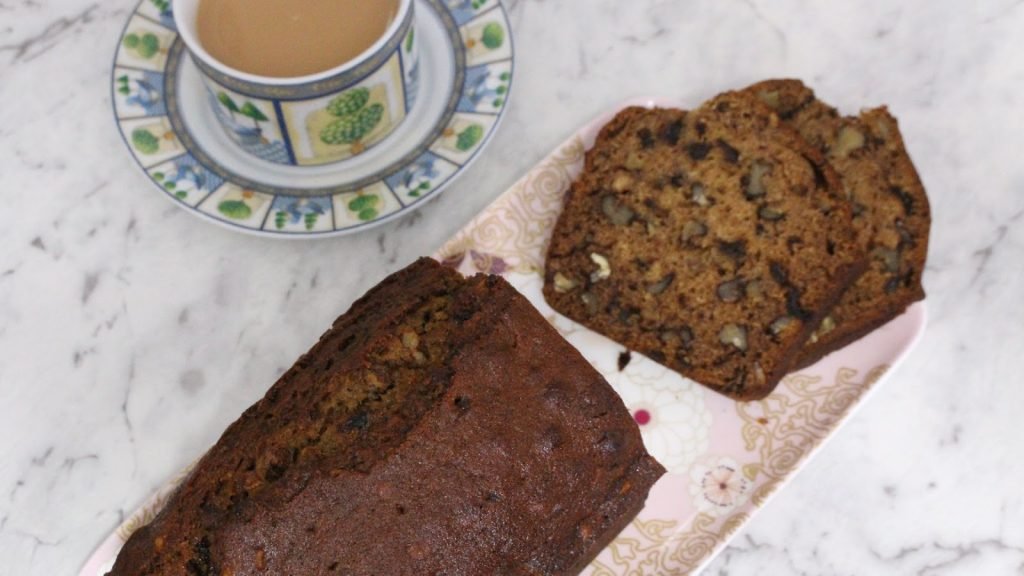 Have you tried a date and walnut cake before? A lot of people haven't. If you've spent some time in Bombay and been a part of celebrations there, every now and then you will find a Date & Walnut Cake pop up. This cake is a beautiful tea cake. It has a lovely flavor from the dates, a crunch from the walnuts and a rich, dark color that the dates lend to it. It has the most beautiful, luscious crumb. I can't praise this cake enough. You have to try it to believe it. Its a shame I don't make this cake more often.
As for keeping it real, I know a lot of food blogs are perfect. Not just picture perfect, but flawless in so many ways. My little blog is far from that. I like that it is human in that way. Even in my kitchen, there are times where I make some boo boos, I have brain farts and sometimes, I just could've planned better. This is one of those times where my brain was on a trip of its own. Maybe I was just over excited about this cake. While this cake batter is really easy to put together, I forgot to put the walnuts in it. I only realized this after pouring the batter into my parchment lined loaf pan. So what did I do? I just poured the walnuts on top and tried to stir it through the batter. That is why, you'll notice the walnuts are mostly near the top of the cake. If you add them to the batter when you are supposed to, it will be better distributed. Now I could've waited till I baked this cake again to post this recipe. But in the true spirit of keeping it real and not wanting to keep this recipe from you any longer, I decided to post it with its tiny imperfection. I cannot tell you how amazing this cake is and I do hope you try it out.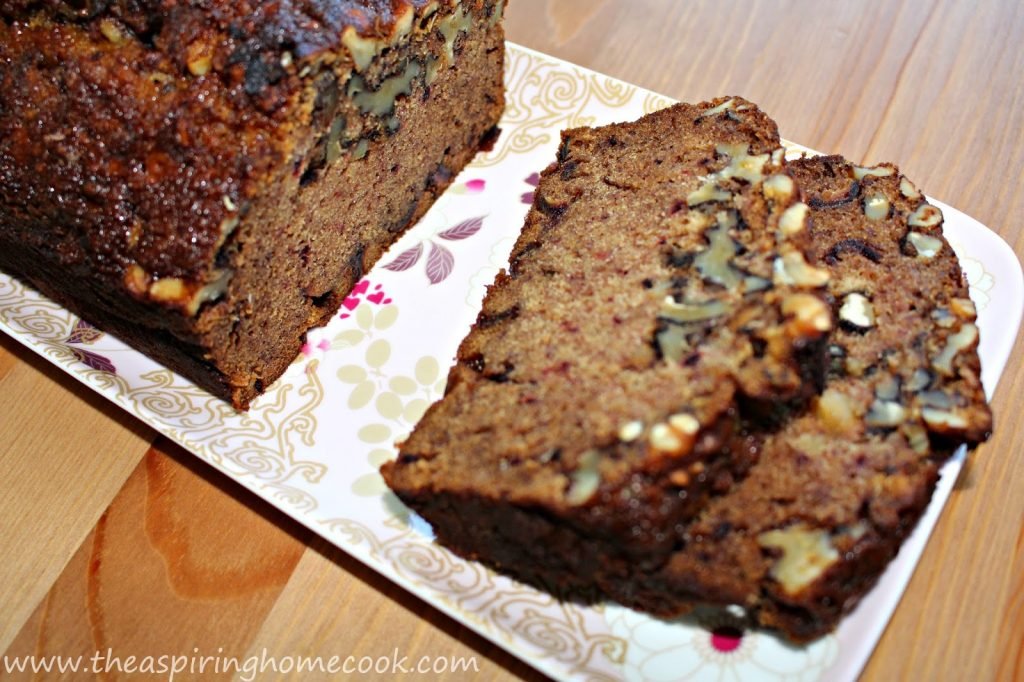 Here's the video recipe, to help you through the process –




Date & Walnut Cake
200g walnuts, chopped
100g dates, pitted and chopped
1 cup boiling water
1 1/2 cup all purpose flour
100g butter
1 cup sugar
3 eggs
1 tsp soda bi carb
1 tsp vanilla essence
Place the chopped dates in a large mixing bowl, sprinkle soda bi carb over the dates.
Place the sugar and butter in the bowl with the dates and pour the boiling water over.
Stir gently and set aside to cool.
In the meanwhile line a loaf tin with parchment paper and grease the base and sides.
Preheat the oven to 180ºC.
When the mix has cooled down, beat the eggs and vanilla in a separate bowl.
Add the eggs and flour in three batches alternating between the two. (Add 1/3 of the eggs and whisk, add 1/3 of the flour and whisk until just combined and continue like this working in thirds.)
Add the walnuts and stir through the batter.
Pour into the prepared baking tray and bake immediately.
Bake for about 30-40 minutes or till a skewer pierced through the centre of the cake comes out clean.
Let it cool down. Slice and enjoy with a steaming hot cup of tea.
UPDATE: I've finally had an opportunity to take new pictures. The recipe used is still the exact same one. You can watch the entire Kulkul making process in the video at the end of this post. Enjoy!
(I will still keep the old pictures on the post as it shows you the step by step process.)
As Christmas comes closer, I see so very many posts of Christmas cookies and treats pop up all over the place. A lot of the treats that you now see have evolved over the years. In the last couple of years, I have seen and tried out a few that are brand new to me and I wouldn't have known of if it wasn't for the internet. These were so much easier and quicker to make than the kind of Christmas sweets I am used to making, not to mention absolutely delicious. Today, however, I'm going to share with you a Christmas treat that I've grown up with, these gorgeous Kulkuls. This is a traditional Goan sweet and if you haven't had them before these are little deep-fried, sweet, pastry bites.
This sweet called Kulkuls (cuhl-cuhls), is something I've grown up with. Every year, at around this time the family would gather to make these little treats. And yes, it is a family affair. This little bites of fried, sweetened pastry take a while to make. Since, many hands make for light work, my Grandma, my Mum, my Father (whenever he was on leave from work), my brother and I would sit down to make these sweets. We'd make a massive batch of this every year and it would take a whole evening from start to finish. That being as it is, we'd make Kulkuls every single year. These little fried dumplings can be sweetened to your liking and they have a long shelf life. The batch that we used to make around this time, would last till the end of Jan. In all honesty, they'd probably keep much longer, but they are so tasty and addictive, they'll be finished long before that.
Most of my family recipes, the old Goan ones have been handed down from one generation to another. The weird part is almost all of these recipes, never had fixed quantities of ingredients mentioned. The recipe is very forgiving and I've managed to chart down some quantities for reference. This quantity is a much more manageable batch size than what I'm used to, but you could cut it down further, if you need to. The process should take a couple of hours but I think its all worth it. While I did manage to get step by step pictures of the process, I didn't manage to take a picture of the batch after it was done frying. So for the time being, I am putting up a picture of our platter of traditional Goan Christmas sweets from last year which has some kulkuls on it. I"ll try and get a better one this year.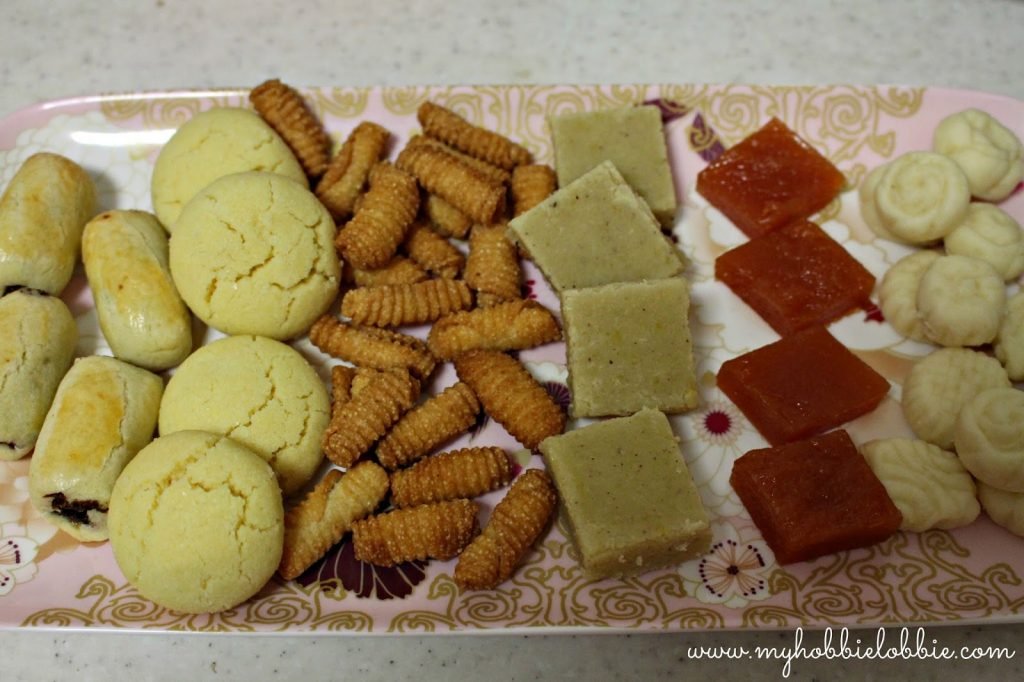 L-R: Date Rolls, Nankatais, Kulkuls, Chonya Doce, Perad, Milk Cream
Kulkuls


1/4 kg Semolina (rava)
1/4 kg All purpose flour (maida)
1 egg
A splash of milk
3 tbsp clarified butter (ghee)
1/3 can coconut cream (400ml can) (You could also use about 150 ml freshly extracted coconut juice)
2 fat pinches of salt, or to taste
Superfine (or powdered) sugar, to taste (Start with a couple of heaped tablespoons and add more as needed)
Oil, for deep frying
Knead all the ingredients to a dough using milk as needed.
Kneading the dough once its done, should leave a slight trace of ghee on your hand, but only just. If your dough is on the dry side, add a little more ghee and knead again. This ensures that the dough doesn't stick to the forms we're using to shape the kulkuls.
Taste a little pinch of the dough for sweetness. I tend to not make these too sweet so that it cuts through all the other sweetness on the plate. If you think you want the kulkuls sweeter, add some more sugar and knead into the dough.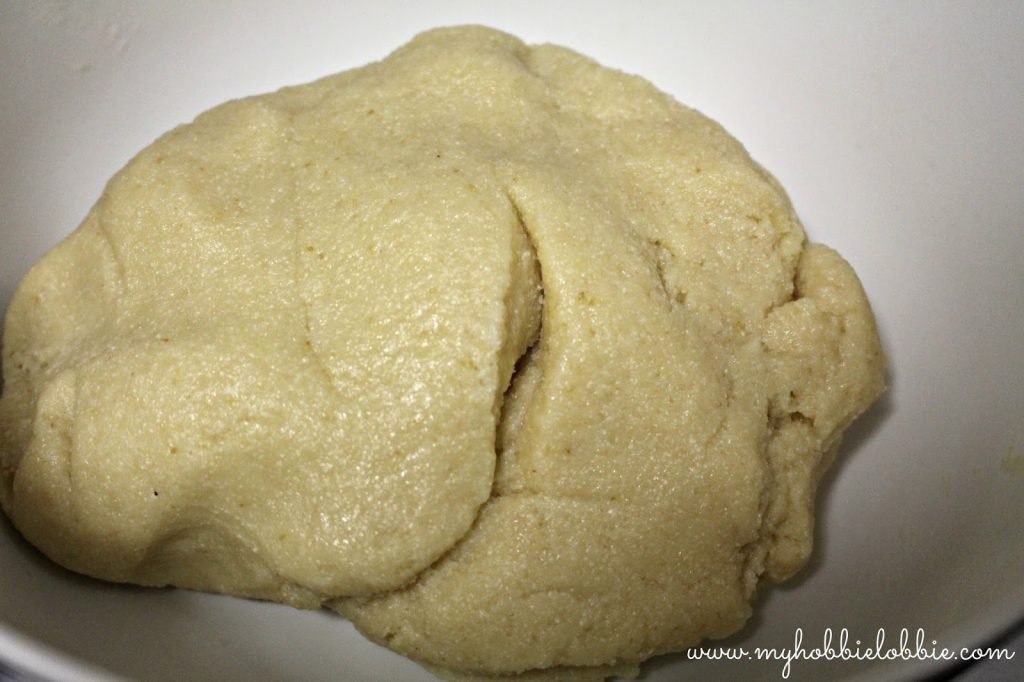 Cover the dough with a damp cloth and let it rest for about half and hour.
To shape the kulkuls, you can use a variety of things. We now use these paddles that are specifically used for kulkuls. If you don't have these paddles, you can use the back of a fork or a new, clean haircomb.
Work with a small portion of the dough at a time. Keep the unused dough covered with a damp cloth while you work with the rest. Roll into a long sausage shape and cut into pieces.
Working with one piece at a time, place the piece of dough on the paddle.
Using your thumb, flatten the dough into a rectangular piece as shown in the pictures below.
Starting with the end closest to you, gently life the dough and roll away from you, keeping the roll fairly tight.
Lightly press the edge of the roll to seal it up so that it doesn't open up while frying.
Adjust the size of the pieces of dough to suit the size of the kulkuls you need.
Repeat with the rest of the dough. As you shape the kulkuls, keep them on a flat tray. I turn a cookie sheet upside down and use the back of the tray.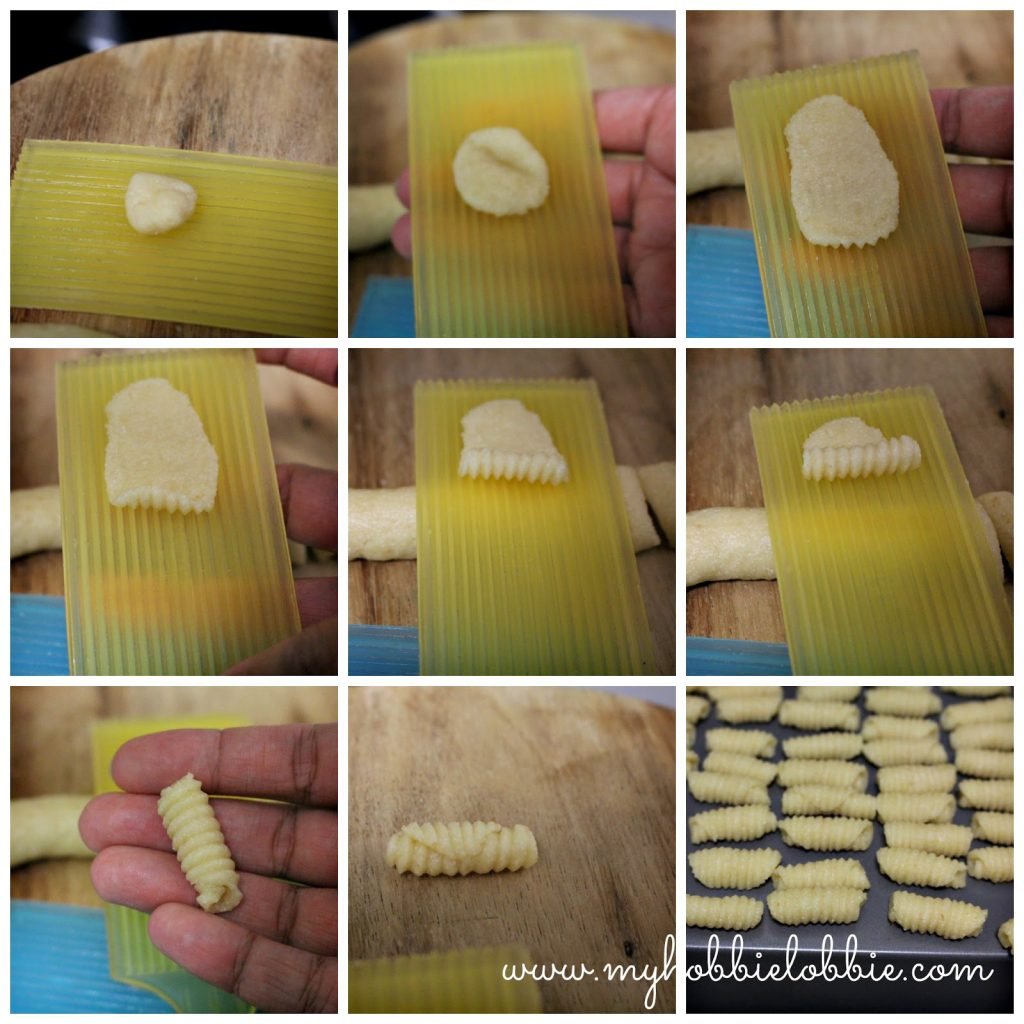 When they are all done, heat some oil for deep frying.
Test that the oil is hot enough by gently dropping a small bead of dough into the oil. If it bubbles in the oil, instantly and comes to the top, the oil is hot enough.
Keep the oil on medium heat.
Gently tip the kulkuls into the oil. Don't overcrowd the pan. Fry them in small batches as the oil may froth a little and bubble up and spill over. Start with the ones that were shaped first.
When the kulkuls are golden brown, drain using a slotted spoon and place on some kitchen paper to drain off any excess oil.
Repeat with the rest of the kulkuls until they are all fried up.
When the kulkuls have completely cooled down, store in an airtight container.
Enjoy this lovely addition to your Kuswar platter.
** I'm hoping to get more pictures this year and will add them to this post.
If you're looking for other Kuswar recipes, you can find them here –
1) Marzipan
2) Date Rolls
3) Nankatais
4) Chaklis
5) Baath / Badca
6) Peraad
7) Coconut Toffee
8) Milk Cream
9) Jujups
10) Coconut Ladoos / Coconut Snowballs
A quick look at my blog posts for this year revealed something fascinating. I haven't had too many dessert / candy kind of recipes make an appearance this year. I owe that to what used to be a very demanding job. Now that I'm taking some time off, I actually have the time to breathe, to stop and smell the roses, so to say. And one of the first orders of business is to rectify that. I decided that the 2-ingredient
Almond Rocks
was a good way to start and I needed another rocking recipe. And out of nowhere, I realized I hadn't make any Rocky Road bars in ages. Turns out, I had all the ingredients needed to make some Rocky Road. So with a few minutes of prep and some time to set in the fridge, I now have a delicious batch of Rocky Road.
The beauty of this recipe is that you can switch it up so many different ways. You prefer a sweeter chocolate, use milk chocolate. If like me, you prefer a dark chocolate, use a darker variant. I used a 70% dark chocolate. I know to many of you, it may seem like it is a little too dark, but considering the recipe also uses marshmallows, biscuits and glace cherries, it balances out nicely. If however you need something in between, use 2 parts dark to 1 part milk chocolate of half of each, to suit your taste. This time around I used almonds but I have also made them with cashew nuts in the past and they work well. I think peanuts would be really nice too. So feel free to switch things up.
Just before serving these bars, lightly dust them with some icing sugar. I put about a spoonful of icing sugar into a small sieve and lightly tap it over the bars. This gives it a lovely snow-like effect. These bars would be perfect to serve up as dessert for your Christmas or Holiday Parties or it could just as well hit the spot as a little treat as well. They would look really good on your Christmas platter too.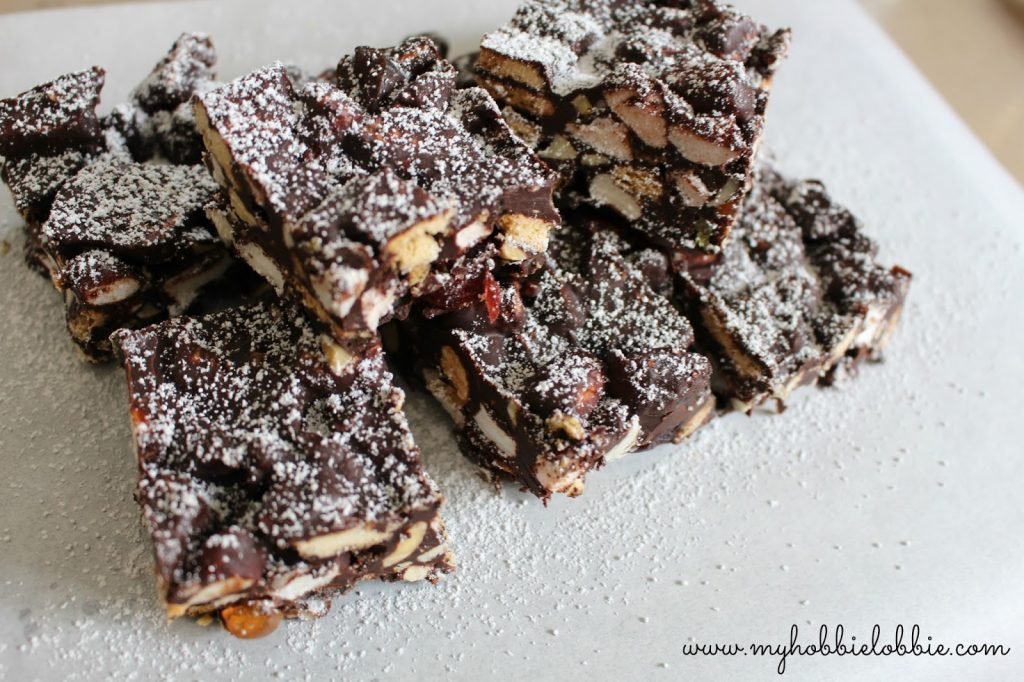 Rocky Road Crunch Bars
Yields: 16 pieces
200g chocolate (I used dark chocolate. Feel free to use milk or part dark and part milk chocolate)
85g butter, at room temperature
2 tbsp golden syrup
100g Maria biscuits (Marie biscuits or any other Tea biscuits)
75g almonds
75g glace cherries
60g mini marshmallows
1 tsp icing sugar
Roughly chop the chocolate up into little pieces. The smaller the pieces, the quicker it will melt.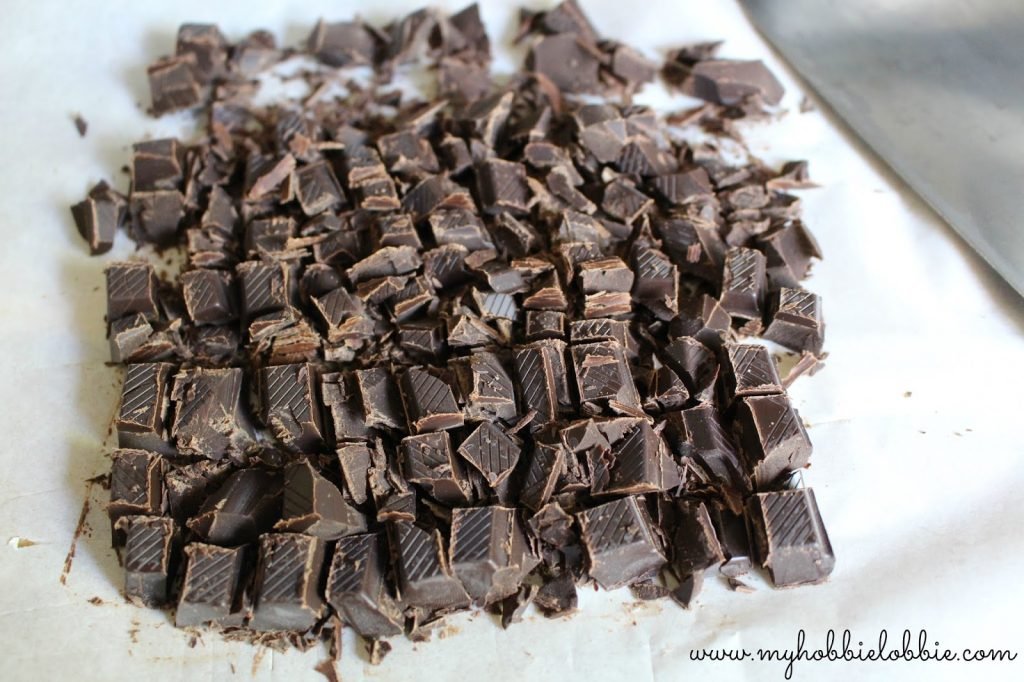 Place it in a heavy bottomed saucepan with the butter and golden syrup and place it on a low heat. Stir it every now and then to make sure it isn't sticking to the bottom of the pan.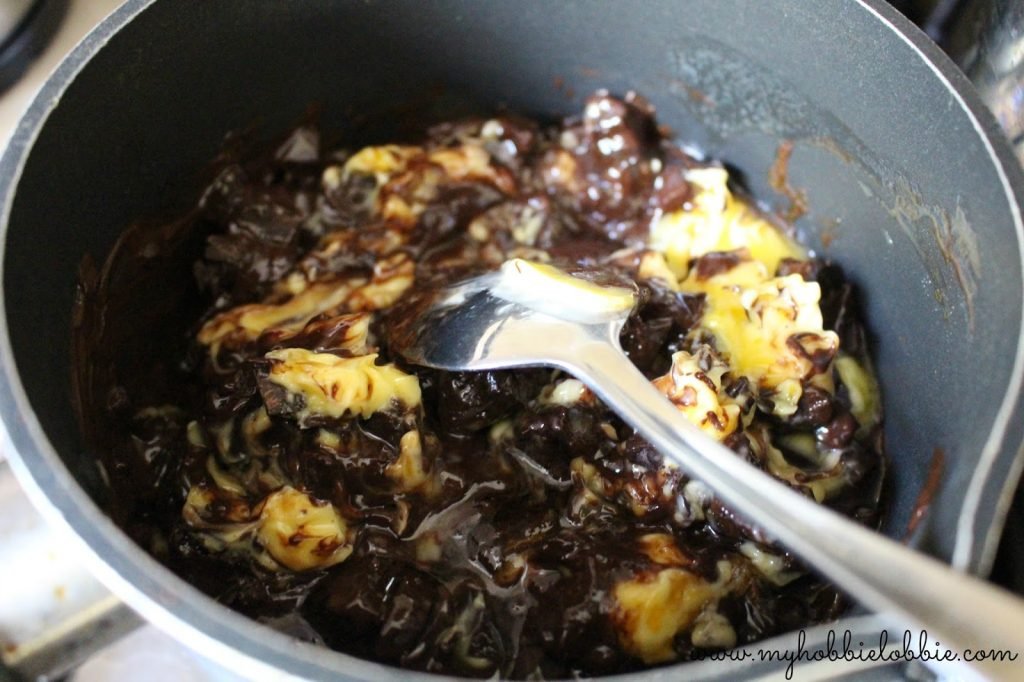 When it has mostly melted, stir well and turn off the heat. You will get a silky syrupy consistency like this.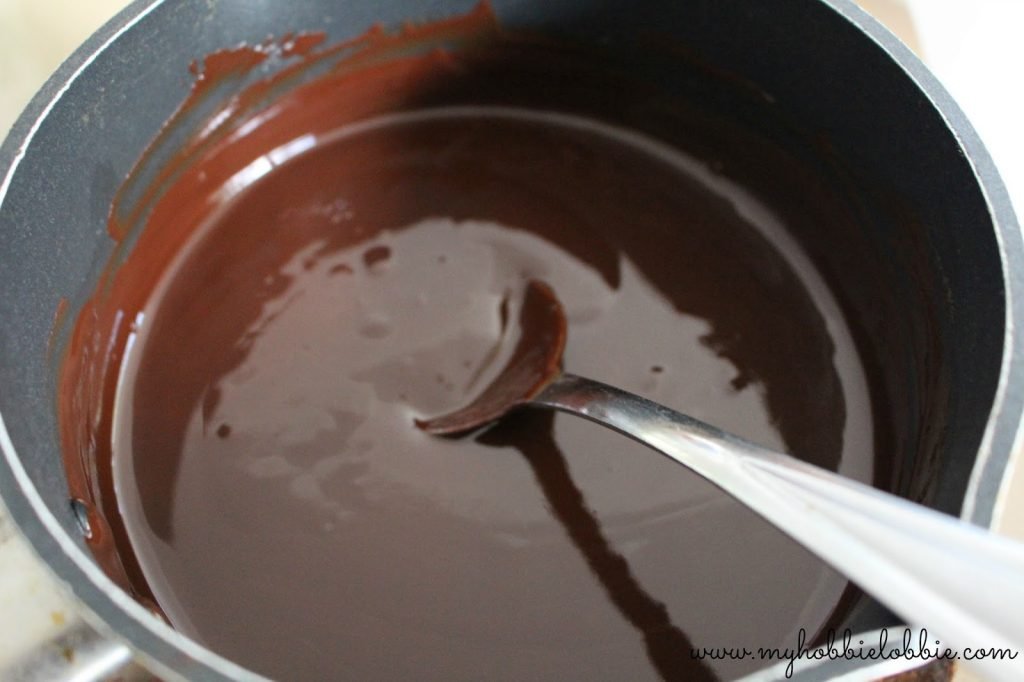 Roughly chop up the almonds and biscuits and set aside. It doesn't need to be uniform in size.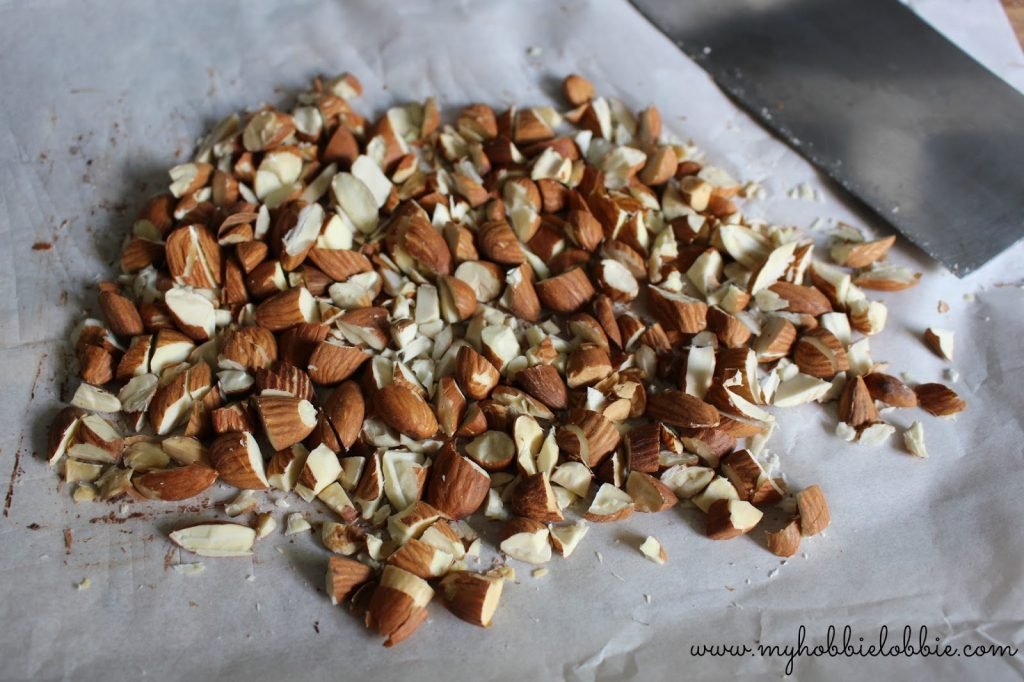 Tip in all the add ins like the marshmallows, biscuits, almonds and cherries into a large mixing bowl.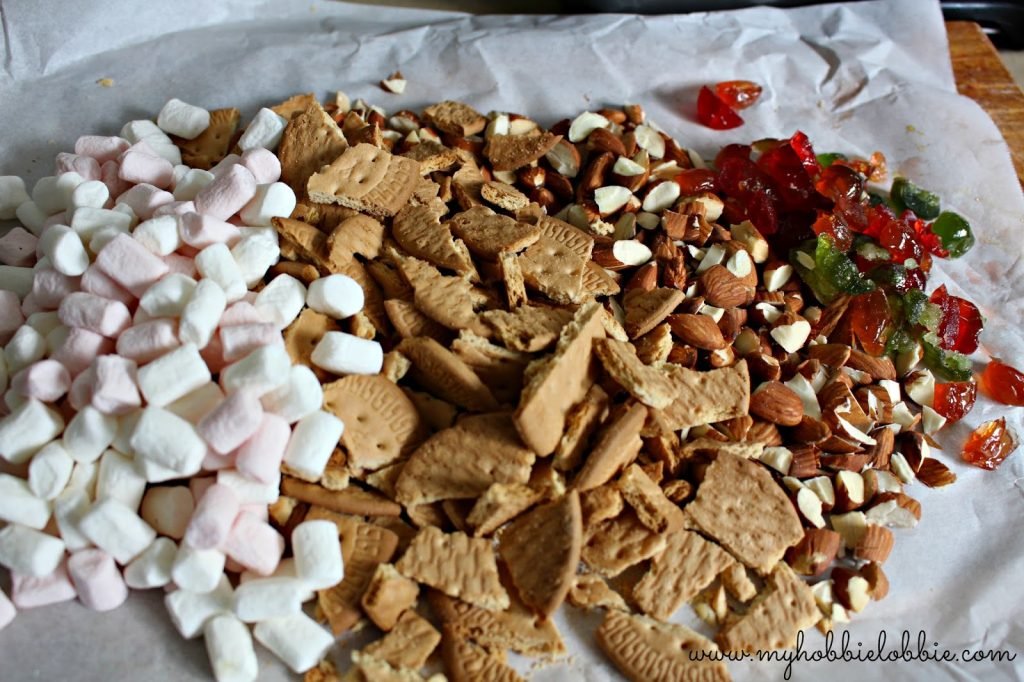 Pour the molten chocolate over the ingredients.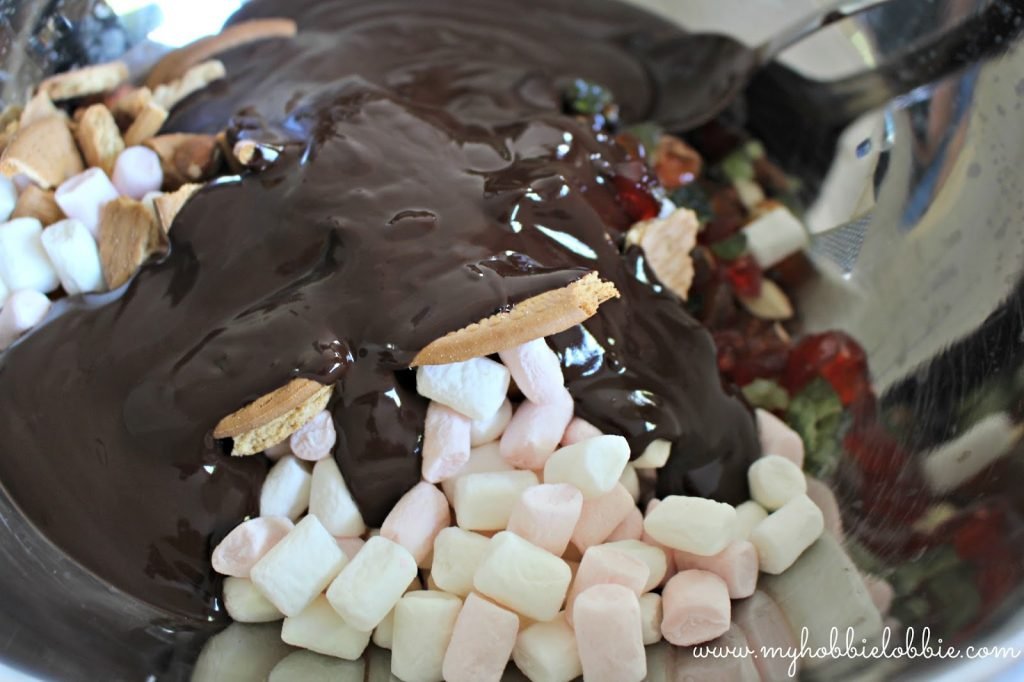 Stir well to make sure everything is coated with the chocolate.
Line an 8 inch square cake tin with foil.
Pour the mix into the lined tin and flatten it out as best as you can using the back of a spoon.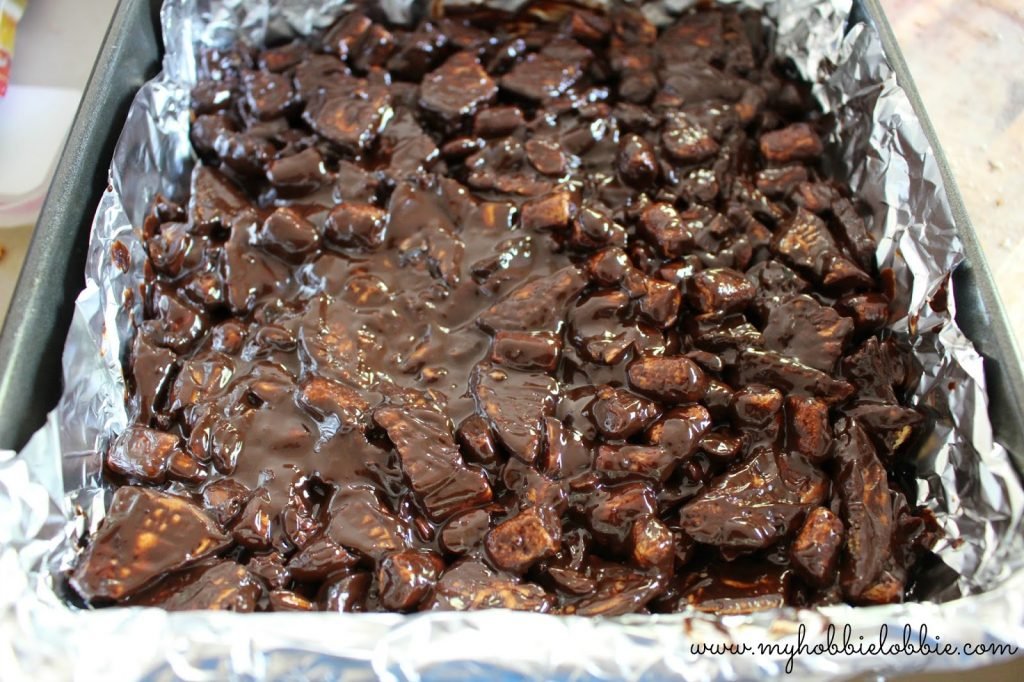 Refrigerate for about 2 hours.
When you are ready to cut, carefully peel of the foil. It is easier to do this now rather than after you cut it up.
Cut into pieces. I got 16 squares of about 2 inches each.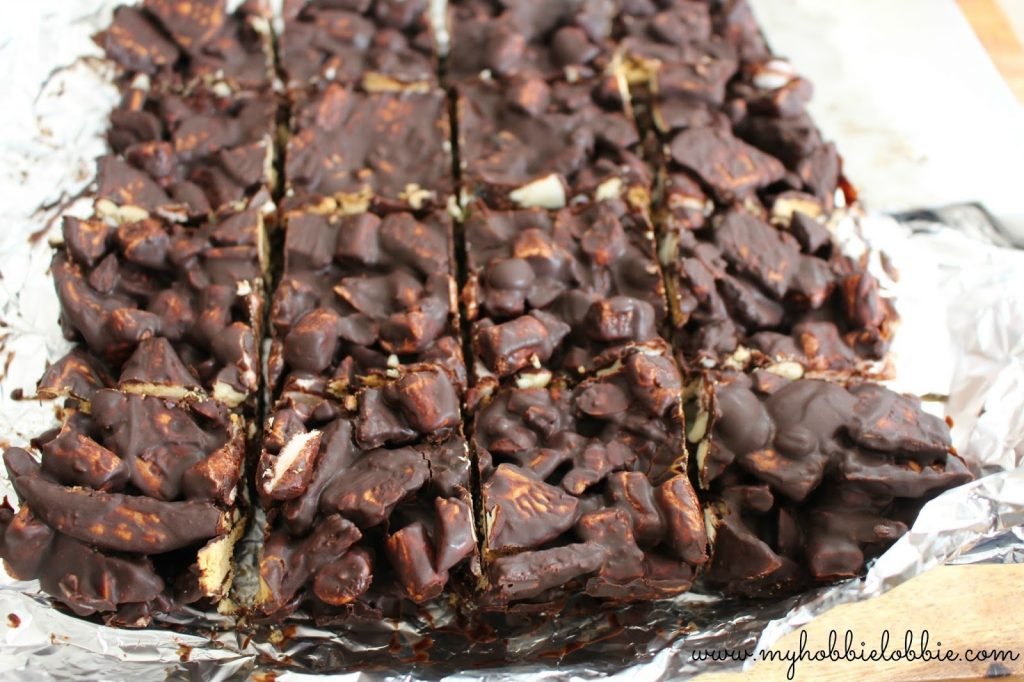 Just before serving, lightly dust with some icing sugar passed through a sieve.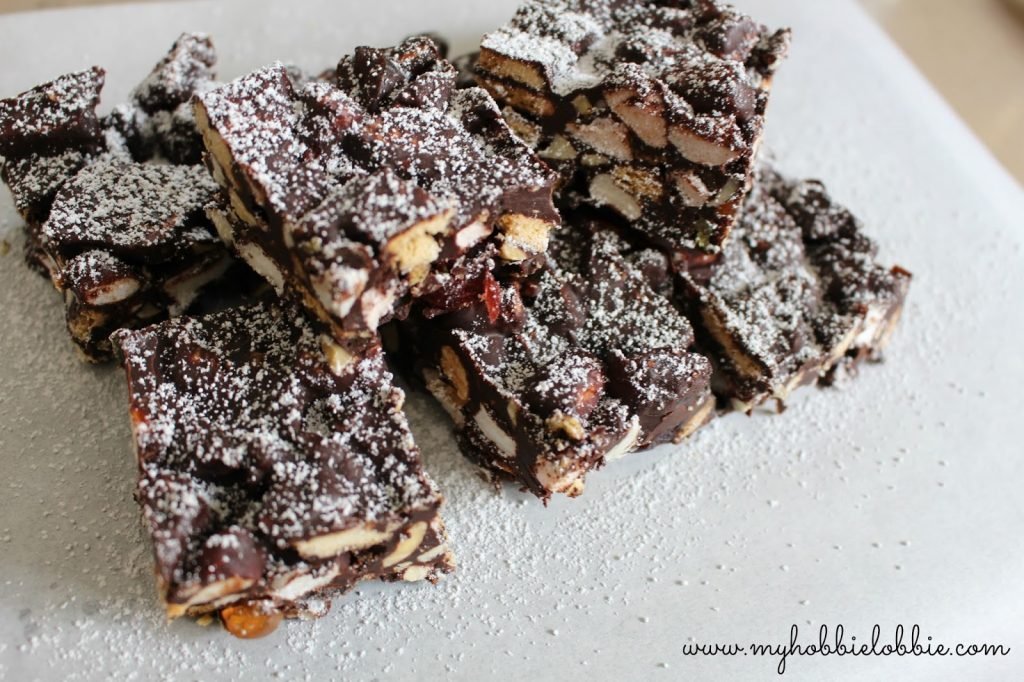 Enjoy!!!