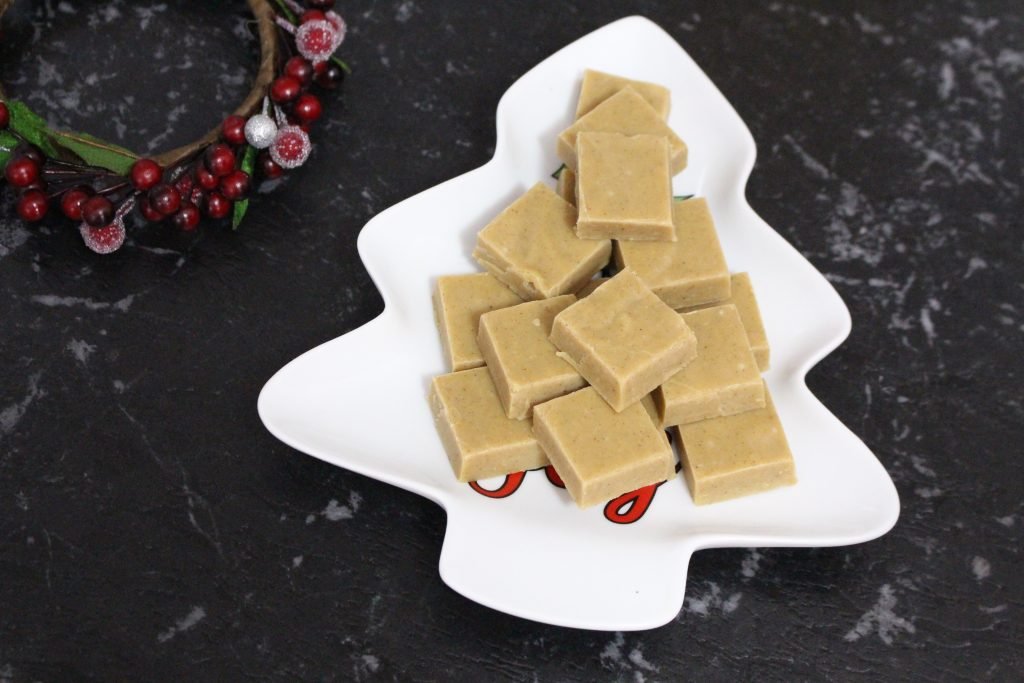 Today's Gingerbread Fudge is a great recipe to have on hand for Christmas. It is quick and easy, and results in a creamy fudge that is beautifully spiced with all the Christmas flavours. So if a combination of white chocolate and the flavours of a traditional gingerbread is your thing, stick around for the recipe.

With Christmas fast approaching, a lot of folks have started with all kinds of prep work. From deep cleaning and decorating their homes, shopping for the Holiday season and planning their social calendars, most houses see frenzied levels of activity at this time of the year. It's because of this, one needs to have a few easy and delicious recipes to fall back on.

This gingerbread fudge recipe ticks all those boxes. With prep and cook time of mere minutes, the hardest part of this recipe is leaving the fudge alone, to cool and set. Sounds perfect, right? Well, it is. And you're left with a nice batch of fudge that just melts in your mouth.

And if you're in the Southern Hemisphere like I am, we're headed straight for summer. And it gets really hot here in Sydney. So while everyone in the North is baking up a storm, these kind of recipes work out perfectly for us. This way we get to enjoy those beautiful flavours of Christmas without having to turn the oven on.

This fudge can be made a few days ahead. Store it in the fridge in an airtight container lined with baking / parchment paper. I suggest placing a piece of baking / parchment paper between layers as well, to prevent the pieces of fudge from potentially sticking to each other.

Now, if dark chocolate is more your thing, check out my Dark Chocolate and Hazelnut Fudge recipe. It is absolutely divine.

The ingredients –

This list is an easy one to get a hold off. You will need condensed milk, white chocolate, vanilla, molasses, ground spices (ginger, cinnamon, cloves and nutmeg) and don't forget the butter.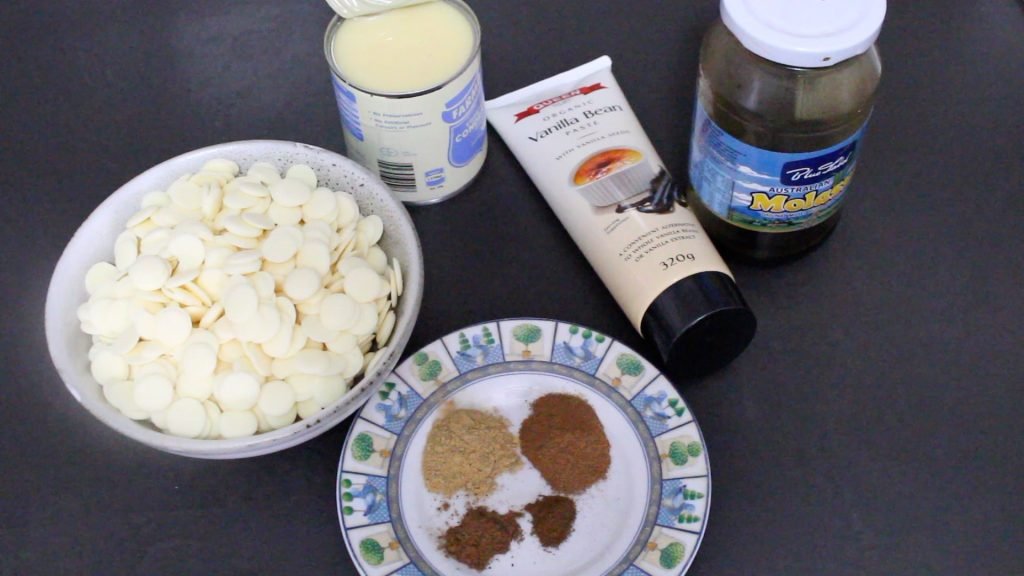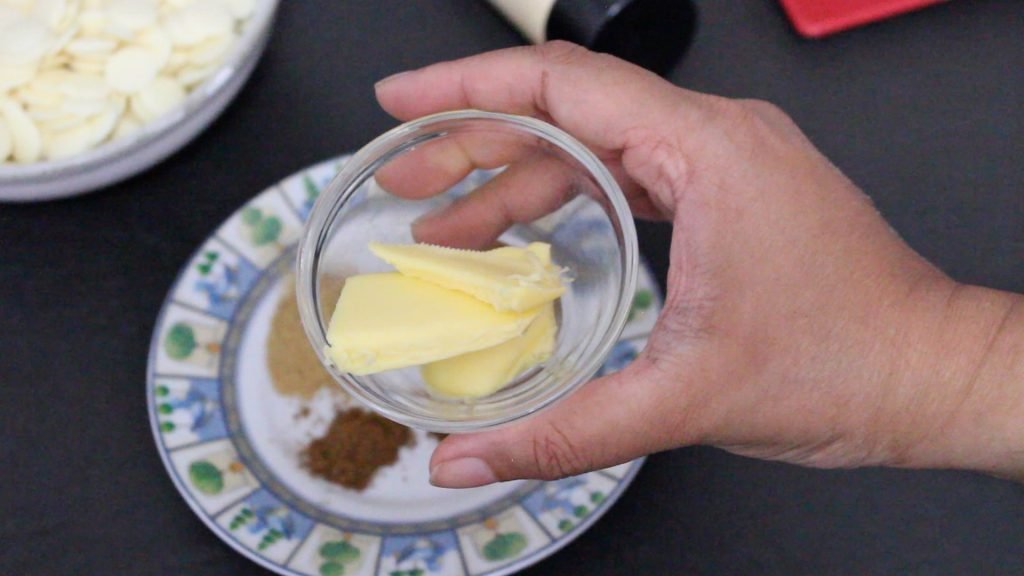 Let's get cooking –
Line a 9×9 inch cake pan with some foil, leaving a little overhang to help take the fudge out once it has set. Set this aside to use later.

Place the condensed milk and butter in a heavy bottomed pan on a medium low heat.
Add the molasses and vanilla. Mix through and add the white chocolate. Stir well to help the chocolate pieces melt.

Next, add the spice powders and stir well to incorporate.

Once all the chocolate has melted and the spice powders have been incorporated thoroughly, pour out onto the lined cake pan. Tap the pan gently a couple of times to get rid of any air bubbles.

Leave it on the kitchen counter and let it come to room temperature.

Refrigerate for 4-6 hours or overnight to set completely.

Cut into squares and serve.
** This post contains affiliate links.
Goa, renowned for its beautiful beaches and people is an idyllic getaway for many. Every school holiday meant a trip to Goa to spend time with family. Along with beautiful weather and some of the most amazing produce, what I enjoy most are the traditional Goan sweets. Since moving from Bombay, these sweets are no longer within easy reach for me. So over the last few years, I've done the next best thing – learn to make them myself. A lot of these sweets make an appearance on the Goan Christmas platter also called Kuswar (pronounced koos-wahr). So far, I've had brilliant luck with quite a few and I will list them along with links to their recipes at the end of this post. I'm hoping to get a few more of them up earlier this year. So check back soon.
Today, after a long wait, I'm happy to share with you a recipe for Dodol. Dodol is almost a jelly like sweet made using Goa Jaggery, coconut and rice. Traditionally made, it is a very labor intensive recipe, but the results are so worth it. You use coconuts, freshly grated and juice extracted, the rice roasted and ground and after the jaggery is added you cook it long and slow, stirring continuously. Unfortunately for me, I don't have access to Goa Jaggery in Sydney. But I was told that I could use Molasses instead. So on my last grocery shop, I picked up a bottle of Molasses. I decided I was going to try a few short cuts to cut down on time involved and used rice flour and a can of coconut cream. I'm happy to report that the whole prep and cooking process that usually takes hours, took be about half an hour from start to finish. The hardest part was leaving it overnight to set. You may not need to leave it that long, but I made the dodol in the evening and it was too warm to cut into after dinner.
But when I did cut into it, it was soft and delicious, just like I remember. I would recommend refrigerating it for a while before serving. It cuts a lot easier when cold. So if you've been putting of making Dodol because you can't find jaggery, go get some molasses and get making. When adding the molasses, don't go by the color of the mix, but taste for sweetness.
Dodol


1 1/2 cup rice flour
1 can (400ml) coconut cream
350-400g molasses
3 tbsp roughly chopped cashew nuts
1 tsp ghee to grease the loaf tin and knife
Water, as needed
Grease a loaf tin with a little ghee and keep aside.
In a large pan (I use the 12″ Kitchenaid Stainless steel skillet) measure out the rice flour. Add enough water and make a batter (almost like a thick pancake batter). I use a whisk for this as it mixes the flour well without any lumps.
Pour in the coconut cream and whisk till dissolved.
Add the molasses and stir.
Now, place the mix on a medium heat and let it cook, stirring continuously.
When it starts thickening, drop the heat to low and continue stirring. I find that you may still find lumps in the mix even inspite of stirring. Use a whisk and break them up. It returns to a smooth consistency very quickly. I had to do this about 3 times.
As it thickens, it gets harder to stir. Add the chopped cashew nuts and keep stirring.
After about 20 minutes, here's what my mix looked like.
Continue cooking till the mixture starts leaving the sides of pan and looks a little glossy. I cooked the mix down for about another 5 minutes, stirring continuously.
At this stage, you need to work quickly. Pour into the greased loaf tin and flatten it down using the back of a spoon or a spatula.
Leave to set and cool completely. Once it has cooled you can either refrigerate it for later use or demould it to serve. To demould, just place a plate, slightly larger in size than the loaf tin, on top and tip the tin over the plate. A slight shake of the tin and plate should be enough to loosen the dodol and let prop it on the plate.
Slice and serve.
Enjoy!!!
Pin now and try later.
Other Goan sweets and Kuswar –
Perad / Guava Cheese (using canned guavas)
Perad / Guava Cheese (using fresh guavas)
Kulkuls
Coconut Toffee
Milk Cream
Jujups
Baath
Marzipan
** This post contains affiliate links.
Guava Cheese or Perad is a quintessential Goan sweet that makes an appearance at Christmas time. Its flavourful and lightly chewy like a Guava gummy candy.
It's beginning to look a lot like Christmas!!!
Christmas decorations have started going up all over the place, Christmas merchandise is in every store. And it's probably just me, but when I see this, my mind starts to wander towards Christmas sweets (mind you that doesn't take much). Yup, before we know it, Christmas will be upon us. I must admit, this is my absolute favorite time of the year. 
Let's talk sweets now, shall we? What's your favorite? Me, I love them all. Old school, traditional Kuswar, new age desserts and sweets, the whole lot. But of all of them I think that my favorite is the Goan Guava Cheese (almost like Guava gummies or candy, but better) known as Perad. I have previously posted a perad recipe using fresh guavas
here
. But here, in Sydney, I haven't been able to get my hands on any fresh guavas, especially this time of the year. So imagine my joy when I came across this on one of my weekly grocery shops at my local Supermarket.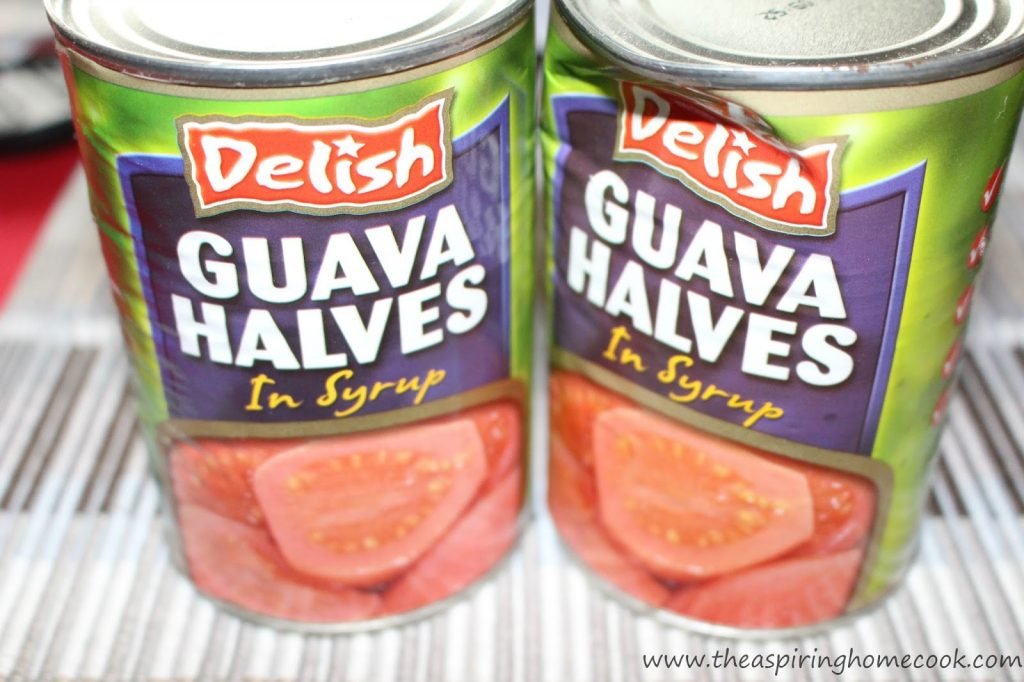 Ofcourse, I grabbed a couple of tins and knew that I had to try making Perad with them. (I have also used the "Koo" brand with the same great results.) I mean, I knew it wouldn't be like using fresh guavas, but how different could it really be? So I tweaked the recipe a tiny bit and crossed my fingers while the perad cooked and set. To my delight, this was the best Perad I had ever made or eaten. So it's safe to say from now on, while I can get my hands on these canned guavas, I'm going to stick to using it for my Perad.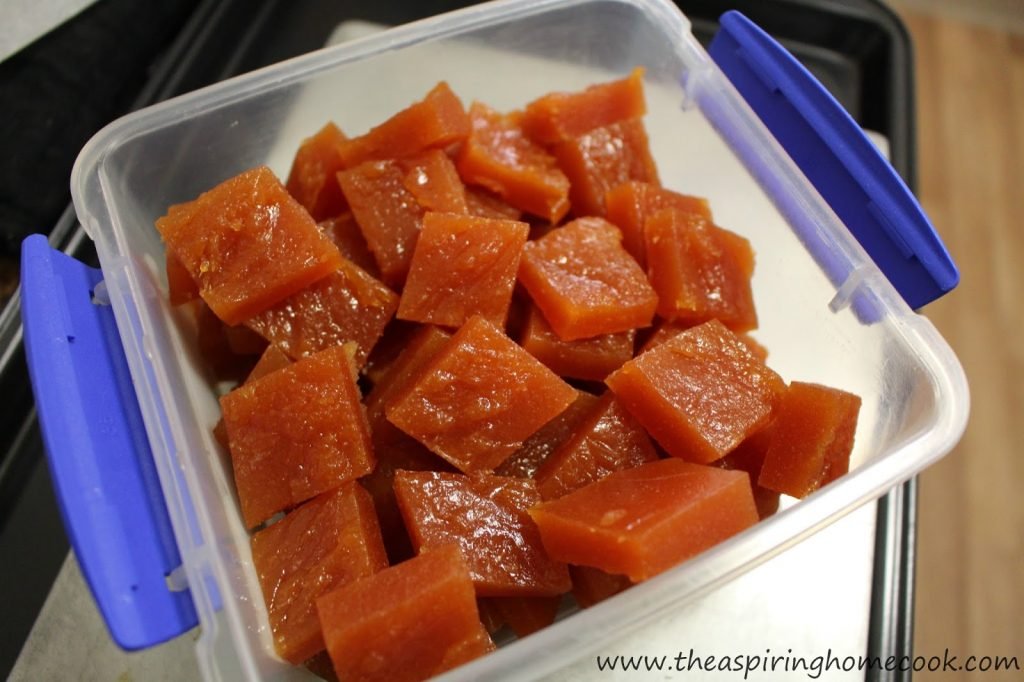 Place some of the ghee on a large metal cookie sheet / baking pan and spread on the bottom and sides and keep this aside.
Drain the guava halves and reserve the syrup.
Scoop out the seeds and set aside.
Puree the halves till smooth and put the puree in a heavy bottomed vessel. Now Goan sweets are notorious for taking ages to cook, but I have found if you use a wider vessel, its cooks a lot faster because of the increased surface area. So I use a stainless steel 
12″ Kitchenaid Skillet
 for all my sweets and it drastically reduces the cooking time.
Now place all the seeds, that were previously scooped out, in a strainer, add a couple of spoons of the reserved syrup from the cans and stir through the strainer to extract all the guava puree from the centres. You may need to do this a couple of times adding a tiny bit of syrup each time to extract all the guava. Add the extract to the pan and now discard the seeds.
I usually end up with about 370g pulp from the halves and about 250g from the centres. In all about 620g of guava pulp. Other recipes call for a lot more sugar, but since these are canned guavas in syrup they are sweeter than the fresh ones, so I've cut down on the amount of added sugar in the recipe.
Add the cloves and the sugar to the pan.
Place the pan on medium heat and stir continuously using a wooden spoon with a long handle. The guava mix tends to sputter and spit while cooking and the long handle will prevent the mix splashing on your arms. Make sure that when you stir, the spoon gets to the edges of the pan to prevent it sticking to the bottom of the pan and burning. If the mix sputters too much, lower the the heat and continue cooking.
When the mix thickens, extract the cloves carefully and discard. Continue cooking till it leaves the sides of the pan. Keep stirring.
Test to see if done. (Use water test – Place some icy cold water in a small bowl and drop a teaspoon of the sweet on it. If it firms up on cooling it is done. If it is still very soft or too sticky, it needs more cooking). 
When done, pour the mix into the greased pan. Using the back of a large spoon that has been greased with some ghee spread the mix to form an even slab and set aside to cool.
When it has cooled down a bit, using a knife that has been greased with some ghee, cut into cubes. You may need to grease the knife a couple of times while cutting to prevent it sticking.
When it has completely cooled, store in an air tight container. If you are making this ahead of time, or if it summer like in our part of the world, refrigerate till you are ready to use.
Enjoy!!!