** This post contains affiliate links.
Around this time of the year, especially if you partake in the Halloween festivities, you will find yourself inundated with candy and other sweet treats and bakes. In a nutshell, a sugar overload. While I love my cakes and sweets / candy as much as the next guy or gal, if you are like me, you will need a little bit of savory to cut through all that sweetness.
Last year, I was really excited about Halloween. We were supposed to have a big Halloween party at my workplace. However, as luck would have it I quit that job in early October to focus on building up a little business. When my colleagues threw me a small farewell party, they decided to roll with the Halloween theme. I couldn't pass up on the opportunity to whip up a few treats. These little cracker bites were one of them. I will share the rest of them with you over the next few days. My job was extremely physically demanding and boasted quite a few really long days. So I had to come up with treats that were quick and easy to put together. I knew the candy part of the party would be taken care of, so I stuck with the savories.
These Monster Eye crackers are perfect for a party or get together. They are a Halloween Play on cheese and crackers. They can be whipped up really quickly with all of 3 ingredients. So, I knew I was going to make them. I was a little skeptical about them considering how simple they are, but let me tell you, they vanished really quickly. I wish I had made more. If you decide on making these, make sure you make a big batch. So to make these, all you need are crackers. I love the Eton crackers found in Aldi stores locally, but if you cannot get your hands on them, Ritz Crackers
will work just as well. You can use any other crackers you'd like. Now that the crackers are sorted, the next ingredient is the cheese. I used Kraft Cheese Slices
, but again, you can use any cheese slices you like. The last ingredient you need are olives. You can use Pitted Kalamata olives
or pitted Green olives, if you prefer.
The process is fairly simply, and works fastest if you create an assemble line. I hope you enjoy these little snacks this Halloween as much as we did.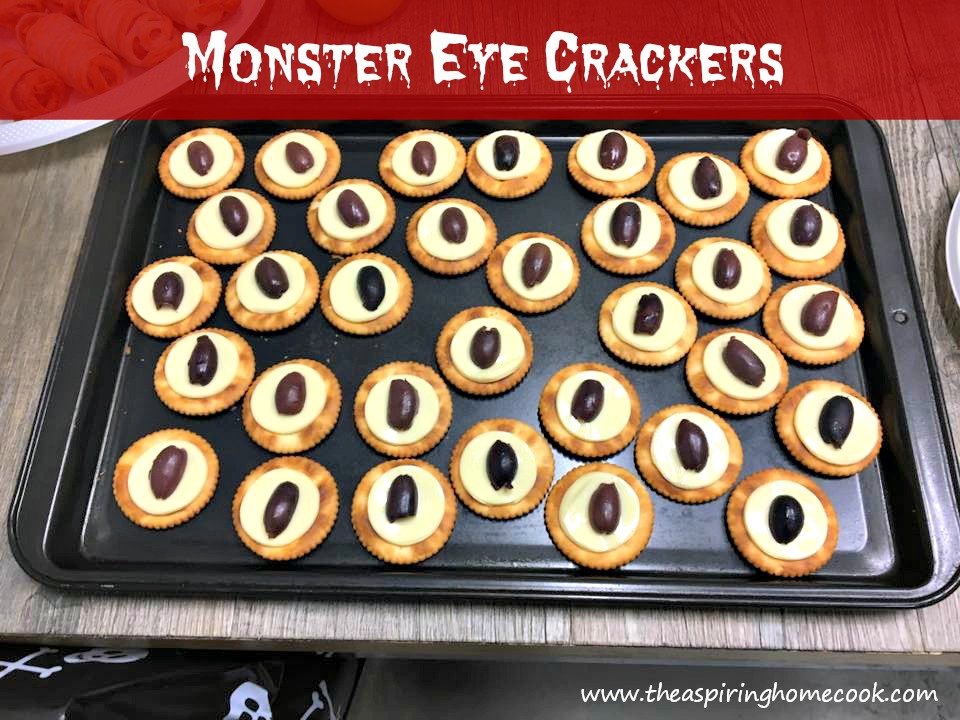 Monster Eye Crackers


Eton crackers (You can also use Ritz Crackers
)
Kraft Cheese Slices
Pitted Kalamata olives
You will also need a circle cookie cutter, just a little smaller than the size of the crackers you choose to use.
Cut the cheese slices into circles using the cookie cutter and keep aside.
Cut the pitted olives in half and keep aside.
On a serving platter, place the crackers in a single layer.
Top the crackers with a circle of cheese and top that with half an olive.
And that's basically it. Serve up.
Enjoy!!!
UPDATED:
to add recipe video.
Fish cutlets are one of my favorite seafood recipes to make and to eat. I love seafood and I also happen to love cutlets. They are so versatile. You can serve them as a snack / appetizer (they go so well with a chilled beer), as a meal with a side of chips and / or a salad or you can use them to make a fantastic burger. I have shared a recipe for fish cutlets previously using fresh fish. You can find that one here. This recipe is fairly similar with the exception of one main difference. This one uses canned tuna.
Now, I love my fish fresh. I believe that fresh is the best way to enjoy fish. But yesterday, I found myself longing to eat some fish cutlets but didn't have any fresh fish. Now that was just not going to do. So I put my thinking hat on and eventually decided to try to make cutlets using canned tuna instead. I had heard that some people make their cutlets with canned fish, but I'd never tried it out for myself. I happened to have a few cans of tuna chunks in the pantry, so I figured I had nothing to lose.
The cans I used were tuna chunks in spring water. You need to make sure you drain the tuna well. I didn't know what to expect and found that I had to use a little extra egg for binding but in the end I was delighted with the results. The cutlets were delicious. It took a fraction of the time to make compared to if you were to use fresh fish because the fish has to be cooked and deboned. So in all, I was extremely pleased with this attempt.
The type of canned tuna will determine how much egg is needed. I would recommend starting out using one egg and if you can shape the cutlets easily without them falling apart, then you are good to go. If not add more egg to the mix.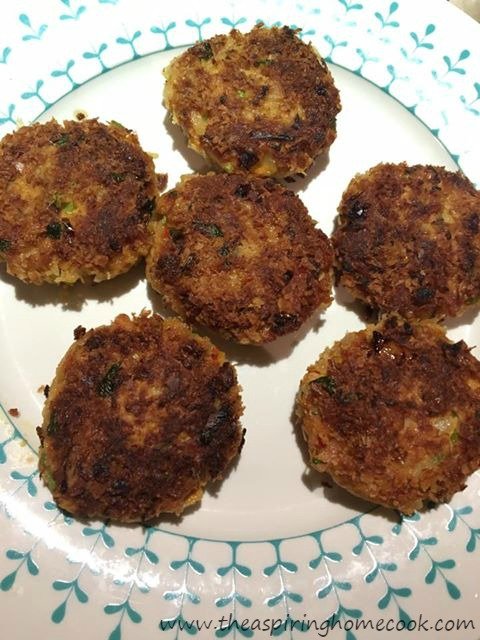 Goan Fish Cutlets
Yields: 12 cutlets


4 cans of tuna (I used 95g cans of chunk tuna in spring water) (Or 1 can x 495g Tuna)
1 onion, finely chopped
2 red birdseye chillies, finely chopped (optional)
1/2 tsp fresh ginger, finely chopped (or you can use paste)
2-3 cloves garlic, finely chopped (or you can use paste)
A small bunch of fresh coriander leaves and stalks, finely chopped
Salt, to taste
1/2 tsp turmeric powder
1 tsp red chilly powder
1/4 tsp black pepper powder
1-2 eggs
2 slices of bread
Bread crumbs, to coat the cutlets
Oil for frying
Drain the tuna thoroughly and flake it in a large mixing bowl.
Soak the bread slices in water for about 5 minutes and squeeze thoroughly. Crumble the bread as fine as you can and add it to the bowl.
Add the rest of the ingredients except the panko bread crumbs and the oil to the bowl.
Place a layer of the breadcrumbs on a dry plate.
Using the fish mix, shape into cutlets and carefully coat on both sides with the bread crumbs.
Heat 1-2 tbsp oil in a pan on medium heat and carefully place the coated cutlets on the pan. Cook for a couple of minutes on medium heat till golden brown on one side.
Then carefully flip over to cook to a golden brown on the other side too. Add another spoon of oil to the pan as needed.
Repeat till the batter is over and all the cutlets are fried.
Serve hot.
If you enjoy a good cutlet, try out some of these recipes –
Fish Cutlets
Beef Cutlets
Eggplant Patties
Thai Inspired Chicken Patties
Quick and Easy Crab Cakes
Ever so often, life gets busy for everyone. When that happens in our home, I love having quick and easy recipes that I can fall back on even if I haven't had the time to cook dinner. My tolerance for take away and ready meals has steadily fallen in the last few years to the point where its non existent now. I do prefer home cooked food, even if its something as simple as breakfast for dinner.
Actually, I really like breakfast for dinner. This breakfast hash is a nice way to fancy things up. What I love about this hash is its made from scratch. That being said, it comes together so quick and easy and all in one pan. If you're using an oven proof skillet, you can crack the eggs right in and let them cook off in the oven. I didn't want to switch the oven on, so I used a second pan to fry the eggs. You could use poached eggs or scambled eggs too. This hash obviously uses potato. The addition of red peppers and kale makes it so colorful, not to mention, delicious. And kale in a recipe must definitely make it healthier.
So if you're ever in a situation where you need a meal on the table in under 30 minutes or if you feel like a fancier breakfast, or for that matter, breakfast for dinner option, try this hash out. You'll love it. We certainly did. And leftovers keep quite well, refrigerated. Simple heat it up the next day and serve with an egg, if desired.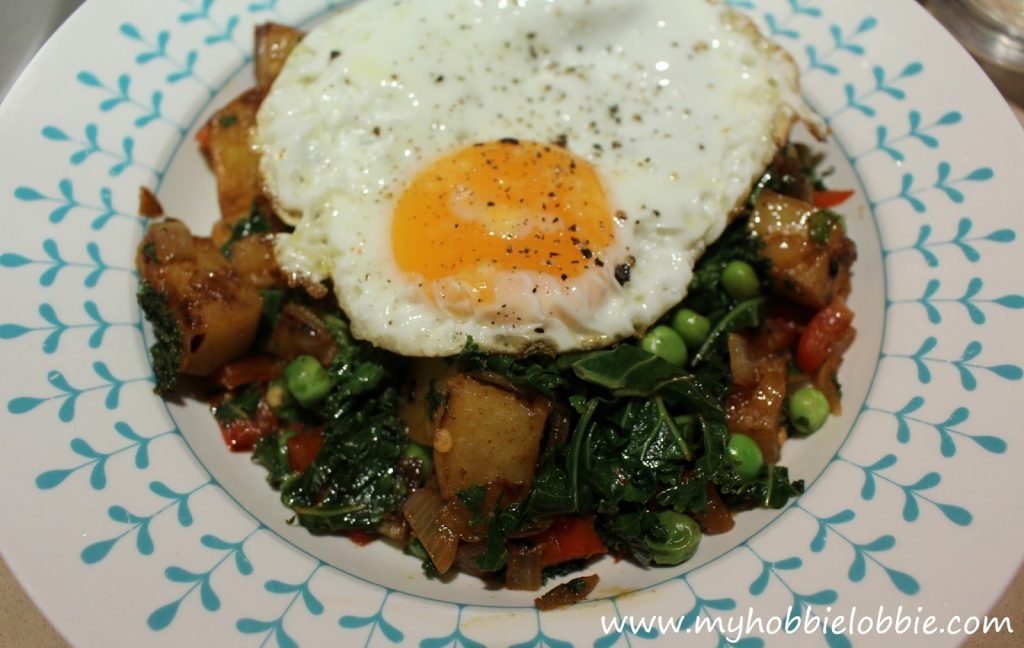 Breakfast Hash with Potatoes, Kale, Peppers and Green Peas


2 potatoes, peeled and diced (the smaller the cubes, the quicker it will cook)
1 medium onion, chopped
1 red pepper, chopped
2 cups kale, roughly chopped
1 cup green peas
1 tbsp olive oil
1/2 tsp smoked paprika
1/2 tsp cumin powder
Salt, to taste
Freshly cracked black pepper, to taste
1 egg per serving (You could use 2 eggs per serve, if desired)
Heat the oil in a pan over medium heat.
Add the potato to the pan and let it cook, stir every now and then to ensure even cooking and avoid any burning.
When its half cooked, add the onion and red pepper.
Saute and let the onion and pepper soften.
Add the paprika, cumin, salt and pepper.
Add the green peas and the chopped kale.
Let it cook for about a minute till the kale and the peas have warmed through.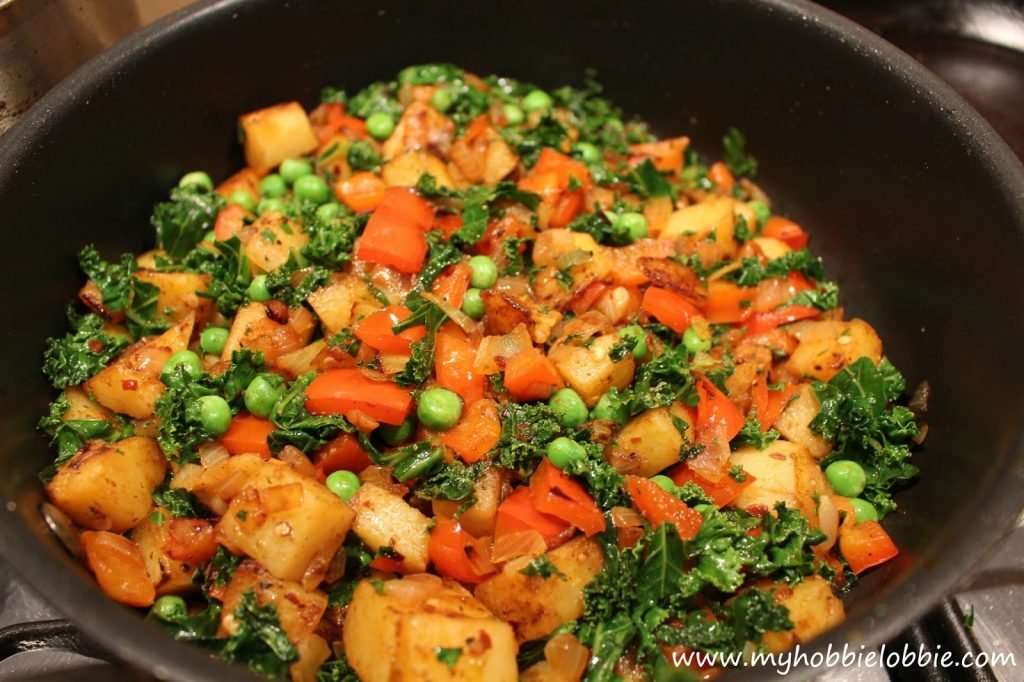 Serve hot, topped with an egg (or two) cooked to your liking.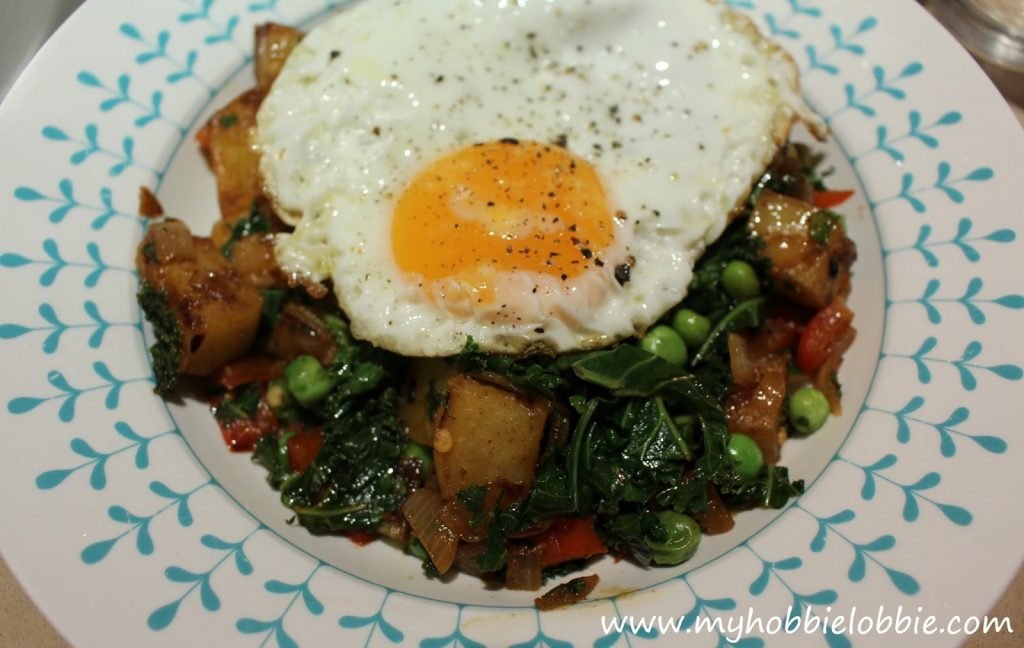 I've always been in awe of Costco outlets. Back in India, we had nothing even close to those kind of outlets. When we moved to Australia, I was eager to get into one. I had also heard that shopping at Costco meant buying huge quantities and it was a while before I had the space for larger quantities. But a few months ago, when we moved, we finally had the space needed and we made our first trip to Costco.
For someone like me, who loves grocery shopping (There, I said it. Please don't hate me), Costco was a grocery shopper's heaven. From the time I set foot in it, I loved it. Fortunately for me, my husband enjoys our trips there too. On our last trip, I found some crab meat there and picked some up.
I've been longing to try some recipes for crab cakes, crab dip and crab rangoon, to name a few crab dishes. And while we always have fresh crabs available, I have been on the look out for some crab meat. It quickens the process and makes it easier. So buying crab meat was a no-brainer for me.
Recently, after a busy day of flower making, I found myself looking for a quick and easy dinner option and decided to make some crab cakes. I found a recipe I thought would be really nice and decided to try it out.
In a few minutes, I was frying up some gorgeous crab cakes. I served these crab cakes up with some sweet chilly sauce, some salad greens and bread. I loved how these crab cakes turned out. They were full of flavor and I had a delicious meal on the table in about 30 minutes. That's a winner of a dish for me. You wanna hear a little secret? They would make fantastic burgers.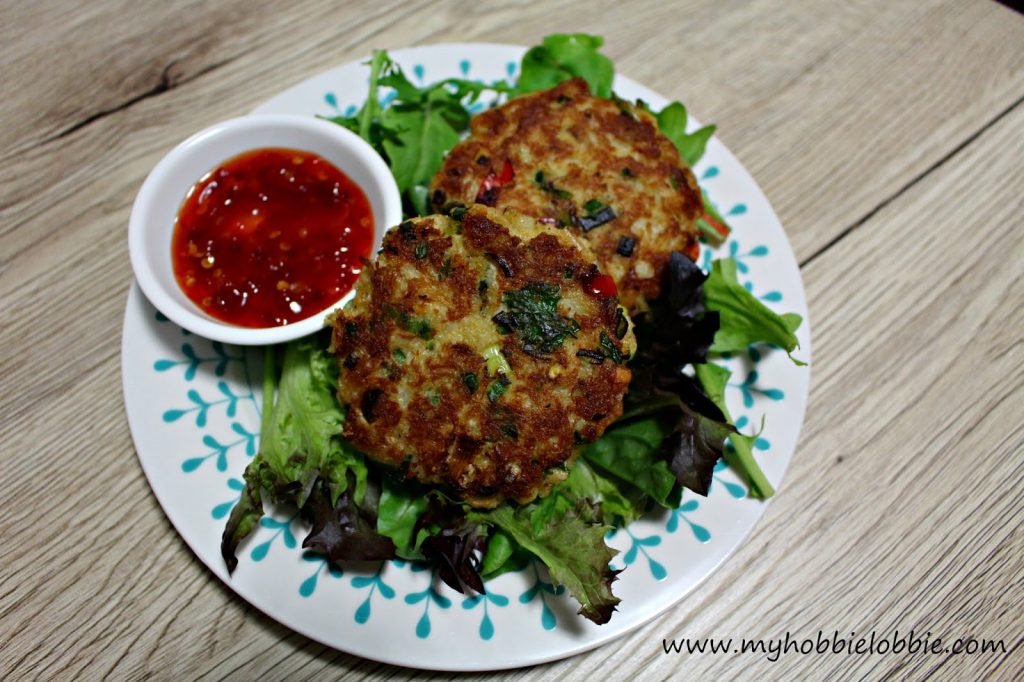 Quick & Easy Crab Cakes
Yields: 10-12 patties (depending on size)
Adapted from: Jo Cooks
12 oz crab meat
3 green onions, finely sliced
1 red birds eye chilli, finely chopped
1 egg
2 tsp lemon juice
3 tbsp mayonnaise
1 tsp Sriracha sauce
2 tbsp fresh coriander leaves and stems, finely chopped
1/2 cup Panko breadcrumbs
Salt, to taste
Freshly crushed black pepper, to taste
A couple of spoons of olive oil, to pan fry the patties.
Salad leaves, to serve with
Sweet chilli sauce, to serve alongside
In a large mixing bowl, place all the ingredients, except the olive oil, salad leaves and sweet chilli sauce.
Mix it all together till everything is evenly distributed. Mix thoroughly but gently.
Heat a spoon of olive oil in a pan on medium heat.
Form the mix into crab cakes and place on the pan. You may need to do this in batches.
Let the crab cakes fry till golden brown, about 3-4 minutes.
Carefully flip the crab cakes and fry on the other side till golden brown as well.
Serve them up with some salad leaves, sweet chilly sauce and some bread, if desired.
So baked oatmeal is apparently a thing, and I didn't know until now. I'm wondering where I've been all this while. In a few short months, I've stumbled upon Smoothie Bowls and now Baked Oatmeal. We love the smoothie bowls. They were perfect for summer and we've had a long, hot one. Its not over yet, but the weather has started cooling down a tiny bit and I am looking forward to winter. Enter this awesome Baked Oatmeal.
In our house, we love oatmeal for breakfast. It does take a little more hands-on time to whip up in the morning compared to making toast. However, we all know that oatmeal is healthier for you than bread. And overnight refrigerator oatmeal is perfect for summer, but I prefer a warm breakfast when the weather is cooler. And how good would it be if someone could make me this warm breakfast in the morning while I got an extra ten minutes of sleep. That ain't happening so this baked oatmeal is the next best thing. You make a batch up one evening and it reheats beautifully for breakfast the next morning. The flavor options that I found on the internet are endless. This breakfast option is an absolute winner in my book and I know I'll be making it very often as the weather cools down.
Making baked oatmeal couldn't be simpler. Whisk the wet ingredients. Stir in the oats and bake. An added advantage is that this is clean eating at its best. No refined sugars in this breakfast option. Its like eating banana bread for breakfast, without the guilt. You use the oats instead of flour and maple syrup instead of sugar. Throw in some coconut oil and pecan nuts and you have taken this humble oatmeal breakfast up a couple of notches nutritionally. Don't take my word for it. Make a batch today and you'll have a household that actually enjoys oatmeal for breakfast.


Banana Bread Baked Oatmeal


2 large ripe bananas (or 3 small)
3/4 cup milk, at room temperature
2 eggs, at room temperature
1/4 cup coconut oil, melted and cooled
1/4 cup maple syrup
1 1/2 tsp vanilla extract
1/2 cup chopped pecans (additional for garnish)
2 cups rolled oats
1 1/2 tsp cinnamon powder
1/4 tsp salt
Preheat oven to 180ºC.
Grease an 8×8 baking dish and set aside.
Spread the chopped pecans on another ungreased baking tray and let them roast for 4-6 minutes or till they are toasted light golden brown. Cool.
In a large mixing bowl, mash the bananas.
Add the milk, eggs, coconut oil, maple syrup and vanilla to the mashed bananas and mix well till smooth.
Add the oats, salt, cinnamon powder and toasted pecans and stir till combined.
Pour into the greased baking dish and bake for 20-25 minutes or until set and golden brown on top.
Let it cool for a while (around 5 minutes) in the baking dish itself before cutting and serving.
Serve warm by itself or with some greek yogurt or milk, as desired. You could top it off with some fresh fruit and nuts as well.
If you're making this ahead of time, refrigerate and cut and reheat in the microwave as needed.