Pasta is a very popular meal option at home, like I'm sure it is in a lot of homes. I love how versatile the recipes can be and how quickly pasta meals come together. This recipe is no exception. I use a mix of vegetables, usually whatever I can find in the fridge. I use Passata to make my sauce and that gets it ready in a jiffy. This recipe is ready in under 30 minutes and that includes all the prep work too. It has so much flavor, its hard to believe how simple the recipe actually is. I hope you enjoy it as much as we do.




Veggie Pasta in a Tomato Sauce
4 large cloves of garlic, finely chopped
1/4 onion, chopped
1/3 – 1/2 cup capsicum, chopped (I used a mix of red and green peppers)
1/2 zucchini, thickly sliced
A handful of broccoli florets
1/3 cup corn kernels
10 olives, sliced
1 cup passata / tomato puree / canned tomatoes
1/2 cup vegetable stock
2 tbsp olive oil
Salt, to taste
Freshly cracked black pepper, to taste
Red chilly flakes, to taste
1 tsp mixed herbs (dried)
1/2 tsp oregano (dried)
1/2 tsp sugar
Pasta
Parmesan cheese, to grate over the pasta
Start by cooking the pasta according to the package instructions.
Bring a large pot of water to a rolling boil, season the water generously (I use 1.5 tsp salt) and add the pasta to the pot. Stir immediately, to prevent the pasta from sticking to each other and to the bottom of the pot.
When the pasta is cooking, heat another pan.
Add olive oil to the warm pan and add the garlic. Saute till the garlic turns fragrant.
Add the onions and cook over a medium heat till they soften a bit.
Add the peppers and continue to cook for 1-2 minutes or till they start to soften.
Add the broccoli florets and saute for another minute or so.
Now, add the zucchini and corn and stir through. Cook for another minute or two.
Season with some salt and pepper, to taste.
Add the red chilly flakes and the herbs. Stir through.
Add the passata and the stock.
Let it come to a boil and leave to simmer for 5-7 minutes or till the veggies cook through and the sauce develops good flavor.
Add the olives and the sugar and stir through. Take off the heat and set aside.
By now the pasta should be cooked. Reserve 1/4 – 1/2 cup of the pasta water and drain t
he pasta.
Add the pasta to the sauce and toss to coat the pasta with the sauce.
Place the pan on medium low heat. Add a couple of tbsp. of the reserved pasta water. Stir through and let the extra liquid cook off for another minute or so, or till your pasta reaches the desired consistency.
Grate some parmesan cheese over the pasta and serve.
Enjoy!
Nothing says 'Spring is here' more than some Lamb kebabs. Spring Lamb is in stores now and while some of the premium cuts can be very pricey, today's recipe uses ground lamb (lamb mince). This is not just easy on the hip pocket, but cooks up really fast too.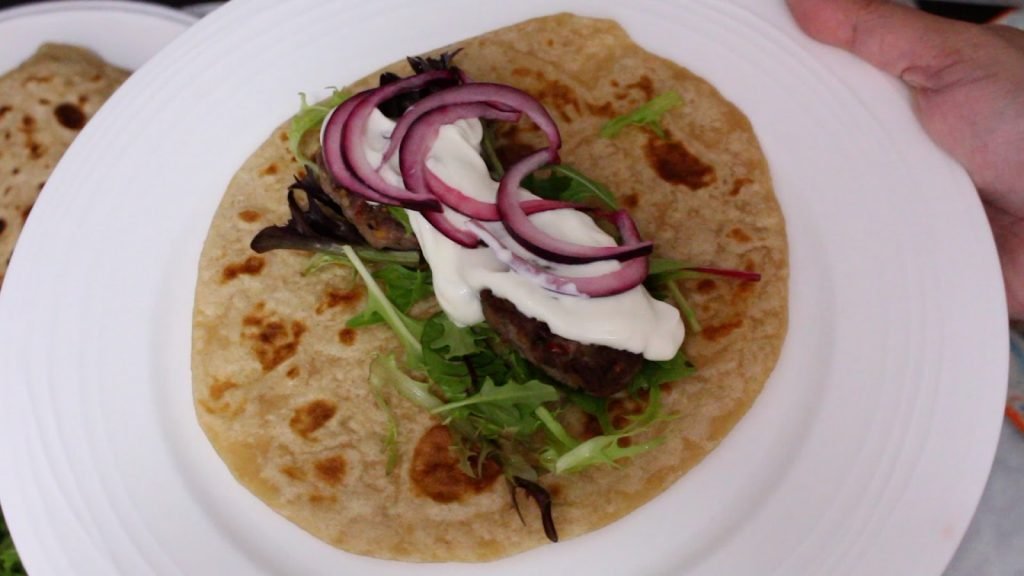 You can serve these kebabs as a starter, or with a salad as a main too. Today I'm serving it up as a wrap with some homemade, quick pickled onions and a yogurt dip. Start off by making the pickled onions and the dip, so that they have a little time to let the flavors develop.
Quick Pickled Onions
1/2 onion, sliced
Salt, to taste
1-2 tbsp Lemon juice
Separate the half rings of the onion slices.
Sprinkle salt and lemon juice over the onion and mix well to let the seasonings get to all the onion slices.
Cover and refrigerate for 30 minutes to an hour.
Yogurt Dip / Spread
1/2 cup Greek yogurt
Salt, to taste
1/2 tsp sugar, or to taste
1/2 clove of garlic, finely chopped
A few mint leaves, finely chopped
Mix all the ingredients together. Cover and refrigerate for 30 minutes to an hour.
Lamb Kebabs
500g lamb mince
Salt, to taste
Freshly cracked black pepper, to taste
2 chillies, finely chopped
3 large cloves of garlic, finely chopped
1-2 tbsp fresh mint, finely chopped
Oil, for frying
Mix all the ingredients and shape into kebabs.
Heat some oil in a pan.
Fry kebabs for a couple of minutes on each side, or till you get a beautiful golden brown color on each side and till its cooked through to your liking.
Serve hot.
** To make the wrap, I use some homemade, whole wheat chapatis, layer some salad greens on top, add a couple of the kebabs, smear some yogurt dip over and top with some pickled onions. Wrap up and enjoy.
Pasta – one humble ingredient but endless ways to cook it up. It has got to be one of the most versatile ingredients in the kitchen. You can serve it hot or cold, in a soup, salad or as a main. It works so well with so many different veggies, proteins and sauces. I love me some pasta and always have a couple of varieties in my pantry cupboard.
Pasta dishes can range from simple to a little more complicated. I personally, love the idea of a few simple recipes that I can use during the week. This Chicken in white sauce pasta is one such dish. With a little multi-tasking, I can serve this up in well under half and hour. Yup, you heard that right, under 30 minutes. Honestly, what takes the most time, is boiling up the pasta itself. If you don't eat meat, you can still make this recipe, just leave out the chicken and add some mushrooms, peas or even a little spinach. A vegetarian variant turns out equally delicious.
Are you ready to check this recipe out???
Chicken in White Sauce Pasta
(Serves 4)
A single Chicken breast fillet, cut into bite sized pieces
1/4 cup green capsicum, diced
1 cup of broccoli florets
1/2 cup corn kernels
2 cloves of garlic, finely chopped
Salt, to taste
Freshly cracked black pepper, to taste
Chilli flakes, to taste
1/2 – 1 tsp Mixed herbs, or to taste
1 tsp lemon juice
1-2 tbsp olive oil
1-2 tbsp vegetable stock / water
Pasta (enough for 4 servings)
A little parsley, to garnish
A little Parmesan cheese, grated
For the white sauce –
1 tsp olive oil
1 1/2 tbsp butter
1 tbsp all purpose flour
1 1/4 cup milk
1/3 cup cheddar cheese, grated
Salt, to taste
Cook your pasta according to the packet instructions. I bring a large pot of water to a rolling boil. Season generously with salt. Add the pasta and cook till done. Drain and reserve about 1/2 cup of the cooking liquid.
While the pasta is cooking, season the chicken with salt, pepper and lemon juice to taste. Mix well.
Heat 1 tbsp olive oil in a pan. Add the chicken and cook through, stirring occasionally, till the chicken has cooked through. Remove the chicken in a bowl and set aside.
In the same pan, add 1 tbsp of olive oil and quickly add the garlic.
Stir through and immediately add the green capsicum. Still through and let the capsicum cook for about a minute.
Next add the broccoli and saute well. (See note*)
Add the corn and stir through.
Season with salt, pepper, chilli flakes and mixed herbs, to taste.
Add 1-2 tbsp vegetable stock (you can also use water), stir well, cover and let the veggies steam and cook for a minute or two or till they are done to your liking. (If you are adding cooked broccoli to the pan, you can leave this step out. )
Add the cooked chicken to the pan and stir through. Set aside and cook your white sauce.
To cook the White Sauce / Bechamel Sauce –
(For detailed instructions on how to make a great white sauce, check the video above)
Add a tsp of olive oil to the pan on medium heat.
Add the butter and let it melt.
Add the flour and stir briskly, making sure the flour incorporates well with the butter and oil and that no lumps are left.
Cook this roux off for about 30 seconds to a minute or till the raw smell of the flour has gone. (Do not let it develop any color.)
Add half the milk to the pan and stir through well, making sure no lumps remain.
Add the remaining milk and whisk well.
Cook the sauce till it has thickened to your liking, whisking well.
When the sauce is done, lightly season with a little salt.
To assemble the pasta –
Add the white sauce to the chicken and veggies in the pan. Stir well. Add the cheese and mix through.
Check the sauce for seasoning and adjust, if needed.
Add the cooked pasta to the pan and stir through.
Serve your pasta in some serving plates. Finish with a light sprinkling of parsley and a grating of parmesan cheese.
*NOTE: Our broccoli is fairly tender and cooks very quickly. If your broccoli takes longer to cook, blanch or steam it before adding to the pan.
I feel so immensely happy as I type this post and I owe it all to our SRC Reunion event. Those of you who've been around here for a while, will know that I was part of this super fun group called the
Secret Recipe Club
. This was a lot of fun, sort of like Secret Santa for food bloggers. You were assigned a partner and you had to pick and cook a recipe from their blog and all the members would post about it on a pre-determined day called Reveal Day. I was part of the SRC right from June 2011 to November 2016, a little over 5 years. So when we wrapped that up, I knew I would missed this bunch of bloggers.
Early last month, Sarah of Fantastical Sharing of Recipes, who happens to be our SRC boss lady 😉 called out to all the club members and announced an SRC reunion event. Of course, I signed up for it and for this event, I was assigned Micha's blog, Cooking Mimi. Micha's blog is packed with great recipes. I had an absolute blast going through her blog and picking a recipe for today. After a lot of looking around I narrowed my choices down to this Hawaiian Pork, Potstickers (she even makes her own potsticker wrappers), Quick and Crispy Pork Cutlets and her Sweet Chili Pork. Have you spotted the trend here? I somehow happened to be zeroing in on Pork recipes. So this much was clear, I knew I was making Pork. When I saw her recipe for Sweet Chili Pork my mind was made up. This is what I was going to make.
Before we move on to the recipe, let's talk about this Sweet Chili Pork, shall we? This dish has it all with juicy little pieces of pork tossed in a sweet sauce with mild heat from the Sweet Chili sauce and the crunch of the onion and capsicum just rounds it off beautifully. I could not believe how easy this recipe was. I wanted to try it just to see if a recipe this minimal would hit the spot. And hit the spot it did. I am so glad I tried this out. My husband is not a fussy eater but he is my biggest critic and helps me work on recipes and tweak them. He was floored by this recipe. And I agree with him 100%. This recipe is very similar to the kind of takeaway meals we got back in Bombay, albeit not with pork, but with chicken. Thank you Micha, for an absolute stunner.
I only made a couple of minor additions to the original recipe. I added some finely chopped ginger and garlic and some pieces of capsicum (green peppers) to the recipe. We served this up with some fried rice, but this would work very well with some noodles too.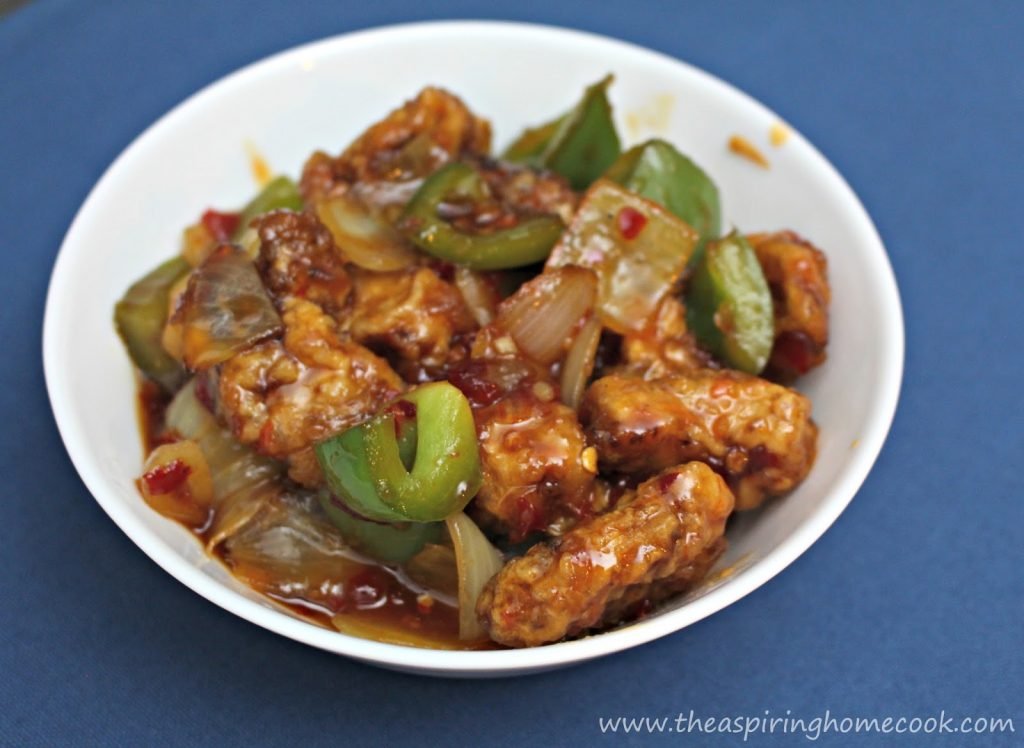 Sweet Chili Pork


1/4 kg boneless pork
1 egg
1/3 cup flour
1/4 cup cornstarch
1/2 cup + 1 tbsp vegetable oil
1 large onion, cut into cubes
1 /2 green capsicum, cut into cubes (similar in size to the onion cubes)
3 cloves garlic, finely chopped
1/2″ ginger, finely chopped
1/2 cup sweet chilli sauce
Salt, to taste
1 tbsp lime juice
Heat 1/2 cup of oil in a skillet over moderate heat.
Crack the egg into a small bowl, whisk it and set it aside.
In another bowl, mix the flour and cornstarch.
Cut the pork into bite sized pieces. Toss the pieces in a little salt and lime juice. Toss the pork pieces in the flour mix. Then dip them in the egg and in the flour mix again .
Fry the pieces of pork in batches for about 3-4 minutes a side or until golden brown and crispy. Drain and set aside.
Heat 1 tbsp of oil in another pan.
When the oil is hot, add the onion and capsicum and stir fry till the pieces have just started to soften. I like mine a little crunchy. Cook it to your desired level of doneness.
Add the finely chopped ginger and garlic and stir it around.
Add the sweet chilly sauce and the fried pork pieces. Stir to coat everything in the sweet chili sauce. At this point, if you want a little more sauce in the dish, add some more. Toss well.
Serve hot.
Enjoy!!!
Here's a peek at all my previous SRC posts.
Don't forget to see what the others have whipped up for our 2018 reunion –
Today, I have sort of a confession to make. Okra or Ladyfingers or Bhindi / Bhende (in Hindi / Konkani) whatever name you know it by, happens to be one of my favorite vegetables. There, I've said it out loud. Sadly, this intriguing vegetable has a bad reputation. It is infamous for being slimy and tasteless. I am going to try and persuade you otherwise. Yes, okra tends to when raw. Because of that a lot of folks simply won't work with it. I've had the opportunity to try this vegetable in many different forms. If you've been here a few times, you know my Mum is a great cook. She would use these is vegetable curries and lentils stews (sambhar), stuff them with rechaad masala and fry them and make a stir fry (bhaji) two different ways. Since then I've tried atleast 3 more ways to cook them, like this
Kurkuri Ajwaini Bhindi
. That's how much I love okra. And I'm here to tell you that if it is cooked well, it isn't slimy at all. And it is tastes amazingly delicious.
In Goan homes, this is a very popular way to cook okra. Just a few simple ingredients go into the pot and result in a beautiful stir fry. Serve this vegetable hot with some chapatis or even as a side dish to some fish curry and rice for a complete Goan meal.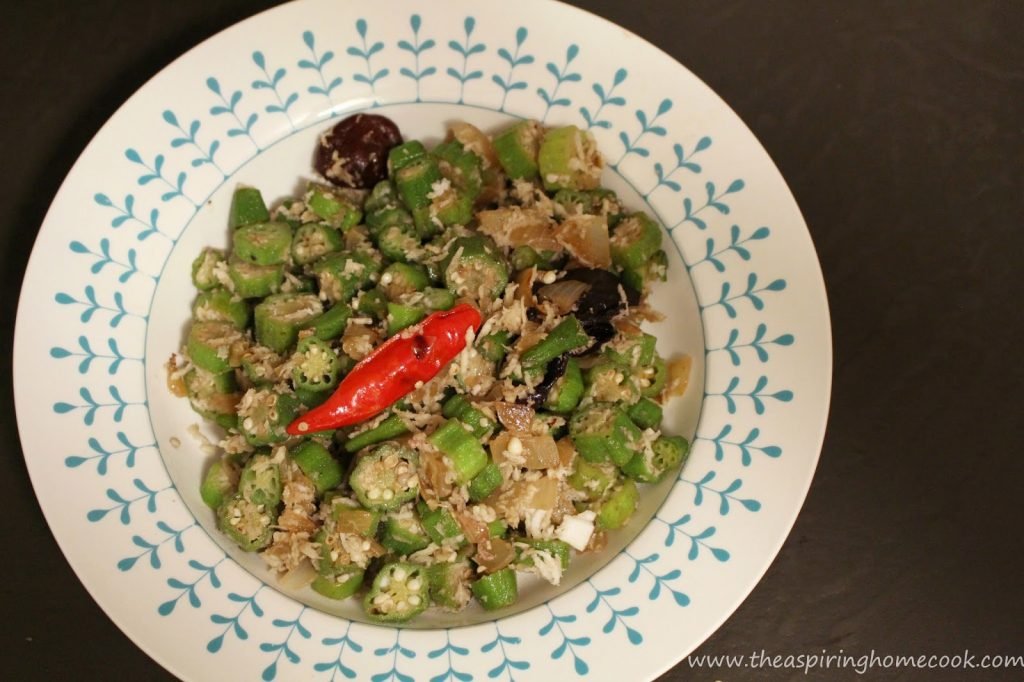 Goan Okra Stir Fry / Bhende Solantule
250gms okra
1 medium onion, diced
2 birdseye chillies, slit
5 pieces of Kokum
1/4 cup grated coconut
Salt, to taste
1 tbsp olive oil
Wash and dry the okra. Cut off and discard the heads. Cut the okra into slices.
Heat the oil in a pan.
Add the chillies to the pan and saute it for a few seconds.
Now add the chopped onions and stir fry till the onion softens and the edges of the pieces of onion start turning brown. Now add the okra and kokum to the pan and saute for a couple of minutes, stirring every now and then to ensure it doesn't stick to the pan or burn.
Add salt to taste and stir and continue to cook uncovered till the edges of the okra slices start turning a light brown.
At this stage add a touch of water (a couple of tablespoons) to help the vegetable cook. Lower the flame, cover the pan and simmer for a few minutes.
Stir the contents of the pan and check for seasoning and and when the okra is tender, add the coconut and stir through. (When you first uncover the pan, if the okra hasn't cooked through and the liquid has been absorbed, add another small splash of water and continue to cook till the okra is tender).
Cook for another minute or till the coconut has warmed through.
Serve hot.
Cashew Chicken on Lettuce
Recipe from: As Easy As Apple Pie
Serves 3
250g boneless, skinless chicken
2 tbsp low sodium soy sauce (Use a little lesser if you're using regular soy sauce)
2 tbsp oyster sauce
1/2 – 1 tsp red chilly paste
1/2 tbsp olive oil (cooking oil of your choice)
1/2 tbsp sesame oil
1 large clove garlic, finely chopped
1/2 tsp ginger, finely chopped (fresh ginger is best but you can also use lightly dried ginger like I did here)
1/2 cup raw cashew seeds
Iceberg lettuce leaves (or any lettuce of your choice)
Sesame seeds, to garnish
Cut the chicken to bite size pieces.
In a bowl, mix the chicken, soy sauce, oyster sauce and chilly paste and toss well. Set this aside for about 10 minutes to marinade.
While that is happening, chop the ginger and garlic. (Fresh ginger is best, but I didn't have any so I used some from Gourmet Garden.)
Chop the lettuce leaves into bite size pieces and place them on serving plates.
Now, heat the olive oil in a pan over medium heat. Add the ginger and garlic and saute for about 30 seconds or till they release a lovely aroma and are gently sizzling.
Turn the heat up to medium high and add the chicken and the marinade liquids. Add the sesame oil to the pan.
Stir fry for about 4-5 minutes or till the chicken has cooked through. (Please note, the cook time will depend on the size of the chicken pieces, so watch the pan and make sure the chicken pieces are cooked on all sides and have cooked through.) Stir the contents of the pan frequently, so ensure they don't burn.
When the chicken is cooked, add the cashew seeds and stir through for about a minute or till they've heated through.
And that's it. Your cashew chicken is ready to serve.
Spoon some of the chicken on the bed of lettuce. Make sure you have a few cashew seeds on each plate.
Sprinkle some sesame seeds on top and serve.
Enjoy!!!
NOTE: This is NOT a sponsored post.
Pin now for later –
In my last few posts, you may have heard me complain about the heat and unfortunately not much has changed. This has been one of the fiercest summers I've seen since coming to Australia. I am definitely not a an extreme summer person. I love the milder temperature of spring and autumn, I enjoy the rains and I love winter.
When its this hot, all cooking and baking activity in my kitchen drastically falls. We mostly have salads, some sandwiches and any cooked dishes are usually quick and easy ones. I've been eager to increase my repertoire of such dishes and after some searching online, I came across this amazing Satay Chicken Noodle Stir Fry recipe. There are a few stages in the recipe, but they're all really easy and come together very quickly. The beauty of this recipe is that you can serve this either cold as a salad or like I did, slightly warm as a Stir Fry. I can't tell you how immensely flavorsome and delicious it turned out. You get the nuttiness from the peanuts, the flavor from the curried chicken pieces, the tang from the fresh lime juice, the creaminess from the coconut milk and the freshness from the fresh coriander. In all, it is a beautifully balanced dish. I am so very glad I tried out this recipe and it sure is a keeper.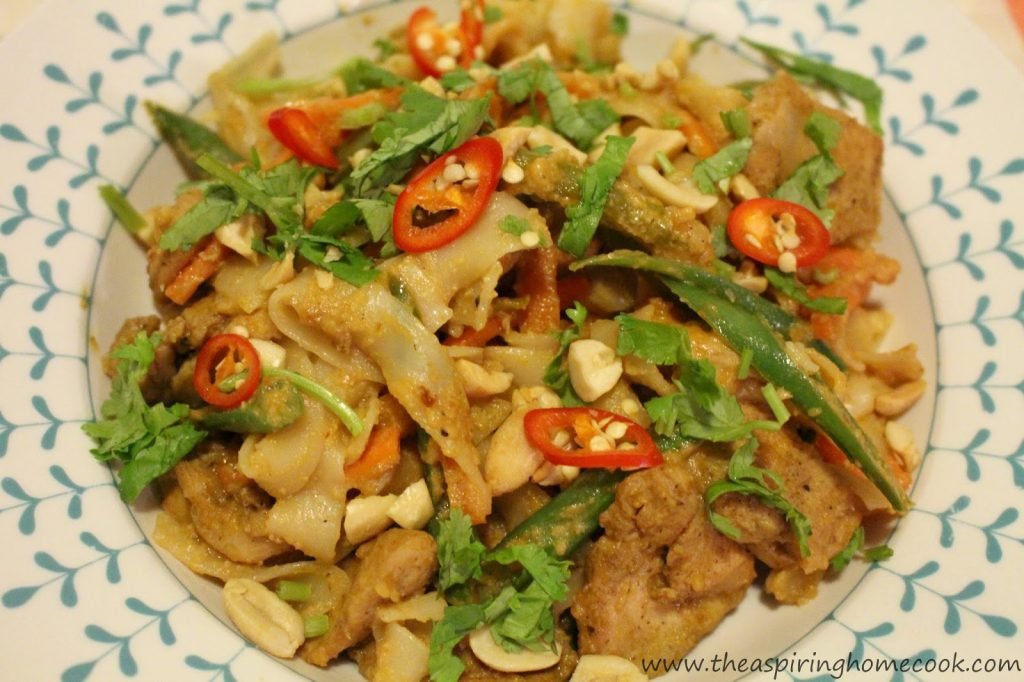 Satay Chicken Noodle Stir Fry
Adapted from: Recipe Tin Eats
Serves 3-4
For the dressing –
1/3 cup roasted peanuts (you could also use 1/4 cup peanut butter instead)
1 garlic clove, peeled
1 tbsp sesame oil
2 tbsp soy sauce
2 tsp palm sugar
1 1/2 tbsp Sriracha sauce
2 tbsp sour lime juice
6 tbsp coconut milk
2 tbsp water
1/4 tsp salt, or to taste
For the Satay chicken –
350g chicken breast, cut in half lengthwise and then slice thinly
Salt, to taste
Freshly cracked black pepper, to taste
1 1/2 tsp curry powder
1 tbsp soy sauce
1 1/2 tsp palm sugar
1 tbsp peanut oil (You can use any cooking oil you have)
For the Stir Fry –
1 pack flat dried rice noodles (I used a 200g packet of Pad Thai rice noodles)
1 large or 2 small carrots, julienned
12-15 green beans / french beans, edges trimmed and thinly sliced on the diagonal (Use this only if you are serving this as a stir fry. If you are serving it as a salad, leave it out and just use carrots, cabbage and spring onions)
2 spring onions, finely sliced on the diagonal
(You can use 1 cup of finely sliced green / red cabbage or a combination of both. I didn't have any, so I left it out this time.)
To serve –
1 red Birdseye chilly, finely sliced on the diagonal (optional)
3 tbsp roasted peanuts, roughly chopped
2 tbsp fresh coriander stalks and leaves, finely chopped
A wedge of sour lime
In a bowl, place the sliced chicken and all the satay chicken ingredients except the oil. Toss well and set aside for about 10-15 minutes to marinade.
While the chicken is marinading, make the dressing. Place all the dressing ingredients into a blender or food processor and blitz till you are left with a smooth dressing.
Cook the noodles according to the package instructions.
While the noodles are cooking, heat another pan over medium heat. Heat 1 tbsp peanut oil and gently tip in the marinaded chicken pieces and the marinade. Toss around a little and saute till the chicken pieces have cooked through. Take out the pieces of chicken onto a plate and set aside.
In the same pan, add about 1 tsp more peanut oil. Add the french beans and carrot and stir fry for about a minute. Now add the cabbage and the spring onion. Stir well and stir fry for about another minute. The veggies should have softened a bit by now. I like to leave my veggies on the crunchy side. If you like your veggies softer, cook for a little longer till they are done to your likeness.
Tip in the dressing and the chicken pieces. Stir through.
If it is too dry, add a tiny splash of water (1-2 tbsp of water) and heat through and toss well. (I didn't need to do this.)
Add the cooked noodles and gently toss through making sure that all the noodles are coated in that yummy dressing.
Take off the heat.
Portion out into serving bowls or on plates.
Sprinkle some roughly chopped peanuts, chopped coriander and sliced chilly (if using) over each bowl / plate.
Lastly squeeze some freshly squeezed sour lime juice over and serve or serve with a wedge of lime on the side.
Enjoy!!!
We're in for another scorching week ahead. I think the hot days are my least favorite things about summer. I love the beach days, all the frozen treats and grilling, the amazing fruit and veg that summer brings, but I cannot deal with the heat. And we seem to get a fair bit of it. One of the main reasons is I cannot cook or bake as much as I'd like to when its this hot.
It is especially at times like this that I love big salads. While I'm quite happy to put together a tossed garden salad a few times a week, I think I need to add a few new salads to my repertoire. We're trying to cut down our meat intake and substitute it with as much vegetarian food as possible. So salads like this Lemon, Sun-dried Tomato & Almond Quinoa Salad are perfect. Its all vegetarian yet hearty, involves minimal cooking and so very tasty. And its not just my opinion, my husband had a second helping of this salad for dinner.
I have tried cooking with quinoa before, but it was a total fail. So I was very skeptical about trying it out again. But I decided that trying something once and never trying it again, wasn't giving it a fair chance. So on my last trip to Costco, I just picked up a bag of quinoa. Now that I have this great big bag of quinoa, I was going to have to use it. So recently when I was looking for a salad recipe with Italian influences to pair up with my eggplant patties, I decided to look for one with quinoa in it. And when I stumbled upon this recipe, it sounded perfect. There was just one problem. I didn't have any parsley at home. So I just used the next best thing, coriander leaves. Personally I love the flavor that coriander leaves add to any dish and I thought it worked very well with this salad. But I also know there are folks out there that cant stand it. If you are one of them, feel free to use parsley instead. I can't wait to try it out with parsley the next time. I'm very happy to have another wonderful salad to include in my meal rotation now.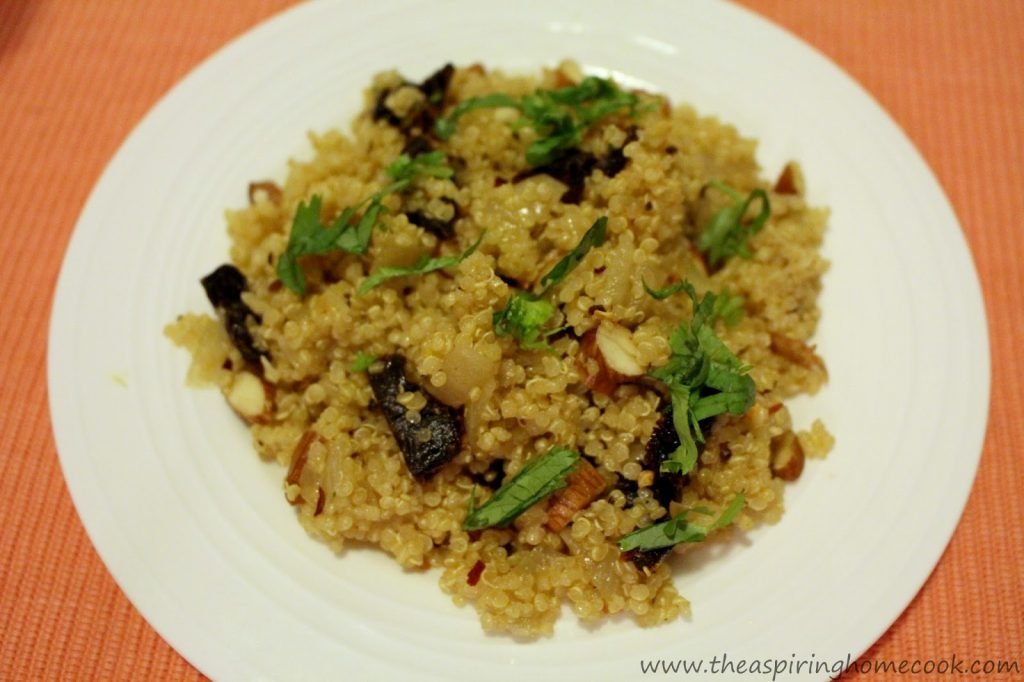 Lemon, Sun-dried Tomato and Almond Quinoa Salad
Adapted from: Averie Cooks
2 tbsp olive oil
1 large onion, finely chopped
1 cup quinoa
1 1/4 cups of water
2 tbsp apple cider vinegar
1/2 tsp lemon zest
2 tbsp lemon juice
1 tsp salt, or to taste
1/2 tsp freshly cracked lack pepper, or to taste
1/2 cup sun-dried tomatoes, sliced (I used the ones bottled in oil and drained them before slicing)
2 tbsp coriander leaves and stems, finely chopped
1/2 cup roughly sliced almonds
1 tsp red chilly flakes (optional)
Heat the olive oil in a large pan over medium high heat.
Add the onions and cook till the onions have softened and have just started browning.
Add the quinoa and stir. Let it toast for about 30 seconds.
Now add the water, apple cider vinegar, lemon juice, salt and pepper. Stir. Reduce the heat to low, cover the pan and cook for about 12-15 minutes or until all the liquid has been absorbed.
While the quinoa is cooking, chop up the rest of the ingredients.
Place the quinoa in a large bowl, add the rest of the ingredients and toss well.
Taste and add more salt or pepper or lime if needed. If, at this stage, you find the salad too sour, add a tiny bit of sugar to balance it out. I just stuck with the quantities listed above and I didn't need to add anything at this stage.
It stores well in an airtight container in the fridge for 2-3 days. This can be served either as a warm or cold salad.
Serve up this salad either as an accompaniment at a meal or a slightly larger portion as a meal in itself.
Enjoy!!!
With the Holiday season done, I know a lot of us are trying to get back to regular eating habits. We're trying to eat a little healthier after all the Holiday indulgences. We've also had a family wedding in early January, so for us the indulgences have been a little more that usual this time around. Now that I'm back and mostly unpacked and back to business as usual, the focus is on healthier food.
I love trying out new recipes and cuisines. Now I know Mexican food is hardly a new cuisine, but for me, this was a new recipe. My ground beef recipe is a little more involved than this one. I love the simplicity of it. The method was a little different than what I was used to, but by the time this taco meat was ready, it looked and smelt great and tasted fantastic. I can guarantee this tastes so much better than any packaged taco meat that you buy from the store. And you know exactly what has gone into the pot.
You could, as the name suggests, use this in tacos, but since we are trying to eat healthier, we enjoyed this with some iceberg lettuce and a bean salad on the side. Who said healthy eating had to be boring or tasteless. This was healthy and delicious and is going to make quite a few appearances on our dinner table. I do hope you try it out too.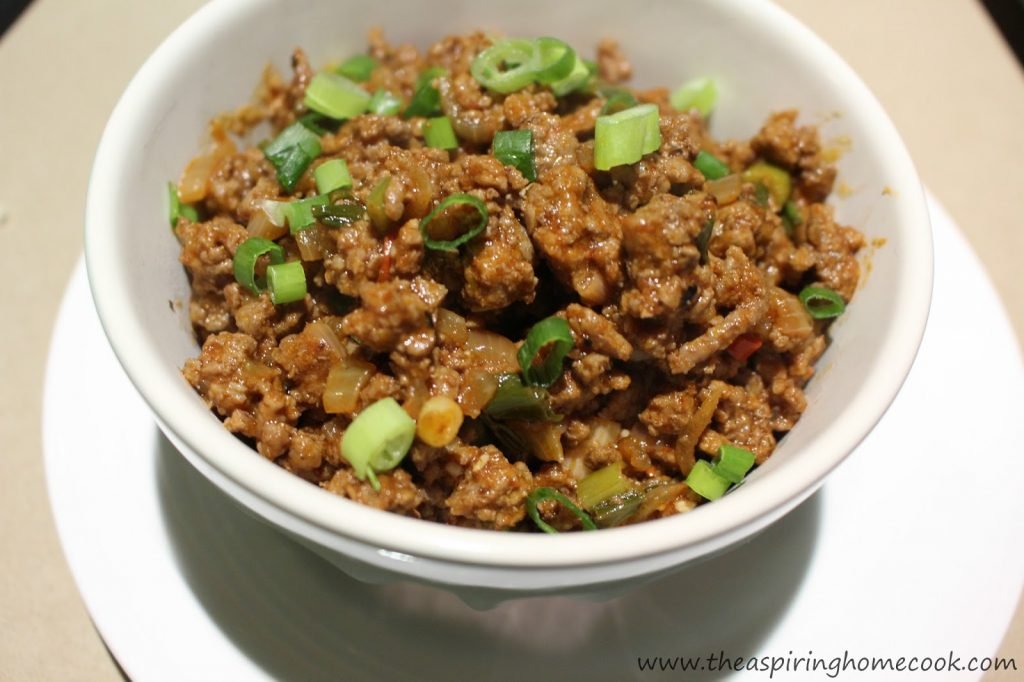 Homemade Seasoned Taco Meat
Recipe from: Premeditated Leftovers


1/2 kg lean ground beef
1 tbsp olive oil
1 cup onion, finely chopped
1/2 cup tomatoes, chopped
2 cloves garlic, finely chopped
1 1/2 tsp cumin powder
1 1/2 tsp chilli powder
1 tsp paprika
1/4 tsp salt
1/4 tsp crushed black pepper
1/2 tsp dried oregano
1 cup water
2 green onions, sliced
Heat the olive oil in a skillet over medium high heat.
Add the ground beef to the pan and cook the meat till it is browned and no longer pink. This should take about 4-5 minutes.
Now add the onions and tomatoes and cook for about 2-3 minutes or till the onions have started to soften.
Add the rest of the ingredients except the water and the green onions. Stir everything together and saute for a couple of minutes. By now all the spices should have started doing their job and should be fragrant.
Now add the water and bring the pot to a simmer.
Cover the pot and let it simmer for about 5 minutes.
Now uncover the pot and cook the meat uncovered till almost all the liquid has evaporated.
Take the pan off the heat and stir in the green onions.
Enjoy!
** This post contains affiliate links.
Today's post takes me back about 16 years. Back to when I first started working (gosh I feel old now). Back then, our meals were taken care off by the work place. And for me that was novelty because growing up we almost never ate out. My mum would cook up every meal and snack for us at home and as kids we were content with that. But eating in the office cafeteria was interesting. Here, I was introduced to such a variety of food from different parts of the country (India). But I wasn't too keen on cooking then. During those days I only enjoyed making our traditional Goan sweets (Kuswar) for Christmas and other Goan sweets that my Nana would whip up for us for afternoon tea or an after school snack.
One of the dishes I encountered in the office cafeteria, that eventually became a favorite, was Methi Malai Matar (meaning Grean Peas in a Creamy fenugreek gravy.) It has strong Indian flavors but is mildly spiced. After moving to Sydney, I began craving some of this stuff. And it was only then I decided I was going to have to learn to make this dish myself, much like I had to learn so many other Indian recipes that I wanted to enjoy. Now the challenge was finding fresh Fenugreek leaves. The only place I've found fresh leaves is at one vendor at the Paddy's Market in Flemington. But that's a long drive from us. So I thought I'd try and find a recipe that used dried leaves (known as Kasoori Methi
) which is easily available at any Indian grocery store. And let me tell you, I found one. I couldn't believe how easy this little curry is to put together. With just a handful of ingredients, in less than half an hour you can be sitting down to a warm bowl of Methi Malai Matar for dinner. This goes really well with roti / chapatis, but you can also enjoy this with some bread or plain rice.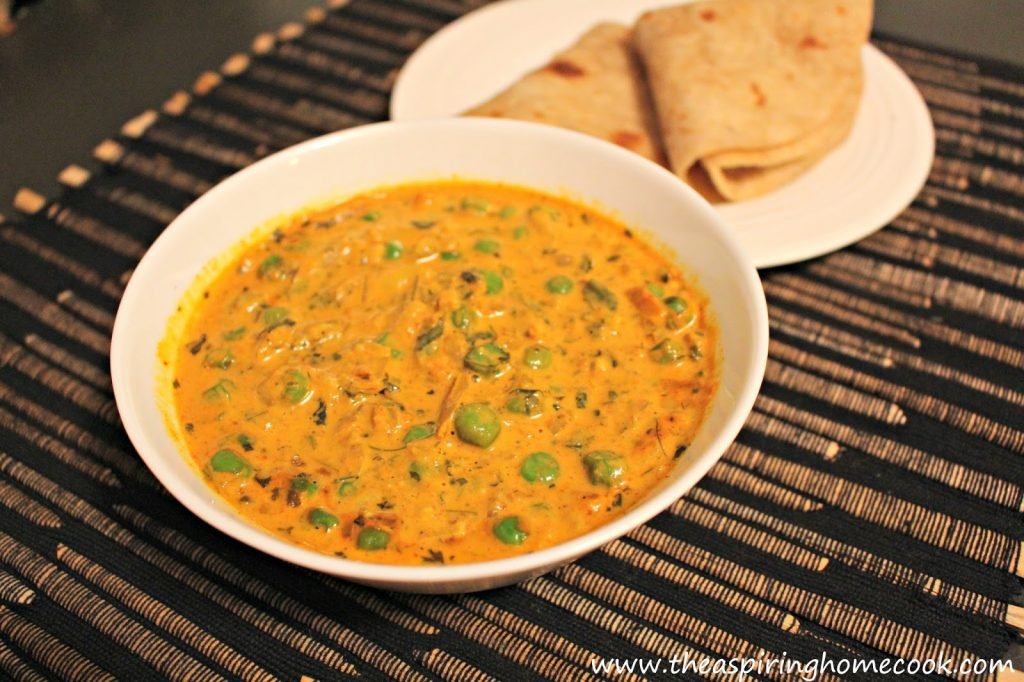 Methi Malai Matar
Recipe from: Sharmi's Passions
1 cup green peas (fresh or frozen will both work, if using frozen let it thaw before using)
3 tbsp Kasoori Methi

1 onion, finely chopped
1 tsp ginger garlic paste
1/2 tsp Cumin seeds
1 green chilly, finely chopped (optional)
1 cup milk
5 cashew nuts
2-3 tbsp cream
1/2 tsp Garam Masala Powder

1 tsp Red Chilly Powder

1/4 tsp Turmeric Powder

1 tbsp oil (I use olive oil for cooking)
Salt, to taste
Soak the cashewnuts in a couple of tablespoons of milk for about 15 minutes.
Grind this to a smooth paste and keep aside.
In a pot / saucepan heat the oil on medium heat.
Add the cumin seeds to the oil.
When the cumin seeds start to sizzle, add the ginger garlic paste and green chillies and saute for a minute.
Now, add the chopped onions and saute till they've slightly browned.
Add the cashew paste and fry it for a couple of minutes, stirring to avoid burning.
Now add the turmeric powder, red chilly powder and the garam masala powder. Add salt to taste and stir well.
Now add the rest of the milk and stir.
Let it come to a boil and then simmer for about 2-3 minutes and the gravy will start thickening.
Add the cream and stir in.
Now add the green peas. Let the peas heat through and let the gravy come to a boil again.
Now add the kasoori methi and stir.
If the gravy is too thick at this stage, add a little water to achieve desired consistency. Just make sure the gravy comes to a boil after the water is added and simmer for a couple of minutes.
If the gravy is not thick enough, let it continue cooking, stirring occasionally, till it thickens to your liking.
Serve hot with rotis / chapatis.
Enjoy!!!
If you're looking for other methi / fenugreek recipes, check these out –
Methi Parathas
Methi Namakpare
Methi Poori