A good, rich, dark and sometimes boozy Christmas Fruit Cake is a must-have on every Christmas platter. Studded with dry fruit soaked in rum and spiced with beautiful holiday flavours, this recipe is sure to win you over.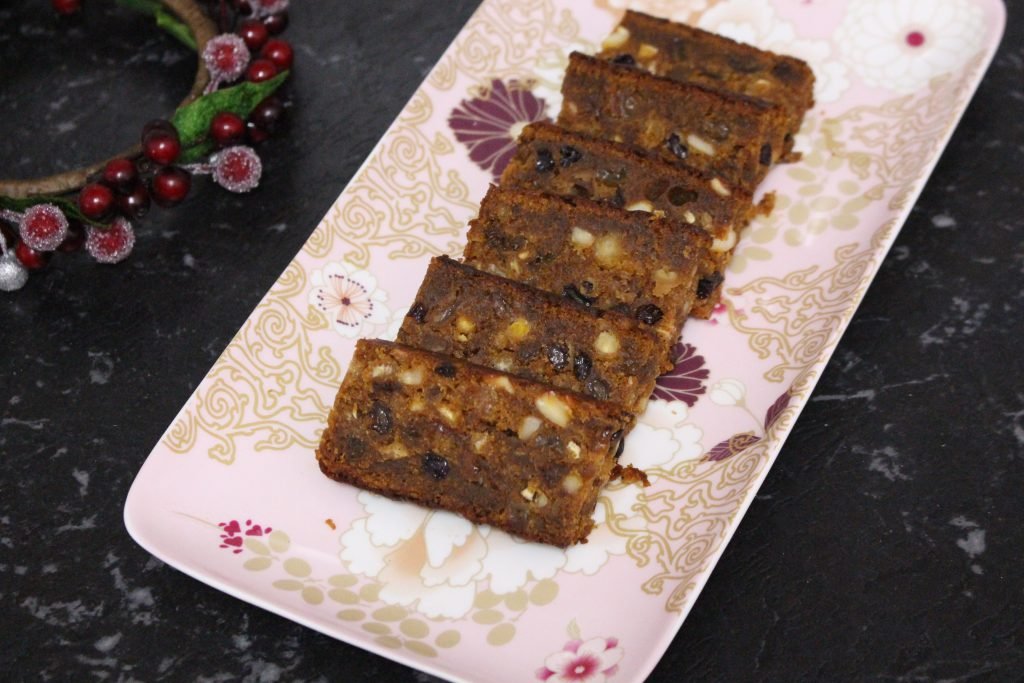 In most Christian homes along the south west coast of India, a good Dark Fruit cake makes an appearance at Christmas and all special occasions like engagement parties, weddings, anniversaries, Communion celebrations and so on. It also holds a very prominent spot on a typical Christmas platter, or what is locally referred to as a Kuswar platter. (Kuswar=Christmas sweets)
Most people I know enjoy a good fruit cake, but very often, find it too tedious to make one at home. They settle for a commercially made cake, which very often has a number of additives including caramel colour to give it a deep, dark colour.

Today, I'm sharing with you, my favourite Fruit Cake recipe. This recipe is a little longer than most other cake recipes. However, I can assure you it is a fairly simple process and the end result is so good, it's well worth all the extra effort. To help make the process easier, I've broken this recipe down into a few parts. Some of them can actually be done days before you'd like to bake this cake. The best part is, this cake tastes best if it's allowed to rest for a couple of days, so it's a perfect one to make ahead.
Step 1 – Soaking the fruit
This recipe calls for 500gms of mixed dry fruit. In my assortment, I've used raisins, sultanas, currants, mixed peel, candied / glacéd cherries and candied ginger. You can use any dry fruits of your choosing, in the proportion you'd like them. It just needs to add up to about 500 grams all together.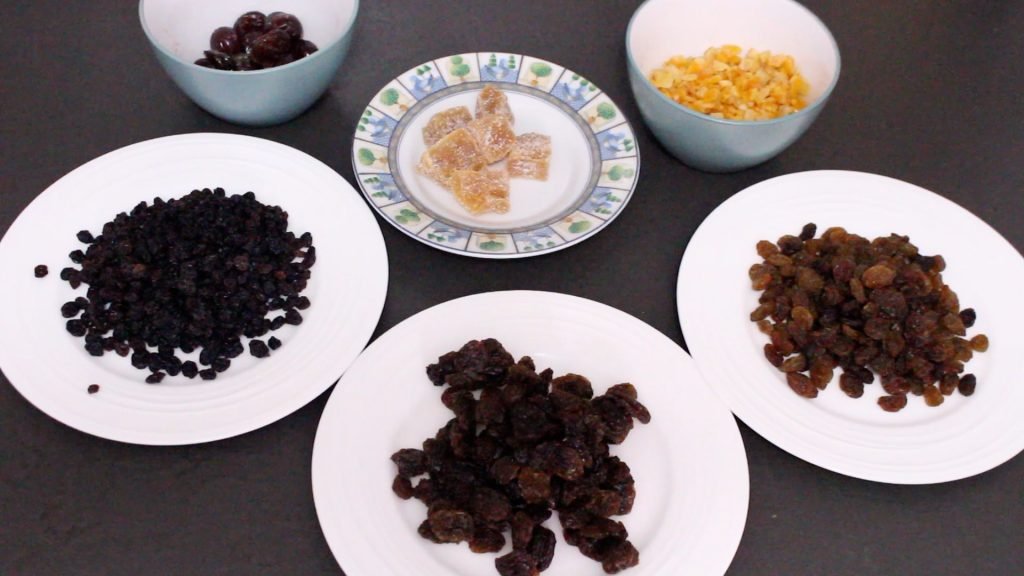 Chop the larger pieces of fruit down to make slicing your finished cake easier. Doing this also makes for a better eating experience, in my opinion. Place all the fruit in an airtight glass jar, top it off with some rum and set it aside in a cool dark place. The fruit needs atleast 24 hours to soak and rehydrate. The longer is steeps in the rum, the better the results. This can be done upto a year in advance.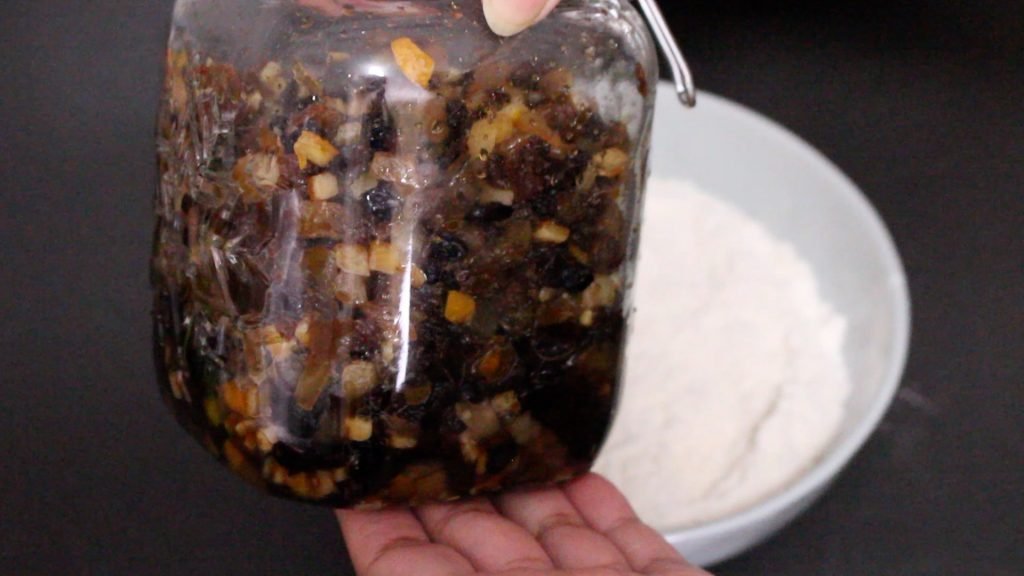 Step 2 – Making the caramel
The 2nd step is making the caramel. There are many ways to make a caramel. For this recipe, you're looking for one that gives you a slightly more fluid consistency. I'm using a 2:1 ratio – 2 parts sugar to one part water and I find that this gives me the perfect results for this recipe. You can make this caramel even a few days before you want to bake your cake. Simply let it cool down completely and store in an airtight glass jar. If you're making this the caramel, the day that you're baking the fruit cake, make sure the caramel has cooled down completely before you add it to the batter.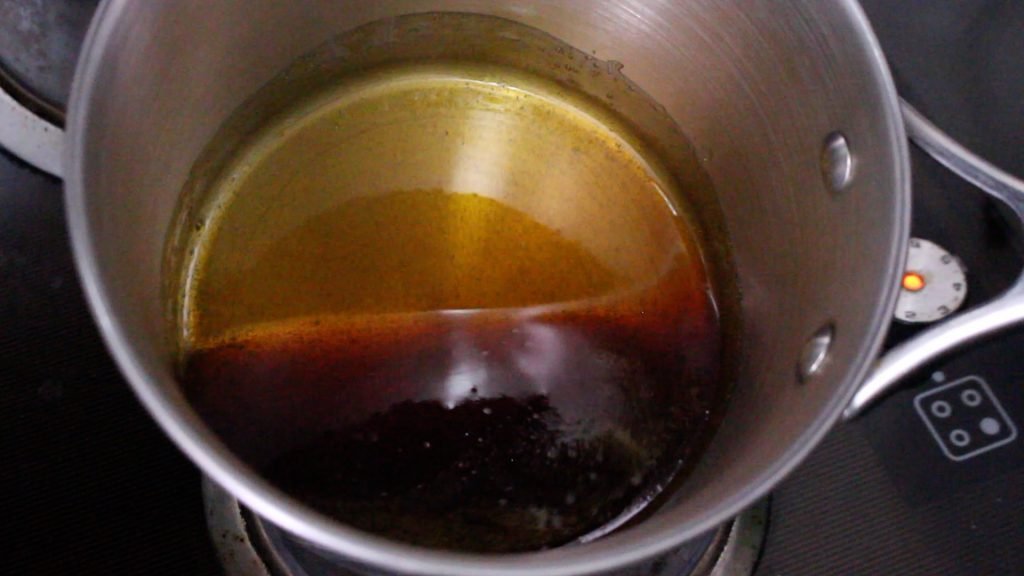 Step 3 – Making the cake
Making the batter is a very simple process. It's just like making any other cake. You need to ensure all your ingredients are at room temperature. In this recipe, I'm using dark brown sugar to help lend a darker colour to the cake. If you can't find dark brown sugar, regular white sugar will work too. Just make sure you use a fine grain sugar or simply powder your regular white sugar before adding it to the batter.
Sometimes, you find that the fruit in a fruit cake like this one isn't evenly distributed. Mix the fruit into the flour – baking powder mix to ensure that the fruit doesn't sink to the bottom of the cake.
Also, in this recipe, I'm using treacle to darken my cake and give it an added boost of flavour. If you can't find treacle, use some molasses instead. I'm not using any artificial colours. A lot of the commercially available dark fruit cakes use caramel colour. If you'd like to, you can add some to the batter.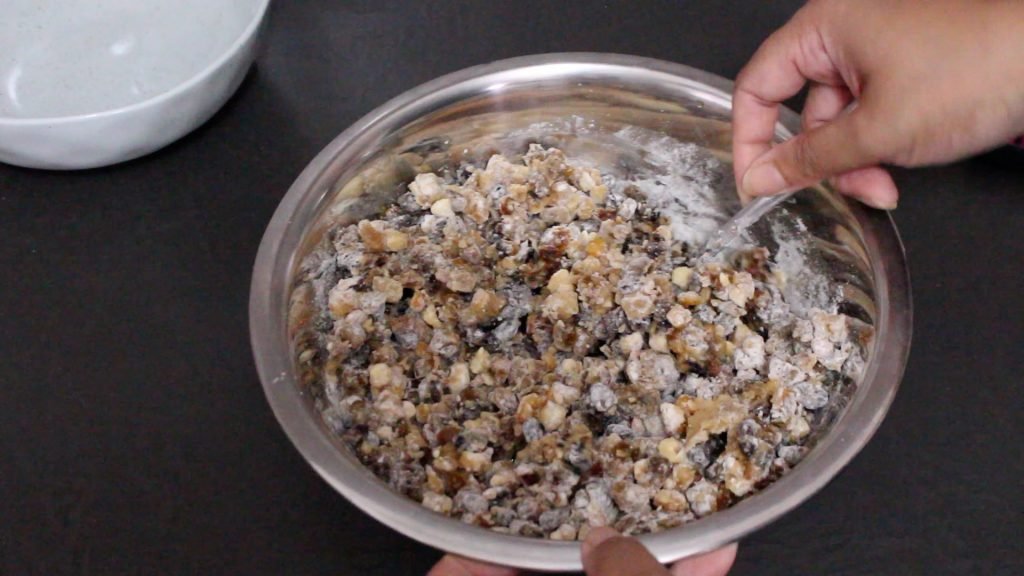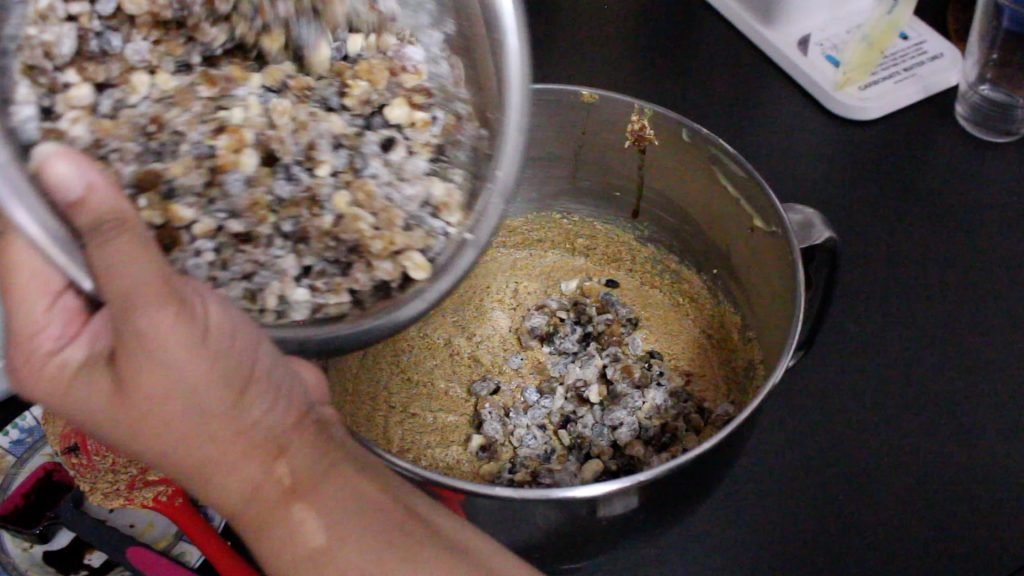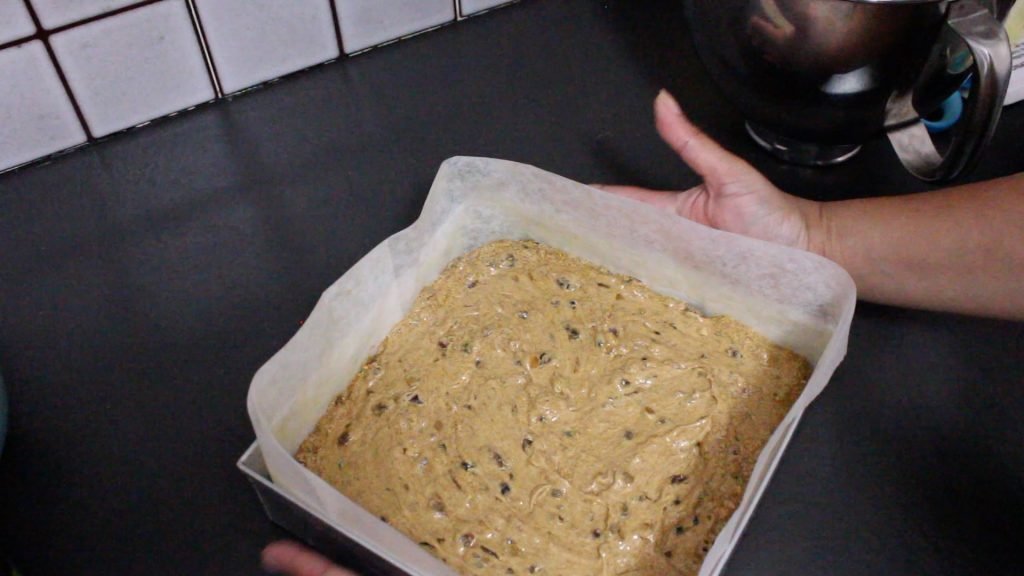 I'm going to feed this cake only once with some dark rum, just as it comes out of the oven. This will help the cake soak up all the rum.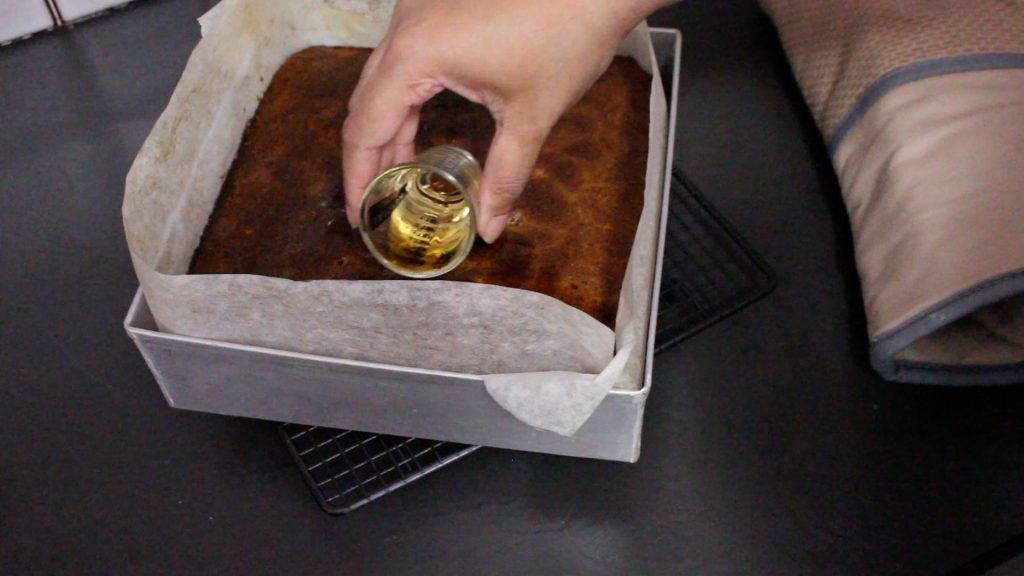 While you can cut into the cake as soon as it cools dow, for best results, I recommend atleast letting it stand overnight before you cut into it.
Once all the Hard Yakka's out of the way, sit back and enjoy your stunning Fruit Cake.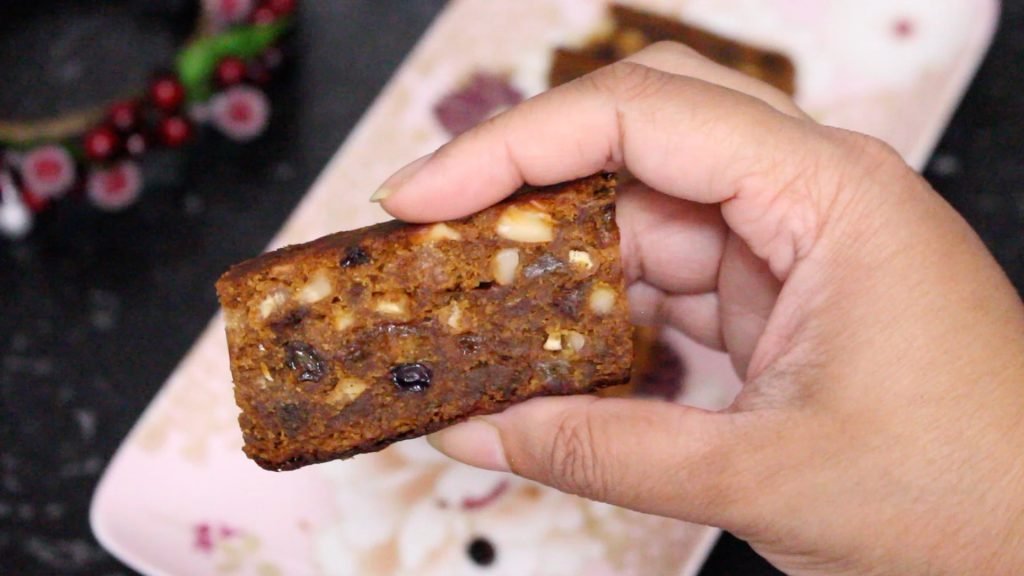 When you think of Chickpeas, a lot of people think of savory recipes. Have you tried making sweets with a chickpea base? If you haven't, you really ought to. This Chana Doce is a Goan sweet served at Christmas time, weddings and special occasions. It is made with chana dal and coconut and mildly flavored with cardamom. There are heaps of Indian sweets that use some form of chickpeas as a base, like these Besan Laddoos or even these sweet flatbreads called Puran Poli. These two are just the tip of the ice berg and I hope to try and bring you some more Chickpea deliciousness in the future.

Today, I'm sharing with you a Goan sweet recipe. This Chana Doce is a Goan delicacy and makes an appearance at Christmas time, weddings and special occasions. The recipe calls for chana dal, which is hulled and split chickpeas. Everytime we visit Goa, we always bring some back home with us. A good Goan bakery is paradise if you have a sweet tooth. Our typical haul would include this Chana Doce and a Coconut variant, the ever popular Bebinca, Dodol, Baath, Bolinhas and Pinag. I think that about covers it. Our favorite place to buy these treats is a quaint little bakery in Mapusa called Simona's. They also have outlets in Porvorim and Sinquerim. What's your go-to place to buy your favourite Goan treats?

It's hard for us to get back to Goa as often as we did when we were in Mumbai, so I've decided to try and make these delicacies at home. And after some experimenting, I've finally got a recipe for Chana Doce that I'm happy with. This is a softer version of the sweet and just melts in your mouth. The commercially available one is a little harder and has a slightly longer shelf life, but its slightly more difficult to make. We actually quite like this softer version and hope you do too.
A good Pork Vindaloo is a must-have at any gathering, party or special occasion in most Goan households. Today, I'm sharing a much loved recipe in our family – my father's Pork Vindaloo. It is such a simple recipe, but results in such a spectacular curry. You are going to enjoy this one. It is perfect to serve around the Holiday season, because this can be made a day or two in advance. In fact, the flavors are even better if it is served a day after it is made. I hope you enjoy this recipe as much as we do.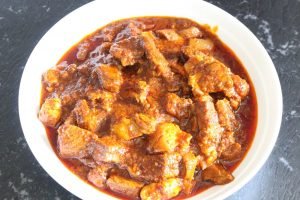 Goan Pork Vindaloo


1 kilo boneless pork (pick a slightly fatty cut)
1-2 tbsp oil
1 – 1 1/2 onion, finely chopped
Salt, to taste
Vinegar, to taste
1 tsp sugar
For the masala – 
12 Kashmiri chillies, deseeded
6 black peppercorns
5 cloves
3 green cardamom pods
2″ cinnamon
6-8 large garlic cloves
1 1/2 inch ginger
Vinegar, to grind to a paste
Cut the pork into chunks and set aside.
Grind all the ingredients for the masala to a fine paste using vinegar. (Ideally Goan vinegar is used. If you don't have access to it, malt vinegar or red wine vinegar will work well too.)
Heat some oil in a large pan. Saute the onions till they have softened and start caramelizing.
Add the masala and fry off well for a couple of minutes.
Add the pieces of pork and salt, to taste. Stir well to coat all the pieces with the masala and let the meat fry off for a few minutes.
Add enough water for the pork to cook through and achieve the consistency you want. I used about 2 cups of water. (You can add more water, if required, later on, when the meat is cooking.)
Cover and cook till the meat is tender.
Check for seasoning and adjust as required.
Add 1 tsp sugar to balance out all the flavors.
Serve hot. This Pork Vindaloo goes very well with some steamed rice, a Peas Pulao, some bread or sannas too.
Enjoy!
Goan sausage pulao is soul food for almost every Goan. And I definitely fall into that category. I've only been able to make this now, more than 5 years after we moved away from India, mainly because I haven't had access to a good Goan sausage. Goan sausages are called Chorize / Chorise and they are the spicier and tangier cousin of the Portuguese Chorizo. I recently tried making my own sausages at home and while I need to tweak the recipe just a tiny bit, I was pretty stoked with the results. They are the tastiest sausages I've had.
Anyway, on to the pulao. This pulao is a brilliant one-pot meal that comes together in a jiffy. You don't need to make your own sausages to enjoy this pulao. If you do, kudos to you. Otherwise, simply buy some good Goan sausages. Your pulao will only be as tasty as your sausages are. This pulao is a culmination of my
Peas Pulao
and my
Goan sausage chilly fry
, which by the way, make a stunning combination too.
Are you ready for it???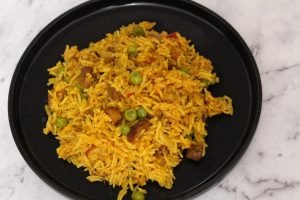 Goan Sausage Pulao
Serves 2
2/3 cup Basmati rice
1 tbsp oil
2 green cardamom pods
2″ cinnamon
8 black peppercorns
5 cloves
1/2 onion, chopped
1 chilly, finely chopped (or to taste)
1/3 tsp turmeric powder
1 large link of Goa sausages
1/2 tomato, chopped
1/4 cup green peas
Salt, to taste
Wash the rice in some water and drain. Repeat this 3-4 times. Then soak the rice in water for 30 minutes. The water level should be an inch above the level of rice. After 30 minutes, drain the rice, rinse through with some fresh water and drain. Your rice is now ready to be cooked.
Heat the oil in a vessel on a medium heat.
Add the whole spices (cardamom, cinnamon, peppercorns and cloves) to the oil and saute for about 30 seconds.
When the spices are nice and fragrant, add the onion and chilly. Saute till the onions have softened and turn translucent.
Add the turmeric powder and stir well.
Add the sausage and stir fry for a couple of minutes.
Add the tomato and cook till the tomato has softened.
Now add the rice and gently stir through, using either a wooden or silicon spoon, to prevent the grains from breaking.
One the rice has fried off a little for about a minute, and is coated well with all the spices add the green peas and 1 1/3 cup of room temperature water. (The ratio of rice to water should be 1:2)
Add salt to taste. (Remember the sausage also has some amount of salt in it.)
Stir well.
Cover and cook on medium heat till all the water has been absorbed by the rice.
Take off the heat and keep it covered. Let it rest for a couple minutes.
After a couple of minutes, fluff up the pulao gently with a fork.
Serve hot.
Everyone has atleast one meal that takes them right back to their childhood. For me its this prawn curry. This curry with some rice, for me, is the ultimate soul food. And I must say, my mother makes the best prawn curry in the world. Atleast I think so. This is her prawn curry recipe that I'm sharing with you today.
Goan Prawn Curry
1/2 kg prawns, peeled and deveined
1/2 onion, finely chopped
2 chillies, slit in half
1 piece of amsol (dried mango)
3-4 pieces of kokum
A walnut sized ball of tamarind
1 tbsp coconut oil
Salt, to taste
1-2 tbsp lemon juice
1 tsp vinegar
For the masala – 
1/2 cup grated coconut
6 Kashmiri chillies
2 large cloves garlic
1 tbsp coriander seeds
1/4 tsp black pepper corns
1/2 tsp cumin seeds
1/4 tsp turmeric powder
Sprinkle salt, squeeze some lemon juice and drizzle the vinegar over the prawns and set aside.
Pour a little warm water over the tamarind and set aside (I use about 1/4 cup of water).
Grind all the ingredients for the masala to a fine paste, using a little water as needed.
Heat some oil in a pot.
Saute the onions till they have softened and turn translucent.
Add the masala and let it saute for a few minutes.
Add some water to thin out your masala and get it to the consistency you like. Remember the curry will thicken as it cooks. So add a touch more water.
Add the chillies and bring it to a boil.
Turn the heat down to a simmer, add the amsol and the kokum and let the curry simmer for 6-8 minutes. Halfway through, stir the curry through and add water to adjust the consistency, if needed.
When the curry is almost ready, add the prawns. Add some of the tamarind extract and cook for another 2 minutes or till the prawns are just cooked. Don't overcook the prawns.
Check for seasoning and adjust as required.
Enjoy!
Pasta is a very popular meal option at home, like I'm sure it is in a lot of homes. I love how versatile the recipes can be and how quickly pasta meals come together. This recipe is no exception. I use a mix of vegetables, usually whatever I can find in the fridge. I use Passata to make my sauce and that gets it ready in a jiffy. This recipe is ready in under 30 minutes and that includes all the prep work too. It has so much flavor, its hard to believe how simple the recipe actually is. I hope you enjoy it as much as we do.




Veggie Pasta in a Tomato Sauce
4 large cloves of garlic, finely chopped
1/4 onion, chopped
1/3 – 1/2 cup capsicum, chopped (I used a mix of red and green peppers)
1/2 zucchini, thickly sliced
A handful of broccoli florets
1/3 cup corn kernels
10 olives, sliced
1 cup passata / tomato puree / canned tomatoes
1/2 cup vegetable stock
2 tbsp olive oil
Salt, to taste
Freshly cracked black pepper, to taste
Red chilly flakes, to taste
1 tsp mixed herbs (dried)
1/2 tsp oregano (dried)
1/2 tsp sugar
Pasta
Parmesan cheese, to grate over the pasta
Start by cooking the pasta according to the package instructions.
Bring a large pot of water to a rolling boil, season the water generously (I use 1.5 tsp salt) and add the pasta to the pot. Stir immediately, to prevent the pasta from sticking to each other and to the bottom of the pot.
When the pasta is cooking, heat another pan.
Add olive oil to the warm pan and add the garlic. Saute till the garlic turns fragrant.
Add the onions and cook over a medium heat till they soften a bit.
Add the peppers and continue to cook for 1-2 minutes or till they start to soften.
Add the broccoli florets and saute for another minute or so.
Now, add the zucchini and corn and stir through. Cook for another minute or two.
Season with some salt and pepper, to taste.
Add the red chilly flakes and the herbs. Stir through.
Add the passata and the stock.
Let it come to a boil and leave to simmer for 5-7 minutes or till the veggies cook through and the sauce develops good flavor.
Add the olives and the sugar and stir through. Take off the heat and set aside.
By now the pasta should be cooked. Reserve 1/4 – 1/2 cup of the pasta water and drain t
he pasta.
Add the pasta to the sauce and toss to coat the pasta with the sauce.
Place the pan on medium low heat. Add a couple of tbsp. of the reserved pasta water. Stir through and let the extra liquid cook off for another minute or so, or till your pasta reaches the desired consistency.
Grate some parmesan cheese over the pasta and serve.
Enjoy!
Nothing says 'Spring is here' more than some Lamb kebabs. Spring Lamb is in stores now and while some of the premium cuts can be very pricey, today's recipe uses ground lamb (lamb mince). This is not just easy on the hip pocket, but cooks up really fast too.
You can serve these kebabs as a starter, or with a salad as a main too. Today I'm serving it up as a wrap with some homemade, quick pickled onions and a yogurt dip. Start off by making the pickled onions and the dip, so that they have a little time to let the flavors develop.
Quick Pickled Onions
1/2 onion, sliced
Salt, to taste
1-2 tbsp Lemon juice
Separate the half rings of the onion slices.
Sprinkle salt and lemon juice over the onion and mix well to let the seasonings get to all the onion slices.
Cover and refrigerate for 30 minutes to an hour.
Yogurt Dip / Spread
1/2 cup Greek yogurt
Salt, to taste
1/2 tsp sugar, or to taste
1/2 clove of garlic, finely chopped
A few mint leaves, finely chopped
Mix all the ingredients together. Cover and refrigerate for 30 minutes to an hour.
Lamb Kebabs
500g lamb mince
Salt, to taste
Freshly cracked black pepper, to taste
2 chillies, finely chopped
3 large cloves of garlic, finely chopped
1-2 tbsp fresh mint, finely chopped
Oil, for frying
Mix all the ingredients and shape into kebabs.
Heat some oil in a pan.
Fry kebabs for a couple of minutes on each side, or till you get a beautiful golden brown color on each side and till its cooked through to your liking.
Serve hot.
** To make the wrap, I use some homemade, whole wheat chapatis, layer some salad greens on top, add a couple of the kebabs, smear some yogurt dip over and top with some pickled onions. Wrap up and enjoy.
You'll notice that a lot of recipes that I share here are vegetarian. I thought I'd talk about that for a moment. While my husband and I aren't full time vegetarians, we eat very little fish and meat. Most of our meals in a regular week happen to be vegetarian and we like it like that.
Today's recipe is another such gem. Its my French Beans Foogath, a Goan Style Green Beans Stir Fry. I love keeping things simple in the kitchen. This works well for me when I'm short on time but still want a home cooked meal. This recipe ticks all those boxes. Just a handful of ingredients, a little cooking and you end up with a delicious vegetable. Now that's my kind of recipe. I hope you enjoy it too.




French Beans Foogath


1/4 kg green beans / french beans (approx)
1/2 tsp mustard seeds
2 chillies, cut into quarters lengthwise
1 onion, peeled and chopped
A little grated coconut
1 tbsp oil
Salt, to taste
Prep the green beans by washing them, trimming the ends and chopping into little pieces.
Heat some oil in a pan.
Add the mustard seeds.
When they start spluttering, add the chillies and stir for a few seconds.
Add the onion and saute till they've softened and they start developing a little color.
Add the green beans and stir well. Stir fry for about a minute.
Add a little salt and stir through for about another minute.
Add a couple of small splashes of water. Let the water come to a boil. Lower the heat, cover the pot and let the vegetable cook.
Check the vegetable in a couple of minutes. Stir and ensure there is sufficient water. Add more water if needed. Check for seasoning and adjust if required and let it continue to cook till done.
When it's almost done, add the coconut and stir through. Let it cook for another minute or so, to let the coconut warm through.
Serve hot.
Enjoy!!!
Winter is one of my favorite seasons. I love the chill in the air and everything that comes with it, especially after a long, hot summer. I love winter clothes, the food and the indoor days. But what I love most of all is rugging up on a chilly day with a piping hot mug of homemade hot chocolate. So today, I'm going to share with you how I make my basic hot chocolate from scratch in under 5 minutes. Yup, its quick, simple and divine.
Homemade Hot Chocolate
Makes 1 mug


3/4 cup (full fat) milk
1/4 cup heavy cream
1/4 cup dark chocolate, chopped
A few marshmallows, for topping (optional)
Combine the milk and cream in a saucepan and heat it over medium heat till it just about starts simmering. Do not let it come to a boil.
Add the chopped chocolate and whisk till dissolved.
Pour into a mug and top with marshmallows (if using) and sprinkle some grated chocolate on top.
Enjoy your very own Homemade Hot Chocolate!!!
Cheesecake is one of our favorite desserts at home. My last couple of birthday cakes have been cheesecakes. That alone should tell you how much I love it. But do you know whats even better than a cheesecake? Little mini cheesecakes, of course. Jokes aside, these are the perfect option for a party or even for the family. You can make them a day ahead of the party and keep them refrigerated. They are easy to serve and could serve to help portion control too. And they are super delicious as well. Now that's a dessert that ticks all the boxes for me.




Easy Mini Cheesecakes with a Strawberry Topping
Makes 8 mini cheesecakes
For the base –
120g Digestive biscuits
30g butter
For the cheesecake –
250g cream cheese
1/3 cup caster sugar
1 tbsp lemon juice
1/2 tsp lemon zest
1/2 tsp vanilla extract (or vanilla bean paste)
100g double cream
2 eggs
A tiny pinch of salt
For the topping –
1/2 cup strawberry jam
Fresh strawberries
For the base –


Melt the butter and keep aside.


Blitz the biscuits in a food processor till you get a coarse crumb texture. Add the melted butter and blitz again to combine. This should now resemble wet sand.
For the filling –


Beat the cream cheese till its creamy.
Add the sugar and and mix till it is well combined.
Add the eggs, one at a time, beating well after each addition.
Now add the lemon zest, lemon juice, vanilla and salt and mix till combined.
Lastly, add the cream and mix till it has incorporated with the rest of the ingredients.
To assemble –


Preheat the oven to 180 degrees C.
Line a cupcake tray with paper cases.
Place about 1 tbsp. or so of the biscuit crumb in each case. Using the back of a spoon, pack it down and flatten it.
Top it with the cheesecake filling about 2/3 of the way.
Bake for 15-17 minutes or till the outside has set and the middle still has a little jiggle to it. (You may find some of them puff up a bit or develop a little crack. That is fine.)
Take it out of the oven and let it cool down completely.
Warm the jam over some medium heat, just to loosen it a bit. You don't need to simmer or boil it. This took me about a minute.
Spoon a little jam over each of the mini cheesecakes.
Top with some fresh berries.
Refrigerate for 2-4 hours to set. You can leave it to set overnight as well.
Enjoy!!!