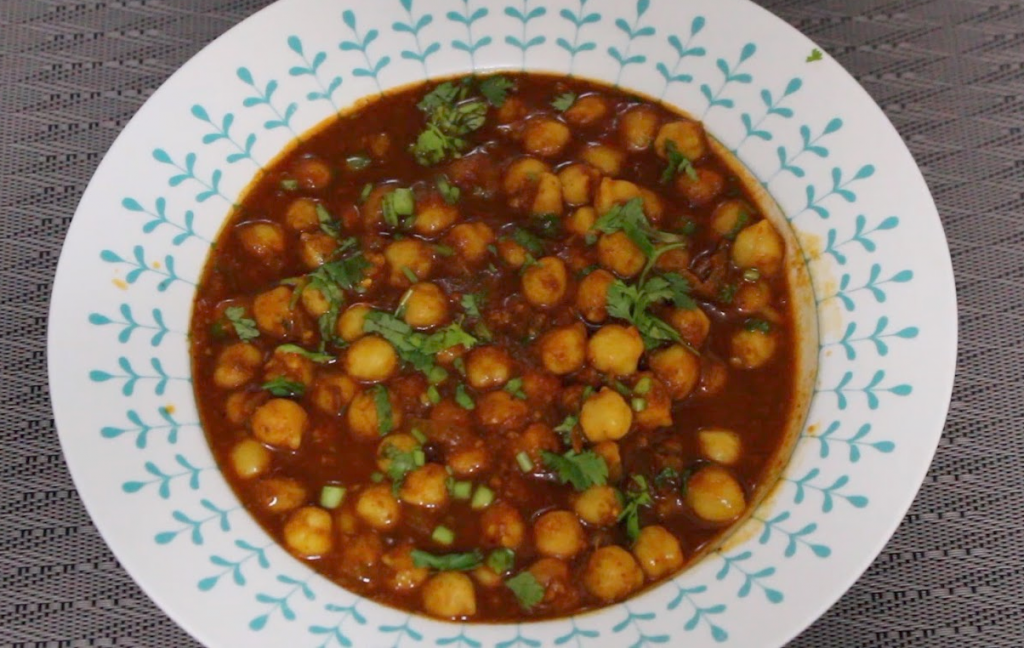 Chickpeas! If you've been around this space a bit, you'll know that I love my beans and lentils. Chickpeas happen to be right on top of that list. The best part is, they are so easy to work with. And No! I'm definitely not talking about using the canned stuff. While you can use canned chickpeas in most recipes that call for chickpeas, and I have too (when I didn't have access to my pressure cooker), there is nothing like cooking your chickpeas or any other beans for that matter, from scratch. I haven't bought the canned stuff for years now. I buy dry beans and lentils by the kilo.
To cook the beans, simply wash and soak them for 6-8 hours, drain and refresh the water. I use a pressure cooker to cook my beans in my stovetop pressure cooker with water, salt and a couple of whole Kashmiri chillies. It takes me just 5 minutes of cooking time after the pressure has built up to cook my beans through. However, each pressure cooker is different. Please refer to the user guide for your cooker, to see how long you need to cook the beans. If you done have a pressure cooker, cook it in a pot with sufficient water till tender.
Once, you've boiled your chickpeas, you can use them in so many different ways. I have shared a recipe for
Chole
on the website previously. That is still a great recipe but I have since tweaked it a little and I'm going to share that new version of the recipe today. I will call it Chana Masala to avoid any confusion. You can also use the boiled chickpeas in a
simple chickpea salad
, make some
Hummus
or use the kala chana (a darker version of the chickpeas) to make this amazing stir fry called
Black Chana Fugad
. They are all delicious.
Chana Masala
1 cup dry chickpeas (Wash, soak for 6-8 hours and cook till tender. Reserve the boiling liquid.)
1 bay leaf
2 inches of cinnamon
5-6 cloves
8-10 peppercorns
2 green cardamom pods
1 black cardamom pods
1 tsp cumin seeds
1 onion, finely chopped
2 green/red chillies, split lengthways
1/2 tsp ginger paste
1 tsp garlic paste
1/2 tsp turmeric powder
1 1/2 tsp Kashmiri chilly powder
1 1/2 tsp garam masala powder
1 cup tomato puree / passata
1 tbsp oil
Salt, to taste
1/2 tsp sugar
Fresh coriander leaves and stalks, finely chopped, to garnish
Heat the oil in a large vessel.
Add the bayleaf, cinnamon, cloves, peppercorns and cardamom pods.
When the spices turn aromatic, add the cumin seeds and stir.
Immediately add the chillies and onion. Saute till the onions have softened and have starting getting a little brown around the edges.
Add the ginger and garlic paste and stir through. Saute for another minute.
Add the turmeric powder, chilly powder and garam masala powder and stir well.
Add a couple of tablespoons of the stock from cooking the chickpeas to deglaze the pan and prevent the spices from burning. Stir through thoroughly.
Now add the tomato puree and cook for 3-4 minutes stirring every once in a while.
Add some more stock to bring the curry to the desired consistency. Please note, the curry will thicken a little as it cooks.
Bring it to a boil. Cover the pot and simmer for 5 minutes.
After 5 minutes, stir and check for seasoning. Add more stock if needed. Add more salt, if needed. Add 1/2 tsp of sugar. (Depending on the tomatoes you're using, you may need to add a little more sugar. Add to taste.) Stir through. Cover and simmer for another 5-7 minutes.
At this stage your curry should be cooked. Lastly add in the boiled chickpeas. Cook for another couple of minutes till the chickpeas have heated through.
Garnish with chopped, fresh coriander and serve hot.
Enjoy!!!
This recipe takes me way back to when I'd first enjoyed some Tava vegetables. It was at a party that had a huge buffet offering, both non-vegetarian and vegetarian. While the non-vegetarian spread was really impressive, I was intrigued by a live stall happening over on the veggie side of the table. There was a massive tava (cast iron griddle) and it had a variety of vegetables on it. The aroma was deliciously intoxicating and I knew I had to try some. I helped myself to a small assortment, some salads and took some naan bread to go along with it. Little did I know that this dish would have me hooked for a long time to come. This was about 7 years ago, I think. To this day, the thought of those tava vegetables has me yearning for some.
After a lot of searching, high and low, I found a recipe, that I tweaked to try and replicate the flavors I so vividly remember. Since I cook for just my husband and I, this recipe is scaled down. I also just use my favorite veggies from that day – okra (bhindi) and potatoes (aloo). I found that these are also some of the easy ones to work with. I don't make this recipe very often, because the veggies start off by getting deep fried and are then tossed with a spice mix (tava masala), and the deep frying tips this to the slightly indulgent side.
The spice mix, or my version of the tava masala is hot a very hot mix. The spices used are warm and flavorful. The chaat masala is an integral part of this recipe. If you haven't tried it before, it is a blend of a few spices like cumin, pepper and a few others with some powdered mango. So it has a unique flavor profile, you get a slight hit of salt, tang from the mango and delicious flavor from the blend of other spices. You can easily find this at any Indian grocery store. (This chaat masala also works well with other chaat recipes you find on my blog.)
So try this easy stir fry recipe. This is best enjoyed served hot with some chapatis, rotis, naan or other flatbread of your choice. It would also work well as a side dish to some hearty Dal & Rice.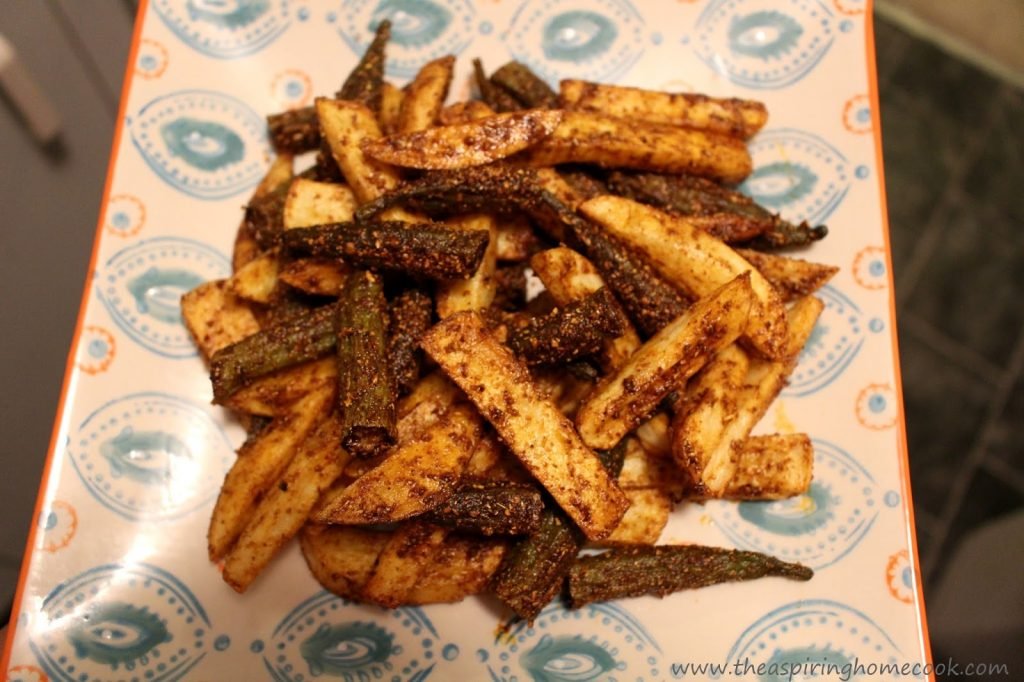 Tava Style Aloo Bhindi


3 medium potatoes
20-25 okra
1/4 tsp turmeric powder
1/2 – 1 tsp Kashmiri chilly powder (or any other mild chilly powder)
1 tsp coriander powder
1/4 tsp cumin powder
1/4 tsp chaat masala
Salt, to taste
1 1/2 – 2 tbsp oil, plus oil for deep frying
Place a pan with the oil for deep frying on medium high heat.
Wash and peel the potatoes and cut into evenly sized fries / chips.
Wash the okra and pat dry. Chop the stalks off the okra and discard. Try and use okra that is similar in size, if not, cut them down to about the same size as the potato pieces.
By now, the oil should be hot. Carefully, and in batches, add the potatoes to the oil. Don't overcrowd the pan or the oil will froth over and spill.
Deep fry the potatoes on medium heat till they've cooked through. Drain using a slotted spoon and set aside on some kitchen paper to get rid of any excess oil.
Deep fry the okra on medium heat till they have start getting a little darker in color and have started crisping up.
Drain using a slotted spoon and set aside on some kitchen paper to get rid of any excess oil, like you did the potatoes.
Take the oil for deep frying off the heat.
Heat 1 tbsp oil in a large pan on medium heat. When the oil is warm, NOT hot, add in the turmeric powder first and then add the rest of the spice powders.
Stir that through for about 20-30 seconds or till the spices get aromatic.
Add the okra to the pan and toss well. Lastly add the potatoes and toss to coat the veggies with the spices evenly.
Check for seasoning and add salt, to taste. Toss well.
Serve hot.
You can watch the video recipe here –
It seems like I've been on a bit of a Goan food trip lately. For the past couple of days, we've enjoyed a whole lot of it. This is my 3rd consecutive Goan seafood recipe on the blog. And that too, in a matter of a couple of days. But I must say, I've enjoyed every single bite of it.
This sort of food takes me back to a simpler time. Back when I was in school (and that was a looooong time ago), every summer holiday was spent at the family home in Goa. I looked forward to those trips. The bus journey each way took aound 18 hours and was great fun. We'd pack a variety of munchies for the way. Bus journeys always made me hungry and sleepy. But I loved those long hours on the road. We actually looked forward to the journey almost as much the holiday in Goa itself. Have you every made that trip? What's your favorite part? My late aunt was a fabulous cook. Unfortunately, I was very young then. Too young to be interested in learning about cooking from her. To this day, I wish I had. Back then, it was 2 months of Goan fare. And I never tired of it. Cooking was a labor of love then. Even though we had a modern Gas kitchen, my aunt chose to cook on a wood fired stove in clay pots. And the food, was absolutely out of this world. I have not tasted food like that ever again. Who knows? Someday, I may go back to Goa for a couple of months to relive those days. One of the dishes my Aunt cooked really well was a Tisreo Sukhem – a Goan Clam stir fry. And this is a dish my mother cooks really well too and it is very similar to the one my Aunt made. Fortunately, I have learnt how to make it too. Clams are more commonly known as Pipis in Sydney.
On my last grocery shop, I picked some up from the fish monger. Now, you can cook the whole shell and you know its cooked once the shells have opened up. But both, my Aunt and my mother always make it on the half shell. So I did the same. Once the clams are halved, the entire dish probably takes about 15 minutes to put together. I hope you decide to try this Goan delicacy some time. You can serve it up as a side dish to a typical Goan Fish Curry and rice meal, or serve this with some chapatis or even with bread. However you choose to serve it, you will love it.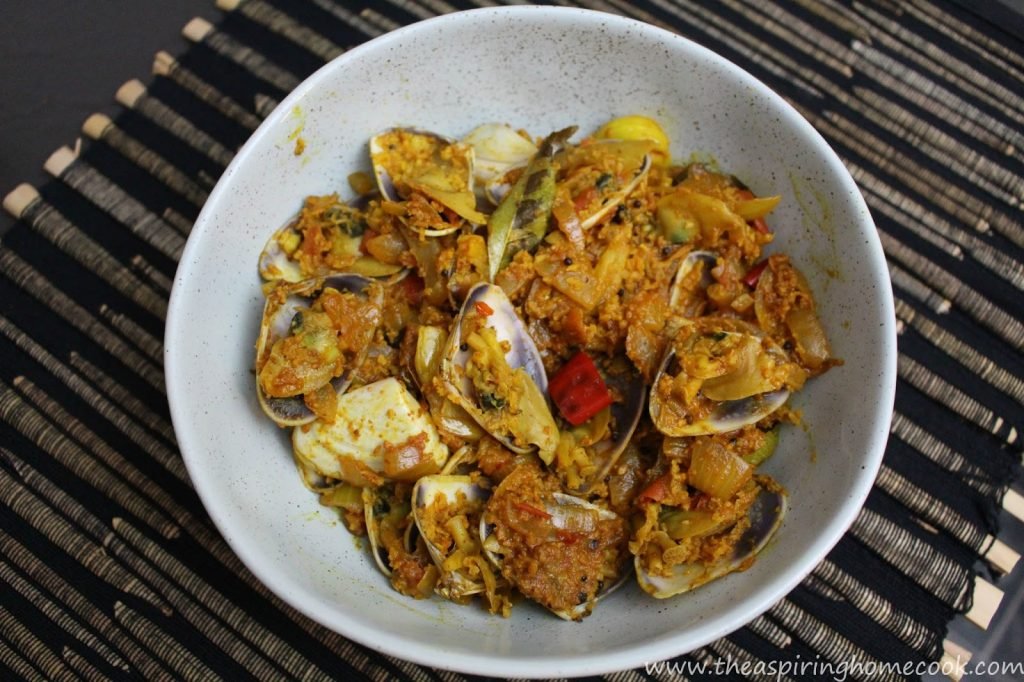 Watch the step by step process here –
Tisreo Sukhem


40-50 fresh clams / pipis
1/2 tsp black mustard seeds
6-8 curry leaves
4 cloves garlic, lightly bruised / crushed
1 medium onion, chopped
2 green / red chillies, cut into 1/2 inch pieces
1 tomato, chopped
1/4 tsp turmeric powder
1/2 tsp red chilly powder
1 heaped tsp coriander powder
2-3 tbsp grated coconut
1 tbsp coconut oil
Salt, to taste
Wash and halve the clams / pipis. (You can also chose to leave them whole.)
Heat the oil in a pan on medium heat.
Add the mustard seeds. When the seeds start to sputter, add the curry leaves and the chillies.
Stir that around and add the garlic cloves. Let that fry off for a few seconds.
Now add the chopped onions and saute them till they have softened and the edges have just started to brown.
Add the turmeric, chilly and coriander powders to the pan and stir well. Add a dash of water (about 1 tbsp) to deglaze the pan. The prevents the spices from burning.
Now add the chopped tomatoes and stir fry that for a couple of minutes.
Now add the clams and gently stir them through the spice mix in the pot.
Add salt to taste.
Add a small splash of water to help the clams steam through. (2-3 tbsps worth)
Switch to a low heat, cover the pan and cook for about 5-8 minutes, or till the clams have cooked through. Stir at the halfway mark and add more water, if needed. Just a little to prevent if from burning. If you find that there is too much liquid in the pan, cook it uncovered for the rest of the time.
(You are looking to have most of the liquid absorbed into the dish.)
(If you are using the clams whole, you'll know they are cooked, when the shells open up.)
About a minute before you take it off the heat, add the grated coconut and stir though. When the coconut has warmed through, take off the heat.
Serve hot!
Ok, so on Sunday, we took a culinary trip to Goa. Lunch and dinner was Goan fare. My previous post tells you about the amazing dried prawn
Kismur
we had. But that was just the accompaniment to the meal. It was served alongside a great Goan Fish Curry and rice and some Fried fish too. That meal, right there, is the way to every Goan's heart.
Today, I'm going to share with you the recipe for that amazing Goan Fish curry. This is a coconut based curry and combined with a few spices, you will be rewarded with the most gorgeous bowl of Fish curry. A good Goan Fish Curry is known for its color. They key to great color is good Kashmiri chillies. Kashmiri chillies are dried red chillies, very widely used in Indian cuisine. They are mild chillies so you won't get much heat from them, but they are known for the vibrant color they lend to the dish in which they are used. You can find Kashmiri chillies in any Indian store. In Sydney, I have used a few brands and a lot of them don't meet the mark at all. That was until I tried the 'Uttam' brand of Kashmiri chillies. Now, for the first time in years, I've managed to get a delicious curry with fantastic color. That made me very happy. Another important factor to a good curry is the curry paste. You need to grind the masala (spices) to a fine paste. Grind it for 3-4 minutes with a couple of breaks every now and then, so that your mixer (blender) doesn't overheat and trip. Lastly, sourness or tang is very important to a great curry. The curry needs to be balanced, but without enough sourness, it just won't taste right. That being said, add sourness to taste.
If you're in the mood for a great Goan meal, try out this curry.
Goan Fish Curry


1/2 kg fish of your choice (I used Mackerel)
1 medium onion, thinly sliced
A ball of tamarind, the size of a walnut
2-3 fresh green / red chillies, slit (optional)
Salt, to taste
2-3 pieces of Kokum / Mango sol (dried mango) (These are souring agents, use as much or as little as you need. If raw mango is available, use a few pieces of it and you curry will be even better)
** If you are using Mackerel, 4-5 tefla berries are added to the pot along with the curry paste and water and cooked. (I haven't been able to find it in Sydney yet, so I left it out. But it makes a huge difference to the flavor of the curry, so try and get your hands on some, if you can.)
For the curry paste / masala –
8 dried red Kashmiri chillies
6 large cloves of garlic or 10 small ones
8 black peppercorns
1 tsp coriander seeds
1 tsp turmeric powder
1/2 coconut, grated
Water, as required
Cut the fish into pieces and season them with a little salt and set them aside.
Soak the tamarind in about 1/4 cup of warm water and set aside for about 5 minutes.
Grind the tamarind and the water it was soaking in and all the ingredients listed under "For the curry paste" to a find paste using water as needed.
Place the sliced onion, tefla (if using), the curry paste and 2 cups of water in a pot and bring to a boil. Lower the heat and simmer for 30 minutes. You need to maintain the liquid content to have the right consistency. So top up with water, as needed.
Add the kokum / mango (if using), whole slit chillies and the fish pieces. Bring the curry to a boil again. Let this simmer on low heat for 5-10 minutes (depending on the size of the pieces of fish) or till the fish is cooked.
Check the seasoning and add more salt / sourness, if needed.
Serve with hot boiled rice.
To complete the meal, serve some fried fish and Kismur with it.
Enjoy!!!
** This post contains affiliate links.
Today's post takes me back about 16 years. Back to when I first started working (gosh I feel old now). Back then, our meals were taken care off by the work place. And for me that was novelty because growing up we almost never ate out. My mum would cook up every meal and snack for us at home and as kids we were content with that. But eating in the office cafeteria was interesting. Here, I was introduced to such a variety of food from different parts of the country (India). But I wasn't too keen on cooking then. During those days I only enjoyed making our traditional Goan sweets (Kuswar) for Christmas and other Goan sweets that my Nana would whip up for us for afternoon tea or an after school snack.
One of the dishes I encountered in the office cafeteria, that eventually became a favorite, was Methi Malai Matar (meaning Grean Peas in a Creamy fenugreek gravy.) It has strong Indian flavors but is mildly spiced. After moving to Sydney, I began craving some of this stuff. And it was only then I decided I was going to have to learn to make this dish myself, much like I had to learn so many other Indian recipes that I wanted to enjoy. Now the challenge was finding fresh Fenugreek leaves. The only place I've found fresh leaves is at one vendor at the Paddy's Market in Flemington. But that's a long drive from us. So I thought I'd try and find a recipe that used dried leaves (known as Kasoori Methi
) which is easily available at any Indian grocery store. And let me tell you, I found one. I couldn't believe how easy this little curry is to put together. With just a handful of ingredients, in less than half an hour you can be sitting down to a warm bowl of Methi Malai Matar for dinner. This goes really well with roti / chapatis, but you can also enjoy this with some bread or plain rice.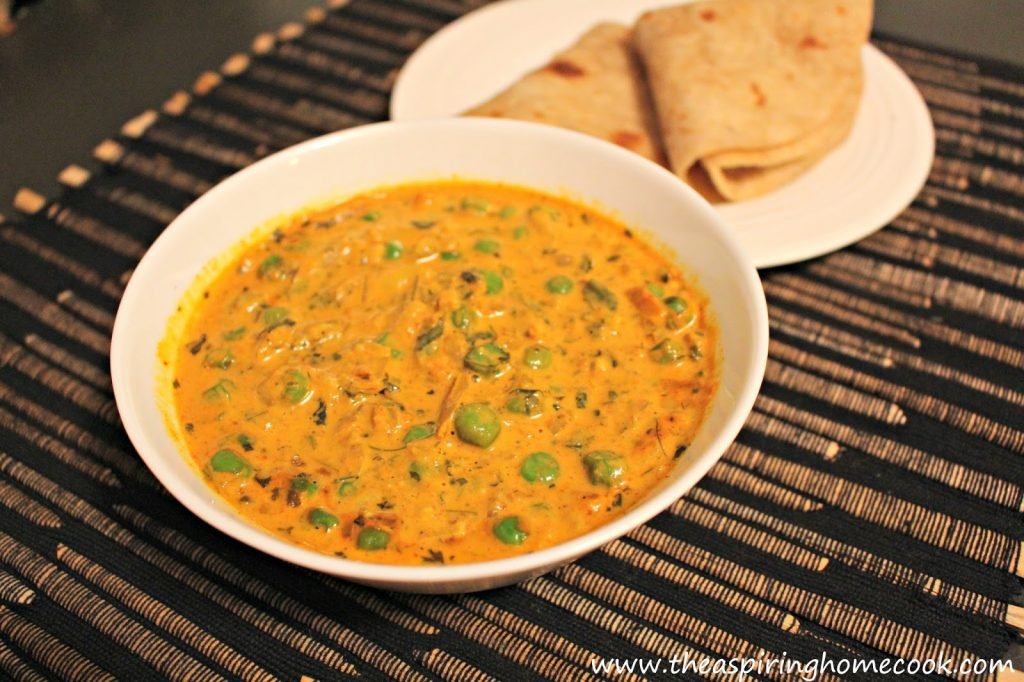 Methi Malai Matar
1 cup green peas (fresh or frozen will both work, if using frozen let it thaw before using)
3 tbsp Kasoori Methi

1 onion, finely chopped
1 tsp ginger garlic paste
1/2 tsp Cumin seeds
1 green chilly, finely chopped (optional)
1 cup milk
8 cashew nuts
2-3 tbsp cream
1/2 tsp Garam Masala Powder
1/2 tsp coriander powder
1 tsp Red Chilly Powder

1/4 tsp Turmeric Powder

1 tbsp oil (I use olive oil for cooking)
Salt, to taste
Soak the cashewnuts in a couple of tablespoons of milk for about 15 minutes.
Grind this to a smooth paste and keep aside.
In a pot / saucepan heat the oil on medium heat.
Add the cumin seeds to the oil.
When the cumin seeds start to sizzle, add the ginger garlic paste and green chillies and saute for a minute.
Now, add the chopped onions and saute till they've slightly browned.
Add the cashew paste and fry it for a couple of minutes, stirring to avoid burning.
Now add the turmeric powder, coriander powder, red chilly powder and the garam masala powder. Add salt to taste and stir well.
Now add the rest of the milk and stir.
Let it come to a boil and then simmer for about 2-3 minutes and the gravy will start thickening.
Add the cream and stir in.
Now add the green peas. Let the peas heat through and let the gravy come to a boil again.
Now add the kasoori methi and stir.
If the gravy is too thick at this stage, add a little water to achieve desired consistency. Just make sure the gravy comes to a boil after the water is added and simmer for a couple of minutes.
If the gravy is not thick enough, let it continue cooking, stirring occasionally, till it thickens to your liking.
Serve hot with rotis / chapatis.
Enjoy!!!
If you're looking for other methi / fenugreek recipes, check these out –
Methi Parathas
Methi Namakpare
Methi Poori
I'm back …. after what seems like forever. There have been a few changes around here. First of all, a name change. We are now called "The Aspiring Home Cook" which I think suits me and the site just right. The housekeeping will take a little longer. I am currently working on updating names and links on Facebook and Pinterest. So if you have any of the links saved locally, you will need to replace "myhobbielobbie" with "theaspiringhomecook". All the pictures before today will still have watermarks with the old name and I hope to replace them eventually. So there will be a few more changes around here.
So there you have it. You now know why I've been missing in action around these parts. Up until now, I thought I'd wait to sort everything out before I got back to posting here again. But I couldn't stay away any longer. I needed to try out new recipes and have someone to tell about them. So I'm back. All this techie business has lead me into a kind of cooking / baking rut lately and I've been longing to dig into some interesting food again.
So after a little bit of looking around, I think I've found some of my mojo again. I found this really good recipe for a curried beef mince, Goan style. This recipe is very different in technique from my usual recipe. I was a little skeptical when I started reading through it because of the major differences. But its the differences that convinced me to try it out. I was glad I did. There are a couple more steps involved in this recipe but it results in a very flavorful beef kheema. The red masala comes through making the resulting dish a warming shade of red, perfect for these cooler autumn days. I hope you try this recipe out when you have a hankering for some good homemade Goan / Indian food.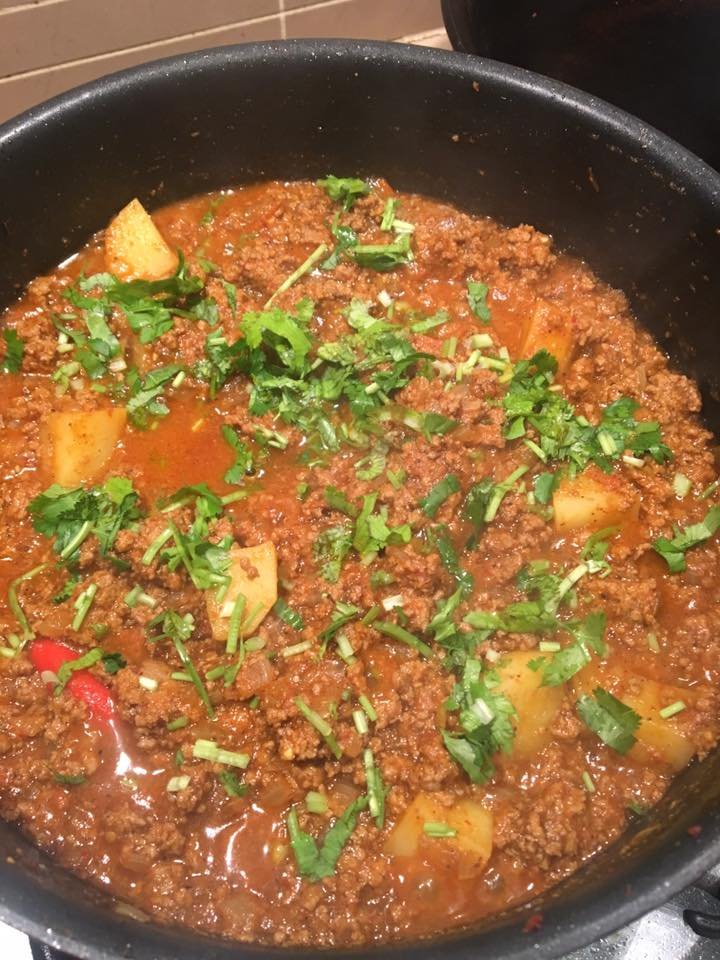 Goan Red (Beef) Kheema
Recipe from: Delicious Memories with Alves Fernandes
500g Beef mince
1 1/2 tsp ginger garlic paste
Juice of 1 lime
2 medium potatoes, cut into cubes
1 tbsp cooking oil (sunflower, vegetable, groundnut, olive – whatever you use for your day to day cooking)
2 onions, finely chopped
2 medium sized tomatoes, chopped
1 fresh green / red chillies, slit
1-2 tbsp fresh coriander, chopped
2 tbsp vinegar
Salt, to taste
A pinch of sugar
Grind to a paste –
5 dry red Kashmiri chillies (or any mild variety)
2-3 large cloves of garlic
1″ ginger
1 1/2″ cinnamon
2 cardamom pods
32 black peppercorns (I know it seems like a lot, but its not)
15 cloves
1 tsp cumin seeds
1 teaspoon white poppy seeds (khuskhus)
1 tsp turmeric powder
3 tbsp vinegar
Water, as needed
Marinade the raw beef mince with salt, ginger garlic paste, juice of 1/2 a lime and mix thoroughly. Keep aside.
Grind all the ingredients listed under 'grind to a paste' to a fine paste and keep aside.
Bring the marinaded mince and 1 cup of water to a boil. Simmer till the mince is cooked about 3/4 of the way.
Heat the oil in another large pan.
Saute the onion. till they have turned translucent.
Add the tomatoes and cook till it has softened.
Add the ground spices and let it fry for 2-3 minutes stirring occasionally.
Add the potatoes and stir well to coat them in the spices.
Add the boiled mince to the pot and stir through. Let it cook for about a minute, then add the remaining stock that the mince boiled in.
Add about a cup of water to the blender in which the spices were ground and swirl around to get any remaining masala (spice paste) and continue cooking.
After about 5 minutes, add the slit red / green chilly and the remaining lime juice (juice of 1/2 a lime).
Let it cook till the potatoes are tender. Just before the potatoes are cooked, add salt (to taste) and a pinch of sugar.
Cook till the potatoes are cooked and the gravy is the consistency you like. I like mine to be more on the thicker side.
Check for salt and sourness and add more as needed.
Turn off the heat.
Sprinkle chopped coriander over the top and serve hot.
Serve with some boiled rice, pulao, chapatis or even your favorite bread.
Have you had a glass of chilled sweet lassi before? If you have, you know how unbelievably yummy it is. If you haven't, you should try it. Its sweet, creamy, cold and have I mentioned yummy. And the best part is, you don't even have to plan a trip to an Indian restaurant to have a glass. If you have some plain, unflavored, unsweetened yogurt you can whip up a glass in minutes.
I fancied this glass up with some strands of saffron and some chopped pistachio. But even without it, this sweet lassi is just as good. Its a perfect way to cool down on a hot summer day. A glass of it is quite filling too, so it makes a nice snack by itself.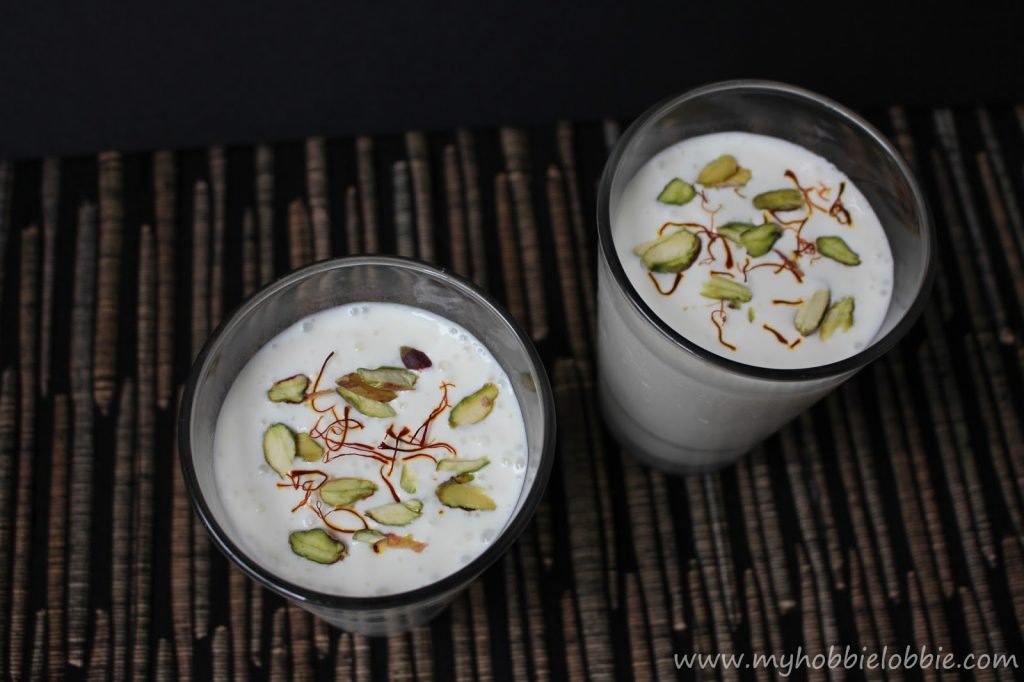 Sweet Lassi
Makes 2 glasses
1 3/4 cup of plain, unflavored, unsweetened yogurt
1/4 cup chilled water
2-3 tsp sugar (or to taste)
4-5 pistachios, sliced (optional)
A few strands of saffron (optional)
Put the yogurt, water and sugar in a blender and blitz till smooth and slightly frothy.
Pour into glasses.
If desired, sprinkle the saffron strands and sliced pistachio on top to garnish.
Serve chilled.
Here are some other lassi versions –
Strawberry Lassi
Today I have a very humble treat lined up for you. I happen to be a huge fan of beans. Fresh, dried, kidney beans, snakes beans, butter beans the whole lot, really. Growing up, every summer, the family would go to our ancestral home in Goa. We'd look forward to it. Our home had a massive edible garden. Back when I was too little to remember and even before I was born, the family grew a lot of vegetables and fruit. When my grandmother was little, they also had cattle and goats on the property.But in more recent times they had plenty of fruit trees. We had mangoes (a few varities), cashews, coconuts, chickoos, guavas and jackfruits growing. The only vegetables we had was some tapioca, dumsticks (moringa), tamarind and kokum. I have very fond memories of those summers and hope I can someday go back to something like this again. Though I may seem like I've digressed, I haven't, not much. I had to build a setting of sorts 🙂
Every summer, snake beans were at the peak of their season. We didn't grow this but there was a local farmer in the village who did. And he did a fantastic job of it. I loved and to this day love snake beans. We cook this up in a very simple way, a traditional Goan fugad. A fugad has its roots in Portuguese food. It is a stir fry of vegetables with some spices and seasonings and a sprinkling of fresh grated coconut. Most Goan households still cook their vegetables this way. The snake bean version was my favorite. I volunteered to prep 2 massive bundles every single day. Yes, I managed to convince my mother and aunt that I wanted to eat this every single day while I was there and that I would clean it and get it ready to be cooked myself. Thankfully, they obliged and so someone from that good old farmers household would graciously drop off a couple of bundles at the house on their way to the market. The simplicity of the dish may fool you. But the end result is fantastic. In my humble opinion, it is delicious. The beans turn out tender and sweet I'm sure kids would love it too. I could eat it by itself or with steamed rice or chapatis.
I recently managed to get some gorgeous bundles of snake beans and had to make this fugad again and I thought it was a perfect opportunity to share it with you. So if you can find some good, fresh snake beans or if you grow them yourself, I hope you try this out.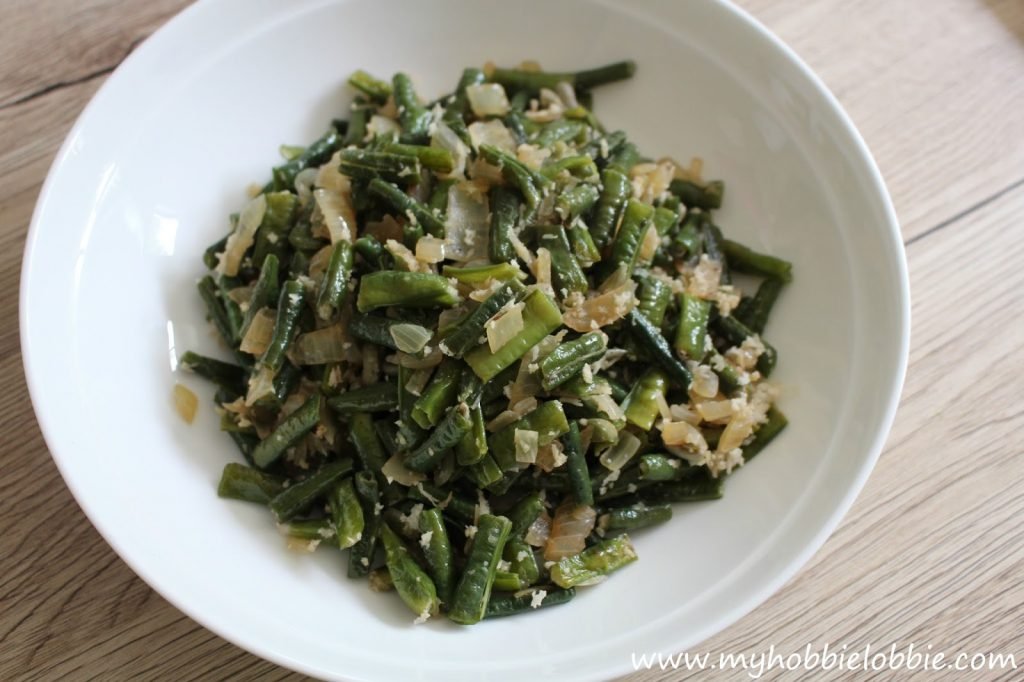 Eeril Fugad / Goan Snake Beans Stir Fry


3 small bundles of snake beans, the fresher the better
1 large onion, diced
2 fresh green / red chillies
Salt, to taste
1/4 cup freshly grated coconut
1 tbsp olive oil
Break off the ends of the snake beans and break off into inch sized pieces. Rinse through and drain and keep aside.
Heat the oil in a pan over medium heat.
Slit the chillies in length, but not all the way through. This way you get all the flavor but not much of the heat.
Let the chillies fry up for a few seconds till they get fragrant.
Add the chopped onions and saute till the onions have softened and get slightly brown on the edges.
Add the snake beans and stir them in for a while. You will see the green color of the beans turn a darker shade.
Add the salt and let the bean stir fry for about 2 minutes.
Add a splash of water, a very small amount to prevent the beans from burning and help them cook through.
Cover the pan and let it cook. Add more water, if needed.
When the beans are almost cooked, add the freshly grated coconut and stir through.
Serve hot as a side dish with some Goan fish curry or prawn curry and rice or with some chapatis.
Some other Fugad recipes –
Cabbage Fugad
Black Channa (Chickpeas) Fugad
After what seems like ages, I'm finally back. And it's good to be back. I was away for a month and spent Christmas with our family in Mumbai, followed by a mandatory trip to Goa and a short stopover at Panchgani. Those of you that follow me on Instagram would have seen some of my pictures there. Those of you that don't, I would love it if you could join me. I'm on IG as @vaztrisha – Do stop by and say 'Hi'.
I can't wait to share more about the trip with you. However, that wonderful trip ended with an anti-climatic couple of days of jet lag followed by 2 weeks of a cold, stubborn cough and a couple of days of a fever. Am I glad that's over. I hate being unwell mostly, because that means I cannot be up and about cooking and enjoying the simple pleasures of life. But I'm well and truly glad to be back.
One of the first few things I cooked up after getting back on my feet is my beloved Mama's Meatball Curry. I've always loved this curry right from the time I was a little girl. This time when I went to Mumbai, I knew I had to learn this recipe from her. See this is the thing with her recipes, she can whip them up with her eyes closed, but ask her to tell you how she makes it and she may leave out a thing or two, not intentionally of course. So this time around, I got into the kitchen and watched her make it. Yes, I watched her, like a hawk 😉 And I'm happy to report that I got the recipe down and made the curry today and I was really pleased with how it turned out. Ofcourse, nothing can beat the food my Mother makes (even though I follow her recipes to the T, her food always turns out better), but this came pretty close, I tell ya.
This recipe is a little more intricate than most of the recipes I share here, but it is really easy. There are two parts to it – one is making the meatballs and the second is making the curry itself. This curry is full of flavor and goes really well with either plain steamed rice or this fragrant Peas Pulao. If you're not in the mood for rice, it goes well with some Goan bread (Poee) or dinner rolls too.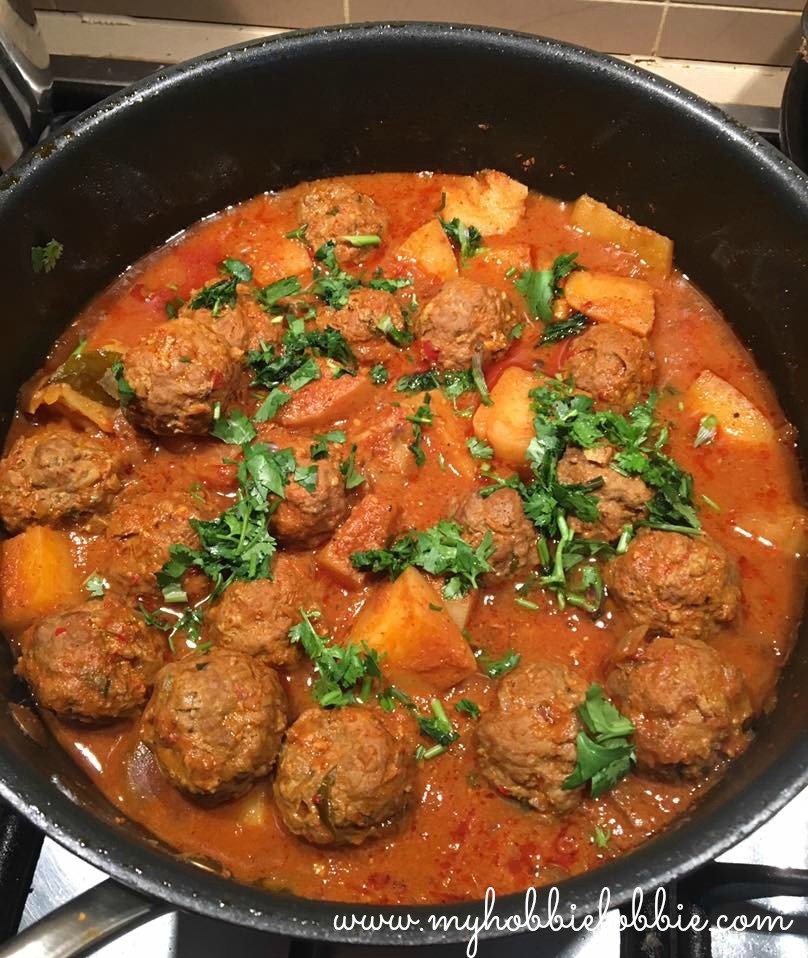 Goan Meatball Curry


For the Meatballs –
1/2 kg beef mince (ground beef)
1 medium onion, finely chopped
1-2 green or red chillies, finely chopped
2 tbsp fresh coriander leaves and stalks, finely chopped
Salt, to taste
1/4 tsp turmeric powder
1/2-1 tsp red chilly powder
1 egg
1 tbsp worcestershire sauce (optional, though it does add good flavor)
Mix all the ingredients together.
Form the meatballs and set aside.
For the curry –
1 small onion, finely chopped
6 curry leaves
2 tbsp oil
Salt, to taste
Tamarind, to taste (Soak tamarind in warm water to form a pulp)
Fresh coriander leaves and stalks, finely chopped
1 large potato, peeled and cut into large cubes
Grind to a fine, smooth paste (masala) using a little water –
8 Kashmiri chillies (dry red chillies, mildly spiced, but used for its vibrant color)
4 Bedki chillies (dry red chillies, spicy)
3 large cloves garlic
1 tsp cumin seeds
6 cloves
10 black pepper corns
2″ cinnamon
1/3 tsp turmeric powder
1 tomato
Heat the oil in a pan and carefully drop the curry leaves in.
Add the onion and saute on a medium high heat till the onions are translucent.
Add the masala and continue sauteeing for a few minutes till the raw smell of the masala goes and the oil starts to seperate.
Add salt, to taste.
Add water to get it to the desired consistency, depending on how thick or thin you'd like the gravy. Keep in mind that the gravy does thicken a little as it cooks. Err on the side of less, you can always add more water as you need.
Gently place the meatballs in the gravy.
Place the potato cubes in the gravy without smashing the meatballs.
Once the gravy comes to a boil, turn the heat to a simmer, cover the pot and let the curry cook.
After about 15 minutes, check to see if done.
Check and add more salt, if needed.
Add tamarind pulp to taste.
Once ready, garnish with some fresh coriander and serve hot.
Enjoy!!!
**Note: You will be able to find Kashmiri chillies in most Indian shops in Sydney and a few of them carry the Bedki / bedgi variety. If you can't get your hands on them, substitute with any dry red chillies you have on hand. You may then need to adjust the number of dry red chillies used, to regulate the spice level to your liking.
One whiff of this prawn pulao takes me back years, or is it a couple of decades back to when I was growing up (yikes, I feel old now). My mum used to make this pulao for us. I grew up in a house of prawn lovers. Yes, you heard that right. Mum has a few go to recipes for prawns – this
Prawn Chilly fry with Coriander speckled rice
(my absolute favorite), a Goan prawn curry (I still cannot get mine to taste like hers so I will get her to make me some for the blog) and this prawn pulao.
This prawn pulao is pretty amazing. It is a meal in itself served with a nice, light, fresh salad alongside. It comes together fast and easy and if you love prawns like us, you'll be glad to have this recipe to fall back on. Throw in a few drinks and you could make this to serve a crowd too. The recipe below makes 2 generous portions if served as a meal. If you intend making a larger quantity, you just need to keep in mind the rice to water ratio. As long as you use 1 portion of rice to 2 portions of water, you'll be fine. All the other ingredients can be multiplied and adjusted to suit your taste. As long as the rice and water ratio is right, you will be left with a perfect rice dish. It wont be mushy, the grains will be whole, the rice will be fluffy and all will be well.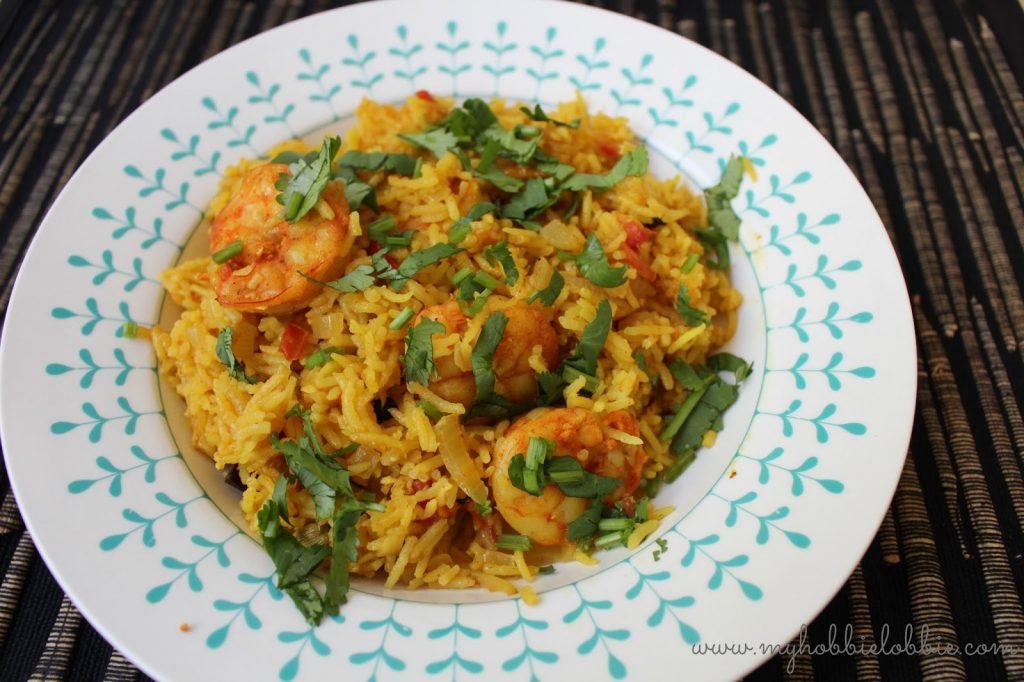 Prawn Pulao
Serves 2
For the prawns:
10-12 medium to large prawns, shelled and deveined (5-6 per person) (I used the local Aussie Banana Prawns, but you could use King Prawns or any other type you can get your hands on)
Salt, to taste
Lime / lemon juice to taste
A pinch of turmeric powder
1/4 tsp red chilly powder
1 tbsp olive oil
For the rice:
2/3 cups Basmati rice
5 cloves
2 bay leaves
2 cardamom pods
5 pepper corns
2 pieces of cinnamon, about an inch each
1 medium onion, diced
1 medium tomato, diced
1 tsp ginger garlic paste
1 green / red chilly, finely sliced (optional)
1/4 tsp turmeric powder
1 tbsp olive oil
Salt, to taste
1 1/3 cup water
1-1 1/2 tbsp fresh coriander leaves and stems, finely chopped, to garnish
Marinade the prawns with some salt, a little lime juice, turmeric and chilly powder and keep it aside for 15-30 minutes.
Wash the rice and drain the water. You will need to do this about 2-3 times, till the water runs clear.
Place a tablespoon of oil in a frying and and when it is hot, carefully place the prawns in the pan without over crowding the pan. Fry the prawns till they turn opaque with a little char and flip them over and let them char on the other side too. This takes just a couple of minutes, don't leave them unattended. You just want some color on the outside. They don't need to cook all the way because they will continue to cook with the rice. Take the prawns out of the pan and keep aside.
Heat a tablespoon of olive oil in the pot that you want to cook the rice in. Add the cloves, bay leaves, cardamom pods, pepper corns and cinnamon. In a few seconds, the spices will smell fragrant. Add the onions to the pot.
Saute the onions till they have softened.
Add the ginger garlic paste and let it cook of for a minute.
Add the turmeric powder and the sliced chilly and stir it up.
Add the tomato and stir well.
Drain the rice and run some fresh cold water through and drain it again.
Add the rice and the fried prawns to the pot and stir gently till the rice and prawns are coated with the spices. Season with some salt and add the water.
Stir a little and check the seasoning. I taste a little of the stock and see if more salt is needed.
When the water comes to a boil, cover the pot and lower the heat to a simmer. Let it cook till all the water is absorbed. As soon as all the water is absorbed, take the pot of the heat and leave aside covered for a couple of minutes. Loosen the rice gently with a fork.
Serve hot and sprinkle the chopped coriander over the rice just before serving.
Enjoy!!!