A delectable coconut based curry, slightly tart, perfectly spiced and loaded with succulent prawns, this Goan Prawn curry is an absolute winner.
Everyone has atleast one meal that takes them right back to their childhood. For me its this Goan prawn curry. This curry with some rice, for me, is the ultimate soul food. And I must say, my mother makes the best prawn curry in the world. Atleast I think so. This is her prawn curry recipe that I'm sharing with you today.
For a recipe like this, fresh prawns are the best. Check out my video on how to clean and de-vein prawns here. I recommend using small to medium sized prawns for the curry. Save your larger prawns (like your king prawns and tiger prawns) to crumb fry or grill.

Now, to take this prawn curry to the next level, add some okra to the curry. Don't kick it till you try it. It is really something else. I have shared a version of that curry here. This is just how my family makes this curry. And almost every Goan family has their own version of it.
This prawn curry is best served pipping hot with some boiled rice, Goan red rice is even better, if you can get your hands on some. This also goes down a real treat with some crusty bread.
The concept of Kalchi Kodi
While all this is quite common, something you may have not come across before is the concept of "kalchi Kodi" which simply translates to "yesterdays curry". This is literally what it is. Any leftovers are reheated the next morning. This makes the curry really thick and it is then enjoyed with either chapatis or bread for breakfast. For me this curry for breakfast is a little too savoury. So instead, we just have any leftovers for lunch the next day.

Onto the recipe.

Goan Prawn Curry
Course: Mains
Difficulty: Easy
A delectable coconut based curry, slightly tart, perfectly spiced and loaded with succulent prawns, this Goan Prawn curry is an absolute winner.
Ingredients
1/2 kg prawns, peeled and deveined

1/2 onion, finely chopped

2 chillies, slit in half

1 piece of amsol (dried mango)

3-4 pieces of kokum

A walnut sized ball of tamarind

1 tbsp coconut oil

Salt, to taste

1-2 tbsp lemon juice

1 tsp vinegar, optional

For the Masala (spice paste) –

1/2 cup grated coconut

6 Kashmiri chillies

2 large cloves garlic

1 tbsp coriander seeds

1/4 tsp black pepper corns

1/2 tsp cumin seeds

1/4 tsp turmeric powder
Directions
Sprinkle salt, squeeze some lemon juice and drizzle the vinegar over the prawns and set aside
Pour a little warm water over the tamarind and set aside (I use about 1/4 cup of water).
Grind all the ingredients for the masala to a fine paste, using a little water as needed.
Heat some oil in a pot. Saute the onions till they have softened and turn translucent.
Add the masala and let it saute for a few minutes.
 Add some water to thin out your masala and get it to the consistency you like. Remember the curry will thicken as it cooks. So add a touch more water. Add the chillies and bring it to a boil.
Turn the heat down to a simmer, add the amsol and the kokum and let the curry simmer for 6-8 minutes. Halfway through, stir the curry through and add water to adjust the consistency, if needed.
 When the curry is almost ready, add the prawns. Add some of the tamarind extract and cook for another 2 minutes or till the prawns are just cooked. Don't overcook the prawns.
Check for seasoning and adjust as required.

Serve hot with rice.
 
Enjoy!
Recipe Video
Like some of you already know, my mother's family originally is from Goa. Growing up, we spent almost every summer in our ancestral home in Goa. It was a sprawling old Portuguese styled house with large grounds surrounding it. In our garden grew a variety of mango trees. We also had a great big coconut tree. Our garden also housed some custard apple, pomegranate, chickoos / Sapota, jackfruit, cashews, guavas, bananas and so much more. Some of my fondest memories have got to be me tagging along with my aunt harvesting all the lovely organic produce right through our holidays and enjoying all the yummy food my mum and aunt would whip up for us.
This prawn curry made a regular appearance on the table along with some Goan red rice and whatever vegetable was in season. Our Goa house had 2 kitchens, one was a traditional old wood fired one and the other was a modern one with a gas stove-top. However, almost all the cooking was done in earthenware pots in the old kitchen. While everything took a lot longer to cook, the taste was unbeatable.
I would give anything to experience something like that again. While that might still be a pipe dream, for now, I just make do replicating some of the good old recipes. This prawn curry is a coconut based curry, known for its vibrant orange color and its spicy and tangy flavors. I hope you try it out and enjoy it as much as we do.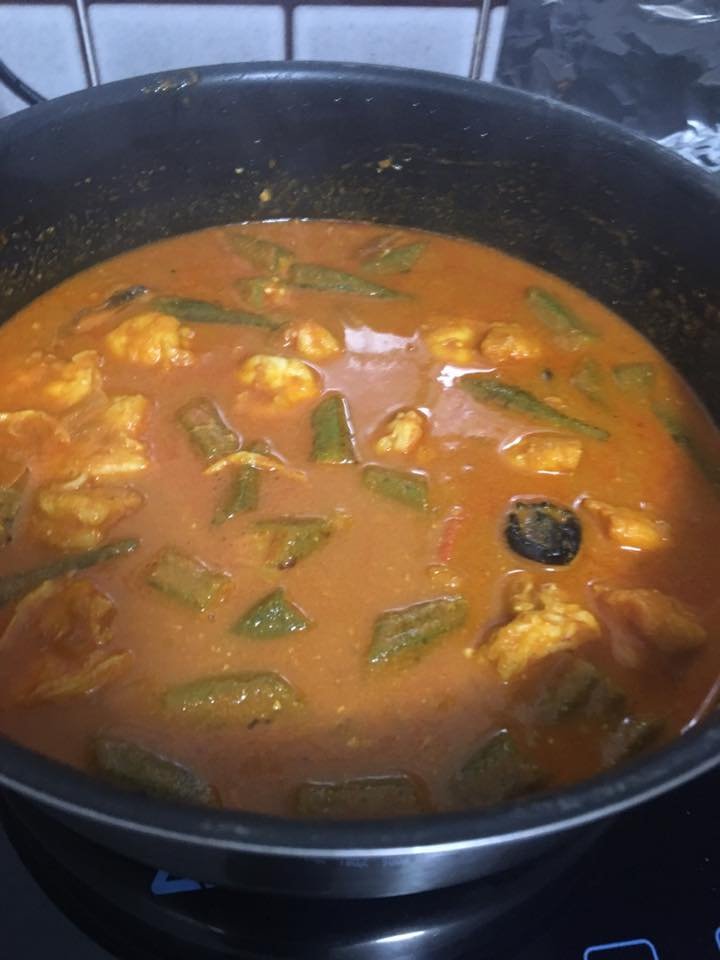 Goan Prawn Curry with Okra
500g prawns, shelled, de-veined and washed a couple of times
1 small onion, finely chopped
2 chillies, split lengthwise
A couple of pieces of Kokum / Aamsol (dried souring agents)
6-8 okra pods, trim off the stalk and cut into approx. 1 inch pieces
Salt, to taste
1-2 tbsp oil
A small ball of tamarind (about half a walnut in size)
For the masala / spice paste – 
1/2 cup grated coconut
6 Kashmiri chillies
3 cloves garlic
1/4 tsp turmeric powder
1/8 tsp black pepper corns
1/4 tsp cumin seeds
1 tbsp coriander seeds
Sprinkle a little salt on the prepped prawns and set aside.
Soak the tamarind in a little warm water in a small bowl and set aside.
Grind all the ingredients for the masala into a fine paste using a little water, as needed
Heat the oil in a large vessel.
Add the onions and saute till they soften. Add the kokum / aamsol.
Add the ground masala / spice paste to the pan and let it fry for a couple of minutes.
Add a cup of water to the mixer and swirl around to pick up any of the remaining spice mix and add to the pan. Add more water as needed to achieve the desired consistency.
Add the chillies and bring to a boil. Season lightly with a little salt (The prawns also have some salt on them so add salt accordingly).  Lower the heat to a simmer and add the okra.
Cook gently till the okra is almost cooked. Check for seasoning.
Mash the tamarind up and discard any pieces of fibre or shell and add some of the tamarind paste, to taste.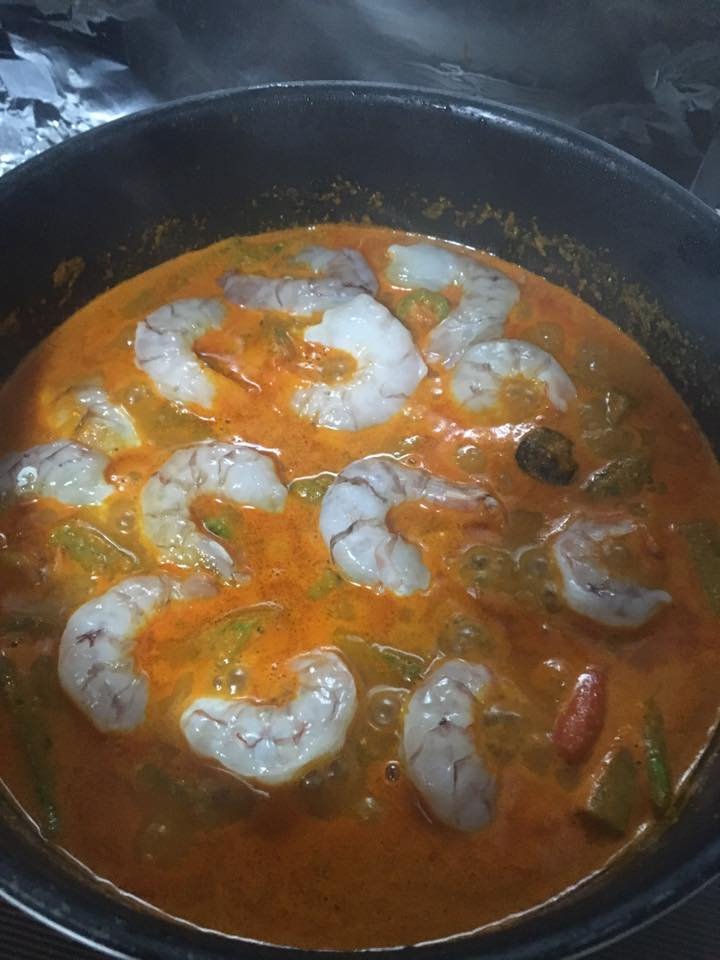 Add the prawns. Continue cooking just till the prawns have cooked through. (This usually just takes a couple of minutes depending on the size of the prawns.) Do not overcook the prawns.
Check for seasoning and adjust, if needed.
Serve hot.
It seems like I've been on a bit of a Goan food trip lately. For the past couple of days, we've enjoyed a whole lot of it. This is my 3rd consecutive Goan seafood recipe on the blog. And that too, in a matter of a couple of days. But I must say, I've enjoyed every single bite of it.
This sort of food takes me back to a simpler time. Back when I was in school (and that was a looooong time ago), every summer holiday was spent at the family home in Goa. I looked forward to those trips. The bus journey each way took aound 18 hours and was great fun. We'd pack a variety of munchies for the way. Bus journeys always made me hungry and sleepy. But I loved those long hours on the road. We actually looked forward to the journey almost as much the holiday in Goa itself. Have you every made that trip? What's your favorite part? My late aunt was a fabulous cook. Unfortunately, I was very young then. Too young to be interested in learning about cooking from her. To this day, I wish I had. Back then, it was 2 months of Goan fare. And I never tired of it. Cooking was a labor of love then. Even though we had a modern Gas kitchen, my aunt chose to cook on a wood fired stove in clay pots. And the food, was absolutely out of this world. I have not tasted food like that ever again. Who knows? Someday, I may go back to Goa for a couple of months to relive those days. One of the dishes my Aunt cooked really well was a Tisreo Sukhem – a Goan Clam stir fry. And this is a dish my mother cooks really well too and it is very similar to the one my Aunt made. Fortunately, I have learnt how to make it too. Clams are more commonly known as Pipis in Sydney.
On my last grocery shop, I picked some up from the fish monger. Now, you can cook the whole shell and you know its cooked once the shells have opened up. But both, my Aunt and my mother always make it on the half shell. So I did the same. Once the clams are halved, the entire dish probably takes about 15 minutes to put together. I hope you decide to try this Goan delicacy some time. You can serve it up as a side dish to a typical Goan Fish Curry and rice meal, or serve this with some chapatis or even with bread. However you choose to serve it, you will love it.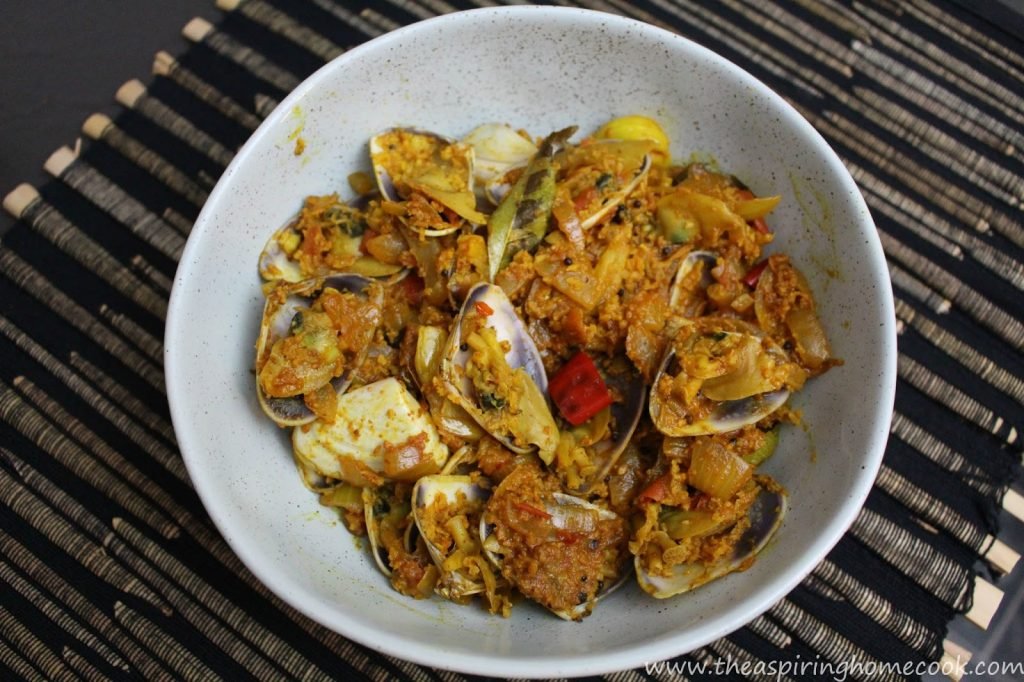 Watch the step by step process here –
Tisreo Sukhem


40-50 fresh clams / pipis
1/2 tsp black mustard seeds
6-8 curry leaves
4 cloves garlic, lightly bruised / crushed
1 medium onion, chopped
2 green / red chillies, cut into 1/2 inch pieces
1 tomato, chopped
1/4 tsp turmeric powder
1/2 tsp red chilly powder
1 heaped tsp coriander powder
2-3 tbsp grated coconut
1 tbsp coconut oil
Salt, to taste
Wash and halve the clams / pipis. (You can also chose to leave them whole.)
Heat the oil in a pan on medium heat.
Add the mustard seeds. When the seeds start to sputter, add the curry leaves and the chillies.
Stir that around and add the garlic cloves. Let that fry off for a few seconds.
Now add the chopped onions and saute them till they have softened and the edges have just started to brown.
Add the turmeric, chilly and coriander powders to the pan and stir well. Add a dash of water (about 1 tbsp) to deglaze the pan. The prevents the spices from burning.
Now add the chopped tomatoes and stir fry that for a couple of minutes.
Now add the clams and gently stir them through the spice mix in the pot.
Add salt to taste.
Add a small splash of water to help the clams steam through. (2-3 tbsps worth)
Switch to a low heat, cover the pan and cook for about 5-8 minutes, or till the clams have cooked through. Stir at the halfway mark and add more water, if needed. Just a little to prevent if from burning. If you find that there is too much liquid in the pan, cook it uncovered for the rest of the time.
(You are looking to have most of the liquid absorbed into the dish.)
(If you are using the clams whole, you'll know they are cooked, when the shells open up.)
About a minute before you take it off the heat, add the grated coconut and stir though. When the coconut has warmed through, take off the heat.
Serve hot!
Ok, so on Sunday, we took a culinary trip to Goa. Lunch and dinner was Goan fare. My previous post tells you about the amazing dried prawn
Kismur
we had. But that was just the accompaniment to the meal. It was served alongside a great Goan Fish Curry and rice and some Fried fish too. That meal, right there, is the way to every Goan's heart.
Today, I'm going to share with you the recipe for that amazing Goan Fish curry. This is a coconut based curry and combined with a few spices, you will be rewarded with the most gorgeous bowl of Fish curry. A good Goan Fish Curry is known for its color. They key to great color is good Kashmiri chillies. Kashmiri chillies are dried red chillies, very widely used in Indian cuisine. They are mild chillies so you won't get much heat from them, but they are known for the vibrant color they lend to the dish in which they are used. You can find Kashmiri chillies in any Indian store. In Sydney, I have used a few brands and a lot of them don't meet the mark at all. That was until I tried the 'Uttam' brand of Kashmiri chillies. Now, for the first time in years, I've managed to get a delicious curry with fantastic color. That made me very happy. Another important factor to a good curry is the curry paste. You need to grind the masala (spices) to a fine paste. Grind it for 3-4 minutes with a couple of breaks every now and then, so that your mixer (blender) doesn't overheat and trip. Lastly, sourness or tang is very important to a great curry. The curry needs to be balanced, but without enough sourness, it just won't taste right. That being said, add sourness to taste.
If you're in the mood for a great Goan meal, try out this curry.
Goan Fish Curry


1/2 kg fish of your choice (I used Mackerel)
1 medium onion, thinly sliced
A ball of tamarind, the size of a walnut
2-3 fresh green / red chillies, slit (optional)
Salt, to taste
2-3 pieces of Kokum / Mango sol (dried mango) (These are souring agents, use as much or as little as you need. If raw mango is available, use a few pieces of it and you curry will be even better)
** If you are using Mackerel, 4-5 tefla berries are added to the pot along with the curry paste and water and cooked. (I haven't been able to find it in Sydney yet, so I left it out. But it makes a huge difference to the flavor of the curry, so try and get your hands on some, if you can.)
For the curry paste / masala –
8 dried red Kashmiri chillies
6 large cloves of garlic or 10 small ones
8 black peppercorns
1 tsp coriander seeds
1 tsp turmeric powder
1/2 coconut, grated
Water, as required
Cut the fish into pieces and season them with a little salt and set them aside.
Soak the tamarind in about 1/4 cup of warm water and set aside for about 5 minutes.
Grind the tamarind and the water it was soaking in and all the ingredients listed under "For the curry paste" to a find paste using water as needed.
Place the sliced onion, tefla (if using), the curry paste and 2 cups of water in a pot and bring to a boil. Lower the heat and simmer for 30 minutes. You need to maintain the liquid content to have the right consistency. So top up with water, as needed.
Add the kokum / mango (if using), whole slit chillies and the fish pieces. Bring the curry to a boil again. Let this simmer on low heat for 5-10 minutes (depending on the size of the pieces of fish) or till the fish is cooked.
Check the seasoning and add more salt / sourness, if needed.
Serve with hot boiled rice.
To complete the meal, serve some fried fish and Kismur with it.
Enjoy!!!
What do you do when some gorgeous Blue Swimmer Crabs call out to you at the Fish Mongers? Well, you take them home of course. And then you get your Mum, who by the way is a fantastic cook and happens to be visiting at the moment, to whip you up a big ol' pot of some amazing Goan Crab Curry. Nothing compares to the joys of enjoying Mum's cooking. Atleast, that's what I did. If you don't have the same luxury, I've got permission from Mum to share her Crab Curry recipe with you so that you can enjoy some of it too.
We use a roasted masala (spice mix) for this curry. So there is an extra step of roasting a few ingredients before grinding, but it doesn't take too long and that added step does a whole lot of good stuff for your curry. It adds amazing depth of flavor and your curry just wouldn't be the same without roasting the masala.
So if you're craving some good Goan food, try this curry. It took us right back to Goa. And until we visit Goa again, we'll just have to make do with little culinary gems like this one.
Goan Crab Curry
Serves 6-8
3 Blue Swimmer Crabs (or any other crabs of your choice)
8 curry leaves (curry patta)
1/2 large onion, finely chopped
2-3 fresh green chillies, slit
5-6 pieces of Kokum*** (See note below)
1 tbsp oil (We use olive oil for all our cooking, you can use whatever mild cooking oil you have)
Salt, to taste
For the Masala (Spice Paste) –
1/2 large onion, roughly chopped
6 large cloves of garlic, roughly chopped
3/4 inch ginger, roughly chopped
1/2 cup grated coconut (fresh or frozen will both work. If using frozen, let it thaw before roasting)
10 Kashmiri Chillies (See note below), discard stalks
1 tbsp Coriander seeds
1/2 tsp Cumin seeds
1 tsp tumeric powder
3 cloves
8-10 peppercorns (this will add heat so use about 6-8 for a milder curry and around 10 if you want it hotter)
2″ cinnamon
1 tbsp oil
1 tomato, roughly chopped
Prep the crabs, sprinkle a little salt (about 1/2 tsp) on it, toss it in a bowl to salt the crabs well and set aside.
Roasting the Masala –
Heat a large pan / tava on medium heat.
Drizzle the oil in the pan and add the onion, garlic and ginger. Saute till it softens a bit.
Add the coconut and stirring frequently, roast it till it gets fragrant and the color starts changing. Lower the heat, if needed, to ensure the coconut and the spices don't burn.
Next add the Kashmiri chillies, coriander and cumin seeds and stir with the rest of the ingredients for about another 30 seconds.
Now add the turmeric powder, cloves, peppercorns and cinnamon to the rest of the spices in the pan and roast for about another 30 seconds to a minute, till it all gets fragrant and heated through.
Take off the heat and transfer to a large plate to cool.
Once it has cooled to room temperature, grind the roasted spice and coconut mix with the chopped tomato and a little water to a fine, smooth paste in the blender.
Keep aside.
For the curry –
Take a large pot, preferably with a slightly wide base that you will be able to fit all the crabs into.
Heat a tbsp of oil and add the finely chopped onion to the pan.
Saute till it has softened and is golden brown.
Add the spice paste and stir through. Let if fry off for about 2 minutes.
Add the Kokum at this stage.
Next add the crabs stir to coat with the spices.
Now add a little water to achieve the desired consistency for your curry.
If you don't have kokum and are using apple cider vinegar, add the vinegar, to taste, at this stage.
Let it come to a boil and simmer for about 15 minutes (Please note, this time will vary depending on the size of the crabs.)
Check for seasoning and add more salt if needed. At this stage if you find the curry too thick you can add a little more water to thin it down a little and continue to cook till it comes back to a boil.
If you find your curry too thin and want it thicker, continue cooking on a medium high heat till you get the desired thickness, stirring every now and then to ensure the curry doesn't stick to the pan and burn.
Serve hot with some boiled rice or bread.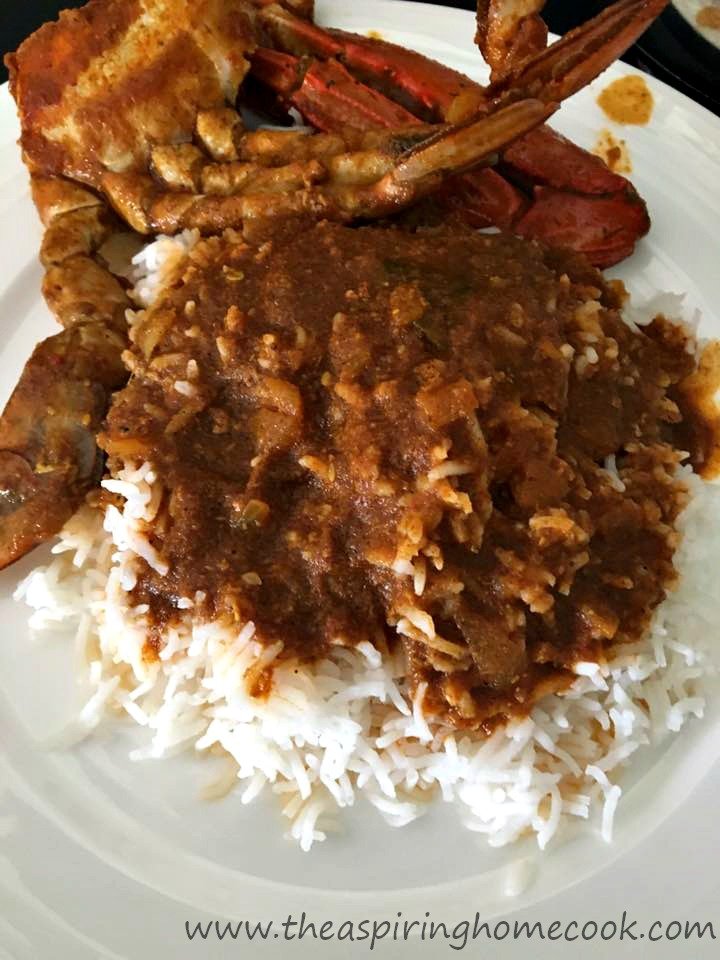 Enjoy!!!
*** NOTES:
– Kokum is an Goan souring agent (dried pieces of the Indian plum) using in cooking. You will find it in any Indian grocery store. If you don't have any on hand, just use some Apple Cider Vinegar, to taste.
– Kashmiri Chillies are dried red chillies. These are mild in flavor. You can substitute any other mild dried chillies or chilly powder.
UPDATED:
to add recipe video.
Fish cutlets are one of my favorite seafood recipes to make and to eat. I love seafood and I also happen to love cutlets. They are so versatile. You can serve them as a snack / appetizer (they go so well with a chilled beer), as a meal with a side of chips and / or a salad or you can use them to make a fantastic burger. I have shared a recipe for fish cutlets previously using fresh fish. You can find that one here. This recipe is fairly similar with the exception of one main difference. This one uses canned tuna.
Now, I love my fish fresh. I believe that fresh is the best way to enjoy fish. But yesterday, I found myself longing to eat some fish cutlets but didn't have any fresh fish. Now that was just not going to do. So I put my thinking hat on and eventually decided to try to make cutlets using canned tuna instead. I had heard that some people make their cutlets with canned fish, but I'd never tried it out for myself. I happened to have a few cans of tuna chunks in the pantry, so I figured I had nothing to lose.
The cans I used were tuna chunks in spring water. You need to make sure you drain the tuna well. I didn't know what to expect and found that I had to use a little extra egg for binding but in the end I was delighted with the results. The cutlets were delicious. It took a fraction of the time to make compared to if you were to use fresh fish because the fish has to be cooked and deboned. So in all, I was extremely pleased with this attempt.
The type of canned tuna will determine how much egg is needed. I would recommend starting out using one egg and if you can shape the cutlets easily without them falling apart, then you are good to go. If not add more egg to the mix.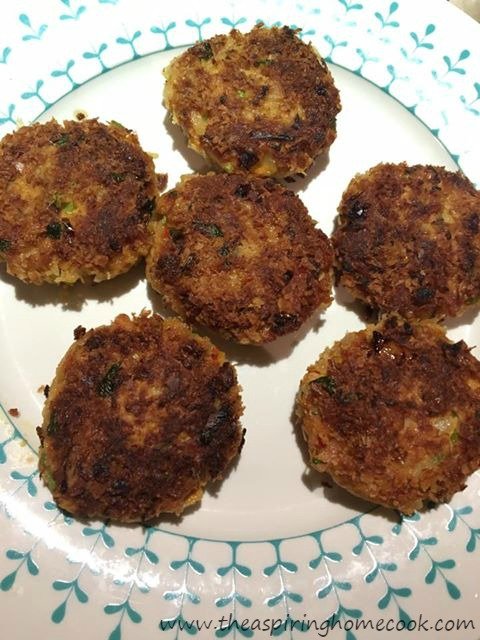 Goan Fish Cutlets
Yields: 12 cutlets


4 cans of tuna (I used 95g cans of chunk tuna in spring water) (Or 1 can x 495g Tuna)
1 onion, finely chopped
2 red birdseye chillies, finely chopped (optional)
1/2 tsp fresh ginger, finely chopped (or you can use paste)
2-3 cloves garlic, finely chopped (or you can use paste)
A small bunch of fresh coriander leaves and stalks, finely chopped
Salt, to taste
1/2 tsp turmeric powder
1 tsp red chilly powder
1/4 tsp black pepper powder
1-2 eggs
2 slices of bread
Bread crumbs, to coat the cutlets
Oil for frying
Drain the tuna thoroughly and flake it in a large mixing bowl.
Soak the bread slices in water for about 5 minutes and squeeze thoroughly. Crumble the bread as fine as you can and add it to the bowl.
Add the rest of the ingredients except the panko bread crumbs and the oil to the bowl.
Place a layer of the breadcrumbs on a dry plate.
Using the fish mix, shape into cutlets and carefully coat on both sides with the bread crumbs.
Heat 1-2 tbsp oil in a pan on medium heat and carefully place the coated cutlets on the pan. Cook for a couple of minutes on medium heat till golden brown on one side.
Then carefully flip over to cook to a golden brown on the other side too. Add another spoon of oil to the pan as needed.
Repeat till the batter is over and all the cutlets are fried.
Serve hot.
If you enjoy a good cutlet, try out some of these recipes –
Fish Cutlets
Beef Cutlets
One whiff of this prawn pulao takes me back years, or is it a couple of decades back to when I was growing up (yikes, I feel old now). My mum used to make this pulao for us. I grew up in a house of prawn lovers. Yes, you heard that right. Mum has a few go to recipes for prawns – this
Prawn Chilly fry with Coriander speckled rice
(my absolute favorite), a Goan prawn curry (I still cannot get mine to taste like hers so I will get her to make me some for the blog) and this prawn pulao.
This prawn pulao is pretty amazing. It is a meal in itself served with a nice, light, fresh salad alongside. It comes together fast and easy and if you love prawns like us, you'll be glad to have this recipe to fall back on. Throw in a few drinks and you could make this to serve a crowd too. The recipe below makes 2 generous portions if served as a meal. If you intend making a larger quantity, you just need to keep in mind the rice to water ratio. As long as you use 1 portion of rice to 2 portions of water, you'll be fine. All the other ingredients can be multiplied and adjusted to suit your taste. As long as the rice and water ratio is right, you will be left with a perfect rice dish. It wont be mushy, the grains will be whole, the rice will be fluffy and all will be well.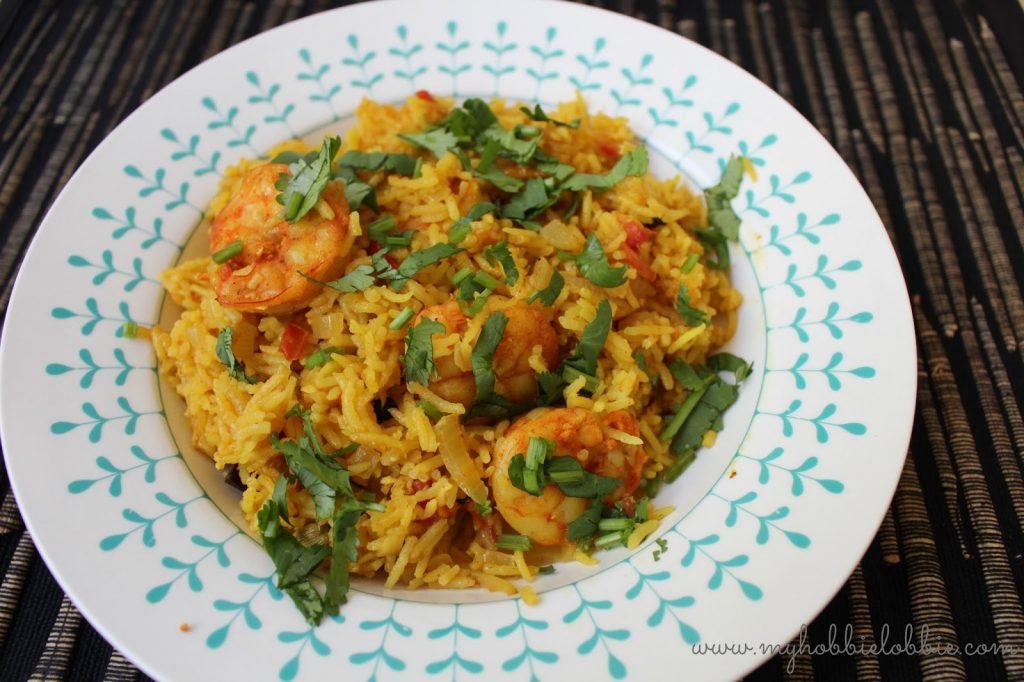 Prawn Pulao
Serves 2
For the prawns:
10-12 medium to large prawns, shelled and deveined (5-6 per person) (I used the local Aussie Banana Prawns, but you could use King Prawns or any other type you can get your hands on)
Salt, to taste
Lime / lemon juice to taste
A pinch of turmeric powder
1/4 tsp red chilly powder
1 tbsp olive oil
For the rice:
2/3 cups Basmati rice
5 cloves
2 bay leaves
2 cardamom pods
5 pepper corns
2 pieces of cinnamon, about an inch each
1 medium onion, diced
1 medium tomato, diced
1 tsp ginger garlic paste
1 green / red chilly, finely sliced (optional)
1/4 tsp turmeric powder
1 tbsp olive oil
Salt, to taste
1 1/3 cup water
1-1 1/2 tbsp fresh coriander leaves and stems, finely chopped, to garnish
Marinade the prawns with some salt, a little lime juice, turmeric and chilly powder and keep it aside for 15-30 minutes.
Wash the rice and drain the water. You will need to do this about 2-3 times, till the water runs clear.
Place a tablespoon of oil in a frying and and when it is hot, carefully place the prawns in the pan without over crowding the pan. Fry the prawns till they turn opaque with a little char and flip them over and let them char on the other side too. This takes just a couple of minutes, don't leave them unattended. You just want some color on the outside. They don't need to cook all the way because they will continue to cook with the rice. Take the prawns out of the pan and keep aside.
Heat a tablespoon of olive oil in the pot that you want to cook the rice in. Add the cloves, bay leaves, cardamom pods, pepper corns and cinnamon. In a few seconds, the spices will smell fragrant. Add the onions to the pot.
Saute the onions till they have softened.
Add the ginger garlic paste and let it cook of for a minute.
Add the turmeric powder and the sliced chilly and stir it up.
Add the tomato and stir well.
Drain the rice and run some fresh cold water through and drain it again.
Add the rice and the fried prawns to the pot and stir gently till the rice and prawns are coated with the spices. Season with some salt and add the water.
Stir a little and check the seasoning. I taste a little of the stock and see if more salt is needed.
When the water comes to a boil, cover the pot and lower the heat to a simmer. Let it cook till all the water is absorbed. As soon as all the water is absorbed, take the pot of the heat and leave aside covered for a couple of minutes. Loosen the rice gently with a fork.
Serve hot and sprinkle the chopped coriander over the rice just before serving.
Enjoy!!!
Ok, so those of you who blog will be able to relate to what I have to say. I sure hope I am not the only one 😉 While I would love to be able to be more of a 'from the plate to the blog' on the same day kind of person, more often than not, life gets in the way, and some times it takes more than a couple of weeks for me to post about a certain recipe. As a matter of fact, I still have a couple of recipes from a couple of years ago that I still haven't gotten around to sharing with you yet. Oh dear, did I just say that out loud!
Anyway, today, I wanted something quick and yummy for lunch. When I was at the shops this morning, this little beauty caught my eye –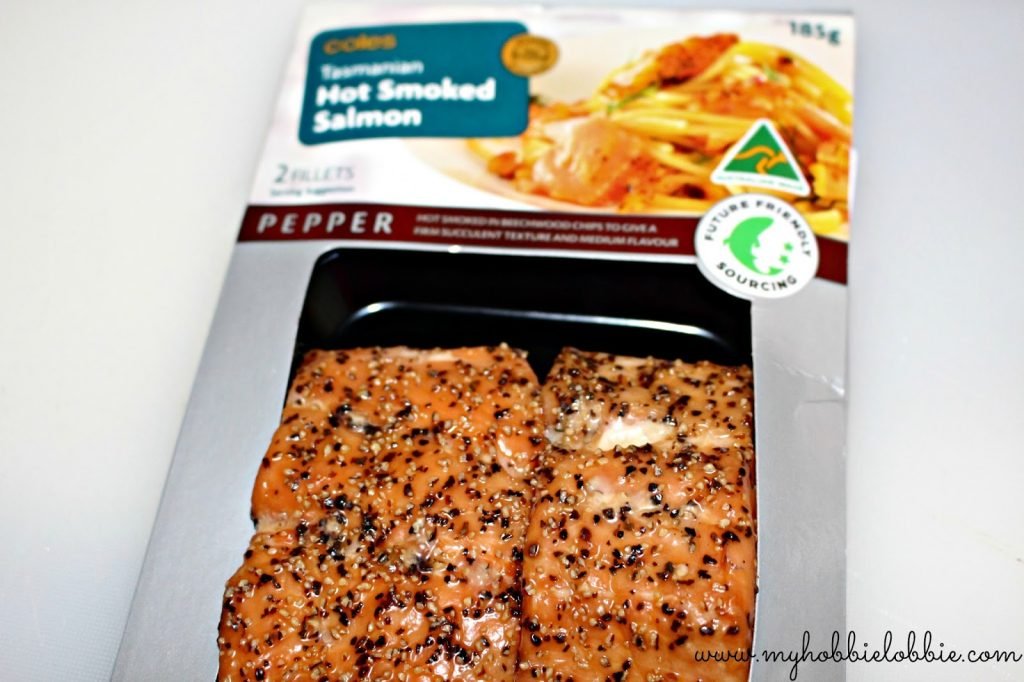 I love the idea of smoked salmon, but I'm not too crazy about the raw-ish feel of the salmon. When I saw this hot smoked salmon, I was sold. I knew this salmon would be more cooked with a lovely smokey flavour. I'd never used it before but I was quite eager to try it out. The fact that I got it at a 40% discount was just a nice bonus. Now when I bought the salmon, I had no idea what I was going to do with it, but I knew I would find some inspiration online, as always. Usually, I don't pay much attention to the recipe on the box / packet of the ingredients I buy. But when we were unpacking our groceries, my husband noticed this recipe and I have to admit, it sounded interesting and I was very eager to try it out. I had all the ingredients on hand, so there was all the motivation I needed.
I am so very happy that I did. Not only was this pasta quick and easy to put together, it was delicious. It was so delicious, I knew I wanted to share this recipe with you as quickly as I could. I'm going to go out on a limb and say that this is one of the best pasta dishes I have made yet. And I really do hope you have an opportunity to try this out. I am going to pay more attention to these recipes on boxes and packets from now on.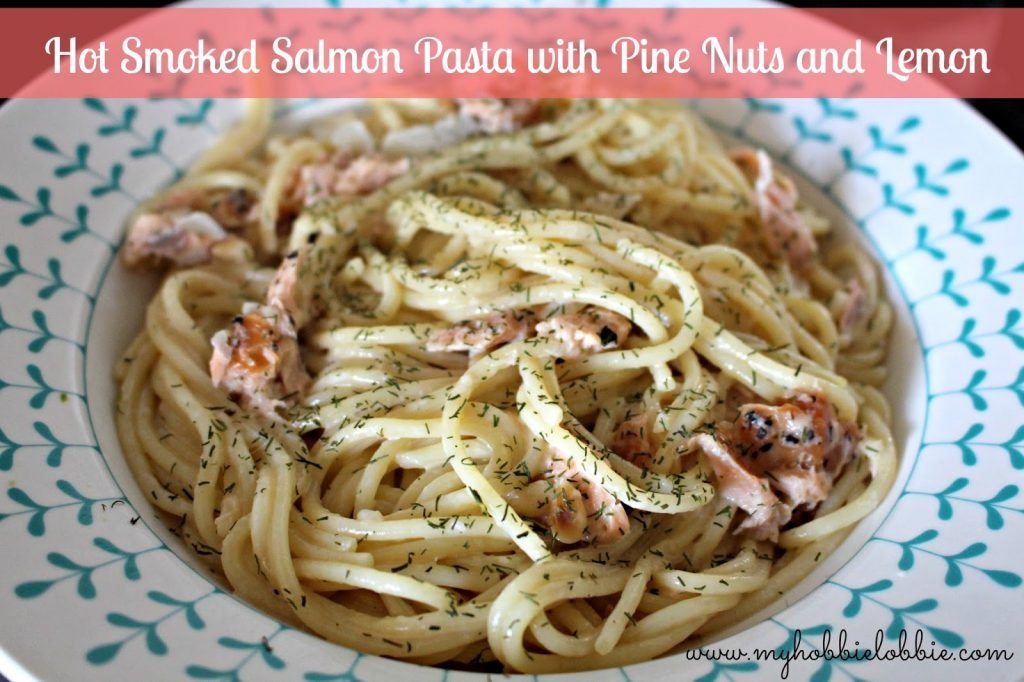 Hot Smoked Salmon Pasta with Pine Nuts and Lemon
Serves 4
250g spaghetti
1 packet Hot Smoked Salmon Pasta, flaked
1/4 cup pine nuts, toasted
2 tbsp olive oil
1 onion, finely chopped
3 cloves garlic, finely chopped
1/3 cup dry white wine
1/2 cup thickened cream
Zest and juice of 1 lemon
Dill (Fresh if possible – I didn't have any so I used the dried bottled variant)
Salt, to taste
Freshly ground black pepper, to taste
Bring a large pot of water to a rolling boil.
Add a heaped spoon of salt and then add the pasta. Cook till al denté (it should still have a little bite).
While the pasta is cooking, heat the olive oil in a saucepan. Add the garlic and onion and sauté over medium heat, till they have softened and are nice and fragrant.
Add the wine, lemon juice and half the lemon zest. Increase the heat a little and cook till the liquids have reduced by half.
Add the cream and cook for a minute.
Take off the heat.
Drain the pasta and reserve half a cup of the cooking water.
Add the water to the sauce.
Put back on a medium-low heat and let it warm through (The original recipe doesn't call for this step, but I felt the sauce was a little on the thinner side so I let it heat through a little and it was perfect)
Add the salmon, the pine nuts, the remaining zest and season with salt and pepper. Let it just about warm through.
Mix the pasta and the sauce together.
Serve and garnish with some fresh chopped dill. I just sprinkled some bottled dry dill since I didn't have any fresh dill on hand.
Sit back and be amazed 🙂
This was dinner on a weeknight when I was flat out of ideas. I'm part of this group on Facebook called the Home Baker's Guild and this recipe just happened to be posted there that very day by a lovely lady, Prerna, who I had the pleasure of meeting a few days later. My husband and I love our seafood and most of it is either in the form of a curry or fried with some spices – Goan style or crumb fried. This is the first time I baked fish. I used a delicately flavoured basa fillet for this and I think it worked really well. The sauce was simple to put together and within a short while we were sitting down to a nice, healthy, home-cooked meal. I served the baked fish with some lightly buttered spaghetti and a fresh garden green salad.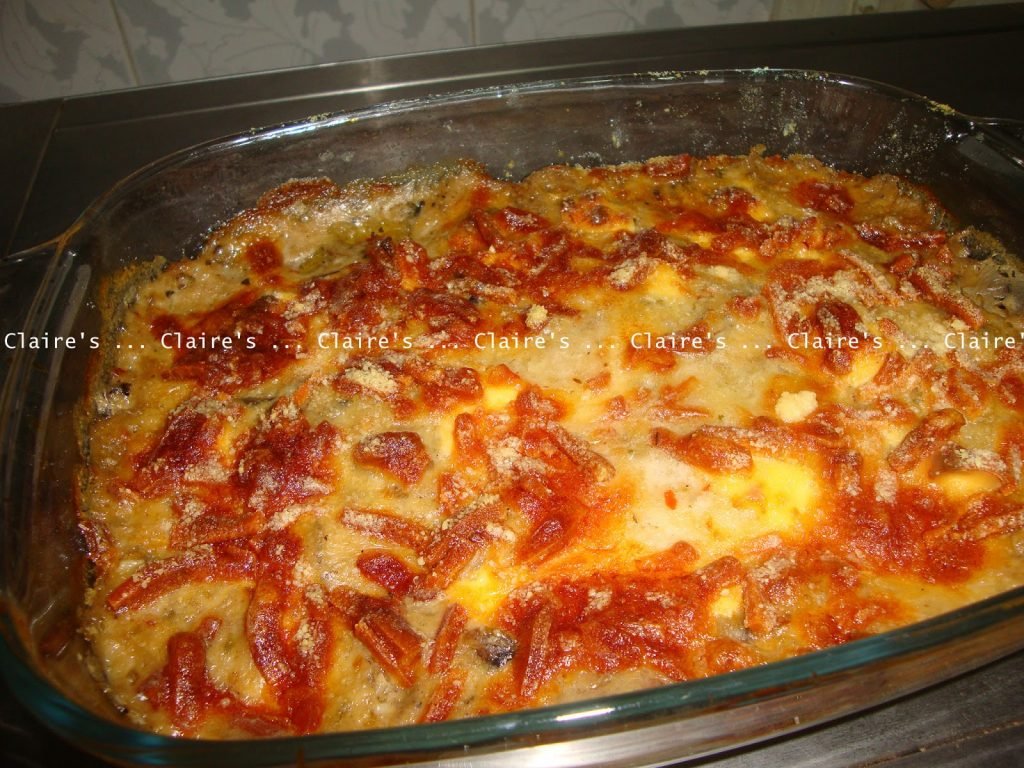 Baked Fish in Mushroom Sauce

300g Basa fillets (You can use any fish fillets of your choice)
1 tbsp. butter
250g mushrooms, sliced
1 tsp mixed dried herbs (I used an Italian mix)
2 tbsp. all purpose flour
1 cup milk
Salt, to taste
2 large cloves of garlic, finely chopped
1 tbsp. Olive oil
1 tbsp. Parmesan Cheese (You can used a processed / Cheddar cheese if you prefer – I used a little of both)
Fresh coriander, finely chopped, to garnish (I left this out since I didn't have any on hand)
Heat the butter in a pan. Add the mushrooms and salt and sauté on a medium flame till the liquid dries out.
Add the flour and cook for a couple of minutes till its not floury and has cooked out.
Now lower the heat and add the milk and whisk well so that no lumps are formed.
Add the herbs and cook for a few minutes on low flame.
In a glass baking dish, drizzle a little olive oil to grease the base of the dish, place the fish and the garlic and drizzle the rest of the olive oil over it.
Pour the sauce over the fish and sprinkle the cheese over the sauce.
Sprinkle the fresh coriander over (if using) and bake in a pre-heated oven at 200ºC for 20-25 minutes.
Keep a close eye on it while it is in the oven, I think I should've taken my dish out of the oven a few minutes before. It browned a little more that I would have liked, however, it still tasted fantastic.
Even though I'm not British or Australian for that matter, or have never been to these countries, Fish N Chips has established itself as comfort food in my household. A lot of times when we'd go out for dinner, especially to Pop Tate's (now Jughead's – near Movietime, Malad), one of our favorite things to order had to be their Fish N Chips. What hooked me onto this was their tartar sauce. It was so good, I could literally enjoy it by itself. After quite a few dinner's there and spending quite a buck, I wondered if it would be possible to try and replicate this at home. So after going through a few searches on the internet, I had a rough idea of what would go into the sauce and I decided to wing it from there on.
The results were amazing. I was astonished at how simple the entire meal was to put together. We were feasting on Fish N Chips in no time at all. Would I dare compare it with the one from Pop Tate's. This time around, hell yeah! My version was just as good, if not better and my husband agrees. Now we no longer have to go out to tuck into a platter. Every single element on this plate can be made from scratch. Isn't that wonderful.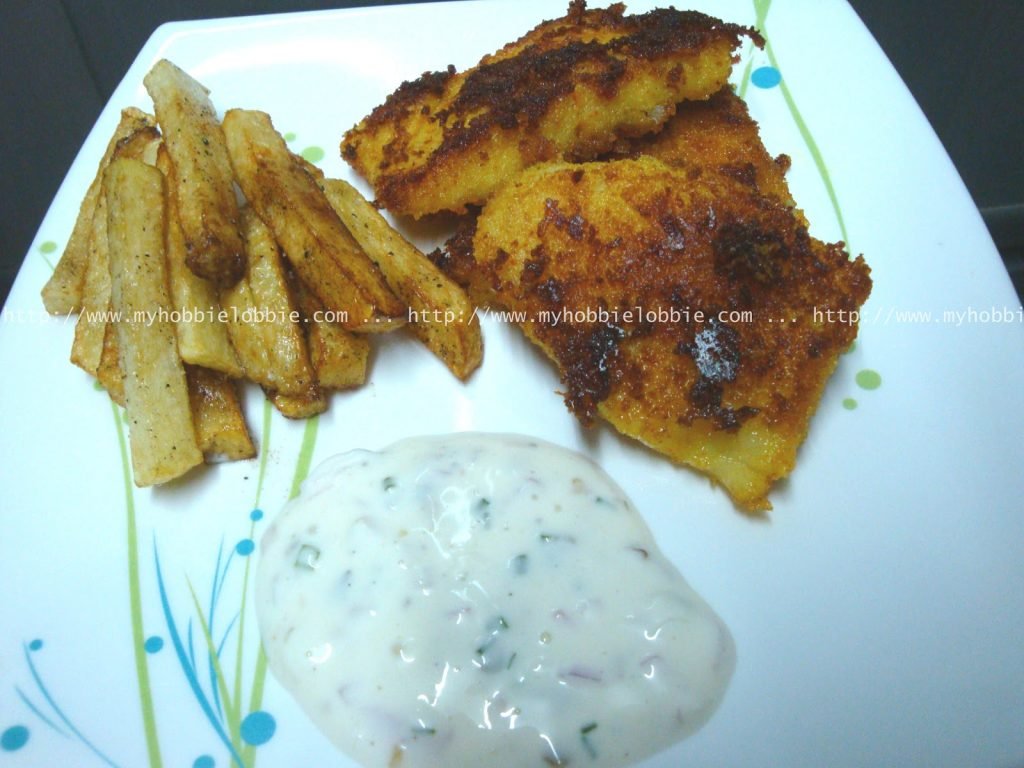 Fish N Chips
Serves 2


For the fish:
4-6 fillets of fish depending on the size (I used 2 Premium Basa fillets from Hypercity and cut it into smaller pieces. You can use any fish you like, preferably not the tinier ones.)
I simply crumb fried these fillets. I used the same recipe like the one for Crumb Fried Prawns.
Try not to fidget with the fish while it is frying as it is fairly delicate. Once it develops a nice golden brown crust on one side, flip it over and let the other side cook.
For the chips:
Use 2 potatoes, more if you'd like a larger portion of chips. I used the recipe for my Homemade French Fries.
For the tartar sauce:
1/3 cup Mayonnaise (This time around I used some store bought Mayo, that I happened to have on hand, but you could just as easily whip up some on your own. Click here to find out how.)
1/2 small onion, finely chopped
Some chives, chopped (I didn't have any fresh chives at hand, so I used dried chives)
A spoon of Pickled Sweet Cucumber Relish (I had a jar of this so I used it, otherwise I would've just thrown in some finely chopped cucumber)
A large squirt of lime juice
Place all these ingredients in a bowl and stir to mix.
Check for seasoning and adjust the ingredients as required to suit your taste.
Keep refrigerated till you're ready to serve. Stir before serving.
This recipe is linked to –
Real Food Wednesday
It's a Keeper Thursday
Full Plate Thursday