Soft and delicious Homemade Flour Tortillas made using just a few simple pantry ingredients. These are easy to make and great for meal prep.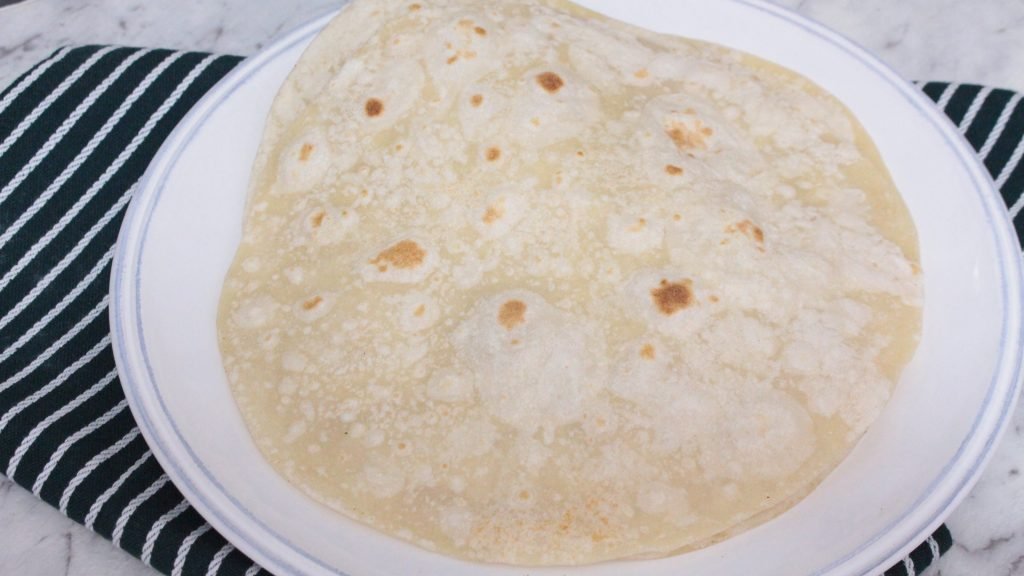 So, I have a confession. Although I love a good wrap, I cannot stand the taste of store-bought tortillas. Maybe, its just me, but I can actually smell and taste the plastic on the store bought ones. Does anyone else feel that way? I've tried a bunch of different brands from both Coles and Woolworths and it's always the same. And for me, personally, it spoils the whole wrap experience. And that's one of the main reasons I haven't shared many recipes for wraps here on the site. But all that's about to change, now that I can make tortillas at home.

These flour tortillas are everything you'd want in a tortilla and then some. They are soft, so tasty and are made using simple ingredients like flour, salt, oil and water. That's it. Knead these basic ingredients to a dough, roll out and cook them up. You can make these ahead of time and re-heat when you're ready to serve. I made these tortillas using all-purpose flour, but you can also make them using whole-wheat flour, if you'd like.

This recipe is a great one for meal prep. You can cook up these tortillas ahead of time. Once they have cooled down, you can pop them in a zip lock back and refrigerate them and then use them through the week. Or you can even use them to make burritos and freeze them for use later. I've used these homemade flour tortillas to make quesadillas too. So this is one really versatile recipe that's great to have on hand.

If this is your first time attempting to make tortillas from scratch, go check out my YouTube video, which takes you through the entire process and I share all my little tips and tricks as well.
This time around, I will be using these tortillas to make some amazing Tandoori Spiced Cauliflower Wraps. Stay tuned for that recipe, coming up next.
Homemade Flour Tortillas
Cuisine: Mexican
Difficulty: Medium
Ingredients
2 cups all-purpose flour

1 tsp salt

2 tbsp oil

Warm water, to knead to a dough (around 3/4 cup)
Directions
Add the flour, salt and oil into a large mixing bowl. Rub the oil into the flour to mix well and break down any clumps.
Knead this to a dough using luke-warm water. Add water gradually to knead to a smooth pliable dough. I used about 3/4 cup.
Roll to a ball, cover with a kitchen towel and leave to rest for about 30 minutes.
After the dough has rested, divide dough into portions. I got 7 wrap sized portions. Roll these portions into balls, cover with a kitchen towel and let the dough rest for another 15-20 minutes.
After resting the dough, roll out tortillas on a floured surface to a thin disc about 1/8″ thin.
Heat a pan on medium high heat. When the pan is hot, place tortilla on pan and let it cook for about a minute or till you see little bubbles appear and the side touching the pan has a few light brown spots.
Gently press the air pockets to help them expand a bit.
Flip over and let it cook till you get a few light golden spots on the tortilla. Don't overcook the tortillas as they tend to get hard.
Recipe Video
Notes
You may need to use a little less or a little more water depending on your batch of flour. Add the water gradually.
Winter is one of my favorite seasons. I love the chill in the air and everything that comes with it, especially after a long, hot summer. I love winter clothes, the food and the indoor days. But what I love most of all is rugging up on a chilly day with a piping hot mug of homemade hot chocolate. So today, I'm going to share with you how I make my basic hot chocolate from scratch in under 5 minutes. Yup, its quick, simple and divine.
Homemade Hot Chocolate
Makes 1 mug


3/4 cup (full fat) milk
1/4 cup heavy cream
1/4 cup dark chocolate, chopped
A few marshmallows, for topping (optional)
Combine the milk and cream in a saucepan and heat it over medium heat till it just about starts simmering. Do not let it come to a boil.
Add the chopped chocolate and whisk till dissolved.
Pour into a mug and top with marshmallows (if using) and sprinkle some grated chocolate on top.
Enjoy your very own Homemade Hot Chocolate!!!
Who's up for some popcorn? And not just any ordinary packet of store-bought popcorn, but an amazing Homemade Caramel Popcorn. I've said it before and I'll say it again, popcorn is one of my favorite snacks. In the past, I've used those microwavable packets too, but ever since I learned how to pop my own corn at home, I just make it from scratch. It is so easy and so much more economical than the store bought bags. Not to mention, that you're saving on all that unnecessary packaging too.
I've tried so many variants of flavoring while experimenting at home. Some savory and some sweet. Today, I'm going to share with you my favorite version of Caramel popcorn. The corn takes a couple of minutes to pop, the caramel sauce comes together in a few minutes, then all you do is toss everything together and leave it to cool down and set for a few minutes.
What you get is the most amazing crunchy popcorn, seasoned lightly with a little salt, to taste, covered in the most beautiful caramel sauce. Is there anything else you could want in a snack? Yes, this is a slightly indulgent snack, but we all deserve a treat every once in a while, don't you think so?
Let's have a look at the recipe.
Caramel Popcorn
Yields: 3-3 1/2 cups of popped corn
For the popcorn –
1 1/2 – 2 tbsp cooking oil, any unflavored oil will do
1/4 cup popping corn
Salt, to taste
For the sauce –
1 tbsp butter
1/2 cup sugar (finegrain / caster sugar works best)
1/8 tsp baking soda
To make the popcorn –
Heat a large, heavy bottomed vessel. Add the oil and let it heat up.
Add 2-3 corn kernels and let them pop. This is when the oil is at the right temperature. At this stage, add the rest of the corn to the vessel. Put a lid on and leave very slightly ajar.
Swirl the pan around every now and then.
When the popping slows down and almost stops, take the vessel off the heat and immediately sprinkle some salt over. Toss the corn and salt to season well.
To make the caramel sauce –
Heat a small saucepan over some medium heat.
Add the butter and sugar to the pan and let it all melt down, stirring every now and then.
Once it melts, watch the pot carefully as the sugar will turn color very quickly and could burn.
When you've reached a nice caramel color, immediately take it off the heat and add the baking soda and stir thoroughly.
Quickly pour it over the popped corn and stir through to coat the popcorn with the sauce.
Turn the popcorn out on a lightly greased baking tray and leave it to cool and set.
Enjoy!
When I think back at my first experience eating pizza, I'm immediately taken back home to when I was about 10 or 12 years old. My best friends mother had whipped up some little pizzas for us as a snack using store bought pizza bases, a little sauce and some toppings. I can't remember what was on it, but what I do remember was that I liked it very, very much. After that, she very kindly shared that recipe with my mother, who whipped them up for us at home, every once in a while.
Fast forward to about 7-8 years ago, I actually learned to make my pizza bases from scratch. After a whole lot of trial and error, I finally found a combination that worked well for me. And I've stuck to that ever since. And its safe to say, that since then, I have never bought a store bought pizza base. It is quite easy to make, once you know what your doing. Coupled with this, I'm also going to share my no-cook pizza sauce recipe with you. This recipe is probably older than my pizza dough recipe. As far as the toppings go, we've tried a lot of combinations. Once you have the basics in place, you can switch up you toppings to suit your tastes.
I'm going to whip up 2 pizzas today, one is a pepperoni pizza and the other is a mixed vegetable pizza. While, we're tried a few topping options, these two have got to be strong favorites in my house.
So let's get on to the recipe, shall we?
Homemade Pizza


For the pizza dough –
2 cups all purpose flour (maida)
1 tsp instant dried yeast
1 tsp sugar
150ml luke warm water (approx.) (use as needed)
2 spoons olive oil
Salt, to taste
In a little bowl, combine the yeast, sugar and a couple of tablespoons of warm water. Set the bowl aside for about 5-10 minutes for the yeast to activate.
After 5-10 minutes, the yeast will turn frothy and is now activated.
In a large mixing bowl, take 2 cups flour and add the salt (I use about 3/4 tsp salt). Using your fingers, mix the salt through the flour.
Make a well in the middle of the mound of flour and add the yeast mix.
Start combining the flour with the yeast and gradually add warm water, as needed to form a soft dough.
The dough will be tacky at first, but will eventually be much more manageable and smooth.
Stretch the dough while kneading and continue this process for about 5 minutes. (See video above, for method). Halfway through the process, add the oil in 2 stages and continue working the dough.
Shape into a ball, and place in a greased bowl. Drizzle a little olive oil on the dough and lightly coat the top of the dough, so that it doesn't dry out. Cover the bowl with some cling film or a clean, damp towel and leave the bowl in a warm place for the dough to rise. Leave to prove (rise) for about an hour, or till the dough doubles in volume. (It might take a little longer during cooler months.)
For the sauce –
1-1 1/4 cup passata, tomato puree or canned tomatoes (If using canned tomatoes, process them to a puree before using)
2-3 small cloves of garlic, minced
2 tsp olive oil
Salt, to taste
Freshly cracked black pepper, to taste
A little less than 1/2 tsp dried mixed herbs
1/4 tsp dried oregano
1/2 tsp sugar
1/4-1/2 tsp red chilly flakes
Add all the ingredients into a bowl. Stir to mix thoroughly.
The sauce is now ready to use.
To make the pizzas –


Preheat the oven to 250 deg C.
Divide the dough into 2 portions.
Stretch the dough to form the base. (See the video above for method)
Spread the sauce over the base, leaving a little margin from the edges.
Add toppings of your choice and cheese. (I use a combination of mozzarella and colby / cheddar).
Bake for 10-12 minutes or till the dough (pizza base) is cooked through and the cheese has melted.
Enjoy!
NOTES:
1) Remember to use warm water, not hot water. Hot water will kill your yeast and your dough will not rise.
** This post contains affiliate links.
So it's almost Diwali. Even though we don't celebrate it, we enjoy the food that comes with it. After trying out a few sweet and savory recipes for Diwali over the last five years, I've come to realize that a lot of recipes are fairly quick and easy to make, compared to most of the traditional Goan sweets. That makes me happy because I know I can whip up so many treats in a jiffy. However, there are a few recipes that are time consuming and tedious when made from scratch, like a good peda. A peda, for those of you who aren't familiar with the term, is a hand shaped piece of fudge made and enjoyed all over India. Now, I have made fudge before but had never tried making Pedas at home. That is, until I recently came across a recipe for an Instant version. Yup, you heard me, there is an instant version of the good old peda.
This Instant Kesar Peda requires a few basic ingredients and about half an hour of your time. That's how easy and simple it is to make. A lot of the commercially sold pedas use food coloring and artificial flavoring, but I decided to keep mine simple. I have used actual Saffron strands in this recipe for flavor and a mild coloring too. If you want your pedas to have the 'oh-so-popular' color, use some yellow food color. You can choose to imprint a design on the top of the peda or use a mould to shape it and you have the option to garnish the shaped pedas with some finely slivered nuts as well. So if you still haven't whipped up anything for Diwali, don't let that get you down. You can still make a bunch of homemade sweets and savories for your Diwali platter in no time at all. Besides this peda recipe, I have a few fantastic recipes to help you out. You can find them at the end of the post
here
.
So here's to another Indian delicacy, even though its a cheat version. I can tick this one of the my ever-growing list of recipes I want to try.
Wish you and your family a Happy and Prosperous Diwali!!!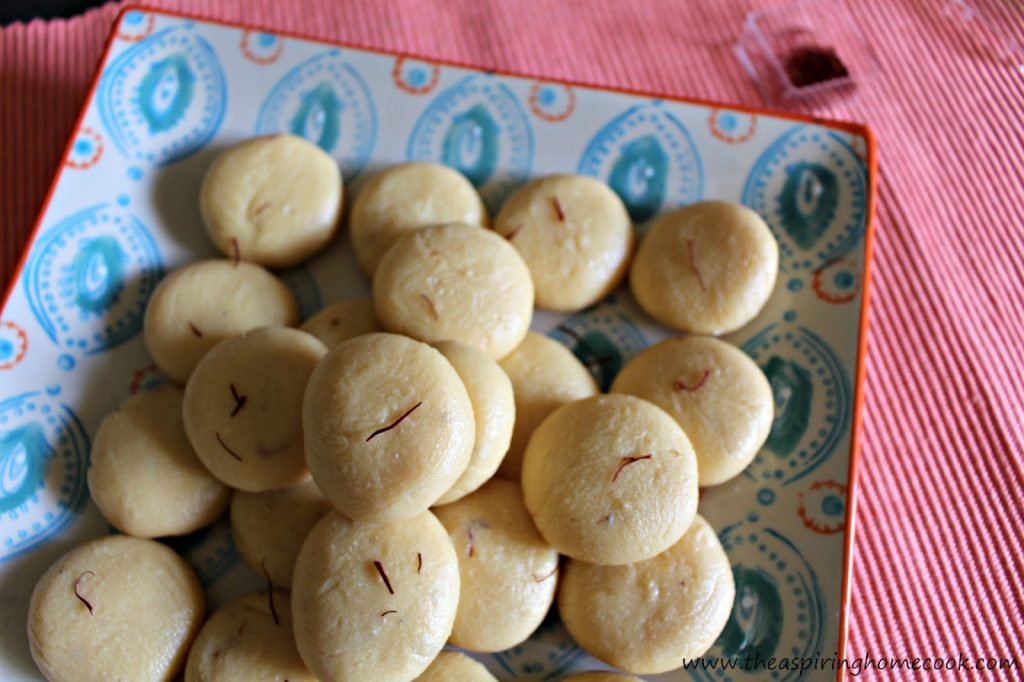 Instant Kesar Pedas
Yields: 25 pieces
1 cup condensed milk
1 cup + 2 tsp milk powder
1/2 tsp
green cardamom
seeds, crushed/powdered
2 tsp
ghee
A generous pinch of
saffron
strands
2 tsp warm milk
Extra ghee, to grease your palms while shaping the pedas
Add the saffron strands to the warm milk and set aside to infuse.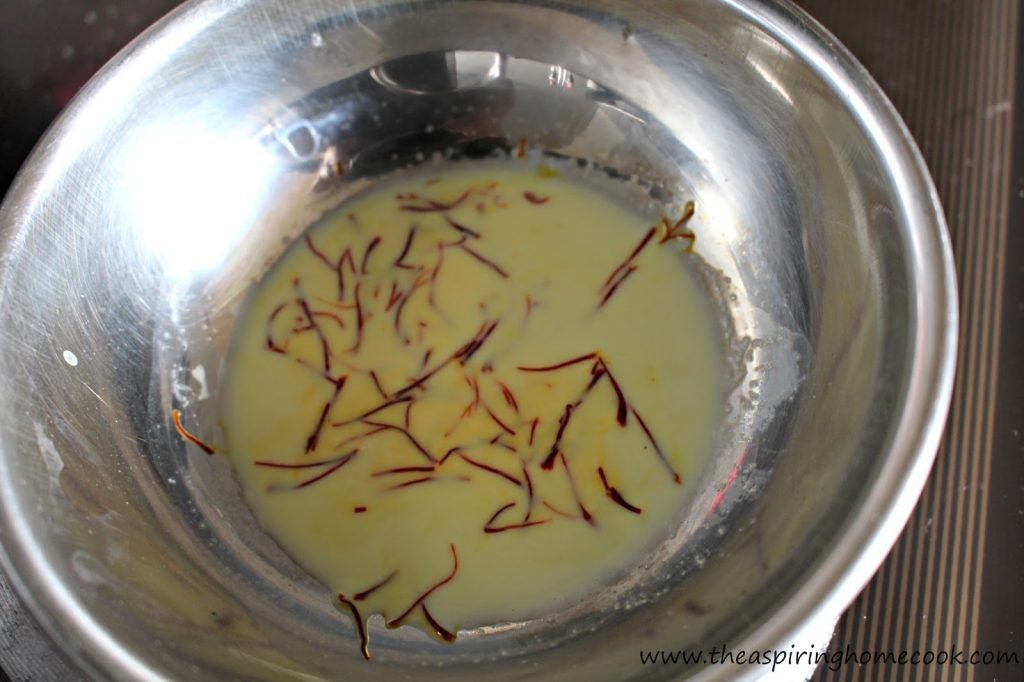 Grease a large plate with a tiny bit of ghee and set aside.
In a wide, preferably heavy bottomed pan, heat the ghee on a medium flame till it melts.
Add the condensed milk and the milk powder to the pan and stir well, making sure you dissolve any lumps that form. Any lumps left will not give you a smooth finish.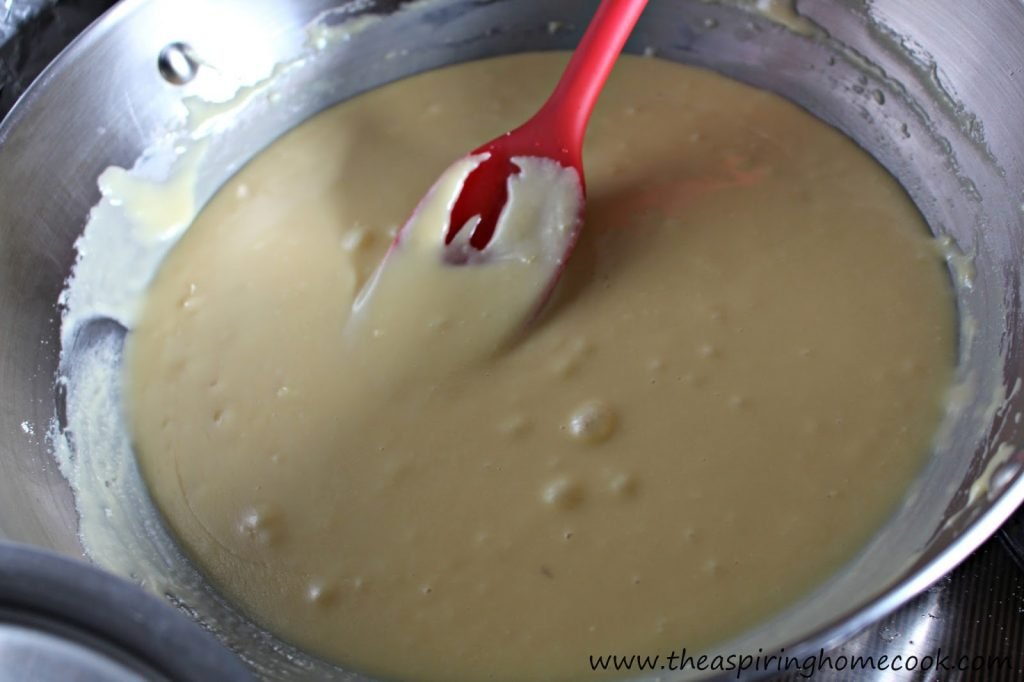 Continue cooking the mix, stirring frequently (with a wooden or a silicon spoon) for about 8-10 minutes. You will find the mix coming together at this stage.
Add the saffron infused milk and strands and the crushed cardamom to the pan and stir well. This will cause the mix to loosen in consistency a little and that's exactly what we want.
Continue cooking for a few more minutes, stirring continuously and the mix will start pulling away from the sides of the pan.
At this stage carefully check to see if the mix is still sticky. I picked a tiny portion with the spoon and touched it lightly to see if it is sticky. My hands can tolerate a fair amount of heat, please exercise caution when doing this. You want to make very little contact with the mix and not dip your finger in it too deep because it is super hot at this stage. If it still feels too sticky, continue cooking for a couple minutes more.
Once it is not sticky, take off the heat.
Immediately turn the mix onto the greased plate and leave it to cool a little.
When it is cool enough to handle, grease your palms with a little ghee, pinch of a small portion of the mix and roll into a ball and flatten slightly. Place on a platter and leave to set. If you choose to garnish the pedas, do it at this stage just after you shape it and then set aside in a single layer to set.
Serve up and enjoy!!!
Pin now and try later –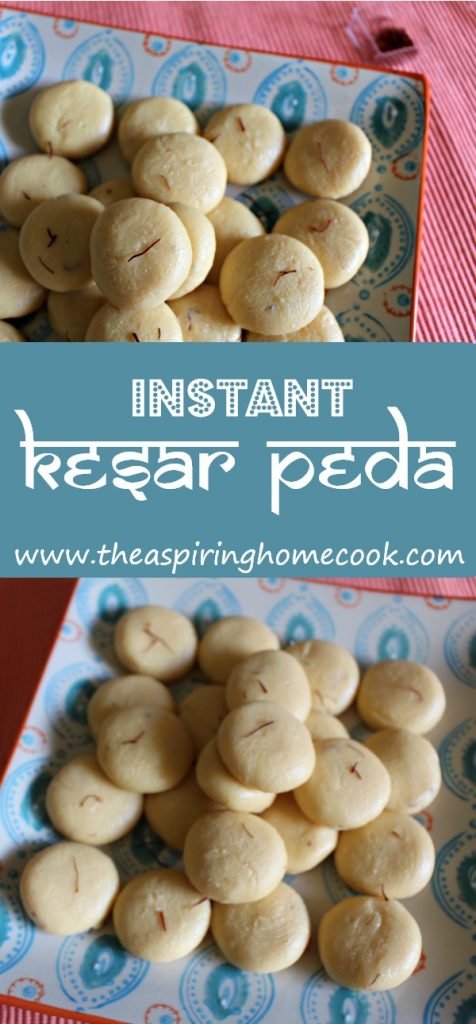 How many of you enjoy your dry fruits, nuts and seeds? I'm talking raisins, sultanas, dates, apricots, prunes or almonds, cashewnuts, peanuts and also pumpkin seeds (pepitas) and sunflower seeds. Me, I love them all. They are all known to have health benefits if eaten in small quantities as part of a balanced diet. It is a shame that more people don't include these little gems in the diets. My husband loves nuts, but isn't too keen on the dried fruit or seeds by themselves. So I have to think of ways to include them in our diet. Most often, we usually just nibble on a small handful of an assortment of fruits and nuts / seeds, but I was looking for other ways to enjoy them too.
When I came across a post with these bars, I knew I had found something good. It has dates, apricots, pepitas, chia seeds and a touch of cinnamon, all of which are know to be healthy in their own right. They come together to form these little delicious bars which are so tasty. They are sweet from the dates, a little tangy from the apricots and have the crunch of the chia seeds and pepitas though them. As the original recipe included a small amount of white chocolate chips, I threw them in, but they would be fantastic even with dark chocolate or even without chocolate at all.
The verdict, my husband enjoys them, which is a win for dry fruits in his books. They are small portion sizes, but pack a punch. If you like to reach for a snack bar or a granola bar during the day, I suggest trying these out. They are very satisfying and will keep the hunger pangs away till your next meal. They take all of 10 minutes hands on time. So even if you are time poor, you can still make a batch of these on your day off and enjoy them through the week. Kids will enjoy them too. Go ahead, give them a try. If you do, I'd love to hear what you think of them.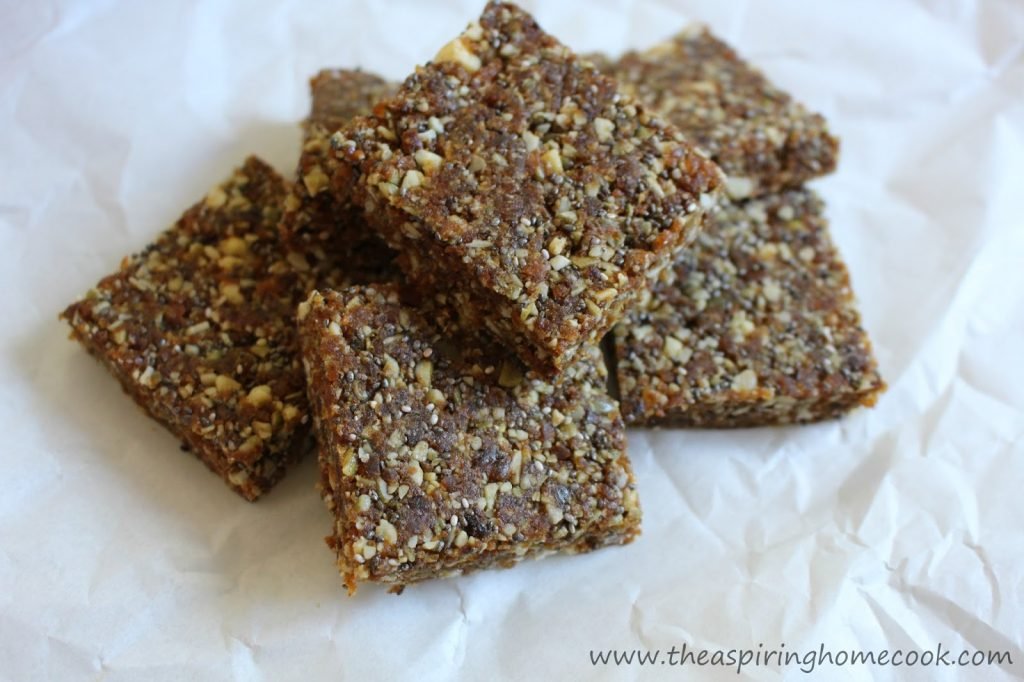 Date, Apricot & Chia Bars
Recipe from: Cupcakes & Kale Chips
Yields: 16 pieces (2 inch squares)
1 cup dates, pitted
1 cup dried apricots
2 tbsp Chia seeds
1/4 tsp ground cinnamon
1 cup raw pumpkin seeds / pepitas
2 tbsp white chocolate chips (optional)
Line an 8×8 inch baking dish or tray with baking paper.
Place the dates, apricots, chia seeds and cinnamon in a food processor and blitz till it has coarsely broken down.
Add the pepitas to the processor and blitz again till the pepitas have broken down to finely chopped.
Now add the chocolate chips, if you're using them and blitz again to break them up to little pieces.
Empty this mix onto the lined baking dish and flatten it down as best as you can, using the back of a spoon.
Next, I used another piece of baking paper on the top and used a large glass jar to flatten it out evenly. You can also use the bottom of a pan or a similar sized baking dish to do this after you place the baking paper on top.
Refrigerate for an hour.
Cut into squares. They are now ready to eat.
To store these bars, place a piece of baking paper between the squares to keep them from sticking to each other. Store in an airtight container in the fridge.
You now have little snack bars that will take you through the week.
Enjoy!!!
If you like this recipe, here's a few more you might enjoy –
Fruit & Nut Balls
Power Packed Snack Bars
Banana Bread Baked Oatmeal
My first Christmas post … is this really possible? It's not yet December but I already have my Christmas on, and it makes me insanely happy. I happen to be someone that loves Christmas. Turns out this is the first Christmas that I have to myself in about 8-10 years. For more than the first half of the last decade, I made Christmas sweets to order back in Mumbai. So as you can imagine around mid November, things would kick into higher gear with the prep, graphic work, shopping and planning of the month ahead and come December I'd be buried to my ears in work. It was exhausting but I loved every second of it and I can't wait to do this all over again here in Sydney. Not this year though. After spending the last few years in Retail, which at this time of the year has you running off your feet, I have decided to take a little time off. Time to step back, re-prioritize and take some time off. We going to spend Christmas with the family in Bombay this year and I'm really excited. So you should see a little more of me on the blog at this time of the year.
For my first Christmas treat, I'm going to share with you a little chocolate creation that will knock your socks off. If you aren't wearing any socks at the moment, I'll wait for you. Put them on and come back to check the rest of the post and prepare to have them knocked off. Almond Rocks are so simple to make and need just 2 ingredients. You can make as big or small a batch as you'd like to. But I must warn you, these are so addictive, do yourself a favor and make a bigger batch than you need. You can also adjust the chocolate to be as intensely dark or sweet as you want it. We personally love dark chocolate, so I use a 70% dark chocolate straight up. If you like a sweeter chocolate, you simple use milk chocolate. If you're in a Goldilocks kinda situation, use half semisweet / dark and half milk chocolate. So you see what I mean, you could have your chocolate just the way you like it. So that's about your first ingredient. Now onto your second, the almonds. I use just the regular natural almonds and I roast them myself. I find the flavor much better this way. But you could use store bought roasted almonds too. Those are the ingredients for you. Now let's put these together, shall we.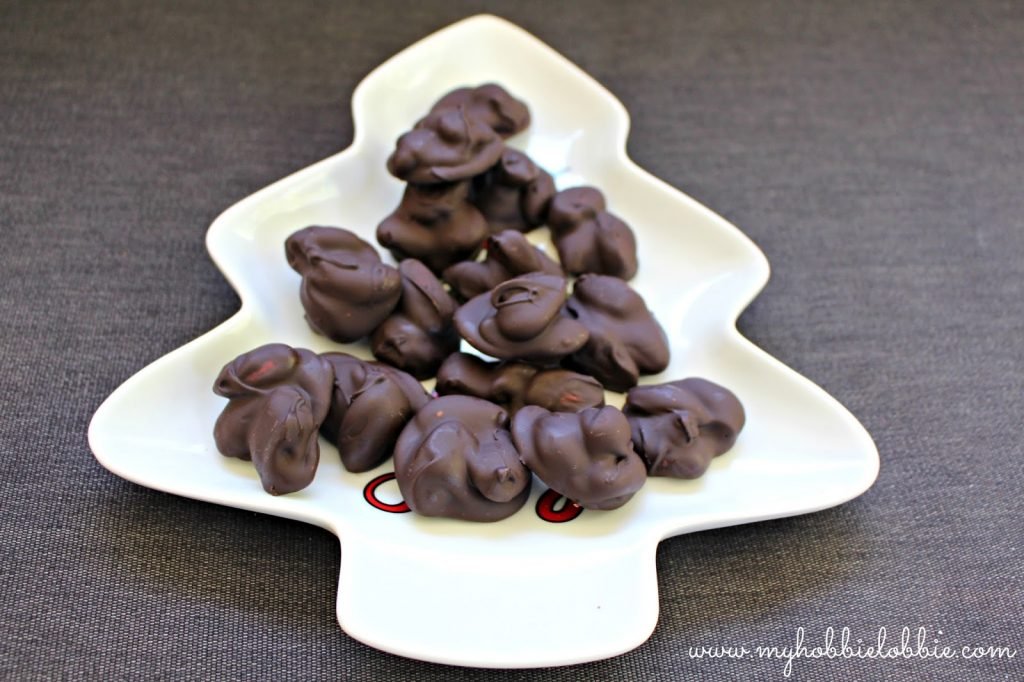 Almond Rocks
Yield: 16 pcs
100g dark chocolate (I used 70%, but you can use whatever you like)
A handful of almonds (I use 3 per chocolate, and always roast some extras, in case you have chocolate left over. The almonds taste great for snacking too.)
Preheat the oven to 170°C.
Place the almonds on a baking tray and roast in the oven for 5 minutes.
Toss the almonds and place back in the oven for another 4-5 minutes. Check at the 3 minute mark this time. You may not need as long as 5 minutes, depending on the size of your almonds and your oven. You want the almonds to slightly change color and you will distinctly be able to smell the nuttiness. You need to watch the almonds as you don't want them to char or burn.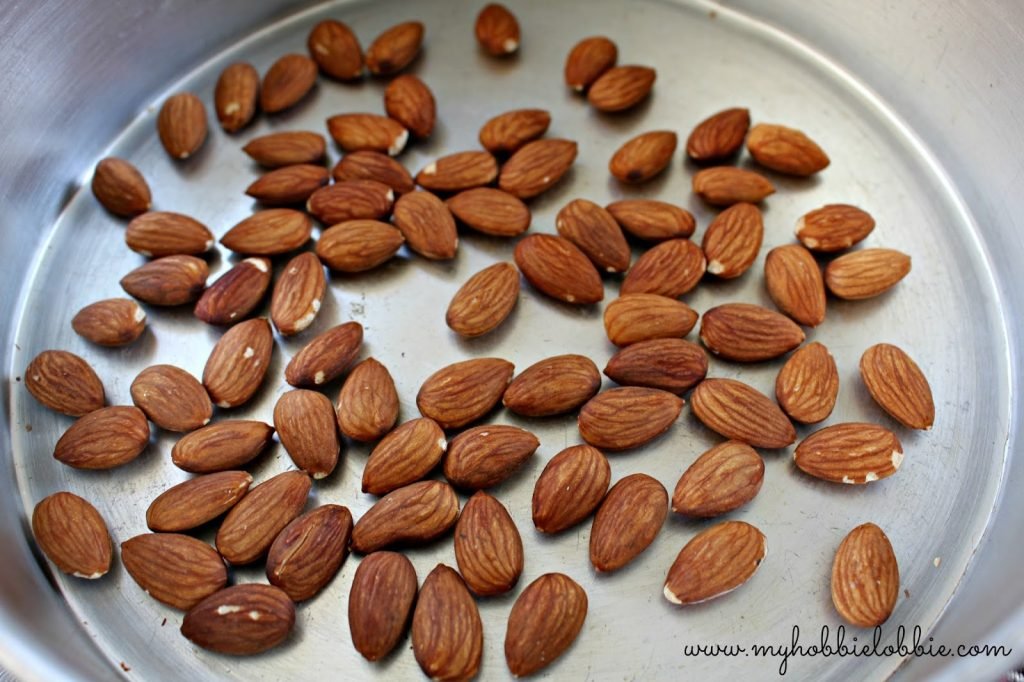 Once you're happy with how roasted the almonds are, take them out of the oven and let them cool completely. They will crisp up and be a whole lot yummier one it has cooled down. (If you are using store bought almonds that are roasted, you can skip this whole step.)
While this is happening, roughly chop the chocolate into small pieces. Remember, the smaller the pieces, the faster it will melt, which is a good thing. If you haven't worked with chocolate before, please ensure that all surfaces, bowls/plates, knives that you use to work with the chocolate are comepletely dry. Water and chocolate don't get along. Any moisture will cause the chocolate to seize and that is NOT a good thing.
Place the chopped up chocolate in a microwave suitable bowl and pop it in the microwave for 30 seconds. Stir and return to the microwave for another 15 seconds. Stir again. As you stir, you will see the chocolate starting to melt. It took me a further 15 seconds (1 minute in all) to get my chocolate melted. Stir well and as you stir, the chocolate continues to melt and gets silky like this.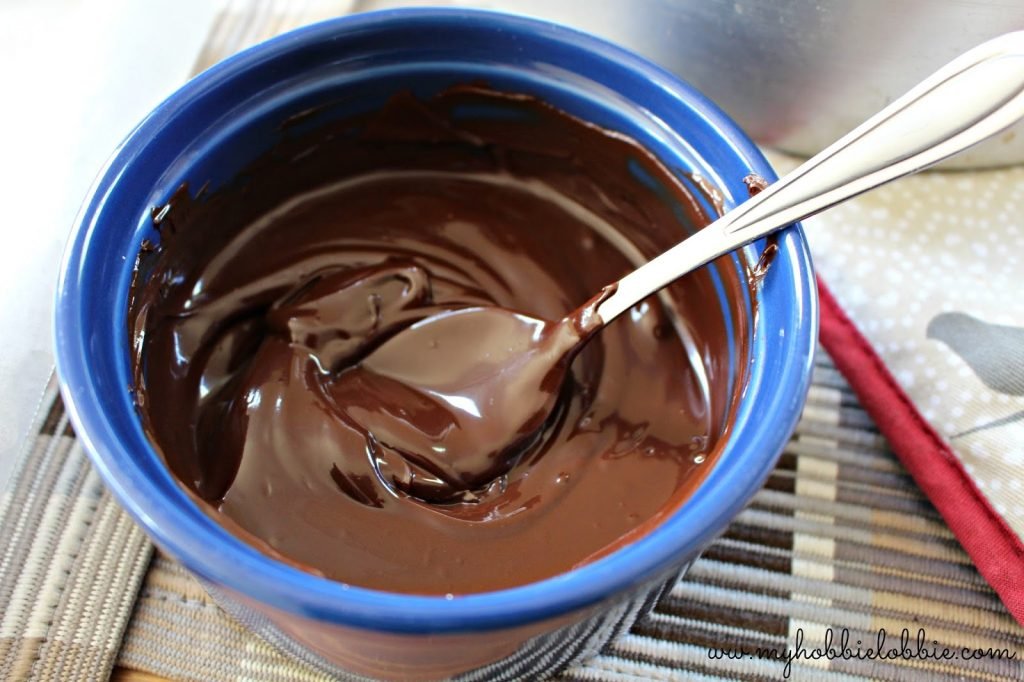 Tip the completely cool roasted almonds in the chocolate. At this stage, you may feel like there isn't enough chocolate, but trust me, there is. If you want to, you can add the almonds in two stages.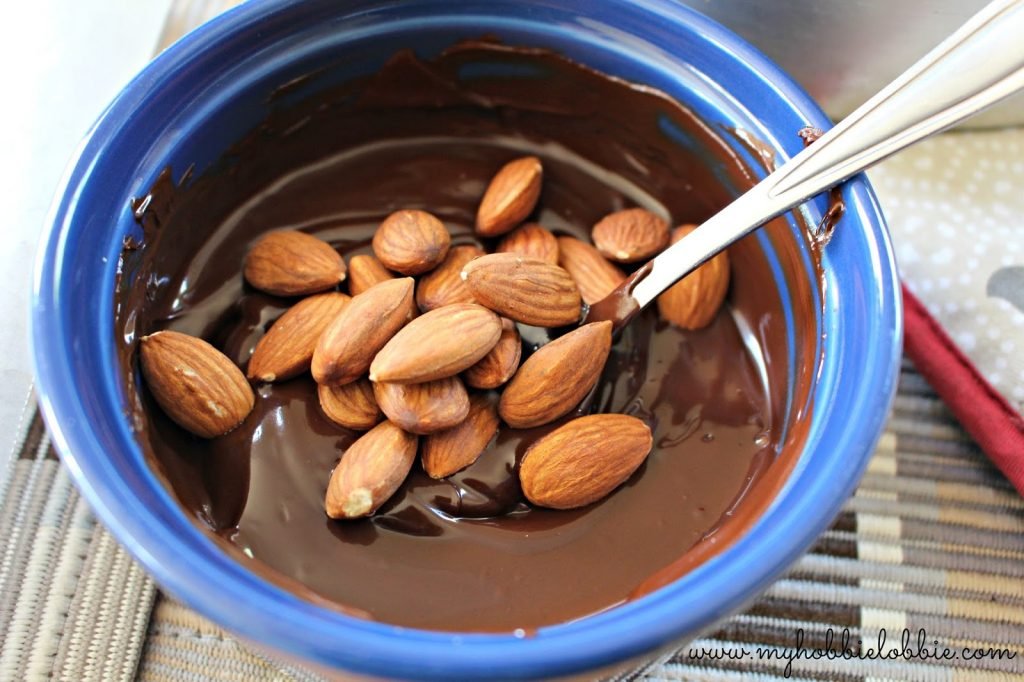 Stir the almonds into the chocolate to make sure every nut is well coated in the chocolate.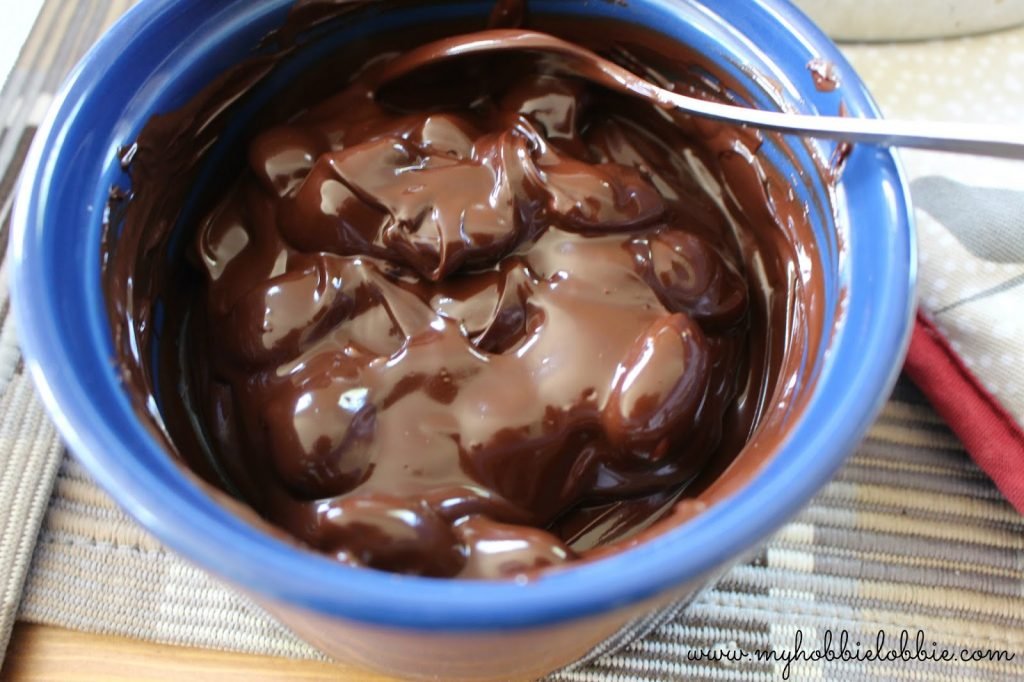 Line a plate or platter or tray with parchment paper.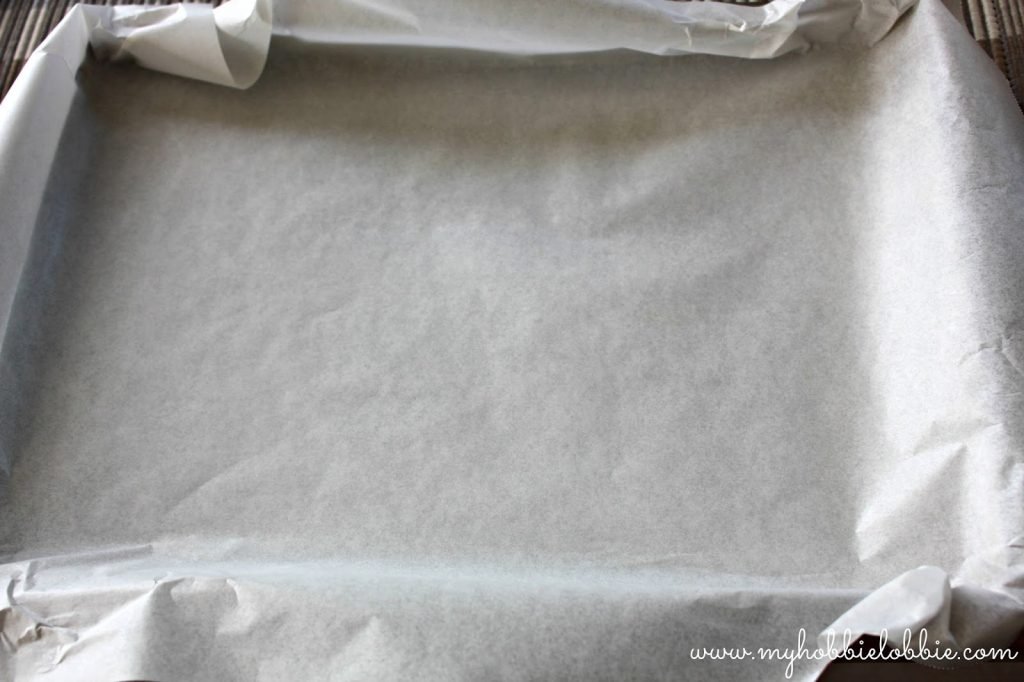 Spoon out one cluster at a time. I scoop up 3 almonds at a time and drop them on the parchment lined tray. (If you want smaller clusters, you could use just 2 almonds for each cluster. I like the portion size that 3 almonds yield.)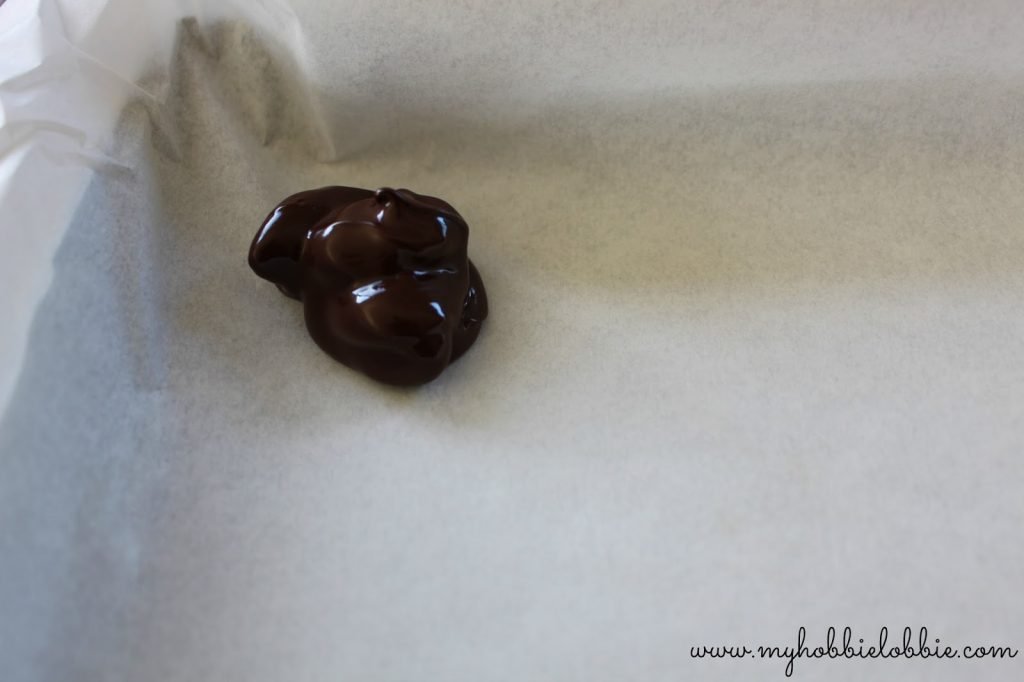 Repeat with the rest of the almonds and chocolate. I love the irregular shapes of candy you get. I think its what gives these almond rocks a lot of character.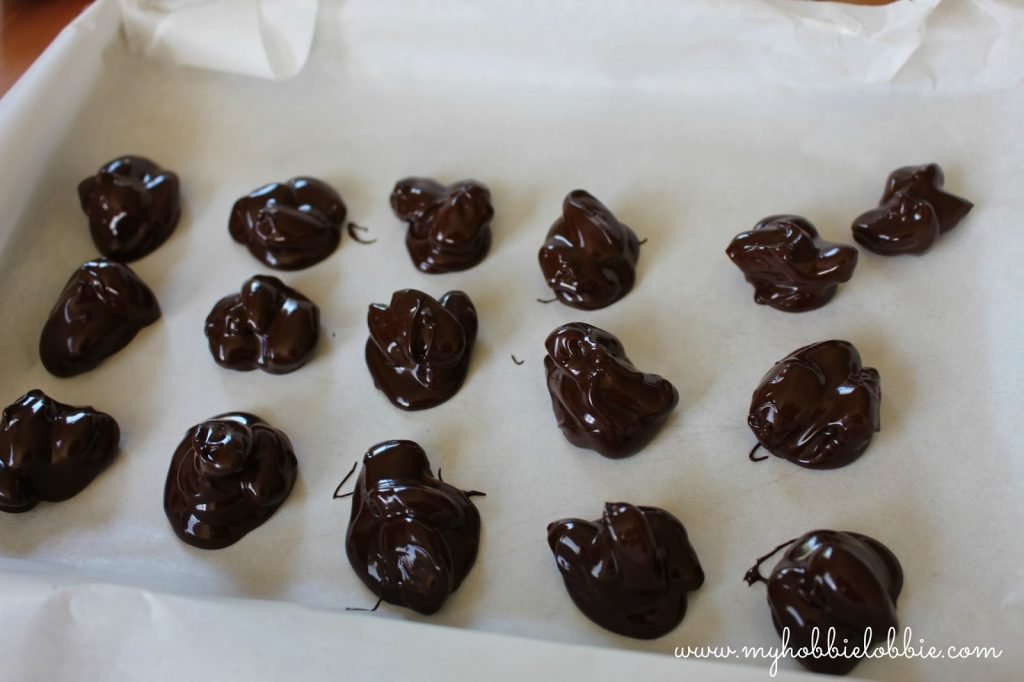 Pop the tray in the refrigerator for around 20 minutes to set. This is what it will look after it has set.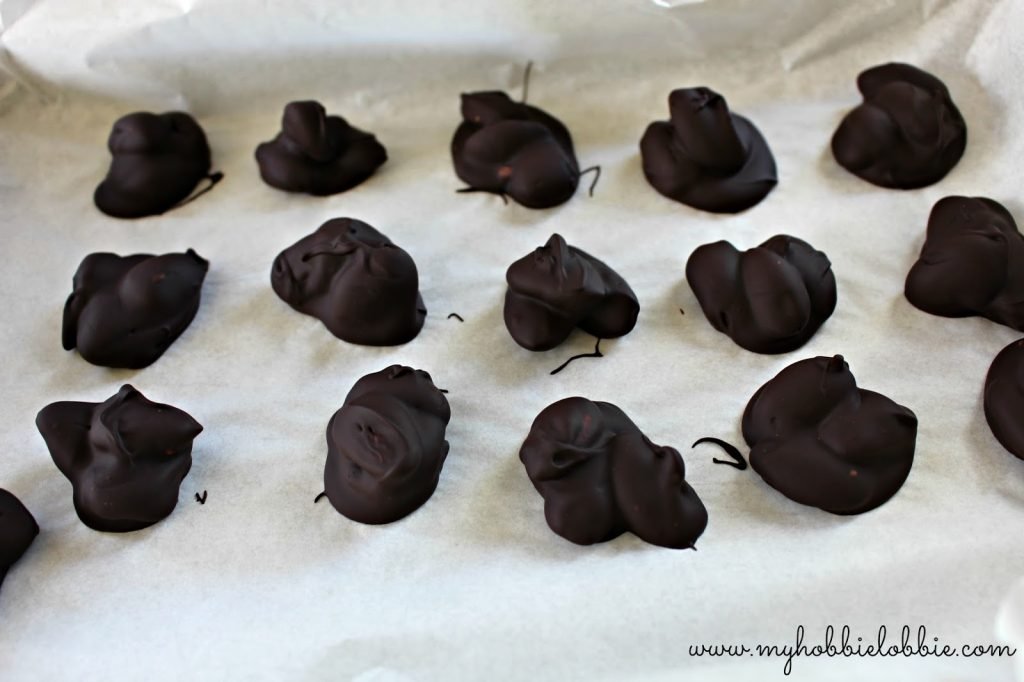 Keep refrigerated till you are ready to serve or store in an airtight container in the fridge. If you want to wrap them in colored candy wrapping foil you can do so at this stage. You could also pop them in little festive bags and use them as edible gifts or host / hostess gifts this holiday season. I am going to leave them uncovered.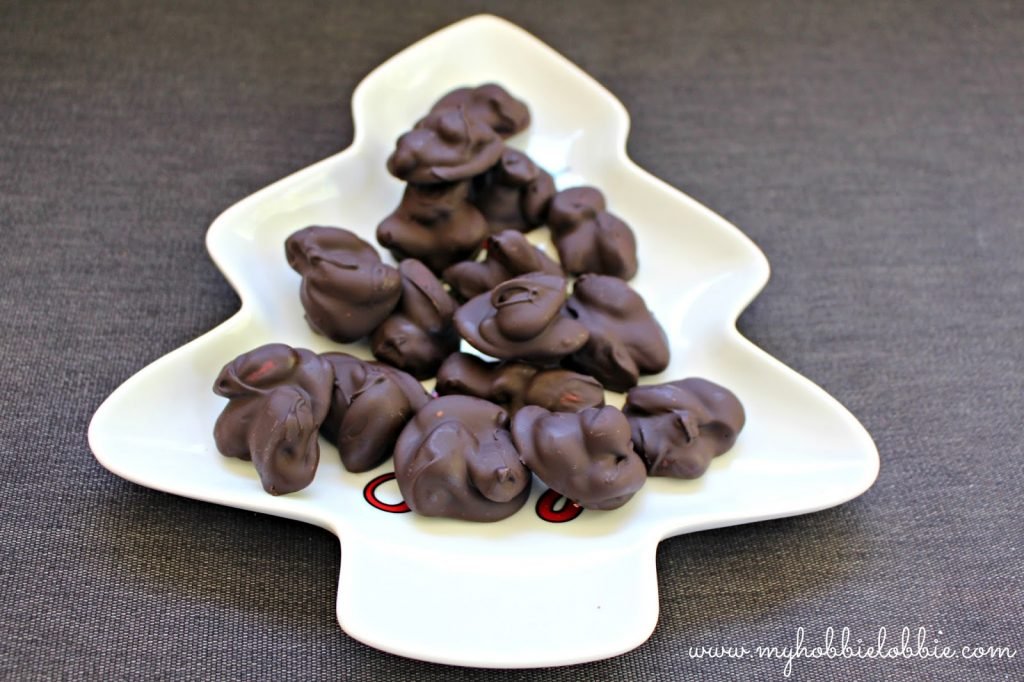 Enjoy!!!
Note: If you are making a massive batch, melt your chocolate in batches that way it is easy to work with. However if you find the chocolate getting too thick to work it, microwave it for about 10 seconds and you should be good to go.
If you don't have a microwave, you could use the double boiler method to melt the chocolate. Simply place a bowl with the chocolate over a pot of simmering water, making sure the water doesn't touch the bottom of the bowl and no moisture or vapor gets to the chocolate while you are melting it.
Hello everyone and welcome to our August installment of the
Secret Recipe Club
. This month I was assigned Traci's blog,
Burnt Apple
. What a fun adventure looking through her blog was. She has so many recipes I want to try; and so many ingredients I've never worked with before. A lot of her recipes are healthier versions because Traci strongly believes in using whole foods and natural sweeteners, from what I've seen. That being said, it doesn't mean she doesn't have some fun recipes in there – check out these
Bacon Cheddar Fries
,
Baked Churros
,
Crispy Cinnamon Raisin French Toast
and this
Baked Blueberry French Toast
. I'm hoping to try these out sometime soon. But after a month of packing, moving, unpacking and settling in, while working full time. I needed something comforting and super simple. Something warm would be a bonus, because we are smack bang in the middle of winter. So, I decided to try out her
Healthy Hot Cocoa Mix
for reveal day. But that's not all. I have a bonus recipe, yup I made a second treat from Traci's blog that I will share later in the week.
So back to this mix. You wouldn't believe how easy this was. 3 ingredients in a bowl, mix everything together and store. Then you simply store as needed. Traci used a healthier sweetener for her mix, but I used her basic version, using what I had on hand, which is why I'm calling it simply a Homemade Hot Chocolate Mix. I'm thinking this would make a fantastic present for Christmas, all dressed up – atleast for those of you who have a wintery Christmas. As for me and my husband, we are going to enjoy this right now. **slurrp**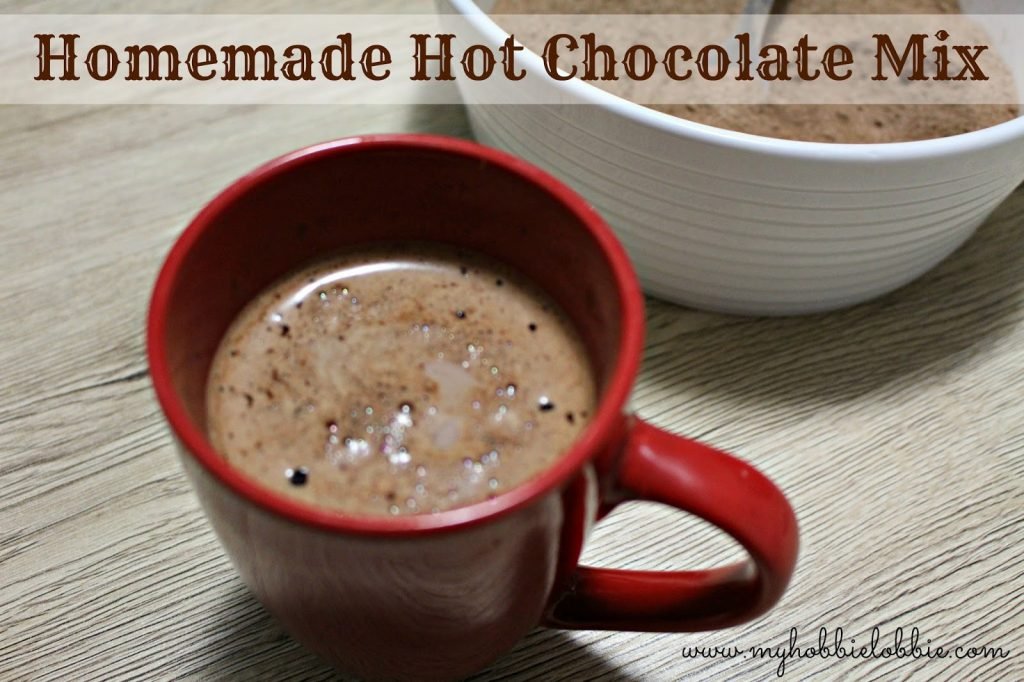 Homemade Hot Chocolate Mix


3/4 cup cocoa
1 cup sugar (I will cut this down to 3/4 cup next time) (Adjust to your liking)
1 tbsp cornstarch
Combine all the ingredients in a bowl thoroughly.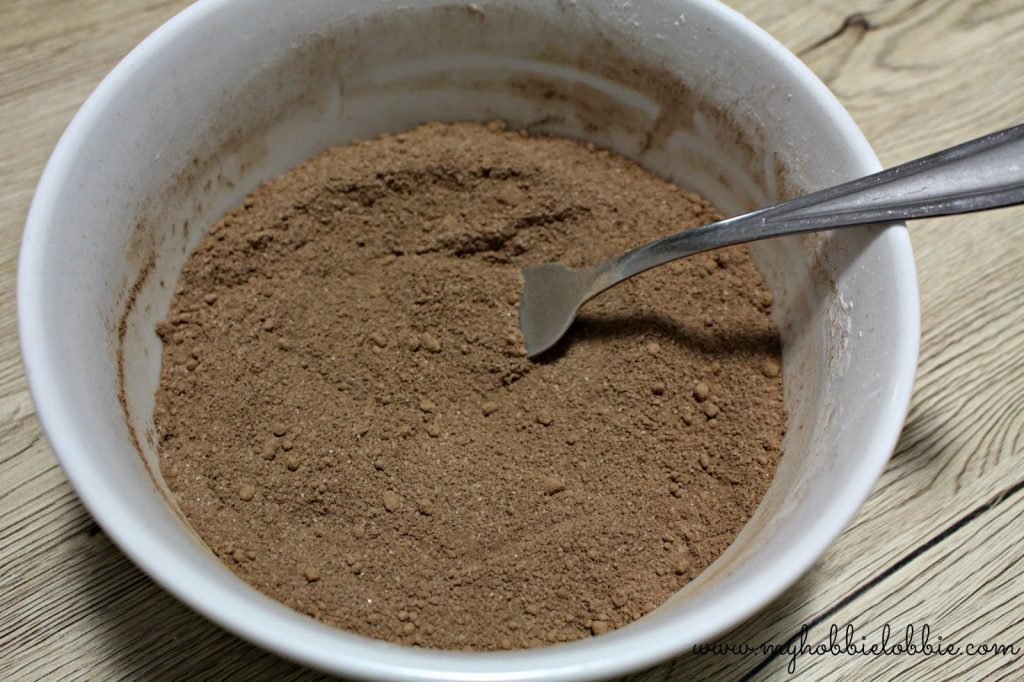 Store in an airtight container.
To use, simply place 2 tbsp of the mix in a mug and top off with milk.
Either heat in the microwave for 60 seconds and then in 30 second increments till it is hot enough for you. Or simply heat in a saucepan on the stovetop on a low heat, till it is hot enough for you.
… and ofcourse, every hot chocolate is better with some marshmallows 🙂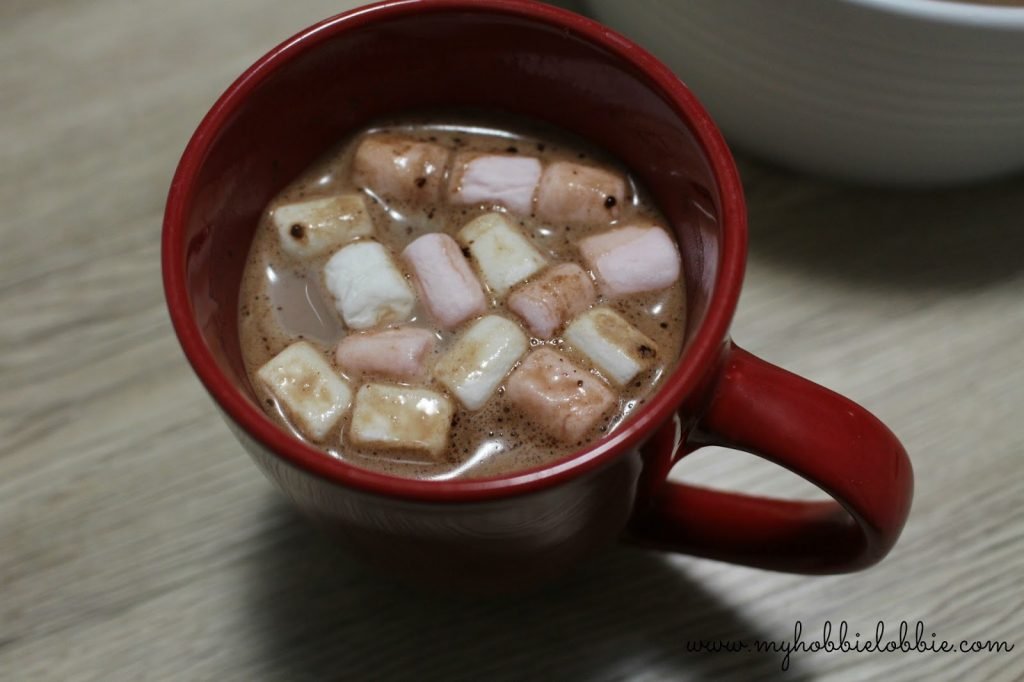 Don't forget to check out what other bloggers in Group A have whipped up for this reveal!