I have kept my Easter prep for too late this year. I'm usually a lot more prepared than this. However, a minor accident had reduced my mobility this past week. I am on the mend but still not back to 100%. So I wanted to keep my treats quick and easy.
With that in mind I whipped up some Chocolate Nests. I love this recipe. It takes 3 ingredients and half and hour to make a batch. This is a very versatile recipe so you can make as big or small a batch, as you'd like. It is also a flexible recipe, so you can use the chocolate of your choice and mini eggs of your choosing too. So, if like me, you've left Easter prep for the last minute, try out this recipe. It is very popular with the little kids … and the big ones too.
Wish you and your loved ones a Happy and Holy Easter!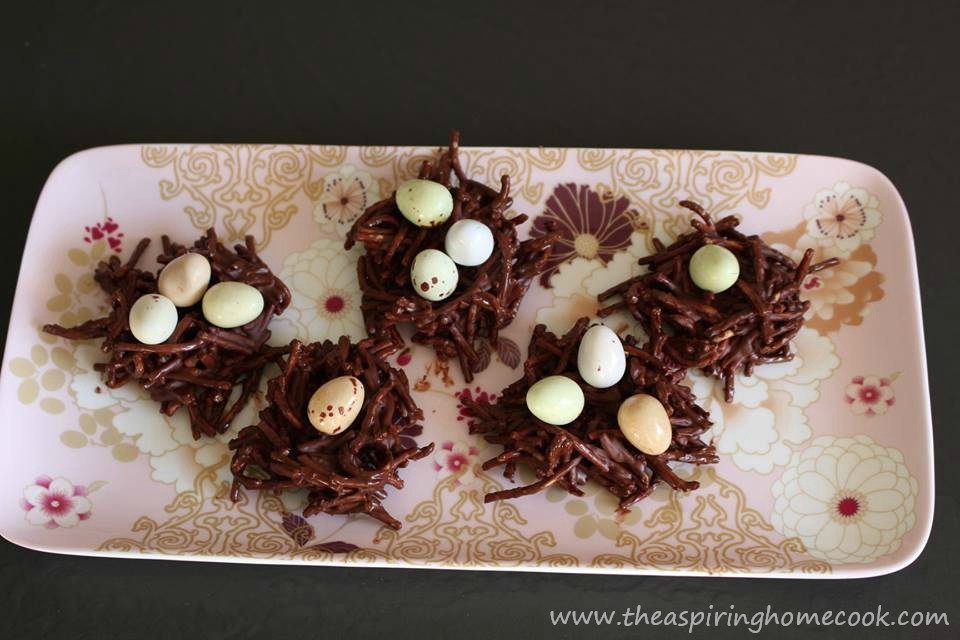 Chocolate Nests
Makes 8 Nests
100 grams Chocolate (I used Dark chocolate)
100 grams ready to serve Noodles
Mini Speckled Eggs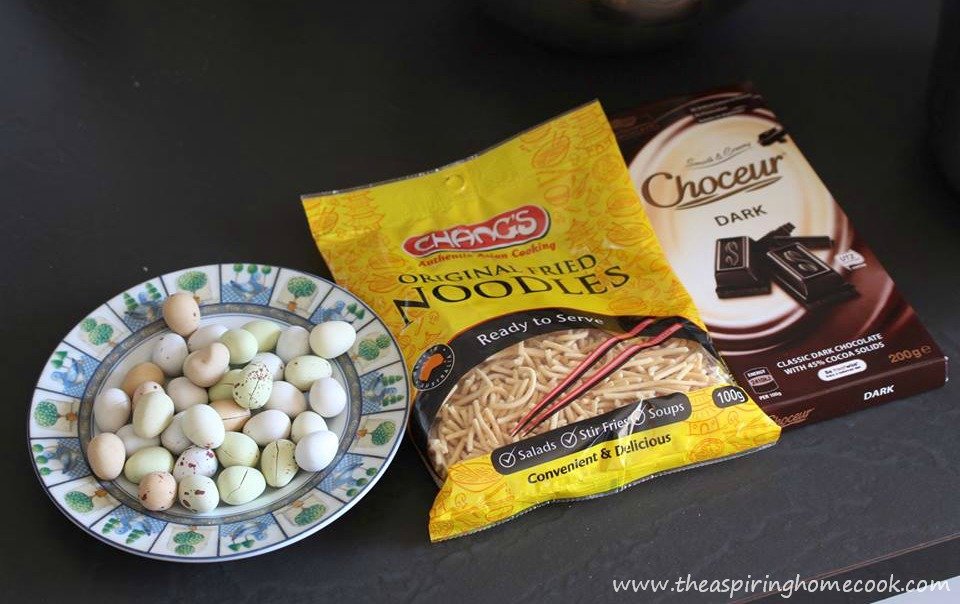 Chop up the chocolate roughly and melt using a double boiler. If you haven't worked with a double boiler, watch the video linked below to see how you can use a simple saucepan and bowl to make one. (You can also melt the chocolate in a micowave using a microwave safe bowl and in 30 second increments.)
Toss the noodles into the chocolate and mix gently to coat the noodles in the chocolate completely.
Using a spoon and either a spatula or a butter knife, scoop out portions of the noodles onto a tray lined with baking paper. Shape to form rough circular shapes and make a little dip in the center of each nest.
Place the mini eggs in the dents created.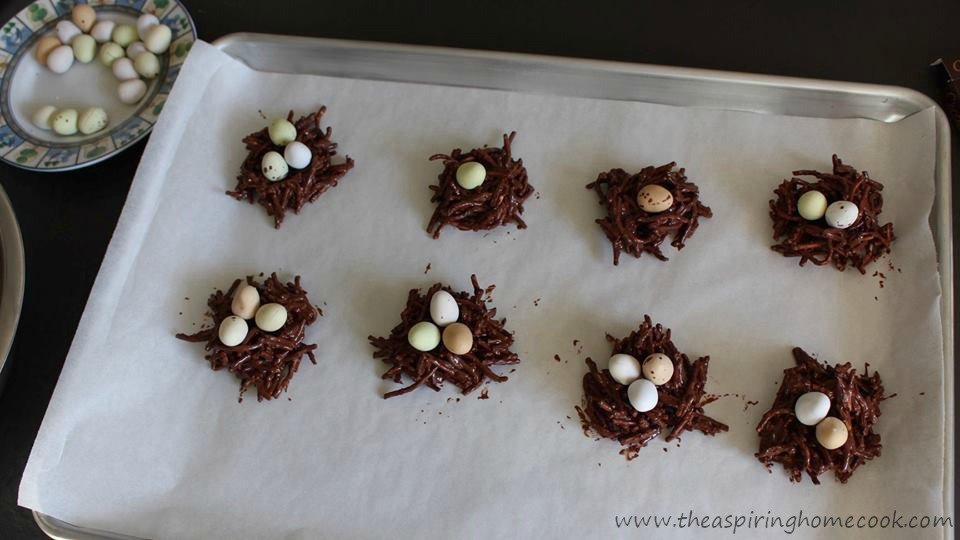 Refrigerate for 20 minutes.
Serve.
You can watch the video recipe here –
** This post contains affiliate links.
Guava Cheese or Perad is a quintessential Goan sweet that makes an appearance at Christmas time. Its flavourful and lightly chewy like a Guava gummy candy.
It's beginning to look a lot like Christmas!!!
Christmas decorations have started going up all over the place, Christmas merchandise is in every store. And it's probably just me, but when I see this, my mind starts to wander towards Christmas sweets (mind you that doesn't take much). Yup, before we know it, Christmas will be upon us. I must admit, this is my absolute favorite time of the year. 
Let's talk sweets now, shall we? What's your favorite? Me, I love them all. Old school, traditional Kuswar, new age desserts and sweets, the whole lot. But of all of them I think that my favorite is the Goan Guava Cheese (almost like Guava gummies or candy, but better) known as Perad. I have previously posted a perad recipe using fresh guavas
here
. But here, in Sydney, I haven't been able to get my hands on any fresh guavas, especially this time of the year. So imagine my joy when I came across this on one of my weekly grocery shops at my local Supermarket.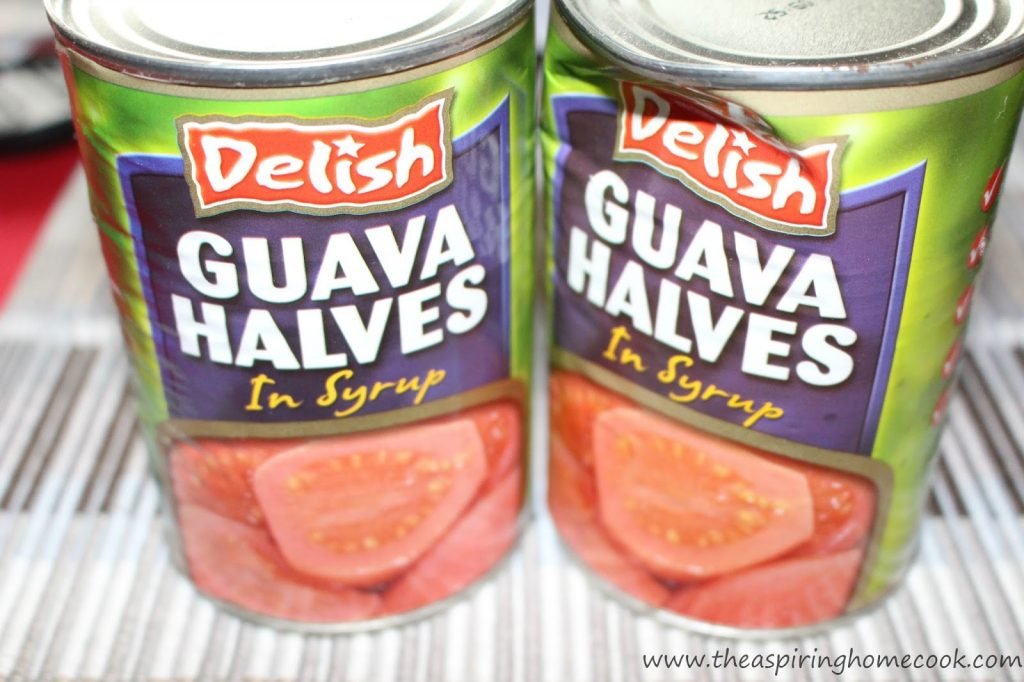 Ofcourse, I grabbed a couple of tins and knew that I had to try making Perad with them. (I have also used the "Koo" brand with the same great results.) I mean, I knew it wouldn't be like using fresh guavas, but how different could it really be? So I tweaked the recipe a tiny bit and crossed my fingers while the perad cooked and set. To my delight, this was the best Perad I had ever made or eaten. So it's safe to say from now on, while I can get my hands on these canned guavas, I'm going to stick to using it for my Perad.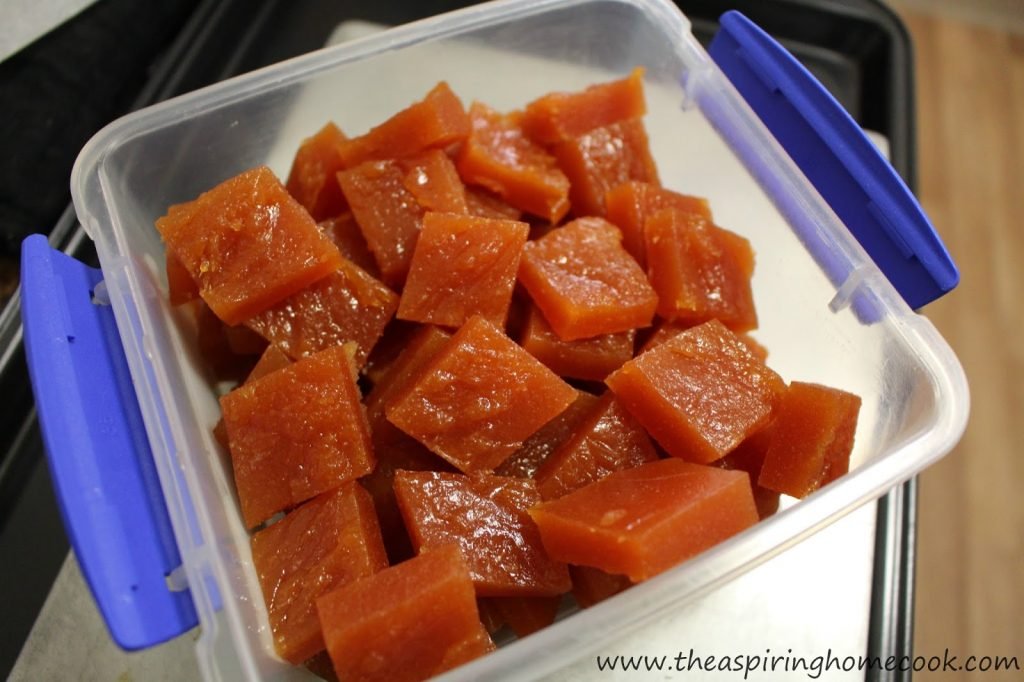 Place some of the ghee on a large metal cookie sheet / baking pan and spread on the bottom and sides and keep this aside.
Drain the guava halves and reserve the syrup.
Scoop out the seeds and set aside.
Puree the halves till smooth and put the puree in a heavy bottomed vessel. Now Goan sweets are notorious for taking ages to cook, but I have found if you use a wider vessel, its cooks a lot faster because of the increased surface area. So I use a stainless steel 
12″ Kitchenaid Skillet
 for all my sweets and it drastically reduces the cooking time.
Now place all the seeds, that were previously scooped out, in a strainer, add a couple of spoons of the reserved syrup from the cans and stir through the strainer to extract all the guava puree from the centres. You may need to do this a couple of times adding a tiny bit of syrup each time to extract all the guava. Add the extract to the pan and now discard the seeds.
I usually end up with about 370g pulp from the halves and about 250g from the centres. In all about 620g of guava pulp. Other recipes call for a lot more sugar, but since these are canned guavas in syrup they are sweeter than the fresh ones, so I've cut down on the amount of added sugar in the recipe.
Add the cloves and the sugar to the pan.
Place the pan on medium heat and stir continuously using a wooden spoon with a long handle. The guava mix tends to sputter and spit while cooking and the long handle will prevent the mix splashing on your arms. Make sure that when you stir, the spoon gets to the edges of the pan to prevent it sticking to the bottom of the pan and burning. If the mix sputters too much, lower the the heat and continue cooking.
When the mix thickens, extract the cloves carefully and discard. Continue cooking till it leaves the sides of the pan. Keep stirring.
Test to see if done. (Use water test – Place some icy cold water in a small bowl and drop a teaspoon of the sweet on it. If it firms up on cooling it is done. If it is still very soft or too sticky, it needs more cooking). 
When done, pour the mix into the greased pan. Using the back of a large spoon that has been greased with some ghee spread the mix to form an even slab and set aside to cool.
When it has cooled down a bit, using a knife that has been greased with some ghee, cut into cubes. You may need to grease the knife a couple of times while cutting to prevent it sticking.
When it has completely cooled, store in an air tight container. If you are making this ahead of time, or if it summer like in our part of the world, refrigerate till you are ready to use.
Enjoy!!!
My first Christmas post … is this really possible? It's not yet December but I already have my Christmas on, and it makes me insanely happy. I happen to be someone that loves Christmas. Turns out this is the first Christmas that I have to myself in about 8-10 years. For more than the first half of the last decade, I made Christmas sweets to order back in Mumbai. So as you can imagine around mid November, things would kick into higher gear with the prep, graphic work, shopping and planning of the month ahead and come December I'd be buried to my ears in work. It was exhausting but I loved every second of it and I can't wait to do this all over again here in Sydney. Not this year though. After spending the last few years in Retail, which at this time of the year has you running off your feet, I have decided to take a little time off. Time to step back, re-prioritize and take some time off. We going to spend Christmas with the family in Bombay this year and I'm really excited. So you should see a little more of me on the blog at this time of the year.
For my first Christmas treat, I'm going to share with you a little chocolate creation that will knock your socks off. If you aren't wearing any socks at the moment, I'll wait for you. Put them on and come back to check the rest of the post and prepare to have them knocked off. Almond Rocks are so simple to make and need just 2 ingredients. You can make as big or small a batch as you'd like to. But I must warn you, these are so addictive, do yourself a favor and make a bigger batch than you need. You can also adjust the chocolate to be as intensely dark or sweet as you want it. We personally love dark chocolate, so I use a 70% dark chocolate straight up. If you like a sweeter chocolate, you simple use milk chocolate. If you're in a Goldilocks kinda situation, use half semisweet / dark and half milk chocolate. So you see what I mean, you could have your chocolate just the way you like it. So that's about your first ingredient. Now onto your second, the almonds. I use just the regular natural almonds and I roast them myself. I find the flavor much better this way. But you could use store bought roasted almonds too. Those are the ingredients for you. Now let's put these together, shall we.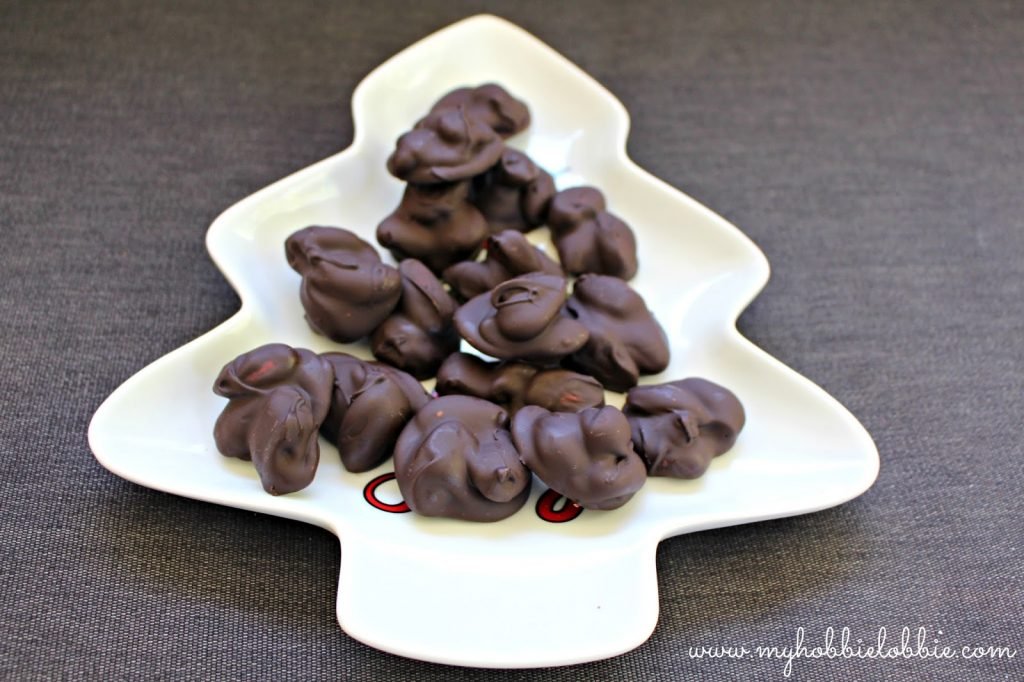 Almond Rocks
Yield: 16 pcs
100g dark chocolate (I used 70%, but you can use whatever you like)
A handful of almonds (I use 3 per chocolate, and always roast some extras, in case you have chocolate left over. The almonds taste great for snacking too.)
Preheat the oven to 170°C.
Place the almonds on a baking tray and roast in the oven for 5 minutes.
Toss the almonds and place back in the oven for another 4-5 minutes. Check at the 3 minute mark this time. You may not need as long as 5 minutes, depending on the size of your almonds and your oven. You want the almonds to slightly change color and you will distinctly be able to smell the nuttiness. You need to watch the almonds as you don't want them to char or burn.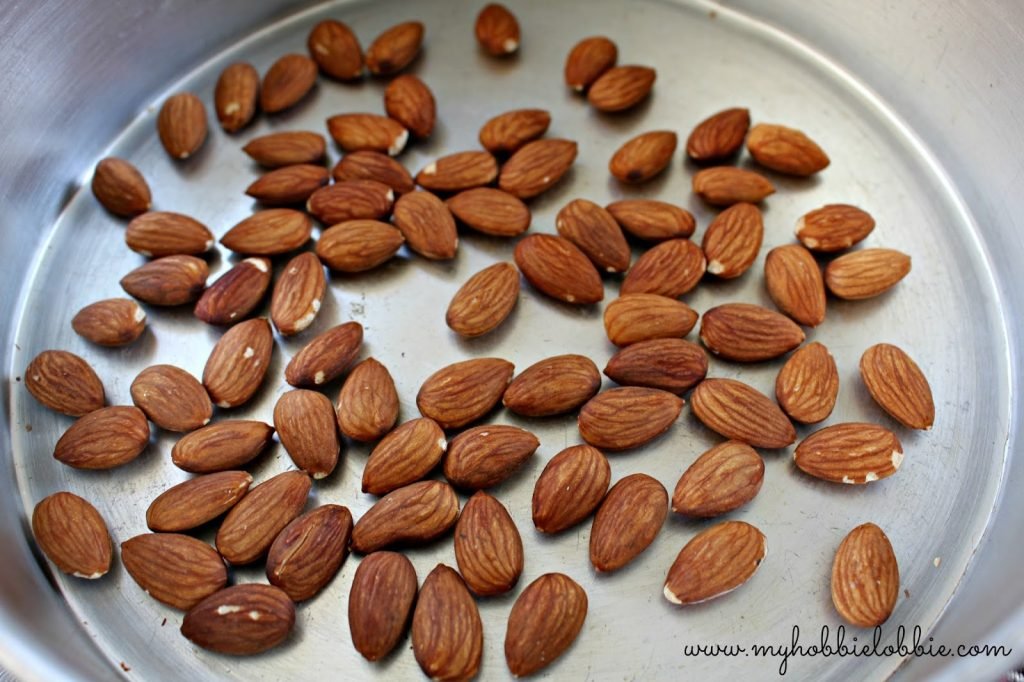 Once you're happy with how roasted the almonds are, take them out of the oven and let them cool completely. They will crisp up and be a whole lot yummier one it has cooled down. (If you are using store bought almonds that are roasted, you can skip this whole step.)
While this is happening, roughly chop the chocolate into small pieces. Remember, the smaller the pieces, the faster it will melt, which is a good thing. If you haven't worked with chocolate before, please ensure that all surfaces, bowls/plates, knives that you use to work with the chocolate are comepletely dry. Water and chocolate don't get along. Any moisture will cause the chocolate to seize and that is NOT a good thing.
Place the chopped up chocolate in a microwave suitable bowl and pop it in the microwave for 30 seconds. Stir and return to the microwave for another 15 seconds. Stir again. As you stir, you will see the chocolate starting to melt. It took me a further 15 seconds (1 minute in all) to get my chocolate melted. Stir well and as you stir, the chocolate continues to melt and gets silky like this.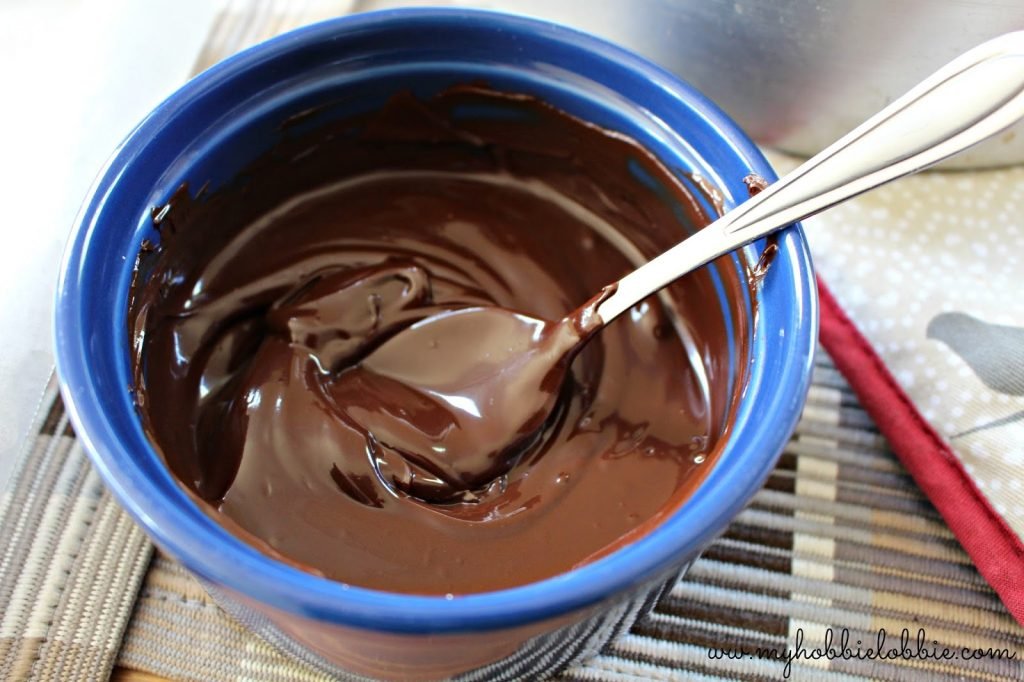 Tip the completely cool roasted almonds in the chocolate. At this stage, you may feel like there isn't enough chocolate, but trust me, there is. If you want to, you can add the almonds in two stages.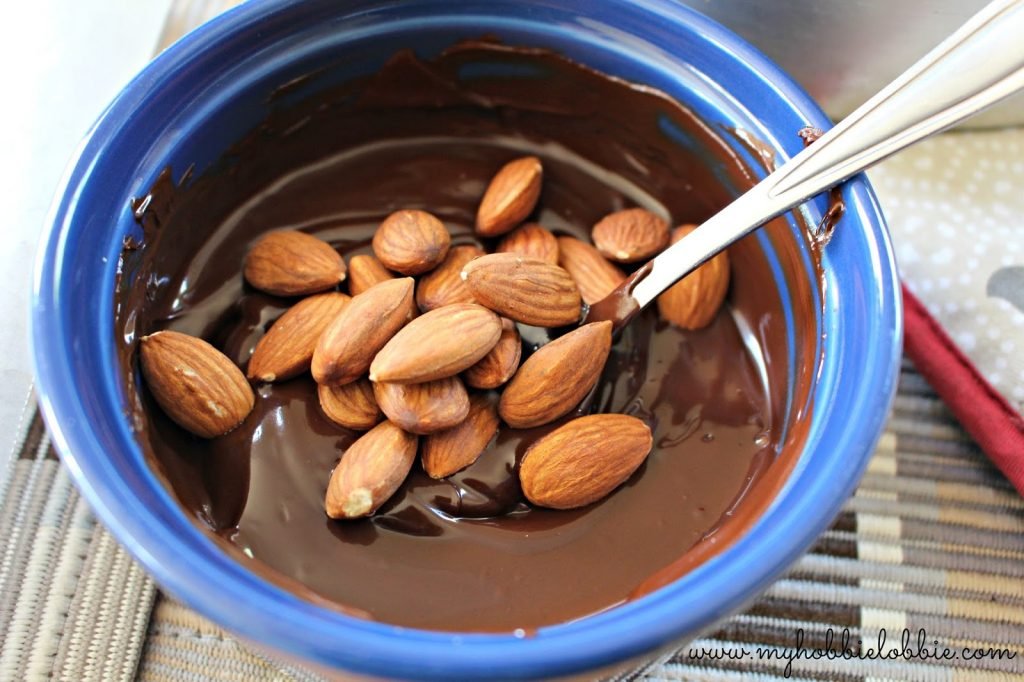 Stir the almonds into the chocolate to make sure every nut is well coated in the chocolate.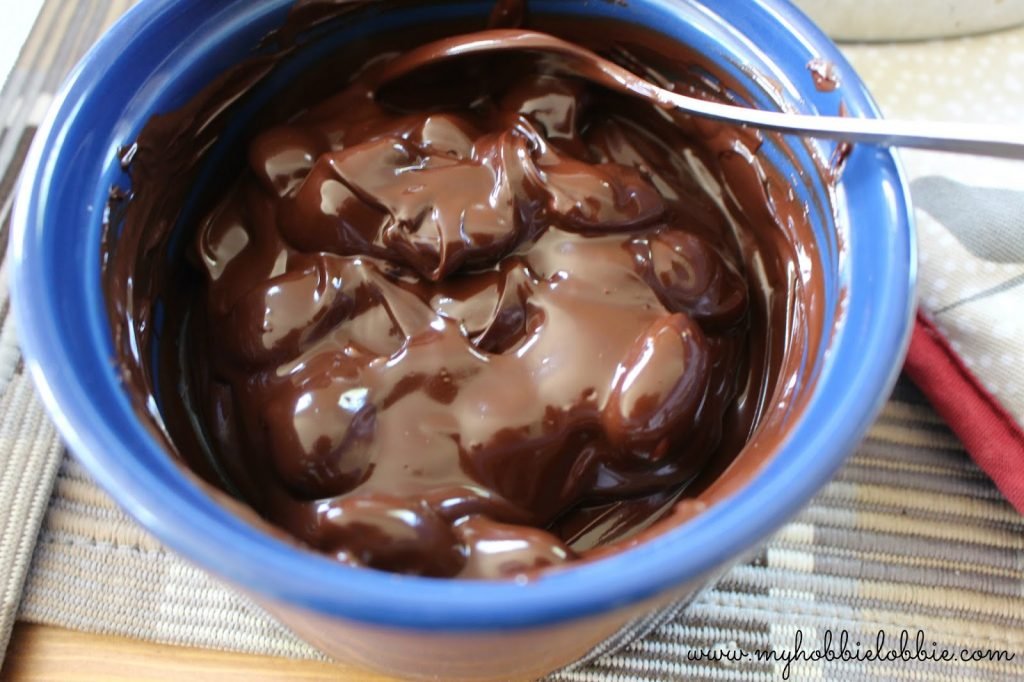 Line a plate or platter or tray with parchment paper.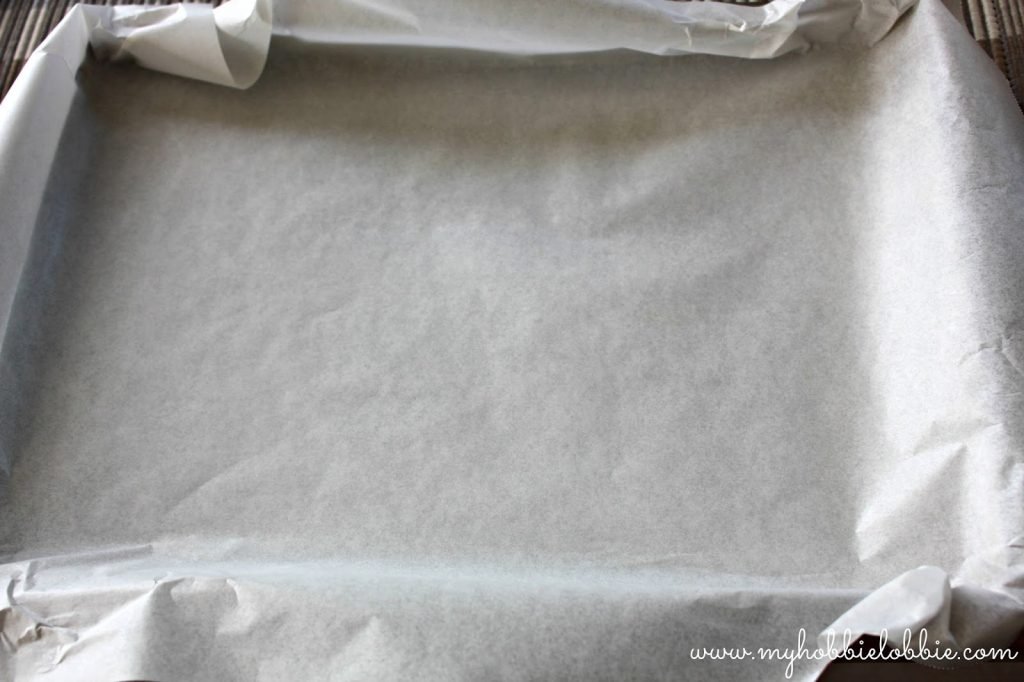 Spoon out one cluster at a time. I scoop up 3 almonds at a time and drop them on the parchment lined tray. (If you want smaller clusters, you could use just 2 almonds for each cluster. I like the portion size that 3 almonds yield.)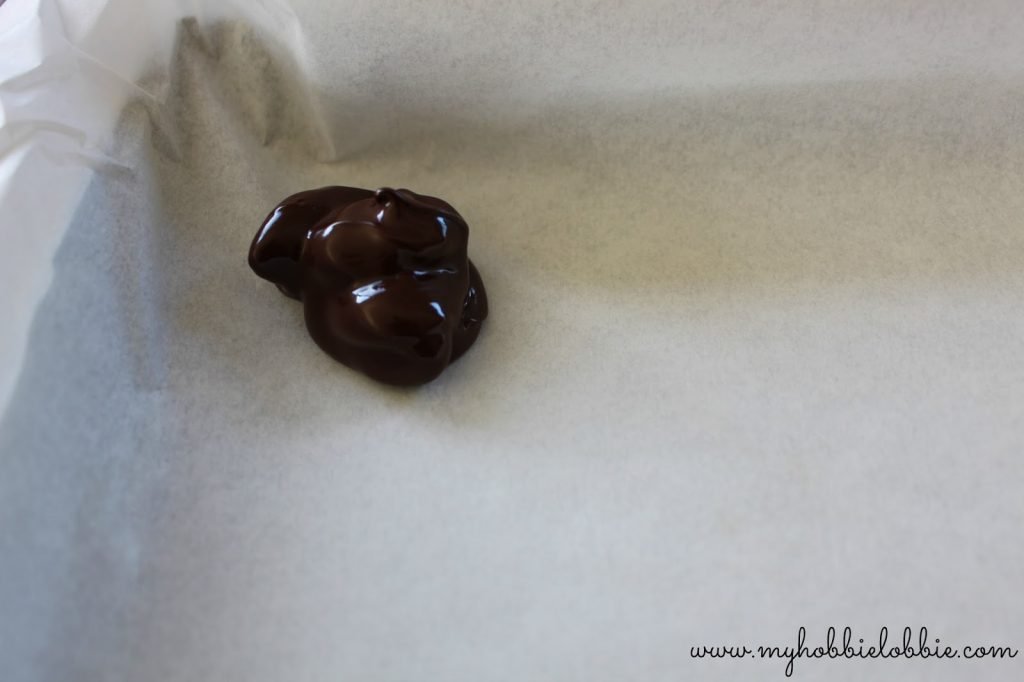 Repeat with the rest of the almonds and chocolate. I love the irregular shapes of candy you get. I think its what gives these almond rocks a lot of character.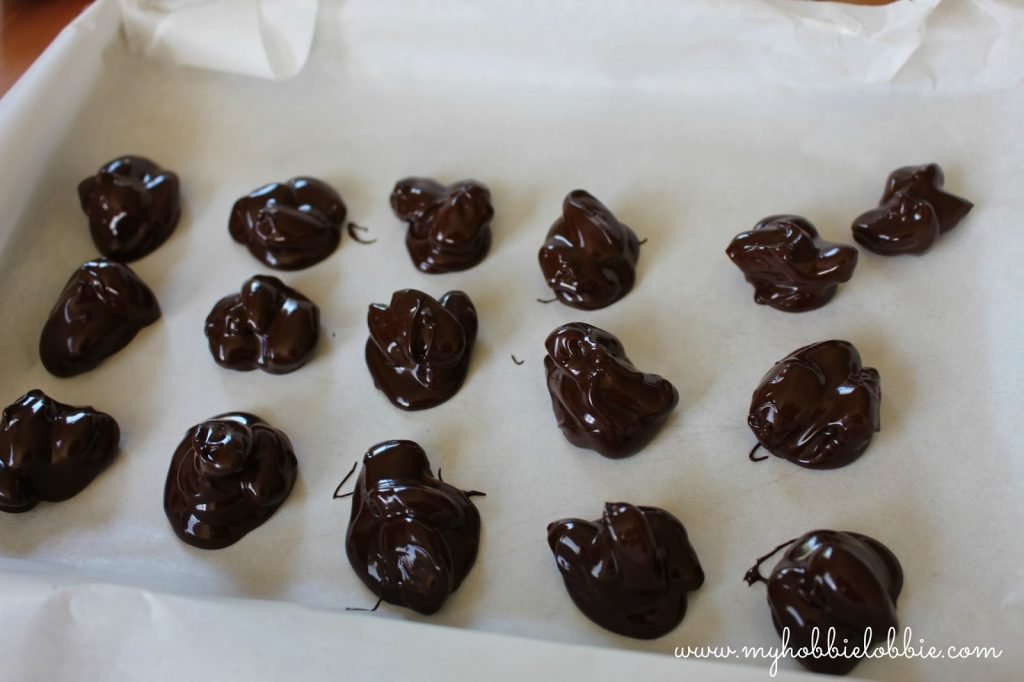 Pop the tray in the refrigerator for around 20 minutes to set. This is what it will look after it has set.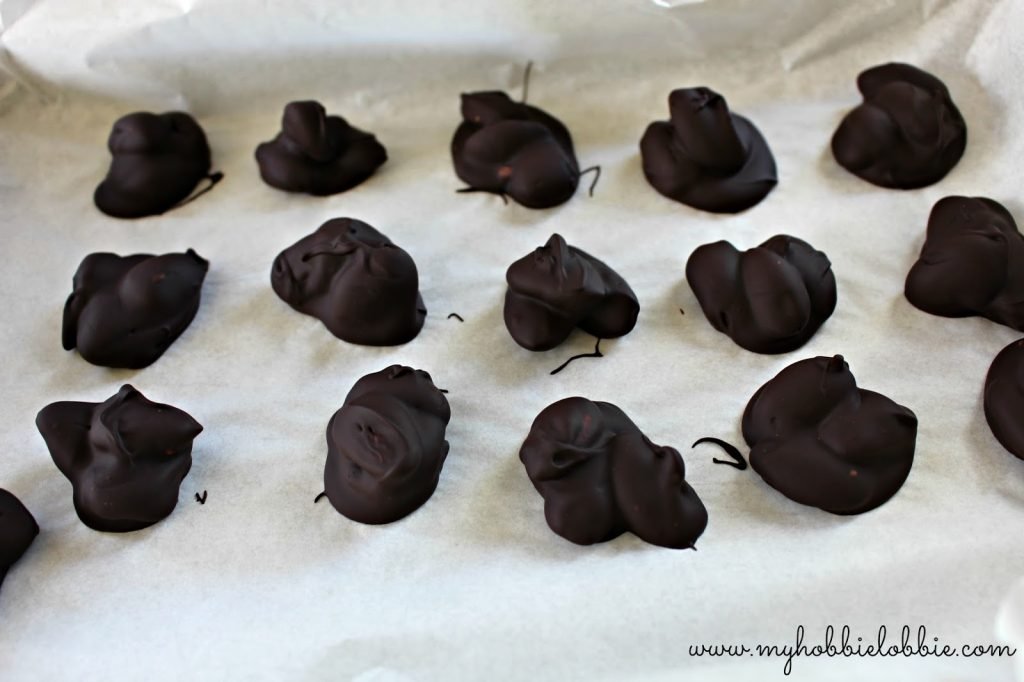 Keep refrigerated till you are ready to serve or store in an airtight container in the fridge. If you want to wrap them in colored candy wrapping foil you can do so at this stage. You could also pop them in little festive bags and use them as edible gifts or host / hostess gifts this holiday season. I am going to leave them uncovered.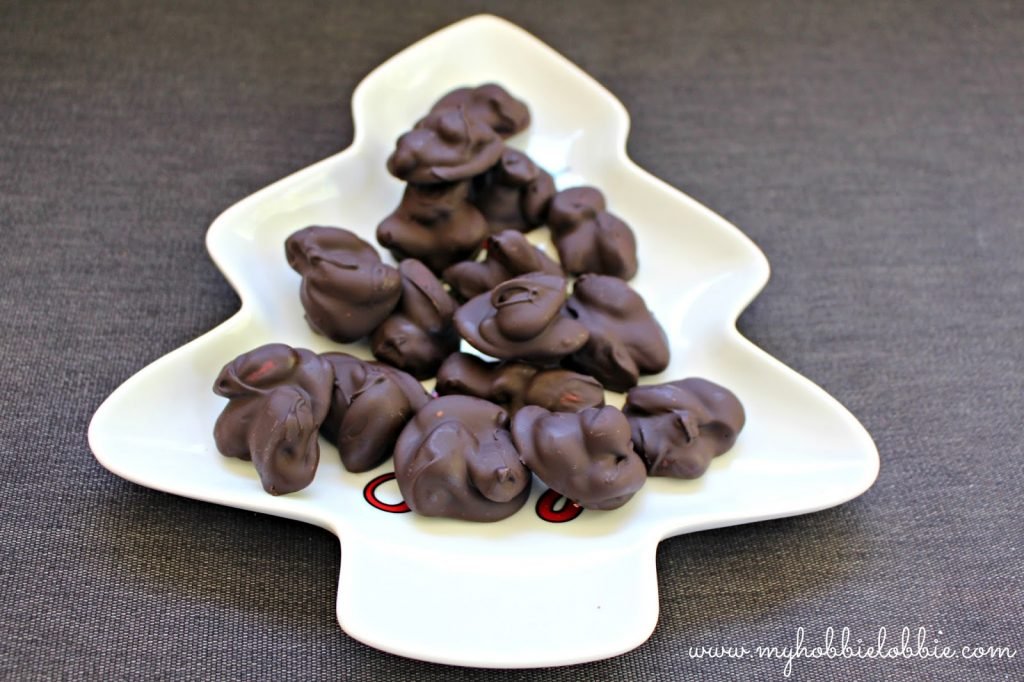 Enjoy!!!
Note: If you are making a massive batch, melt your chocolate in batches that way it is easy to work with. However if you find the chocolate getting too thick to work it, microwave it for about 10 seconds and you should be good to go.
If you don't have a microwave, you could use the double boiler method to melt the chocolate. Simply place a bowl with the chocolate over a pot of simmering water, making sure the water doesn't touch the bottom of the bowl and no moisture or vapor gets to the chocolate while you are melting it.