Peri Peri Chicken Wings – a perfect , spicy dish to serve up at a party or game night, or even with a nice big salad for a quick weeknight meal. Either way, these are super delicious and while looking through the blog recently, I realized that I haven't shared many chicken wings recipes here. So today, I'm going to rectify that. I bring you some spicy, delicious Peri Peri Chicken wings. These are made from scratch and bake off in the oven. So there's very little hands-on time required for this recipe. All you have to do it put together a simple marinade paste and then work on a dip, a salad or anything else you'd like to serve these wings up with.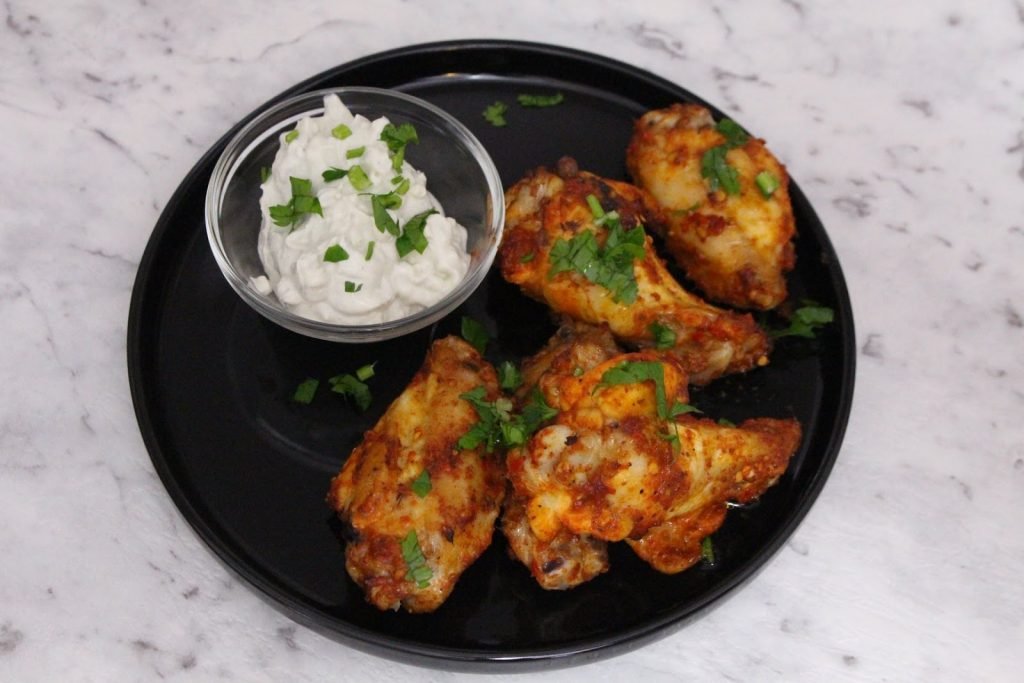 If you're prepping your own chicken wings, split the wings and either set the tips aside for a stock or discard. I bought Marco's Wing Nibbles from Woolworths that has this stage dealt with so you use the wings as is. 
This recipe couldn't be any simpler. After prepping the wings, you simply wash them and pat them dry. Sprinkle with salt and use our beautiful homemade marinade. Peri Peri is known to be a spicy sauce / marinade and this one is. If you enjoy a good Peri Peri, but don't want it too spicy, you could substitute some of the birdseye chillies with a milder pepper. That way you will still get the color and volume in the marinade but it won't be too spicy. 
In our house, we love spicy food, so I've used birdseye chillies with the seeds and all. And can I tell you, these wings turned out so very delicious. It packs the perfect amount of kick for us and when you pair this with the homemade Blue Cheese Dip, it is absolutely divine. 
The Blue Cheese Dip has the perfect cooling affect to counter the spiciness of the wings. Let me tell you, once you taste this, you won't be able to stop at one. But don't just take my word for it. Go ahead and make these wings and try them out for yourself. 
So let's take a look at the recipe now, shall we?
Peri Peri Chicken Wings
Course: Appetizers
Difficulty: Easy
Peri Peri Chicken Wings – a perfect , spicy dish to serve up at a party or game night, or even with a nice big salad for a quick weeknight meal.
Ingredients
1 kilo chicken wings (split the wings and either set the tips aside for a stock or discard. I bought Marco's Wing Nibbles from Woolworths that has this stage dealt with so you use the wings as is.)

Salt, to taste

Chopped parsley, to garnish

For the marinade –

8 birdseye chillies

4-6 large cloves of garlic

1 tbsp. smoked paprika

1/2 tsp extra hot Cayenne Pepper

1 tsp oregano

1 tsp black pepper powder

Juice of 1/2 lemon or 1 lime

1 – 2 tbsp vinegar

For the Blue Cheese Dip

1/3 cup Greek yogurt

1/4 – 1/3 cup of Blue Cheese crumbled

White pepper powder, to taste

1 tsp Worcestershire sauce
Directions
The wings –
Grind all these marinade ingredients to a paste.
Wash the chicken and pat dry.
Season with salt.
Pour the marinade over the chicken and toss to coat the chicken pieces well. Set aside to marinade for about 30 minutes.
Preheat the oven to 180 degrees C.
Lightly grease a baking dish. Place the chicken wings in a single layer.
Bake for about 30-40 minutes or till cooked through, flipping them over about halfway through the the cooking process.
Garnish with some chopped parsley.
Blue Cheese Dip
Mix all the ingredients together. Serve up.
Recipe Video
Back when I was working at my last job, a colleague, who happened to be my work bestie, introduced me to this treat. We'd take our breaks together whenever we could and hop over to Muffin Break. Our Muffin Break outlet made the best Spinach and Feta Rolls (sidenote – their Bran muffins were to die for). But I'd never noticed these little beauties before this. I was on a first name basis with its Non-vegetarian counterpart – the sausage roll. I've had quite a few of those. But on this particular day, when we went over to Muffin Break, she ordered a Spinach and Feta Roll to go with her coffee. Needless, to say, I was intrigued. So I ordered one for myself too. And the rest, as they say, is history.
From that day on, if I ever need to grab a bite and am in the mood for something savory, I pick up one of their Spinach and Feta Rolls. They are seriously good. And, I like to think that I'm getting a little extra Spinach in my diet that day.
So getting back to yesterday. When I found myself with a big basket of Ricotta cheese and a bag of Spinach I needed to use up, I decided to see if I could use the two together and come up with something delicious. After a little looking around, I found just the thing. I've based my rolls on a similar recipe I found online and I just switched it up to my liking. This time around, I used store bought Puff pastry. I had a packet in the freezer that I wanted to use up too. This recipe has just 2 basic components – the pastry and the filling. The filling is really easy to put together. You just mix up all the ingredients and your ready to go. The verdict – These rolls are really good. They're not exactly like the Muffin Break ones. I am now convinced that there is some flour added to their filling, possibly to bulk it up. But these homemade rolls can give them a serious run for their money. And this time, I know for sure that there's a heap of spinach in there. And everyone knows that Spinach with Ricotta and Feta is a match made in heaven. So let's have a look at these Spinach Rolls, shall we?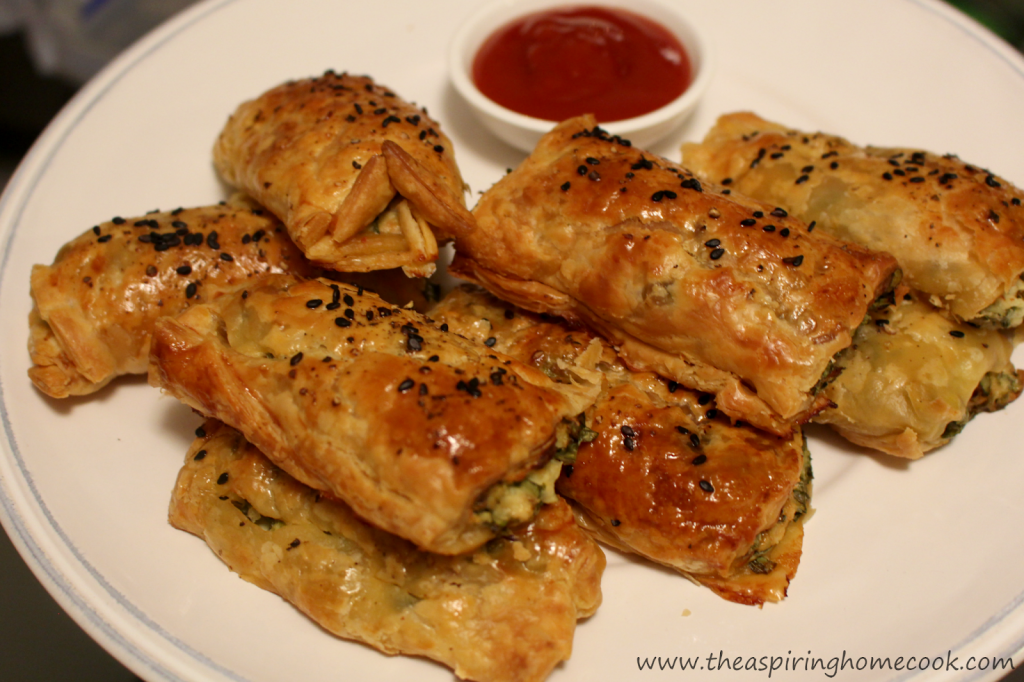 Spinach, Feta and Ricotta Rolls
Makes 18 rolls
3 sheets Pampas all butter Puff pastry
200g Feta Cheese
300g Ricotta Cheese
150g Baby Spinach, finely chopped
Red Chili Flakes, to taste
Salt, to taste
Freshly cracked black pepper, to taste
1 egg
Black sesame seeds, to sprinkle over
Preheat your oven to 180ºC.
Place the baking tray in the oven.
Thaw 3 sheets of puff pastry. The pastry should be soft enough to work with but still cold. If it warms up too much, it gets sticky and difficult to work with.
Crumble the feta into a bowl.
Now add the Ricotta and crumble that in as well.
Add crushed black pepper to taste.
Taste the mix and add more salt if you want. I didn't need to add any salt at this stage.
Add the spinach and red chili flakes. Mix well.
Crack the egg into a small bowl. Whisk and keep aside.
Working with one sheet at a time, cut the sheet in half.
Spoon the mix to form a long log in the center of each half of the pastry (lengthwise).
Brush one side (along the length) of each half of the sheet with the whisked egg.
Roll the other side of pastry over the spinach into a tight log. The egg will help seal the pastry.
Place the rolls on greaseproof paper, seam side down. Repeat with the rest of the pastry.
Carefully place the paper onto the heated tray.
Brush the tops of the rolls with the whisked egg (egg wash).
Crack some black pepper on the top of each roll and sprinkle some black sesame seeds on the rolls.
Bake for about 30 minutes or till golden brown in color.
Serve hot.
** This post contains affiliate links.
Around this time of the year, especially if you partake in the Halloween festivities, you will find yourself inundated with candy and other sweet treats and bakes. In a nutshell, a sugar overload. While I love my cakes and sweets / candy as much as the next guy or gal, if you are like me, you will need a little bit of savory to cut through all that sweetness.
Last year, I was really excited about Halloween. We were supposed to have a big Halloween party at my workplace. However, as luck would have it I quit that job in early October to focus on building up a little business. When my colleagues threw me a small farewell party, they decided to roll with the Halloween theme. I couldn't pass up on the opportunity to whip up a few treats. These little cracker bites were one of them. I will share the rest of them with you over the next few days. My job was extremely physically demanding and boasted quite a few really long days. So I had to come up with treats that were quick and easy to put together. I knew the candy part of the party would be taken care of, so I stuck with the savories.
These Monster Eye crackers are perfect for a party or get together. They are a Halloween Play on cheese and crackers. They can be whipped up really quickly with all of 3 ingredients. So, I knew I was going to make them. I was a little skeptical about them considering how simple they are, but let me tell you, they vanished really quickly. I wish I had made more. If you decide on making these, make sure you make a big batch. So to make these, all you need are crackers. I love the Eton crackers found in Aldi stores locally, but if you cannot get your hands on them, Ritz Crackers
will work just as well. You can use any other crackers you'd like. Now that the crackers are sorted, the next ingredient is the cheese. I used Kraft Cheese Slices
, but again, you can use any cheese slices you like. The last ingredient you need are olives. You can use Pitted Kalamata olives
or pitted Green olives, if you prefer.
The process is fairly simply, and works fastest if you create an assemble line. I hope you enjoy these little snacks this Halloween as much as we did.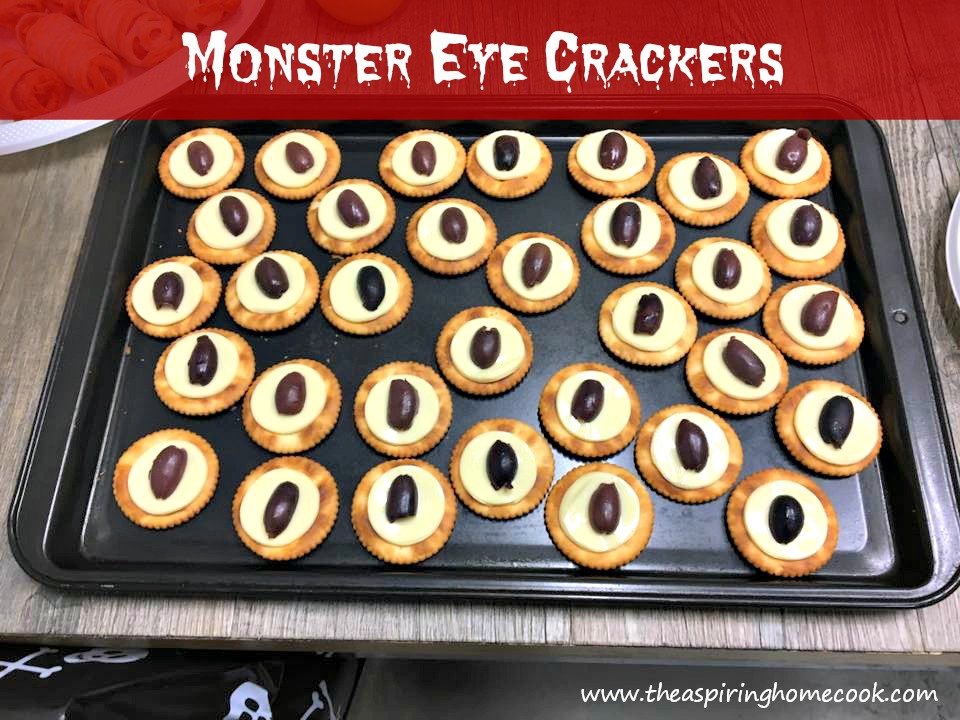 Monster Eye Crackers


Eton crackers (You can also use Ritz Crackers
)
Kraft Cheese Slices
Pitted Kalamata olives
You will also need a circle cookie cutter, just a little smaller than the size of the crackers you choose to use.
Cut the cheese slices into circles using the cookie cutter and keep aside.
Cut the pitted olives in half and keep aside.
On a serving platter, place the crackers in a single layer.
Top the crackers with a circle of cheese and top that with half an olive.
And that's basically it. Serve up.
Enjoy!!!
UPDATED:
to add recipe video.
Fish cutlets are one of my favorite seafood recipes to make and to eat. I love seafood and I also happen to love cutlets. They are so versatile. You can serve them as a snack / appetizer (they go so well with a chilled beer), as a meal with a side of chips and / or a salad or you can use them to make a fantastic burger. I have shared a recipe for fish cutlets previously using fresh fish. You can find that one here. This recipe is fairly similar with the exception of one main difference. This one uses canned tuna.
Now, I love my fish fresh. I believe that fresh is the best way to enjoy fish. But yesterday, I found myself longing to eat some fish cutlets but didn't have any fresh fish. Now that was just not going to do. So I put my thinking hat on and eventually decided to try to make cutlets using canned tuna instead. I had heard that some people make their cutlets with canned fish, but I'd never tried it out for myself. I happened to have a few cans of tuna chunks in the pantry, so I figured I had nothing to lose.
The cans I used were tuna chunks in spring water. You need to make sure you drain the tuna well. I didn't know what to expect and found that I had to use a little extra egg for binding but in the end I was delighted with the results. The cutlets were delicious. It took a fraction of the time to make compared to if you were to use fresh fish because the fish has to be cooked and deboned. So in all, I was extremely pleased with this attempt.
The type of canned tuna will determine how much egg is needed. I would recommend starting out using one egg and if you can shape the cutlets easily without them falling apart, then you are good to go. If not add more egg to the mix.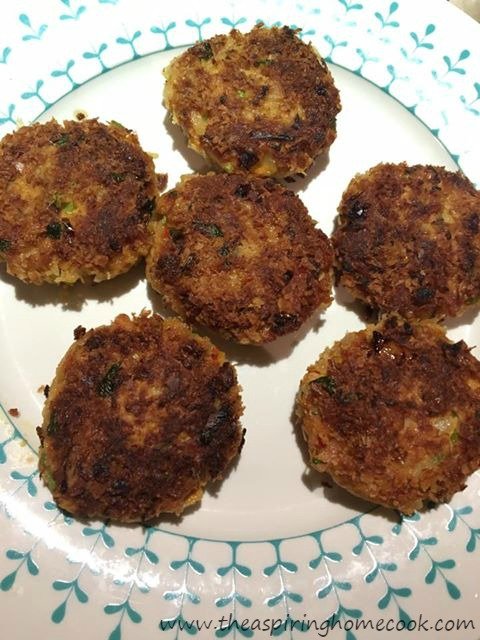 Goan Fish Cutlets
Yields: 12 cutlets


4 cans of tuna (I used 95g cans of chunk tuna in spring water) (Or 1 can x 495g Tuna)
1 onion, finely chopped
2 red birdseye chillies, finely chopped (optional)
1/2 tsp fresh ginger, finely chopped (or you can use paste)
2-3 cloves garlic, finely chopped (or you can use paste)
A small bunch of fresh coriander leaves and stalks, finely chopped
Salt, to taste
1/2 tsp turmeric powder
1 tsp red chilly powder
1/4 tsp black pepper powder
1-2 eggs
2 slices of bread
Bread crumbs, to coat the cutlets
Oil for frying
Drain the tuna thoroughly and flake it in a large mixing bowl.
Soak the bread slices in water for about 5 minutes and squeeze thoroughly. Crumble the bread as fine as you can and add it to the bowl.
Add the rest of the ingredients except the panko bread crumbs and the oil to the bowl.
Place a layer of the breadcrumbs on a dry plate.
Using the fish mix, shape into cutlets and carefully coat on both sides with the bread crumbs.
Heat 1-2 tbsp oil in a pan on medium heat and carefully place the coated cutlets on the pan. Cook for a couple of minutes on medium heat till golden brown on one side.
Then carefully flip over to cook to a golden brown on the other side too. Add another spoon of oil to the pan as needed.
Repeat till the batter is over and all the cutlets are fried.
Serve hot.
If you enjoy a good cutlet, try out some of these recipes –
Fish Cutlets
Beef Cutlets
Eggplant Patties
Thai Inspired Chicken Patties
Quick and Easy Crab Cakes
I can barely remember the last time I enjoyed some good chicken wings. It must have been atleast over 4 years ago when my brother whipped up some at a family BBQ. I had a big hankering for some and picked up some Chicken Wings the other day. Now, I do know how my brother makes his version but I thought it would be a good idea for him to do a guest post around here sometime. Now I just need to get him to do it.
Anyway, I wanted to try making something different and when I came across this recipe, it was a no brainer. I mean it has a concoction called Angry Sauce. How cool is that! I was really excited to try it out. The recipe seemed fairly simple. What I really loved about it is that the wings are baked. There is no frying involved. Yet, you are left with a beautiful crispy skin on the wings and that is just how I like it. It does make this recipe healthier. They are then dunked in a flavorful sauce and tossed. What you end up with is a really tasty, sticky plate of wings that is bound to be a hit at your next party or gathering. There is hardly any hands on time required for this recipe which makes it perfect for a party. And that Angry sauce is so good, a little spicy, tangy and sweet all at the same time. Yummmm. I do hope you try this recipe out. And if you do, I'd love to hear what you think of it.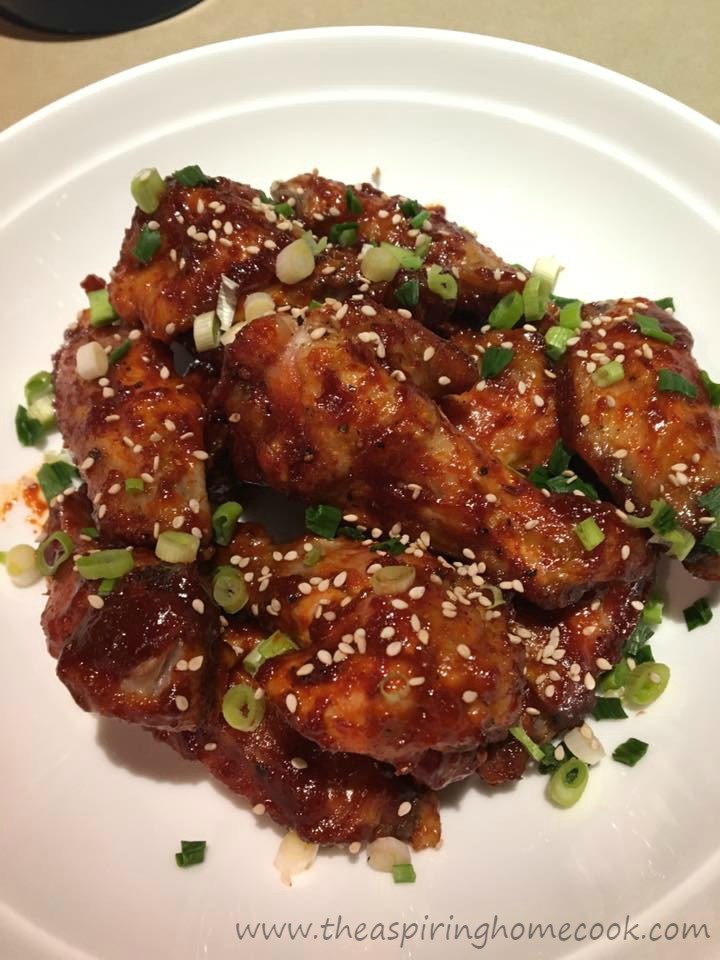 Chicken Wings in Angry Sauce
Adapted from: Food & Wine


2 pounds chicken wings (split the wings and either set the tips aside for a stock or discard. I bought Marco's Wing Nibbles from Woolworths that has this stage dealt with so you use the wings as is.)
1 – 1 1/2 tbsp olive oil
Salt, to taste
Freshly ground black pepper, to taste
1 – 2 tbsp gochujang (Korean red chilly paste) (depending on how hot you want the sauce)
1 tsp tabasco sauce
1 tsp red chilly powder
1-2 tbsp water
1 tbsp sugar
2 tsp rice wine vinegar
2 tsp soy sauce
1 spring onion, thinly sliced
1 tsp sesame seeds
Preheat the oven to 180ºC.
Line a large baking sheet with foil and spray with cooking spray. (I just used a Pyrex baking dish and lightly sprayed with olive oil.)
Toss the wings in the olive oil and sprinkle salt and pepper. Toss well to make sure all the wings are well coated.
Place the wings skin side up on the prepared baking tray and bake for about 40-45 minutes until they are cooked through and the skin is crisp.
While the wings are baking, in a small bowl, mix the rest of the ingredients for the sauce, except the spring onion and sesame seeds. If the sauce is too thick, add a little more water to thin it down a little.
Taste the sauce and adjust the spice, salt, sweetness or sourness, as needed.
Drain off any fat that has rendered from the wings while baking, and toss the wings in the sauce till it is well coated.
Sprinkle with the spring onion and sesame seeds.
Enjoy!!!




*** This post is not a sponsored post and I haven't received any compensation from either Marco's or Woolworths.
Today I have a yummy little snack to share with you. Back in Bombay and in Goa, these puffs are legendary. You find loads of variants of the puff with a variety of the fillings – chicken, veg, mutton etc. They are pretty easy to find, though finding a good one might not be too easy. My favourites all came from stores in Bandra, namely my college haunt – Andora's Cafe, Hearsch's Bakery and a more pricey Candies. So eventually, when I learned to make my own at home, I was really excited. Back in Bombay I always made the puff pastry from scratch and it always turned out well. I hope to make it again someday and share the recipe here.
Here in Sydney, I was thrilled to find I could buy frozen puff pastry. That meant it was now possible to enjoy these little puffs with a fraction of the effort and time involved. Now don't get me wrong. I am all about cooking and baking from scratch, but everyone needs to be open to a few shortcuts every now and then, especially when life gets hectic. So today, we are going to use the store bought frozen version. That covers the pastry. For a tasty filling I use my Beef mince recipe, but leave out the potatoes. Also you need to make sure that the liquid has cooked out so that you don't have a runny filling. A runny filling will only result in a soggy pastry.
Now it's just a matter of assembling the puffs. I cut up each thawed sheet of pastry into 6 portions and place the filling on one side keeping away from the edge. Run a finger dipped in water along the edges and fold over to seal. Apply an egg wash and bake. You can make these in a larger batch and refrigerate them. Just bring them to room temperature and heat them up on a pan or in the oven and you can sit down to a nice little snack. Very often, I have these with some tomato ketchup and I can safely say, nothing beats it.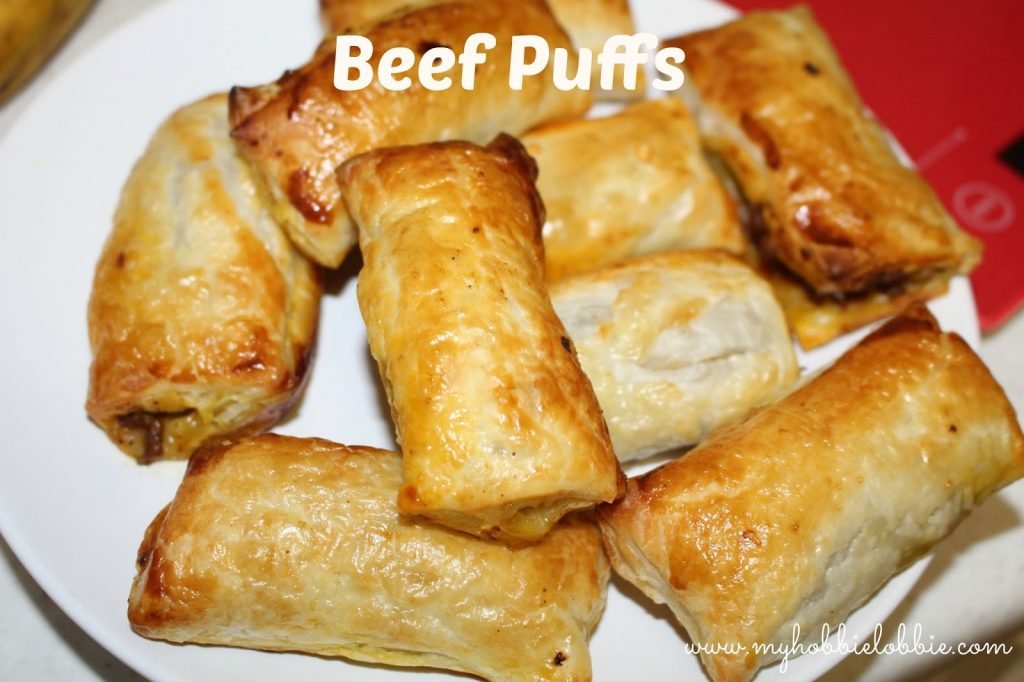 Beef Puffs


Beef mince (each puff requires a spoon of filling)
Frozen puff pastry sheets, as many as you need (Each sheet yields 6 pieces)
1 egg, for the egg wash
Preheat the oven to 220ºC (follow the package instructions if you're using puff pastry).
Place the thawed puff pastry sheet on a flat work surface and cut into 6 potions. Place a spoon of the filling on one side of each puff staying away from the edges like so –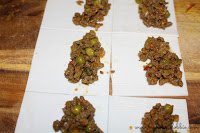 Keep a little bowl of water near your work surface. Dip a finger in the water and run on the edges of each puff.
Flip the empty half over onto the side with the filling and seal the edges. Place it on a baking tray lined with baking paper.
Crack an egg in another bowl and beat lightly. Using a pastry brush, lightly brush the egg wash over the puffs. This gives it a lovely golden brown glaze.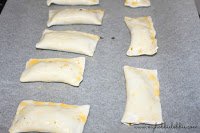 Bake for 15-20 minutes or till golden brown.
Enjoy them warm.
This month's
SRC
assignment was an absolute doozy. I was assigned Erin's blog,
Making Memories with Your Kids
. I was really happy with this assignment, not to mention excited. I've known and admired Erin's blog since 2010. That was when I first came across her blog; we were both participating in the "12 Weeks of Christmas Cookies" bake along. Go over and have a look at all the fun she's got going there. Not only does she have some awesome recipes, but she's also got heaps of fun foods for kids, craft activities and some really amazing gift ideas for pretty much any occasion. I love looking at all the ideas she comes up with.
For this month's SRC reveal, I decided to try out her Deep Fried Zucchini with Garlic Aioli Sauce. Mainly, because that Garlic Aioli sounds so amazing I had to try it out and I needed something to have it with. Enter – Deep Fried Zucchini. Both really simple recipes, but oh so very good. I know I will be making these time and again 🙂
The Aioli is nice and flavorful, but the real star, to my utter surprise was the zucchini. I expected the aioli to be my favorite. The zucchini was so good, it didn't need a dipping sauce. I have some more zucchini in the fridge and I'm going to make another batch for dinner this evening. That's how good it is. Don't take my word for it, go ahead and try it. Erin, thank you so much for this recipe. I LOVE it.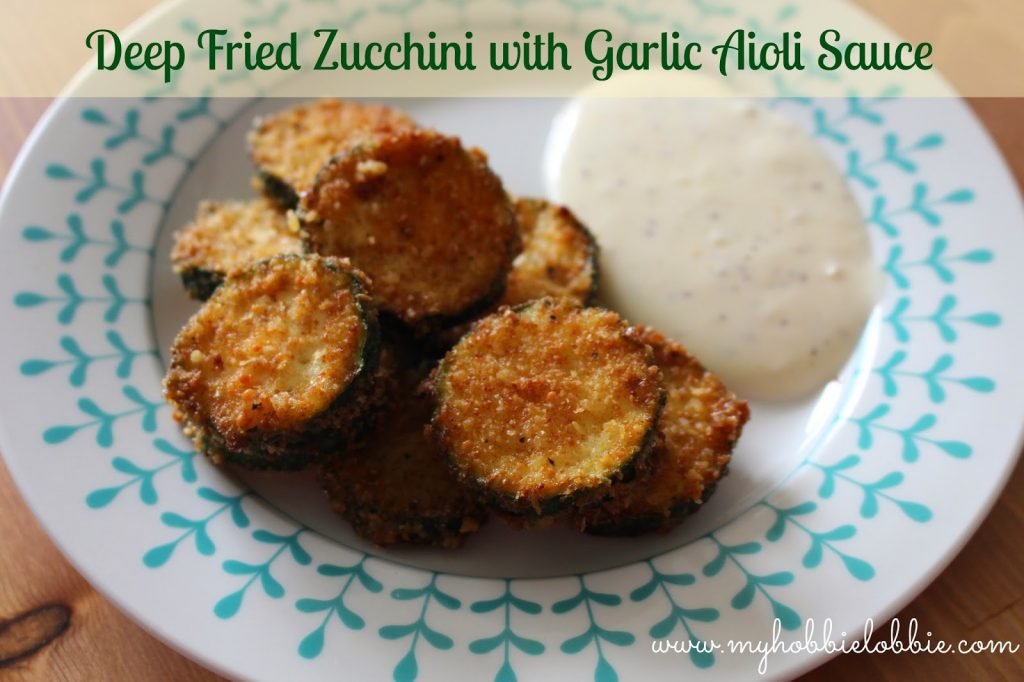 Deep Fried Zucchini
Zuchinni
2 eggs
1/4 cup buttermilk
1 cup breadcrumbs
1/2 cup Parmesan cheese
Salt and pepper, to taste
Oil, for deep frying
Heat the oil for deep frying.
Cut the zucchini into slices about 1/4 of an inch thick.
In a bowl, beat the eggs and the buttermilk.
In another bowl mix the breadcrumbs, parmesan cheese, salt and pepper.
When the oil is hot, dip the zucchini in the egg dip and then in the crumb mixture and then carefully place in the oil.
Fry for a couple of minutes on both sides on a medium flame, till golden brown.
Using a slotted spoon, remove the slices from the oil and place on some kitchen paper to drain any excess oil.
Serve hot.
Garlic Aioli


1 cup mayonnaise
1 tbsp lemon juice
3-4 cloves of garlic, minced / crushed.
Mix it all together and serve.
Here's something I haven't done before – I made dessert too. Nothing fussy but an absolute treat. When I saw this post on Erin's site, I couldn't go past it. I've seen this ages ago and always wanted to try it out. They just look like so much fun. I had absolutely no excuse to not make it. The next time I make these, I will have to leave the soda out a lot longer. I did it this time but evidently it needed to sit out longer. So when you try these out, if you think your soda has been out long enough to cut down the carbonated effect, keep it out a little longer 😉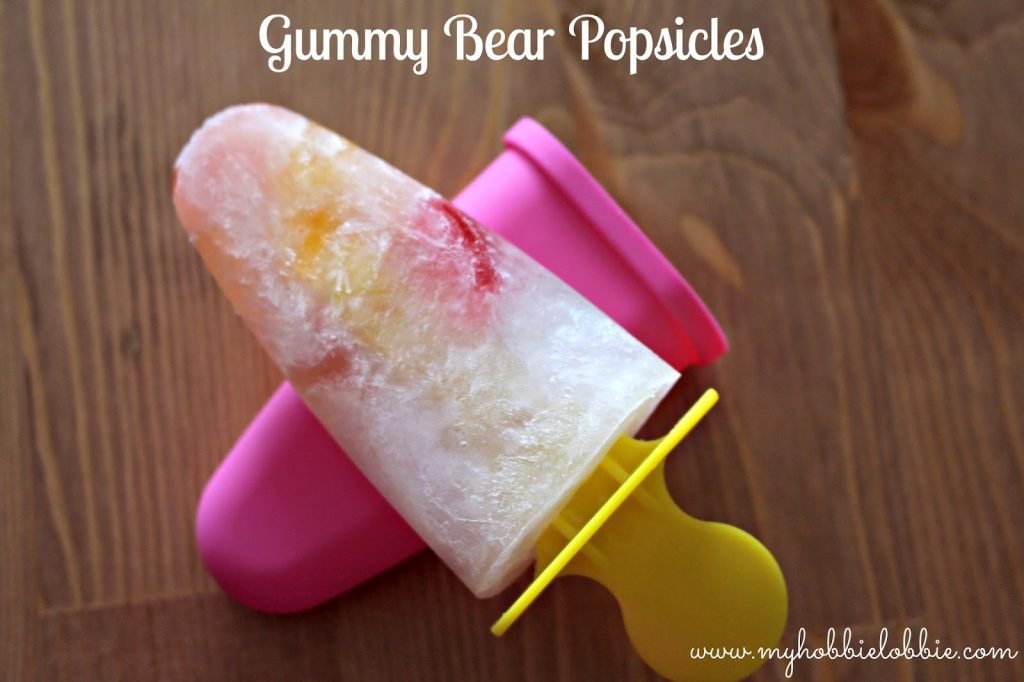 Gummy Bear Popsicles


Sprite
Gummy Bears
Let the soda sit out for a while to let some of the fizz die out.
Drop some gummy bears into your popsicle mould. You can use as many or as few as you like. I went for about the half way mark.
Top up with the Sprite.
Freeze.
Enjoy on a hot summer's day or as it turns out on the first day of autumn here 🙂
The kids will love it and so will the adults.
There are no kids in our household and I still made it and we loved it.
Do stop by and check out what the rest of Group A whipped up this month.
Watch the recipe video here –
This recipe has quickly become one of my absolute favorites. Its a funny story,until a couple of months ago, I didn't really care much for Zucchini. They aren't easily available in Mumbai but I'd had it as a side dish at a couple of restaurants and every single time, I personally found it revolting. I couldn't understand what all the fuss was about in blogland. I saw so many blog posts with so many absolutely delicious recipes, I figured it was just me, something I didn't like and was going to have to live with it. Again, this was hard for me to understand, because there aren't too many things that I don't like. Anyway, life went on. And then when I moved to Sydney, my aunt invited us to spend the day with them at their place in Woy Woy. At dinner, one of the sides that my uncle whipped up was a simple veg. stir fry, which had zucchini in it and you know what, I loved it, much to my surprise. I wanted to make sure it wasn't a one off thing, so I decided to try my hand at cooking it myself.
After a few minutes online, I had found a recipe I knew would be nice. I bought some zucchini from my favorite Paddy's market (Haymarket). I had the rest of the ingredients on hand. This recipe is fairly quick to put together, apart from hand grating the zucchini. If you have a food processor that can do the job for you, go for it. Nothing like saving time and effort. Its simple and quick to put the batter together and then all you do is fry it up. Within a short while, you will be sitting down to some pretty amazing fritters. My husband and I love these little guys so much, I've made them thrice already. And trust me, I can see myself making these fritters many more times to come. Try it out for yourself and see how good these are.
Zucchini Fritters
2 medium zucchini
1/2 onion, finely chopped
1 chilly, finely chopped
1/3 cup all purpose flour
1/3 cup grated cheese
1 egg
2 tbsp. fresh coriander, finely chopped
1/2 tsp. dried oregano leaves
1 tsp. salt
1/4 cup of bread crumbs, approx
2-4 tbsp olive oil
Grate the zucchini coarsely. Sprinkle a little salt (about 1/4 tsp.) over it and let it stand for about 10 minutes. The salt will draw out all the excess liquid. Place in a colander and squeeze to drain out as much excess liquid as possible.
Place the grated zucchini in a bowl. Add the onion, chilly, flour, cheese, salt, coriander, oregano and bread crumbs. Whisk the egg and add to the batter. Mix all the ingredients together. If the batter is to wet, add a tbsp or 2 of bread crumbs.
Heat a tbsp of olive oil in a pan. Place spoonfuls of the batter onto the pan and using the back of the spoon, flatten it out a bit and shape into fritters. Fry on medium heat till it turns golden brown. Flip and cook on the other side till it turns golden brown too.
Drain on kitchen paper and serve hot.
Yummy, yummy, yummy!
** I have tried this recipe using cream cheese as well as grated cheese and both times, it was delicious. Feel free to experiment with your favorite cheese.
This recipe has been shared at –
Show Me Your Plaid
Do I have a treat for you today, or what? If you're like me and love cheese, love something spicy and are on the lookout for quick and easy appetizers or finger food you can serve a crowd, you've come to the right place. These little cheese bites are so, good. With a little crunch from the bread crumbs, these little bites, I think would be lovely with some chilled beer. It would be ideal on a game night, specially if you have folks over to watch the game. Be warned, these are addictive, so you might want to make enough to cater to the crowd you're expecting.
Each pepper gives you 2 pieces. Typically, these bites are made using jalapeno peppers, but in Mumbai it is close to impossible to get jalapeno peppers, so I opted for 'Bhavnagari Chillies', the next best thing. Its also really easy to increase or decrease quantities here, so just go for it. You won't regret it.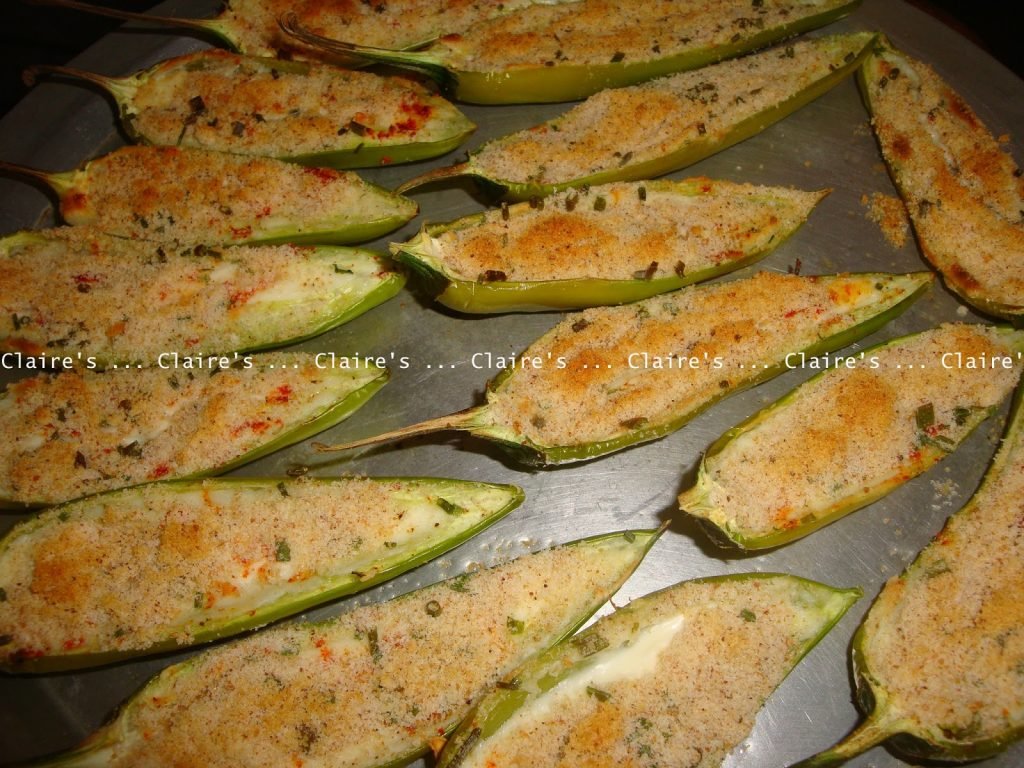 Green Pepper Poppers


1 dozen Bhavnagari Chillies / jalapeno peppers
1/2 cup Cream cheese
Bread crumbs, as required
Red chilly powder, to sprinkle over
Chives, to sprinkle over
Wash the peppers and pat dry. (I leave the stalks on, I think it looks cute like that.)
Slit the peppers in half.
Whisk the cream cheese till it becomes smooth and creamy. Do not over whisk.
Using a spoon, fill the pepper halves with the cream cheese. Alternatively, you can use a pipping bag to pipe the cream out. This time around, I used a spoon.
Sprinkle a touch of red chilly powder, the bread crumbs and some chives.
Place on a baking tray and bake in a hot oven @ 170ºC, till the crumbs are crispy and slightly browned.
Serve hot.
Here's something I came up with on the go. In the spirit of complete disclosure, I must admit that I got this sauteed mushroom beauty from my brother who had whipped these up to serve along with some barbecued beef strips at out last barbecue. It was delicious and everybody loved it (even the mushroom haters.) This is so simple and easy to put together and even if you aren't planning on barbecuing anything, this would work really well as a side dish. A few days ago, I was feeling completely uninspired about what to cook up for dinner. Yes, that does happen to me sometimes. And as a last minute light bulb that sprang to life in my head, I realized that I had some yummy button mushrooms in the fridge. Immediately I thought of the sauteed mushrooms, but it struck me that I didn't want to do anything fancy besides this. I simply toasted some bread and served the mushrooms with the bread and a nice fresh salad alongside. That was a simple, yummy weeknight meal for us.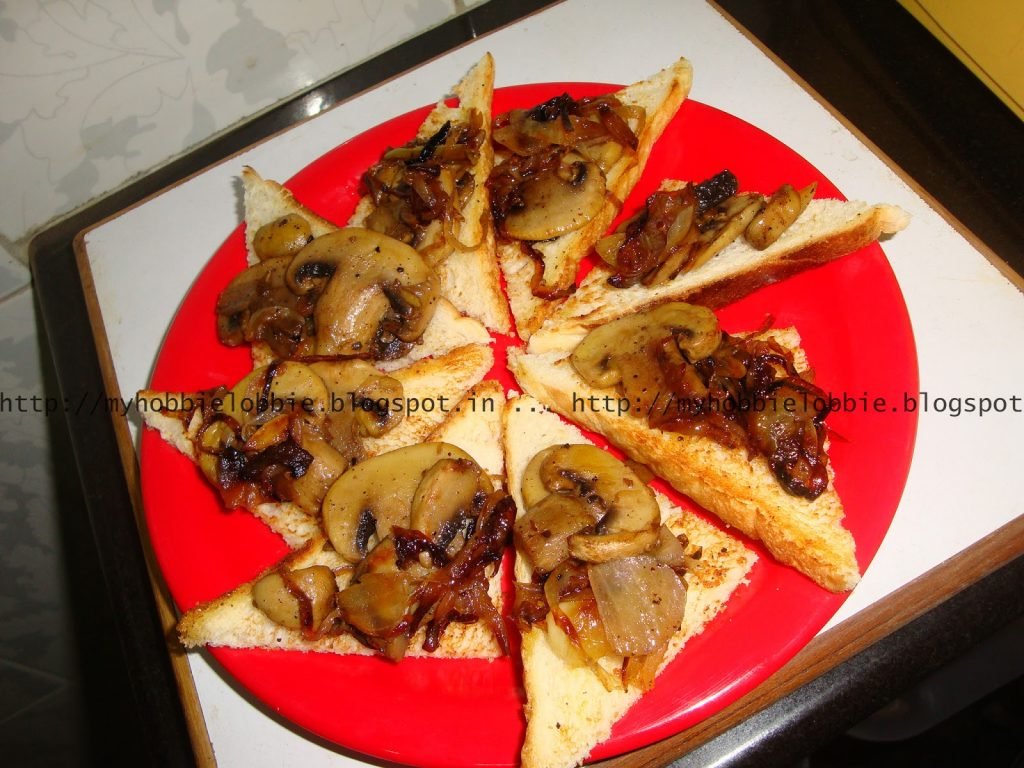 Mushroom Toast Bites


200g packet of button mushrooms, cleaned and sliced thickly
2 onions, sliced
1-2 green chillies, slit
1 tsp olive oil
A knob of butter
3 cloves of garlic, lightly crushed to release flavor
Salt, to taste
Crushed black pepper, to taste
Place the oil and butter in a pan over medium heat.
Add the mushrooms and saute till they're done. Don't overcrowd the pan as the mushrooms will just stew in their juices. Do this in stages if you're using a small pan. Drain the mushrooms and keep aside.
Using the same pan, add a dash more oil / butter, if needed and tip in the garlic and onions and saute them on medium heat till they're lightly caramelised.
Add the chilies and the mushrooms. Season with salt and pepper to taste. Stir to mix well.
Take off the heat.
You can add some chopped coriander leaves at the end. I didn't have any that evening, so I just left that out.
Lightly toast slices of bread and cut in halves and place the stir fried mushrooms over it.
Arrange on a platter and serve.
This recipe is linked to –
Savory Sunday
My Meatless Mondays
Mix it up Monday
Recipe Sharing Monday
Just Another Meatless Monday
Mouthwatering Monday
Mangia Mondays
A Little Birdie Told Me