A delectable coconut based curry, slightly tart, perfectly spiced and loaded with succulent prawns, this Goan Prawn curry is an absolute winner.
Everyone has atleast one meal that takes them right back to their childhood. For me its this Goan prawn curry. This curry with some rice, for me, is the ultimate soul food. And I must say, my mother makes the best prawn curry in the world. Atleast I think so. This is her prawn curry recipe that I'm sharing with you today.
For a recipe like this, fresh prawns are the best. Check out my video on how to clean and de-vein prawns here. I recommend using small to medium sized prawns for the curry. Save your larger prawns (like your king prawns and tiger prawns) to crumb fry or grill.

Now, to take this prawn curry to the next level, add some okra to the curry. Don't kick it till you try it. It is really something else. I have shared a version of that curry here. This is just how my family makes this curry. And almost every Goan family has their own version of it.
This prawn curry is best served pipping hot with some boiled rice, Goan red rice is even better, if you can get your hands on some. This also goes down a real treat with some crusty bread.
The concept of Kalchi Kodi
While all this is quite common, something you may have not come across before is the concept of "kalchi Kodi" which simply translates to "yesterdays curry". This is literally what it is. Any leftovers are reheated the next morning. This makes the curry really thick and it is then enjoyed with either chapatis or bread for breakfast. For me this curry for breakfast is a little too savoury. So instead, we just have any leftovers for lunch the next day.

Onto the recipe.

Goan Prawn Curry
Course: Mains
Difficulty: Easy
A delectable coconut based curry, slightly tart, perfectly spiced and loaded with succulent prawns, this Goan Prawn curry is an absolute winner.
Ingredients
1/2 kg prawns, peeled and deveined

1/2 onion, finely chopped

2 chillies, slit in half

1 piece of amsol (dried mango)

3-4 pieces of kokum

A walnut sized ball of tamarind

1 tbsp coconut oil

Salt, to taste

1-2 tbsp lemon juice

1 tsp vinegar, optional

For the Masala (spice paste) –

1/2 cup grated coconut

6 Kashmiri chillies

2 large cloves garlic

1 tbsp coriander seeds

1/4 tsp black pepper corns

1/2 tsp cumin seeds

1/4 tsp turmeric powder
Directions
Sprinkle salt, squeeze some lemon juice and drizzle the vinegar over the prawns and set aside
Pour a little warm water over the tamarind and set aside (I use about 1/4 cup of water).
Grind all the ingredients for the masala to a fine paste, using a little water as needed.
Heat some oil in a pot. Saute the onions till they have softened and turn translucent.
Add the masala and let it saute for a few minutes.
 Add some water to thin out your masala and get it to the consistency you like. Remember the curry will thicken as it cooks. So add a touch more water. Add the chillies and bring it to a boil.
Turn the heat down to a simmer, add the amsol and the kokum and let the curry simmer for 6-8 minutes. Halfway through, stir the curry through and add water to adjust the consistency, if needed.
 When the curry is almost ready, add the prawns. Add some of the tamarind extract and cook for another 2 minutes or till the prawns are just cooked. Don't overcook the prawns.
Check for seasoning and adjust as required.

Serve hot with rice.
 
Enjoy!
Recipe Video
Hello everyone and welcome back. A few days ago, I whipped up another batch of Potato Chops. This is my favorite way to enjoy Savory Mince. For those of you who have never eaten a Potato Chop before, it is a handled, single serve version of Shepherd's Pie. Ofcourse, this recipe is a tad spicier than the original one, because of the use of Goan spices. As always, you can adjust the spice level to your liking.
If you haven't had potato chops before, you really should. These little beauties are served up in lots of Goan homes, not just in Goa, but around the world. They are a must at any party or family gathering, in my house at least. I have posted this recipe before, but that was years ago. The recipe is still the same one. I've just got some new pictures and I've made a little video to show you how I make these potato chops. They are pretty simple to make, but if you're a visual learner like me, the video will help make the process simpler. So go on over and have a look. Let me know if you have any questions at all. The step by step recipe is just below.
Potato Chops


1/2 a recipe of Beef Mince (Beef mince video recipe here – https://youtu.be/RhSfsw2EC1U ) (You can substitute mutton mince, if you don't eat beef)
4-5 medium potatoes, boiled, peeled and mashed
Salt to taste
1/4 tsp cumin powder
A pinch of turmeric powder (optional)
1 tbsp fresh coriander leaves, chopped
1 egg
Bread crumbs / Panko bread crumbs
Vegetable oil, for frying


Make half a portion of beef mince and keep aside. This should come down to room temperature before you proceed with this recipe.


Boil the potatoes only when you are ready to make the chops you need to work when the potatoes are still warm. Cold potatoes make handling difficult.


Peel and mash the potatoes well. Make sure there are no lumps. Add salt to taste, cumin powder, turmeric powder and coriander leaves and using your hands mix well to ensure all the spices and herbs are evenly distributed. Feel free to adjust the quantities of the spices and herbs used to suit your taste.


Take a portion of the mashed potato, the size of a tennis ball, roll into a ball and flatten to form a thick disc on the palm of your hand. Place a spoon of the mince in the center and bring the sides of the potato disc up and over the filling to cover it well. Make sure that no mince is sticking out. If you feel the need to add more potato to it, feel free to do so. The mashed potato merges well. Shape it to form a patty and keep aside. Continue till you've used up all the mashed potato.


Crack an egg in a shallow bowl, wide enough to fit the chops. Beat well to incorporate the white and the yolk.


Pour some bread crumbs onto a plate and keep it ready. I have a little assembly line going for this, starting with the chops at one end, followed by the bowl with the beaten egg, the bread crumbs and a plate lined with some absorbent kitchen paper at the other end.


Heat some oil in a pan.


Briefly dip a chop in the egg and turn over, making sure it coats the chop well.


Dredge it through the bread crumbs making sure the potato chop is well coated. This is what will give it a good crunch.


Carefully place in the pan with the heated oil and shallow fry till it takes on a nice golden brown color. Turn and let the other side fry as well till it gets golden brown.


Carefully take it off the pan and repeat till you've used up the rest of the potato mix.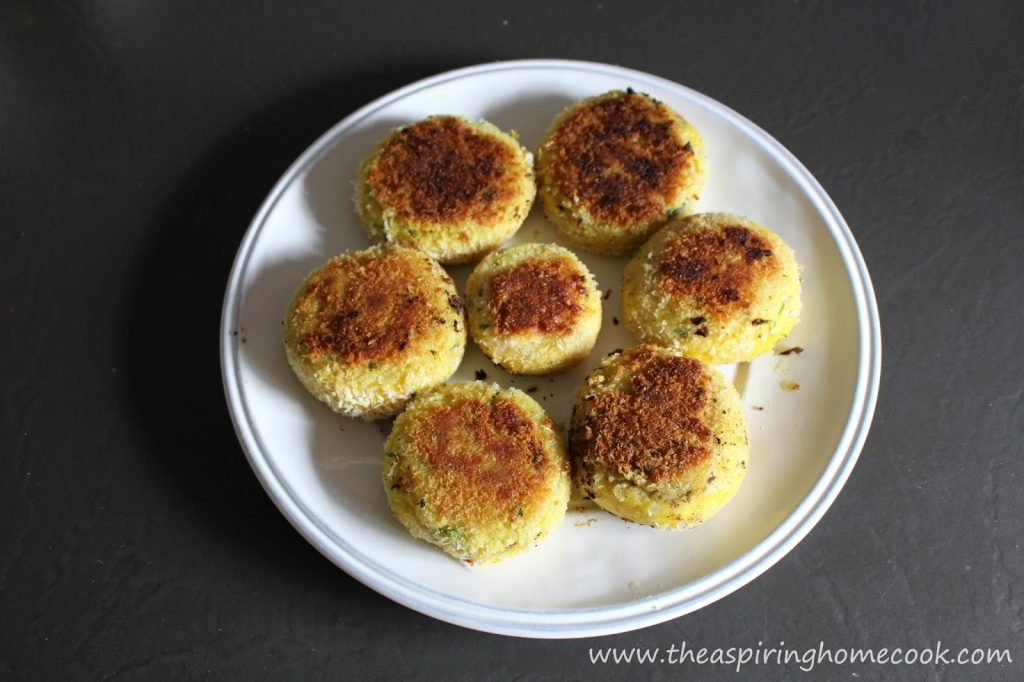 NOTE: You don't need to fry these one at a time, place as many as your pan can accommodate, making sure theres a little space between them to help you turn these over.


Here's what it looks like on the inside –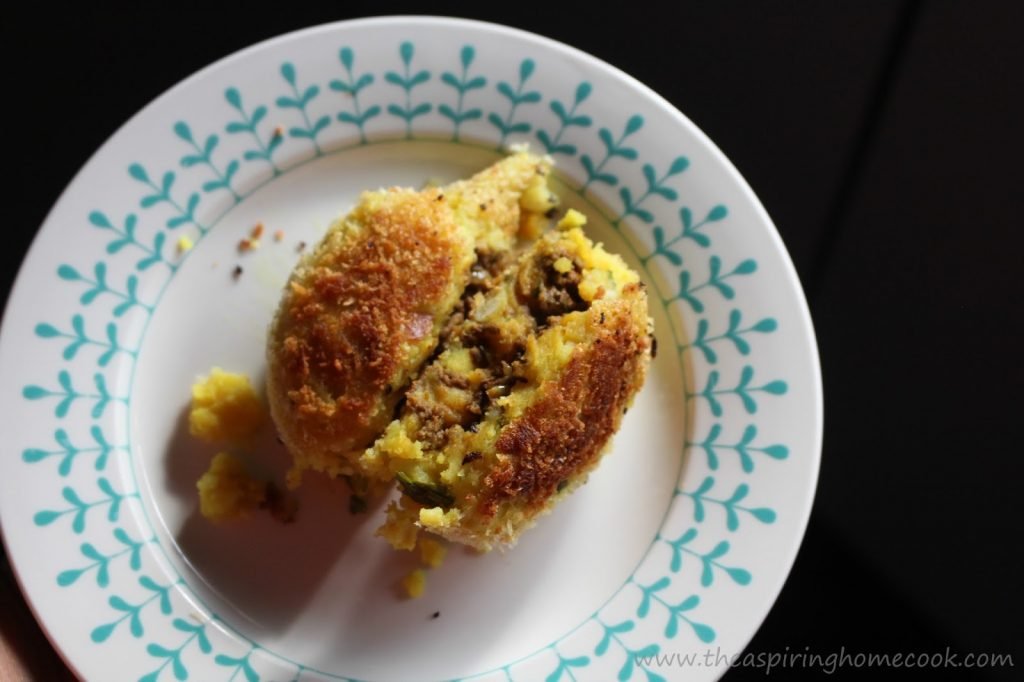 These potato chops are best served hot with some tomato sauce. Any leftovers refrigerate and reheat well.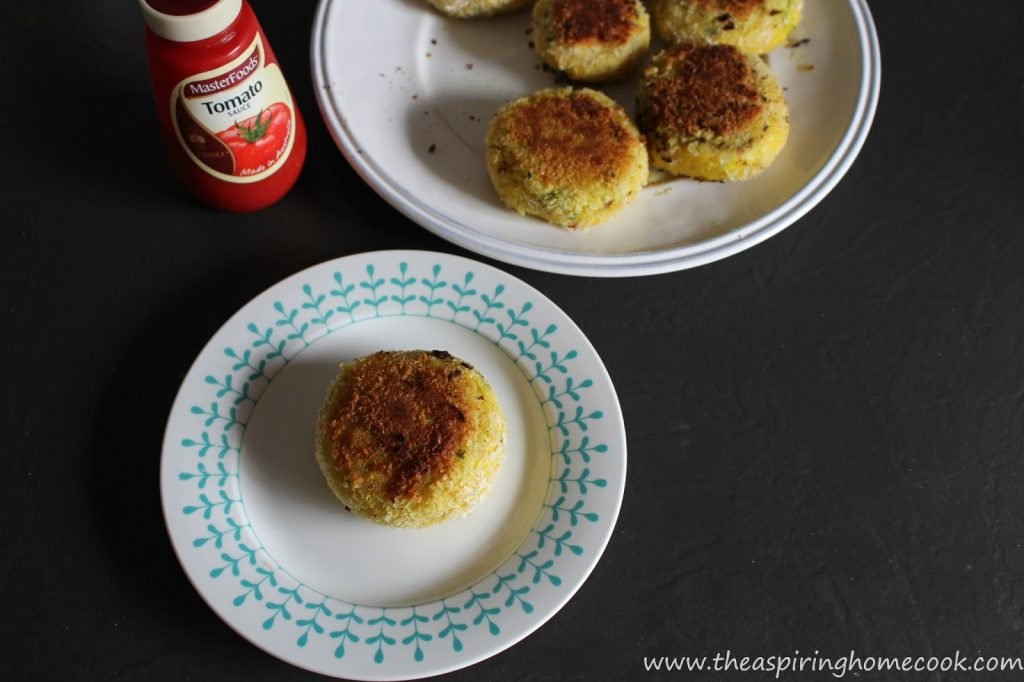 It seems like I've been on a bit of a Goan food trip lately. For the past couple of days, we've enjoyed a whole lot of it. This is my 3rd consecutive Goan seafood recipe on the blog. And that too, in a matter of a couple of days. But I must say, I've enjoyed every single bite of it.
This sort of food takes me back to a simpler time. Back when I was in school (and that was a looooong time ago), every summer holiday was spent at the family home in Goa. I looked forward to those trips. The bus journey each way took aound 18 hours and was great fun. We'd pack a variety of munchies for the way. Bus journeys always made me hungry and sleepy. But I loved those long hours on the road. We actually looked forward to the journey almost as much the holiday in Goa itself. Have you every made that trip? What's your favorite part? My late aunt was a fabulous cook. Unfortunately, I was very young then. Too young to be interested in learning about cooking from her. To this day, I wish I had. Back then, it was 2 months of Goan fare. And I never tired of it. Cooking was a labor of love then. Even though we had a modern Gas kitchen, my aunt chose to cook on a wood fired stove in clay pots. And the food, was absolutely out of this world. I have not tasted food like that ever again. Who knows? Someday, I may go back to Goa for a couple of months to relive those days. One of the dishes my Aunt cooked really well was a Tisreo Sukhem – a Goan Clam stir fry. And this is a dish my mother cooks really well too and it is very similar to the one my Aunt made. Fortunately, I have learnt how to make it too. Clams are more commonly known as Pipis in Sydney.
On my last grocery shop, I picked some up from the fish monger. Now, you can cook the whole shell and you know its cooked once the shells have opened up. But both, my Aunt and my mother always make it on the half shell. So I did the same. Once the clams are halved, the entire dish probably takes about 15 minutes to put together. I hope you decide to try this Goan delicacy some time. You can serve it up as a side dish to a typical Goan Fish Curry and rice meal, or serve this with some chapatis or even with bread. However you choose to serve it, you will love it.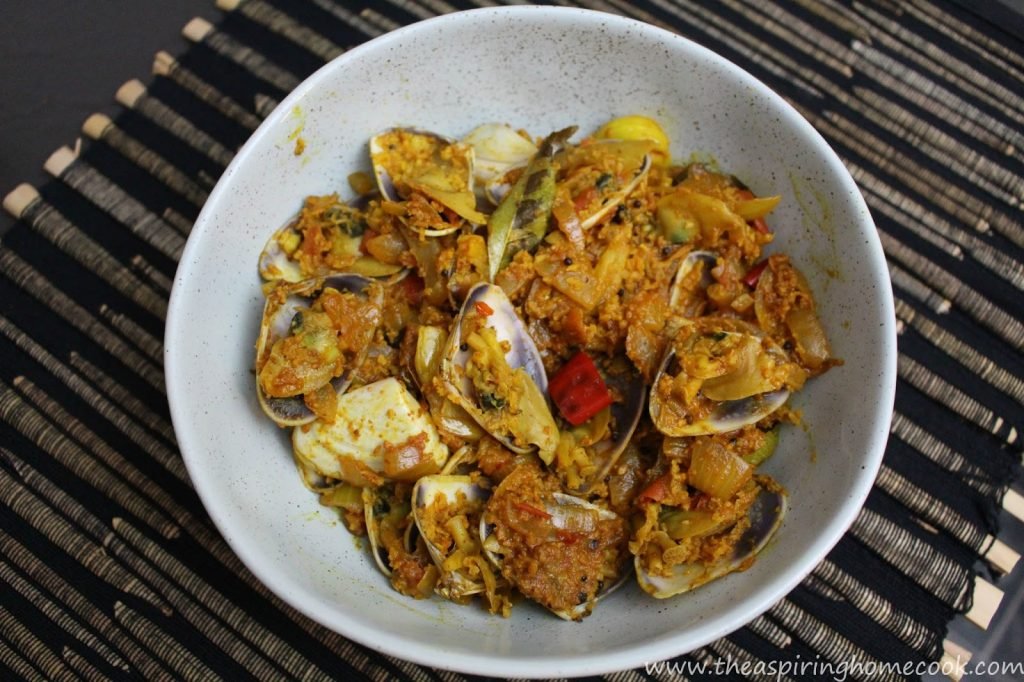 Watch the step by step process here –
Tisreo Sukhem


40-50 fresh clams / pipis
1/2 tsp black mustard seeds
6-8 curry leaves
4 cloves garlic, lightly bruised / crushed
1 medium onion, chopped
2 green / red chillies, cut into 1/2 inch pieces
1 tomato, chopped
1/4 tsp turmeric powder
1/2 tsp red chilly powder
1 heaped tsp coriander powder
2-3 tbsp grated coconut
1 tbsp coconut oil
Salt, to taste
Wash and halve the clams / pipis. (You can also chose to leave them whole.)
Heat the oil in a pan on medium heat.
Add the mustard seeds. When the seeds start to sputter, add the curry leaves and the chillies.
Stir that around and add the garlic cloves. Let that fry off for a few seconds.
Now add the chopped onions and saute them till they have softened and the edges have just started to brown.
Add the turmeric, chilly and coriander powders to the pan and stir well. Add a dash of water (about 1 tbsp) to deglaze the pan. The prevents the spices from burning.
Now add the chopped tomatoes and stir fry that for a couple of minutes.
Now add the clams and gently stir them through the spice mix in the pot.
Add salt to taste.
Add a small splash of water to help the clams steam through. (2-3 tbsps worth)
Switch to a low heat, cover the pan and cook for about 5-8 minutes, or till the clams have cooked through. Stir at the halfway mark and add more water, if needed. Just a little to prevent if from burning. If you find that there is too much liquid in the pan, cook it uncovered for the rest of the time.
(You are looking to have most of the liquid absorbed into the dish.)
(If you are using the clams whole, you'll know they are cooked, when the shells open up.)
About a minute before you take it off the heat, add the grated coconut and stir though. When the coconut has warmed through, take off the heat.
Serve hot!
Ok, so on Sunday, we took a culinary trip to Goa. Lunch and dinner was Goan fare. My previous post tells you about the amazing dried prawn
Kismur
we had. But that was just the accompaniment to the meal. It was served alongside a great Goan Fish Curry and rice and some Fried fish too. That meal, right there, is the way to every Goan's heart.
Today, I'm going to share with you the recipe for that amazing Goan Fish curry. This is a coconut based curry and combined with a few spices, you will be rewarded with the most gorgeous bowl of Fish curry. A good Goan Fish Curry is known for its color. They key to great color is good Kashmiri chillies. Kashmiri chillies are dried red chillies, very widely used in Indian cuisine. They are mild chillies so you won't get much heat from them, but they are known for the vibrant color they lend to the dish in which they are used. You can find Kashmiri chillies in any Indian store. In Sydney, I have used a few brands and a lot of them don't meet the mark at all. That was until I tried the 'Uttam' brand of Kashmiri chillies. Now, for the first time in years, I've managed to get a delicious curry with fantastic color. That made me very happy. Another important factor to a good curry is the curry paste. You need to grind the masala (spices) to a fine paste. Grind it for 3-4 minutes with a couple of breaks every now and then, so that your mixer (blender) doesn't overheat and trip. Lastly, sourness or tang is very important to a great curry. The curry needs to be balanced, but without enough sourness, it just won't taste right. That being said, add sourness to taste.
If you're in the mood for a great Goan meal, try out this curry.
Goan Fish Curry


1/2 kg fish of your choice (I used Mackerel)
1 medium onion, thinly sliced
A ball of tamarind, the size of a walnut
2-3 fresh green / red chillies, slit (optional)
Salt, to taste
2-3 pieces of Kokum / Mango sol (dried mango) (These are souring agents, use as much or as little as you need. If raw mango is available, use a few pieces of it and you curry will be even better)
** If you are using Mackerel, 4-5 tefla berries are added to the pot along with the curry paste and water and cooked. (I haven't been able to find it in Sydney yet, so I left it out. But it makes a huge difference to the flavor of the curry, so try and get your hands on some, if you can.)
For the curry paste / masala –
8 dried red Kashmiri chillies
6 large cloves of garlic or 10 small ones
8 black peppercorns
1 tsp coriander seeds
1 tsp turmeric powder
1/2 coconut, grated
Water, as required
Cut the fish into pieces and season them with a little salt and set them aside.
Soak the tamarind in about 1/4 cup of warm water and set aside for about 5 minutes.
Grind the tamarind and the water it was soaking in and all the ingredients listed under "For the curry paste" to a find paste using water as needed.
Place the sliced onion, tefla (if using), the curry paste and 2 cups of water in a pot and bring to a boil. Lower the heat and simmer for 30 minutes. You need to maintain the liquid content to have the right consistency. So top up with water, as needed.
Add the kokum / mango (if using), whole slit chillies and the fish pieces. Bring the curry to a boil again. Let this simmer on low heat for 5-10 minutes (depending on the size of the pieces of fish) or till the fish is cooked.
Check the seasoning and add more salt / sourness, if needed.
Serve with hot boiled rice.
To complete the meal, serve some fried fish and Kismur with it.
Enjoy!!!
What do you do when some gorgeous Blue Swimmer Crabs call out to you at the Fish Mongers? Well, you take them home of course. And then you get your Mum, who by the way is a fantastic cook and happens to be visiting at the moment, to whip you up a big ol' pot of some amazing Goan Crab Curry. Nothing compares to the joys of enjoying Mum's cooking. Atleast, that's what I did. If you don't have the same luxury, I've got permission from Mum to share her Crab Curry recipe with you so that you can enjoy some of it too.
We use a roasted masala (spice mix) for this curry. So there is an extra step of roasting a few ingredients before grinding, but it doesn't take too long and that added step does a whole lot of good stuff for your curry. It adds amazing depth of flavor and your curry just wouldn't be the same without roasting the masala.
So if you're craving some good Goan food, try this curry. It took us right back to Goa. And until we visit Goa again, we'll just have to make do with little culinary gems like this one.
Goan Crab Curry
Serves 6-8
3 Blue Swimmer Crabs (or any other crabs of your choice)
8 curry leaves (curry patta)
1/2 large onion, finely chopped
2-3 fresh green chillies, slit
5-6 pieces of Kokum*** (See note below)
1 tbsp oil (We use olive oil for all our cooking, you can use whatever mild cooking oil you have)
Salt, to taste
For the Masala (Spice Paste) –
1/2 large onion, roughly chopped
6 large cloves of garlic, roughly chopped
3/4 inch ginger, roughly chopped
1/2 cup grated coconut (fresh or frozen will both work. If using frozen, let it thaw before roasting)
10 Kashmiri Chillies (See note below), discard stalks
1 tbsp Coriander seeds
1/2 tsp Cumin seeds
1 tsp tumeric powder
3 cloves
8-10 peppercorns (this will add heat so use about 6-8 for a milder curry and around 10 if you want it hotter)
2″ cinnamon
1 tbsp oil
1 tomato, roughly chopped
Prep the crabs, sprinkle a little salt (about 1/2 tsp) on it, toss it in a bowl to salt the crabs well and set aside.
Roasting the Masala –
Heat a large pan / tava on medium heat.
Drizzle the oil in the pan and add the onion, garlic and ginger. Saute till it softens a bit.
Add the coconut and stirring frequently, roast it till it gets fragrant and the color starts changing. Lower the heat, if needed, to ensure the coconut and the spices don't burn.
Next add the Kashmiri chillies, coriander and cumin seeds and stir with the rest of the ingredients for about another 30 seconds.
Now add the turmeric powder, cloves, peppercorns and cinnamon to the rest of the spices in the pan and roast for about another 30 seconds to a minute, till it all gets fragrant and heated through.
Take off the heat and transfer to a large plate to cool.
Once it has cooled to room temperature, grind the roasted spice and coconut mix with the chopped tomato and a little water to a fine, smooth paste in the blender.
Keep aside.
For the curry –
Take a large pot, preferably with a slightly wide base that you will be able to fit all the crabs into.
Heat a tbsp of oil and add the finely chopped onion to the pan.
Saute till it has softened and is golden brown.
Add the spice paste and stir through. Let if fry off for about 2 minutes.
Add the Kokum at this stage.
Next add the crabs stir to coat with the spices.
Now add a little water to achieve the desired consistency for your curry.
If you don't have kokum and are using apple cider vinegar, add the vinegar, to taste, at this stage.
Let it come to a boil and simmer for about 15 minutes (Please note, this time will vary depending on the size of the crabs.)
Check for seasoning and add more salt if needed. At this stage if you find the curry too thick you can add a little more water to thin it down a little and continue to cook till it comes back to a boil.
If you find your curry too thin and want it thicker, continue cooking on a medium high heat till you get the desired thickness, stirring every now and then to ensure the curry doesn't stick to the pan and burn.
Serve hot with some boiled rice or bread.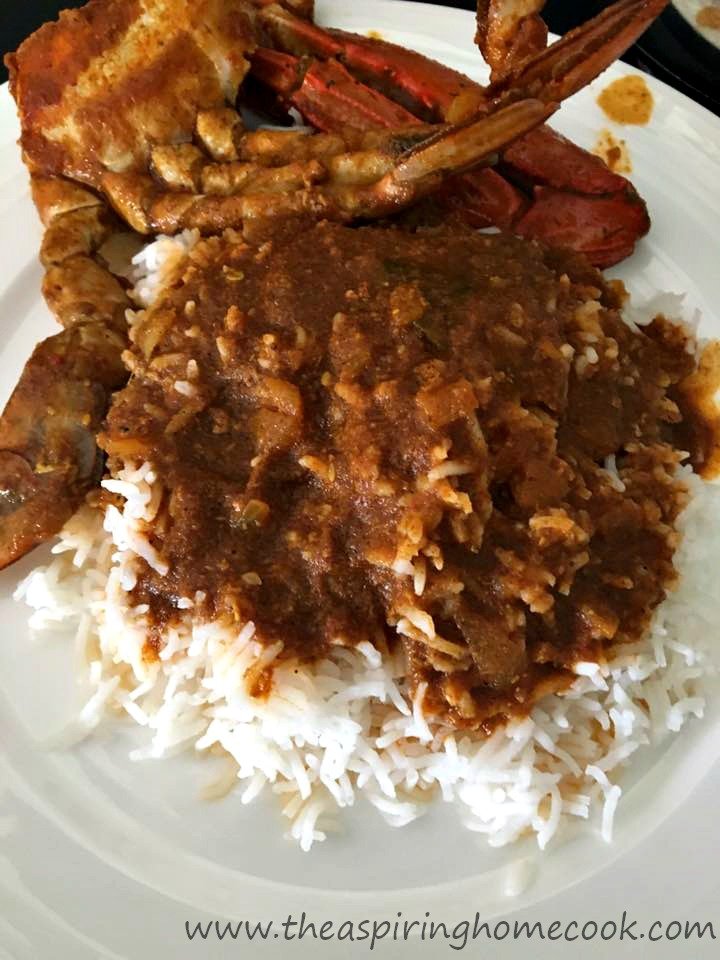 Enjoy!!!
*** NOTES:
– Kokum is an Goan souring agent (dried pieces of the Indian plum) using in cooking. You will find it in any Indian grocery store. If you don't have any on hand, just use some Apple Cider Vinegar, to taste.
– Kashmiri Chillies are dried red chillies. These are mild in flavor. You can substitute any other mild dried chillies or chilly powder.