You'll notice that a lot of recipes that I share here are vegetarian. I thought I'd talk about that for a moment. While my husband and I aren't full time vegetarians, we eat very little fish and meat. Most of our meals in a regular week happen to be vegetarian and we like it like that.
Today's recipe is another such gem. Its my French Beans Foogath, a Goan Style Green Beans Stir Fry. I love keeping things simple in the kitchen. This works well for me when I'm short on time but still want a home cooked meal. This recipe ticks all those boxes. Just a handful of ingredients, a little cooking and you end up with a delicious vegetable. Now that's my kind of recipe. I hope you enjoy it too.




French Beans Foogath


1/4 kg green beans / french beans (approx)
1/2 tsp mustard seeds
2 chillies, cut into quarters lengthwise
1 onion, peeled and chopped
A little grated coconut
1 tbsp oil
Salt, to taste
Prep the green beans by washing them, trimming the ends and chopping into little pieces.
Heat some oil in a pan.
Add the mustard seeds.
When they start spluttering, add the chillies and stir for a few seconds.
Add the onion and saute till they've softened and they start developing a little color.
Add the green beans and stir well. Stir fry for about a minute.
Add a little salt and stir through for about another minute.
Add a couple of small splashes of water. Let the water come to a boil. Lower the heat, cover the pot and let the vegetable cook.
Check the vegetable in a couple of minutes. Stir and ensure there is sufficient water. Add more water if needed. Check for seasoning and adjust if required and let it continue to cook till done.
When it's almost done, add the coconut and stir through. Let it cook for another minute or so, to let the coconut warm through.
Serve hot.
Enjoy!!!
Chickpeas! If you've been around this space a bit, you'll know that I love my beans and lentils. Chickpeas happen to be right on top of that list. The best part is, they are so easy to work with. And No! I'm definitely not talking about using the canned stuff. While you can use canned chickpeas in most recipes that call for chickpeas, and I have too (when I didn't have access to my pressure cooker), there is nothing like cooking your chickpeas or any other beans for that matter, from scratch. I haven't bought the canned stuff for years now. I buy dry beans and lentils by the kilo.
To cook the beans, simply wash and soak them for 6-8 hours, drain and refresh the water. I use a pressure cooker to cook my beans in my stovetop pressure cooker with water, salt and a couple of whole Kashmiri chillies. It takes me just 5 minutes of cooking time after the pressure has built up to cook my beans through. However, each pressure cooker is different. Please refer to the user guide for your cooker, to see how long you need to cook the beans. If you done have a pressure cooker, cook it in a pot with sufficient water till tender.
Once, you've boiled your chickpeas, you can use them in so many different ways. I have shared a recipe for
Chole
on the website previously. That is still a great recipe but I have since tweaked it a little and I'm going to share that new version of the recipe today. I will call it Chana Masala to avoid any confusion. You can also use the boiled chickpeas in a
simple chickpea salad
, make some
Hummus
or use the kala chana (a darker version of the chickpeas) to make this amazing stir fry called
Black Chana Fugad
. They are all delicious.
Chana Masala
1 cup dry chickpeas (Wash, soak for 6-8 hours and cook till tender. Reserve the boiling liquid.)
1 bay leaf
2 inches of cinnamon
5-6 cloves
8-10 peppercorns
2 green cardamom pods
1 black cardamom pods
1 tsp cumin seeds
1 onion, finely chopped
2 green/red chillies, split lengthways
1/2 tsp ginger paste
1 tsp garlic paste
1/2 tsp turmeric powder
1 1/2 tsp Kashmiri chilly powder
1 1/2 tsp garam masala powder
1 cup tomato puree / passata
1 tbsp oil
Salt, to taste
1/2 tsp sugar
Fresh coriander leaves and stalks, finely chopped, to garnish
Heat the oil in a large vessel.
Add the bayleaf, cinnamon, cloves, peppercorns and cardamom pods.
When the spices turn aromatic, add the cumin seeds and stir.
Immediately add the chillies and onion. Saute till the onions have softened and have starting getting a little brown around the edges.
Add the ginger and garlic paste and stir through. Saute for another minute.
Add the turmeric powder, chilly powder and garam masala powder and stir well.
Add a couple of tablespoons of the stock from cooking the chickpeas to deglaze the pan and prevent the spices from burning. Stir through thoroughly.
Now add the tomato puree and cook for 3-4 minutes stirring every once in a while.
Add some more stock to bring the curry to the desired consistency. Please note, the curry will thicken a little as it cooks.
Bring it to a boil. Cover the pot and simmer for 5 minutes.
After 5 minutes, stir and check for seasoning. Add more stock if needed. Add more salt, if needed. Add 1/2 tsp of sugar. (Depending on the tomatoes you're using, you may need to add a little more sugar. Add to taste.) Stir through. Cover and simmer for another 5-7 minutes.
At this stage your curry should be cooked. Lastly add in the boiled chickpeas. Cook for another couple of minutes till the chickpeas have heated through.
Garnish with chopped, fresh coriander and serve hot.
Enjoy!!!
** This post contains affiliate links.
Goa, renowned for its beautiful beaches and people is an idyllic getaway for many. Every school holiday meant a trip to Goa to spend time with family. Along with beautiful weather and some of the most amazing produce, what I enjoy most are the traditional Goan sweets. Since moving from Bombay, these sweets are no longer within easy reach for me. So over the last few years, I've done the next best thing – learn to make them myself. A lot of these sweets make an appearance on the Goan Christmas platter also called Kuswar (pronounced koos-wahr). So far, I've had brilliant luck with quite a few and I will list them along with links to their recipes at the end of this post. I'm hoping to get a few more of them up earlier this year. So check back soon.
Today, after a long wait, I'm happy to share with you a recipe for Dodol. Dodol is almost a jelly like sweet made using Goa Jaggery, coconut and rice. Traditionally made, it is a very labor intensive recipe, but the results are so worth it. You use coconuts, freshly grated and juice extracted, the rice roasted and ground and after the jaggery is added you cook it long and slow, stirring continuously. Unfortunately for me, I don't have access to Goa Jaggery in Sydney. But I was told that I could use Molasses instead. So on my last grocery shop, I picked up a bottle of Molasses. I decided I was going to try a few short cuts to cut down on time involved and used rice flour and a can of coconut cream. I'm happy to report that the whole prep and cooking process that usually takes hours, took be about half an hour from start to finish. The hardest part was leaving it overnight to set. You may not need to leave it that long, but I made the dodol in the evening and it was too warm to cut into after dinner.
But when I did cut into it, it was soft and delicious, just like I remember. I would recommend refrigerating it for a while before serving. It cuts a lot easier when cold. So if you've been putting of making Dodol because you can't find jaggery, go get some molasses and get making. When adding the molasses, don't go by the color of the mix, but taste for sweetness.
Dodol


1 1/2 cup rice flour
1 can (400ml) coconut cream
350-400g molasses
3 tbsp roughly chopped cashew nuts
1 tsp ghee to grease the loaf tin and knife
Water, as needed
Grease a loaf tin with a little ghee and keep aside.
In a large pan (I use the 12″ Kitchenaid Stainless steel skillet) measure out the rice flour. Add enough water and make a batter (almost like a thick pancake batter). I use a whisk for this as it mixes the flour well without any lumps.
Pour in the coconut cream and whisk till dissolved.
Add the molasses and stir.
Now, place the mix on a medium heat and let it cook, stirring continuously.
When it starts thickening, drop the heat to low and continue stirring. I find that you may still find lumps in the mix even inspite of stirring. Use a whisk and break them up. It returns to a smooth consistency very quickly. I had to do this about 3 times.
As it thickens, it gets harder to stir. Add the chopped cashew nuts and keep stirring.
After about 20 minutes, here's what my mix looked like.
Continue cooking till the mixture starts leaving the sides of pan and looks a little glossy. I cooked the mix down for about another 5 minutes, stirring continuously.
At this stage, you need to work quickly. Pour into the greased loaf tin and flatten it down using the back of a spoon or a spatula.
Leave to set and cool completely. Once it has cooled you can either refrigerate it for later use or demould it to serve. To demould, just place a plate, slightly larger in size than the loaf tin, on top and tip the tin over the plate. A slight shake of the tin and plate should be enough to loosen the dodol and let prop it on the plate.
Slice and serve.
Enjoy!!!
Pin now and try later.
Other Goan sweets and Kuswar –
Perad / Guava Cheese (using canned guavas)
Perad / Guava Cheese (using fresh guavas)
Kulkuls
Coconut Toffee
Milk Cream
Jujups
Baath
Marzipan
** This post contains affiliate links.
So it's almost Diwali. Even though we don't celebrate it, we enjoy the food that comes with it. After trying out a few sweet and savory recipes for Diwali over the last five years, I've come to realize that a lot of recipes are fairly quick and easy to make, compared to most of the traditional Goan sweets. That makes me happy because I know I can whip up so many treats in a jiffy. However, there are a few recipes that are time consuming and tedious when made from scratch, like a good peda. A peda, for those of you who aren't familiar with the term, is a hand shaped piece of fudge made and enjoyed all over India. Now, I have made fudge before but had never tried making Pedas at home. That is, until I recently came across a recipe for an Instant version. Yup, you heard me, there is an instant version of the good old peda.
This Instant Kesar Peda requires a few basic ingredients and about half an hour of your time. That's how easy and simple it is to make. A lot of the commercially sold pedas use food coloring and artificial flavoring, but I decided to keep mine simple. I have used actual Saffron strands in this recipe for flavor and a mild coloring too. If you want your pedas to have the 'oh-so-popular' color, use some yellow food color. You can choose to imprint a design on the top of the peda or use a mould to shape it and you have the option to garnish the shaped pedas with some finely slivered nuts as well. So if you still haven't whipped up anything for Diwali, don't let that get you down. You can still make a bunch of homemade sweets and savories for your Diwali platter in no time at all. Besides this peda recipe, I have a few fantastic recipes to help you out. You can find them at the end of the post
here
.
So here's to another Indian delicacy, even though its a cheat version. I can tick this one of the my ever-growing list of recipes I want to try.
Wish you and your family a Happy and Prosperous Diwali!!!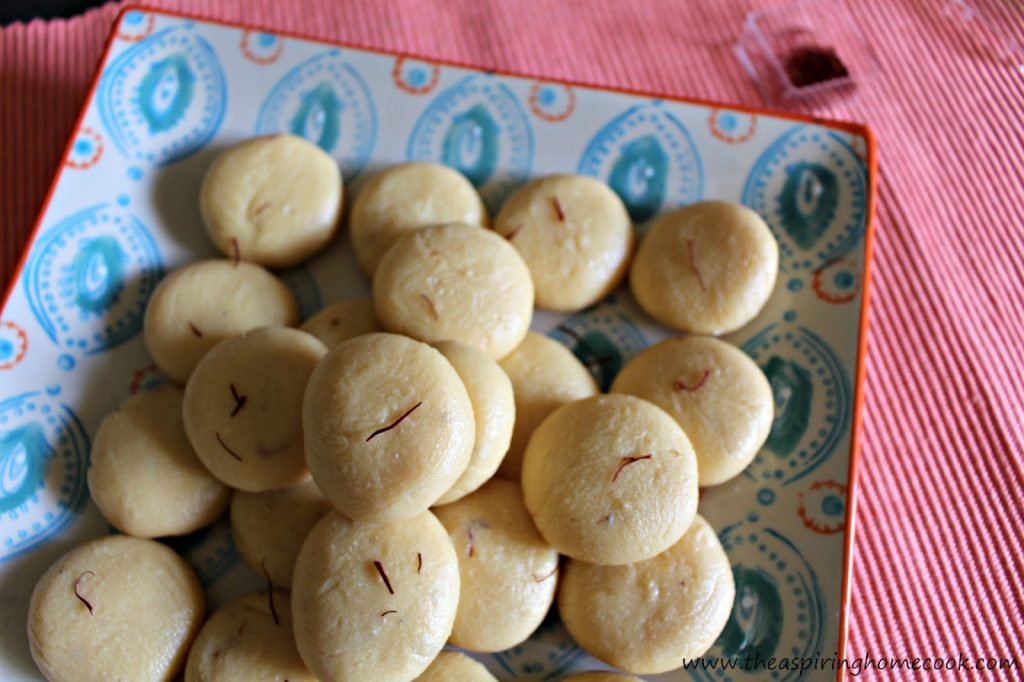 Instant Kesar Pedas
Yields: 25 pieces
1 cup condensed milk
1 cup + 2 tsp milk powder
1/2 tsp
green cardamom
seeds, crushed/powdered
2 tsp
ghee
A generous pinch of
saffron
strands
2 tsp warm milk
Extra ghee, to grease your palms while shaping the pedas
Add the saffron strands to the warm milk and set aside to infuse.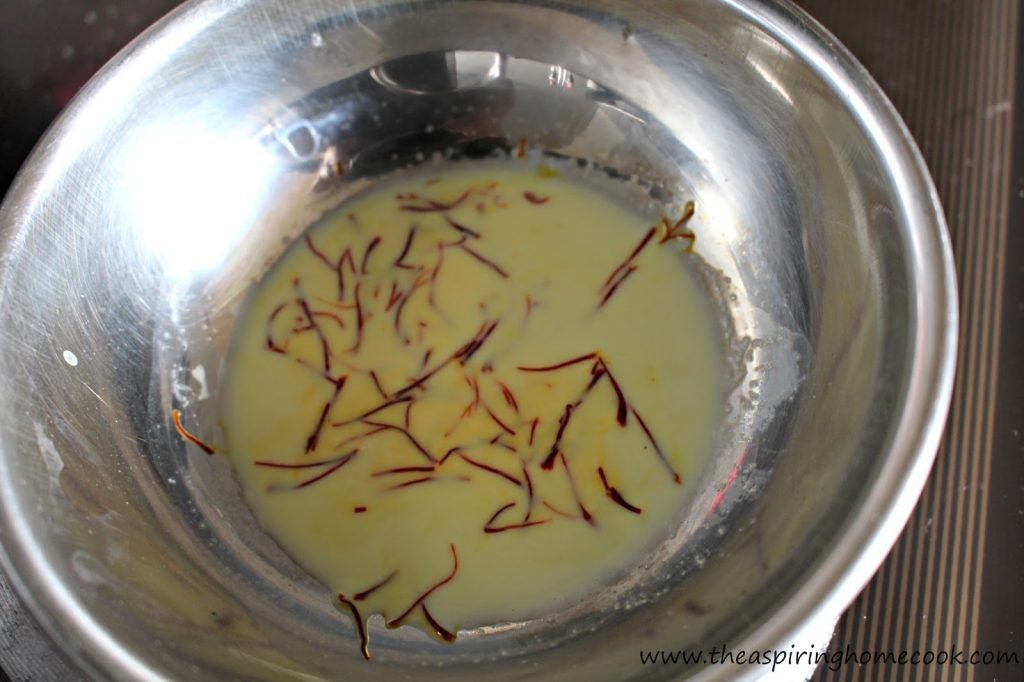 Grease a large plate with a tiny bit of ghee and set aside.
In a wide, preferably heavy bottomed pan, heat the ghee on a medium flame till it melts.
Add the condensed milk and the milk powder to the pan and stir well, making sure you dissolve any lumps that form. Any lumps left will not give you a smooth finish.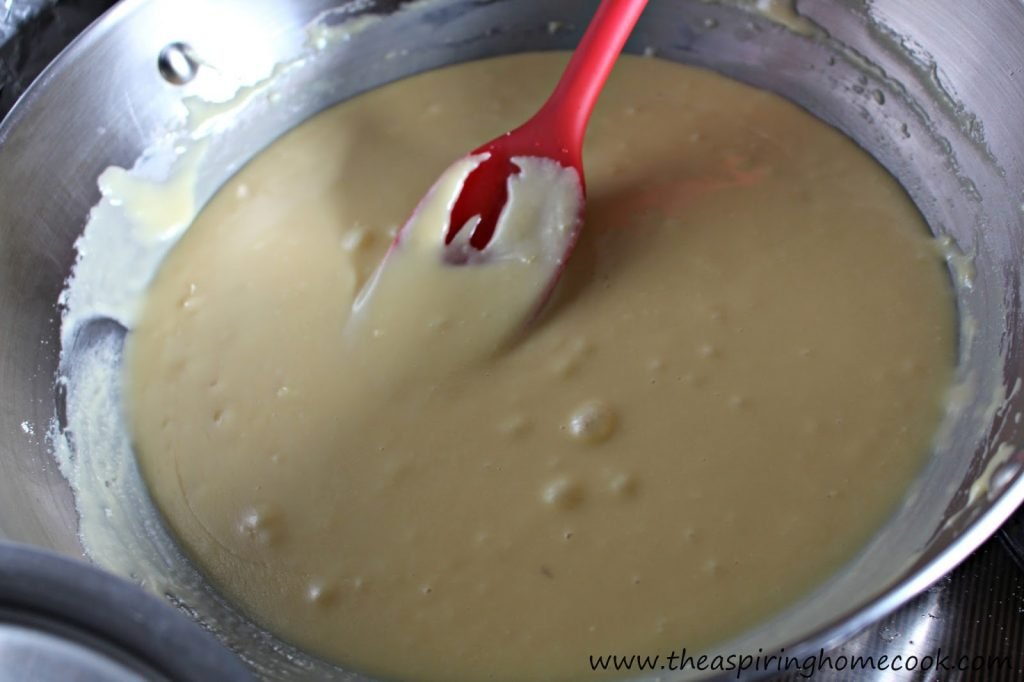 Continue cooking the mix, stirring frequently (with a wooden or a silicon spoon) for about 8-10 minutes. You will find the mix coming together at this stage.
Add the saffron infused milk and strands and the crushed cardamom to the pan and stir well. This will cause the mix to loosen in consistency a little and that's exactly what we want.
Continue cooking for a few more minutes, stirring continuously and the mix will start pulling away from the sides of the pan.
At this stage carefully check to see if the mix is still sticky. I picked a tiny portion with the spoon and touched it lightly to see if it is sticky. My hands can tolerate a fair amount of heat, please exercise caution when doing this. You want to make very little contact with the mix and not dip your finger in it too deep because it is super hot at this stage. If it still feels too sticky, continue cooking for a couple minutes more.
Once it is not sticky, take off the heat.
Immediately turn the mix onto the greased plate and leave it to cool a little.
When it is cool enough to handle, grease your palms with a little ghee, pinch of a small portion of the mix and roll into a ball and flatten slightly. Place on a platter and leave to set. If you choose to garnish the pedas, do it at this stage just after you shape it and then set aside in a single layer to set.
Serve up and enjoy!!!
Pin now and try later –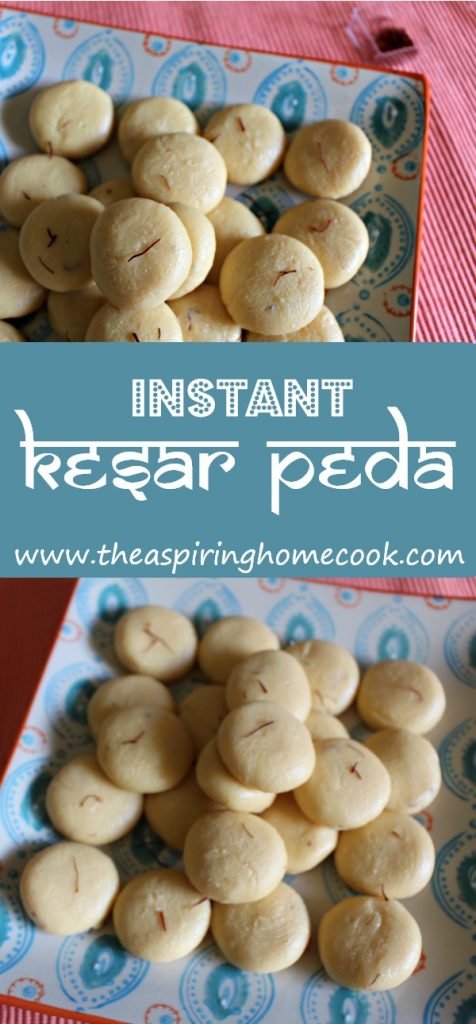 Anyone who knows me well, knows I love my snacks. Most Indian snacks are deep fried. Actually, scratch that, most snacks anywhere are deep fried. Well, atleast the yummy ones are. That being the way it is, I try to cut down on these kinds of snacks. Which means, I'm constantly on the lookout for healthier options. And it goes without saying that even these healthier options, have to be delicious. At the end of the post, I will list some of the recipes that I find healthier. Do you love your snacks as much as I do? Hit me up with your healthy snack recipes in the comments section. I would love to try them out and will post my experience here, with credit to you, of course.
Today's post is one such snack option. Kale Chips. I never thought I'd love it as much as I do. I've had the option to cook with Kale only in the last couple of years. I've not tried too many Kale recipes so far. Just this Skillet Breakfast Hash and now these Kale Chips. I've made them both a few times and we love them. That is how I knew, I had to share these Kale Chips with you. Kale is really good for you. They are choc full of antioxidants. These are baked and I can't tell you how delightful they are to snack on. You have to try it to believe it. What I love is that the options for the seasonings are endless. I have a soft spot to this Spicy Masala Chaat Seasoning. It is a little tangy, a little salty and a little spicy – just perfect. And its such an easy recipe too. All you do is prep the leaves, sprinkle the seasoning over, toss and bake. So what are you waiting for? Try it out. You'll definitely want to make it again.
You can watch the recipe here –
Kale Chips


1 bunch of Kale, washed and shaken dry
1 tbsp olive oil
1/2 tsp Kashmiri chilli powder or to taste
1/2 tsp Chaat masala, or to taste
Salt, to taste
Preheat the oven to 180ºC.
To prep the Kale leaves, break the leaves into smaller chip size portions, discarding the tougher stem.
In a small bowl, mix the olive oil, the chilli powder, chaat masal and salt together.
Drizzle this over the the kale leaves and toss well to make sure all the leaves are coated with the spices. Its best to do this with your hands. Rub the leaves gently to get the seasoning in the little nooks and crannies.
Either line a baking tray with some parchment paper or lightly spray with some oil
Arrange the kale leaves in a single layer on the tray.
Bake for 10-15 minutes or till the leaves are lightly browned.
Keep a close watch on the leaves as they can go from just right to burnt very quickly.
Take them out of the oven and let the chips cool completely before eating. They crisp up as they cool.
Sit back and enjoy.
Pin now and enjoy later!
I love snacking. Probably more than I love my meals. There, I said it! I think this is because I grew up in Mumbai, formerly known as Bombay. Mumbai is famous for its street food, which are mostly snacking options. Some light snacks and others can be more substantial and work well as meals in themselves. Its their easy availability and their reasonable prices that makes them so popular.
Since I am not in Mumbai anymore, you can only imagine how much I miss these delectable treats. So out of necessity and a healthy amount of curiosity, in the past couple of years, I've found myself looking out for Indian snack recipes to try out at home. Once you start looking it up, you will be amazed at how much variety there is out there. India is a big country with rich, cultural diversity and that is reflected in its food as well. This has worked very well for me, because it gives me an opportunity to try out heaps of different recipes, like this one. Mungode is a one such treat that I recently stumbled upon. Yes, it is another deep fried treat, like a lot of other Indian snacks, but its not like you'd indulge in this everyday. It is a simple recipe to follow with minimal prep work involved, just the kind of recipes I like. These little deep fried Moong dal (split and hulled mung bean) fritters are crunchy on the outside, full of flavor and are best served hot with some ketchup or your favorite
Mint chutney
.
Serves 3-4 as a snack
1 cup moong dal (Split and hulled mung beans)
1 large onion, finely chopped
1 tbsp ginger, freshly grated
1-2 green/red birdseye chillies, finely chopped (optional)
1-2 tbsp fresh coriander leaves and stems, finely chopped
Salt, to taste
Oil, for deep frying
Wash the moong dal and drain the water. Do this about 3-4 times.
Soak the dal in fresh, tepid water for about an hour.
Grind it to a coarse paste and empty into a mixing bowl.
Add the onion, ginger, green chillies, coriander and salt to the bowl with the dal and mix well.
Heat oil for deep frying.
Drop in little portions of the batter. I used portions a little less than a teaspoonful. (You don't want large fritters or it might not cook through.) Also, keep the fritters uniform sized so that they cook evenly.
Don't overcrowd the pan and fry the fritters in batches.
Let the fritters fry till golden brown on medium heat. Drain using a slotted spoon.
Drain on some kitchen paper to absorb any excess oil for a couple of minutes. Repeat with any remaining batter.
Serve hot with tomato ketchup or mint chutney and a nice hot cup of tea.
Enjoy!!!
Today we're going to talk pickles. No, not the bread and butter pickles or the dill pickle kind. We're talking Indian pickles. Pickles form a huge part of Indian cuisine. As vast as India is as a country, even more diverse is the food that comes from all different parts. Every region has its own culture, language, cuisine and hence versions of pickles. I have always been a very picky pickle person. (Haha, theres a mouthful of a sentence). Anyway, there are some pickles I just can't deal with (most of these being the spicy store bought ones) but there are others I can't get enough of.
Pickle making has always intimidated me. I always thought of it as a tedious and daunting process. I guess some of this anxiety with pickle making also comes from my Mum. She makes some mean pickles, but inspite of every care, can never get them to last. They'd get spoiled before we could finish them. I always thought that would happen to me too. Don't ask me why, I just thought it would. Until I tried my first homemade pickle – this super yummy Goan Eggplant Pickle. I was surprised at how easy it was to make and we enjoyed it for months after.
I was eager to try out a few more recipes after my success with the eggplant pickle. So a few months ago, when raw mangoes started showing up around Sydney, I just had to try out some mango pickles. Some Indian pickle recipes are long drawn and need to be kept in the sun. I wanted something a little quicker. So, I picked up a few green mangoes at Paddy's Market in Flemington and I narrowed it down to two recipes to try out this time around. One of them was this Instant Mango Pickle. Ofcourse, seeing that it was an instant recipe was a huge bonus. Plus it was so easy to make, I couldn't not try it. Also this is a small batch recipe, which was fantastic, because we're a family of 2 and I had more recipes to try out. I chose to wait for a few months before sharing this recipe, because I wanted to see if it would keep. And I'm happy to report that if you use a clean, dry glass bottle and a clean and dry fork / spoon to serve, this keeps refrigerated for more than 4 months. Moreover, this is a delicious spice blend, unlike those you will find in any store-bought version. I happen to really like this recipe. I'd take that as a win for me and my pickle making.
Spicy Kerala Mango Pickle
Recipe from: Edible Garden
2 cups raw mango, skin on, cut into uniform sized cubes
2 tbsp salt
1/4 cup oil
2 1/2 tsp black mustard seeds
1/2 tsp fenugreek seeds
2 springs curry leaves (leaves only)
2-3 tsp red chilly powder
2 tsp vinegar (optional)
Add salt to the cut mango pieces. Toss well and keep aside for 20-30 minutes.
Combine 2 tsp mustard seeds and the fenugreek seeds and grind them to a coarse powder together.
After the mango pieces have been sitting in the salt for 30 minutes, heat oil in the pan and add 1/2 tsp mustard seeds.
When the mustard seeds pop, turn the flame off. Add the powdered mustard and fenugreek.
Immediately add the curry leaves and the red chilly powder and stir well for about 5 seconds.
Tip in the salted mangoes and add the vinegar, if using.
Stir well. The residual heat of the pan will cook the pickle through as needed.
Let the pickle cool down completely in the pan itself.
Once it has completely cooled, store in a clean, dry glass bottle / jar.
Store refrigerated.
Enjoy!!!
**Serve with your favorite dal and rice.
This recipe has been added to –
Food on Friday @ Carole's Chatter
I'm back …. after what seems like forever. There have been a few changes around here. First of all, a name change. We are now called "The Aspiring Home Cook" which I think suits me and the site just right. The housekeeping will take a little longer. I am currently working on updating names and links on Facebook and Pinterest. So if you have any of the links saved locally, you will need to replace "myhobbielobbie" with "theaspiringhomecook". All the pictures before today will still have watermarks with the old name and I hope to replace them eventually. So there will be a few more changes around here.
So there you have it. You now know why I've been missing in action around these parts. Up until now, I thought I'd wait to sort everything out before I got back to posting here again. But I couldn't stay away any longer. I needed to try out new recipes and have someone to tell about them. So I'm back. All this techie business has lead me into a kind of cooking / baking rut lately and I've been longing to dig into some interesting food again.
So after a little bit of looking around, I think I've found some of my mojo again. I found this really good recipe for a curried beef mince, Goan style. This recipe is very different in technique from my usual recipe. I was a little skeptical when I started reading through it because of the major differences. But its the differences that convinced me to try it out. I was glad I did. There are a couple more steps involved in this recipe but it results in a very flavorful beef kheema. The red masala comes through making the resulting dish a warming shade of red, perfect for these cooler autumn days. I hope you try this recipe out when you have a hankering for some good homemade Goan / Indian food.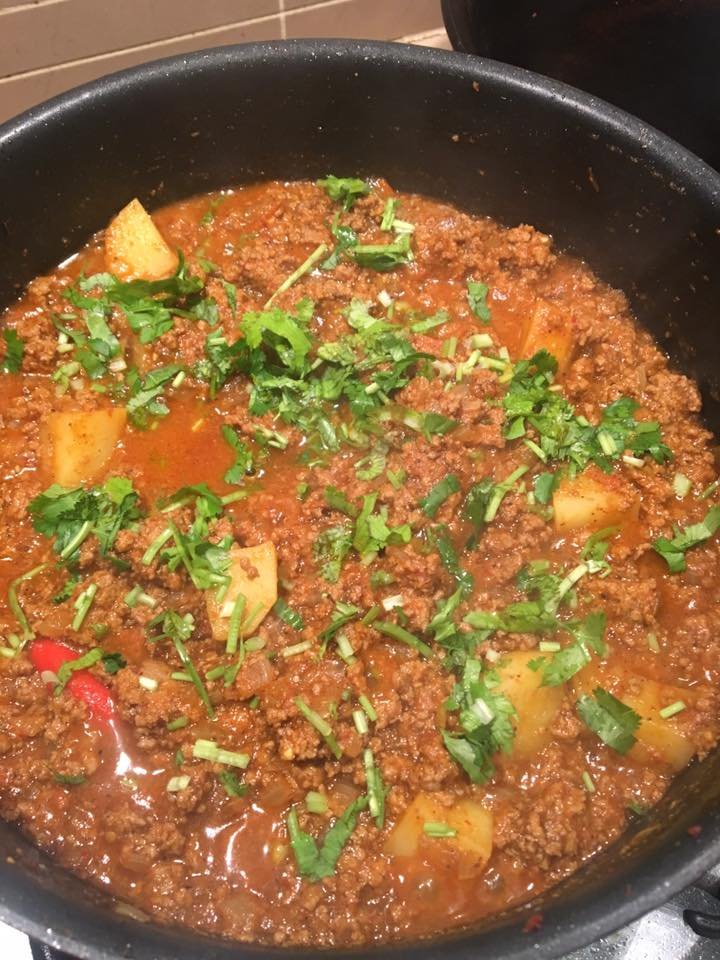 Goan Red (Beef) Kheema
Recipe from: Delicious Memories with Alves Fernandes
500g Beef mince
1 1/2 tsp ginger garlic paste
Juice of 1 lime
2 medium potatoes, cut into cubes
1 tbsp cooking oil (sunflower, vegetable, groundnut, olive – whatever you use for your day to day cooking)
2 onions, finely chopped
2 medium sized tomatoes, chopped
1 fresh green / red chillies, slit
1-2 tbsp fresh coriander, chopped
2 tbsp vinegar
Salt, to taste
A pinch of sugar
Grind to a paste –
5 dry red Kashmiri chillies (or any mild variety)
2-3 large cloves of garlic
1″ ginger
1 1/2″ cinnamon
2 cardamom pods
32 black peppercorns (I know it seems like a lot, but its not)
15 cloves
1 tsp cumin seeds
1 teaspoon white poppy seeds (khuskhus)
1 tsp turmeric powder
3 tbsp vinegar
Water, as needed
Marinade the raw beef mince with salt, ginger garlic paste, juice of 1/2 a lime and mix thoroughly. Keep aside.
Grind all the ingredients listed under 'grind to a paste' to a fine paste and keep aside.
Bring the marinaded mince and 1 cup of water to a boil. Simmer till the mince is cooked about 3/4 of the way.
Heat the oil in another large pan.
Saute the onion. till they have turned translucent.
Add the tomatoes and cook till it has softened.
Add the ground spices and let it fry for 2-3 minutes stirring occasionally.
Add the potatoes and stir well to coat them in the spices.
Add the boiled mince to the pot and stir through. Let it cook for about a minute, then add the remaining stock that the mince boiled in.
Add about a cup of water to the blender in which the spices were ground and swirl around to get any remaining masala (spice paste) and continue cooking.
After about 5 minutes, add the slit red / green chilly and the remaining lime juice (juice of 1/2 a lime).
Let it cook till the potatoes are tender. Just before the potatoes are cooked, add salt (to taste) and a pinch of sugar.
Cook till the potatoes are cooked and the gravy is the consistency you like. I like mine to be more on the thicker side.
Check for salt and sourness and add more as needed.
Turn off the heat.
Sprinkle chopped coriander over the top and serve hot.
Serve with some boiled rice, pulao, chapatis or even your favorite bread.
Have you had a glass of chilled sweet lassi before? If you have, you know how unbelievably yummy it is. If you haven't, you should try it. Its sweet, creamy, cold and have I mentioned yummy. And the best part is, you don't even have to plan a trip to an Indian restaurant to have a glass. If you have some plain, unflavored, unsweetened yogurt you can whip up a glass in minutes.
I fancied this glass up with some strands of saffron and some chopped pistachio. But even without it, this sweet lassi is just as good. Its a perfect way to cool down on a hot summer day. A glass of it is quite filling too, so it makes a nice snack by itself.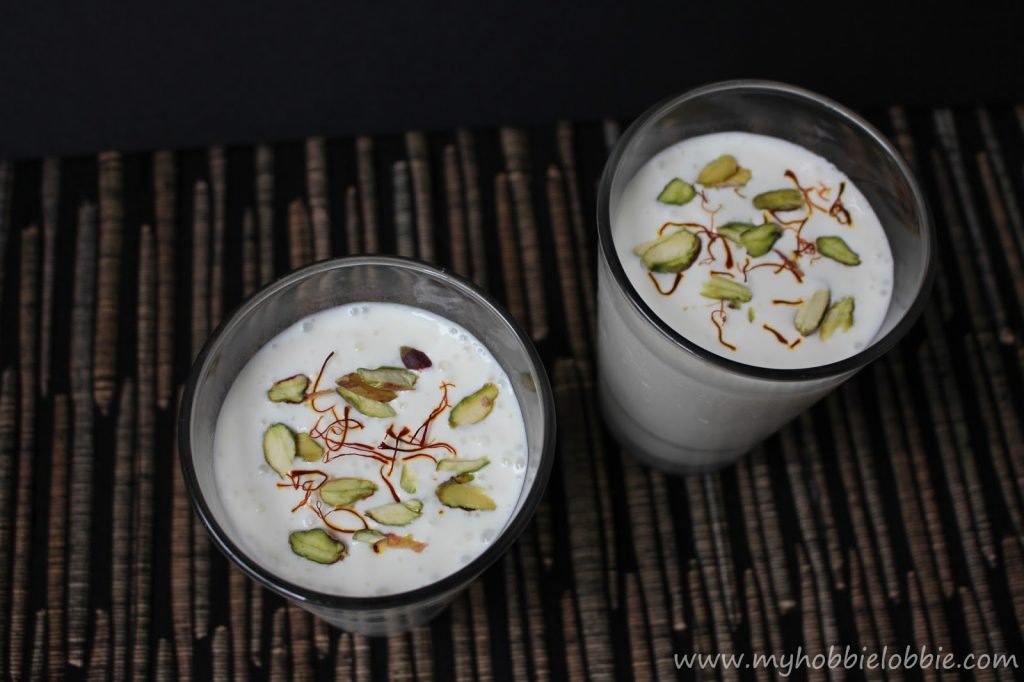 Sweet Lassi
Makes 2 glasses
1 3/4 cup of plain, unflavored, unsweetened yogurt
1/4 cup chilled water
2-3 tsp sugar (or to taste)
4-5 pistachios, sliced (optional)
A few strands of saffron (optional)
Put the yogurt, water and sugar in a blender and blitz till smooth and slightly frothy.
Pour into glasses.
If desired, sprinkle the saffron strands and sliced pistachio on top to garnish.
Serve chilled.
Here are some other lassi versions –
Strawberry Lassi
I don't know if I've admitted it before, but I love my snacks. I'd rather have a couple of light meals that one big one. Back in Bombay, this is very easy to do. We have such a wide variety of snacks from various parts of India. Most of them are readily available at street food carts or other grocery stores and they don't cost the earth. Most of these snacks are savory. After coming to Australia, I often find myself craving this ever so delicious street food. And here, its almost impossible to find these treats as easily as you find it Bombay. If you do find them, they are ridiculously expensive and a lot of times they disappoint. Given these reasons, I try to make some of these delicious snacks at home. Some I am familiar with making, the others I'm trying to learn.
Today's post is about one such recipe. Its a cake recipe, but not your regular, run of the mill cake. This is a savory one. And it is made with chickpea flour. It is called Khaman Dhokla and happens to be one of my favorite street foods. Even though I enjoy this recipe, I didn't know how to make this one. I had to do some reading before I could find a recipe I was happy with. And when I saw this instant recipe, I knew I had found the one. Traditionally, this cake is steamed, but this is a microwave recipe.
This beautiful snack comes together in less than 30 minutes from start to finish. It is absolutely delicious. The cake itself is light and super fluffy. The flavors are well balanced and in all, very moreish. If you've had dhokla before, you probably love it as much as I do. If you haven't, you really should give it a try. It is a unique treat and you won't be disappointed. This treat is served with some Green Mint Chutney and some Tamarind & Date Chutney. You can buy little bottles of the chutneys at any Indian store or click on the links to find the recipes, if you'd like to make some at home. They are very easy to make and taste so much better. Either way, these chutneys are an important part of the dish and not just an accompaniment. Serving it without the chutneys doesn't do the the dhokla justice.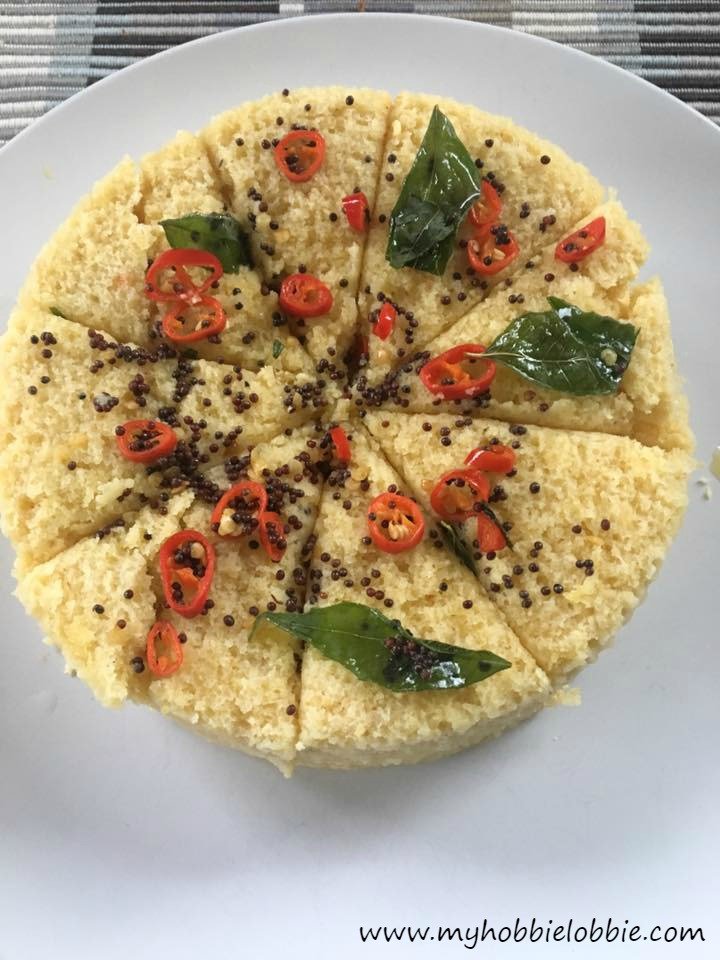 Instant (Microwave) Khaman Dhokla
Recipe from: Ruchi's Kitchen
1 cup besan (chickpea flour)
1 1/2 tbsp semolina
A pinch of asafoetida
1 tbsp sugar
Salt, to taste
1 tsp. crushed ginger and green chillies
1 1/2 tsp Eno (fruit salts – available at any Indian store)
1/2 tsp Citric acid
2 1/2 tbsp Oil
3/4 – 1 cup water (depending on how much is needed to achieve pouring consistency)
For tempering –
1 tsp mustard seeds
10-12 curry leaves
1 tsp sugar
2-3 tbsp water
2-3 green / red chillies, sliced
1 tbsp oil
In a large mixing bowl, mix the besan, semolina, asafortida, sugar and salt.
In a mortar and pestle, pound the ginger and green chilly to a fine paste. (You can leave the chillies out or deseed the chilly if you don't want too much heat from the chilly.)
Add the chilly and ginger paste to the mixing bowl. Add the oil and citric acid.
Add the water and mix everything till well blended.
Whisk the batter well to incorporate air into it. It will make a light and fluffy dhokla.
Add the eno (fruit salts) and whisk the batter till it is well incorporated. The batter will get light and frothy. The batter should be of thick dropping / pouring consistency.
Pour the batter in a greased microwave bowl. (I used an 8″ bowl)
Cook for 5-6 minutes. It may take longer depending on the microwave.
Take it out and insert a toothpick to check if it is done, just like you would a regular cake. If the toothpick comes out clean, it is cooked and if it doesn't microwave for another 30 seconds.
Allow it to cool.
Traditionally, it is cut into squares. But I tried cutting it into wedges this time and it looks much prettier this way.
Now prepare the tempering.
For the tempering –
In a pan, heat the oil.
Lower the flame and add the mustard seeds and green / red chillies and let it sputter.
Add the curry leaves and let it fry up on low heat till crisp.
When they are crisp, add the sugar and water. Mix well.
Pour the hot tempering over the dhokla.
Serve with the Green Mint Chutney and Tamarind & Date Chutney.
Enjoy!!!