Hello lovelies!
I'm in a particularly good mood today. I know it's a Monday and I'm not usually a Monday person. It probably has something to do with the fantastic beach day we had yesterday. The hubby and I drove down south of Sydney and stopped at Thiroul beach for the day. The weather was just beautiful and water was amazing. Such a stark contrast to the scorchers we've been having the past few days. It was pure bliss. I simply love that part of NSW. Have you been there? I'd love to know what your favorite spots are? For all you beautiful people that are still dealing with winter, here's a little sunshine coming your way 🙂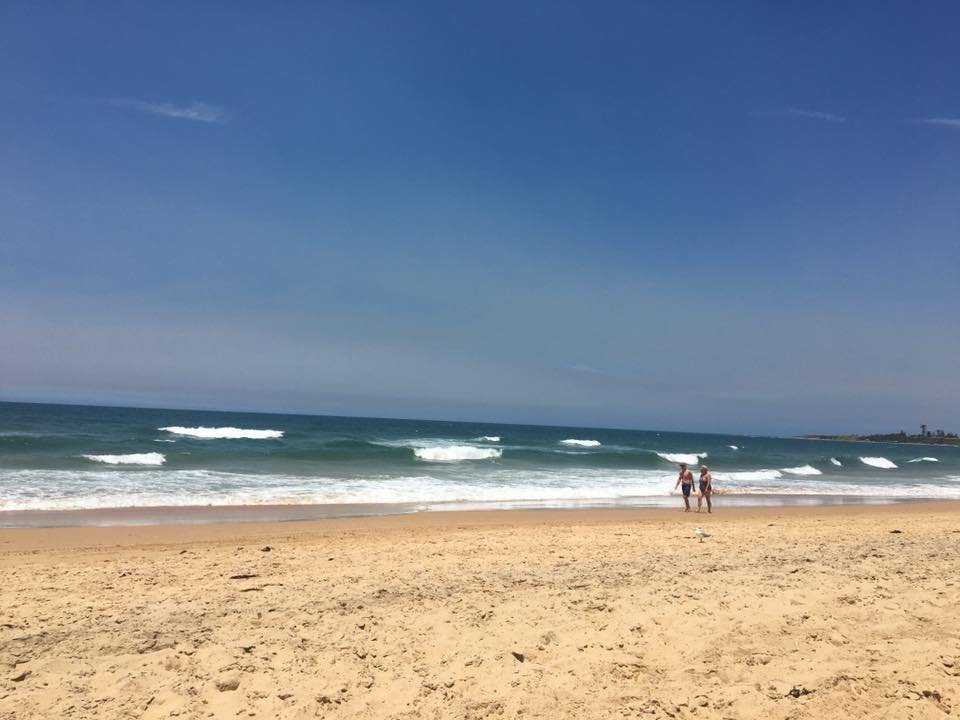 Speaking of sunshine, today's recipe is just like a little sunshine on a plate. It's a sweet potato mash. I love sweet potatoes. I almost always make these Baked Sweet potato fries. But at times I also just boil them with a pinch of salt till tender and snack on them, or roast them, or if I'm feeling a little indulgent, whip up a batch of these Sweet Potato Brownies. But last week, when I wanted to use up a sweet potato, it was just too hot to switch the oven on. So I decided to try making a mash. It was as easy and quick as a regular batch of mashed potatoes, but just a touch sweet and a little savory at the same time. It was glorious. I might just like a Sweet Potato Mash a little more than I like a regular mash.
So, if you haven't yet tried a sweet potato mash, don't wait any longer. Get your hands on a sweet potato and get to work. You won't regret it.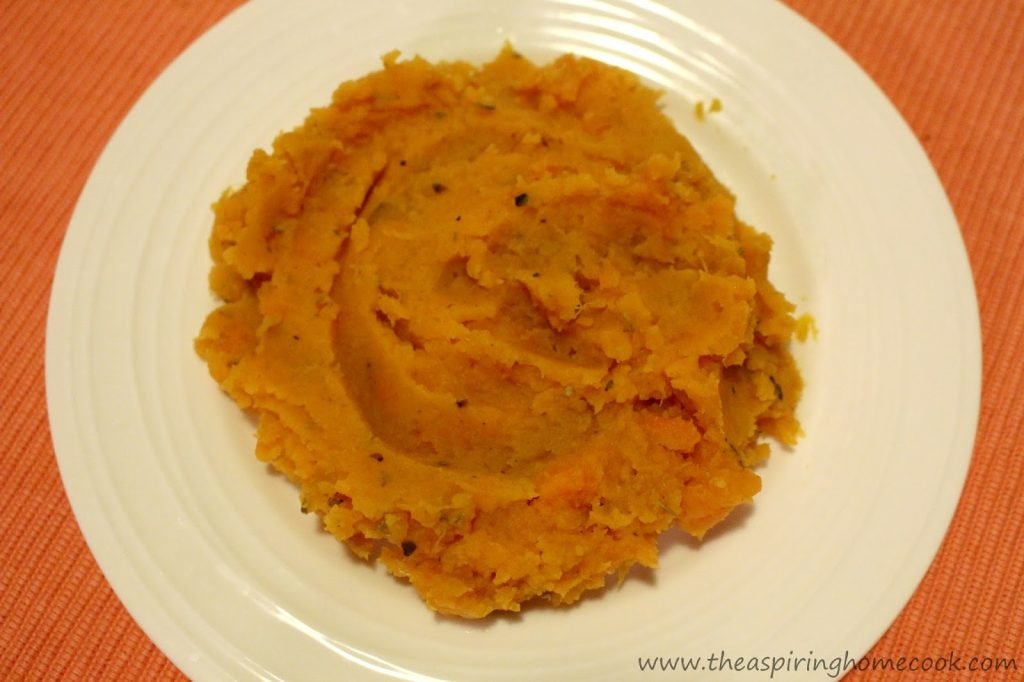 Sweet Potato Mash
Recipe from: Cooking Light
Serves 4
1 1/2 pound sweet potatoes (about 650-700g)
1 1/2 tbsp butter
1 tbsp extra virgin olive oil
A large pinch of dried thyme or 2 tsp chopped fresh thyme, or to taste
1/4 cup milk
Salt, or to taste
Freshly crushed black pepper, to taste
Peel and cube the sweet potato. Place the potato in a large pan with about 1/2-1 tsp of salt and water till it reaches about 2 inches above the level of the potatoes.
Bring to a boil and simmer till tender. This usually takes about 15-20 minutes depending on the size of the pieces.
Take off the heat, drain and place the potatoes back in the pan.
In another little skillet or pot, heat the olive oil and butter over medium heat. Cook till brown and fragrant. Be alert as this can burn quick.
Once it has browned, take off the heat and stir in the thyme.
Add the milk, salt and pepper to the hot sweet potatoes and mash till it reaches the desired consistency.
Now drizzle the browned butter mix over and stir through the mash.
Garnish with some more crushed black pepper or thyme leaves as desired.
Enjoy!!!
I served this up with some Eggplant patties and a Lemon, Sun-dried Tomatoes and Almond Quinoa Salad for dinner.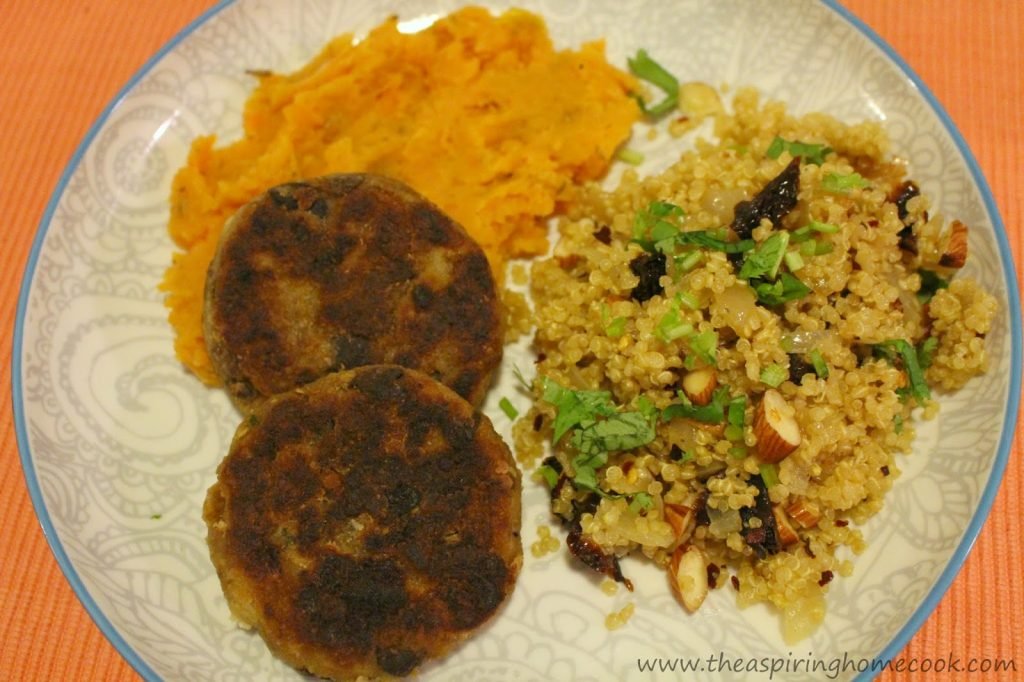 Find the other recipes to make this meal here –
Eggplant Patties
Lemon, Sun-dried Tomato and Almond Quinoa Salad
I have finally gotten around to writing this post. For some reason these pictures have been lurking somewhere in the deep, dark recesses of my computer and kinda got forgotten there. Today, when I was looking for something else, I came across them and realized I hadn't yet shared it with you. So it just had to be done.
We've been trying to be more conscious of what we eat now. No fad diets or deprivation, but we're trying to focus on making better choices. Let me be very clear here, there will still be baked goodies. And lots of regular ones too. All I'm saying is that I'm going to be more open to the slightly healthier variants too. For example, these brownies. I came across this recipe when I was looking for ways to use up a massive box of sweet potatoes I picked up at the growers market at Flemington. The only sweetener in it is maple syrup. The rest of the sweetness comes from the sweet potato and the dates. And that make me happy. I can enjoy a piece because I know whats in it. There are also no eggs in the recipe, so that will make my vegetarian friends from India (the ones that don't eat eggs) very happy. This recipe also uses raw cacao powder instead of cocoa powder or chocolate. Though I'm pretty sure you'd be able to substitute them if you so wished. I hear raw cacao is purer and healthier. A quick blitz of ingredients in the food processor, a quick stir in of the dry ingredients and you're ready to bake. That's how easy it is to make these brownies.
Now, the verdict – These are nothing like the typical chocolate brownies you buy at the store or even make at home. They are equally delicious and have a nice gooey texture. They have a slightly different flavor from the sweet potatoes and kinda reminded me of a typical Goan sweet "Dodol" with minimal effort. So if you're up for trying out something a little different, give these sweet potato brownies a go. You won't be disappointed.
Sweet Potato Brownies
Recipe from: Deliciously Ella
2 medium to large sweet potatoes (approx 600g)
2/3 cup ground almonds (I used almond meal)
1/2 cup rice flour (You could also use buckwheat flour)
14 dates
4 tbsp raw cacao
3 tbsp pure maple syrup
A pinch of salt


Preheat the oven to 180ºC.
You need to use cooked sweet potato for the recipe. You could either roast, boil or stem them till they are nice and soft. I wrapped them in foil and baked them while I had the oven on the previous night.
Peel the sweet potato and cut them into chunks and add them to a food processor along with the pitted dates. Process this you are left with a nice creamy mixture.
Place all the dry ingredients in a bowl and stir together.

Add the sweet potato and date paste and mix this thoroughly combined.
I'm finally back to blogging! If you've been wondering where I've been over the last few weeks, I've been right here but I've had my laptop die on me. It was a real task recovering the data on it and getting back to doing this. But thanks to my wonderful husband, I've recovered most of it. And now finally have access to it. Still don't have my trusty laptop, but the family computer works fine for now.
So to ease back into the flow of things, this will be a quick post. The recipe also is a quick one, super simple to make. Infact, you can barely even call it a recipe, but the results are so very good, I will go ahead and post it here to share with you. If you haven't tried out sweet potato fries yet, trust me, you really should. Even my beloved husband, who doesn't care much for the sweet potato (he calls it a sweet mush / baby food), loved it and actually requests for these fries every once in a while.
There are a couple of things to keep in mind here. You could peel the potatoes, but I leave the skin on. Just give it a good wash and scrub and you are good to go. Also, size of the fries will make a difference. The thicker you cut it, the longer it will take to cook. The thicker sized fries will still be soft and fluffy. If you are like me and love a little crunch in your life, cut the fries thin. It cooks quicker and caramelises a little and is super delicious, not to mention perfectly crunchy.
This fries are a much more healthy version that the regular potato fries and are great either as a snack or as a side to a big roast dinner or holiday meal too.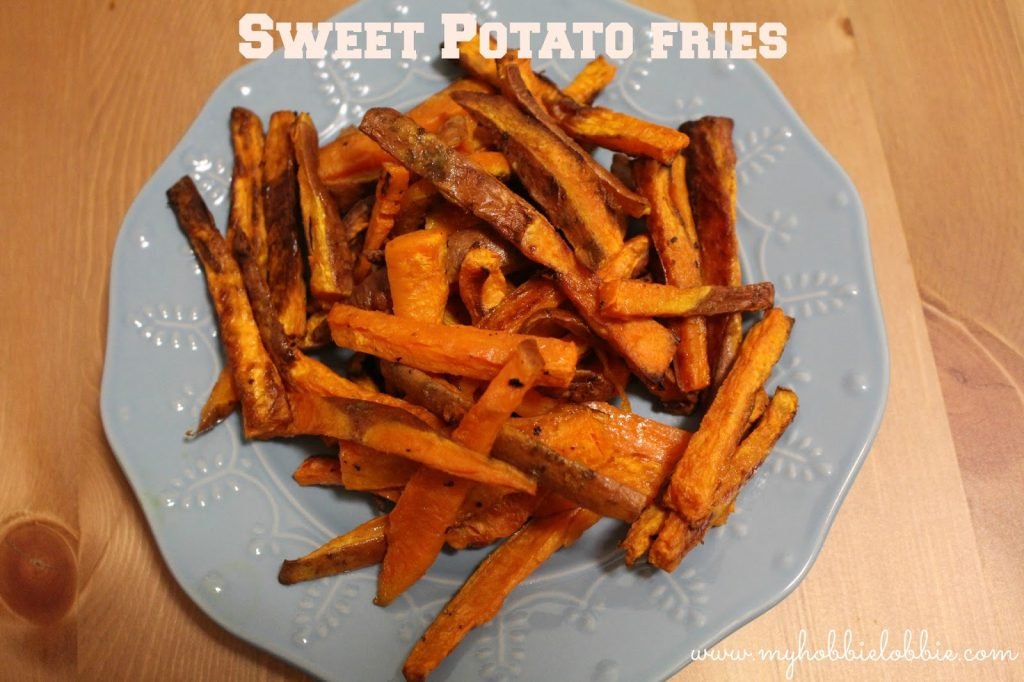 Sweet Potato Fries


1 large sweet potato, washed
Salt, to taste
Freshly crushed black pepper, to taste
A drizzle of olive oil (about 1 tbsp)
Preheat the oven to 200°C.
Cut the sweet potato into fries.
Drizzle a little olive oil on a baking tray.
Place the sweet potato, salt and pepper on the tray and toss to make sure everything is well coated. You can add a little more olive oil if needed.
Arrange the potato pieces in a single layer.
Bake for 15-20 minutes, turning the pieces once at the halfway mark.
Keep an eye on your oven from time to time. It may not need as long in your oven. Also this time will depend on the size of the pieces. So keep an eye on it the first time you make this.
When it is done to your liking, take it out of the oven.
Serve hot and enjoy!