Winter is one of my favorite seasons. I love the chill in the air and everything that comes with it, especially after a long, hot summer. I love winter clothes, the food and the indoor days. But what I love most of all is rugging up on a chilly day with a piping hot mug of homemade hot chocolate. So today, I'm going to share with you how I make my basic hot chocolate from scratch in under 5 minutes. Yup, its quick, simple and divine.
Homemade Hot Chocolate
Makes 1 mug


3/4 cup (full fat) milk
1/4 cup heavy cream
1/4 cup dark chocolate, chopped
A few marshmallows, for topping (optional)
Combine the milk and cream in a saucepan and heat it over medium heat till it just about starts simmering. Do not let it come to a boil.
Add the chopped chocolate and whisk till dissolved.
Pour into a mug and top with marshmallows (if using) and sprinkle some grated chocolate on top.
Enjoy your very own Homemade Hot Chocolate!!!
Almost everyone around the globe appears to be embracing the approach of fall. Falling leaves, cooler days, soups and sweaters and all things pumpkin. In my part of the world though, we are well on our way to Summer. But, since we're so blessed with great weather and an abundance of fruit and veg all the year round, we are still getting a fair bit of pumpkin. But I think it is nearing the end of pumpkin season. I realized I had never made or tasted pumpkin pie. I know right! That, I am glad to report, has officially changed.
Over the weekend, I bought some pumpkin, made my own pumpkin puree, the filling and the pastry from scratch. Hang on, don't run away. It sounds like a lot of work, but it really wasn't. I roasted the pumpkin late one evening and the next day I made the pie. The pastry and the filling comes together in the food processor. The food processor was used mainly out of necessity. I'd sprained my wrist a few days ago and there was no way I could have knead the dough or mashed the pumpkin by hand. I was amazed at how easy it was. I may never go back to making shortcrust pastry any other way. I do hope you try baking a pumpkin pie from scratch this year, especially if you haven't done so before. It is so satisfying, you'll be glad you did.
I left the pie just as it was baked and didn't even cover the little knife test mark, because I didn't want to over sweeten it by adding any icing sugar on top. You could dust it with some icing sugar if you'd like. If you want to make it more indulgent, top it with some whipped cream or serve it with some ice cream if you'd like. We tried that, but loved how it tasted by itself. And trust me, it tasted even better the next day. So make it a day or two before you need it (think Thanksgiving dinner), and once it has completely cooled down, refrigerate till you are ready to serve. The pie is beautiful – the pastry is perfectly flaky and the filling spiked with warm spices is silky smooth.
How to make Pumpkin Puree at home – 
1 – 1 1/2 kilo pumpkin
You can either use small pumpkins or a wedge of a larger one, whatever you can get your hands on. I used about 1/3 of a Kent Pumpkin.
Preheat the oven to 180ºC.
Cut into equal sized wedges. Leave the skin on. Scoop out the insides – the seeds and the membrane.
Place the pumpkin skin side down on a roasting tray and bake for 45 minutes to an hour or till a knife pierced through the flesh of the pumpkin goes through without any resistance. (I did this while we were having dinner)
Let the pumpkin cool. (I left it to cool overnight and made the puree the next day.) Peel the pumpkin or scoop out the flesh, whatever you find easier, and place the pumpkin in a food processor and blitz till done. If it looks too dry, add a couple of spoons of water and blitz again.
What you are left with is a glorious bowl of fresh pumpkin puree.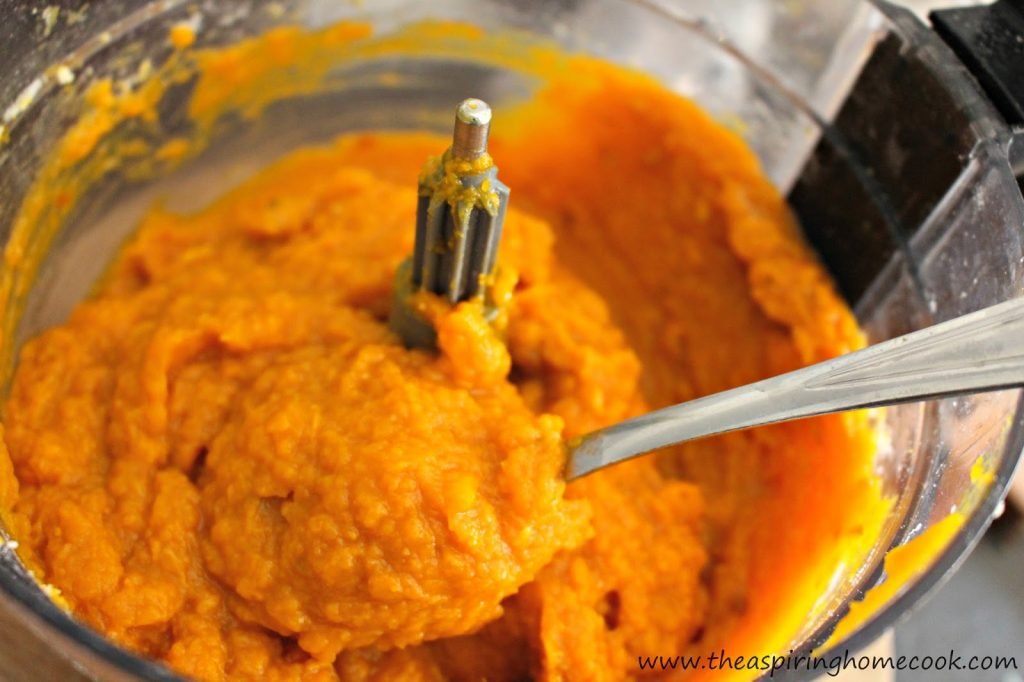 Once you have your pumpkin puree, you can use it to make anything pumpkin you'd like – Pumpkin pie, pumpkin doughnuts, pumpkin cake / cookies, pumpkin rolls and the list goes on.
Now, let's get on to making the Pumpkin Pie.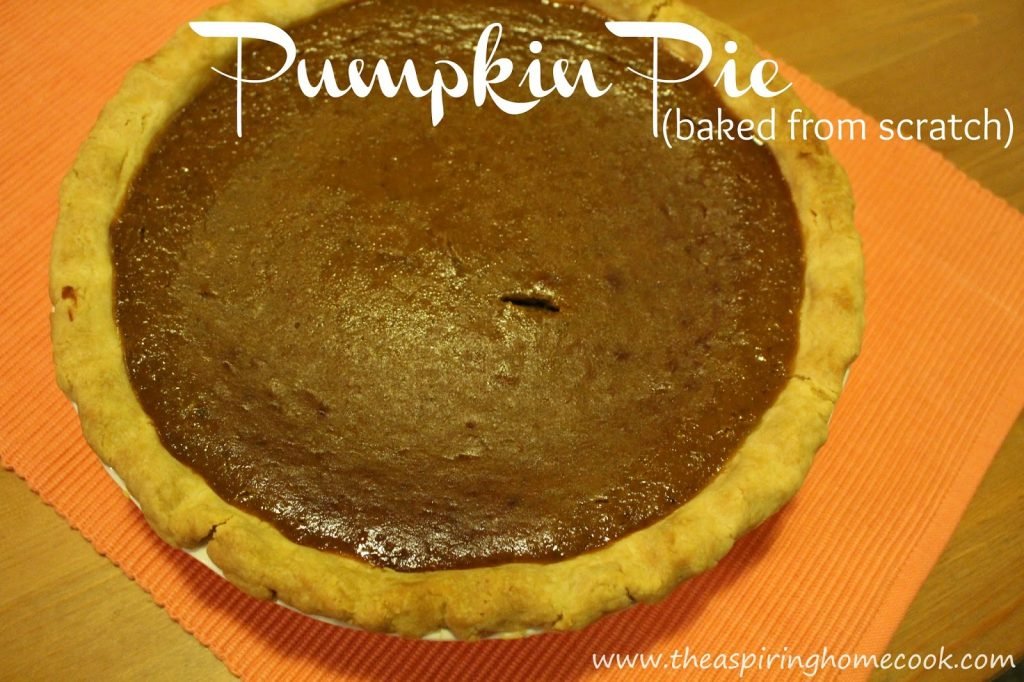 Pumpkin Pie 

For the pie crust –
250g all purpose flour
125g cold butter, cubed
A couple of tablespoons of cold milk
(If you're using unsalted butter, add a pinch of salt. If you're using salted butter, leave out the salt.)
Place the flour and butter in the food processor.
Pulse a few times till the butter has broken down and you're left with a mix that looks like this.
Add a couple of spoons of cold milk to help bind the pastry and pulse a couple of times till you are left a mix that looks like this. Start with a spoon or two and add more if needed.
Place some clingfilm on your work surface (lesser clean up this way) and tip this mix on top.
Press together to form a dough. Don't knead or overwork the dough.
Wrap it up in the same cling film and refrigerate for about half an hour.
While the dough is chilling, make the pie filling.
For the pie filling –
2 cups fresh pumpkin puree
1 can evaporated milk (a 12 ounce can)
3 eggs
3/4 cup sugar
1/2 tsp salt
1 tsp ground cinnamon
1 tsp ground ginger
1/2 tsp ground nutmeg
1/4 tsp ground cloves
Place all the ingredients in the food processor and blitz till everything is well incorporated and smooth.
Preheat the oven to 180ºC.
Take the dough out of the refrigerator and roll to a disc large enough to cover a 9 inch pie dish. Line the pie dish with the dough and pour in the filling.
Cover just the edges of the pie crust loosely with foil to keep it from burning.
Bake for 50-60 minutes or till a knife pierced through the center comes out clean. Take the foil off in about the last ten minutes to let it evenly brown.
Cool and cut into wedges and serve.
Enjoy!!!
Pin now and try later.
I'm finally back to blogging! If you've been wondering where I've been over the last few weeks, I've been right here but I've had my laptop die on me. It was a real task recovering the data on it and getting back to doing this. But thanks to my wonderful husband, I've recovered most of it. And now finally have access to it. Still don't have my trusty laptop, but the family computer works fine for now.
So to ease back into the flow of things, this will be a quick post. The recipe also is a quick one, super simple to make. Infact, you can barely even call it a recipe, but the results are so very good, I will go ahead and post it here to share with you. If you haven't tried out sweet potato fries yet, trust me, you really should. Even my beloved husband, who doesn't care much for the sweet potato (he calls it a sweet mush / baby food), loved it and actually requests for these fries every once in a while.
There are a couple of things to keep in mind here. You could peel the potatoes, but I leave the skin on. Just give it a good wash and scrub and you are good to go. Also, size of the fries will make a difference. The thicker you cut it, the longer it will take to cook. The thicker sized fries will still be soft and fluffy. If you are like me and love a little crunch in your life, cut the fries thin. It cooks quicker and caramelises a little and is super delicious, not to mention perfectly crunchy.
This fries are a much more healthy version that the regular potato fries and are great either as a snack or as a side to a big roast dinner or holiday meal too.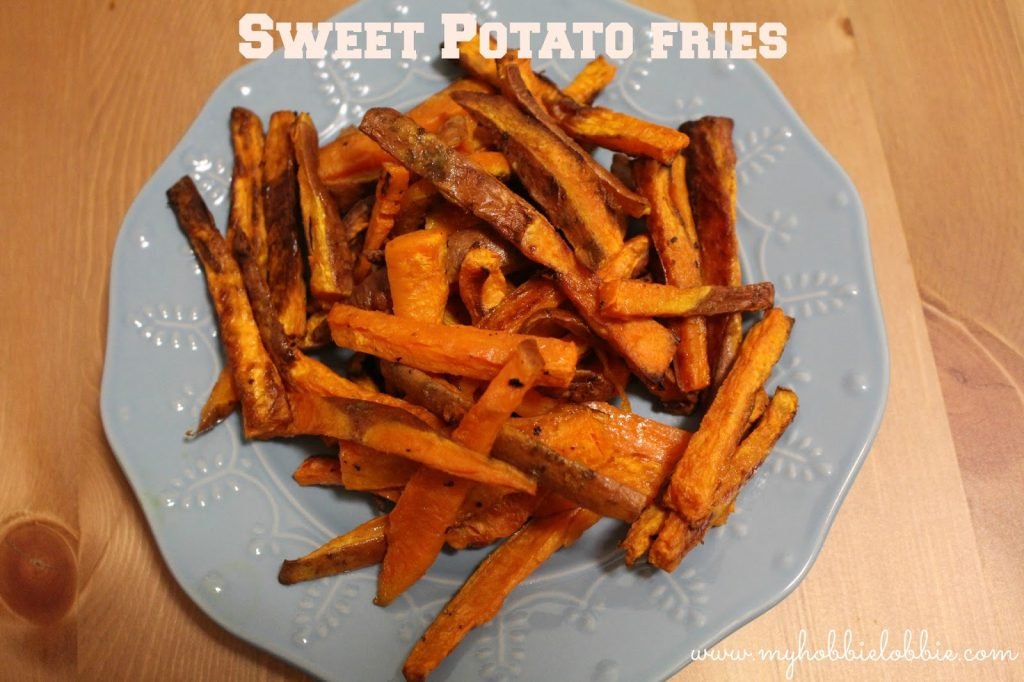 Sweet Potato Fries


1 large sweet potato, washed
Salt, to taste
Freshly crushed black pepper, to taste
A drizzle of olive oil (about 1 tbsp)
Preheat the oven to 200°C.
Cut the sweet potato into fries.
Drizzle a little olive oil on a baking tray.
Place the sweet potato, salt and pepper on the tray and toss to make sure everything is well coated. You can add a little more olive oil if needed.
Arrange the potato pieces in a single layer.
Bake for 15-20 minutes, turning the pieces once at the halfway mark.
Keep an eye on your oven from time to time. It may not need as long in your oven. Also this time will depend on the size of the pieces. So keep an eye on it the first time you make this.
When it is done to your liking, take it out of the oven.
Serve hot and enjoy!
You're probably wondering why I'm posting a soup recipe in the middle of summer. Well, it's like this – we've had about two and a half days of rains now. So everything around is grey, wet and bleak. Don't get me wrong. I love this kind of weather. All you have to do is snuggle up with a nice hot cuppa and a good read or watch the rain – perfect. Also, it means we get to have soup. I love soup but have not made it from scratch often enough. All I can say is, I am done with the instant and frozen, store-bought varieties. I have had very good results the couple of times I've made soup from scratch and come this winter, I hope to make plenty more.
So back to the butternut pumpkin. This is the second time I'm making a butternut pumpkin soup. The last time it turned out really bland and I wasn't overly impressed, which is why it hasn't made an appearance on the blog. This time around, I decided I wanted some bold, punchy flavours so I looked around and took a few ideas from around the web. It turned out this recipe was easy, simple to make and has big, bold flavours. I remember thinking the last time, that a little ginger would make this soup so much better and I was right. This soup just warms the cockles of your heart.
I took the idea of topping it up with blue cheese from a recipe I found online. Please do yourself a favour and add the blue cheese. The blue cheese elevates this soup from being a nice soup to being a fantastic one.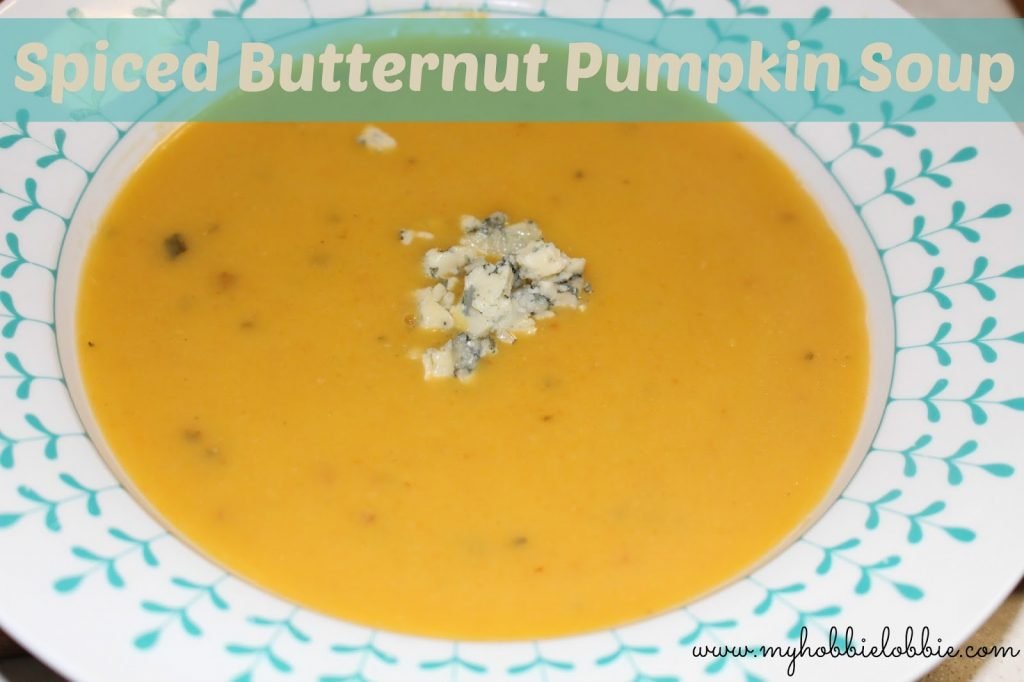 Spiced Butternut Pumpkin Soup


700g butternut pumpkin, peeled and chopped
1 onion, chopped
2 carrots, chopped
1 stick celery, chopped
2 large cloves of garlic, finely chopped
1/2 tsp grated ginger
Salt, to taste
Freshly ground black pepper, to taste
1/2 – 1 tsp red chilly flakes, or to taste (optional)
1/2 tsp chives
2 tbsp olive oil
1 litre boiling water
1/3 cup cream cheese
1/4 cup freshly grated parmesan cheese
Blue cheese, to crumble over
In a large pot, over medium heat, pour the olive oil.
Add the garlic and when it is fragrant, add the onion and and saute over medium heat, till softened and translucent. Add the ginger and continue sauteing.
Once the ginger has released its aromas, add the celery, carrot and pumpkin.
Sprinkle the salt, pepper and red chilly flakes and stir well.
Let the veggies, saute for about five minutes, stirring to make sure it doesn't burn.
Add one litre of recently boiled water. (You could add cold water too, but that will increase cooking time. Using hot water results in the soup simmering almost immediately.)
Cover and simmer till the veggies are cooked and tender.
When the vegetables are fork tender, take off the heat.
Using an immersion blender, blitz till you are left with a smooth puree. Add the cream cheese and blitz again.
Add the parmesan cheese and chives and stir through.
Serve hot with a little blue cheese crumbled over.
Enjoy!