Its hard to believe that its only the first month of Spring right now. We've had a few scorchers already and its starting to feel like Summer is long to be a long and hot one. While I enjoy the extra daylight and the bounty of fruit, veg and flowers and beautiful beach days that summer brings, I cannot cope with HOT days. Last weekend was one such scorcher, thanks to the second heatwave of the season. I don't know about you, but on such days, I cannot even think of putting the stove or the oven on, much less standing near it. I think I see a lot of salads and sandwiches for lunch this Summer.
I tried out this amazing Avocado Pasta Salad over the weekend and it was a big hit. There is a little stove time involved to boil the pasta and to fry the bacon, but the end result is so good, I'd say it was well worth it. I can't wait for the next potluck or picnic, because I know that this salad will make an appearance.
The dressing is an avocado based one and is super easy to make. If you have an immersion blender, you life will be even easier. If not, just use your regular blender and you'll be sorted. Basically all the ingredients for the dressing get blitzed together and ta-da …. you have yourself a salad dressing. I love recipes that are as easy as this. The ingredient list for the salad is just an approximation of what I used. Feel free to adjust as needed.
Avocado Pasta Salad
Serves 4 (as Main Course)
Adapted from: Spend with Pennies
2 cups uncooked Macaroni
1/4 onion, finely chopped (use a sweeter onion if you can't stand the heat from a raw onion. You can also use a couple of spring onions, finely sliced)
1 cup cherry tomatoes, halved
1/2 cup broccoli florets
1/2 cup boiled / roast chicken, shredded
1/2 cup corn kernels
1 avocado, diced
4 rashers of bacon, fried till crisp and chopped / crumbled
1/4-1/3 capsicum (I used green because thats all I had. You can use red or yellow too, or even a combination of them.)
2 tbsp chopped fresh coriander
For the dressing –
1 ripe avocado
Juice of 1/2 a lime
1/4 cup chopped fresh coriander (use the leaves and the stalks)
1/2 tsp cumin powder
1/2 tsp garlic powder
1/2 cup Greek yogurt
Salt, to taste
Freshly cracked black pepper, to taste
Boil the pasta till al dente, following the package instructions. Run under cold water to stop the cooking process and to cool the pasta down. Drain and set aside.
Blanch the broccoli florets in boiling, salted water till it is a vibrant green, about 30 seconds to a minute, depending on how crunchy you like your broccoli. Immediately drain and immerse the broccoli in ice cold water for a few seconds to stop the cooking process. Drain and keep aside.
In the same pot of boiling water, boil your sweet corn kernels till done. Drain and set aside.
Get your salad ingredients ready.
For the dressing, simply blitz all the ingredients together.
Toss the salad in the dressing and refrigerate for about 1 hour before serving.
Enjoy!!!
Pin now and try later!!!
I have a little confession. A few years ago, I used to not like Oreo biscuits very much. There!!! I said it. But wait, I must also say this. A few months ago, I sorta flipped a switch. I happened to try one again, and I must say, I didn't mind it at all. Don't ask me what happened or how it did, but I can now say I actually like Oreo biscuits. So it was time that I reworked what was originally a recipe that used Oreos, which, when I first made, I actually substituted with another biscuit. But recently, I made them again using the real thing.
Sometime in August, we were celebrating a couple of birthdays at work and I decided I was going to bring a batch of these to the celebration. I was a little skeptical of how they would be received, but I shouldn't have been. They disappeared. Not everyone had an opportunity to grab one, but some clever ones managed to get seconds, maybe thirds 😉 Those that had a chance to try them out, absolutely loved them. So turns out I didn't have to worry about these at all. I've had a few people ask me for the recipe more than once. So I'm actually doing another post for it.
This is one of the easier treats I've made and if you have to take something sweet to a potluck, may I recommend making these. They will be an instant hit. Be warned, they are really moreish. You wont be able to stop at one.
Oreo Truffles
(Makes 1 dozen)
200g Oreo cookies (each packet is 137g, I just used 2 packets)
60g cream cheese
200g chocolate (I used 100g milk chocolate and 100g dark chocolate but you could use all milk or all dark or any ratio you prefer)
1/4 cup Candy melts (I used Yellow melts)
Blitz the cookies in a food processor till it reaches a fine crumb state. (If you don't have a food processor, place the cookies in a ziplock bag and pound on them using a rolling pin.)
Stir in the cream cheese and mix thoroughly.
Roll them into balls. Refrigerate them for an hour so that the firm up.
Chop the chocolate into small pieces. Melt the chocolate in a microwave safe bowl for 30 seconds and stir. Then as needed microwave in 30 second increments stirring inbetween till the chocolate melts. The stirring helps the chocolate melt.
Line a cookie sheet tray with parchment paper.
Dip the cookie balls in the melted chocolate. Using a fork, let the excess chocolate drip off and leave them to set on the parchment lined tray. You can serve them up as they are or decorate them with sprinkles or chocolate then do that at this stage and leave it to set.
If you want to use sprinkles to decorate them, sprinkle them on the truffles just after you dip them in chocolate.
If you want to drizzle some chocolate or candy melts over, microwave them in a microwave safe bowl according to the package instructions. Pour it into an icing bag or a small ziplock bag, snip off the tip of the bag and drizzle the chocolate over the truffles. Leave to set.
Enjoy!!!
I have finally started trying out new cupcake and brownie recipes, basically the sweet baked stuff, to add to my repertoire. It started with the
strawberry cupcakes
and now I've moved on to brownies. The first brownie to catch my attention was this cream cheese swirl brownie, that I saw at one of the linky parties that I participate in. This was a great brownie. It had a little tang from the cream cheese but it wasn't too overwhelming. What worked really well with it was the yummy caramel like taste that the edges of the brownies lent to it. The combination of flavors was great. My brother and husband both thought that these were caramel brownies and if I didn't know better I would've thought so myself.
In a nutshell, try it out. Good stuff, I tell ya.
This is what the inside edges look like –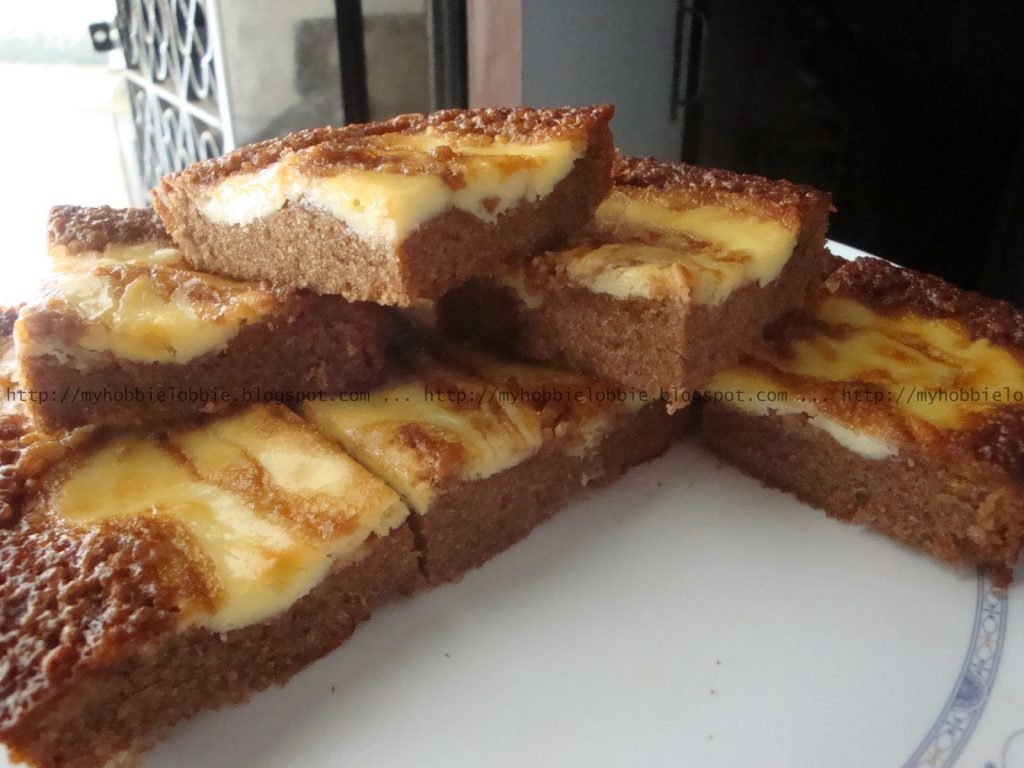 Cream Cheese Swirl Brownies
Adapted from: The Flour Sack
Makes 16
For the Brownie base:
2/3 cup all purpose flour
1/2 tsp baking powder
6 oz bittersweet chocolate
1/2 cup butter, cut into cubes
1 cup sugar
2 tsp vanilla extract
3 eggs
For the Cream Cheese Swirl:
8 oz Cream Cheese, at room temperature
1/4 cup sugar
1/2 tsp vanilla
1 egg yolk
Preheat your oven to 160ºC.
Butter an 8″ square pan
For the brownie base, whisk the flower and baking powder in a small bowl and keep aside.
Melt the chocolate and butter over a double boiler. When the chocolate has melted completely, remove from the heat and whisk in sugar and vanilla.
Cool slightly. Add the eggs one at a time, whisking between each addition.
Continue whisking till the mixture is well incorporated and smooth.
Gently fold in the dry ingredients and mix till just barely incorporated.
For the cream cheese layer, beat the cream cheese, sugar, vanilla and egg yolk till well combined.
Pour half the brownies base batter into the pan. Dollop half the cream cheese mixture by the spoonfuls. Repeat by layering the brownie base over it and then dollop the rest of the cream cheese mixture. Use a butter knife and gently swirl the batter to give a marbled effect.
Bake till the edges of the brownies have puffed slightly and a toothpick inserted into the center comes out with several fudgy crumbs attached to it. This should take about 55 minutes.
Cool completely. Cut into squares and enjoy!
(Note: I halved the recipe and used a 6″ square pan and I got 9 pieces.)
This recipe is linked to –
Sweet Tooth Friday
Sweets for a Saturday
These Chicks Cooked