Hi guys! Today's post is a special one. It's my favorite chocolate brownie recipe that I'm going to share with you. It's my go to recipe for chocolate brownies and I've used it for years now. It yields, what I consider, the perfect Chocolate Brownie. You get a beautiful crust on the outside and a fudgy, gooey center.
It's the perfect baking option for holidays or when you're baking for a crowd because of its simplicity. The recipe can be doubled if you like. And when simple recipes yield such fantastic results, you know you're on to a winner.
So I do hope you try these brownies out.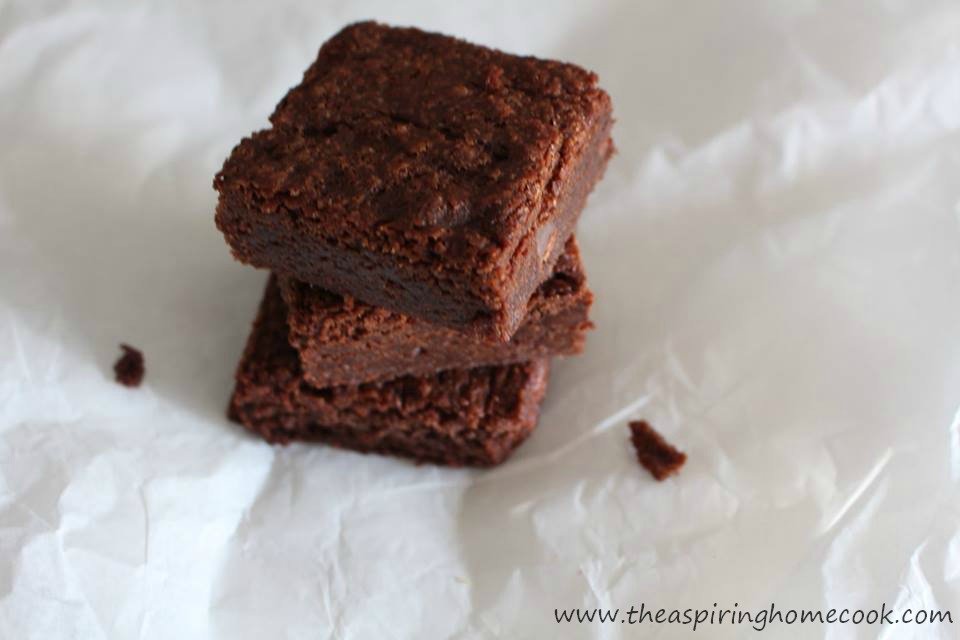 The Best Chocolate Brownies


110g all purpose flour
185g salted butter
175g dark chocolate (either buttons, or roughly chopped bars, both would work)
175g sugar
2 eggs
1 tsp vanilla bean paste
A pinch of salt
50g chocolate chips.
Melt the butter and dark chocolate in a heavy bottomed pan on low heat. Once everything has melted, take the pan off the heat and set it aside to cool.
Halfway through the cooling process, turn the oven on and preheat it to 180ºC. Line an 8 inch square baking tray with some foil and leave an overhang on the sides. The foil makes clean up so much easier and the overhang helps take the brownies out of the try very easily.
Crack one egg into a small bowl and lightly whisk it. Add it to the melted and cooled butter and chocolate mix and whisk to incorporate. Repeat this with the second egg.
Add the vanilla, salt and sugar and whisk well, making sure everything has mixed well.
Now add the flour and whisk until just combined.
Add the chocolate chips and fold it through the batter with the help of a spatula.
Pour the batter into the foil lined tray and bake for about 25-30 minutes.
Take the brownies out of the oven and let them cool completely.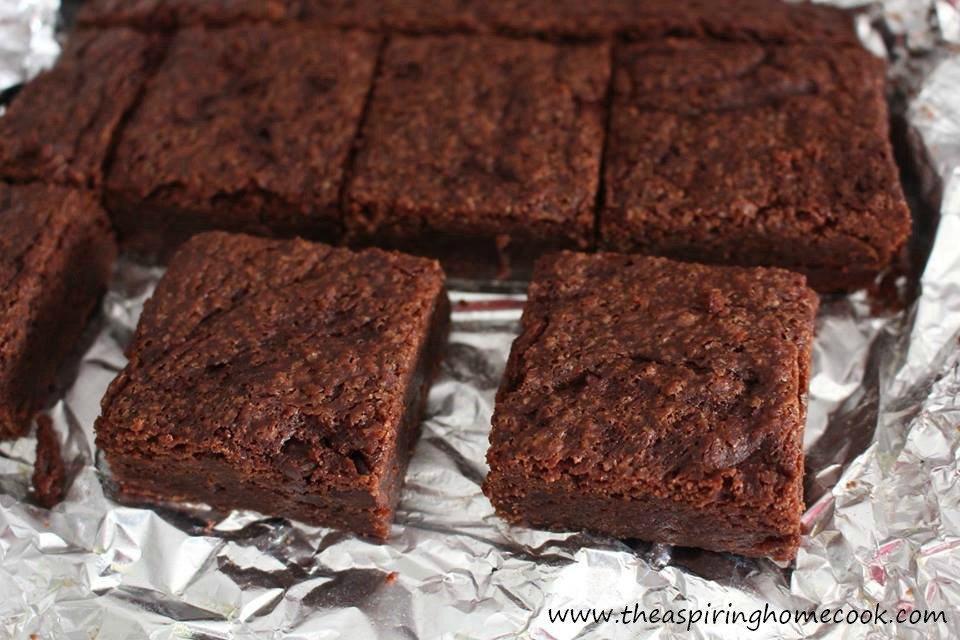 You can now cut them into squares and serve.
Pin now and try later!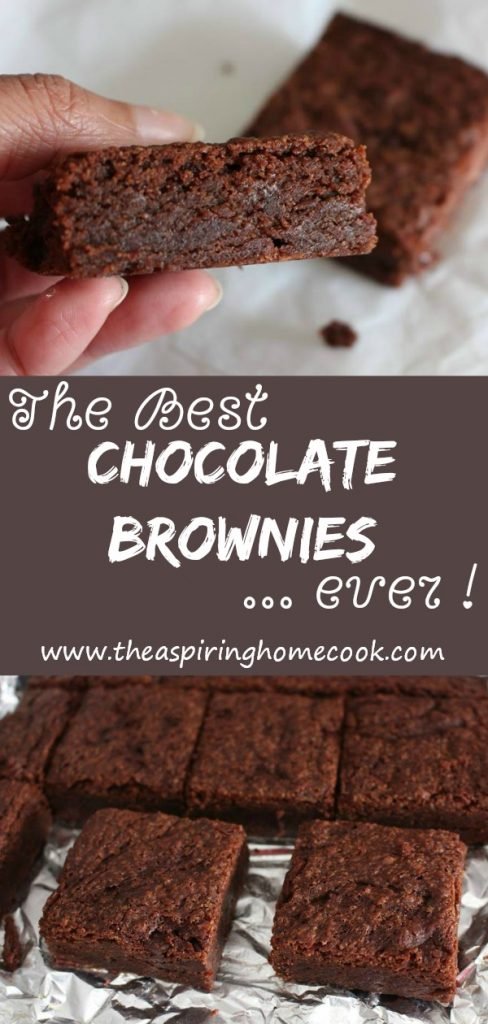 I have kept my Easter prep for too late this year. I'm usually a lot more prepared than this. However, a minor accident had reduced my mobility this past week. I am on the mend but still not back to 100%. So I wanted to keep my treats quick and easy.
With that in mind I whipped up some Chocolate Nests. I love this recipe. It takes 3 ingredients and half and hour to make a batch. This is a very versatile recipe so you can make as big or small a batch, as you'd like. It is also a flexible recipe, so you can use the chocolate of your choice and mini eggs of your choosing too. So, if like me, you've left Easter prep for the last minute, try out this recipe. It is very popular with the little kids … and the big ones too.
Wish you and your loved ones a Happy and Holy Easter!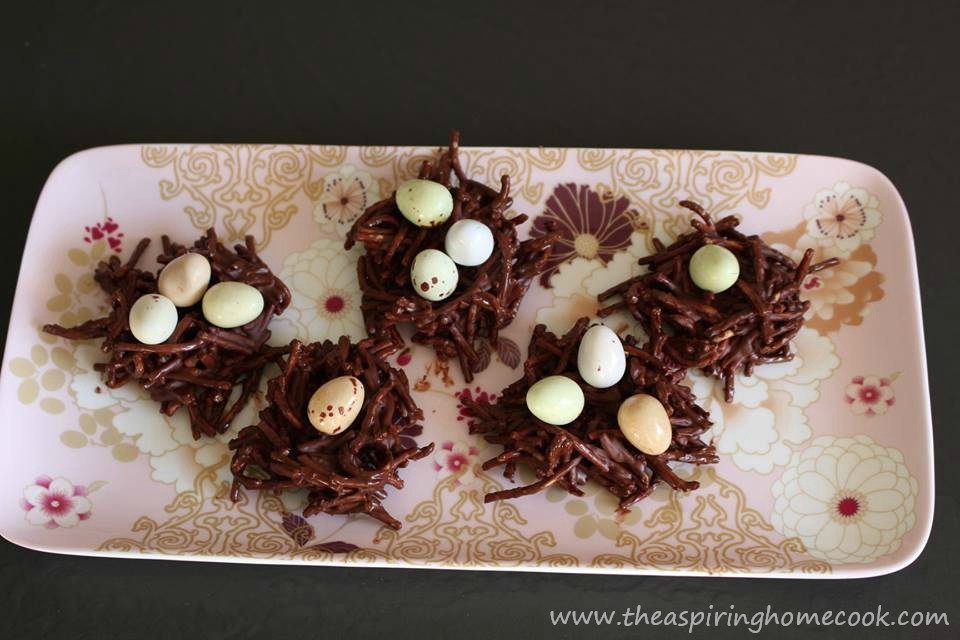 Chocolate Nests
Makes 8 Nests
100 grams Chocolate (I used Dark chocolate)
100 grams ready to serve Noodles
Mini Speckled Eggs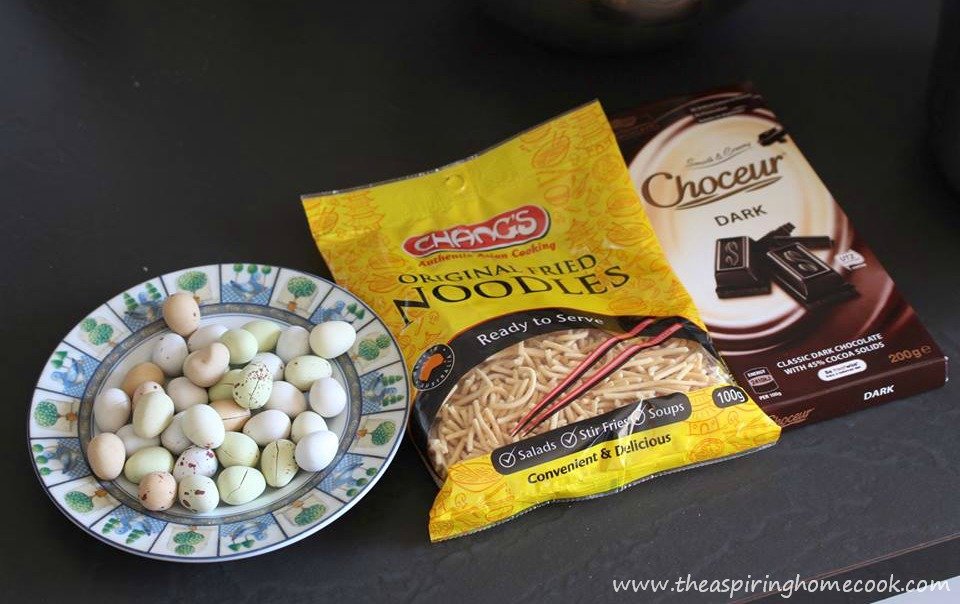 Chop up the chocolate roughly and melt using a double boiler. If you haven't worked with a double boiler, watch the video linked below to see how you can use a simple saucepan and bowl to make one. (You can also melt the chocolate in a micowave using a microwave safe bowl and in 30 second increments.)
Toss the noodles into the chocolate and mix gently to coat the noodles in the chocolate completely.
Using a spoon and either a spatula or a butter knife, scoop out portions of the noodles onto a tray lined with baking paper. Shape to form rough circular shapes and make a little dip in the center of each nest.
Place the mini eggs in the dents created.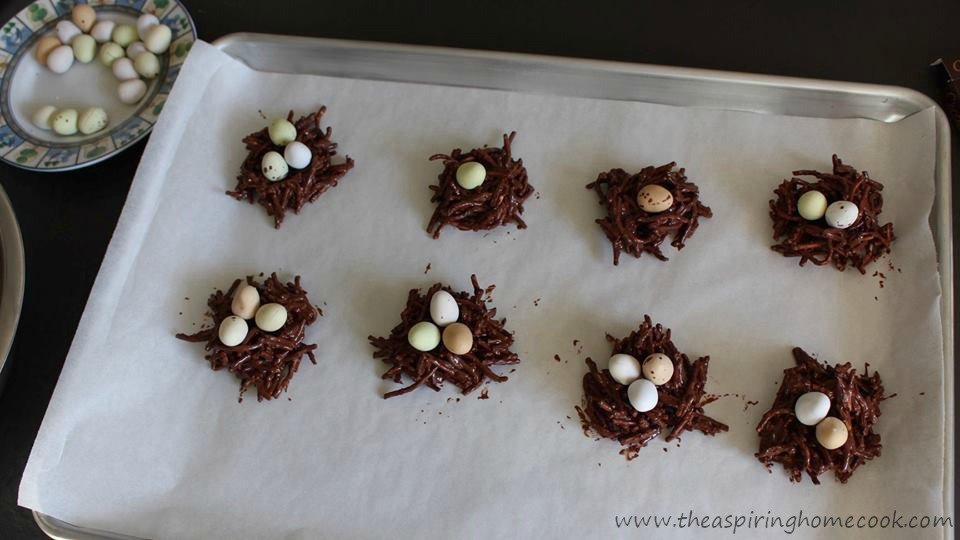 Refrigerate for 20 minutes.
Serve.
You can watch the video recipe here –
Whoever said that the simple things are often the best, was a legend. I have proof. What am I talking about? Well a couple of weeks ago, I'd gone to lunch with a friend. Obviously, I had to have the smashed avo toast – beautiful rye sourdough, topped with a generous amount of smashed avocado. This particular version of it was then topped with a simple salad that was so very good, I had to try replicating it at home. It was just a beautiful and well balanced little number, with every mouthful, I could literally hear angels sing.
Since the salad was so simple, there is very little to do to assemble it. This makes it perfect if you have to make a great big batch to feed a crowd this holiday season. The homemade version was so good, I hardly got a couple of bites of it. The husband, who initially was very skeptical about the simplicity and the 'no mayo' nature of the salad, almost wiped the plate clean. So I can tell you that this recipe has been tried and tested and has received the highest seal of approval (well, in my house atleast).
This is not an exact recipe. You simply add the ingredients to your liking and taste and it will turn out fantastic.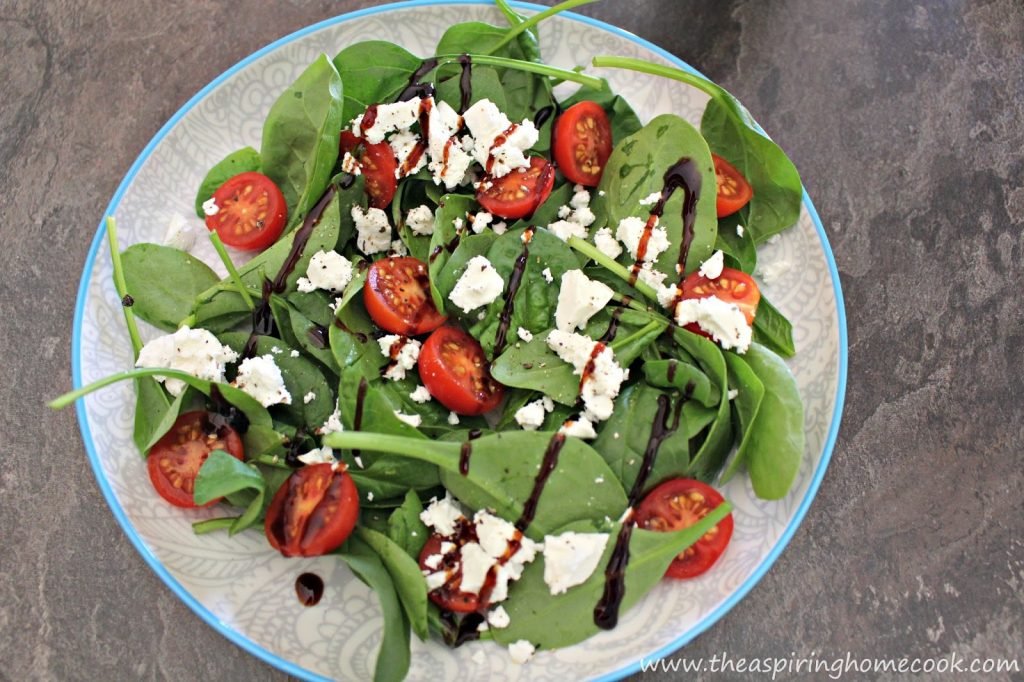 Baby Spinach Salad with a Balsamic Glaze


A couple of handfuls of baby spinach (you could also use rocket or any salad greens of your choice)
A few cherry tomatoes
Feta cheese, to taste
Freshly crushed black pepper, to taste
Balsamic glaze, to taste
Place the baby spinach / salad greens on your salad plate.
Halve the cherry tomatoes and place it evenly around the plate.
Crumble some feta cheese on top. (Please note, the feta cheese is salty, so add as much or as little as you'd like. No additional salt in used as the feta seasons the salad.)
Sprinkle a little freshly cracked black pepper on top.
Drizzle a little balsamic glaze over everything to finish it off.
Sit back and look at this gorgeous work or art.
Serve up and enjoy.
So continuing from my last Halloween post, here's another quick and easy savory treat I put together for the same party. If you haven't yet read that one, go check out the Monster Eye Crackers I posted about
here
.
If you've been around these parts before you know the most important part of food for me is taste. It helps if it is quick and easy to make and bonus points if it is cute and quirky too. This little treat ticks all those boxes. I found this one in quite a few places on the internet and decided that I had to try them out. They are perfect to make for a Halloween themed party. I will admit that the cheese stringers were a little fiddle to begin with, but eventually things started moving along much faster. And, considering there was zero cooking involved, I still give this little snack a thumbs up. Kids will love the novelty of these 'Witches Broomsticks'. I made these to serve at an office party and the adults couldn't keep their hands of them either.
These snacks also use only 3 ingredients – pretzel sticks, cheese stringers and fresh chives. There is not much of a process involved either, so let's get straight to the instructions.
I hope you make these savory treats this Halloween and enjoy them as much as we did.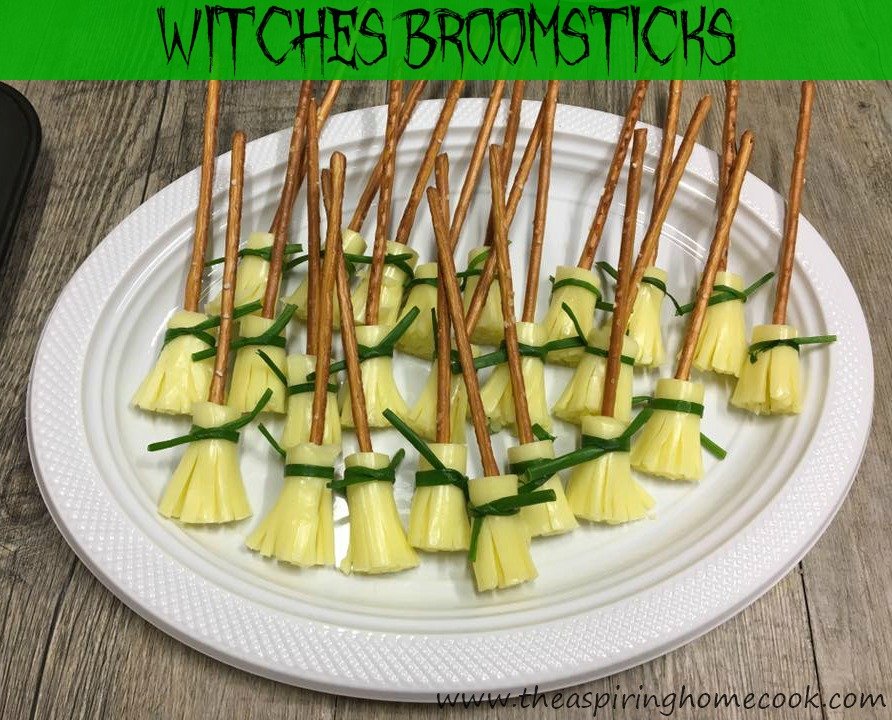 Witches Broomsticks


Pretzel sticks
Cheese stringers
Fresh Chives
Start with the cheese. Cut the cheese stringer sticks into about 1 inch pieces or one thirds.
For each of these pieces, cut up or pull apart two thirds of the length of it to make the bristly edge of the broomsticks.
Now simply pierce the uncut end with a pretzel stick.
Finish them off but tying with a piece of fresh chives.
Serve up.
What treats are you planning for this Halloween???
** This post contains affiliate links.
Around this time of the year, especially if you partake in the Halloween festivities, you will find yourself inundated with candy and other sweet treats and bakes. In a nutshell, a sugar overload. While I love my cakes and sweets / candy as much as the next guy or gal, if you are like me, you will need a little bit of savory to cut through all that sweetness.
Last year, I was really excited about Halloween. We were supposed to have a big Halloween party at my workplace. However, as luck would have it I quit that job in early October to focus on building up a little business. When my colleagues threw me a small farewell party, they decided to roll with the Halloween theme. I couldn't pass up on the opportunity to whip up a few treats. These little cracker bites were one of them. I will share the rest of them with you over the next few days. My job was extremely physically demanding and boasted quite a few really long days. So I had to come up with treats that were quick and easy to put together. I knew the candy part of the party would be taken care of, so I stuck with the savories.
These Monster Eye crackers are perfect for a party or get together. They are a Halloween Play on cheese and crackers. They can be whipped up really quickly with all of 3 ingredients. So, I knew I was going to make them. I was a little skeptical about them considering how simple they are, but let me tell you, they vanished really quickly. I wish I had made more. If you decide on making these, make sure you make a big batch. So to make these, all you need are crackers. I love the Eton crackers found in Aldi stores locally, but if you cannot get your hands on them, Ritz Crackers
will work just as well. You can use any other crackers you'd like. Now that the crackers are sorted, the next ingredient is the cheese. I used Kraft Cheese Slices
, but again, you can use any cheese slices you like. The last ingredient you need are olives. You can use Pitted Kalamata olives
or pitted Green olives, if you prefer.
The process is fairly simply, and works fastest if you create an assemble line. I hope you enjoy these little snacks this Halloween as much as we did.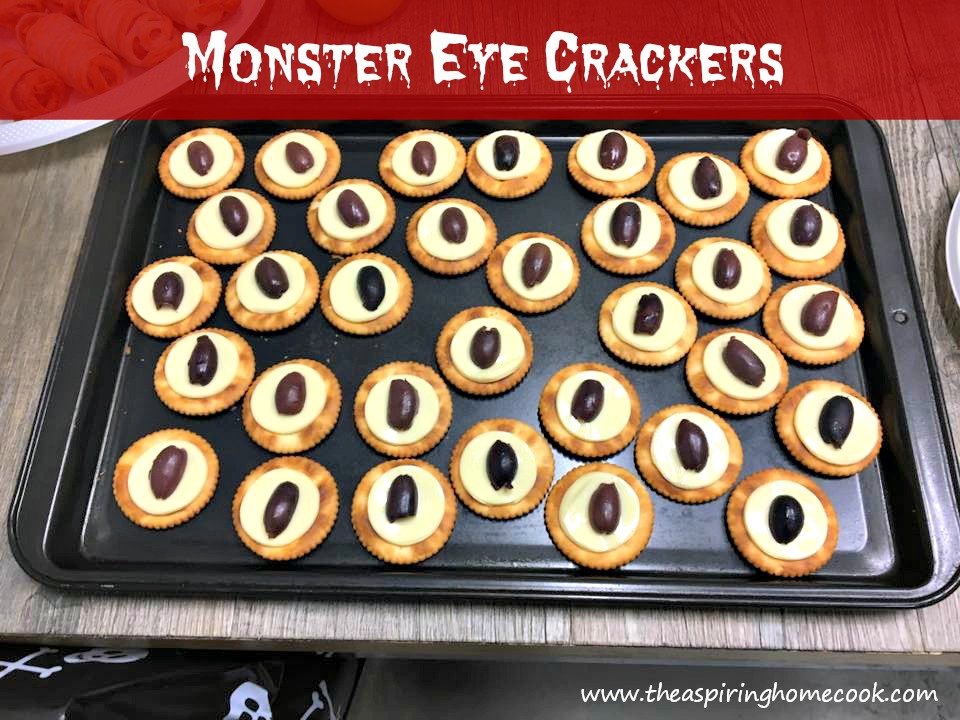 Monster Eye Crackers


Eton crackers (You can also use Ritz Crackers
)
Kraft Cheese Slices
Pitted Kalamata olives
You will also need a circle cookie cutter, just a little smaller than the size of the crackers you choose to use.
Cut the cheese slices into circles using the cookie cutter and keep aside.
Cut the pitted olives in half and keep aside.
On a serving platter, place the crackers in a single layer.
Top the crackers with a circle of cheese and top that with half an olive.
And that's basically it. Serve up.
Enjoy!!!
Its hard to believe that its only the first month of Spring right now. We've had a few scorchers already and its starting to feel like Summer is long to be a long and hot one. While I enjoy the extra daylight and the bounty of fruit, veg and flowers and beautiful beach days that summer brings, I cannot cope with HOT days. Last weekend was one such scorcher, thanks to the second heatwave of the season. I don't know about you, but on such days, I cannot even think of putting the stove or the oven on, much less standing near it. I think I see a lot of salads and sandwiches for lunch this Summer.
I tried out this amazing Avocado Pasta Salad over the weekend and it was a big hit. There is a little stove time involved to boil the pasta and to fry the bacon, but the end result is so good, I'd say it was well worth it. I can't wait for the next potluck or picnic, because I know that this salad will make an appearance.
The dressing is an avocado based one and is super easy to make. If you have an immersion blender, you life will be even easier. If not, just use your regular blender and you'll be sorted. Basically all the ingredients for the dressing get blitzed together and ta-da …. you have yourself a salad dressing. I love recipes that are as easy as this. The ingredient list for the salad is just an approximation of what I used. Feel free to adjust as needed.
Avocado Pasta Salad
Serves 4 (as Main Course)
2 cups uncooked Macaroni
1/4 onion, finely chopped (use a sweeter onion if you can't stand the heat from a raw onion. You can also use a couple of spring onions, finely sliced)
1 cup cherry tomatoes, halved
1/2 cup broccoli florets
1/2 cup boiled / roast chicken, shredded
1/2 cup corn kernels
1 avocado, diced
4 rashers of bacon, fried till crisp and chopped / crumbled
1/4-1/3 capsicum (I used green because thats all I had. You can use red or yellow too, or even a combination of them.)
2 tbsp chopped fresh coriander
For the dressing – 
1 ripe avocado
Juice of 1/2 a lime
1/4 cup chopped fresh coriander (use the leaves and the stalks)
1/2 tsp garlic powder
1/2 cup Greek yogurt
Salt, to taste
Freshly cracked black pepper, to taste
Boil the pasta till al dente, following the package instructions. Run under cold water to stop the cooking process and to cool the pasta down. Drain and set aside.
Blanch the broccoli florets in boiling, salted water till it is a vibrant green, about 30 seconds to a minute, depending on how crunchy you like your broccoli. Immediately drain and immerse the broccoli in ice cold water for a few seconds to stop the cooking process. Drain and keep aside.
In the same pot of boiling water, boil your sweet corn kernels till done. Drain and set aside.
Get your salad ingredients ready.
For the dressing, simply blitz all the ingredients together.
Toss the salad in the dressing and refrigerate for about 1 hour before serving.
Enjoy!!!
Pin now and try later!!!