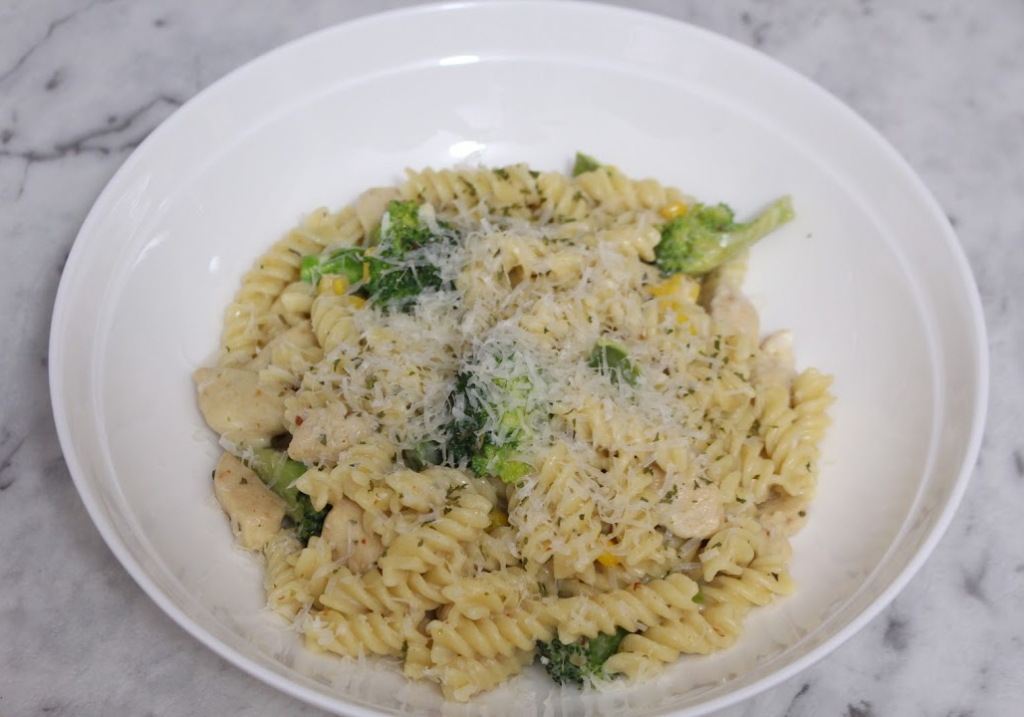 Pasta – one humble ingredient but endless ways to cook it up. It has got to be one of the most versatile ingredients in the kitchen. You can serve it hot or cold, in a soup, salad or as a main. It works so well with so many different veggies, proteins and sauces. I love me some pasta and always have a couple of varieties in my pantry cupboard.
Pasta dishes can range from simple to a little more complicated. I personally, love the idea of a few simple recipes that I can use during the week. This Chicken in white sauce pasta is one such dish. With a little multi-tasking, I can serve this up in well under half and hour. Yup, you heard that right, under 30 minutes. Honestly, what takes the most time, is boiling up the pasta itself. If you don't eat meat, you can still make this recipe, just leave out the chicken and add some mushrooms, peas or even a little spinach. A vegetarian variant turns out equally delicious.
Are you ready to check this recipe out???
Chicken in White Sauce Pasta
(Serves 4)
A single Chicken breast fillet, cut into bite sized pieces
1/4 cup green capsicum, diced
1 cup of broccoli florets
1/2 cup corn kernels
2 cloves of garlic, finely chopped
Salt, to taste
Freshly cracked black pepper, to taste
Chilli flakes, to taste
1/2 – 1 tsp Mixed herbs, or to taste
1 tsp lemon juice
1-2 tbsp olive oil
1-2 tbsp vegetable stock / water
Pasta (enough for 4 servings)
A little parsley, to garnish
A little Parmesan cheese, grated
For the white sauce –
1 tsp olive oil
1 1/2 tbsp butter
1 tbsp all purpose flour
1 1/4 cup milk
1/3 cup cheddar cheese, grated
Salt, to taste
Cook your pasta according to the packet instructions. I bring a large pot of water to a rolling boil. Season generously with salt. Add the pasta and cook till done. Drain and reserve about 1/2 cup of the cooking liquid.
While the pasta is cooking, season the chicken with salt, pepper and lemon juice to taste. Mix well.
Heat 1 tbsp olive oil in a pan. Add the chicken and cook through, stirring occasionally, till the chicken has cooked through. Remove the chicken in a bowl and set aside.
In the same pan, add 1 tbsp of olive oil and quickly add the garlic.
Stir through and immediately add the green capsicum. Still through and let the capsicum cook for about a minute.
Next add the broccoli and saute well. (See note*)
Add the corn and stir through.
Season with salt, pepper, chilli flakes and mixed herbs, to taste.
Add 1-2 tbsp vegetable stock (you can also use water), stir well, cover and let the veggies steam and cook for a minute or two or till they are done to your liking. (If you are adding cooked broccoli to the pan, you can leave this step out. )
Add the cooked chicken to the pan and stir through. Set aside and cook your white sauce.
To cook the White Sauce / Bechamel Sauce –
(For detailed instructions on how to make a great white sauce, check the video above)
Add a tsp of olive oil to the pan on medium heat.
Add the butter and let it melt.
Add the flour and stir briskly, making sure the flour incorporates well with the butter and oil and that no lumps are left.
Cook this roux off for about 30 seconds to a minute or till the raw smell of the flour has gone. (Do not let it develop any color.)
Add half the milk to the pan and stir through well, making sure no lumps remain.
Add the remaining milk and whisk well.
Cook the sauce till it has thickened to your liking, whisking well.
When the sauce is done, lightly season with a little salt.
To assemble the pasta –
Add the white sauce to the chicken and veggies in the pan. Stir well. Add the cheese and mix through.
Check the sauce for seasoning and adjust, if needed.
Add the cooked pasta to the pan and stir through.
Serve your pasta in some serving plates. Finish with a light sprinkling of parsley and a grating of parmesan cheese.
*NOTE: Our broccoli is fairly tender and cooks very quickly. If your broccoli takes longer to cook, blanch or steam it before adding to the pan.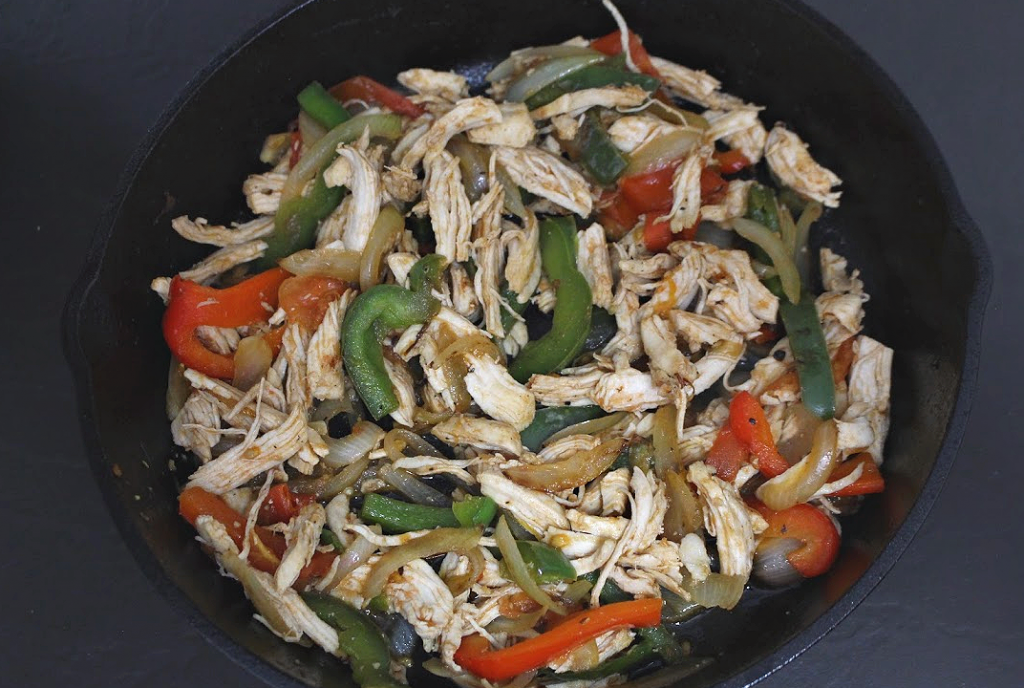 Earlier in the year, I put up a post on my YouTube community tab and asked you what kind of recipes you'd like to see on the channel. One recurring request that came out of that exercise, was chilly fry recipes. So today, I'm going to share with you one of the many ways I make a chilly fry. This is one of the quickest and simplest recipes for a Chicken Chilly Fry.
I've cooked up the chicken specifically for this recipe, however, if you have some leftover roast chicken, you could just as easily use that as well. The recipe can be made kid friendly by simply leaving out the chillies. However, if you're looking for a little spice in the dish, a couple of chillies, slit lengthwise, hit just the right spot.
Chicken Chilly Fry
1 chicken breast, cut into a couple of smaller pieces
For the marinade –
Salt, to taste
Freshly cracked black pepper, to taste
1-2 tsp sour lime / lemon juice
1/2 tsp garlic paste
1/4 tsp ginger paste
For the chilly fry –
1 onion, sliced
Some green and red peppers, sliced
1 tomato, sliced thickly
2 chillies, slit lengthwise (optional)
2 tbsp oil
Salt, to taste
Freshly cracked black pepper, to taste
Marinade the chicken by mixing all the marinade ingredients and slathering over the chicken pieces. Cover and marinade for atleast 15 minutes. (When I remember to, I marinade the chicken overnight, in the fridge. Just make sure you take it out of the fridge a little while before cooking, so that it comes to room temperature.)
Cover the pieces with sufficient water and bring to a gentle boil and simmer till the chicken is completely cooked. Take the chicken pieces out of the stock and reserve the stock. When the pieces are cool enough to handle, shred them and set aside.
Heat some oil in a pan.
If you're using chillies, add them to the pan and fry them off to infuse some flavor into the oil.
Add the sliced onion and saute for a minute. Next add the peppers and let them cook till they get a little char on them.
Add the tomatoes, let them cook a little. Make sure them come in contact with the pan a little, so they can develop a nice little char on them too.
Season with salt and pepper, to taste.
Next, add the shredded chicken and stir to mix everything well.
If the mix appears a little dry, add a couple of spoons of the stock to the pan and stir well. (Add the stock as needed. I used about 4-6 tbsps. in all)
Once most of that liquid has been absorbed, your chilly fry is ready.
Serve hot.
Growing up in Bombay and spending most of my summer breaks in Goa, I have had more than my fair share of curries. My Mum and my Aunt were great cooks and both could whip up a mean curry with great ease. So whether it was a meat (Chicken, mutton, beef or pork), seafood (fish, prawn or crab), lentil or vegetable curry, they were all really good. The best part is, they could do a lot of this without looking at a recipe. Now I haven't reached the 'no recipe' stage for some of the more intricate curries, but I do know a thing or two about them.
So, a while ago, when I saw this episode of Poh & Co, where Poh (one of my favorite TV chefs) whipped up a Nonya (a type of Malaysian) Chicken Curry, both, my husband and I knew we had to try the recipe out. The recipe does call for a few specialty ingredients, but the first time I made this curry, I didn't have them and so I left them out. Even then the curry was a great one. But I knew I wanted to try the recipe with all of the ingredients. So I picked up the Pandan leaves and the Shrimp Belachan at a local Asian grocery store and made the curry again. This time with all the ingredients. The result was a mind-blowing curry. Now I don't often refer to a curry as mind-blowing. A cake, maybe, but never a curry. But this curry is all that, and then some. It is one of my favorite chicken curries. And today I'm going to show you how I make mine. I have altered the method a tiny bit, to make the recipe more convenient and I hope you try this out the next time you want to make a chicken curry.
If you've never made a curry before, don't let the idea scare you. It is easier than you think. I've put together a video to walk you through the process.
Let's move on the the detailed recipe for this Nonya Chicken Curry.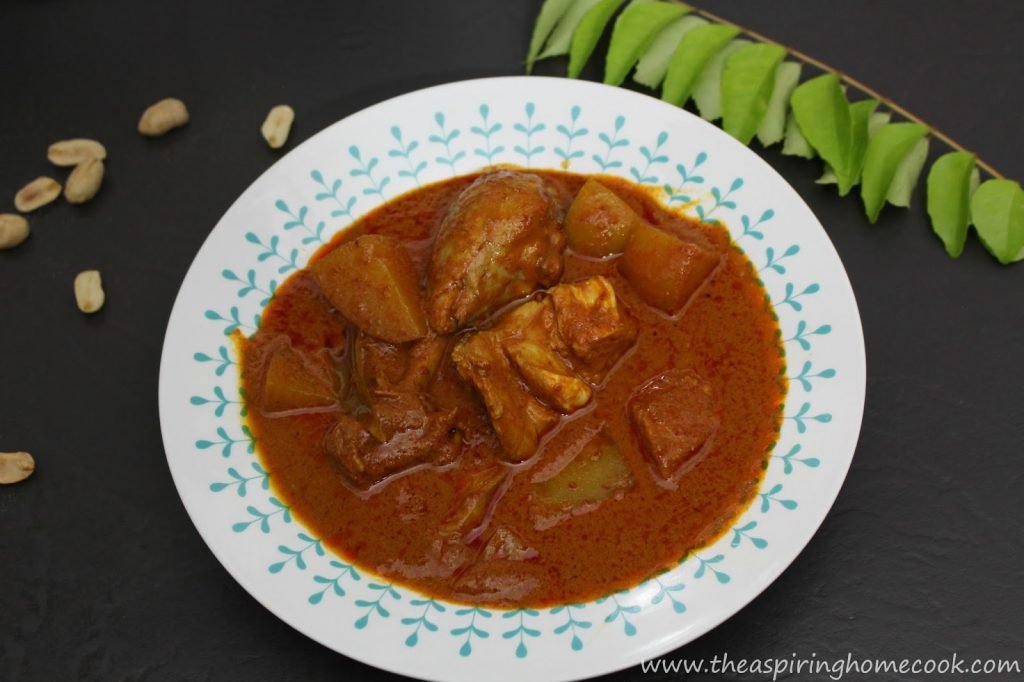 Nonya Chicken Curry
Recipe from: Poh Ling Yeow
3 tbsp Coriander seeds
1 tsp Cumin seeds
1 tsp Fennel seeds
15 dried red chillies
2 onions, roughly chopped
4 cloves garlic
20g toasted Belachan
1/2 tsp turmeric powder
8-10 curry leaves
2 tbsp oil (I use olive oil for all my cooking. You can use whatever oil you normally cook with.)
1 star anise
3 cloves
1 inch cinnamon
1 1/2 kilo chicken pieces
2 potatoes, cut into large cubes
2 birdseye chillies, slit lengthways
1 can coconut cream (400 ml can)
2 pandan leaves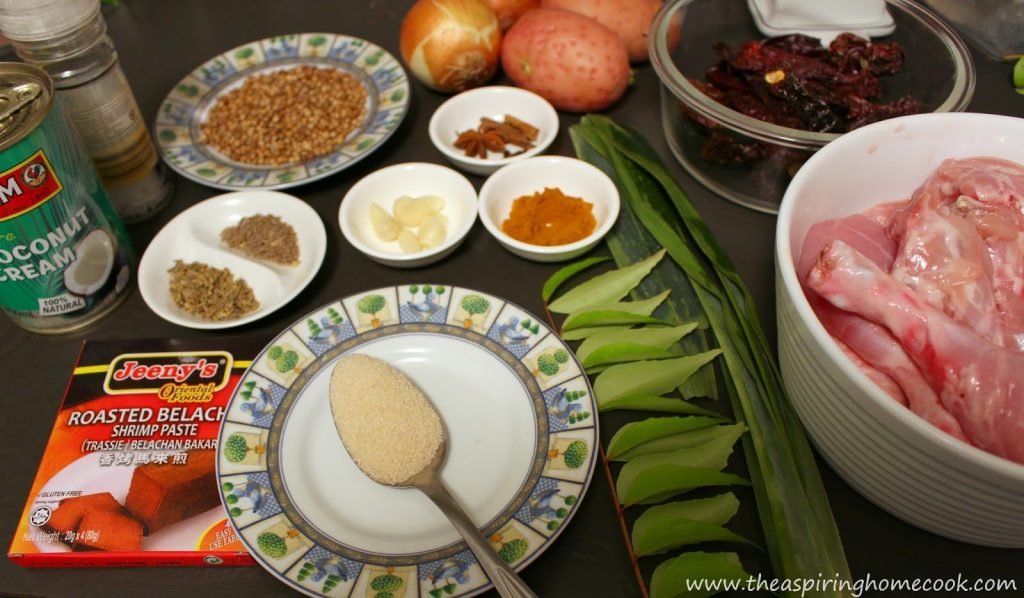 Take the skin off the chicken, cut into pieces, trim the fat off and set aside.
Deseed the dried chillies and soak them in hot water till they've rehydrated and softened.
In a dry pan, on medium heat, roast the coriander, cumin and fennel seeds till fragrant. Take them off the pan and set aside to cool.
Using a blender or food processor (you can also use a mortar and pestle if you dont have one), grind the roasted coriander-fennel-cumin seeds mix, drained red chillies, onion, garlic, belachan and turmeric to a fine paste, adding a little water as needed.
Heat oil in a large pot / pan over medium heat. Add the star anise, cinnamon and cloves and let them fry till fragrant about 20-30 seconds.
Add the spice paste (rempah) to the pan and saute for 6-8 minutes till the sauce is very fragrant.
Tear the pandan leaves into 3 strips lengthways and knot them together. Add the pandan and curry leaves to the spice mix.
Add the chicken to the pan and stir to coat with the spice paste. Saute for 1-2 minutes or till the chicken pieces start to look opaque.
Add the coconut cream and stir well.
Add the potatoes, salt and sugar. Add a little water to thin down the sauce a little to reach the desired consistency. Let it come to a boil.
Add the slit birdseye chillies, lower the heat, cover the pot and simmer till tender. Check after 5-7 minutes, add more water if needed, stir to make sure the curry doesn't stick to the bottom of the pan. Cover the pot and continue cooking till the chicken and potatoes are cooked.
Serve hot with rice. I tried to serve it up like a Nasi Lemak, but with plain rice instead of coconut rice. I added some fried baby anchovies, peanuts, boiled egg and some cucumber slices.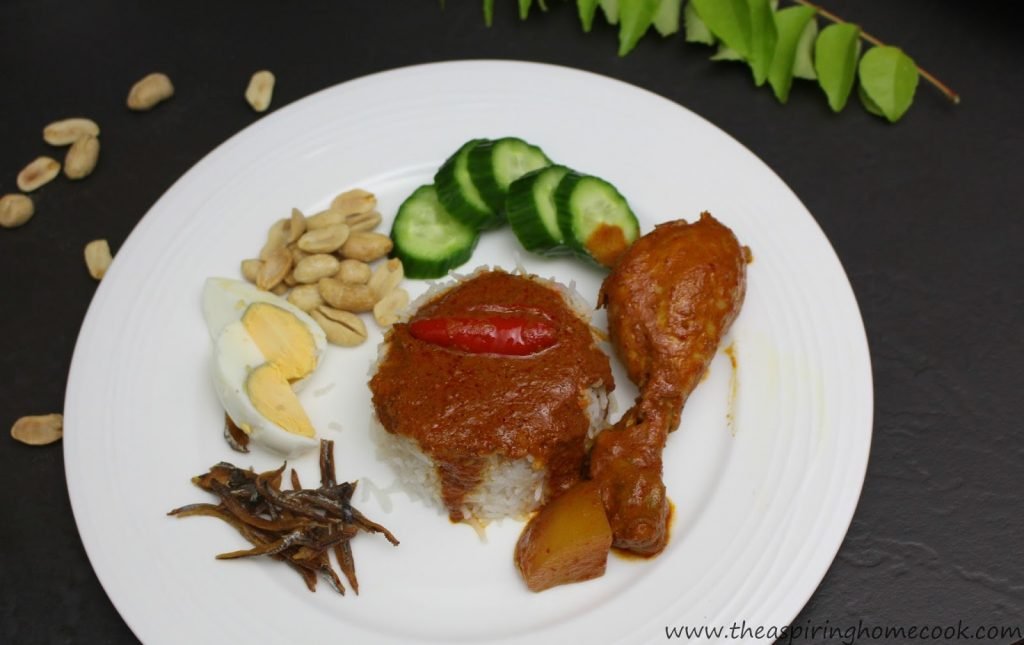 This curry also goes really well with roti or even bread. If you can get on hands on some Roti Canai, even better.
Enjoy!!!
Cashew Chicken on Lettuce
Serves 3
250g boneless, skinless chicken
2 tbsp low sodium soy sauce (Use a little lesser if you're using regular soy sauce)
2 tbsp oyster sauce
1/2 – 1 tsp red chilly paste
1/2 tbsp olive oil (cooking oil of your choice)
1/2 tbsp sesame oil
1 large clove garlic, finely chopped
1/2 tsp ginger, finely chopped (fresh ginger is best but you can also use lightly dried ginger like I did here)
1/2 cup raw cashew seeds
Iceberg lettuce leaves (or any lettuce of your choice)
Sesame seeds, to garnish
Cut the chicken to bite size pieces.
In a bowl, mix the chicken, soy sauce, oyster sauce and chilly paste and toss well. Set this aside for about 10 minutes to marinade.
While that is happening, chop the ginger and garlic. (Fresh ginger is best, but I didn't have any so I used some from Gourmet Garden.)
Chop the lettuce leaves into bite size pieces and place them on serving plates.
Now, heat the olive oil in a pan over medium heat. Add the ginger and garlic and saute for about 30 seconds or till they release a lovely aroma and are gently sizzling.
Turn the heat up to medium high and add the chicken and the marinade liquids. Add the sesame oil to the pan.
Stir fry for about 4-5 minutes or till the chicken has cooked through. (Please note, the cook time will depend on the size of the chicken pieces, so watch the pan and make sure the chicken pieces are cooked on all sides and have cooked through.) Stir the contents of the pan frequently, so ensure they don't burn.
When the chicken is cooked, add the cashew seeds and stir through for about a minute or till they've heated through.
And that's it. Your cashew chicken is ready to serve.
Spoon some of the chicken on the bed of lettuce. Make sure you have a few cashew seeds on each plate.
Sprinkle some sesame seeds on top and serve.
Enjoy!!!
NOTE: This is NOT a sponsored post.
Pin now for later –
Today I'm going to share with you a much loved recipe. This one packs a lot of flavour and comes together easily. Most of the work involved actually is prepping the veggies. And yes, this fried rice has more than its fair share of veggies, which makes it quite nutritious. If you've never made fried rice at home before, I urge you to try it out. You'll ditch the take-out version for the home made one instantly.
What I also like about this fried rice is you can pretty much use whatever you have on hand. You can switch up the veggies. I almost always use onion, spring onion, capsicum and carrot. I also add zucchini, snow peas, cabbage and baby corn if I have any of them on hand. The same is the case with the protein. Almost always I use a little bacon for flavour and some egg. Then I either use prawns, shredded chicken and sometimes even ham depending on what I have available at the time. So like you see, this fried rice is one of those meals you can put together almost any day of the week, even when your grocery run is due the next day. Apart from cooking the rice, it comes together in one pan – I now use my wok and love it.
This is the quickest way I find to get this on the plate. Soak my rice and when the rice is soaking and cooking, I prep my protien and veggies. When everything is ready, the final dish takes about 10 minutes tops to put together. Its one of my favourite quick and easy weeknight meal options. I tend to add a lot of vegetables and I like it that way, you could drop the quantity of vegetables to suit your liking. This is just a guide to making this fried rice and the quantities are suggestions. Go with what you think you'll enjoy and adjust to your liking.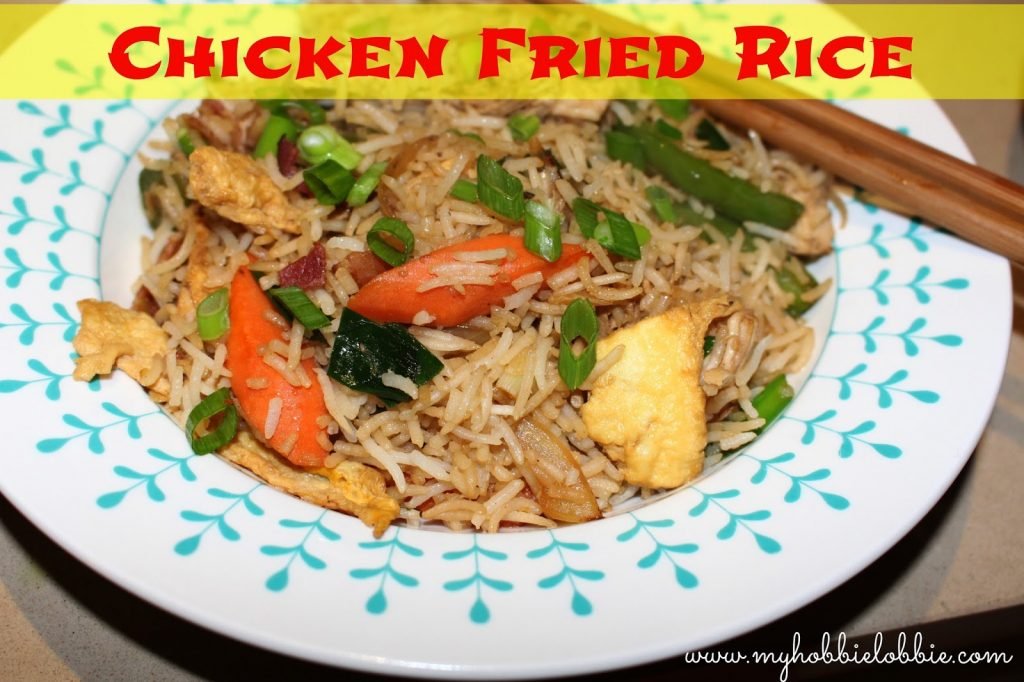 Chicken Fried Rice
Serves 3 (as mains)


1 cup basmati rice
2 cloves garlic, finely chopped
1 birdseye chilly (optional – we enjoy hot food but you can leave it out if you dont)
3 spring onions
1 red pepper
2 carrots
6-8 green beans
A handful of finely sliced cabbage (about a cups worth)
2 eggs
3 rashers of bacon (I used streaky bacon)
A cup of shredded chicken (you could used poached, roast, or rotisserie chicken)
A couple of tablespoons of oil (vegetable, olive or sunflower or any other cooking oil of your choice)
1 tsp sesame oil
Salt, to taste
Freshly cracked black pepper, to taste
Approx. 1 tbsp soy sauce (I use salt reduced soy)
1 tsp rice wine vinegar
Rinse the rice a couple of times and drain. Soak in fresh water at room temperature for about 20-30 minutes.
Bring a pot of water to the boil (just like you would for pasta). Add a spoon of salt to the water and carefully add the rice. Cook the rice till almost done (al dente). Don't cook the rice through as it will turn mushy once you add it to the wok.
Drain the cook rice and using a fork lightly loosen the grains and leave to cool.
In the meanwhile, clean and chop all your vegetables. I like to chop mine in like sized pieces. You could julienne everything or slice it on the diagonal into little chunks. (I will try and get a picture of the chopped up veggies when I make this next, I was in a hurry this time and forgot.)
Dice the bacon rashers and keep aside.
Keep all your ingredients handy. The trick to cooking a delicious fried rice is to cook it on a high heat and cook it quickly.
Heat your wok or pan. Add a little cooking oil to the pan. Crack 2 eggs in a bowl, add a little salt and lightly whisk. Now either make a plain omlette and cut into chunks or a plain scramble. Take the egg off the pan and keep aside.
Next step is to fry off the bacon. Add a little oil if needed and tip the cut bacon into the work and let it cook a little and add some flavor to the pan. Dont cook till crisp. You just want the ends to start changing to a light brown. Now add the garlic and chilly and saute till it gets fragrant.
Add the sesame oil and then tip in the diced pepper and the rest of the veggies and stir fry on high heat till they cook off a little. You still want them to have a little bite.
Add the chopped spring onions.
Add a light sprinkle of salt and some freshly cracked black pepper.
Add the soy sauce and rice wine vinegar and stir to let it coat the veggies. Please adjust the sauce to suit your liking.
Tip in the chicken and egg and stir well to incorporate.
At this stage add the rice to the wok and gently mix everything but mix thoroughly. I use a spatula and a pair of chopsticks to do this.
Once the rice has warmed through, serve hot and top with finely sliced spring onion greens to garnish and if you're feeling particularly adventurous, some finely sliced fresh chilly.
Enjoy piping hot.
**Leftovers warm up really well the next day too.
Where do I start with this post? I love meatballs. There I said it. I don't make it often enough. But when I do, I enjoy it so very much. I've noticed so many variations of the humble meatball pop up all over the blogosphere, I have got to try some soon. Also, I love Asian flavours. I've always been a big fan of Chinese food. Very recently, I've sort of gotten hooked on to some amazing Malaysian and Japanese food. But back to the topic at hand. When I saw this recipe for Sriracha Teriyaki Meatballs, I knew I had to make it and soon. It combined meatballs with Asian flavours and the added bonus was the heat from the Sriracha sauce. What's not to love about that?
I love how quick and simple this recipe was to put together. With a physically demanding job, that is sometimes more than I full time job, I need recipes that a simple and quick without compromising on the taste. This recipe checks all the boxes for me. You could make the meatballs ahead of time and that way you could put this recipe together even quicker. It is as simple as making the meatballs. Mixing all the ingredients for the sauce together and simmering. Tossing the meatballs in the sauce and that is it. Try this recipe out for yourself and you'll be amazed. You can thank me later.  🙂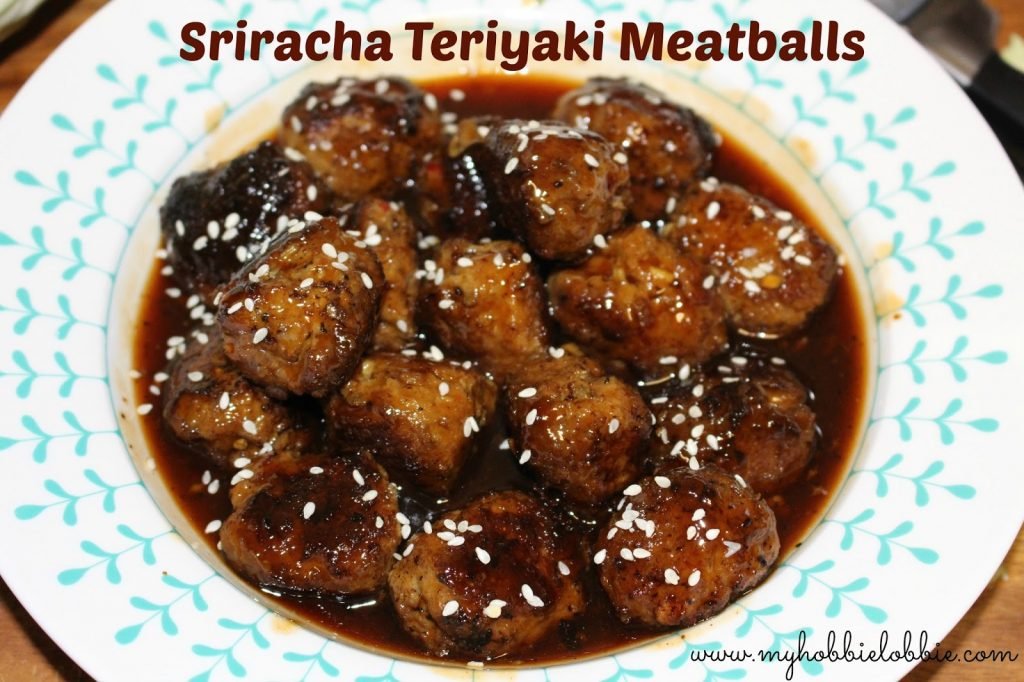 Sriracha Teriyaki Meatballs
For the meatballs – 
1/2 kg ground turkey
3 cloves garlic, minced
1 large egg
2 tbsp fresh coriander / cilantro, chopped
1 tbsp Sriracha sauce
1 tsp Soy sauce
3 tsp fresh ginger, grated
1 onion, finely chopped
2 birdseye chillies, finely chopped (optional)
2 slices bread
1/2 tsp black pepper powder
Salt, to taste
2-3 tbsp olive oil, for frying
Soak the slices of bread in water, squeeze out all the liquid and crumble the bread into a mixing bowl.
Tip in all the above ingredients, except the olive oil.
Mix well till combined evenly.
Shape into meatballs.
Heat a couple of spoons of oil in a frying pan over medium heat and fry the meatballs till nicely browned and cooked through.
Don't overcrowd the pan while frying the meatballs. You may need to fry them up in batches.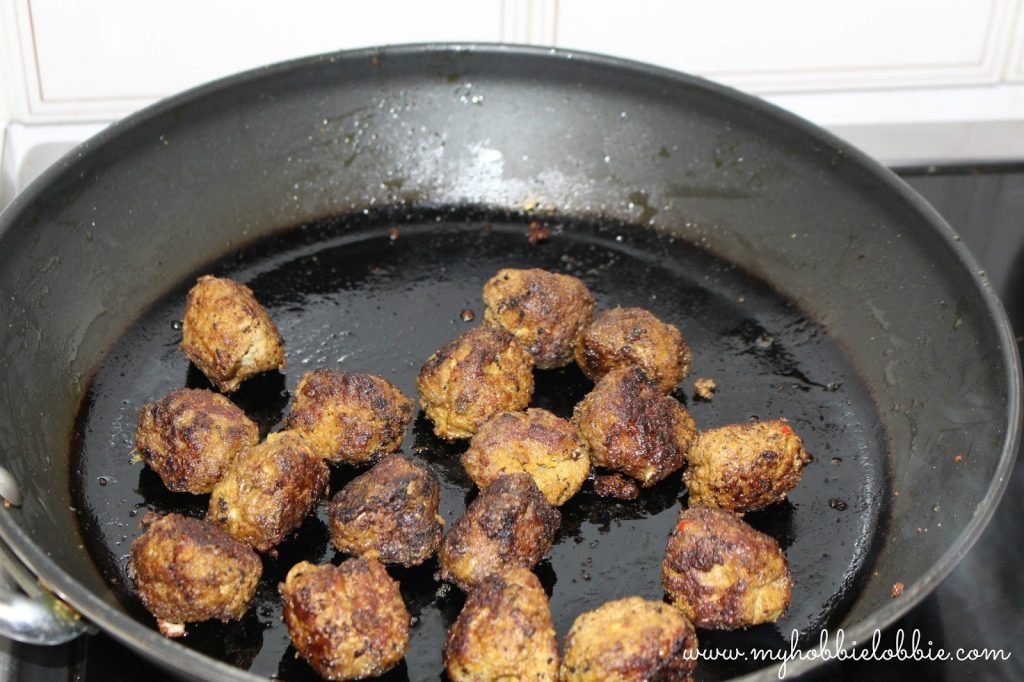 For the Sriracha Teriyaki Sauce – 
1/2 cup low sodium Soy sauce
1/3 cup raw honey
1/2 cup + 3tbsp water, divided
t tbsp toasted sesame oil
2 tbsp Sriracha sauce
2 tsp fresh ginger, grated
2 1/2 tsp cornstarch
2 tbsp sesame seeds
In a small saucepan, combine the Soy sauce, honey, 1/2 cup of water, sesame oil, Sriracha sauce and ginger. Heat it over a medium low flame and stir constantly till the honey is dissolved, about 2-3 minutes.
In a little bowl, combine the cornstarch and the 3 tbsp water till dissolved. Add to the glaze and stir well to combine.
Increase the heat to medium high and keep stirring as the sauce cooks and thickens. It should take about 2-3 minutes.
Once the sauce has thickened, take it off the heat and stir in the sesame seeds.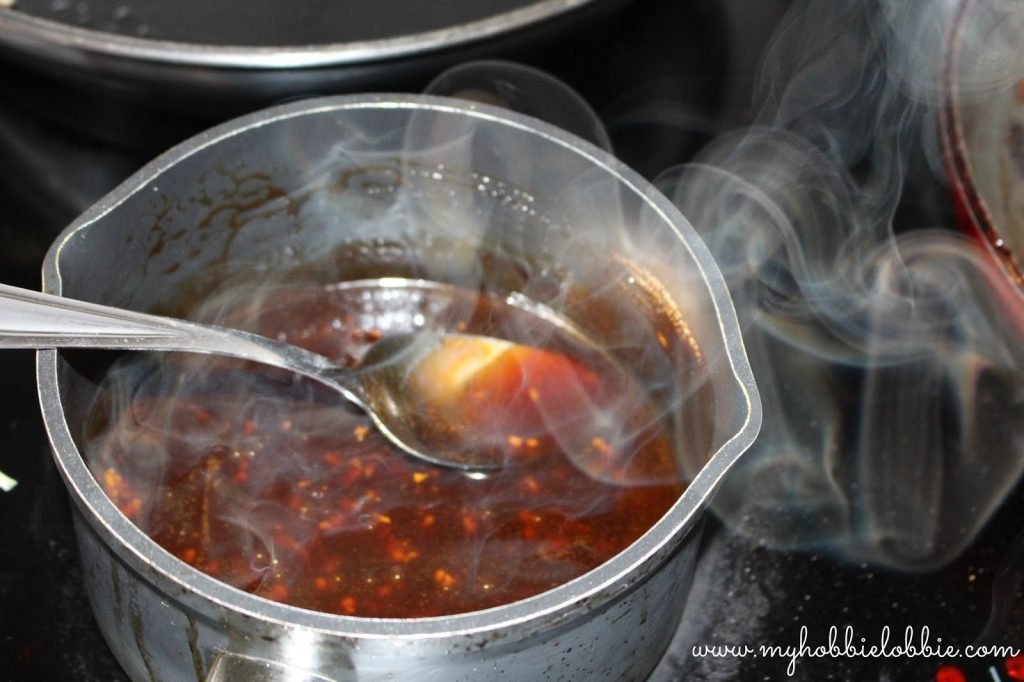 Add the sauce to the meatballs and stir to coat well.
Garnish by sprinkling some sesame seeds over.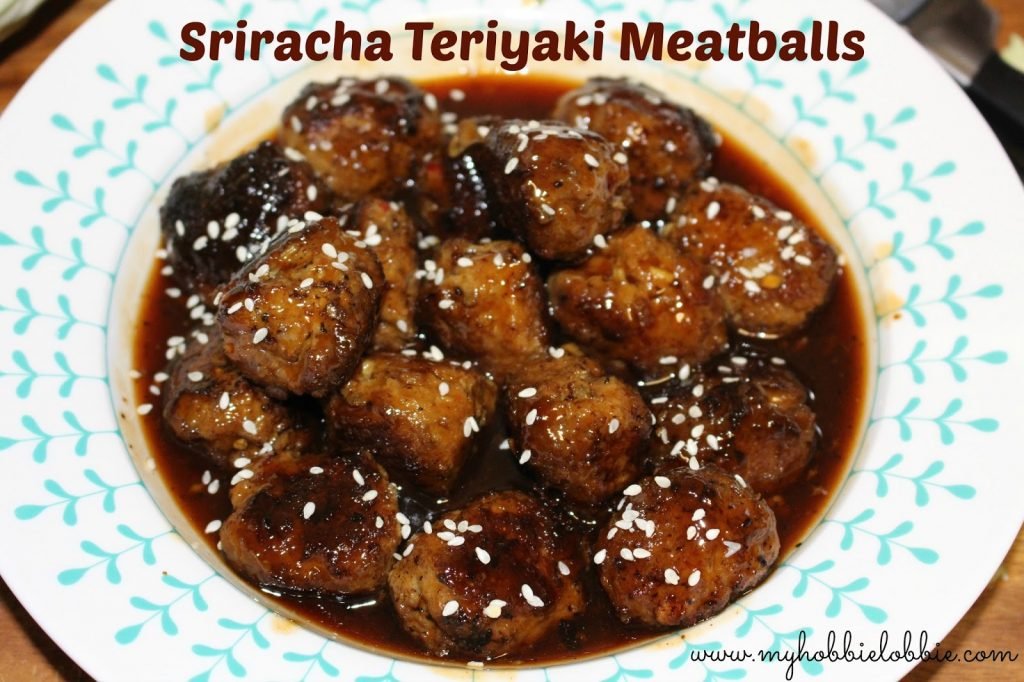 Serve over some nice brown rice or noodles of your choice.
…. I'm back home after a 3-week long trip to India and it feels great to be back. I can't wait to try out some yummy Indian treats at home and share it with you. It may take a little while for that to happen. In the meanwhile, as I unpack, get through piles of laundry and dig my way out from under a mountain of emails and such, here's a quick, no-fuss recipe thats perfect for a weeknight or whenever you dont have much time.
You know I'm all for cooking and baking from scratch as far as possible. But, I like having a few cheats on hand for the days when I can't spend too much time in the kitchen or am too tired to. So a while ago, on two separate trips to my local Aldi store, I picked up these bad boys –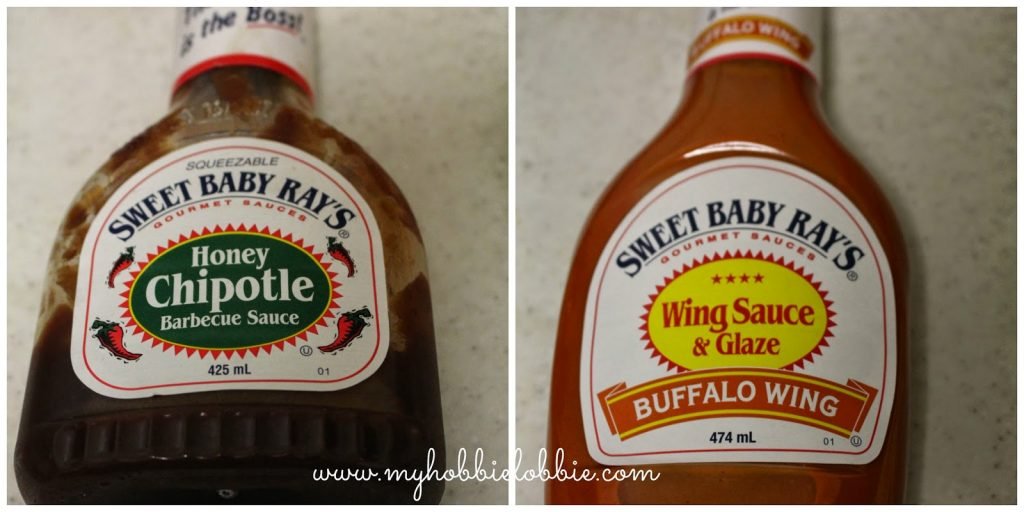 I'd picked up the Barbecue sauce a while back and loved it, so when I saw the Buffalo Wing sauce, I just had to try it out.
This chicken is super easy to put together, literally 3 easy steps – I use my trusty basic chicken marinade and let the drumsticks soak in all the flavour. Fry them in a pan with a little oil and toss with the sauce. Serve up with some salad and enjoy 🙂 I used 8 drumsticks, but you could easily reduce or increase quantities. This time around I used drumsticks with the skin on. You could use skinless drumsticks if you prefer.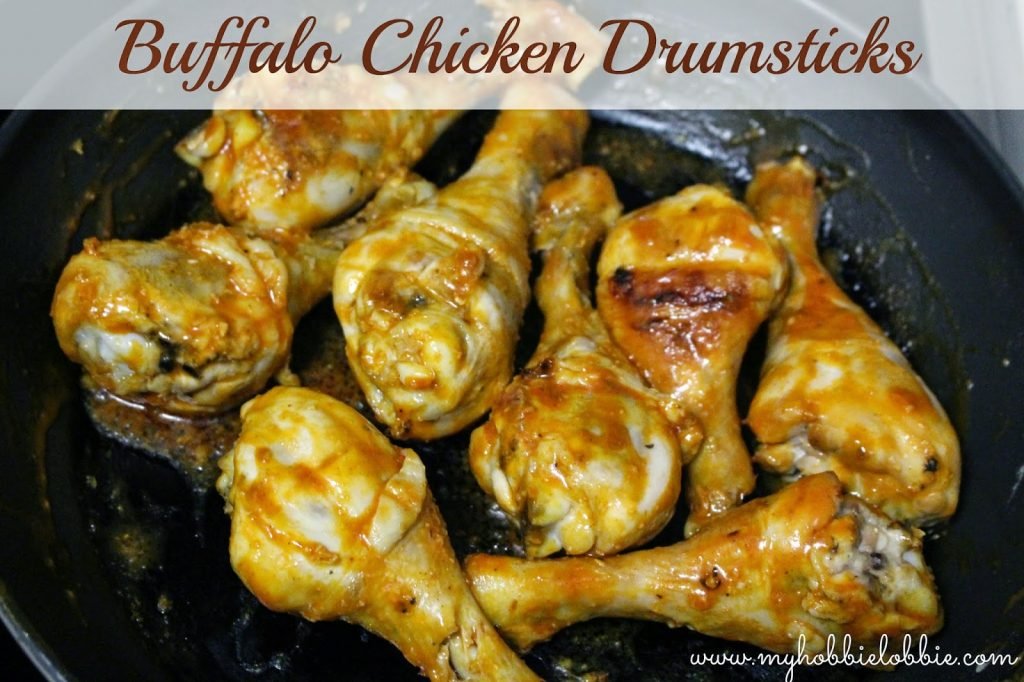 Buffalo Chicken Drumsticks
8 chicken drumsticks
Salt, to taste
Black pepper, freshly crushed to taste
Lime / lemon juice, to taste
1 tsp ginger paste
1 tsp garlic paste
1 tbsp oil
Buffalo / Barbecue sauce, to taste
Mix the salt, pepper, lime juice, ginger and garlic paste.
Add the chicken to this and toss well.
Leave to marinade for about half an hour.
Heat oil in a pan.
Fry the chicken pieces till done.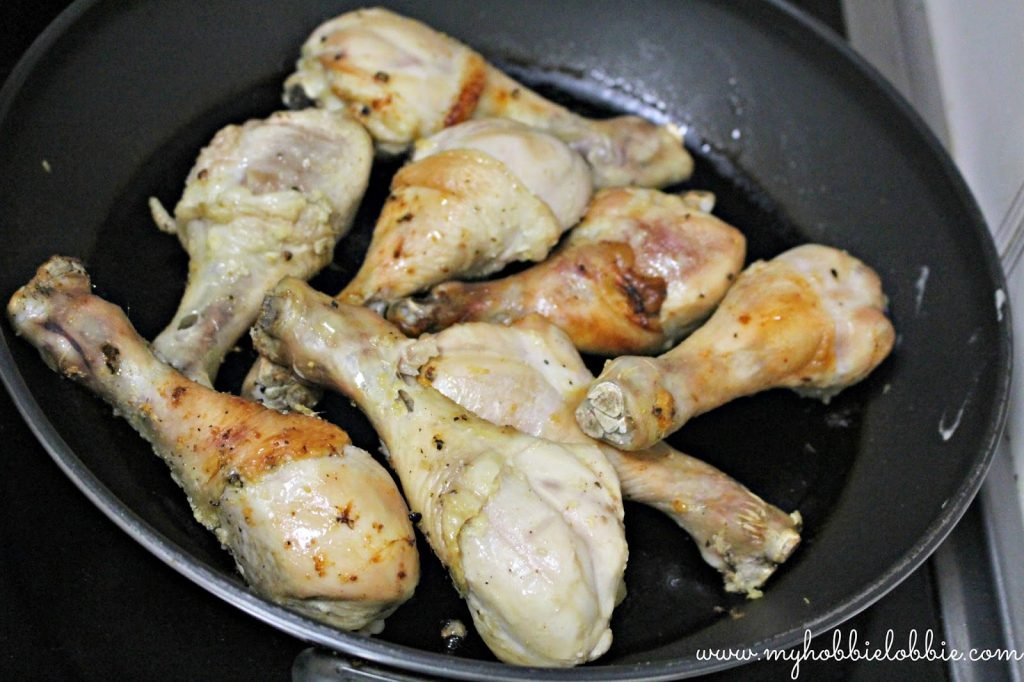 Add the buffalo / barbecue sauce and toss well. I leave it on the heat for about another minute to heat through.
Serve up.
**NOTE** – The picture above shows just the Buffalo Chicken version, but I have tried this with the barbecue sauce and it turns out fantastic.
This is one of my favorite recipe when I have ground meat on hand and want a meal thats warm, hearty and quick. There are a couple of processes involved, but with a little planning, this makes for a good weeknight meal. This time around I've used ground turkey for the meatballs, but I've also used, ground beef and chicken in the past and they work equally well. If I am using beef, I just add a tablespoon of Worcestershire sauce to the mix. These pictures are from when I was restricted to cooking in a kitchenette the size of a box, so if I can do it, you sure can.
To make life a little easier, you can make the meatballs and the sauce ahead of time, if you'd like. Sometimes I fry up the meatballs and store them in the fridge for a few days till I'm ready to use them. They also make a great meatball sub.
Here's how I make this recipe – I start on the sauce and while the sauce is simmering, I prep the meatballs and grate the cheese. When I'm frying up the meatballs, I boil the pasta alongside. At times, I've had all three happening at the same time as well. Just make sure you keep an eye on everything. I usually serve this with a nice fresh salad and at times some garlic bread, and that for me is the perfect meal, or atleast it makes me a very happy camper.
Another thing worth noting, is that while the the sauce and meatballs sitting over a bed of pasta might make a prettier picture, I would recommend stirring the sauce through the pasta before serving up. And its not just me, I was reading up someplace and a lot of people vouch for the fact that the meal is more flavourful when you toss the pasta and sauce together before serving.
If you don't have ground meat at hand, cocktail sausages / frankfurters cut into little slices also do the job. Precooked (grilled or roasted) chicken and shredded, works nicely too. I love how versatile this recipe is.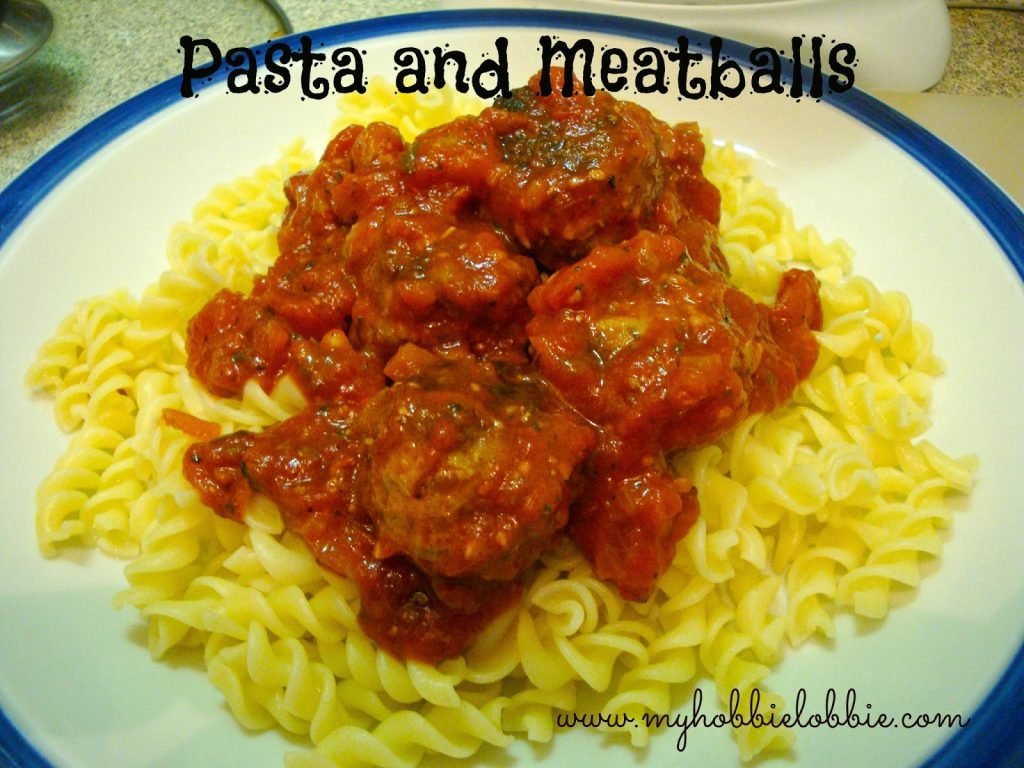 Pasta and Meatballs


For the meatballs –
500g ground turkey
1 onion, finely chopped
1 -2 green / red chillies, finely chopped
Salt, to taste
Freshly cracked black pepper, to taste
1 egg
2 slices of bread, soaked in water for a minute or so, squeeze to drain all liquid and crumble
1/2 tsp turmeric powder
1 tsp red chilly powder
A couple of tbsp Vegetable oil
In a large bowl, mix all the ingredients, except the vegetable oil
Form into meatballs.
Heat a pan with a tablespoon of vegetable oil.
Fry the meatballs till they are golden brown.
Take off the heat and keep aside.
NOTE: You may need to fry the meatballs in batches. Add more oil to the pan between batches as needed.
For the sauce –
2 cloves of garlic, peeled and finely chopped
1/2 onion, finely chopped
1/4-1/2 green capsicum, chopped
1/2 tsp dried mixed Italian herbs (you can use fresh if you have them on hand)
1/2 tsp red chilli flakes, optional
1 tsp smoked paprika powder
1 can whole peeled tomatoes / diced tomatoes
Salt, to taste
Freshly cracked pepper, to taste
1 tbsp olive oil
Place a saucepan over medium heat and pour in the olive oil.
Tip in the chopped garlic and saute for a few seconds till nice and fragrant. You do not want the garlic to burn.
Add the onion and fry off till the onions have softened.
Add the capsicum and stir fry for a couple of minutes.
Add the herbs and spices and stir well .
Add the can of tomatoes. If you are using whole peeled tomatoes, just use your spoon to break them down for a chunky sauce. If you want a smoother sauce, blitz the tomatoes in the food processor and then add it to the saucepan. I like mine chunky. (Also worth noting is they say the quality of tomatoes used to can whole, peeled tomatoes is better. The slightly more compromised / bruised ones go to make the canned crushed / diced tomatoes.)
Add salt to taste. Bring to a boil.
I add about 1/4 can of water (use the tomato can to measure and swirl it around to use up all the rest of the tomato sauce) and add as needed, to give you the desired consistency. Let it come to a boil again.
Cover and let the sauce simmer for about 10-15 minutes on low heat. The flavour in the sauce deepens with simmering.
Add the meatballs / chopped up sausages / shredded chicken. Gently stir and let it simmer till everything has warmed through.
For finishing the pasta –
While the sauce is simmering, boil your pasta according to the package instructions.
Add the sauce to the cooked and drained pasta gradually, depending on how much sauce you like with your pasta.
Toss well and plate up.
Grate some parmesan cheese over the top and serve.
If I have any sauce leftover, I use it as a base sauce for pizza. You could also use it to make some meatball subs. Yummm!
Chicken is a protein that we eat most frequently at home. Whether it is a curry or fried, roasted or in a salad, we love it. What I also love about it is that is easy to prepare and cooks fast. One of many new edible ingredients that I've had access to in the last year is a Cajun spice mix. A lot of the spices I use are Hoyt's including this one.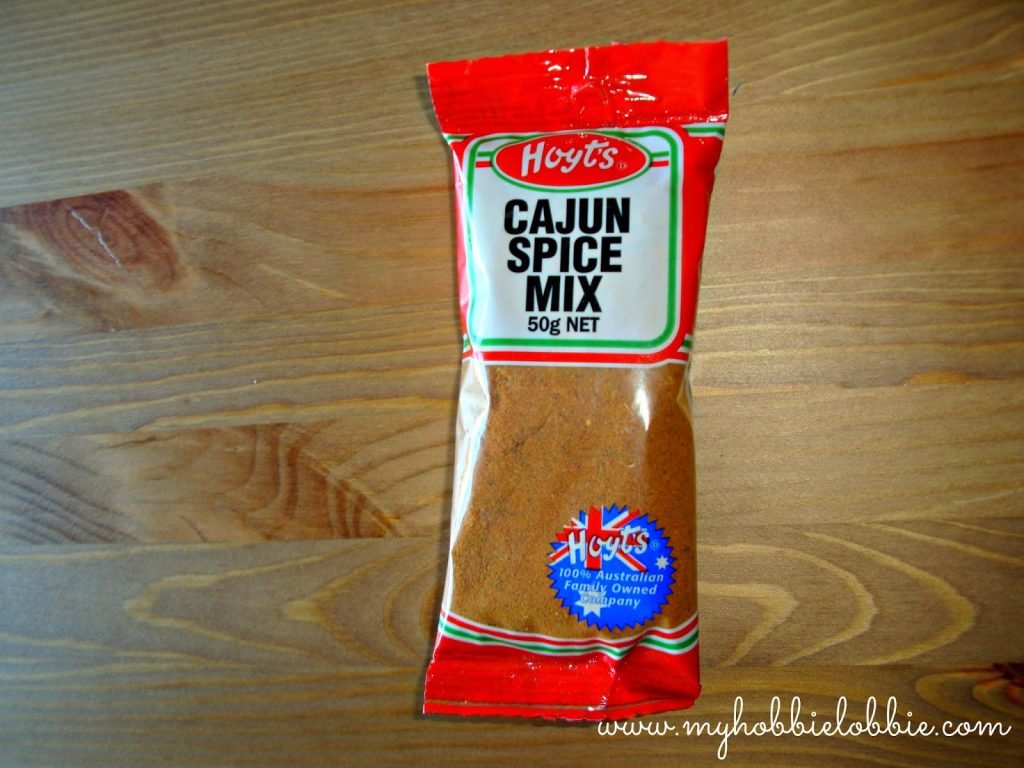 This is the first brand of Cajun Spice that I tried and enjoyed it a lot, so I've just stuck with it. And moreover, it is a 100% Aussie family owned company; I try to buy local whenever possible. I know there are loads of folks who make this blend at home and sometime in the future, I fully intend trying my hand at making it myself. For now, I'll stick with what I have easy access to.
Making Cajun chicken my way, couldn't be easier. I use smaller pieces of boneless chicken. Sometimes I use thigh fillets, other times I use breast fillets. I almost always buy the whole bird and then portion it out and cut it up at home (that is husband's department though). You could use whatever cut you like. Its nice to leave the chicken to marinade for about half an hour, but at times, when I've been pressed for time, I've made it after just 10 minutes and it still turns out pretty good. This is not a recipe as such, more of a guide to some yummy chicken.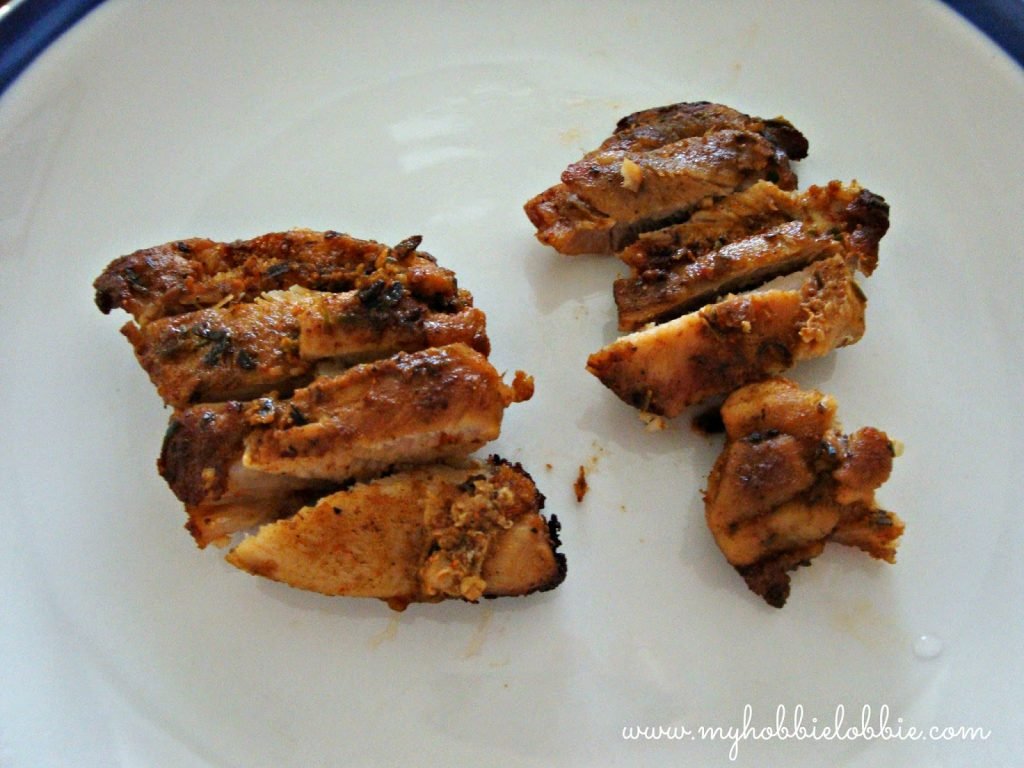 Boneless chicken pieces
Salt, to taste
Lime juice, to taste
Cajun spice blend, to taste
1 tbsp Vegetable oil
Take off the skin and trim the fat, if any, from the pieces of chicken.
Sprinkle the salt and cajun spice mix over the pieces of chicken.
Squeeze the sour lime juice over the chicken. I think the lime juice is what brings out the wonderful flavors of the spice blend. Its definitely not the same without the tang from the citrus juice. If you don't have lime juice at hand, you could use lemon juice too, you'll just need to use a little more.
Toss the pieces well to ensure they are well coated. Rubbing the spices into the pieces of the chicken works really well. Leave the chicken pieces in the spice rub for about half an hour.
Heat the oil in a pan. Carefully place the pieces of chicken in the pan and fry on both sides over medium heat till done. Depending on the number of chicken pieces you are frying, you may need to cook it in batches. Do not overcrowd the pan. You may need to use a touch more oil for each batch. (Tip: I start on a slightly higher heat to seal in the juices and then lower the heat to cook it through.) If you have a grill, I'm pretty sure this would taste fantastic grilled too.
You could serve these chicken pieces as they are with a salad for a fantastic quick weeknight meal. Or you could do what I do – cut up the pieces and use them in wraps and take them to work for a great packed lunch option. Here's how a put the wraps together.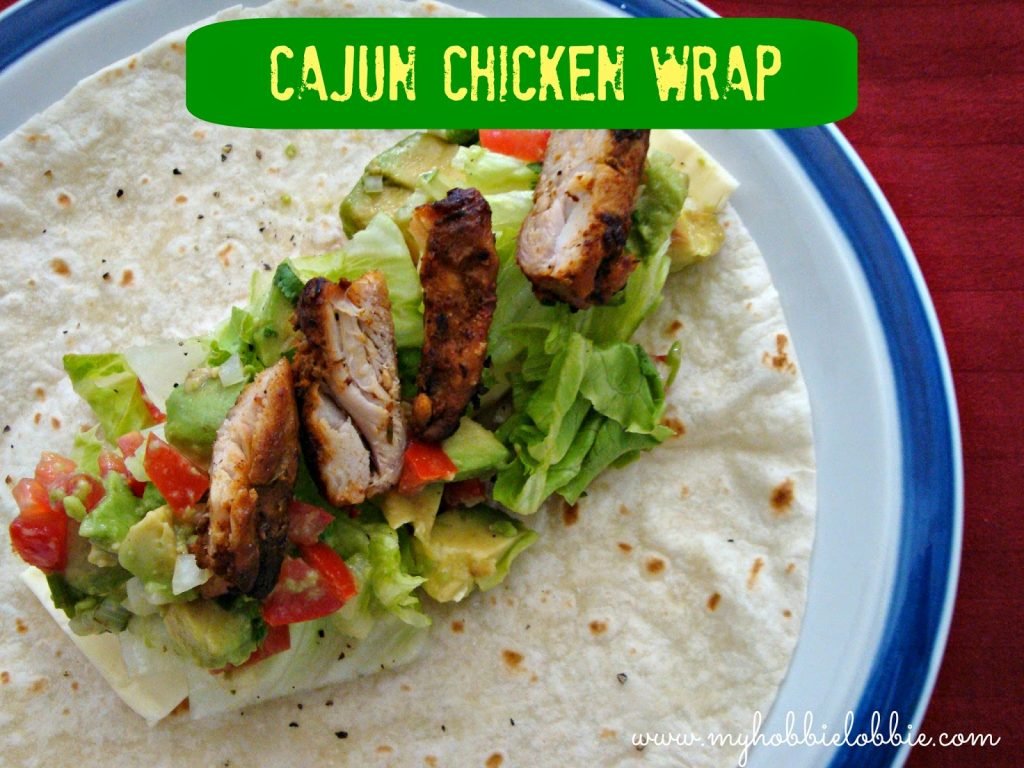 For the Wrap –
Flour tortillas (I used store bought)
Iceberg lettuce, chopped
Cheese slices, optional
Cajun chicken pieces
Lay the cheese in the middle of the tortilla and place some lettuce on top.
Top that with the the chunky guacamole and lay the chicken pieces over it.
Carefully, roll the tortilla to make the wrap.
Tip: If I'm eating the wrap straightaway, I warm the tortilla before making the wrap.
Enjoy!!!
** This is not a sponsored post. I'm just sharing with you a product I really enjoy.
Over the years, in my family, a roast chicken (or two) has become a staple at our family gatherings. There's something so familiar and comforting about it. Now that we've moved to a different country, I still find myself longing for those gatherings or maybe, just maybe, what I'm really longing for is a good roast chicken, lol.
I recently picked up a whole bird from the supermarket. I usually pick up an RSPCA approved product. My take on a roast chicken is usually a very simple, yet flavorful marinade. Of course, you can serve this chicken up at a regular weekend meal or even at a more prominent family get together or party, by putting up some clever sides. I will share some ideas for sides over time. For today, we'll stick with the roast chicken. So if you've never made a roast chicken at home before, this is a good recipe to start with. Chances are you'll already have all the ingredients in your pantry. I'm sharing this recipe with you today so that you have a little time to try this out before Easter and then maybe, serve it up for Easter as well.
When roasting a chicken, the cooking time will vary based on the sized of the bird. After doing a little reading up, a common rule of thumb for cooking time is 45 minutes per kilo of chicken + 20 minutes. I use this as a guide and this is something you should keep in mind if you've never roasted a chicken before. How do you work out cooking time required for a good chicken roast?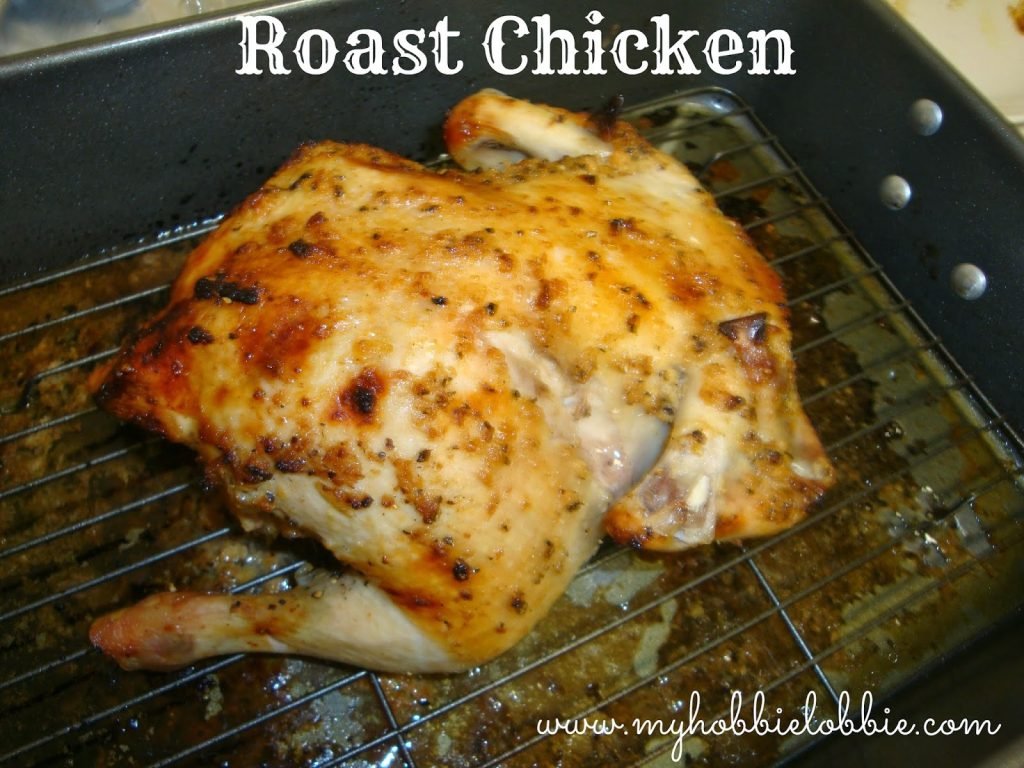 Roast Chicken
1 chicken, whole, skin on (I used a smaller sized one about 1.2kilos )
Salt, to taste
Crushed black pepper, to taste
Juice of half a lemon
1 1/2 tsp Ginger garlic paste
1 – 1 1/2 tbsp Olive oil
Wash and pat the chicken dry using paper towels.
Spread all the marinade ingredients on the chicken as well as in the cavity and rub it in well, almost like a massage. Leave to rest for about an hour.
Heat the oven to 200°C.
This time around, I placed the chicken on the rack in the roasting tray. I think it works well. This way the chicken isn't cooking in the liquids. The skin turns out crisper.
Place the chicken in the hot oven. After about 10 minutes, lower the oven temperature to 180°C. Bake for required time till the chicken is cooked. Halfway through the cooking process, I baste the chicken with the some olive oil.
(If some of the marinade has dripped onto the roasting tray and seems like its burning, carefully add a splash of water to the tray, just a tiny bit to keep it from burning. I had to do this a couple of times.)
Please note the cooking time instructions above. To check if the chicken is cooked well, insert a sharp knife in the joint where the leg joins the body. If the juices run clear, the chicken is cooked. If it is still pink, the chicken needs to cook more.
When the chicken is cooked, cover with foil and let it rest for about 10 minutes.
Serve up with your favorite sides.
Enjoy!!!
What are some of your favorite sides? I'd love to hear from you.