Hello lovelies!
I'm in a particularly good mood today. I know it's a Monday and I'm not usually a Monday person. It probably has something to do with the fantastic beach day we had yesterday. The hubby and I drove down south of Sydney and stopped at Thiroul beach for the day. The weather was just beautiful and water was amazing. Such a stark contrast to the scorchers we've been having the past few days. It was pure bliss. I simply love that part of NSW. Have you been there? I'd love to know what your favorite spots are? For all you beautiful people that are still dealing with winter, here's a little sunshine coming your way 🙂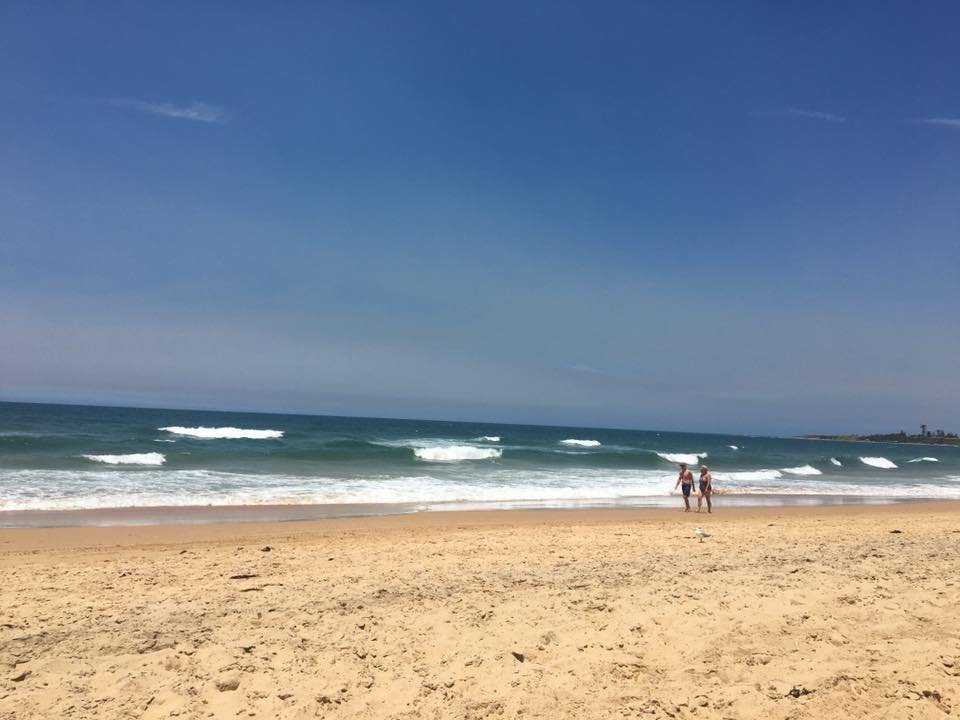 Speaking of sunshine, today's recipe is just like a little sunshine on a plate. It's a sweet potato mash. I love sweet potatoes. I almost always make these Baked Sweet potato fries. But at times I also just boil them with a pinch of salt till tender and snack on them, or roast them, or if I'm feeling a little indulgent, whip up a batch of these Sweet Potato Brownies. But last week, when I wanted to use up a sweet potato, it was just too hot to switch the oven on. So I decided to try making a mash. It was as easy and quick as a regular batch of mashed potatoes, but just a touch sweet and a little savory at the same time. It was glorious. I might just like a Sweet Potato Mash a little more than I like a regular mash.
So, if you haven't yet tried a sweet potato mash, don't wait any longer. Get your hands on a sweet potato and get to work. You won't regret it.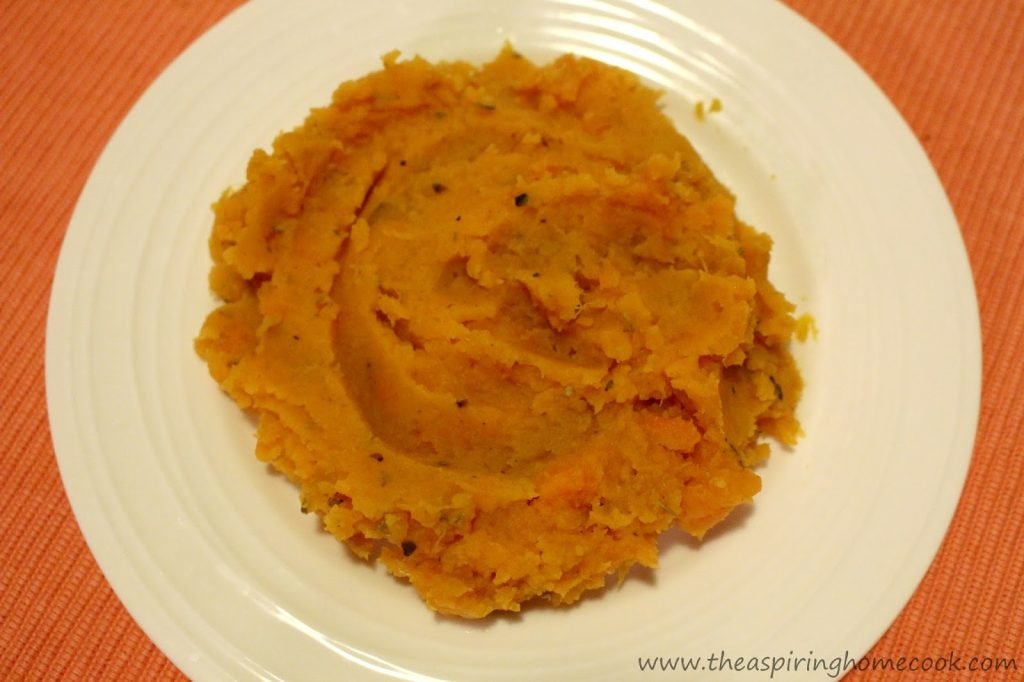 Sweet Potato Mash
Recipe from: Cooking Light
Serves 4
1 1/2 pound sweet potatoes (about 650-700g)
1 1/2 tbsp butter
1 tbsp extra virgin olive oil
A large pinch of dried thyme or 2 tsp chopped fresh thyme, or to taste
1/4 cup milk
Salt, or to taste
Freshly crushed black pepper, to taste
Peel and cube the sweet potato. Place the potato in a large pan with about 1/2-1 tsp of salt and water till it reaches about 2 inches above the level of the potatoes.
Bring to a boil and simmer till tender. This usually takes about 15-20 minutes depending on the size of the pieces.
Take off the heat, drain and place the potatoes back in the pan.
In another little skillet or pot, heat the olive oil and butter over medium heat. Cook till brown and fragrant. Be alert as this can burn quick.
Once it has browned, take off the heat and stir in the thyme.
Add the milk, salt and pepper to the hot sweet potatoes and mash till it reaches the desired consistency.
Now drizzle the browned butter mix over and stir through the mash.
Garnish with some more crushed black pepper or thyme leaves as desired.
Enjoy!!!
I served this up with some Eggplant patties and a Lemon, Sun-dried Tomatoes and Almond Quinoa Salad for dinner.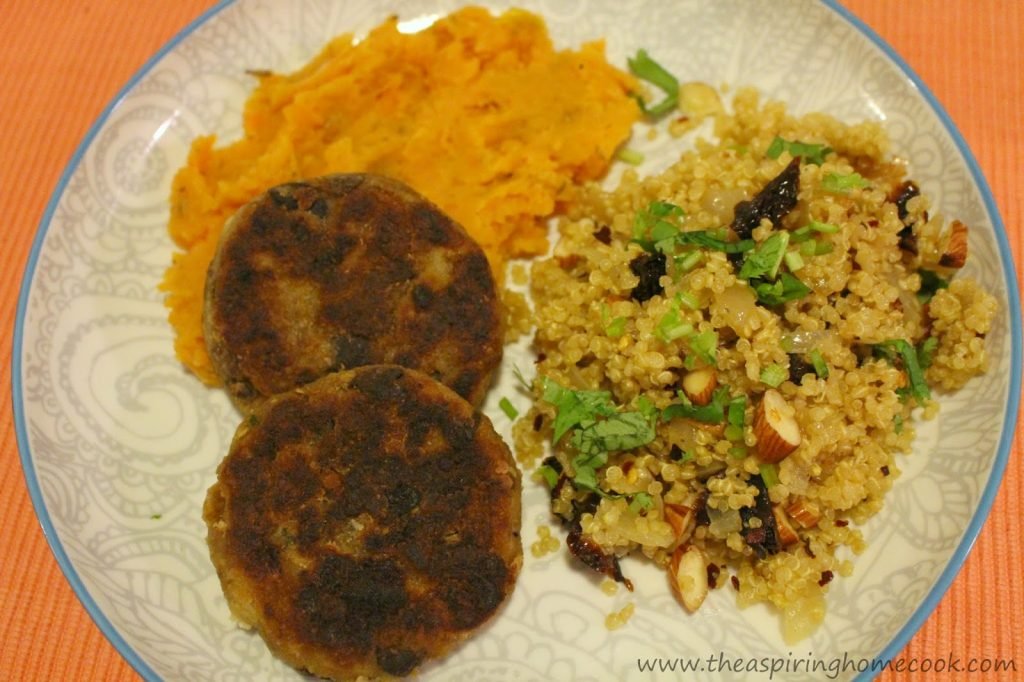 Find the other recipes to make this meal here –
Eggplant Patties
Lemon, Sun-dried Tomato and Almond Quinoa Salad
Ever since we were little, my mother made sure we ate a lot of vegetables. When I think of it, my brother and I were never picky or fussy about eating our vegetables. My mother and my Nana (maternal grandmother) who lived with us, taught us the value of food and ingrained in us how we were lucky to have meals that were lovingly prepared, when there were so many all around the world that had to go without any. And that lesson has staying with us till date. For this we are ever so grateful.
Very often, I find myself with not much in the fridge, especially towards the end of the week, just before grocery shopping. On one such occasion, I had a few veggies, none of them enough to make a dish in itself, so I thought I'd just combine the lot of them. I also had some leftover falafel from a previous trip to Costco so I added them to the mix. What I ended up was this glorious winter veggie bowl.
Putting together a veggie spread like this is so simple and requires very little hands on time. And the best part is you can swap these veggies for any that you have in the fridge. I added a simple salad and dressing over it and topped it with some roasted peanuts. I can't tell you how satisfying it is to dig into a bowl like this – veggies in all their glory. I could live on food like this. You won't even miss the meat and all these beautiful colors are really good for you too. That's a win win. The recipe below is not quite a recipe, just guidelines if you want to whip up something like this. Please feel free to change as you wish.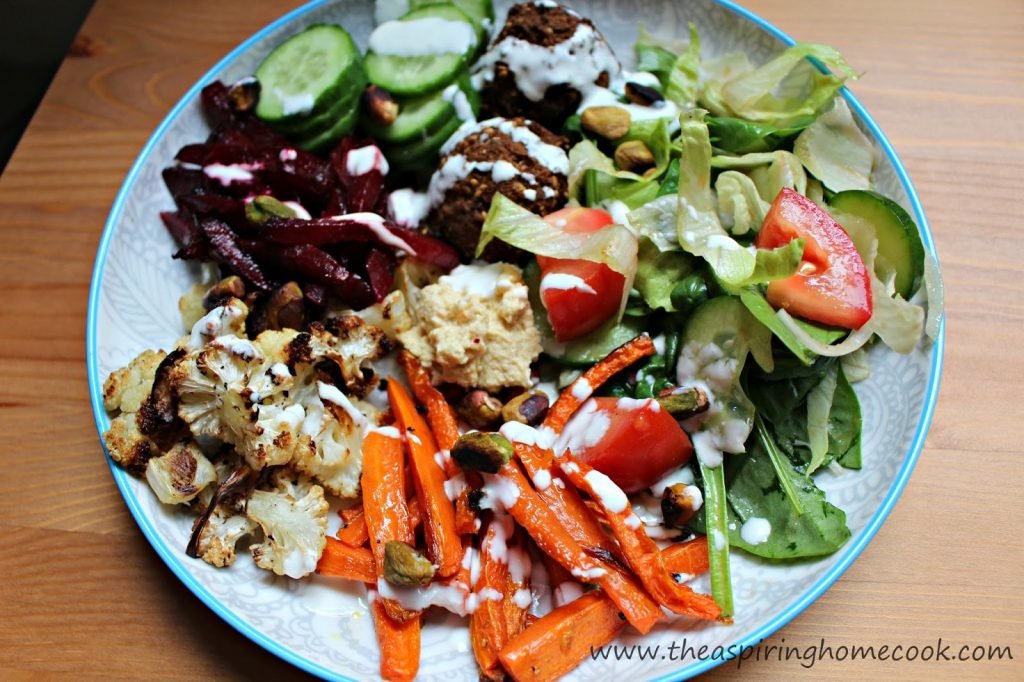 Roasted Winter Vegetable Bowl
Serves 2
1 beetroot, boiled, peeled and cut into pieces
2 carrots, cut into 2″ long pieces
Cauliflower florets (dont waste the stalks, cut the stalk into cubes and use with the florets)
4 pcs. falafel (prepare according to package instructions)
Hummus
Olives, pitted and sliced
Green Salad (recipe follows)
Garlic Yogurt dressing (recipe follows)
A small handful of pistachios
Salt, to taste
Freshly crushed black pepper, to taste
Extra Virgin Olive oil, to drizzle over
When prepping the veggies, try and cut them the same size so that they cook evenly.
I roasted each vegetable in a separate baking dish, but if you prefer, you can use the same dish.
Preheat the oven to 200ºC.
Cut the carrots, sprinkle with salt, pepper and a drizzle of olive oil. Toss well to coat and place in a baking dish in a single layer and bake for 15-20 minutes or till cooked to your liking. Flip the carrots halfway through the cook time.
Sprinkle the cauliflower florets with salt, pepper and a drizzle of olive oil. Toss well to coat and place in another baking dish in a single layer and bake for 15-20 minutes or till cooked to your liking. Flip the carrots halfway through the cook time.
Heat a pan and roast the pistachios on medium flame till they've lightly browned.
For the salad –
1 cucumber, sliced
1 tomato, cubed
1/3 small red / white onion, finely sliced
Salad greens of your choice (lettuce, arugula, rocket, baby spinach)
Salt, to taste
Freshly cracked black pepper, to taste
Lime juice, to taste
Toss all the ingredients.
For the Garlic Yogurt dressing –
1 cup Greek yogurt
Salt, to taste
1-2 tsp sugar, or to taste
1 clove of garlic, finely chopped (Use freshly chopped garlic. Do not use garlic paste because that is too pungent for a salad)
Stir all the ingredients through and set aside.
To assemble the bowls –
Place the cut beetroot, roasted carrots, cauliflower, falafel, hummus, olives and the salad in a bowl.
Drizzle the dressing over it. Serve a little extra on the side for the falafel.
Top with the roasted pistachios.
Enjoy!
I'm finally back to blogging! If you've been wondering where I've been over the last few weeks, I've been right here but I've had my laptop die on me. It was a real task recovering the data on it and getting back to doing this. But thanks to my wonderful husband, I've recovered most of it. And now finally have access to it. Still don't have my trusty laptop, but the family computer works fine for now.
So to ease back into the flow of things, this will be a quick post. The recipe also is a quick one, super simple to make. Infact, you can barely even call it a recipe, but the results are so very good, I will go ahead and post it here to share with you. If you haven't tried out sweet potato fries yet, trust me, you really should. Even my beloved husband, who doesn't care much for the sweet potato (he calls it a sweet mush / baby food), loved it and actually requests for these fries every once in a while.
There are a couple of things to keep in mind here. You could peel the potatoes, but I leave the skin on. Just give it a good wash and scrub and you are good to go. Also, size of the fries will make a difference. The thicker you cut it, the longer it will take to cook. The thicker sized fries will still be soft and fluffy. If you are like me and love a little crunch in your life, cut the fries thin. It cooks quicker and caramelises a little and is super delicious, not to mention perfectly crunchy.
This fries are a much more healthy version that the regular potato fries and are great either as a snack or as a side to a big roast dinner or holiday meal too.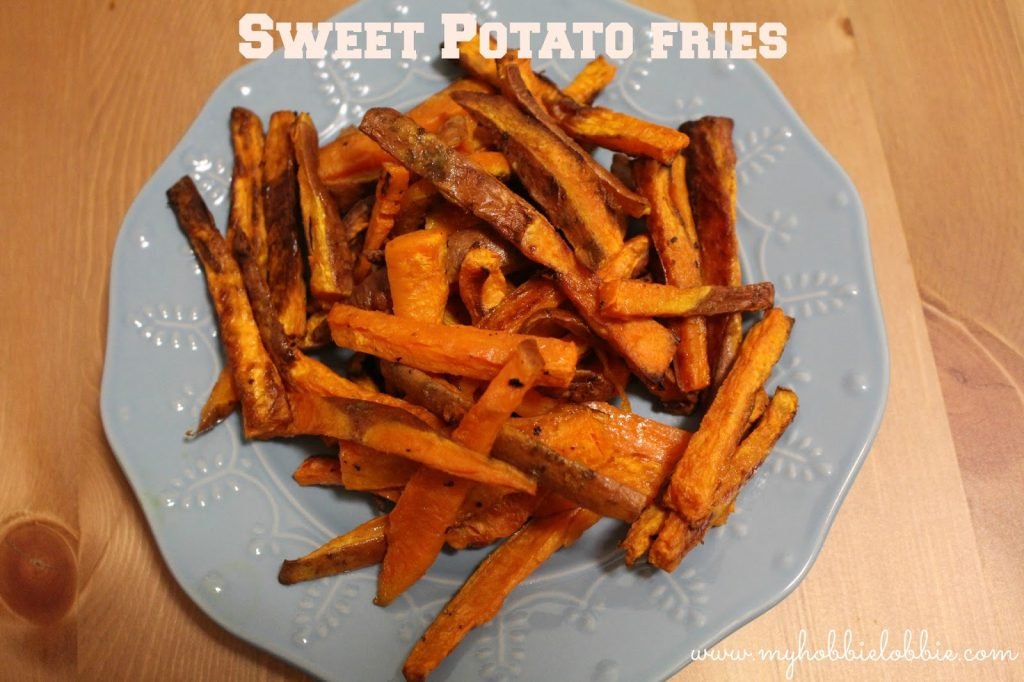 Sweet Potato Fries


1 large sweet potato, washed
Salt, to taste
Freshly crushed black pepper, to taste
A drizzle of olive oil (about 1 tbsp)
Preheat the oven to 200°C.
Cut the sweet potato into fries.
Drizzle a little olive oil on a baking tray.
Place the sweet potato, salt and pepper on the tray and toss to make sure everything is well coated. You can add a little more olive oil if needed.
Arrange the potato pieces in a single layer.
Bake for 15-20 minutes, turning the pieces once at the halfway mark.
Keep an eye on your oven from time to time. It may not need as long in your oven. Also this time will depend on the size of the pieces. So keep an eye on it the first time you make this.
When it is done to your liking, take it out of the oven.
Serve hot and enjoy!
I sometimes find myself trying to plan my meals for the week and nothing I can think of sounds appealing. Has that happened to anyone before? This was one such week. I had a few things in the fridge but I wanted to whip up something new with them, not the same old stuff I've tried before. So I went off to scout on Pinterest (which, by the way is one of my most favourite sites in the whole world … lol) and the internet at large. After tossing up a few ideas, I found exactly what I was looking for. Turns out I wanted some good comfort food but didn't feel like spending all the time the traditional versions require.
This is a 2-part meal idea. Part one is all about the lemon orzo with asparagus. All I will say about part 2 is YUM. That's the next post. You should definitely come back for that one. Its a new favourite for me. This lemon orzo is a combination of some of my favourite things – pasta, asparagus and lemon. I love the vibrant colours and beautiful flavours. This is something you can serve up with a nice Sunday / holiday roast or as a side dish for your next lunch / dinner party. I can also see this working really well at your next backyard barbie (BBQ). Try it out and you'll be glad to have something so simple but so delicious to add to your recipe box.
I have tried to shop for Orzo before, but have never been able to find any. I did the next best thing and bought Risoni instead. From what I understand they are very similar except for a slight difference in the size. One is made to resemble an unprocessed grain or barley and the other rice. You could use either. I should have just titled this Lemon Risoni I guess, but I'll leave it as is, for now. I substituted the parsley with some fresh cilantro as thats all I had. Also, the next time I make these, I might either cut down or leave out the lemon zest. I love lemon zest in certain things but this time we personally found it too strong a flavour.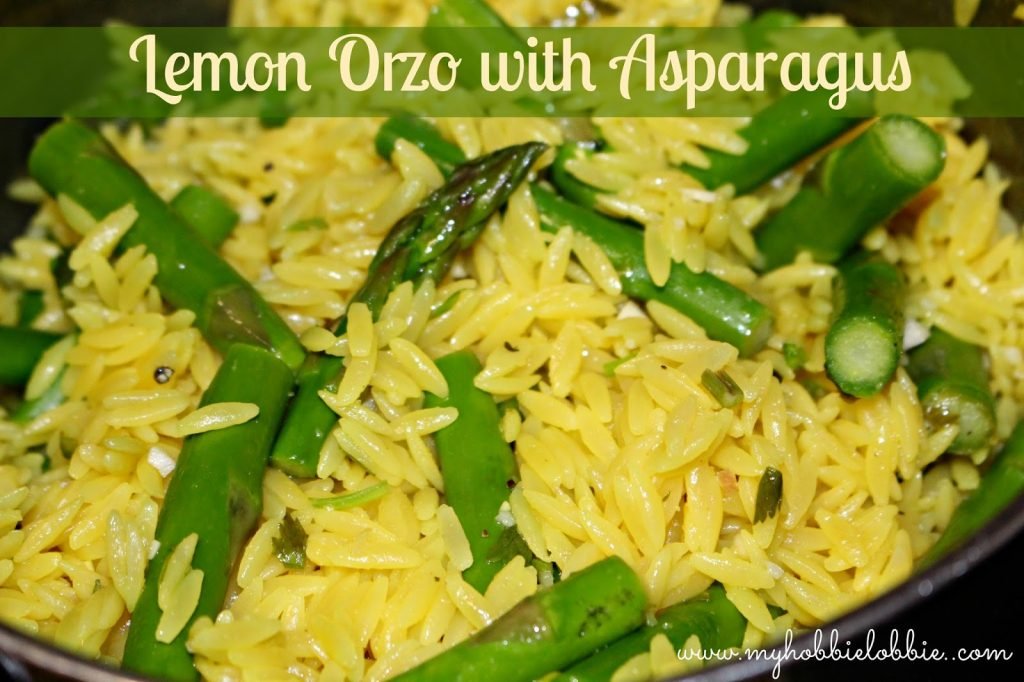 Lemon Orzo with Asparagus
Adapted from: Jo Cooks
Yields: 4 portions
1 bunch asparagus (about 1/2 lb or thereabouts)
1 cup chicken stock (use vegetable stock for a vegetarian version)
1- 1 and 1/2 cup water
1 tsp salt
A pinch of turmeric powder
1 cup dry uncooked pasta (orzo or risoni)
1/4 cup fresh cilantro, chopped
For the dressing –
Zest and juice of 1 lemon
3 cloves garlic, minced / grated
Salt, to taste
Freshly cracked black pepper, to taste
2 tbsp extra virgin olive oil
To cook the asparagus –
Trim the asparagus and lay the spears in a shallow dish (a baking tray works best), pour enough boiling water over it to cover it.
Season with a little salt, to taste.
Cover with some cling film or another tight fitting lid and leave aside to till the water is just warm to the touch. (You can cook your pasta and prepare your dressing in the meanwhile.)
Drain out the water and cut the spears into about 2 inch long pieces.
For the dressing –
In a bowl, place the zest and juice, garlic, salt and pepper.
Add the oil and whisk till it emulsifies a little into a nice dressing. Set aside.


For the pasta –
In a large pot, bring the stock and water to a boil.
Add the salt and turmeric and bring back to a boil.
Add the pasta to the pot and cook till the pasta is done. (I like to leave it a little al dente.)
Drain the pasta.
Place the hot pasta in a large bowl with the asparagus and cilantro.
Whisk the dressing a little, if needed and add to the bowl.
Mix well.
Top with a little butter. (This is optional.)
Enjoy!!!
It's time for another
SRC
reveal. I so look forward to these reveal days, it just never gets old. If you haven't heard of SRC or the Secret Recipe Club, read more about it
here
. This month I was assigned Helen's blog –
Casa Costello
. Helen is based in the UK. You won't believe how excited I was to learn that. I was eager to try a few classic British recipes and if you go over to Helen's blog, you will find her
Ultimate Yorkshire Pudding Recipe
, her take on Toad in the Hole, a healthy version of
Fish Chips and Minted Peas
and a whole section on Scones. I did try a basic scone recipe which I will share with you tomorrow. But for today's reveal my love for potatoes won. I found Helen's recipe for
Spicy Herby Potatoes
and knew I had to try it.
This recipe is not your average recipe for baked and spiced potatoes. One element I found very unique is the addition of butter after the potatoes have baked. And you know what, I am a big fan of this step now. Adding the butter later on lets you enjoy a lovely distinctly buttery flavour on these potatoes. It softens the flavour somehow. If you are looking for a tasty side dish to your Sunday roast or for any meal, try these out. You'll be happy you did.
Spicy Herby Potatoes
8-10 small to medium potatoes
1-2 tbsp olive oil
1 tsp red chilli powder
1/2 tsp mixed herbs (I used dried herbs)
Salt to taste
A knob of butter (about a heaped tbsp worth)
Preheat the oven to 180ºC.
Wash and scrub the potatoes. I left the skin on. If you are using baby potatoes, leave them whole. I used medium sized potatoes and I quartered some and halved the smaller ones. What you are looking for are even sized pieces of potatoes so that they cook uniformly.
Place them in a baking dish / roasting tray.
Drizzle the oil over them and sprinkle with the salt, chilli powder and herbs. You can adjust the amount of red chilli powder to suit your liking.
Toss the potatoes to coat them with the oil and spice blend well.
Cover the dish with foil and bake for about 50-60 minutes or till the potatoes are done.
Carefully take the foil off and add the butter to the dish. Toss to help the butter melt and to coat the potatoes with the melted butter.
Serve alongside some roast chicken or any protein of your choice.
Don't forget to check out what the other members of Group A whipped up for this month's SRC reveal.
<!– end InLinkz script —>
Oh it is my favourite time of the month again – its
SRC
reveal day. I tell you, I've been part of the Secret Recipe Club for a couple of years now, and I still feel the same excitement and sense of anticipation that I did at the first few reveal days. For this month's reveal I was assigned the lovely Sara's blog,
Cupcake Muffin
.
It was a hard choice this month. If you're wondering why, just pop over to Sara's recipe list and you'll know why. Sara's been blogging since 2007 and there were hundreds of recipes for me to choose from, each one better than the previous. There were so many delicious things listed that with great difficulty I managed to narrow it down to a few like these Chilli Corn Muffins, Whole Wheat Herby Rolls, Fried Fish Tacos and this Giant Cheddar Cornbread Biscuit, not to mention the winner, her recipe for Carrot Fritters.
I love carrots and I mostly eat them raw. But I also enjoy a good Carrot Cake (I need to post a recipe for this one soon) and Gaajar ka Halwa (carrot pudding). I don't really cook much savoury stuff with carrots. This was a fantastic opportunity to try out one such recipe. I had all the ingredients on hand, which was an added bonus – I love when that happens 🙂 This recipe is really quick and easy to put together. The rice flour adds a wonderful crunch to these fritters and the lemon zest flavours it in its own way. I absolutely loved this recipe. Though I might leave out the lemon zest when I make these again, just so that I can fully appreciate the flavour of the carrots. With the zest or without, this recipe would make a nice addition to any meal routine. Try it out and watch the kiddos eat up their veggies.
Thank you Sara, for a lovely recipe.
Carrot Fritters
Makes 5-6 fritters
3 medium sized carrots (approx. 180g), grated
1/2 tsp garlic powder
1/4 cup finely chopped onion
1/4 – 1/2 tsp red chilli flakes (depending on how spicy you want to make it)
1/2 tsp lemon zest
1 egg white
1 heaped tbsp rice flour
Salt, to taste
Freshly cracked black pepper, to taste
Olive oil, to fry
Combine the carrots, garlic powder, onion, chilli flakes, lemon zest, egg white and rice flour in a bowl.
Season to taste with salt and pepper and mix well.
Heat some olive oil (1/2 to 1 tbsp) in a non stick skillet over medium heat.
Form small patties with your hands and carefully place in the skillet.
Cook for about 2-4 minutes on each side till crispy.
Serve hot.
<!– end InLinkz script —>
Ever since we moved to Australia, I've found it very difficult to get my hands on ladyfingers (also called okra). Its only in the last couple of weeks, I've found it at not just one, but two locations. This makes me very happy.
We cook okra in a number of ways – in a prawn curry, pan fried in a spicy red rechaad masala, tawa style, and from now on I'm happy to report that as a once in a while treat I will use this recipe for a fantastic crispy version. It is an extremely delicious recipe, albeit not the healthiest one and I would recommend not making this way too often as it starts off with deep frying the okra. The resulting okra is super crisp and makes a wonderful accompaniment to some dal tadka or khichdi or just by itself. My husband got through half the quantity I made even before we sat down for lunch. I'll take that as a win. I love this recipe not just because of the crispiness, but I happen to love the flavour combination of chaat masala with the carom seeds. So I hope you try it out too and enjoy it as much as we do.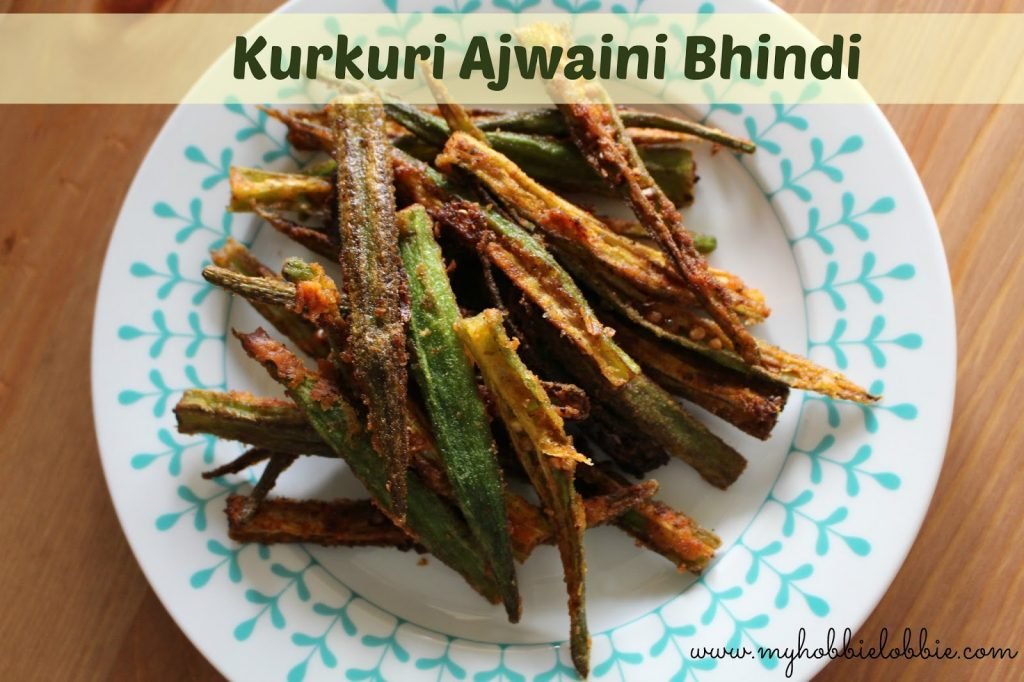 Kurkuri Ajwaini Bhindi
Recipe by: Kitchen Platter
250g lady fingers / okra
1/2 tsp carom seeds / ajwain
1/4 tsp turmeric powder
2 tsp chaat masala
3 tbsp besan (chickpea flour)
1/2 tsp salt
1/2 tbsp lemon juice
1 tsp chilli powder
Oil, for deep frying
Wash and pat the okra dry.
Cut the head off and discard. Cut the okra into quarters lengthwise.
Heat oil in a wok for deep frying.
Sprinkle the ajwain, turmeric powder, chaat masala, salt and the besan on the okra.
Squeeze the lemon juice and toss it well to coat the okra evenly.
Add half the okra to the hot oil carefully and fry on medium heat till crisp. Drain on some absorbent kitchen paper. Repeat with the remaining okra.


Enjoy hot.
**Note: Mix all the ingredients just before frying. Do NOT do this in advance as the salt with just draw out the liquids and result in a soggy batch, which you don't want.
Today's post is a double yippie kind of post.
Yippie no.1- its SRC reveal day
Yippie no.2 – I only just realised that this post will be no.301
I can't believe that I have 300 blog posts done so far. I still remember back when I was contemplating starting this blog, I was concerned I'd run out of things to say. Well, thanks to every single one of you, 300 posts and over four and a half years later (Yikes!!!) I still have a lot more to say and things to share. Thank you for your ongoing support and love, its what keeps me going. I've meet so many wonderful people online and have learned so much, I'm eager to see where we go from here and hope you will continue to share this journey with me 🙂
This months SRC assignment took me to Sarah's blog, Things I Make (for Dinner). Sarah is from Ontario, Canada and loves cooking, travel, baking and trying new things. I do too. We have another thing in common – we both enjoy a good nap …. good to know (I thought I was the only one).
Sarah and her husband J enjoy comfort food just like my husband and I do, so when I saw her recipe for Twice Baked Potatoes I knew I found the recipe I wanted to try. Choosing just this one recipe wasn't easy. I can't wait to try her Buffalo Chicken Wontons, Chicken Taco Calzones and every single sandwich she has listed on her site; there are some super yummy options.
Back to the Twice Baked Potatoes. Its just what the name suggests – potatoes that are baked twice and has a few special add-ins to make everything taste even more incredible. It has a little back, a little spring onions and a little cheese in the mix, and honestly, how can you go wrong with an ingredient list like that. I knew I was onto a delicious recipe and I wasn't wrong. I love potatoes in any form, but I haven't tried potatoes in this form before. They look adorable and would make a lovely addition to a family meal table alongside a nice Sunday roast.
Twice Baked Potaoes


2 potatoes, washed and baked (skin-on)
2 rashers of bacon
2 spring onions, finely chopped
1/3 cup sour cream
1/2 cheddar cheese, grated
1 tsp oil
Salt, to taste
Bake the potatoes whole and skin on till done. (I usually wrap the potatoes in foil and bake them when I've got the oven on for anything else as well)
Heat the oil and fry the bacon till it has lightly browned.
Add the spring onions and cook till the onions have softened.
Cut the potato in half lengthwise and carefully scoop out the flesh, keeping the skin and a little layer of potato under it intact.
Add the scooped out flesh to a bowl and put in the bacon and onion mix. Add the sour cream and cheese and mix well. Taste and add salt if needed.
Carefully spoon the mix back into the potato halves.
Place the stuffed potatoes under the broiler to lightly brown off.
Serve hot.
This month's
SRC
assignment was an absolute doozy. I was assigned Erin's blog,
Making Memories with Your Kids
. I was really happy with this assignment, not to mention excited. I've known and admired Erin's blog since 2010. That was when I first came across her blog; we were both participating in the "12 Weeks of Christmas Cookies" bake along. Go over and have a look at all the fun she's got going there. Not only does she have some awesome recipes, but she's also got heaps of fun foods for kids, craft activities and some really amazing gift ideas for pretty much any occasion. I love looking at all the ideas she comes up with.
For this month's SRC reveal, I decided to try out her Deep Fried Zucchini with Garlic Aioli Sauce. Mainly, because that Garlic Aioli sounds so amazing I had to try it out and I needed something to have it with. Enter – Deep Fried Zucchini. Both really simple recipes, but oh so very good. I know I will be making these time and again 🙂
The Aioli is nice and flavorful, but the real star, to my utter surprise was the zucchini. I expected the aioli to be my favorite. The zucchini was so good, it didn't need a dipping sauce. I have some more zucchini in the fridge and I'm going to make another batch for dinner this evening. That's how good it is. Don't take my word for it, go ahead and try it. Erin, thank you so much for this recipe. I LOVE it.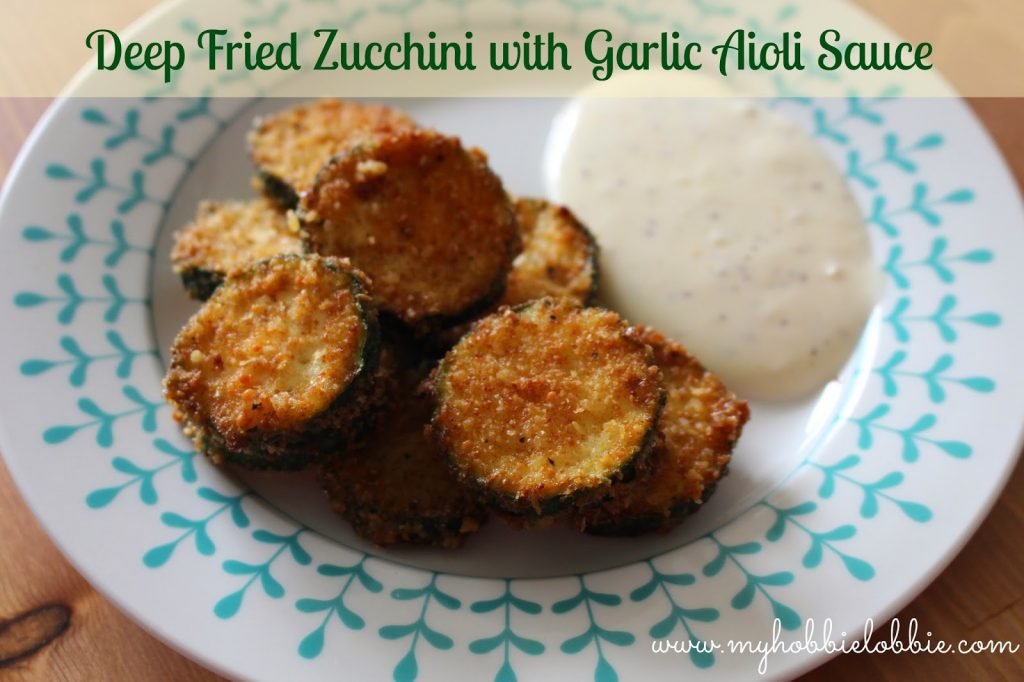 Deep Fried Zucchini
Zuchinni
2 eggs
1/4 cup buttermilk
1 cup breadcrumbs
1/2 cup Parmesan cheese
Salt and pepper, to taste
Oil, for deep frying
Heat the oil for deep frying.
Cut the zucchini into slices about 1/4 of an inch thick.
In a bowl, beat the eggs and the buttermilk.
In another bowl mix the breadcrumbs, parmesan cheese, salt and pepper.
When the oil is hot, dip the zucchini in the egg dip and then in the crumb mixture and then carefully place in the oil.
Fry for a couple of minutes on both sides on a medium flame, till golden brown.
Using a slotted spoon, remove the slices from the oil and place on some kitchen paper to drain any excess oil.
Serve hot.
Garlic Aioli


1 cup mayonnaise
1 tbsp lemon juice
3-4 cloves of garlic, minced / crushed.
Mix it all together and serve.
Here's something I haven't done before – I made dessert too. Nothing fussy but an absolute treat. When I saw this post on Erin's site, I couldn't go past it. I've seen this ages ago and always wanted to try it out. They just look like so much fun. I had absolutely no excuse to not make it. The next time I make these, I will have to leave the soda out a lot longer. I did it this time but evidently it needed to sit out longer. So when you try these out, if you think your soda has been out long enough to cut down the carbonated effect, keep it out a little longer 😉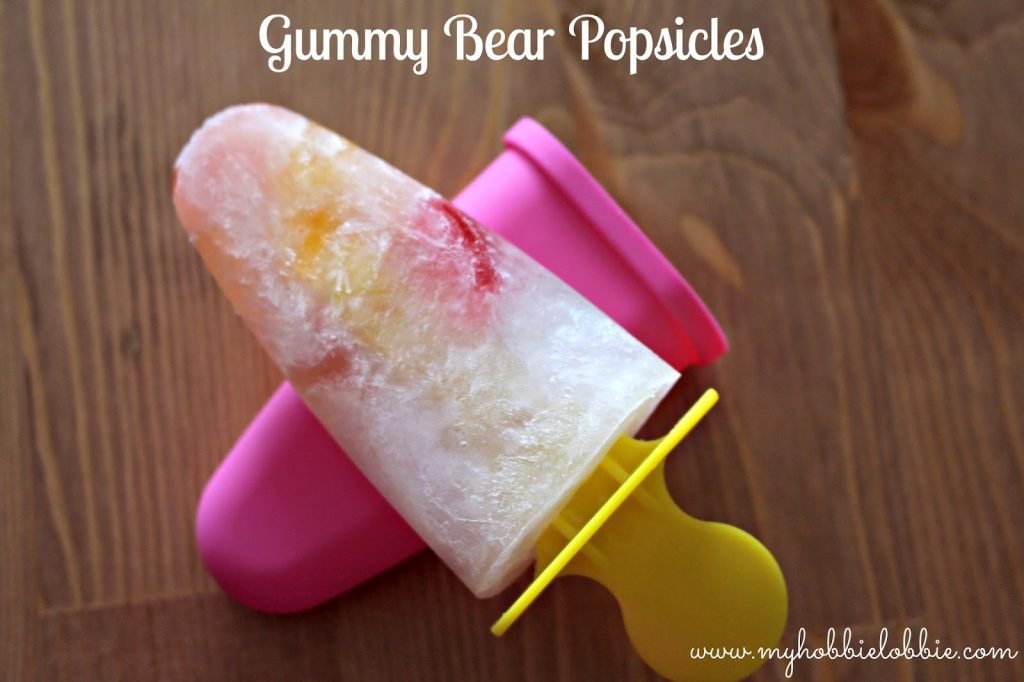 Gummy Bear Popsicles


Sprite
Gummy Bears
Let the soda sit out for a while to let some of the fizz die out.
Drop some gummy bears into your popsicle mould. You can use as many or as few as you like. I went for about the half way mark.
Top up with the Sprite.
Freeze.
Enjoy on a hot summer's day or as it turns out on the first day of autumn here 🙂
The kids will love it and so will the adults.
There are no kids in our household and I still made it and we loved it.
Do stop by and check out what the rest of Group A whipped up this month.
I've only recently had the opportunity to work with asparagus in the kitchen and I must say, I love this vegetable. I've only had it a couple of times and I can't wait for it to come back in season.
This recipe I'm going to share with you is so very simple, but it results is such delicious bites, I had to share it with you. I think if you have access to asparagus, it would make a lovely addition to your Easter table. There's hardly any prep involved and it cooks in the over real quick. You'll be happy to have a dish like this in your arsenal. I know I was.
I've tried sauteing and baking asparagus and I like both methods. But the oven roasted version results in such a lovely nutty flavor. That is something I didn't find with the sauteed version. But if you don't want to fire up the oven, don't hesitate to use a pan. The stove top version comes in a close second.
What I love about this recipe, is you can whip up a slightly larger batch easily. You can refrigerate the left overs and re-heat before serving.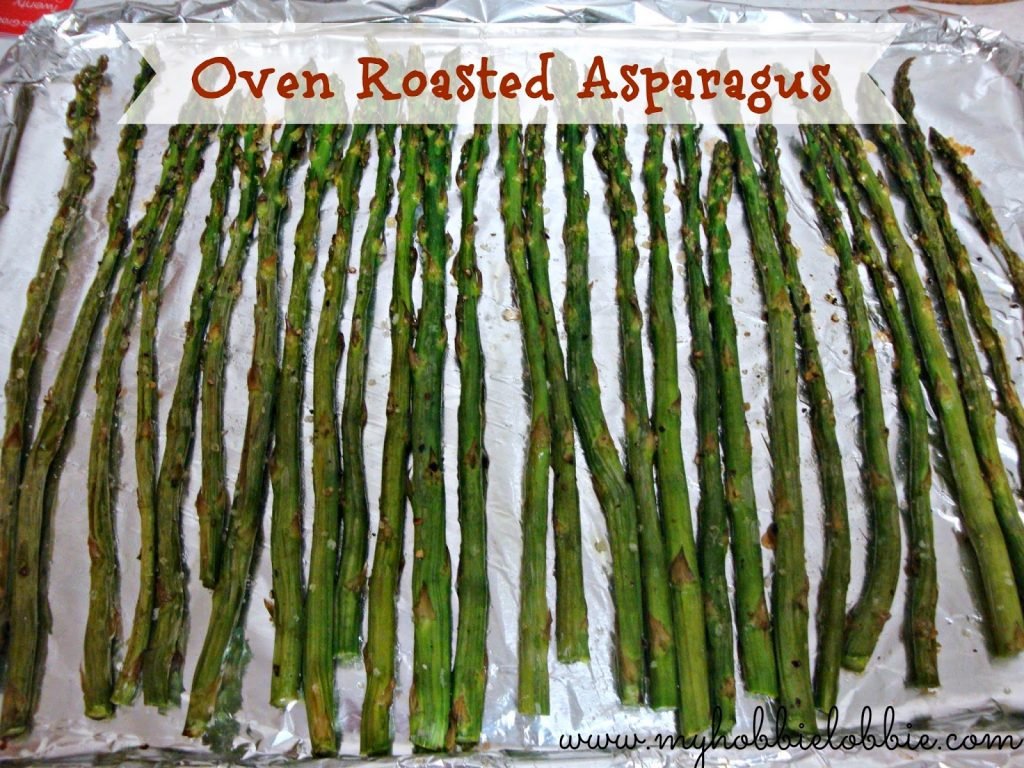 Oven Roasted Asparagus


1 bunch of asparagus (quantity doesn't matter, simply adjust your seasonings accordingly)
Olive oil
Salt, to taste
Freshly crushed black pepper, to taste
Garlic salt, to taste
Preheat the oven to 180°C.
Line a baking tray with some aluminium foil for easy clean up.
Wash and trim the asparagus (cut of the hard, woody ends).
Place the asparagus in a bowl. Drizzle with some olive oil, sprinkle with garlic salt, salt and pepper. Toss well and ensure that the asparagus is well coated.
Place the asparagus on the prepared baking sheet in a single layer and space them out. Bake for about 10 minutes or till lightly browned and tender. You can check by piercing with a fork.
Enjoy!!!
This recipe has been linked @
Hearth and Soul, by Zesty South Indian Kitchen