Today I have a very humble treat lined up for you. I happen to be a huge fan of beans. Fresh, dried, kidney beans, snakes beans, butter beans the whole lot, really. Growing up, every summer, the family would go to our ancestral home in Goa. We'd look forward to it. Our home had a massive edible garden. Back when I was too little to remember and even before I was born, the family grew a lot of vegetables and fruit. When my grandmother was little, they also had cattle and goats on the property.But in more recent times they had plenty of fruit trees. We had mangoes (a few varities), cashews, coconuts, chickoos, guavas and jackfruits growing. The only vegetables we had was some tapioca, dumsticks (moringa), tamarind and kokum. I have very fond memories of those summers and hope I can someday go back to something like this again. Though I may seem like I've digressed, I haven't, not much. I had to build a setting of sorts 🙂
Every summer, snake beans were at the peak of their season. We didn't grow this but there was a local farmer in the village who did. And he did a fantastic job of it. I loved and to this day love snake beans. We cook this up in a very simple way, a traditional Goan fugad. A fugad has its roots in Portuguese food. It is a stir fry of vegetables with some spices and seasonings and a sprinkling of fresh grated coconut. Most Goan households still cook their vegetables this way. The snake bean version was my favorite. I volunteered to prep 2 massive bundles every single day. Yes, I managed to convince my mother and aunt that I wanted to eat this every single day while I was there and that I would clean it and get it ready to be cooked myself. Thankfully, they obliged and so someone from that good old farmers household would graciously drop off a couple of bundles at the house on their way to the market. The simplicity of the dish may fool you. But the end result is fantastic. In my humble opinion, it is delicious. The beans turn out tender and sweet I'm sure kids would love it too. I could eat it by itself or with steamed rice or chapatis.
I recently managed to get some gorgeous bundles of snake beans and had to make this fugad again and I thought it was a perfect opportunity to share it with you. So if you can find some good, fresh snake beans or if you grow them yourself, I hope you try this out.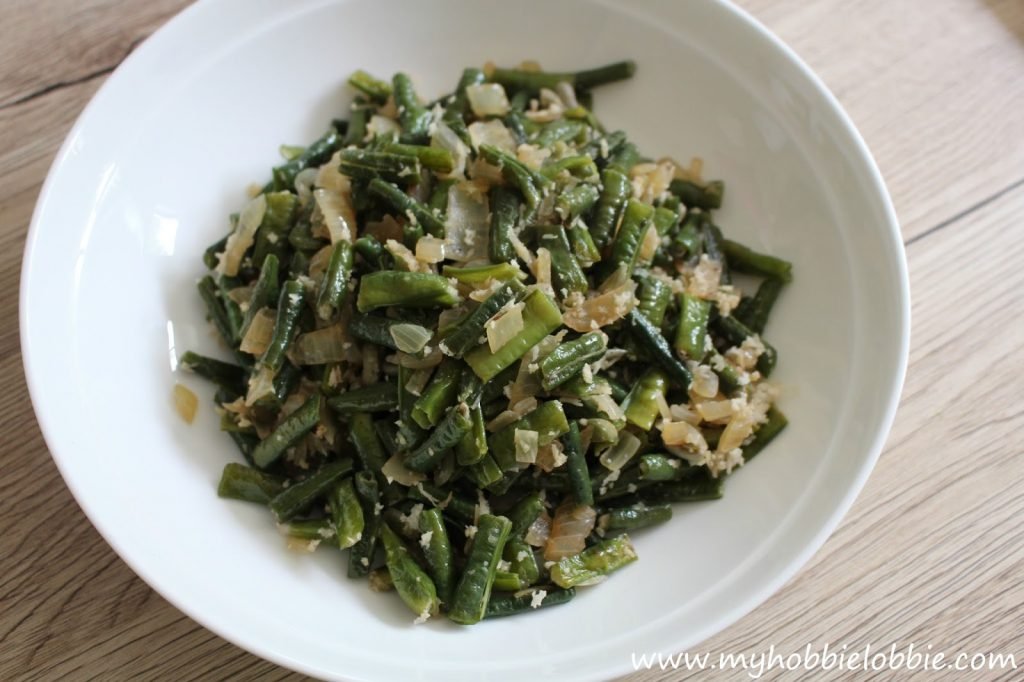 Eeril Fugad / Goan Snake Beans Stir Fry


3 small bundles of snake beans, the fresher the better
1 large onion, diced
2 fresh green / red chillies
Salt, to taste
1/4 cup freshly grated coconut
1 tbsp olive oil
Break off the ends of the snake beans and break off into inch sized pieces. Rinse through and drain and keep aside.
Heat the oil in a pan over medium heat.
Slit the chillies in length, but not all the way through. This way you get all the flavor but not much of the heat.
Let the chillies fry up for a few seconds till they get fragrant.
Add the chopped onions and saute till the onions have softened and get slightly brown on the edges.
Add the snake beans and stir them in for a while. You will see the green color of the beans turn a darker shade.
Add the salt and let the bean stir fry for about 2 minutes.
Add a splash of water, a very small amount to prevent the beans from burning and help them cook through.
Cover the pan and let it cook. Add more water, if needed.
When the beans are almost cooked, add the freshly grated coconut and stir through.
Serve hot as a side dish with some Goan fish curry or prawn curry and rice or with some chapatis.
Some other Fugad recipes –
Cabbage Fugad
Black Channa (Chickpeas) Fugad