Pasta – one humble ingredient but endless ways to cook it up. It has got to be one of the most versatile ingredients in the kitchen. You can serve it hot or cold, in a soup, salad or as a main. It works so well with so many different veggies, proteins and sauces. I love me some pasta and always have a couple of varieties in my pantry cupboard.
Pasta dishes can range from simple to a little more complicated. I personally, love the idea of a few simple recipes that I can use during the week. This Chicken in white sauce pasta is one such dish. With a little multi-tasking, I can serve this up in well under half and hour. Yup, you heard that right, under 30 minutes. Honestly, what takes the most time, is boiling up the pasta itself. If you don't eat meat, you can still make this recipe, just leave out the chicken and add some mushrooms, peas or even a little spinach. A vegetarian variant turns out equally delicious.
Are you ready to check this recipe out???
Chicken in White Sauce Pasta
(Serves 4)
A single Chicken breast fillet, cut into bite sized pieces
1/4 cup green capsicum, diced
1 cup of broccoli florets
1/2 cup corn kernels
2 cloves of garlic, finely chopped
Salt, to taste
Freshly cracked black pepper, to taste
Chilli flakes, to taste
1/2 – 1 tsp Mixed herbs, or to taste
1 tsp lemon juice
1-2 tbsp olive oil
1-2 tbsp vegetable stock / water
Pasta (enough for 4 servings)
A little parsley, to garnish
A little Parmesan cheese, grated
For the white sauce –
1 tsp olive oil
1 1/2 tbsp butter
1 tbsp all purpose flour
1 1/4 cup milk
1/3 cup cheddar cheese, grated
Salt, to taste
Cook your pasta according to the packet instructions. I bring a large pot of water to a rolling boil. Season generously with salt. Add the pasta and cook till done. Drain and reserve about 1/2 cup of the cooking liquid.
While the pasta is cooking, season the chicken with salt, pepper and lemon juice to taste. Mix well.
Heat 1 tbsp olive oil in a pan. Add the chicken and cook through, stirring occasionally, till the chicken has cooked through. Remove the chicken in a bowl and set aside.
In the same pan, add 1 tbsp of olive oil and quickly add the garlic.
Stir through and immediately add the green capsicum. Still through and let the capsicum cook for about a minute.
Next add the broccoli and saute well. (See note*)
Add the corn and stir through.
Season with salt, pepper, chilli flakes and mixed herbs, to taste.
Add 1-2 tbsp vegetable stock (you can also use water), stir well, cover and let the veggies steam and cook for a minute or two or till they are done to your liking. (If you are adding cooked broccoli to the pan, you can leave this step out. )
Add the cooked chicken to the pan and stir through. Set aside and cook your white sauce.
To cook the White Sauce / Bechamel Sauce –
(For detailed instructions on how to make a great white sauce, check the video above)
Add a tsp of olive oil to the pan on medium heat.
Add the butter and let it melt.
Add the flour and stir briskly, making sure the flour incorporates well with the butter and oil and that no lumps are left.
Cook this roux off for about 30 seconds to a minute or till the raw smell of the flour has gone. (Do not let it develop any color.)
Add half the milk to the pan and stir through well, making sure no lumps remain.
Add the remaining milk and whisk well.
Cook the sauce till it has thickened to your liking, whisking well.
When the sauce is done, lightly season with a little salt.
To assemble the pasta –
Add the white sauce to the chicken and veggies in the pan. Stir well. Add the cheese and mix through.
Check the sauce for seasoning and adjust, if needed.
Add the cooked pasta to the pan and stir through.
Serve your pasta in some serving plates. Finish with a light sprinkling of parsley and a grating of parmesan cheese.
*NOTE: Our broccoli is fairly tender and cooks very quickly. If your broccoli takes longer to cook, blanch or steam it before adding to the pan.
Earlier in the year, I put up a post on my YouTube community tab and asked you what kind of recipes you'd like to see on the channel. One recurring request that came out of that exercise, was chilly fry recipes. So today, I'm going to share with you one of the many ways I make a chilly fry. This is one of the quickest and simplest recipes for a Chicken Chilly Fry.
I've cooked up the chicken specifically for this recipe, however, if you have some leftover roast chicken, you could just as easily use that as well. The recipe can be made kid friendly by simply leaving out the chillies. However, if you're looking for a little spice in the dish, a couple of chillies, slit lengthwise, hit just the right spot.
Chicken Chilly Fry
1 chicken breast, cut into a couple of smaller pieces
For the marinade –
Salt, to taste
Freshly cracked black pepper, to taste
1-2 tsp sour lime / lemon juice
1/2 tsp garlic paste
1/4 tsp ginger paste
For the chilly fry –
1 onion, sliced
Some green and red peppers, sliced
1 tomato, sliced thickly
2 chillies, slit lengthwise (optional)
2 tbsp oil
Salt, to taste
Freshly cracked black pepper, to taste
Marinade the chicken by mixing all the marinade ingredients and slathering over the chicken pieces. Cover and marinade for atleast 15 minutes. (When I remember to, I marinade the chicken overnight, in the fridge. Just make sure you take it out of the fridge a little while before cooking, so that it comes to room temperature.)
Cover the pieces with sufficient water and bring to a gentle boil and simmer till the chicken is completely cooked. Take the chicken pieces out of the stock and reserve the stock. When the pieces are cool enough to handle, shred them and set aside.
Heat some oil in a pan.
If you're using chillies, add them to the pan and fry them off to infuse some flavor into the oil.
Add the sliced onion and saute for a minute. Next add the peppers and let them cook till they get a little char on them.
Add the tomatoes, let them cook a little. Make sure them come in contact with the pan a little, so they can develop a nice little char on them too.
Season with salt and pepper, to taste.
Next, add the shredded chicken and stir to mix everything well.
If the mix appears a little dry, add a couple of spoons of the stock to the pan and stir well. (Add the stock as needed. I used about 4-6 tbsps. in all)
Once most of that liquid has been absorbed, your chilly fry is ready.
Serve hot.
In my last few posts, you may have heard me complain about the heat and unfortunately not much has changed. This has been one of the fiercest summers I've seen since coming to Australia. I am definitely not a an extreme summer person. I love the milder temperature of spring and autumn, I enjoy the rains and I love winter.
When its this hot, all cooking and baking activity in my kitchen drastically falls. We mostly have salads, some sandwiches and any cooked dishes are usually quick and easy ones. I've been eager to increase my repertoire of such dishes and after some searching online, I came across this amazing Satay Chicken Noodle Stir Fry recipe. There are a few stages in the recipe, but they're all really easy and come together very quickly. The beauty of this recipe is that you can serve this either cold as a salad or like I did, slightly warm as a Stir Fry. I can't tell you how immensely flavorsome and delicious it turned out. You get the nuttiness from the peanuts, the flavor from the curried chicken pieces, the tang from the fresh lime juice, the creaminess from the coconut milk and the freshness from the fresh coriander. In all, it is a beautifully balanced dish. I am so very glad I tried out this recipe and it sure is a keeper.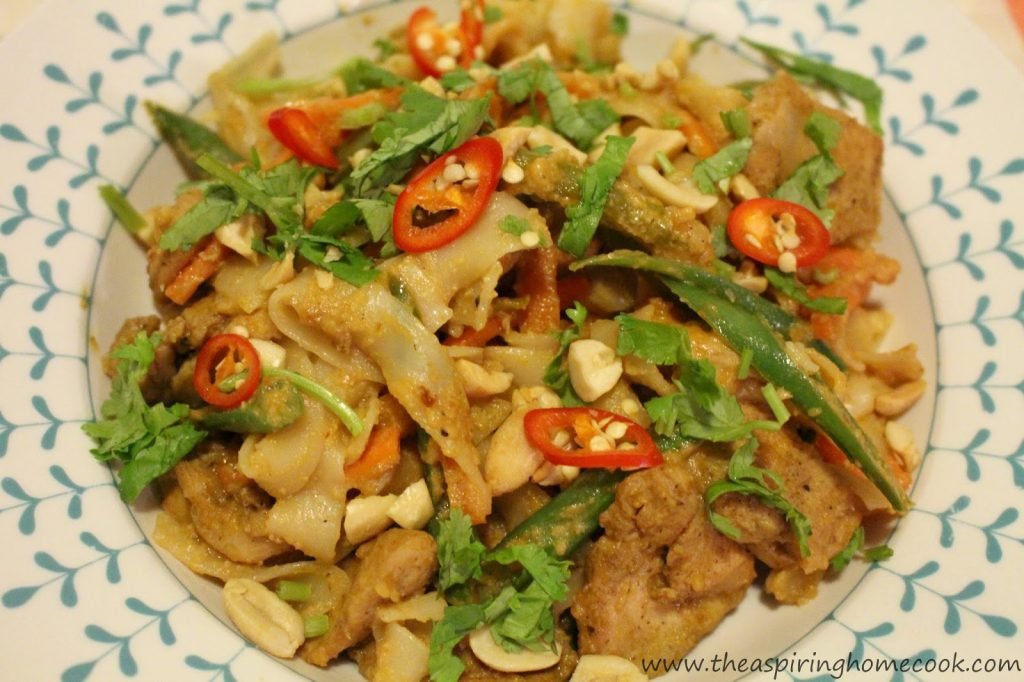 Satay Chicken Noodle Stir Fry
Adapted from: Recipe Tin Eats
Serves 3-4
For the dressing –
1/3 cup roasted peanuts (you could also use 1/4 cup peanut butter instead)
1 garlic clove, peeled
1 tbsp sesame oil
2 tbsp soy sauce
2 tsp palm sugar
1 1/2 tbsp Sriracha sauce
2 tbsp sour lime juice
6 tbsp coconut milk
2 tbsp water
1/4 tsp salt, or to taste
For the Satay chicken –
350g chicken breast, cut in half lengthwise and then slice thinly
Salt, to taste
Freshly cracked black pepper, to taste
1 1/2 tsp curry powder
1 tbsp soy sauce
1 1/2 tsp palm sugar
1 tbsp peanut oil (You can use any cooking oil you have)
For the Stir Fry –
1 pack flat dried rice noodles (I used a 200g packet of Pad Thai rice noodles)
1 large or 2 small carrots, julienned
12-15 green beans / french beans, edges trimmed and thinly sliced on the diagonal (Use this only if you are serving this as a stir fry. If you are serving it as a salad, leave it out and just use carrots, cabbage and spring onions)
2 spring onions, finely sliced on the diagonal
(You can use 1 cup of finely sliced green / red cabbage or a combination of both. I didn't have any, so I left it out this time.)
To serve –
1 red Birdseye chilly, finely sliced on the diagonal (optional)
3 tbsp roasted peanuts, roughly chopped
2 tbsp fresh coriander stalks and leaves, finely chopped
A wedge of sour lime
In a bowl, place the sliced chicken and all the satay chicken ingredients except the oil. Toss well and set aside for about 10-15 minutes to marinade.
While the chicken is marinading, make the dressing. Place all the dressing ingredients into a blender or food processor and blitz till you are left with a smooth dressing.
Cook the noodles according to the package instructions.
While the noodles are cooking, heat another pan over medium heat. Heat 1 tbsp peanut oil and gently tip in the marinaded chicken pieces and the marinade. Toss around a little and saute till the chicken pieces have cooked through. Take out the pieces of chicken onto a plate and set aside.
In the same pan, add about 1 tsp more peanut oil. Add the french beans and carrot and stir fry for about a minute. Now add the cabbage and the spring onion. Stir well and stir fry for about another minute. The veggies should have softened a bit by now. I like to leave my veggies on the crunchy side. If you like your veggies softer, cook for a little longer till they are done to your likeness.
Tip in the dressing and the chicken pieces. Stir through.
If it is too dry, add a tiny splash of water (1-2 tbsp of water) and heat through and toss well. (I didn't need to do this.)
Add the cooked noodles and gently toss through making sure that all the noodles are coated in that yummy dressing.
Take off the heat.
Portion out into serving bowls or on plates.
Sprinkle some roughly chopped peanuts, chopped coriander and sliced chilly (if using) over each bowl / plate.
Lastly squeeze some freshly squeezed sour lime juice over and serve or serve with a wedge of lime on the side.
Enjoy!!!
I can barely remember the last time I enjoyed some good chicken wings. It must have been atleast over 4 years ago when my brother whipped up some at a family BBQ. I had a big hankering for some and picked up some Chicken Wings the other day. Now, I do know how my brother makes his version but I thought it would be a good idea for him to do a guest post around here sometime. Now I just need to get him to do it.
Anyway, I wanted to try making something different and when I came across this recipe, it was a no brainer. I mean it has a concoction called Angry Sauce. How cool is that! I was really excited to try it out. The recipe seemed fairly simple. What I really loved about it is that the wings are baked. There is no frying involved. Yet, you are left with a beautiful crispy skin on the wings and that is just how I like it. It does make this recipe healthier. They are then dunked in a flavorful sauce and tossed. What you end up with is a really tasty, sticky plate of wings that is bound to be a hit at your next party or gathering. There is hardly any hands on time required for this recipe which makes it perfect for a party. And that Angry sauce is so good, a little spicy, tangy and sweet all at the same time. Yummmm. I do hope you try this recipe out. And if you do, I'd love to hear what you think of it.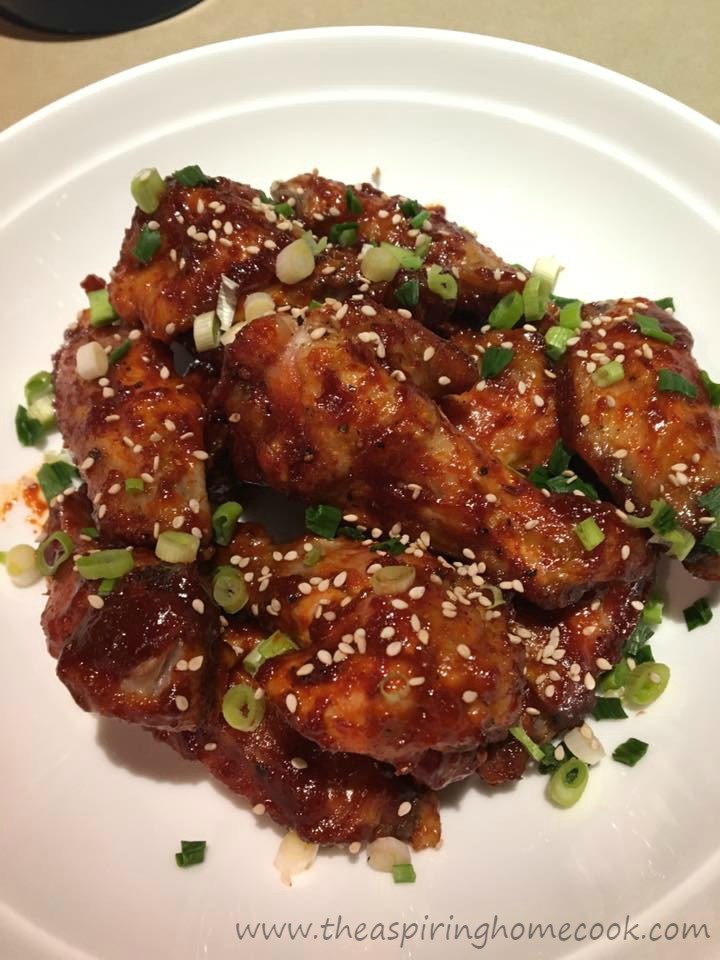 Chicken Wings in Angry Sauce
Adapted from: Food & Wine


2 pounds chicken wings (split the wings and either set the tips aside for a stock or discard. I bought Marco's Wing Nibbles from Woolworths that has this stage dealt with so you use the wings as is.)
1 – 1 1/2 tbsp olive oil
Salt, to taste
Freshly ground black pepper, to taste
1 – 2 tbsp gochujang (Korean red chilly paste) (depending on how hot you want the sauce)
1 tsp tabasco sauce
1 tsp red chilly powder
1-2 tbsp water
1 tbsp sugar
2 tsp rice wine vinegar
2 tsp soy sauce
1 spring onion, thinly sliced
1 tsp sesame seeds
Preheat the oven to 180ºC.
Line a large baking sheet with foil and spray with cooking spray. (I just used a Pyrex baking dish and lightly sprayed with olive oil.)
Toss the wings in the olive oil and sprinkle salt and pepper. Toss well to make sure all the wings are well coated.
Place the wings skin side up on the prepared baking tray and bake for about 40-45 minutes until they are cooked through and the skin is crisp.
While the wings are baking, in a small bowl, mix the rest of the ingredients for the sauce, except the spring onion and sesame seeds. If the sauce is too thick, add a little more water to thin it down a little.
Taste the sauce and adjust the spice, salt, sweetness or sourness, as needed.
Drain off any fat that has rendered from the wings while baking, and toss the wings in the sauce till it is well coated.
Sprinkle with the spring onion and sesame seeds.
Enjoy!!!




*** This post is not a sponsored post and I haven't received any compensation from either Marco's or Woolworths.
Today I'm going to share with you a much loved recipe. This one packs a lot of flavour and comes together easily. Most of the work involved actually is prepping the veggies. And yes, this fried rice has more than its fair share of veggies, which makes it quite nutritious. If you've never made fried rice at home before, I urge you to try it out. You'll ditch the take-out version for the home made one instantly.
What I also like about this fried rice is you can pretty much use whatever you have on hand. You can switch up the veggies. I almost always use onion, spring onion, capsicum and carrot. I also add zucchini, snow peas, cabbage and baby corn if I have any of them on hand. The same is the case with the protein. Almost always I use a little bacon for flavour and some egg. Then I either use prawns, shredded chicken and sometimes even ham depending on what I have available at the time. So like you see, this fried rice is one of those meals you can put together almost any day of the week, even when your grocery run is due the next day. Apart from cooking the rice, it comes together in one pan – I now use my wok and love it.
This is the quickest way I find to get this on the plate. Soak my rice and when the rice is soaking and cooking, I prep my protien and veggies. When everything is ready, the final dish takes about 10 minutes tops to put together. Its one of my favourite quick and easy weeknight meal options. I tend to add a lot of vegetables and I like it that way, you could drop the quantity of vegetables to suit your liking. This is just a guide to making this fried rice and the quantities are suggestions. Go with what you think you'll enjoy and adjust to your liking.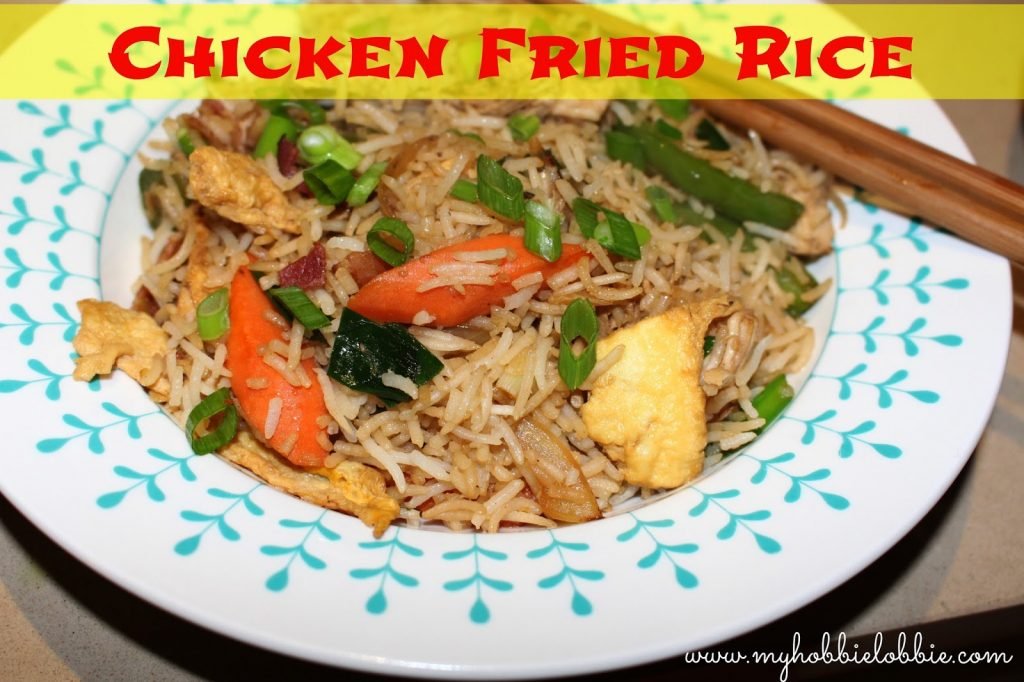 Chicken Fried Rice
Serves 3 (as mains)


1 cup basmati rice
2 cloves garlic, finely chopped
1 birdseye chilly (optional – we enjoy hot food but you can leave it out if you dont)
3 spring onions
1 red pepper
2 carrots
6-8 green beans
A handful of finely sliced cabbage (about a cups worth)
2 eggs
3 rashers of bacon (I used streaky bacon)
A cup of shredded chicken (you could used poached, roast, or rotisserie chicken)
A couple of tablespoons of oil (vegetable, olive or sunflower or any other cooking oil of your choice)
1 tsp sesame oil
Salt, to taste
Freshly cracked black pepper, to taste
Approx. 1 tbsp soy sauce (I use salt reduced soy)
1 tsp rice wine vinegar
Rinse the rice a couple of times and drain. Soak in fresh water at room temperature for about 20-30 minutes.
Bring a pot of water to the boil (just like you would for pasta). Add a spoon of salt to the water and carefully add the rice. Cook the rice till almost done (al dente). Don't cook the rice through as it will turn mushy once you add it to the wok.
Drain the cook rice and using a fork lightly loosen the grains and leave to cool.
In the meanwhile, clean and chop all your vegetables. I like to chop mine in like sized pieces. You could julienne everything or slice it on the diagonal into little chunks. (I will try and get a picture of the chopped up veggies when I make this next, I was in a hurry this time and forgot.)
Dice the bacon rashers and keep aside.
Keep all your ingredients handy. The trick to cooking a delicious fried rice is to cook it on a high heat and cook it quickly.
Heat your wok or pan. Add a little cooking oil to the pan. Crack 2 eggs in a bowl, add a little salt and lightly whisk. Now either make a plain omlette and cut into chunks or a plain scramble. Take the egg off the pan and keep aside.
Next step is to fry off the bacon. Add a little oil if needed and tip the cut bacon into the work and let it cook a little and add some flavor to the pan. Dont cook till crisp. You just want the ends to start changing to a light brown. Now add the garlic and chilly and saute till it gets fragrant.
Add the sesame oil and then tip in the diced pepper and the rest of the veggies and stir fry on high heat till they cook off a little. You still want them to have a little bite.
Add the chopped spring onions.
Add a light sprinkle of salt and some freshly cracked black pepper.
Add the soy sauce and rice wine vinegar and stir to let it coat the veggies. Please adjust the sauce to suit your liking.
Tip in the chicken and egg and stir well to incorporate.
At this stage add the rice to the wok and gently mix everything but mix thoroughly. I use a spatula and a pair of chopsticks to do this.
Once the rice has warmed through, serve hot and top with finely sliced spring onion greens to garnish and if you're feeling particularly adventurous, some finely sliced fresh chilly.
Enjoy piping hot.
**Leftovers warm up really well the next day too.
Boy! Oh boy! Oh boy! I am so excited about this month's
SRC
assignment. This month, I was finally assigned Sawson's blog,
Chef in Disguise
. I tell you, I have been a fan of this gorgeous blog for years now. Sawson is an "orthodontist by day and food explorer by night". I love that term,
food explorer
sounds so much more exotic than
food blogger.
And food explorer she is. If you go on over to Sawson's blog, you will be treated to a vast array of delicious recipes with beautiful pictures. Her blog mainly focuses on Middle Eastern cuisine, which I have enjoyed getting familiar with. Everything is so flavourful and there is so much variety. In addition to that she participates in the Daring Cooks and Daring Bakers Challenges as well. So you can expect a lot of recipes from other parts of the world too.
I have had my eye on a couple of her recipes for ages now, but when I actually looked through her blog, there was so much more I wanted to try. With great difficulty, I narrowed it down to these spinach and feta mini rolls (I can't wait to try these), these awesome spiral meat pies called Yafawi Sfeeha, these Cheese and Zaatar sticks and cool off with this sweet tamarind drink, and for dessert how about this Harissa! I decided to go with the recipes I've been eyeing since forever – Sawson's Shish Tawook Chicken and this Middle Eastern Garlic sauce called Toum. Both were very easy to make and really delicious. The chicken was succulent and full of flavour and the garlic sauce was nice and garlicky with a nice tangy kick. My sauce turned out a little runny and I'd love to learn how to thicken it up a little more, but the flavour was all there.
I made some wraps with Pita bread, finely cut Cos lettuce, sliced cherry tomatoes, finely sliced red onion and topped it with this gorgeous chicken and the garlic sauce. It was so very good. Thank you Sawson, for sharing these recipes.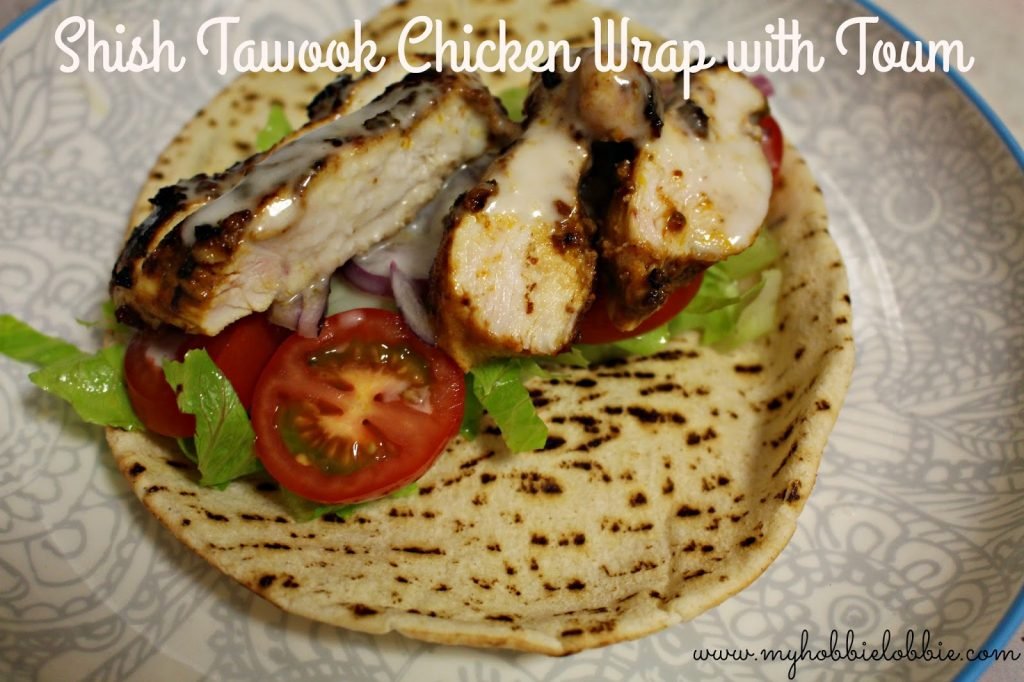 Shish Tawook Chicken


2 chicken breast fillets, skinless
1 tbsp tomato paste
2 tbsp ketchup
2 cloves garlic, minced
3/4 tbsp mustard
1 tbsp soy sauce
1 tbsp dried oregano
2 tbsp olive oil
2 tbsp yogurt
1 tsp smoked paprika
1/2 tsp salt
1 tsp all-spice powder
Cut the chicken breast into strips or pieces.
Mix the rest of the ingredients together and marinade the chicken with it. Make sure all the pieces are well coated with the pieces.
Cover with cling film and leave to marinade for atleast half an hour or in the fridge overnight.
Drip off the excess marinade and grill or pan fry the chicken till done.
Toum


2 tbsp cornstarch
3/4 cup water
3-5 cloves garlic, minced
1 tsp lime juice, or to taste
3-5 tbsp vegetable oil
A pinch of salt
Dissolve the cornstarch in the water.
On a medium low flame, cook the cornstarch solution till it thickens and starts to bubble, whisking continuously. Continue cooking for another two minutes.
Take the solution off the heat and cool down completely.
Place the cooled solution in a food processor or blender. Add the minced garlic, salt and lemon juice.
Blitz till the mix starts turning white.
Drizzle the oil in one spoon at a time, like you would for a mayonnaise till it thickens to the consistency of a mayonnaise. You may not need all of the oil.
Serve immediately or refrigerate in an air tight container.
** My version wasn't as thick as I'd have liked it to be, but I hope to get that fixed soon.
<!– end InLinkz script —>
So here's the very delicious Part 2 of the meal – Garlic & Paprika Chicken. For those of you who haven't seen Part 1, click on the link for the recipe for
Lemon Orzo with Asparagus
. What can I say about this chicken recipe? The flavours are pretty spectacular. Its just a simple chicken roast but what rocks it up is this really flavourful garlic and paprika marinade. I was so happy with the flavours here, I can't wait to use this marinade the next time I make a chicken roast. I think it is safe to say that I've found my favourite marinade for roasting chicken. Whipping this up with pieces of chicken is also a brilliant idea, because this way you can sit down to a nice hot meal much quicker than what it would take to roast a whole bird.
So without any further delay, lets get on to the recipe.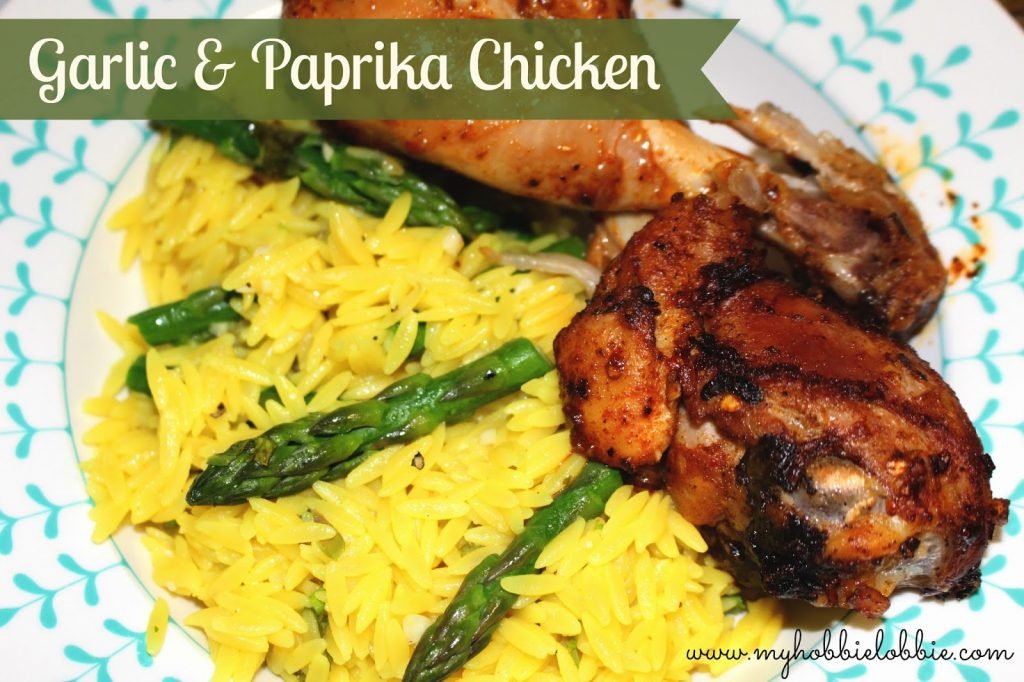 Garlic & Paprika Chicken
Recipe from: Jo Cooks
6 chicken drumsticks
1/4 cup olive oil
4 cloves garlic, grated
1 tbsp smoked paprika
1/2 tsp red chilly flakes (optional or to taste)
1/2 tsp dried oregano
Salt, to taste
Freshly cracked black pepper, to taste
Preheat the oven to 200ºC.
Wash and pat the chicken drumsticks dry. Season with salt and pepper.
In a small skillet or saucepan, heat the oil over medium heat.
Add the garlic, smoked paprika, chilly flakes and oregano to the oil and cook for 1 minute. Do not burn the garlic.
Pour this marinade over the chicken drumsticks and mix well making sure that the chicken is evenly coated with the spices.
Place the drumsticks in a single layer in a baking dish and bake for about 40 minutes or till the chicken legs have cooked through.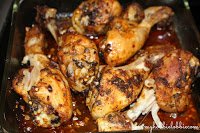 Serve hot.
I served this up with some lemon orzo with asparagus.
Today's recipe is like most of the recipes I share here – quick, easy and of course, dee-licious. I love a good salad recipe. Here in Sydney, it seems like the coldest days of winter have passed. The days are now feeling more like Spring and we can once again enjoy a lovely salad for lunch.
For the last couple of days, I've been feeling like whipping up a salad with a different flair and so while looking online for inspiration, I came across an easy to make Thai salad recipe. I knew that this was the recipe I was looking for. How? you ask. Well, the latest season of Masterchef Australia (which ofcourse, is my favourite source of food inspiration) had a challenge dedicated to Thai food and a lot of the contestants whipped up their versions of a Thai salad. When I saw this recipe, it seemed like a good opportunity to try my hand at a Thai recipe 🙂 I'm all for new experiences and new flavours and cuisines. And this recipe did not disappoint. It had lovely flavours, a range of textures and I was in love with it. Even my husband, who might not agree with all my opinions on food, loved this salad. So if you have a hankering for something a little more complex than a basic salad, try this recipe out. You'll be glad you did. The original recipe called for green papaya in the salad, but I didn't have any and just decided to leave it out.
So basically this salad is just what its name suggests, you chop up a bunch of ingredients, whip up this really yummy dressing, toss it together and sit back and enjoy a really scrumptious bowlful. 🙂 This salad is definitely going to make an appearance atleast a few more times this spring and summer and every one from now on. Feel free to switch up the greens based on what you have. I used some leftover roasted chicken, which I chopped up roughly, but you could use some poached chicken or if you have leftovers of store-bought rotisserie chicken that would work too.
For a vegetarian version, leave out the fish sauce and the chicken and it would be just as good.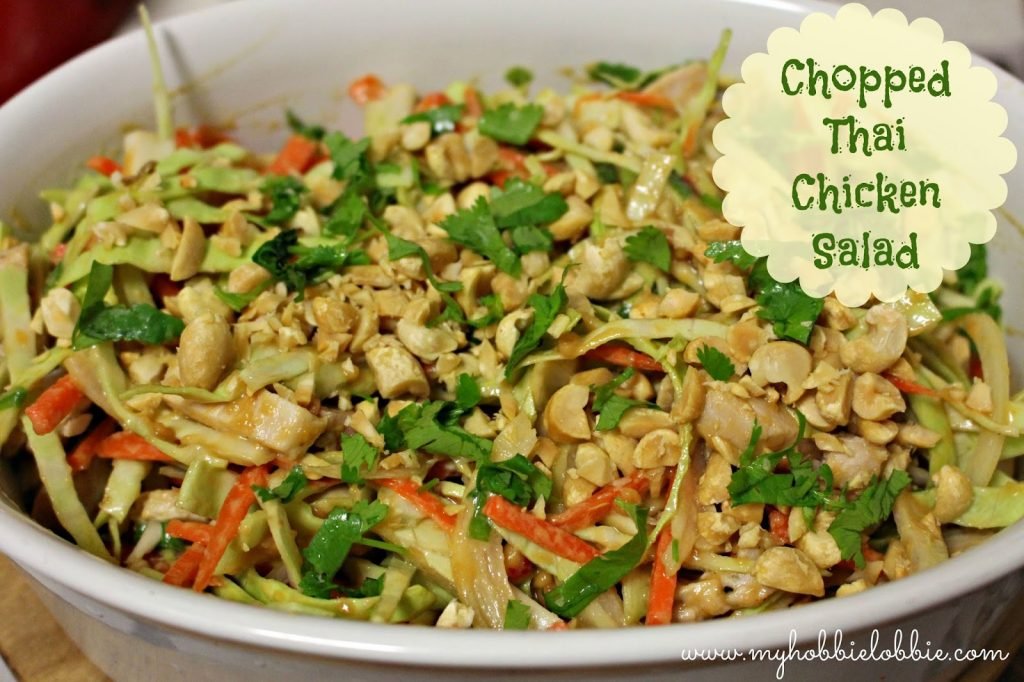 Chopped Thai Chicken Salad
Adapted from: Pinch of Yum
For the salad –
1/2 cup shredded / chopped (cooked) chicken
1 cup finely chopped cabbage (like you cut for a cole slaw)
1 carrot, julienned
1/4 onion, finely sliced
2 spring onions, sliced
2 tbsp fresh coriander, chopped
1/4 cup salted peanuts, coarsely chopped
For the dressing –
1 clove garlic, minced
1 – 2 hot chillies, finely chopped (to taste)
1 tbsp soy sauce
1 tbsp apple cider vinegar
1 tbsp sugar
1/2 tbsp fresh lime juice
1/2 tbsp vegetable oil
1/4 tsp fish sauce
2 heaping tbsp peanut butter
Toss all the salad ingredients in a bowl after keeping aside a little coriander and some peanuts for garnishing the salad.
In another bowl, whisk together the ingredients for the salad dressing until smooth and creamy. The original recipe suggests the use of a little water to thin down the dressing. I just added a little more lemon juice instead. Please note if you are using lemon juice, taste while you gradually add it. You don't want the dressing to be too sour,
Pour the dressing over the salad and toss well to coat the salad with the dressing. Sprinkle the reserved crushed peanuts and chopped coriander over the salad to garnish.
Enjoy!!!
…. I'm back home after a 3-week long trip to India and it feels great to be back. I can't wait to try out some yummy Indian treats at home and share it with you. It may take a little while for that to happen. In the meanwhile, as I unpack, get through piles of laundry and dig my way out from under a mountain of emails and such, here's a quick, no-fuss recipe thats perfect for a weeknight or whenever you dont have much time.
You know I'm all for cooking and baking from scratch as far as possible. But, I like having a few cheats on hand for the days when I can't spend too much time in the kitchen or am too tired to. So a while ago, on two separate trips to my local Aldi store, I picked up these bad boys –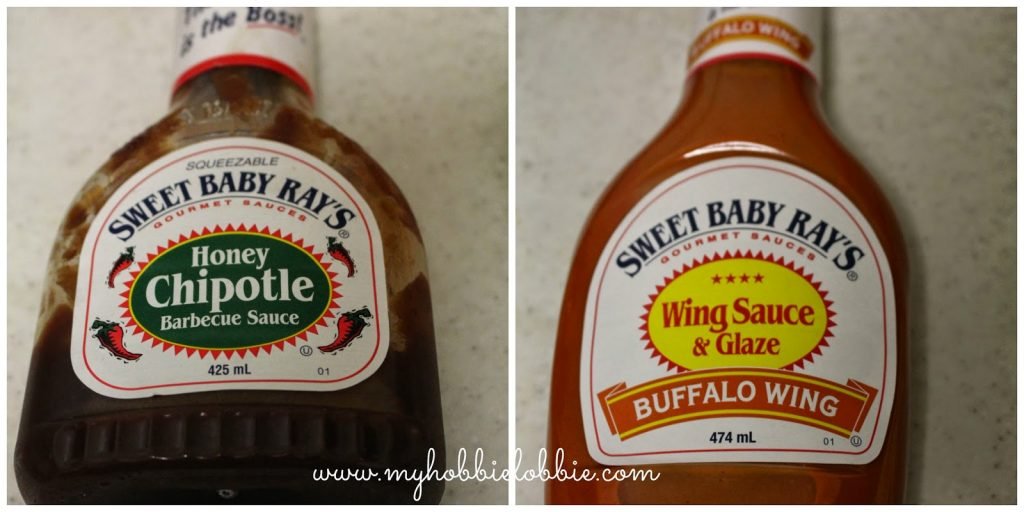 I'd picked up the Barbecue sauce a while back and loved it, so when I saw the Buffalo Wing sauce, I just had to try it out.
This chicken is super easy to put together, literally 3 easy steps – I use my trusty basic chicken marinade and let the drumsticks soak in all the flavour. Fry them in a pan with a little oil and toss with the sauce. Serve up with some salad and enjoy 🙂 I used 8 drumsticks, but you could easily reduce or increase quantities. This time around I used drumsticks with the skin on. You could use skinless drumsticks if you prefer.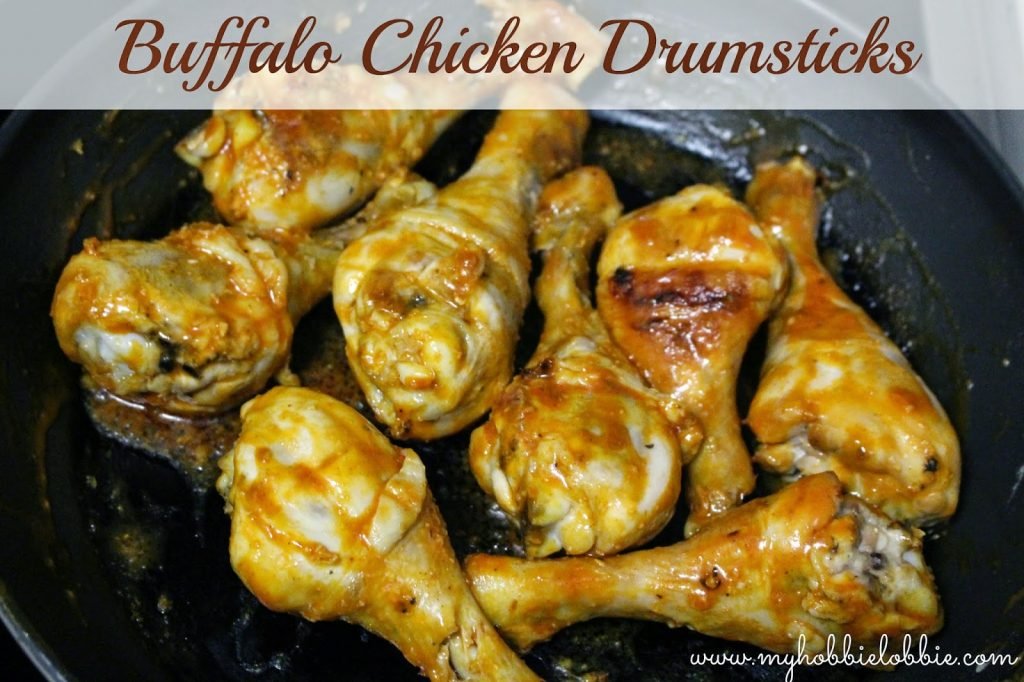 Buffalo Chicken Drumsticks
8 chicken drumsticks
Salt, to taste
Black pepper, freshly crushed to taste
Lime / lemon juice, to taste
1 tsp ginger paste
1 tsp garlic paste
1 tbsp oil
Buffalo / Barbecue sauce, to taste
Mix the salt, pepper, lime juice, ginger and garlic paste.
Add the chicken to this and toss well.
Leave to marinade for about half an hour.
Heat oil in a pan.
Fry the chicken pieces till done.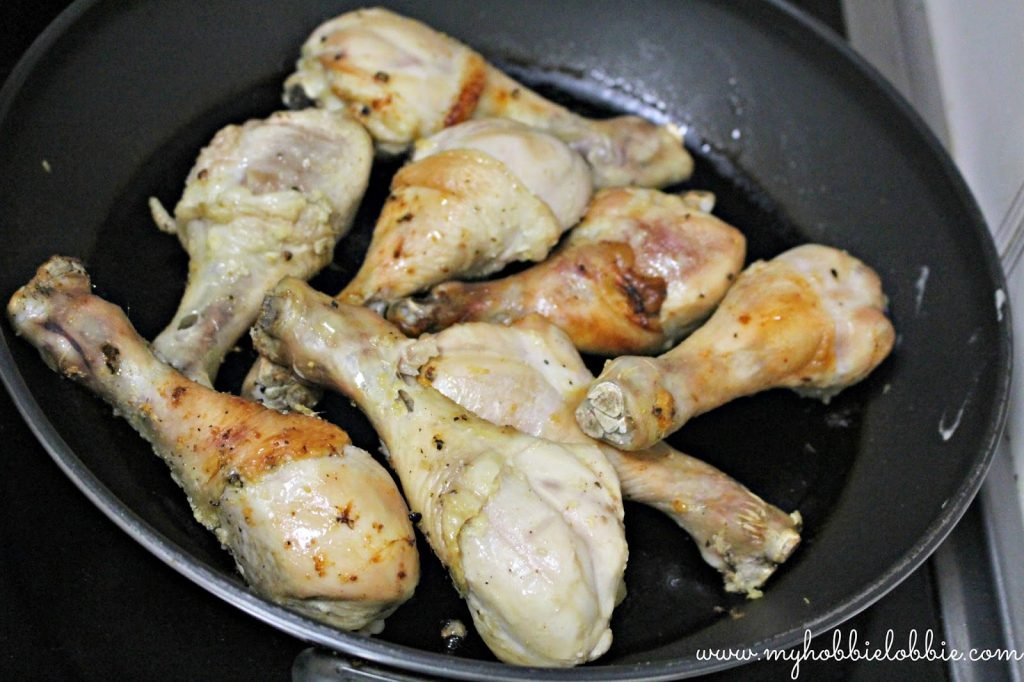 Add the buffalo / barbecue sauce and toss well. I leave it on the heat for about another minute to heat through.
Serve up.
**NOTE** – The picture above shows just the Buffalo Chicken version, but I have tried this with the barbecue sauce and it turns out fantastic.
Chicken is a protein that we eat most frequently at home. Whether it is a curry or fried, roasted or in a salad, we love it. What I also love about it is that is easy to prepare and cooks fast. One of many new edible ingredients that I've had access to in the last year is a Cajun spice mix. A lot of the spices I use are Hoyt's including this one.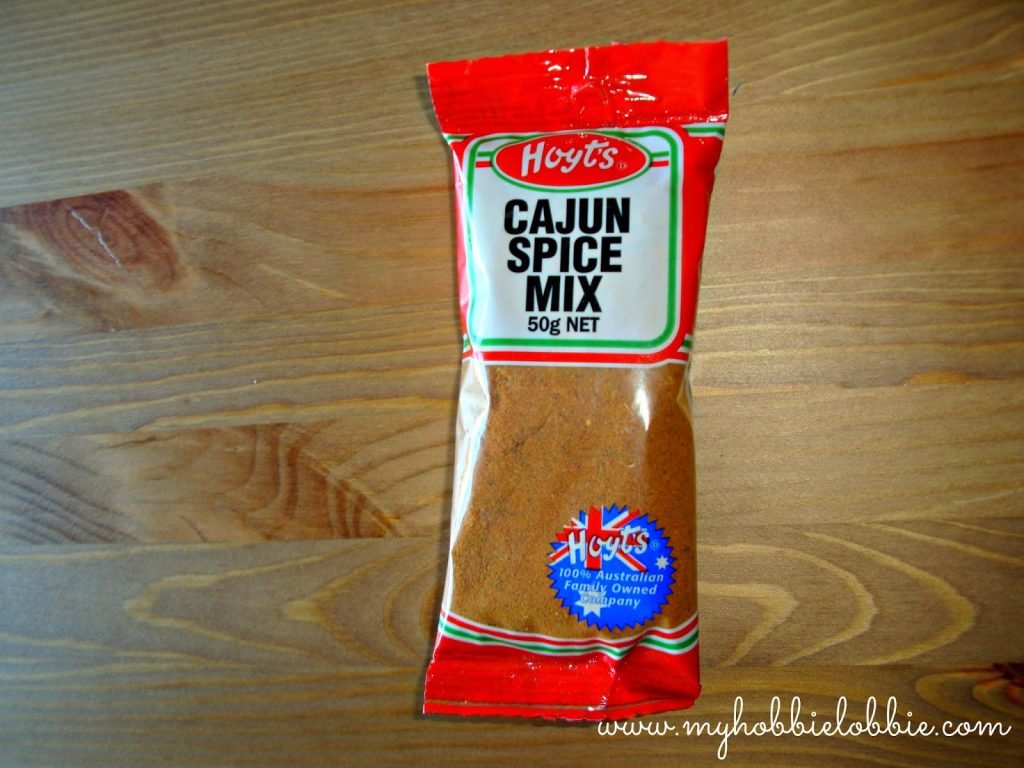 This is the first brand of Cajun Spice that I tried and enjoyed it a lot, so I've just stuck with it. And moreover, it is a 100% Aussie family owned company; I try to buy local whenever possible. I know there are loads of folks who make this blend at home and sometime in the future, I fully intend trying my hand at making it myself. For now, I'll stick with what I have easy access to.
Making Cajun chicken my way, couldn't be easier. I use smaller pieces of boneless chicken. Sometimes I use thigh fillets, other times I use breast fillets. I almost always buy the whole bird and then portion it out and cut it up at home (that is husband's department though). You could use whatever cut you like. Its nice to leave the chicken to marinade for about half an hour, but at times, when I've been pressed for time, I've made it after just 10 minutes and it still turns out pretty good. This is not a recipe as such, more of a guide to some yummy chicken.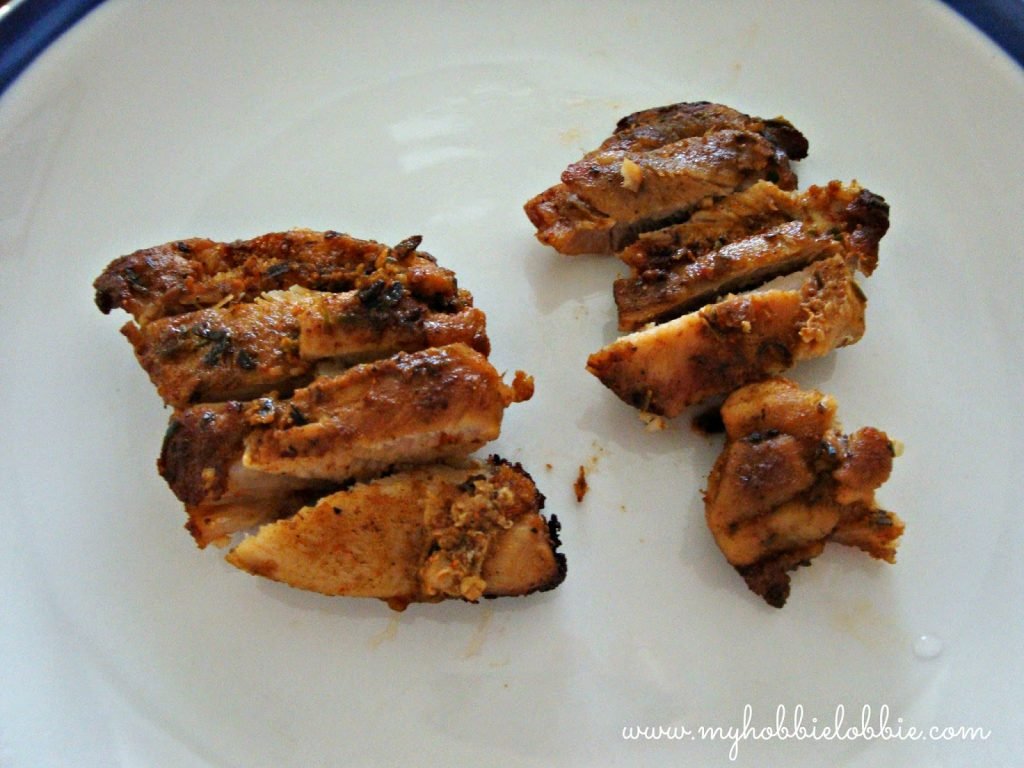 Boneless chicken pieces
Salt, to taste
Lime juice, to taste
Cajun spice blend, to taste
1 tbsp Vegetable oil
Take off the skin and trim the fat, if any, from the pieces of chicken.
Sprinkle the salt and cajun spice mix over the pieces of chicken.
Squeeze the sour lime juice over the chicken. I think the lime juice is what brings out the wonderful flavors of the spice blend. Its definitely not the same without the tang from the citrus juice. If you don't have lime juice at hand, you could use lemon juice too, you'll just need to use a little more.
Toss the pieces well to ensure they are well coated. Rubbing the spices into the pieces of the chicken works really well. Leave the chicken pieces in the spice rub for about half an hour.
Heat the oil in a pan. Carefully place the pieces of chicken in the pan and fry on both sides over medium heat till done. Depending on the number of chicken pieces you are frying, you may need to cook it in batches. Do not overcrowd the pan. You may need to use a touch more oil for each batch. (Tip: I start on a slightly higher heat to seal in the juices and then lower the heat to cook it through.) If you have a grill, I'm pretty sure this would taste fantastic grilled too.
You could serve these chicken pieces as they are with a salad for a fantastic quick weeknight meal. Or you could do what I do – cut up the pieces and use them in wraps and take them to work for a great packed lunch option. Here's how a put the wraps together.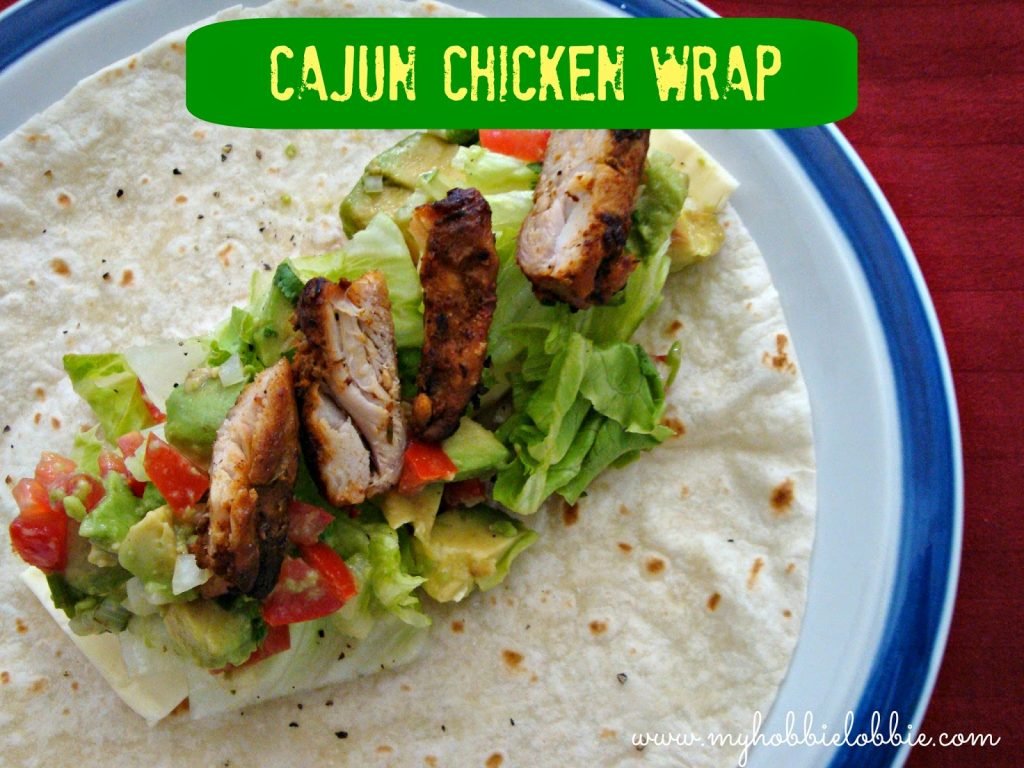 For the Wrap –
Flour tortillas (I used store bought)
Iceberg lettuce, chopped
Cheese slices, optional
Cajun chicken pieces
Lay the cheese in the middle of the tortilla and place some lettuce on top.
Top that with the the chunky guacamole and lay the chicken pieces over it.
Carefully, roll the tortilla to make the wrap.
Tip: If I'm eating the wrap straightaway, I warm the tortilla before making the wrap.
Enjoy!!!
** This is not a sponsored post. I'm just sharing with you a product I really enjoy.