Almost everyone around the globe appears to be embracing the approach of fall. Falling leaves, cooler days, soups and sweaters and all things pumpkin. In my part of the world though, we are well on our way to Summer. But, since we're so blessed with great weather and an abundance of fruit and veg all the year round, we are still getting a fair bit of pumpkin. But I think it is nearing the end of pumpkin season. I realized I had never made or tasted pumpkin pie. I know right! That, I am glad to report, has officially changed.
Over the weekend, I bought some pumpkin, made my own pumpkin puree, the filling and the pastry from scratch. Hang on, don't run away. It sounds like a lot of work, but it really wasn't. I roasted the pumpkin late one evening and the next day I made the pie. The pastry and the filling comes together in the food processor. The food processor was used mainly out of necessity. I'd sprained my wrist a few days ago and there was no way I could have knead the dough or mashed the pumpkin by hand. I was amazed at how easy it was. I may never go back to making shortcrust pastry any other way. I do hope you try baking a pumpkin pie from scratch this year, especially if you haven't done so before. It is so satisfying, you'll be glad you did.
I left the pie just as it was baked and didn't even cover the little knife test mark, because I didn't want to over sweeten it by adding any icing sugar on top. You could dust it with some icing sugar if you'd like. If you want to make it more indulgent, top it with some whipped cream or serve it with some ice cream if you'd like. We tried that, but loved how it tasted by itself. And trust me, it tasted even better the next day. So make it a day or two before you need it (think Thanksgiving dinner), and once it has completely cooled down, refrigerate till you are ready to serve. The pie is beautiful – the pastry is perfectly flaky and the filling spiked with warm spices is silky smooth.
How to make Pumpkin Puree at home –
1 – 1 1/2 kilo pumpkin
You can either use small pumpkins or a wedge of a larger one, whatever you can get your hands on. I used about 1/3 of a Kent Pumpkin.
Preheat the oven to 180ºC.
Cut into equal sized wedges. Leave the skin on. Scoop out the insides – the seeds and the membrane.
Place the pumpkin skin side down on a roasting tray and bake for 45 minutes to an hour or till a knife pierced through the flesh of the pumpkin goes through without any resistance. (I did this while we were having dinner)
Let the pumpkin cool. (I left it to cool overnight and made the puree the next day.) Peel the pumpkin or scoop out the flesh, whatever you find easier, and place the pumpkin in a food processor and blitz till done. If it looks too dry, add a couple of spoons of water and blitz again.
What you are left with is a glorious bowl of fresh pumpkin puree.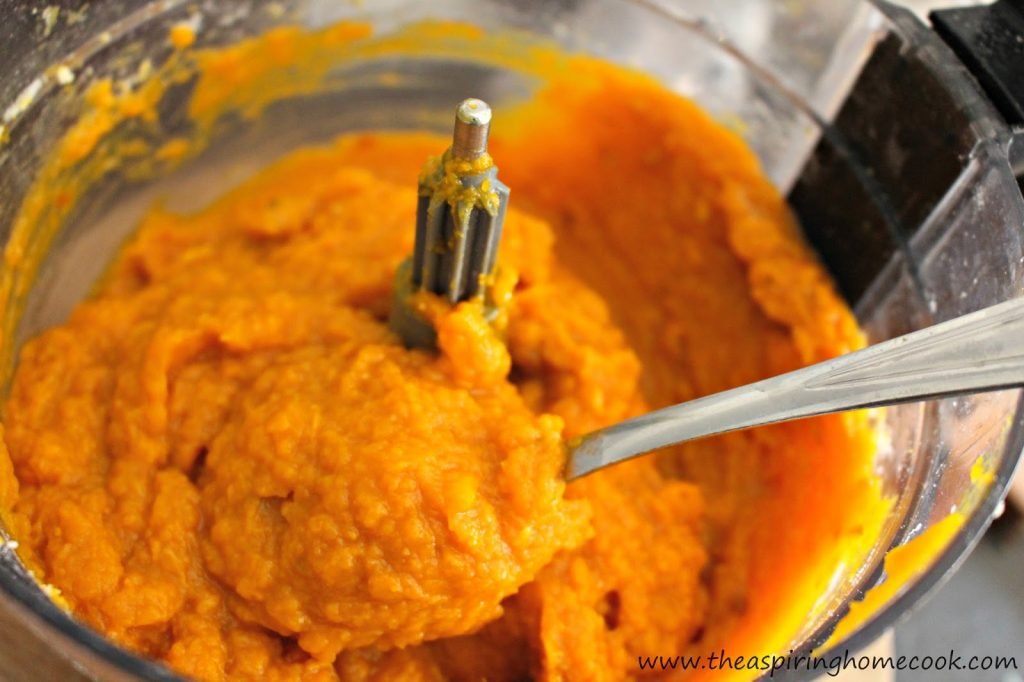 Once you have your pumpkin puree, you can use it to make anything pumpkin you'd like – Pumpkin pie, pumpkin doughnuts, pumpkin cake / cookies, pumpkin rolls and the list goes on.
Now, let's get on to making the Pumpkin Pie.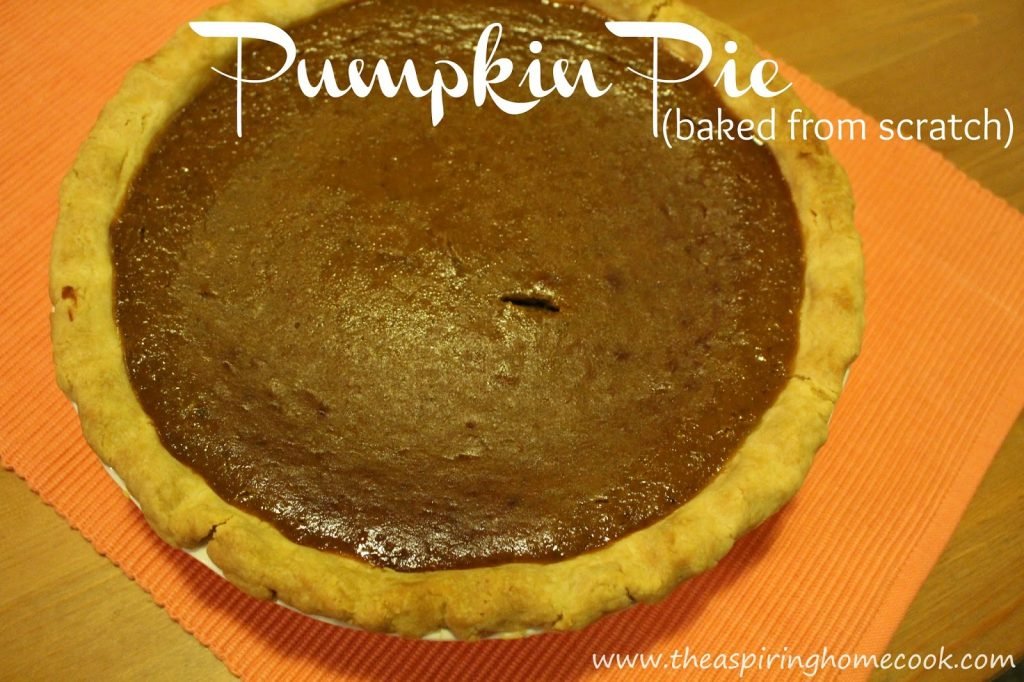 Pumpkin Pie
Recipe from: Tabler Party of Two
For the pie crust –
250g all purpose flour
125g cold butter, cubed
A couple of tablespoons of cold milk
(If you're using unsalted butter, add a pinch of salt. If you're using salted butter, leave out the salt.)
Place the flour and butter in the food processor.
Pulse a few times till the butter has broken down and you're left with a mix that looks like this.
Add a couple of spoons of cold milk to help bind the pastry and pulse a couple of times till you are left a mix that looks like this. Start with a spoon or two and add more if needed.
Place some clingfilm on your work surface (lesser clean up this way) and tip this mix on top.
Press together to form a dough. Don't knead or overwork the dough.
Wrap it up in the same cling film and refrigerate for about half an hour.
While the dough is chilling, make the pie filling.
For the pie filling –
2 cups fresh pumpkin puree
1 can evaporated milk (a 12 ounce can)
3 eggs
3/4 cup sugar
1/2 tsp salt
1 1/2 tsp ground cinnamon
1 tsp ground ginger
1/2 tsp ground nutmeg
1/2 tsp ground cloves
Place all the ingredients in the food processor and blitz till everything is well incorporated and smooth.

Preheat the oven to 180ºC.
Take the dough out of the refrigerator and roll to a disc large enough to cover a 9 inch pie dish. Line the pie dish with the dough and pour in the filling.
Cover just the edges of the pie crust loosely with foil to keep it from burning.
Bake for 50-60 minutes or till a knife pierced through the center comes out clean. Take the foil off in about the last ten minutes to let it evenly brown.
Cool and cut into wedges and serve.
Enjoy!!!
Pin now and try later.
I have finally gotten around to writing this post. For some reason these pictures have been lurking somewhere in the deep, dark recesses of my computer and kinda got forgotten there. Today, when I was looking for something else, I came across them and realized I hadn't yet shared it with you. So it just had to be done.
We've been trying to be more conscious of what we eat now. No fad diets or deprivation, but we're trying to focus on making better choices. Let me be very clear here, there will still be baked goodies. And lots of regular ones too. All I'm saying is that I'm going to be more open to the slightly healthier variants too. For example, these brownies. I came across this recipe when I was looking for ways to use up a massive box of sweet potatoes I picked up at the growers market at Flemington. The only sweetener in it is maple syrup. The rest of the sweetness comes from the sweet potato and the dates. And that make me happy. I can enjoy a piece because I know whats in it. There are also no eggs in the recipe, so that will make my vegetarian friends from India (the ones that don't eat eggs) very happy. This recipe also uses raw cacao powder instead of cocoa powder or chocolate. Though I'm pretty sure you'd be able to substitute them if you so wished. I hear raw cacao is purer and healthier. A quick blitz of ingredients in the food processor, a quick stir in of the dry ingredients and you're ready to bake. That's how easy it is to make these brownies.
Now, the verdict – These are nothing like the typical chocolate brownies you buy at the store or even make at home. They are equally delicious and have a nice gooey texture. They have a slightly different flavor from the sweet potatoes and kinda reminded me of a typical Goan sweet "Dodol" with minimal effort. So if you're up for trying out something a little different, give these sweet potato brownies a go. You won't be disappointed.
Sweet Potato Brownies
Recipe from: Deliciously Ella
2 medium to large sweet potatoes (approx 600g)
2/3 cup ground almonds (I used almond meal)
1/2 cup rice flour (You could also use buckwheat flour)
14 dates
4 tbsp raw cacao
3 tbsp pure maple syrup
A pinch of salt


Preheat the oven to 180ºC.
You need to use cooked sweet potato for the recipe. You could either roast, boil or stem them till they are nice and soft. I wrapped them in foil and baked them while I had the oven on the previous night.
Peel the sweet potato and cut them into chunks and add them to a food processor along with the pitted dates. Process this you are left with a nice creamy mixture.
Place all the dry ingredients in a bowl and stir together.

Add the sweet potato and date paste and mix this thoroughly combined.
Hello everyone and welcome to our August installment of the
Secret Recipe Club
. This month I was assigned Traci's blog,
Burnt Apple
. What a fun adventure looking through her blog was. She has so many recipes I want to try; and so many ingredients I've never worked with before. A lot of her recipes are healthier versions because Traci strongly believes in using whole foods and natural sweeteners, from what I've seen. That being said, it doesn't mean she doesn't have some fun recipes in there – check out these
Bacon Cheddar Fries
,
Baked Churros
,
Crispy Cinnamon Raisin French Toast
and this
Baked Blueberry French Toast
. I'm hoping to try these out sometime soon. But after a month of packing, moving, unpacking and settling in, while working full time. I needed something comforting and super simple. Something warm would be a bonus, because we are smack bang in the middle of winter. So, I decided to try out her
Healthy Hot Cocoa Mix
for reveal day. But that's not all. I have a bonus recipe, yup I made a second treat from Traci's blog that I will share later in the week.
So back to this mix. You wouldn't believe how easy this was. 3 ingredients in a bowl, mix everything together and store. Then you simply store as needed. Traci used a healthier sweetener for her mix, but I used her basic version, using what I had on hand, which is why I'm calling it simply a Homemade Hot Chocolate Mix. I'm thinking this would make a fantastic present for Christmas, all dressed up – atleast for those of you who have a wintery Christmas. As for me and my husband, we are going to enjoy this right now. **slurrp**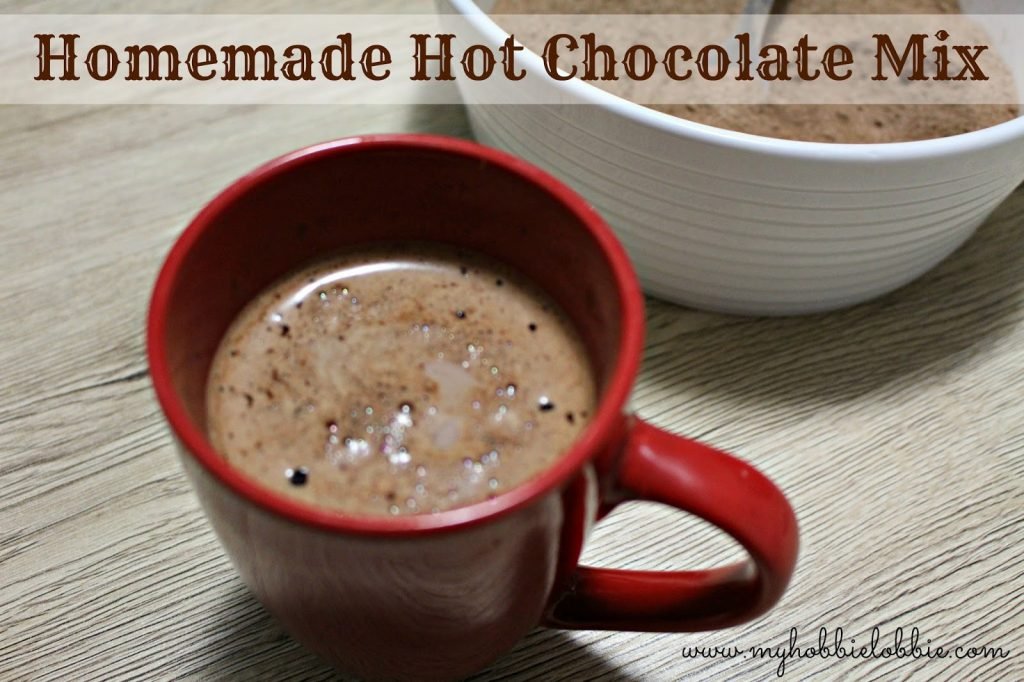 Homemade Hot Chocolate Mix


3/4 cup cocoa
1 cup sugar (I will cut this down to 3/4 cup next time) (Adjust to your liking)
1 tbsp cornstarch
Combine all the ingredients in a bowl thoroughly.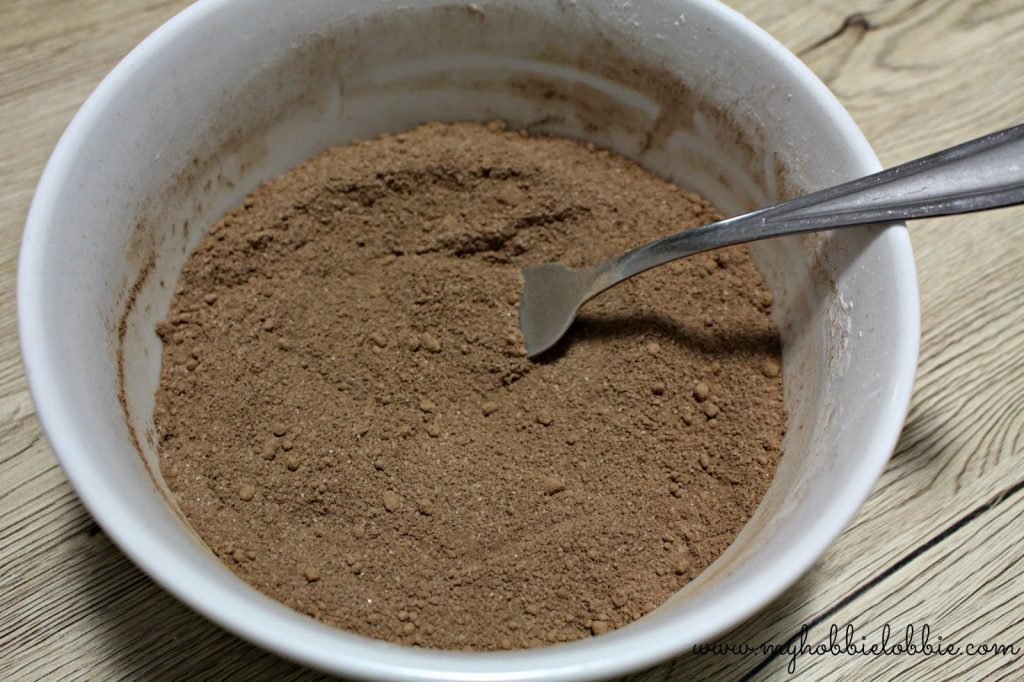 Store in an airtight container.
To use, simply place 2 tbsp of the mix in a mug and top off with milk.
Either heat in the microwave for 60 seconds and then in 30 second increments till it is hot enough for you. Or simply heat in a saucepan on the stovetop on a low heat, till it is hot enough for you.
… and ofcourse, every hot chocolate is better with some marshmallows 🙂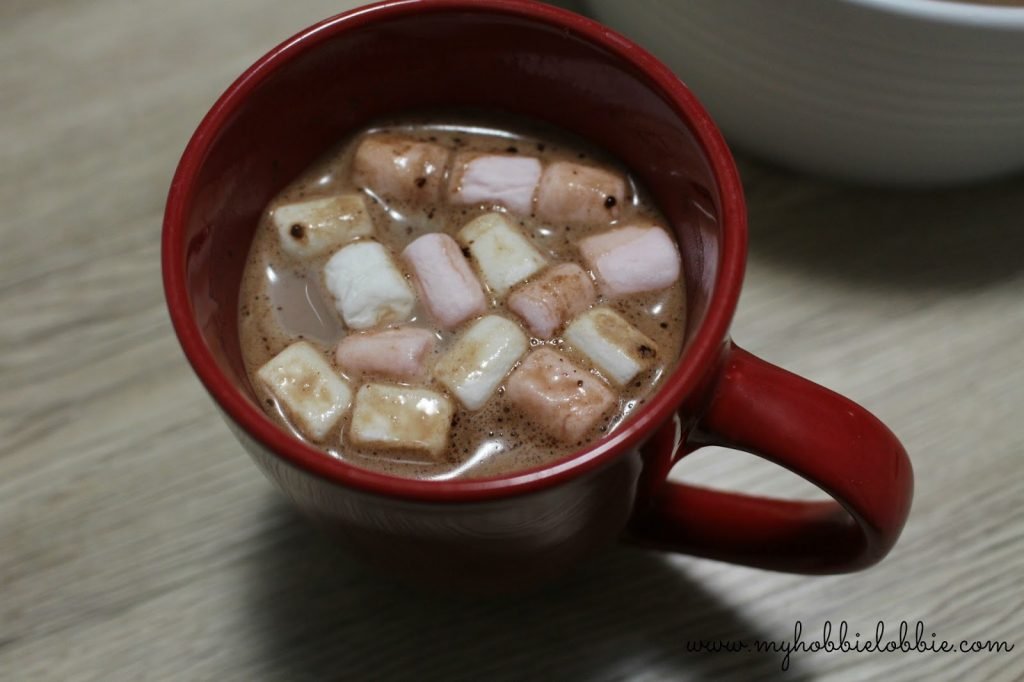 Don't forget to check out what other bloggers in Group A have whipped up for this reveal!
Okay, so it's time for the July edition of
SRC
. The last month has just whizzed by. Its been a huge whirlwind of activity. We've had to hunt and finalize another place to move into as our current lease is almost done. That, along with a full time job that sometimes feels more than a full time job has taken over the last month. I haven't had time to do much else. But I did do this assignment for today's reveal. And it was so very good.
For this month's SRC assignment I had Karen's blog, Lavender and Lovage. If you haven't visited Karen's blog yet, you should, you really should. Karen is a freelance writer and recipe developer who toggles between Yorkshire and France. These influences on her food is evident. Her blog is gorgeous and she has one of the most delicious recipe lists I've come across. I literally wanted to make every second recipe I saw, if not every single one. I was torn between these perfect Scotch Eggs, these super comforting Beer Battered Fish and Chips and this gorgeous Dark Sticky Double Gingerbread. I still intend trying all of these but I needed something that was not too fussy, but was still delicious and comforting. So when I saw Karen's recipe for the Carrot, Cumin and Tomato Soup, I knew I had found a winner. I had the carrots and tomatoes on hand. All I had to do was pick up a little cream and croutons of some sort. I got some bagel crisps and they were beyond perfect. This soup is so easy to make and with just a few basic ingredients, its hard to believe how delicious and hearty it turned out. Thanks Karen, this is a soup I know I will make often.
I stuck with the original recipe, except I halved it, since I was cooking for just the two of us .The only tiny change I made was I used fresh coriander leaves as a garnish instead of the parsley used in the original recipe.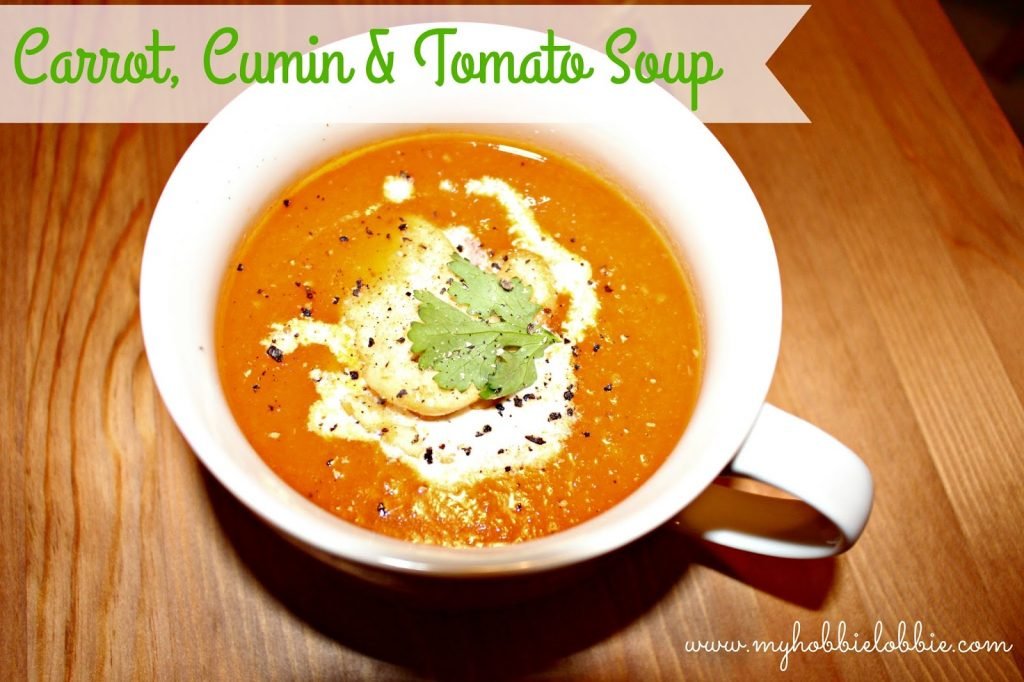 Carrot, Cumin & Tomato Soup
Serves 3-4
1 tbsp olive oil
1 onion, chopped
2 cloves of garlic, peeled and finely chopped
3 carrots, diced
4 tomatoes, sliced
1 tsp cumin powder
1/2 litre of vegetable / chicken stock
Salt, to taste
Freshly cracked black pepper, to taste
A couple of tbsps. cream, to top of the soup bowl (optional)
Fresh coriander leaves, for garnish
Bagel crisps, or any other croutons of your choice
Heat the olive oil in a pan and add the garlic and onion and stir fry till the onions have softened and slightly browned.
Add the cumin powder, tomatoes and carrot and saute for a minute.
Cover the pot and let it all cook for about 5 minutes till the tomatoes get a little mushy and the cumin is nice and fragrant.
Add the hot stock and stir well.
Season with salt and pepper.
Cover the pot and let it simmer for about 30 minutes or till the carrots are cooked through and are nice and tender.
Let it cool a little and then carefully blitz the soup using an immersion blender or a regular blender.
Serve up with some croutons and garnish with a drizzle of about a tablespoon of cream and fresh coriander leaves.
Enjoy!!!
Don't forget to check out what the other blogger's in Group A whipped up for today's reveal.
I'm finally back to blogging! If you've been wondering where I've been over the last few weeks, I've been right here but I've had my laptop die on me. It was a real task recovering the data on it and getting back to doing this. But thanks to my wonderful husband, I've recovered most of it. And now finally have access to it. Still don't have my trusty laptop, but the family computer works fine for now.
So to ease back into the flow of things, this will be a quick post. The recipe also is a quick one, super simple to make. Infact, you can barely even call it a recipe, but the results are so very good, I will go ahead and post it here to share with you. If you haven't tried out sweet potato fries yet, trust me, you really should. Even my beloved husband, who doesn't care much for the sweet potato (he calls it a sweet mush / baby food), loved it and actually requests for these fries every once in a while.
There are a couple of things to keep in mind here. You could peel the potatoes, but I leave the skin on. Just give it a good wash and scrub and you are good to go. Also, size of the fries will make a difference. The thicker you cut it, the longer it will take to cook. The thicker sized fries will still be soft and fluffy. If you are like me and love a little crunch in your life, cut the fries thin. It cooks quicker and caramelises a little and is super delicious, not to mention perfectly crunchy.
This fries are a much more healthy version that the regular potato fries and are great either as a snack or as a side to a big roast dinner or holiday meal too.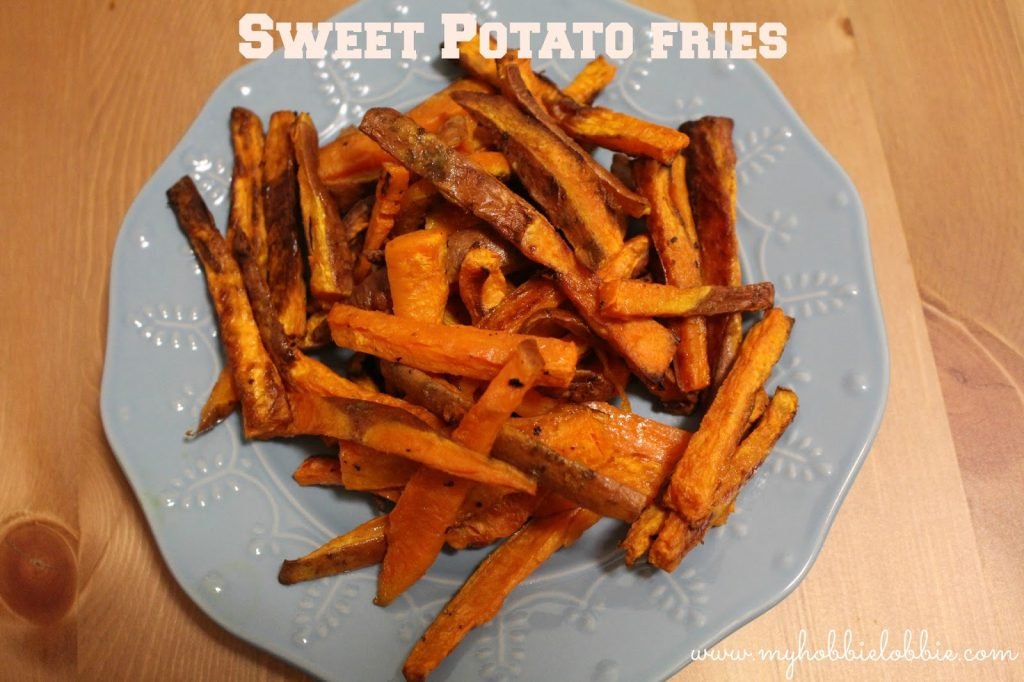 Sweet Potato Fries


1 large sweet potato, washed
Salt, to taste
Freshly crushed black pepper, to taste
A drizzle of olive oil (about 1 tbsp)
Preheat the oven to 200°C.
Cut the sweet potato into fries.
Drizzle a little olive oil on a baking tray.
Place the sweet potato, salt and pepper on the tray and toss to make sure everything is well coated. You can add a little more olive oil if needed.
Arrange the potato pieces in a single layer.
Bake for 15-20 minutes, turning the pieces once at the halfway mark.
Keep an eye on your oven from time to time. It may not need as long in your oven. Also this time will depend on the size of the pieces. So keep an eye on it the first time you make this.
When it is done to your liking, take it out of the oven.
Serve hot and enjoy!
The last couple of months have somehow seemed to sneak past. It is hard to believe that it is May 2016 already. The good part about coming into a new month is the
SRC
reveal day. This month, I was assigned Sally's blog,
Bewitching Kitchen
. I was so excited when I got this assignment. I've always been a huge fan of Sally's blog. Sally is a fascinating person. By day, she is a Biochemist. She also is an exercise fanatic. Originally born in Brazil, she has spent time living in Paris and now is in the USA. You can see delicious influences from all these places in her cooking and on her blog. If you love bread like I do, you are in for a treat. Go and have a look at Sally's blog. She has a plethora of bread recipes. While you are there, don't forget to check out the antics of 3 of the most adorable little doggies you have ever seen. I had an amazing time getting to know Sally a little better. And there are so many recipes I can't wait to try, like this
Baked Coconut
, these
Coconut Brigadeiros
, a delicious
Cappuccino Panna Cotta
and a savoury Brazilian delicacy called
Coxinha De Galinha
, just to name a few. The Bewitching Kitchen is one blog where you want to try out pretty much every recipe you see. I finally settled on a savoury one this month.
The weather has started cooling down here and when that happens, I find myself longing for soup. In the past, I have to admit, I've almost always ripped open a packet of instant soup and made do with that. In the last couple of years though, I have tried out a couple of homemade soups and I've enjoyed them so much, I have decided to make a few more this year and to get that started I picked Sally's Zucchini Spinach Soup for this month's reveal. Oh what a recipe this is – delicious, warm and hearty. It is hard to believe that a recipe this simple can be so comforting. I'm enjoying the discovery that making soups at home, from scratch is not as complicated as I thought it would be. Thanks Sally, for a beautiful soup, which will make an appearance on our dinner table on many more occasions.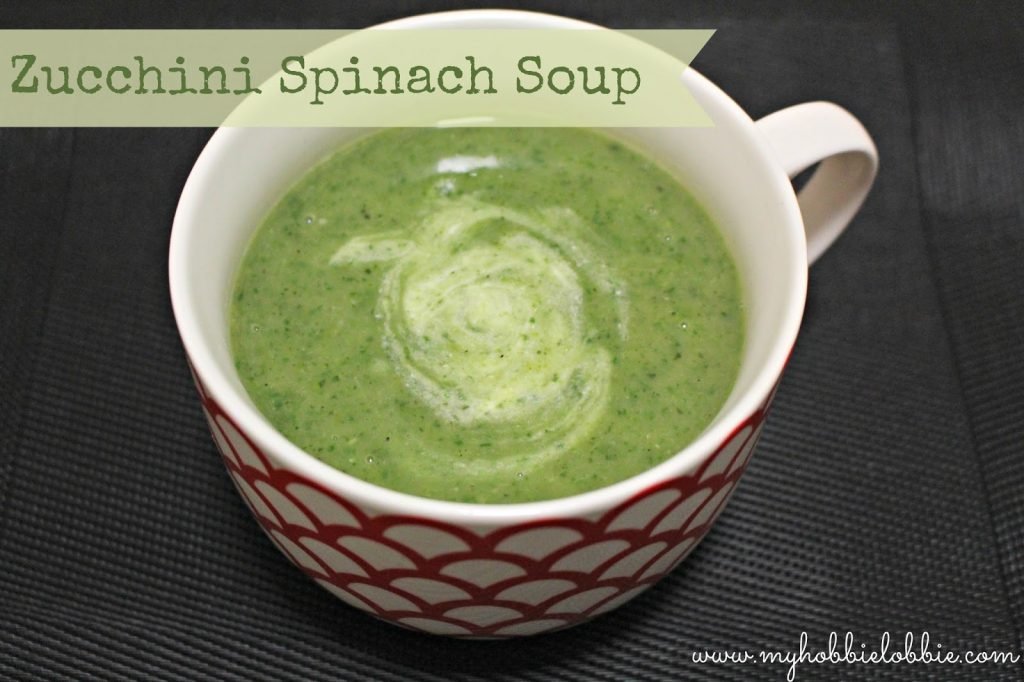 Zucchini Spinach Soup


1 tbsp olive oil
1 leek (white part finely sliced)
3 medium sized zucchini, slice thickly
1 can butter beans
4 cups water
2 cups baby spinach
Salt, to taste
Black pepper powder to taste
A dollop of yogurt
A squeeze of lemon juice
In a pot, heat the olive oil and add the sliced leek. '
Saute till the leek turns golden.
Add the zucchini slices.
Season with salt and pepper and saute till the slices get some colour on them, stirring every now and then.


Add the beans and let it cook for a couple of minutes.
Add the water (you could also use vegetable stock if you like).
Cover the pot and let it come to a boil over high heat.
Lower the heat and let it simmer for about 15 minutes or till the zucchini slices are tender.
Add the baby spinach leaves and stir. When the leaves wilt, you can take the soup off the stovetop.
I used an immersion blender to blitz this into a nice luscious soup. You could also use a blender if you don't have an immersion blender. Irrespective of what gadget you use, please, please, please be cautious while blending the soup, because it is scalding hot.
Serve up hot with a squirt of lemon juice and a little dollop of yogurt.
Enjoy!!!
Have I told you how much I love Indian sweets? Probably not. Well, here goes – I love, love, LOVE Indian sweets. I love Indian sweets even more than I love chocolate some days. I know, shocking!!! Isn't it?
When I lived in Mumbai, I was fortunate enough to have 3 really good Indian sweet shops or Mithaiwalas in the vicinity. Thankfully they weren't too close. I'd literally go nuts whenever I went there. There were so many options to choose from. And I don't to well with too many options. I just cannot pick in those situations. Anyway, my indecisiveness aside, one of my favourite Indian sweets has to be Gulab Jamuns. Gulab Jamuns are beautiful little deep fried dumplings soaked in cardamom infused sugar syrup.
I have made Gulab Jamun at home a few times now. Traditionally, the dumplings are made with milk that is reduced to an almost solid state. This process takes atleast an hour. If you live in India, you should be able to go to the store and buy mava / khoya (the reduced milk solids). If you don't want to spend as much time or money (mava / khoya can be pricey), but still want to sit back and enjoy some home made Gulab Jamun, you have come to the right place. I have found a recipe that will probably take you about half an hour (or thereabouts) to make from start to finish.
If you are someone who has just about started dabbling in Indian food and want to impress your family and friends with some home made Indian dessert, try your hand at this recipe. You will love it and you can count on being hailed a superstar if you bring these to a potluck or any party.
Now, on to the recipe. I cannot take credit for this genious idea. I was watching Better Homes and Gardens one Friday night and I saw Fast Ed make these and I knew then and there that I had to try them out myself. It was too good to be true and the skeptic in me, knew there'd be something different about these. Either the flavour or the texture wouldn't be right. But I was wrong, so very wrong. These Gulab Jamun turned out just like I remember them. Beautiful luscious dumplings, soft and drenched in the infused sugar syrup. These are best enjoyed a little warm but they are pretty darn good served cold as well. Even in the traditional sweet shops in India the sizes of the dumpling vary. I make them a little smaller because they will expand after frying and soaking in the sugar syrup. I prefer them smaller because that way they cook through quickly and they look so dainty served in a little bowl. I have also seen them made oblong in shape. Either way they are like little bites of heaven.
You could dress them up by sprinkling some pistachio dust (grated/ finely chopped pistachio) over them. They don't need it, but it looks prettier. I didn't have any pistachio with me, so I skipped that step.
If you love Gulab Jamun as much as I do, and you've been known to pick up some of the tinned stuff you get in the Indian stores or probably even the ready mixes (like Gits etc.), ditch them. You don't need any of that stuff. Try this recipe out and you'll never go back to those tins and mixes again.
Gulab Jamun
For the sugar syrup –
500g sugar
700ml water
4 pods of cardamom
Open the cardamom pods and separate the seeds and the shells.
Place all the ingredients, including the cardamom seeds and shells in a saucepan and bring to a boil.
Lower the temperature after it comes to a boil and let it simmer for 5 minutes.
Take off the heat and set it aside.
** We usually crush the cardamom seeds to a powder and add that to the syrup. This results in a stronger infusion of flavour. If you haven't tried cardamom before or aren't sure how strong the flavour would be, start off by keeping the seeds whole. The favour infused will be subtle. When serving, make sure you discard the seeds and shells first.
** Start off by making the syrup first because it needs to cool a little before you can add the dumplings. The syrup needs to be warm, not scalding hot when the dumplings are put in.
** Do NOT stir the syrup once the sugar has dissolved. Stirring will crystallise the sugar.
For the dumplings –
220g milk powder
1/2 cup all purpose flour
1/2 tsp baking powder
1 tbsp ghee / clarified butter
A little milk (approximately less than half a cup)
Oil, for deep frying
Heat the oil for deep frying.
Place the milk powder, all purpose flour, baking powder and ghee in a mixing bowl.
Gradually add the milk a little at a time and bind the ingredients to a dough. It is important to not add too much milk while making the dough. Use just enough to bind everything together.
Shape them into little balls. You want the balls to be smaller than what size you want the finished product because they will expand.
This recipe yield 20-22 massive dumplings or if you're after little ones, you can get about 45. I got 47 in all. Make sure the dumplings are evenly sized so that they cook evenly.
Test if the oil is hot by placing a tiny pea sized ball in the oil. If it sizzles and rises to the top you'r oil is hot enough and you can proceed. If it just sits in the oil, you need to heat the oil a little more. If the ball just chars, you're oil is too hot. Take it off the heat for a couple of minutes and then place it back on slightly lower heat and continue.
Have the oil on medium heat.
Carefully, drop the dumplings in the hot oil and fry till golden brown.
Your sugar syrup should have cooled down a little by now, but should still be fairly warm.
Using a slotted spoon, take the dumplings out of the oil and tap off any excess oil and put the dumplings in the sugar syrup straight away. Watch them expand as they soak in the syrup. Gently turn them around in the syrup after about a minute so that is soaks in the syrup on all sides.
Repeat with the rest of the batter. Once the dumpling have soaked in the sugar syrup and expanded a bit, you can carefully take them out into a shallow serving bowl or a baking dish like this one. Pour all the sugar syrup over.
At this stage, you can add the chopped pistachio over.
Sneak a peek at what it looks like on the inside. Soft, melt in your mouth goodness!
Serve warm or cold.
As the person who put made these lovely dumplings, even if you're making this ahead of time, I urge you to sample some of these warm and you'll know what I'm talking about. 🙂
You're probably wondering why I'm posting a soup recipe in the middle of summer. Well, it's like this – we've had about two and a half days of rains now. So everything around is grey, wet and bleak. Don't get me wrong. I love this kind of weather. All you have to do is snuggle up with a nice hot cuppa and a good read or watch the rain – perfect. Also, it means we get to have soup. I love soup but have not made it from scratch often enough. All I can say is, I am done with the instant and frozen, store-bought varieties. I have had very good results the couple of times I've made soup from scratch and come this winter, I hope to make plenty more.
So back to the butternut pumpkin. This is the second time I'm making a butternut pumpkin soup. The last time it turned out really bland and I wasn't overly impressed, which is why it hasn't made an appearance on the blog. This time around, I decided I wanted some bold, punchy flavours so I looked around and took a few ideas from around the web. It turned out this recipe was easy, simple to make and has big, bold flavours. I remember thinking the last time, that a little ginger would make this soup so much better and I was right. This soup just warms the cockles of your heart.
I took the idea of topping it up with blue cheese from a recipe I found online. Please do yourself a favour and add the blue cheese. The blue cheese elevates this soup from being a nice soup to being a fantastic one.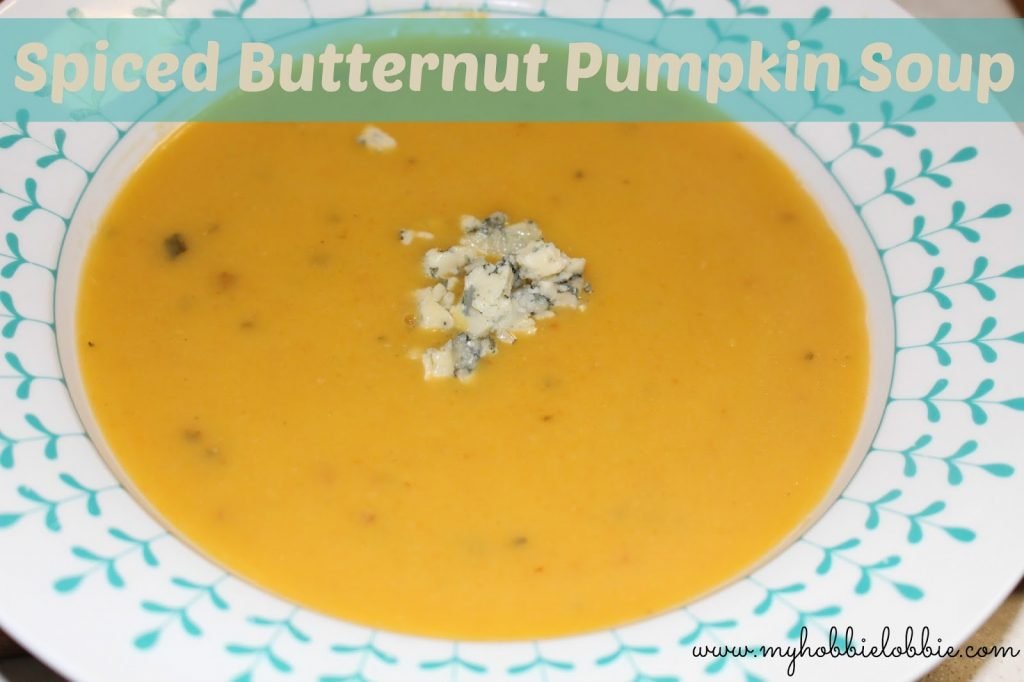 Spiced Butternut Pumpkin Soup


700g butternut pumpkin, peeled and chopped
1 onion, chopped
2 carrots, chopped
1 stick celery, chopped
2 large cloves of garlic, finely chopped
1/2 tsp grated ginger
Salt, to taste
Freshly ground black pepper, to taste
1/2 – 1 tsp red chilly flakes, or to taste (optional)
1/2 tsp chives
2 tbsp olive oil
1 litre boiling water
1/3 cup cream cheese
1/4 cup freshly grated parmesan cheese
Blue cheese, to crumble over
In a large pot, over medium heat, pour the olive oil.
Add the garlic and when it is fragrant, add the onion and and saute over medium heat, till softened and translucent. Add the ginger and continue sauteing.
Once the ginger has released its aromas, add the celery, carrot and pumpkin.
Sprinkle the salt, pepper and red chilly flakes and stir well.
Let the veggies, saute for about five minutes, stirring to make sure it doesn't burn.
Add one litre of recently boiled water. (You could add cold water too, but that will increase cooking time. Using hot water results in the soup simmering almost immediately.)
Cover and simmer till the veggies are cooked and tender.
When the vegetables are fork tender, take off the heat.
Using an immersion blender, blitz till you are left with a smooth puree. Add the cream cheese and blitz again.
Add the parmesan cheese and chives and stir through.
Serve hot with a little blue cheese crumbled over.
Enjoy!
One of my favourite seasons is Fall and stemming from that, I love all things Fall – the days getting cooler, the leaves turning colour, apples, pumpkins, Halloween, love it all. You see, right upto this time, I'd only every used a pumpkin to make a savoury side dish, I'd never used it for anything sweet. For years now, I've sat back and watched so very many blog posts from all across the globe using pumpkins for desserts and sweet bakes. I've always been curious to see what that would turn out like but strangely enough, not so curious as to actually try it out myself. Go figure, right! A while ago, while pumpkins were at the peak of their season, I bought myself a little Kent pumpkin to finally use in a sweet bake. I hadn't quite decided what I was going to make. I knew there would be plenty of inspiration on the internet. (Gosh, I really can't imagine life without the internet anymore – can anyone else relate to this or is that just me?) Anyway, so after staring at my pumpkin for a few days as it sat on the kitchen counter I came across this recipe for pumpkin muffins.
It was the perfect choice for me. I got to use the pumpkin in a sweet bake. And it made for the perfect breakfast on the go option, since I start work at 7 am now. (Gasp!) It keeps really well in the fridge too. This batch actually kept for a little over a week. All I did was take out the one or two we needed at the time and popped in the microwave for a few seconds to get the chill off and I ended up with a nice, warm, moist, flavourful muffin. I was more than pleased with this recipe and I can safely say I'll be trying my hand at some more sweet recipes with pumpkin in the future. This recipe makes quite a few muffins. I made some in the muffin moulds and the rest I poured into a bundt pan and got a little cake out of it.
You will notice that the muffins look a little different. Well, I forgot to add stir in the fruit and nuts before pouring the batter in the pan so I just added a few to each muffic. The ones on top with the raisins and nuts visible clearly are those ones. That was the time I added the fruit and nuts to the batter and the muffins on the lowest row are made from that batter. I think I like the ones where I can see the raisins clearly better visually. So I've decided the next time I make these, I will stir in most of the fruit and nuts but reserve a few to place over each unbaked muffin so the look like they're studded with little jewels. 🙂
The original recipe calls for canned pumpkin. I can't find canned pumpkin at the local supermarket, so I used a whole Kent pumpkin and made my own puree.
Country Pumpkin Muffins
Adapted from: Taste of Home
Makes about 26-28 muffins
(I got one dozen muffins and a little bundt cake)
2 cups sugar
1/2 cup vegetable oil
3 eggs
1 1/2 cups pumpkin puree
1/2 cup water
3 cups all purpose flour
1 1/2 tsp baking powder
1 tsp baking soda
1/2 tsp ground cloves
3/4 tsp ground cinnamon
1/2 tsp ground nutmeg
1 tsp salt
1 raisins (the original recipe calls for 1 1/2 cup)
1 cup chopped pecans (the original recipe uses walnuts but I didn't have any)
To make the pumpkin puree –
Cut the pumkin in quarters / wedges.
Don't worry about the skin. Leave it on for now. Its easier to take it off after baking.
Take out the seeds and membrane. You can roast the seeds to snack on. Discard the membrane.
Place the pumpkin skin side down on a lined baking tray and baked it in the oven at 180ºC for about 30-40 minutes or till the flesh of the pumpkin is tender. Test with a fork or a knife.
Let it cool. The skin just peels off. You may need to peel the skin off gently with a knife, but it comes off pretty easily.
Mash the flesh using a potato masher or you could puree it in a food processor, if you like. I just used the potato masher.
I used a smallish pumpkin and ended up using all the puree for this recipe, but any excess you may have can be frozen to use later.
To make the muffins –
Preheat the oven to 200ºC.
In a large bowl, mix the sugar, oil, eggs, pumpkin puree and water till combined.
In another bowl combine the dry ingredients, the flour, baking powder, baking soda, spice powders and salt.
Add the dry ingredients to the pumpkin puree mix and blend well. Don't overmix.
Fold in the raisins and chopped nuts.
Spoon batter into a lined muffin pan.

Without the raisins & nuts —- with them added on top — a combination of both
Bake for about 15 minutes or till done.
If you are baking the batter as a larger cake, it will take longer. My bundt cake baked for about 50 minutes.
So unlike most of you reading this post now, we're right in the middle of winter, here in Australia. Not just that, we're in the middle of a polar vortex at the moment. They say this is the coldest its been in the last 20-30 years … brrr!!! A nice warm, hearty bowl of soup hits the spot at a time like this. I've always wanted to try some split pea and ham soup. This recent weather seemed like the perfect opportunity.
After looking around the internet for a recipe, I found one I was happy with. I picked up all the ingredients I needed and got to work. I was happy with the fact that I found a pressure cooker recipe, which meant that I could sit down to a nice bowl of soup in a fraction of the time. Since its the middle of the year, I didn't have any leftover ham. But for those of you that bake a leg of ham around the holidays, using your leftovers would be perfect for this recipe. I bought some smoked ham meat from the supermarket and used it. When I think back, I think I'd be happy even without the ham in the soup. The split pea soup is so flavourful, a vegetarian version would be really delicious as well. All this without the fuss of having to spend hours developing flavour.
I looked at this recipe and this one to get an idea and then from there on I mostly winged it. So here's my homemade almost homemade split pea and ham soup. If you baked your own ham and made your own stock, you've got yourself a made from scratch Split Pea & Ham Soup. 🙂
Homemade Split Pea & Ham Soup


1 onion, finely diced
2 cloves garlic, finely chopped
3 carrots, finely chopped
3 sticks celery, finely chopped
1 bay leaf
1 tsp olive oil
1 lb dry split peas
1 stock cube (chicken, beef, veg – its upto you)
6 cups water
200-250g ham, diced
Rinse the peas under cold water.
Heat oil in a pressure cooker under medium heat.
Add the bay leaf and onion and saute till onions soften up.
Add the garlic, carrots and celery.
Saute for 4-5 minutes.
Add the peas, crumbled cube and water.
Cover and bring to a boil. After it reaches pressure / till the first whistle, simmer on low heat for about 20 minutes.
Take off the heat and let the cooker release pressure on its own.
When it is safe to open, adjust liquid by adding water if needed.
Adjust salt and freshly cracked pepper if need.
Add the ham, remove the bay leaf and let the meat heat through.
If the soup feels like it needs more cooking, cook till it reaches the desired thickness.
Serve hot.
I crack some black pepper over it after serving it up and
Notes:
** You could use stock instead of the cube and water if you have any at hand.
** This soup keeps well in the fridge. My pot lasted us about 10 days. I just took out small portions and heated it up as I needed it.
** I found that the soup thickened after refrigeration. So each time I need to heat up a portion, I added some hot water to the portion I was heating up, to reach the consistency I like and then heated it through.