I feel like somewhat of a broken record saying this, but nevertheless, I will. Breakfast is the most important meal of the day. And I strongly believe in that.
In the past, I've been a bit here and there with breakfast. Growing up, we were almost always given a chapati or a paratha for breakfast. As a kid, it wasn't my most favorite thing in the world, but I always ate what was put in front of me. After moving out of my parents house, breakfast took a back seat. We were always in a rush to get out of the house to go to work and the first thing that got neglected was breakfast. A wholesome meal was often replaced with a slice of toast and coffee. But eventually, we got so fed up of that slice of toast, I started looking for ways to spice up brekkie, so to say. I did a lot of experimenting and also went back to some old favorites like this Upma that my mother made for us every now and then.
Moving forward to current day, I'm happy to report that in our house, breakfast is now a more wholesome meal. So, if you'd like to get back to wholesome breakfasts, the way it is meant to be, you've come to the right place. Today, I'm going to share with you our family recipe for Upma. Upma, for those who are unfamiliar with the term, is a Masala Semolina dish. Only recently, I learnt that there's actually a different name for it in Goa. Goans refer to this as Tikhat Shiro (translates to Spicy Semolina). It is quick, easy, wholesome and delicious. So I'll stop yapping here and take you straight to the recipe.
Upma
Yields: 2 adult portions
1/2 cup coarse semolina / rava
1 tbsp oil
1/4 tsp mustard seeds
1/4 tsp cumin seeds
5-6 curry leaves
2 chillies, cut into large pieces
1 small onion, finely chopped
1/2 inch ginger, cut into 2 pieces
1/8 tsp turmeric powder
1 small tomato (or 1/3 – 1/2 large), chopped
1/4 cup green peas
Salt, to taste
1 1/2 cup of water from a recently boiled kettle (hot water)
Dry roast the semolina on medium heat, till you get a nutty aroma and it only just starts changing color. Take it off the pan and place in a bowl and set aside.
Heat the oil in the pan.
Add the mustard seeds and let them splutter.
Add the cumin seeds and soon after add the curry leaves and chilly pieces to the pan. Saute for a few seconds.
Next, add the chopped onion and saute. When the onion has softened, add the ginger and stir well to fry off.
Once the onion has started to develop a little color on the edges, add the turmeric powder and stir well.
Add in the roasted semolina. Stir well to incorporate and saute for 20-30 seconds.
Now add in the hot water. Carefully stir the mix.
Add salt to taste, chopped tomatoes and green peas. Stir well to combine.
Stirring continuously, cook the semolina till all the moisture has been absorbed and you are left with nice fluffy grains. This usually takes me around 2 minutes.
Take the pan off the heat, cover and let it rest for a couple of minutes.
Serve hot.
Enjoy!
Breakfast is the most important meal of the day. We've all heard that. However, very often, its one of the most rushed through or even ignored meal of the day. A lot of times, this happens because of our crazy busy schedules or we fall into a rut and breakfast gets boring. I mean, as much as I like toast, I really can't eat it every single day. Moreover, I don't think toast by itself is doing me any good.
In our house, we tend to eat oats for breakfast very often. Sometimes, this can prove difficult, because we're running late or its summertime and I can't bear the thought of turning the gas on to make us porridge. Not to mention, eating hot porridge on a hot day, only makes things hotter. So once I tried refrigerated overnight oats, I was really happy. If you've never tried overnight oats, you really should. Oats are healthy and when combined with some chia seeds, fresh fruit and nuts, it is a really healthy breakfast. The best part is, this is a make ahead recipe and requires no cooking. Which can be a blessing during hot summers. This is a versatile recipe and you can add your favorite fruit and nuts to top it off. So I hope you try this out as a breakfast option and let me know what you think.
Vanilla Overnight Oats
(Makes 1 portion)
1/3 cup rolled oats
1 tsp chia seeds
1/4 – 1/2 vanilla extract
Maple syrup, to taste
2/3 cup almond milk (you can use soy milk or any other milk of your choice)
Fresh fruit and nuts of your choice (I used some strawberries, grapes and slivered almonds)
In a mason jar, add all the ingredients except the fresh fruit and nuts that you're using to top off the oatmeal with.
Cover the jar and refrigerate overnight. (You can make a larger batch and use it through the week)
In the morning, add the fresh fruit and nuts of your choice. Serve up.
Enjoy!
For most of us, the working week always flies by. There's little or no time for an elaborate breakfast. And in our house, its pretty much the same. But come the weekend, there's a little more time. You can sleep in, have a lazy breakfast or brunch before you start with your activities for the day.
Breakfast happens to be one of my favorite meals of the day. Well, a weekend breakfast, that is. Its the perfect time to whip up a batch of pancakes or French Toast or muffins. And if you're the mood for something savory, then eggs and toast with the optional bacon and sausages is a great option. If you're in a slightly more adventurous mood, then only a masala omelette will do. We love a good omelette. It needs to have nice bold flavors, a little spice and a little bite as well. We love it so much, that it sometimes makes an appearance as "breakfast for dinner". Anyone else like "breakfast for dinner" as much as I do? I cannot believe that I haven't shared this recipe with you before. It is super simple and so good. We usually serve it with some plain / buttered toast or some hot chapatis. They also make a fantastic sandwich when served between 2 slices of buttered bread. Try it out this weekend and let me know what you think of it.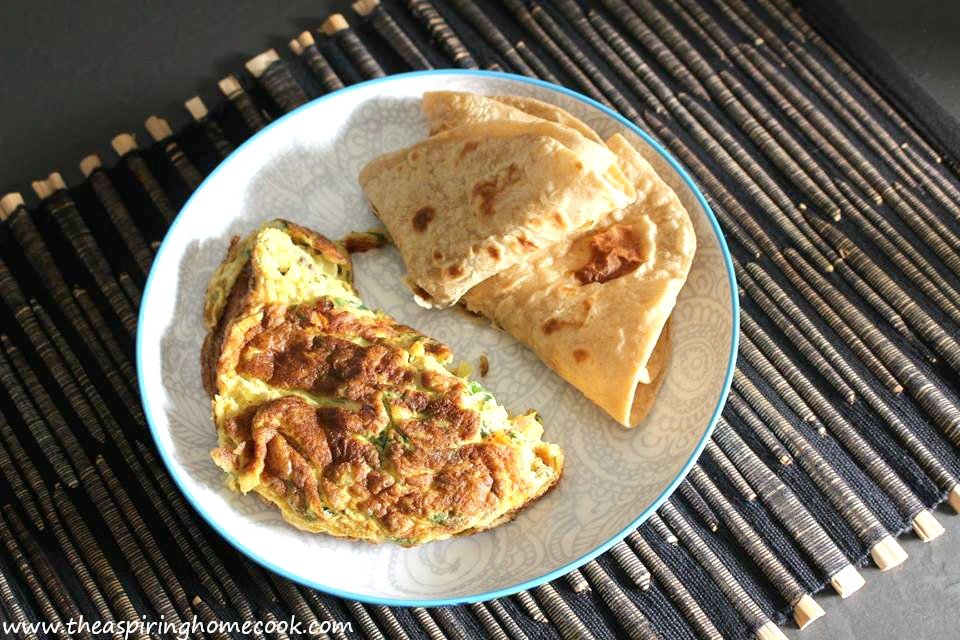 Masala Omelette
Yields 1 omelette
2 eggs
2 tbsp finely chopped onions
2 tbsp finely chopped tomatoes
1-2 tsp finely chopped coriander leaves and stalks
1/2 birdseye chilly, finely chopped
Salt, to taste
Freshly cracked black pepper, to taste
A good pinch of turmeric powder
1 tsp oil
Add the onions, tomatoes, chilly and coriander to a bowl.
Add the salt, pepper and turmeric powder to the bowl and mix everything thoroughly.
Heat a pan over medium heat.
Drizzle the oil in the pan. When the oil has heated, pour the omelette mix into the pan.
Cook it over medium heat till the bottom side has set and turned a light brown.
Carefully flip over and cook on the other side as well.
Serve hot.
Enjoy!
You can watch how I make it here –
This is a recipe I came across by pure chance. Last week I bought a big basket of fresh ricotta, not for the ricotta, but for the basket. Has anyone else done something as crazy as that? I needed the basket for a project I'm working on and if all goes well, I will share that with you. But I must admit, I was quite stoked to have the fresh ricotta to play with. And play I did. This is one of the things I made using that ricotta. I made a batch of these amazing Savory Ricotta Scones. I used a bunch of dried herbs I had in the kitchen, but I can only imagine how much more amazing these would taste with fresh herbs. One of the things I want to do, is grow my own herbs. And if I have any luck with that, I will make this recipe using fresh herbs.
Have you tried making scones before? I've tried these Chocolate Chip Banana Scones, Double Chocolate Scones and some Classic Scones – all sweet ones, out of which my favorite one is the Chocolate Chip Banana Scone. That being said, I do want to try my hand at a few more recipes. So this time, I decided to try out a savory scone and when I saw this recipe for Savory Ricotta Scones, I was thrilled. It would be the perfect way to build on my scones list as well as use up that amazing Ricotta.
The recipe itself was very simple and the scones turned out really well. They were tender and delicate and beautifully flavored. They would pair fantastically with a soup. I want to try these with a roasted tomato soup when the weather cools down. So whether or not you've tried scones before, I do hope you try these out. Serve them with a soup, or for brunch or with some tea and let me know what you think of them.
I've made a little video to help you through the process –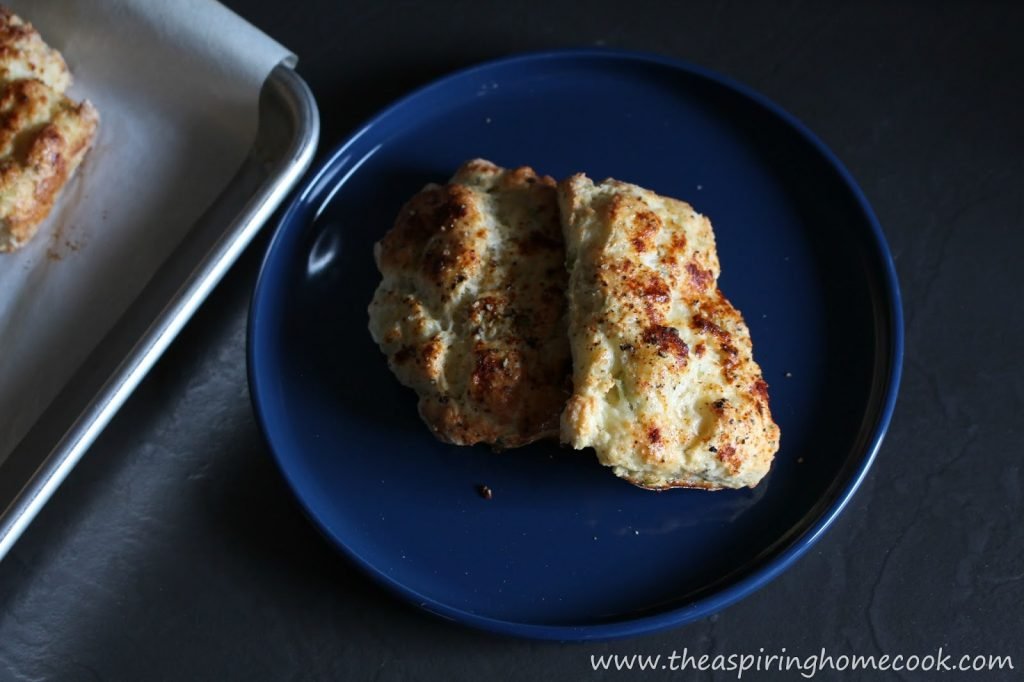 Savory Ricotta Scones
Adapted from: Love Life and Good Food
2 cups all-purpose flour
1 tbsp baking powder
2 tsp sugar
1/2 tsp salt
5 tbsp chilled butter
1/2 cup sliced spring onions
1/2 tsp dried mixed herbs
1/4 tsp dried parsley
1/8 tsp dried thyme
1 cup ricotta cheese
2/3 cup milk
1 egg
Sea Salt
Black pepper, freshly cracked, to taste
Smoked paprika, to sprinkle over
Preheat the oven to 220ºC.
Line a baking tray with some parchment / baking paper and lightly grease the paper.
Whisk the flour, baking powder, sugar and salt in a large bowl.
Cut the butter through the flour mix or grate it and mix it till you get a coarse crumb texture.
Add the spring onions and herbs. Stir through.
Add the Ricotta cheese and milk and stir through just until combined.
Turn out on a lightly floured surface. Lightly bring the dough together. Do not knead.
Pat the dough into a rectangle. Dip the cutter or knife in some flour and cut into 10-12 equal pieces.
Place on the parchment lined baking tray.
In a small bowl, whisk the egg with 1 tsp water. Use a silicone / pastry brush and brush the egg white on the scones. Sprinkle some salt, freshly cracked black pepper and smoked paprika over the tops of the scones.
Bake for 20 minutes.
Serve while still warm with a little butter.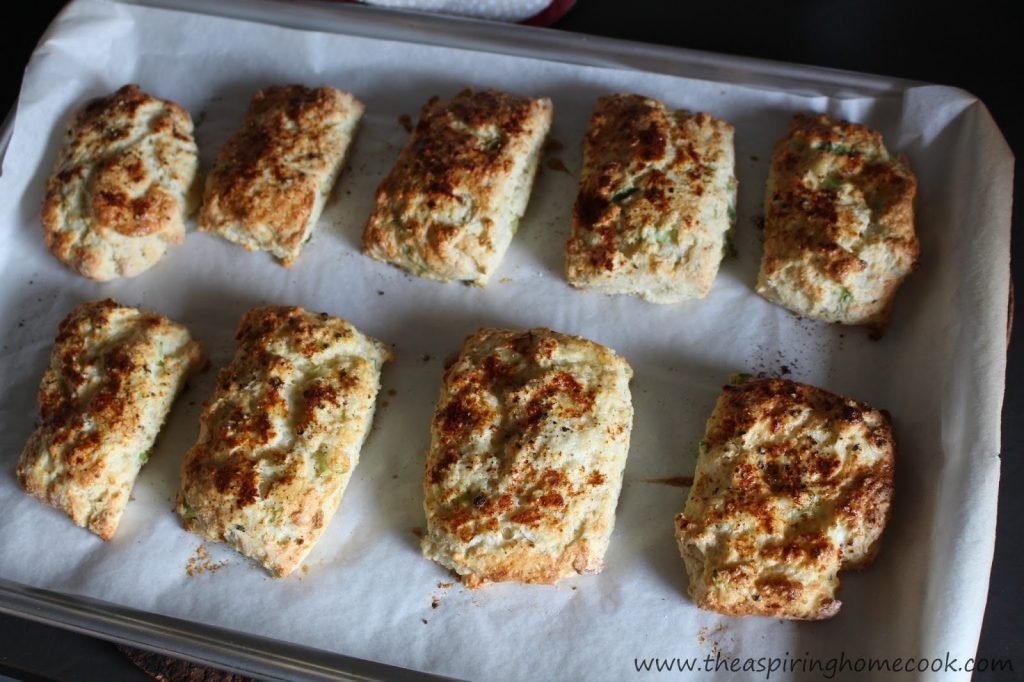 If you're making these in advance or if you have leftovers, they reheat well either in a covered pan on low heat or wrap them in foil and warm in a 180ºC oven for about 5-10 minutes.
I have to admit, I joined the Avocado Toast movement much later than I should have. No, no, I didn't wait till yesterday. I've had a few orders of these at cafes around the city. And finally, I got around to trying them out at home.
I don't know if I've mentioned it here before, but I'm totally smitten with avocado. I can eat them plain, maybe topped with a tiny sprinkling of salt and a squeeze of lime. I love the way an avocado lends itself to so many recipes and uses. It is creamy, picks up flavors so well and can cool down an otherwise spiced up meal. I have tried a
chunky guacamole
before and I can just eat that stuff by the spoonful. Throw in a few tortilla chips and I can have a party for one (**wink, wink). I have also attempted a quick and easy
Chocolate Avocado Mousse
– so very delicious and it makes a perfect eggless mousse option. I can't wait to try out many more recipes using avocado. What is your favorite way to enjoy an avocado? Leave me a comment and let me know. I'd love to try it out too.
Now, onto the Avocado toast I made for breakfast over the weekend. Since this was a first attempt for me, I decided to keep it simple. I've seen some pretty extravagant avocado toast options around and maybe someday I will try them out too. But there's nothing wrong with simple. And simple and yummy makes it even better. So if you love ordering avocado toast at a cafe, I urge you to get into the kitchen and try whipping some up yourself. You will save yourself a heap of cash (which means more avocado for you.) The Lord knows these little green gems cost an arm. Speaking of which, if you find yourself around a Harris Farm Markets outlet, check out their Imperfect Picks range. They have mini avocados for $7.99 a kilo, when I saw them last. A lot of fruit and veg is discarded because of ridiculous aesthetic standards maintained by large supermarket chains and anything that doesn't meet those specifications usually ends up in a landfill. These minis are so tasty but would typically be discarded because of their size. And how wrong is that. I love the Imperfect Picks range and urge you to support them too if you have the option.
Back to the avocado toast. I made two options for hubby and me. One savory and one sweet. It made for a very satisfying breakfast and couldn't have been simpler to put together. Our savory one had a fried egg on top and our sweet one had some banana and maple syrup. There are no strict quantities for this recipe, so feel free to have some fun with it.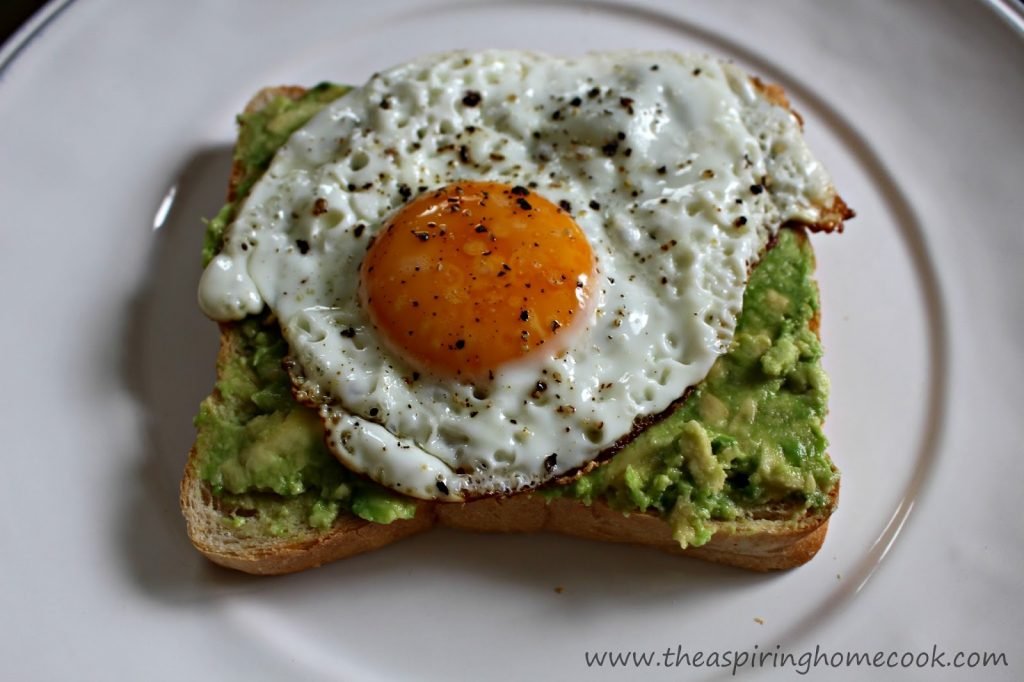 Avocado Toast with Egg
1 slice of bread, toasted to your liking
1/2 small avocado or 1/4 large
1 egg, fried to your liking (you could also use a poached or a boiled egg, if you prefer)
Salt, to taste
Freshly cracked black pepper, to taste
Cut the avocado in half and discard the seed.
Scoop out the flesh and roughly mash it up with a fork.
Spread the avocado over the toast.
Top that with an egg. I used a fried egg, sunny side up.
Sprinkle a little salt and pepper on top.
Enjoy!!!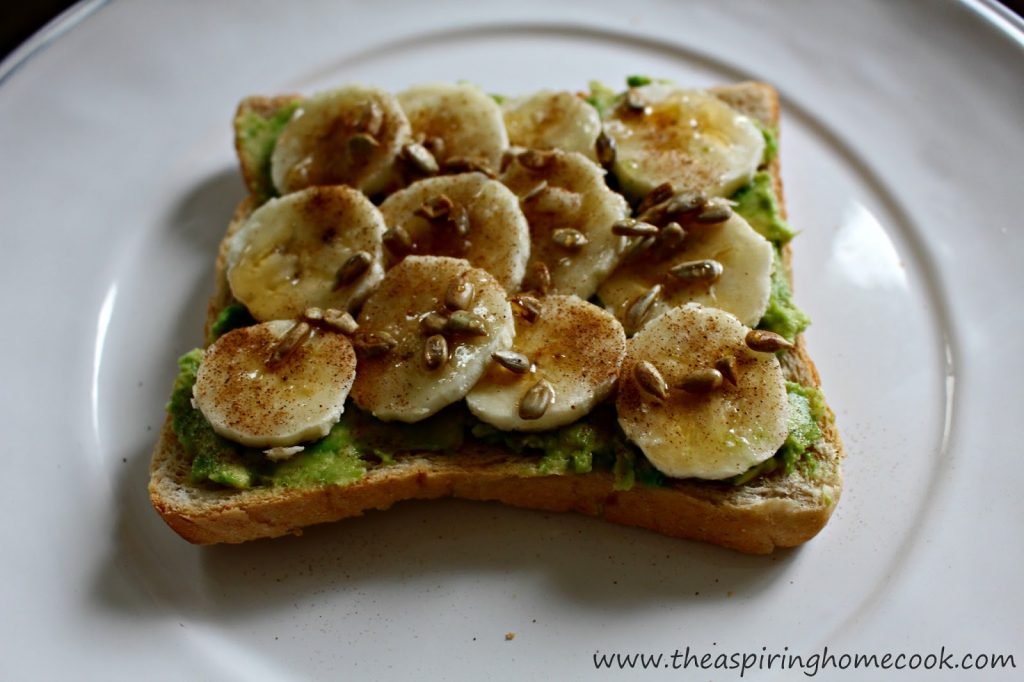 Avocado Toast with Banana, Maple Syrup and Sunflower Seeds
1 slice of bread, toasted to your liking
1/2 small avocado or 1/4 large
1/2 banana, sliced
1 tbsp sunflower seeds
Maple syrup, to drizzle over, to taste
Cinnamon powder
Cut the avocado in half and discard the seed.
Scoop out the flesh and roughly mash it up with a fork.
Spread the avocado over the toast.
Top that with the banana slices, a sprinkle of cinnamon powder, the sunflower seeds and lastly, a drizzle of maple syrup.
Enjoy!!!
Note: I haven't been compensated by Harris Farm Markets for this post. The opinions stated here are my own and I've shared it with you because I strongly believe we can cut down waste as a society by just being more aware.
Ever so often, life gets busy for everyone. When that happens in our home, I love having quick and easy recipes that I can fall back on even if I haven't had the time to cook dinner. My tolerance for take away and ready meals has steadily fallen in the last few years to the point where its non existent now. I do prefer home cooked food, even if its something as simple as breakfast for dinner.
Actually, I really like breakfast for dinner. This breakfast hash is a nice way to fancy things up. What I love about this hash is its made from scratch. That being said, it comes together so quick and easy and all in one pan. If you're using an oven proof skillet, you can crack the eggs right in and let them cook off in the oven. I didn't want to switch the oven on, so I used a second pan to fry the eggs. You could use poached eggs or scambled eggs too. This hash obviously uses potato. The addition of red peppers and kale makes it so colorful, not to mention, delicious. And kale in a recipe must definitely make it healthier.
So if you're ever in a situation where you need a meal on the table in under 30 minutes or if you feel like a fancier breakfast, or for that matter, breakfast for dinner option, try this hash out. You'll love it. We certainly did. And leftovers keep quite well, refrigerated. Simple heat it up the next day and serve with an egg, if desired.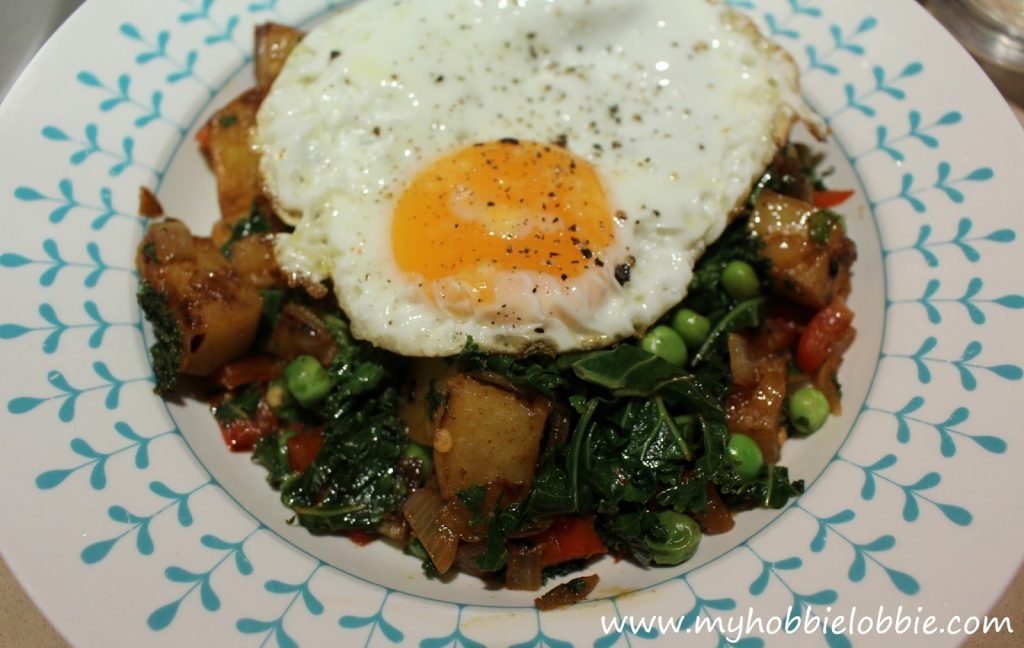 Breakfast Hash with Potatoes, Kale, Peppers and Green Peas


2 potatoes, peeled and diced (the smaller the cubes, the quicker it will cook)
1 medium onion, chopped
1 red pepper, chopped
2 cups kale, roughly chopped
1 cup green peas
1 tbsp olive oil
1/2 tsp smoked paprika
1/2 tsp cumin powder
Salt, to taste
Freshly cracked black pepper, to taste
1 egg per serving (You could use 2 eggs per serve, if desired)
Heat the oil in a pan over medium heat.
Add the potato to the pan and let it cook, stir every now and then to ensure even cooking and avoid any burning.
When its half cooked, add the onion and red pepper.
Saute and let the onion and pepper soften.
Add the paprika, cumin, salt and pepper.
Add the green peas and the chopped kale.
Let it cook for about a minute till the kale and the peas have warmed through.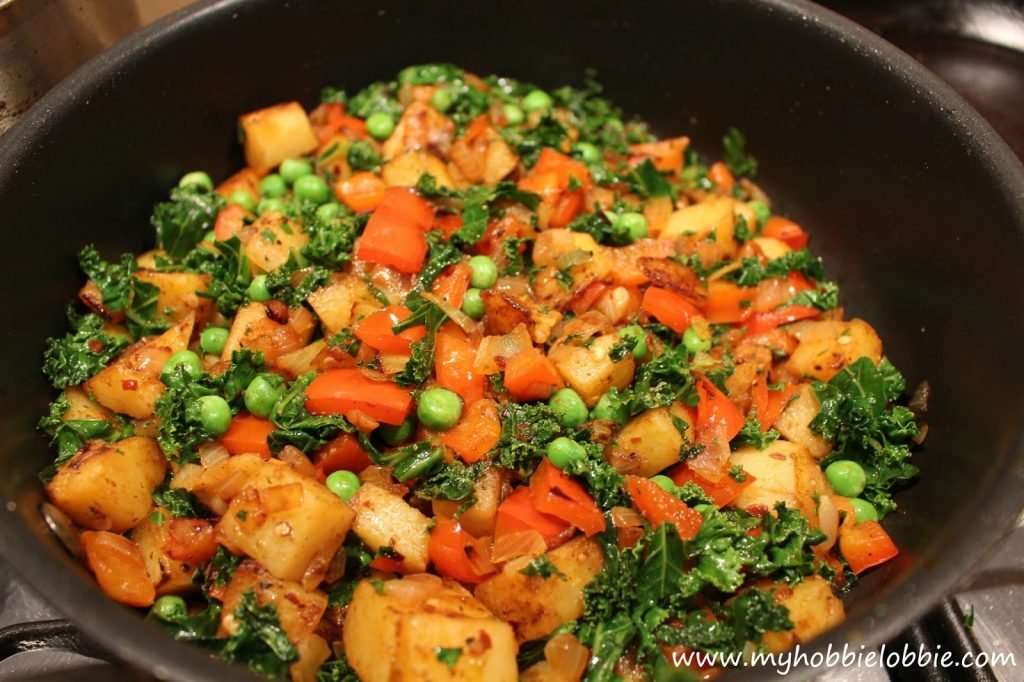 Serve hot, topped with an egg (or two) cooked to your liking.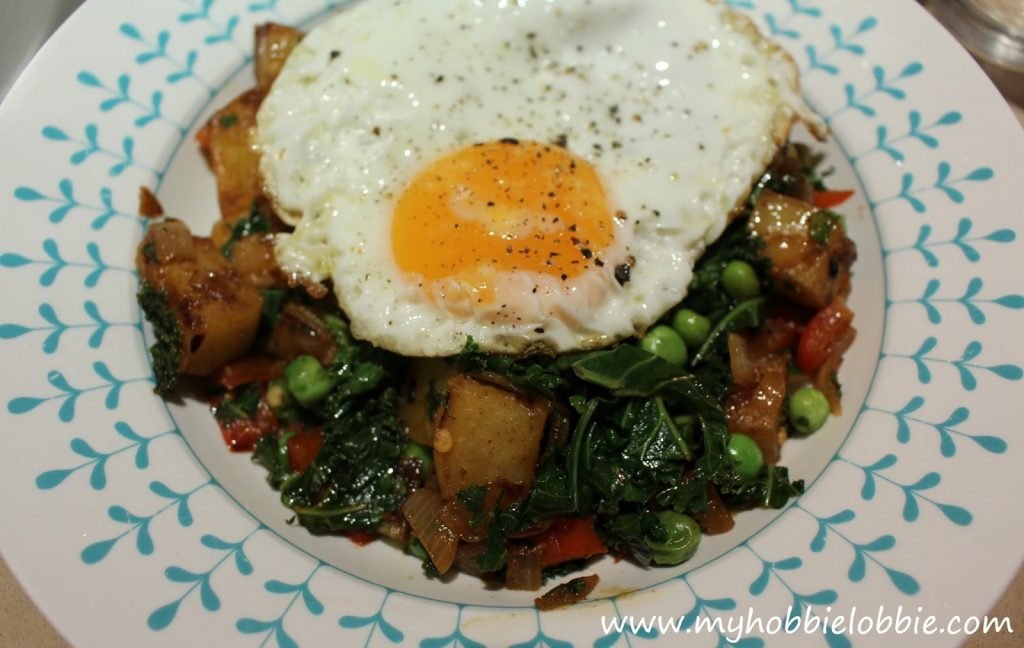 So baked oatmeal is apparently a thing, and I didn't know until now. I'm wondering where I've been all this while. In a few short months, I've stumbled upon Smoothie Bowls and now Baked Oatmeal. We love the smoothie bowls. They were perfect for summer and we've had a long, hot one. Its not over yet, but the weather has started cooling down a tiny bit and I am looking forward to winter. Enter this awesome Baked Oatmeal.
In our house, we love oatmeal for breakfast. It does take a little more hands-on time to whip up in the morning compared to making toast. However, we all know that oatmeal is healthier for you than bread. And overnight refrigerator oatmeal is perfect for summer, but I prefer a warm breakfast when the weather is cooler. And how good would it be if someone could make me this warm breakfast in the morning while I got an extra ten minutes of sleep. That ain't happening so this baked oatmeal is the next best thing. You make a batch up one evening and it reheats beautifully for breakfast the next morning. The flavor options that I found on the internet are endless. This breakfast option is an absolute winner in my book and I know I'll be making it very often as the weather cools down.
Making baked oatmeal couldn't be simpler. Whisk the wet ingredients. Stir in the oats and bake. An added advantage is that this is clean eating at its best. No refined sugars in this breakfast option. Its like eating banana bread for breakfast, without the guilt. You use the oats instead of flour and maple syrup instead of sugar. Throw in some coconut oil and pecan nuts and you have taken this humble oatmeal breakfast up a couple of notches nutritionally. Don't take my word for it. Make a batch today and you'll have a household that actually enjoys oatmeal for breakfast.


Banana Bread Baked Oatmeal


2 large ripe bananas (or 3 small)
3/4 cup milk, at room temperature
2 eggs, at room temperature
1/4 cup coconut oil, melted and cooled
1/4 cup maple syrup
1 1/2 tsp vanilla extract
1/2 cup chopped pecans (additional for garnish)
2 cups rolled oats
1 1/2 tsp cinnamon powder
1/4 tsp salt
Preheat oven to 180ºC.
Grease an 8×8 baking dish and set aside.
Spread the chopped pecans on another ungreased baking tray and let them roast for 4-6 minutes or till they are toasted light golden brown. Cool.
In a large mixing bowl, mash the bananas.
Add the milk, eggs, coconut oil, maple syrup and vanilla to the mashed bananas and mix well till smooth.
Add the oats, salt, cinnamon powder and toasted pecans and stir till combined.
Pour into the greased baking dish and bake for 20-25 minutes or until set and golden brown on top.
Let it cool for a while (around 5 minutes) in the baking dish itself before cutting and serving.
Serve warm by itself or with some greek yogurt or milk, as desired. You could top it off with some fresh fruit and nuts as well.
If you're making this ahead of time, refrigerate and cut and reheat in the microwave as needed.
It's been a while since I've posted anything on the blog and I feel really bad about it. I've just not been able to find my cooking / baking mojo. See, we've had a long, hot summer; really long and really hot. I'm more of a winter person than a summer so I'm all ready for winter now. Unfortunately for us, we haven't had functional aircon for about four weeks now. So you can see why I haven't really been too active on here. I've had to figure out ways to deal with the insane heat levels that heat wave after heat wave brings to Sydney this year.
I was glad to have tried out smoothie bowls recently. They were my saving grace. Healthy, full of flavor and their amazing 'cool you down from the inside out' quality made them a regular occurrence in my kitchen. The first one I tried was this Mango Smoothie Bowl and this blueberry version was really delicious too. I had some blueberries that I should have finished sooner, but I didn't want to waste them so they went right in the bowl for some color. If you love blueberries, this treat is a must try if you are looking for a healthy summer cooler.
A few ingredients and a minute in the blender and a bowl is all you need to whip up this bowl of deliciousness, so I do hope you try it out.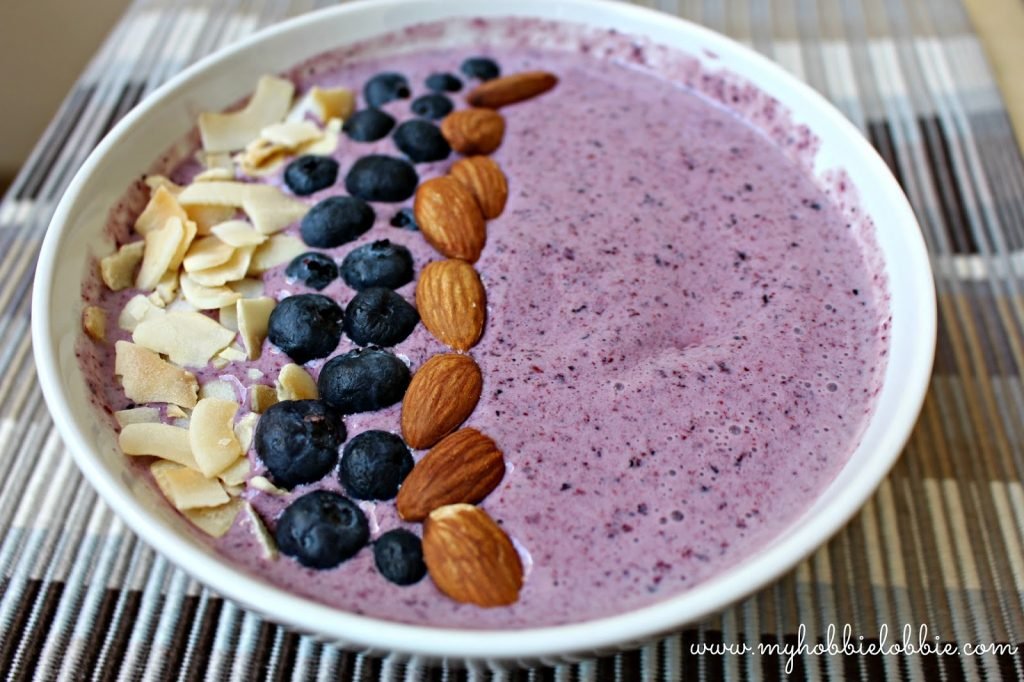 Blueberry Smoothie Bowl


1 ripe banana, frozen
1 cup frozen blueberries
1 cup milk
4 tbsp Greek yogurt
For the topping –
Sweetened coconut chips
Fresh blueberries
Almonds
Place the banana, blueberries, milk and yogurt in a blender and blitz on slow at first.
Scrape down the sides and blitz till you are left with a soft serve sort of consistency.
Pour this mix into a bowl.
Top with some sweetened coconut chips, fresh blueberries and almonds.
Serve chilled.
A couple of days ago, I came across something I instantly new was going to be a wonderful find. Now I am guilty of constantly looking for and saving interesting recipes that I want to try out. I have a list of bookmarks that grows every minute and a pinterest account that will prove my point. But this little treat flew straight to the top of that list. Turns out that smoothie bowls have been very popular for a while now. I was probably stuck under a rock for a really, really long time given that I hadn't seen these beauties before. But when I saw the first one, I had to look them up. There are so many combinations possible that it blew my mind. A smoothie bowl is bowlful of refreshing goodness with a choice of flavors and toppings only limited by your imagination. These smoothie bowls are like a cross between an ice cream, a soft serve, a frozen yogurt and a smoothie without the bad stuff. It is great for summer. And seeing how hot a summer it is turning out to be, these are going to be perfect for breakfast, Or once you see how good these are, a smaller portion as a snack.
Since this is my first smoothie bowl, I kept it simple. It is so easy to make and so refreshingly delicious, I know I'm going to be making more than a few more of these All you need is the fruit of your choice, milk and a little yogurt. Onto the toppings. You could use your choice of cereal, granola, nuts, seeds, chocolate chips pretty much whatever you feel like.
So go ahead and give these bowls a try. They will be a hard summer option to beat. You know you'll be seeing a few more of these. Oh, have I mentioned these just take a couple of minutes to make. Its a winner all the way.
Also, I have news. I have finally been bitten by the Instagram bug. I hope you can join me there. My Instagram username is @TheAspiringHomeCook. You can find the recipes from this blog making an appearance there at #theaspiringhomecook. Have you tried a recipe from this site. Post a picture on Instagram with #theaspiringhomecook and tag me in the picture to be featured in my feed.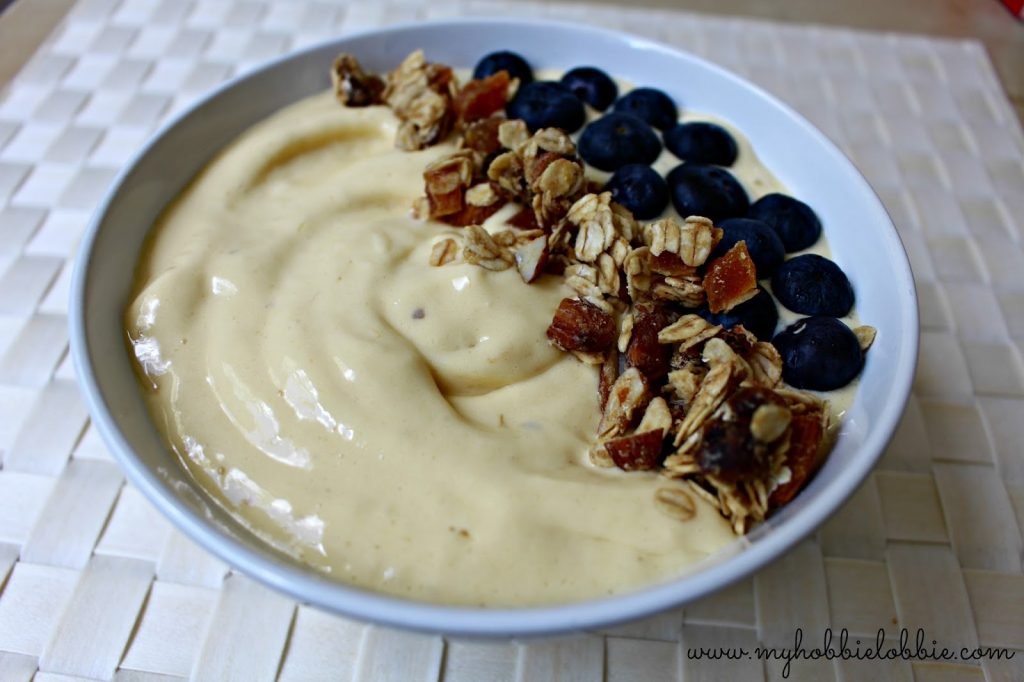 Mango Smoothie Bowl
Serves 1-2
1 cup frozen mango cubes
1 banana, frozen
1 cup milk
4 tbsp Greek yogurt
For the toppings –
A few fresh blueberries
Peanut butter granola
Place the mango, banana, milk and yogurt in a blender and blitz on slow at first.
Scrape down the sides and blitz till you are left with a soft serve consistency.
Pour the smoothie into a bowl.
Top off with fresh blueberries and some granola.
Serve chilled.
I love bananas!!! I don't know if I've shared that with you before, but I really do love them. Infact, we almost always have bananas in the house. Up until now, every time I was left with a couple of over ripe bananas, I would either make some
banana bread
or banana fritters (I must share that with you sometime soon). And trust me, I love both the banana bread and fritters. But sometimes its nice to switch it up.
Last week I had 2 over ripe bananas and its been so hot, I had no intention of switching the oven on to make the banana bread. I kept putting off the tea-time fritters and yesterday I decided I had to use the bananas and if I left them anymore, I'd probably have to throw them out. I hate wasting food so that was out of the question. The plan that morning was to make some oatmeal for breakfast, but then it struck me I could use the bananas with the oats and do something with that. I remember a while ago, coming across a banana oat pancake recipe and decided to try it out. Now, those of you who've been visiting for a while know I love my pancakes. So what could be better than combining my love for bananas and pancakes. Nothing much right! So breakfast that morning was sorted. I blitzed the ingredients in the blender and added a few fixin's like fresh blueberries and roughly sliced almonds. I think Jamie Oliver would have been happy with me. I really like his philosophy on superfoods. Eat a variety of fresh produce in moderation and everything acts as a superfood. I figure the addition of the berries and almonds would amp up these pancakes to superfood status. I googled a few recipes but in the end just ended up throwing a few things together and I tell you it was great. I was really pleased with how the pancakes turned out.
Basically this recipe uses no refined flour and no refined sugar and you'll never miss them. We did use some maple syrup over the pancakes to sweeten the deal, but who can resist maple syrup over pancakes. Definitely not me 🙂
I hope you give these pancakes a try. They deliver taste and health together.
Banana Oat Blueberry Pancakes
Makes 6 pancakes


1 cup rolled oats
2 over ripe bananas
2 eggs
1 tsp vanilla extract
A handful of fresh blueberries
12-15 roasted almonds, roughly sliced
A pinch of salt
A little oil, to fry the pancakes (I use olive oil, but you could any oil of your choice)
Maple syrup, to drizzle over
Blitz the oats in a blender till you are left with a powder.
Add the bananas, eggs, a pinch of salt and the vanilla extract. Blitz till you are left with a nice batter.
Scrape the sides down and give it another quick blitz.
Pour the batter in a large bowl and add the sliced almonds and blueberries and fold through gently, making sure they are evenly distributed.
Heat a little oil in a pan, about half a teaspoon. I use an oil spray to reduce the amount of oil being used.
Carefully ladle some batter onto the pan. Cook on medium heat.
When the bottom edge looks like its getting a little color, gently lift a portion of the pancake. If you are happy with the cooking on that side, flip the pancake and let it cook on the second side too.
Repeat with a spray of oil and a ladle of batter for every pancake till you finish the batter.
Serve warm with some maple syrup.
Enjoy!!!