Pasta is a very popular meal option at home, like I'm sure it is in a lot of homes. I love how versatile the recipes can be and how quickly pasta meals come together. This recipe is no exception. I use a mix of vegetables, usually whatever I can find in the fridge. I use Passata to make my sauce and that gets it ready in a jiffy. This recipe is ready in under 30 minutes and that includes all the prep work too. It has so much flavor, its hard to believe how simple the recipe actually is. I hope you enjoy it as much as we do.




Veggie Pasta in a Tomato Sauce
4 large cloves of garlic, finely chopped
1/4 onion, chopped
1/3 – 1/2 cup capsicum, chopped (I used a mix of red and green peppers)
1/2 zucchini, thickly sliced
A handful of broccoli florets
1/3 cup corn kernels
10 olives, sliced
1 cup passata / tomato puree / canned tomatoes
1/2 cup vegetable stock
2 tbsp olive oil
Salt, to taste
Freshly cracked black pepper, to taste
Red chilly flakes, to taste
1 tsp mixed herbs (dried)
1/2 tsp oregano (dried)
1/2 tsp sugar
Pasta
Parmesan cheese, to grate over the pasta
Start by cooking the pasta according to the package instructions.
Bring a large pot of water to a rolling boil, season the water generously (I use 1.5 tsp salt) and add the pasta to the pot. Stir immediately, to prevent the pasta from sticking to each other and to the bottom of the pot.
When the pasta is cooking, heat another pan.
Add olive oil to the warm pan and add the garlic. Saute till the garlic turns fragrant.
Add the onions and cook over a medium heat till they soften a bit.
Add the peppers and continue to cook for 1-2 minutes or till they start to soften.
Add the broccoli florets and saute for another minute or so.
Now, add the zucchini and corn and stir through. Cook for another minute or two.
Season with some salt and pepper, to taste.
Add the red chilly flakes and the herbs. Stir through.
Add the passata and the stock.
Let it come to a boil and leave to simmer for 5-7 minutes or till the veggies cook through and the sauce develops good flavor.
Add the olives and the sugar and stir through. Take off the heat and set aside.
By now the pasta should be cooked. Reserve 1/4 – 1/2 cup of the pasta water and drain t
he pasta.
Add the pasta to the sauce and toss to coat the pasta with the sauce.
Place the pan on medium low heat. Add a couple of tbsp. of the reserved pasta water. Stir through and let the extra liquid cook off for another minute or so, or till your pasta reaches the desired consistency.
Grate some parmesan cheese over the pasta and serve.
Enjoy!
Pasta – one humble ingredient but endless ways to cook it up. It has got to be one of the most versatile ingredients in the kitchen. You can serve it hot or cold, in a soup, salad or as a main. It works so well with so many different veggies, proteins and sauces. I love me some pasta and always have a couple of varieties in my pantry cupboard.
Pasta dishes can range from simple to a little more complicated. I personally, love the idea of a few simple recipes that I can use during the week. This Chicken in white sauce pasta is one such dish. With a little multi-tasking, I can serve this up in well under half and hour. Yup, you heard that right, under 30 minutes. Honestly, what takes the most time, is boiling up the pasta itself. If you don't eat meat, you can still make this recipe, just leave out the chicken and add some mushrooms, peas or even a little spinach. A vegetarian variant turns out equally delicious.
Are you ready to check this recipe out???
Chicken in White Sauce Pasta
(Serves 4)
A single Chicken breast fillet, cut into bite sized pieces
1/4 cup green capsicum, diced
1 cup of broccoli florets
1/2 cup corn kernels
2 cloves of garlic, finely chopped
Salt, to taste
Freshly cracked black pepper, to taste
Chilli flakes, to taste
1/2 – 1 tsp Mixed herbs, or to taste
1 tsp lemon juice
1-2 tbsp olive oil
1-2 tbsp vegetable stock / water
Pasta (enough for 4 servings)
A little parsley, to garnish
A little Parmesan cheese, grated
For the white sauce –
1 tsp olive oil
1 1/2 tbsp butter
1 tbsp all purpose flour
1 1/4 cup milk
1/3 cup cheddar cheese, grated
Salt, to taste
Cook your pasta according to the packet instructions. I bring a large pot of water to a rolling boil. Season generously with salt. Add the pasta and cook till done. Drain and reserve about 1/2 cup of the cooking liquid.
While the pasta is cooking, season the chicken with salt, pepper and lemon juice to taste. Mix well.
Heat 1 tbsp olive oil in a pan. Add the chicken and cook through, stirring occasionally, till the chicken has cooked through. Remove the chicken in a bowl and set aside.
In the same pan, add 1 tbsp of olive oil and quickly add the garlic.
Stir through and immediately add the green capsicum. Still through and let the capsicum cook for about a minute.
Next add the broccoli and saute well. (See note*)
Add the corn and stir through.
Season with salt, pepper, chilli flakes and mixed herbs, to taste.
Add 1-2 tbsp vegetable stock (you can also use water), stir well, cover and let the veggies steam and cook for a minute or two or till they are done to your liking. (If you are adding cooked broccoli to the pan, you can leave this step out. )
Add the cooked chicken to the pan and stir through. Set aside and cook your white sauce.
To cook the White Sauce / Bechamel Sauce –
(For detailed instructions on how to make a great white sauce, check the video above)
Add a tsp of olive oil to the pan on medium heat.
Add the butter and let it melt.
Add the flour and stir briskly, making sure the flour incorporates well with the butter and oil and that no lumps are left.
Cook this roux off for about 30 seconds to a minute or till the raw smell of the flour has gone. (Do not let it develop any color.)
Add half the milk to the pan and stir through well, making sure no lumps remain.
Add the remaining milk and whisk well.
Cook the sauce till it has thickened to your liking, whisking well.
When the sauce is done, lightly season with a little salt.
To assemble the pasta –
Add the white sauce to the chicken and veggies in the pan. Stir well. Add the cheese and mix through.
Check the sauce for seasoning and adjust, if needed.
Add the cooked pasta to the pan and stir through.
Serve your pasta in some serving plates. Finish with a light sprinkling of parsley and a grating of parmesan cheese.
*NOTE: Our broccoli is fairly tender and cooks very quickly. If your broccoli takes longer to cook, blanch or steam it before adding to the pan.
Its hard to believe that its only the first month of Spring right now. We've had a few scorchers already and its starting to feel like Summer is long to be a long and hot one. While I enjoy the extra daylight and the bounty of fruit, veg and flowers and beautiful beach days that summer brings, I cannot cope with HOT days. Last weekend was one such scorcher, thanks to the second heatwave of the season. I don't know about you, but on such days, I cannot even think of putting the stove or the oven on, much less standing near it. I think I see a lot of salads and sandwiches for lunch this Summer.
I tried out this amazing Avocado Pasta Salad over the weekend and it was a big hit. There is a little stove time involved to boil the pasta and to fry the bacon, but the end result is so good, I'd say it was well worth it. I can't wait for the next potluck or picnic, because I know that this salad will make an appearance.
The dressing is an avocado based one and is super easy to make. If you have an immersion blender, you life will be even easier. If not, just use your regular blender and you'll be sorted. Basically all the ingredients for the dressing get blitzed together and ta-da …. you have yourself a salad dressing. I love recipes that are as easy as this. The ingredient list for the salad is just an approximation of what I used. Feel free to adjust as needed.
Avocado Pasta Salad
Serves 4 (as Main Course)
Adapted from: Spend with Pennies
2 cups uncooked Macaroni
1/4 onion, finely chopped (use a sweeter onion if you can't stand the heat from a raw onion. You can also use a couple of spring onions, finely sliced)
1 cup cherry tomatoes, halved
1/2 cup broccoli florets
1/2 cup boiled / roast chicken, shredded
1/2 cup corn kernels
1 avocado, diced
4 rashers of bacon, fried till crisp and chopped / crumbled
1/4-1/3 capsicum (I used green because thats all I had. You can use red or yellow too, or even a combination of them.)
2 tbsp chopped fresh coriander
For the dressing –
1 ripe avocado
Juice of 1/2 a lime
1/4 cup chopped fresh coriander (use the leaves and the stalks)
1/2 tsp cumin powder
1/2 tsp garlic powder
1/2 cup Greek yogurt
Salt, to taste
Freshly cracked black pepper, to taste
Boil the pasta till al dente, following the package instructions. Run under cold water to stop the cooking process and to cool the pasta down. Drain and set aside.
Blanch the broccoli florets in boiling, salted water till it is a vibrant green, about 30 seconds to a minute, depending on how crunchy you like your broccoli. Immediately drain and immerse the broccoli in ice cold water for a few seconds to stop the cooking process. Drain and keep aside.
In the same pot of boiling water, boil your sweet corn kernels till done. Drain and set aside.
Get your salad ingredients ready.
For the dressing, simply blitz all the ingredients together.
Toss the salad in the dressing and refrigerate for about 1 hour before serving.
Enjoy!!!
Pin now and try later!!!
** This post contains affiliate links.
Looking at my collection of recipes on this blog, it might be hard to tell that I actually love pasta. Nothing specific, just about all shapes and sizes and all kinds of sauces too. There is just one condition, they need to have flavor. Unfortunately, I've had pasta at too many restaurants, including a couple of Italian restaurants around Sydney and it has been disappointing, to say the least. So I usually end up eating the pasta I make at home. And I can't to that too frequently, because my husband is not the biggest fan of pasta. What then is this pasta-loving soul supposed to do?
Here's what I do. Ofcourse, I make pasta atleast once a fortnight, but I try and switch up the sauces each time I make it. So with lesser retpetition, I seem to get away with a big bowl of pasta for dinner. Happy hubby and happy me!!!
Because of this, I'm always on the look out for new ways to serve pasta. And when I saw this pasta, I knew I was onto something. I have two versions of this pasta. Today, I will share with you the basic version, which I happen to really like. Sometime soon, I will share a more dressed up version, something my husband and I came up with while eating a bowl of this gorgeous green. The sauce comes together in sheer minutes and the only cooking it needs, is blanching the spinach. So you can easily serve this up on a busy weeknight in under half and hour. That is one of the many things I love about this recipe. If you have 'littles' in the house who might be a little skeptical about eating green pasta, call it something fun like 'an alien dinner / alien pasta' or 'the Hulk's pasta' or something fun like that, and watch it get gobbled down. An extra sprinkle of cheese on the top doesn't hurt either.
So, now that we know how quick, easy and fun this pasta is, let's get on to the actual recipe.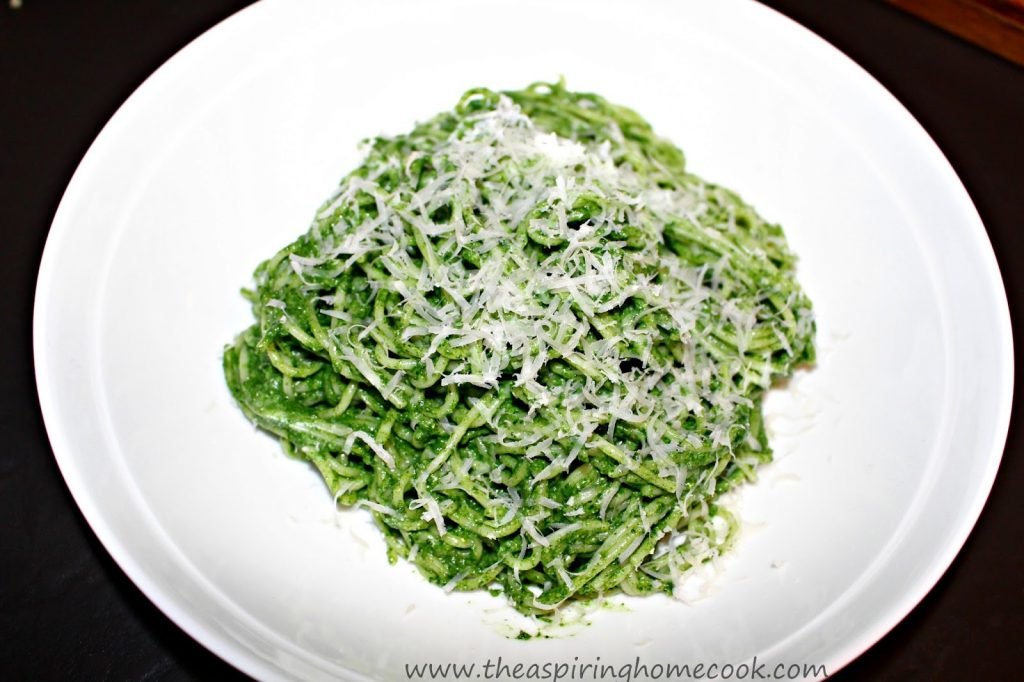 Pasta with Spinach Pesto
Serves 4 -5
8 nests of Vermicelli, or any pasta of your choice
200g fresh spinach
1/2 clove of garlic, chopped
1 heaped tbsp
pine nuts
3 tbsp freshly grated parmesan cheese
3 tbsp extra virgin olive oil
200g ricotta cheese
Salt, to taste
Freshly cracked black pepper, to taste
Bring a large pot of water to the boil.
While the water comes to a boil, keep a large bowl of ice cold water ready.
Place the spinach in the boiling water for a minute or two, till it turns a shade of darker green and is wilted and slightly softened. Immediately, take the spinach out of the water (a large pair of
tongs
works well) and immerse in the ice cold water. This will stop the cooking process immediately and help the spinach retain a vibrant shade of green. You may need to do this in batches. Repeat the process till all the spinach has been blanched.
Use the same pot of water to boil the pasta. You may need to top up the water in the pot. Add a generous teaspoon of salt and when the water has reached a rolling boil, add the pasta to the pot and cook it till al dente.
While the pasta is cooking, drain the spinach from the ice cold water and squeeze out and discard as much liquid as possible. Roughly chop the spinach and set aside.
I place the spinach in a bowl, along with the pine nuts, garlic, parmesan cheese, salt, pepper and the extra virgin olive oil and puree using an
immersion blender
. If you don't have one, a food processor or a regular blender would work well too.
Then add the ricotta cheese to the puree in the bowl and blend till smooth. Check for seasoning and add the salt and pepper, if needed
Drain the pasta when it is done and add the pesto to it. Stir gently or toss with a large pair of
tongs
to coat the pasta evenly.
Portion out on plates and generously grate some parmesan cheese over the pasta. I find that a
Microplane zester
does the job well.
Enjoy!!!
I sometimes find myself trying to plan my meals for the week and nothing I can think of sounds appealing. Has that happened to anyone before? This was one such week. I had a few things in the fridge but I wanted to whip up something new with them, not the same old stuff I've tried before. So I went off to scout on Pinterest (which, by the way is one of my most favourite sites in the whole world … lol) and the internet at large. After tossing up a few ideas, I found exactly what I was looking for. Turns out I wanted some good comfort food but didn't feel like spending all the time the traditional versions require.
This is a 2-part meal idea. Part one is all about the lemon orzo with asparagus. All I will say about part 2 is YUM. That's the next post. You should definitely come back for that one. Its a new favourite for me. This lemon orzo is a combination of some of my favourite things – pasta, asparagus and lemon. I love the vibrant colours and beautiful flavours. This is something you can serve up with a nice Sunday / holiday roast or as a side dish for your next lunch / dinner party. I can also see this working really well at your next backyard barbie (BBQ). Try it out and you'll be glad to have something so simple but so delicious to add to your recipe box.
I have tried to shop for Orzo before, but have never been able to find any. I did the next best thing and bought Risoni instead. From what I understand they are very similar except for a slight difference in the size. One is made to resemble an unprocessed grain or barley and the other rice. You could use either. I should have just titled this Lemon Risoni I guess, but I'll leave it as is, for now. I substituted the parsley with some fresh cilantro as thats all I had. Also, the next time I make these, I might either cut down or leave out the lemon zest. I love lemon zest in certain things but this time we personally found it too strong a flavour.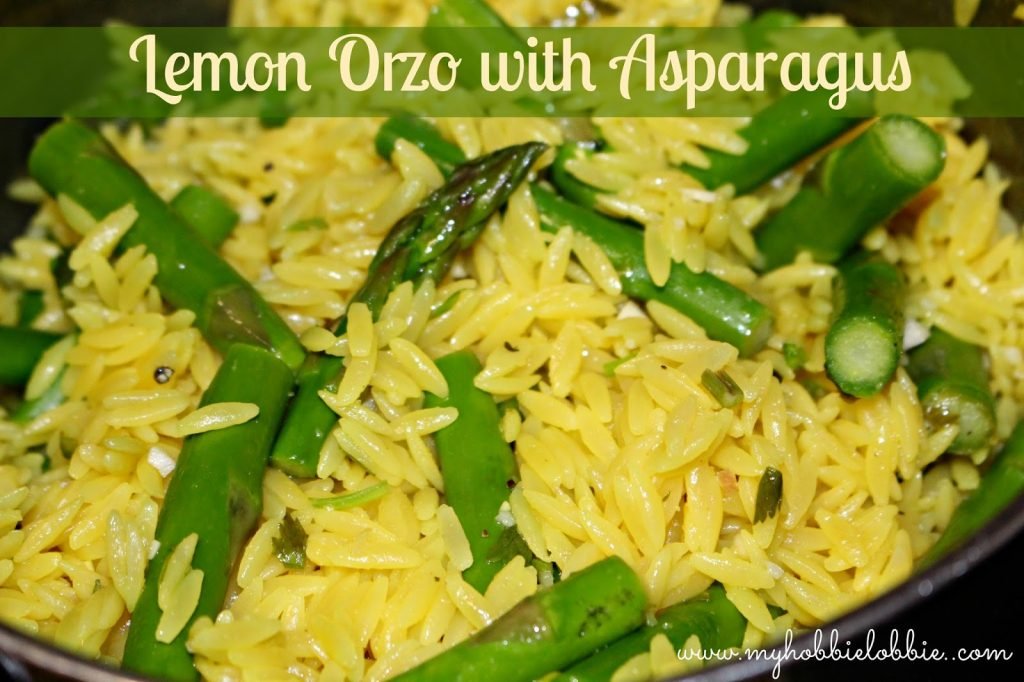 Lemon Orzo with Asparagus
Adapted from: Jo Cooks
Yields: 4 portions
1 bunch asparagus (about 1/2 lb or thereabouts)
1 cup chicken stock (use vegetable stock for a vegetarian version)
1- 1 and 1/2 cup water
1 tsp salt
A pinch of turmeric powder
1 cup dry uncooked pasta (orzo or risoni)
1/4 cup fresh cilantro, chopped
For the dressing –
Zest and juice of 1 lemon
3 cloves garlic, minced / grated
Salt, to taste
Freshly cracked black pepper, to taste
2 tbsp extra virgin olive oil
To cook the asparagus –
Trim the asparagus and lay the spears in a shallow dish (a baking tray works best), pour enough boiling water over it to cover it.
Season with a little salt, to taste.
Cover with some cling film or another tight fitting lid and leave aside to till the water is just warm to the touch. (You can cook your pasta and prepare your dressing in the meanwhile.)
Drain out the water and cut the spears into about 2 inch long pieces.
For the dressing –
In a bowl, place the zest and juice, garlic, salt and pepper.
Add the oil and whisk till it emulsifies a little into a nice dressing. Set aside.


For the pasta –
In a large pot, bring the stock and water to a boil.
Add the salt and turmeric and bring back to a boil.
Add the pasta to the pot and cook till the pasta is done. (I like to leave it a little al dente.)
Drain the pasta.
Place the hot pasta in a large bowl with the asparagus and cilantro.
Whisk the dressing a little, if needed and add to the bowl.
Mix well.
Top with a little butter. (This is optional.)
Enjoy!!!
Ok, so those of you who blog will be able to relate to what I have to say. I sure hope I am not the only one 😉 While I would love to be able to be more of a 'from the plate to the blog' on the same day kind of person, more often than not, life gets in the way, and some times it takes more than a couple of weeks for me to post about a certain recipe. As a matter of fact, I still have a couple of recipes from a couple of years ago that I still haven't gotten around to sharing with you yet. Oh dear, did I just say that out loud!
Anyway, today, I wanted something quick and yummy for lunch. When I was at the shops this morning, this little beauty caught my eye –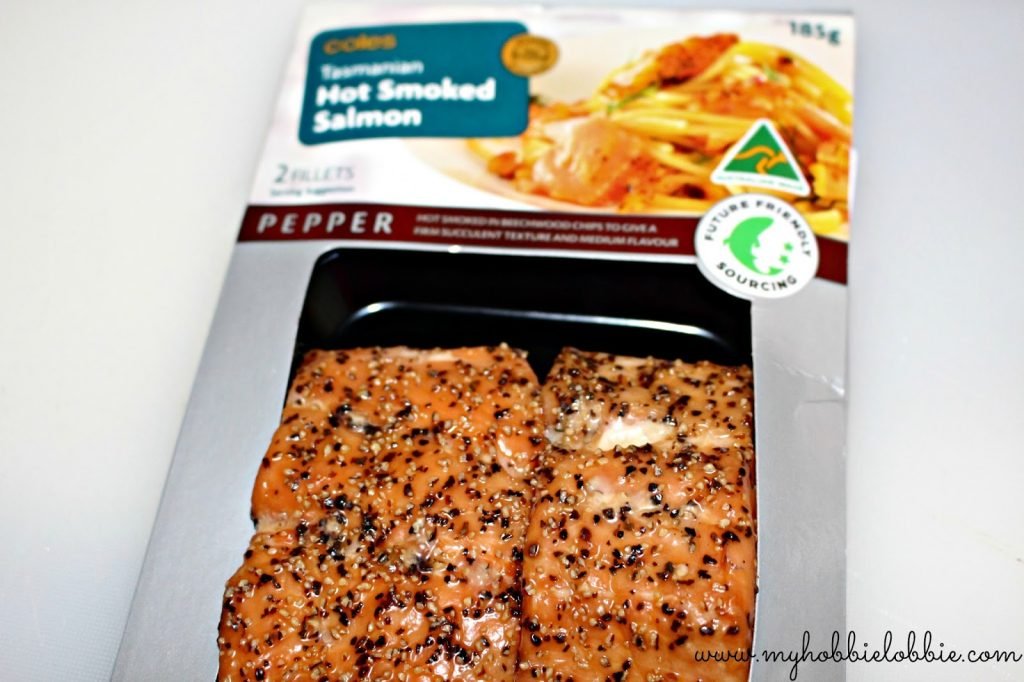 I love the idea of smoked salmon, but I'm not too crazy about the raw-ish feel of the salmon. When I saw this hot smoked salmon, I was sold. I knew this salmon would be more cooked with a lovely smokey flavour. I'd never used it before but I was quite eager to try it out. The fact that I got it at a 40% discount was just a nice bonus. Now when I bought the salmon, I had no idea what I was going to do with it, but I knew I would find some inspiration online, as always. Usually, I don't pay much attention to the recipe on the box / packet of the ingredients I buy. But when we were unpacking our groceries, my husband noticed this recipe and I have to admit, it sounded interesting and I was very eager to try it out. I had all the ingredients on hand, so there was all the motivation I needed.
I am so very happy that I did. Not only was this pasta quick and easy to put together, it was delicious. It was so delicious, I knew I wanted to share this recipe with you as quickly as I could. I'm going to go out on a limb and say that this is one of the best pasta dishes I have made yet. And I really do hope you have an opportunity to try this out. I am going to pay more attention to these recipes on boxes and packets from now on.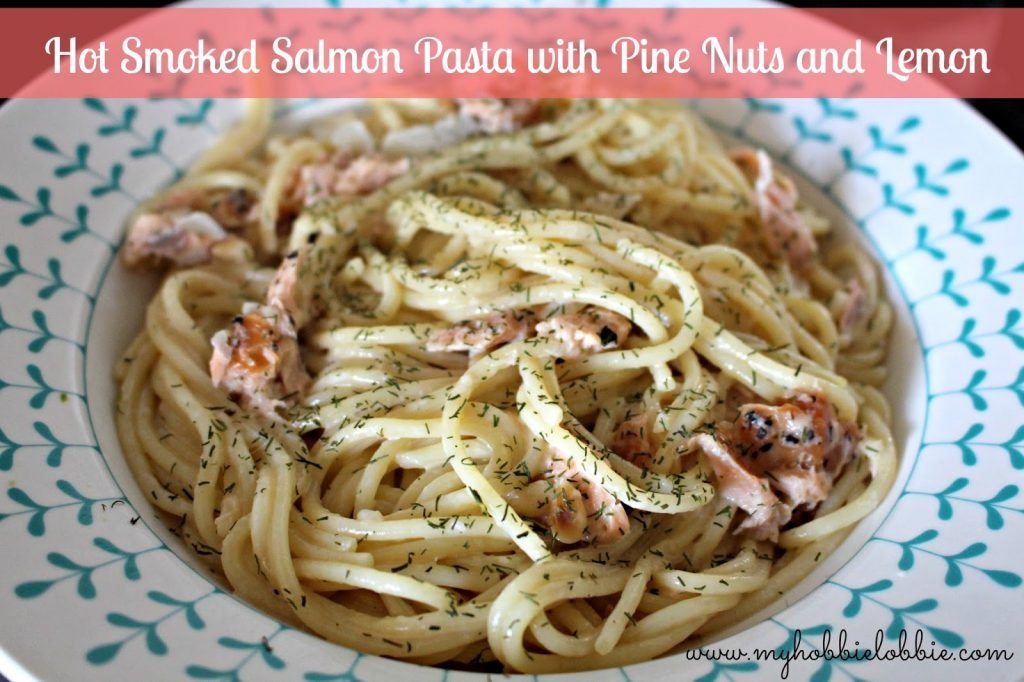 Hot Smoked Salmon Pasta with Pine Nuts and Lemon
Serves 4
250g spaghetti
1 packet Hot Smoked Salmon Pasta, flaked
1/4 cup pine nuts, toasted
2 tbsp olive oil
1 onion, finely chopped
3 cloves garlic, finely chopped
1/3 cup dry white wine
1/2 cup thickened cream
Zest and juice of 1 lemon
Dill (Fresh if possible – I didn't have any so I used the dried bottled variant)
Salt, to taste
Freshly ground black pepper, to taste
Bring a large pot of water to a rolling boil.
Add a heaped spoon of salt and then add the pasta. Cook till al denté (it should still have a little bite).
While the pasta is cooking, heat the olive oil in a saucepan. Add the garlic and onion and sauté over medium heat, till they have softened and are nice and fragrant.
Add the wine, lemon juice and half the lemon zest. Increase the heat a little and cook till the liquids have reduced by half.
Add the cream and cook for a minute.
Take off the heat.
Drain the pasta and reserve half a cup of the cooking water.
Add the water to the sauce.
Put back on a medium-low heat and let it warm through (The original recipe doesn't call for this step, but I felt the sauce was a little on the thinner side so I let it heat through a little and it was perfect)
Add the salmon, the pine nuts, the remaining zest and season with salt and pepper. Let it just about warm through.
Mix the pasta and the sauce together.
Serve and garnish with some fresh chopped dill. I just sprinkled some bottled dry dill since I didn't have any fresh dill on hand.
Sit back and be amazed 🙂
This is one of my favorite recipe when I have ground meat on hand and want a meal thats warm, hearty and quick. There are a couple of processes involved, but with a little planning, this makes for a good weeknight meal. This time around I've used ground turkey for the meatballs, but I've also used, ground beef and chicken in the past and they work equally well. If I am using beef, I just add a tablespoon of Worcestershire sauce to the mix. These pictures are from when I was restricted to cooking in a kitchenette the size of a box, so if I can do it, you sure can.
To make life a little easier, you can make the meatballs and the sauce ahead of time, if you'd like. Sometimes I fry up the meatballs and store them in the fridge for a few days till I'm ready to use them. They also make a great meatball sub.
Here's how I make this recipe – I start on the sauce and while the sauce is simmering, I prep the meatballs and grate the cheese. When I'm frying up the meatballs, I boil the pasta alongside. At times, I've had all three happening at the same time as well. Just make sure you keep an eye on everything. I usually serve this with a nice fresh salad and at times some garlic bread, and that for me is the perfect meal, or atleast it makes me a very happy camper.
Another thing worth noting, is that while the the sauce and meatballs sitting over a bed of pasta might make a prettier picture, I would recommend stirring the sauce through the pasta before serving up. And its not just me, I was reading up someplace and a lot of people vouch for the fact that the meal is more flavourful when you toss the pasta and sauce together before serving.
If you don't have ground meat at hand, cocktail sausages / frankfurters cut into little slices also do the job. Precooked (grilled or roasted) chicken and shredded, works nicely too. I love how versatile this recipe is.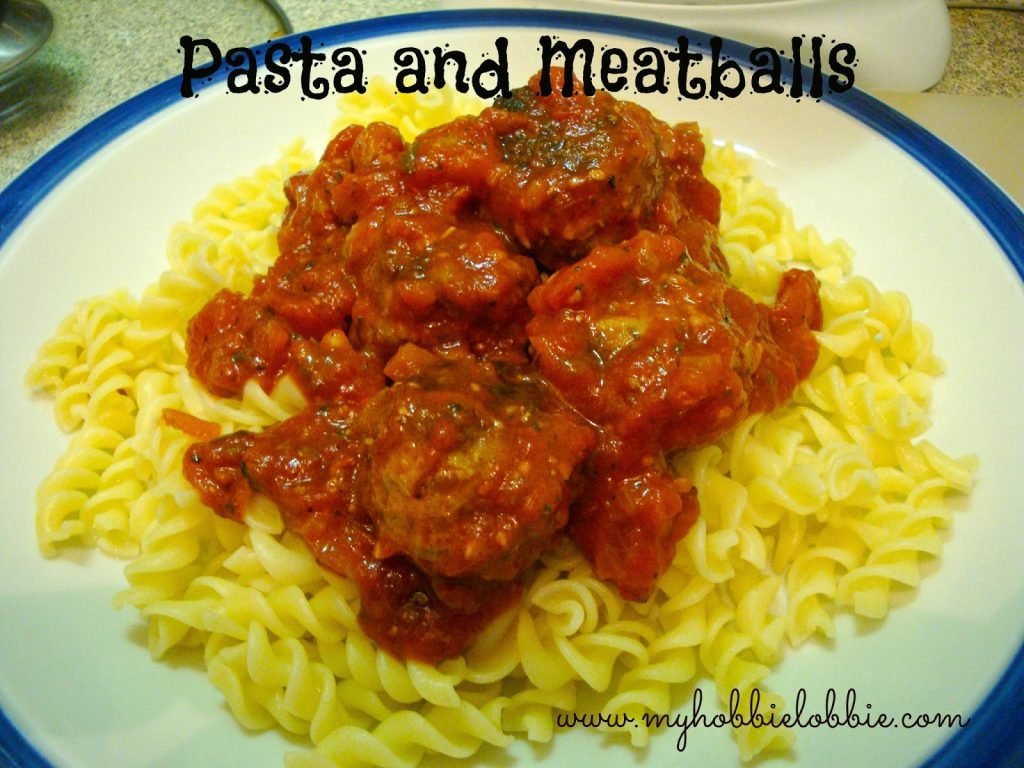 Pasta and Meatballs


For the meatballs –
500g ground turkey
1 onion, finely chopped
1 -2 green / red chillies, finely chopped
Salt, to taste
Freshly cracked black pepper, to taste
1 egg
2 slices of bread, soaked in water for a minute or so, squeeze to drain all liquid and crumble
1/2 tsp turmeric powder
1 tsp red chilly powder
A couple of tbsp Vegetable oil
In a large bowl, mix all the ingredients, except the vegetable oil
Form into meatballs.
Heat a pan with a tablespoon of vegetable oil.
Fry the meatballs till they are golden brown.
Take off the heat and keep aside.
NOTE: You may need to fry the meatballs in batches. Add more oil to the pan between batches as needed.
For the sauce –
2 cloves of garlic, peeled and finely chopped
1/2 onion, finely chopped
1/4-1/2 green capsicum, chopped
1/2 tsp dried mixed Italian herbs (you can use fresh if you have them on hand)
1/2 tsp red chilli flakes, optional
1 tsp smoked paprika powder
1 can whole peeled tomatoes / diced tomatoes
Salt, to taste
Freshly cracked pepper, to taste
1 tbsp olive oil
Place a saucepan over medium heat and pour in the olive oil.
Tip in the chopped garlic and saute for a few seconds till nice and fragrant. You do not want the garlic to burn.
Add the onion and fry off till the onions have softened.
Add the capsicum and stir fry for a couple of minutes.
Add the herbs and spices and stir well .
Add the can of tomatoes. If you are using whole peeled tomatoes, just use your spoon to break them down for a chunky sauce. If you want a smoother sauce, blitz the tomatoes in the food processor and then add it to the saucepan. I like mine chunky. (Also worth noting is they say the quality of tomatoes used to can whole, peeled tomatoes is better. The slightly more compromised / bruised ones go to make the canned crushed / diced tomatoes.)
Add salt to taste. Bring to a boil.
I add about 1/4 can of water (use the tomato can to measure and swirl it around to use up all the rest of the tomato sauce) and add as needed, to give you the desired consistency. Let it come to a boil again.
Cover and let the sauce simmer for about 10-15 minutes on low heat. The flavour in the sauce deepens with simmering.
Add the meatballs / chopped up sausages / shredded chicken. Gently stir and let it simmer till everything has warmed through.
For finishing the pasta –
While the sauce is simmering, boil your pasta according to the package instructions.
Add the sauce to the cooked and drained pasta gradually, depending on how much sauce you like with your pasta.
Toss well and plate up.
Grate some parmesan cheese over the top and serve.
If I have any sauce leftover, I use it as a base sauce for pizza. You could also use it to make some meatball subs. Yummm!

In last few weeks have been an absolute blur for us. We'll soon be moving from Mumbai where both my husband and I were born and brought up to Sydney, Australia. We were so excited when our paperwork came through and since then things in our home have been absolutely crazy. With travel arrangements, shopping, packing and selling off things we're not taking, I've hardly had any time to focus on cooking. This month I was assigned Jackie's blog Rediscovering Lost Arts From Our Mothers. This blog was new to me and I was thrilled to see the ideology behind it. I agree with Jackie all the way, there's so much we're missing out on in the form of tradition, practices and culture all because of the convenience of today's world, where were always in a hurry, short of time and running. You should stop by Jackie's space and check it out, she's got loads of recipes on canning, smoking, preserves and wonderful home cooked goodness.
To my absolute delight, that not all she has. Even though I didn't have much time, I managed to make 2 recipes from her blog using stuff that I had in the pantry. I've always wanted to try Spaghetti Alio Olio after watching David Rocco make it on his cooking show. This seemed like the perfect opportunity since Jackie has a version of it on her blog and while I was going through her space, I noticed a post on Onion straws. Like her I love me some onion. Whether is onion rings, sauteed onions, onions in a salad or these onion fritters, I love cooking with onion and enjoy eating it in its many different forms too. I was intrigued by her recipe and it seemed simple and quick enough for me to try. Both these dishes came together so quickly and can I tell you, they were both yummy. The spaghetti was simple but so flavorful. I loved it. The onions straws, may I add, was an absolute hit. I had a hard time keeping my husband away from it long enough to get pictures. There are crisp, delicious and very addictive. They'd be a fantastic addition to some grilled or roasted meat, but I think they make for some very yummy party munchies too. The only thing I'd do differently next time is use larger onions. These ones were rather small so the onion straws don't particularly look like straws, but were delicious nevertheless. In all I was very happy with the way both recipes turned out. Thanks Jackie, for introducing me to these yummy treats. The only changes I made was I used fresh coriander instead of parsley since that is what I had on hand and I upped the garlic content. I love garlic and if you don't please remember to cut down on the quantities mentioned.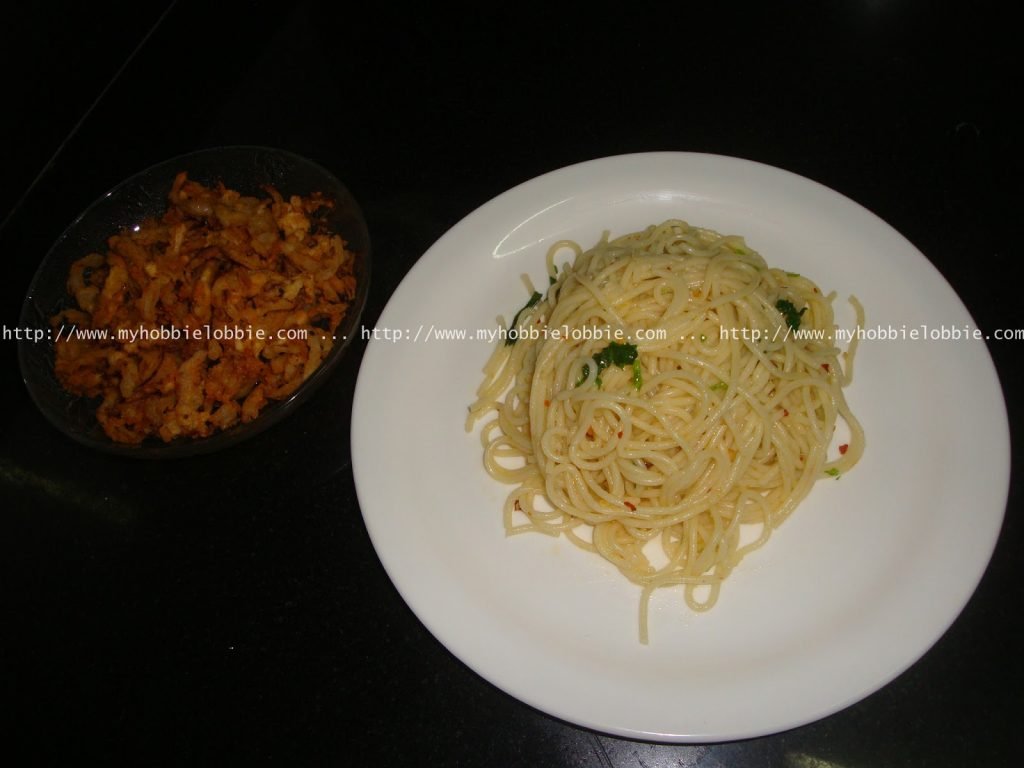 Spaghetti Alio Olio


1/2 lb. spaghetti
1/4 cup olive oil
1/8 cup butter
3 cloves garlic, chopped fine
1/2-1 tsp. red pepper flakes, to taste
2 tbsp. fresh coriander, chopped (Original recipe calls for parsley)
Salt, to taste
Pepper, to taste
Boil the spaghetti till its al dente and drain. (You may want to reserve some of the boiling liquid and add a little back if you feel that the spaghetti has dried up when adding the herbs – I didn't need to)
In a small pan, add the oil and butter and the garlic and saute for a few seconds on medium low heat till the garlic releases flavor and aroma. Add the red pepper flakes and pepper and saute for a few seconds more. Make sure the garlic doesn't brown, else its burnt and will be slightly bitter.
Add this back to the pasta and place on the stove for a little while on low heat. Toss the pasta well and make sure the oil and herbs are evenly distributed.
Add the chopped coriander and toss well. Serve hot.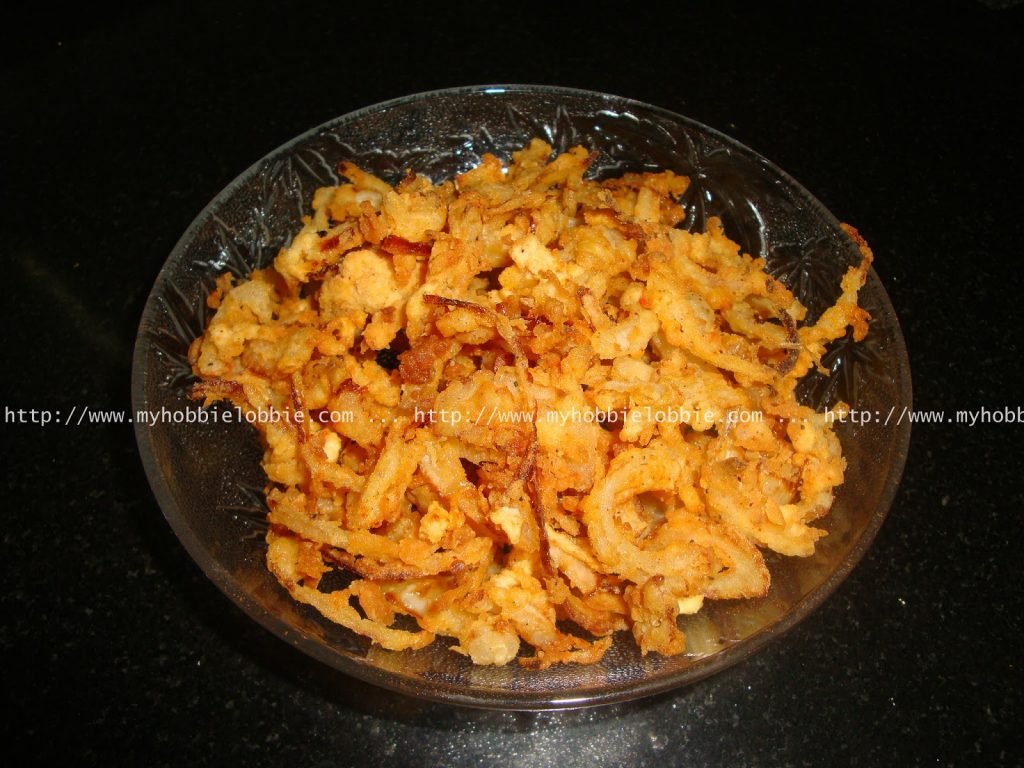 Onion Straws
2 onions, finely sliced
1 cup buttermilk
1 cup all purpose flour
Salt, to taste
Crushed black pepper, to taste
Red chilly powder, to taste
Oil for deep frying
Peel and slice the onions and soak it in the buttermilk.
Heat the oil for deep frying.
In the meanwhile, add the salt, pepper and red chilly powder to your flour and mix well.
Shake off the excess buttermilk from the resulting onion straws and dredge it in the flour mix.
Carefully place it in the oil and deep fry till golden brown and beautifully crispy.
Enjoy!!!
Thank you Jutta (Hungry Little Girl) for hosting this fun event month after month. Its been a blast. If you'd like to join in on the fun, click here.
It feels so good to be back. I had a lovely week off, despite the sweltering heat and I'm ready to get back to the grind. I can't believe how much I missed blogging and interacting with my blogger friends – I missed you guys loads.
Today, I'm going to share with you a meal thats so quick to put together, it never ceases to amaze me. The added bonus, is that you need nothing special for this pasta dish. All the ingredients are usually found in any pantry most of the times. I don't know about you, but so often I find myself so hard pressed for time that I haven't been able to put together something for dinner. I'm trying to increase my repertoire of quick and easy meals that I can use on days like this rather than ordering for take out. I somehow just can't do takeout anymore, unless of course there is no other option. This is one of those meals that I stumbled upon in those times of desperation and I'm so glad I did. This ones a keeper. How do I know that? I'm going to share with you a piece of information I don't think I've mentioned before. My husband does not like pasta. And thats that. This is difficult for me to understand, because me, I love pasta. Imagine my joy when he told me he really enjoyed it. I tell you, this ones good enough to convert even a non pasta lover (if there is such a thing). Go ahead and give this a try.
Spicy Tuna Pasta


1-1 1/2 cup uncooked pasta (depending on how much you need)
1 large onion, finely chopped
3-4 cloves of garlic, finely chopped
1 green pepper, diced (You can use red or yellow peppers too, I just used what I had at hand)
3-4 tbsp canned tuna flakes or chunks
Red chilli flakes, to taste
Salt, to taste
Freshly crushed black pepper, to taste
Grated cheese
1 tbsp olive oil
Cook the pasta according to the instructions on the package.
While the pasta is cooking, heat some olive in a pan. Add the onion and stir fry for a couple of minutes, till it starts softening.
Add the chopped garlic and let it release its flavors.
Add the diced peppers and stir well. Let it cook off for a couple of minutes.
Add the tuna flakes.
Season this mix with salt, crushed black pepper and red chilly flakes. Mix well. Taste and adjust the seasoning if needed.
Add the cooked pasta to this mix and gently fold everything till all the ingredients are evenly distributed.
Add some grated cheese. I don't use a measure for the cheese, I just grate as much as needed. I taste to check if theres enough to match our liking.
Again, mix gently, you don't want to break up the pasta. The heat from the cooked pasta as well as the fish mix will melt the cheese, making it even better.
Serve hot.
This recipe is linked to –
Not Baaad
My Meatless Mondays
Meatless Mondays
Just Another Meatless Monday
Mangia Mondays
Mouthwatering Mondays