So what's all the fuss about making things from scratch? you ask?
I, for one, like knowing what I'm eating and feeding my family. Now, from time to time I do buy ready to eat food, but those instances are very few and far between. We enjoy eating out and that's not what I'm referring to here. I'm talking about frozen meals, ready sauces, spice pastes from a jar, canned pie filling, that kind of stuff. There are a few things that I will use, like tomato ketchup, mustard, wasabi / horseradish and that kind of stuff. I have found that for a little effort, you can make all of these things at home. They may take a little experimenting but almost always, the home made versions turn out so much better than the store bought ones. And once you try it out for yourself, you'll know what all the fuss is about.
Making your own food from scratch is a good habit to get into. And once you try your hand at it, you'll want to learn more. It is addictive. I hate to come across as a snob, but I recently realized that in a pinch, I'd rather do a breakfast for dinner (fry up some eggs with toast) kinda thing rather than buying ready meals. If ready meals are your 'go to' option, try and keep an open mind to 'made from scratch'. You can control the sugar and salt in your food. And it is so much easier on your budget too.
Where am I going with all of this? A while ago, I'd shared my recipe for Homemade Mayonnaise. You'll be surprised at how easy it is to make a batch. Okay, so you've made a batch of it. Now what? One of the ways, I use my homemade Mayo, is as a dressing in a Cole Slaw Salad. This salad couldn't be simpler. A few ingredients get thrown in a bowl and tossed together and you have yourself a yummy salad perfect for a barbecue or to serve with batter fried fish or fried chicken or even in a sandwich.
I have posted a recipe for Cole Slaw before, but this one is a step up from that version with the addition of horseradish and mustard.
And if I've piqued your interest about food made from scratch, take a look around my blog. You're sure to find recipes to try out.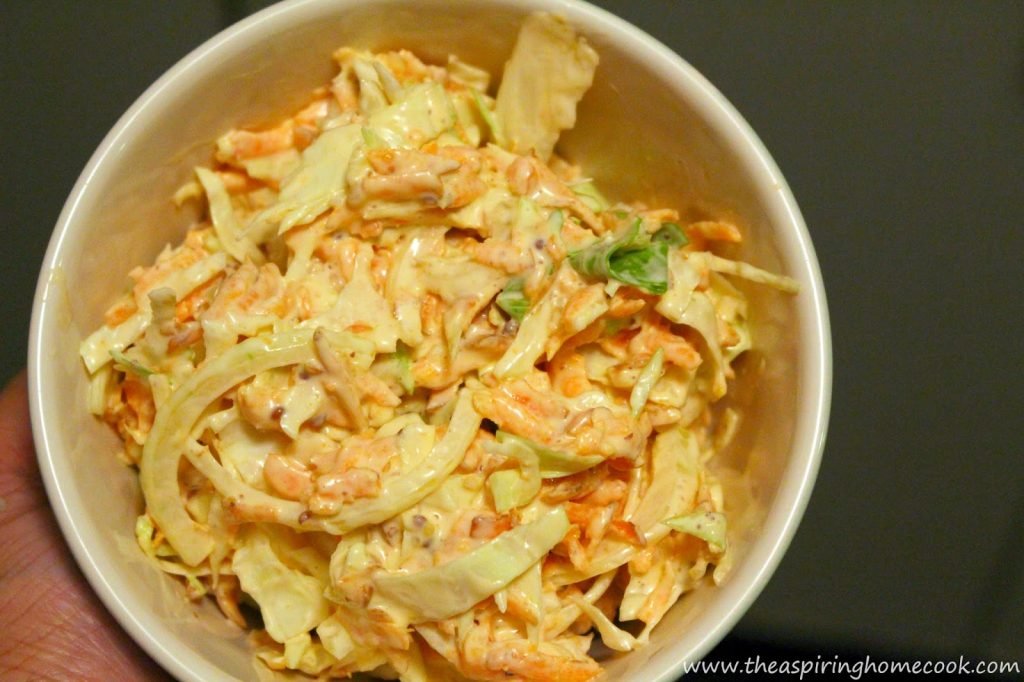 Cole Slaw
1/2 tsp grated Horseradish, or to taste
1/2 tsp Wholegrain or Dijon mustard, or to taste
1 carrot, grated
1 cup cabbage, finely sliced cabbage
A few slices of onion (finely sliced) or 1 spring onion, sliced
Salt, to taste
Freshly cracked black pepper, to taste
Lime juice / lemon juice, to taste
In a bowl, mix the mayo, horseradish, mustard and freshly cracked black pepper.
Add the carrots, cabbage and onion and mix well.
Taste and adjust seasoning as required.
Your Cole Slaw is ready to serve.
Enjoy!!!
Here's the video recipe –
Its hard to believe that its only the first month of Spring right now. We've had a few scorchers already and its starting to feel like Summer is long to be a long and hot one. While I enjoy the extra daylight and the bounty of fruit, veg and flowers and beautiful beach days that summer brings, I cannot cope with HOT days. Last weekend was one such scorcher, thanks to the second heatwave of the season. I don't know about you, but on such days, I cannot even think of putting the stove or the oven on, much less standing near it. I think I see a lot of salads and sandwiches for lunch this Summer.
I tried out this amazing Avocado Pasta Salad over the weekend and it was a big hit. There is a little stove time involved to boil the pasta and to fry the bacon, but the end result is so good, I'd say it was well worth it. I can't wait for the next potluck or picnic, because I know that this salad will make an appearance.
The dressing is an avocado based one and is super easy to make. If you have an immersion blender, you life will be even easier. If not, just use your regular blender and you'll be sorted. Basically all the ingredients for the dressing get blitzed together and ta-da …. you have yourself a salad dressing. I love recipes that are as easy as this. The ingredient list for the salad is just an approximation of what I used. Feel free to adjust as needed.
Avocado Pasta Salad
Serves 4 (as Main Course)
2 cups uncooked Macaroni
1/4 onion, finely chopped (use a sweeter onion if you can't stand the heat from a raw onion. You can also use a couple of spring onions, finely sliced)
1 cup cherry tomatoes, halved
1/2 cup broccoli florets
1/2 cup boiled / roast chicken, shredded
1/2 cup corn kernels
1 avocado, diced
4 rashers of bacon, fried till crisp and chopped / crumbled
1/4-1/3 capsicum (I used green because thats all I had. You can use red or yellow too, or even a combination of them.)
2 tbsp chopped fresh coriander
For the dressing – 
1 ripe avocado
Juice of 1/2 a lime
1/4 cup chopped fresh coriander (use the leaves and the stalks)
1/2 tsp garlic powder
1/2 cup Greek yogurt
Salt, to taste
Freshly cracked black pepper, to taste
Boil the pasta till al dente, following the package instructions. Run under cold water to stop the cooking process and to cool the pasta down. Drain and set aside.
Blanch the broccoli florets in boiling, salted water till it is a vibrant green, about 30 seconds to a minute, depending on how crunchy you like your broccoli. Immediately drain and immerse the broccoli in ice cold water for a few seconds to stop the cooking process. Drain and keep aside.
In the same pot of boiling water, boil your sweet corn kernels till done. Drain and set aside.
Get your salad ingredients ready.
For the dressing, simply blitz all the ingredients together.
Toss the salad in the dressing and refrigerate for about 1 hour before serving.
Enjoy!!!
Pin now and try later!!!