Back when I was working at my last job, a colleague, who happened to be my work bestie, introduced me to this treat. We'd take our breaks together whenever we could and hop over to Muffin Break. Our Muffin Break outlet made the best Spinach and Feta Rolls (sidenote – their Bran muffins were to die for). But I'd never noticed these little beauties before this. I was on a first name basis with its Non-vegetarian counterpart – the sausage roll. I've had quite a few of those. But on this particular day, when we went over to Muffin Break, she ordered a Spinach and Feta Roll to go with her coffee. Needless, to say, I was intrigued. So I ordered one for myself too. And the rest, as they say, is history.
From that day on, if I ever need to grab a bite and am in the mood for something savory, I pick up one of their Spinach and Feta Rolls. They are seriously good. And, I like to think that I'm getting a little extra Spinach in my diet that day.
So getting back to yesterday. When I found myself with a big basket of Ricotta cheese and a bag of Spinach I needed to use up, I decided to see if I could use the two together and come up with something delicious. After a little looking around, I found just the thing. I've based my rolls on a similar recipe I found online and I just switched it up to my liking. This time around, I used store bought Puff pastry. I had a packet in the freezer that I wanted to use up too. This recipe has just 2 basic components – the pastry and the filling. The filling is really easy to put together. You just mix up all the ingredients and your ready to go. The verdict – These rolls are really good. They're not exactly like the Muffin Break ones. I am now convinced that there is some flour added to their filling, possibly to bulk it up. But these homemade rolls can give them a serious run for their money. And this time, I know for sure that there's a heap of spinach in there. And everyone knows that Spinach with Ricotta and Feta is a match made in heaven. So let's have a look at these Spinach Rolls, shall we?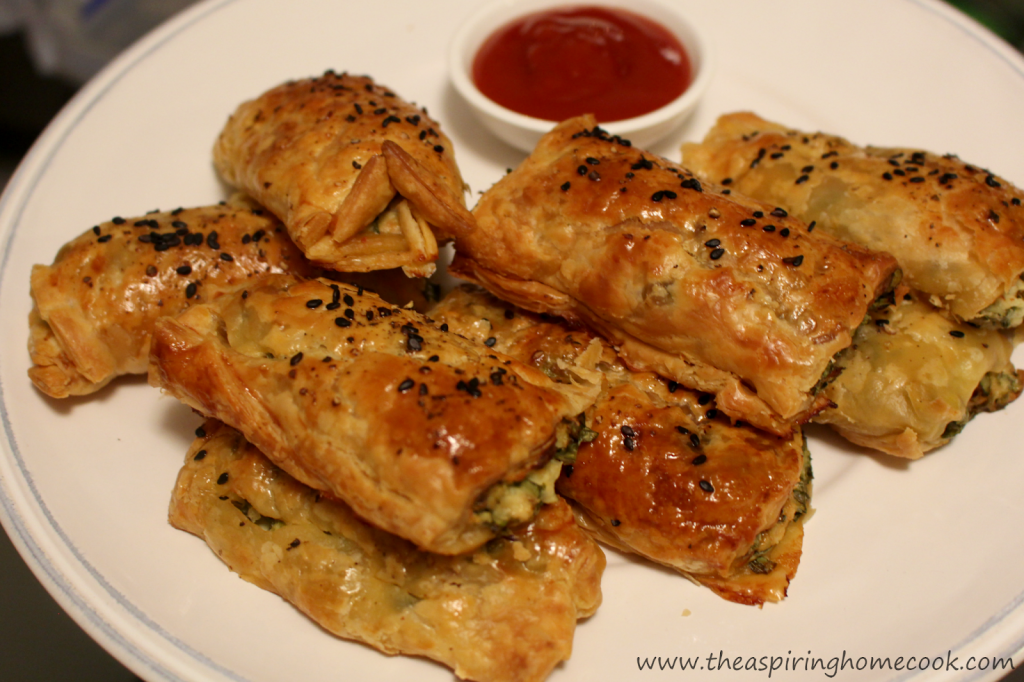 Spinach, Feta and Ricotta Rolls
Makes 18 rolls
3 sheets Pampas all butter Puff pastry
200g Feta Cheese
300g Ricotta Cheese
150g Baby Spinach, finely chopped
Red Chili Flakes, to taste
Salt, to taste
Freshly cracked black pepper, to taste
1 egg
Black sesame seeds, to sprinkle over
Preheat your oven to 180ºC.
Place the baking tray in the oven.
Thaw 3 sheets of puff pastry. The pastry should be soft enough to work with but still cold. If it warms up too much, it gets sticky and difficult to work with.
Crumble the feta into a bowl.
Now add the Ricotta and crumble that in as well.
Add crushed black pepper to taste.
Taste the mix and add more salt if you want. I didn't need to add any salt at this stage.
Add the spinach and red chili flakes. Mix well.
Crack the egg into a small bowl. Whisk and keep aside.
Working with one sheet at a time, cut the sheet in half.
Spoon the mix to form a long log in the center of each half of the pastry (lengthwise).
Brush one side (along the length) of each half of the sheet with the whisked egg.
Roll the other side of pastry over the spinach into a tight log. The egg will help seal the pastry.
Place the rolls on greaseproof paper, seam side down. Repeat with the rest of the pastry.
Carefully place the paper onto the heated tray.
Brush the tops of the rolls with the whisked egg (egg wash).
Crack some black pepper on the top of each roll and sprinkle some black sesame seeds on the rolls.
Bake for about 30 minutes or till golden brown in color.
Serve hot.
So continuing from my last Halloween post, here's another quick and easy savory treat I put together for the same party. If you haven't yet read that one, go check out the Monster Eye Crackers I posted about
here
.
If you've been around these parts before you know the most important part of food for me is taste. It helps if it is quick and easy to make and bonus points if it is cute and quirky too. This little treat ticks all those boxes. I found this one in quite a few places on the internet and decided that I had to try them out. They are perfect to make for a Halloween themed party. I will admit that the cheese stringers were a little fiddle to begin with, but eventually things started moving along much faster. And, considering there was zero cooking involved, I still give this little snack a thumbs up. Kids will love the novelty of these 'Witches Broomsticks'. I made these to serve at an office party and the adults couldn't keep their hands of them either.
These snacks also use only 3 ingredients – pretzel sticks, cheese stringers and fresh chives. There is not much of a process involved either, so let's get straight to the instructions.
I hope you make these savory treats this Halloween and enjoy them as much as we did.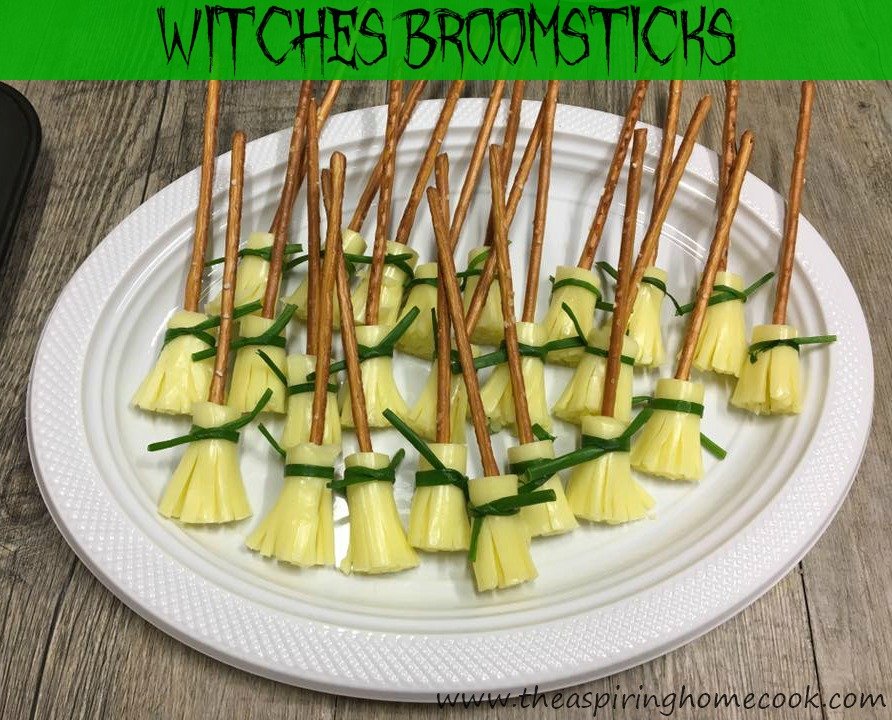 Witches Broomsticks


Pretzel sticks
Cheese stringers
Fresh Chives
Start with the cheese. Cut the cheese stringer sticks into about 1 inch pieces or one thirds.
For each of these pieces, cut up or pull apart two thirds of the length of it to make the bristly edge of the broomsticks.
Now simply pierce the uncut end with a pretzel stick.
Finish them off but tying with a piece of fresh chives.
Serve up.
What treats are you planning for this Halloween???
** This post contains affiliate links.
Around this time of the year, especially if you partake in the Halloween festivities, you will find yourself inundated with candy and other sweet treats and bakes. In a nutshell, a sugar overload. While I love my cakes and sweets / candy as much as the next guy or gal, if you are like me, you will need a little bit of savory to cut through all that sweetness.
Last year, I was really excited about Halloween. We were supposed to have a big Halloween party at my workplace. However, as luck would have it I quit that job in early October to focus on building up a little business. When my colleagues threw me a small farewell party, they decided to roll with the Halloween theme. I couldn't pass up on the opportunity to whip up a few treats. These little cracker bites were one of them. I will share the rest of them with you over the next few days. My job was extremely physically demanding and boasted quite a few really long days. So I had to come up with treats that were quick and easy to put together. I knew the candy part of the party would be taken care of, so I stuck with the savories.
These Monster Eye crackers are perfect for a party or get together. They are a Halloween Play on cheese and crackers. They can be whipped up really quickly with all of 3 ingredients. So, I knew I was going to make them. I was a little skeptical about them considering how simple they are, but let me tell you, they vanished really quickly. I wish I had made more. If you decide on making these, make sure you make a big batch. So to make these, all you need are crackers. I love the Eton crackers found in Aldi stores locally, but if you cannot get your hands on them, Ritz Crackers
will work just as well. You can use any other crackers you'd like. Now that the crackers are sorted, the next ingredient is the cheese. I used Kraft Cheese Slices
, but again, you can use any cheese slices you like. The last ingredient you need are olives. You can use Pitted Kalamata olives
or pitted Green olives, if you prefer.
The process is fairly simply, and works fastest if you create an assemble line. I hope you enjoy these little snacks this Halloween as much as we did.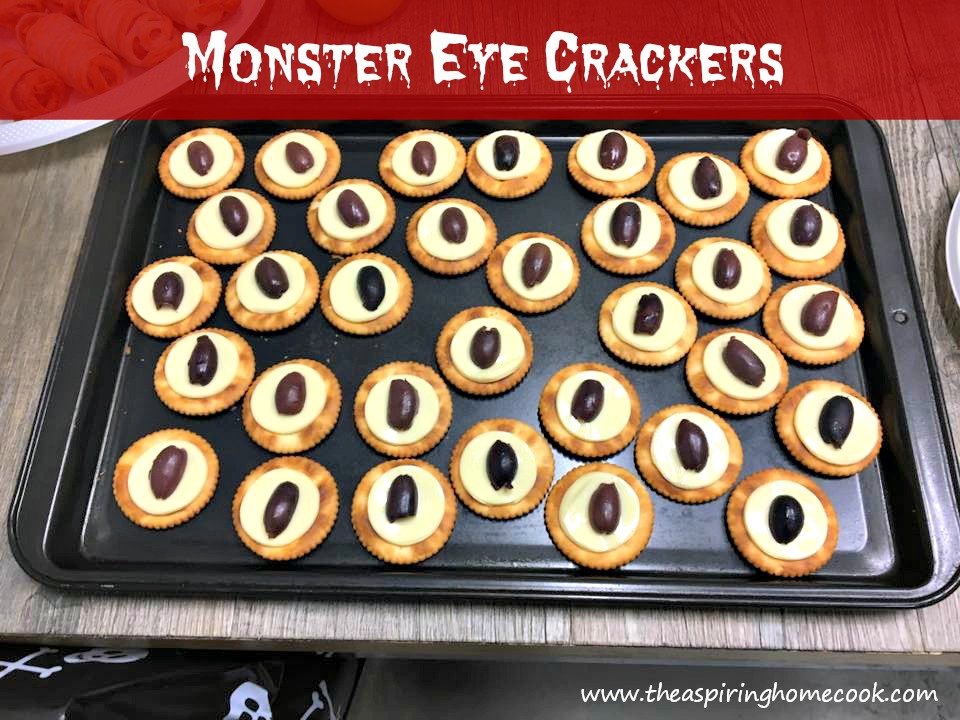 Monster Eye Crackers


Eton crackers (You can also use Ritz Crackers
)
Kraft Cheese Slices
Pitted Kalamata olives
You will also need a circle cookie cutter, just a little smaller than the size of the crackers you choose to use.
Cut the cheese slices into circles using the cookie cutter and keep aside.
Cut the pitted olives in half and keep aside.
On a serving platter, place the crackers in a single layer.
Top the crackers with a circle of cheese and top that with half an olive.
And that's basically it. Serve up.
Enjoy!!!
Anyone who knows me well, knows I love my snacks. Most Indian snacks are deep fried. Actually, scratch that, most snacks anywhere are deep fried. Well, atleast the yummy ones are. That being the way it is, I try to cut down on these kinds of snacks. Which means, I'm constantly on the lookout for healthier options. And it goes without saying that even these healthier options, have to be delicious. At the end of the post, I will list some of the recipes that I find healthier. Do you love your snacks as much as I do? Hit me up with your healthy snack recipes in the comments section. I would love to try them out and will post my experience here, with credit to you, of course.
Today's post is one such snack option. Kale Chips. I never thought I'd love it as much as I do. I've had the option to cook with Kale only in the last couple of years. I've not tried too many Kale recipes so far. Just this Skillet Breakfast Hash and now these Kale Chips. I've made them both a few times and we love them. That is how I knew, I had to share these Kale Chips with you. Kale is really good for you. They are choc full of antioxidants. These are baked and I can't tell you how delightful they are to snack on. You have to try it to believe it. What I love is that the options for the seasonings are endless. I have a soft spot to this Spicy Masala Chaat Seasoning. It is a little tangy, a little salty and a little spicy – just perfect. And its such an easy recipe too. All you do is prep the leaves, sprinkle the seasoning over, toss and bake. So what are you waiting for? Try it out. You'll definitely want to make it again.
You can watch the recipe here –
Kale Chips


1 bunch of Kale, washed and shaken dry
1 tbsp olive oil
1/2 tsp Kashmiri chilli powder or to taste
1/2 tsp Chaat masala, or to taste
Salt, to taste
Preheat the oven to 180ºC.
To prep the Kale leaves, break the leaves into smaller chip size portions, discarding the tougher stem.
In a small bowl, mix the olive oil, the chilli powder, chaat masal and salt together.
Drizzle this over the the kale leaves and toss well to make sure all the leaves are coated with the spices. Its best to do this with your hands. Rub the leaves gently to get the seasoning in the little nooks and crannies.
Either line a baking tray with some parchment paper or lightly spray with some oil
Arrange the kale leaves in a single layer on the tray.
Bake for 10-15 minutes or till the leaves are lightly browned.
Keep a close watch on the leaves as they can go from just right to burnt very quickly.
Take them out of the oven and let the chips cool completely before eating. They crisp up as they cool.
Sit back and enjoy.
Pin now and enjoy later!
How many of you enjoy your dry fruits, nuts and seeds? I'm talking raisins, sultanas, dates, apricots, prunes or almonds, cashewnuts, peanuts and also pumpkin seeds (pepitas) and sunflower seeds. Me, I love them all. They are all known to have health benefits if eaten in small quantities as part of a balanced diet. It is a shame that more people don't include these little gems in the diets. My husband loves nuts, but isn't too keen on the dried fruit or seeds by themselves. So I have to think of ways to include them in our diet. Most often, we usually just nibble on a small handful of an assortment of fruits and nuts / seeds, but I was looking for other ways to enjoy them too.
When I came across a post with these bars, I knew I had found something good. It has dates, apricots, pepitas, chia seeds and a touch of cinnamon, all of which are know to be healthy in their own right. They come together to form these little delicious bars which are so tasty. They are sweet from the dates, a little tangy from the apricots and have the crunch of the chia seeds and pepitas though them. As the original recipe included a small amount of white chocolate chips, I threw them in, but they would be fantastic even with dark chocolate or even without chocolate at all.
The verdict, my husband enjoys them, which is a win for dry fruits in his books. They are small portion sizes, but pack a punch. If you like to reach for a snack bar or a granola bar during the day, I suggest trying these out. They are very satisfying and will keep the hunger pangs away till your next meal. They take all of 10 minutes hands on time. So even if you are time poor, you can still make a batch of these on your day off and enjoy them through the week. Kids will enjoy them too. Go ahead, give them a try. If you do, I'd love to hear what you think of them.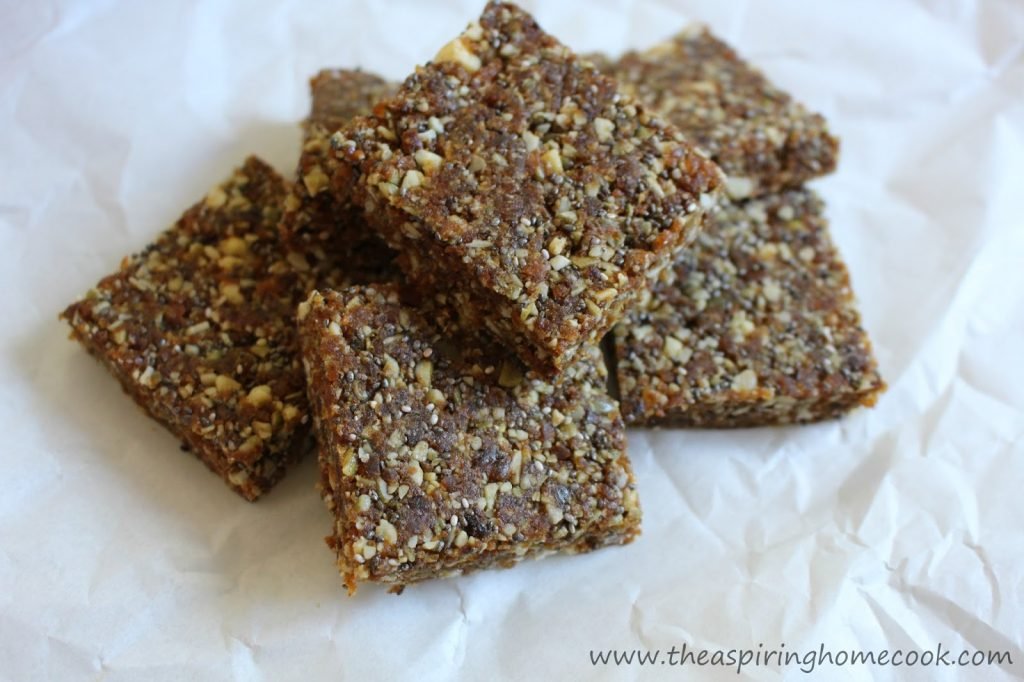 Date, Apricot & Chia Bars
Recipe from: Cupcakes & Kale Chips
Yields: 16 pieces (2 inch squares)
1 cup dates, pitted
1 cup dried apricots
2 tbsp Chia seeds
1/4 tsp ground cinnamon
1 cup raw pumpkin seeds / pepitas
2 tbsp white chocolate chips (optional)
Line an 8×8 inch baking dish or tray with baking paper.
Place the dates, apricots, chia seeds and cinnamon in a food processor and blitz till it has coarsely broken down.
Add the pepitas to the processor and blitz again till the pepitas have broken down to finely chopped.
Now add the chocolate chips, if you're using them and blitz again to break them up to little pieces.
Empty this mix onto the lined baking dish and flatten it down as best as you can, using the back of a spoon.
Next, I used another piece of baking paper on the top and used a large glass jar to flatten it out evenly. You can also use the bottom of a pan or a similar sized baking dish to do this after you place the baking paper on top.
Refrigerate for an hour.
Cut into squares. They are now ready to eat.
To store these bars, place a piece of baking paper between the squares to keep them from sticking to each other. Store in an airtight container in the fridge.
You now have little snack bars that will take you through the week.
Enjoy!!!
If you like this recipe, here's a few more you might enjoy –
Fruit & Nut Balls
Power Packed Snack Bars
Banana Bread Baked Oatmeal
I don't know if I've admitted it before, but I love my snacks. I'd rather have a couple of light meals that one big one. Back in Bombay, this is very easy to do. We have such a wide variety of snacks from various parts of India. Most of them are readily available at street food carts or other grocery stores and they don't cost the earth. Most of these snacks are savory. After coming to Australia, I often find myself craving this ever so delicious street food. And here, its almost impossible to find these treats as easily as you find it Bombay. If you do find them, they are ridiculously expensive and a lot of times they disappoint. Given these reasons, I try to make some of these delicious snacks at home. Some I am familiar with making, the others I'm trying to learn.
Today's post is about one such recipe. Its a cake recipe, but not your regular, run of the mill cake. This is a savory one. And it is made with chickpea flour. It is called Khaman Dhokla and happens to be one of my favorite street foods. Even though I enjoy this recipe, I didn't know how to make this one. I had to do some reading before I could find a recipe I was happy with. And when I saw this instant recipe, I knew I had found the one. Traditionally, this cake is steamed, but this is a microwave recipe.
This beautiful snack comes together in less than 30 minutes from start to finish. It is absolutely delicious. The cake itself is light and super fluffy. The flavors are well balanced and in all, very moreish. If you've had dhokla before, you probably love it as much as I do. If you haven't, you really should give it a try. It is a unique treat and you won't be disappointed. This treat is served with some Green Mint Chutney and some Tamarind & Date Chutney. You can buy little bottles of the chutneys at any Indian store or click on the links to find the recipes, if you'd like to make some at home. They are very easy to make and taste so much better. Either way, these chutneys are an important part of the dish and not just an accompaniment. Serving it without the chutneys doesn't do the the dhokla justice.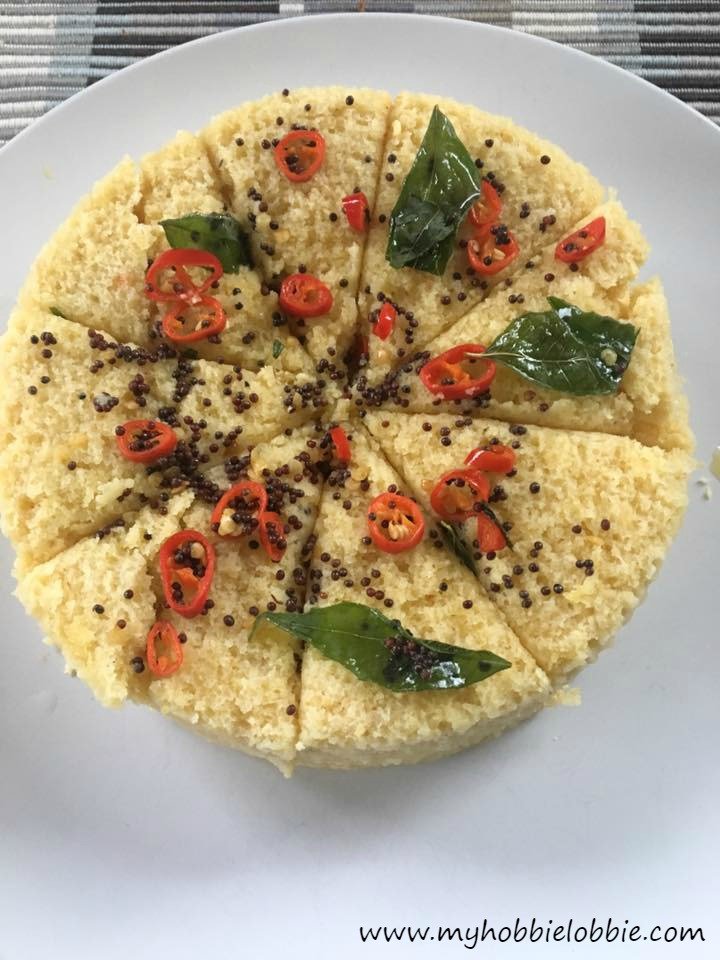 Instant (Microwave) Khaman Dhokla
Recipe from: Ruchi's Kitchen
1 cup besan (chickpea flour)
1 1/2 tbsp semolina
A pinch of asafoetida
1 tbsp sugar
Salt, to taste
1 tsp. crushed ginger and green chillies
1 1/2 tsp Eno (fruit salts – available at any Indian store)
1/2 tsp Citric acid
2 1/2 tbsp Oil
3/4 – 1 cup water (depending on how much is needed to achieve pouring consistency)
For tempering –
1 tsp mustard seeds
10-12 curry leaves
1 tsp sugar
2-3 tbsp water
2-3 green / red chillies, sliced
1 tbsp oil
In a large mixing bowl, mix the besan, semolina, asafortida, sugar and salt.
In a mortar and pestle, pound the ginger and green chilly to a fine paste. (You can leave the chillies out or deseed the chilly if you don't want too much heat from the chilly.)
Add the chilly and ginger paste to the mixing bowl. Add the oil and citric acid.
Add the water and mix everything till well blended.
Whisk the batter well to incorporate air into it. It will make a light and fluffy dhokla.
Add the eno (fruit salts) and whisk the batter till it is well incorporated. The batter will get light and frothy. The batter should be of thick dropping / pouring consistency.
Pour the batter in a greased microwave bowl. (I used an 8″ bowl)
Cook for 5-6 minutes. It may take longer depending on the microwave.
Take it out and insert a toothpick to check if it is done, just like you would a regular cake. If the toothpick comes out clean, it is cooked and if it doesn't microwave for another 30 seconds.
Allow it to cool.
Traditionally, it is cut into squares. But I tried cutting it into wedges this time and it looks much prettier this way.
Now prepare the tempering.
For the tempering –
In a pan, heat the oil.
Lower the flame and add the mustard seeds and green / red chillies and let it sputter.
Add the curry leaves and let it fry up on low heat till crisp.
When they are crisp, add the sugar and water. Mix well.
Pour the hot tempering over the dhokla.
Serve with the Green Mint Chutney and Tamarind & Date Chutney.
Enjoy!!!
Now that you can make the very tantalizing
Sev Puri
at home, I'm eager to show you how to step this already amazing treat up a notch, into something spectacular. The trick is adding a little whipped yogurt. That's it. So basically, without the yogurt you have what we call Sev Puri and with the yogurt, you have a completely different treat called Papdi Chaat. That's how easy and simple it is.
The trick to a good papdi chaat is getting the right balance with the whipped yogurt. Unfortunately, there is no accurate measure here, because the tartness of the yogurt varies greatly. You could use regular pot set yogurt or greek yogurt here, either way, it has to be plain, unflavored and unsweetened yogurt. I start off with half a cup of yogurt for a single plate of chaat or 1 cup for 2 plates or portions. Trust me here, you'd rather have more of the whipped yogurt dip at hand, instead of falling short or running out of it.
So let's get straight to it then. The list below is an approximation. You add as much or as little of each of the ingredients to suit your preferences. The quantities below make one plate or 1 portion. You can easily double or multiply the quantities to make more. Also I used chickpeas here, you could use boiled potato instead or a combination of both.
Papdi Chaat
For 1 portion
6-7 puris (also called Papdi)
1/2 cup boiled / canned chickpeas, roughly mashed
1/4 onion, finely chopped
1/4 tomato, finely diced
Mint Chutney (You can find the recipe here)
Date and Tamarind Chutney (You can find the recipe here)
Sev
Fresh coriander, chopped
Some chaat masala / amchur (dried mango) powder
1/2 cup plain, unflavoured and unsweetened yogurt
A pinch of salt
Sugar, to taste (superfine sugar)
To make this chaat, start off my making the yogurt whip. The mixed yogurt needs to sit for about 5 minutes for the flavor to develop.
Place the yogurt, a scant pinch of salt and 1 tsp sugar and stir together to combine. Taste and add more sugar if you need to. You are looking for a slightly tangy, slightly sweet taste with a faint hint of saltiness as well. If your yogurt is not too tart, start with 1/2 tsp sugar and add more if needed. Set the bowl aside while you assemble the chaat.
Place your puris on your serving plate.
(These puris can be made at home. I haven't tried making them yet. For now, I use the store bought version. I get mine in packets that look like the one below).
Over the puris, arrange the mashed chickpeas in a layer. Unfortunately I don't have a picture of the chickpeas layer but here's one of the boiled potato slices. The trick here too is to not overload the puris. They will get difficult to manage.
Top that with the chopped onion. Use as much or as little as you like. But make sure you use some.
Top this with some chopped tomato.
Now add your green mint chutney. I would start of with small quantities of this as this is on the spicy side.
Now you add the Date and Tamarind Chutney. This is the sweet and tangy stuff, so feel free to add some.
At this stage, add a dollop of the whipped yogurt on each puri. I like a little extra yogurt on mine, but go with what you think you'd enjoy.
The next layer uses sev. Sev is basically little fried crispy noodles made out of chickpea flour. Again, this can be made at home, but I haven't tried that yet. I simply use a store bought packet.
Add a layer of the sev to the puris.
It's almost done. But there are a couple of flourishes that will take this treat to a whole new level. Sprinkle the puris with a pinch of chaat masala / amchur powder. Use this sparingly as a little goes a long way. Lastly garnish with some freshly chopped coriander.
Serve immediately.
There is only one way to eat these puris. You get a whole puri with its toppings in your mouth at one go.
Yup that's right! You thought I had given up on my Bombay Street Food Series, didn't you? The good news is that I haven't. I just don't always remember to take a picture when I make some of these. This time I did. So I can finally share one of my favorites with you. Sev Puri – Sev is just the almost super thin fried noodle like crunchy topping and Puri the flat disc that it sits on. This Sev Puri falls into a broader category of street food called Chaat, which also includes Bhel Puri, Paani Puri and many more. I love them all. Infact everytime I go back home, I have to go get some almost the day I get there. There is only one vendor close to where I grew up that I will ever go to. No one can beat his Chaat in taste. I should check if he's willing to make an appearance on the blog, when I go there next. You have to be careful about where you get your Chaat fix from because of overall hygiene levels of street food in Bombay. But this guy, I can swear by. We've been frequenting his little stall since he started his business, about 30 years ago. If you're skeptical about enjoying these on the street or don't have access to a vendor like this, with a little planning you can enjoy a fantastic version at home.
This little treat is basically an Indian version of nachos, except that these are individually topped with all the fun stuff. The way you eat this is you pick up one Puri and try not to drop off any of the toppings and the whole things goes into your mouth at one go. What you end up with is an explosion of flavors and textures. It is literally a party in your mouth. To make these puris, you'll need to have some boiled potato at hand. You will also need a couple of chutneys. From time to time I make these chutneys at home (I'll add the link in the recipe below), but this time around I'd run out of the home made version and used store bought chutneys. You should be able to find all of the ingredients in your local Indian grocery store. I do hope you try these out. These are best eaten as soon as they are assembled, otherwise they tend to go soggy. You will also notice that your second and third attempts will be better than your first one, because these babies are all about a balance of flavors. Once you've tried them, you'll know what you want to increase or decrease the next time around. The quantities below are not fixed, you can add more or less of any of them to suit your taste. Each plate typically serves one and can easily be doubled or multiplied. The quantities below make 1 plate.
Sev Puri
Serves 1
6-7 puris (also called Papdi)
1 potato, boiled and thinly sliced
1/4 onion, finely chopped
1/4 tomato, finely diced
Mint Chutney (You can find the recipe here)
Date and Tamarind Chutney (You can find the recipe here)
Sev
Fresh coriander, chopped
Some chaat masala / amchur (dried mango) powder
A few drops of freshly squeezed lime juice
Place your puris on your serving plate.
(These puris can be made at home. I haven't tried making them yet. For now, I use the store bought version. I get mine in packets that look like the one below).
Over the puris, arrange a layer of the boiled potato slices. Don't overload the puris. They will get difficult to manage.
Top that with the chopped onion. Use as much or as little as you like. But make sure you use some.
Top this with some chopped tomato.
Now add your green mint chutney. I would start of with small quantities of this as this is on the spicy side.
Now you add the Date and Tamarind Chutney. This is the sweet and tangy stuff, so feel free to add some.
The next layer uses sev. Sev is basically little fried crispy noodles made out of chickpea flour. Again, this can be made at home, but I haven't tried that yet. I simply use a store bought packet.
Add a layer of the sev to the puris.
It's almost done. But there are a couple of flourishes that will take this treat to a whole new level. Sprinkle the puris with a pinch of chaat masala / amchur powder. Use this sparingly as a little goes a long way. Add a few drops of freshly squeezed lime juice. Again with the lime juice, less is more. You can add a bit, taste and add more if needed. However, if you add too much there is no way to balance it out. Lastly garnish with some freshly chopped coriander.
Serve immediately and get ready to be very popular with anyone you might serve this to.
There is only one way to eat these puris. You get a whole puri with its toppings in your mouth at one go.
After spending a little more than 30 years in Mumbai, when I was born and brought up, we moved to our new home – Australia. Nothing gives me greater joy than calling Australia home. But every once in a while, I go through phases where I miss Indian food. We cook a lot of Indian food at home. But what I was missing was the easily available street food that Mumbai is famous for – it's Chat and idli/vada/dosas. Another thing I tend to miss is the Indian Mithai (sweets) and farsaan (savoury munchies). The Indian stores here stock them, but they're usually not as fresh as they should be, or as tasty. You also end up spending a fair bit on them. I decided it was time that I learnt to make the things I love, myself. To my surprise, I found that a lot of these recipes are fairly easy. With a little research online, I am now well on my way to making a lot of these goodies myself. Today I'm making some Garlic Karasev.
I tried my hand at an easy version of the Gulab Jamun which you can check out here. I was so stoked with the results, I knew I couldn't stop there. So the very next day, I decided to try out something savoury. I found this recipe through Pinterest and at the same time I tried out a recipe for Methi Mathri. The Methi Mathri flopped, but I think I know what possible caused that to fail. But this Garlic Karasev, was spot on. I love garlic and that garlicky flavour came through beautifully. I stuck to the ingredient list in the original recipe, but made a few modifications to the process. This made the process easier with no impact on the resulting flavour or texture. I was very pleased with the results. It is hard to stop snacking on this garlic karasev with your afternoon cup of tea. This recipe is an absolute keeper. It yields a fairly big batch within a short time too.
Garlic Karasev
Adapted from: The Chef and Her Kitchen
2 1/2 cups besan (chickpea flour)
1 cup rice flour
2 tsp melted ghee (clarified butter)
2 tsp red chilli powder
3 large cloves of garlic, finely grated
Salt to taste (about 1 tsp approx.)
Oil, for deep frying
Heat oil in a wok for deep frying. While the oil is heating, prepare the dough.
In a large mixing bowl, place the besan, rice flour, red chilli powder and salt. Mix well.
Add the grated garlic and mix to distribute evenly.
Add the melted ghee next. Again mix well.
Gradually add a little water and knead to a dough. The dough shouldn't be too tight or too soft. It will be a little sticky, which is fine.
Divide the dough into 2-3 portions. I had 3 portions, one was in the chakli press.
For this recipe, you need to use the form with slightly larger holes. You may have one with 3 larger holes or multiple ones. I've indicated the one I used.
By now, the oil should have heated. Insert the form you are using first. Add the dough. Then simply turn the handle on the top while moving your arm slightly to form a little circular nest directly in the hot oil. Don't overlap the dough too much or it wont fry well. Turn the heat to medium.
When it starts to turn a light golden brown, carefully turn over with a slotted spoon.
When it has cooked on both sides to a golden brown colour, take it off the heat using a slotted spoon and place on some kitchen paper to get rid of any excess oil.
Continue the process with the rest of the dough.
Once it has cooled completely, you can break it up gently into smaller pieces and store in an airtight container.
You've got yourself a couple of weeks worth of munchies. And the best part is, you know exactly what is in it, no artificial flavouring or preservatives. That makes me very happy.
So go ahead, try this recipe and let me know what you think of it.
Today I have a yummy little snack to share with you. Back in Bombay and in Goa, these puffs are legendary. You find loads of variants of the puff with a variety of the fillings – chicken, veg, mutton etc. They are pretty easy to find, though finding a good one might not be too easy. My favourites all came from stores in Bandra, namely my college haunt – Andora's Cafe, Hearsch's Bakery and a more pricey Candies. So eventually, when I learned to make my own at home, I was really excited. Back in Bombay I always made the puff pastry from scratch and it always turned out well. I hope to make it again someday and share the recipe here.
Here in Sydney, I was thrilled to find I could buy frozen puff pastry. That meant it was now possible to enjoy these little puffs with a fraction of the effort and time involved. Now don't get me wrong. I am all about cooking and baking from scratch, but everyone needs to be open to a few shortcuts every now and then, especially when life gets hectic. So today, we are going to use the store bought frozen version. That covers the pastry. For a tasty filling I use my Beef mince recipe, but leave out the potatoes. Also you need to make sure that the liquid has cooked out so that you don't have a runny filling. A runny filling will only result in a soggy pastry.
Now it's just a matter of assembling the puffs. I cut up each thawed sheet of pastry into 6 portions and place the filling on one side keeping away from the edge. Run a finger dipped in water along the edges and fold over to seal. Apply an egg wash and bake. You can make these in a larger batch and refrigerate them. Just bring them to room temperature and heat them up on a pan or in the oven and you can sit down to a nice little snack. Very often, I have these with some tomato ketchup and I can safely say, nothing beats it.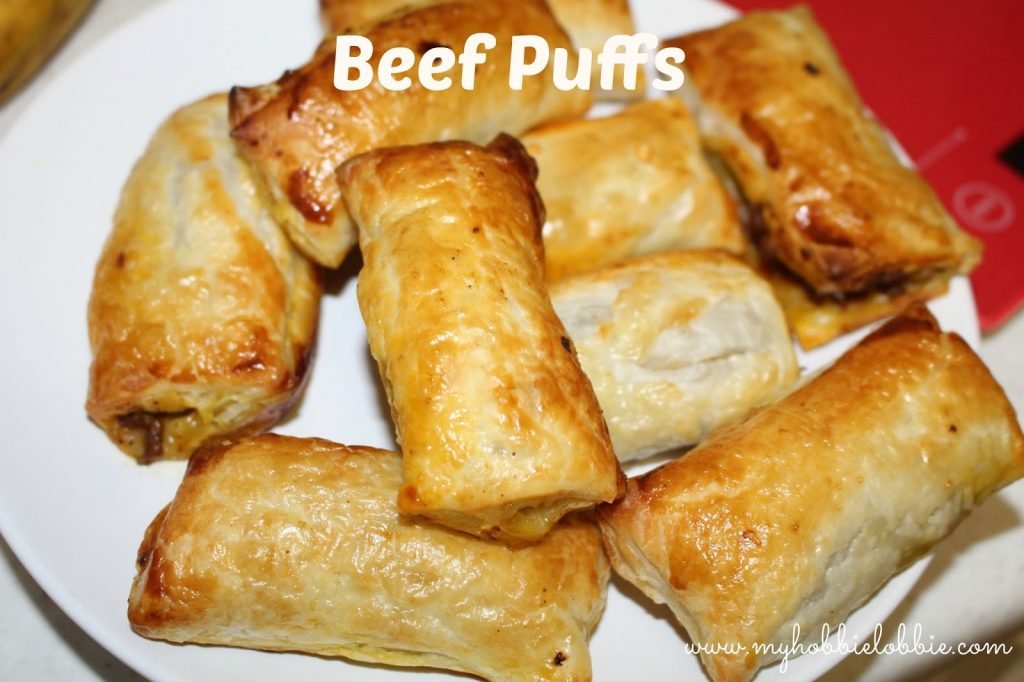 Beef Puffs


Beef mince (each puff requires a spoon of filling)
Frozen puff pastry sheets, as many as you need (Each sheet yields 6 pieces)
1 egg, for the egg wash
Preheat the oven to 220ºC (follow the package instructions if you're using puff pastry).
Place the thawed puff pastry sheet on a flat work surface and cut into 6 potions. Place a spoon of the filling on one side of each puff staying away from the edges like so –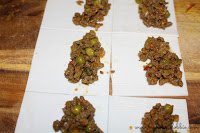 Keep a little bowl of water near your work surface. Dip a finger in the water and run on the edges of each puff.
Flip the empty half over onto the side with the filling and seal the edges. Place it on a baking tray lined with baking paper.
Crack an egg in another bowl and beat lightly. Using a pastry brush, lightly brush the egg wash over the puffs. This gives it a lovely golden brown glaze.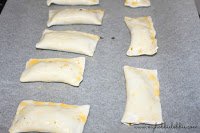 Bake for 15-20 minutes or till golden brown.
Enjoy them warm.