Anyone who knows me well, knows I love my snacks. Most Indian snacks are deep fried. Actually, scratch that, most snacks anywhere are deep fried. Well, atleast the yummy ones are. That being the way it is, I try to cut down on these kinds of snacks. Which means, I'm constantly on the lookout for healthier options. And it goes without saying that even these healthier options, have to be delicious. At the end of the post, I will list some of the recipes that I find healthier. Do you love your snacks as much as I do? Hit me up with your healthy snack recipes in the comments section. I would love to try them out and will post my experience here, with credit to you, of course.
Today's post is one such snack option. Kale Chips. I never thought I'd love it as much as I do. I've had the option to cook with Kale only in the last couple of years. I've not tried too many Kale recipes so far. Just this Skillet Breakfast Hash and now these Kale Chips. I've made them both a few times and we love them. That is how I knew, I had to share these Kale Chips with you. Kale is really good for you. They are choc full of antioxidants. These are baked and I can't tell you how delightful they are to snack on. You have to try it to believe it. What I love is that the options for the seasonings are endless. I have a soft spot to this Spicy Masala Chaat Seasoning. It is a little tangy, a little salty and a little spicy – just perfect. And its such an easy recipe too. All you do is prep the leaves, sprinkle the seasoning over, toss and bake. So what are you waiting for? Try it out. You'll definitely want to make it again.
You can watch the recipe here –
Kale Chips


1 bunch of Kale, washed and shaken dry
1 tbsp olive oil
1/2 tsp Kashmiri chilli powder or to taste
1/2 tsp Chaat masala, or to taste
Salt, to taste
Preheat the oven to 180ºC.
To prep the Kale leaves, break the leaves into smaller chip size portions, discarding the tougher stem.
In a small bowl, mix the olive oil, the chilli powder, chaat masal and salt together.
Drizzle this over the the kale leaves and toss well to make sure all the leaves are coated with the spices. Its best to do this with your hands. Rub the leaves gently to get the seasoning in the little nooks and crannies.
Either line a baking tray with some parchment paper or lightly spray with some oil
Arrange the kale leaves in a single layer on the tray.
Bake for 10-15 minutes or till the leaves are lightly browned.
Keep a close watch on the leaves as they can go from just right to burnt very quickly.
Take them out of the oven and let the chips cool completely before eating. They crisp up as they cool.
Sit back and enjoy.
Pin now and enjoy later!
I'm finally back to blogging! If you've been wondering where I've been over the last few weeks, I've been right here but I've had my laptop die on me. It was a real task recovering the data on it and getting back to doing this. But thanks to my wonderful husband, I've recovered most of it. And now finally have access to it. Still don't have my trusty laptop, but the family computer works fine for now.
So to ease back into the flow of things, this will be a quick post. The recipe also is a quick one, super simple to make. Infact, you can barely even call it a recipe, but the results are so very good, I will go ahead and post it here to share with you. If you haven't tried out sweet potato fries yet, trust me, you really should. Even my beloved husband, who doesn't care much for the sweet potato (he calls it a sweet mush / baby food), loved it and actually requests for these fries every once in a while.
There are a couple of things to keep in mind here. You could peel the potatoes, but I leave the skin on. Just give it a good wash and scrub and you are good to go. Also, size of the fries will make a difference. The thicker you cut it, the longer it will take to cook. The thicker sized fries will still be soft and fluffy. If you are like me and love a little crunch in your life, cut the fries thin. It cooks quicker and caramelises a little and is super delicious, not to mention perfectly crunchy.
This fries are a much more healthy version that the regular potato fries and are great either as a snack or as a side to a big roast dinner or holiday meal too.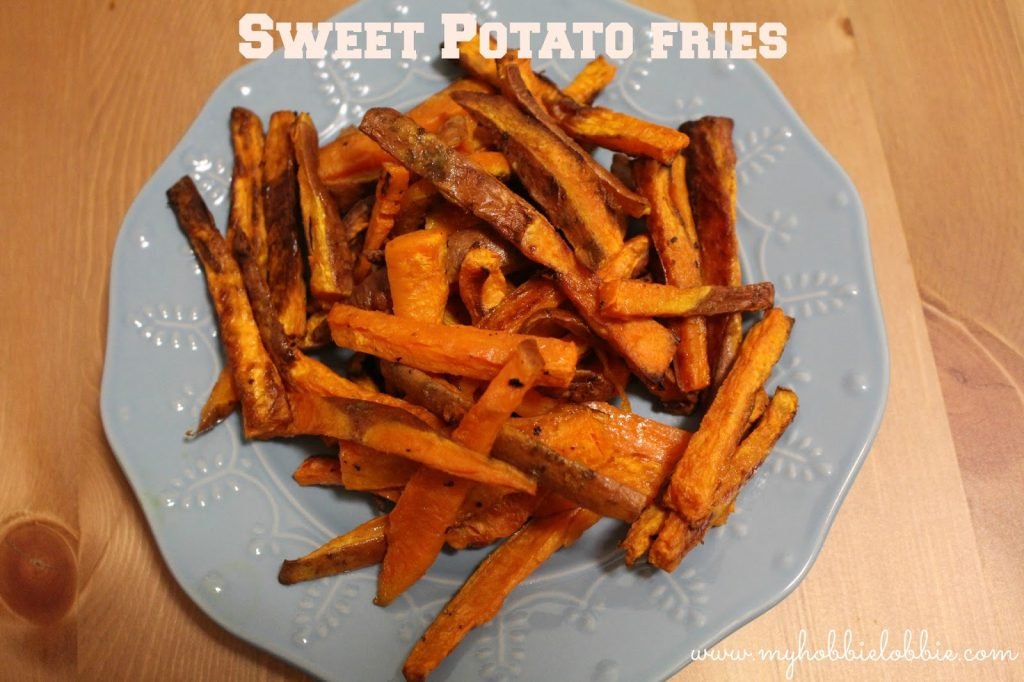 Sweet Potato Fries


1 large sweet potato, washed
Salt, to taste
Freshly crushed black pepper, to taste
A drizzle of olive oil (about 1 tbsp)
Preheat the oven to 200°C.
Cut the sweet potato into fries.
Drizzle a little olive oil on a baking tray.
Place the sweet potato, salt and pepper on the tray and toss to make sure everything is well coated. You can add a little more olive oil if needed.
Arrange the potato pieces in a single layer.
Bake for 15-20 minutes, turning the pieces once at the halfway mark.
Keep an eye on your oven from time to time. It may not need as long in your oven. Also this time will depend on the size of the pieces. So keep an eye on it the first time you make this.
When it is done to your liking, take it out of the oven.
Serve hot and enjoy!
Every now and then I love a little snack. Yes, I snack between meals Dad. My Dad would be horrified that I still do. He is a strong believer that food should be restricted to meal time, unless you were at a party or something. However, I love my snacks. I've always tried to cook / bake from scratch and now I want to try and take that one step ahead and eat clean. It will take some getting used to, but I think it definitely is do-able and I hope to take that to my snacks as well. Does this mean you'll stop seeing desserts, bakes and other slightly indulgent food on my blog. Most definitely not. I will still do that, but will try and be more mindful of the kind of food I eat on a regular basis. Do you have any clean eating recipes that you love? I would love to try them out too. Leave me a comment and let me know 🙂
So back to this salad. I love cucumbers – continental, lebanese, baby cukes – all of them. One of my favourite ways to eat cucumber is straight up sprinkled with a tiny bit of salt. I usually serve some up with lunch or dinner. I wanted to try and change it up a little. Thats where this Asian inspired gem comes in. It was quick and easy and sounded delicious. I could definitely snack on some of this too. I'm very glad I stumbled across this recipe.
If you're making this salad ahead of time, you can make the dressing in advance and just chop the cucumber and toss it up just before serving.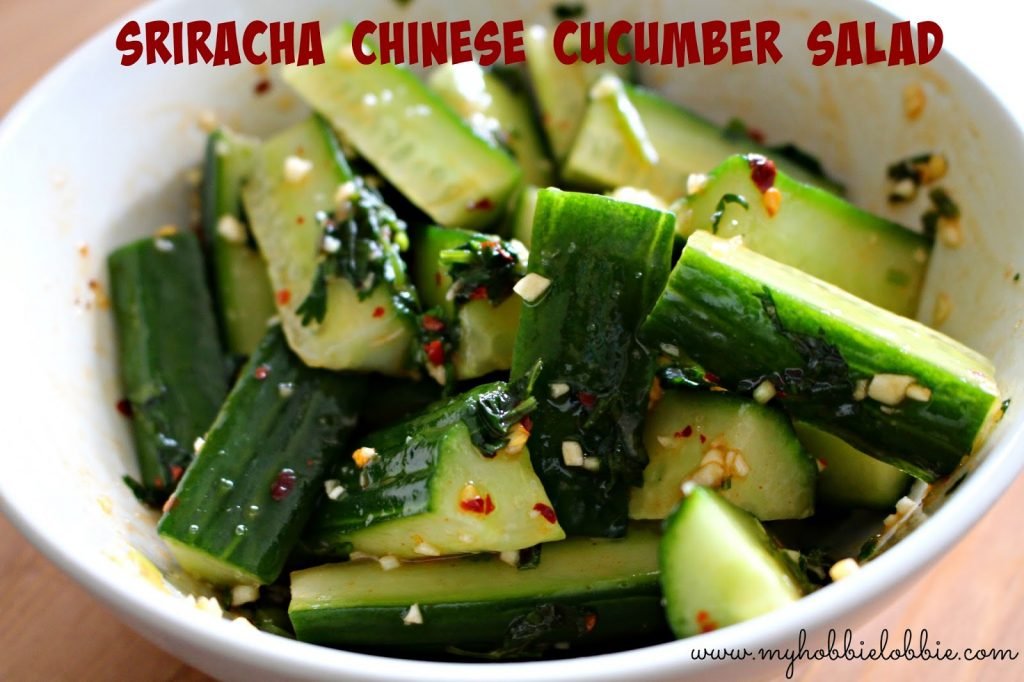 Sriracha Chinese Cucumber Salad
1 continental cucumber, cut into batons
1 clove of garlic, minced
1 tsp sesame oil
1/4 – 1/2 tsp sugar
1 tsp sriracha sauce
1/2 tsp fresh coriander leaves and stalks, chopped
1/4 tsp red chilly flakes
Lemon / lime juice, to taste
Mix all the ingredients except the cucumber pieces together in a bowl.
Add the cucumber pieces to the bowl and toss well.
Serve immediately.
Chicken is a protein that we eat most frequently at home. Whether it is a curry or fried, roasted or in a salad, we love it. What I also love about it is that is easy to prepare and cooks fast. One of many new edible ingredients that I've had access to in the last year is a Cajun spice mix. A lot of the spices I use are Hoyt's including this one.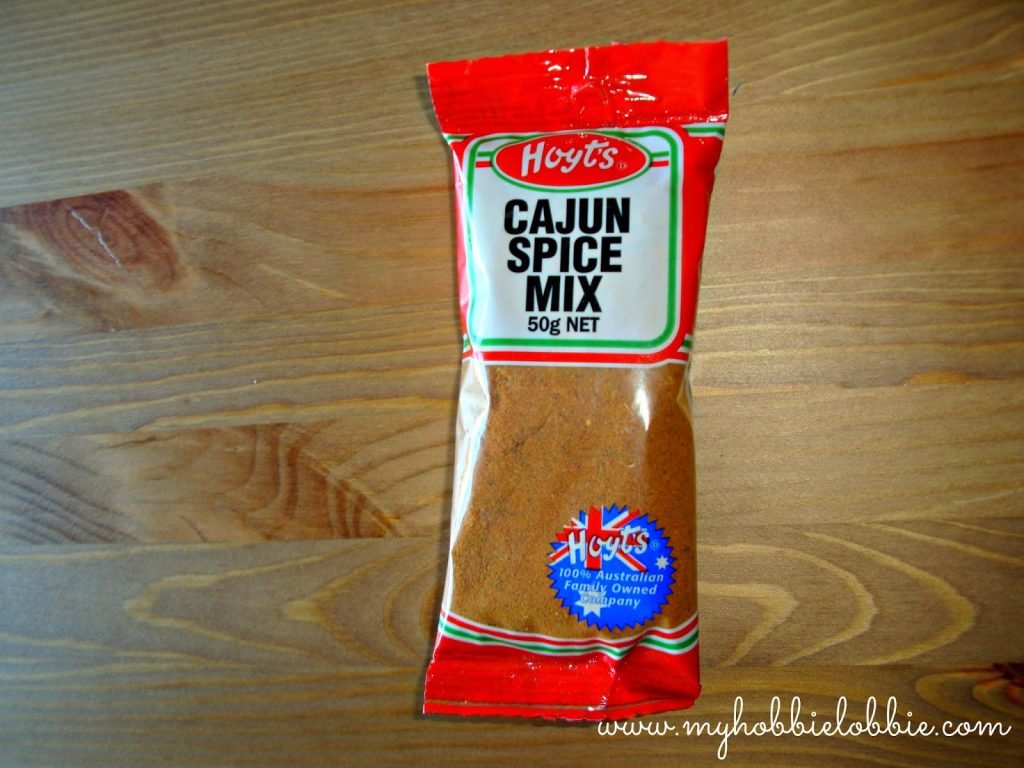 This is the first brand of Cajun Spice that I tried and enjoyed it a lot, so I've just stuck with it. And moreover, it is a 100% Aussie family owned company; I try to buy local whenever possible. I know there are loads of folks who make this blend at home and sometime in the future, I fully intend trying my hand at making it myself. For now, I'll stick with what I have easy access to.
Making Cajun chicken my way, couldn't be easier. I use smaller pieces of boneless chicken. Sometimes I use thigh fillets, other times I use breast fillets. I almost always buy the whole bird and then portion it out and cut it up at home (that is husband's department though). You could use whatever cut you like. Its nice to leave the chicken to marinade for about half an hour, but at times, when I've been pressed for time, I've made it after just 10 minutes and it still turns out pretty good. This is not a recipe as such, more of a guide to some yummy chicken.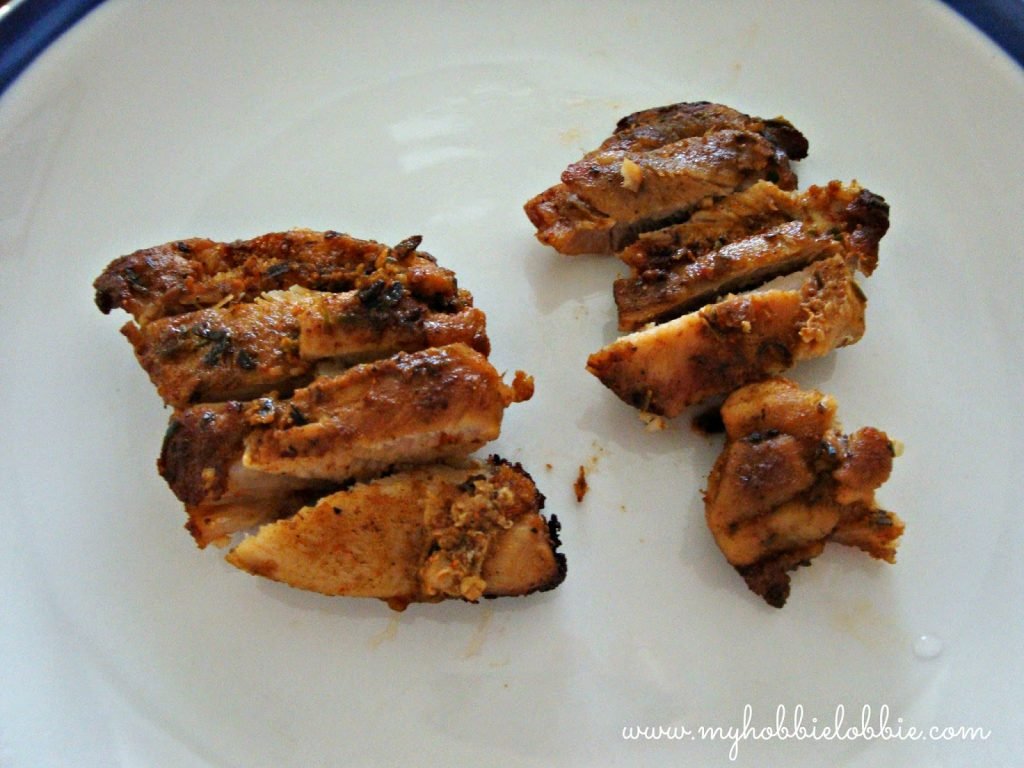 Boneless chicken pieces
Salt, to taste
Lime juice, to taste
Cajun spice blend, to taste
1 tbsp Vegetable oil
Take off the skin and trim the fat, if any, from the pieces of chicken.
Sprinkle the salt and cajun spice mix over the pieces of chicken.
Squeeze the sour lime juice over the chicken. I think the lime juice is what brings out the wonderful flavors of the spice blend. Its definitely not the same without the tang from the citrus juice. If you don't have lime juice at hand, you could use lemon juice too, you'll just need to use a little more.
Toss the pieces well to ensure they are well coated. Rubbing the spices into the pieces of the chicken works really well. Leave the chicken pieces in the spice rub for about half an hour.
Heat the oil in a pan. Carefully place the pieces of chicken in the pan and fry on both sides over medium heat till done. Depending on the number of chicken pieces you are frying, you may need to cook it in batches. Do not overcrowd the pan. You may need to use a touch more oil for each batch. (Tip: I start on a slightly higher heat to seal in the juices and then lower the heat to cook it through.) If you have a grill, I'm pretty sure this would taste fantastic grilled too.
You could serve these chicken pieces as they are with a salad for a fantastic quick weeknight meal. Or you could do what I do – cut up the pieces and use them in wraps and take them to work for a great packed lunch option. Here's how a put the wraps together.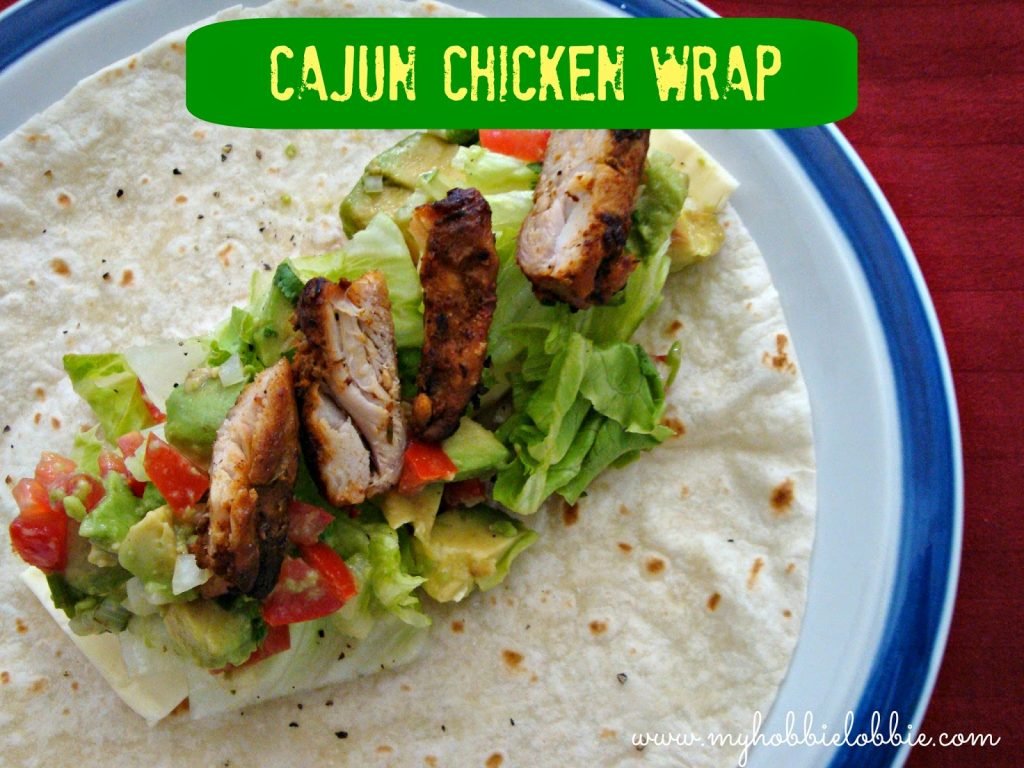 For the Wrap –
Flour tortillas (I used store bought)
Iceberg lettuce, chopped
Cheese slices, optional
Cajun chicken pieces
Lay the cheese in the middle of the tortilla and place some lettuce on top.
Top that with the the chunky guacamole and lay the chicken pieces over it.
Carefully, roll the tortilla to make the wrap.
Tip: If I'm eating the wrap straightaway, I warm the tortilla before making the wrap.
Enjoy!!!
** This is not a sponsored post. I'm just sharing with you a product I really enjoy.
So one morning, I found myself craving something different for breakfast. And as luck would have it, this happened to be the day we needed to go grocery shopping for the week. So its safe to say it was slim pickings. I was out of eggs, cold cuts and bread. All that I had access to was one flour tortilla from a pack we used for dinner the previous night and 1 banana. I really didn't feel like breakfast cereal that morning, so I turned to Google to see if there was something that I could make really quick with what I had at hand. There were lots of amazing options but all required something or the other I didn't have. I took inspiration from some and just went with flavors that I know work well. Banana and chocolate – yum, peanut butter and chocolate – double yum. In minutes, I was sitting down with a warm, gooey, chocolatey, deliciously crunchy breakfast quesadilla and a big mug of coffee. Now that's what I call a good start to the day.
Breakfast Quesadilla
1 flour tortilla
Crunchy peanut butter
1 banana, sliced
Dark chocolate chips
A knob of butter
Spread some peanut butter on the tortilla.
On one half of the tortilla arrange the banana slices and sprinkle the dark chocolate chips over.
Fold the empty half over and press down lightly to make sure the peanut butter can do its thing and get everything together.
Add a knob of butter in a pan and over a low-medium flame toast the quesadilla till it gets nice and crunchy.
Then add another knob of butter to the pan and carefully turn the tortilla over to the other side and let it crisp up nicely.
I cut it into three wedges just to make it easier to handle.
Serve up…. and oh, please proceed carefully, the melted filling is hotter than you think it would be.