So what's all the fuss about making things from scratch? you ask?
I, for one, like knowing what I'm eating and feeding my family. Now, from time to time I do buy ready to eat food, but those instances are very few and far between. We enjoy eating out and that's not what I'm referring to here. I'm talking about frozen meals, ready sauces, spice pastes from a jar, canned pie filling, that kind of stuff. There are a few things that I will use, like tomato ketchup, mustard, wasabi / horseradish and that kind of stuff. I have found that for a little effort, you can make all of these things at home. They may take a little experimenting but almost always, the home made versions turn out so much better than the store bought ones. And once you try it out for yourself, you'll know what all the fuss is about.
Making your own food from scratch is a good habit to get into. And once you try your hand at it, you'll want to learn more. It is addictive. I hate to come across as a snob, but I recently realized that in a pinch, I'd rather do a breakfast for dinner (fry up some eggs with toast) kinda thing rather than buying ready meals. If ready meals are your 'go to' option, try and keep an open mind to 'made from scratch'. You can control the sugar and salt in your food. And it is so much easier on your budget too.
Where am I going with all of this? A while ago, I'd shared my recipe for Homemade Mayonnaise. You'll be surprised at how easy it is to make a batch. Okay, so you've made a batch of it. Now what? One of the ways, I use my homemade Mayo, is as a dressing in a Cole Slaw Salad. This salad couldn't be simpler. A few ingredients get thrown in a bowl and tossed together and you have yourself a yummy salad perfect for a barbecue or to serve with batter fried fish or fried chicken or even in a sandwich.
I have posted a recipe for Cole Slaw before, but this one is a step up from that version with the addition of horseradish and mustard.
And if I've piqued your interest about food made from scratch, take a look around my blog. You're sure to find recipes to try out.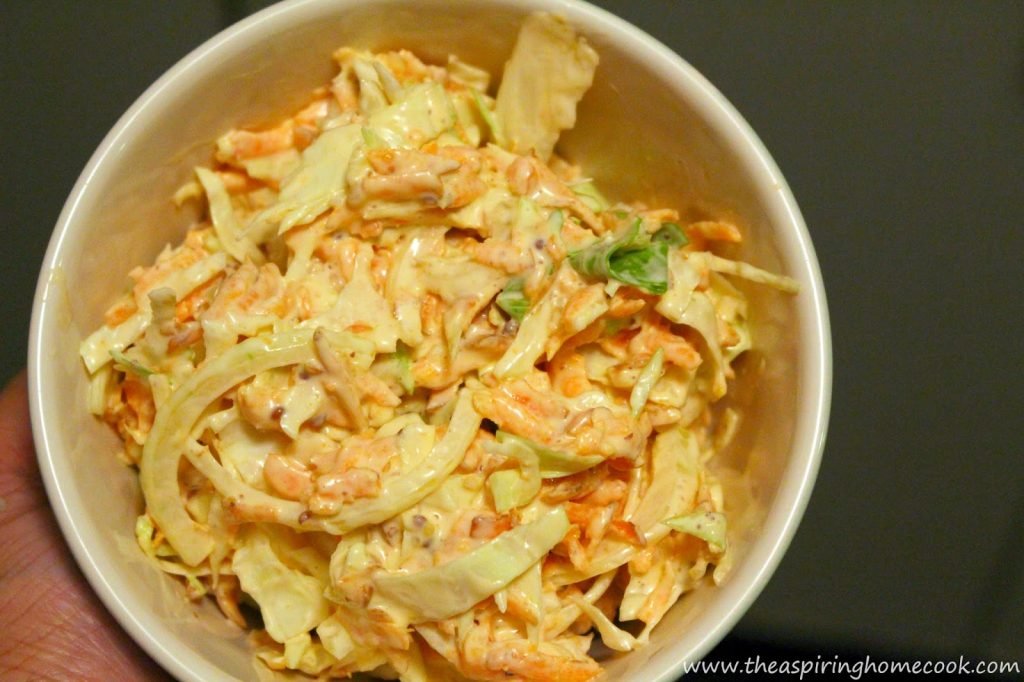 Cole Slaw
1/2 tsp grated Horseradish, or to taste
1/2 tsp Wholegrain or Dijon mustard, or to taste
1 carrot, grated
1 cup cabbage, finely sliced cabbage
A few slices of onion (finely sliced) or 1 spring onion, sliced
Salt, to taste
Freshly cracked black pepper, to taste
Lime juice / lemon juice, to taste
In a bowl, mix the mayo, horseradish, mustard and freshly cracked black pepper.
Add the carrots, cabbage and onion and mix well.
Taste and adjust seasoning as required.
Your Cole Slaw is ready to serve.
Enjoy!!!
Here's the video recipe –
Its hard to believe that its only the first month of Spring right now. We've had a few scorchers already and its starting to feel like Summer is long to be a long and hot one. While I enjoy the extra daylight and the bounty of fruit, veg and flowers and beautiful beach days that summer brings, I cannot cope with HOT days. Last weekend was one such scorcher, thanks to the second heatwave of the season. I don't know about you, but on such days, I cannot even think of putting the stove or the oven on, much less standing near it. I think I see a lot of salads and sandwiches for lunch this Summer.
I tried out this amazing Avocado Pasta Salad over the weekend and it was a big hit. There is a little stove time involved to boil the pasta and to fry the bacon, but the end result is so good, I'd say it was well worth it. I can't wait for the next potluck or picnic, because I know that this salad will make an appearance.
The dressing is an avocado based one and is super easy to make. If you have an immersion blender, you life will be even easier. If not, just use your regular blender and you'll be sorted. Basically all the ingredients for the dressing get blitzed together and ta-da …. you have yourself a salad dressing. I love recipes that are as easy as this. The ingredient list for the salad is just an approximation of what I used. Feel free to adjust as needed.
Avocado Pasta Salad
Serves 4 (as Main Course)
Adapted from: Spend with Pennies
2 cups uncooked Macaroni
1/4 onion, finely chopped (use a sweeter onion if you can't stand the heat from a raw onion. You can also use a couple of spring onions, finely sliced)
1 cup cherry tomatoes, halved
1/2 cup broccoli florets
1/2 cup boiled / roast chicken, shredded
1/2 cup corn kernels
1 avocado, diced
4 rashers of bacon, fried till crisp and chopped / crumbled
1/4-1/3 capsicum (I used green because thats all I had. You can use red or yellow too, or even a combination of them.)
2 tbsp chopped fresh coriander
For the dressing –
1 ripe avocado
Juice of 1/2 a lime
1/4 cup chopped fresh coriander (use the leaves and the stalks)
1/2 tsp cumin powder
1/2 tsp garlic powder
1/2 cup Greek yogurt
Salt, to taste
Freshly cracked black pepper, to taste
Boil the pasta till al dente, following the package instructions. Run under cold water to stop the cooking process and to cool the pasta down. Drain and set aside.
Blanch the broccoli florets in boiling, salted water till it is a vibrant green, about 30 seconds to a minute, depending on how crunchy you like your broccoli. Immediately drain and immerse the broccoli in ice cold water for a few seconds to stop the cooking process. Drain and keep aside.
In the same pot of boiling water, boil your sweet corn kernels till done. Drain and set aside.
Get your salad ingredients ready.
For the dressing, simply blitz all the ingredients together.
Toss the salad in the dressing and refrigerate for about 1 hour before serving.
Enjoy!!!
Pin now and try later!!!
I've been craving some good old Indian food, and not just anything, but something along the lines of Chicken Tikka or Tandoori Chicken. So I picked up a 'heat & eat' version of Chicken Tikka at the local supermarket and let me tell you, it was awful, just awful. It looked like the real thing, but tasted nothing like it. It was so disappointing. I knew the only way I was going to get a decent version was to try making it myself. Now I don't have a coal fired barbecue pit yet, so I would have to make do with the oven. Next, I looked around for a while on the internet till I found a recipe that looked and sounded interesting enough to try.
I marinated the meat in the morning and baked it in the oven that evening. Now I know you're thinking, isn't Chicken Tikka usually in the kebab form, cubes of boneless chicken meat on a skewer? I had a couple of pieces of chicken leg (drumstick and thigh attached) in the freezer and I decided to use that. The marinade is a Chicken Tikka one, but the cut of meat used is more a Tangdi kebab (Tangdi = leg). I loved the way this turned out. The meat actually had a little char on the outside but was moist and tender on the inside. That marinade was fantastic, the flavors were perfect. I was thrilled with the result. Now I don't have to rely on the store bought stuff.
My husband loves a good tandoori chicken, or kebabs of any sort really. He was so excited to see this on his dinner plate. He considers himself a connoisseur of kebabs, of sorts and he loved it. So I know I'm onto something good here. This recipe is a keeper. Serve this with some
naan
and a
raita
and treat yourself to a good homemade Indian meal.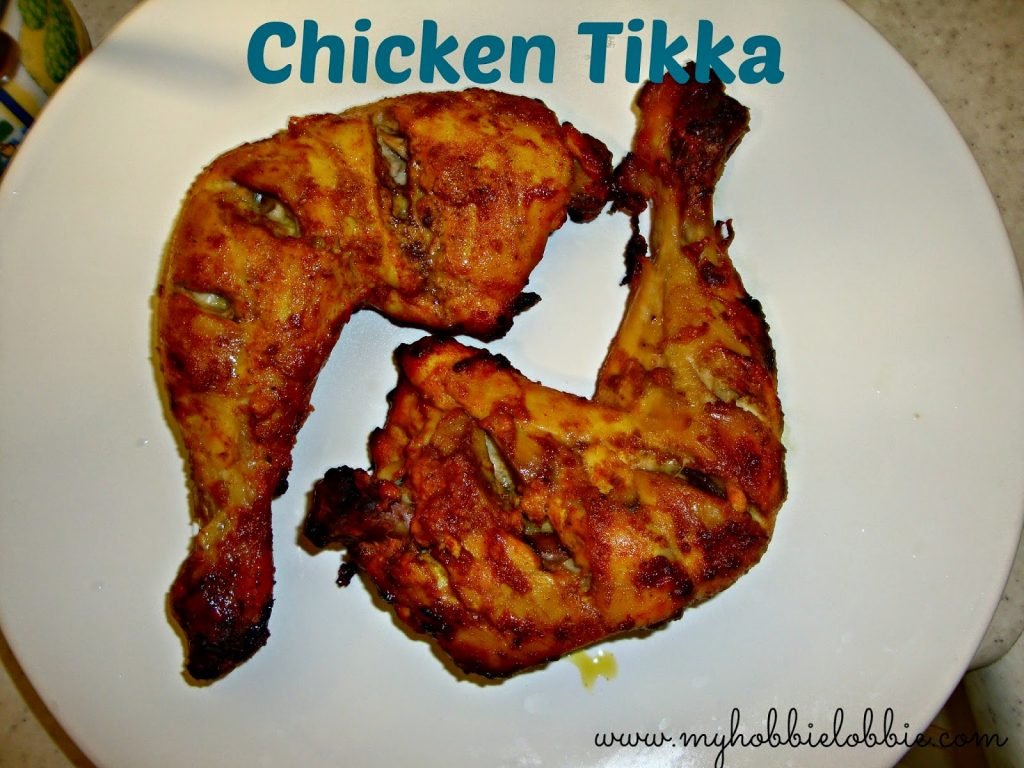 Chicken Tikka
2 chicken legs (you could also use boneless chicken cubes)
1/4 cup plain yogurt
1 tsp garlic, finely chopped
1 tsp ginger, finely chopped
1 tsp coriander powder
1/2 tsp cumin powder
1 tsp Kashmiri chilly powder (or used a mild red chilly powder)
1/2 tsp salt
1/4 tsp garam masala
1/4 tsp turmeric powder
Mix all the spices with the yogurt.
Make a couple of deep slits with a sharp knife in the thigh and the drumstick on both sides. Marinade the chicken with the yogurt and spice mix. Cover with some cling film and leave it in the refrigerator overnight.
When you are ready to cook it, preheat the oven to 180°.
Discard the excess marinade and place the chicken on a foil-lined baking tray, for easier clean up. Bake for about 20 minutes. Baste the chicken with a little olive oil.
Turn over and cook for another 15-20 minutes or till the juices run clear (the time will depend on the size of the chicken pieces), when the flesh near the joint is pierced with a knife. (The internal temperature of the chicken should have reached 165°, if you are using a meat thermometer). Baste midway if needed.
Enjoy!!!
Notes:
1) If you are using boneless chicken cubes, and you intend using bamboo skewers, soak the skewers in cold water for about half an hour to prevent it from burning in the oven.
2) Also, the cooking time for the cubes will be lesser.
Over the weekend we celebrated Ashley's (my dearest husband's) birthday with quite a bang. I wanted to do something extra special because his birthday last year was very low profile.
Well, at this time last year, we were in Hong Kong. He was on a work visit and I joined him for a few days, making sure that I'd be there for his birthday. We were living in a serviced apartment with minimal kitchen equipment and I knew that I simply had to make him something. What can one do with some spoons, forks and a butter knife, paired with a hand blender and a few plates? Not much, I tell you. So, off I went to the store and I saw a yummy vanilla and chocolate marbled sponge cake. I picked it and rushed to the dairy section to pick up some whipping cream. Just before he got back from work, I layered the cake and frosted it with some sweetened whipping cream and sliced up a kiwi that we'd picked up before and put on some cinnamon jelly beans. Well, this isn't my proudest cake moment, but I got to tell you, I was pleased that I could put something together for him. Not to mention all this came together for less than 30 dollars, whereas a store bought cake was nothing less than 200. Yup, I went around and checked, but wasn't too pleased with what I saw and was extremely skeptical of what it would taste like. So here's what you get when your cake decorating equipment includes a hand blender, a butter knife and a plate.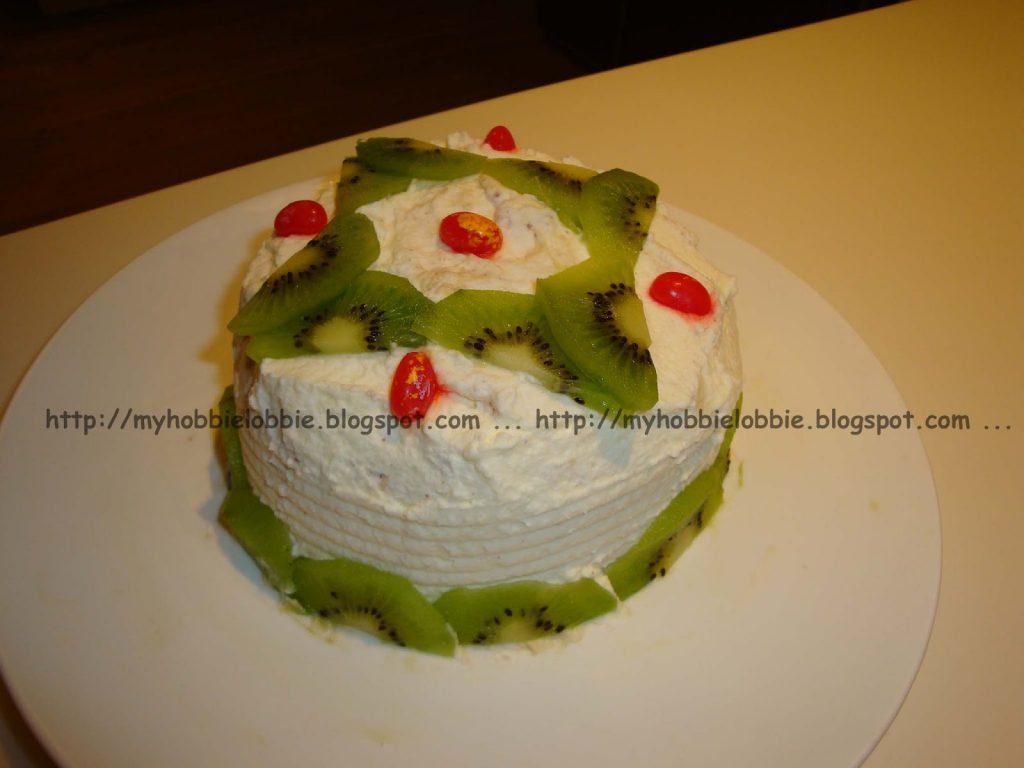 This year, we called family over and had one of the most delicious barbecues ever. Usually, my dad handles all the meats, marinades and the grilling as well. This time, he wasn't around. He was out of the country, working. So I tried my hand at the marinades, while the guys handled the grill. For fear of sounding like my trumpeter was dead (this is something my mum says to me, when I'm not being too humble), I must say, the food was a hit. We had some beef mince puffs to snack on while the grill was in action. We had a large bowl of some really wicked punch (with alcohol, unfortunately that disappeared even before I could get a picture of it. Note to self: We need a lot more punch next time.) We had barbecued pork chops, chicken in a tandoori masala, chicken liver on skewers with onion and capsicum. I wanted to add some freshness and variety to the meal so I decided to whip up a couple of salads. I think I got carried away, because here's the list of sides we finally ended up with, a creamy mashed potato with crushed black pepper, a corn salsa, a tuna salad, a cole slaw, a cucumber salad with dill yogurt, some roasted bell peppers and pickled jalapeno peppers. All of this was made from scratch, including the mayonnaise used for the salad and the puff pastry used for the puffs. And of course, a huge chocolate cake. My husband is a chocoholic and I whipped up a rustic looking Nigella recipe that he absolutely loves. Here's a peek at the spread. I will post the recipes to these in the following posts.
Beef mince puffs
BBQ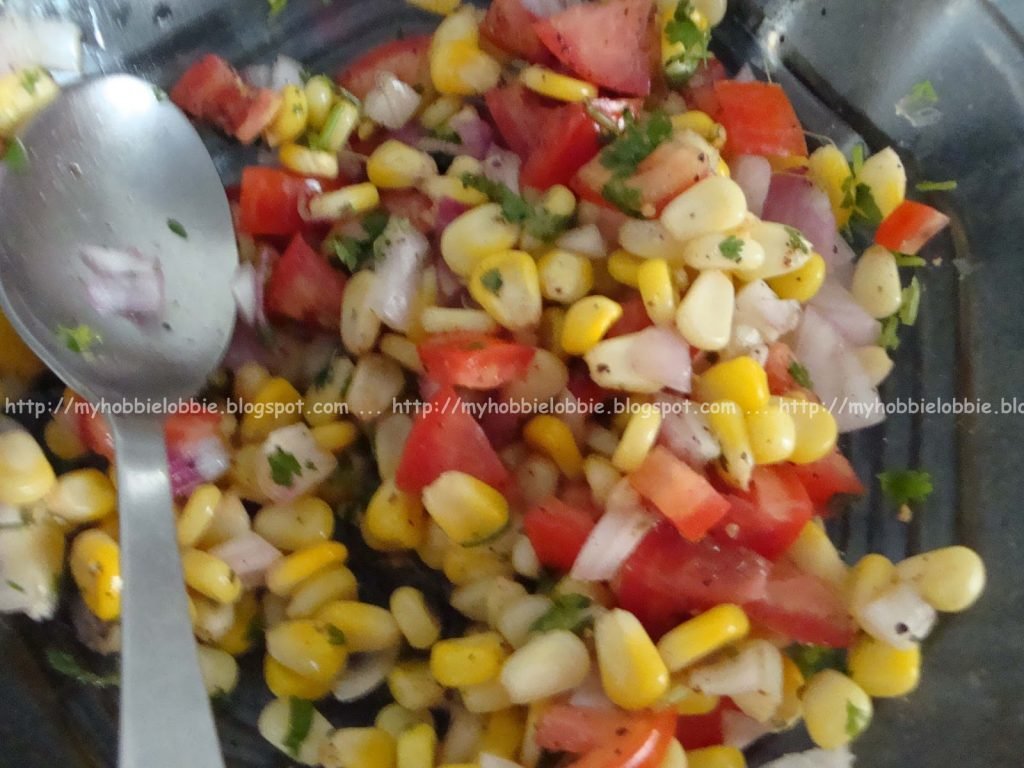 Corn Salsa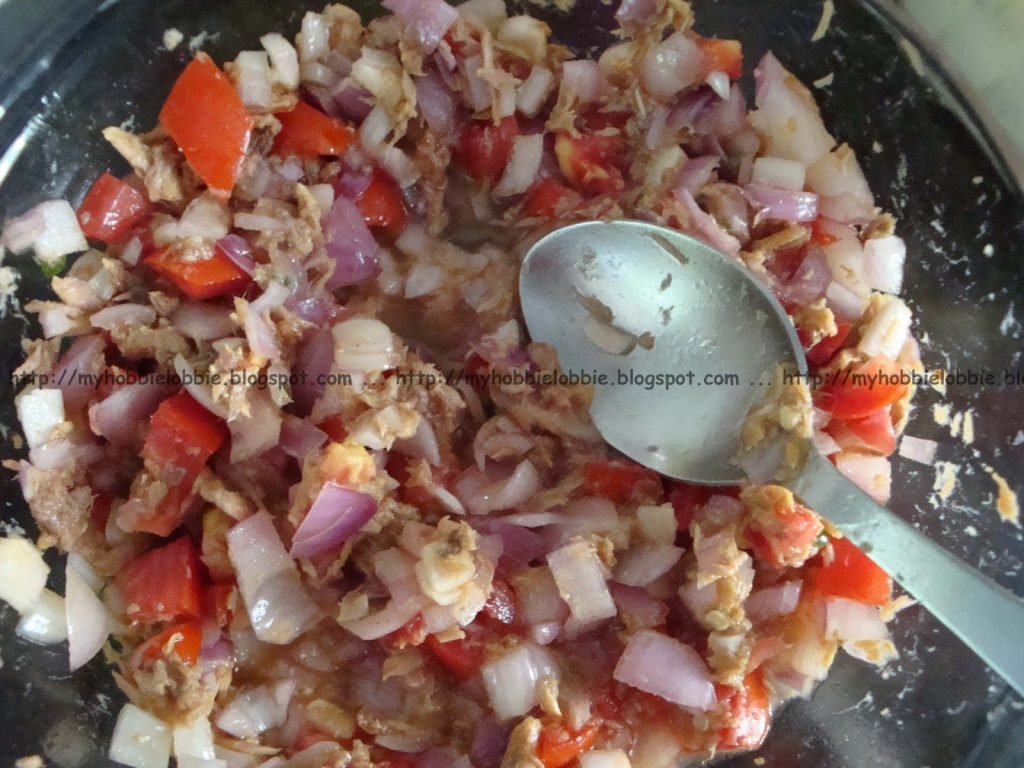 Tuna Salad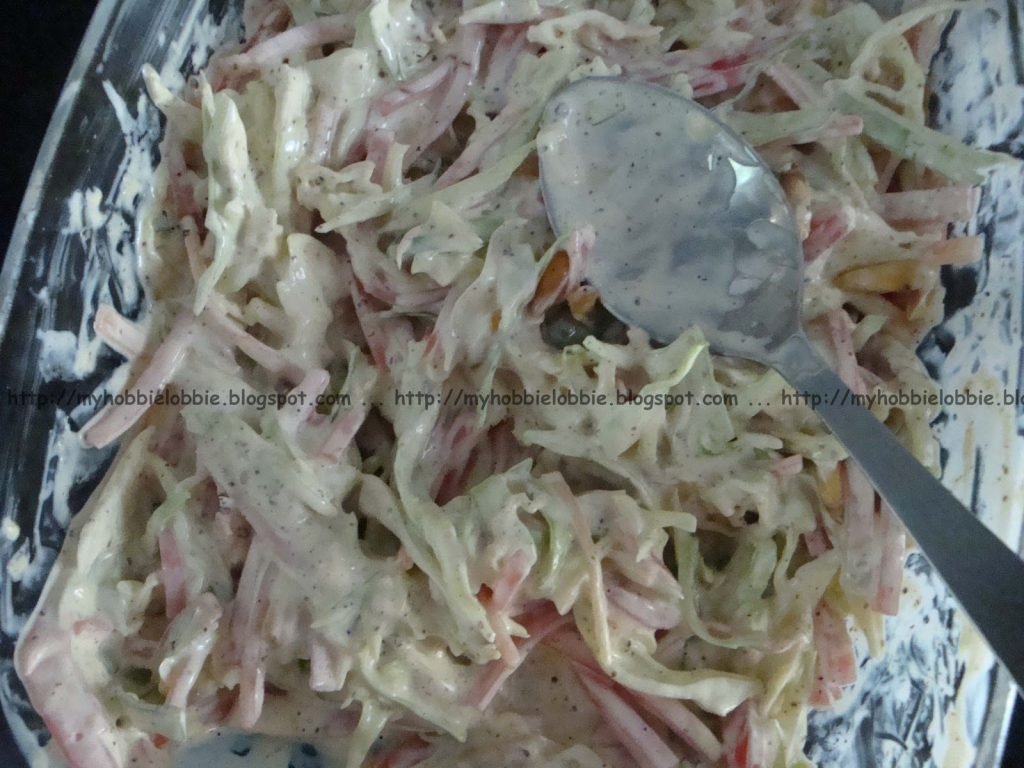 Cole Slaw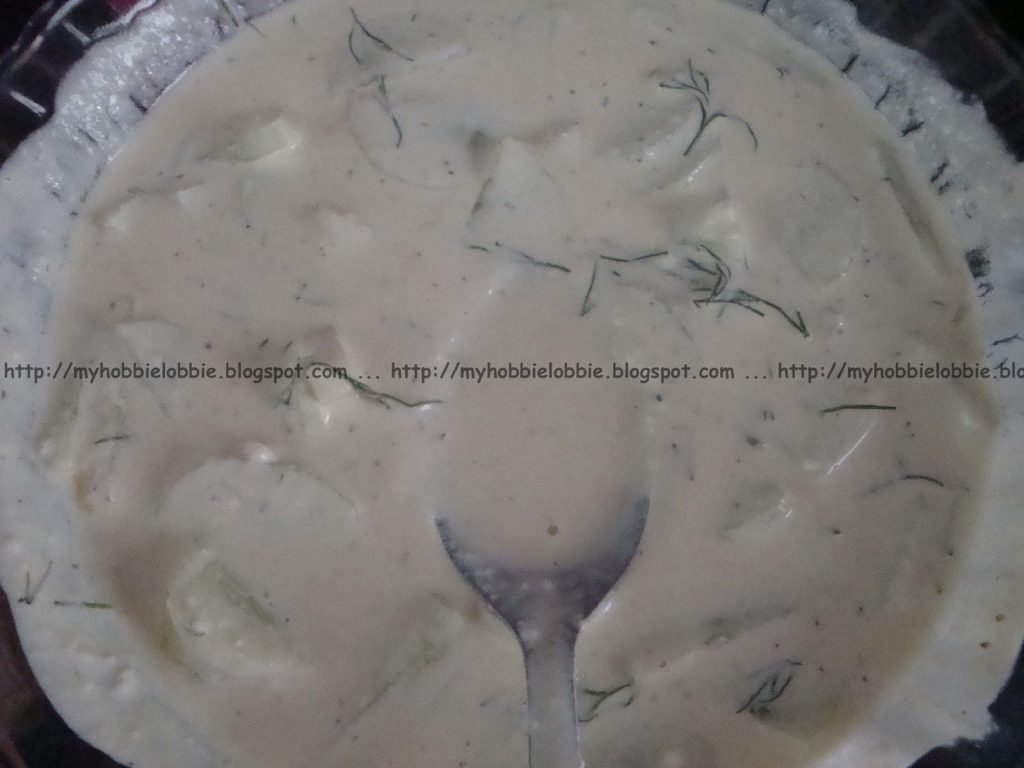 Cucumber salad with Dill yogurt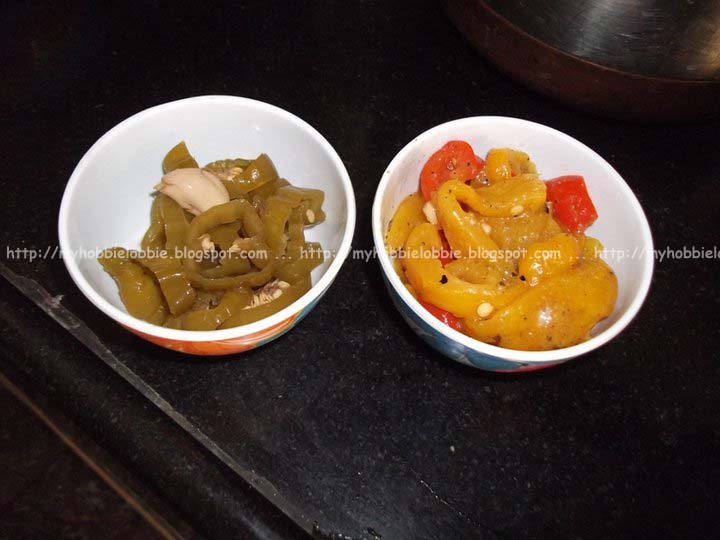 Roasted red & yellow bell peppers and pickled jalapeno peppers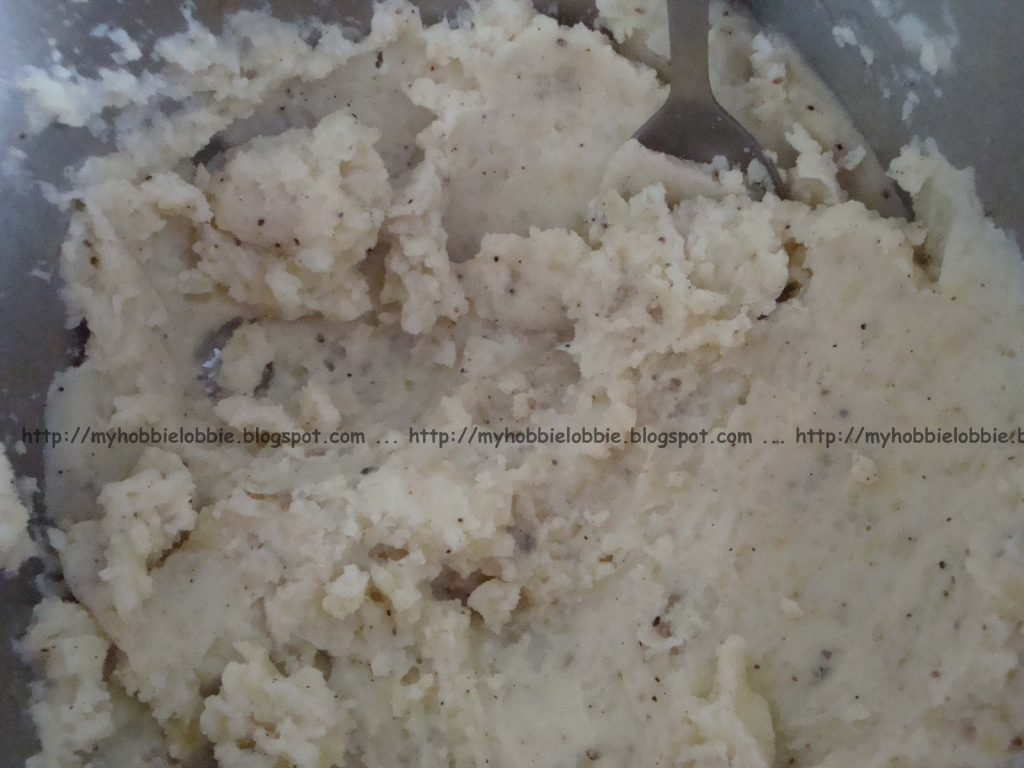 Creamy mashed potato with crushed black pepper
And last but not the least, the cake. I had to leave out all sort of jimmies and sprinkles because our nieces aren't allowed to eat any colored food at the moment.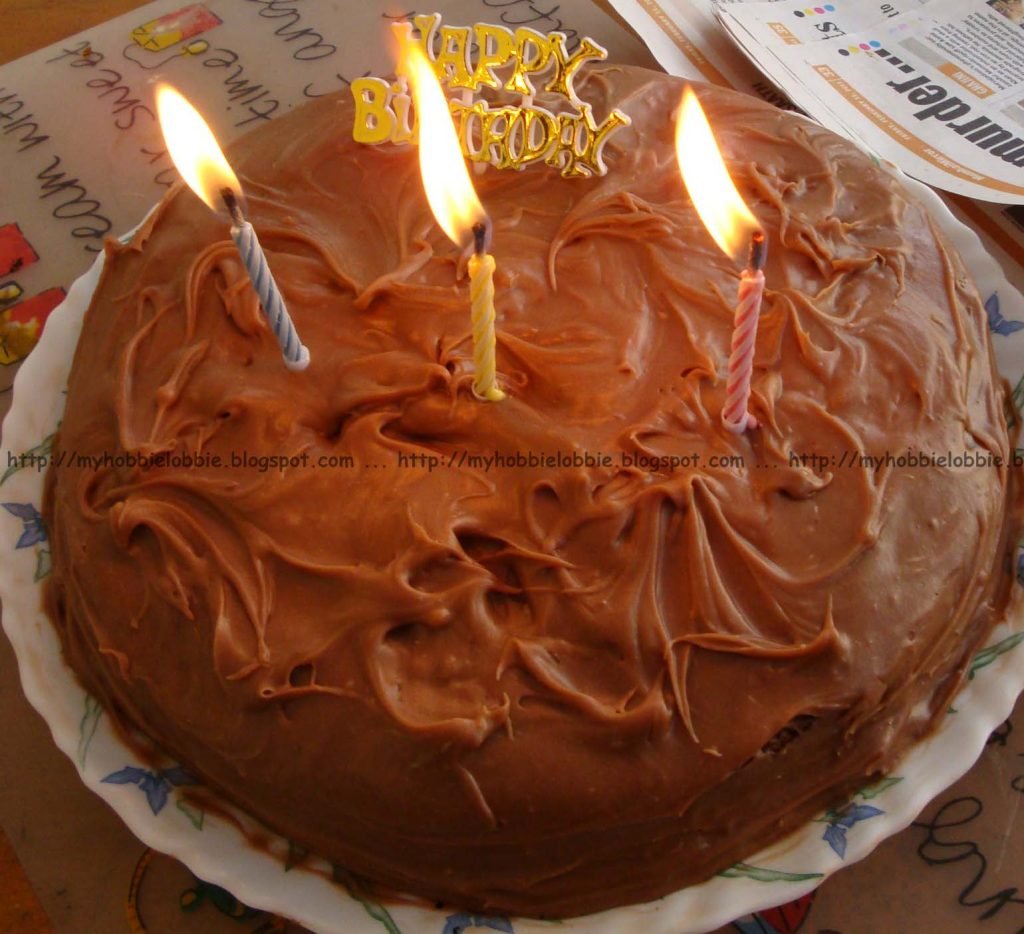 Yummy Chocolate Cake
Keep checking back for the recipes!!!