Black Bean and Sweet Corn kernels come together to make amazing flavor-packed tacos, using a taco-seasoning made from scratch.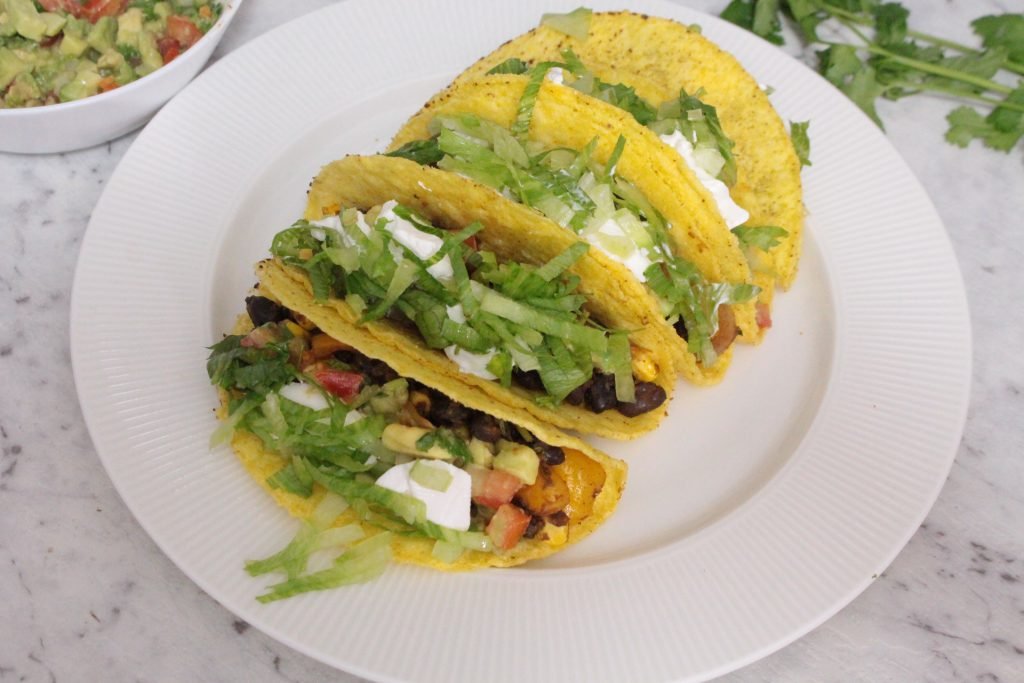 Today I'm sharing with you a recipe that is so simple and easy to put together, and results in such an extremely flavorful dish, you are going to be blown away.
That was a bold statement to start off with, right? Well, that's because it's the truth. Everybody needs a few recipes like this in their arsenal, because let's face it, life can get hectic and recipes like this make it easy to get dinner on the table in a hurry. I know a lot of folks do 'Taco Tuesday'. We personally don't, but that's just because we enjoy Tacos whenever we feel like it.
Tacos are usually associated with meat fillings, usually chicken, beef, pork and sometimes even fish or shrimp. But this doesn't mean you can't enjoy a really good taco if you follow a plant-based diet. And today's recipe is going to show you just that.
We'll be making a quick black bean and corn taco mix and a chunky guacamole to fill our tacos with. For the black bean mix, I use half a cup of dried black beans. These beans are soaked overnight and then pressure cooked the next day. I have a stovetop pressure cooker that gets the job done in under ten minutes. This works out so much better than buying canned beans because there is less waste, it works out to be more economical and I feel the beans are so much tastier. Try it out, if you have a pressure cooker or an instant pot. If not, you can simply use a can of black beans.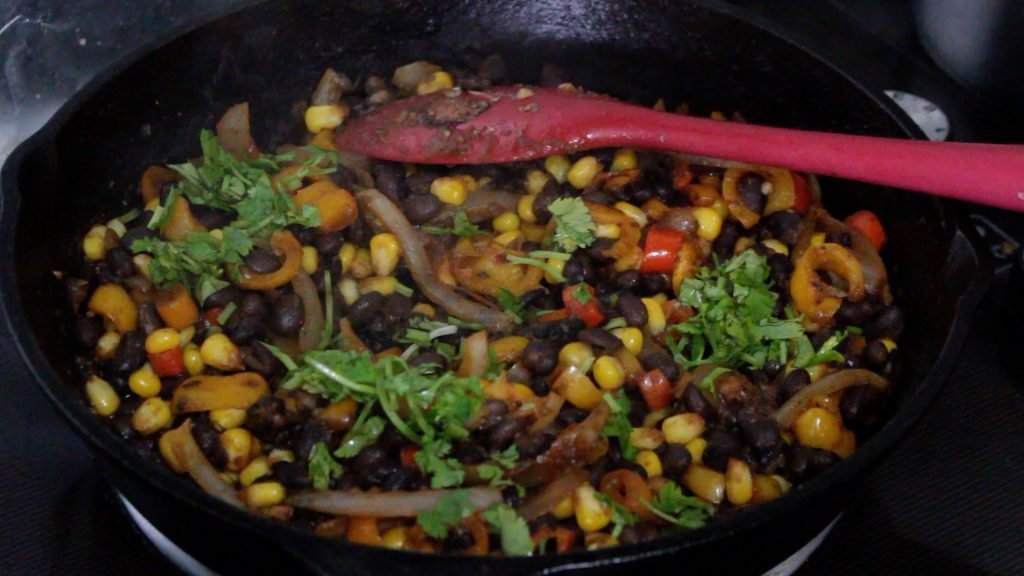 My chunky guacamole is also a very basic and simple recipe. It combines the richness of the avocado with the punchy flavors of a pico de gallo or a salsa. And like me, if you just need to serve 1 or 2 people, save the half of the avocado that has the pit still in it, squeeze some lime juice all over the cut surface, pop it into an avocado saver if you have one, or simply cover it with some cling film and pop it into the fridge for the next meal or the next day. This reduces the browning of the avocado. Do you have any tips for storing half an avocado? Leave me a comment and let me know. I'd love to be able to store it without having to use any single use plastic.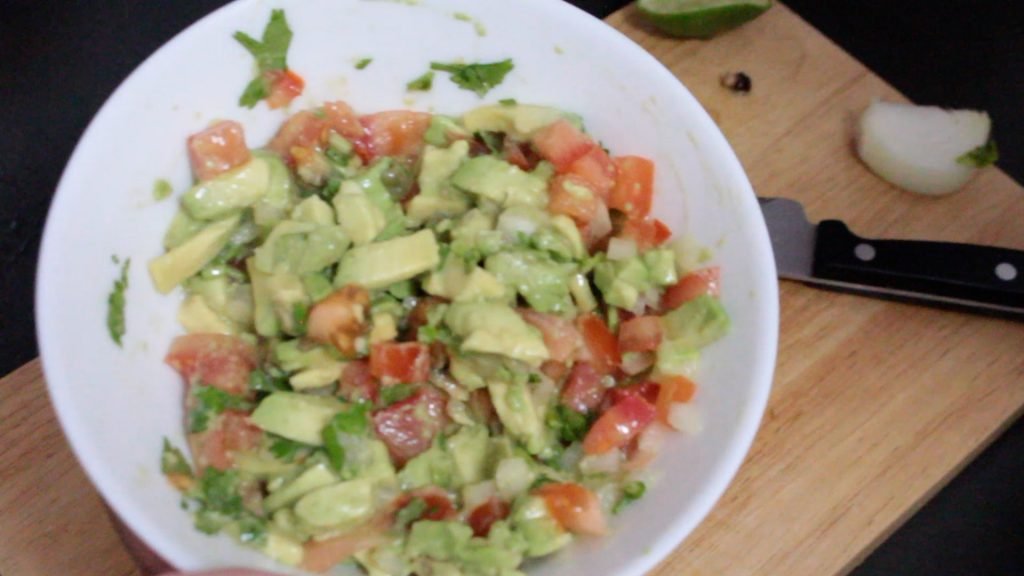 Assembling your tacos is one of the most fun parts of this recipe. You can add whatever your heart desires to your taco. Here's what I use to make up my tacos –
Hard corn taco shells
Black bean and corn mix
Chunky guacamole
Pickled jalapenos
Plant based sour cream
Finely shredded lettuce
If you love a good taco, you simply have to try it out and I hope you love it as much as we do. This recipe makes enough of the bean mix for 12-15 tacos. If you're serving 12-15 tacos in one sitting, double the guacamole recipe.
Black Bean and Corn Tacos
Course: Main
Cuisine: Mexican
Difficulty: Easy
Black Bean and Sweet Corn kernels come together to make amazing flavor-packed tacos, using a taco-seasoning made from scratch.
Ingredients
For the Black Bean and Corn Taco Mix –

1/2 cup dried black beans OR 1 can black beans

1/2 cup sweet corn kernels

1/2 onion, sliced

1/2 capsicum, sliced (See note)

1 large clove of garlic, finely chopped

1 tbsp oil

1/4 tsp smoked paprika

1/2 tsp ground cumin

A pinch of extra hot cayenne pepper powder (optional)

1/4 tsp dried oregano

2 tbsp Chipotle Sauce

1-2 tbsp fresh coriander leaves and stalks

For the guacamole –

1/2 large avocado

2 tbsp of chopped onion

1/2 large tomato, diced

1 tbsp coriander leaves and stalks, chopped

Salt, to taste

Lime juice, to taste

For the Tacos –

Hard corn taco shells

Pickled jalapenos

Sour cream

Shredded lettuce
Directions
To make the black bean and corn mix –
Wash and soak the black beans for 6-8 hours or overnight. Drain the water, rinse through and cook till beans are done. (I cooked the beans in a stovetop pressure cooker and they get ready in under 10 minutes.)
Heat oil in a pan and saute the onions till they've slightly softened.
Next, add the capsicum and let them saute for about a minute.
Add in the garlic and stir fry well till the garlic is nice and fragrant. Be careful and make sure the garlic doesn't burn.
When the garlic turns fragrant add the paprika, cumin and cayenne pepper powders and the dried oregano. Stir well.
Add in the chipotle sauce and stir thoroughly.
Add the black beans (that have been previously cooked) and the corn (I use frozen corn) to the pan and stir well.
Let this cook off for a couple of minutes or until the beans and corn has heated through.
Check for seasoning and adjust as needed.
Once most of the liquid from the pan has been absorbed, take the pan off the heat.
Top it off with the chopped coriander.
To make the guacamole –
Add all the ingredients to a bowl and mix well.
To make the tacos –
Heat the taco shells according to the packet instructions.
Layer the black bean and corn mix, the guacamole, pickled jalapenos, sour cream and shredded lettuce and serve up.

Enjoy!
Recipe Video
Notes
The 2 servings mentioned at the start of the recipe is for 2 servings of 4 tacos each (Roughly about 8 tacos). This recipe makes enough of the black bean mix for 12-15 tacos. If you are serving 12-15 tacos in one sitting, you may want to double the guacamole recipe.
The black bean and corn mix works really well in burritos and quesadillas too.
You can use 1/2 a capsicum of your choice or you can use smaller sweet peppers instead. In all you'll need about 1/2 a large capsicums worth of peppers. You can adjust this amount to suit your liking.
Soft and delicious Homemade Flour Tortillas made using just a few simple pantry ingredients. These are easy to make and great for meal prep.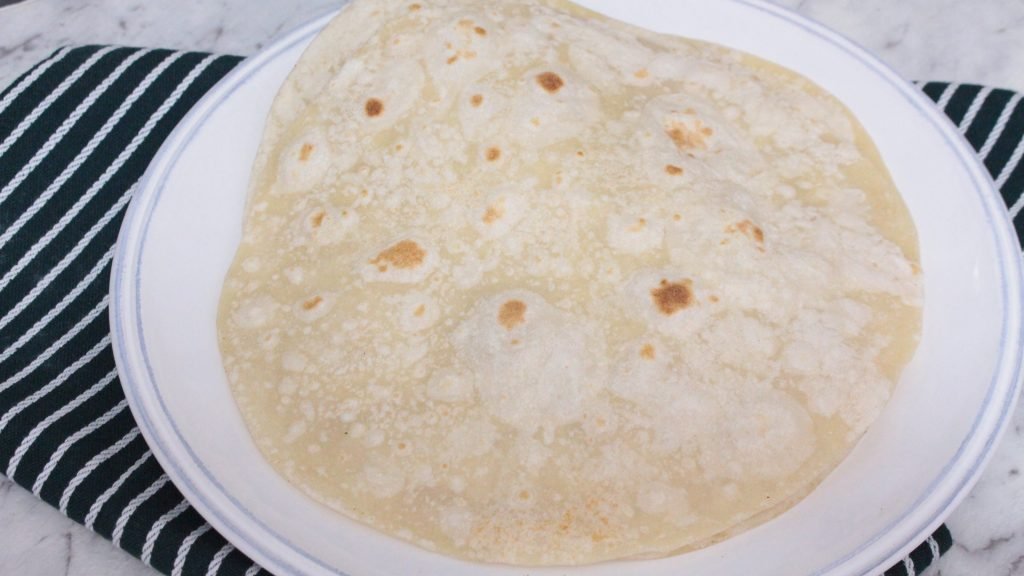 So, I have a confession. Although I love a good wrap, I cannot stand the taste of store-bought tortillas. Maybe, its just me, but I can actually smell and taste the plastic on the store bought ones. Does anyone else feel that way? I've tried a bunch of different brands from both Coles and Woolworths and it's always the same. And for me, personally, it spoils the whole wrap experience. And that's one of the main reasons I haven't shared many recipes for wraps here on the site. But all that's about to change, now that I can make tortillas at home.

These flour tortillas are everything you'd want in a tortilla and then some. They are soft, so tasty and are made using simple ingredients like flour, salt, oil and water. That's it. Knead these basic ingredients to a dough, roll out and cook them up. You can make these ahead of time and re-heat when you're ready to serve. I made these tortillas using all-purpose flour, but you can also make them using whole-wheat flour, if you'd like.

This recipe is a great one for meal prep. You can cook up these tortillas ahead of time. Once they have cooled down, you can pop them in a zip lock back and refrigerate them and then use them through the week. Or you can even use them to make burritos and freeze them for use later. I've used these homemade flour tortillas to make quesadillas too. So this is one really versatile recipe that's great to have on hand.

If this is your first time attempting to make tortillas from scratch, go check out my YouTube video, which takes you through the entire process and I share all my little tips and tricks as well.
This time around, I will be using these tortillas to make some amazing Tandoori Spiced Cauliflower Wraps. Stay tuned for that recipe, coming up next.
Homemade Flour Tortillas
Cuisine: Mexican
Difficulty: Medium
Ingredients
2 cups all-purpose flour

1 tsp salt

2 tbsp oil

Warm water, to knead to a dough (around 3/4 cup)
Directions
Add the flour, salt and oil into a large mixing bowl. Rub the oil into the flour to mix well and break down any clumps.
Knead this to a dough using luke-warm water. Add water gradually to knead to a smooth pliable dough. I used about 3/4 cup.
Roll to a ball, cover with a kitchen towel and leave to rest for about 30 minutes.
After the dough has rested, divide dough into portions. I got 7 wrap sized portions. Roll these portions into balls, cover with a kitchen towel and let the dough rest for another 15-20 minutes.
After resting the dough, roll out tortillas on a floured surface to a thin disc about 1/8″ thin.
Heat a pan on medium high heat. When the pan is hot, place tortilla on pan and let it cook for about a minute or till you see little bubbles appear and the side touching the pan has a few light brown spots.
Gently press the air pockets to help them expand a bit.
Flip over and let it cook till you get a few light golden spots on the tortilla. Don't overcook the tortillas as they tend to get hard.
Recipe Video
Notes
You may need to use a little less or a little more water depending on your batch of flour. Add the water gradually.
This Thai Chilli Basil Fried Rice is packed with vegetables. It uses all plant-based ingredients but still has all the flavors found in Thai cuisine.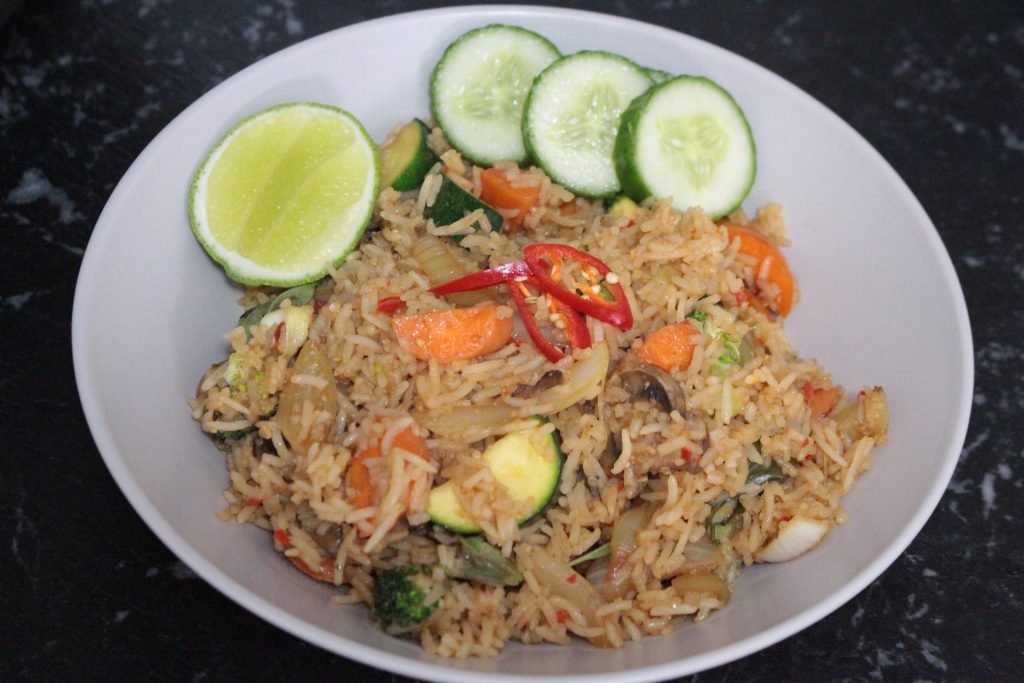 A good fried rice is a must have in every aspiring home cook's arsenal. I enjoy fried rice a lot. Sometimes, I think, maybe a little too much. But in my defense, what's not to love about it? While I love a good Chinese style fried rice, this Thai Chilli Basil Fried Rice has become a new favorite.
Its a simple meal in itself that is super versatile. You can use a lot of different vegetables, whatever you have on hand. It requires just a little advance planning in the form of cooking the rice ahead of time. Combine that with a clever use of some sauces that I always keep on hand and I can sit down to a nice, hot, home cooked meal in a jiffy.

In the past, I've always relied on a Chinese style fried rice. But a couple of years ago, when I tried a Spicy Thai Chilly Basil Fried Rice at a local Thai restaurant, I was smitten. All this flavor and spice – this fried rice blew my socks off. I ordered it every time we went out for Thai food. After a few such instances, I knew that I simply had to learn to make this at home and so with some experimentation, I ended up with a recipe that was really close to my favorite version.
Fast forward to December 2019. Just a few weeks before Christmas, my husband and I decided to switch to a more plant-based diet. And I'm happy to report that we're loving every bit of this new plant based diet. The last couple of months have involved a lot of experimentation and researching substitutes to make my favorite recipes vegan-friendly. And I have finally found the ever elusive 'mushroom oyster sauce' that always seems to be sold out at my local Asian grocery store. Obviously, the next step was to try a vegan version of my Thai Chilli Basil Fried Rice.
It took a little tweaking, but OMG, this fried rice is phenomenal. I think I may like it a little more than the original recipe. So if you like Thai food, whether or not you follow a plant based diet, you must try this recipe out. Its a simple recipe, but is so flavorful and packed with veggies, that I promise you won't even miss the meat.
So let's talk about the recipe. There are a few steps involved but they are all really easy to follow. The fried rice is ready in minutes and its best to have all the components prepped and ready to go.
Step 1 – Making the rice
I used some Basmati rice as that's what I had on hand. Wash the rice out a couple of times and soak it in some water for about 30 minutes. Drain the water, rinse with some fresh water. Bring a large pot of water to a boil, season with salt, add the rice and cook it till is done about 80%. The rice should still have a little bite and shouldn't be too soft. Let it cool completely.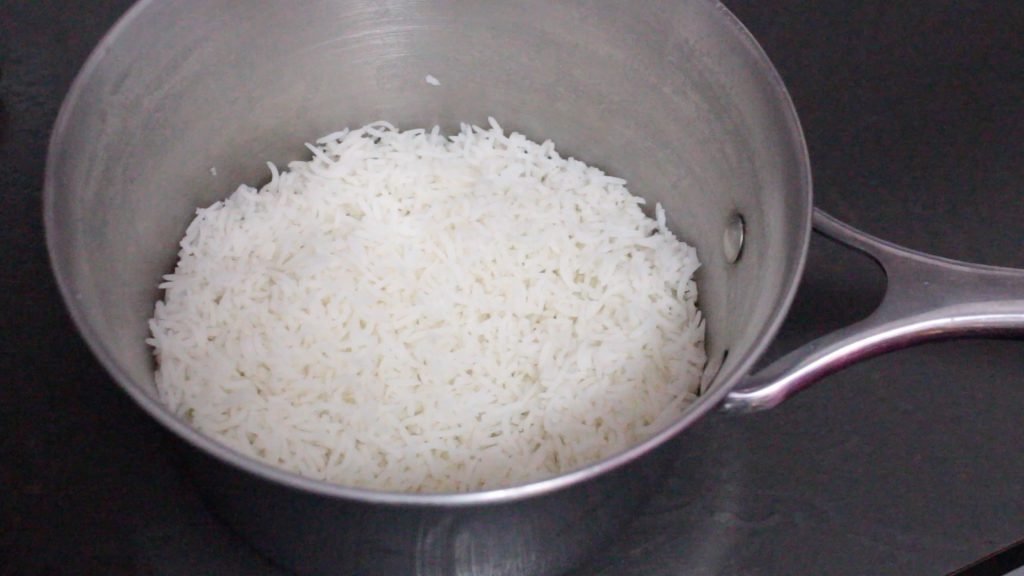 It's best to cook the rice atleast a few hours before you need to make the fried rice. You can even make the rice the previous day. Let it cool completely and refrigerate till you need to use it.
Step 2 – The spice paste
This couldn't be simpler. Its a combination of some Thai birdseye chillies and garlic. We like our food spicy and this recipe is no exception. If you like Thai food but want to cut down on the spice, you can use a combination of birdseye chillies and some cayenne peppers or any other milder chilly. Grind this to a coarse paste.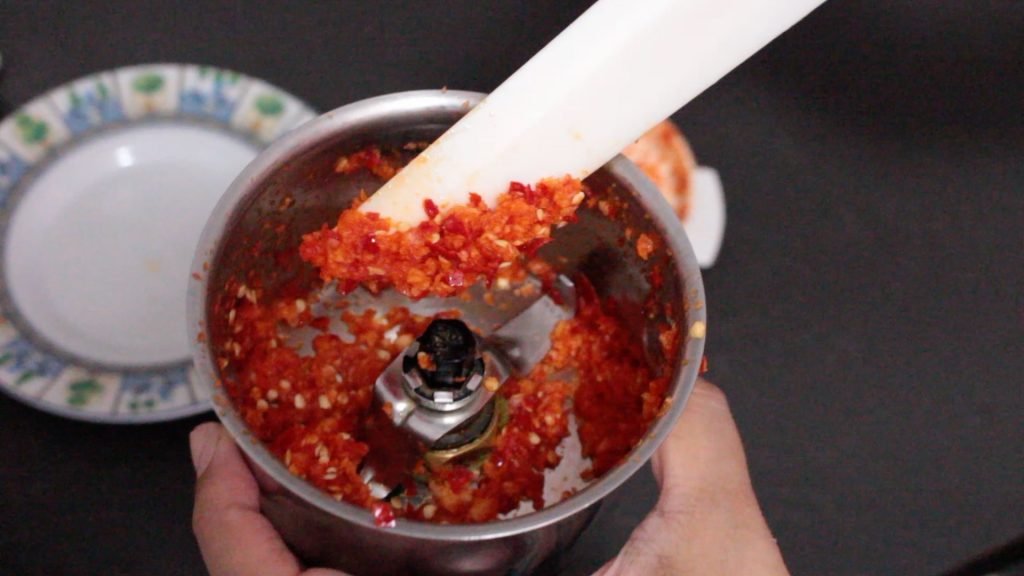 Step 3 – The sauce
This sauce makes this fried rice what it is. I have had to make a few substitutions to make this recipe vegan friendly but I believe this combination of sauces comes really close.
Simply stir together all the ingredients for the sauce – the miso paste, soy sauce, mushroom sauce, white pepper powder and sugar. Set this aside to use once we start cooking.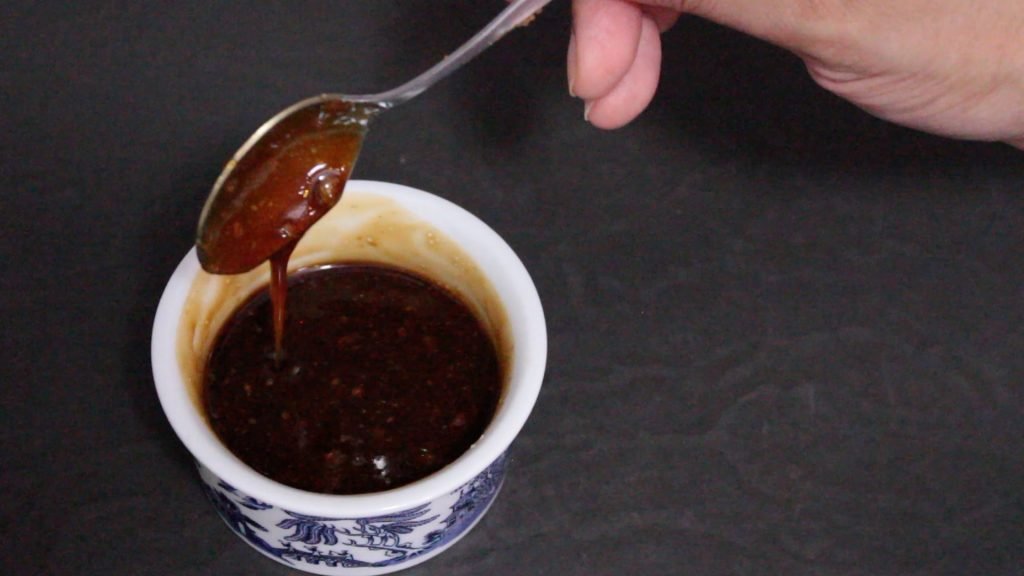 Step 4 – Prepping the veggies
Clean and cut all the vegetables and keep them ready. I use onions, carrots, zucchini, mushrooms and broccoli.

Pick the Thai basil leaves and keep them in a separate bowl.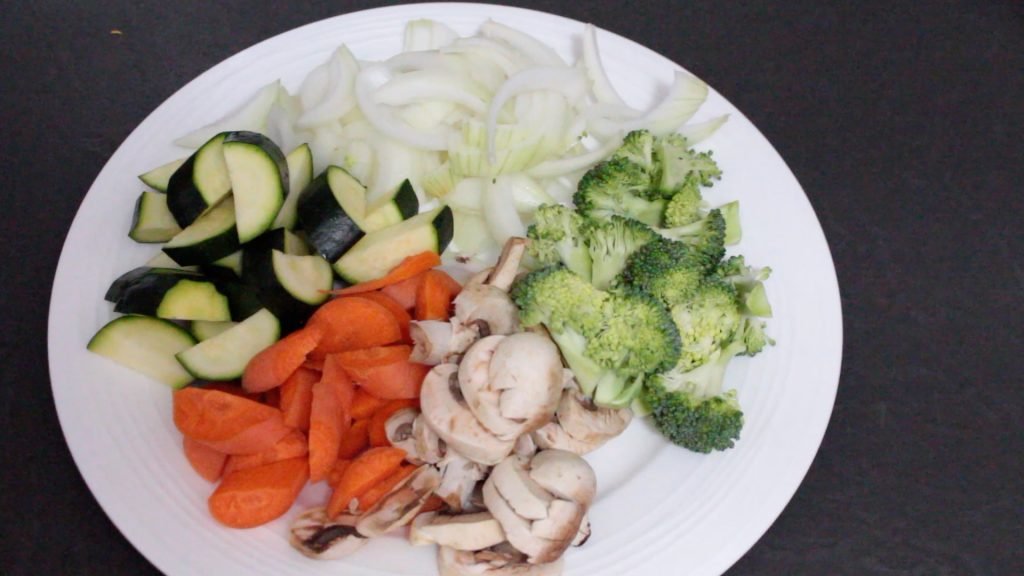 Step 5 – Making the fried rice
This is by far the easiest part of the recipe. Now that all our prep work is done, the rest is just a matter of stir frying our ingredients in stages. Make sure you use a large wok or a large enough pan. At this stage, all the cooking is done on a high heat.
Now that you're familiar with the process, let move on to the recipe.
Vegan Thai Chilli Basil Fried Rice
Cuisine: Thai
Difficulty: Medium
This Vegan Thai Chilli Basil Fried Rice is packed with vegetables. It uses all plant-based ingredients but still has all the flavors found in Thai cuisine.
Ingredients
2/3 cup basmati rice

3 Thai birdseye chillies

4 large cloves of garlic

A small handful of Thai basil leaves

A small wedge of lime

2-3 tsp. peanut oil

For the sauce –

1 tsp red Miso paste

2 tbsp soy sauce

1 1/2 tbsp Mushroom Oyster Sauce

1/2 tsp White pepper powder

1 scant tbsp raw cane sugar

Vegetables –

1 onion

1 zucchini

1 carrot

5 cup mushrooms

1/2 cup broccoli florets
Directions
Wash and soak the rice for 30 minutes. Drain and rinse with some fresh water and drain again. Bring a large pot of water to a boil, season with salt. Add the drained rice and boil till the rice is cooked about 80% of the way. Drain and rice and cool completely.

**See Note 1.
Prep the spice paste. Grind the chillies and garlic to a coarse paste and set aside.
Make the sauce. Place all the sauce ingredients in a bowl and stir together till well combined.
Prep the vegetables. Peel and cut the onion into thick slices and separate the onion layers.

Cut the zucchini and carrot in half lengthwise and cut into thick slices.

Slice the mushrooms. Cut the broccoli into small florets to help it cook faster.
To make the fried rice –
Heat a large wok on high heat. Add 1 tsp peanut oil and fry the mushrooms till they develop a little color.

Add another spoon of oil and add the onion. Stir fry till the edges of the onion slices start caramelizing.
Add the broccoli and stir fry till it has cooked about half the way.
Add the carrots and saute.
Then add the zucchini and saute till the veggies cook through to your liking.

** See note 3.
When the vegetables are cooked, add the chilli garlic paste and stir through well.
Stir the sauce and add to the wok. Stir through to distribute well.
Immediately add the rice and gently stir through to coat the rice with the sauce.
At this stage, let the rice cook through for about 20-30 seconds or till the sauce has been absorbed by the rice and the rice has heated through well. Gently stir fry the rice while it is heating through.
Take off the heat and add the Thai basil leaves and stir through.
Serve hot with some cucumber and a wedge of lime.

Enjoy!
Recipe Video
Notes
1. Boil the rice atleast a few hours before you need to make the fried rice. You can boil the rice the previous day. Cool it completely and refrigerate till you need to make the fried rice the next day.
2. You can use regular white sugar to replace the raw cane sugar. If using white sugar, reduce the amount of sugar used.
3. I prefer my veggies a little on the crunchy side. You can choose to cook the vegetables a little more till they are done to your liking.
Breakfast is the most important meal of the day. We've all heard that. However, very often, its one of the most rushed through or even ignored meal of the day. A lot of times, this happens because of our crazy busy schedules or we fall into a rut and breakfast gets boring. I mean, as much as I like toast, I really can't eat it every single day. Moreover, I don't think toast by itself is doing me any good.
In our house, we tend to eat oats for breakfast very often. Sometimes, this can prove difficult, because we're running late or its summertime and I can't bear the thought of turning the gas on to make us porridge. Not to mention, eating hot porridge on a hot day, only makes things hotter. So once I tried refrigerated overnight oats, I was really happy. If you've never tried overnight oats, you really should. Oats are healthy and when combined with some chia seeds, fresh fruit and nuts, it is a really healthy breakfast. The best part is, this is a make ahead recipe and requires no cooking. Which can be a blessing during hot summers. This is a versatile recipe and you can add your favorite fruit and nuts to top it off. So I hope you try this out as a breakfast option and let me know what you think.
Vanilla Overnight Oats
(Makes 1 portion)
1/3 cup rolled oats
1 tsp chia seeds
1/4 – 1/2 vanilla extract
Maple syrup, to taste
2/3 cup almond milk (you can use soy milk or any other milk of your choice)
Fresh fruit and nuts of your choice (I used some strawberries, grapes and slivered almonds)
In a mason jar, add all the ingredients except the fresh fruit and nuts that you're using to top off the oatmeal with.
Cover the jar and refrigerate overnight. (You can make a larger batch and use it through the week)
In the morning, add the fresh fruit and nuts of your choice. Serve up.
Enjoy!
Chickpeas! If you've been around this space a bit, you'll know that I love my beans and lentils. Chickpeas happen to be right on top of that list. The best part is, they are so easy to work with. And No! I'm definitely not talking about using the canned stuff. While you can use canned chickpeas in most recipes that call for chickpeas, and I have too (when I didn't have access to my pressure cooker), there is nothing like cooking your chickpeas or any other beans for that matter, from scratch. I haven't bought the canned stuff for years now. I buy dry beans and lentils by the kilo.
To cook the beans, simply wash and soak them for 6-8 hours, drain and refresh the water. I use a pressure cooker to cook my beans in my stovetop pressure cooker with water, salt and a couple of whole Kashmiri chillies. It takes me just 5 minutes of cooking time after the pressure has built up to cook my beans through. However, each pressure cooker is different. Please refer to the user guide for your cooker, to see how long you need to cook the beans. If you done have a pressure cooker, cook it in a pot with sufficient water till tender.
Once, you've boiled your chickpeas, you can use them in so many different ways. I have shared a recipe for
Chole
on the website previously. That is still a great recipe but I have since tweaked it a little and I'm going to share that new version of the recipe today. I will call it Chana Masala to avoid any confusion. You can also use the boiled chickpeas in a
simple chickpea salad
, make some
Hummus
or use the kala chana (a darker version of the chickpeas) to make this amazing stir fry called
Black Chana Fugad
. They are all delicious.
Chana Masala
1 cup dry chickpeas (Wash, soak for 6-8 hours and cook till tender. Reserve the boiling liquid.)
1 bay leaf
2 inches of cinnamon
5-6 cloves
8-10 peppercorns
2 green cardamom pods
1 black cardamom pods
1 tsp cumin seeds
1 onion, finely chopped
2 green/red chillies, split lengthways
1/2 tsp ginger paste
1 tsp garlic paste
1/2 tsp turmeric powder
1 1/2 tsp Kashmiri chilly powder
1 1/2 tsp garam masala powder
1 cup tomato puree / passata
1 tbsp oil
Salt, to taste
1/2 tsp sugar
Fresh coriander leaves and stalks, finely chopped, to garnish
Heat the oil in a large vessel.
Add the bayleaf, cinnamon, cloves, peppercorns and cardamom pods.
When the spices turn aromatic, add the cumin seeds and stir.
Immediately add the chillies and onion. Saute till the onions have softened and have starting getting a little brown around the edges.
Add the ginger and garlic paste and stir through. Saute for another minute.
Add the turmeric powder, chilly powder and garam masala powder and stir well.
Add a couple of tablespoons of the stock from cooking the chickpeas to deglaze the pan and prevent the spices from burning. Stir through thoroughly.
Now add the tomato puree and cook for 3-4 minutes stirring every once in a while.
Add some more stock to bring the curry to the desired consistency. Please note, the curry will thicken a little as it cooks.
Bring it to a boil. Cover the pot and simmer for 5 minutes.
After 5 minutes, stir and check for seasoning. Add more stock if needed. Add more salt, if needed. Add 1/2 tsp of sugar. (Depending on the tomatoes you're using, you may need to add a little more sugar. Add to taste.) Stir through. Cover and simmer for another 5-7 minutes.
At this stage your curry should be cooked. Lastly add in the boiled chickpeas. Cook for another couple of minutes till the chickpeas have heated through.
Garnish with chopped, fresh coriander and serve hot.
Enjoy!!!
This recipe takes me way back to when I'd first enjoyed some Tava vegetables. It was at a party that had a huge buffet offering, both non-vegetarian and vegetarian. While the non-vegetarian spread was really impressive, I was intrigued by a live stall happening over on the veggie side of the table. There was a massive tava (cast iron griddle) and it had a variety of vegetables on it. The aroma was deliciously intoxicating and I knew I had to try some. I helped myself to a small assortment, some salads and took some naan bread to go along with it. Little did I know that this dish would have me hooked for a long time to come. This was about 7 years ago, I think. To this day, the thought of those tava vegetables has me yearning for some.
After a lot of searching, high and low, I found a recipe, that I tweaked to try and replicate the flavors I so vividly remember. Since I cook for just my husband and I, this recipe is scaled down. I also just use my favorite veggies from that day – okra (bhindi) and potatoes (aloo). I found that these are also some of the easy ones to work with. I don't make this recipe very often, because the veggies start off by getting deep fried and are then tossed with a spice mix (tava masala), and the deep frying tips this to the slightly indulgent side.
The spice mix, or my version of the tava masala is hot a very hot mix. The spices used are warm and flavorful. The chaat masala is an integral part of this recipe. If you haven't tried it before, it is a blend of a few spices like cumin, pepper and a few others with some powdered mango. So it has a unique flavor profile, you get a slight hit of salt, tang from the mango and delicious flavor from the blend of other spices. You can easily find this at any Indian grocery store. (This chaat masala also works well with other chaat recipes you find on my blog.)
So try this easy stir fry recipe. This is best enjoyed served hot with some chapatis, rotis, naan or other flatbread of your choice. It would also work well as a side dish to some hearty Dal & Rice.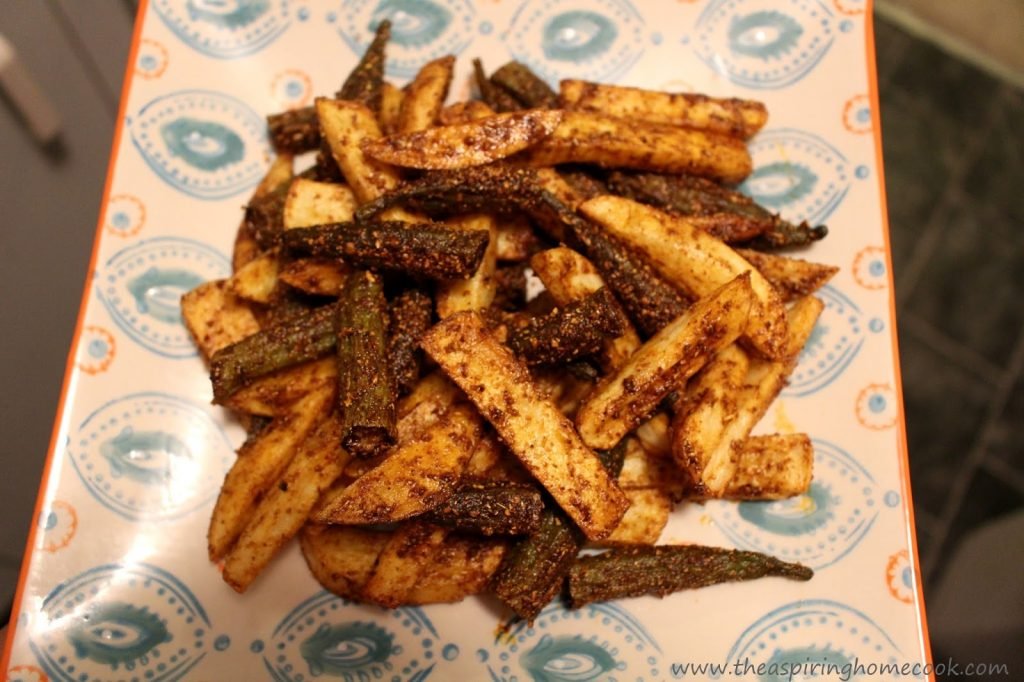 Tava Style Aloo Bhindi


3 medium potatoes
20-25 okra
1/4 tsp turmeric powder
1/2 – 1 tsp Kashmiri chilly powder (or any other mild chilly powder)
1 tsp coriander powder
1/4 tsp cumin powder
1/4 tsp chaat masala
Salt, to taste
1 1/2 – 2 tbsp oil, plus oil for deep frying
Place a pan with the oil for deep frying on medium high heat.
Wash and peel the potatoes and cut into evenly sized fries / chips.
Wash the okra and pat dry. Chop the stalks off the okra and discard. Try and use okra that is similar in size, if not, cut them down to about the same size as the potato pieces.
By now, the oil should be hot. Carefully, and in batches, add the potatoes to the oil. Don't overcrowd the pan or the oil will froth over and spill.
Deep fry the potatoes on medium heat till they've cooked through. Drain using a slotted spoon and set aside on some kitchen paper to get rid of any excess oil.
Deep fry the okra on medium heat till they have start getting a little darker in color and have started crisping up.
Drain using a slotted spoon and set aside on some kitchen paper to get rid of any excess oil, like you did the potatoes.
Take the oil for deep frying off the heat.
Heat 1 tbsp oil in a large pan on medium heat. When the oil is warm, NOT hot, add in the turmeric powder first and then add the rest of the spice powders.
Stir that through for about 20-30 seconds or till the spices get aromatic.
Add the okra to the pan and toss well. Lastly add the potatoes and toss to coat the veggies with the spices evenly.
Check for seasoning and add salt, to taste. Toss well.
Serve hot.
You can watch the video recipe here –
UPDATE: Over the years, I've made one little addition to this recipe, that I think makes this recipe even more delicious. After the mustard seeds sputter, add 1/2 tsp cumin seeds and let it release its aroma, should take a few seconds. Then continue with the recipe. Nothing else changes. Keep a close eye on the cumin seeds and don't let it burn.
Also, I have come to realise that there is a difference in the size of sour limes found in India and other countries. You need just a few drops, maybe a teaspoon of it for a mild change in flavours.
I've been having such crazy days of late, I just don't know where all the 24 hours off the day go. Things such seem to be happening at such a frenzied pace, and that too for no reason in particular. I wonder what brought this on. Since I haven't been able to devote much time to this space, I decided I was going to make up for it by posting one of my all time favorites – the humble aloo bhaji (A mildly spiced potato stir fry.) I do love my fries and mashed potatoes, but sometimes I find myself longing for a portion of this stir fry.
Making this stir fry can be super quick, not to mention easy, if you have a few boiled potatoes at hand. Make sure that when you're boiling potatoes for this stir fry, you don't overcook them, else they will not hold their shape and get all mushy. It'll still taste great, but just won't be as much of a visual treat. I usually wash the potatoes and pressure cook them with some water and salt for about 10 minutes after the first whistle. Remember to turn your gas to low after the whistle. If you don't want to use a pressure cooker, peel and cube the potatoes and cover them in water, add a little salt and boil them on the stovetop till tender.
This stir fry is a versatile side dish. In India, every region tweaks it a little and uses it in loads of different ways. It can be served with some hot chapatis (Whole wheat flat bread), pooris (savory deep fried flat bread), used as stuffing for masala dosas (savory crispy crepes filled with this potato mix) and so on. I'm going to try to post each of these in the future. Oh! and by the way, this potato mix makes for a lovely topping on a slice of toasted bread or can also be used as a filling for a grilled sandwich. How about that!
Watch the video here –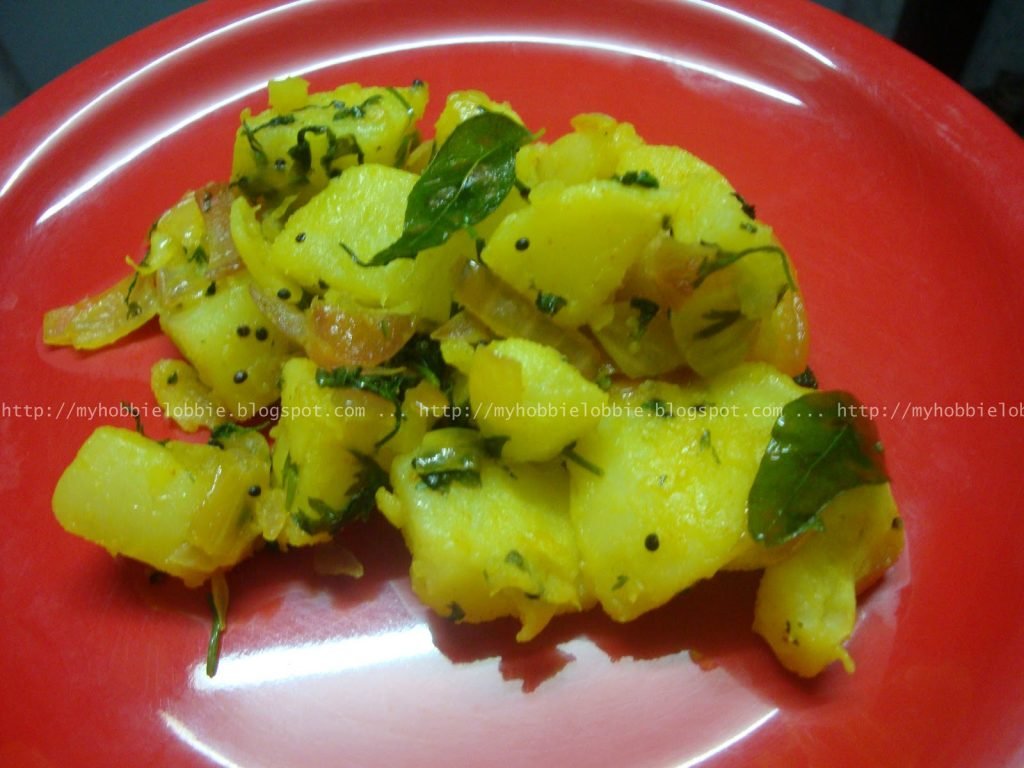 Aloo Bhaji
(Serves 4)
3-4 large potatoes, boiled, peeled and cubed (about 1/2 kg)
1 large onion, chopped
2 birdseye / green chillies, sliced (or to taste)
8-10 curry leaves
1 tsp mustard seeds
1/2 tsp cumin seeds
1/2 tsp (scant) turmeric powder
1 tbsp lime juice
2 tbsp fresh coriander leaves, chopped
1 tbsp vegetable oil
Salt, to taste
1/2 tsp sugar
Heat the oil in a pan.
On a medium flame, add the mustard seeds and let them sputter.
Add the curry leaves and the chopped chilly. Let it fry for a few seconds.
Add the cumin seeds and immediately after tip in the chopped onions and saute it for a few minutes till the onions have softened and turned a light brown.
Add the turmeric powder and stir well. Let it cook for about a minute. Stir to make sure it doesn't stick to the pan and burn.
Tip in the potatoes and stir well till the potatoes are well coated with the spice mix.
Add the lime juice and salt to taste and stir well.
Add the sugar and stir well.
Check for seasoning and adjust, if needed.
Once the potatoes have heated through, sprinkle the chopped coriander leaves and toss lightly. Take the pan off the heat.
Serve hot.
A coconut coriander chutney is probably one of the humblest of all sandwich fillings. It has so many wonderful flavors that mingle to form one well balanced spread. There is absolutely no cooking involved, which is a welcome relief in these sweltering conditions. I've jotted down the quantities and the ingredients that I use for the chutney in this post, but you can play around with them to get the flavors you prefer. In India, theres probably hundreds if not thousands of recipes for this chutney. This is one my grandmother and mother used, but my husband tweaked and I'd dare say perfected it. Its not too spicy so even children can enjoy this, and believe me they do.
This chutney keeps very well. So you can make it ahead of time and refrigerate it for up to a week and use it as and when you need to.
Here's a few options on what you can do with this spread –
1) Chutney sandwich – Spread it over some buttered slices of bread. I think it goes well with slightly toasted slices as well.
2) Chutney Cheese sandwich – Butter a slice of bread and spread some of the chutney over it. Top with a slice of cheese or grated cheese, whatever you have at hand. Cover this with another slice of bread.
3) Veggie Delight sandwich – Butter a slice of bread and spread some of the chutney over it. Place some slices of tomato and cucumber on it. Cover this with another slice of bread.
These are just a few sandwich combos to get you started. I'm sure you'll come up with many more and I'd love to hear about them. And oh yes, how can I forget –
4) With rice – On days of fasting, my mum used to serve us this chutney with a small portion of warm, plain rice to get us through the day.
Check out how I make my Coconut & Coriander Chutney here –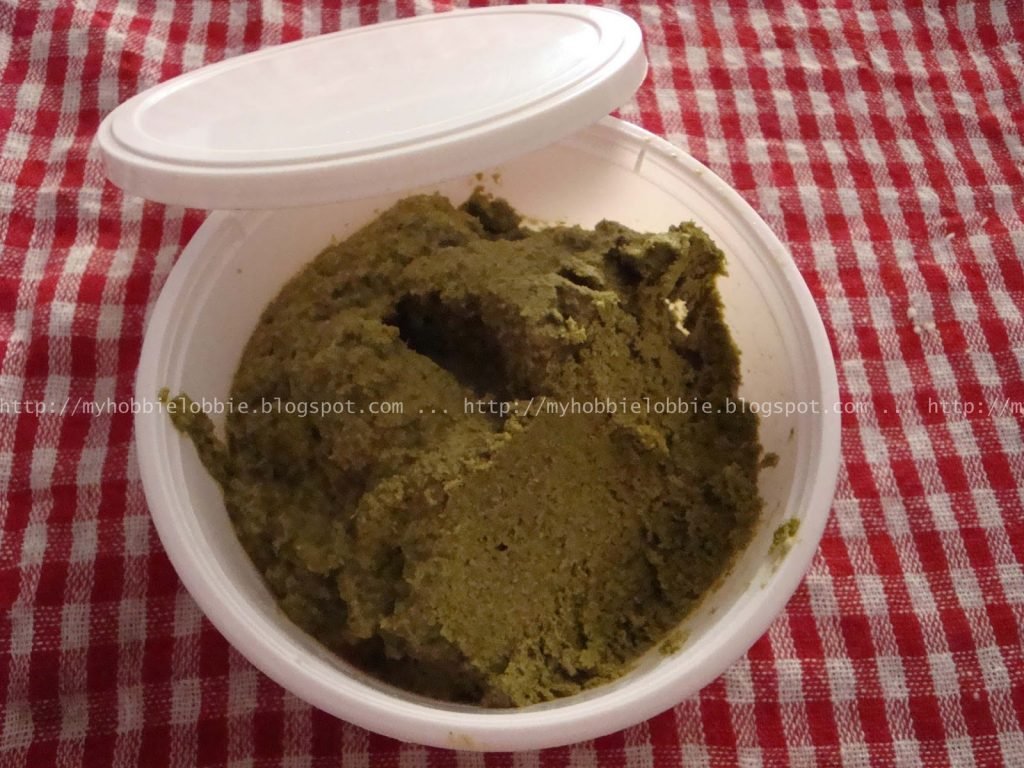 Coconut Coriander Chutney


1 cup freshly grated coconut
1 large bunch of fresh coriander, leaves and tender stalks (About 1 tightly packed cup)
6 small cloves of garlic or 2 large cloves of garlic
3/4″ ginger
1 green/red chilly
1 tbsp sugar
1 walnut sized ball of tamarind, soaked in 1/4 cup water
Salt to taste
Tip all the ingredients except the coconut into a blender or food processor. Blitz to form a puree.
Add the coconut and blitz again. You can leave this spread as coarse or grind it as finely as you like. I like it ground fine but not too fine. You may need to add a dash of water to help the ingredients grind well.
Taste and adjust the flavors, if needed.
Store in a container, refrigerate for up to a week and use as and when needed.
This recipe is linked to –
Mouthwatering Mondays
A Little Birdie Told Me
Tuesdays At the Table
Tuesday Night Supper Club
Delectable Tuesday
Let's Do Brunch