This is a recipe I came across by pure chance. Last week I bought a big basket of fresh ricotta, not for the ricotta, but for the basket. Has anyone else done something as crazy as that? I needed the basket for a project I'm working on and if all goes well, I will share that with you. But I must admit, I was quite stoked to have the fresh ricotta to play with. And play I did. This is one of the things I made using that ricotta. I made a batch of these amazing Savory Ricotta Scones. I used a bunch of dried herbs I had in the kitchen, but I can only imagine how much more amazing these would taste with fresh herbs. One of the things I want to do, is grow my own herbs. And if I have any luck with that, I will make this recipe using fresh herbs.
Have you tried making scones before? I've tried these Chocolate Chip Banana Scones, Double Chocolate Scones and some Classic Scones – all sweet ones, out of which my favorite one is the Chocolate Chip Banana Scone. That being said, I do want to try my hand at a few more recipes. So this time, I decided to try out a savory scone and when I saw this recipe for Savory Ricotta Scones, I was thrilled. It would be the perfect way to build on my scones list as well as use up that amazing Ricotta.
The recipe itself was very simple and the scones turned out really well. They were tender and delicate and beautifully flavored. They would pair fantastically with a soup. I want to try these with a roasted tomato soup when the weather cools down. So whether or not you've tried scones before, I do hope you try these out. Serve them with a soup, or for brunch or with some tea and let me know what you think of them.
I've made a little video to help you through the process –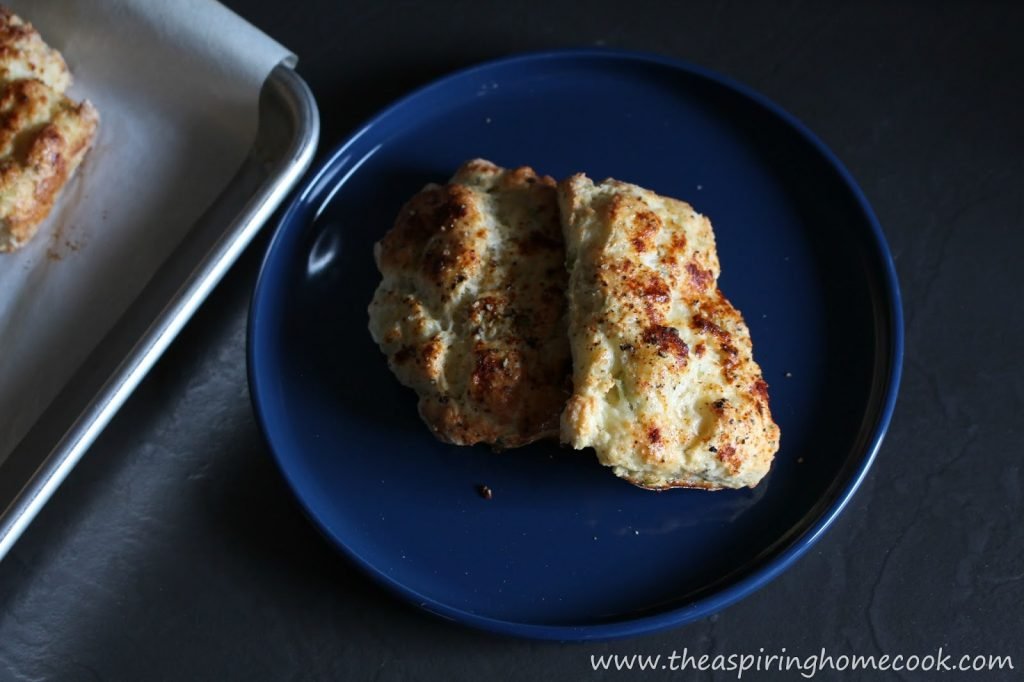 Savory Ricotta Scones
Adapted from: Love Life and Good Food
2 cups all-purpose flour
1 tbsp baking powder
2 tsp sugar
1/2 tsp salt
5 tbsp chilled butter
1/2 cup sliced spring onions
1/2 tsp dried mixed herbs
1/4 tsp dried parsley
1/8 tsp dried thyme
1 cup ricotta cheese
2/3 cup milk
1 egg
Sea Salt
Black pepper, freshly cracked, to taste
Smoked paprika, to sprinkle over
Preheat the oven to 220ºC.
Line a baking tray with some parchment / baking paper and lightly grease the paper.
Whisk the flour, baking powder, sugar and salt in a large bowl.
Cut the butter through the flour mix or grate it and mix it till you get a coarse crumb texture.
Add the spring onions and herbs. Stir through.
Add the Ricotta cheese and milk and stir through just until combined.
Turn out on a lightly floured surface. Lightly bring the dough together. Do not knead.
Pat the dough into a rectangle. Dip the cutter or knife in some flour and cut into 10-12 equal pieces.
Place on the parchment lined baking tray.
In a small bowl, whisk the egg with 1 tsp water. Use a silicone / pastry brush and brush the egg white on the scones. Sprinkle some salt, freshly cracked black pepper and smoked paprika over the tops of the scones.
Bake for 20 minutes.
Serve while still warm with a little butter.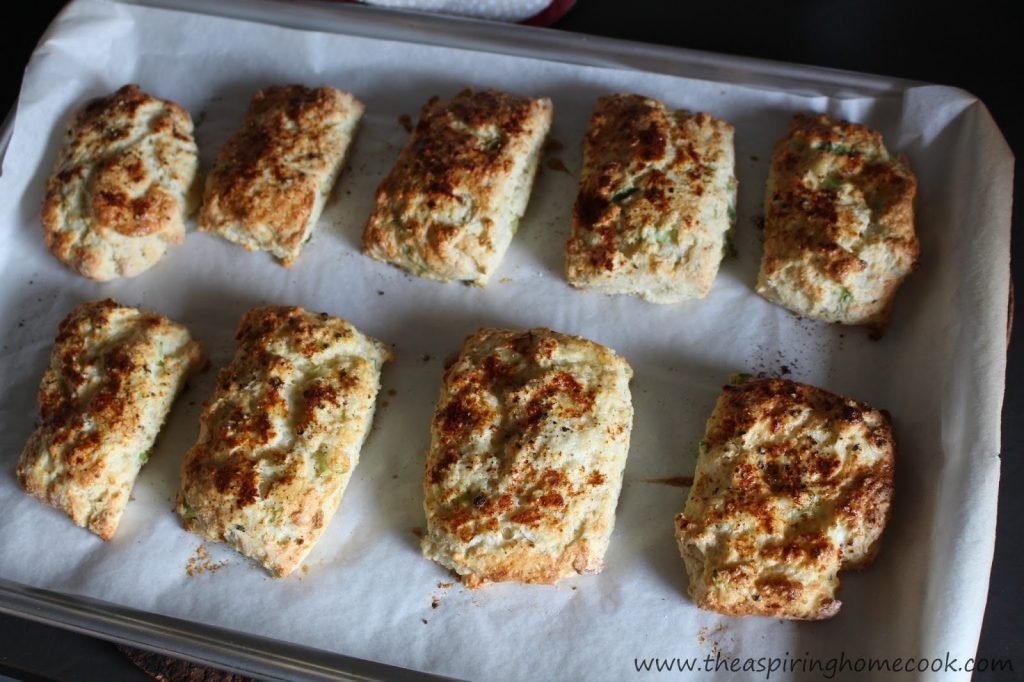 If you're making these in advance or if you have leftovers, they reheat well either in a covered pan on low heat or wrap them in foil and warm in a 180ºC oven for about 5-10 minutes.
I have to admit, I joined the Avocado Toast movement much later than I should have. No, no, I didn't wait till yesterday. I've had a few orders of these at cafes around the city. And finally, I got around to trying them out at home.
I don't know if I've mentioned it here before, but I'm totally smitten with avocado. I can eat them plain, maybe topped with a tiny sprinkling of salt and a squeeze of lime. I love the way an avocado lends itself to so many recipes and uses. It is creamy, picks up flavors so well and can cool down an otherwise spiced up meal. I have tried a
chunky guacamole
before and I can just eat that stuff by the spoonful. Throw in a few tortilla chips and I can have a party for one (**wink, wink). I have also attempted a quick and easy
Chocolate Avocado Mousse
– so very delicious and it makes a perfect eggless mousse option. I can't wait to try out many more recipes using avocado. What is your favorite way to enjoy an avocado? Leave me a comment and let me know. I'd love to try it out too.
Now, onto the Avocado toast I made for breakfast over the weekend. Since this was a first attempt for me, I decided to keep it simple. I've seen some pretty extravagant avocado toast options around and maybe someday I will try them out too. But there's nothing wrong with simple. And simple and yummy makes it even better. So if you love ordering avocado toast at a cafe, I urge you to get into the kitchen and try whipping some up yourself. You will save yourself a heap of cash (which means more avocado for you.) The Lord knows these little green gems cost an arm. Speaking of which, if you find yourself around a Harris Farm Markets outlet, check out their Imperfect Picks range. They have mini avocados for $7.99 a kilo, when I saw them last. A lot of fruit and veg is discarded because of ridiculous aesthetic standards maintained by large supermarket chains and anything that doesn't meet those specifications usually ends up in a landfill. These minis are so tasty but would typically be discarded because of their size. And how wrong is that. I love the Imperfect Picks range and urge you to support them too if you have the option.
Back to the avocado toast. I made two options for hubby and me. One savory and one sweet. It made for a very satisfying breakfast and couldn't have been simpler to put together. Our savory one had a fried egg on top and our sweet one had some banana and maple syrup. There are no strict quantities for this recipe, so feel free to have some fun with it.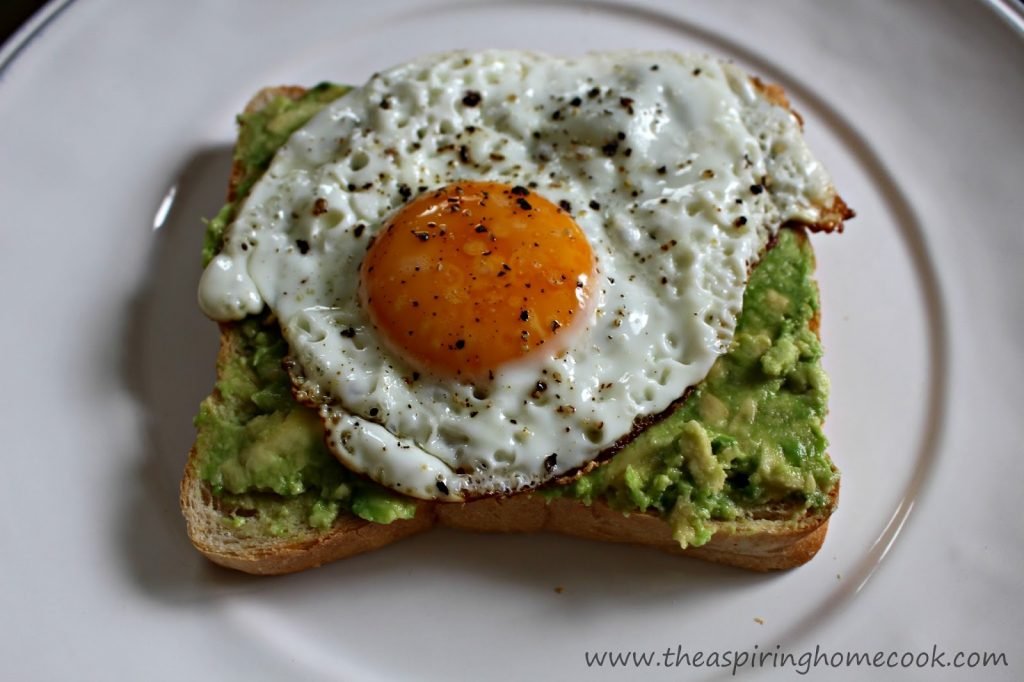 Avocado Toast with Egg
1 slice of bread, toasted to your liking
1/2 small avocado or 1/4 large
1 egg, fried to your liking (you could also use a poached or a boiled egg, if you prefer)
Salt, to taste
Freshly cracked black pepper, to taste
Cut the avocado in half and discard the seed.
Scoop out the flesh and roughly mash it up with a fork.
Spread the avocado over the toast.
Top that with an egg. I used a fried egg, sunny side up.
Sprinkle a little salt and pepper on top.
Enjoy!!!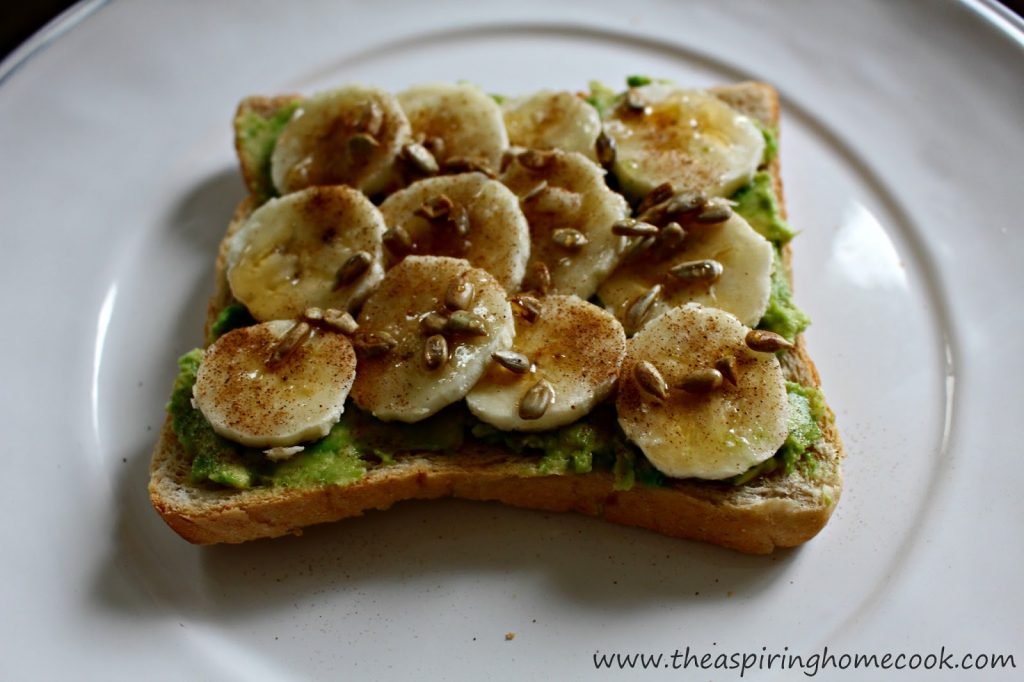 Avocado Toast with Banana, Maple Syrup and Sunflower Seeds
1 slice of bread, toasted to your liking
1/2 small avocado or 1/4 large
1/2 banana, sliced
1 tbsp sunflower seeds
Maple syrup, to drizzle over, to taste
Cinnamon powder
Cut the avocado in half and discard the seed.
Scoop out the flesh and roughly mash it up with a fork.
Spread the avocado over the toast.
Top that with the banana slices, a sprinkle of cinnamon powder, the sunflower seeds and lastly, a drizzle of maple syrup.
Enjoy!!!
Note: I haven't been compensated by Harris Farm Markets for this post. The opinions stated here are my own and I've shared it with you because I strongly believe we can cut down waste as a society by just being more aware.
I don't know if I've admitted it before, but I love my snacks. I'd rather have a couple of light meals that one big one. Back in Bombay, this is very easy to do. We have such a wide variety of snacks from various parts of India. Most of them are readily available at street food carts or other grocery stores and they don't cost the earth. Most of these snacks are savory. After coming to Australia, I often find myself craving this ever so delicious street food. And here, its almost impossible to find these treats as easily as you find it Bombay. If you do find them, they are ridiculously expensive and a lot of times they disappoint. Given these reasons, I try to make some of these delicious snacks at home. Some I am familiar with making, the others I'm trying to learn.
Today's post is about one such recipe. Its a cake recipe, but not your regular, run of the mill cake. This is a savory one. And it is made with chickpea flour. It is called Khaman Dhokla and happens to be one of my favorite street foods. Even though I enjoy this recipe, I didn't know how to make this one. I had to do some reading before I could find a recipe I was happy with. And when I saw this instant recipe, I knew I had found the one. Traditionally, this cake is steamed, but this is a microwave recipe.
This beautiful snack comes together in less than 30 minutes from start to finish. It is absolutely delicious. The cake itself is light and super fluffy. The flavors are well balanced and in all, very moreish. If you've had dhokla before, you probably love it as much as I do. If you haven't, you really should give it a try. It is a unique treat and you won't be disappointed. This treat is served with some Green Mint Chutney and some Tamarind & Date Chutney. You can buy little bottles of the chutneys at any Indian store or click on the links to find the recipes, if you'd like to make some at home. They are very easy to make and taste so much better. Either way, these chutneys are an important part of the dish and not just an accompaniment. Serving it without the chutneys doesn't do the the dhokla justice.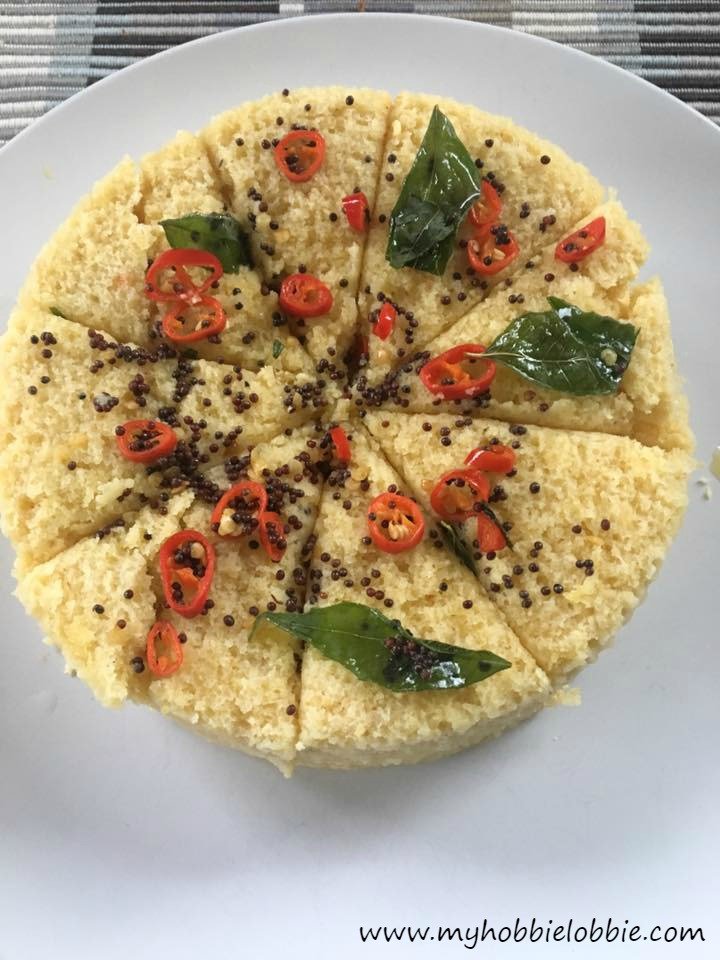 Instant (Microwave) Khaman Dhokla
Recipe from: Ruchi's Kitchen
1 cup besan (chickpea flour)
1 1/2 tbsp semolina
A pinch of asafoetida
1 tbsp sugar
Salt, to taste
1 tsp. crushed ginger and green chillies
1 1/2 tsp Eno (fruit salts – available at any Indian store)
1/2 tsp Citric acid
2 1/2 tbsp Oil
3/4 – 1 cup water (depending on how much is needed to achieve pouring consistency)
For tempering –
1 tsp mustard seeds
10-12 curry leaves
1 tsp sugar
2-3 tbsp water
2-3 green / red chillies, sliced
1 tbsp oil
In a large mixing bowl, mix the besan, semolina, asafortida, sugar and salt.
In a mortar and pestle, pound the ginger and green chilly to a fine paste. (You can leave the chillies out or deseed the chilly if you don't want too much heat from the chilly.)
Add the chilly and ginger paste to the mixing bowl. Add the oil and citric acid.
Add the water and mix everything till well blended.
Whisk the batter well to incorporate air into it. It will make a light and fluffy dhokla.
Add the eno (fruit salts) and whisk the batter till it is well incorporated. The batter will get light and frothy. The batter should be of thick dropping / pouring consistency.
Pour the batter in a greased microwave bowl. (I used an 8″ bowl)
Cook for 5-6 minutes. It may take longer depending on the microwave.
Take it out and insert a toothpick to check if it is done, just like you would a regular cake. If the toothpick comes out clean, it is cooked and if it doesn't microwave for another 30 seconds.
Allow it to cool.
Traditionally, it is cut into squares. But I tried cutting it into wedges this time and it looks much prettier this way.
Now prepare the tempering.
For the tempering –
In a pan, heat the oil.
Lower the flame and add the mustard seeds and green / red chillies and let it sputter.
Add the curry leaves and let it fry up on low heat till crisp.
When they are crisp, add the sugar and water. Mix well.
Pour the hot tempering over the dhokla.
Serve with the Green Mint Chutney and Tamarind & Date Chutney.
Enjoy!!!
It's
SRC
time again. This month I was assigned Katie's blog –
Thyme for Cooking
. I had a lot to look through. I mean, what do you pick and how do you pick one recipe when the blogger you've been assigned has been blogging for over 10 years. That is quite an achievement in itself. I really enjoyed reading Katie's blog. She gives you a little insight into her life. Currently in France, she has also lived in Ireland and Andorra. She has an impressive vegetable garden and grows a lot of the vegetable they consume. I've only just started trying my hand at growing plants and since I live in an apartment, I'm restricted to a few herbs and some chilly plants. But I find growing your own food fascinating and hope to do plenty more of it in the years to come. Obviously, I spent ages reading up Katie's posts on her vegetable garden and I know I'll keep going back for more. Like her, I too try and eat seasonal produce as much as I can and I stay away from processed and pre-packaged foods as much as I can.
With great difficulty, I narrowed down recipes I wanted to try to these – her spinach gratin, this beautiful pickled beets and feta cheese salad, an interesting pickled beets, walnuts and goats cheese tart, another lovely salad – her mini tomato, mozzarella an avocado salad, these parmesan oven fries and corn fritters. You've most like figured that I went with the corn fritters. But I also bought some beetroot to try out Katie's take on pickling them.
These corn fritters were very interesting. They were really easy to make and once I tasted them, I realised they were pretty close to being savoury pancakes. Immediately, my mind started thinking of other things I could add to them. Could you imagine bacon bits in these pancakes. I know that's what I want to try when I make these again. Needless to say, we quite enjoyed these fritters. The goats cheese was a nice addition. This was the first time I tried goats cheese and I really liked it. I couldn't get my hands on the creamy variety like Katie used for this recipe, so I just crumbled some over.
Onto hurdle number 2. For some reason I was under the impression that I had a bottle of balsamic vinegar in my pantry and then when I went to make that delectable reduction, realised I didnt. Frantically looking for options, I found some balsamic salad dressing and decided to use that. I figured worse case scenario, I'd have to make do without the glaze. But it turned out pretty well. Though I would like to try this glaze again using proper balsamic vinegar. In all, it was a really interesting experience. Thank you for introducing me to this recipe Katie.
Corn Fritters with Balsamic Honey Reduction
For the reduction:
2 tbsp honey
2 tbsp balsamic vinegar
Stir both till mixed.
Bring to a boil and then simmer till it reduces to a thick sauce.
For the fritters:
3/4 cup all purpose flour
2 tsp baking powder
3 tbsp sweet corn kernels
1/2 cup milk, approx. (you may need a little less)
A pinch of salt
2 tbsp olive oil
Goat's cheese, to crumble over
Balsamic Honey reduction, to drizzle over
Dried parsley, to garnish
Mix the flour and baking powder.
Add the sweet corn kernels and milk and whisk till combined to a batter.
Cover and set aside for about 15 minutes.
Heat 1 tbsp. olive oil in a pan over medium heat.
Stir the batter and dollop a heaped tbsp. of the batter for each fritter.
Cook till golden brown and then flip. It'll take about 2-3 minutes per side depending on the heat.
Add more oil if needed.
To serve, crumble some goat's cheese over the fritters and drizzle some of the balsamic honey reduction.
Garnish with the parsley, if desired.
So a few days before we left for our trip, I found a great deal on some beautiful zucchini. Obviously, I couldn't resist it and bought some. Now, whenever I see fresh fruit and veg at good prices, I end up buying a bunch. I know I'll eventually figure out what to do with it. For those of you who don't know, that's how I plan my menu. I go by what's in season and what appeals to me on the day I'm shopping. Not very organised, I know, but it works well for me. I like to be surprised. On the day we were leaving, I realised I still had the zucchini and some eggplant. I couldn't leave it till we got back, it just wouldn't last. So I made a beautiful pickle with the eggplant. I will share that recipe soon. With the zucchini I made these muffins. I figured we could just take them with us to snack on.
The muffins are really simple to make. My husband helped with these. Now I have to be honest. We usually work well together in the kitchen. But on this given day, we were trying to get things done quick and there was a little confusion. We ended up using half the quantity of flour that the recipe called for. Fortunately for us, it wasn't a disaster. With extra baking time, the muffins were fine. I would love to try these again with the right measurements. However, the muffins turned out pretty well. They were light and spongy, savoury with a hint of cheese. I might even try using a sharper, vintage cheddar the next time. I was pleasantly surprised when these tasted even better a couple of days later. I can happily report that these muffins keep well for a week refrigerated. When you want to eat them, simply warm them up in the microwave and you've got yourself a nice, little snack.
The recipe I've listed below, is the original one with the right measurements, just incase you'd like to try these out too.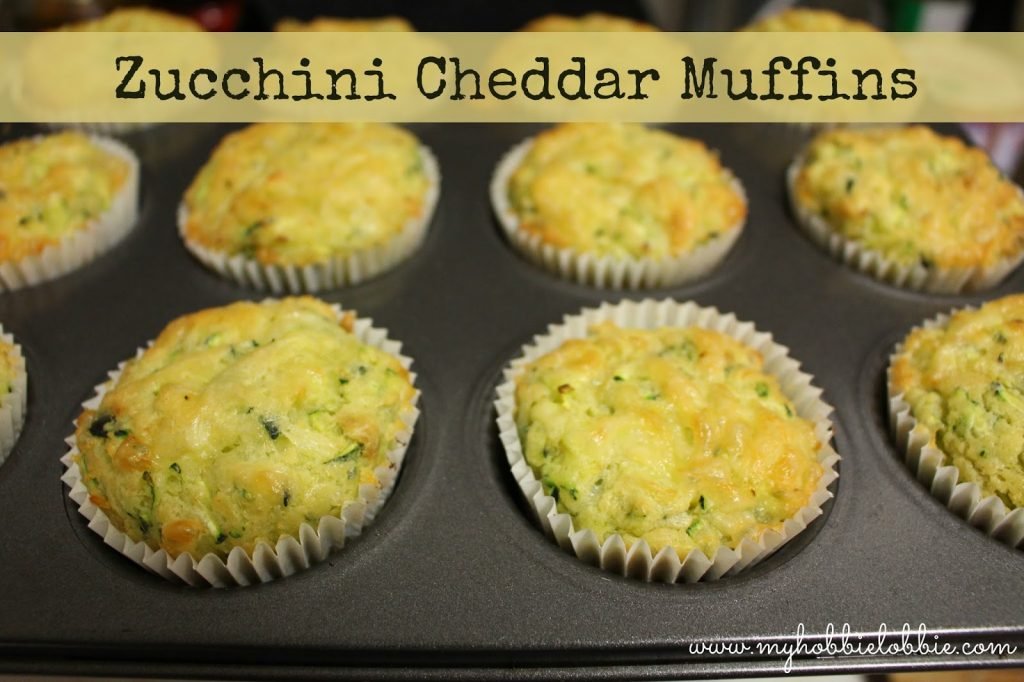 Zucchini Cheddar Muffins
Adapted from: Will Cook for Smiles
Yield: 12 muffins


3 eggs
3/4 cup vegatable oil
1/4 cup sour cream
1 1/2 tsp salt
2 cups all-purpose flour
2 tsp baking powder
1/2 tsp baking soda
2 cups shredded zucchini
100g cheddar cheese, grated (30g reserved for topping)
Preheat the oven to 180ºC and place muffin liners in the cavities in the pan.
In a large mixing bowl combine the dry ingredients, the flour, salt, baking powder and baking soda. Set aside.
Whisk the eggs, oil and sour cream till combined.
Add the wet ingredients to the dry ingredients and whisk until just incorporated.
Add the zucchini and mix well.
Add 70g of shredded cheese and whisk till it has evenly combined.
Spoon batter into the muffin pan and top with the reserved 30g of shredded cheese.
Bake for 18-20 minutes or till a toothpick inserted in the centre of the muffins comes out clean.
Enjoy!
If you want to keep these for later, let them cool off completely and store them in an airtight container in the fridge. Warm in the microwave when you are ready to eat them. (It lasted us a week. It might've lasted longer, but we got through this batch.)
For quite a few months now, I've been yearning for some good Chaklis (Savoury Indian rice crackers). I have made them at home in Bombay using my late Mother-in-law's recipe and they are fantastic. I bought a couple of different packets from the Indian grocery stores here in Sydney, but it just never hits the spot. So why am I not making them here? I didn't have this –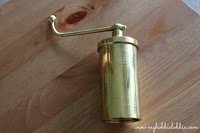 I know for those of you who haven't seen this before, it must look like something straight out of an alien space craft but just wait till you see what you can do with it. This is what it looks like on the inside –
In some ways it is similar to a spritz cookie press. You slide in a plate from the assortment on the right into the barrel. For this recipe I used the one with the single star shaped perforation. Place your dough in the barrel and top it with the spiral press. All you do it rotate the lever on the top and that lowers the press and presses out the dough through the perforation. If that doesn't make sense yet, don't worry, it will shortly.
My dear blogging friend Manu of
Manu's Menu
had posted some recipes featuring this press. So I asked her where she got her's from and she very kindly directed me to the shops in Harris Park. So last weekend that's where we went and finally bought one. I've hunted for this press for so long here and am so thrilled that I now have one. No more buying those unsatisfying packets of cruchy, but still hard like stone chaklis from the store for me.
The very next morning, we set out making a batch of chaklis. The dough comes together quick and easy and makes a decent sized batch. Stored in an airtight container should give us something to much on for atleast a week with a cup of afternoon tea. And that thought makes me very happy indeed.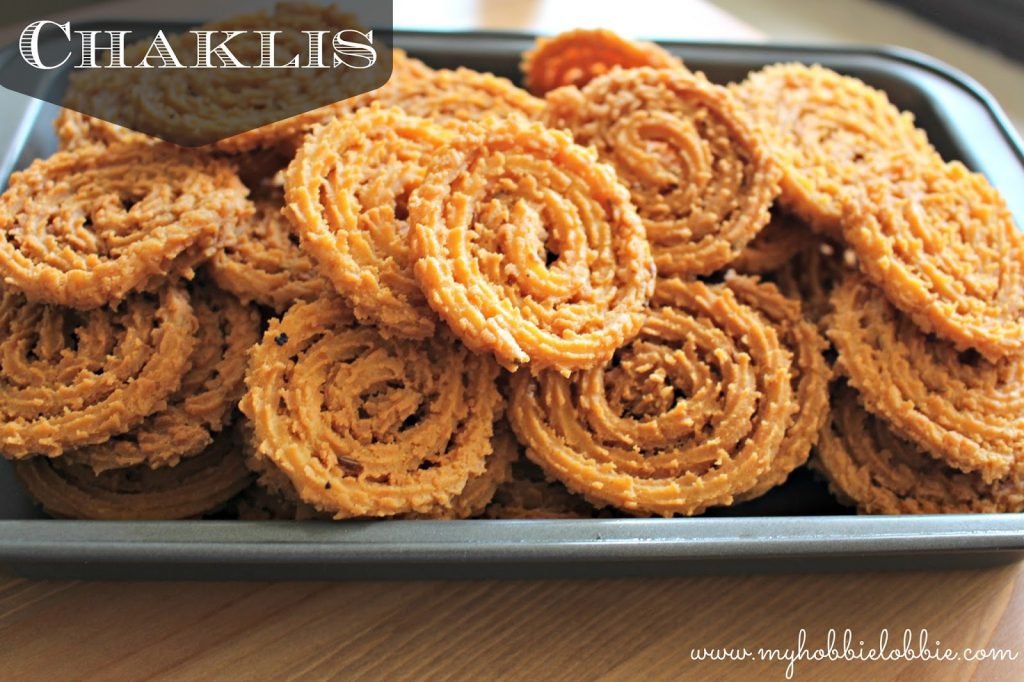 Chaklis
3 cup rice flour (fine)
1/2 cup all purpose flour
1/2 cup ghee
1 tsp salt, or to taste
1 tsp. red chilly powder
1/4 tsp turmeric powder
1 tsp sesame seeds
1 tsp cumin seeds
Oil for deep frying
Place all the ingredients in a large bowl and rub the ghee into the flour till everything is well mixed.
Gradually add little water to knead to a dough.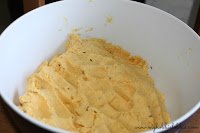 Heat the oil. Test with a tiny pea sized piece of dough. When added to the oil, it should rise to the surface quickly. If it browns really fast, the oil is too hot and needs to be cooled a little. If it settles to the bottom, the oil is not hot enough and needs to be heated a little more.
The oil temperature is important, if its too hot, the chaklis will brown but stay raw on the inside and if the oil is not hot enough, it tends to absorb a lot of oil and wont have the right texture.
Take portions of dough and add to the chakli press.
Shape the chaklis on some baking paper.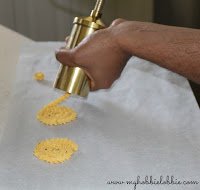 That's my wonderful husband cranking out the chaklis while I fry them, just incase you were wondering if that was my hand 😉
Carefully using a flat spatula, life the chaklis off the paper and place into the oil. Let it cook on medium flame till golden brown. Drain on some absorbent kitchen paper.
When it has cooled completely, store in an air tight container.
Enjoy!!!
Those of you who follow me on
Facebook
, know that I've been meaning for this post to go live for over week now. Well, I've finally gotten to it and let me tell you, it's worth the wait. Recently I picked up some zucchini at a bargain price from Paddy's market at Flemington and was eager to try something different from the
zucchini fritters
I usually make. Don't get me wrong, we still enjoy the fritters every time they are made, but I'd seen so many other recipes around, I was eager to try something new. I went through all my bookmarks and pins and after a little looking, I found 2 recipes that I was going to work with – one savoury and the other sweet. This is the savoury one.
From personal experience, I knew I could not go wrong with a recipe that had cheese and garlic in it. And I was right. This is an easy loaf recipe that is so flavourful. It goes well with a nice big bowl of soup. I found that this bread was best eaten slightly warm. I tried warming the required slices in the microwave as well as on a pan. Both work well. The pan gives you light toasty edges, which I personally find quite yummy. Not to mention, it looks pretty. I love the green flecks throughout the loaf. I followed the recipe to the letter with the exception of swapping the green onion for some chopped onion and was very happy with the result. The only thing I did differently was bake a whole loaf instead of mini loaves. This increased the baking time and when I make this recipe again, I'll make sure I have a mini loaf tin. I think they would be perfect in the smaller sizes.
Cheesy Garlic Zucchini Bread
Recipe from: Emily Shares
3 cups all-purpose flour
4 tsp baking powder
1 tsp salt
1/2 tsp baking soda
1/2 tsp garlic powder
1 cup zucchini, grated
3/4 cup cheddar cheese, grated
1/4 onion, finely chopped (the original recipe calls for 1/4 cup finely chopped green onion)
2 tsp dry dill (or 1 tbsp fresh dill)
2 large eggs
1 cup buttermilk
4 tbsp butter, melted
Preheat the oven to 180ºC.
Line a loaf tin with parchment paper and spray with non-stick baking paper.
In a large bowl, whisk together the dry ingredients – the flour, baking powder, salt, baking soda and garlic powder.
Then add the zucchini, cheese, onion and dill to the bowl and toss to coat them with the flour mix.
In another bowl, whisk the eggs, buttermilk and the cooled, melted butter.
Add the wet ingredients to the flour mixture and gently stir through until the ingredients are just moistened. The batter will still be lumpy and that's alright. Do not over mix the batter.
Pour into the prepared loaf tin and bake for about 50-60 minutes or till a toothpick pierced through the center comes out clean.
If you choose to bake these as mini loaves, bake for 20-30 minutes or till a toothpick comes out clean.
And you have yourself a beautiful loaf of bread.
Fried food is usually delicious, isn't it! I have to agree. We love our
fries
,
pakoras
, fried chicken and oh yes, the good old
corn dogs
… and that's just the start of the list. However, we are trying to adopt slightly healthier eating habits. Let's not get all wound up here. I'm just talking about changes like baking instead of frying where possible, consuming a little less oil and so on. And yes, I will continue enjoying the occasional helping of fried food. So I decided to try a baked version of the corn dogs – Corn Dog Muffins.
This recipe is an absolute star. I was a little apprehensive when I started out. Because I'm sure all of us have found atleast one such baked substitute recipe that seems so promising but is nothing like the original. I know I have. This recipe is nothing like that. It is so delicious and knowing it is baked and not fried lets you enjoy this treat even more. My husband loves these muffins. He is actually happy to skip the sausage in the centre and eat just the cornbread by itself. It is that tasty. Unlike some corn dog batters, this is NOT a sweet one, which works out really well for us. We prefer it savoury.
I hope you give this recipe a try and if you do, don't forget to serve this up with some mustard and ketchup.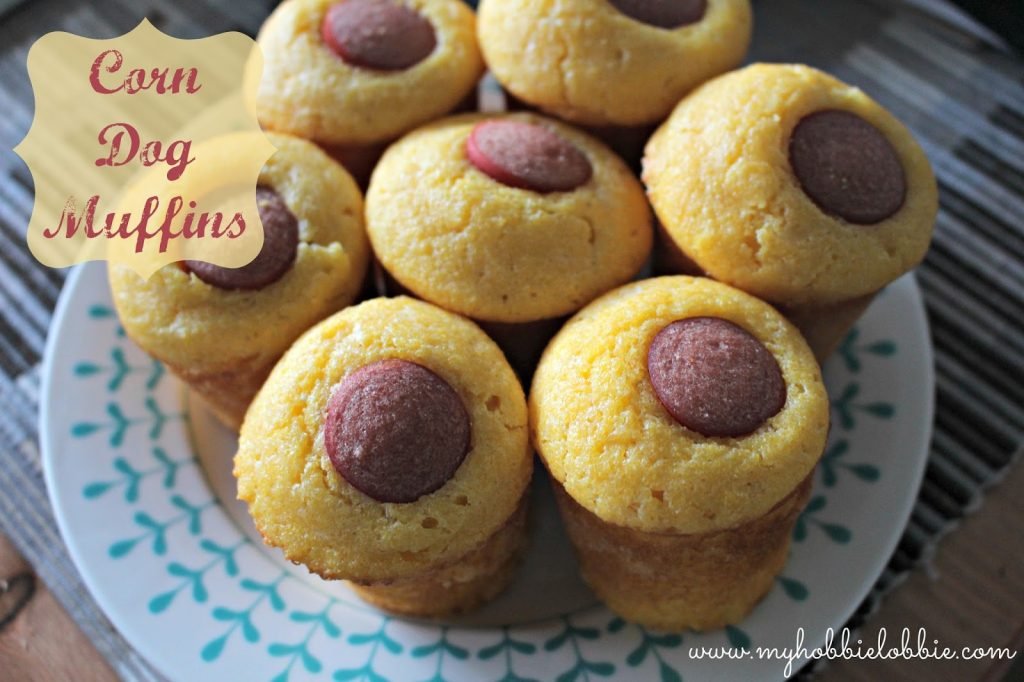 Corn Dog Muffins
1/4 cup butter, melted
1 cup yellow cornmeal
1/2 cup all purpose flour
1/4 – 1/2 tsp salt
1 cup buttermilk
1/2 cup milk
1 egg
1 tbsp baking powder
1/2 tsp baking soda
6 whole hot dogs (I used cocktail franks)
Preheat the oven to 200ºC.
Cut the hot dogs / franks into pieces long enough to stand in the centre of the muffin.
Melt the butter and leave it to cool a little while you get the other ingredients together.
Combine corn meal, flour and salt in a bowl.
In another bowl, combine the buttermilk, milk and egg.
Add the baking powder and baking soda to the milk and egg mix.
Stir the wet ingredients into the dry ingredients.
Add the slightly cooled, melted butter and stir well.
Spray the muffin tray with some oil.
Pour the batter into the muffin tin to fill about 2/3 of the tin.
Place the hot dog / frankfurter pieces in the middle of each muffin.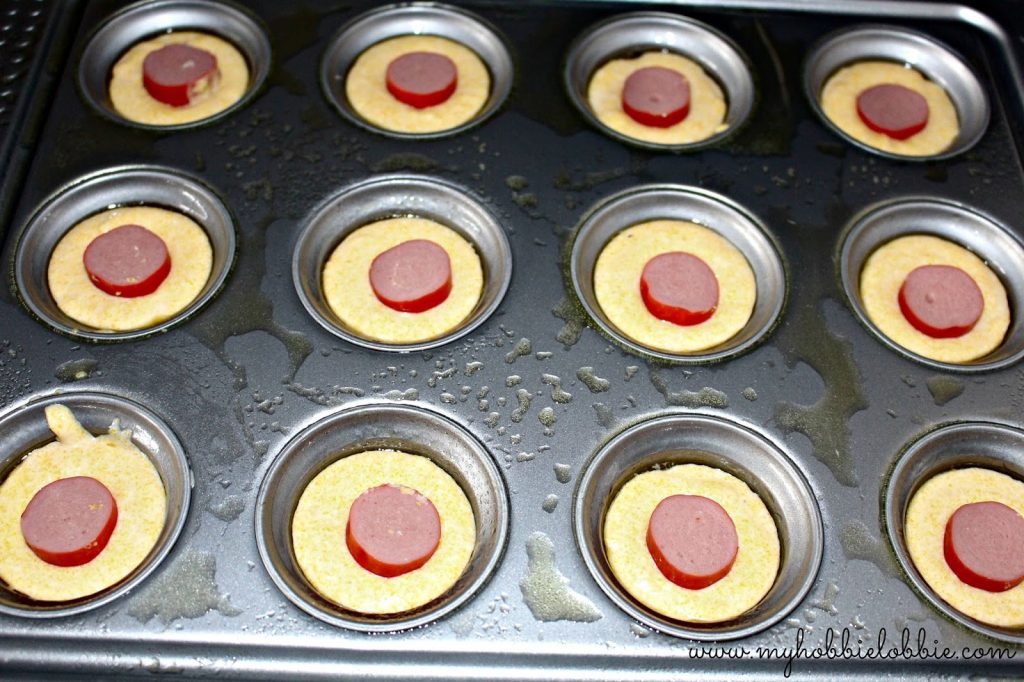 Bake until cornbread is cooked. It should take about 10-12 minutes.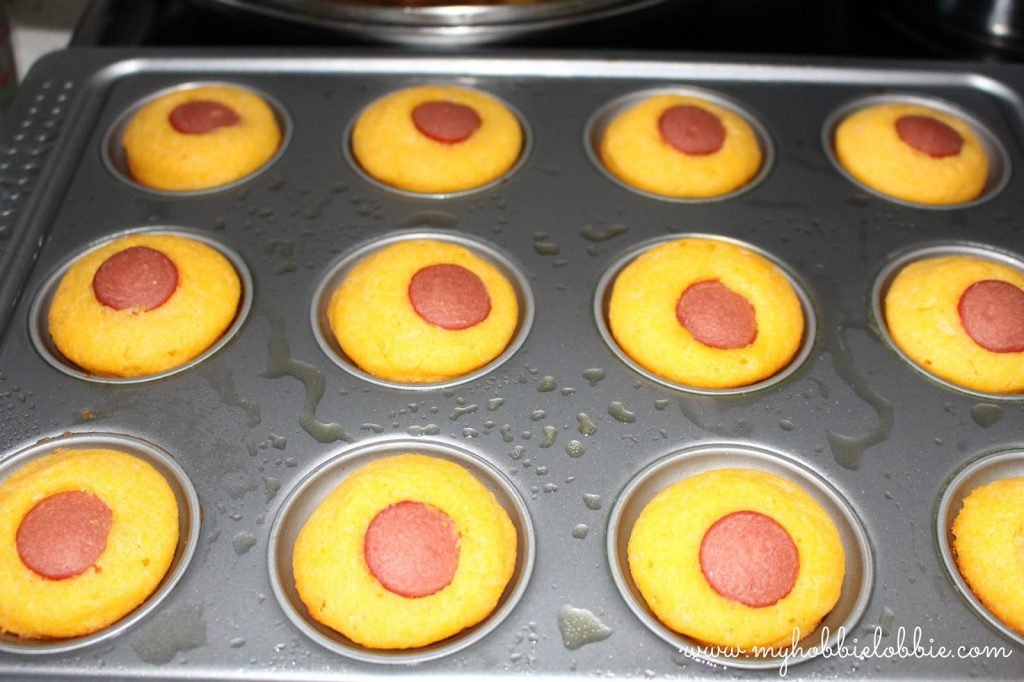 Serve up with some mustard and ketchup.
These muffins keep very well in the fridge. My plan was to use it for a snack through the week. They were finished well before the week was. All we did was warm it up before eating.
A coconut coriander chutney is probably one of the humblest of all sandwich fillings. It has so many wonderful flavors that mingle to form one well balanced spread. There is absolutely no cooking involved, which is a welcome relief in these sweltering conditions. I've jotted down the quantities and the ingredients that I use for the chutney in this post, but you can play around with them to get the flavors you prefer. In India, theres probably hundreds if not thousands of recipes for this chutney. This is one my grandmother and mother used, but my husband tweaked and I'd dare say perfected it. Its not too spicy so even children can enjoy this, and believe me they do.
This chutney keeps very well. So you can make it ahead of time and refrigerate it for up to a week and use it as and when you need to.
Here's a few options on what you can do with this spread –
1) Chutney sandwich – Spread it over some buttered slices of bread. I think it goes well with slightly toasted slices as well.
2) Chutney Cheese sandwich – Butter a slice of bread and spread some of the chutney over it. Top with a slice of cheese or grated cheese, whatever you have at hand. Cover this with another slice of bread.
3) Veggie Delight sandwich – Butter a slice of bread and spread some of the chutney over it. Place some slices of tomato and cucumber on it. Cover this with another slice of bread.
These are just a few sandwich combos to get you started. I'm sure you'll come up with many more and I'd love to hear about them. And oh yes, how can I forget –
4) With rice – On days of fasting, my mum used to serve us this chutney with a small portion of warm, plain rice to get us through the day.
Check out how I make my Coconut & Coriander Chutney here –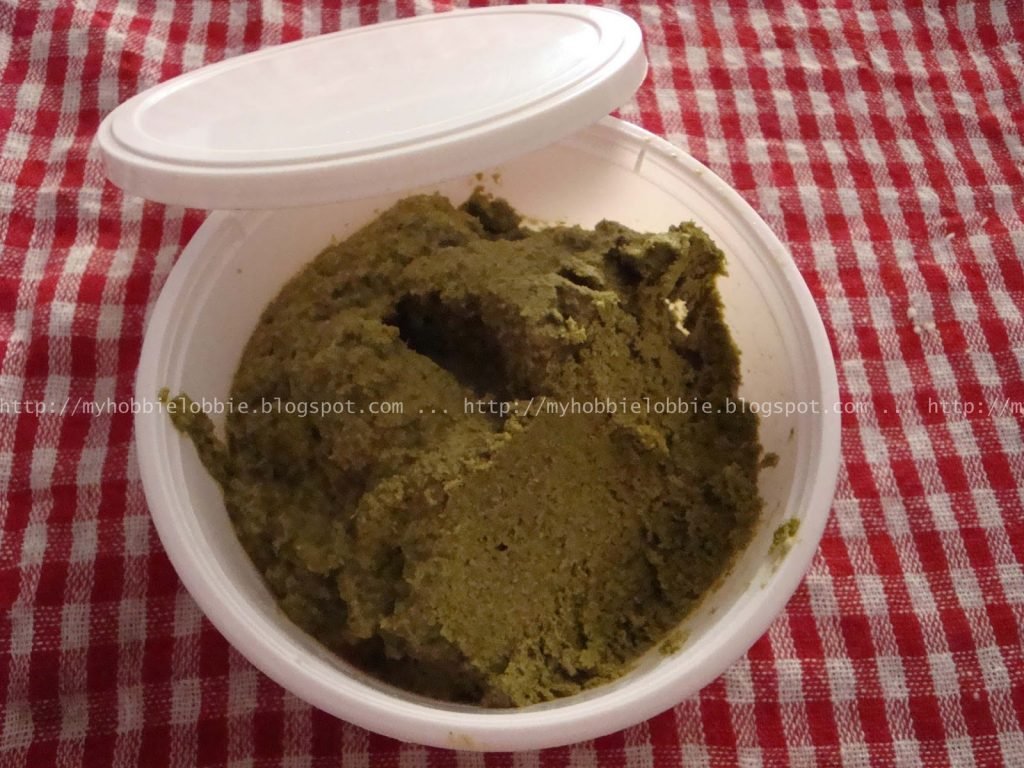 Coconut Coriander Chutney


1 cup freshly grated coconut
1 large bunch of fresh coriander, leaves and tender stalks (About 1 tightly packed cup)
6 small cloves of garlic or 2 large cloves of garlic
3/4″ ginger
1 green/red chilly
1 tbsp sugar
1 walnut sized ball of tamarind, soaked in 1/4 cup water
Salt to taste
Tip all the ingredients except the coconut into a blender or food processor. Blitz to form a puree.
Add the coconut and blitz again. You can leave this spread as coarse or grind it as finely as you like. I like it ground fine but not too fine. You may need to add a dash of water to help the ingredients grind well.
Taste and adjust the flavors, if needed.
Store in a container, refrigerate for up to a week and use as and when needed.
This recipe is linked to –
Mouthwatering Mondays
A Little Birdie Told Me
Tuesdays At the Table
Tuesday Night Supper Club
Delectable Tuesday
Let's Do Brunch