Ever so often, life gets busy for everyone. When that happens in our home, I love having quick and easy recipes that I can fall back on even if I haven't had the time to cook dinner. My tolerance for take away and ready meals has steadily fallen in the last few years to the point where its non existent now. I do prefer home cooked food, even if its something as simple as breakfast for dinner.
Actually, I really like breakfast for dinner. This breakfast hash is a nice way to fancy things up. What I love about this hash is its made from scratch. That being said, it comes together so quick and easy and all in one pan. If you're using an oven proof skillet, you can crack the eggs right in and let them cook off in the oven. I didn't want to switch the oven on, so I used a second pan to fry the eggs. You could use poached eggs or scambled eggs too. This hash obviously uses potato. The addition of red peppers and kale makes it so colorful, not to mention, delicious. And kale in a recipe must definitely make it healthier.
So if you're ever in a situation where you need a meal on the table in under 30 minutes or if you feel like a fancier breakfast, or for that matter, breakfast for dinner option, try this hash out. You'll love it. We certainly did. And leftovers keep quite well, refrigerated. Simple heat it up the next day and serve with an egg, if desired.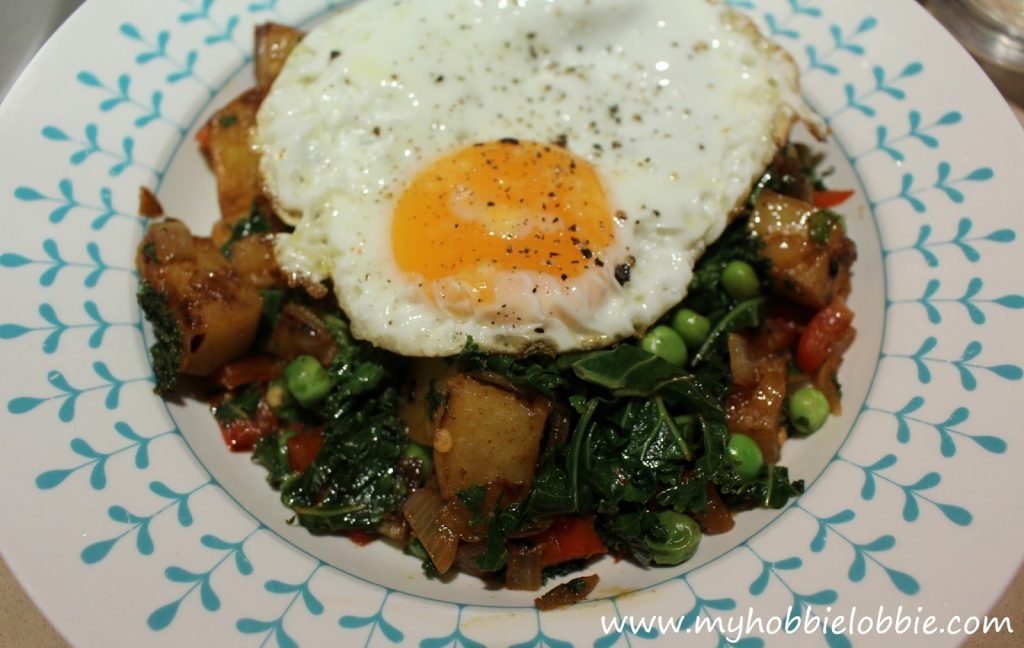 Breakfast Hash with Potatoes, Kale, Peppers and Green Peas


2 potatoes, peeled and diced (the smaller the cubes, the quicker it will cook)
1 medium onion, chopped
1 red pepper, chopped
2 cups kale, roughly chopped
1 cup green peas
1 tbsp olive oil
1/2 tsp smoked paprika
1/2 tsp cumin powder
Salt, to taste
Freshly cracked black pepper, to taste
1 egg per serving (You could use 2 eggs per serve, if desired)
Heat the oil in a pan over medium heat.
Add the potato to the pan and let it cook, stir every now and then to ensure even cooking and avoid any burning.
When its half cooked, add the onion and red pepper.
Saute and let the onion and pepper soften.
Add the paprika, cumin, salt and pepper.
Add the green peas and the chopped kale.
Let it cook for about a minute till the kale and the peas have warmed through.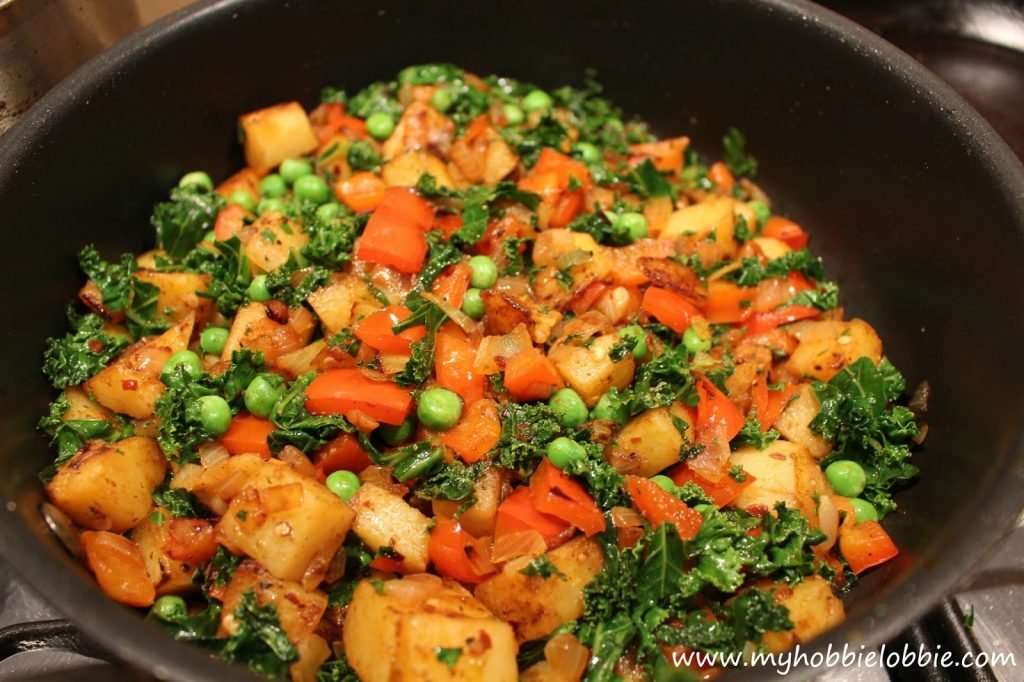 Serve hot, topped with an egg (or two) cooked to your liking.