Ever so often, life gets busy for everyone. When that happens in our home, I love having quick and easy recipes that I can fall back on even if I haven't had the time to cook dinner. My tolerance for take away and ready meals has steadily fallen in the last few years to the point where its non existent now. I do prefer home cooked food, even if its something as simple as breakfast for dinner.
Actually, I really like breakfast for dinner. This breakfast hash is a nice way to fancy things up. What I love about this hash is its made from scratch. That being said, it comes together so quick and easy and all in one pan. If you're using an oven proof skillet, you can crack the eggs right in and let them cook off in the oven. I didn't want to switch the oven on, so I used a second pan to fry the eggs. You could use poached eggs or scambled eggs too. This hash obviously uses potato. The addition of red peppers and kale makes it so colorful, not to mention, delicious. And kale in a recipe must definitely make it healthier.
So if you're ever in a situation where you need a meal on the table in under 30 minutes or if you feel like a fancier breakfast, or for that matter, breakfast for dinner option, try this hash out. You'll love it. We certainly did. And leftovers keep quite well, refrigerated. Simple heat it up the next day and serve with an egg, if desired.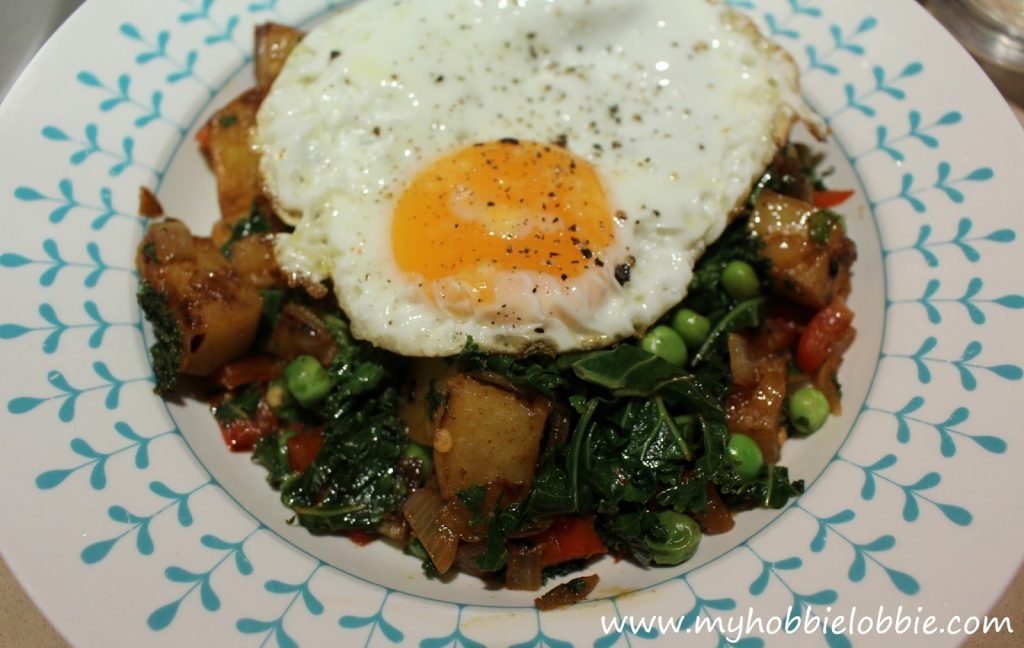 Breakfast Hash with Potatoes, Kale, Peppers and Green Peas


2 potatoes, peeled and diced (the smaller the cubes, the quicker it will cook)
1 medium onion, chopped
1 red pepper, chopped
2 cups kale, roughly chopped
1 cup green peas
1 tbsp olive oil
1/2 tsp smoked paprika
1/2 tsp cumin powder
Salt, to taste
Freshly cracked black pepper, to taste
1 egg per serving (You could use 2 eggs per serve, if desired)
Heat the oil in a pan over medium heat.
Add the potato to the pan and let it cook, stir every now and then to ensure even cooking and avoid any burning.
When its half cooked, add the onion and red pepper.
Saute and let the onion and pepper soften.
Add the paprika, cumin, salt and pepper.
Add the green peas and the chopped kale.
Let it cook for about a minute till the kale and the peas have warmed through.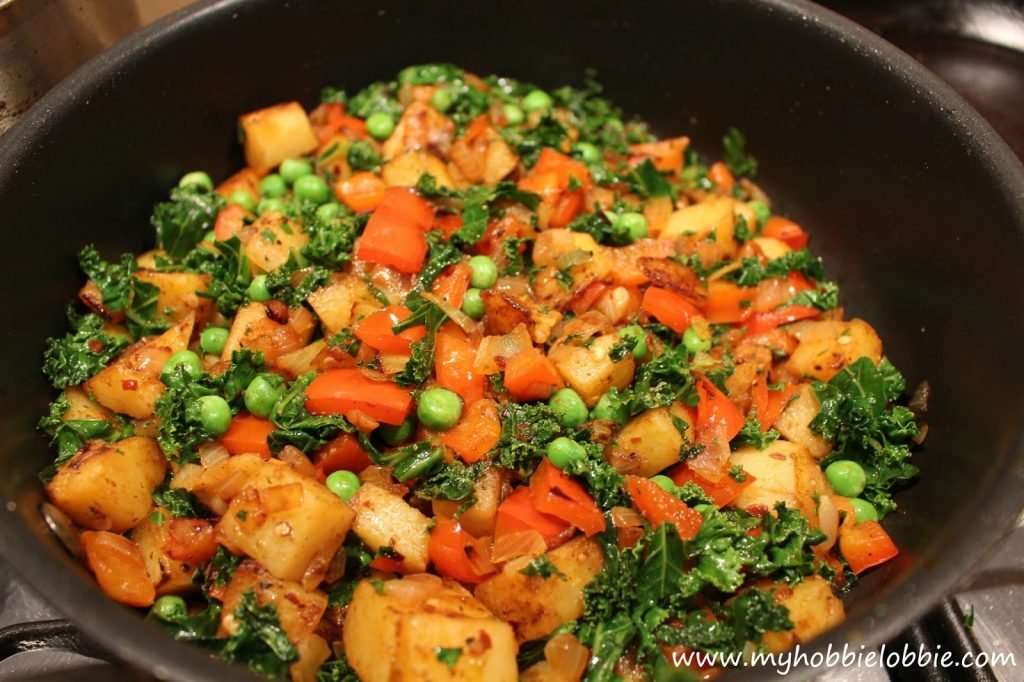 Serve hot, topped with an egg (or two) cooked to your liking.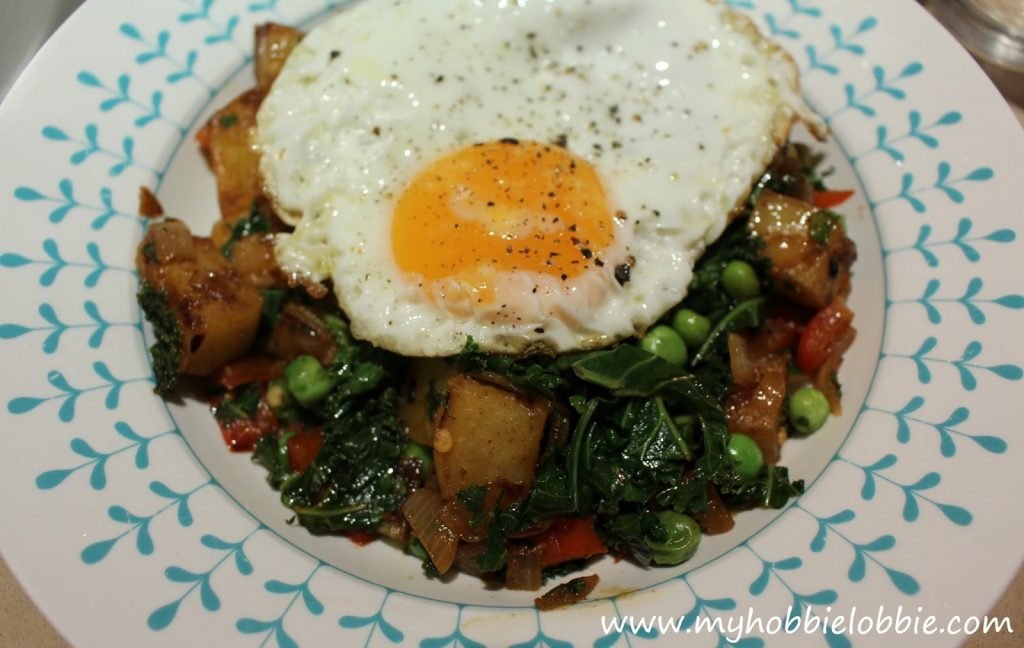 So baked oatmeal is apparently a thing, and I didn't know until now. I'm wondering where I've been all this while. In a few short months, I've stumbled upon Smoothie Bowls and now Baked Oatmeal. We love the smoothie bowls. They were perfect for summer and we've had a long, hot one. Its not over yet, but the weather has started cooling down a tiny bit and I am looking forward to winter. Enter this awesome Baked Oatmeal.
In our house, we love oatmeal for breakfast. It does take a little more hands-on time to whip up in the morning compared to making toast. However, we all know that oatmeal is healthier for you than bread. And overnight refrigerator oatmeal is perfect for summer, but I prefer a warm breakfast when the weather is cooler. And how good would it be if someone could make me this warm breakfast in the morning while I got an extra ten minutes of sleep. That ain't happening so this baked oatmeal is the next best thing. You make a batch up one evening and it reheats beautifully for breakfast the next morning. The flavor options that I found on the internet are endless. This breakfast option is an absolute winner in my book and I know I'll be making it very often as the weather cools down.
Making baked oatmeal couldn't be simpler. Whisk the wet ingredients. Stir in the oats and bake. An added advantage is that this is clean eating at its best. No refined sugars in this breakfast option. Its like eating banana bread for breakfast, without the guilt. You use the oats instead of flour and maple syrup instead of sugar. Throw in some coconut oil and pecan nuts and you have taken this humble oatmeal breakfast up a couple of notches nutritionally. Don't take my word for it. Make a batch today and you'll have a household that actually enjoys oatmeal for breakfast.


Banana Bread Baked Oatmeal


2 large ripe bananas (or 3 small)
3/4 cup milk, at room temperature
2 eggs, at room temperature
1/4 cup coconut oil, melted and cooled
1/4 cup maple syrup
1 1/2 tsp vanilla extract
1/2 cup chopped pecans (additional for garnish)
2 cups rolled oats
1 1/2 tsp cinnamon powder
1/4 tsp salt
Preheat oven to 180ºC.
Grease an 8×8 baking dish and set aside.
Spread the chopped pecans on another ungreased baking tray and let them roast for 4-6 minutes or till they are toasted light golden brown. Cool.
In a large mixing bowl, mash the bananas.
Add the milk, eggs, coconut oil, maple syrup and vanilla to the mashed bananas and mix well till smooth.
Add the oats, salt, cinnamon powder and toasted pecans and stir till combined.
Pour into the greased baking dish and bake for 20-25 minutes or until set and golden brown on top.
Let it cool for a while (around 5 minutes) in the baking dish itself before cutting and serving.
Serve warm by itself or with some greek yogurt or milk, as desired. You could top it off with some fresh fruit and nuts as well.
If you're making this ahead of time, refrigerate and cut and reheat in the microwave as needed.
It's been a while since I've posted anything on the blog and I feel really bad about it. I've just not been able to find my cooking / baking mojo. See, we've had a long, hot summer; really long and really hot. I'm more of a winter person than a summer so I'm all ready for winter now. Unfortunately for us, we haven't had functional aircon for about four weeks now. So you can see why I haven't really been too active on here. I've had to figure out ways to deal with the insane heat levels that heat wave after heat wave brings to Sydney this year.
I was glad to have tried out smoothie bowls recently. They were my saving grace. Healthy, full of flavor and their amazing 'cool you down from the inside out' quality made them a regular occurrence in my kitchen. The first one I tried was this Mango Smoothie Bowl and this blueberry version was really delicious too. I had some blueberries that I should have finished sooner, but I didn't want to waste them so they went right in the bowl for some color. If you love blueberries, this treat is a must try if you are looking for a healthy summer cooler.
A few ingredients and a minute in the blender and a bowl is all you need to whip up this bowl of deliciousness, so I do hope you try it out.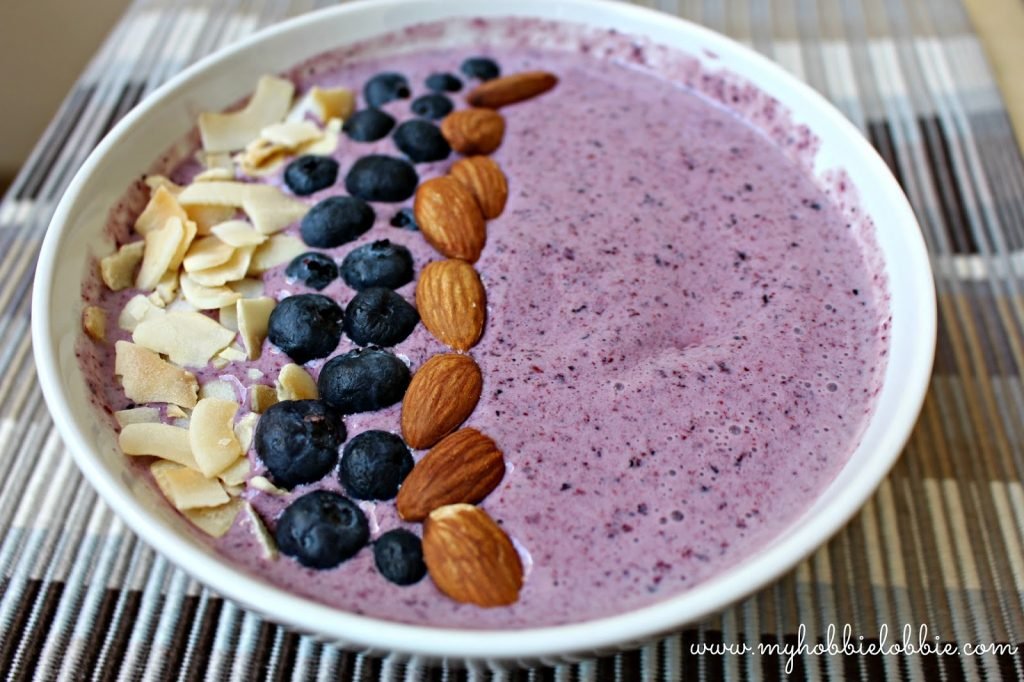 Blueberry Smoothie Bowl


1 ripe banana, frozen
1 cup frozen blueberries
1 cup milk
4 tbsp Greek yogurt
For the topping –
Sweetened coconut chips
Fresh blueberries
Almonds
Place the banana, blueberries, milk and yogurt in a blender and blitz on slow at first.
Scrape down the sides and blitz till you are left with a soft serve sort of consistency.
Pour this mix into a bowl.
Top with some sweetened coconut chips, fresh blueberries and almonds.
Serve chilled.
I love bananas!!! I don't know if I've shared that with you before, but I really do love them. Infact, we almost always have bananas in the house. Up until now, every time I was left with a couple of over ripe bananas, I would either make some
banana bread
or banana fritters (I must share that with you sometime soon). And trust me, I love both the banana bread and fritters. But sometimes its nice to switch it up.
Last week I had 2 over ripe bananas and its been so hot, I had no intention of switching the oven on to make the banana bread. I kept putting off the tea-time fritters and yesterday I decided I had to use the bananas and if I left them anymore, I'd probably have to throw them out. I hate wasting food so that was out of the question. The plan that morning was to make some oatmeal for breakfast, but then it struck me I could use the bananas with the oats and do something with that. I remember a while ago, coming across a banana oat pancake recipe and decided to try it out. Now, those of you who've been visiting for a while know I love my pancakes. So what could be better than combining my love for bananas and pancakes. Nothing much right! So breakfast that morning was sorted. I blitzed the ingredients in the blender and added a few fixin's like fresh blueberries and roughly sliced almonds. I think Jamie Oliver would have been happy with me. I really like his philosophy on superfoods. Eat a variety of fresh produce in moderation and everything acts as a superfood. I figure the addition of the berries and almonds would amp up these pancakes to superfood status. I googled a few recipes but in the end just ended up throwing a few things together and I tell you it was great. I was really pleased with how the pancakes turned out.
Basically this recipe uses no refined flour and no refined sugar and you'll never miss them. We did use some maple syrup over the pancakes to sweeten the deal, but who can resist maple syrup over pancakes. Definitely not me 🙂
I hope you give these pancakes a try. They deliver taste and health together.
Banana Oat Blueberry Pancakes
Makes 6 pancakes


1 cup rolled oats
2 over ripe bananas
2 eggs
1 tsp vanilla extract
A handful of fresh blueberries
12-15 roasted almonds, roughly sliced
A pinch of salt
A little oil, to fry the pancakes (I use olive oil, but you could any oil of your choice)
Maple syrup, to drizzle over
Blitz the oats in a blender till you are left with a powder.
Add the bananas, eggs, a pinch of salt and the vanilla extract. Blitz till you are left with a nice batter.
Scrape the sides down and give it another quick blitz.
Pour the batter in a large bowl and add the sliced almonds and blueberries and fold through gently, making sure they are evenly distributed.
Heat a little oil in a pan, about half a teaspoon. I use an oil spray to reduce the amount of oil being used.
Carefully ladle some batter onto the pan. Cook on medium heat.
When the bottom edge looks like its getting a little color, gently lift a portion of the pancake. If you are happy with the cooking on that side, flip the pancake and let it cook on the second side too.
Repeat with a spray of oil and a ladle of batter for every pancake till you finish the batter.
Serve warm with some maple syrup.
Enjoy!!!